The weather finally got really warm and I got inspired to set up our cozy outdoor seating area! Our backyard frustrates me a lot and I really get anxiety if I think about it too much. That sounds silly I know! We are still renting this home, while we are looking for a house closer to my work which is also my girls school.
So, at first, I didn't really want to set up anything this year. I am so fed up with the whole situation out there, that I am just hoping we find something before the summer officially starts. And can be out of here real soon. But we are not really finding anything we can see ourselves living in. That can change real quick, I know. But when the weather got so nice this week, I really couldn't help myself. I started to set up everything outside. I had it all stored away, since our terrace isn't covered. Which is one of the things that drives me up the wall. But hey. It's just a terrace and it's just a backyard in the end, right? I mean, we can still enjoy ourselves out there while we hunt for the right place for us!
So that is my idea for now. Just make the best of what we have right now, which is really not that bad at all. I don't mean to sound ungrateful. I'm very grateful to have our rental home and for the family moments we get to spend here by the sea. So until we finally find that forever home and make it really ours, I plan to enjoy a lot of fun moments out here with the fam.
Using What You Already Own
Alright, so I tried to make a cozy outdoor seating area for us, don't mind the floors, walls and whatever strange thing might catch your eye. This is how it looks right now and everything I used, I owned already. I changed up a few items with spray paint and just switched around cushion covers. I did buy two new plants, that's about it.
This year I really like the darker shades, black and whites and some pops of mustard and green in form of plants. I was surprised how many items I found in my already existing decor stash that would fit in with this colour scheme!
The black candle light holder on the side table was part of my Christmas decor as well. Now it looks great out here too.
I spray painted the bottom of this little tin pot white to give it a new-ish look. I like it and it was so easy!
Same with this big lantern. I don't know if you remember, but I found it last summer at a flea market and had spray painted it bright yellow, which I loved! But this year, I love it in black too! It got a little makeover in minutes, using a can of spray paint. It looks shiny here on the photo, but actually isn't at all.
Well, that's our backyard situation right now and I don't mind it! Usually this sofa is crowded with kids and bunnies having snacks and playing UNO or with the Ipad (the kids, not the bunnies 😉 ) And that's all that matters!
Thanks so much for stopping by, I really hope you got a bit of inspiration today and come back real soon!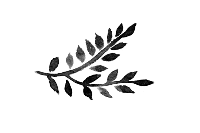 Make your own basket planter real quick yourself!