How to make a super simple decorative wooden tray in just minutes! 
Don't you just love it, when you can ¨make¨a new to you decor item without spending any money?
Today is Int'l Bloggers Club day and our theme is ¨wood¨ ! We are all doing the same theme each month, but it's always fun to see what the other ladies come up with too. On the bottom of this post you can find some more inspiration, but before that, let me show you my super simple decorative wooden tray that I made real quick this week without spending anything!
Last month we all shared silk/linen inspired projects. See more about it HERE.
How To Make A Simple Decorative Wooden Tray
I made a bigger tray from an old frame a while back and you can read all about it HERE on my old blog KreativK. But now I wanted something a little smaller. This tray I had was just right.
Here in Spain, we don't have a Dollarama or Dollar Tree, but similar little stores that sell all kinds of stuff just like your usual Dollar Store. I usually find what I am looking for, like this little tray. I bought it a while back for I believe 1 € or so, which I thought was a great price tag.
*Affiliate links used to show like or similar products.
What I have used:
scissors
white chalk paint if you want your tray to be white like mine
fabric of your choice
Instructions:
1. My wooden tray was painted already with white chalk paint. I did that a while back, but I think a bare wooden one would look great too! If you want it white, then just dry brush some white chalk paint all over it. It dries quickly.
2. Measure your board and cut your fabric of choice accordingly. My fabric used to be a kitchen towel and I really like the design on it.
3. Brush some water on the board, then add a lot of glue, spreading it out evenly.
4. Add your fabric and brush over the fabric with water and glue until it is soaked.
5. While it dries you can actually keep on adding the rest to the tray already. Cut some thicker rope for the handles and tie a knot on each end of the rope.
6. Glue on the rope to each side of the tray using a hot glue gun.
7. Turn around and glue on the wooden beads underneath.
Please note, that this tray is a decorative tray, so don't carry heavy items using the rope handles as they probably won't hold up. I just added the rope for extra details. 
It looks cute on the kitchen table, but also works really well on the coffee table in the living room!
Pin this for later!
Well, make sure to go see the other ladies' ideas on wood! Thank you so much for visiting today, I appreciate it!!
Driftwood Fairy Scape by A Crafty Mix | Super Simple Decorative Wooden Tray by Northern Feeling | Old Door Idea Coat Rack by My Sweet Things | DIY Farmhouse Corbels For Cheap by Faeries & Fauna | Farmhouse Stamped Wooden Placemats by Raggedy Bits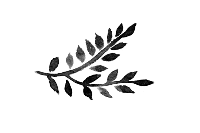 If you're a blogger & would like to join our Int'l Bloggers Club let us know!  We are currently looking for new members, so if you're interested, please contact us! Thanks!!!