How to make an Ikea hack DIY rug tote beach bag using a small Ikea area rug. 
Today I want to show you this cute rug tote beach bag that I made real quick this week. Beach season is upon us and we live a few steps away from it. Last years beach totes got ruined in the winter though, because I stored them in a shed outside and they got wet and mouldy. This beach tote is such a fun & quick little diy that is budget friendly at the same time!
And those Ikea rugs are cheap, gorgeous and just perfect to be re-purposed into something cute! I made a cute basket out of one a while back. Read all about it HERE.
Ikea Hack DIY Rug Tote Beach Bag
*Affiliate links used to show like or similar products.
What you need:
tassel  (I had mine from a clutch)
Instructions:
1. First I folded the rug in half, so that the fringes on each end were laying on top of each other.
2. I folded the fringes plus about 2-3 cm.
3. I sewed along both sides, left & right, the bottom is folded and the top will stay open.
4. Then I folded the bottom of the bag open, like shown in the photo below and sew across the left & right corners, like marked in the photo below.
5. I cut off the corners and hemmed them.
6. Turned it inside out.
7. I used cotton rope for the handles, about 35-40 cm for each one. My cotton rope was thinner, so I doubled it and twisted it to get a thicker handle. If your cotton rope is thicker, you can skip this step.
8. I sewed on each end of cotton rope to the bag by hand, leaving the ends fringe.
9. My beads were wooden colour but I spray painted them black for a nicer contrast.
10. I simply knotted them to the fringes of the bag, leaving about 4-5 cm between each one.
11. The tassel I added is from a clutch of mine that I only use once in a while. I actually liked it better with this bag. I can always switch it out though, because I simply tied it with a knot around one of the handles. It's made from raffia ribbon, and I could actually make a few more in different colours maybe. For now I like this look though.
It definitely fits all the beach essentials, but it would make a great shopping tote as well!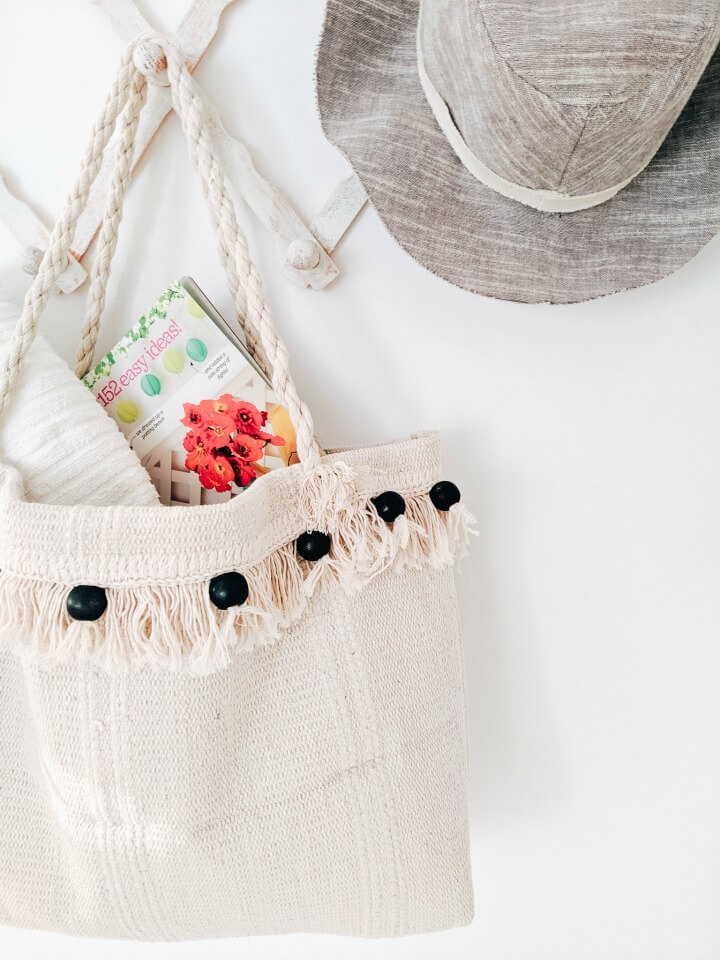 Pin this for later please!!
So, are you ready to make your own cute summer tote?? I am so happy with how this bag turned out, so I might have to make another one!! You can never have too many totes, right??
Thanks so much for stopping by…