How to give your Ikea pillow covers some charm by simply adding easy DIY pom poms!
Hi there friends, it's been a while! I have been MIA around here since my summer holidays officially started. We were travelling and now are back home, but things are slow and relaxed, and I haven't been blogging all that much. But today is Int'l Bloggers Club day, and our theme is wool! So I wanted to participate and show you this cute and easy pom pom pillow cover Ikea Hack!
Last months IBC theme was "iron" and I made THESE fun printables.
Summers in Spain are hot and it basically doesn't rain between May & October! So we spend a lot of time outdoors and are enjoying our outdoor sofa area. I shared how it looks like HERE. Since then, I changed out the sofa pillow covers, I made some with Ikea fabric and also bought already made cushions from Ikea. I just love their cushion covers, they are so affordable and hold up great, given that they get tossed in the wash pretty often and are exposed to sun and humidity.
Easy Pom Pom Pillow Cover Ikea Hack
*Affiliate links used to show like or similar products.
I've had my eyes on some pom pom cushions for a while now, but the ones I like are way too expensive. I just don't want to be spending anything over 15€ for a pillow cover. Call me cheap, but seriously, no can do. And by no means am I comparing these cushions to the ones you can find online, but they do the trick for me! I got the pom pom cushion need out of my system. And for next to nothing!
What you need:
THESE  pillow covers & THESE or the ones you already own ( I think pom poms look cute on any kind of pillow)
fork
Instructions:
Cut a piece of yarn wool and place it on your fork as shown in the 2nd photo. Now wrap yarn wool around all tines until you get the desired amount. The more you wrap, the fuller your pom pom will be. Once you are done wrapping, grab the previously added piece of yarn on both ends and tie it around your wrapped yarn bunch, securing it with a knot. Gently pull it off the fork. Cut all sides to create the pom pom and trim until you have your desired size pom pom! Done! Repeat for all pom poms!
I made two different sizes using the same fork, but just cutting the smaller ones really short at the end.
Now, using a normal sewing needle and thread, sew each pom pom onto your pillow covers corners.
I'm really happy with my "new" pom pom pillows and I know I will be using them indoors in the winter as well. They look great and add the perfect amount of cosy to the sofa! Let me know what you think!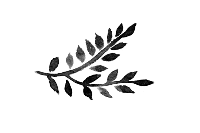 Make sure to check out my friends posts below!
A Crafty Mix | Northern Feeling | Faeries & Fauna | Raggedy Bits