Honestly, I'm so over galvanized metal decor! The other day, I was thinking that brass is the new galvanized decor!  I have never owned many galvanized metal pieces. But now, I am happily updating the few ones I do have around the house. And I'm going for brass style instead! I do love a bit of farmhouse decor and I believe that even if you're way into it, you can switch out a few galvanized metal containers or trays and turn them into brass/gold decor, if you like it! In an easy & budget friendly way of course! It kind of goes with any type of style, don't you agree?
I change out my decor quite often just a little bit, in quick & inexpensive ways. I am still a neutral lover, but over time, I have added some blacks, some pops of pastels and greens to the house. And lately I am opting for the brass/gold pop here and there. It is warm and kind of neutral and goes with anything almost. So instead of buying a whole lot of new decor pieces, I just spray painted existing galvanized items I had already. So easy! So inexpensive!
From Galvanized Metal To Brass Style
*Affiliate links used to show like or similar products.
I have a few of these cute galvanized planters from Ikea. And a galvanized little tray (sorry, no before photo of it) I bought years ago when I was really into galvanized everything. I don't hate it now, but I just don't like how it goes with the rest of my decor right now.
All I needed here was some spray paint to turn these galvanized pieces into brass style decor.
I love how this little planter looks now! It really gives this all white, blank kitchen nook a warm little detail!
Here's the tray and this is how it looks after I spray painted in brass/gold style. I love it!
I also spray painted this frame recently…. It wasn't actually galvanized before, but I just love how well it blends in with the rest of my decor. No, I have not spray painted every thing in brass style now…
I downloaded the free ocean printable and handlettered printable at WE LIVED HAPPILY EVER AFTER. Hannah is so talented and has the most gorgeous free printables! Check out her blog!
I guess, all you need sometimes, or all I need sometimes, is some paint to transform existing pieces into "new" to me decor, galvanized or not. I opt for spray paint because it is usually the easiest and fastest way to paint. Also to get into all the corners evenly is so easy.
I hope you got inspired today and maybe you even feel like transforming some of your decor? And if you decide to stay with your galvanized decor as is, that is ok of course! This is just my style opinion for my home right now.
Thank you so much for stopping by today!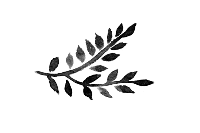 Find more decor ideas HERE