Today I'm sharing my Ikea Bissa shoe cabinet paint update here on the blog. Our entry hallway is on the smaller side and I need every storage possibility I can get. So when we moved in, I got THIS Ikea Bissa shoe cabinet. This was 6 years ago and it has served us well holding our shoes. It still does, nothing is wrong with it. Now I updated it a bit, wanting to bring it back to life with just some paint and a fun pattern.
Before: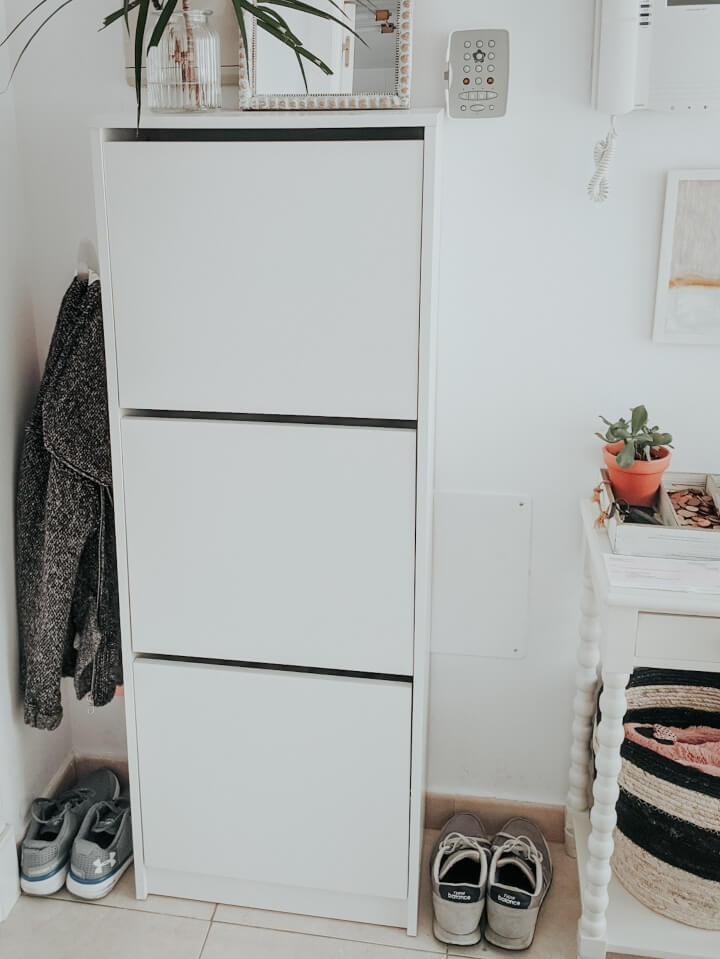 Ikea Bissa Shoe Cabinet Paint Update
*Affiliate links used to show like or similar products.
Here's what I've used for this update:
paint brush
pencil, ruler, scissors & cardboard for the template
bowl for tracing
Instructions:
First, I measured the width of the cabinet doors and then figured out how big I wanted the scallops to be and how many could go in one row. I ended up using 15cm for the scallop template. Luckily, I found a bowl in my cupboard that worked for tracing.
All you need is that half circle really. But I made the bottom part as well, just for easier handling when tracing onto the cabinet. I cut it out and then started tracing with a normal pencil.
All ready for paint!
Aaaand, this is how it looks now! I'm so happy with this little paint update!
You can see that I also decorated it a little different. I am hiding the fuse box & alarm with a small mirror and large plants.
Pin this for later!!!
Above you can also see my bench that got an easy update not long ago! More HERE.
Well, I'm so happy with this easy update and with how fun the shoe cabinet looks now in our small entryway!
Thank you so much for stopping by!