*Affiliate links used to show like or similar products.
Hello & Happy December! It has been a while since I hopped here on the blog but today I'm excited to be back & sharing my cozy moody Nordic Christmas living room 2020 with you!
This year, more than ever, we feel like being cozy & comfortable at home. I have been drawn to moodier colours like dark green & charcoal grey for a while now and so my Christmas décor is no different. It is still on the minimal & Nordic inspired side, but very cozy!
Well, let me show you our living room!
I have used a lot of dark tones like sage green pillow covers & dark green throw, painted the little side table in charcoal grey and added faux green garlands & real clippings to frames and planters.
Led candles & twinkle lights are a must during Christmas and Winter! They make a space so much cosier instantly.
I also added art prints in darker tones to the gallery wall.
The tree is a faux, very minimal and spare looking one and I love it. I got it at Ikea and like the bare look. It looks so real too.
Of course my dark green dining room chairs fit right into my colour scheme this year! And I absolutely love the dark green with the wooden table!
There's still enough white though in the house to not make it too dark!
This is the tree at night. I only added two strings of led lights to it. Very minimal and not overloaded.
Well, I hope you have enjoyed my cozy moody Nordic Christmas living room 2020! Thank you so much for stopping by today! I'll be sharing some free printables this week too, make sure to come back!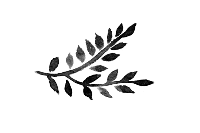 See last year's Christmas living room HERE.