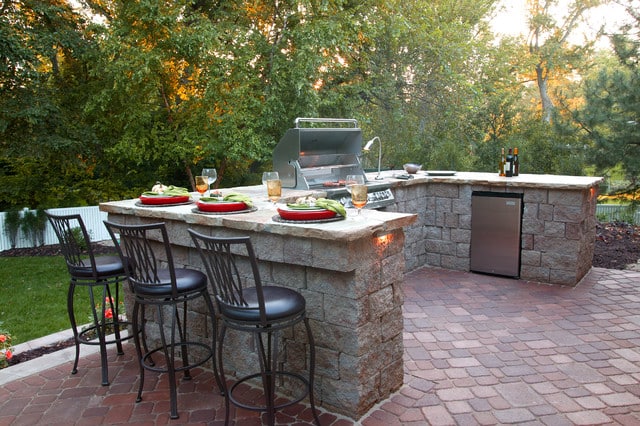 Spring has just arrived! Everything is in full bloom everywhere, and the weather is beautiful. What have you planned for this lovely season? How about hosting a barbeque party in your backyard this lovely season? It seems like you have already started imagining it! Isn't that thrilling?
Let's bring in some excitement by curating your own grill for the BBQ night. A secure grill station for both you and your yard! Creating an outdoor grill is an excellent way to enhance the outdoor cooking and entertainment experience. Whether you want a rustic design, a stone one, or a portable one – this article has all unique options for you.
These suggestions offer various alternatives for your preferences and budget, ranging from fully functional outdoor kitchens to reused furniture. Prepare your backyard with these innovative and valuable grill station ideas to become a paradise for delectable dinners and unforgettable occasions.
Do It Yourself (DIY) Outdoor Grill Station Ideas
An outdoor DIY grill station is a dream of many! If you plan to create your own barbecue station on the lawn, Here are the 16 best ideas you can consider.
1. Pallet Grill Station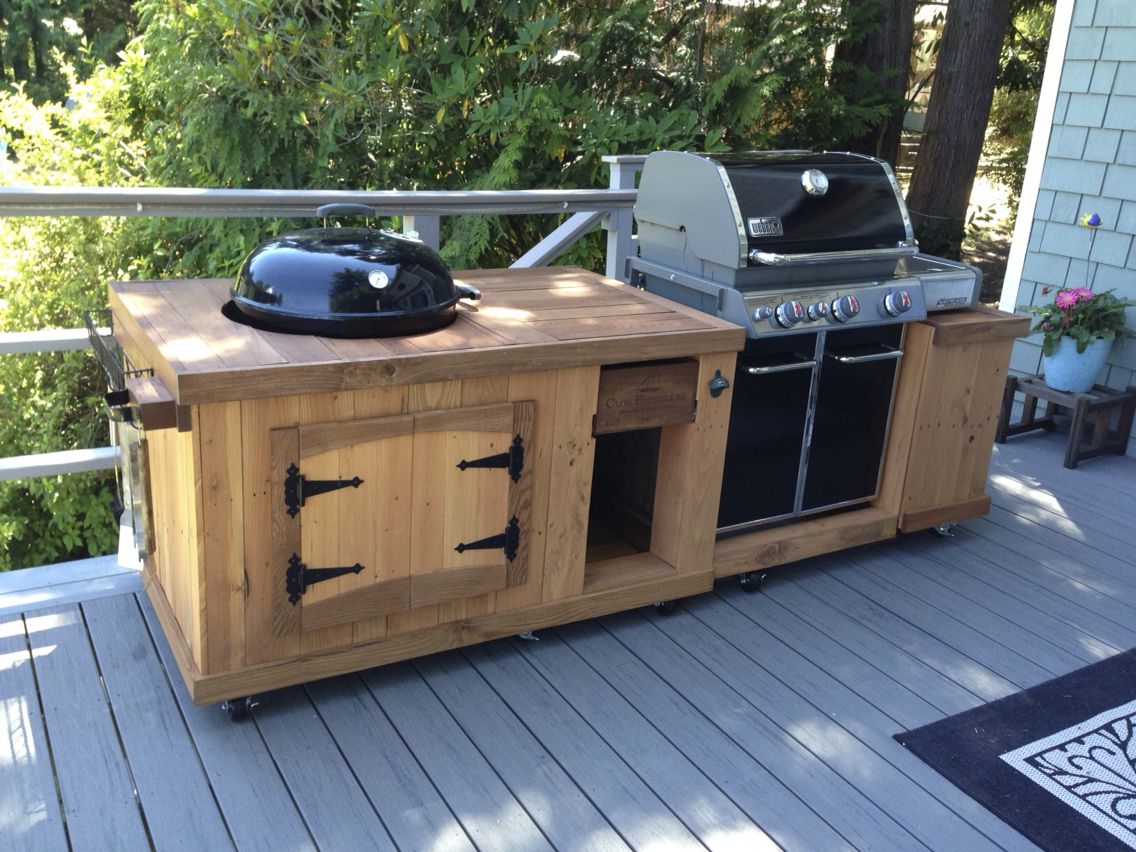 Consider making a DIY pallet grill station if you are searching for an inexpensive and straightforward choice for your outdoor barbecue station. Pallets are adaptable and simple to find. As a first step, join a few pallets to create the station's basis. A back and sides are created by vertically stacking more pallets.
Stability may be ensured by adding brackets or screws to the construction. Use a bigger pallet or horizontally cut piece of plywood to make a countertop. It will give plenty of room for cooking. Use hooks and shelves to hang utensils and store kitchen supplies. Using a little imagination and simple equipment, you can turn plain pallets into a lovely and helpful grill station that is ideal for entertaining and cooking outside.
2. Cinder Block Grill Island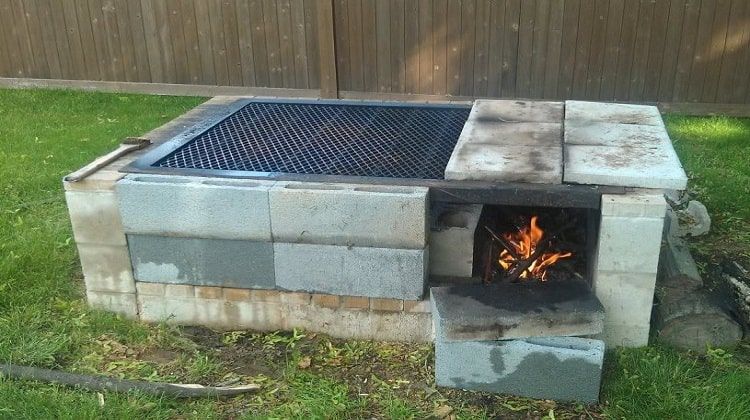 Build a grill island out of cinder blocks yourself for a reliable and cost-effective choice. Plan your island's size and structure first. Once this is done, lay the cinder blocks out to form a rectangle, allowing room for the grill and other features you choose. Make sure the blocks are level and firmly stacked on top of one another.
Glue the blocks together using construction adhesive to improve stability. You can make shelves by laying more cinder blocks or wooden planks over the openings. Add an appropriate countertop made of stone or tile to complete the island; This DIY project is an excellent option for your outdoor grill station since it is robust, useful, and stylish.
3. Repurposed Hutch Grill Station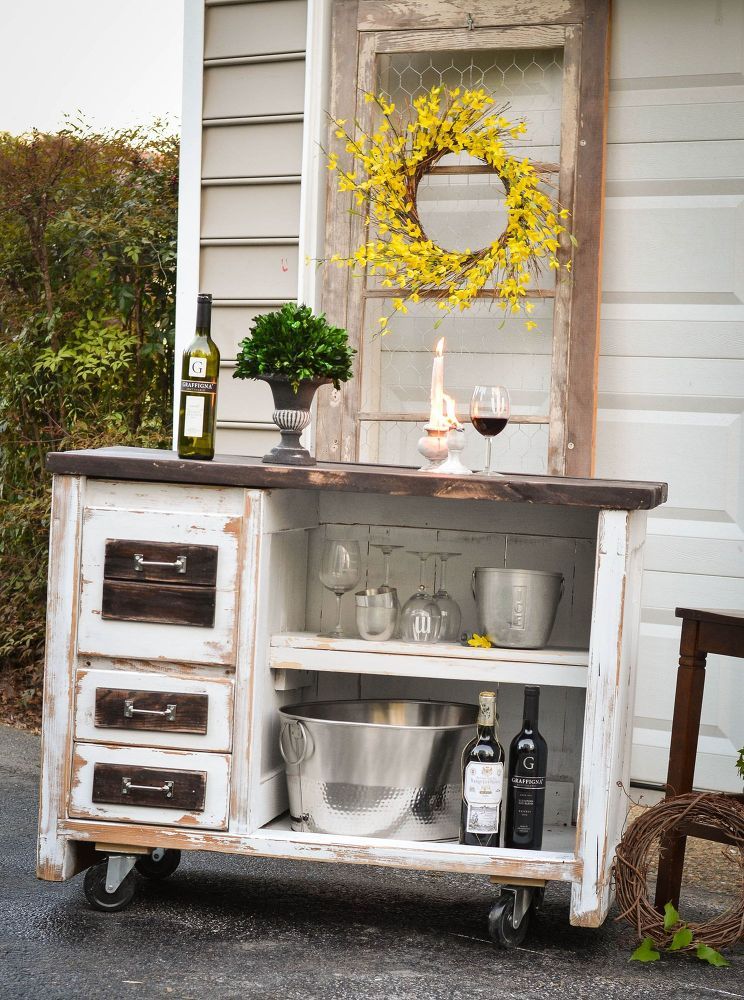 Are you looking to revitalize a worn-out hutch? Think about transforming it into a distinctive DIY grill station. Start by taking away the hutch's top portion, leaving only the base. It will make room for your barbecue in an open area. Ensure the remaining framework is solid and safe. Then, for utensil storage, add hooks or hanging racks to the sides. Condiments, spices, and other grilling necessities can be stored on the existing shelves.
The hutch may also be stained or painted to complement your outdoor décor. This refurbished hutch grill station offers easy storage and preparation places for your grilling activities and gives your outdoor space charm.
4. BBQ Grill Cart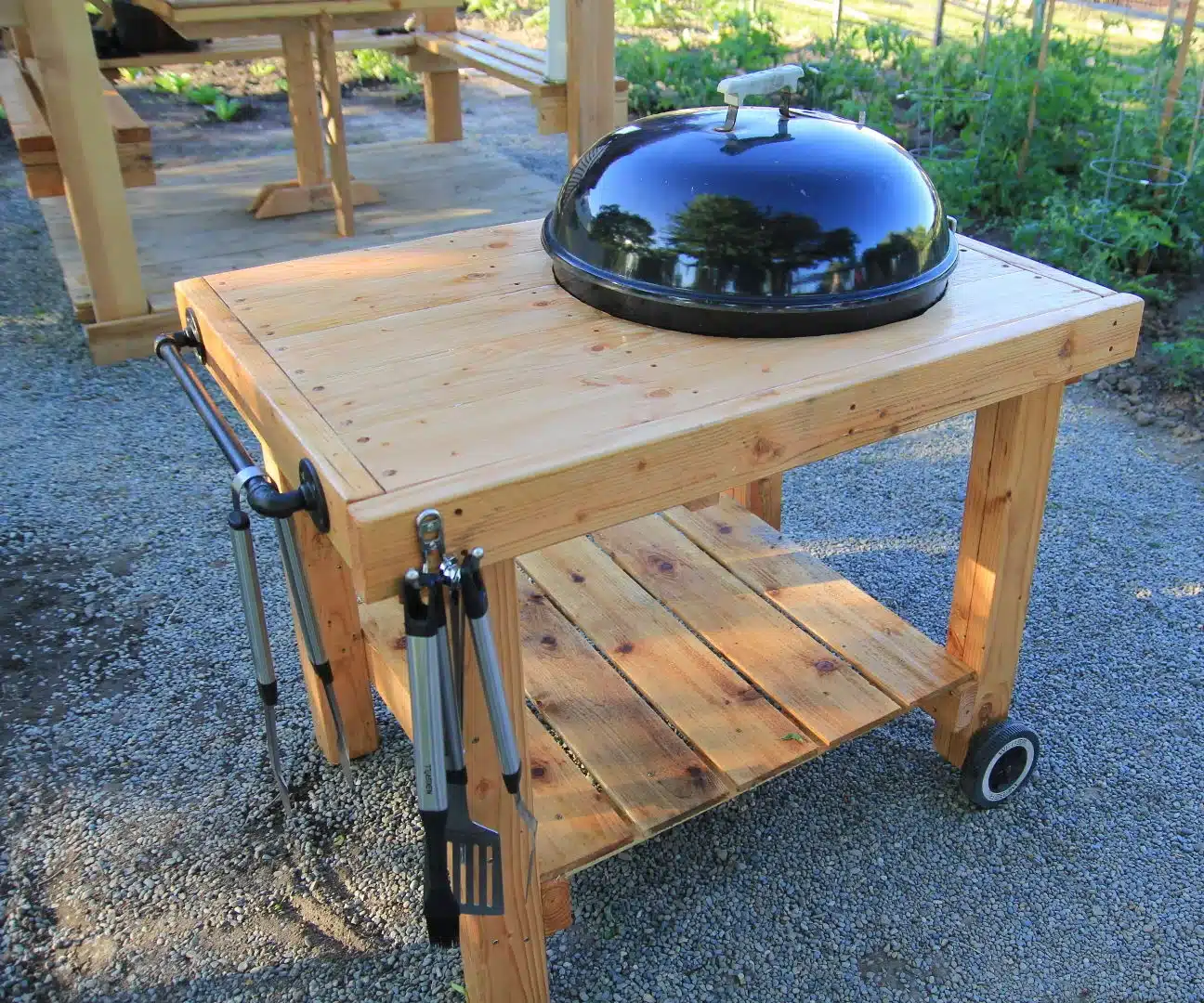 Turning a portable kitchen cart or utility cart into a DIY BBQ grill care is a valuable and adaptable choice for your outdoor cooking requirements. Choose a solid cart with wheels at first for simple transportation. Remove any extra shelves or accessories to make room for a barbecue.
Measure the grill's dimensions and cut a hole at the top of the cart to securely fit your grill. For further stability, add metal brackets to the hole's edges. Add hooks, racks, or baskets to the cart to hold utensils, condiments, and grilling supplies. Think about connecting them for cutting boards or side tables to prepare meals.
With the versatility of this DIY solution, you can quickly shift your grill station and build a functional outdoor cooking area as per your needs.
5. Brick Grill Station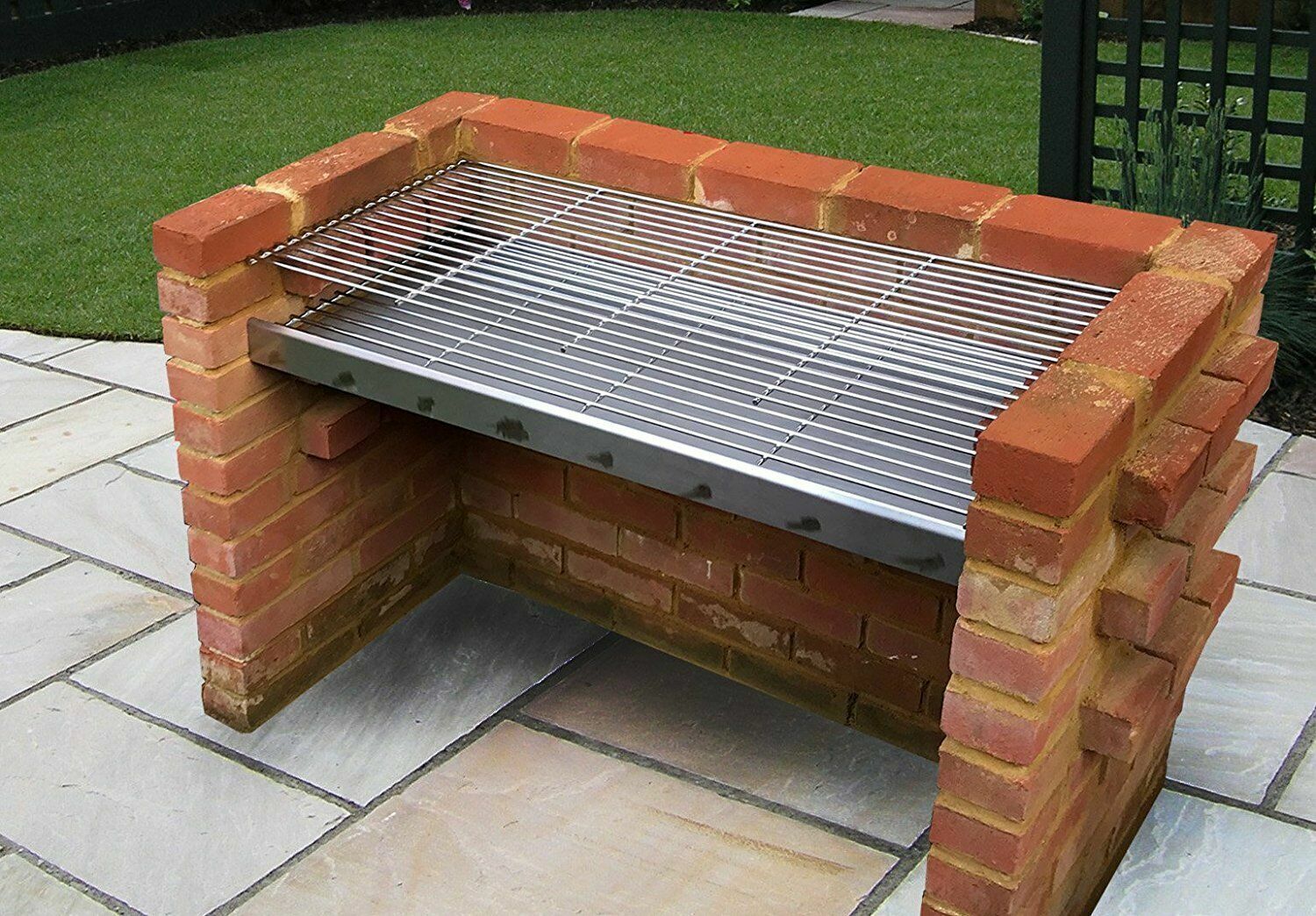 Use brick or stone components to build a DIY barbecue station that will last and look well. Plan the size and arrangement of your grill station first. Build a strong foundation out of gravel or concrete. After that, start building the walls out of stone or brick and build them level and firm.
For a sturdy and long-lasting grill station, mortar is used to join the stones or bricks. Think of using a tile or stone countertop for food preparation. Include shelves or storage sections for convenience. In addition to having a classic and exquisite appearance, stone or brick will also be water-resistant. The DIY brick-or-stone barbecue station will enhance your outside space, which is ideal for cooking delectable meals and entertaining guests.
6. Grill Station with Refrigerator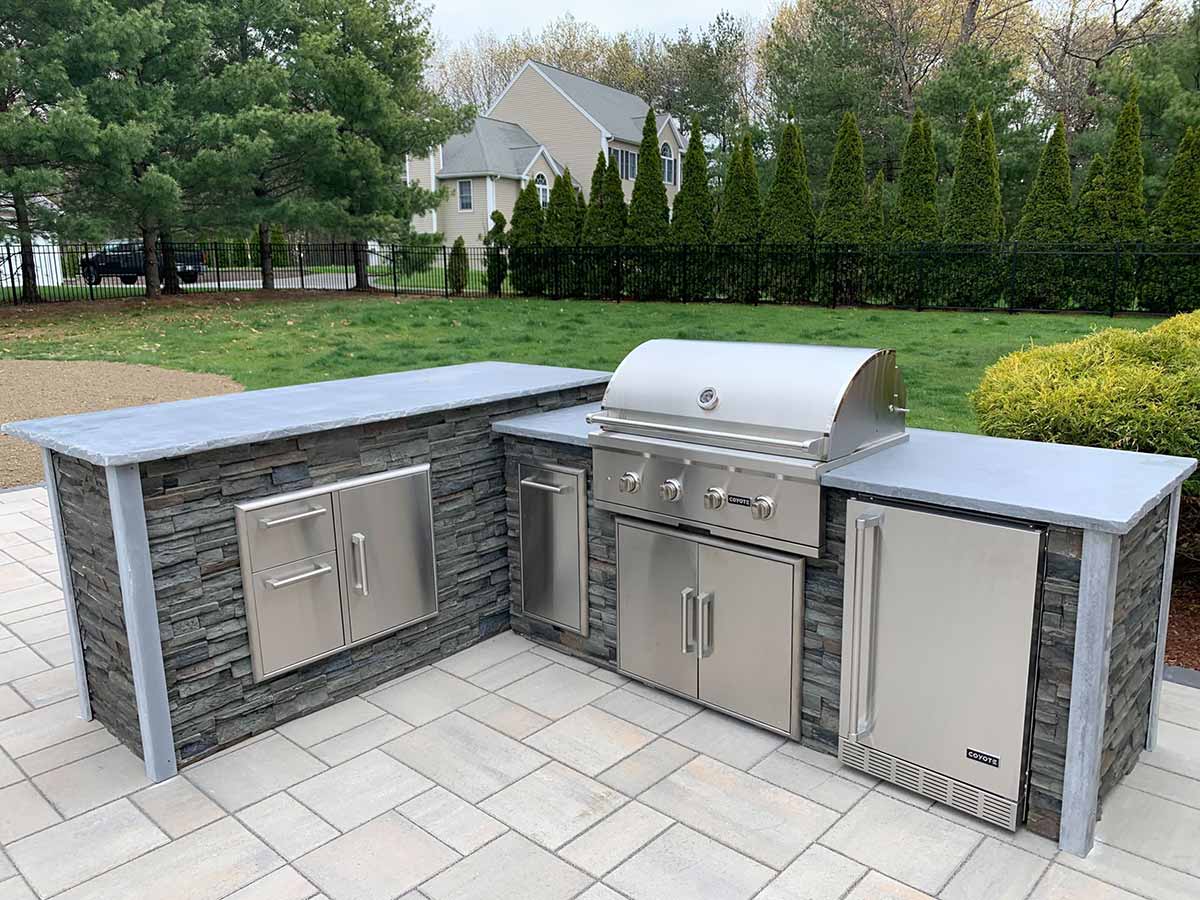 You can take your outdoor cooking experience to the next level with a DIY barbecue station that incorporates an outdoor refrigerator. Create a barbecue station that includes room for an outside refrigerator. Make sure the location is well-ventilated and weatherproof.
Install the refrigerator according to the manufacturer's instructions, making it suitable for outdoor usage. Having an outdoor refrigerator beside your grill allows you to keep perishable products, marinated meats, and cold beverages close at hand.
Condiments, sauces, and other grilling staples may be kept refrigerated and ready to use. This DIY grill station with an outdoor refrigerator combines utility and convenience, making it easier than ever to prepare delicious meals and keep beverages cool while enjoying the great outdoors.
7. Foldable Grill Station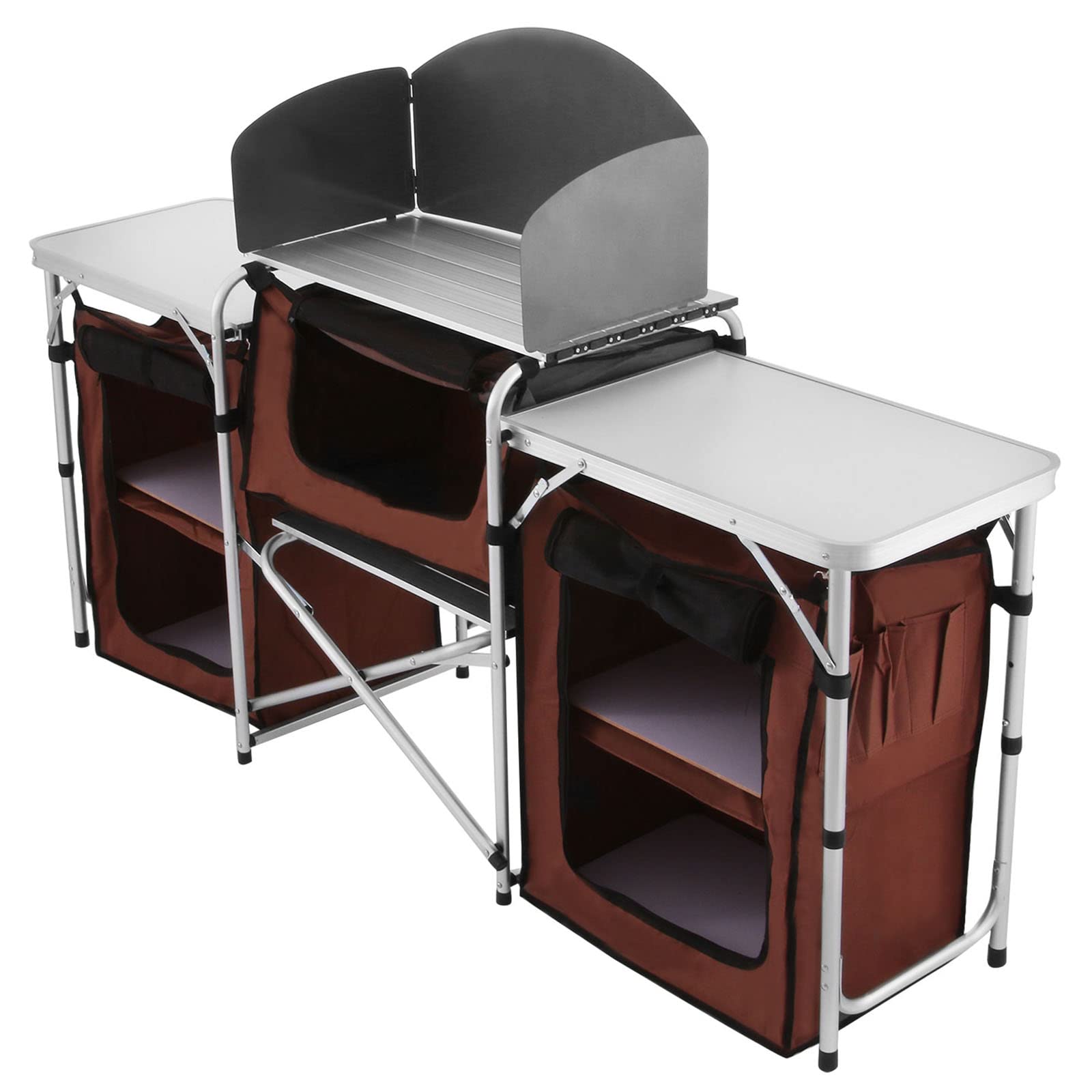 Are you looking for a flexible, compact alternative for your outside barbeque station? Think about constructing a DIY barbeque station that folds! Choose a firm, weather-resistant material to start, such as wood or metal. Create a frame that makes it simple to fold and unfold the station. Hinge and locking systems should be attached to provide stability when in use.
Make a tabletop surface that can be folded away when not in use to give extra room for storage or other uses. Add baskets, shelves, or hooks to hold utensils and condiments. For individuals with little outside space, the folding shape makes for simple transit and storage. With the ease and adaptability of this DIY project, you may enjoy outdoor cooking whenever and wherever you choose.
8. Grill Station with Wine Rack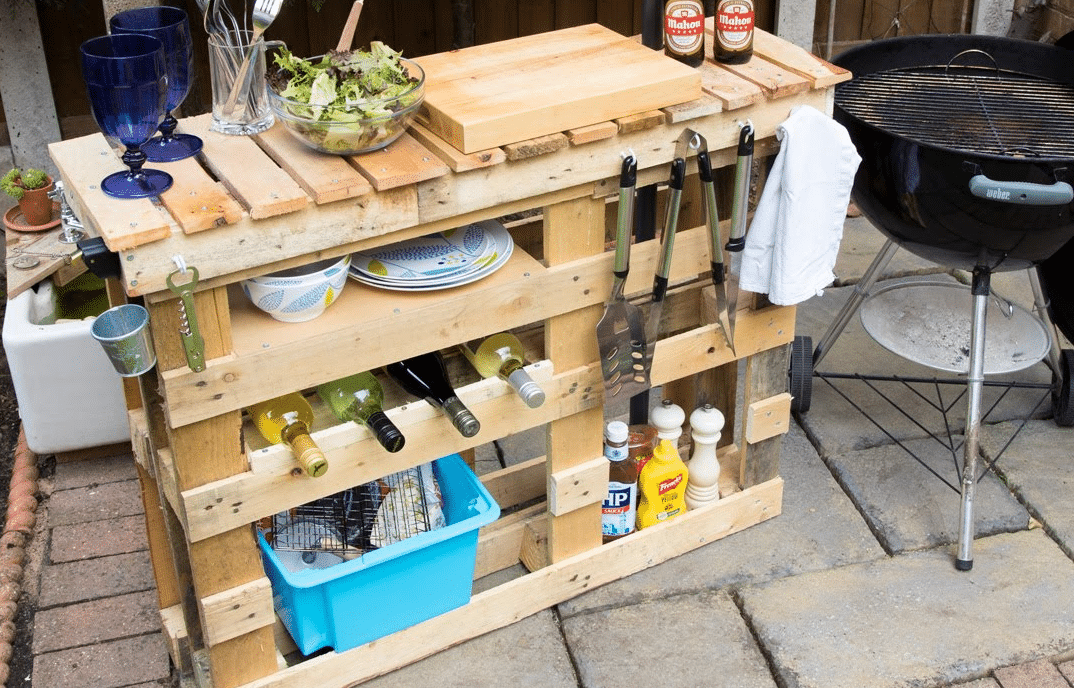 Improve your outdoor grilling experience by creating a DIY grill station with a built-in wine rack. Create a designated room for keeping and exhibiting your favorite bottles of wine in the grill station. Install a wine rack made of wood or metal, making sure it is firmly fastened and can handle the weight of the bottles.
Consider installing wine glass holders or hooks to keep stemware close at hand. The wine rack provides a sophisticated touch to your outdoor environment and allows you to mix your grilled delicacies with your favorite wine selections easily.
Having a DIY grill station with a built-in wine rack guarantees that you can relish the ideal combination while savoring your food, whether hosting a group or simply enjoying a nice meal.
9. Trellis Grill Station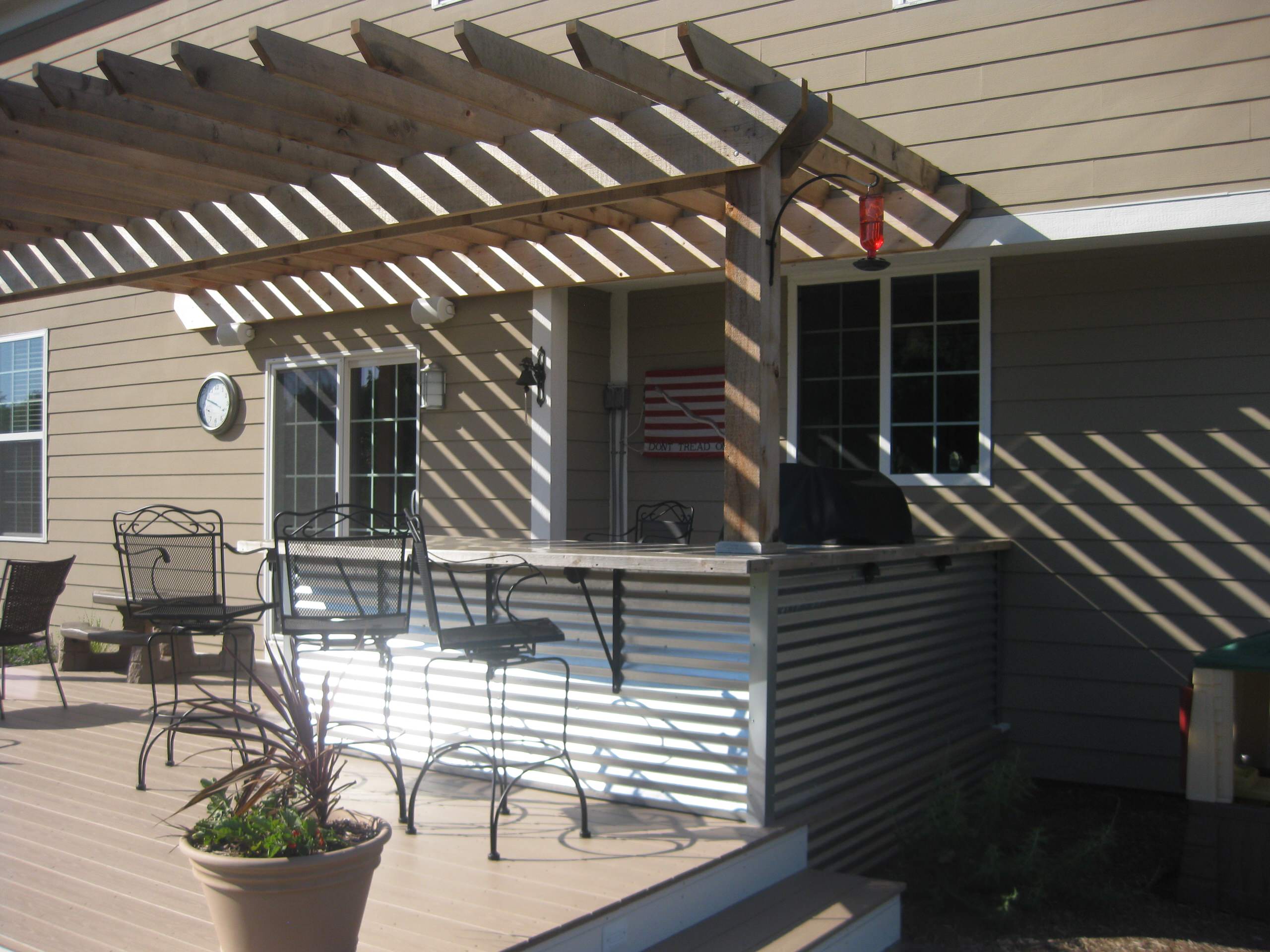 Try adding a trellis into your design for a one-of-a-kind and lovely DIY grill station. Start by choosing a trellis or constructing one out of wood or metal. Make it tall enough so that it can hold your grill easily. Set up the trellis against a wall or firmly into the ground to serve as a background for your station.
Install hooks or racks on the trellis so that you can hang cooking equipment. Include a stable countertop for food preparation and convenient storage cabinets. Growing climbing plants on a trellis is another way to improve aesthetics while fostering a welcoming natural ambiance. Your outdoor area will look so welcoming to your guests- all thanks to the DIY trellis grill station, which is an ideal location for grilling and partying.
10. Grill Station and Pizza Oven Combo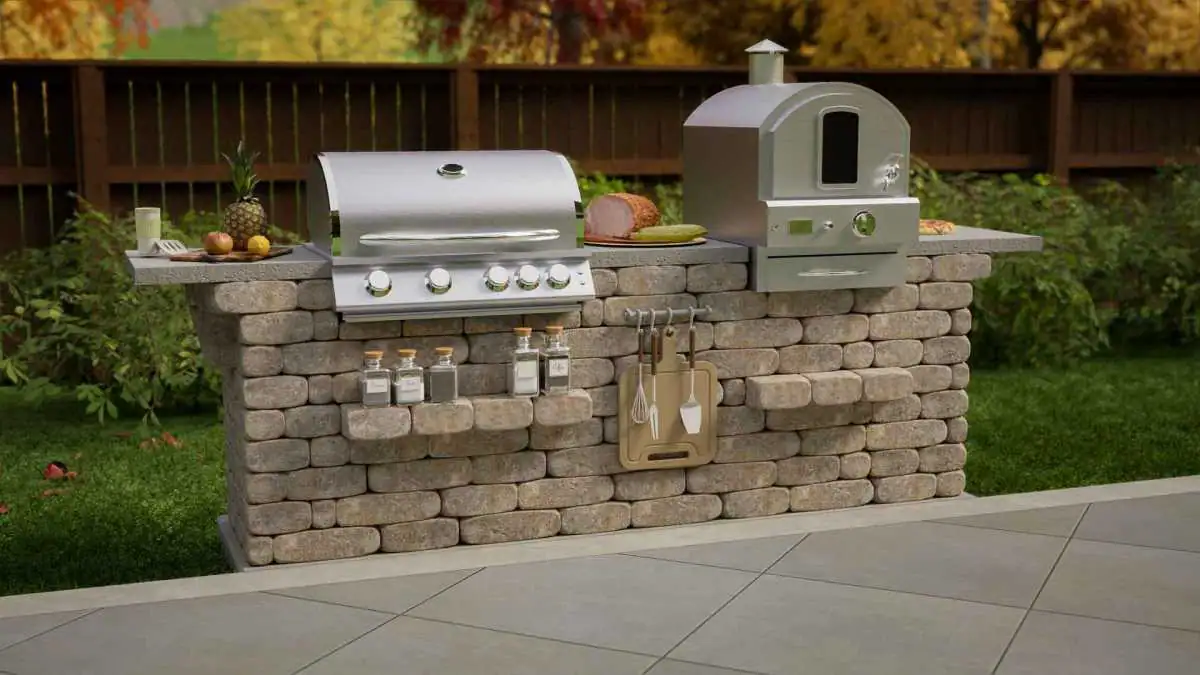 By combining a DIY grill station with an outdoor pizza oven, you can improve your outdoor cooking experience. Design the arrangement of your grill station first, making sure there is enough room for the grill and the pizza oven.
Build a solid foundation out of brick or concrete blocks. As per the manufacturer's directions, install the grill and the pizza oven. Make a countertop space for pizza preparation and extra storage. Include shelves or cupboards to store pizza-making equipment, wood, and utensils close at hand. You may enjoy a range of gourmet treats in your backyard when you combine a grill with an outdoor pizza oven. Gather your family and friends around as you enjoy the flavorful aromas of handmade pizza and grilled favorites from your DIY grill station with an outdoor pizza oven.
11. Grill Station with Fire Pit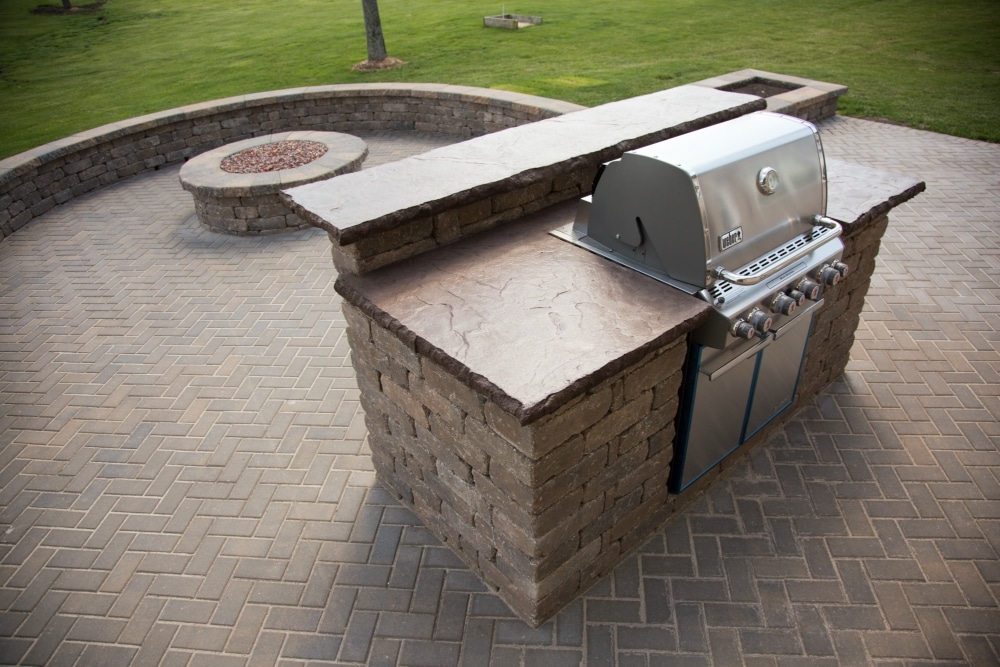 You can create the ideal outdoor gathering area by constructing a DIY grill station with a fire pit. Start by planning a layout that includes a fire pit and a grill while maintaining safe separations between them. Build a solid base for the fire pit using materials like concrete blocks or bricks, being careful to include adequate ventilation.
Install the grill and fire pit in accordance with the neighborhood's laws and safety standards. Increase the ambiance by placing benches or chairs or other seating alternatives all around the area. You may enjoy delectable grills meals while feeling toasty and warm because of the grill and fire pit combo. All of this makes for a friendly and welcoming environment for outdoor cooking and gathering.
12. Grill Station with Built-In Smoker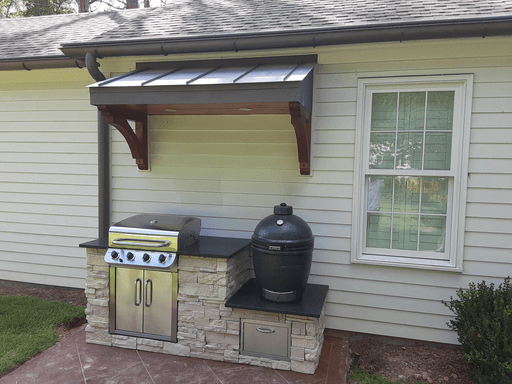 Build a DIY grill station with a built-in smoker to provide a flexible and flavorful outdoor cooking experience. Grilling and smoking pleasures may be combined into one practical configuration. Make sure to include a suitable smoking area next to the grill in your grilling station design. To reduce the heat and smoke, ensure your home is adequately ventilated and insulated.
Utilize moveable vents to control airflow and maintain stable temperatures. Build the smoking chamber from heat-resistant materials, such as metal or ceramic. Adding shelves or hooks for wood chips, seasoning, and smoking accessories will improve their usefulness. You can up your grilling game by adding rich, smokey tastes to your favorite meats, veggies, and more with a built-in smoker in your backyard.
13. Grill Station with Herb Garden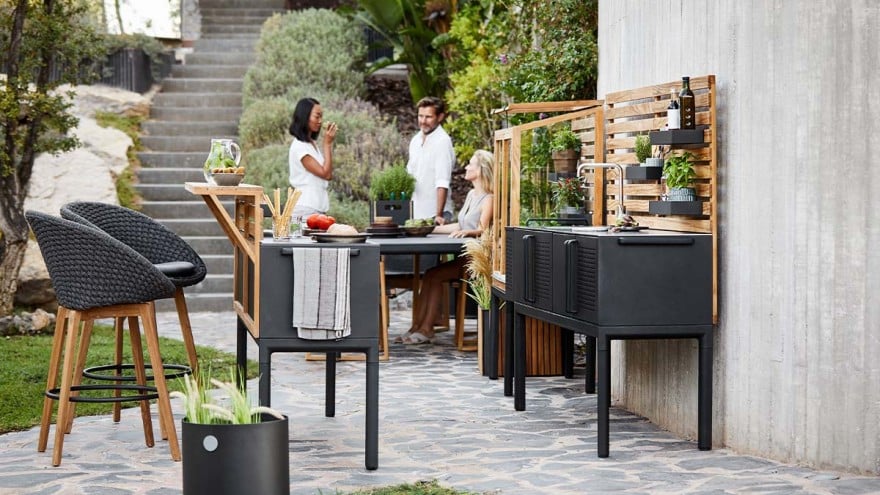 By constructing a DIY barbecue station with an integrated herb garden, you may enjoy the benefits of growing and cooking. Create a grilling station with a herb garden adjacent to the cooking area.
Install planter boxes or vertical gardening techniques right into the station to provide the herbs with adequate drainage and light. Pick a selection of herbs that go well with your cooking style and flourish in your region. Because the herb garden is next to your grill, you can quickly access fresh herbs while you are cooking, increasing the flavor of your food,
Having a DIY grill station with an attached herb garden, whether it is rosemary basil, thyme, or mint, adds a lovely and practical addition to your outdoor cooking area.
14. Grill Station with Integrated Lighting
You can create a pleasant and effective outdoor cooking place with a DIY grill station with integrated lights. Design the grill station with strategically positioned built-in lighting fixtures to illuminate the cooking area and surrounding space. Consider LED strip lights or weatherproof overhead lights that give enough light for safe and pleasurable night grilling.
Adjust the lighting intensity via dimmer switches or remote controllers. To create a pleasant atmosphere, you may also add ornamental lighting features, such as string lights or lanterns. The integrated illumination improves visibility and extends your grill station's usage into the night, allowing you to cook and entertain with ease.
Integrating lighting into your DIY grill station adds value, whether for functionality or aesthetics!
15. Rotisserie Attached Grill Station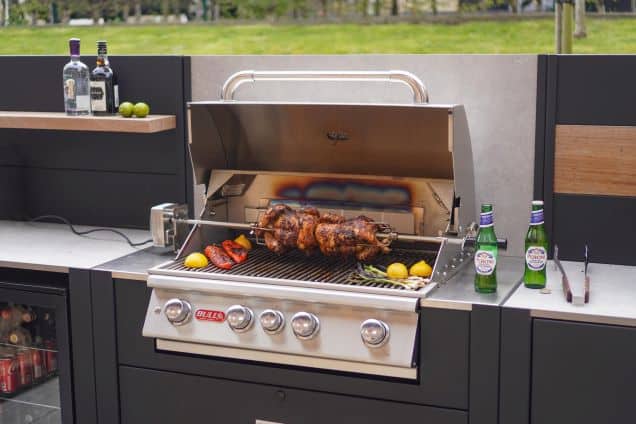 Set your grilling skills with a DIY barbecue station with a rotisserie attachment. Include a specialized rotisserie space in the grill station, equipped with a motorized rotisserie rod and adjustable brackets. Ascertain that the connection is securely attached and that it can support the weight of the selected meats or veggies.
Using a rotisserie attachment, you can easily prepare luscious and evenly roasted foods, including entire chickens, roasts, and kebabs. Slow rotation produces juicy, tasty outcomes while freeing up your hands for other grilling activities. A DIY grill station with a rotisserie attachment enhances your culinary choices, allowing you to produce professional-level, rotisserie-style cooking right in your own outdoor area, whether you are hosting a backyard BBQ or simply enjoying a family dinner.
16. Bar Seating Outdoor Grill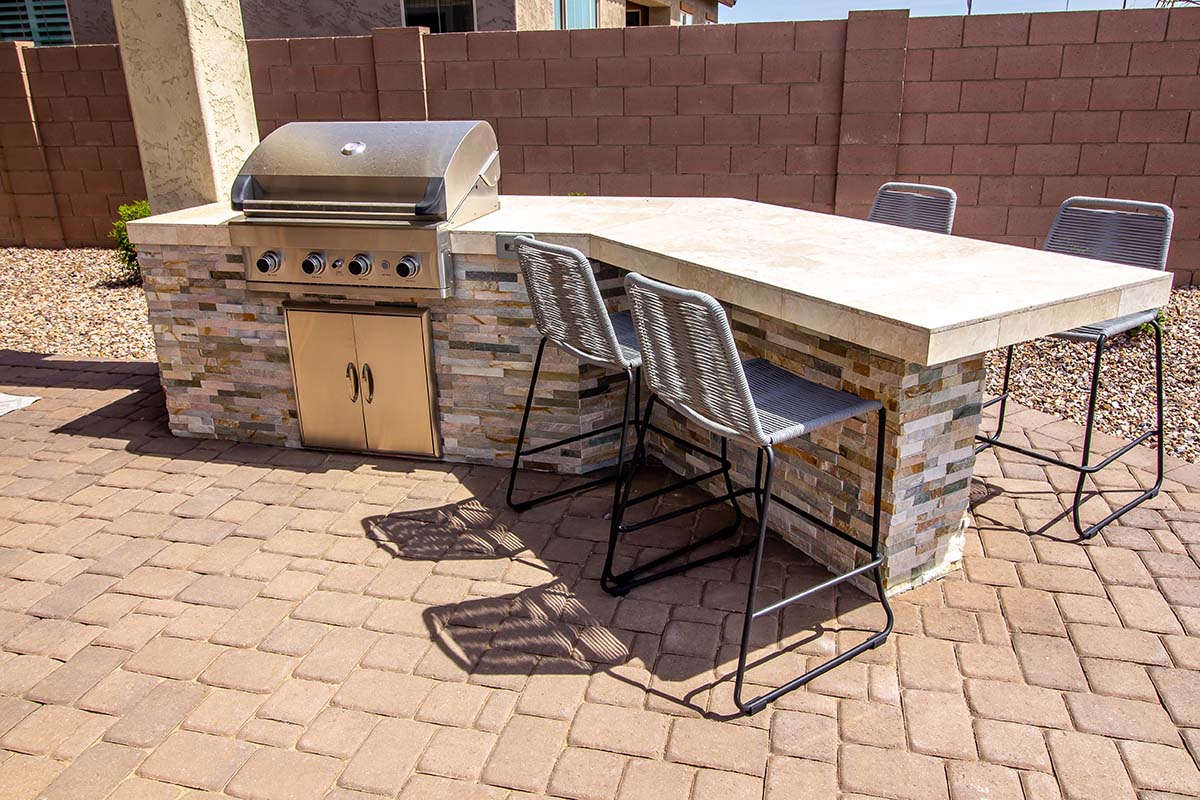 Build a DIY barbecue station with built-in bar seats for the perfect outdoor party environment. Design the grill station with a countertop with an extended overhang to accommodate bar stools and high chairs. Make sure the seating is comfy and well-supported. Guests may relax and enjoy their meals while chatting with the grill master in the grill master in the setting.
Include storage possibilities beneath the countertop for cutlery, condiments, and beverages. The built-in bar seating promotes a communal environment, making it great for gatherings and parties. A DIY grill station with bar seating gives a valuable and elegant location for your guests to mingle, dine, and enjoy the outdoors, whether you are having a simple cookout or a more formal event.
Conclusion
I hope that these 16 easy outdoor grill station ideas will offer you a variety of possibilities for improving your outdoor cooking experience. There is a grill for every taste and budget, whether you want a rustic pallet grill station, a robust cinder block island, or a recycled hutch turned into a usable cooking place. These concepts range from folding designs for convenient storage or stone ones for durability and beauty.
Consider amenities such as built-in smokers, herb gardens, or wine racks to improve your grilling skills. Don't overlook practical features like lighting or bar seating for increased convenience.
You can make a personalized outdoor DIY barbecue station using these ideas that meet your requirements. Indeed, these ideas will make your weekends and gatherings with friends and family even more fun.
So gather your equipment and prepare to create the ideal barbecue station this weekend!
Frequently Asked Questions
Why Should I Build an Outdoor Grill Station?
Making your own outdoor barbecue station allows you to tailor the design to your personal demands, style, and budget. It allows you to design a practical and visually beautiful cooking area that enriches your outdoor living experience while also providing a designated place for grilling and entertaining.
What Types of Materials Can I Use to Construct an Outdoor Grill Station?
Wood, metal, brick, stone, and concrete blocks are common building materials for outdoor grill stations. Material selection is influenced by aspects such as aesthetics, durability, and personal preference.
How Much Room Would an Outdoor Grill Station Require?
The amount of space required for an outdoor grill station is determined by the size of the grill and any extra amenities you intend to include, such as prep spaces or seats. It is critical to consider both the cooking surface and enough space surrounding the grill for safe operation and mobility.
Can I Build an Outdoor Grill Station with a Sink and Prep Area?
Yes, you can increase the convenience of your outdoor cooking with a DIY grill station that includes a prep space and sink. Include a sink with running water that is linked to a local water source, allowing you to clean food and utensils easily. Also, install a minor drainage system to guarantee appropriate wastewater disposal. The prep and sink combo provides a clean and efficient environment for preparation, cleaning, and organizing while grilling.