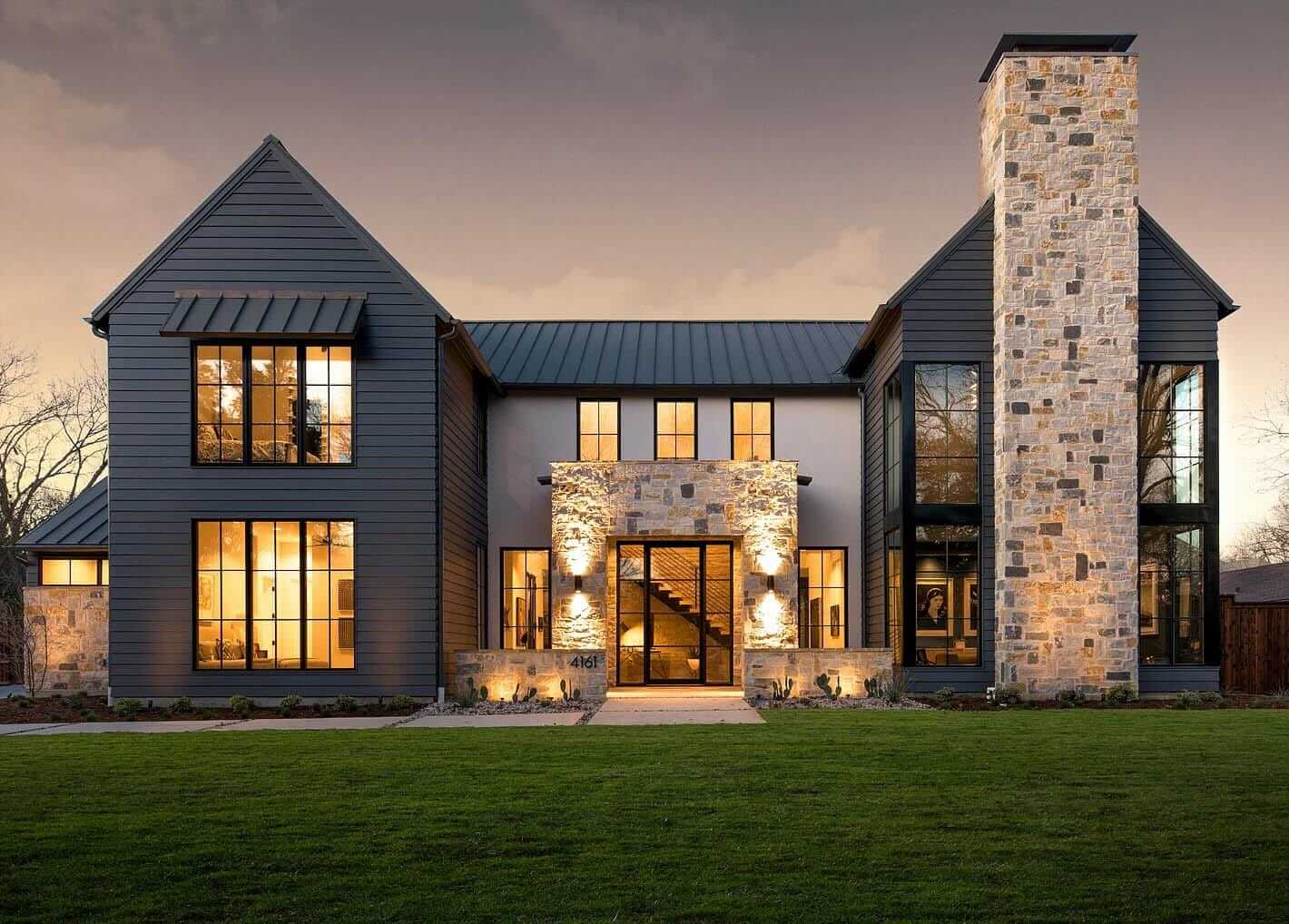 These days, trendy farmhouse exteriors are all the rage. However, it is tricky to decide where to begin due to the heterogeneity in options. For this reason, we've compiled a list of stunning ideas for beautiful modern farmhouse exteriors.
This blog post will suggest the best designs and features for your modern farmhouse exterior, ranging from magnificent hardwood pillars to vibrant accents, from straight siding and windows with louvers to the spacious veranda. You will explore how the application of complementary elements in exterior design, lighting, striking handcrafted detailing, and a high-pitched contemporary roof can transform your vision of making your farmhouse facade design appealing and creating a buzz in the town.
So, don't waste any more time; start reading!
Primary Features of Modern Farmhouse Exteriors
Aesthetically pleasing modern farmhouse exteriors are an emerging architectural and landscape design style that seamlessly blends traditional and ultra-modern elements.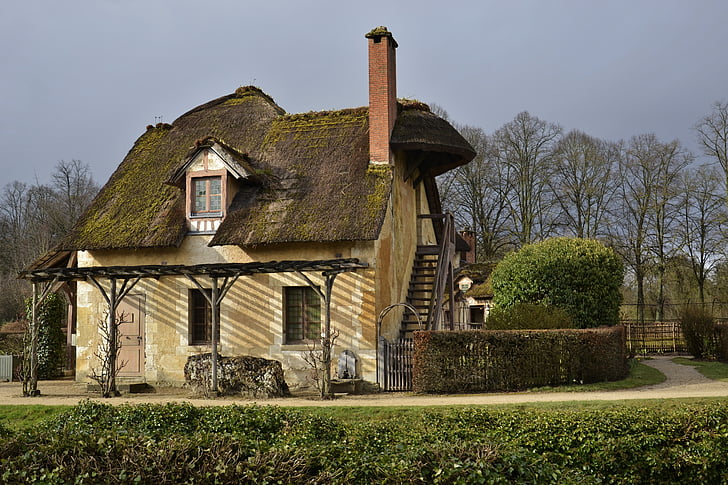 Board and batten siding
Horizontal siding
Steep contemporary roof pitches
Roofs with front-facing spans and a hip main roof
Grable bracket details and shed roof accents
Enclosed entry Courtyard that creates curb appeal
Welcoming front porch
Shutters on the windows
Dark windows and white stucco contrast
All-white palettes with a modern touch
These are just some of the main elements of a modern farmhouse exterior, but there are many variations on this popular home aesthetic.
1. Exterior with Contrast Warm and Cool Materials
You can design a stunning and distinctive modern farmhouse exterior that will set your home apart by using materials that contrast warm and cool. Check out some of the Beautiful Modern Farmhouse Exteriors down below.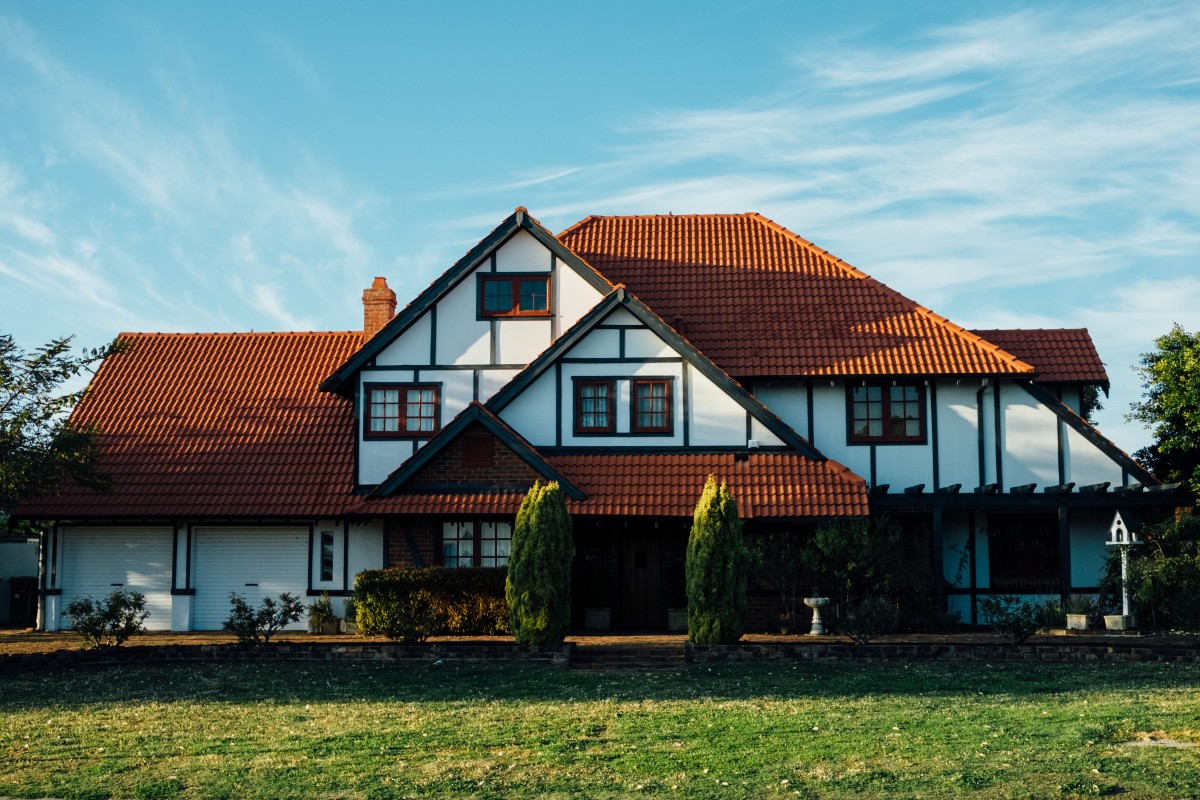 The application of warm and cool construction materials on a modern farmhouse exterior is one way to give it a special touch. This can be done by fusing supporting materials, such as metal and wood, stone, and stucco.
The contrast between the warm and cool materials gives the exterior more depth and visual interest. This further enhances it and combines a variety of textures and finishes. For instance, blending gleaming metal with hewed wood can produce impressive results.
2. Symmetrical, Modern Farmhouse Exterior Plan
A cutting-edge farmhouse architectural style that emphasizes straight lines and straightforward shapes is one with a symmetrical exterior. It is distinguished by a well-proportioned design with evenly positioned windows and a front entrance in its center.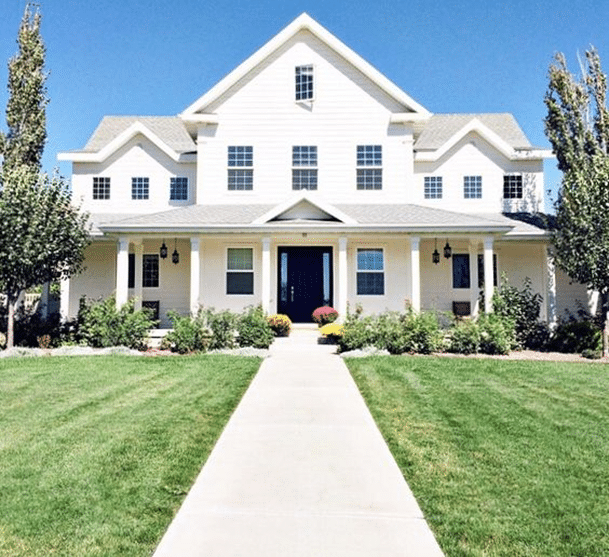 Typically the color scheme is neutral, with colorful accents on the main door or blinds. This is the point that design is centered around. You can rightly say this is the axis.
Look at this beautiful farmhouse. We feel the simple and elegant symmetry becomes the soul of the farmhouse. Additionally, the landscape with grass, trees, and shrubs creates a splendid combination of white and green, highlighting the character of this simple and neatly designed farmhouse.
3. Dark Trim and White Siding Display
Dark trim is a typical feature of farmhouse-style houses. The deep-hued trim highlights the distinctive details of your home when set against the bright white background. When you wish to build a porch in your new farmhouse, paint the supporting columns and post a dark color.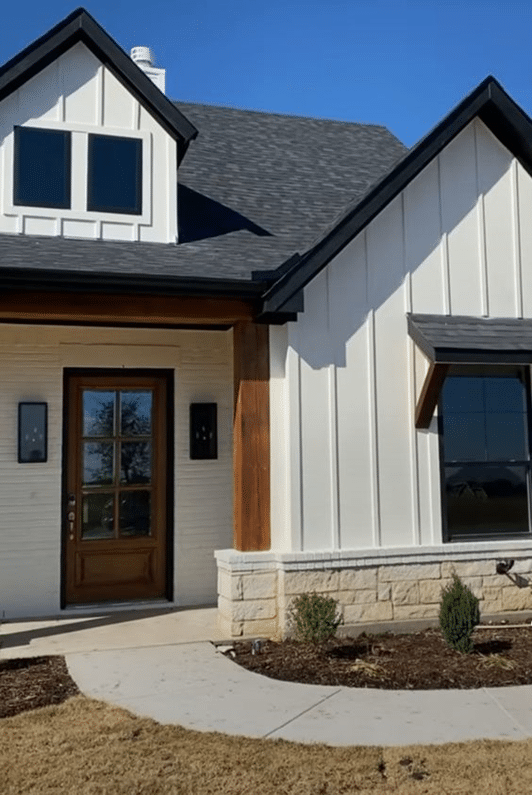 The outside of this farmhouse looks admirable due to its dark rake trim standing elegantly under the blue sky. Dark trim perfectly encapsulates the style of a contemporary rustic home exterior layout. Because of its deep hues, the window trim and nook boards appear prominent, which drastically enhances the elegance of an ultra-modern farmhouse. In an old-fashioned farmhouse layout, these elements would be coated in tandem with the siding.
4. Touch of European Elegance in Neoteric Exterior
While the large elements of a county home, like the partitions, gable roof, and Porsche, are first to make an impression, the front openings have the power to do the same. They immediately make your guests feel welcomed while easing the journey between the outer space of your home and your living area.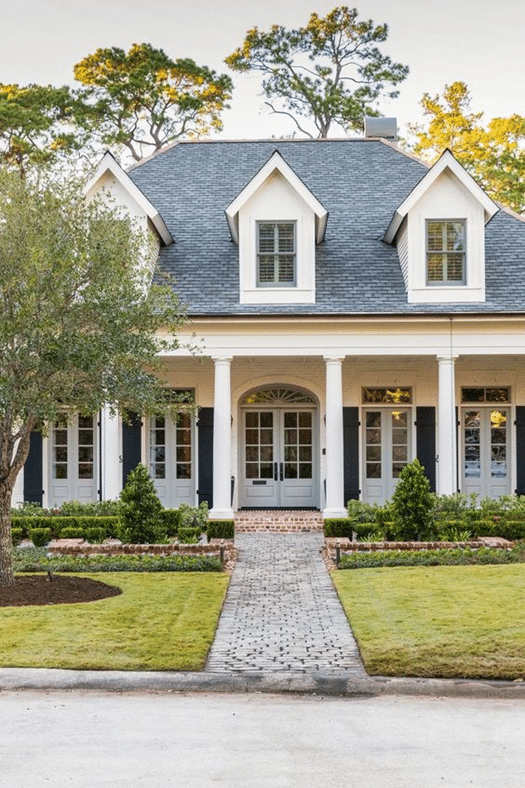 The stylish glass openings or fiberglass patio openings create a contemporary vision with a nostalgic touch. They remind you of the European elegance of the 19th century.
Black-trimmed large glass windows and sliding doors let in sunshine and cool air. Glass doors and windows can be customized. The large-format windows create an intriguing design by building a tall doorway, as well. Property owners add this feature with a dark-trimmed metal roof and a small front porch to give the design a complementary feel.
Use fiberglass patio doors with sleek lines and beautiful style to transform the farmhouse's exterior. You may get energy saving tax credit by selecting exterior doors that satisfy the relevant Energy Star requirements. You may incorporate vintage finesse and modern finishes to add a distinct character and identity to your rustic home.
No products found.
5. Gable Roof for a Trendy Exterior
A Gable roof is a typical exterior component of a contemporary farmhouse design. You might recognize it more by its triangle-like form than by its moniker. It resembles your childhood drawings of a house almost exactly full stop.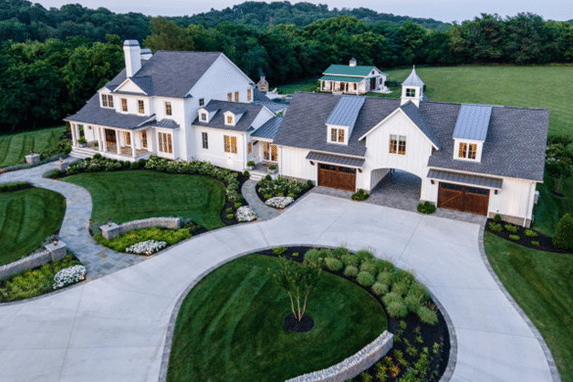 The Forte Building Group constructed this mesmerizing farmhouse, the exterior with the gable roof design has raised it to another level!
The steep pitch of the roof identifies the exterior design. This is a great way to highlight the height of your house. Typically, asphalt shingles are used in gable roofs. When compared to the conventional white farmhouse outdoors, the material creates a strong, dark contrast. Gable roofs have advantages beyond their aesthetic appeal. The peaks' slope greatly facilitates effective drainage. If you live in an area that experiences a lot of rain or snow, this could be extremely important.
6. Window Shutters for An Earthy Modern Farmhouse
Consider installing window shutters if you want to enhance the charisma of your modern farmhouse exterior. You may believe they are simple, traditional designs, but they can add a touch of simplicity to your exterior.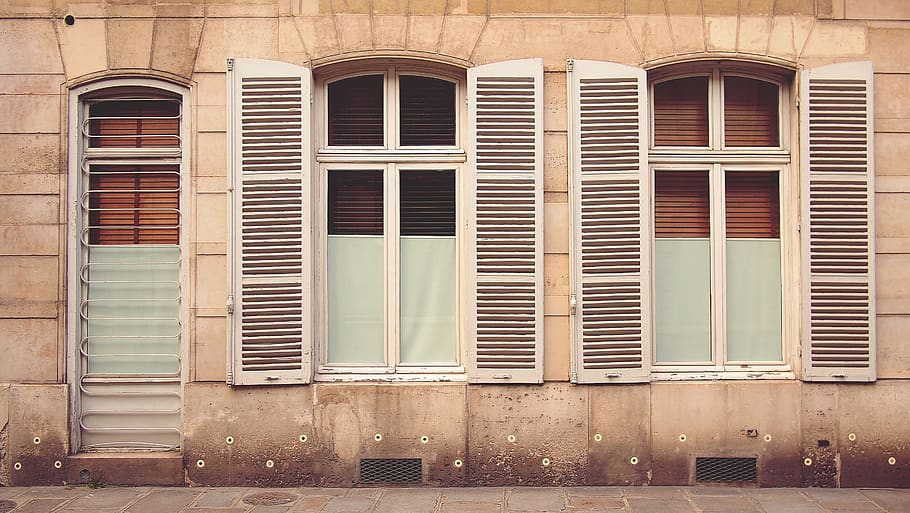 Light brown shutters paired with earthy brown sidings give this farmhouse's outdoor display a sense of spirituality and originality. This undoubtedly calms a visitor's eyes and makes the farmhouse owner feel proud.
Select louvered or board and batten shutters, which can both fit the modern farmhouse style and are both adaptable. To give the shutters a more finished appearance, think about adding decorative hardware such as handles and hinges. Wood shutters, designers opine, give the exterior a cozy and warm texture. Paint the shutters in a shade that goes well with the siding on the outside.
To exude rustic dynamism, you can add vibrant colors to the shutters, such as red or aqua.
7. Appealing Porch Layout Idea
A porch can add super value to a modern farmhouse exterior. A wraparound porch encircles one or more of the county house's sides. It offers a great deal of outdoor space for celebrations and can complement many different architectural designs seamlessly.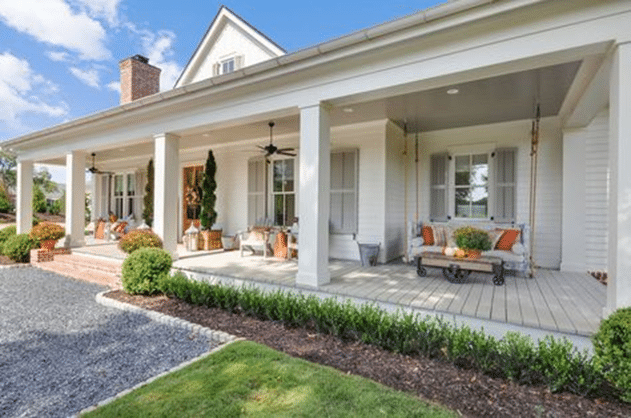 This unique country home delivers an impressive porch statement. It possesses a show-stopper look! The expansive and bright porch is designed with stylish seating arrangements and decorative plants. The glass windows and white siding and columns are just stupendous. Landscape elements like gravel, shrubs, and flower beds promote the bewitching aura.
If you are willing to enhance the outer beauty of your proposed country home, you can utilize the element like gravel aesthetically to create your design for a wraparound porch. Make the porch inviting by furnishing it with functional furniture and decorative accents. To give the porch some vibe and brightness, hang lanterns and lighting strings.
8. Exterior Design for a Modern Farmhouse with Wood
Modern farmhouse facades often feature wood designs to highlight the architectural layout. Wood can be displayed in a variety of ways due to its versatile nature.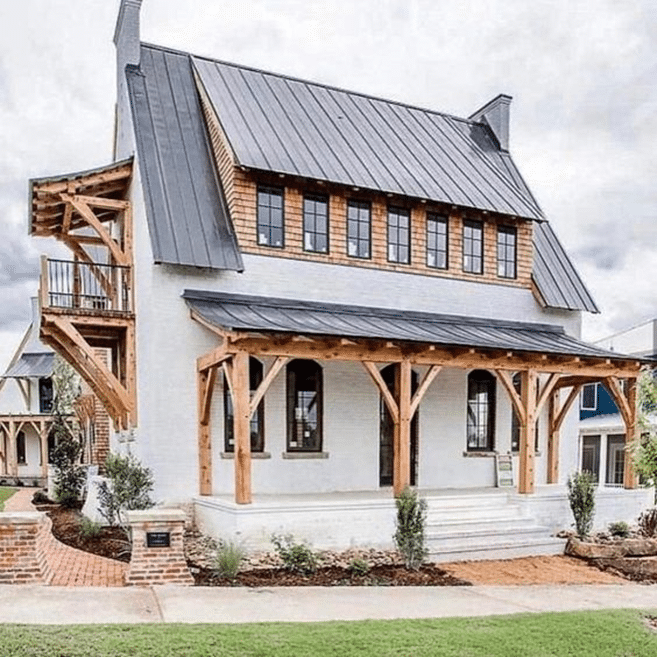 The arresting woodwork of this farmhouse is chic and innovative. The light brown support beams erected against the white sidings need to be appreciated. The side balconies are supported by wooden frames, and wooden shade must be a desirable place to stand and watch the setting sun.
You should pick a wood-grain finish that not only goes well with the paint shade displayed outside but also can withstand the outside environment. Rot-proof and resilient redwood and cedar are ideal options. If you intend to implement multiple finishes, be careful that the contrast is not too strong.
9. Darker Exterior with White Accents
Darker colors have been used as decorations or added shades to light-shaded modern farmhouse exteriors before, but have you thought about achieving the same effect the other way around?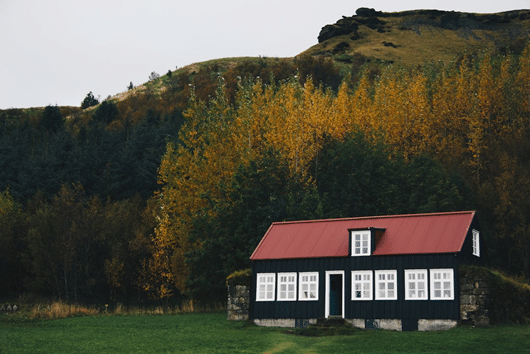 Charcoal, dark grey, or dark brown walls can create a moody but elegant atmosphere. You may choose a white or light shade to paint your windows, other furnishings, or decorative items. As you notice in the illustrated exterior, the white openings enhance the overall impact of the home. Making the roof red can also make the appearance of the exterior more notable. The border on the door and the wooden panels of the windows are white and glowing as bright as a star.
The success of this design lies in the purposefully using white sporadically to add contrast and depth without overpowering the design.
10. The Metal Roof Designs
Metal roofs on a country home offer a sleek, modern feel. Black or charcoal-colored metal roofs can stand out dramatically when paired with white or light-colored outer walls.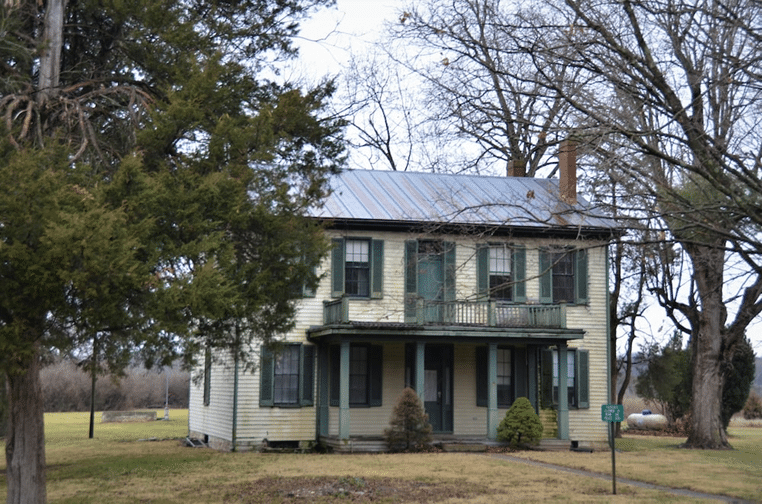 A standing-seam tin roof can also enhance the house's visual appeal while preserving a sleek and contemporary appearance. A tin roof with a matte coating offers a delicate and elegant appearance that blends in with the landscape.
In this picture, the metal roof's weathering or tarnished finish gives the design more warmth and personality, giving it a homely and endearing appearance.
The supporting beams with the same shade created uniformity and neatness to the exterior of this farmhouse. The design displays a fusion of urbane and rustic elements.
11. Narrow Design Ideas for Country Homes
Try out a narrow style of construction when coming up with a modest country home plan. When space is at a premium, this arrangement is typical. A second-story balcony or a side deck can be built while making more exterior space for a small farmhouse to increase the expanse of outdoor space.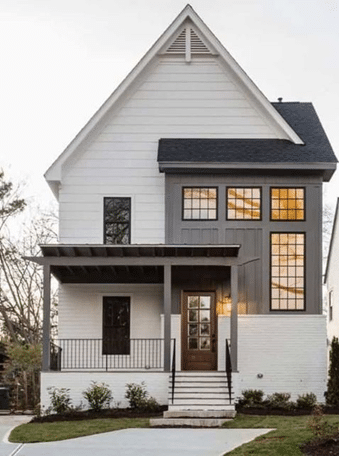 The house in the picture is small, but the layout is quite chic. The ideal modern architectural design for a smaller country home combines angular structural lines with rustic-inspired accents. The layout also aids in interior design. The Gobel roof gives the impression that it is higher and larger. By using horizontal siding and creating wooden designs for the porch's columns and beams, you can create an illusion of a larger space.
12. Ideas for Adding a Cozy Ambiance
Modern farmhouse decor is very much about a casual and clean sense of sophistication, although many country homeowners want to feel cozy and home-like setting to revisit their childhood days. If you are in this category, You don't have to deviate from a comfortable atmosphere as we suggest precise homely ideas.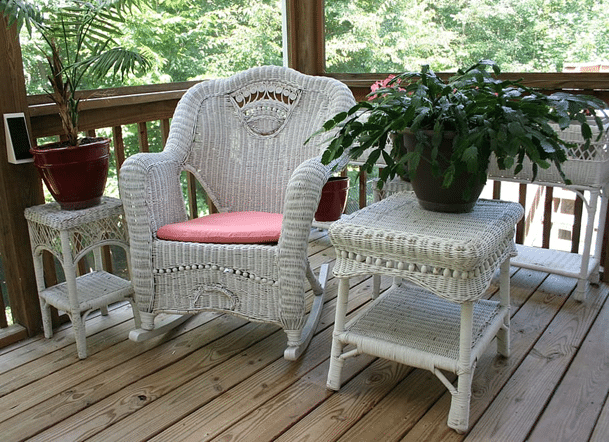 Use the furniture or decorations that support a homely setup if you want to create a cozy exterior ambiance. In this image, the wooden flooring, the rattan rocking chair, and the greenery in the surrounding can make anyone feel cozy and blessed.
Moreover, a comfy setup can be constructed with a quaint lantern or some warm lighting that harmonizes the indoor and outdoor spaces. Use motifs like gingham plaid check-in porch flooring or throw pillows to add a sense of coziness and nostalgia to the design of a modern farmhouse porch.
box*https://www.amazon.com/EAST-OAK-Furniture-Conversation-Waterproof/dp/B09MJK7SJQ/ref=sr_1_2?keywords=Farmhouse%2BPatio%2BFurniture&qid=1684730887&sr=8-2&th=1
13. Snow-White Latest Farmhouse Exterior
If you are happier with a more conventional color scheme, then choose a chic farmhouse exterior based on a white-on-white coloring scheme. All-white color schemes are essentially the traditional farmhouse look but with the right finishing touches, you can give them an innovative charm that appears prominently in both urban and rural areas.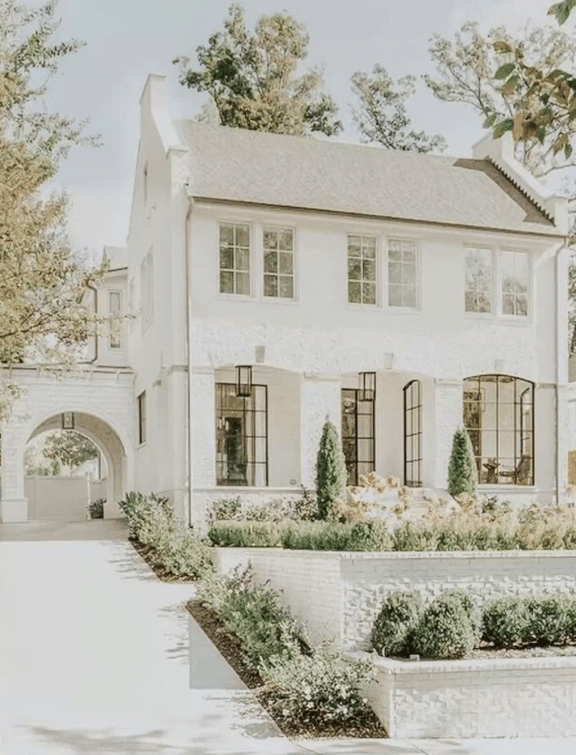 400
In this illustration, the trim has the same shade as the outer siding. Thus the colors blend beautifully. The monochromatic style creates a crisp, refined impression. A dark front door is a good option if you want to add a striking contrast.
When a grey shade seamlessly blends into the design is added to complete the all-white look, the exterior will look more beautiful.
14. Modern Earthy Look Idea
You have seen enticing all-white and black-and-white exteriors, but what earthy hue and wooden tone can create is no less enchanting.
In this picture, brown siding complements the wooden layout. The white columns add value and texture to the whole setup. Even the white-trimmed glass openings create a timeless look in a trendsetting architectural design.
To accomplish an earthy look for the exterior, you may install large, comfortable furniture to promote comfort and relaxation, like reclining chairs or patio swings. To create an authentic ambiance, use wide plank flooring. Design your space with antique or salvaged construction materials.
15. Latest Board and Batten Ideas
Board and batten siding is a common farmhouse siding layout idea and is primarily created with timber. However, vinyl, metal, or fiber cement materials are also helpful in creating the look.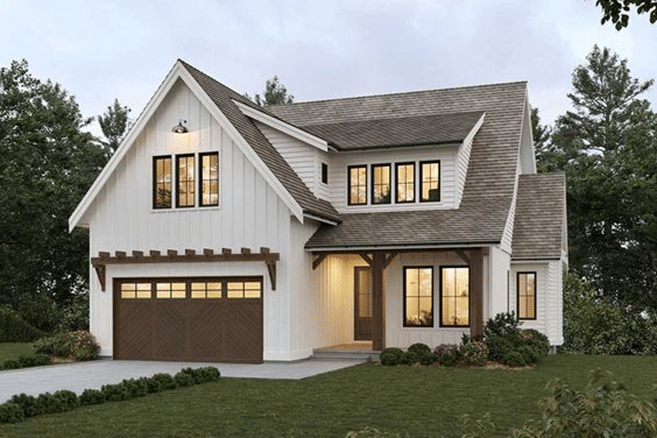 Additionally, you may be painting the siding with a long-lasting shade. As the timber panels and boards" are joined by a narrow strip of wood molding, or "batten" here. The batten serves to conceal the vertical plank's seams. The panels add texture and a geometric pattern to the home's exterior, transforming the entire layout of the country home from typical to trendy.
As you see in this image, a 2-story home plan, an Architectural Design exclusive, has a lovely board and batten and clapboard exterior, as well as wood accents over the garage and timber supports on the front porch.
It is suggested to use brick or cedar for exterior siding in addition to board and batten siding to add depth and texture to the design. To breathe new life into the traditional whiteboard and batten siding style, opt for black trim and roofing. To create an impressive contrast, combine accents of stone or wood with blackboard and batten siding.
16. Expressive Window Design Idea
Does your home have views of greenery and natural scenes, such as Hills, mountains, or even the sea? No matter where you are in the house, you really cannot afford to miss the panorama. Furthermore, a lot of people favor living in country homes where the majority of the time, there is natural sunlight in the room.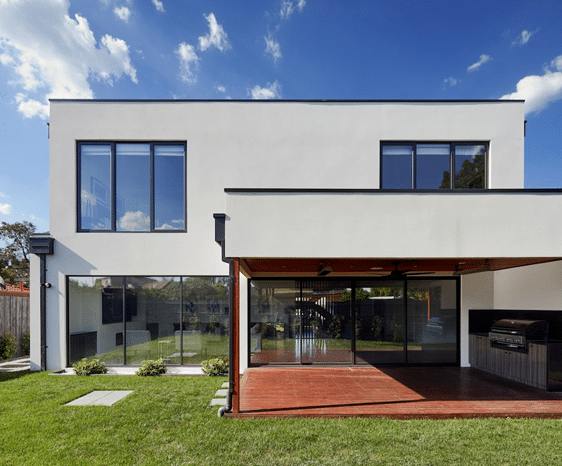 Choose larger windows, especially those with grille designs, to replace the small ones that are covered by heavy curtains. You can also go a step further and have a whole part of the outer wall with glass fittings, just like the farmhouse in the image. The exterior, with huge sliding glass walls and large glass windows on the upper story, looks fabulous.
There are numerous prevalent window layouts available. You may choose from single or double-hung windows. Besides sliding windows, awning windows, casement windows, bay windows, and tilt-turn windows are now a few of the most common glass designs.
Nowadays, this concept is becoming increasingly sought-after for making a stylish exterior. It creates a feeling of vastness and a connection to nature.
17. Stone as An Exterior Accent
By incorporating natural materials like stone, you can achieve the fusion of trendy and rustic farmhouses, enhancing the exterior design of your entire country dwelling.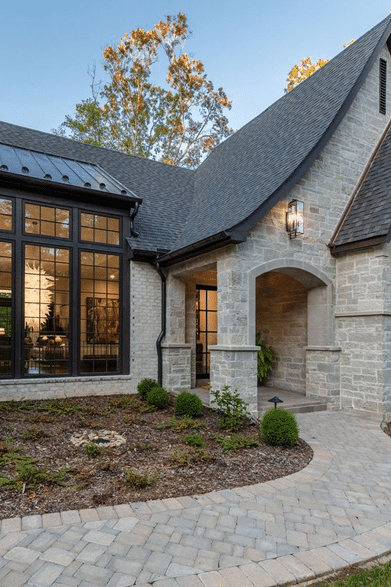 For instance, you may make a lower stone wall or the lower part of the full exterior using the natural stones available in earthy and bright hues. The application of stone on the outside draws attention to a particular structural feature, as in this in-tune image.
An expansive facade and portico doorway of this natural stone country home has cut stone accents. The wood backyard decks, outdoor living fire pit seating area, modern exterior lighting and chandelier, and walkway stone pavers all add to the elegance.
You can use natural granite stone to build the staircase and build a castle impression in your beautiful, trendy farmhouse. Replace it with stone veneer if cost is your primary concern.
Conclusion
I certainly hope that learning about modern farmhouse exteriors in this article has helped you identify some design styles and materials.
Natural elements like wood, rattan, and stone can live up to the fashionable-looking exterior you have imagined. Using different architectural styles like pillars, beams, and sliding, it is possible to create an overly impressive rustic house exterior.
Do not forget to pick from multiple colors and tones to coat the roof, openings, and support structures. It is easy to create a warm and cozy, serene, yet ultra-modern exterior setup by incorporating appropriate architectural designs with wood and stone accents.
What do you like the most in this article? Feel free to share your choice and design ideas with us in the comment box below.