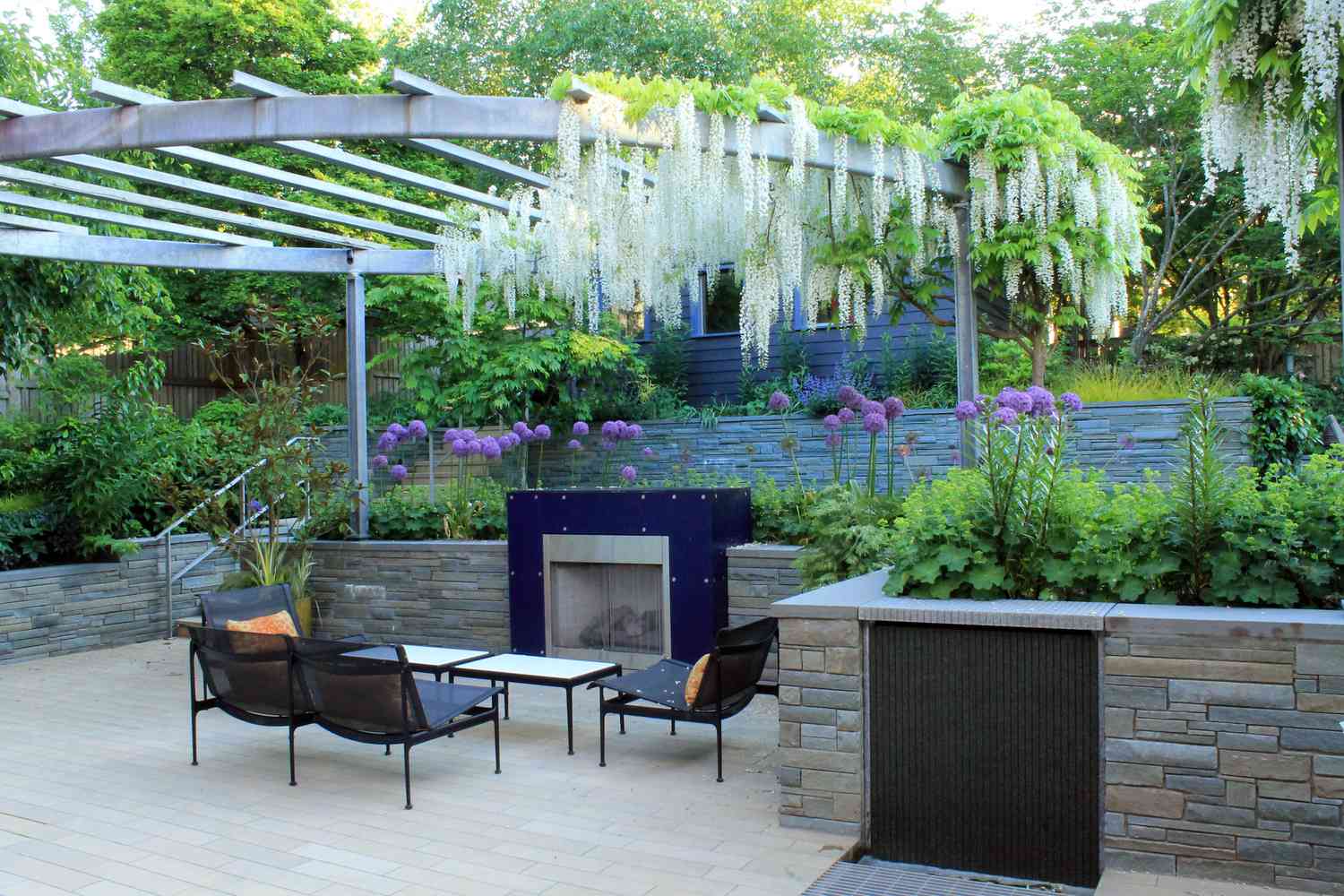 We all need a break from our hectic and tedious routines at the end of the day. What if you can relax and escape at the same time without stepping out of your home? The focus here is that you can build the most comfortable place in your home. How tough is it to incorporate landscaping ideas into your home? 
Will it be cost-effective? Will I have time for maintenance? Does my yard have sufficient space? What plants should I plant for what weather? Do I even have knowledge of it? If you are planning to renovate your yard, you must be flooded with questions. 
If you carefully analyze and choose, you can build a paradise in your yard. In this blog, we will talk about multiple landscaping ideas which will cover all the aspects of planning your yard. The blog has cost-effective, low-maintenance, and weather-appropriate ideas to solve all your doubts. Here are our top 30 landscaping ideas you can use to build the best place for your home!
1. Saturate Your Yard with Ground Blossom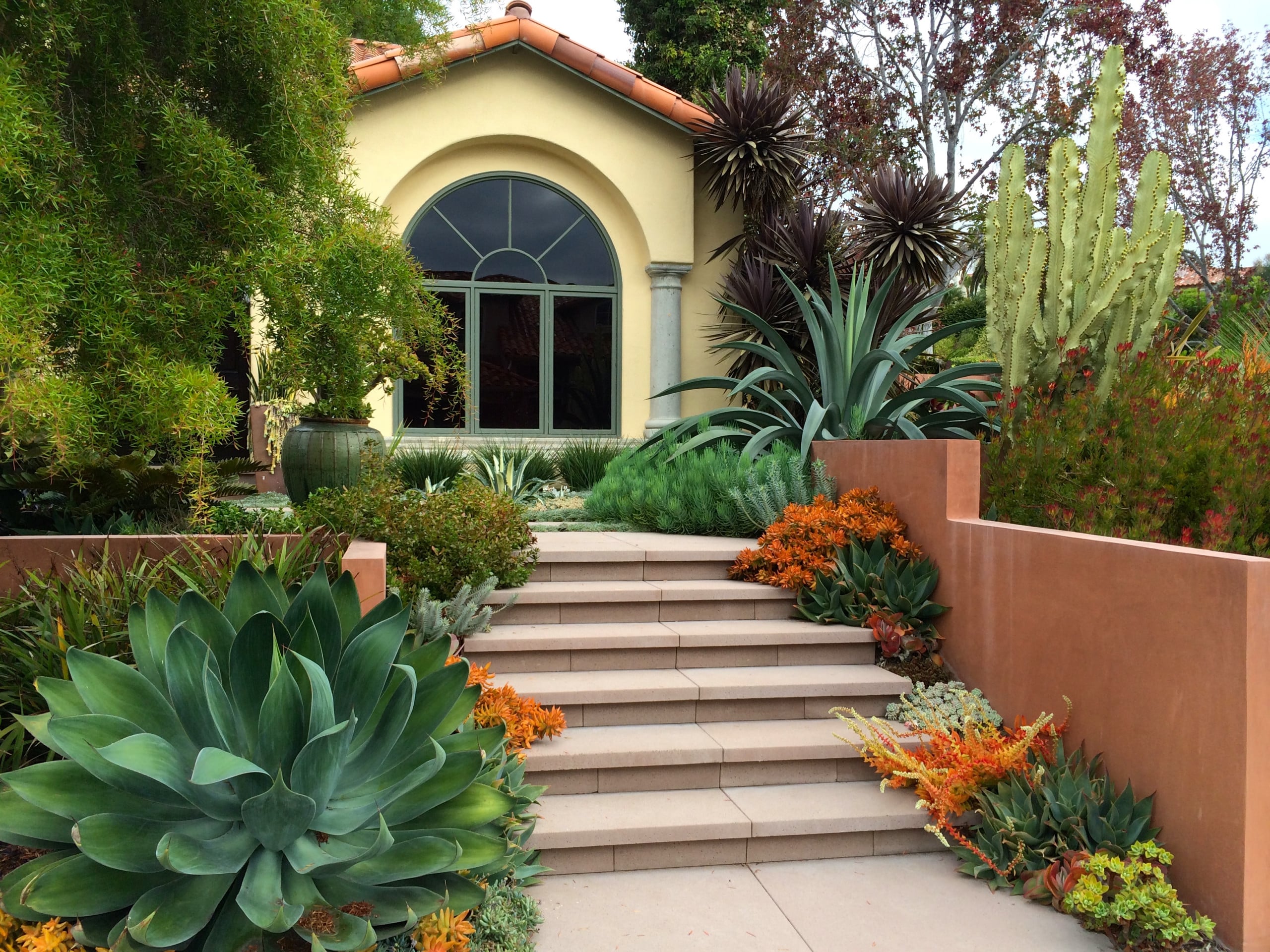 Using exquisite flowers is one of the best landscaping ideas to level up your front and backyard. To enhance the visuals with all the flowers, you can further design your walkways in curves. The flowers can be chosen depending on the design of the outdoors of your house. A touch of nature can never go wrong. 
2. The Cottage Garden Exteriors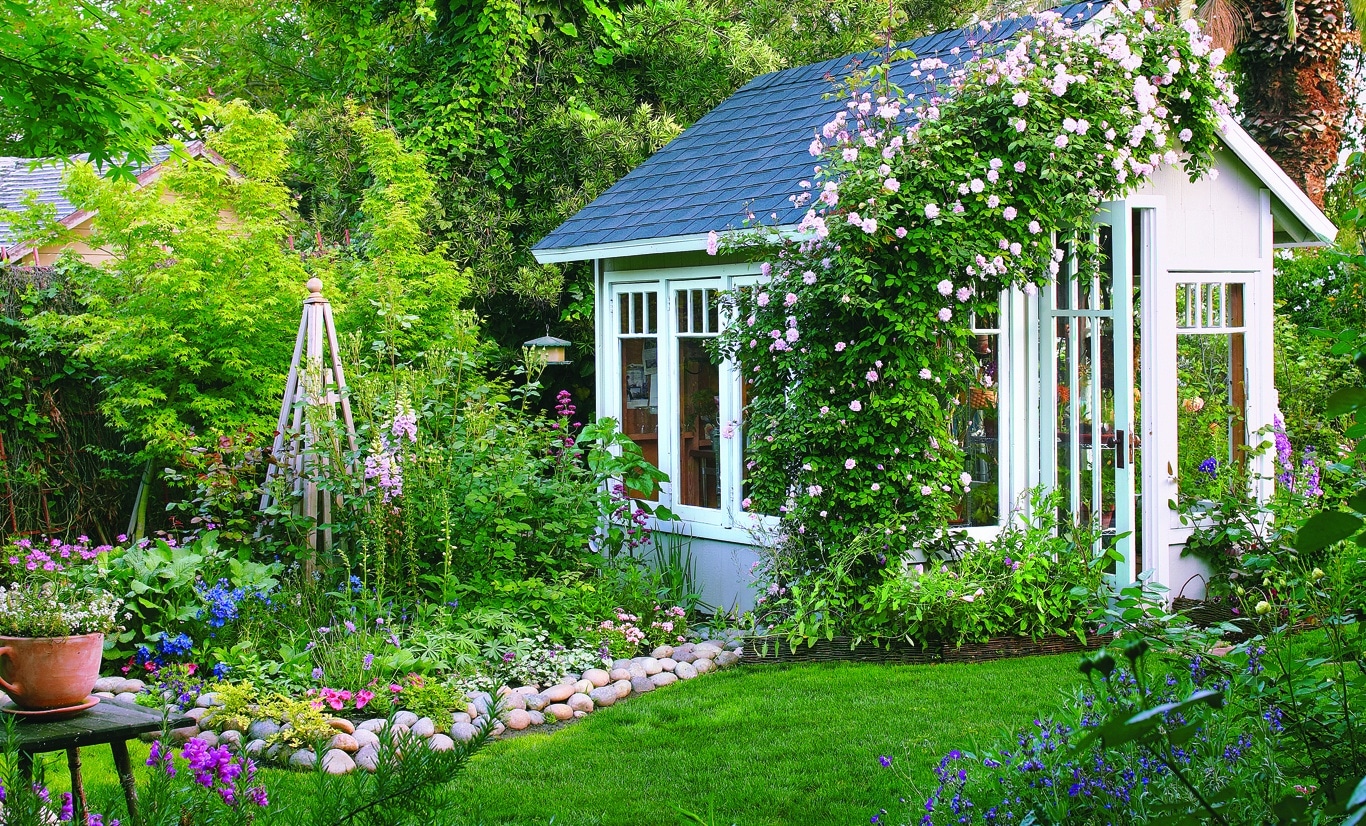 For a cottage-garden-based landscaping idea, you don't have to find a cottage. This design goes with most of the house architectures. The key point for this theme is to leave no soil without a plant (cover it with plants.) Additionally, adding flowers around the planted trees, planting climbing flowers to the walls, and raising levels for different flowers can be used to make it look perfect.
3. Add Fun with Outdoor Games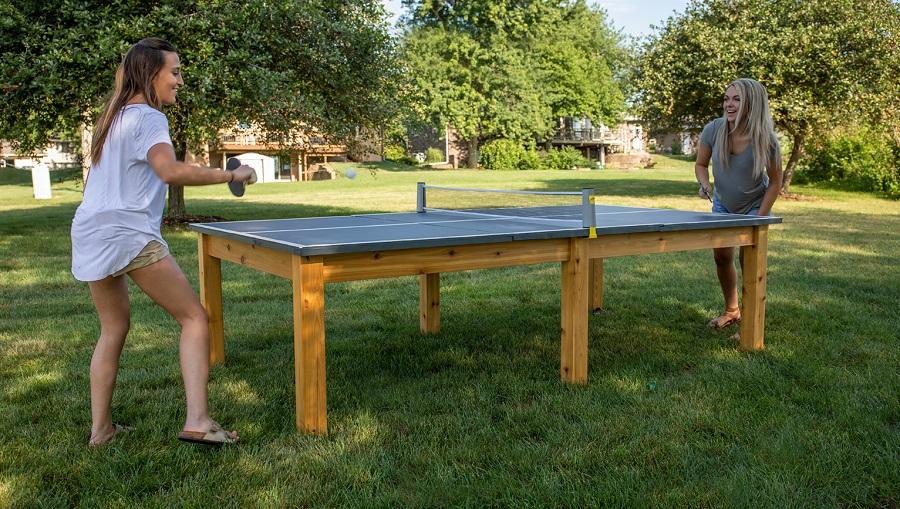 Using extra space in the backyard for outdoor games is a fail-safe landscaping idea. The types of equipment used should be water-resistant to protect any damage to them from the sun and water. Some of the lawn games you can add are table Tennis, Atticus Croquet, Foosball, or a Pool Table. For children, you can add swings, see-saw, etc., to build a child-friendly fun space. Bean bag toss is another outdoor game loved by people of all ages. You can also add spaces for games like Chess and Crosswords, never to make a gathering boring. 
4. Dwarf Coniferous Shrubs for Home Landscaping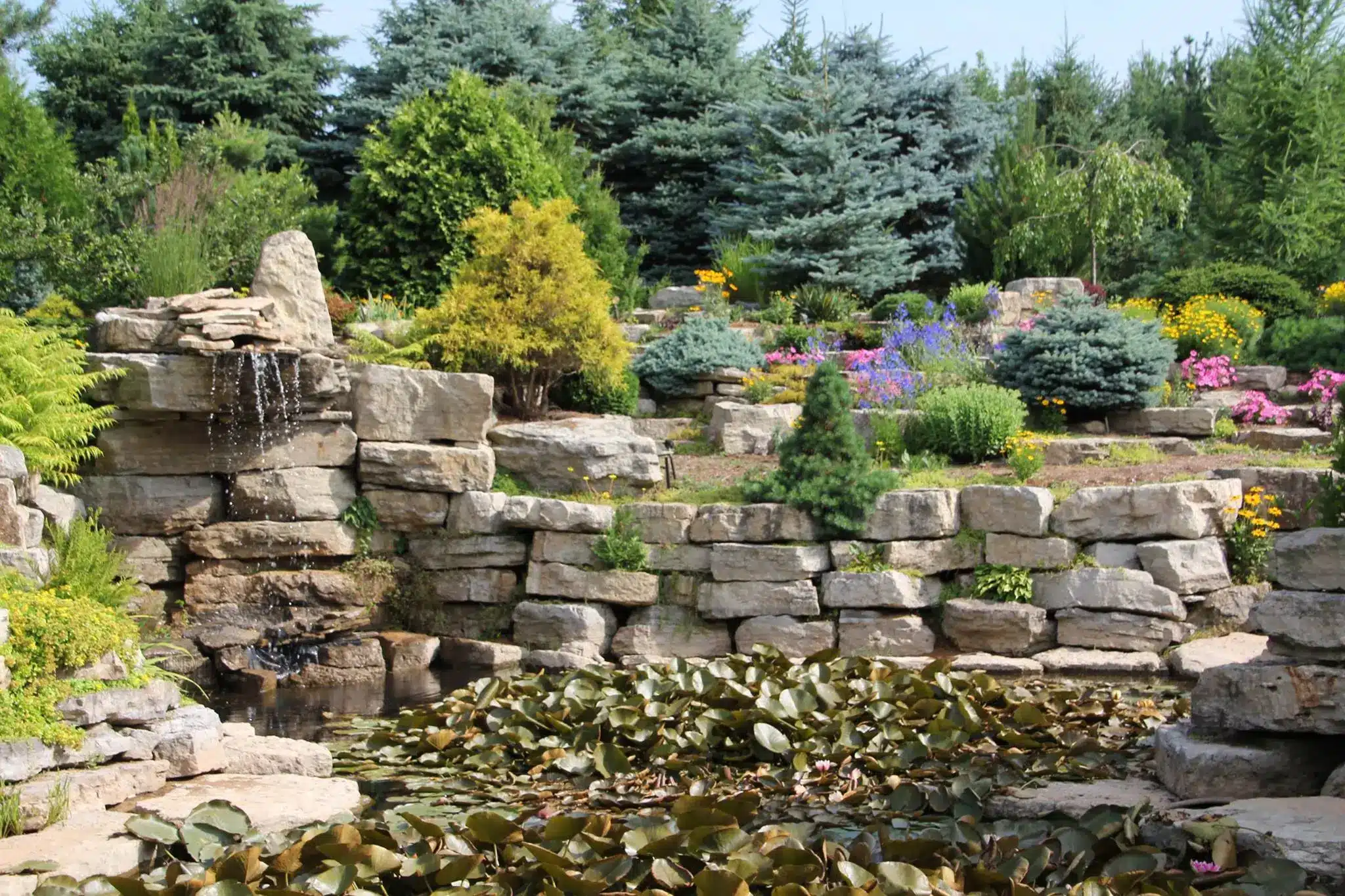 Conifers are a great choice for landscaping if you can adjust them with the architecture of your homes. Dwarf conifers provide a structure to the front and backyard and can be used as per the space available. Nowadays, a wide variety of both colors and shapes is available to choose from to give a perfect finish to your home.
5. Make Your Walkways Interesting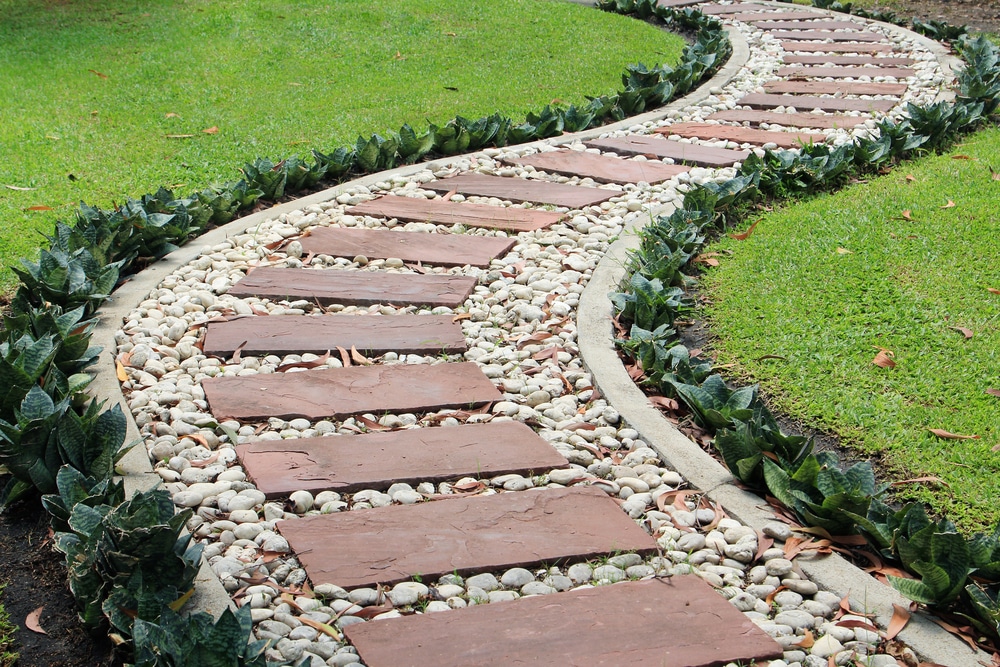 To make your walkways compelling, you can build unique ones over traditional walkways. A stone walkway is one of the very interesting landscaping ideas to try. To add a pinch of elegance, you can adjoin the walkways with different varieties of flowers. You can choose from a single shade for a monochromatic pattern or a bunch of flowers with contrasting colors. 
6. Multi-Level Landscaping Architecture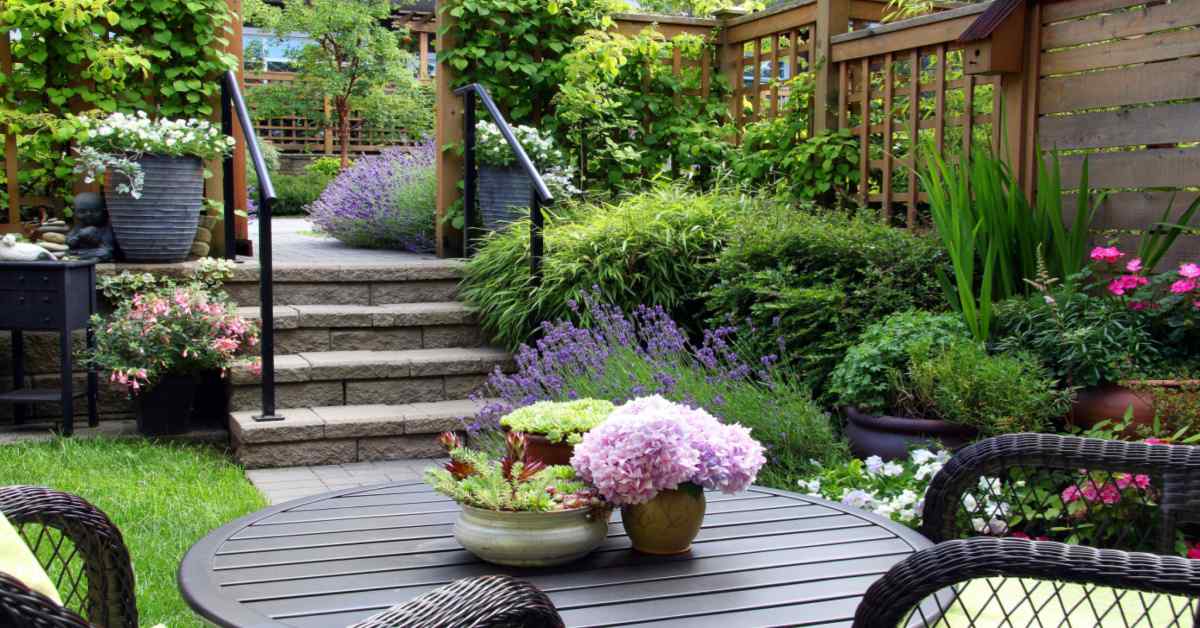 This architecture is best suited for sloped yards to bring out the best in their yards. This utilizes house spaces, including the terrace, retaining walls, decks, and garden slopes, to build a unique design for your home. Multi Level landscaping ideas might integrate your stairs, driveway, lawn, walls with variable heights, and pathways to build the best landscaping design. To create an exquisite sight using different levels, create garden beds with flowers and shrubs. Particular shrubs can be used for adding a border. Vines and undercovers make the best flora creating a perfect and balanced outcome. Plants should be planted depending on what side the slope is facing. For example, south-facing slopes are generally hot & dry, whereas north-facing slopes have lower temperatures. Hence, plants should be planted based on their tolerance. 
7. Play with Colors Using Hanging Baskets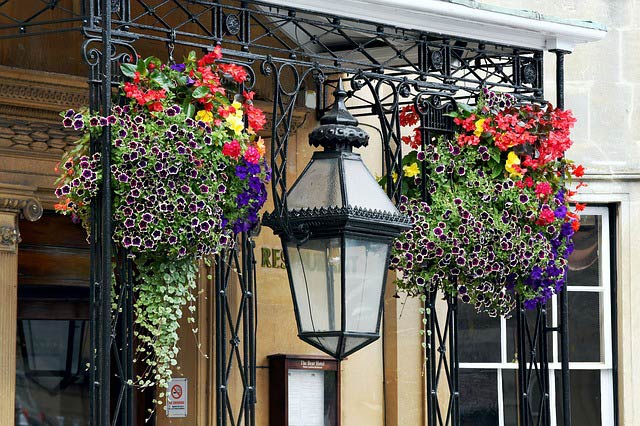 Another variation of sprinkling a sight of flowers in your front and backyard can be done by creatively placing flower pots. Some of the popular choices for hanging are drought-resistant plants, flowers with bright hues, soft textures, flowers, or mixed-colored foliage. Fragrant flowers and contrasting flowers can also be a good landscaping idea. 
8. Islamic Courtyard Inspired Backyard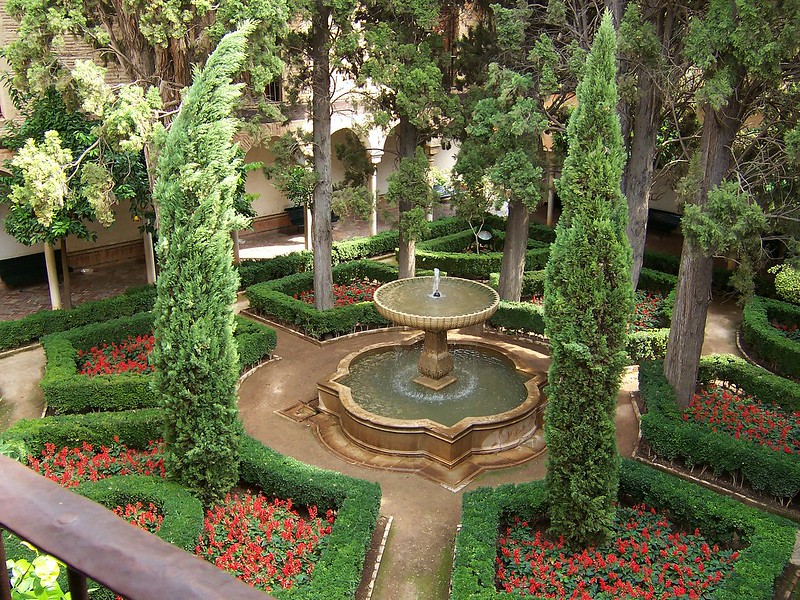 Islamic-inspired landscaping ideas, originating from the Middle East, include themes integrating water and shades. It has a touch of water, a quadripartite layout, the use of shades using vegetation, and fences. For inspiration, you can place a central water fountain or bowl in your yard. Be creative with the water bowl to add aesthetics to your yard. A great variety of flowers can be used to provide hues matching the output you are looking for. By using the right blossoms, your yard will be no less than a paradise. 
9. Ground Cover Plants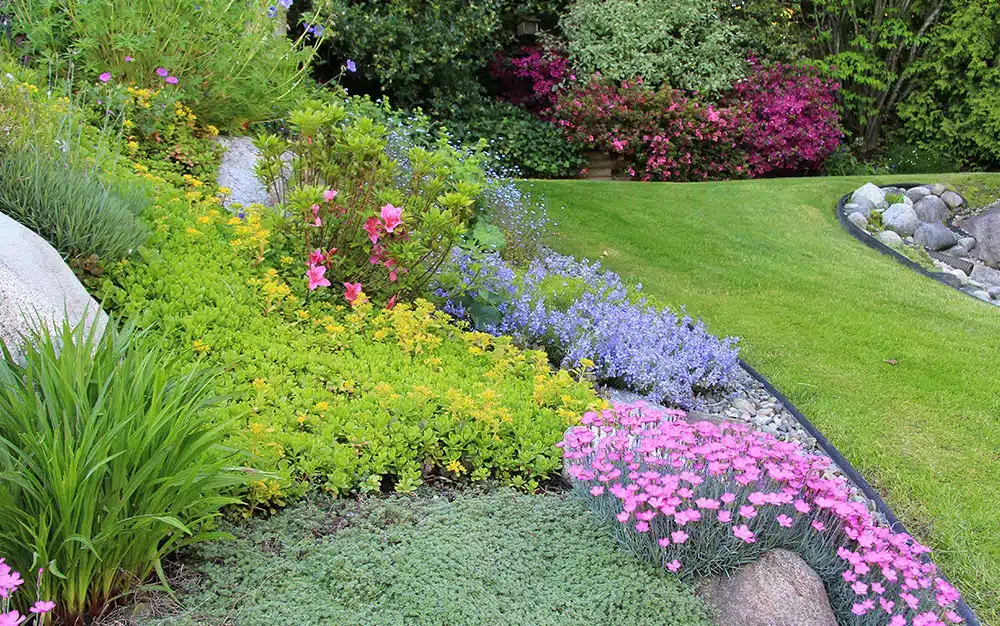 Ground cover plants provide an exceptional solution to hide cracks and empty spaces. For example, ground Clover can be used for covering cracked or eroded parts of your garden and beautifying them. If you don't want to add a Clover plant alone, try to mix it with regular garden grass to give it a beautiful touch. Different clover species can be used, like white and red Clover.
10. Replace Your Garden Fences With Blooms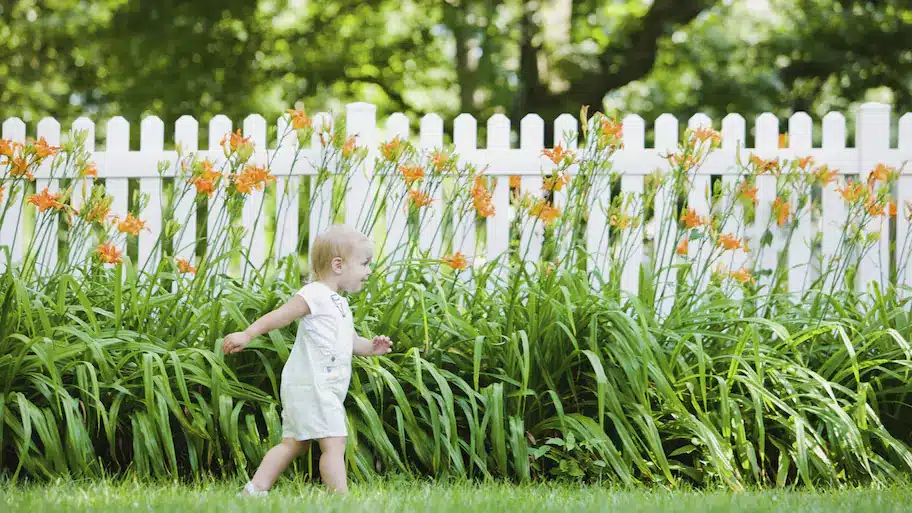 Garden fences can be an interesting part of your yards, but why not experiment a bit with the colors? Hydrangeas make the best choice for this purpose. The lighter shades provide the best effect on your garden. If you do not want to eliminate a garden fence completely, try incorporating a few blossoms with your wooden garden fences. 
11. Concrete Walls with Flower Beds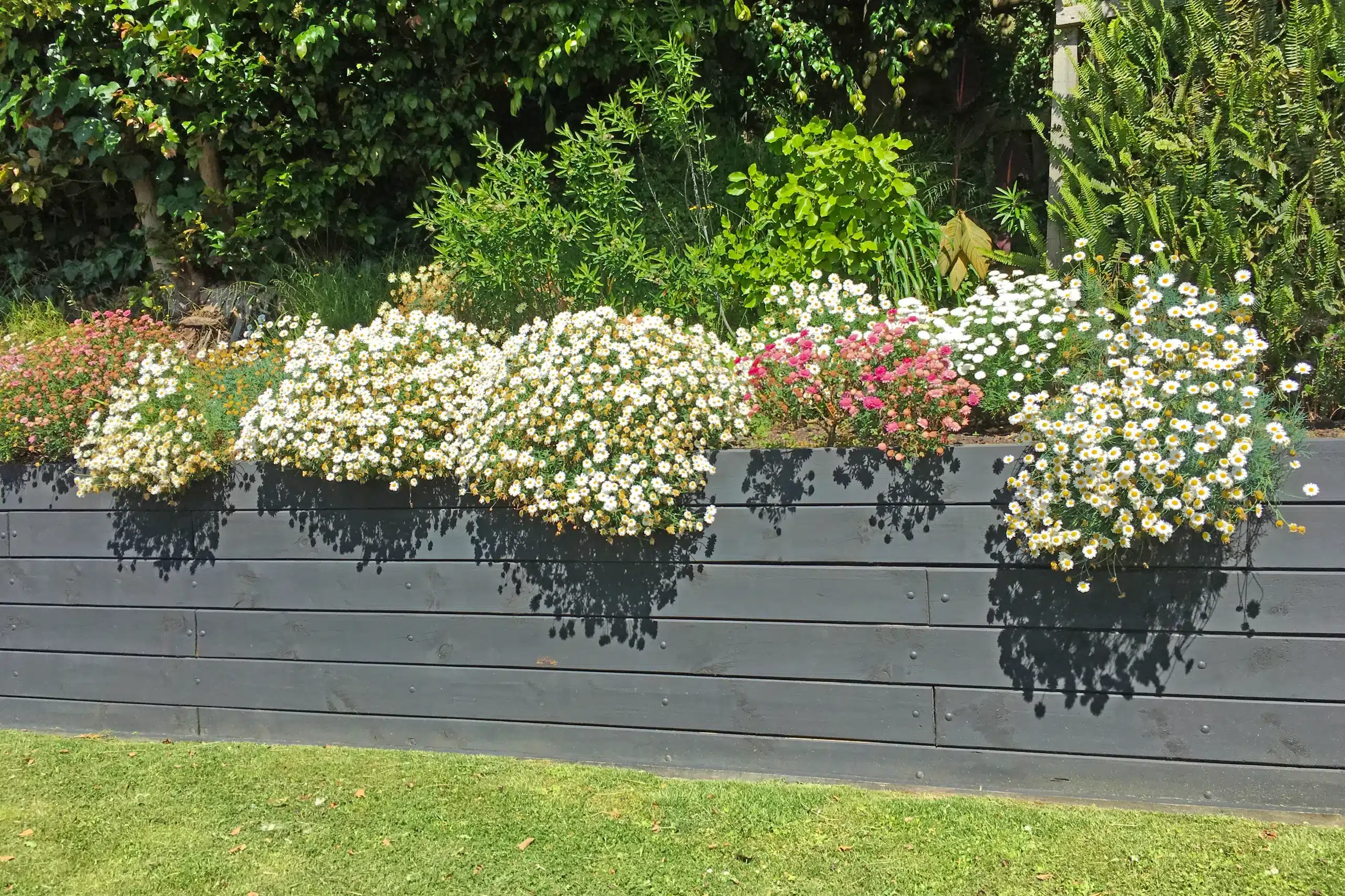 To add charm to the outlook of your house's concrete walls, having in-built flower bedding can be a great option. This landscaping idea will provide your outdoors with a sleek and neat appearance. The wall design and coloring can be customized depending on the architecture of your house and yard area. You can add multiple hues in a perfect ratio and structure that will define your yard in the best possible way. Multiple walls, with varying dimensions, can be placed with different types of flora. 
12. Add Fun to Your Yard with Water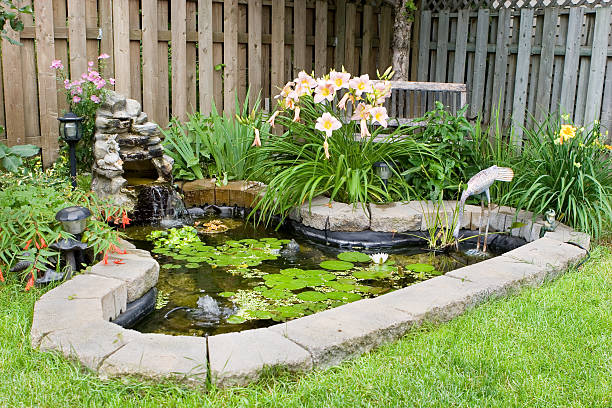 The addition of water to your yard not only makes it appealing but also provides an aura of calmness. Fountains are the most popular choice, but there are different ways you can do it. A raised pond is one way you do it. The elevated space makes it the central focus of your front yard. Water rills (shallow channels with flowing water) can be built if you have appropriate types of blossoms grown in your yard. The dynamics of fountains provide both acoustic, visual, and mobile effects. A water bowl or garden pool can also be used to integrate water into your landscaping ideas.
13. A Green Wall Home Is a Good Choice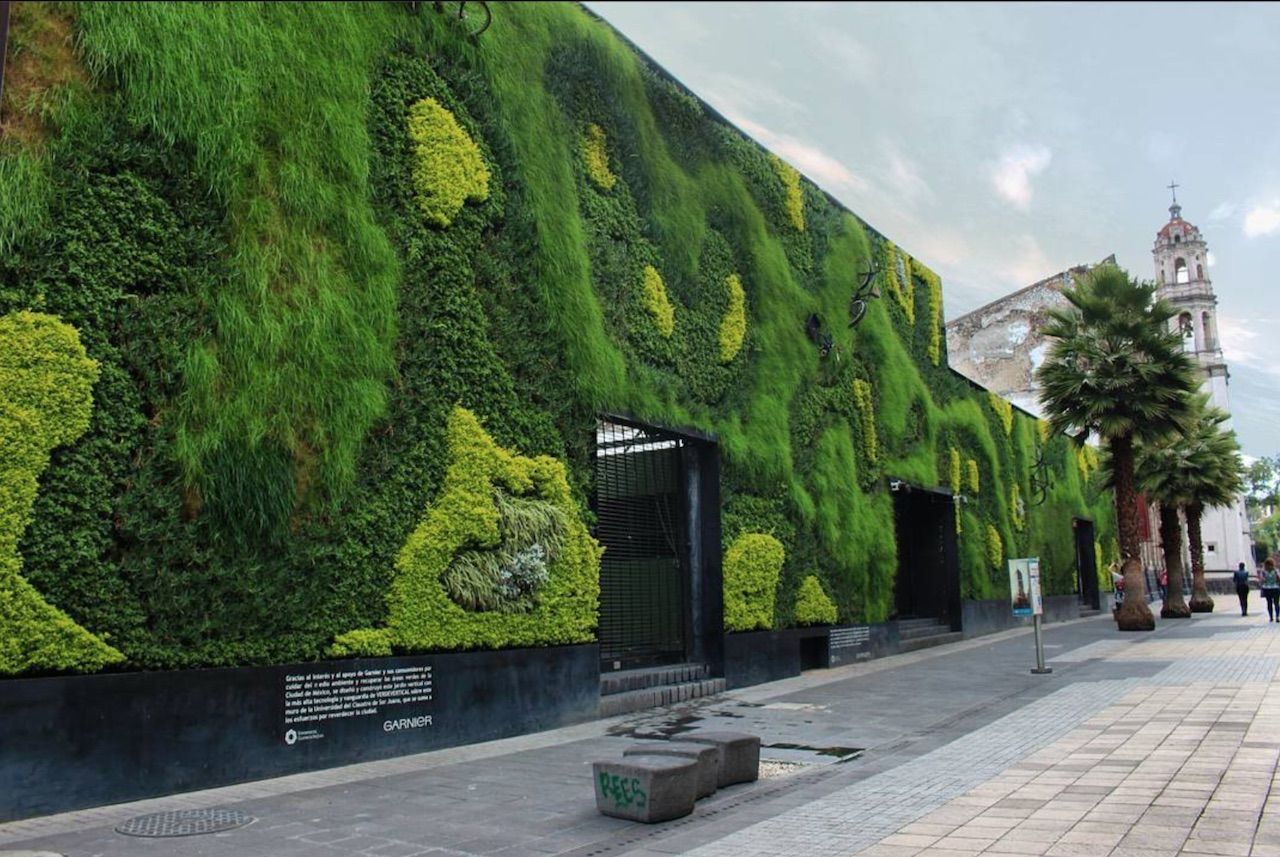 Adding a green wall is definitely a hit as one of the smartest landscaping ideas. Other than providing a subtle and calm vibe to your yard, they also aid in soundproofing. Good-quality air and rendering a bit more privacy are a few other plus points rendered by a green wall. You can either opt for a faux plant wall or place small pots on a sturdy wall for this landscaping idea. 
14. Cacti for Enhancing Landscape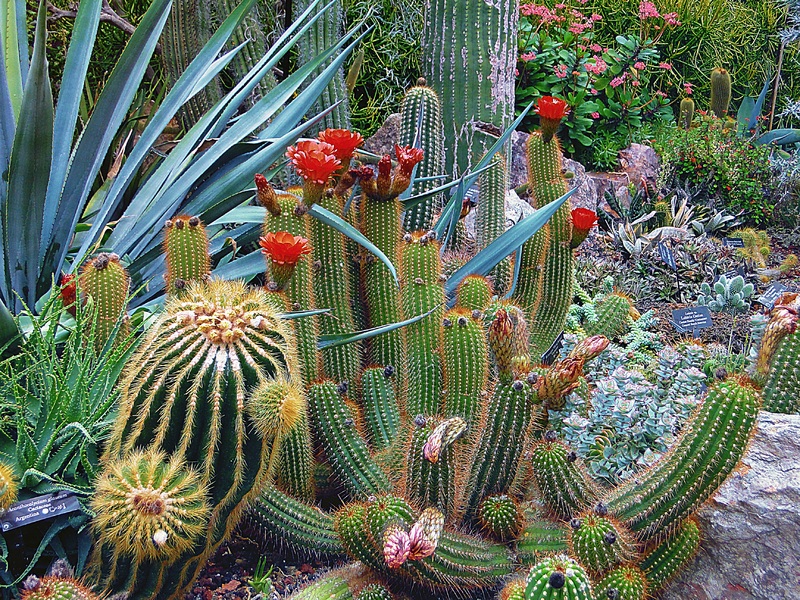 Integrating cacti in your landscaping ideas is not only dramatic but also low maintenance and can save a lot of your time. For planting cacti, make sure you use ideal soil for cacti growth. Cacti come in different shapes, sizes, and colors, so you are offered a lot of choices for your yard. For building a yard with hues, you can add cacti of different species, which will render colorful blossoms. You can also add cacti to your gravel garden theme. For an artistic touch, you can place potted cacti in some creative pots or boxes.
15. Make Your Windows Interesting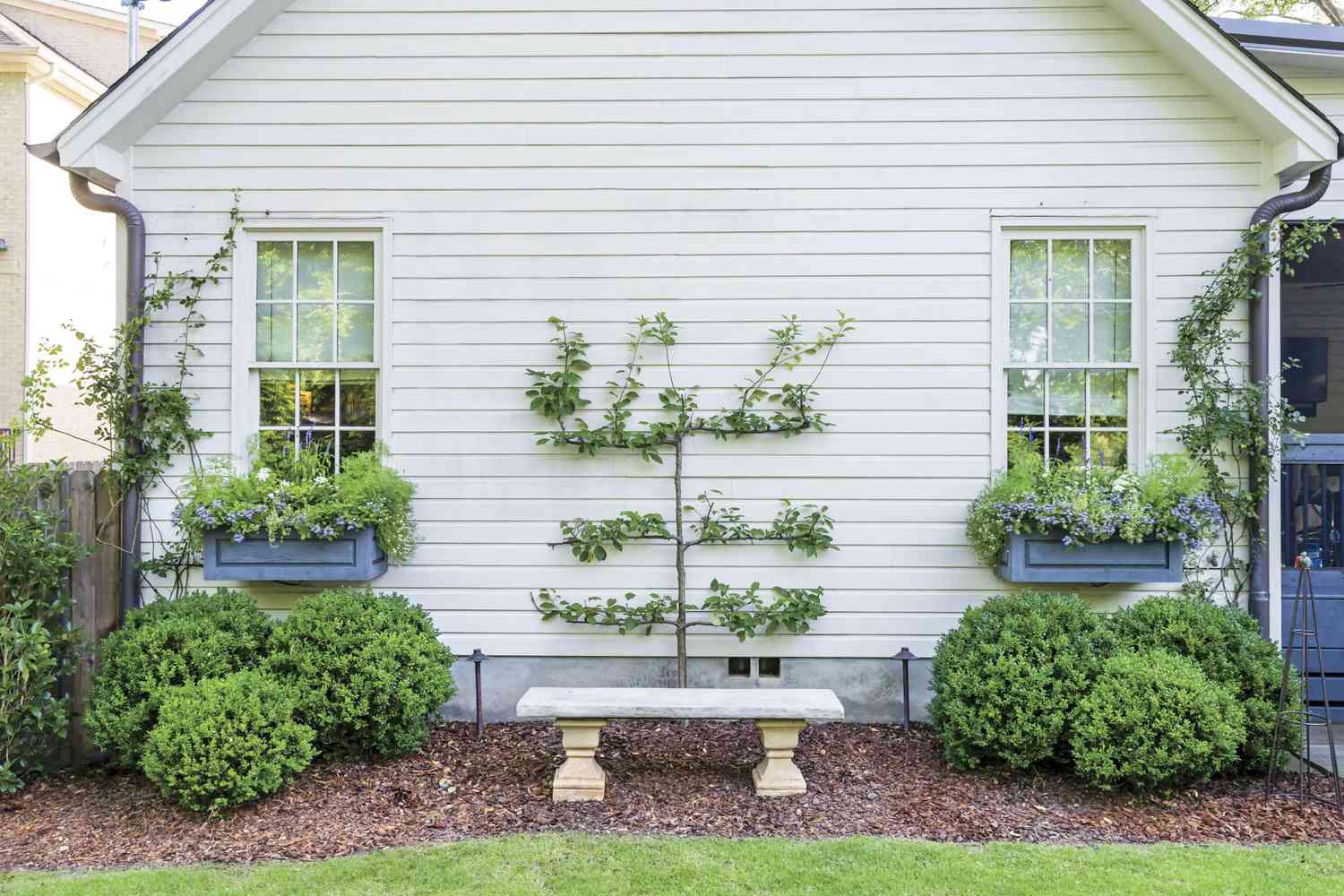 Are you disheartened because your front yard does not have sufficient room for all fancy landscaping? It is your turn to make your windows appealing. Window boxes should be on your list of landscaping ideas. You can either opt for repeated flower species or try a combination of different blooms. The color palette should be considered while choosing the window boxes and the flowers.
16. A Tree-house In Your Yard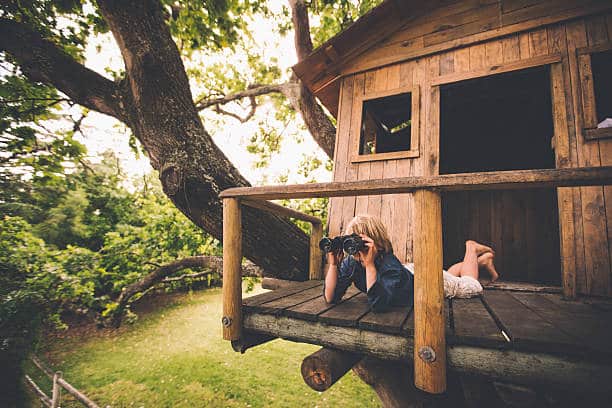 For families with growing kids, tree houses can be a landscaping dream come true. Recreation is all you need in your backyard to build a playing space for your kids. The designs of tree houses vary, so it will be easy for you to choose a unique design for your yard. If you want to be a bit more dramatic, add on a swing, slide, or ramp walk. A rope swing is another minimalist yet aesthetically pleasing integration into a tree house. If you are not much of a tree-house person, why not try a Gazebo style to level things up? You can also make a portable tree house that you can bring indoors without any effort.
17. A Defined Seating Area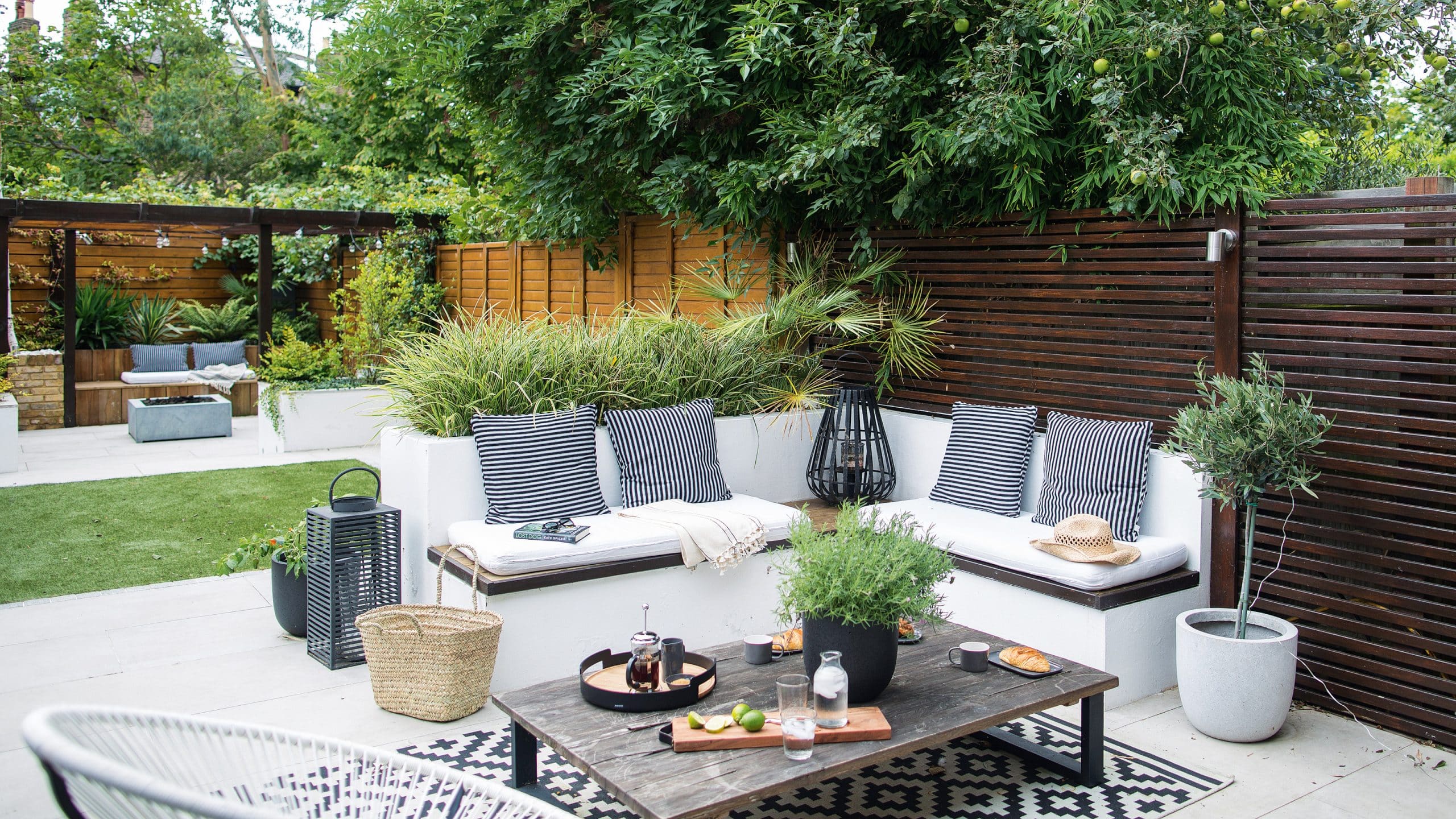 If you have significant space for exploring landscaping ideas, you can focus more on designing a pleasant seating area. A water feature (fountain, stream, or artificial waterfalls) and a complementary set of furniture will make your backyard look extraordinary. To give a structural definition, you can use tall trees, fences, or screens. 
18. A Low-Maintenance Gravel Garden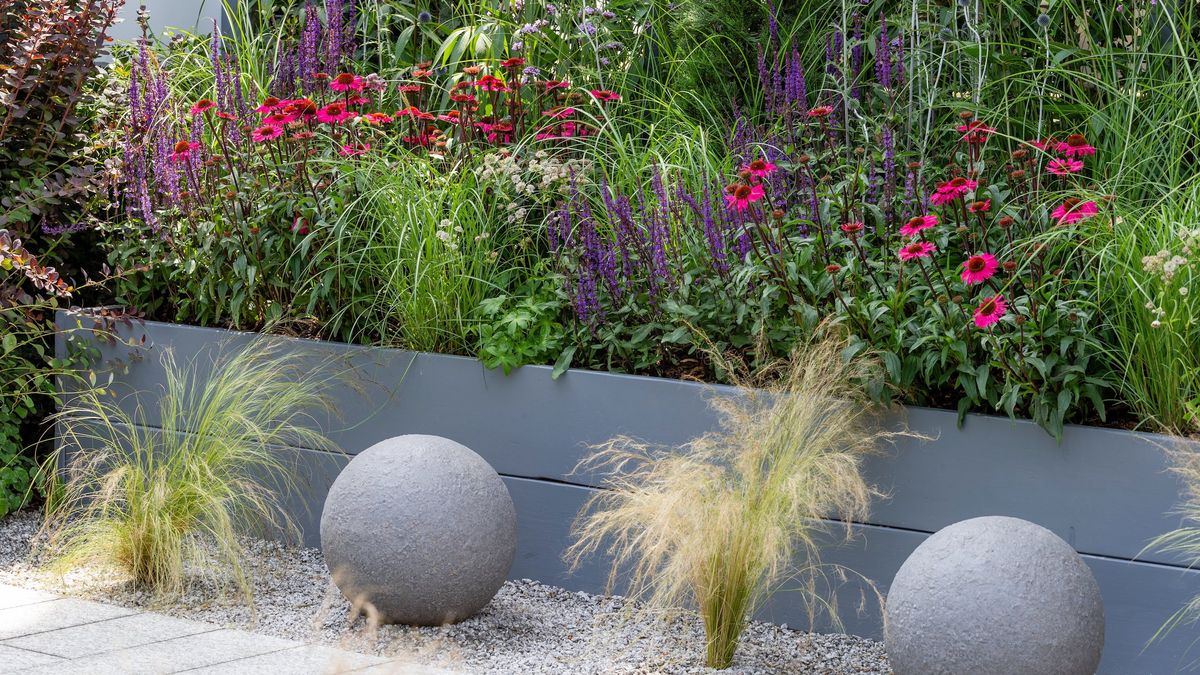 Gravel gardens built in low-fertility soil require approximately 80% less maintenance than other garden options. Gravel gardens provide a lot of variety when it comes to landscaping. Placing large-sized stones to complement the elegance of your yard. You can supplement the aesthetics by adding pots of blossoms you wish to add to your gravel garden. You can take inspiration from Japanese gardens. Ditching the hues here, the focused domain is the shape and texture of subtle shades. 
19. Wall-Seating Landscape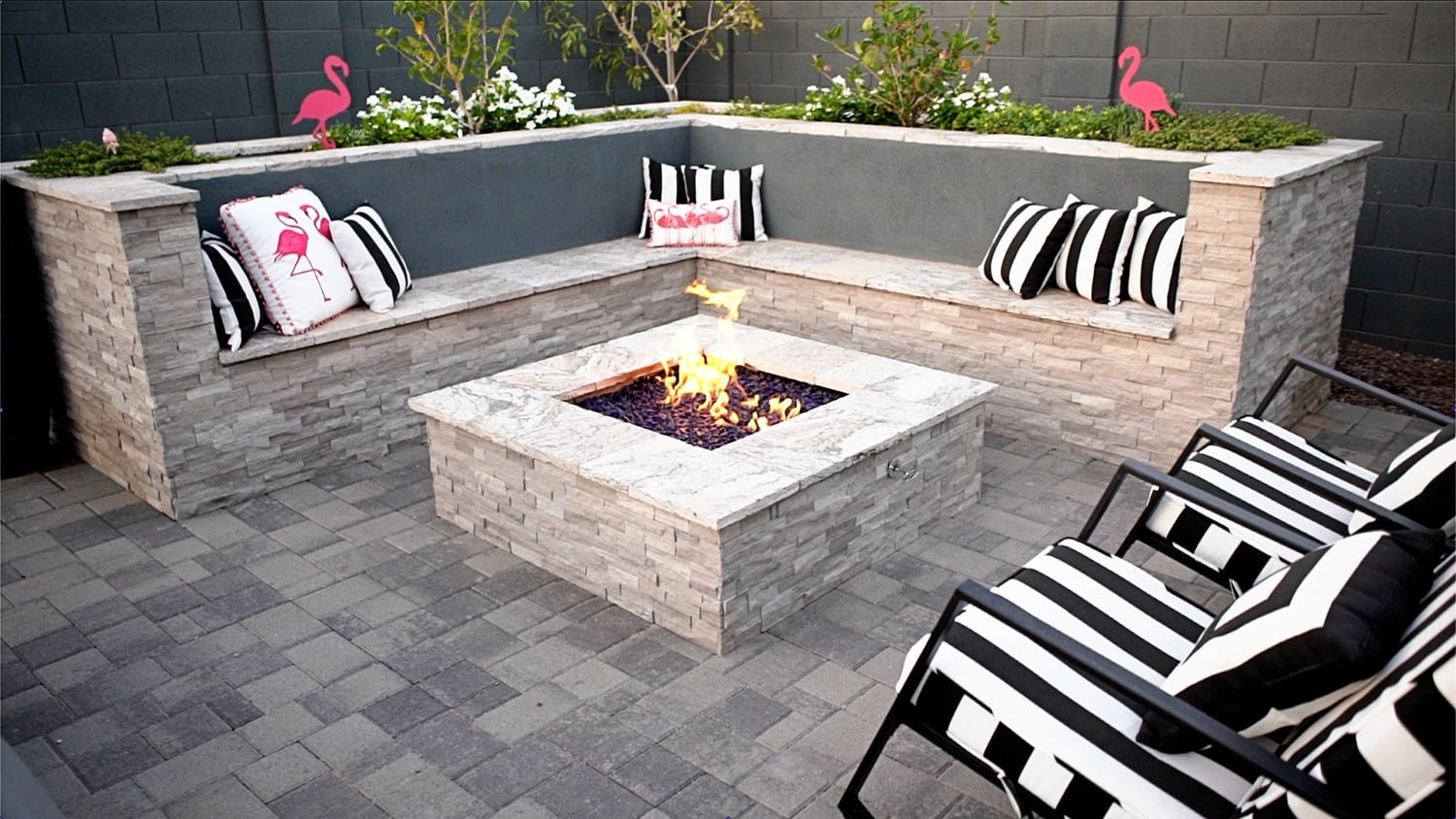 If you are worried about your yard being small, here is an innovative suggestion: Build a wall-seating adjustment. Other than managing space, this landscaping idea will render structure to your place and make it look like an impressive creation. All you have to do is extend your concrete wall to a bench, and you are good to go. For adding more details, you can integrate wall planting or add concrete walls with inbuilt flower beds. You can accessorize the seating area by adding furniture. 
20. Turn Your Yard a Rose Garden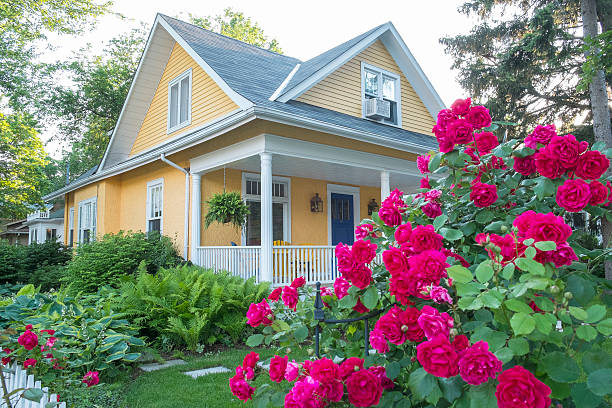 The elegance of roses can complement the beauty of your home perfectly. In certain landscaping ideas, there is a specific portion dedicated to roses. But a yard full of roses is an excellent idea as well. You can plant roses as hedging with some greenery. The soft and subtle shades of roses (white, blush, light yellow) go best with this design. Using wild roses can give your yard a spontaneous finish with its irregular blossoms. If you don't want to go solely for roses, you can make a combination with a tall tree. Roses can be used to intensify the seating areas or provide borders to your garden.
21. An Outdoor Shelter for Your Landscape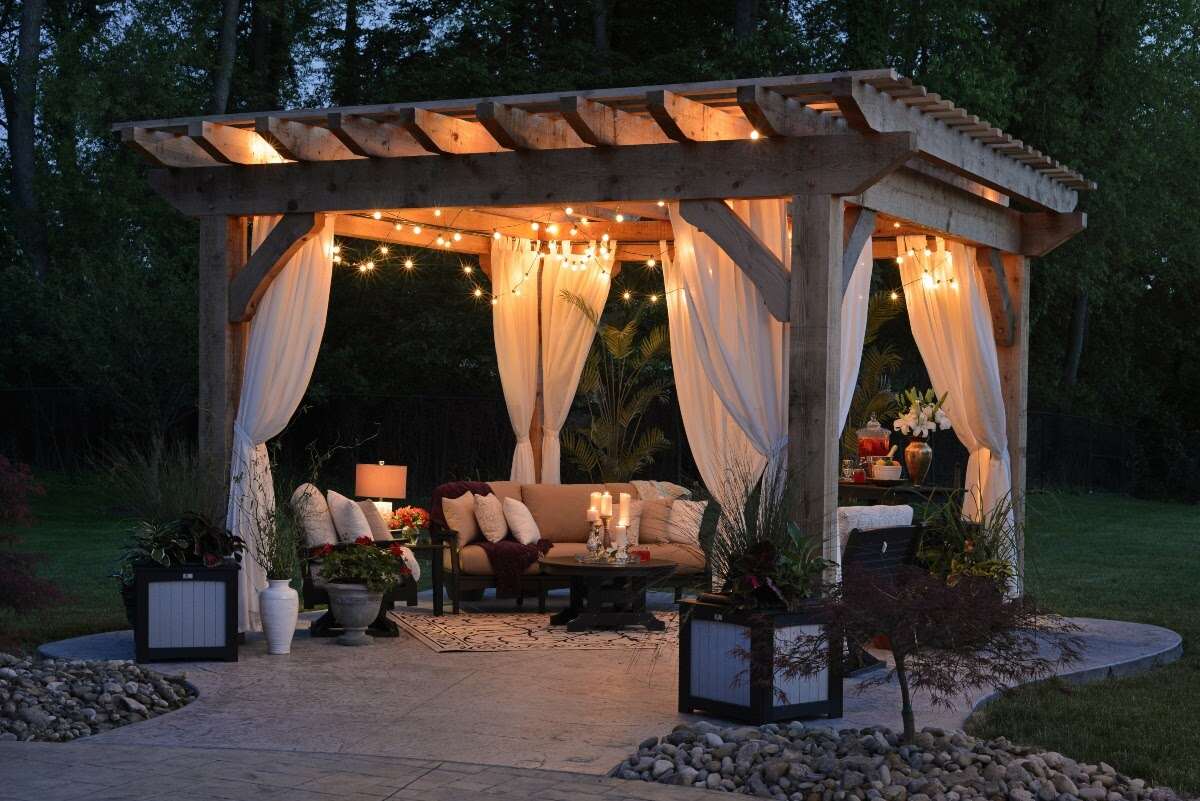 Adding a shelter can be the easiest landscaping idea to upgrade the outlook of your house. Some of the simple ways to create a shelter in your yard are by joining slatted fencing or walls. The seating areas can be modified and experimented with. A touch of seclusion can be enhanced by adding a few blooms in hanging baskets or pots. The interiors of the shelters can be improved by adding decorative items like hangings, paintings, lights, etc. In shelters, you also add sun loungers for a perfect summer holiday. 
22. Add a Dining Area In Your Yard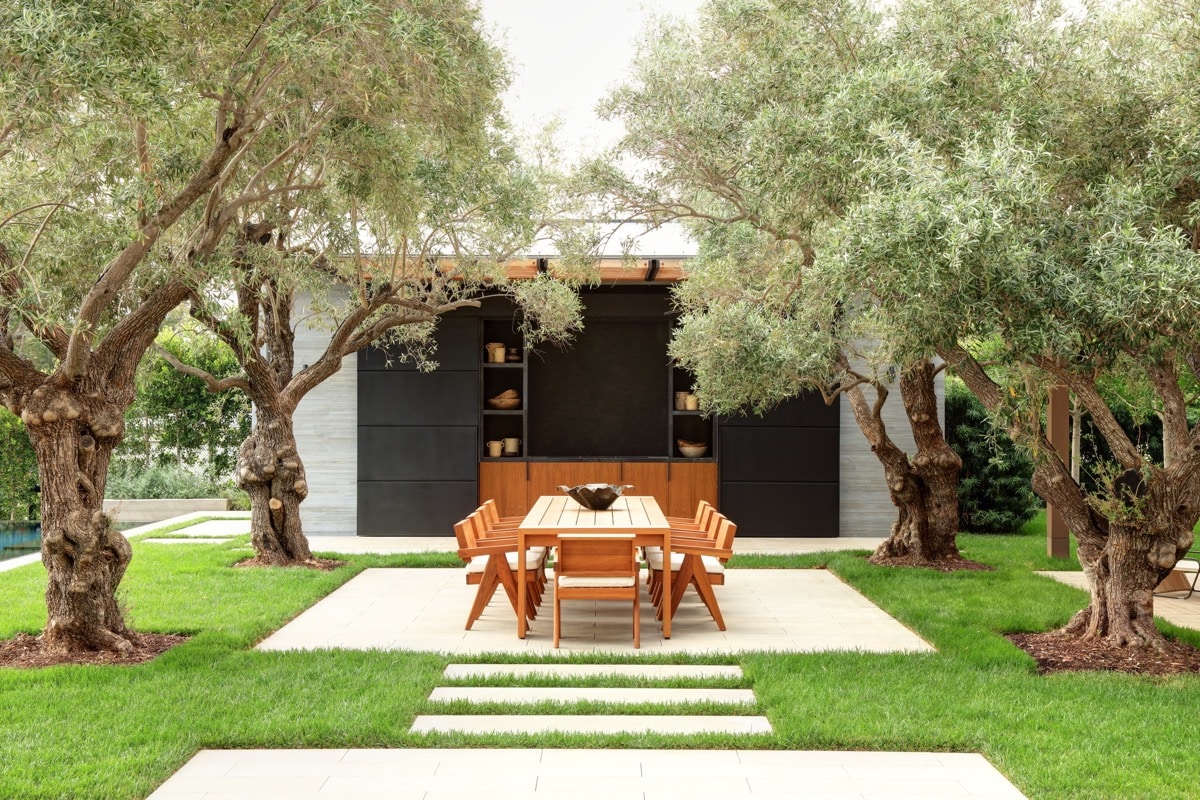 To make use of extra space in your yard, building a dining area can never go wrong. One thing to consider here is that the area should be accessible to your kitchen. If you have neighbors, it is necessary to leave adequate space to create a breathing room between the properties. How you build a dining area will be impacted by a lot of factors like the area available, your preferences, and how many people will use it. Take care of not using too much furniture in outdoor dining areas. 
23. A Fire Pit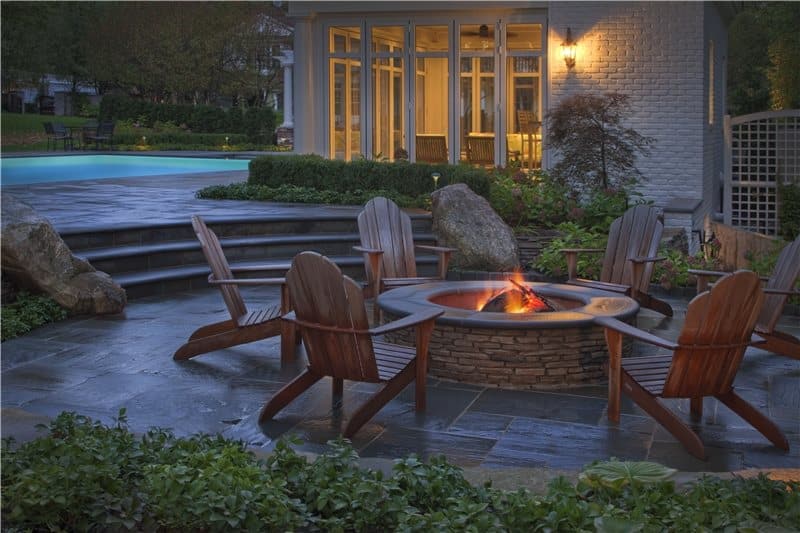 An outdoor fire pit can make your yard stand out from the ordinary. A fire pit can attract all the focus with no expensive costs. To give it focus, make sure to level it from the ground by placing it on some surface like a slab. If you place it near a window, it can also light up the interiors, which makes it purely exquisite. Appropriate furniture that goes well with the design of your fire pit arrangement can be placed to enhance the overall look. To make it private, you can add a shelter or fence, either artificial or by using tall hedges. 
24. A Combination of Fern & Stones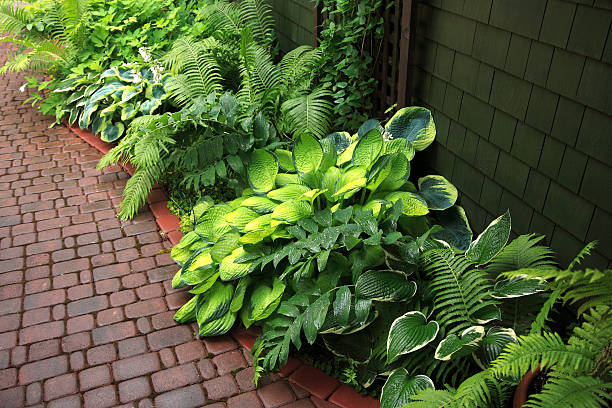 For outdoor ornamentation, ferns and stones make the best pair. Ferns are mostly used for building borders or giving a touch of greenery, but here is one creative way to make your yard look just pretty. Because ferns love to be in the water, if your garden is spacious, you can make a dramatic combination of water, stones, and ferns. The walls of your yards, too, can be furnished with ferns. 
25. Add an Outdoor Shower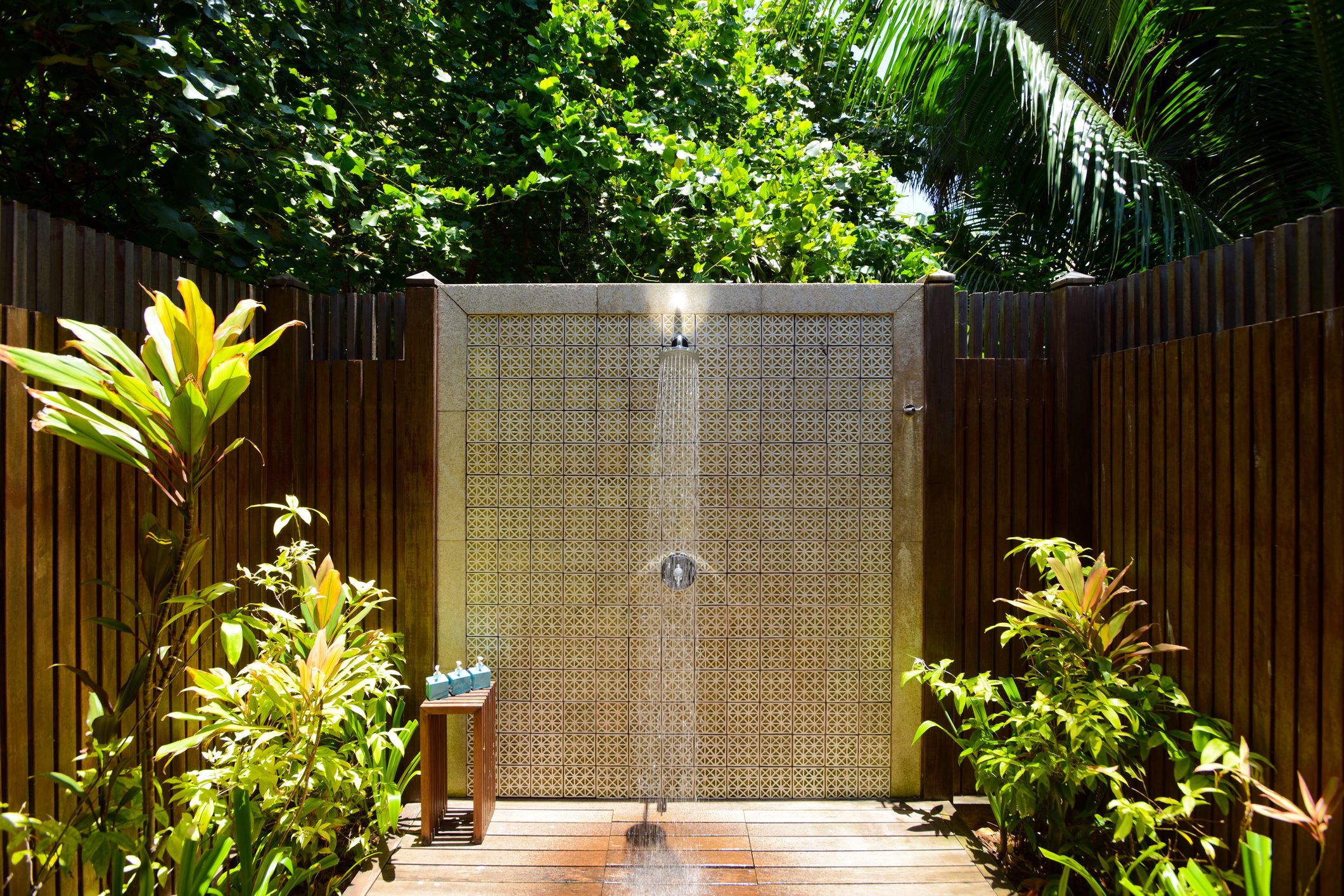 Showers in your yards can provide an extravagant outlook to your house. But you should not just install it because it is trendy. If it has a usage, only then is it advisable to add a shower to your yards. Usage will also determine the design of the shower you will want to install. Privacy is one concern for outdoor showers. For a private space, you can install a shelter along with a shower. The outdoor shower should be placed in close proximity to the interiors of the home. Placing the outdoor showers under direct sun prevents the damage caused by regular moisture to the floor and walls of the surrounding area. 
26. Keeping Things Simple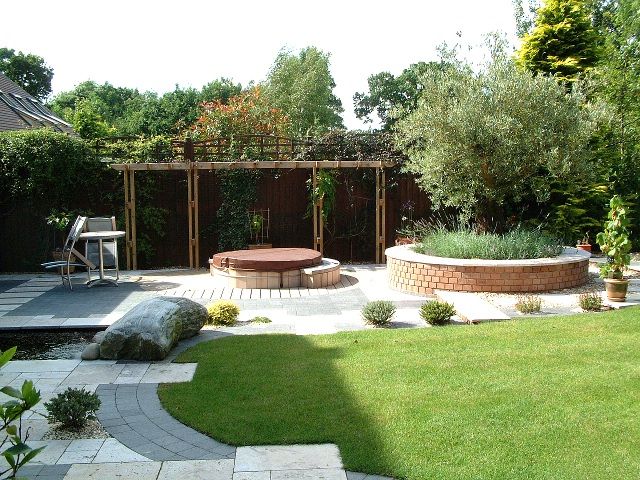 It is not false when we say the simplest of things can be the most alluring. Not only is it attractive, but a minimalist yard can be easy to maintain and require less cleaning & grooming. It can be planting an undercover grass for the greenery, placing furniture, and you are done. But simple does not mean it can't be striking like other fancy landscaping ideas. By balancing the design, you can build an extraordinary yard in the simplest manner. 
27. Build an Oasis with Vines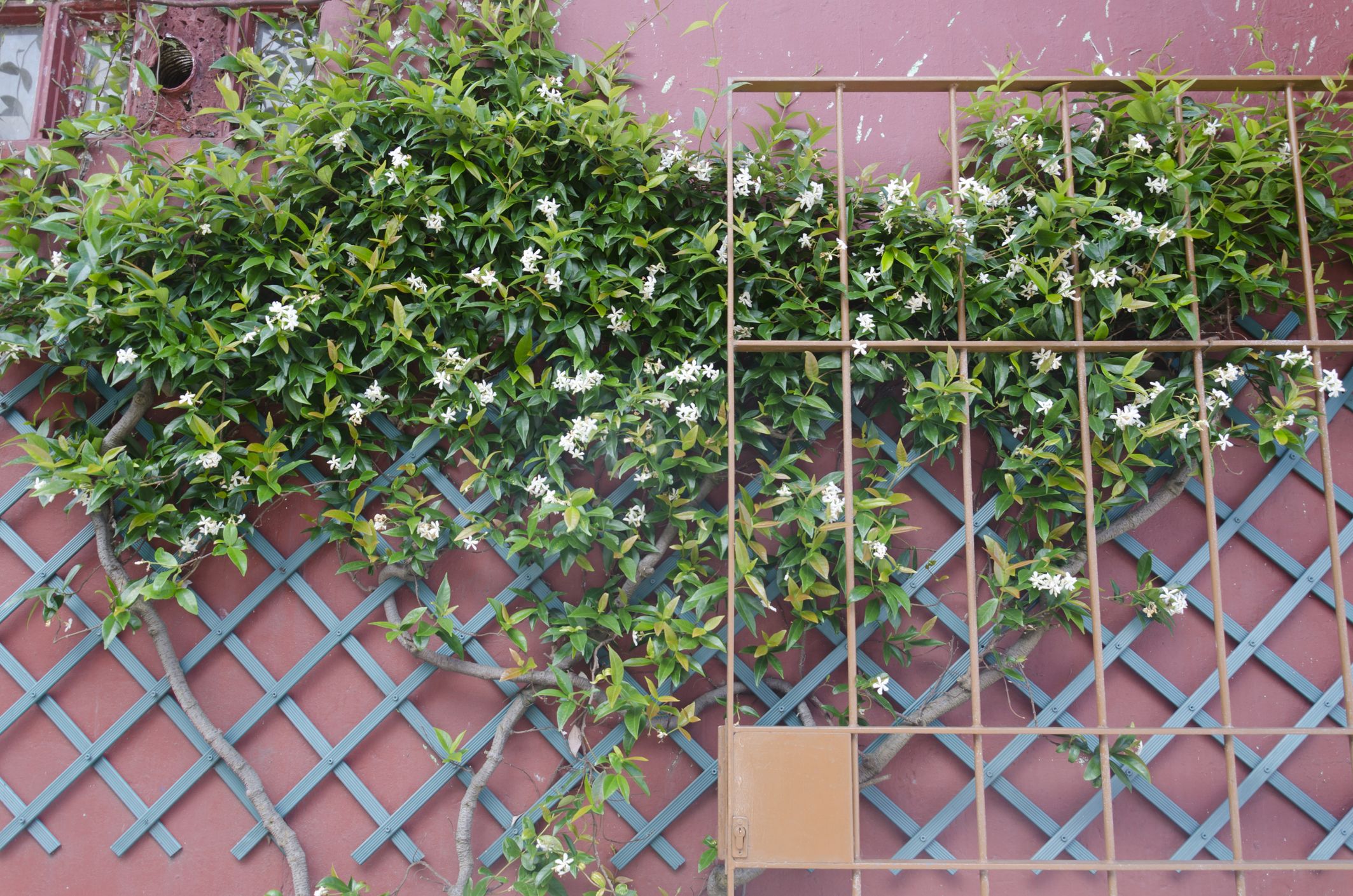 Creeping vines can be the best finisher for garnishing the appearance of your yard. You can plant them on your patios, fences, or walls present in your outdoors. Environmental conditions like light & water availability, space, and soil must be considered if you are determined to add vines to your backyard. There are different types of vines available, like the Pruning vine, Creeping vine, Supporting, and Clinging vines.  The selection of vines will be dependent on your requirements.
28. Water Plants In Your Yard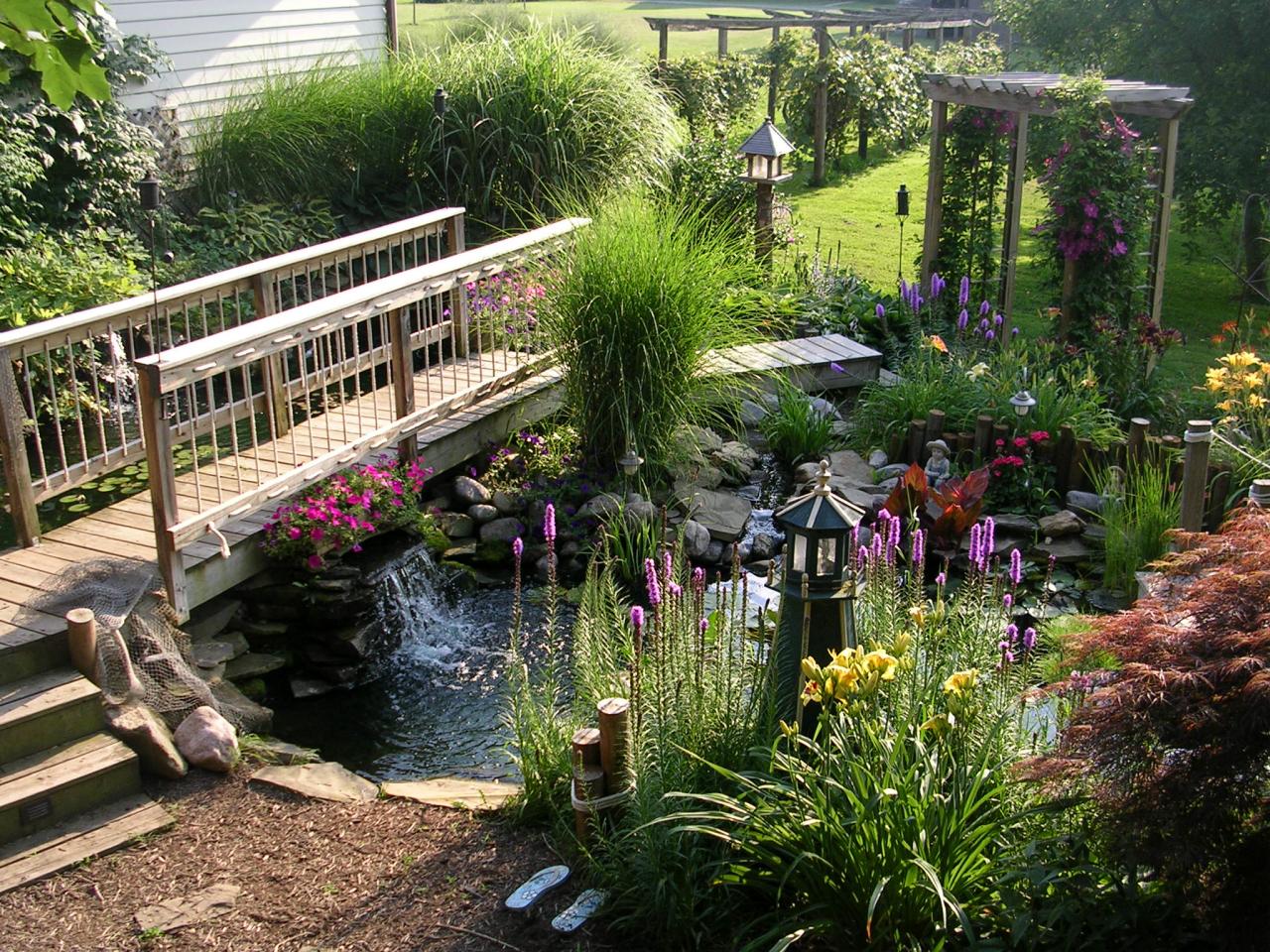 Ditch your ground plants and make your backyard interesting with water plants. There are many ways you can do so. If you are planning to add a fountain in your backyard, you can pair it up with a few water plants. You can construct waterbeds in your yard area to make space for water plants. The symmetry and shape may depend on the house's architecture and the theme of your yard. A pond, waterfall, or sloping stream is an option in landscaping ideas if there is adequate space in your backyard. If you want a minimalist pattern, just add urns to your water, and the result will be no less than perfect. 
29. Lights In Your Landscape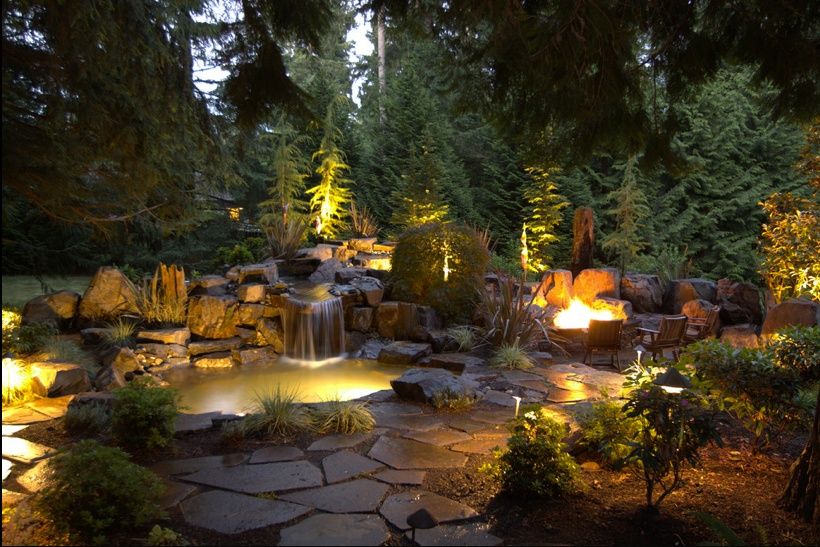 Here is your chance to exploit lighting to make your yard panoramic. Even the simplest lighting patterns can make your yard a showstopper. Path lighting for walkways, string lights for seating spaces, and lighting tall trees are some of the popular ways people use lights in their backyards. You can also add a charm to your fire pit by brightening it up with the lights. If you have vines, adding lights to them will make it a breathtaking landscape. Here is a tip for lighting your yard: Install solar lights!
30. A Comfortable Porch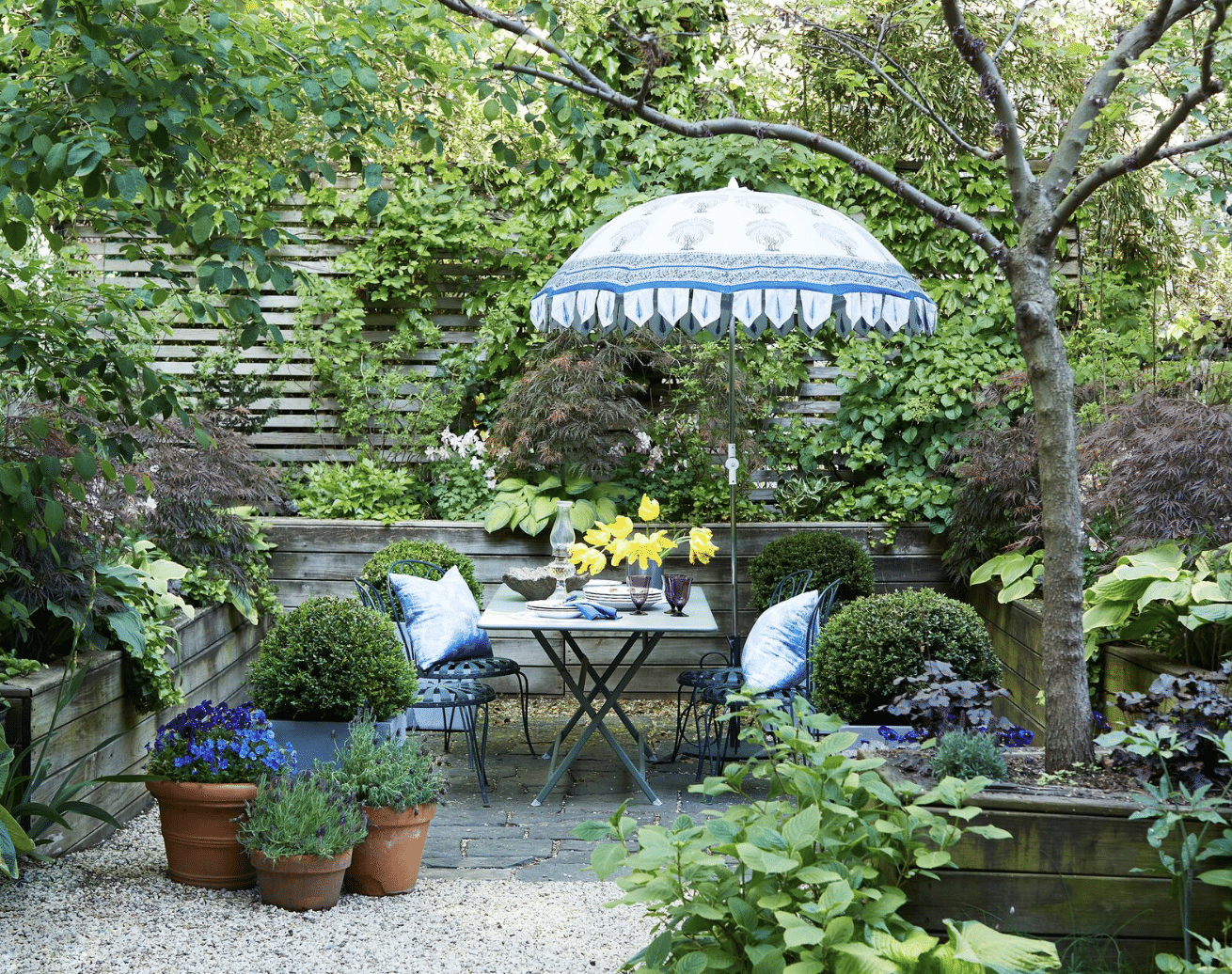 The space of your yard can be made into a cozy space and create your favorite outdoor space of yours. To do so, the type of furniture you put on the porch is crucial. The furniture must be weather appropriate for you to have a nice time in your yard. Throw on pillows and more pillows! The shelter must be appropriately chosen. A big umbrella can work fine as a shelter. Without proper lighting, there is no comfort. So make sure you install well-lit bulbs in your porch area. You can replace the lighting with lanterns to make it more dramatic. The last thing you must add is flowers. You can add flowers with mild scents and subtle colors. 
Conclusion
There exist millions of landscaping ideas about how you can build the perfect yard of yours. By knowing your preferences, a comfortable and pleasing space can be built from which you wouldn't want to leave. In this article, we have covered unique ideas, including how you can build an oasis out of your yard. The furniture, availability of space, choice of flowers, color contrast, and your personal preferences are the main pointers in building a perfect landscape. 
To enhance the landscape, you can add elements like water, lighting, and color contrasts. What you do with your yard is up to you. You want to build a space for outdoor activities or maybe a quiet & secluded space where you want to regain peace; it all can be achieved at your own home. Comment down the landscaping idea you will incorporate into your home!
Frequently Asked Questions
How Can I Manage Privacy with An Outdoor Shower?
Place the shower in an area that provides a shield. For example, a fence or a wall can be used for this purpose. Dense vegetation is a natural shield you can use for your privacy. If these options are unavailable, you can install curtains, sheets, or a closed area. 
What Plants Can I Plant in My Backyard During Summer?
Summers will go best, along with bright flowers with radiant foliage. Some of the best choices for summer are sunflowers, marigolds, Petunias, Salvia, ornamental grass, or succulents. The selection of flowers will depend on your personal decisions and preferences. 
How to Prevent Damage to My Outdoor Furniture?
Outdoor furniture items are more susceptible to damage because they have to bear extreme weather conditions. While purchasing items, choose weather-resistance materials for long shelf life. High-quality protective covers dedicated to outdoor use must be an investment. Proper maintenance and inspections are a must.