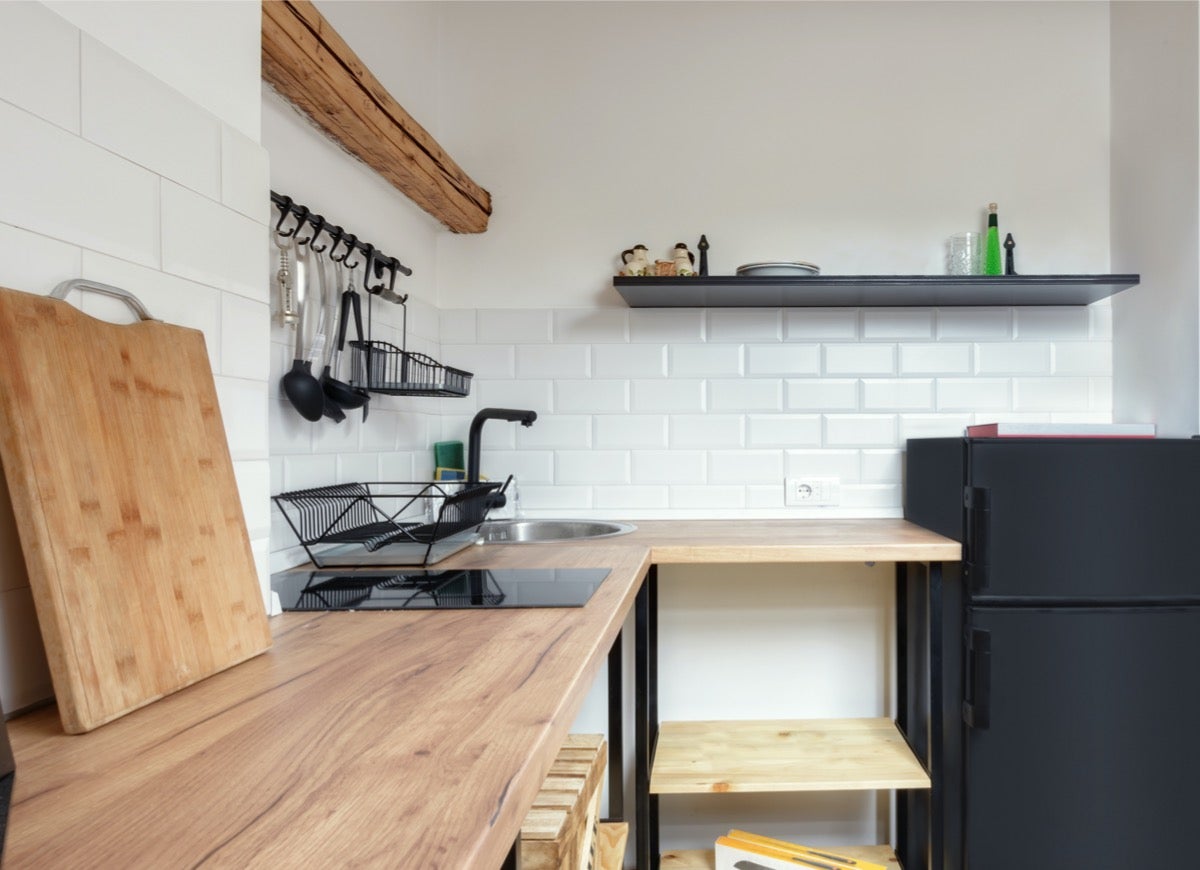 Are you planning to transform your basement into a kitchenette? But unsure how you can make the most of the space. Well, you've come to the right place! Whether you're looking for a functional guest room, a cosy entertainment area, or a rental space, there are various options for designing your perfect basement kitchenette.
Choosing a particular design can be challenging because there are many available possibilities. Hence, we've curated 22 of the best basement kitchenette ideas. These ideas will help you find the right design for your kitchen style and needs. So, let's dive in and explore these creative and stylish ideas together!
1. Rustic Kitchenette
A rustic kitchenette is a perfect addition to any basement, creating a warm and inviting aura. Warm earthy colours can be used to attain this look. This kind of atmosphere of the room can also be enhanced with vintage equipment like an iron stove or a retro fridge. In addition, natural materials like wood and stone can be employed to make an ambience that is welcoming and restful. This Kitchenette can be used for cooking, entertaining, or relaxing with family and friends.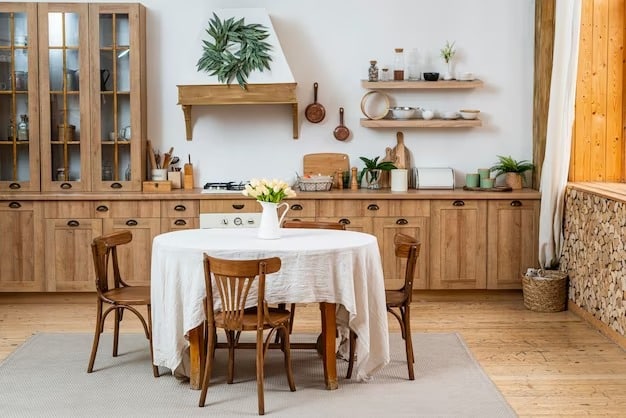 2. Modern Kitchenette
It is best for people who prefer a trendy and elegant look. This style of Kitchenette features stylish materials, including stainless steel appliances, sleek lines, and simple furnishings. These finishes produce a cultured and classy feel ideal for entertaining guests or for personal use. In addition, you might choose neutral colour schemes like black, white, or grey. These components work together to produce a great and useful modern kitchenette. A modern kitchenette can be a good option if you are aiming for a stylish and efficient kitchenette.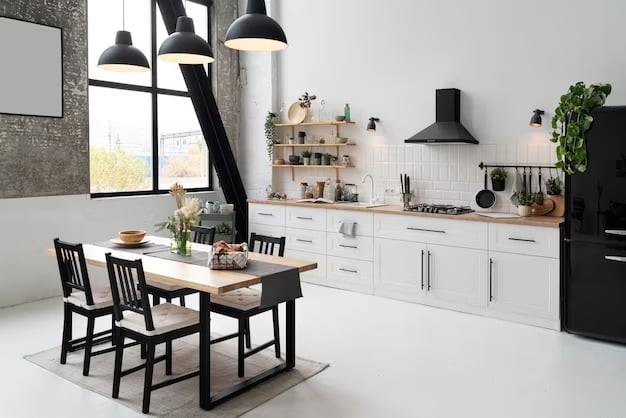 3. Colorful Kitchenette
If you like adding fun and excitement to your home, this kitchenette idea is perfect. With bold colours on cabinets, and backsplashes, your kitchen will be the centre of attention and a fun place to cook and entertain guests. With a colourful kitchenette, you may create a happy atmosphere with shades of yellow or turquoise. Alternatively, you can choose a more dramatic effect with rich, dark tones like royal blue or emerald green.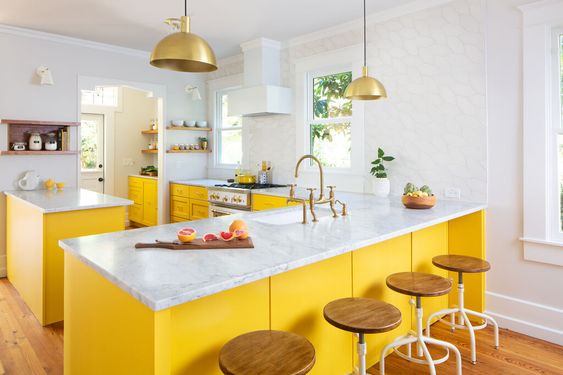 4. Open Kitchenette
This concept can be the best choice if you want to give your basement a giant and more open feel. Use movable shelves, transparent cabinets, and slightly elevated cabinetry to maximize natural light and provide the impression of space. This kitchenette idea is ideal for individuals who would like a minimalist design. The area around the shelves feels warm and welcoming, and you may also make some decorative additions. An open concept creates an ideal atmosphere for hosting guests or enjoying dinner with family and friends.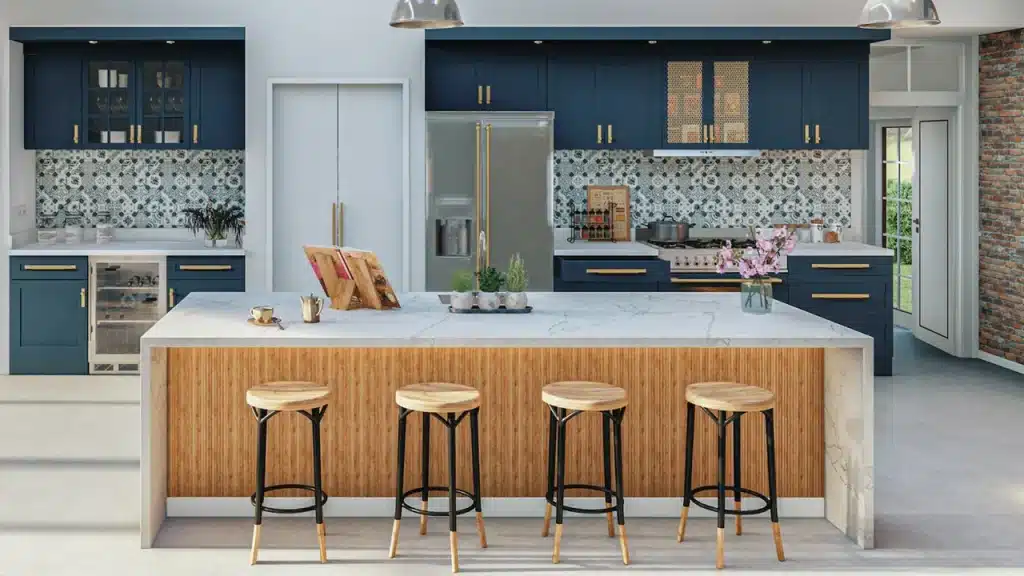 5. Hidden Kitchenette
A hidden kitchenette is a perfect alternative, mainly when you plan to keep your basement big and clutter-free. A transition of living space into a kitchenette can be possible as you can hide it behind a sliding barn door or bookcase. This is a fantastic technique to keep the Kitchenette hidden while not in use but easy to access when you do. This type is ideal for people who prefer a practical kitchenette without compromising the look and feel of their living area.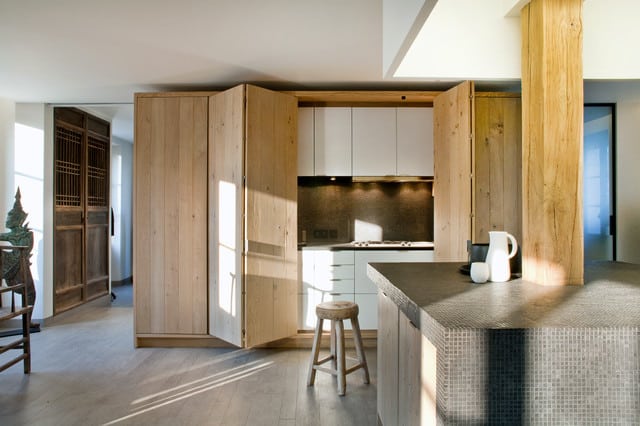 6. L-Shaped Kitchenette
An L-shaped kitchenette can be a superb option when the goal is to take advantage of optimal use of the available counter and cabinet space. This design provides a comfortable, open dining area with storage and a counter. In addition, a small dining space can be useful for quick meals and entertaining visitors. With this kitchenette idea, you can easily access all cooking materials and tools because of its two open ends and tucked-in corners.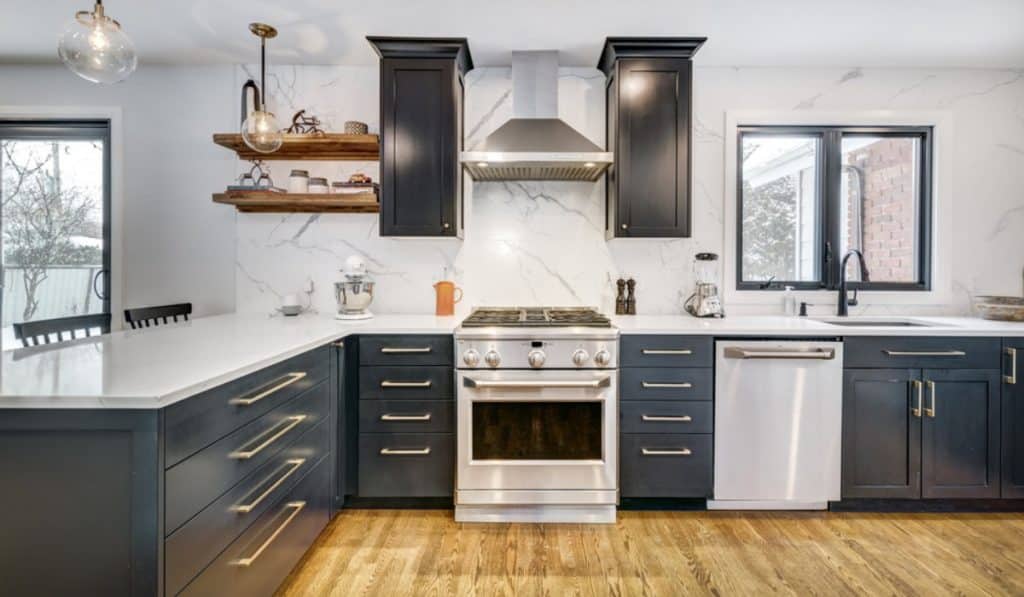 7. U-Shaped Kitchenette
In a U-shaped kitchenette, multiple cooks can work together without blocking each other. It will provide you with all the space and functionality you need to complete your task. This design offers plenty of kitchen storage and counter space for cooking meals, with three walls of cabinets and countertops. Moreover, because of the vast countertop space and storage options, you can easily organize your kitchen and keep everything you need closer to you. Hence, it is an ideal option if you're creating a basement kitchenette.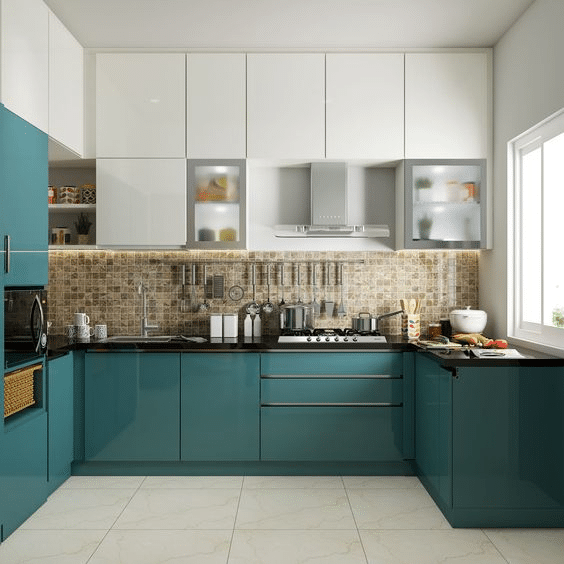 8. Scandinavian Kitchenette
This kitchenette style is ideal for those who love minimalist and functional design. The incorporation of light wood finishes, straight lines, and neutral colours gives it a simple yet elegant appearance. It is handy and perfect if you have a smaller space, as It will increase the storage space. Consider adding a vibrant backsplash for uniqueness. This kitchenette idea offers a simple, stylish, and highly active space.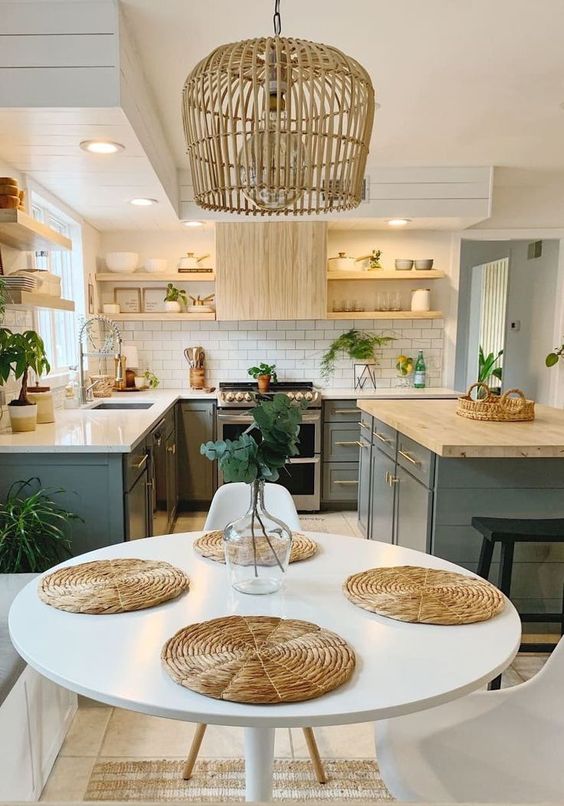 9. Traditional Kitchenette
A traditional kitchenette idea is excellent for those who prefer a vintage kitchen. This design often features raised panel cabinetry and ornate hardware, giving the space an elegant and refined look. You can pick from various wood finishes to match your basement's decor and add a touch of warmth to the area. Add pendant lighting fixtures and a decorative tile backsplash to create a more inviting atmosphere. With classic finishes, your basement kitchen can become a cosy and charming space for you and your guests.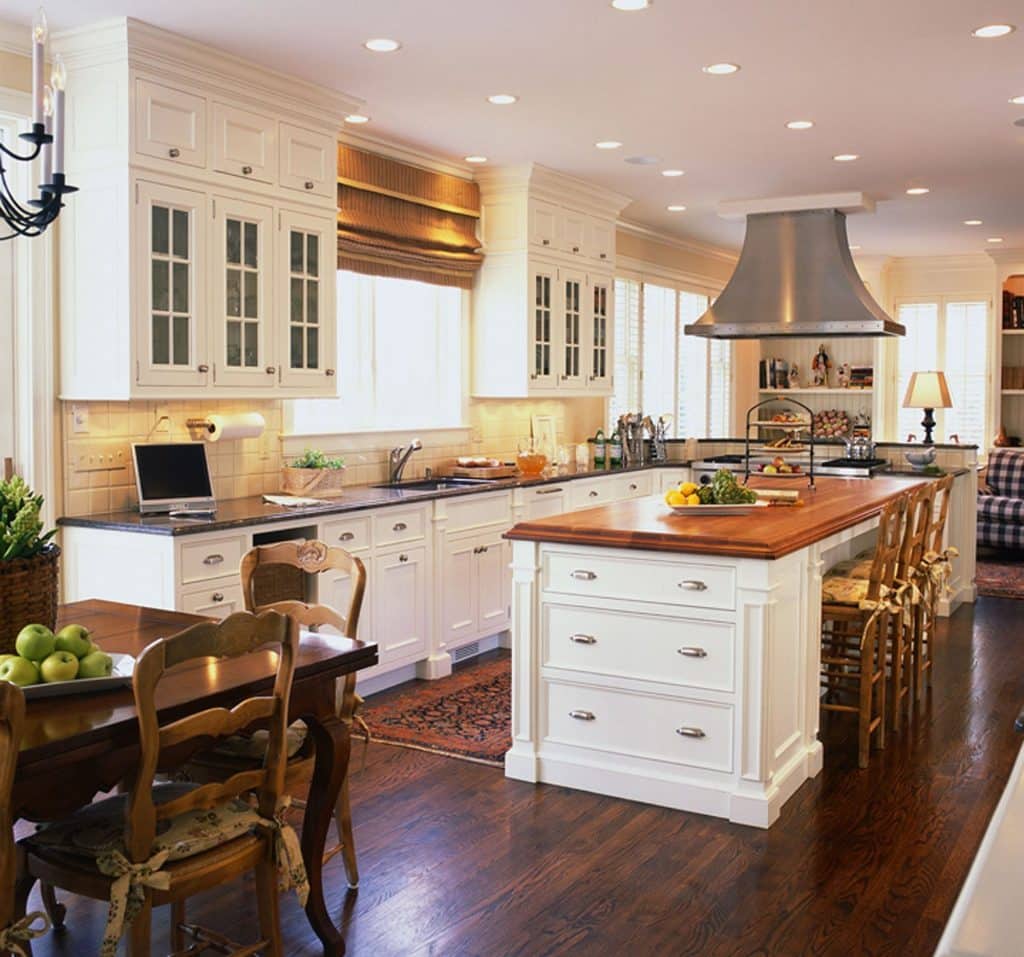 10. Luxury Kitchenette
Adding a kitchenette to your basement area could be the perfect way to infuse a sense of luxury. This type of Kitchenette often features high-end appliances, such as a wine fridge and built-in espresso machine, and luxurious finishes, such as marble countertops and gold hardware. To top it off, why not add a fancy chandelier or statement lighting fixture? A luxury kitchenette is perfect for creating a sophisticated, upscale vibe in your home. So if you're willing to invest in some top-of-the-line appliances and finishes, go for it and indulge in the glamour!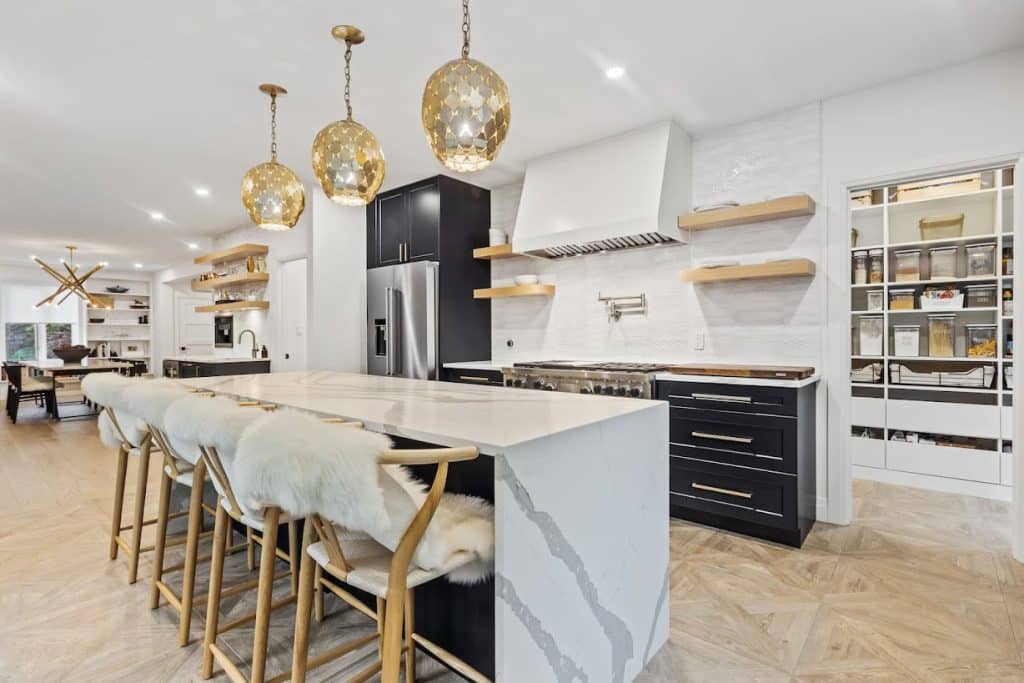 11. Asian-Inspired Kitchenette
An Asian-inspired kitchenette brings a unique and calming vibe to your basement space. The design often has natural components such as bamboo, stone, or wood, which are minimal yet functional. Consider including a Japanese-style sliding door to separate the kitchen from the living area. This kitchenette style also often features earthy tones and subtle patterns for a tranquil feel. Add some greenery or a minor water feature for a touch of serenity. This idea is perfect for those who want to create a peaceful and Zen-like vibe in their basement.
12. Farmhouse Kitchenette.
A farmhouse kitchenette is a comfy and appealing choice that adds the uniqueness of the farm to your basement. Open shelves and a warm wood finish are significant features of this style. Combine a farmhouse sink or a long-lasting wooden table to complete the theme. This layout is ideal for people who wish to create a soothing and comfortable area for cooking and hosting guests. This idea is popular for those who like a traditional, rustic style because it is about simplicity and natural beauty.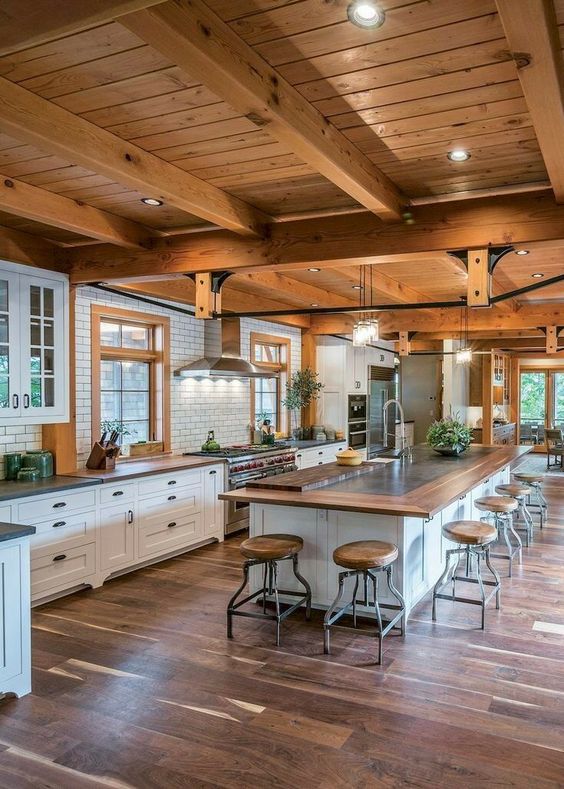 13. Industrial Kitchenette
An industrial kitchenette is a modern and new option involving parts of the space's industrial design. This style mostly has metal finishes, exposed brick or concrete walls, and sleek cabinets. You can add industrial-style lighting and recycled wood pieces to achieve the look. This design is a great option for anybody looking for a creative, productive space that still comes with style. This Kitchenette is about creating a relaxed and modern vibe that is perfect for hosting dinner parties.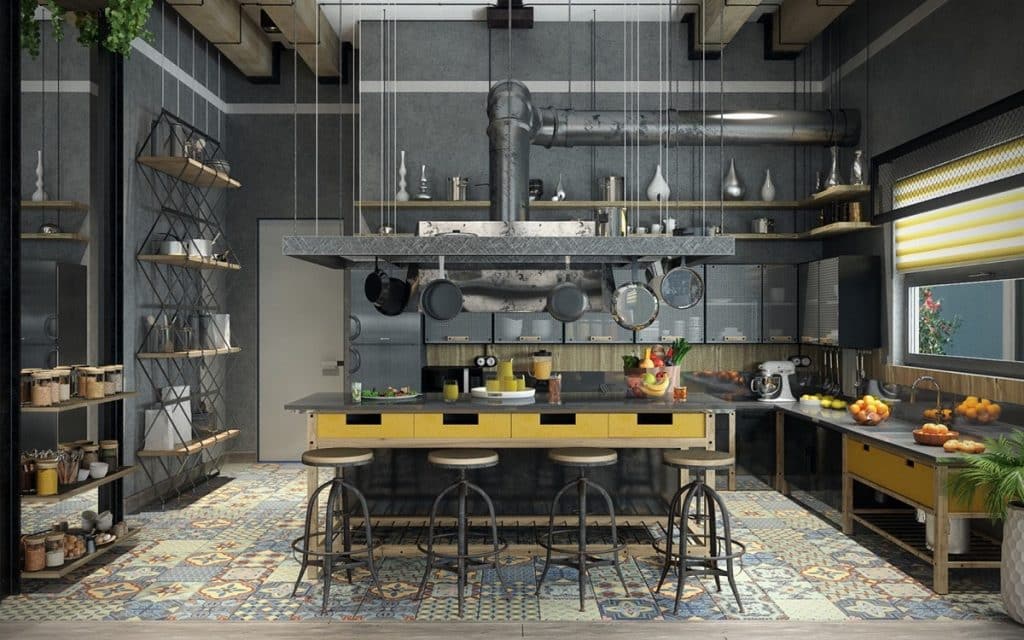 14. Coastal Kitchenette
A coastal-themed kitchenette can bring the beach vibes indoors. Opt for light blue or seafoam green cabinets, a nautical backsplash, and white countertops to create a calming atmosphere. Incorporate beachy decors like seashell accents or a rope-wrapped light fixture to complete the look. This style is for those who want to create a relaxing oasis in their basement or those who want to bring the beach to their landlocked home. Also, this kitchenette idea is best for people who enjoy being on the beach.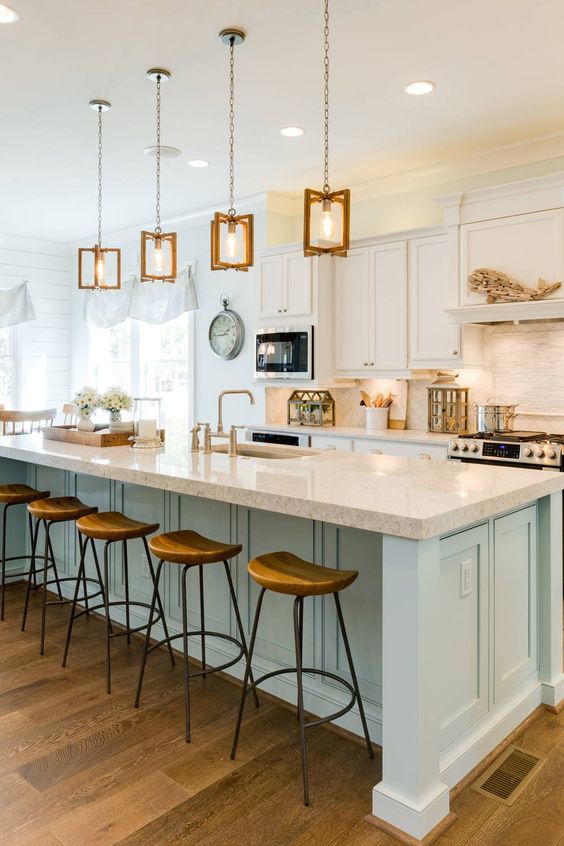 15. Multi-Functional Kitchenette
A multi-functional kitchenette is perfect for any space where many activities take place. By having this Kitchenette in a home, office, or workout room, you can save time and energy by not having to go to a different room for snacks or drinks. A small fridge, oven, and coffee maker can be installed to provide all the necessary items for a quick break. The key to this kitchenette design is to keep it minimal while fitting perfectly into the overall theme of the space.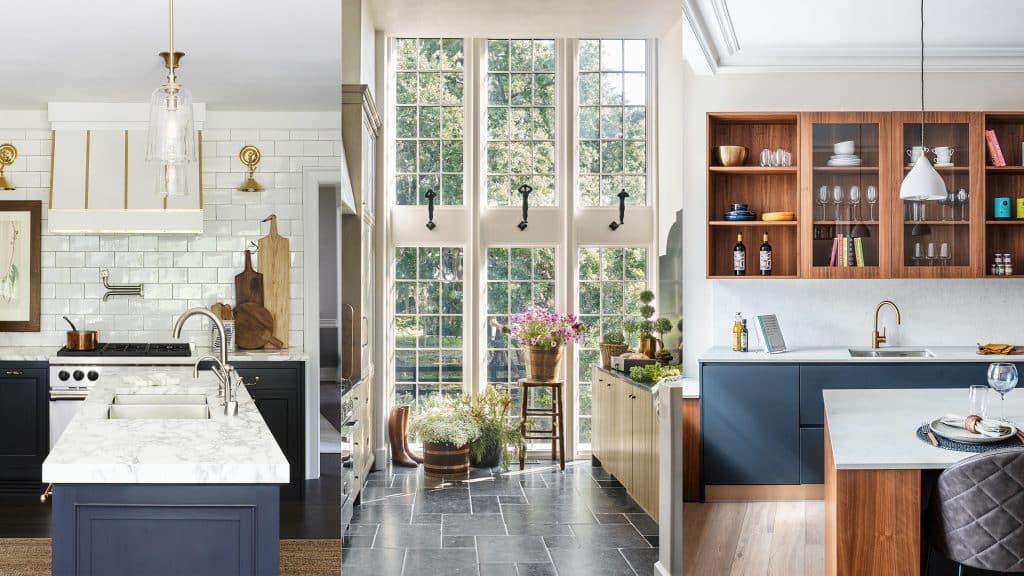 16. Island Kitchenette
Island kitchenettes are a great way to add more counter space and storage to your basement. The island can also double as a dining area, with barstools or a built-in table. You can select from various styles, such as rustic wood or sleek modern design. Incorporate a sink, cooktop, or mini fridge to make it a fully functional kitchenette. An island kitchenette can also be a focal point in the room and bring style and functionality.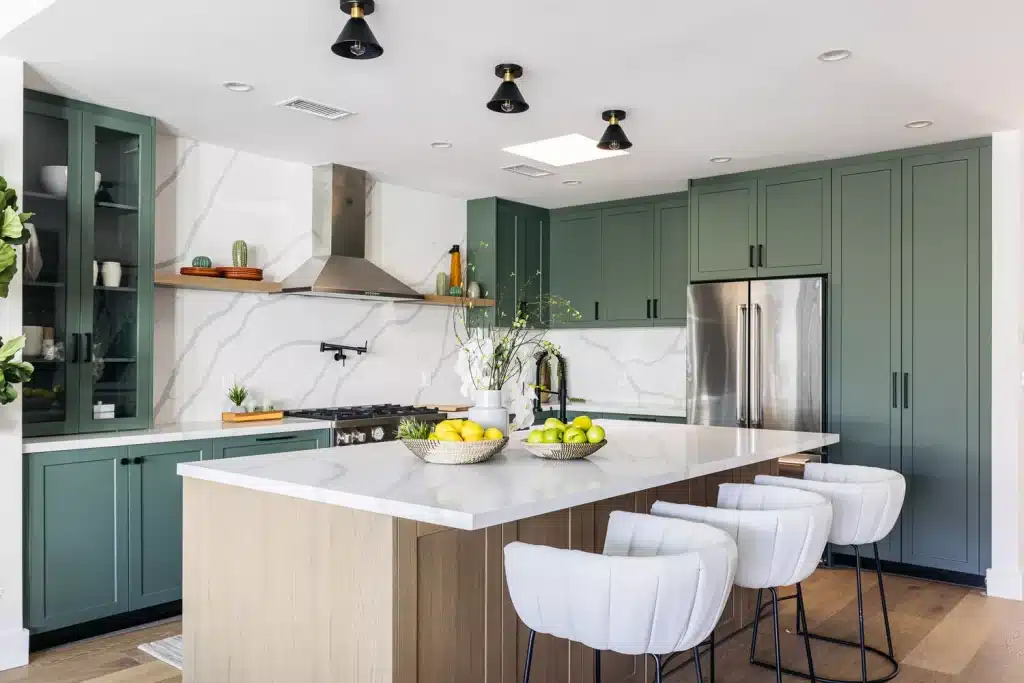 17. Nature-Inspired Kitchenette
Add nature-inspired elements to create a peaceful and calming aura in your basement kitchenette. Use natural wood finishes for cabinets and shelves. You can add pops of green with potted plants and hanging herb gardens to bring the outdoor feel inside. Adding big windows or rooftops can increase the amount of sunlight coming into the kitchen area. You can add a minor water feature or fountain for a natural touch. It creates a warm and fresh vibe for the space, perfect for relaxing and entertaining guests after a long day.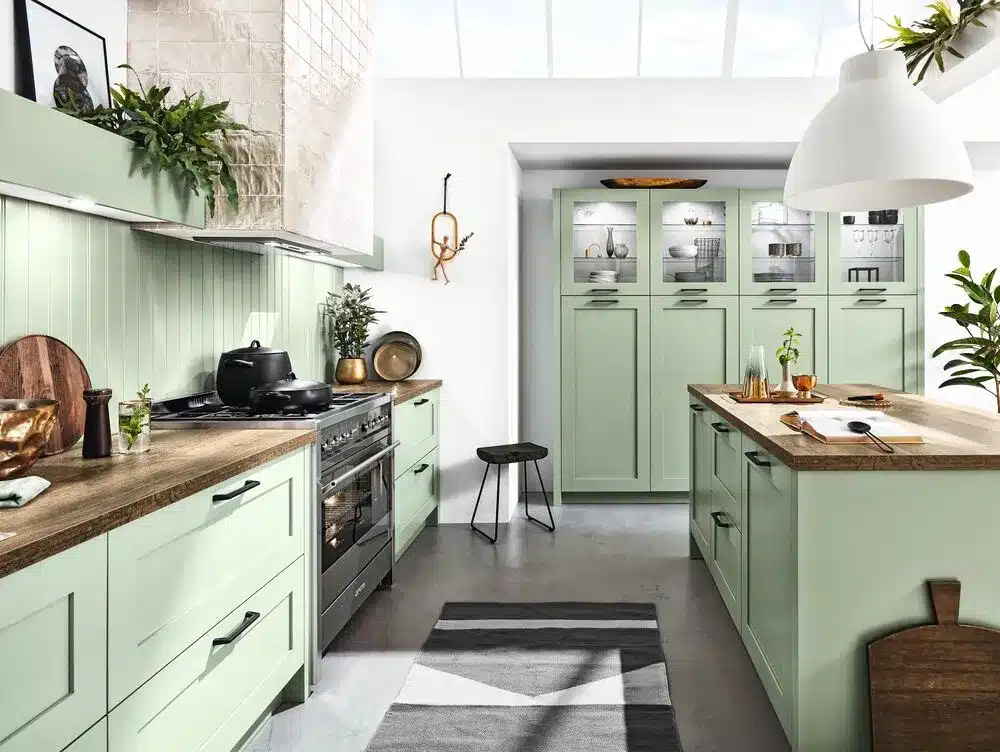 18. Galley Kitchenette
A galley kitchenette is a small layout with a narrow aisle between two parallel counters. It's an excellent option for maximizing space in a basement kitchenette. With the right design choices, this type can be functional and stylish. Choose light-coloured cabinets and countertops to create a more open feel. Add lighting under the upper cabinets for added visibility. Consider installing a window or skylight to add a natural light effect.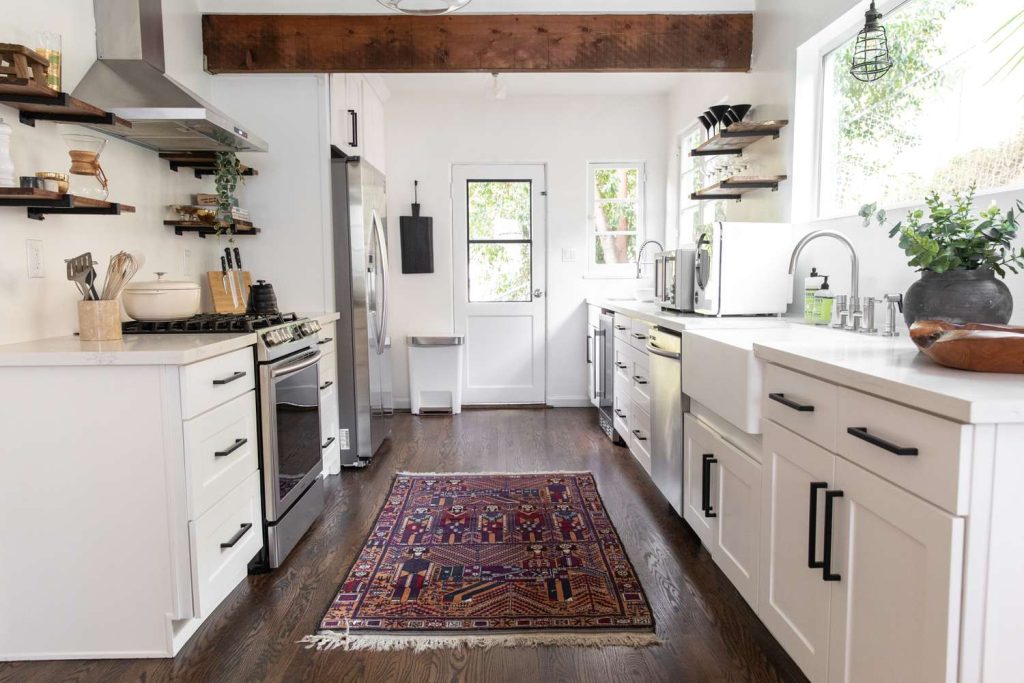 19. Mini Bar Kitchenette:
A mini bar kitchenette is a perfect addition to any basement. It provides a space for entertaining guests with ease. You can incorporate a beverage fridge, wine rack, and bar stools to create a functional and stylish mini-bar area. Adding mood lightings, such as pendant lights or wall lamps, can elevate the ambience and create a fun and relaxing atmosphere. It's a great way to use the most of your basement space and impress your guests with your hospitality skills.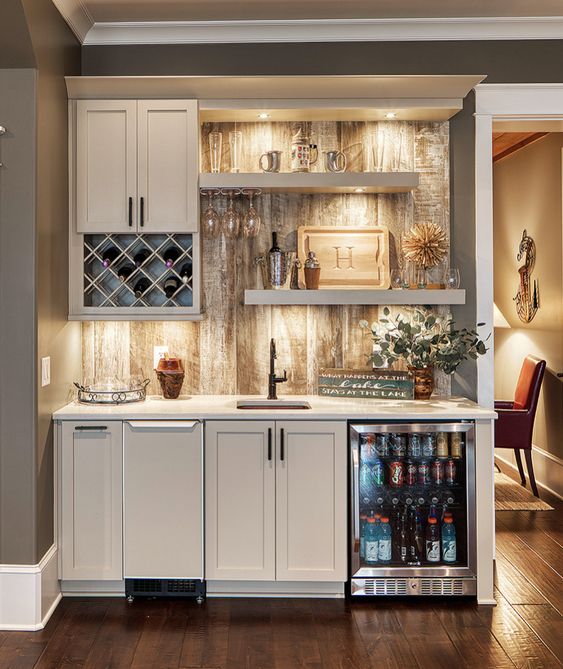 20. Corner Kitchenette
Limited space in the basement can be a big issue, but a corner kitchenette is a perfect solution. It can be added to small areas, even in a corner, without occupying too much space. A small fridge, sink, and some cabinets or shelves are all you need to create this style of Kitchenette entirely. The best part about this style is that it can make your basement look more spacious using an otherwise wasted area. So, if you want to add convenience and practicality to your basement, you can consider it.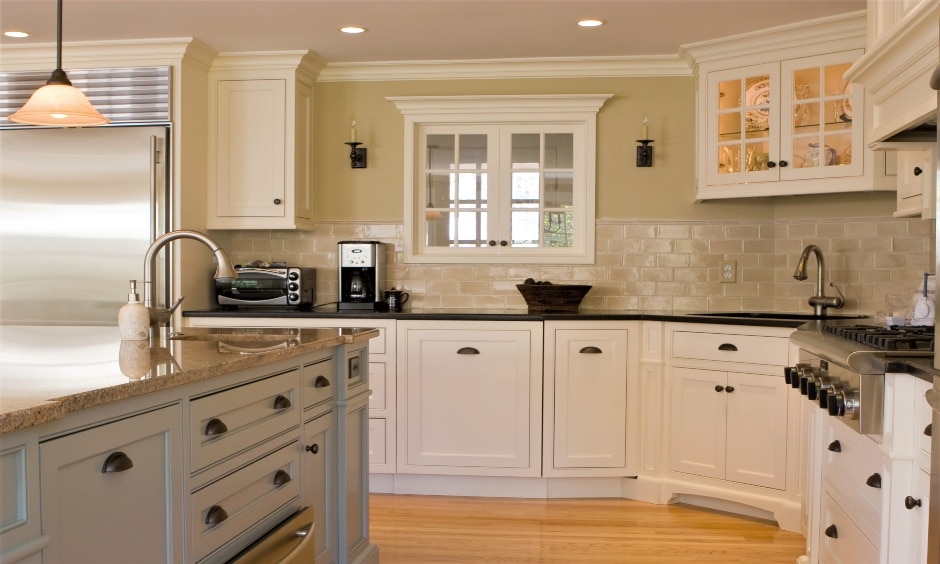 21. Eclectic Kitchenette
An eclectic kitchenette is a great way to show creativity and style. You can mix and match different design elements, such as colourful cabinets, unique lighting fixtures, and vintage things, to create a one-of-a-kind space. If you want to give your area a unique and distinctive atmosphere, feel free to add different kinds of textures, patterns, and materials. This type of Kitchenette is about breaking the monotony and creating a unique and special space. So, let your creative thinking run wild and design to reflect your personality and style.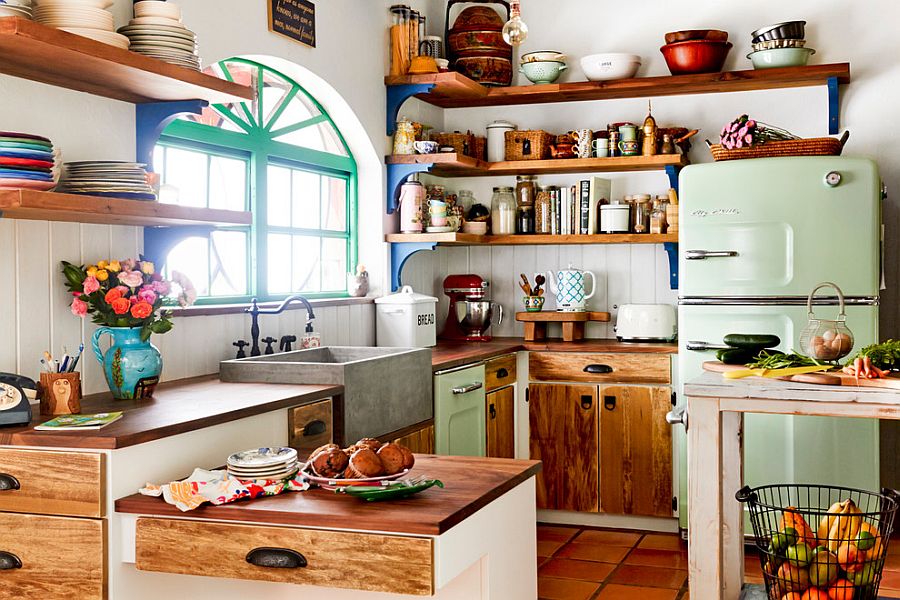 22. Game Room Kitchenette
A game room kitchenette idea is an excellent addition to any entertainment space. With a small kitchenette, you can create a convenient snacking and drink station for your guests, eliminating the need to go to the kitchen for refreshments. It can also be a storage area for game accessories such as board games, playing cards, and dice. You can add playful decor elements like neon signs or themed wall art. Overall, a game room kitchenette is a great way to make your entertainment space more functional and enjoyable for everyone.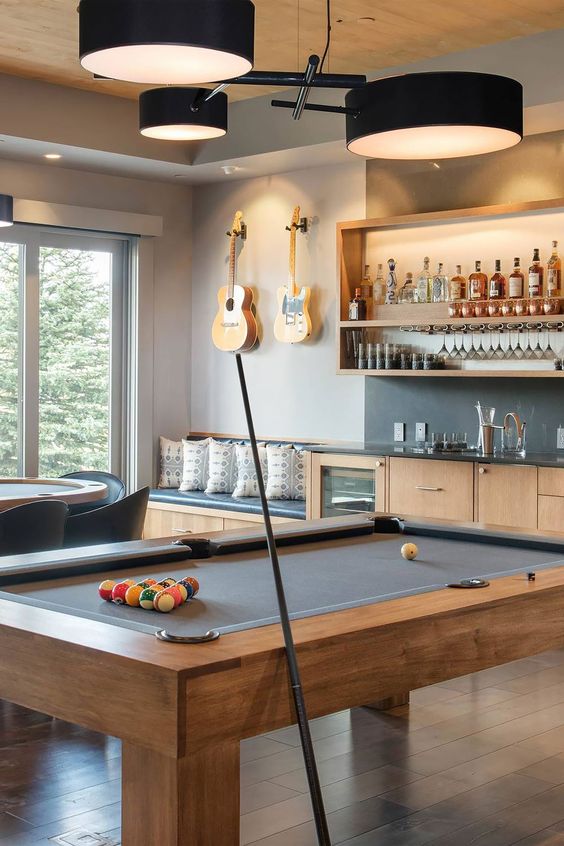 Conclusion
All the above-mentioned basement kitchenette ideas offer a wealth of inspiration for anyone who wants to create a stylish and functional space.
With many different design options, finding the perfect fit per your taste is easy.
No matter what you prefer, modern, minimalist style or a more cosy, rustic feel.
These ideas can help you create a kitchenette that looks great and makes the best use of the space available.
So, transform your basement into a true retreat with these innovative and inspiring kitchenette designs.