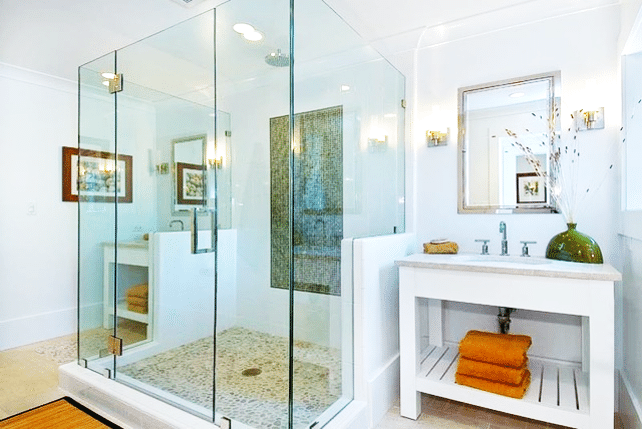 Imagine a sleek, crystal-clear shower glass door that separates your bath sanctuary from the rest of the world! Glass shower doors seamlessly blend with the most intricate designs to traditional designs. 
Transform your shower with the marvelous glass doors that are available to create an experience beyond vibrant. In this blog, we will introduce you to glass shower door ideas to make your shower interesting and unique with the most intricate and artistic options. 
Let's unlock the glass doors to enter into the realm of minimalist yet sophisticated showers and immerse yourself in privacy, transparency, and an enchanting corner in your home that brings out your personality. 
List of Best Glass Shower Door Ideas for You
In the current days, glass shower doors have become a part of interior designing, as it gives the most modern, aesthetic, and chic look to the space. Here are the 11 glass shower door options you need to know. 
1. Frameless Glass Shower Doors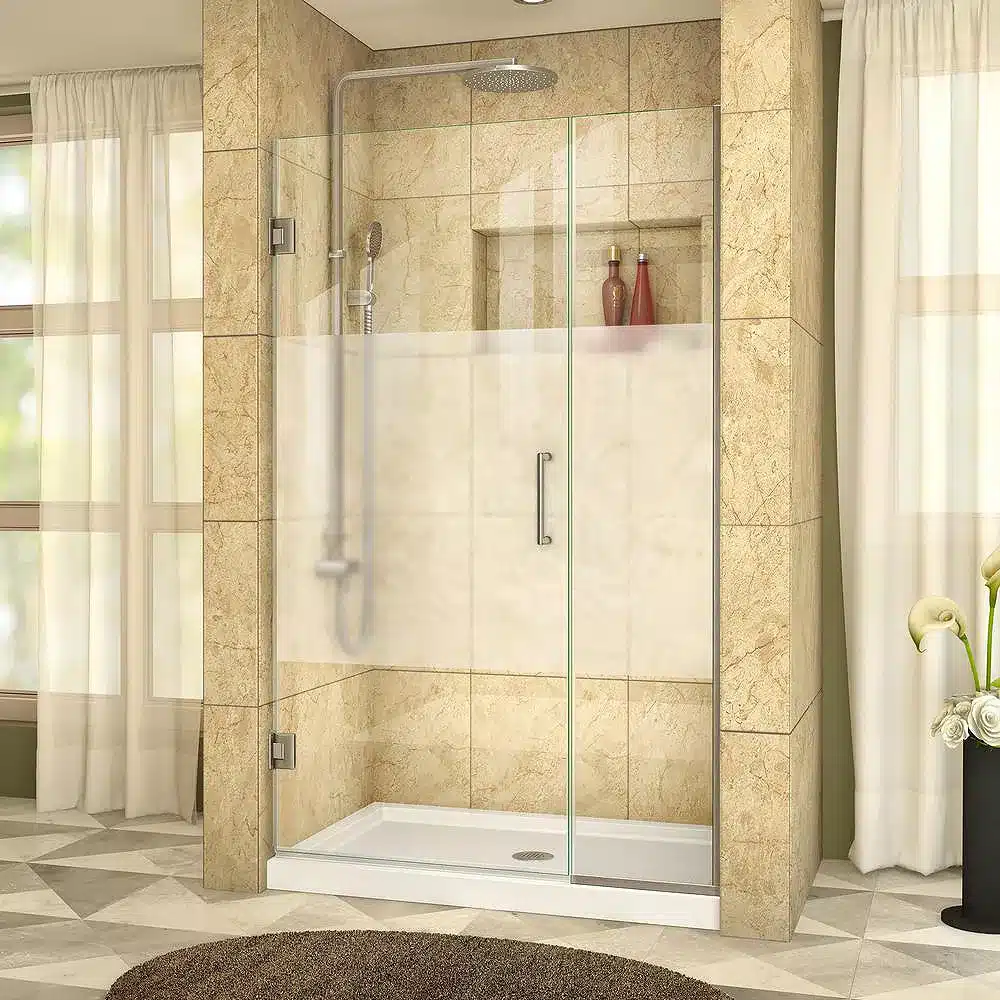 If you are someone who is all about high-end, sleek, modern, and minimalist style, frameless shower doors are the perfect option for you. The clear glass, without any texture or visual obstruction, makes the bathroom look much bigger, and the light flowing inside elevates the stonework and other aesthetic interior design aspects. Frameless doors include very minimal metal, such as clips, hinges, and handles. 
Advantages – Frameless shower doors are aesthetically pleasing for their sleek and modern design. They are relatively easy to clean as they do not have any frames or additional seals to collect dirt. As they are made of thick tempered glass, they are durable and long-lasting when compared to other doors. 
Disadvantages – Elegance comes with a cost; frameless doors have a higher cost involved as the installation process is complex. Due to minimal sealing, there are chances of water leaking and splashing. As the doors are made up of thick tempered glass, you might feel heavy while closing and opening the door. 
2. Semi- Frameless Glass Shower Door
If you are looking for a budget-friendly contemporary, and modern look, then Semi- a Frameless Glass shower door is for you. The Semi- Frameless shower door comes with a metal frame on the top and the bottom of the door, and the sides are frameless. Semi-frameless are preferred as they have both the characteristics of framed and frameless doors with minimal metal like permanent hinges, handles, and clips used to provide a support structure. 
Advantages – Semi -Semi-framed doors provide the same benefits as frameless with respect to design and visibility but are comparatively affordable. They are easy to clean when compared to fully framed doors and are easy to maintain. The metal frame on the top and bottom of the door provides support and stability, making it more durable. 
Disadvantages– Though they are installed to reduce water leakage, there are still chances of water running out through door gaps. There might be space constraints as they typically open inward and outward. There are chances of cleaning difficulties as the soap and minerals get deposited around the metal. 
3. Frosted Glass Shower Door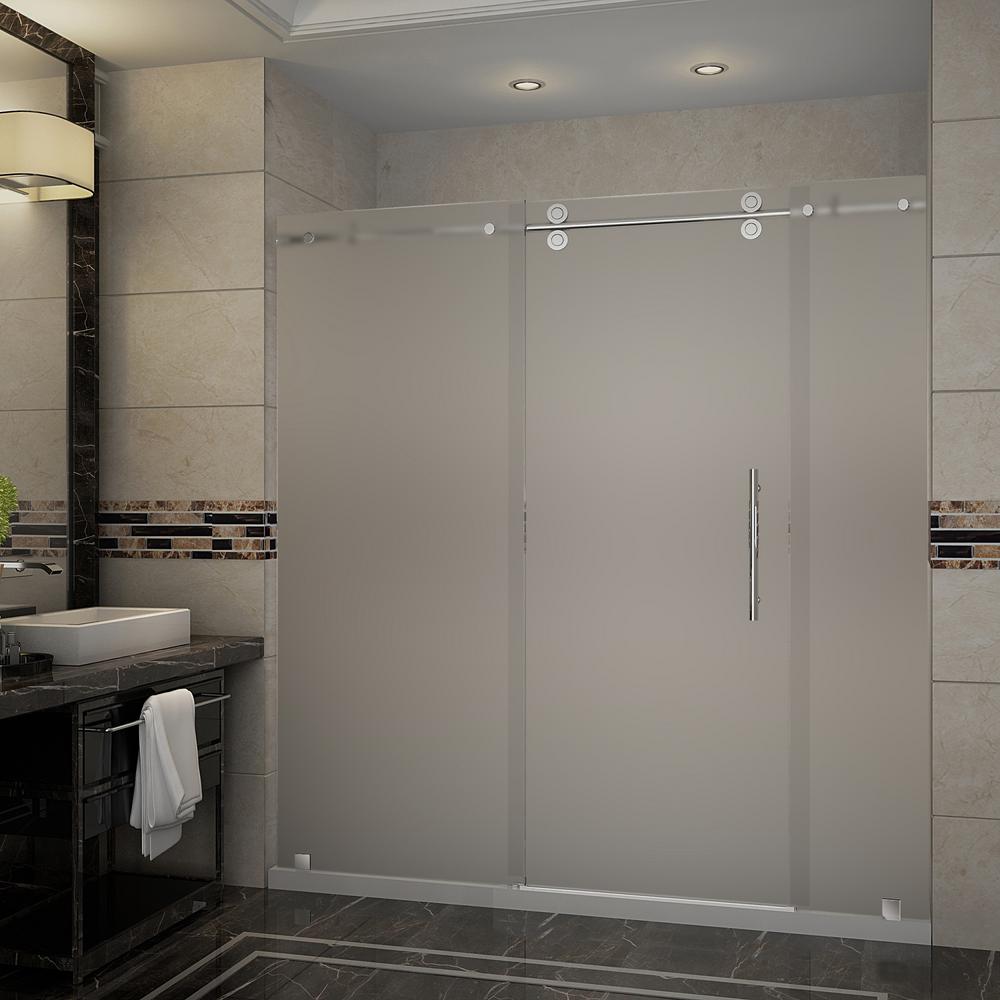 If you are someone who loves unique patterns and texture along with privacy, then frosted glass offers a variety of patterns like rainwater glass, geometric patterns, floral patterns, and different textures like stippling, cross-hatching, sand texture, etc. Frosted glass has the ability to balance privacy and aesthetic appeal to the bathroom while allowing the light to filter through it. This is typically a little costlier than clear glass doors. 
Advantages – The patterns and textures are significantly an advantage to maintaining privacy and concealing water spots and dirt. It is easy to maintain as you don't need to clean it often. 
Disadvantages– One of the most important downsides of frosted glass is the blockage of natural light. You may not need to clean these doors often, but when you do, it is going to be difficult because of the patterns. 
4. Sliding Glass Shower Door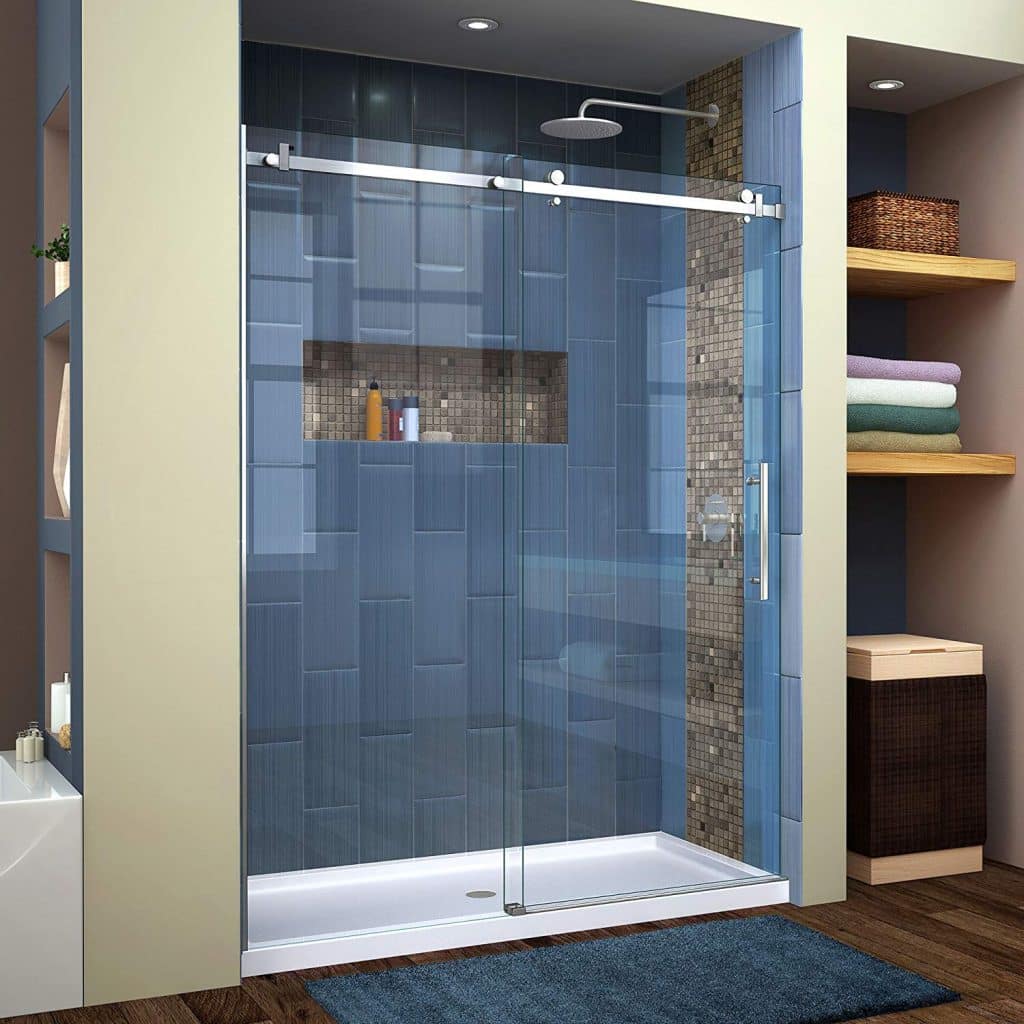 A sliding glass shower door is suitable for a narrow bathroom as the door does not need space to open and close. Sliding glass shower doors are the most common doors, where the track is fixed to the ceiling and to the floor allowing the door to slide on. The sliding doors can be framed or semi-framed, but if you are looking for a cost-effective option, then framed sliding doors are suggested. 
Advantages – Sliding shower doors are the best option for a bathroom with limited space. It also solves the accessibility issues for those with walkers and wheelchairs. Sliding doors are easy to install and provide durable support through the rails. 
Disadvantages– Sliding door maintenance is hard and unimaginable, as they are not easy to clean, and water gets trapped in the door. If not cleaned properly, there might be issues of rust and mold. 
5. Glass Tub Enclosure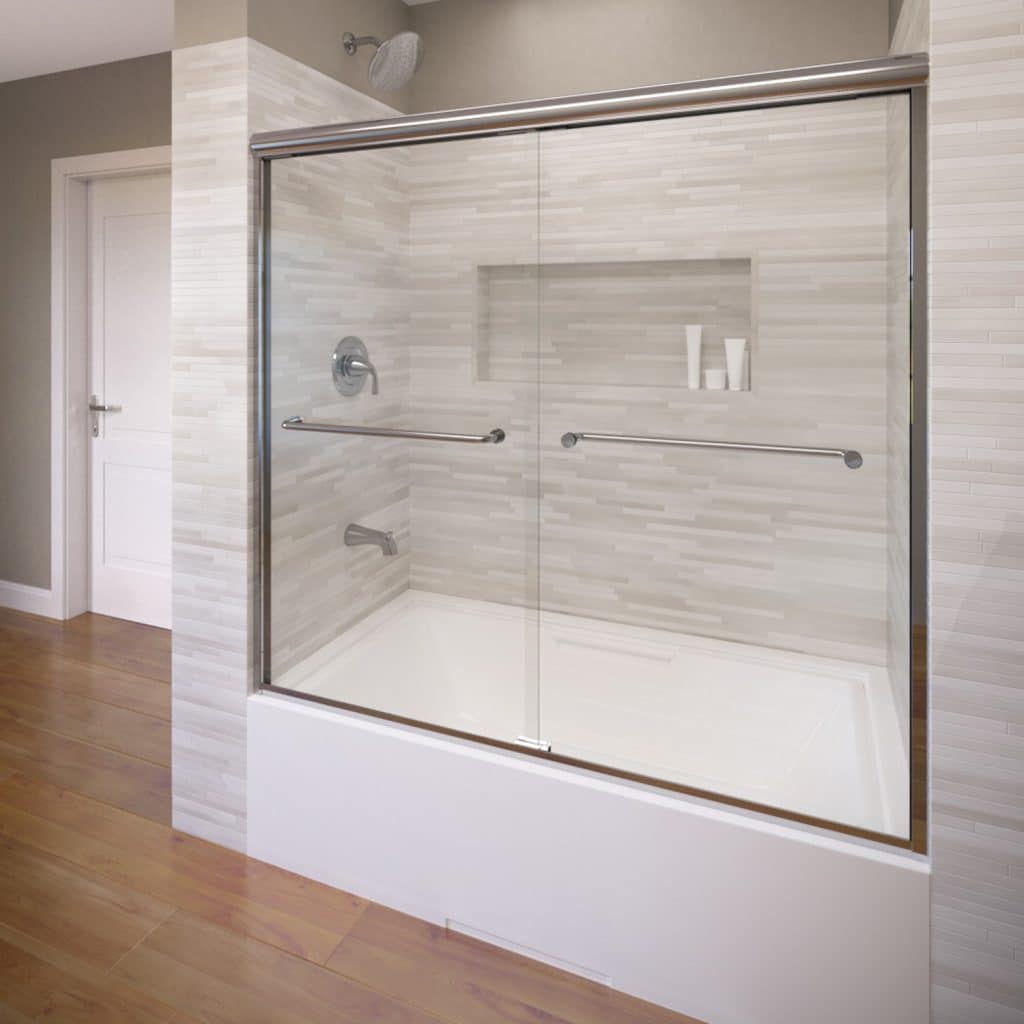 A glass enclosure on your bathtub makes your bathroom more sophisticated and elegant. The glass door is installed on the rim of the bathtub; typically, this doesn't touch the floor. You can choose from frameless, semi-frameless, framed, and pivot doors with different finishes and textures. 
Advantages – The glass tub enclosure is the best and most stylish alternative for curtains, and the modern and elegant look is aesthetically appealing. The glass door allows natural light and provides great visibility to the bathtub. It is easy to clean, maintain, and a high-quality glass will last for many years. As they come in various styles and patterns, there is a lot of scope for versatility and creativity. 
Disadvantages – Glass tub enclosure is a costly affair, as the glass used should be of high quality. If you are someone you love, your own space and privacy, then this shouldn't be your option. Though it is easy to clean, they need regular maintenance and cleaning. If not installed properly, there might be chances of damage. 
6. Partial Glass Tub Enclosure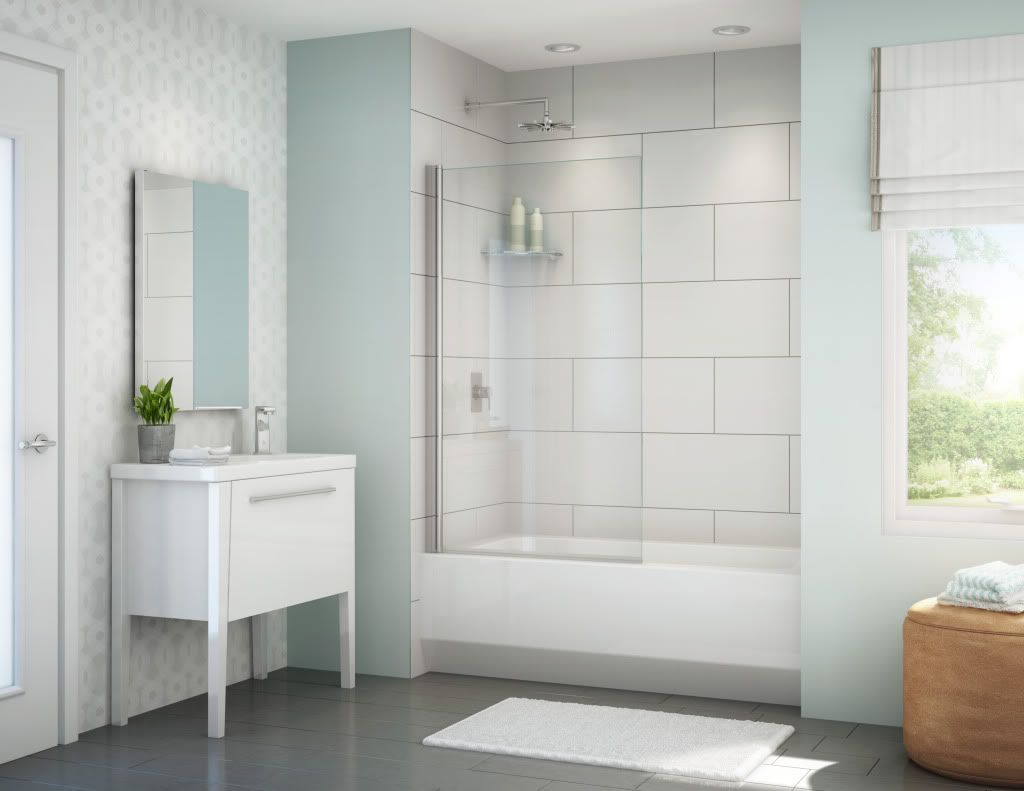 This is a free-standing glass installed against the wall on the floor as a partition, or a piece of glass in the desired share is installed on the rim of the tub. A partial glass tub enclosure is a combination of simplicity and elegance; it also makes the bathtub area look more spacious. There may not be different options with respect to designs as they come in frameless, semi-frameless, or framed, but you can still choose from the variety of textures and materials available. 
Advantages – This is a cost-effective choice while saving space in the bathroom. It is easy to clean and maintain and easy to install. It is a great option to improve the overall look of the bathroom. 
Disadvantages– Privacy is limited, and there are chances of water spillage. For specific designs, the installation might be complex, and it requires regular maintenance as water and soap accumulates on the floor. 
7. Curved Glass Shower Door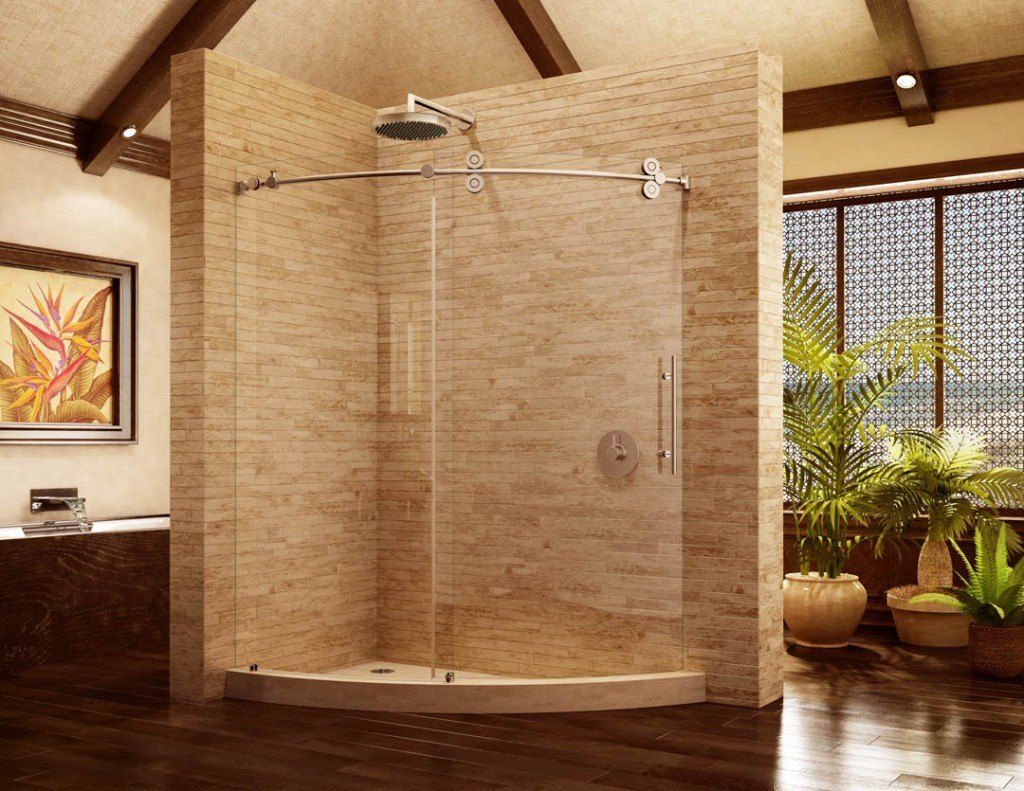 As the name says, the door is a curve shape, which is custom-made to fit the bathroom's size and shape. Though these doors add a unique and elegant touch to the bath area, this is the costliest type available in the market. This provides more space inside due to the curves and takes up more space on the outside. This is a very good option for large bathrooms. 
Advantages – The curved shower doors are aesthetically appealing and add more space to the shower area. Usually, curved doors come with a sliding door option which solves the accessibility issues and reduces the water splashing outside. 
Disadvantages– Though they add a chic and modern touch to the bathroom, the installation is complex and costly. They do not have many options when compared to straight doors; the customization limits the options. Since the doors are curved, it needs regular maintenance, and hard-to-reach curved areas make it difficult to clean. 
8. Steam Glass Shower Doors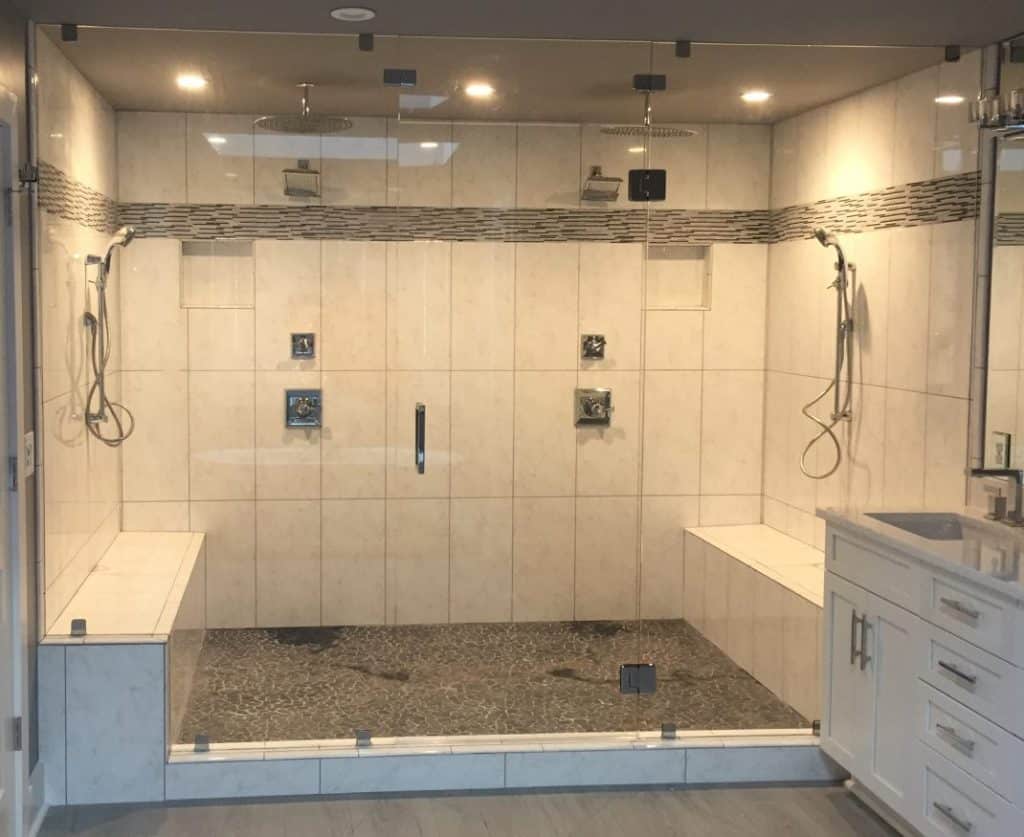 The steamed shower doors are intended to maintain the heat and humidity in the entire shower area. It reaches from ceiling to floor, and the edges are completely sealed and enclosed to be airtight. These provide an elegant touch to the bath area and are usually used in health clubs and spas for saunas. Generally, sliding doors are preferred in the steam shower to avoid accidents. 
Advantages – Steam glass doors are the best option to enjoy a steam bath with privacy. You can choose from a variety of glass options, from clear glass to frosted glass, and also different textures to prevent visibility. 
Disadvantages– Steam glass doors can be more expensive than regular glass, as the glass used is designed to withstand heat and humidity. Installing a steam door is a complex process as they need airtight sealing around the frame. There are chances of mineral and other deposits, as they do not have proper ventilation; this requires regular maintenance and cleaning. 
9. Bi- Fold Shower Glass Door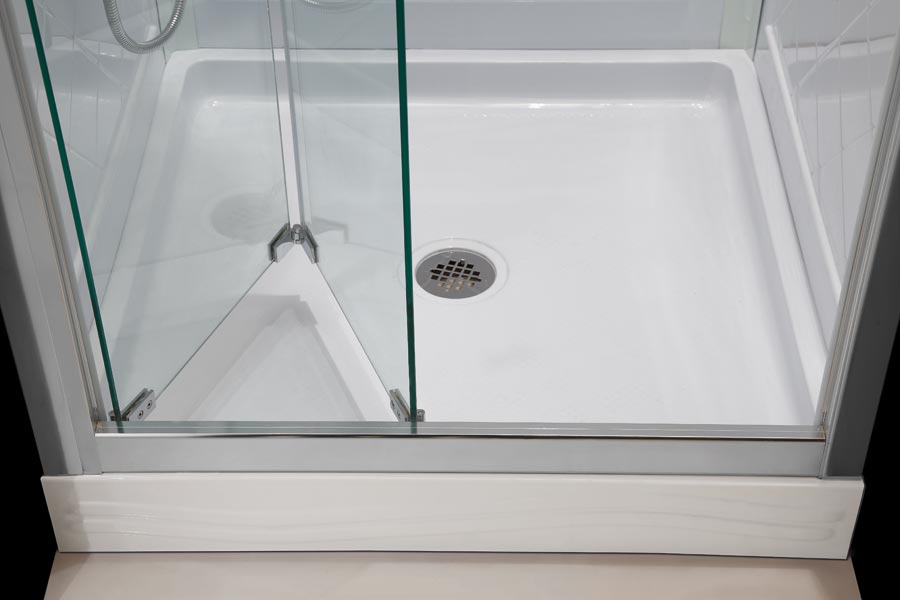 Bi-fold shower doors help you make the most of the space available. This is sort of a combination of sliding and hinged doors, which is usually fully framed and open with a V-shaped hinge in the center. The handle is attached to the hinge side and looks fully flat when opened. They are usually framed doors that operate on a rail at the bottom of the door. 
Advantages – The unique design and functionality of bi-fold shower doors save space in the bathroom with wider entry and exit space into the shower. They are available in various designs and materials, allowing you to choose the option that complements your bathroom decor. 
Disadvantages– Since they are fully operated on rails, there are chances of getting stuck if not maintained properly. There might be less versatility in terms of height and frames. It is also difficult to clean and maintain due to the accumulation of soap, water, and dirt.
10. Neo- Angle Shower Door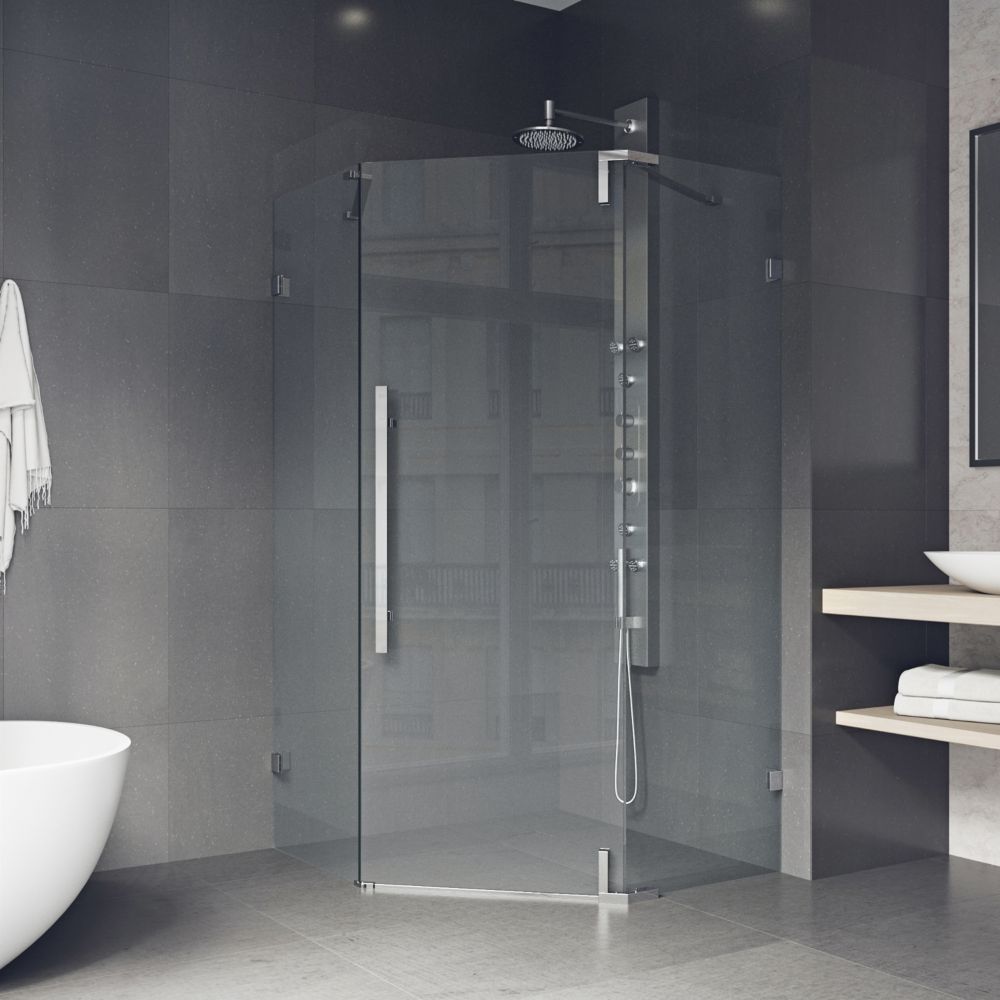 Neo -Angle shower or corner-built shower is installed in the corner of the bathroom, along with the two walls. This shower door is a 5-side enclosure. A fixed panel is attached to the floor, and they are usually frameless or semi-frameless doors. These shower doors add a beautiful edge to the bathroom corner. 
Advantages – Neo-angle shower is designed specifically to enhance the corner spaces and is well suitable for bathrooms with smaller floor areas. They can be installed in various configurations and glass types. With its wider door opening space, Neo-angle is easily accessible. 
Disadvantages– The shower space is less when compared to other enclosures. Due to limitations and specific design, there are only a few design options, and installation is complex. The angular glass and measuring the area make it a costly affair. There are chances of soap and dirt accumulation on the curves and corners. 
11. Tinted Glass Shower Door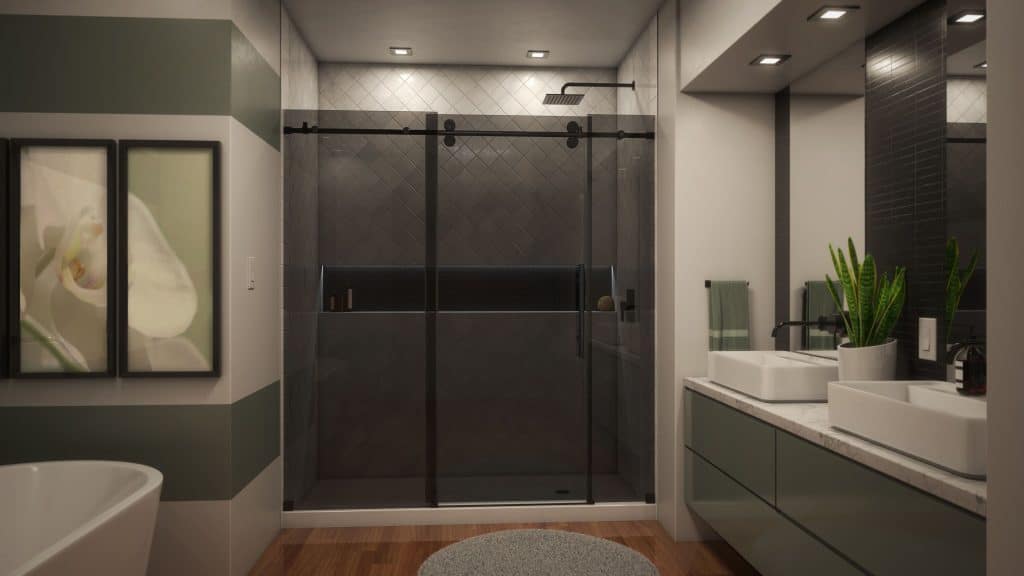 The tinted glass comes in different colors and offers privacy. This is the most common choice for homeowners who seek modern and stylish bathrooms. To get a refreshing look, one can choose from colors like black, blue, green, brown, yellow, or grey. If you want a vintage look go for brown, yellow, or grey. If you want a modern, stylish look for black, blue, or green for warm beachy vibes. They are usually framed or semi-frameless doors. 
Advantages – Tinted doors provide enhanced privacy while giving an aesthetic experience to the bath area. They are effective at concealing water spots, and it is easy to clean and maintain. If you are someone who doesn't like bright light, tinted glass helps reduce the glare from direct sunlight and makes it cozy. 
Disadvantages– Tint reduces the light transmission, as the tinted glass comes with color, which makes the matching decor part difficult. Though maintenance is easy, this glass requires regular cleaning. 
Conclusion
Glassdoor showers have undeniable benefits, but from the middle of the 20th century, glass doors gained prominence in bathroom design. Earlier curtains and wooden slides were used to separate the bath area; though this a traditional and cost-efficient, this led to the accumulation of moisture and obstruction of light resulting in a cramped atmosphere and musty smell in the bath area. 
Glass shower doors became an integral part of interior designing, as it makes the bathroom look more spacious and allows the light to flow in freely. 
We hope this blog helped you choose the right glass shower door for your bathroom; from configurations to glass types, and advantages to disadvantages, it is important to consider every aspect that matches your budget and standard.
Your bathroom space should bring out your personality, making each and every corner aesthetic and elegant.