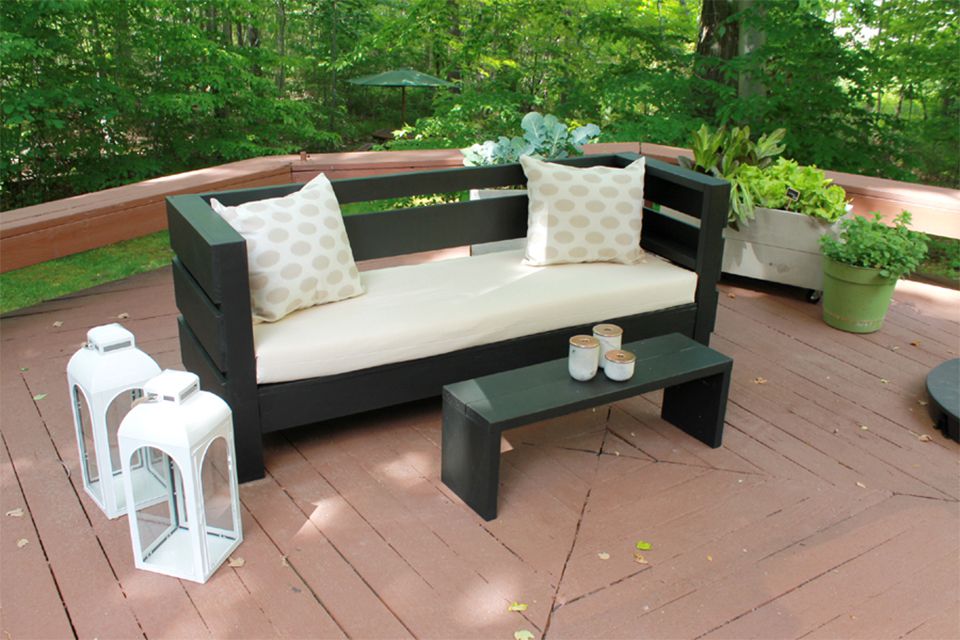 Having cozy and fashionable furniture may make a difference in relishing the beautiful outdoors. The cost of buying brand-new outdoor furniture might be high.
Fortunately, there are lots of low-cost and straightforward do-it-yourself (DIY) suggestions that can assist you in building your outdoor haven without spending a fortune. You may modify your DIY patio furniture according to any outdoor area, whether you've got a large garden or a cozy balcony.
There are many innovative options to consider, from upcycling used pallets and crates to creating seating and tables out of concrete and cinder blocks.
Additionally, employing inexpensive materials, including ropes, PVC pipes, and repurposed wood, can give your outdoor furniture a rustic charm. You can turn your outside space into a chic and inviting refuge where you can unwind, host guests and enjoy nature's wonders with ingenuity and DIY flair.
1. Pallet Sofa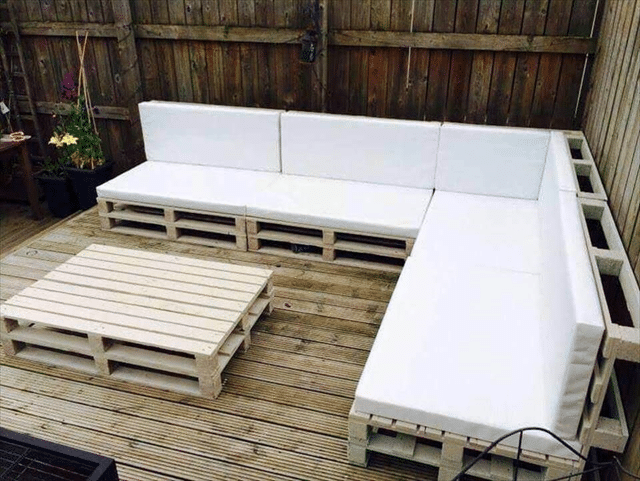 Repurpose wooden pallets to create a chic and affordable outdoor sofa. Pallets should first be cleaned and sanded to eliminate any splinters. The pallets should then be arranged in the desired pattern, like an L-shape or a straight sofa. Screws or brackets are used to hold them securely.
Make it cozy and comfortable by adding pillows and cushions. Stain or paint the pallets in a color of your choice to improve their visual attractiveness. You may design a unique outdoor seating space for gatherings and relaxation using this inexpensive and easily made pallet sofa.
2. Cinder Block Bench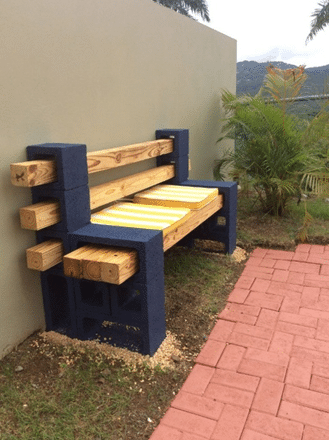 Use cinder blocks to build a durable and affordable outdoor bench. Place the cinder blocks on a level place and order them in the shape of a bench to start. You may stack the blocks vertically or horizontally, according to your desired height and layout. Once the blocks are in position, insert wooden boards to create the seat into the spaces between them.
You can paint the blocks to fit your outdoor design or add cushions. Furthermore, to be simple to put together, this DIY patio furniture bench has an industrial and modern aesthetic, making it a valuable and fashionable complement to your outdoor area.
3. The Swing Chair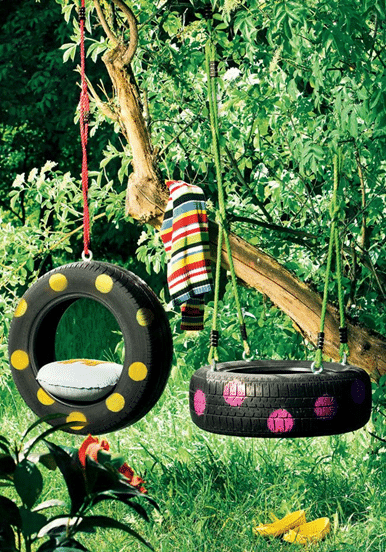 Make a unique and entertaining swing chair out of an old tire for your outside area. Start by thoroughly cleaning the tire and taking out any metal or pointed things. If desired, paint the tire with waterproof paint. Following that, faster sturdy ropes or chains to the top of the tire by securing them firmly.
Dangle the swing from a strong tree branch or a designated swing set. A cozy and charming swing chair ideal for unwinding and taking in the outdoors can be made by adding a soft cushion or a seating pad to the center of the tire.
4. Milk Crate Stools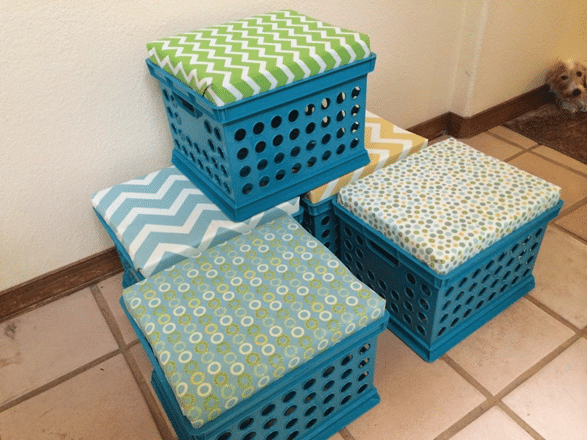 Make adjustable and portable stools out of milk crates for your outdoor sitting needs. Start by making sure the boxes are robust and tidy. Stack crates on top of one another to heighten your stools. Heavy-duty glue or zip ties can be used to hold them together. Place a piece of fabric or a foam cushion on the topmost part of each crate to increase comfort.
You may paint the crates or cover them in decorative fabric to give them a unique appearance. These inexpensive DIY patio furniture chairs are ideal for outdoor parties and other occasions because they are also valuable and portable.
5. Wine Barrel Table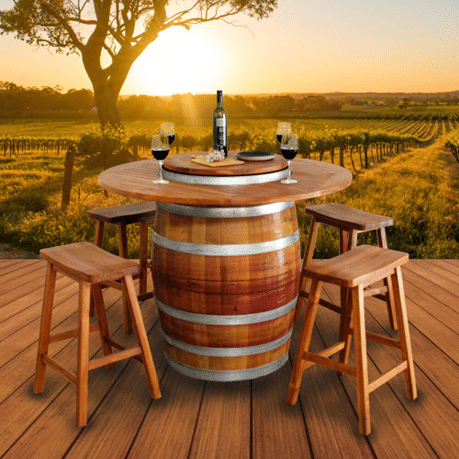 Use a wine barrel to make a lovely and rustic patio table. Clearing out any trash and cleaning the barrel should come first. Sand the surface as necessary to create a smooth finish. Put the barrel in the appropriate spot, making sure it is stable. You may employ a circular hardwood plank sitting snugly on your barrel as the tabletop.
Use screws and adhesive to maintain it in place. Your outdoor space will feel more luxurious and inviting with the addition of this easy-to-make wine barrel table, which is ideal for hosting parties or eating meals.
6. Rope Hammock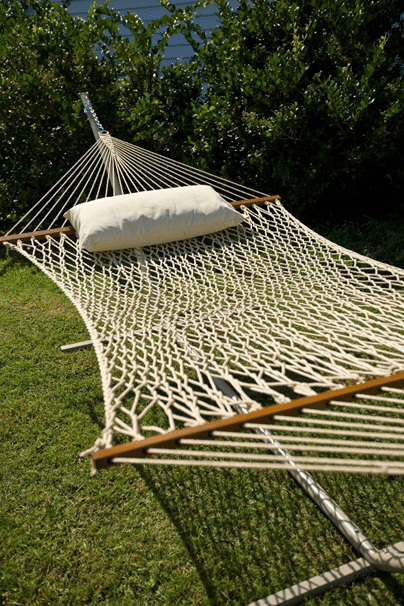 Use strong fabric and ropes to construct a comfortable outdoor hammock. Start by selecting a sturdy cloth that can endure the elements. Cut the fabric into a rectangle with lots of room for stretching. Fold and stitch the edges to keep them from fraying.
You must tie strong ropes to the fabric's ends, and they should be firmly knotted or fastened with sturdy hardware. Hang the hammock from two strong anchor points, poles, or trees at a suitable height. With your DIY patio furniture, you can now take advantage of a comfortable and peaceful outdoor getaway.
7. Wooden Pallet Coffee Table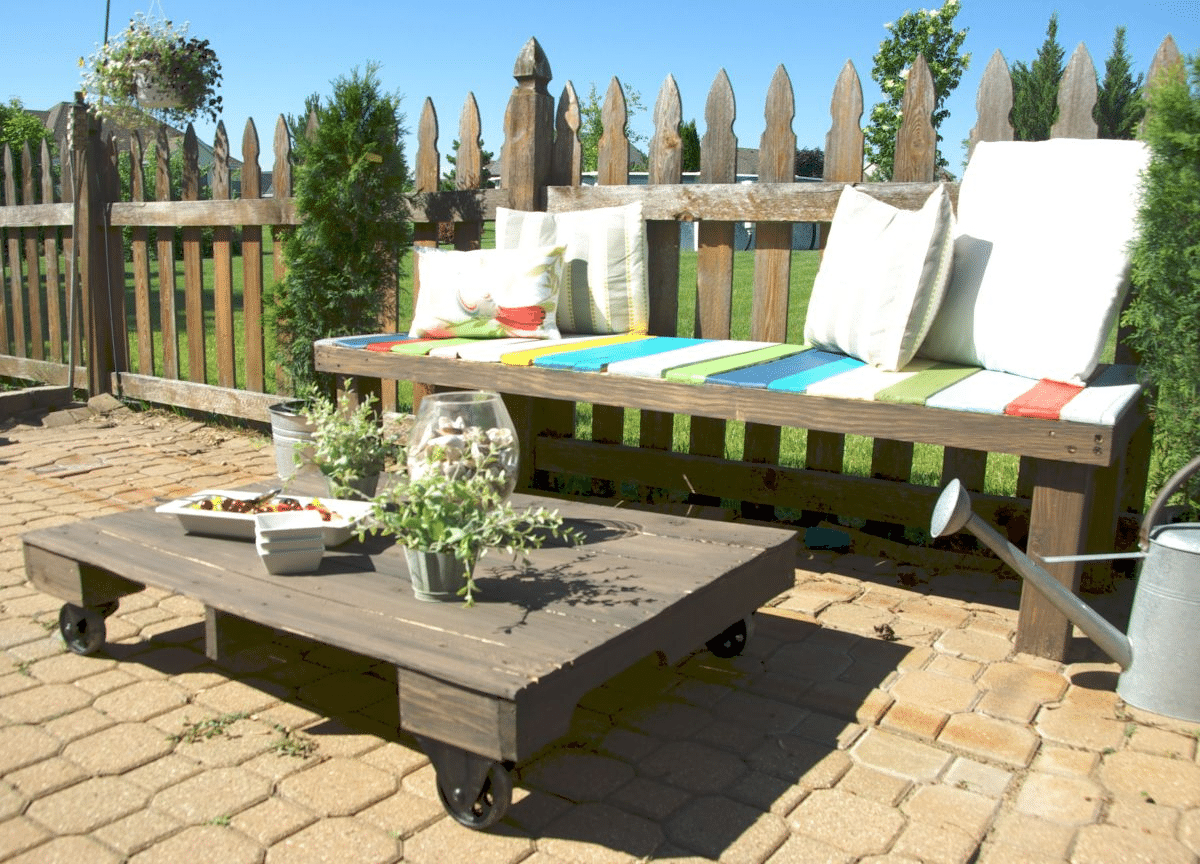 Create a practical and fashionable coffee table out of a wooden pallet for your garden area. The pallet should first be cleaned and sanded to guarantee a smooth surface. Varnish or paint the pallet to fit your decor if you'd like. For comfort and mobility, affix four reliable casters to the base of the pallet.
Alternatively, add a glass or hardwood tabletop for a polished aesthetic. The pallet's open stats could be used for storage or displaying ornaments. This inexpensive and adaptable DIY pallet coffee table is an excellent bonus to your outdoor lounging area.
8. Tree Stump Stools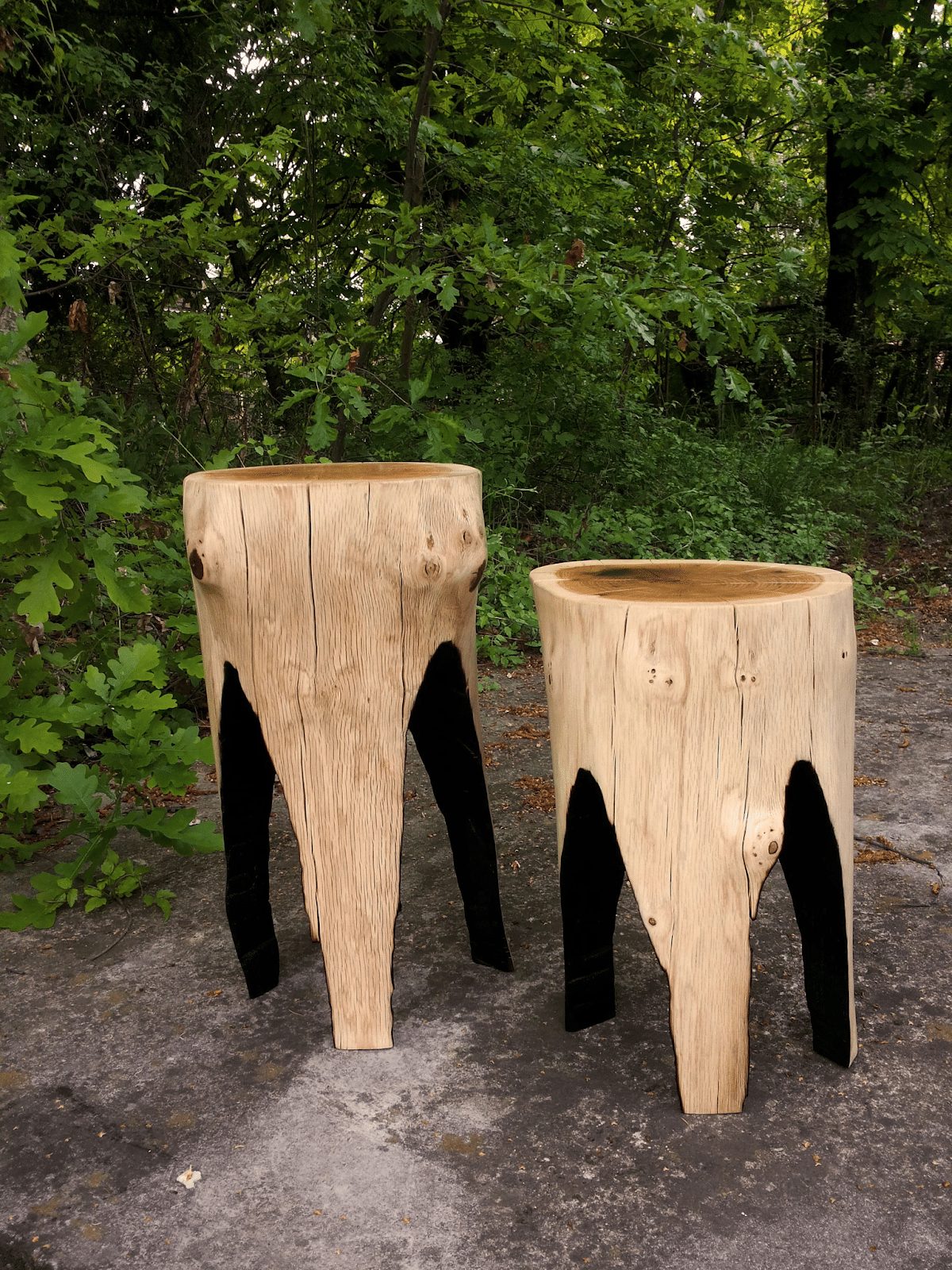 Turn tree stumps into unique, organic outdoor stools. Choose robust tree stumps in a range of heights to start. Remove any loose bark from the stumps and clean them. Sand the surface if you'd like it to be smoother. Apply a coat of sealer or exterior paint to shield the wood from the outdoors.
You may use these tree stump stools as side tables or standalone seating. To bring a bit of rustic appeal to your outside area, arrange your DIY patio furniture there. They're not only economical but also environmentally helpful because they revive downed trees.
9. Folding Camp Chairs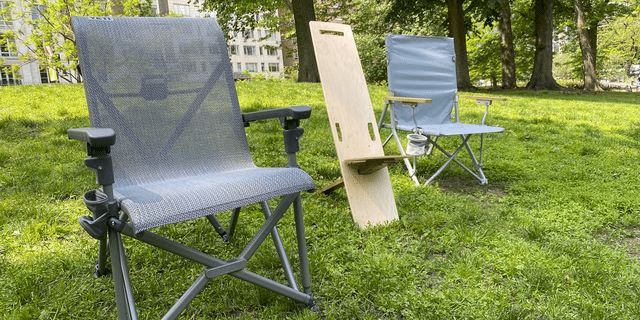 Repurpose old folding camp chairs to make inexpensive patio furniture. The chairs should first be given a thorough washing before any repairs are made. Remove the worn or torn fabric and swap it for fresh outdoor cloth.
To improve comfort, think about adding additional cushioning. Restore the metal frames' look by repainting them. Your old camp chairs can be converted into functional, fashionable outdoor seating solutions that are simple to fold and transport conveniently with a bit of work.
10. Concrete Block Side Table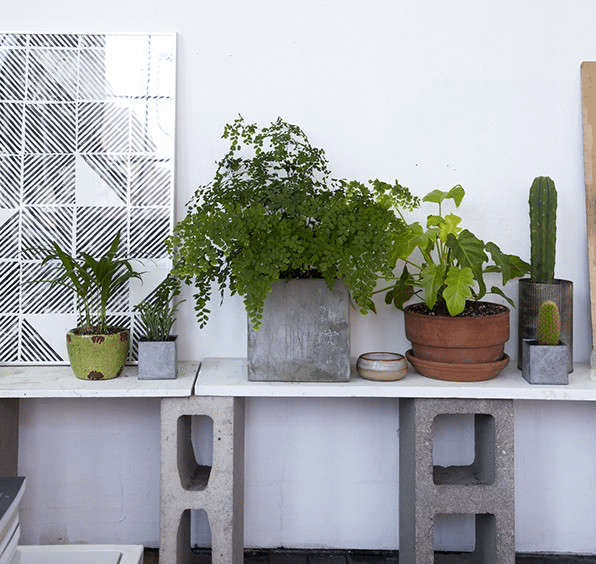 Make a contemporary side table out of concrete blocks. The blocks should first be cleaned and checked for debris. Place the blocks in the appropriate configuration, like vertically or horizontally stacking them. The blocks should be joined together with cement or adhesive.
Put a big sheet of glass or a wooden board over these blocks for a streamlined tabletop. This inexpensive, rugged, and adaptable DIY concrete block side table gives your outdoor space a fashionable surface to hold beverages, decor items, or books.
11. PVC Pipe Lounge Chair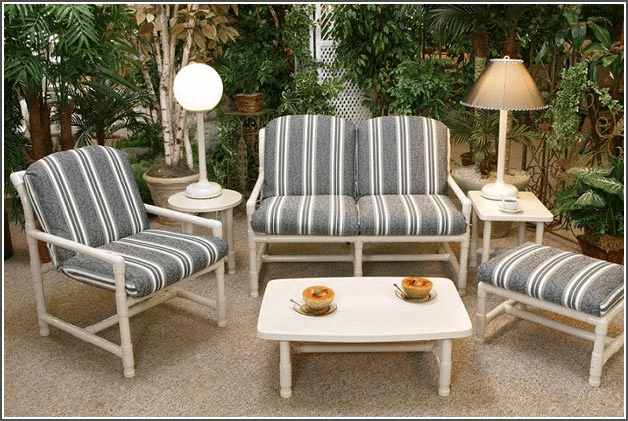 Use PVC pipes to create a cozy lounge chair for your outdoor enjoyment. Cut the PVC pipes to the required lengths, starting with the chair frame and incorporating the backrest, armrests, and seat. Establish the construction of the chair by connecting the pipes with PVC connectors.
For the backrest and seat, fasten weather-resistant cloth to the frame. For further comfort, add cushions. PVC lounge chairs are ideal for outdoor use because they are lightweight, strong, and clean. Enjoy relaxing in your DIY patio furniture by altering the style and color to suit your outdoor aesthetic.
12. Wooden Bench with Storage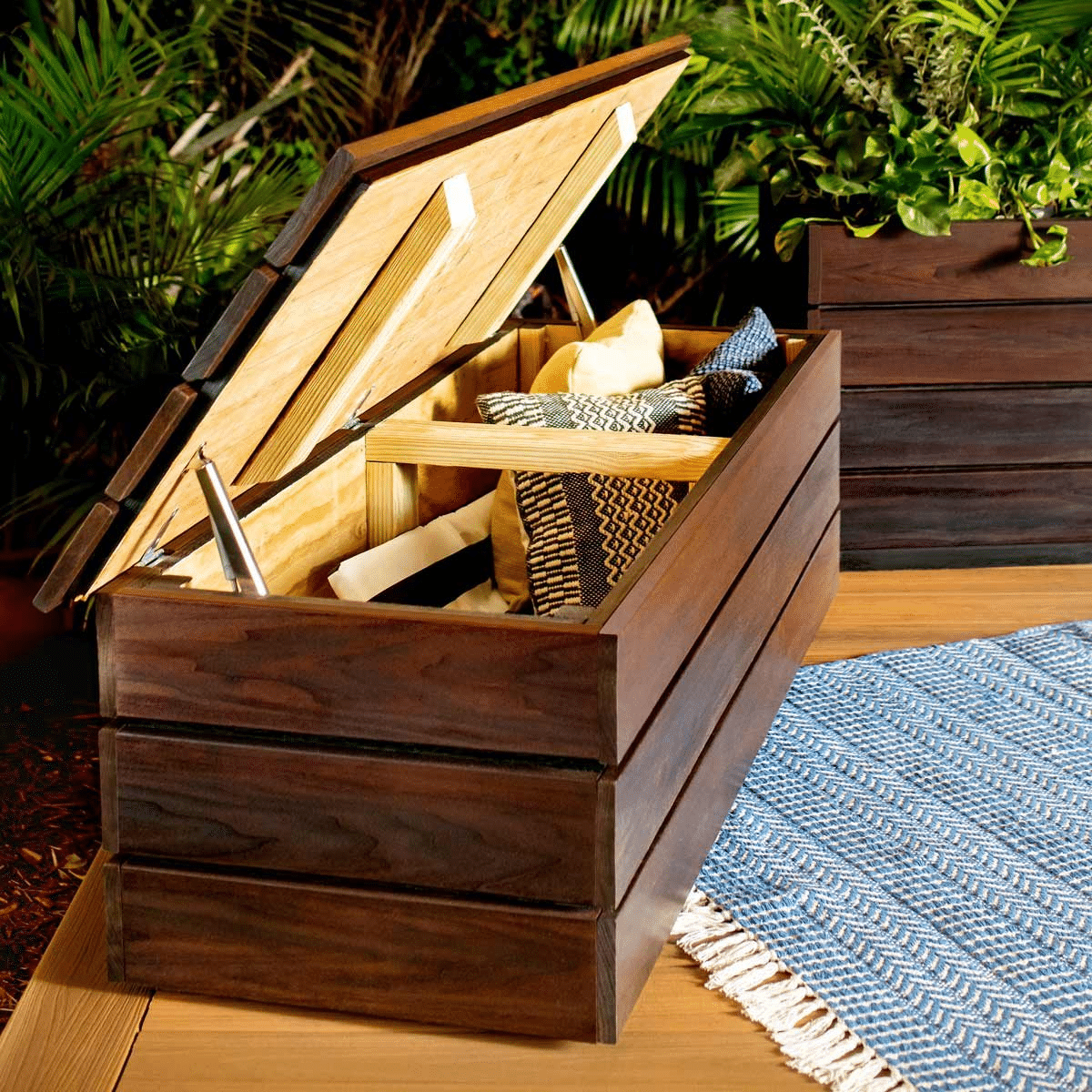 Construct a practical wooden bench with concealed storage for your outside area. Start by building a simple bench structure out of solid wooden planks. Attach a seat with a hinge to the top of the frame to make the frame readily open and close. As a result, a storage space is made underneath the seat.
If you want to increase security, add a latch or lock. Apply an exterior paint or sealant layer to seal off the bench and shield it from the weather. This do-it-yourself wooden bench doubles as a seat and a handy location to keep pillows, gardening supplies, or other outdoor necessities.
13. Repurposed Tires Ottoman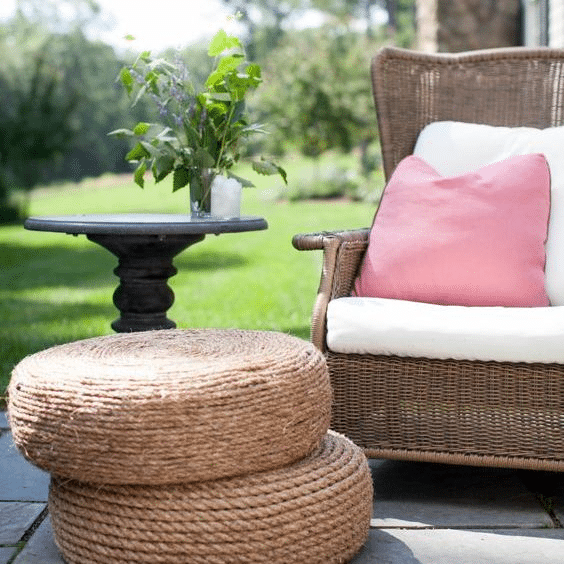 Make a sustainable ottoman for your garden area out of old tires. Thoroughly clean the tires and take out any metal or pointed things. Using exterior spray paint, paint the tires any color you want. Cut a circle of plywood or foam board to fit the tire to the appropriate size.
Using screws or adhesive, attach the board to the top of the tire and cover it with outdoor fabric. The seating area of your DIY patio furniture will be given a unique and amusing touch by this recycled tire ottoman, which also encourages sustainability.
14. Adirondack Chairs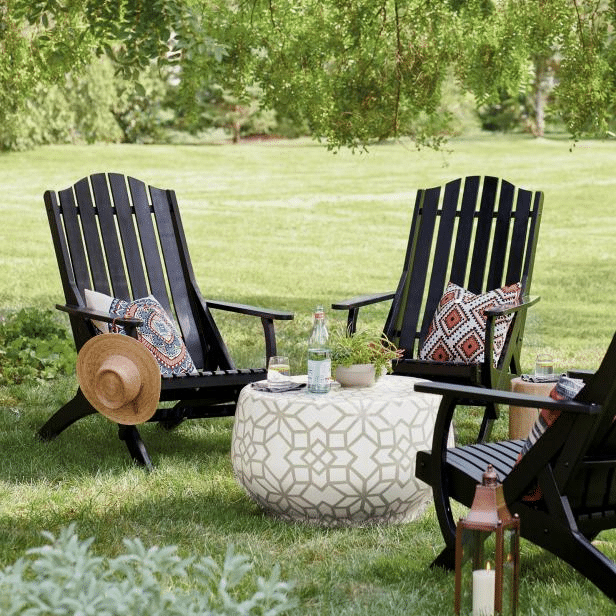 Build traditional Adirondack chairs from reasonably priced pine boards to relax outside. To start, cut the boards into the necessary chair parts, including the backrest, seats, legs, and arms. Using screws or nails, put the sections together like an Adirondack chair.
You must sand surfaces for an even finish, and the chairs should be painted and stained to safeguard the wood from the outdoors. Adirondack chairs offer a cozy and classic seating option for your outdoor area, ideal for relaxing and enjoying the wonderful outdoors.
15. Pallet Bar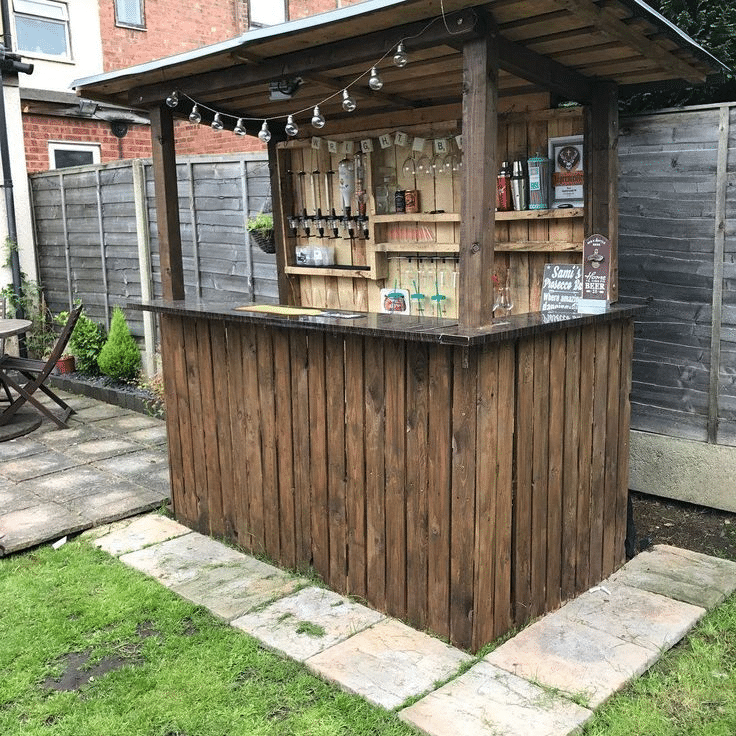 Using wooden pallets, create a chic and valuable outdoor bar. You must sand and clean pallets to smooth out any uneven edges. Next, stack the pallets to the proper height and fasten them with brackets or screws. Include a countertop constructed of weatherproof materials, such as plywood and salvaged wood.
Install racks or hangers on the pallets' backside to keep glasses, bottles, and bar extras. To complete this DIY patio furniture, paint or stain the pallets to coordinate with your outdoor decor. Your outdoor party area will benefit significantly from the addition of this DIY pallet bar for pouring beverages and fostering a warm atmosphere.
16. Rope Bench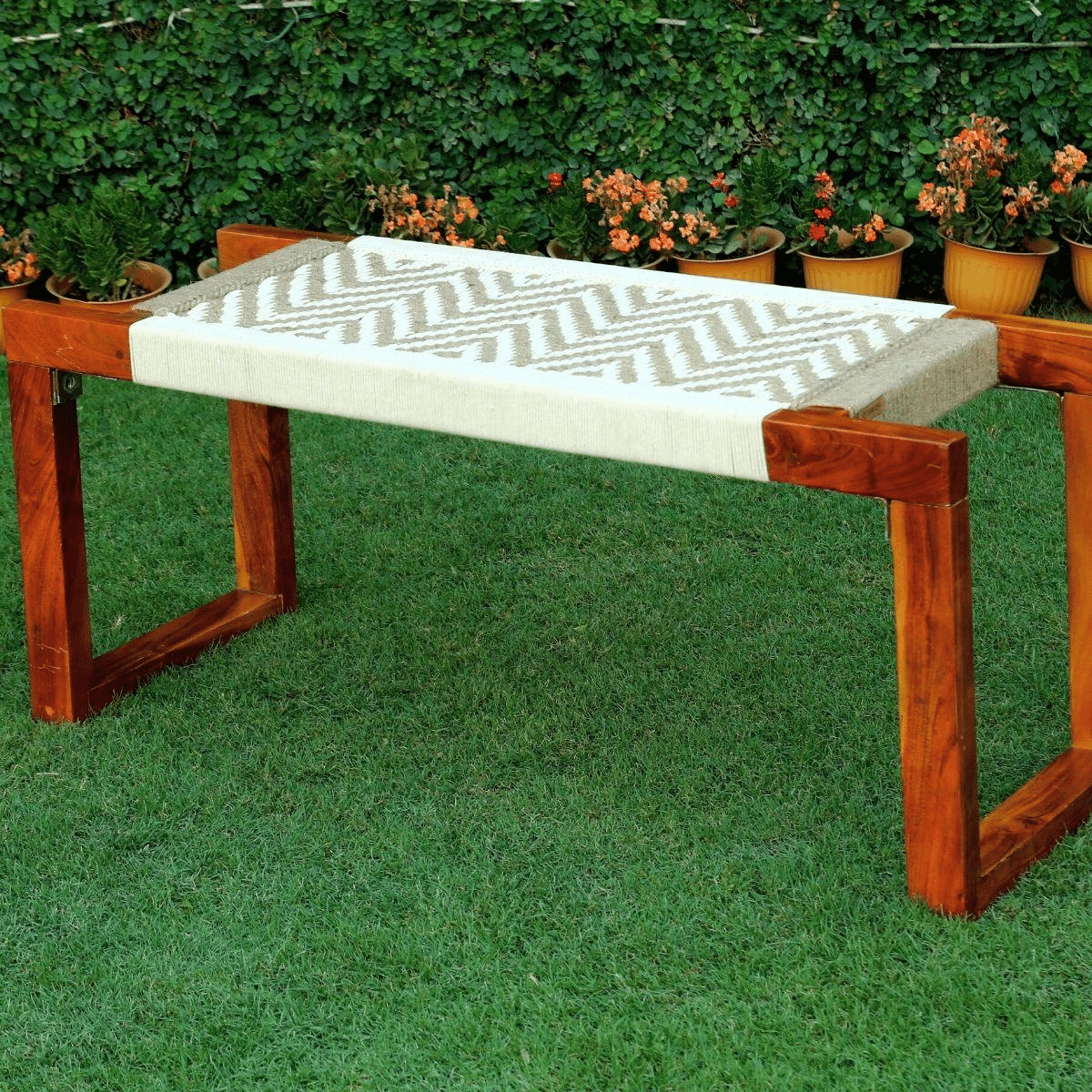 Using strong ropes, construct a distinctive and rustic outdoor bench. Ensure two tree trunks or wooden posts are stable before placing them in the ground. Firmly tying strong ropes between the poles from the backrest and seat. Adjust the rope tension to find a comfortable sitting position.
You may add pillows or outdoor material to the seat to increase comfort. A pleasant and inviting seating choice, this do-it-yourself rope bench is ideal for taking in your exterior environment in a calm and natural setting.
17. Outdoor Daybed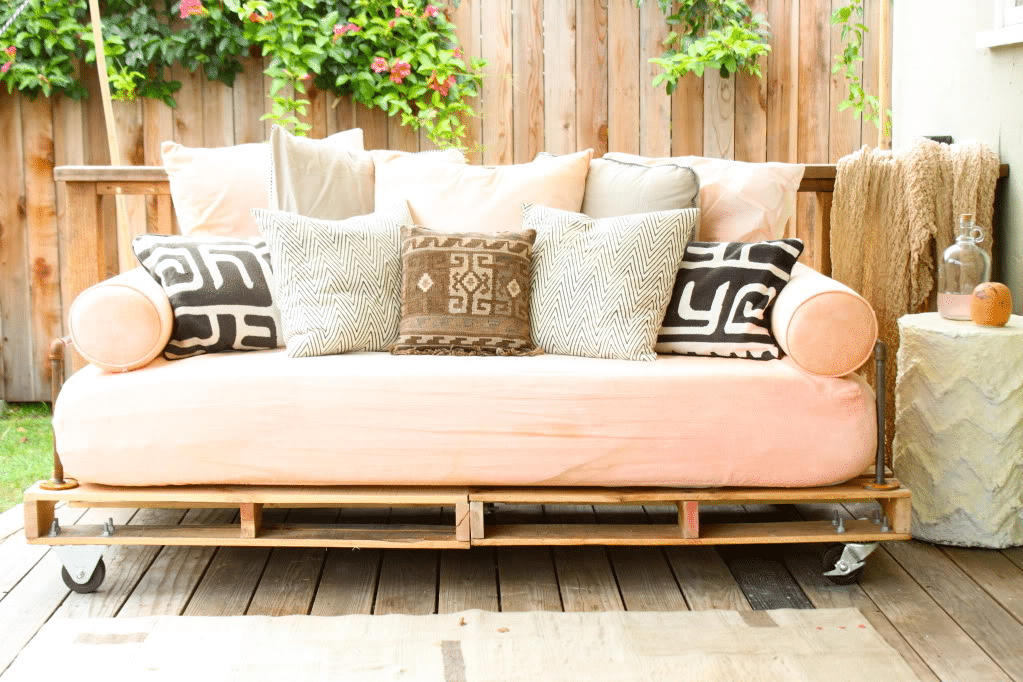 Convert an old cot or twin-sized mattress into a comfortable outdoor cot. Start by constructing a solid structure out of pallets or wooden beams. With screws or straps, firmly fasten the cot or mattress to the frame.
For comfort, add pillows and cushions resistant to weather. Consider using a waterproof cover or storing the daybed indoors during bad weather to protect it from the elements. This do-it-yourself outdoor daybed offers a cozy and appealing area for resting in your natural haven.
18. Repurposed Wooden Ladder Shelf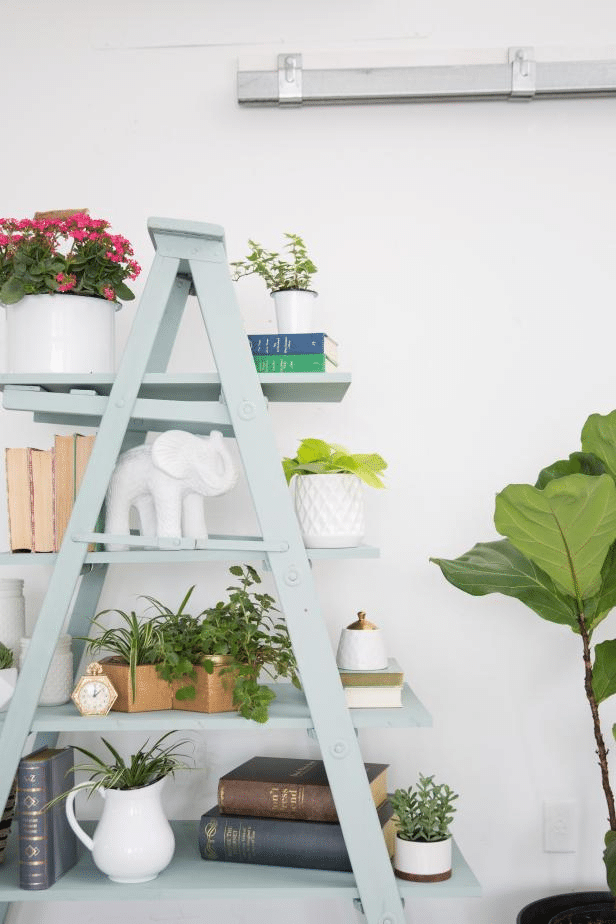 Converting an old wooden ladder into a functional outdoor shelf will give it a new use. Tide and sand the ladder to get rid of any dirt or jagged edges. Fasten the ladder to a wall or fence with solid hooks or brackets. Use wooden planks or shelves in between the ladder rungs to add storage.
Put potted plants, outside decorations, and other objects on the shelves to exhibit. You may paint your DIY patio furniture to complement your outdoor design, and your outdoor environment will benefit from the elegance and usefulness this reused wooden ladder shelf brings.
19. Concrete Block Planters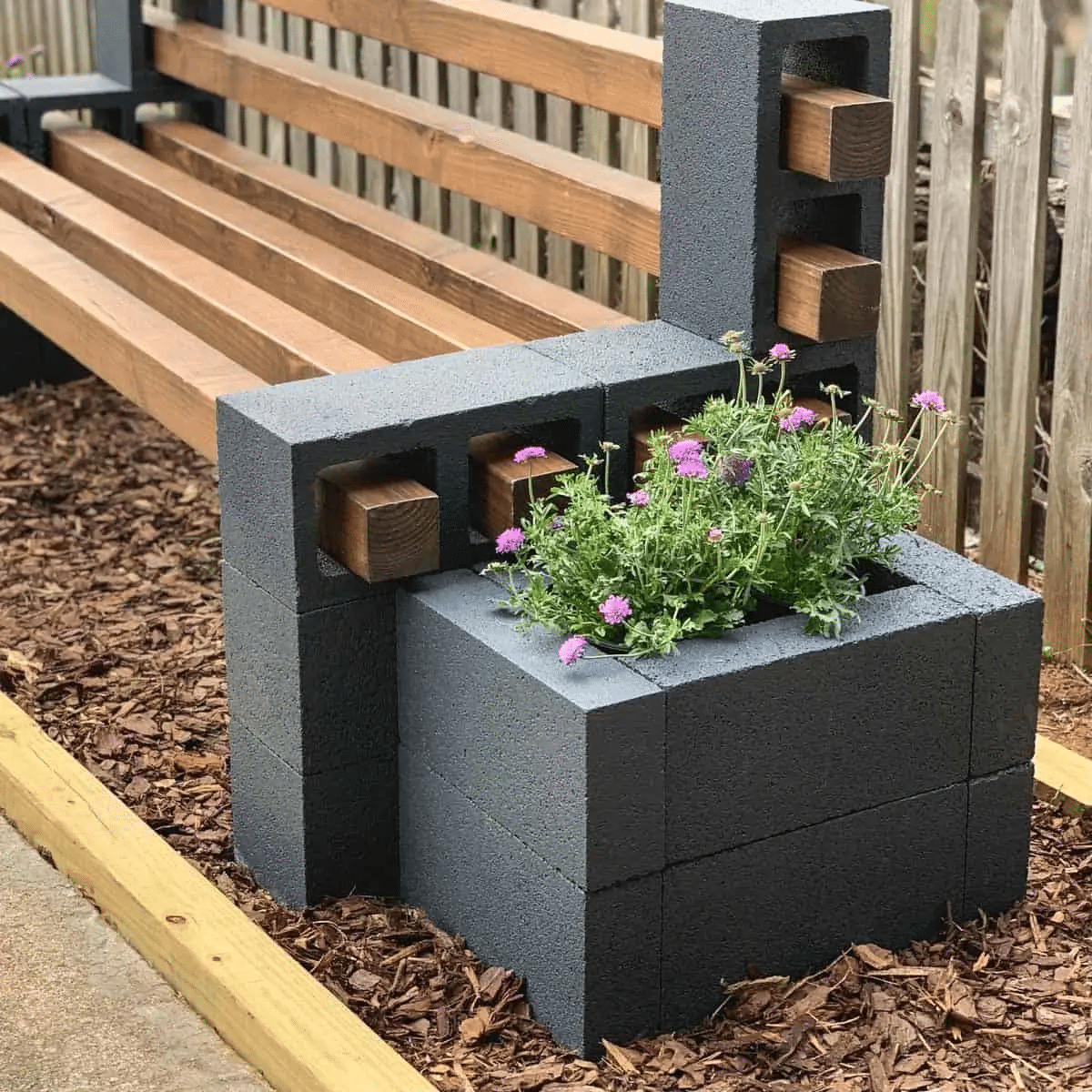 Use concrete blocks to make attractive and reasonably priced planters for your outdoor garden. Before choosing a configuration for your planter, clean the blocks. Leaving spaces for planting, stack the blocks either horizontally or vertically. After filling the spaces with potting soil, your favorite plants or flowers should be added.
You can build many tiers or position the blocks in different ways for a distinctive appearance. The concrete blocks provide an updated look to your yard or patio and are ideal for outdoor use because of their strength and durability.
20. Barrel Planter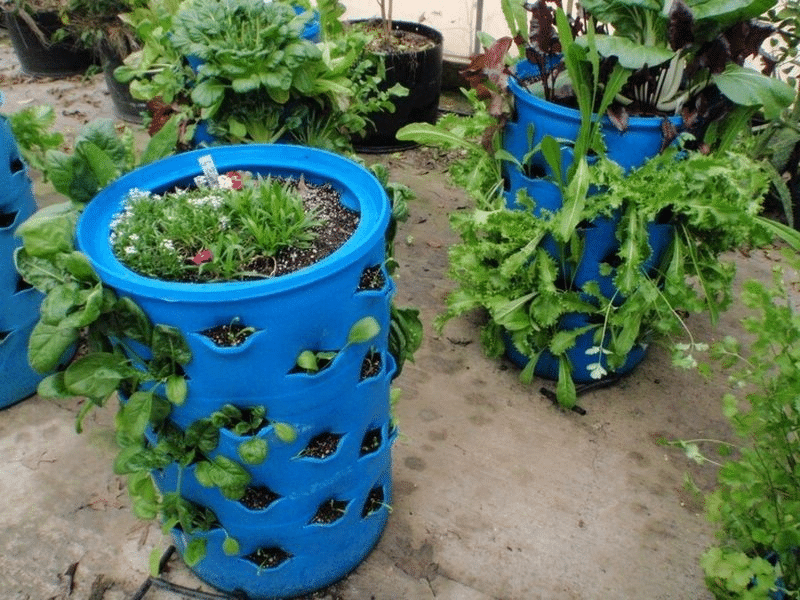 For your outside space, upcycle a barrel to create a lovely and rustic planter. You must first prepare and clean the barrel, ensuring it is clear of debris. For two planters, split the barrel in half horizontally, and make holes for drainage in the bottom of each side.
Plant your preferred flowers or plants in them after filling them with nutrient-rich soil. Put the barrel planters in a bright area and give them regular watering. These barrel planters add a sense of rustic beauty and coziness to your patio or outdoor area.
21. Wooden Swing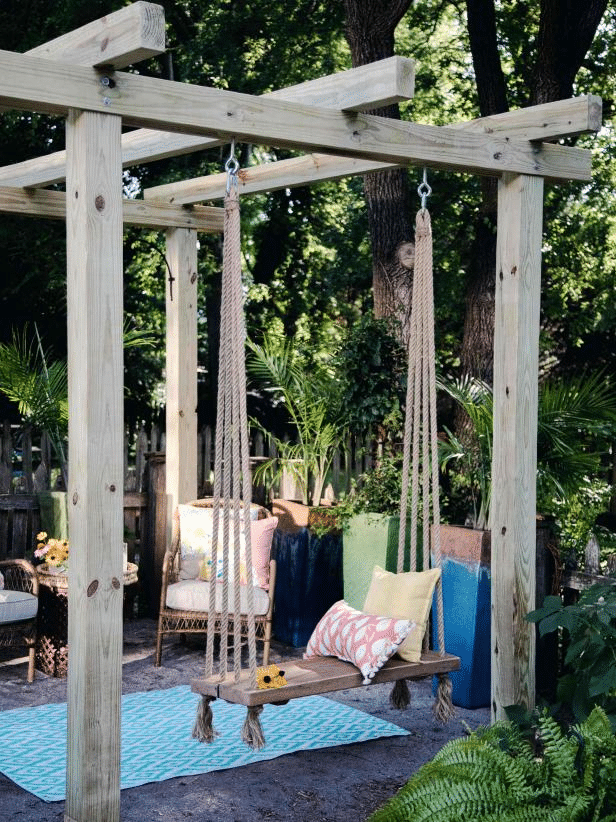 Create a tranquil wooden swing for your backyard retreat. Build a solid frame to start by employing pressure-treated lumber. You must attach a horizontal beam from which the swing will hang and two vertical posts for stability. A seat made of wood can be suspended using sturdy chains or ropes.
Employ a weather-resistant treatment and comfortably sand the wood's edges. Dangle the swing from the solid support, like a tree branch or pergola. Enjoy the tranquillity of your DIY patio furniture swing outside while you recline and sway slightly.
22. Outdoor Pallet Barbeque Table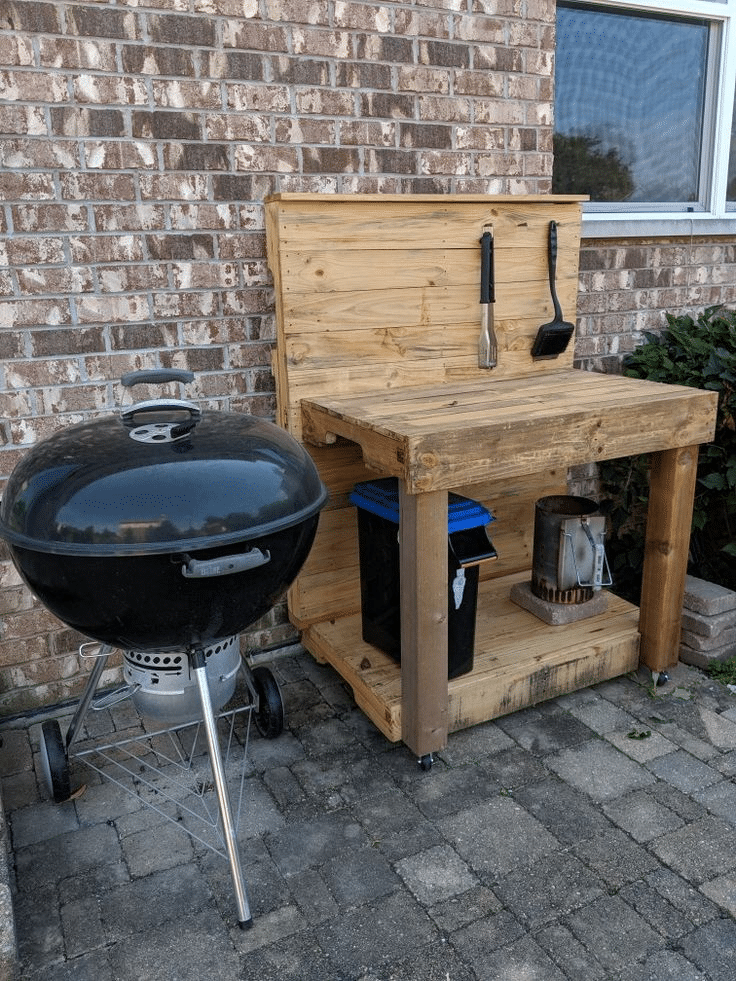 Use wooden pallets to construct a practical and handy BBQ table outside. Pallets should first be washed and sanded to achieve a smooth surface. Lay the pallets out in a rectangle, leaving spaces between them for airflow. Utilise screws or brackets to firmly fasten the pallets together.
Top the pallets with a heat-resistant countertop, like a ceramic tile or stainless steel slab. Install racks or hooks on the sides for utensils and seasoning. This DIY pallet barbecue table is helpful for your outdoor entertaining area because it offers enough workstations and space for grilling and outdoor cooking.
23. Hanging Rope Shelf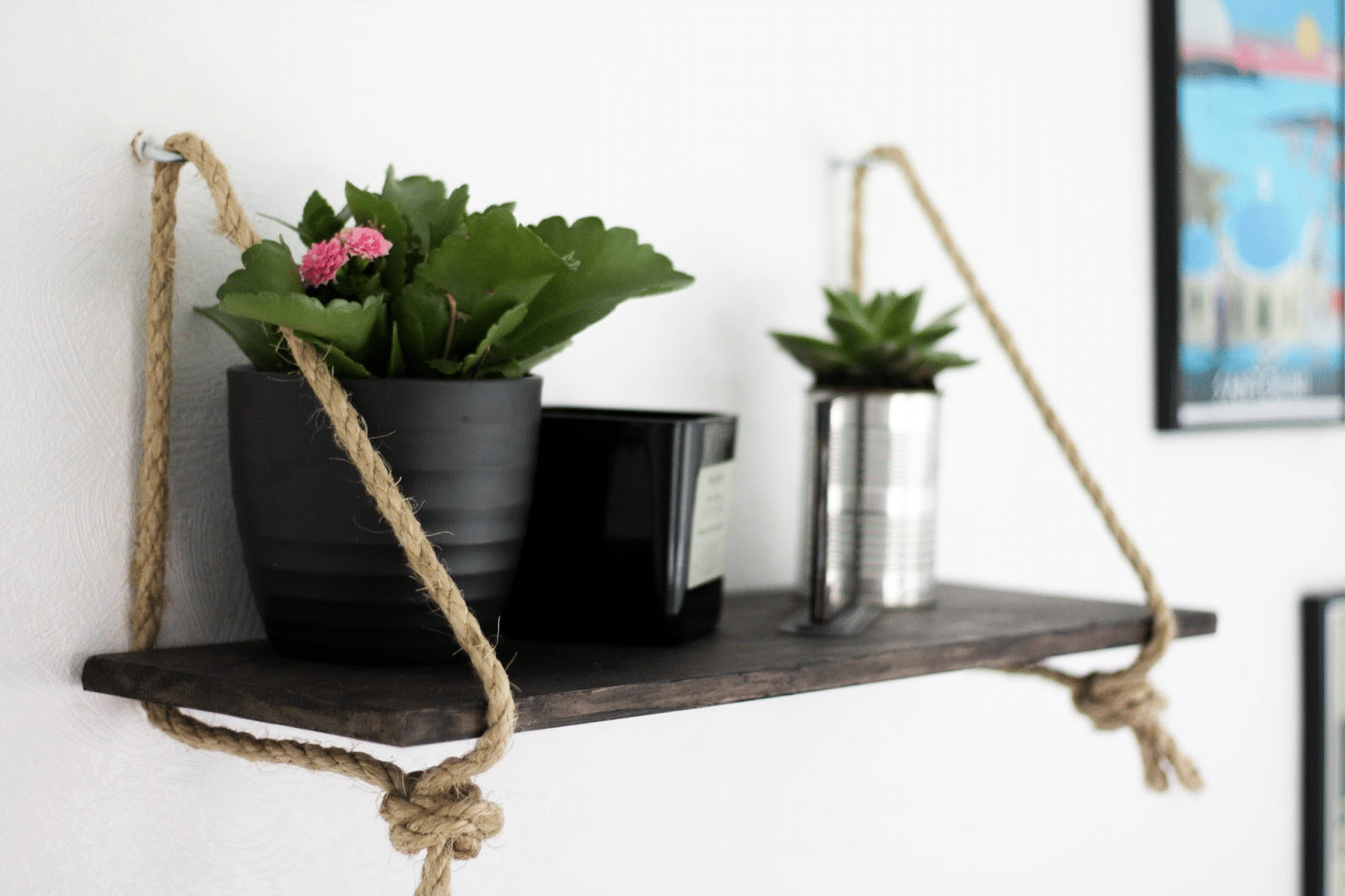 For your outdoor decor, make a stunning and compact hanging rope shelf. Place two solid hooks or brackets on a wall or fence to begin. Two ropes are fastened to the ends of a wooden board cut to the size of the shelf you want. Adjust the height as needed by securing the ropes to the brackets or hooks.
Place potted plants, lanterns, or similar decorative things on the shelf. While maximizing vertical storage, this DIY hanging rope shelf gives your outdoor space a distinctive and whimsical feel.
24. Crate Bookshelf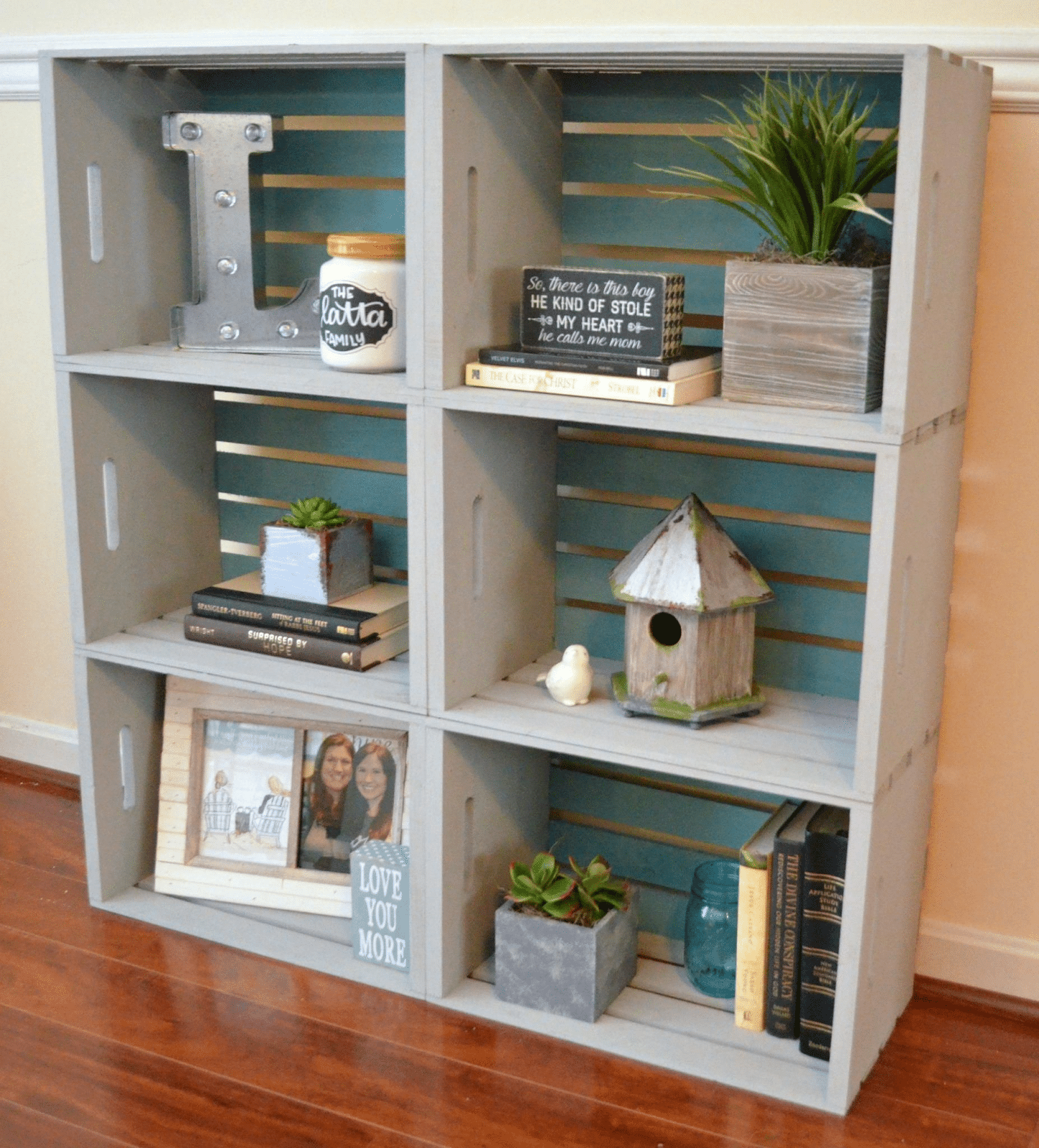 Create a gorgeous and valuable bookcase for your outdoor space out of wooden crates. First, clean and sand the crates to produce a flat surface. Stack the crates horizontally or vertically, or arrange them however you like. You may use screws or brackets to hold this DIY patio furniture together.
The assembled containers can be set up on the floor or mounted on a wall. Books, plants, or ornamental items can be kept and displayed in the container compartments. This DIY crate bookshelf uses recycled crates to give your outdoor living room personality and extra storage.
Tips for Maintaining Your DIY Patio Furniture
You must take care of your DIY patio furniture if you want to enjoy it for a long time. Here are a few pieces of advice for maintaining the quality of your outdoor furniture:
1. Regular Cleaning
Frequently clean your patio furniture to keep it free of filth, dust, and other debris. Scrub the surfaces carefully with a soft brush or sponge with a light detergent or soapy water. Before using or storing the furniture, it is essential to give it a thorough rinse under running water.
2. Apply Protective Coatings
Applying protective coatings to your furniture may assist in increasing its durability based on the material. Use outdoor sealer or wood stain on wooden furniture to shield it from humidity and UV rays. Consider using a corrosion-resistant paint or transparent coating on your metal furniture to stop rusting.
3. Storage During Harsh Weather
If you are in a region that experiences severe winters or severe storms, it is advised to keep your patio furniture inside or under cover during these times. Extreme cold, snow, or strong winds may damage or wear out your furniture. If indoor storage isn't an option, use covers to shield the furniture from the elements.
4. Avoid Placing Heavy Items
Avoid placing heavy things or undue pressure on your DIY patio furniture to minimize unneeded stress or damage. Remember to distribute weight evenly and stay within the weight restrictions listed for your furniture.
5. Examine and Tighten Fasteners
Check your homemade furniture frequently for any missing screws, fasteners, or bolts. Adjust them as necessary to keep the furniture's structural integrity. Replace any hardware that is broken or rusty to maintain stability.
Embrace DIY Creativity in Your Outdoor Space
Making your outdoor furniture may be enjoyable and economical. Ordinary materials may be turned into one-of-a-kind, valuable items that enrich your outdoor space with a bit of imagination and work. The possibilities are unlimited, whether building furniture from scratch or upcycling objects like pallets and crates.
Maintaining your DIY patio furniture is crucial to guarantee its durability, so keep that in mind. You can enjoy your homemade outdoor furniture for generations by using these suggestions and taking extra care. This will help create a cozy, inviting outdoor hideaway showcasing your flair. So gather your tools and prepare to build your outdoor retreat!
Frequently Asked Questions
Are DIY Patio Furniture Projects Economical?
Yes, building your outdoor furniture is less expensive than buying ready-made furniture. You can make inexpensive furniture that suits or tastes by repurposing items and putting in effort and time.
Can I Modify the Appearance of My DIY Outdoor Furniture?
You may customize your DIY outdoor furniture. You can modify the dimensions, add personalized hints, pick alternative finishes or hues, and even incorporate various materials to develop a one-of-a-kind sculpture that satisfies your preference and style.
Do I Need to Buy Precise Tools for Developing My DIY Outdoor Furniture?
Most DIY outdoor furniture projects can be finished with the help of only a few basic instruments, such as a screwdriver, drill, and saw. Nevertheless, the precise tools needed may change based on your selected project.