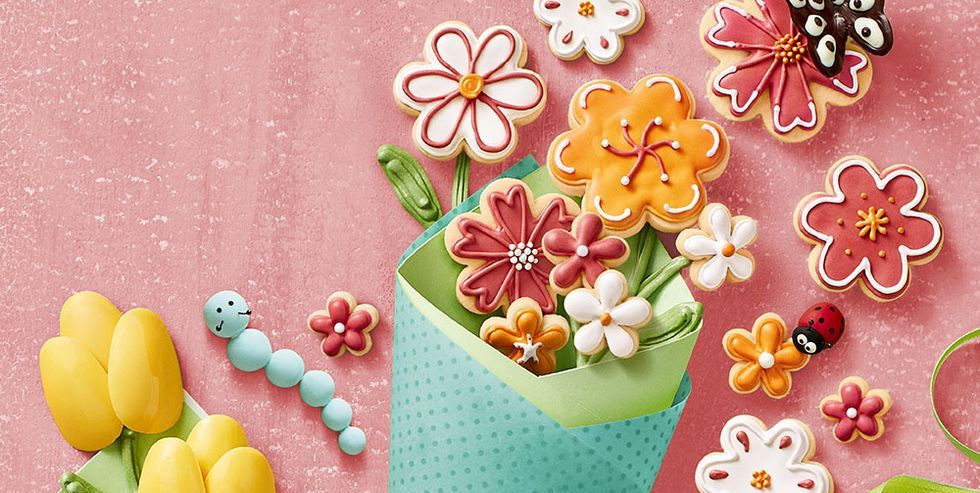 Are you looking for the best ways to amaze your mom this Mother's Day? While you can always buy her store-bought gifts, nothing comes close to a DIY Mother's Day gift. Kids can explore their creativity with these fun projects and bring a smile to their mother's faces.
Moreover, you can make gifts like popsicle photo frames, paper plate crowns, paper bag memory books, etc., all under a budget. Isn't that great? We have curated just the right list of Mother's Day crafts for toddlers, preschoolers, middle schoolers, and teenagers.
We have also detailed the supplies you need for each craft and the step-by-step process. While some of these may require the assistance and supervision of an adult, some are very easy to make on your own.
Here are 24 Mother's Day craft ideas you will definitely love.
1. Felt Flower Magnets
If your mama loves those giant blooms in your yard, why not gift her a DIY felt flower magnet?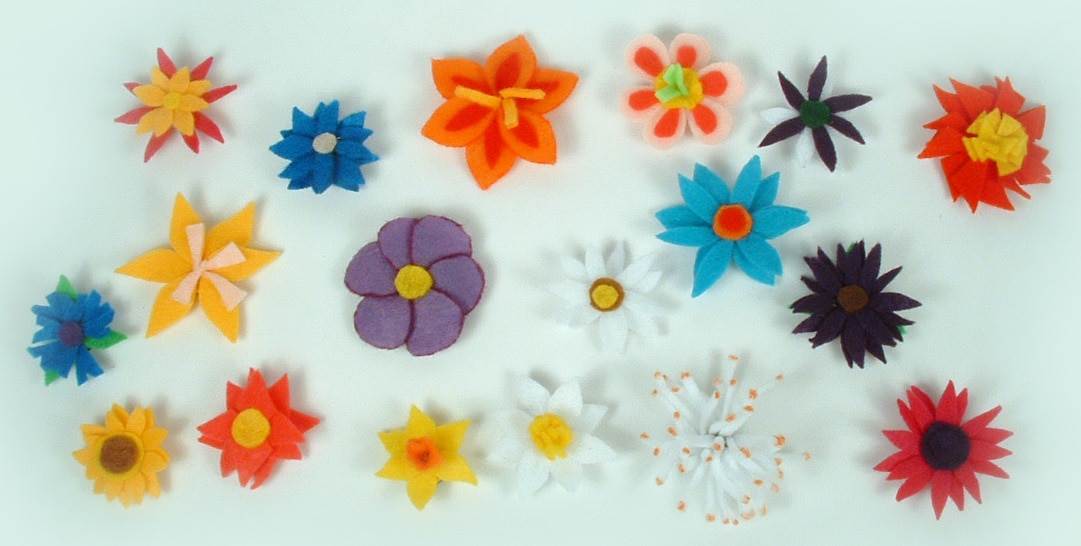 Supplies for Felt Flower Magnets
Steps to Make Felt Flower Magnets
Cut your dowel according to your desired size (around 1.5 inches). Then smoothen the edges using sandpaper.
Cut out the petals from the colored felt. Make sure they are large enough to cover the dowel when you place them at the tip.
Next, lay out these petals in the shape of a flower and place the dowel in the center.
Using hot glue, fix them to create a dimensional flower.
Now flip this flower, and stick the magnet strip using hot glue. Allow this to dry for some time.
Once dry, hang them on your fridge and surprise your mother as she walks into the kitchen!
2. Handprint Flower cards
This easy Mother's Day craft for toddlers is super fun and budget-friendly to make.
Supplies for Handprint Flower Cards
Steps to Make Handprint Cards
Fold a piece of white card stock in half.
To make the stem, paste green card stock to the bottom half of the paper using a glue stick.
Cut a few leaf shapes from the green cardstock and glue them to the stem (preferably two to each)
Trace your hand on a card stock of another color and use it as a template for the rest of the card stocks of different colors.
Glue these handprints to the stems.
Stick the googly eyes at the palm area of the handprint.
Draw a smile below the eyes using a black marker.
Add one dot on each side to make the cheeks using pink paint.
Add a heartfelt message inside the card and surprise your mom with this craft!
3. Yarn-Wrapped DIY Glass Vase
If you have an extra vase in your house and your mother loves flowers, here is a unique bunch of crafts.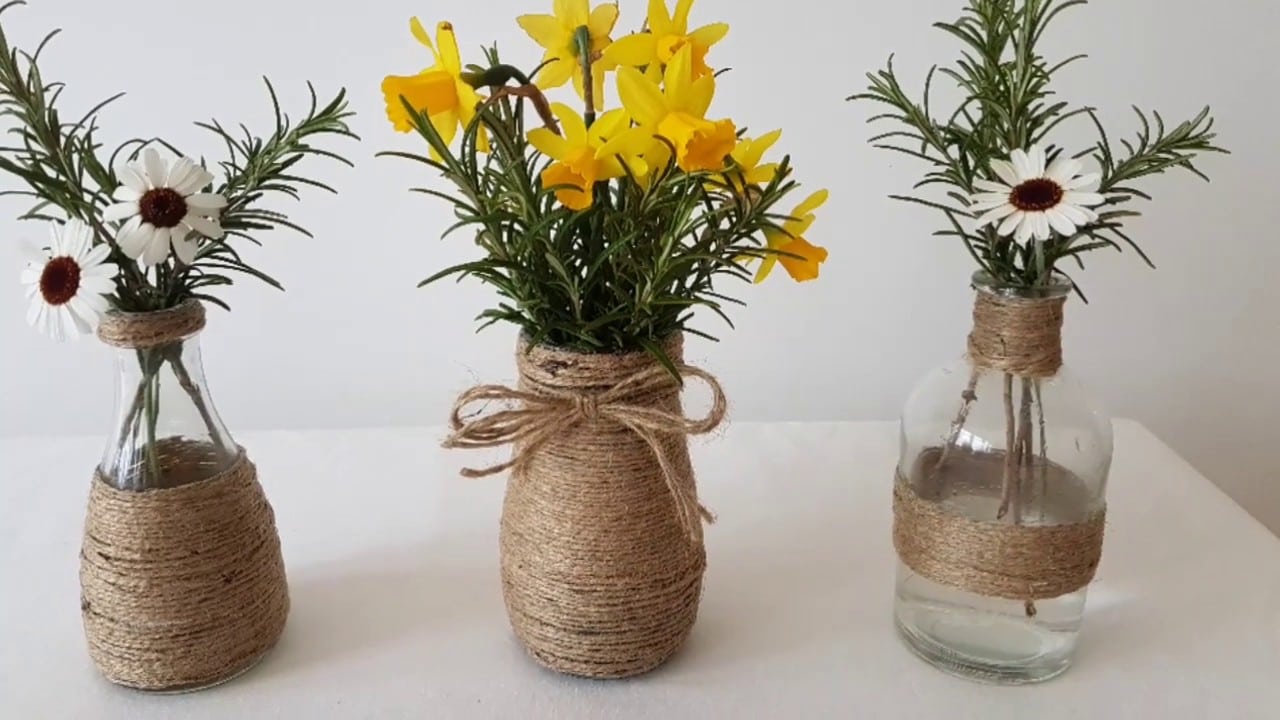 Supplies for Yarn-Wrapped DIY Glass Vase
Steps to Make a Yarn-Wrapped Glass Vase
Clean and dry the glass vase. Apply a small amount of glue to the jar.
Start wrapping yarn around the jar and securing the starting point with glue. Cover the entire surface. You can also change yarn colors if you have a pattern in mind to give it a vibrant effect.
Once you are done wrapping, tie off the yarn and trim any excess.
Fill the vase with fresh flowers and make her morning beautiful by gifting this to her.
Oh, you can also club this with a handmade note and her favorite chocolates to sweeten things up!
4. Popsicle Stick Photo Frame
Cherish the unforgettable moments you have spent with your mother by gifting her this photo frame. This is one of the easiest Mother's Day crafts for toddlers.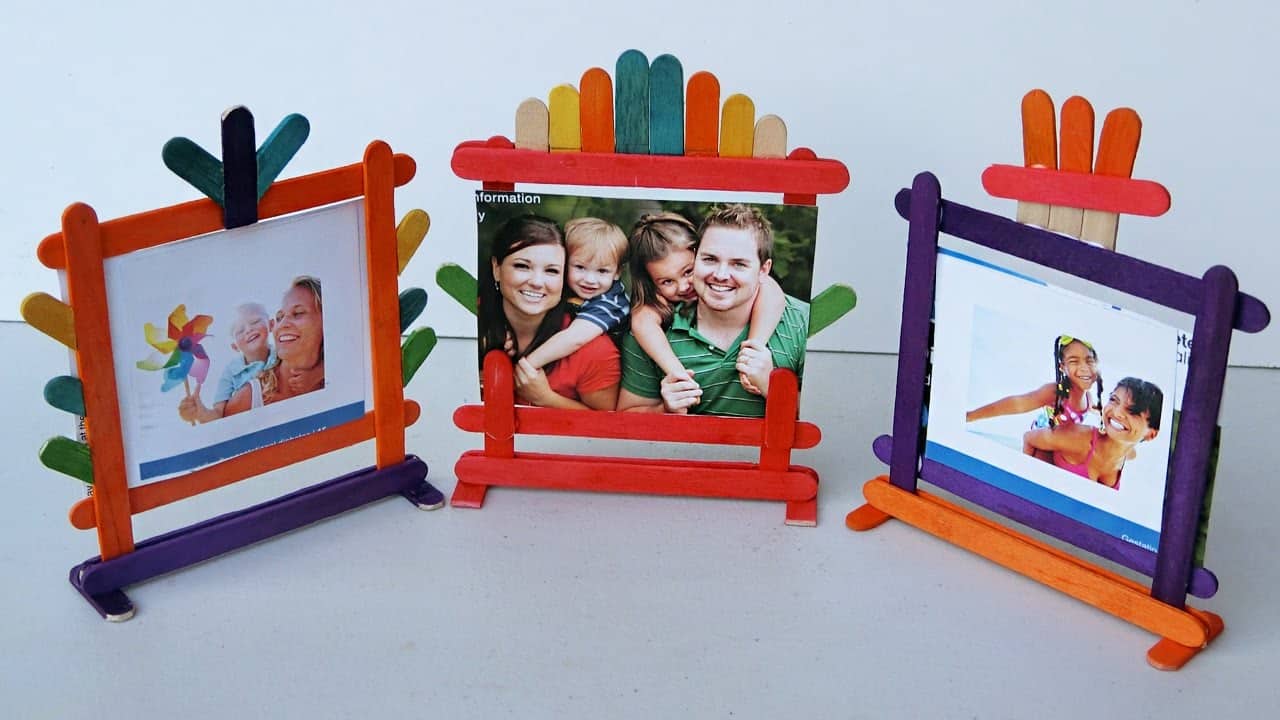 Supplies for Popsicle Stick Photo Frame
Steps to Make Popsicle Stick Photo Frame
Start by arranging popsicle sticks in a square or rectangular shape to build a frame.
Apply glue to the edges of these sticks and press them firmly together. Let the glue sit for some time till it dries.
Decorate the frame with paints, markers, and stickers.
Lastly, glue one or 4-5 pictures (small-sized) onto the frame. We are sure your mom is going to love this one!
5. Button Flower Bouquet
This colorful button flower bouquet is the perfect gift if you love a little experimenting with your crafts.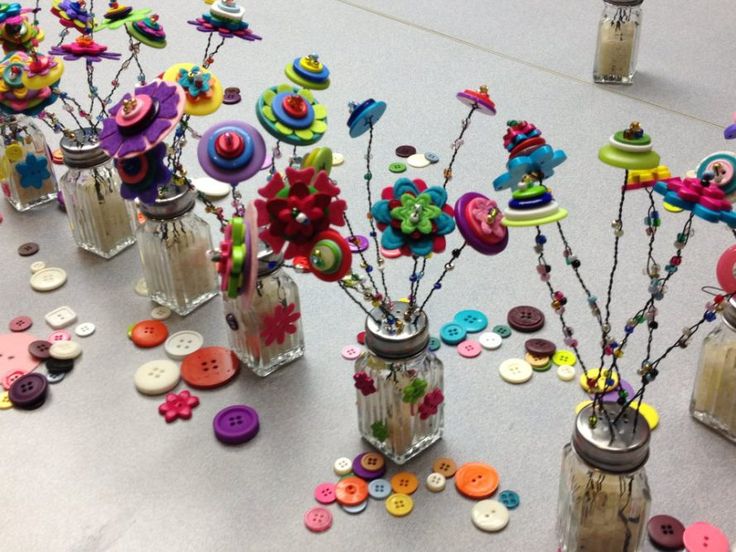 Supplies for Button Flower Bouquet
Steps to Make Button Flower Bouquet
Select a variety of colorful buttons in different sizes.
Thread each button onto a pipe cleaner, starting from the bottom and working your way up.
Twist the top of the pipe cleaner to secure the buttons in place.
Repeat the process with several pipe cleaners to create multiple button flowers.
Gather the pipe cleaners and tie them with a ribbon to form a bouquet.
Place the bouquet in a small flower pot or vase. You can place this in her bedroom or the dining table as a centerpiece and see her smile as she spots it!
6. Paper Bag Memory Book
Do you have that candy wrapper mom gifted you on your last birthday? Do you have a bunch of photos with her she absolutely loves? Or do you have the first poem you ever wrote out to her? If yes, it's time to gather all these and turn them into a memory book.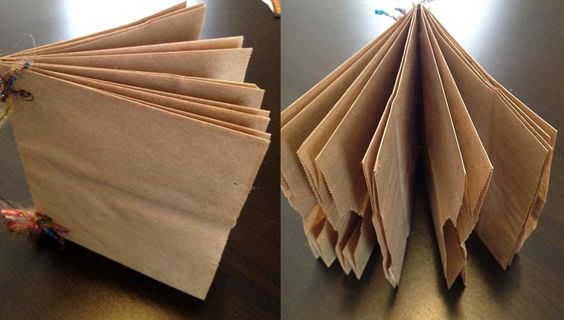 Supplies for Paper Bag Memory Book
Steps to Make Paper Bag Memory Book
Fold several brown paper bags in half to create pages for the memory book.
Cut colored paper to fit the size of the folded bags and glue them onto the front and back of each page.
Decorate the pages with drawings, photos, stickers, and heartfelt messages using markers or colored pencils.
Punch holes along one side of the pages and bind them together using ribbon. We are sure your mom will cherish this handmade memory book filled with your loving memories and thoughtful messages.
7. Salt Dough Handprint Ornament
Making DIY gifts is surely fun, especially if it is for your mom! Salt dough handprint ornament is a quick and heartfelt Mother's Day craft for toddlers. This craft will require an adult's assistance and supervision for small kids.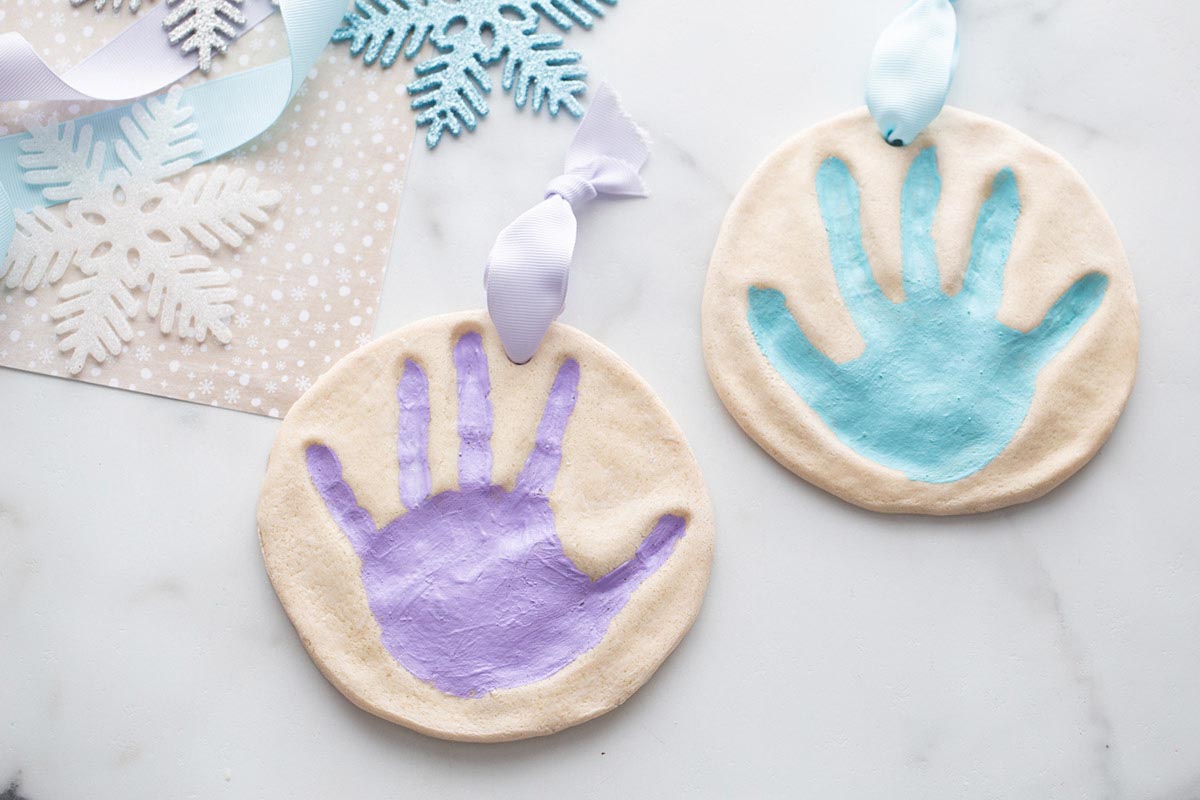 Supplies for Salt Dough Handprint Ornament
Steps to Make Salt Dough Handprint Ornament
Preheat the oven to 200 degrees Fahrenheit (93 degrees Celsius).
Mix the flour, salt, and water in a bowl to form a dough.
Roll out the dough using a rolling pin to a thickness of about 1/4 inch.
Use a cookie cutter to cut out a shape (such as a heart or circle).
Press your hand gently into the dough to create a handprint.
Make a small hole near the top of the ornament using a straw or toothpick for the ribbon.
Place the ornaments on a baking sheet and bake for 2-3 hours or until hardened.
Once cooled, paint the ornaments with acrylic paint and allow the paint to dry.
Thread a ribbon or string through the hole and tie it for hanging. Your mother will cherish these keepsakes for years.
8. Felt Flower Hair Clips
Make your mom feel extra beautiful on Mother's Day by making her cute felt flower hair clips. She can even match these with different outfits and hairstyles. Pretty, isn't it?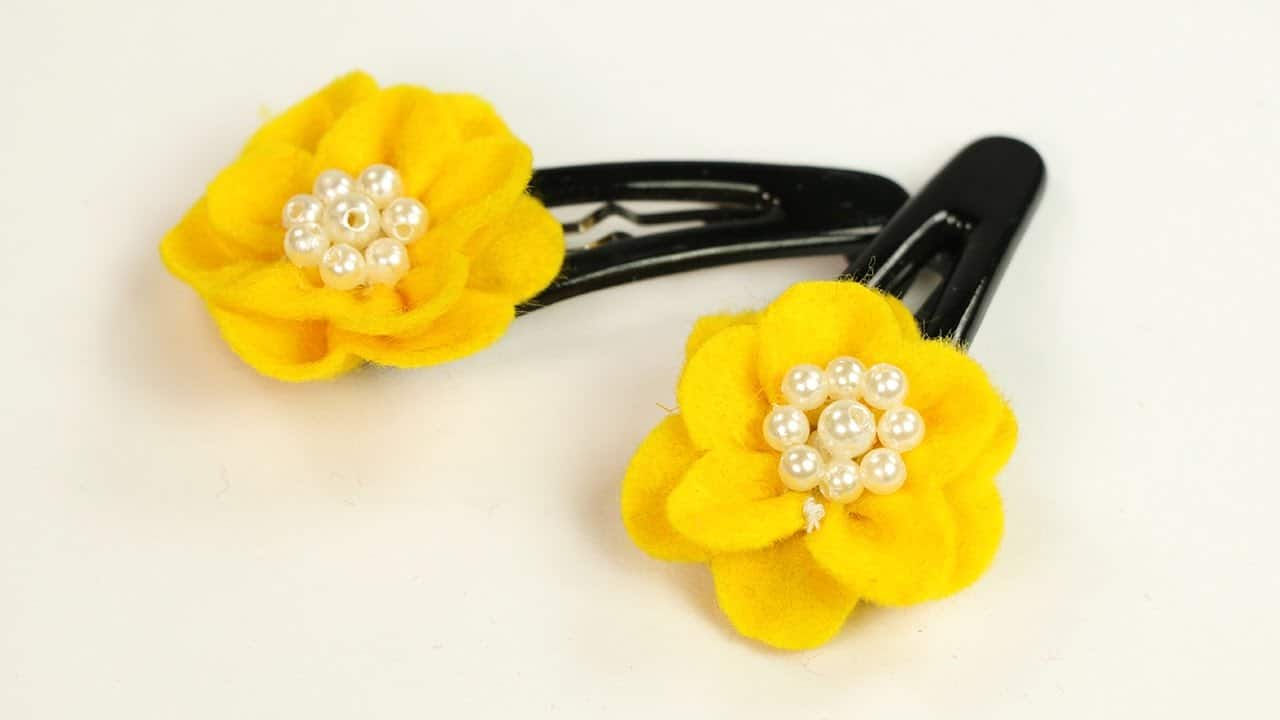 Supplies for DIY Felt Flower Hair Clips
Steps to Make Felt Flower Hair Clips
Decide on the flower shapes you wish to create. Cut those shapes out from the colored felt sheets.
Layer and glue them together to create a flower. Make as many pieces of flowers as you like.
Attach hair clips to the back of these flowers using glue. Let the glue dry completely.
Pair them with a handmade note and pack them in gift wrapping paper once dry. The cute surprise for your mother is ready!
9. Woven Paper Placemats
These DIY placemats can be a great addition to the dining table and make your mom super happy. It's one of the most thoughtful Mother's Day crafts for toddlers.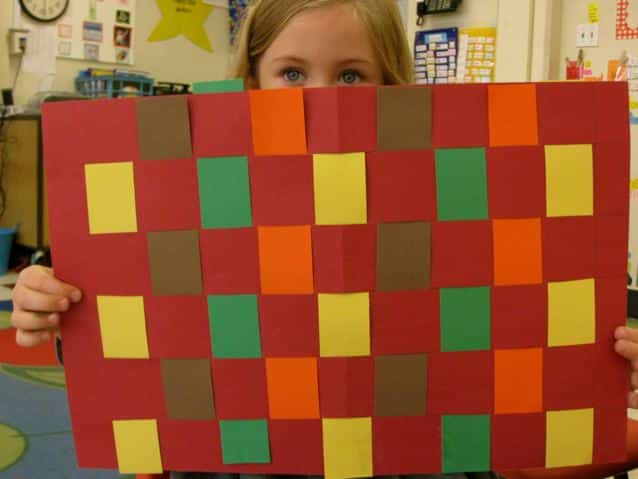 Supplies for Woven Paper Placemats
Steps to Make Woven Paper Placemats
Cut long, thin strips of colored construction paper.
Weave the strips together to create a placemat, alternating the color as you wish
Apply a small amount of glue to secure the ends of the woven strips. Let the glue dry completely. Once dry, place these at the dining table to add a pop to the dining room!
10. Handprint Apron
What better than a personalized gift for a mother with her kid's handprints? A DIY handprint apron is an awesome Mother's Day craft for toddlers.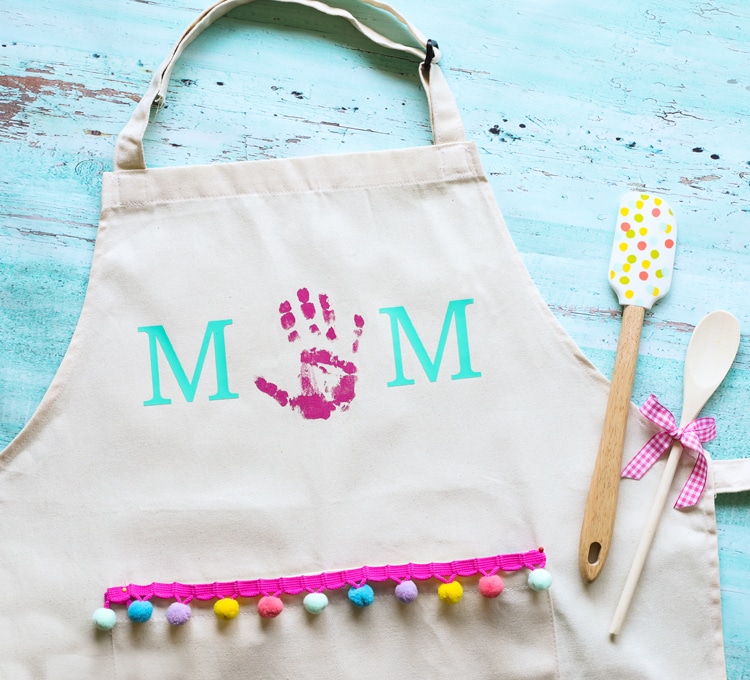 Supplies for Handprint Apron
Steps to Make Handprint Apron
Iron the apron before you begin with the craft to make it wrinkle-free.
Apply fabric paint on your hand and make a handprint on the apron.
If you have some other imagery, such as grass or flowers, draw them to add to the look.
Let it dry completely. Hang the apron in the kitchen and surprise your mom as she enters it. Super easy and cute, isn't it?
11. Paper Plate Suncatcher
Making a suncatcher from a paper plate is a fun and budget-friendly Mother's Day craft for toddlers and kids of other ages. You can impress your mom by gifting her this home decor item and enjoy yourself while making it.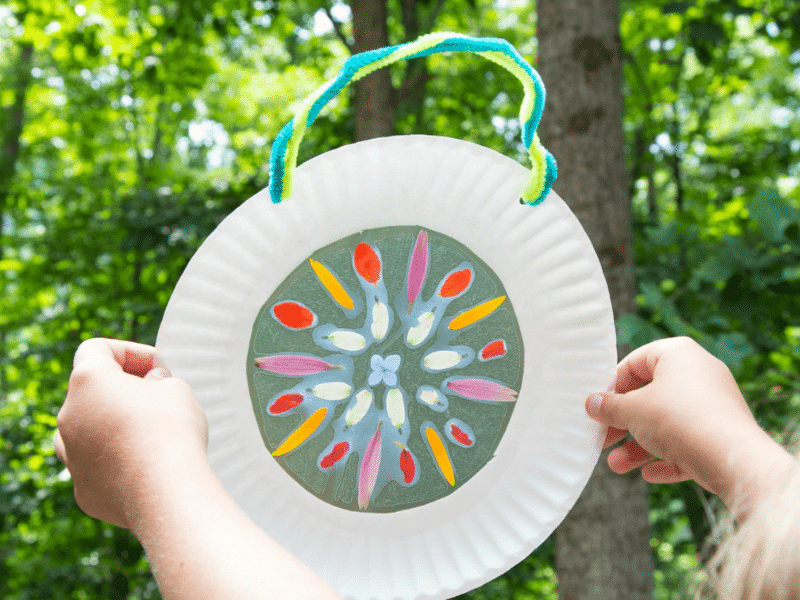 Supplies for Paper Plate Suncatcher
Steps to Make Paper Plate Suncatcher
Collect leaves, flowers, and other items from the garden.
Carefully cut the center out of the paper plate, leaving only a border.
Cut 2 circles from the contact paper, slightly bigger than the paper plate opening.
Peel the backing paper from one contact circle and place it sticky side up on your benchtop.
Press the paper plate evenly onto the sticky side of the contact paper.
Create a design by pressing the collected items onto the sticky surface.
Peel the backing off the second circle of contact paper and press it firmly on top of the design, sticky side down.
Smooth out any air bubbles and press the contact to the edge of the plate.
If you want, pierce a hole at the top of the paper plate and thread through ribbon or string for hanging. Alternatively, you can stick the suncatcher on a window with blue tack.
Your mother will be amazed at your creativity and happy with this lovely addition to her home!
12. Paper Flower Crowns
Surprise your mom this Mother's Day with a stunning crown. Well, isn't she a queen?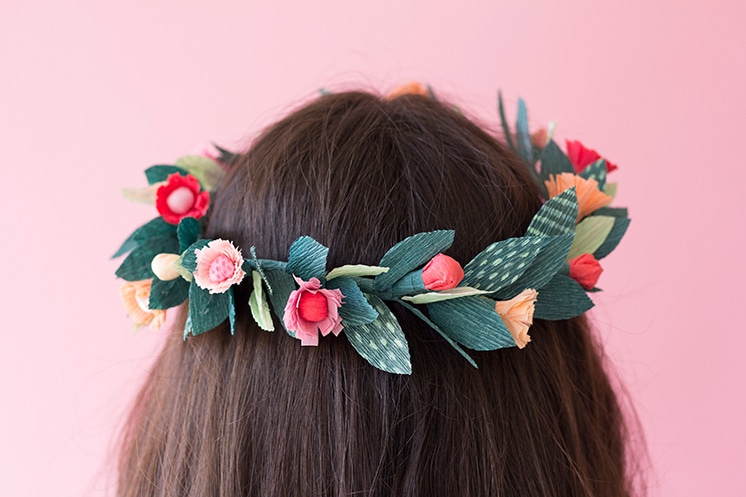 Supplies for Paper Flower Crowns
Steps to Make Paper Flower Crowns
Cut out flower shapes from colored construction paper.
Roll the flowers together, overlapping slightly, to create a crown.
Cut a length of ribbon and glue it to the ends of the flower crown to form a tie.
Decorate the flowers with markers or add glitter for an extra touch of sparkle. Present the flower crown to your mom; she'll feel like a queen wearing your handmade creation!
13. Button Art Wall Decor
An easy wall decor to make, this button art gift is a fun Mother's Day craft for toddlers.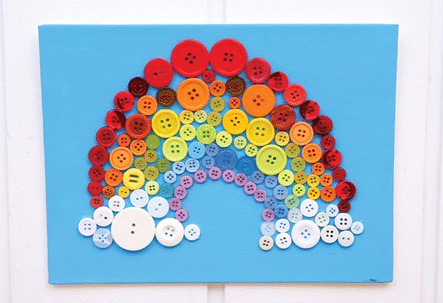 Supplies for Button Art Wall Decor
Steps to Make Button Art Wall Decor
Paint the canvas or cardboard with a base color and allow it to dry (optional).
Arrange buttons in the shape of a heart on canvas or cardboard.
Once you're satisfied with the arrangement, glue the buttons in place.
You can use buttons of different sizes, colors, and textures for added visual interest. Allow the glue to dry completely. Hang this charming button heart wall decor as a lovely reminder of your love for your mom.
14. Fabric Rock Paperweight
If you want fun, easy-to-make, and unique Mother's Day crafts for toddlers, try out this fabric rock paperweight.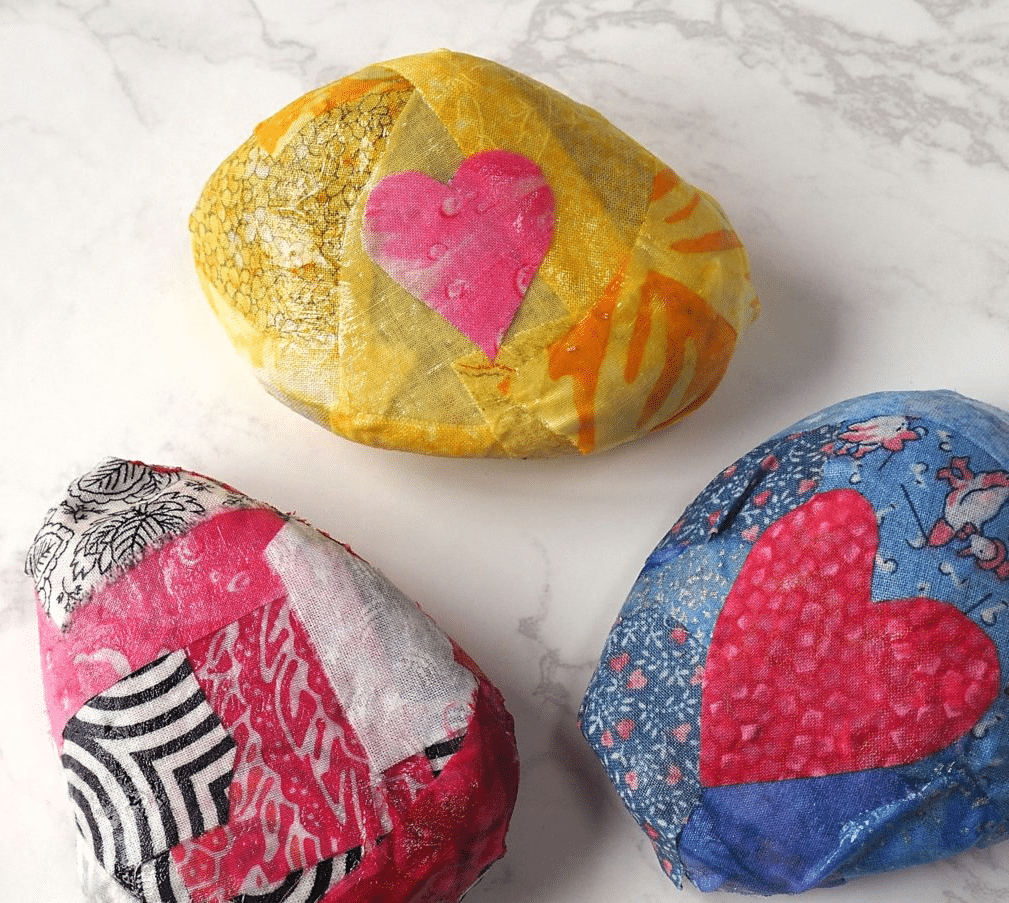 Supplies for Fabric Rock Paperweight
Steps to Make Fabric Rock Paperweight
Start by covering the work surface with wax paper.
Apply fabric Mod Podge to the top of the clean and dry rock.
Press down the first fabric scrap and cover it with more Mod Podge. (Tip: Remember to work quickly because the Mod Podge dries rapidly.)
Continue adding fabric scraps, overlapping them, and covering them with Mod Podge.
Smooth down any bubbles or folds.
Cut out the desired fabric shape and place it on the rock, covering it with Mod Podge.
Dry the rock on a clean piece of wax paper.
Flip the rock every 20 minutes for the first couple of hours to prevent sticking. Place it on your mom's working desk and leave a little heartfelt note under it to surprise her!
15. Mom Snapshot Printable
Sometimes the cutest things kids say about their loving moms can bring joy to a mother's heart. So, here is a simple yet adorable Mother's Day craft for toddlers.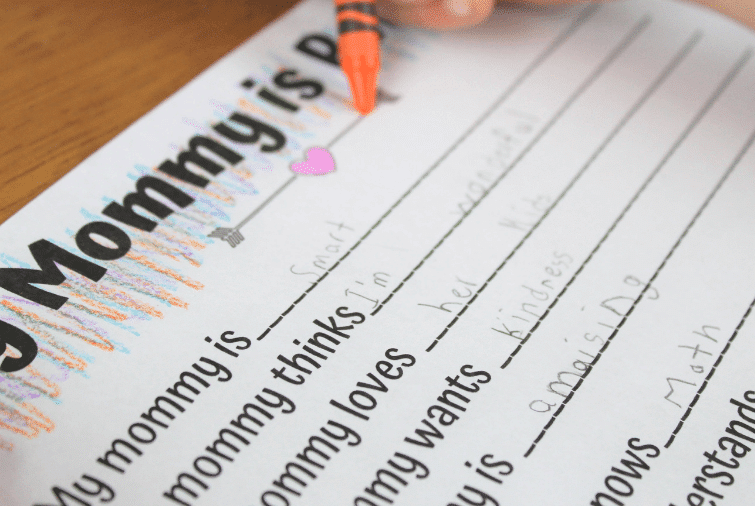 Supplies for Mom Snapshot Printable
Steps to Make Mom Snapshot Printable
Start by answering the questions on the printable using colored pens. You can even make one of your own by researching from an online template.
Decorate it with cute stickers.
Frame the printable. Pair up with your mother's favorite flowers and see her smile as you get this to her.
16. Pressed Flower Bookmarks
Does your mom love reading books? If yes, make her a DIY bookmark using pressed flowers. This is an easy and creative Mother's Day craft for toddlers.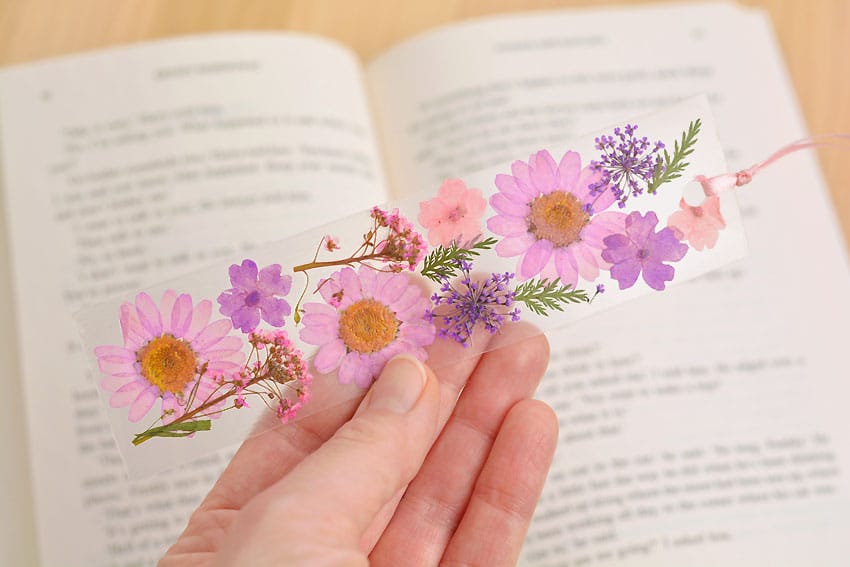 Supplies for Pressed Flower Bookmarks
Steps to Make Pressed Flower Bookmarks
Start by cutting a book-marked shape strip from the contact paper. Remove the backing and stick some pressed flowers to its sticky side.
Cut another strip from the contact paper and sandwich the flowers between both strips.
Make as many as you like using various flowers. Place these on her bookshelf. This will to make her smile and think of you whenever she opens her books!
17. Temporary Tattoo Mugs
Let your mom start her day on a beautiful note while she sips her coffee or green tea – add beauty to her mugs by using temporary tattoos. This is a simple and budget-friendly Mother's craft day craft for toddlers.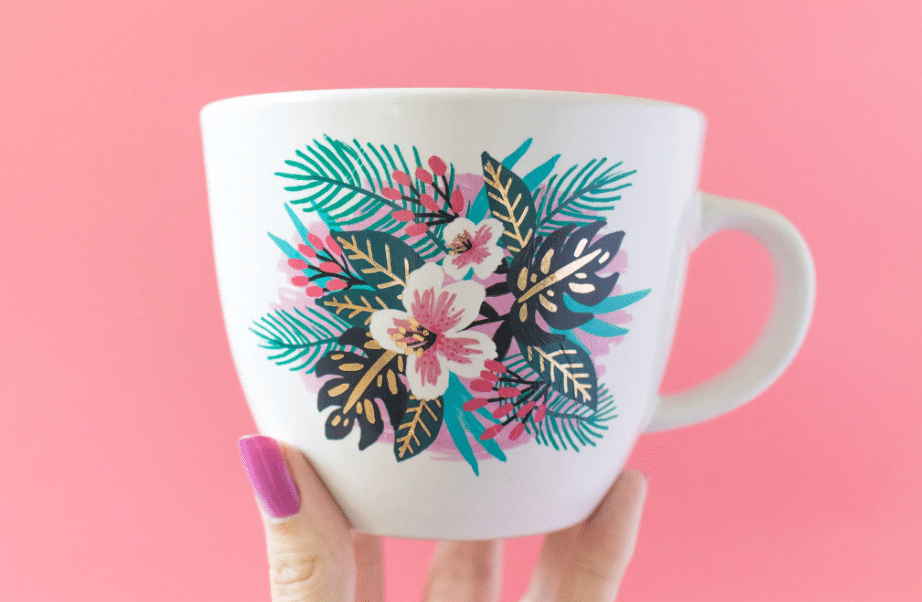 Supplies for Temporary Tattoo Mugs
Steps to Make Temporary Tattoo Mugs
Peel off the plastic from the temporary tattoo and place it on the mug.
Press a wet cloth or sponge on top for 30 seconds, then peel away the paper.
Dab the wet cloth over the tattoo to set it and allow it to dry.
Apply a layer of Mod Podge over the design and let it dry. Make your mom her favorite coffee in this mug, and see her smile!
18. Sand Art Aromatic Candles
How would therapy be if your mom could bask in the aroma of her favorite scented candles decorated and gifted by her kids? This is a super fun Mother's Day craft for toddlers!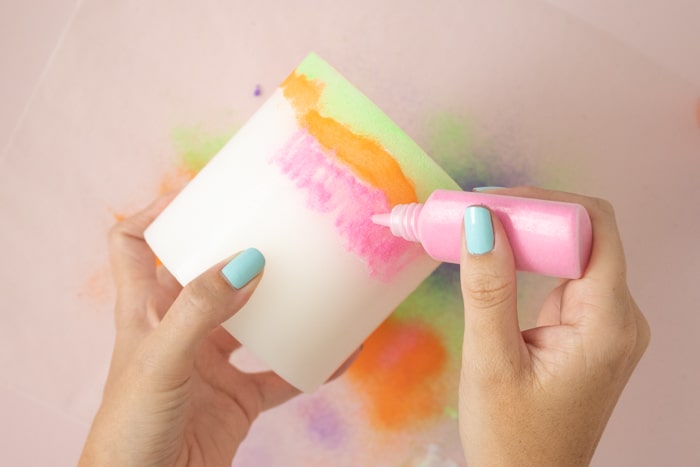 Supplies for Sand Art Aromatic Candles
Steps to Make Sand Art Aromatic Candles
Apply a thin, uneven layer of Mod Podge to the lower part of the candle, around 1/2 inch or more, adjusting as needed based on the candle's height.
Sprinkle a small quantity of sand onto the glued section. Spread it evenly with your fingers. Shake off any excess.
Repeat the above two steps. Layer different colors of sand and vary the thickness of each layer until the sand reaches approximately halfway up the candle.
Allow the glue underneath the sand to dry. Then, apply a coat of Mod Podge over the sand to seal it. Let it dry thoroughly. Your mom's candles are ready!
19. Tissue Paper Flower Bouquet
Among the Mother's Day crafts for toddlers list, we cannot miss out on a tissue paper flower bouquet. We are sure this will bring a smile to your mother's face.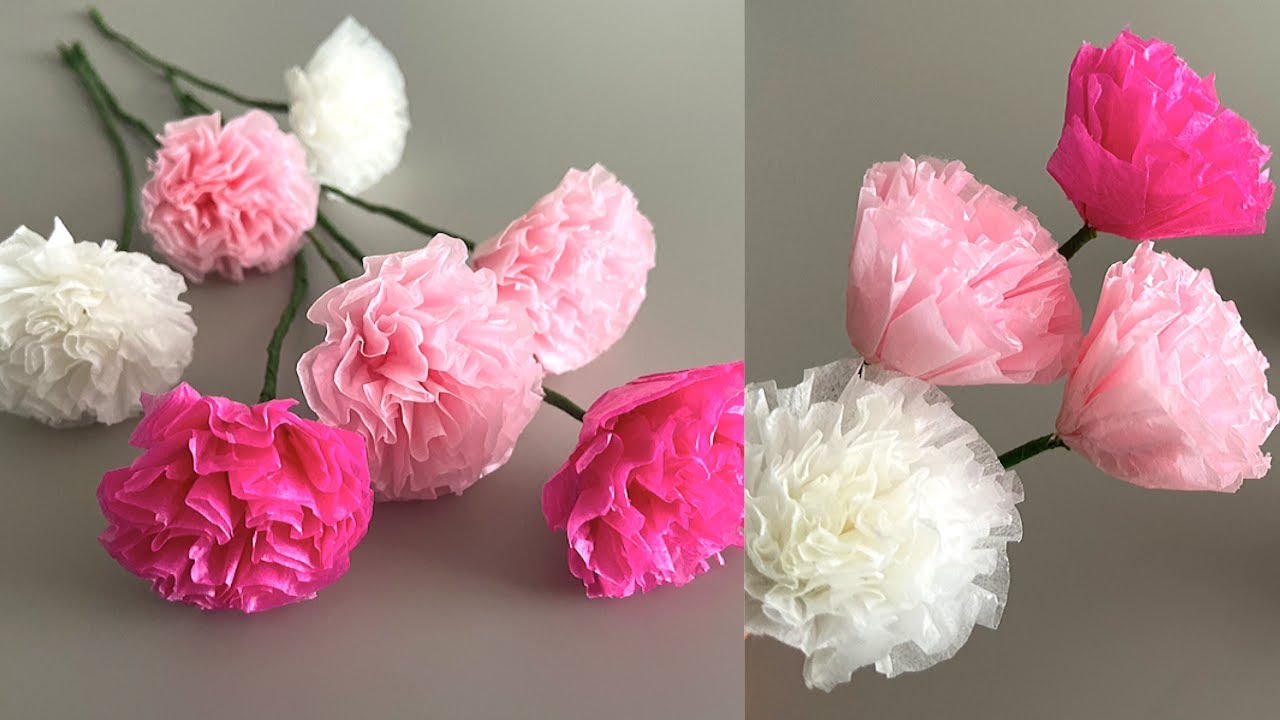 Supplies for Tissue Paper Flower Bouquet
Steps to Make Tissue Paper Flower Bouquet
Start by cutting several squares of tissue paper, approximately 8×8 inches each.
Stack 6-8 tissue paper squares together, alternating colors.
Fold the stacked tissue paper accordion-style, with each fold about 1 inch wide.
Once folded, secure the center of the folded tissue paper with floral wire.
Trim the edges of the folded tissue paper to create rounded or pointed petal shapes.
Carefully separate and fluff each layer of tissue paper, pulling them upward to form the flower.
Repeat steps 2-6 to create multiple tissue paper flowers.
Wrap a green pipe cleaner around each flower's base, twisting it to secure it.
Arrange the flowers together, and wrap the stems with floral tape to create a bouquet.
Tie a ribbon around the stems to add a finishing touch.
20. Milk Carton Birdhouse
If your mother is a bird enthusiast, we have a suggestion for Mother's Day crafts for toddlers. Try making her a DIY milk carton birdhouse that she can enjoy in the backyard or garden.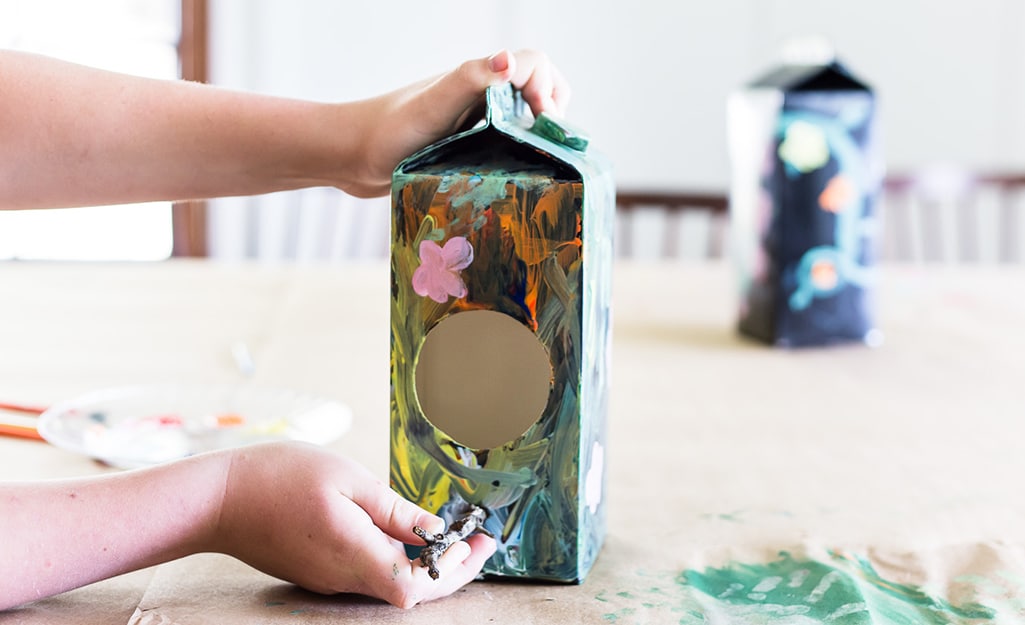 Supplies for Milk Carton Birdhouse
Steps to Make Milk Carton Birdhouse
Wash and dry the milk carton thoroughly.
You can use craft paint or markers to decorate the outside of the milk carton to resemble a birdhouse.
Use a craft knife to cut a small entrance hole near the top of one side of the carton.
Attach popsicle sticks horizontally across the sides of the milk carton using hot glue, creating a slanted roof shape.
Cut a small piece of twine or string and glue it to the top of the milk carton for hanging.
Fill the bottom of the milk carton with bird seed.
Hang the milk carton birdhouse in a suitable location in your garden or backyard, and surprise your mom!
21. DIY Lip Scrub
Does your mom never miss her skincare routine? You can gift her a DIY lip scrub that she can use every day.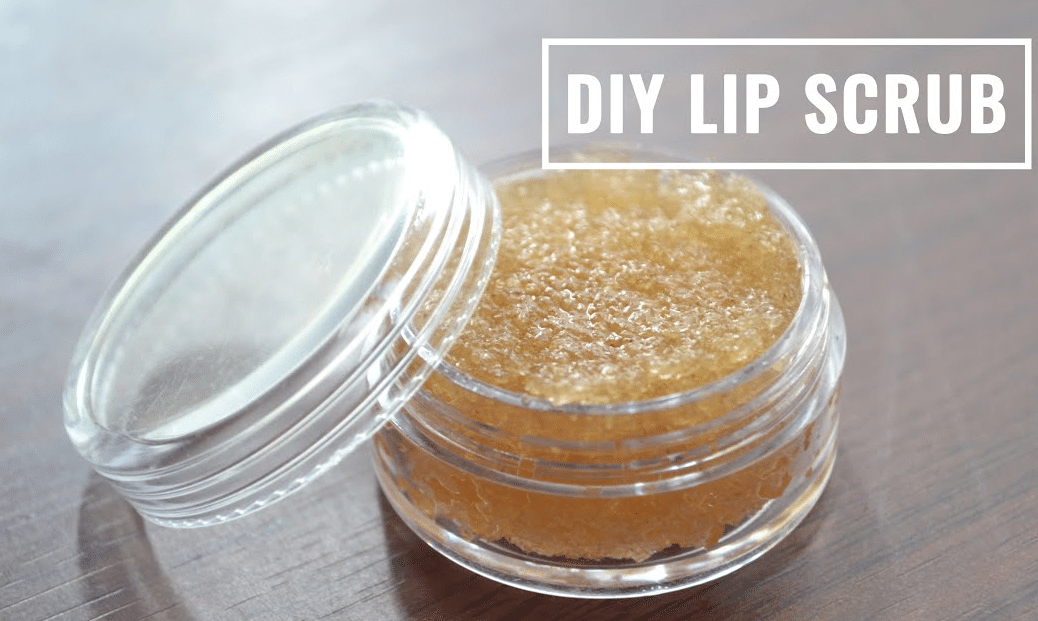 Supplies for DIY Lip Scrub
Steps to Make DIY Lip Scrub
Combine coconut oil, brown sugar, and honey in a small bowl.
Stir the ingredients together until well mixed.
If desired, add a few drops of essential oil for fragrance and mix again.
Transfer the mixture to a small jar or container with a tight-fitting lid.
Pair it up with a Happy Mother's Day note.
22. Embellished Bow Basket
Gift basket bows can give any basket the perfect charm and elegance, making it a good choice for Mother's Day crafts for toddlers.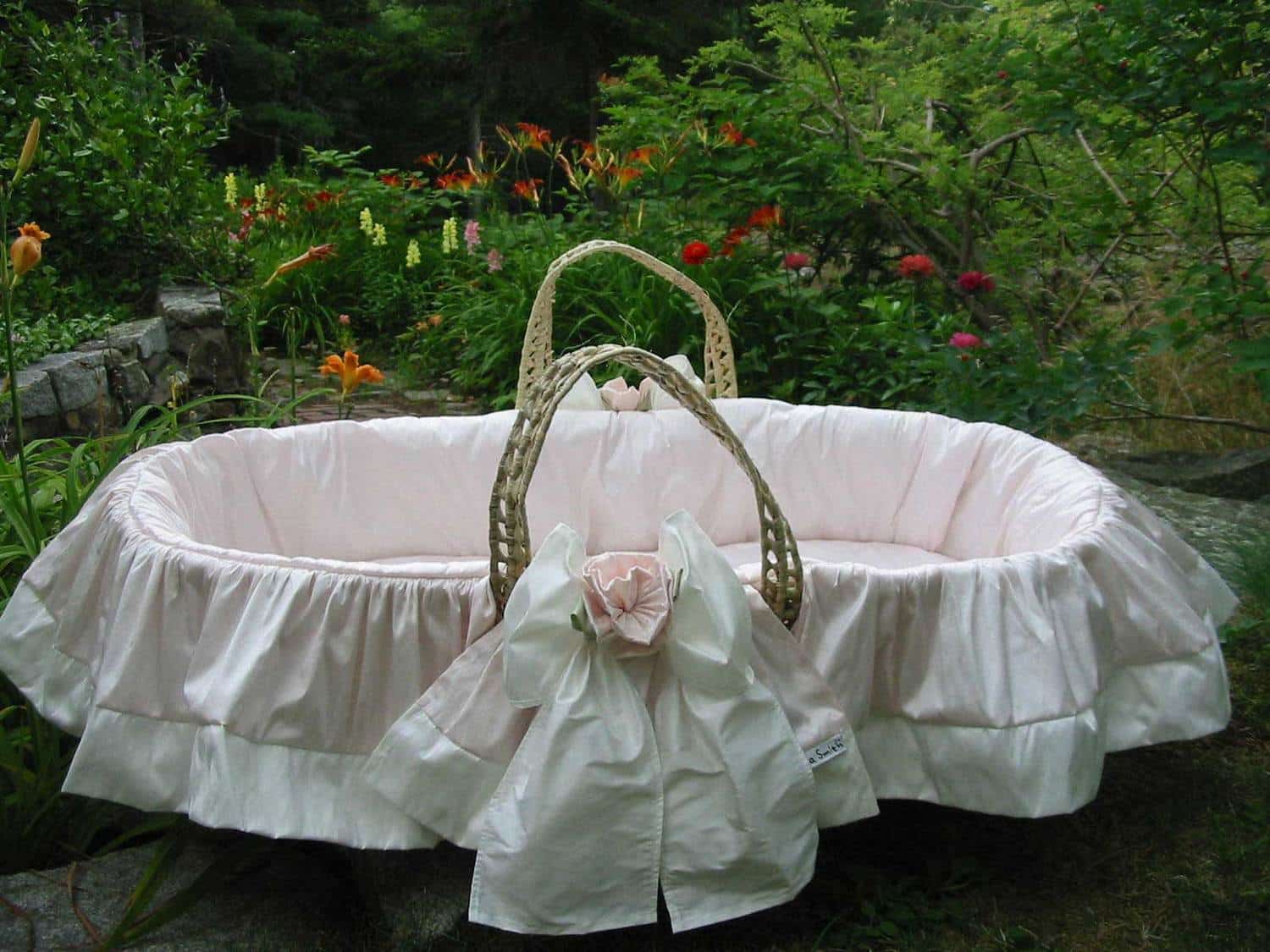 Supplies for Embellished Bow Basket
Steps to Make Embellished Bow Basket
Choose a basket of your desired size and shape.
Cut ribbons into various lengths, depending on the size of the basket and the desired bow size.
Using a hot glue gun, attach one end of a ribbon to the inside of the basket near the rim.
Create loops with the ribbon and attach the other end inside the basket, creating a bow shape.
Repeat step 4 with different ribbons, layering them to create a decorative bow pattern.
Cut small faux flowers or greenery sections and hot glue them around the bow for added embellishment.
Continue adding ribbons and flowers until you get the desired look.
Trim any excess ribbon ends for a neat finish. Allow the glue to dry completely before using the embellished bow basket.
Now fill it up with your mum's favorite items and a note about how much you love your mother!
23. Mother's Day Flower Pop-Up Cards
Make a handmade flower pop-up card for your mother and express your love for her.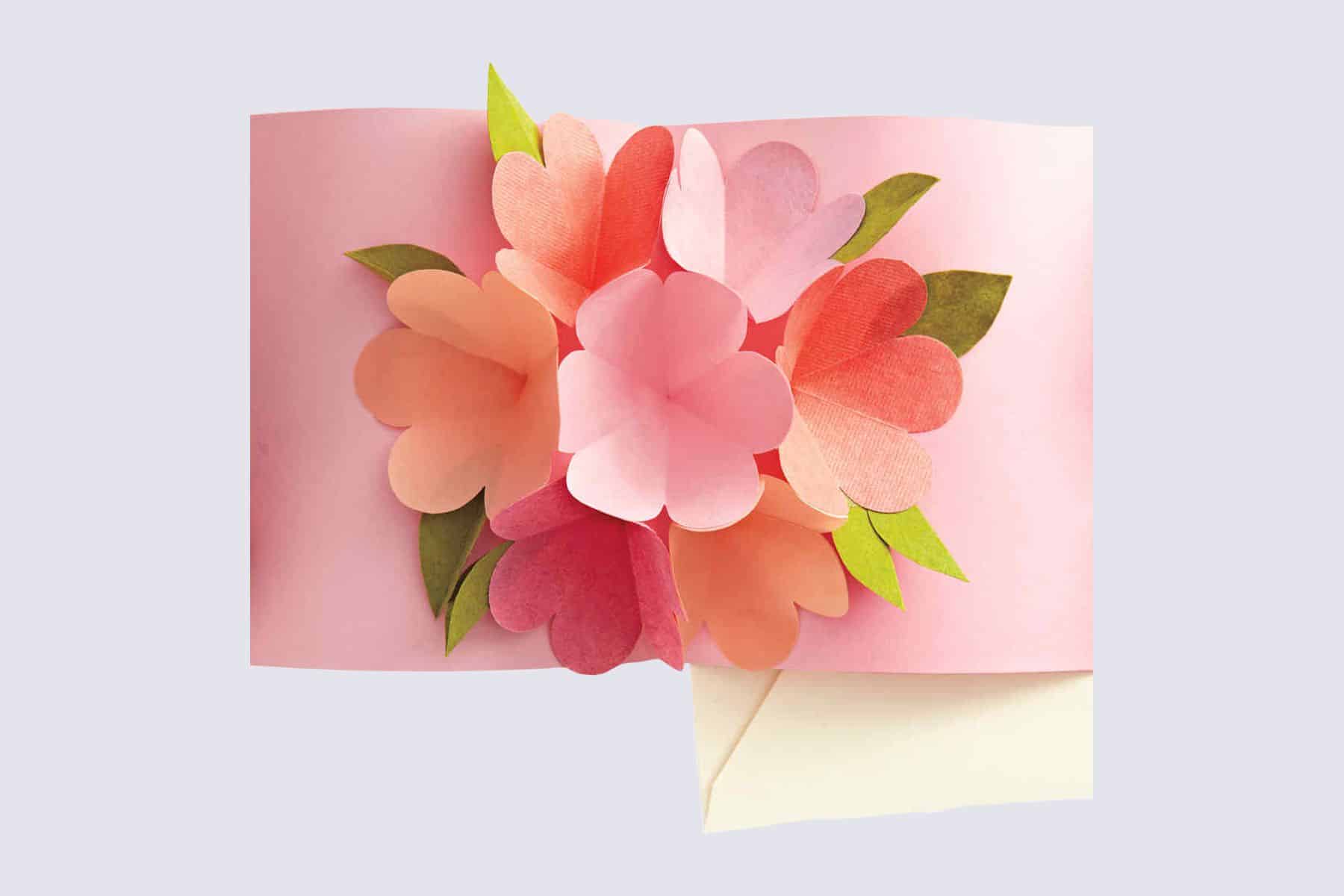 Supplies for Flower Pop-Up Cards
Steps to Make Flower Pop-Up Cards
Take a piece of colored cardstock or construction paper and fold it in half to create the card base.
On the folded edge, lightly draw half of a flower shape, making sure the center of the flower touches the fold.
Cut along the drawn lines, making sure to keep the folded edge intact.
Open the card, and the flower should pop up when you fold it again.
Decorate the front of the card with markers or colored pencils, adding a Mother's Day message or any desired design.
Cut out smaller flower shapes from different colored paper.
Glue or use double-sided tape to attach the smaller flower shapes to the pop-up flower, creating a layered effect. Add any additional decorations or details to the card as you wish.
24. Pom Pom Bouquet
If you want to give your mom a bouquet and yet to do something different, a pom pom bouquet is just the right gift.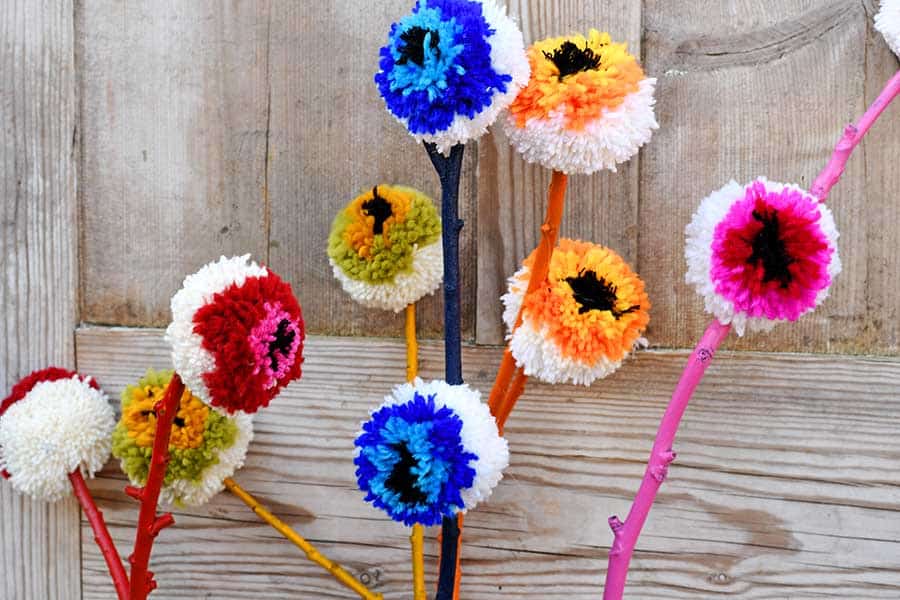 Supplies for Pom Pom Bouquet
Steps to Make Pom Pom Bouquet
Wrap colored yarn around your fingers or cardboard.
Tie a piece of yarn tightly around the center and cut the loops.
Repeat steps 1 and 2 to make multiple pom poms.
Bend floral wire or pipe cleaners in half for stems.
Thread folded end of the wire through each pom.
Secure pom poms to stems with floral tape or washi tape. Optional: reinforce with hot glue.
Arrange the pom pom bouquet in a vase or container. Add a few decorative elements of your choice. The bouquet is ready to gift to your mother!
Conclusion
We hope you liked this list of Mother's Day crafts for toddlers! The best part of making Mother's Day gifts at home is that they are personalized and pocket-friendly.
Be it handprint flower cards, temporary tattoo mugs, pressed flower bookmarks, or felt flower crowns; all these gifts will make your mom feel special! You can use the same supplies to play around and make as many gifts from this list as possible.
Kids will not only learn a gesture of appreciation towards their mothers but also develop a hobby. So, tut as many Mother's Day crafts for toddlers from this list.
Tell us which ones your mom loved the most!