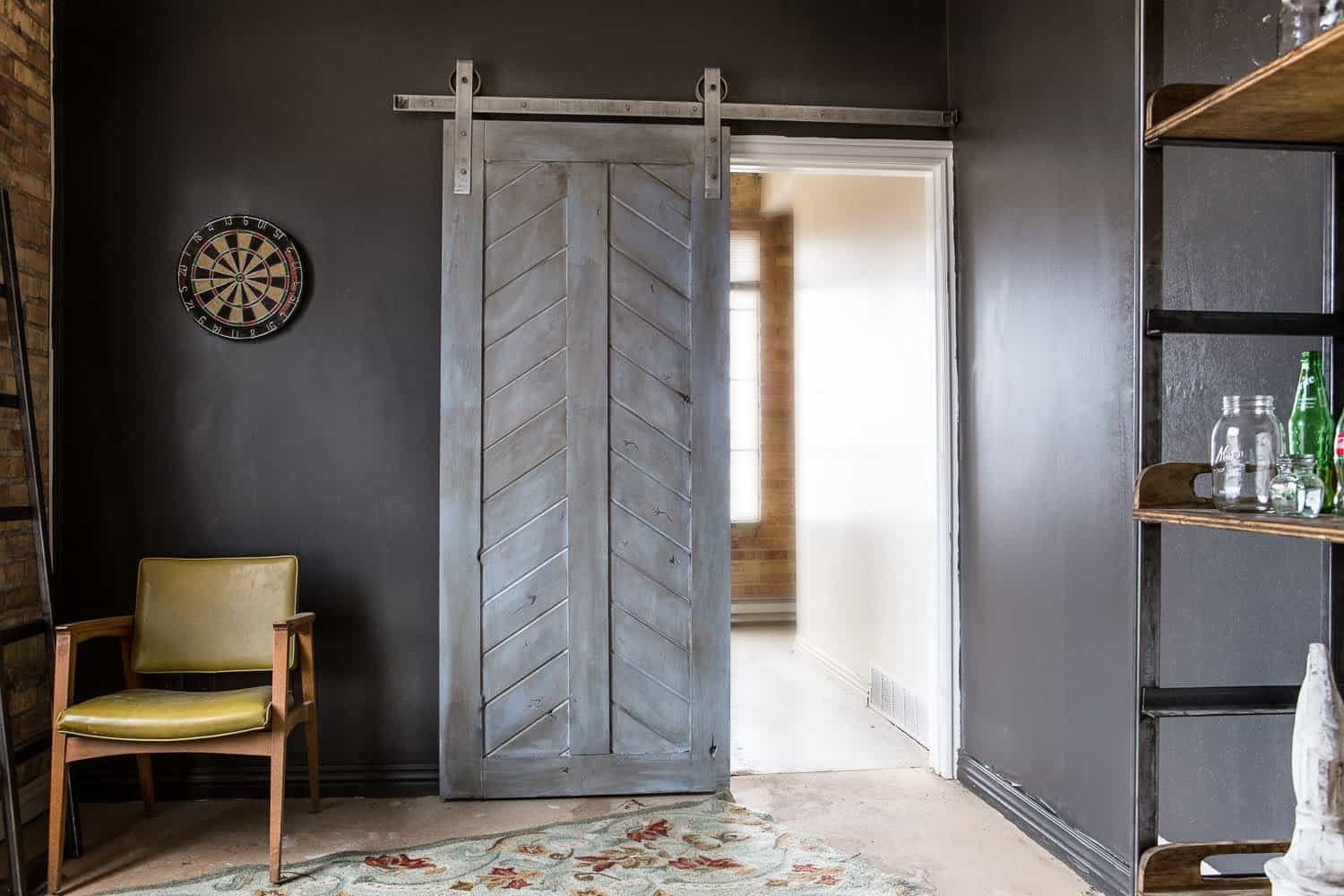 When it comes to boosting your house decor, it is obvious to think about every corner of your space, including the kitchen, bedroom, bathroom, and more.
Keeping your bathroom in style is quite important to make it look tidy and hygienic. There are several ways in which you may enhance your bathroom's style, and using a barn door is one of those.
There was a time when barn doors were considered an element of rustic style. However, that notion has changed. These days, Barn doors for Bathroom are quite trendy and are preferred for several reasons, including their looks and practicality. 
Wondering what barn doors look best in the bathroom area? Worry no more because we are here to make it easy for you. Here, in this article, we have carefully selected 15 barn door ideas that can accentuate the beauty of your bathroom.
1. Mirrored Barn Door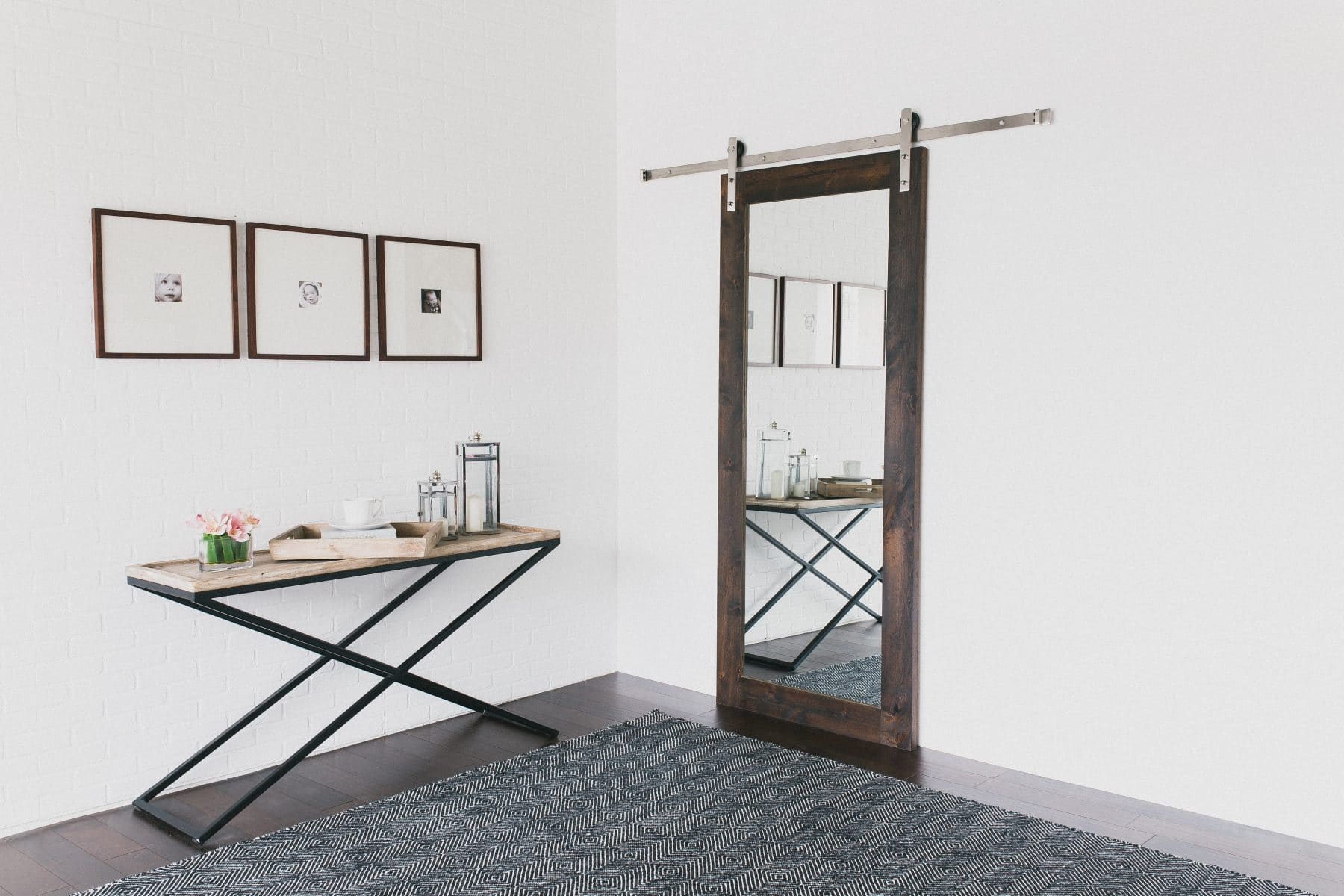 While you're in your bathroom, it is quite common to look for your reflection or a mirror. However, wall mirrors only help you take a glance at half of your body. Then, worry no more because Mirrored barn doors can be your real savior in such situations.
They are one of the most popular and classic designs that you may use for any space. Their unique design offers a perfect mix of fashion and function at the same time.
They help you style yourself while taking up no additional space. In addition, you get a perfectly chic look for your bathroom with these kinds of barn doors.
2. Rustic Wood Door
It is quite natural to get confused about what barn doors to install, given the abundance of options available these days. Then look no further than Rustic Wood barn doors.
Rustic barn doors for the bathroom are one of the most preferred and classic options available. These can work best to create a vintage kind of look. Also, these are available in different colors, sizes, patterns, and more. Generally soft wood like Pine, Cedar, and more are used in making these rustic doors. They are sturdy and appealing as well. Different wood is used to create distinct rustic shades.
In addition to the bathroom, rustic barn doors can also be used for other areas like the pantry, for separating rooms, and more and thus, proving their versatility.
3. Distinct Wood Barn Door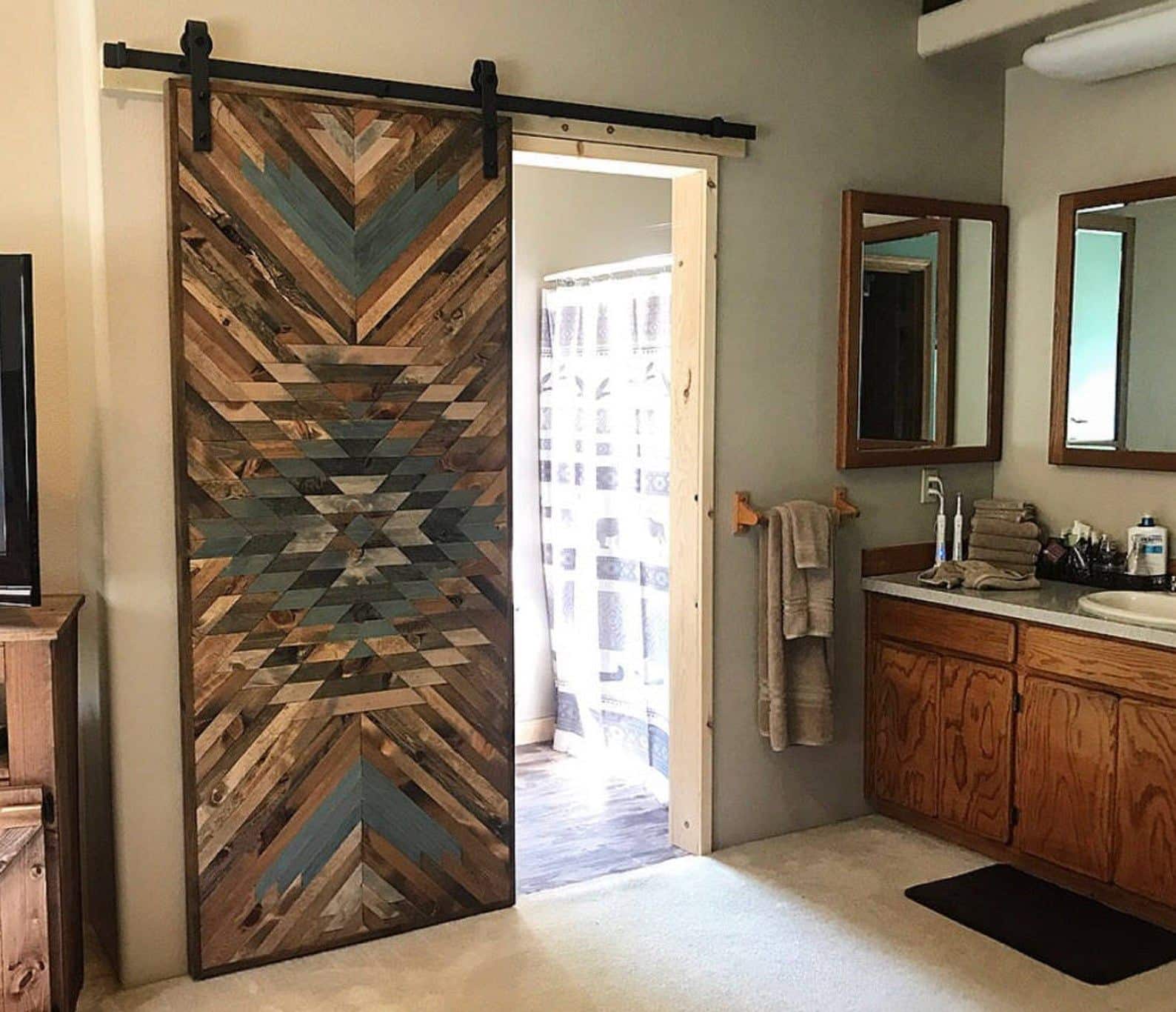 As mentioned, wooden barn doors are designed using different types of wood. However, have you ever wondered if it is possible to infuse the beauty of distinct wood elements in one barn door? Yes, you heard it right.
Using different layers of wood in a single barn door can be the perfect idea to jazz the whole look of your bathroom in a subtle yet bold way. Additionally, distinct tones can help create a cozy and experimental look. You may use these doors to give the whole space a new variety with its unique design and texture.
4. Metal Barn door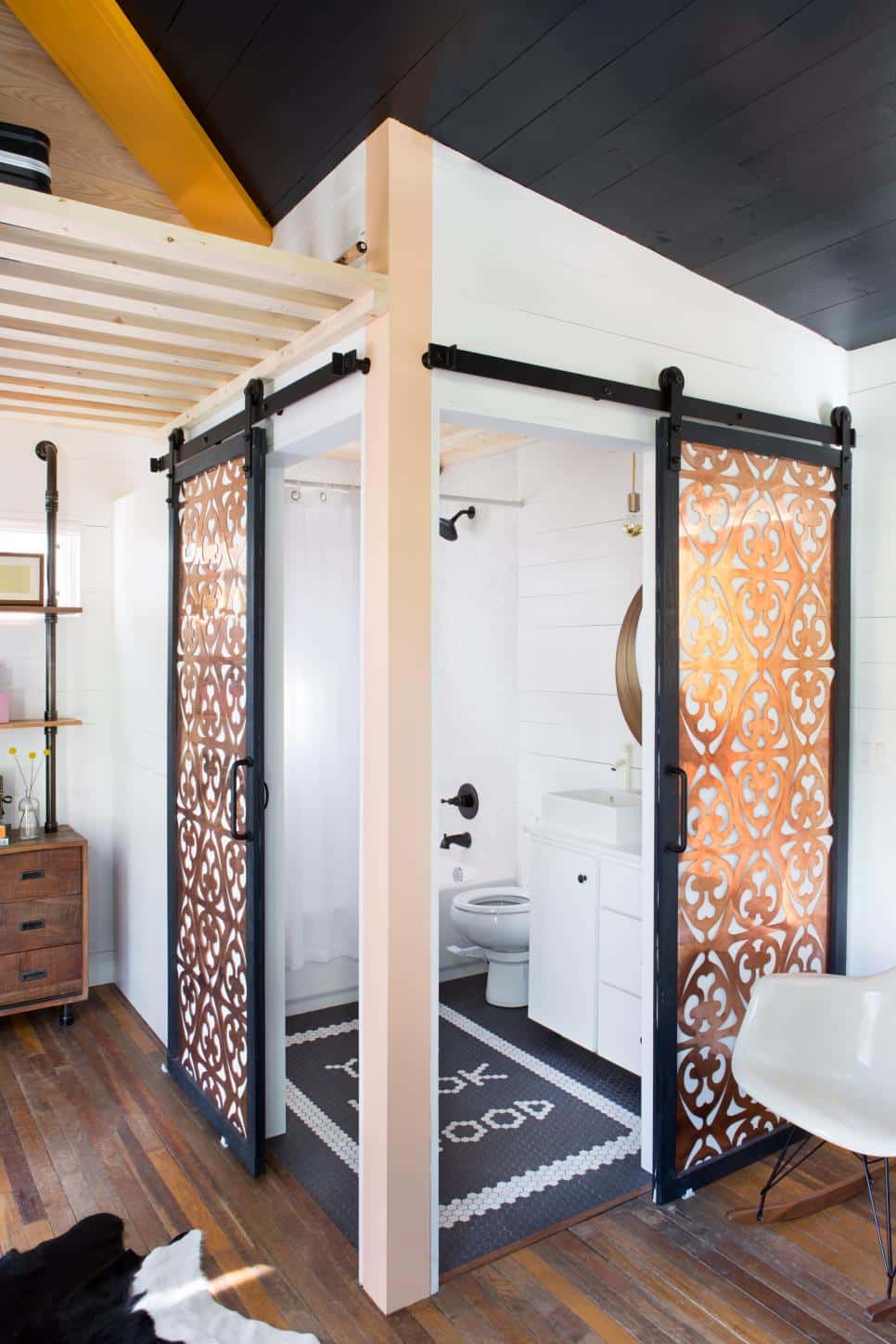 Looking for something sleek and stylish? Worry no more because Metal Barn doors have got you covered. There is no denying the fact that wooden doors are quite popular, but metal barn doors have also been a trendy name these days.
The reason for their popularity lies in their versatility. Their classy and chic looks allow you to install them in any kind of setting. No matter what look you're going for, be it minimal, classy, aesthetic, or more, a metal barn door can be used anywhere.
Also, while serving looks, these doors don't compromise with their sturdiness. Additionally, other elements like glass can also be used in their design to accentuate the look further.
You may get these doors in a customized look with metals of your choice to add a personal touch.
5. Colorful Design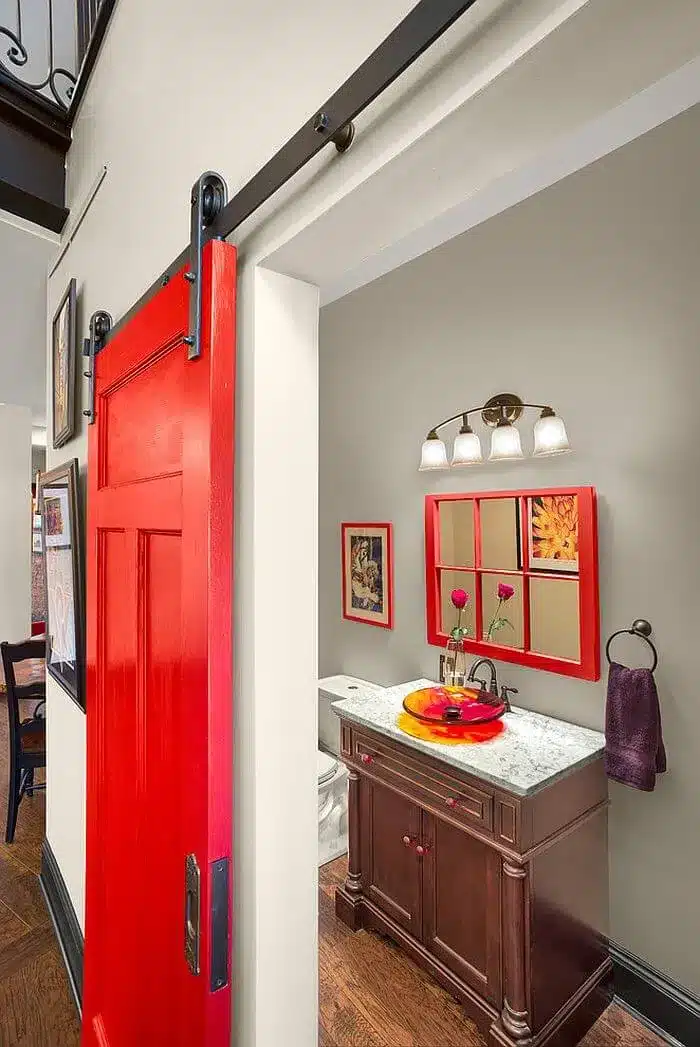 Playing with colors is the best way to renovate any kind of space, and bathrooms are no different. If you would like to go a bit bold, then styling your bathroom with Colourful barn doors is the best pick.
These doors can make the space look more lively and bright. You may use different color doors to create unique looks. Going with neutral shades can help style your bathroom in a sophisticated manner, while vibrant patterns can pop the whole look. You can also play with contrast and mix and match the colors following the background of wall colors or the furnishings like cabinets, basins, etc.
6. Double Barn Door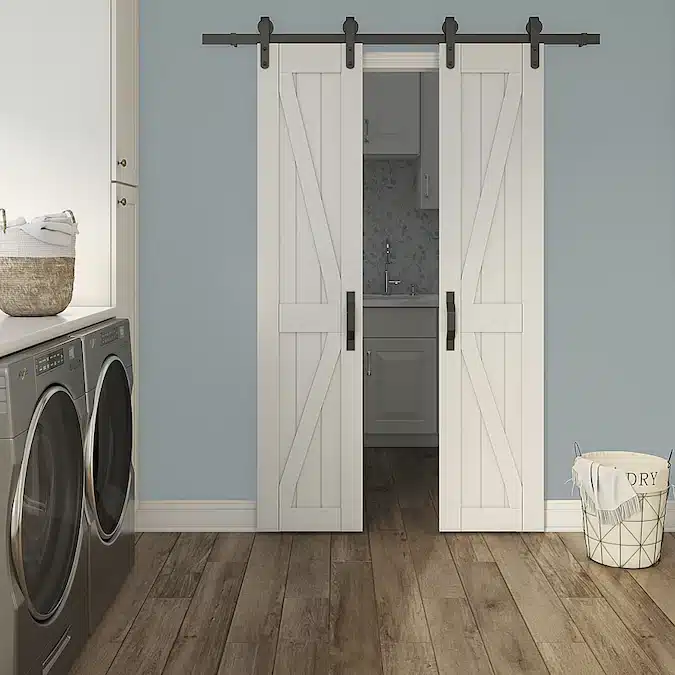 As the name suggests, double barn doors are the idea of using two separate barn doors on one rack. Double barn doors can be an ideal addition to your bathroom if you want to create something unique and catchy. These come in different sizes and patterns.
The best part about these barn doors is that they are perfect for interior as well as exterior uses. You may install them on bathroom entrances or outside the shower area; the possibilities are endless.
These kinds of doors make your place look more spacious. You may get these doors customized in different materials to match your preference and your bathroom's aesthetic.
7. Sign Barn Door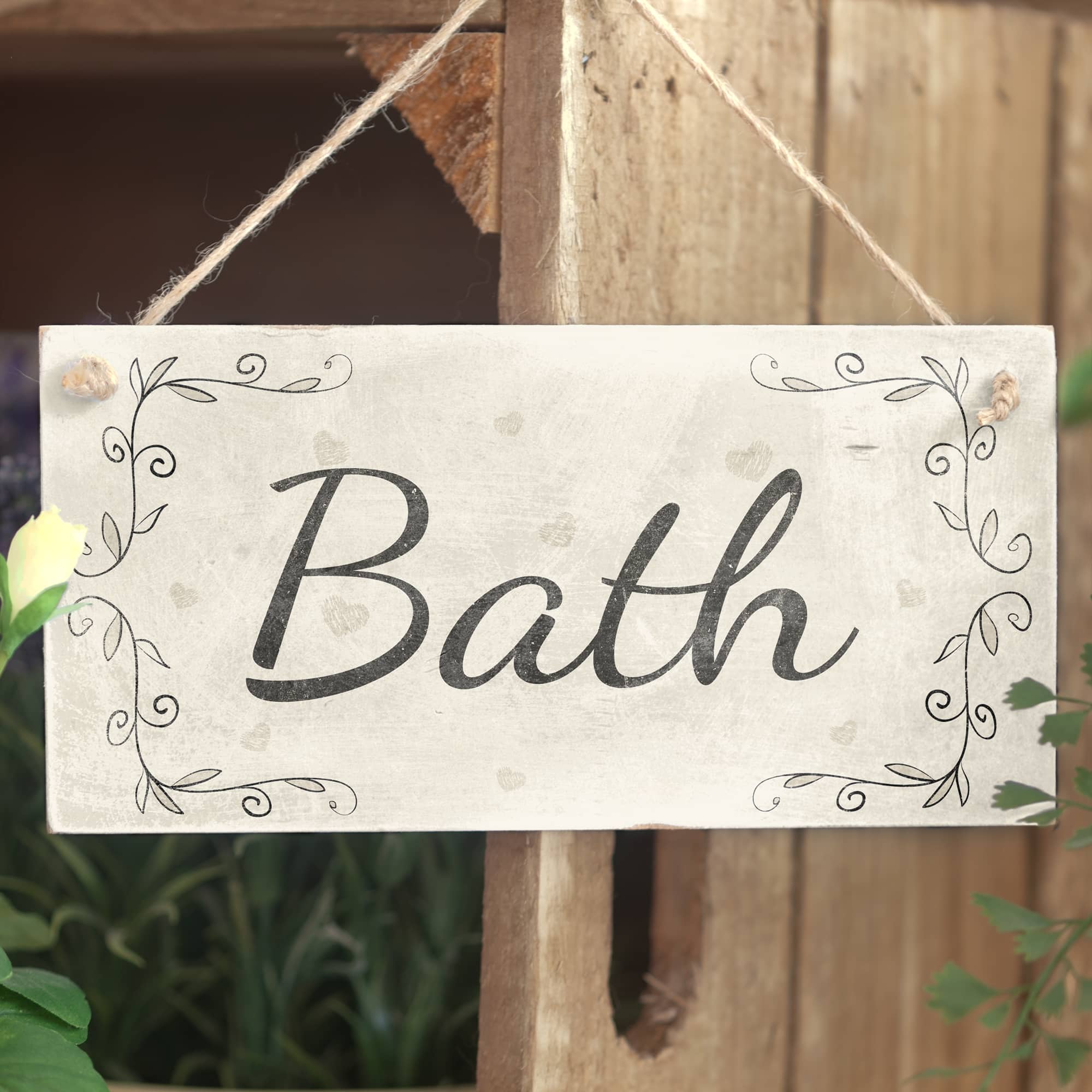 The best way to enhance the decor of any space, including your bathroom, is to add style while also enhancing practicality and Sign Barn doors perfectly fit the criteria. As the name itself gives, Sign Barn doors come with already imprinted quotes, logos or ideas. Now you may wonder about the practicality of these designs.
They help you add fine details to your bathroom space. For instance, a shower sign on the door segregates the area from the rest of the bathroom. Now it may look like it's not a big thing, but trust me; it surely adds a distinct charm and individuality to the space.
8. Patterned Doors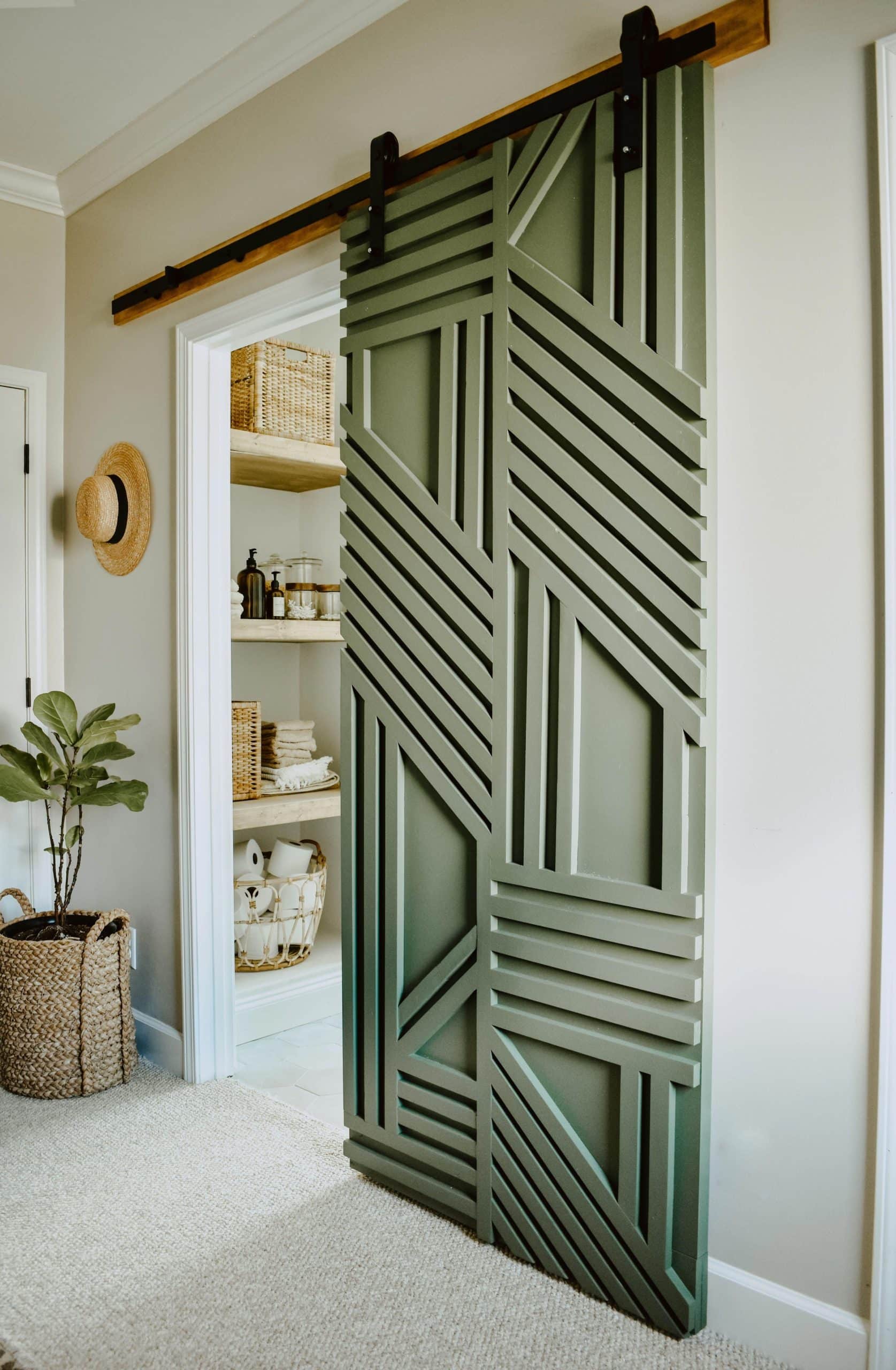 Simple is good, but considering experimental looks with Patterned Barn Doors for the bathroom could also turn out to be a great idea.
Such doors can add complexity and richness to your washroom space. Different materials that are used in making these doors can be used to create amazing patterns by simply playing with their arrangements.
You may go for different patterned looks on these doors, like stripes, horizontal lines, zig-zag, diagonals, Z and X braces, bars, and whatnot.
9. Chalkboard Type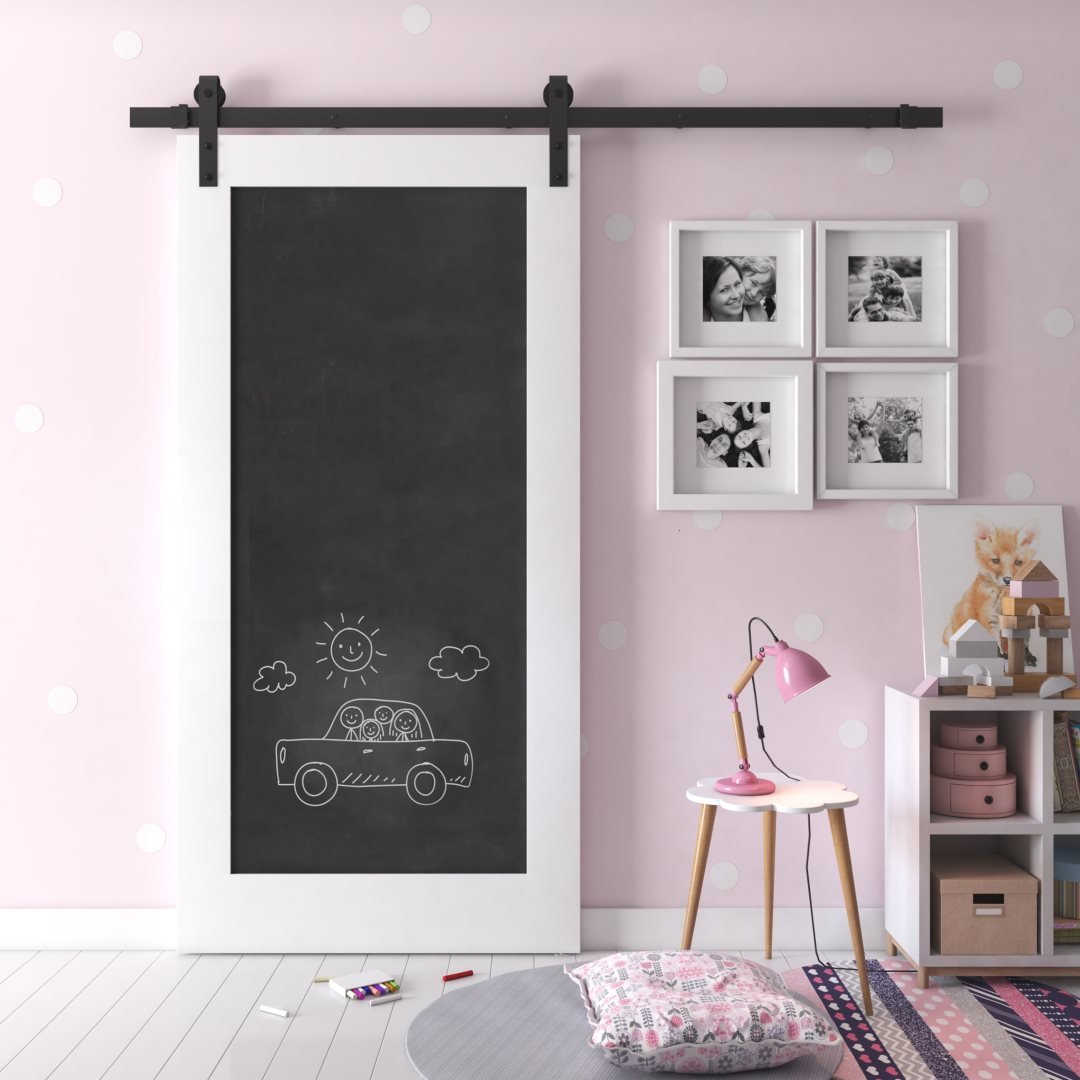 Looking for a perfect door to liven up your toddler's bathroom? Something that could be catchy and fun? Then, Chalkboard barn doors can be really helpful. Perfect for grabbing the attention of your kids or simply exploring your creative side, you may consider installing these practical barn doors for the bathroom.
These can make your traditional-looking washroom space more fun and engaging, and trust me; your kids are going to love it. Simply the idea of installing these doors sounds interesting, right? Well, it is. So wait no more and get crafty with these unique kinds of barn doors.
10. Frosted Glass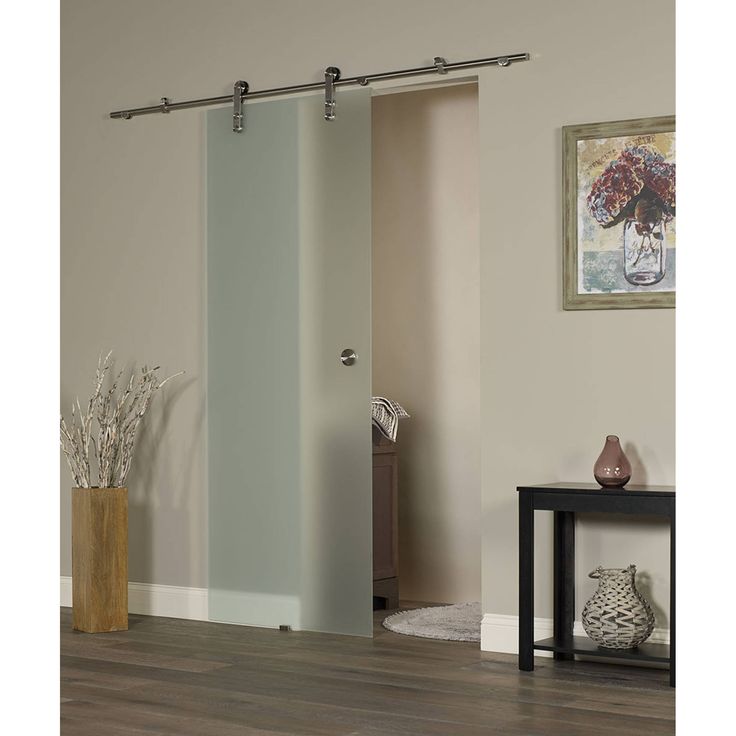 The best part about using a glass barn door for accentuating the decor is that they go quite well with different kinds of settings, which makes them a safe choice.
Glass doors are of several types, and Frosted Glass Barn Door is one of them. It is considered one of the most classic and chic door ideas to liven up the beauty of your washroom while also maintaining your privacy.
Frosted Glass Barn Doors are also available in several designs and patterns, giving you an abundance of choices and helping you take a step ahead in styling your bathroom. You may install these doors on bathroom entrances or shower entryways, helping you separate the area and create a distinction.
11. Clear Glass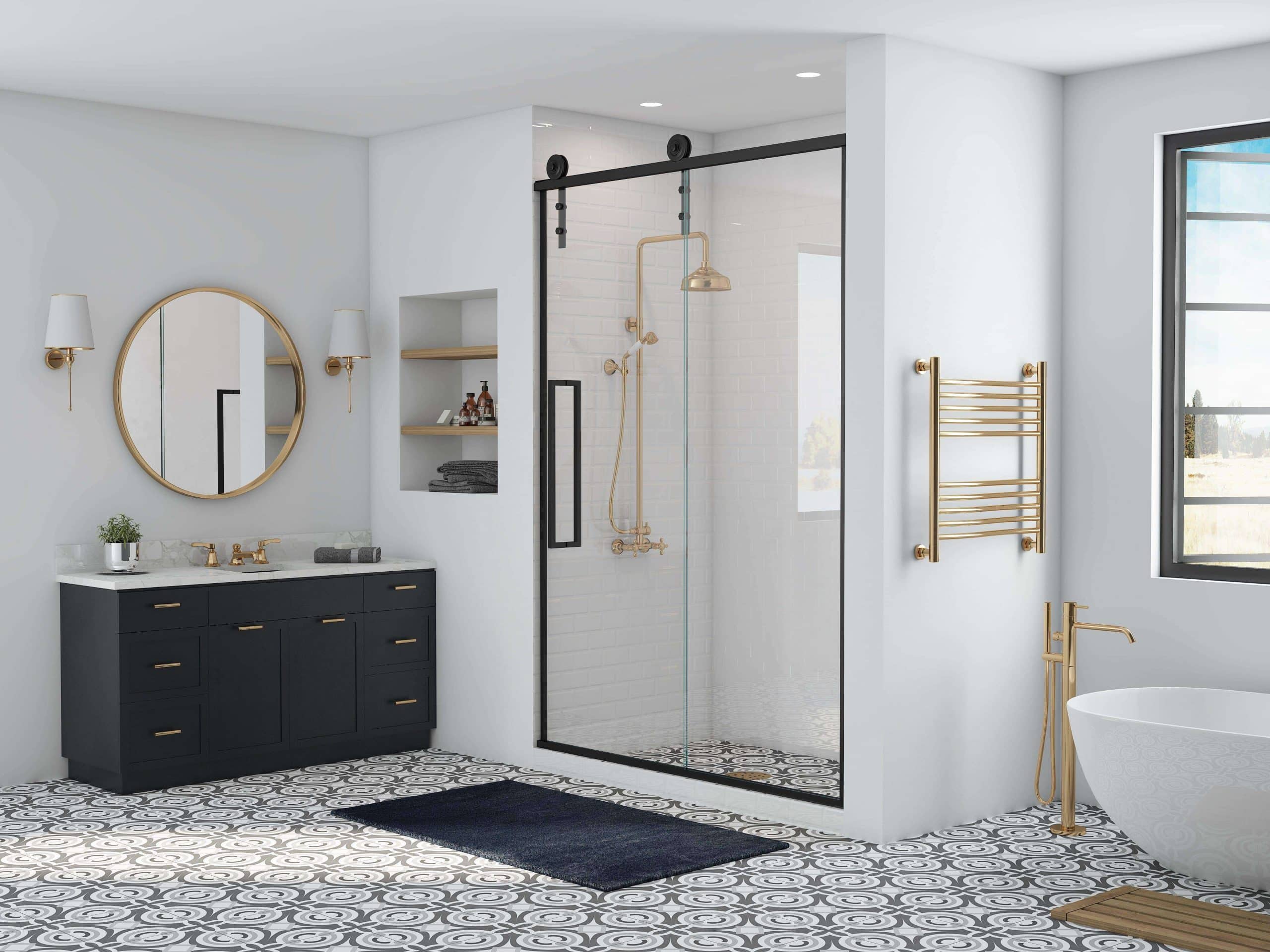 If you want to keep your bathroom style a bit minimal and natural, then consider going with Clear Glass Barn Doors. They have a natural look, while a majority of them also allow natural light to pass, making the space look more lively and bright.
Several of these Glass Doors can also be customized and come designed with different metals to jazz up their look further. You may use these in entryways or as bathtub doors.
12. Modern Barn Door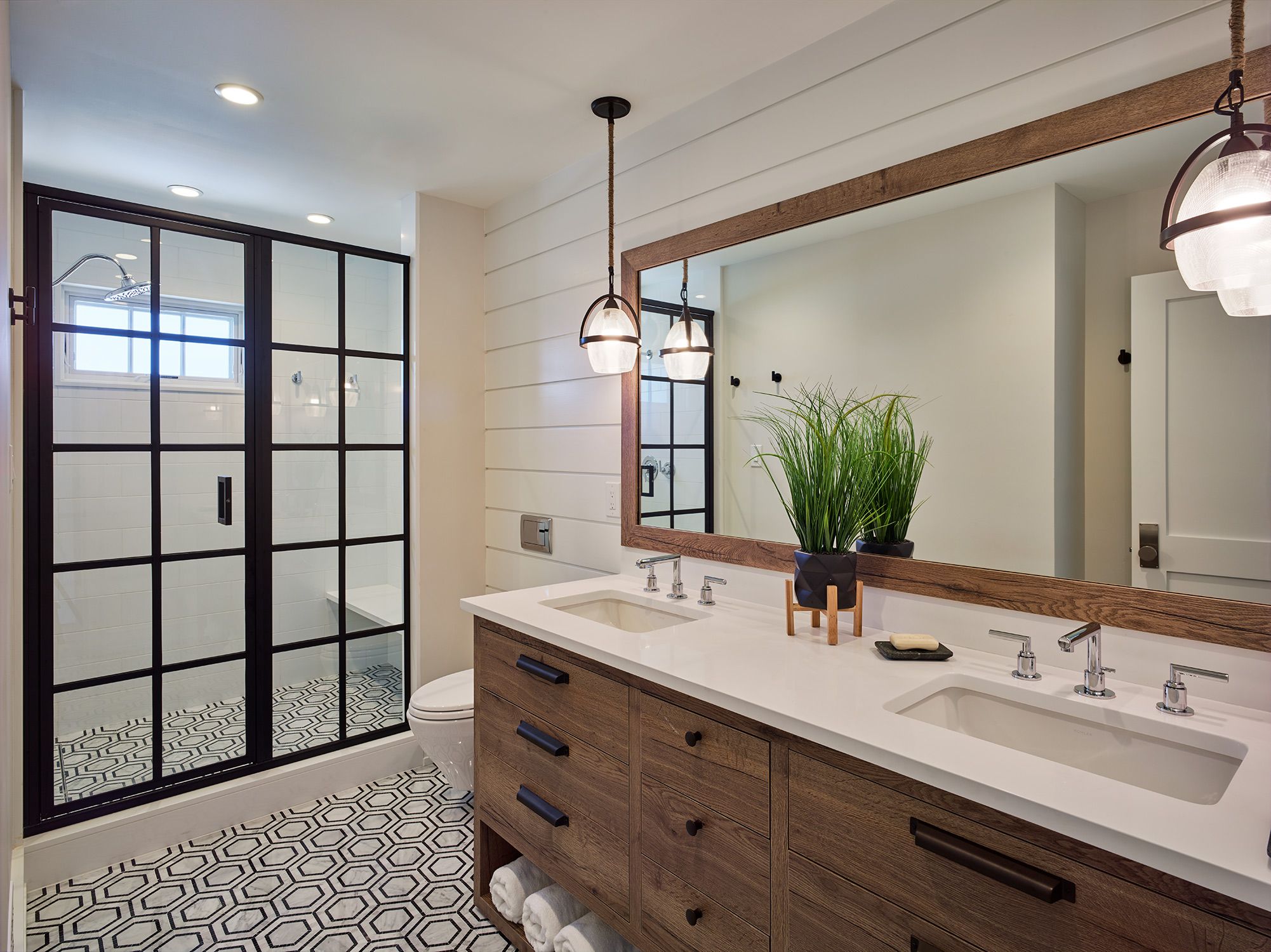 The term Moden Barn Door sounds quite general. Well, it is. These doors are simple, classy, and chic. You may play around with these doors using different hardware, furnishings, and colors.
For instance, understand the color palette of your washroom and create a monochrome or a contrasting shade with these doors.
Or you consider looking at different furnishings like cabinets and mirrors and understand their style to match the decor of your doors. You can also consider experimenting with the track and knobs of these doors to give them an interesting look.
13. Space-savers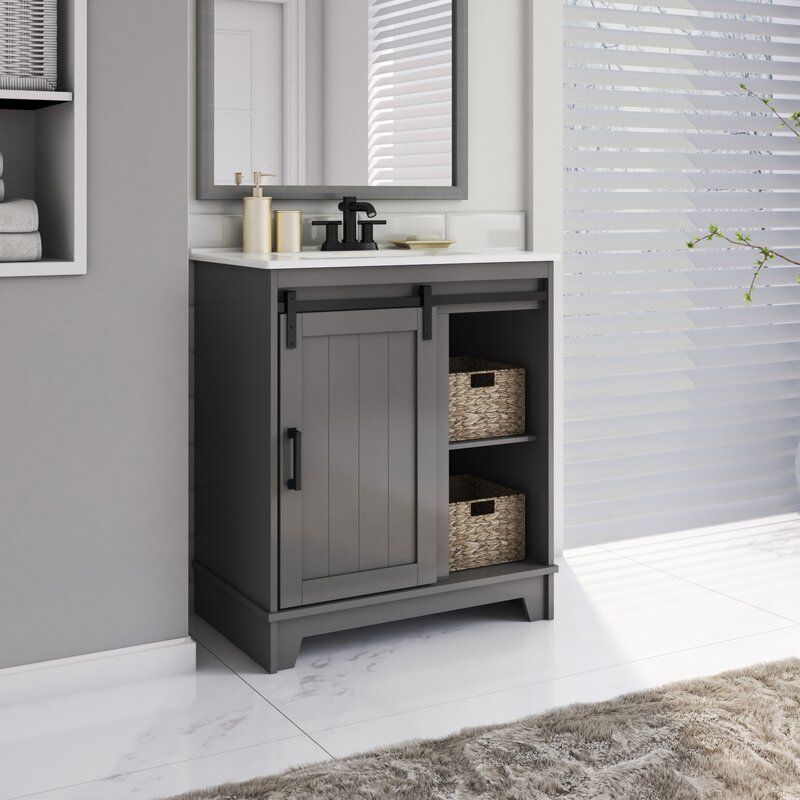 Enhancing the practicality of your space and making your place look more spacious is one of the most prominent features of barn doors, and thus, it won't be right not to mention Space Saving Barn Doors for the bathroom. As these doors don't swing but slide, which makes them perfect for compact spaces.
You may use these Space Saving Barn Doors to create a vanity or additional storage in your bathroom. These doors with hidden cabinets will allow you to store all kinds of bathroom essentials in one place. These hidden cabinets can be used to store toiletries, towels, tissues, and more. Thus, they are helpful to you in two ways- first, you get enhanced space, and second, your bathroom looks fab.
14. Distressed Barn Doors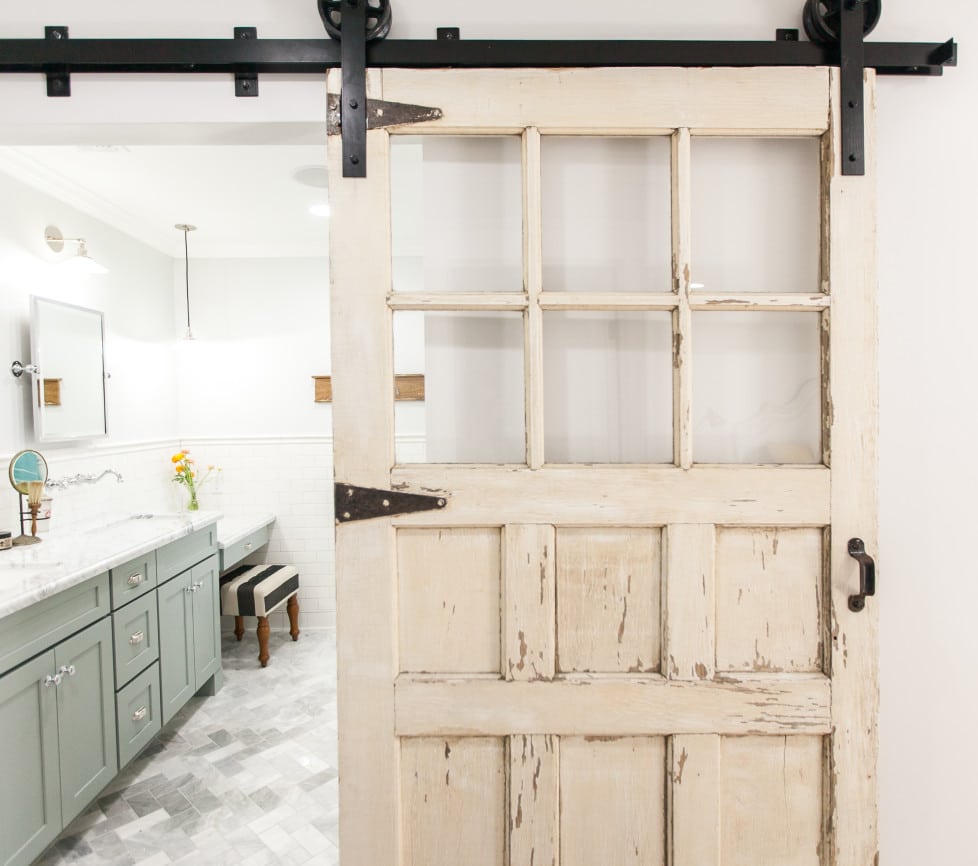 If you're looking to create something earthy and natural, then going for Distressed Barn Doors for your bathroom could be a great idea.
What makes this particular look more preferred and popular is its ability to adjust to different requirements. Whether you're going for a modern look or vintage, if you want to create a vintage style or traditional, Distressed Barn doors go well with everything.
They are the easiest and most effective way to add character and complexity to your bathroom design.
15. Personalized Look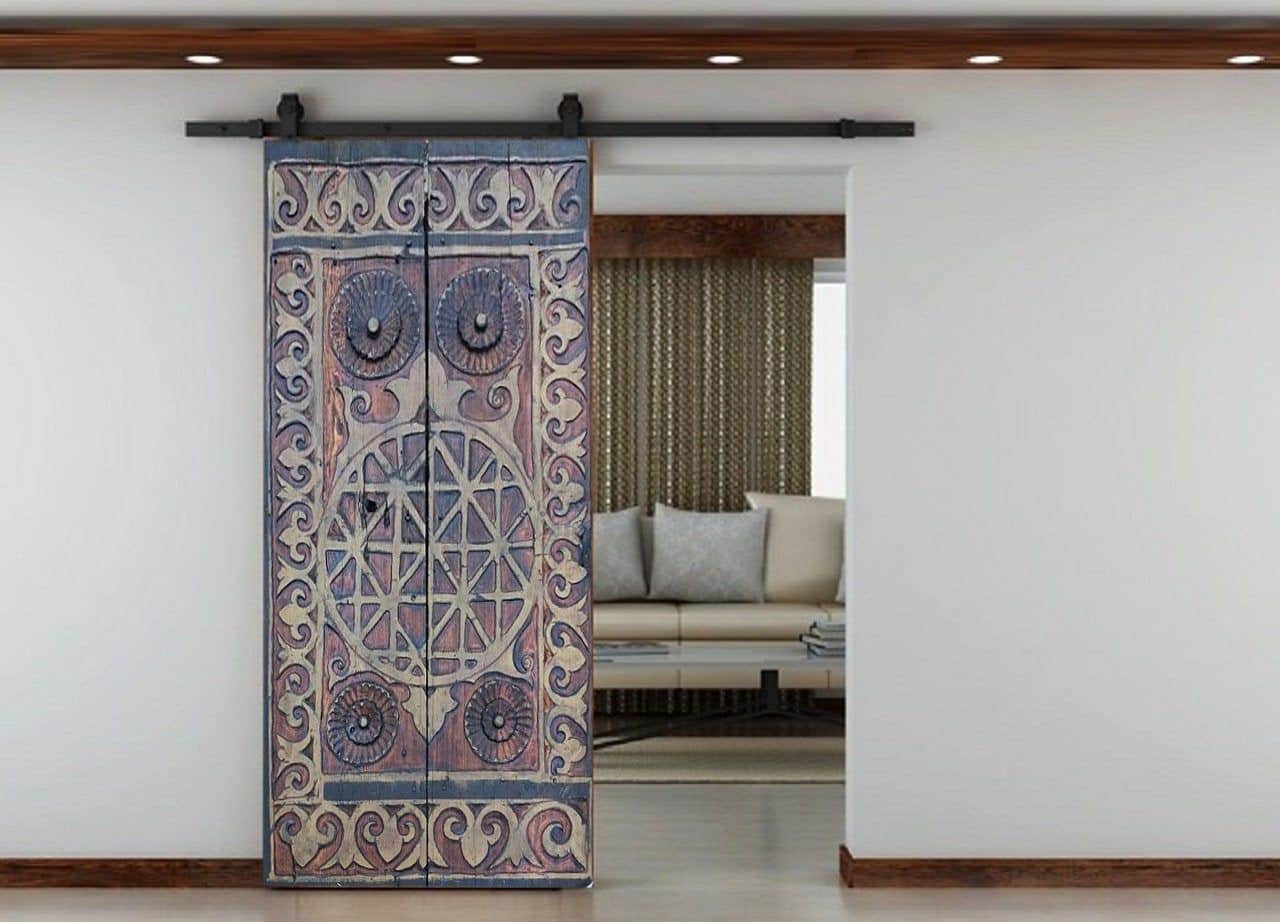 Too many designs but nothing to match your preference? Why worry when you can create something beautiful on your own that can look perfectly like your dream design? Yes, you heard it right.
You can also consider installing Personalised or Custom Barn Doors for your bathroom to ensure everything matches your style and aesthetics. Starting from the material used in their making to their color, pattern, design, and print, you may decide everything and renovate the whole look according to your own choices. Well, for sure, it does sound fun and creative and requires no compromise from your side.
Conclusion
When it comes to styling your bathroom and altering its overall appearance, barn doors are one of the most effective and creative ideas one could think of. Plus, you get them in several varieties, meaning you get different patterns, colors, and designs to choose from. The abundance of options allows you to style your bathroom decor that best suits your requirements. We hope that the above-mentioned list will help you find the bathroom barn door that fits your requirements. 
Comment below and let us know which one of these doors you will install in your house.