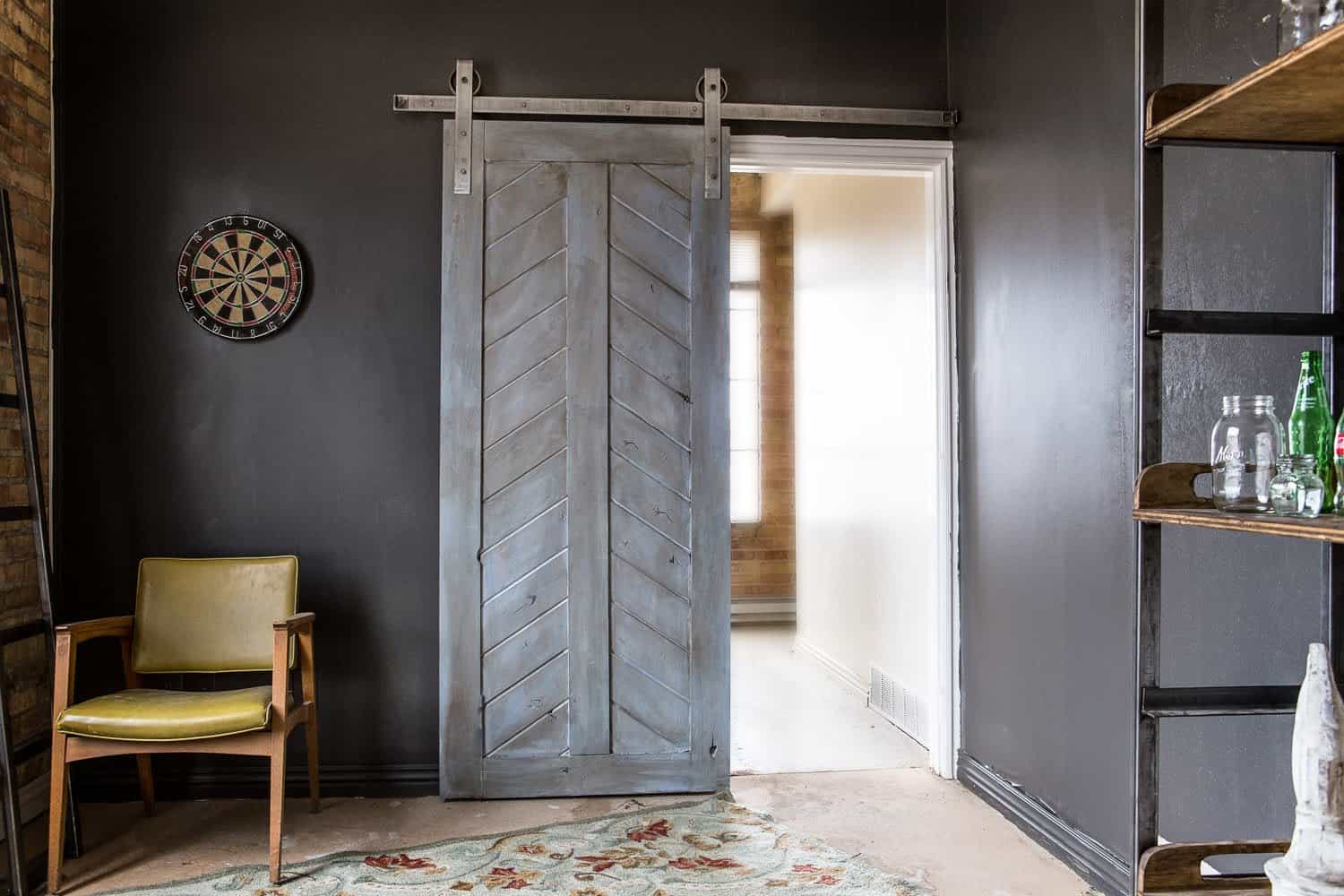 The pool patio is an excellent space for relaxation and socializing with friends and family. Unwind in a comfy chair or sun deck on your patio while sipping a beverage and reading an exciting book. To do this, you must first have a well-suited exterior to arrange your seating and matching elements.
The patio layout of your pool area must befit your lifestyle along with the design of your pool and the available space. Now it's up to your choice! Would you settle on an elementary-fashioned pool patio backyard retreat with your near and dear ones or have a spectacle at a resort-style patio pool at your exterior?
Check out an array of 14 mind-blowing pool patio ideas and designs we have exclusively selected for you.
1. Pool Patio with Stylish Coping Idea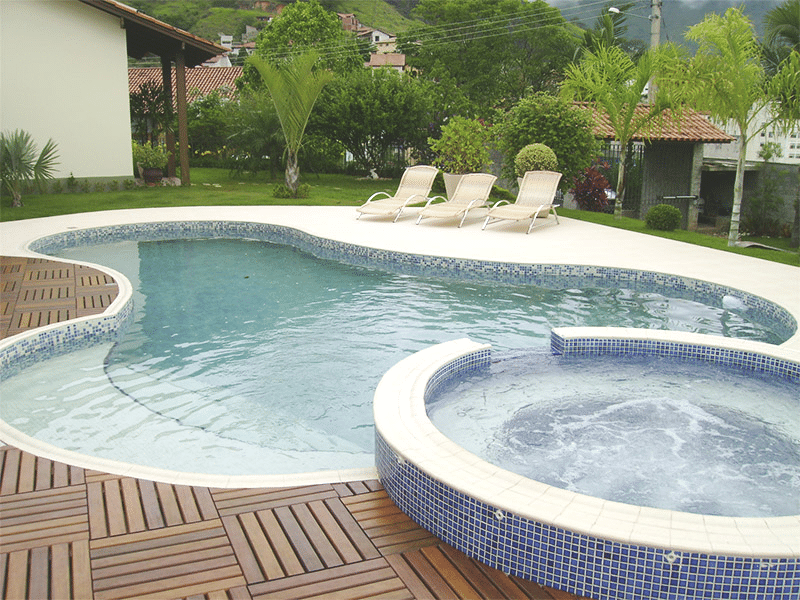 The idea of decorative coping emerged from archaic Roman construction. They made it with stones to enhance the beauty of the waterbody or any space.
If your pool is curved like the one above or a rectangular, square, or angular pool with neat and distinct outer edges, consider using contrasting coping stones as a brilliant scheme. The grey color of the coping highlights the blue water of the contemporary pool and the underwater stairs in an irregular shape enhancing the beauty. The classic wooden gazebo at the patio harmonizes with the Gothic folly-style layout.
Take a cue from the decorative features and wooden fences as the wall around the yard. Well-maintained greenery completes the look.
2. Pool Patio with Pergola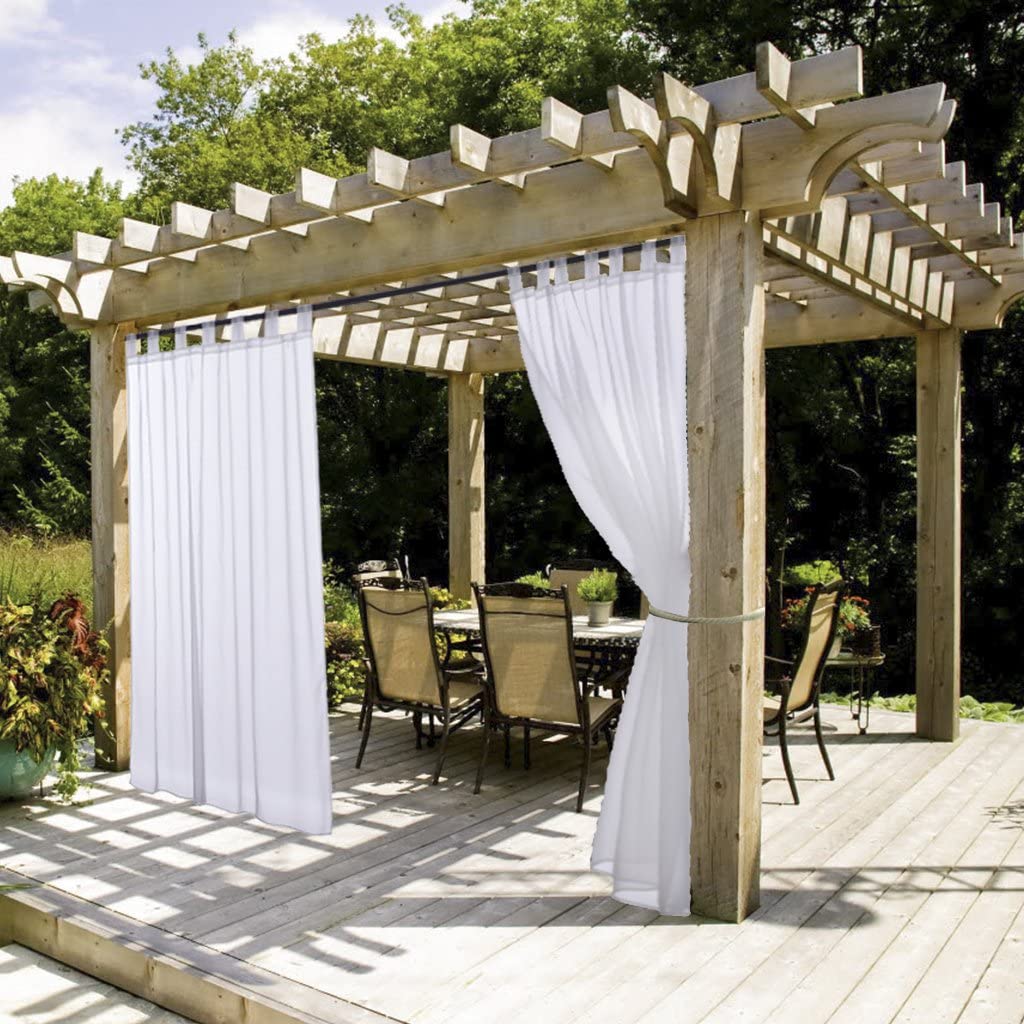 It works well if you've got a patio area that you want to use for relaxing conversation and al fresco dining. The pergola provides covers, so you can keep everything covered when drizzling or when the icky spring pollen season arrives. To maximize available space, the white rattan sectional set has ottomans that can slide under the dining set.
In the image, the seating material is ideal for kids to sit while wearing sopping wet swimsuits. When the sun shines through a side of the pergola, UV-blocking drapes and the curtain bars on three sides can provide shade.
The curtains are simple to open and can be wind-tamed when not in use, thanks to the attached tiebacks. You can decorate the floor under the shade with a handwoven rug, as the owner utilized black n white check mats to make the space eye-catching.
3. Pool Patio with Blended Landscaping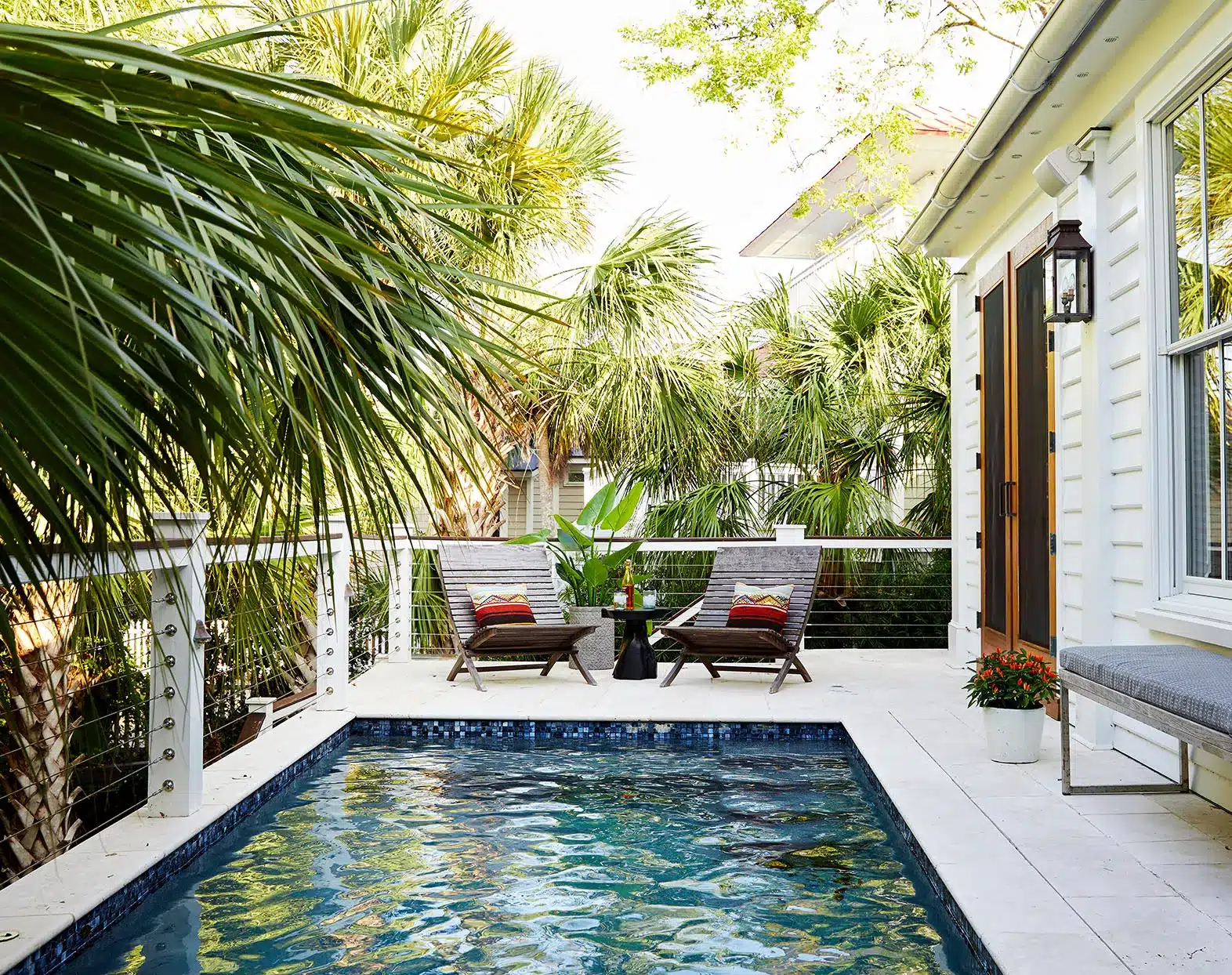 Your outdoor space requires structure and a point of interest to make it trendy, similar to the decorations of interior spaces. Consider installing pavers in the grassy area leading to the patio to blend two types of landscaping, patio pavers, and grass, rather than abruptly switching from the lawn to the pool patio.
To avoid a rustic stepping-stone appearance, make it modern with large square pavers set in a precise pattern. Remember to trim the grass edges surrounding the pavers to exhibit a tidy and stylish look. You may keep the seating area open or close and place poolside lounge chairs or a barbecue grill for hosting summer parties.
The seating area in the patio in the image appears to be a part of the house. With Gabon roof and the simple sitting arrangement looks comfortable. Poolside greenery looks appealing. The dwarf date tree on the side and a white planter with red blooms uphold the natural atmosphere.
4. Large Pool Patio with Multiple Arrangements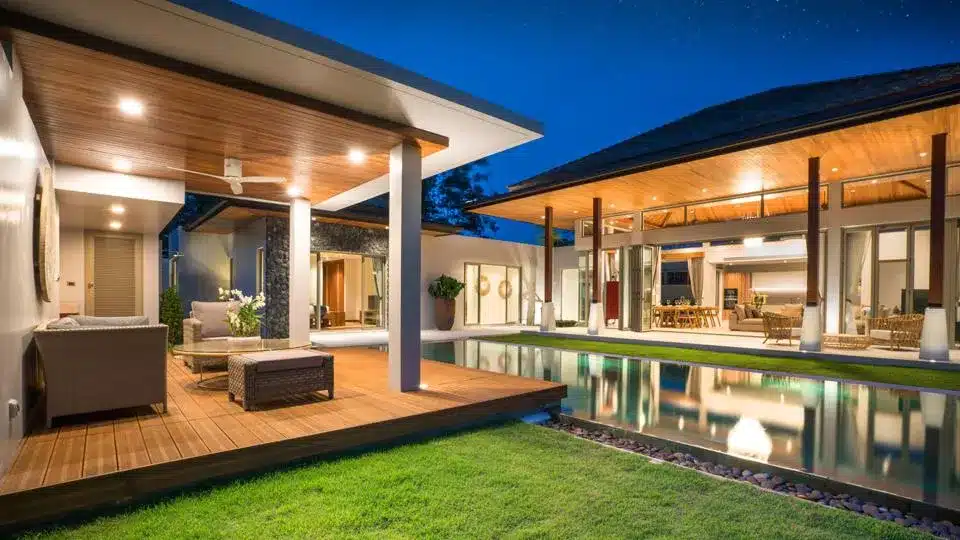 An arrangement with multiple levels will give visitors more to enjoy than an extensive, flattened, empty area for a large patio. Use low, wide steps to delineate the transition from one functional area to another when using garden zoning. They'll produce an elegant appearance that also complements more formal garden designs.
Otherwise, you might opt for low hedge barriers to wall off dining areas or tuck seating areas slightly raised to split up the spread of the pool patio. The outcome of this will be a more cozy atmosphere in the big room. If you select this landscaping layout, you need to make a split-level patio plan beforehand while keeping in mind to include all divisions.
To accomplish this, you can construct various levels with pathways leading into one another, forming patio hideaways. The multilevel vintage points lend a sense of seclusion together with creative raised garden beds.
Using stone, brick, or concrete slab in the pavement flooring, you can quickly turn one or more sections of your patio into a lawn area.
5. Pool Patio with a Beach Décor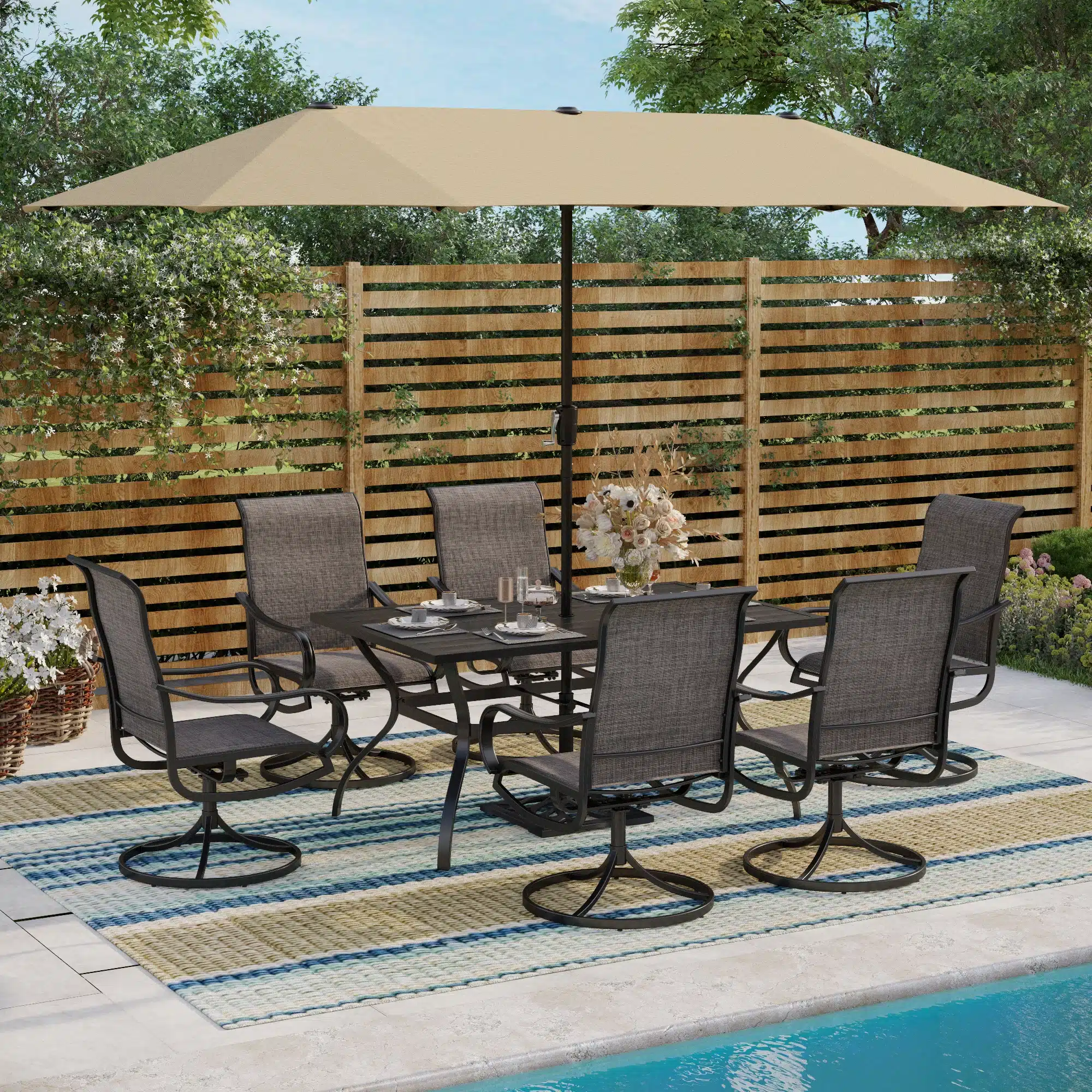 An array of beach umbrellas in contrasting colors can transform your pool patio into a tropical haven. Here, a comfortable dining table with chairs by the pool looks good.
These trendy umbrellas will cause a soothing impact in the summer months during mid-day or in areas with little shade while presenting a vibrant decor. Additionally, they add a little pool privacy by blocking out the views from the high-rise buildings. However, round umbrellas scream "beach" and beg to be debased in the breeze.
Numerous trendy-styled designs are available to cater to your personalized preference. You only discover there is a decision to be made when it is time to shop for one. The sturdy cantilever umbrella fitted in an aluminum frame can withstand strong wind. Trees of different types and shapes can enhance the overall look.
6. Pool Patio with Integrated Seating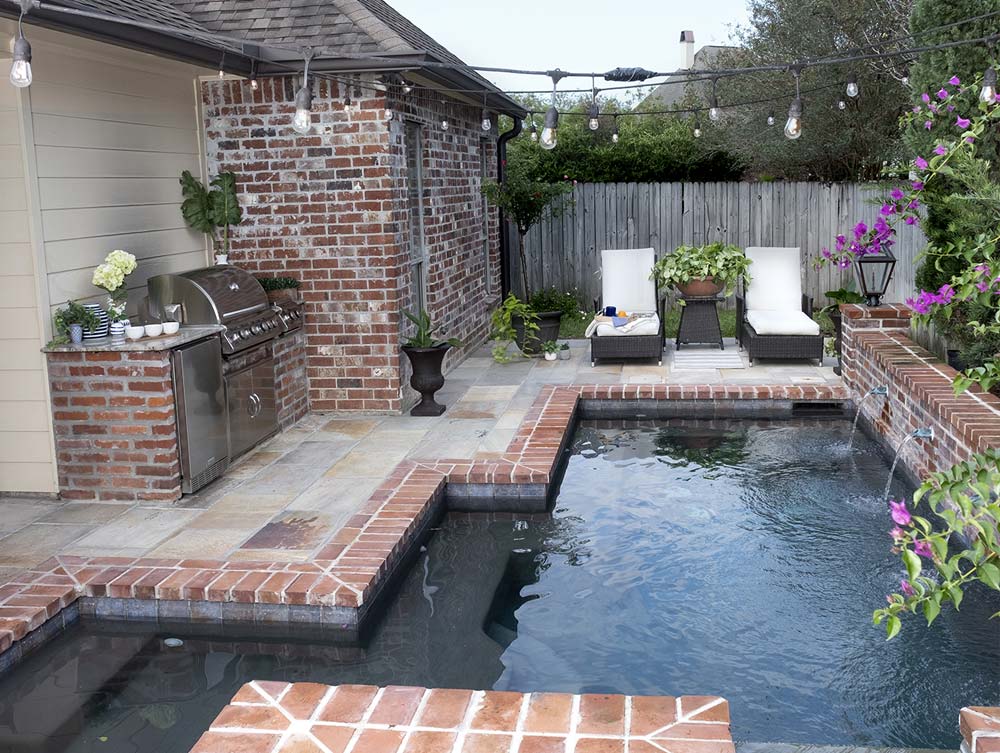 Do you feel unhappy due to the poky size of your backyard? We've found a novel arrangement that can help you maximize a small pool patio space. A space-saving strategy for making the most of the patio might be erecting a built-in place for seating in the pool.
The patio pool in the image is a prime instance of maximizing space if you desire to view innovative designs for a smaller patio. In this case, the coping serves as a seating to the pool because placing outdoor chairs there would obstruct access to the pool. You may notice the integrated kitchen and string lights above the pool.
The 'built-in' option is also suitable if you have a sizeable patio with an in-ground swimming pool.
7. Pool Patio with Stone Pavers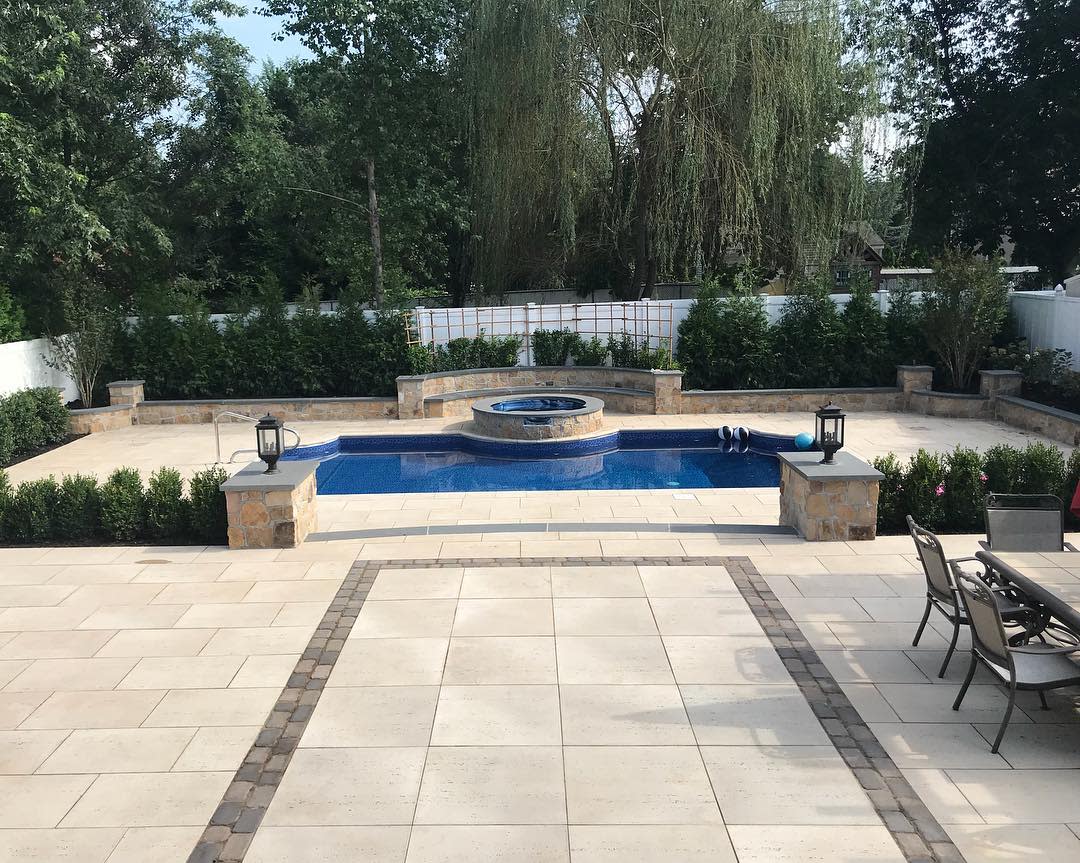 Pay close attention as we discuss the patio pool flooring ideas in the following section if you need the inspiration to design the pool of your dreams.
If natural stone is your first choice, don't be afraid of using it. A stone surface around the pool area may present challenges. In practice, problems are frequently non-existence or minimal. Natural stone is a first-rate choice for a pool patio for many reasons, including its appearance and slip-resistance surfaces. Popular materials include travertine, limestone, and sandstone.
In fact, being able to absorb a little bit of water enhances the properties of these materials. The checkerboard square, stepping stone, or other patterns to entwine the pavement in the pool area is a neoteric trend.
Aesthetic elements added to this pool patio with diamond-shaped pavers are stubby date trees and the seating arrangement with bulky ottomans. The water feature of the fountain from three black pots is mesmerizing.
8. Pool Patio with a Gravel Surface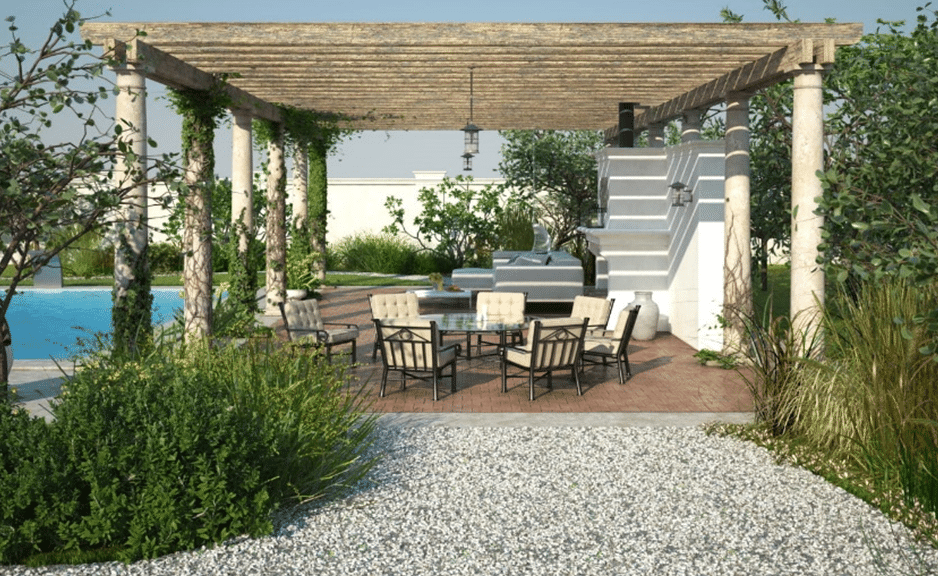 This is a traditional pool patio. The pea gravel section and granite coping is a brilliant way to utilize the spacious pool area. The design is unique indeed. The green plant in the gravel zone has a contrasting view.
Simultaneously, if you yearn for an aesthetic that could change one's mood by calming the mind and senses, this idea is just for you. The dining table with six armchairs indicates a warm and happy-go-lucky character.
The homeowner probably desired a low-maintenance pool patio that would be appealing and endure the challenging and unpredictable weather at different times of the year. The open, rustic, and square pergola on the other side of the patio looks simple and comfortable.
You may buy a roofed version considering the physical location of your place. Redwood, teak, or cypress are excellent materials for pergolas. You may choose a pine or cedar pergola, too.
9. Pool Patio with Decorative Light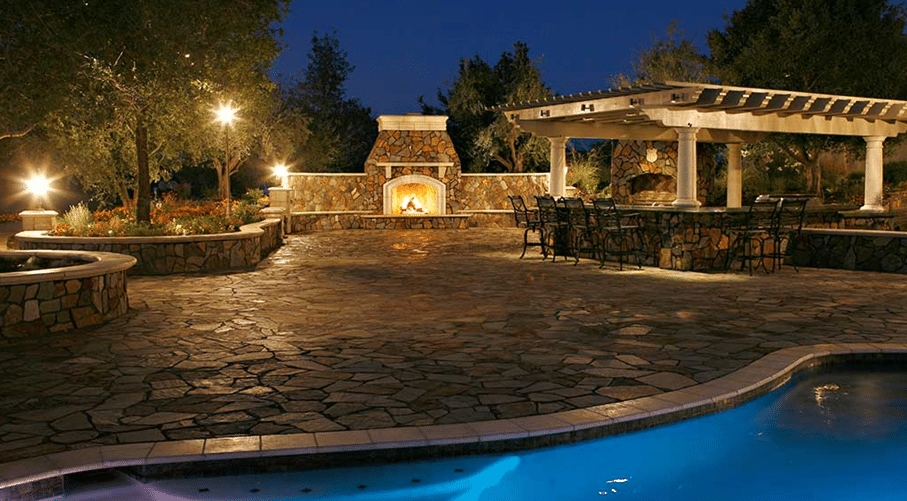 What do you have to say about a pool area with soft lighting effects at night? You can accomplish this by an illuminating pool accent like a tiki torch. It is common for people to utilize this fuel-lit light for outdoor recreation at night, so having one near your pool is unquestionably a shiny move.
In addition to illuminating your pool area, a tiki torch can help ward off insects like mosquitoes. If you organize pool parties or other evening events outside, the glowing fire element adds to the festive atmosphere. The picture above displays how the proper placement of tiki torches can brighten the space. The cut stones used for flooring, the siding, and the mini wall bordering the garden areas are enthralling.
10. Pool Patio with Bistro Furniture
This is another option for a compact pool patio landscape or for people who yearn for a modest peaceful place to unwind while enjoying the surrounding.
The above image illustrates how this design, consisting of a bistro table and two chairs, can be attached to the pool area or separated by a narrow pathway. A firepit makes outdoor summer nights pleasant. Combining diverse materials like wood, stone, and metal, you may create a distinctive and eye-catching bistro patio design.
Metal bistro tables on light-colored stone surfaces or wooden furniture with metal detailing display the homeowner's personalized style. This design is also suitable for a large backyard. A garden area with colorful blooms, cacti, and compact shrubs, creates a pleasing pool patio design. Hang some trailing plants in appropriate spots can upgrade the view.
11. Pool Patio with Warmth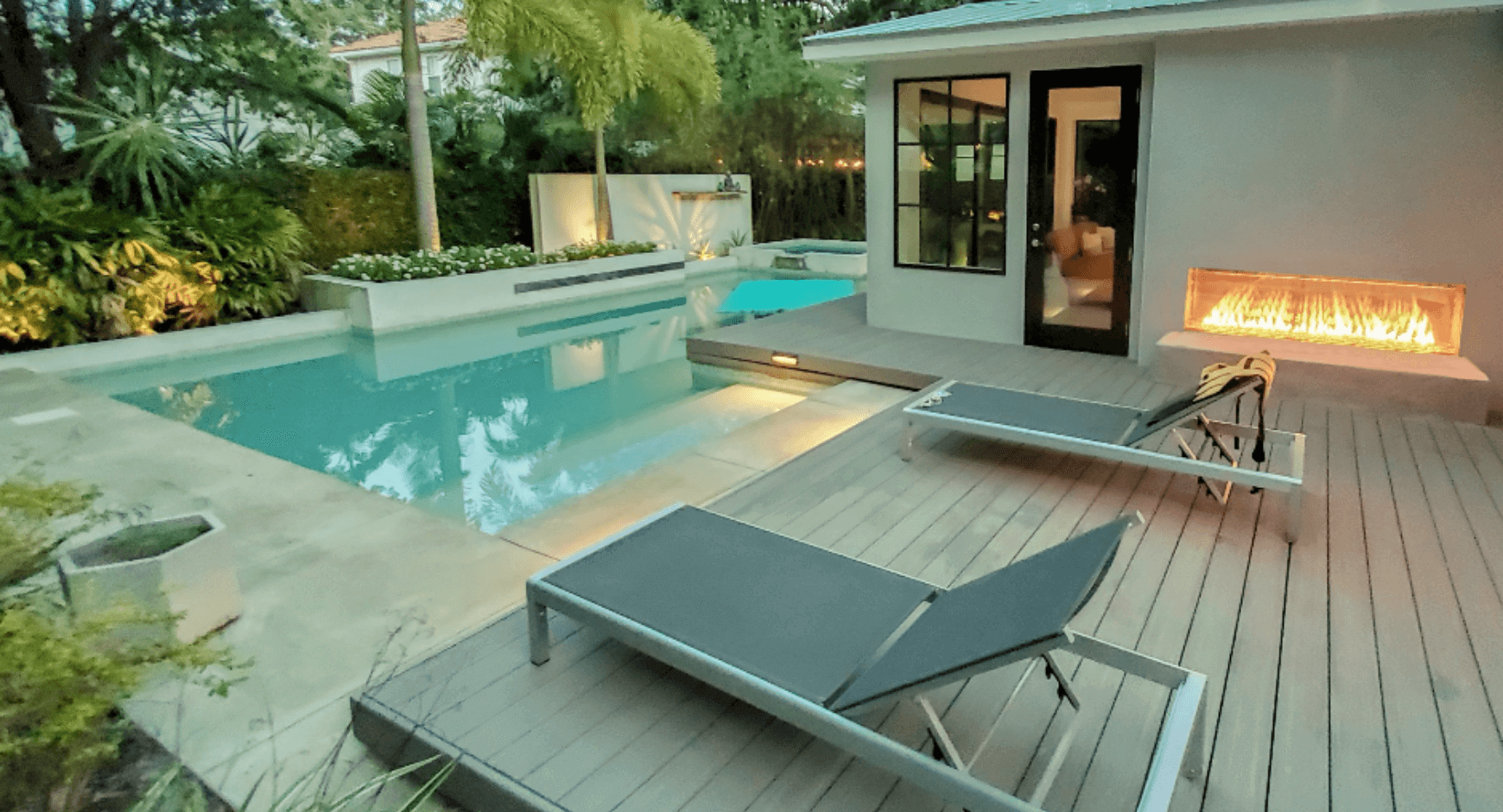 Many people wish to create the outer ambiance in their homes, but what about introducing the interior coziness of the dwellings to the exterior as well?
Think about adding a glowing fire pit or a cozy fireplace next to your pool so that you can enjoy swimming comfortably into the fall and winter. Enjoy the last summertime activities while staying warm before winterizing the pool.
This fire pit patio radiates a welcome vibe, the enclosing area where family and friends gather and enjoy their evenings and holidays together. The stone chamber of the fire pit is well-designed, while the top resembles a table. Surely, an impressive way to use the space.
The use of color deserves attention. A lively setup is created by the greyish-blue sofa cover and contrasting cushion, the blue-edged pool, and the cantilever umbrella. The back of the patio is covered in lush green vegetation for privacy.
12. Pool Patio with a Tropical Feel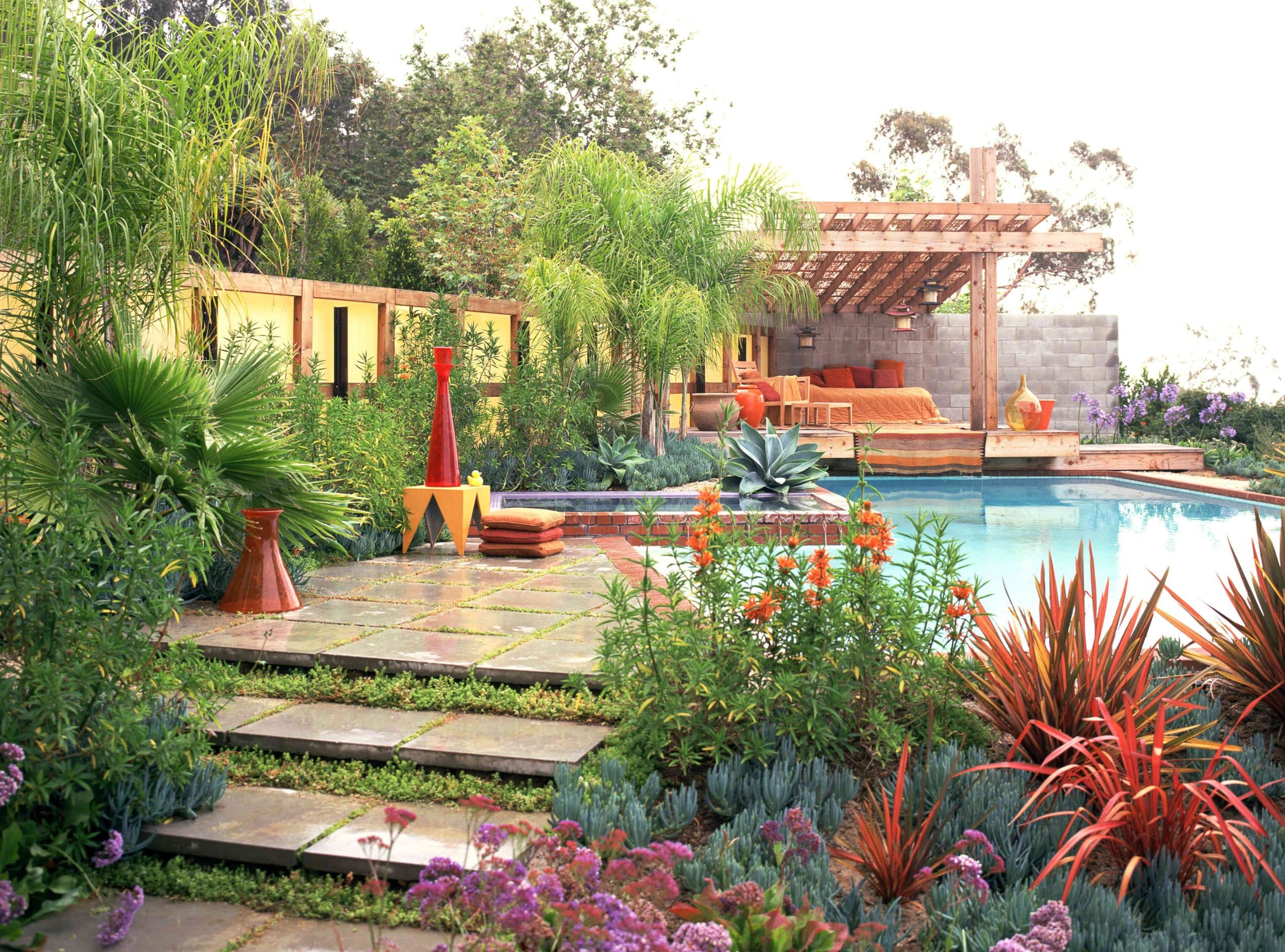 Don't let your perception deter you from incorporating a tropical theme into your outdoor space and swimming pool because all appear too extensive and costly to create a tropical pool patio in your yard.
If your swimming pool is small, planting a few tropical plants, bushes, and possibly creepy crawlies can turn even the smallest patio in a city space into an ethereal, private retreat. This idyllic and private retreat featuring a tiny poolside board, a few lounge chairs, and a warm fireplace is much more appropriate for the nights during warmer months!
Additionally, you may have a small figurine to uphold the tropical feel.
13. Pool Patio with a Fench Aura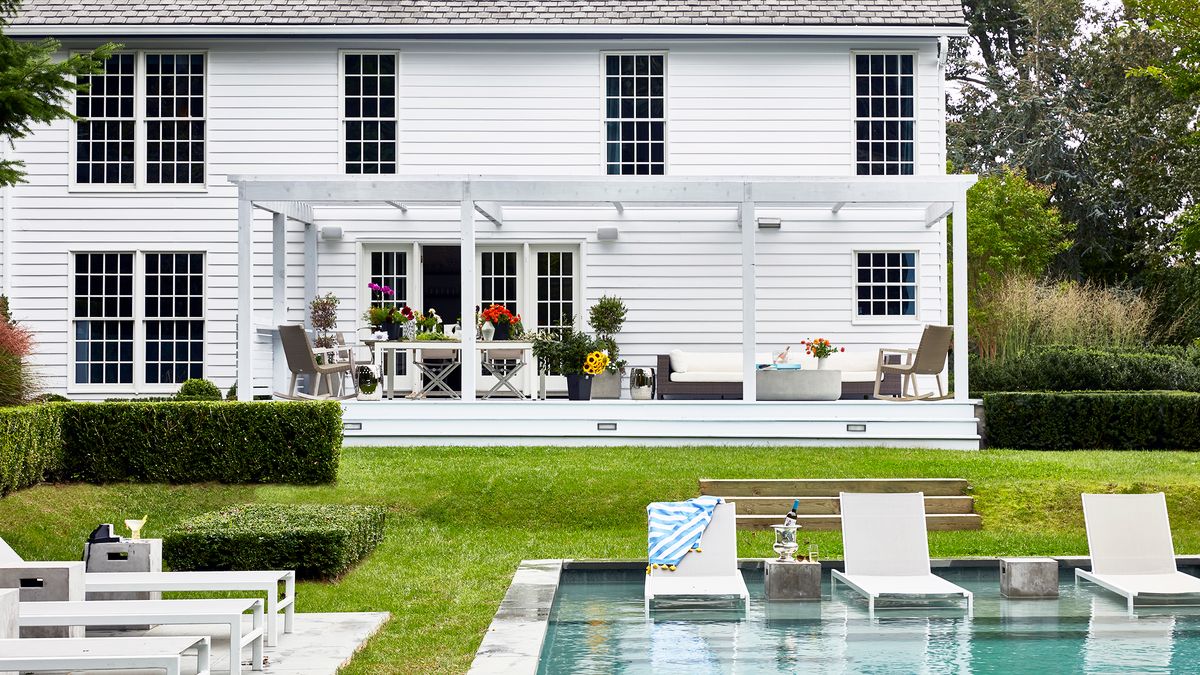 Have you ever thought of instilling a French aura in your pool patio? A French-style pool patio is known for its elegance and symmetrical patterns. You can design a geometric pool with straight edges and a rectangular form.
Moreover, select a cabana or build a small room adjacent to your pool patio to augment your dwelling style. A landscape with well-kept topiary and hedges will represent a French setup.
To add a soothing element, consider adding an ornamental fountain or other types of water feature. In French landscapes, sculptures or garden artwork are frequently placed close to outdoor seating so that people can enjoy them for an extended period.
14. Pool Patio with a Room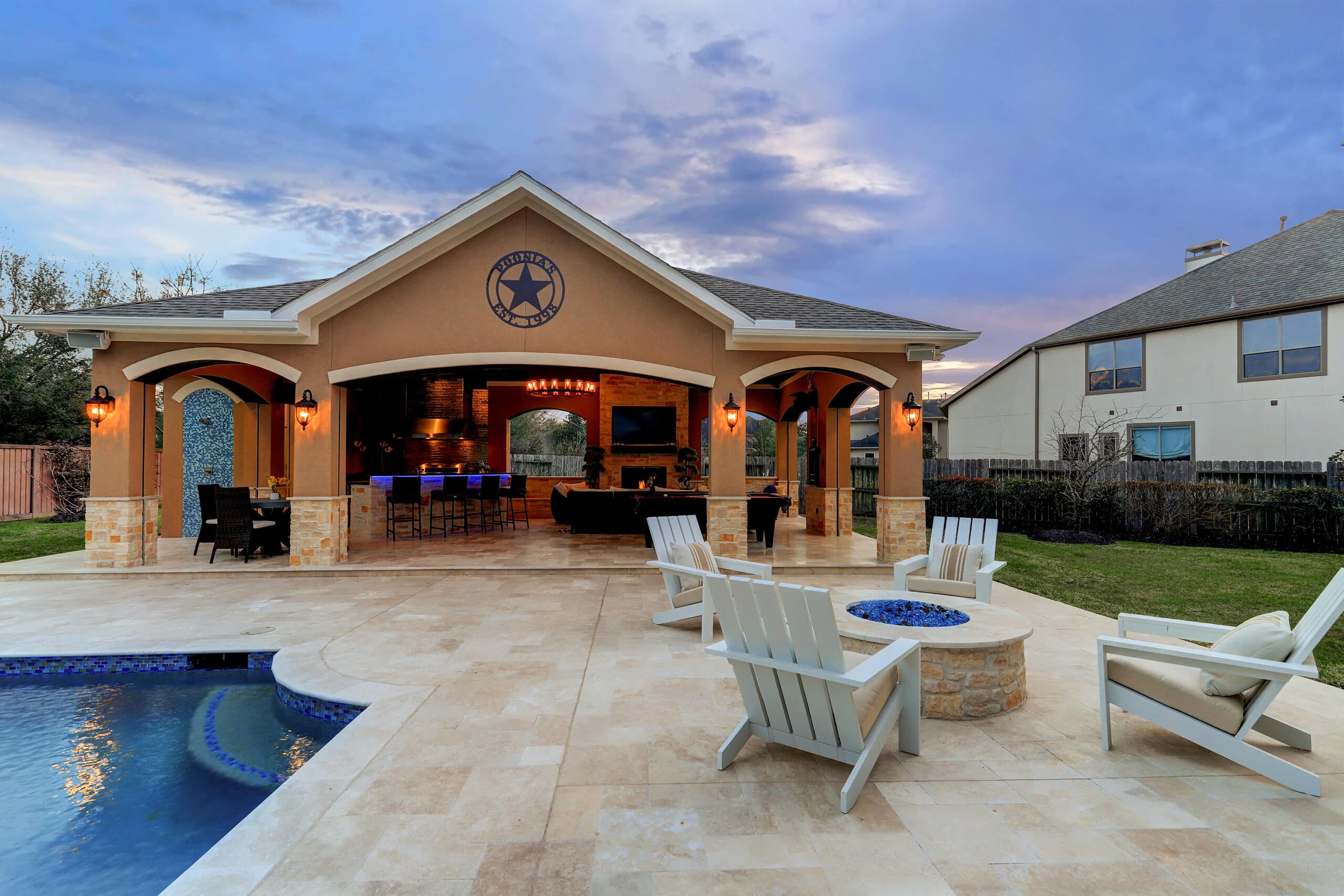 A pool house is an indoor setting by a pool, particularly one with conveniences for those who swim and to keep the unappealing pool apparatus. You can make it whatever you want, a spot for relaxing, a changing room, or keeping pool playthings.
You can select from numerous pool house designs. The pavilion-style pool house is a more prevalent choice. A post-and-roof structure with four or five sides looks terrific. Any feature you add, such as a fireplace, cooking area, bar, or television.
Another layout is a freestanding building with latticed siding and an attached wooden pergola that extends outward to create more patio space.
Conclusion
We hope that the post has transported you into a world of diverse creative pool patio ideas and designs. Every idea carries unique elements for creating a designer and personalized pool patio.
The coping design or French-styled pool patio will bring a classic touch to your pool patio. Your backyard with beach umbrellas by the poolside adds fun and frolic.
With kids, you can select slip-resistant flooring material and rattan seating arrangements. Enhance the appeal of the space with tropical plants and a tiki torch. Even you can blend different patterns to suit your home design.
Lastly, of the 14 designs for the home pool patio ideas and plans we suggest here, the tiki torch proves to be the most affordable choice.
So, what are your thoughts? Tell us in the comments section!