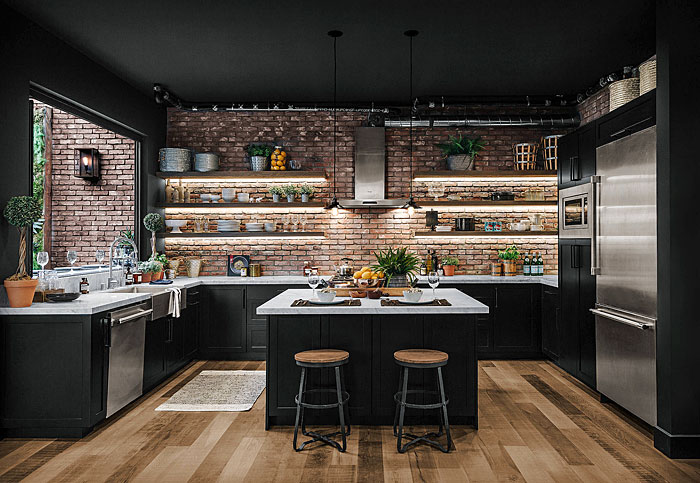 When it comes to kitchen designs, black color offers elegance and a mysterious vibe. Over the past few years, black paint has gained popularity as a kitchen color for its timeless appeal and ability to create a stunning visual impact. This blog will focus on a few inspirations of black kitchen designs while noting their features and benefits. Embrace the beauty of black, unleash your creativity, and join the journey of creating a kitchen that is inspired by an all-black background that creates a sense of space that is both useful and brilliant. From classic to modern design, we discuss 14 ideas that you can incorporate into your black kitchen to elevate its appeal.
1. Black Textured Marble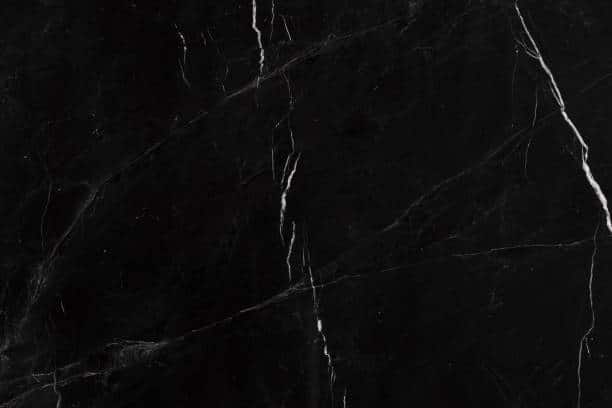 Black accented marble adds a sense of depth to the kitchen area; whether it has gold bolts or white-flecked designs, the black marble design creates a dramatic effect on your simple and modern kitchen.
This adds a touch of elegance and sophistication to your kitchen while keeping the black theme. A choice that adds visual interest and enhances prestige, making it a brilliant choice for an all-black-themed kitchen. While this may look simple, the textured design plays with light and shadow, making it a beautiful piece.
2. Black-on-Black Modern Design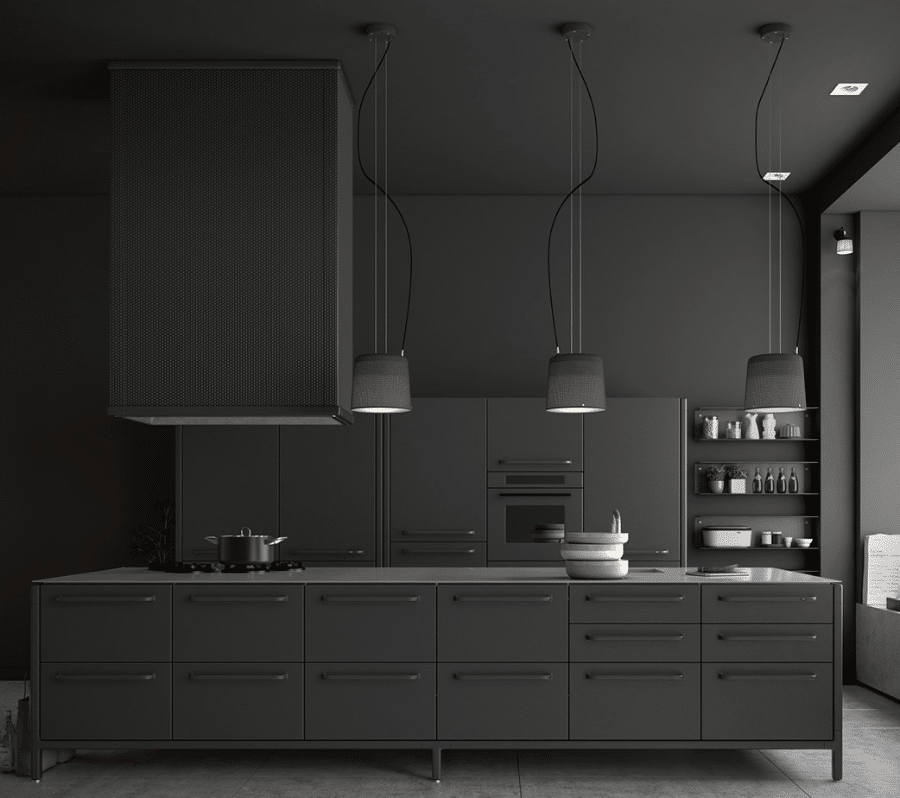 You can add various focal points to the kitchen while altering the design, lighting, texture, and material while enhancing the atmosphere. Contrasting designs can help balance the space for a stylish look.
3. Varying Finishes to The Kitchen Area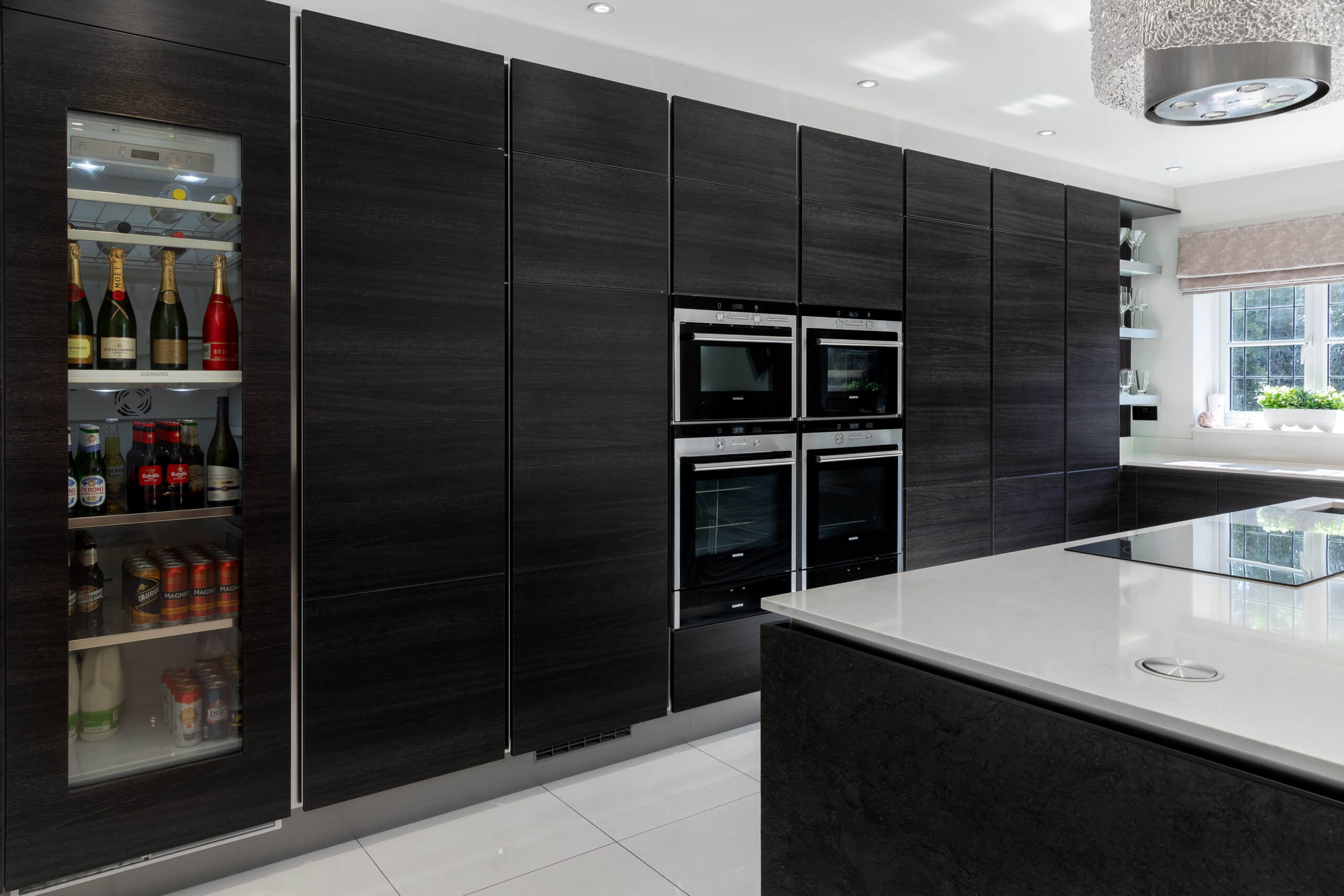 Black in itself may create a sense of luxury, but when paired with various textures and finishes, the appeal enhances. From black lacquer in satin or metallic to carbon oak, the variable accents give a unique look to the kitchen.

This is a powerful technique that can elevate the aesthetics of your kitchen. Add depth and dimensions to the kitchen by adjusting the material finishes that you have added to create multiple focal points.< Transform and harmonize the kitchen for a design that is both luxurious and visually appealing.
4. Brass or Gold Accents for Contrast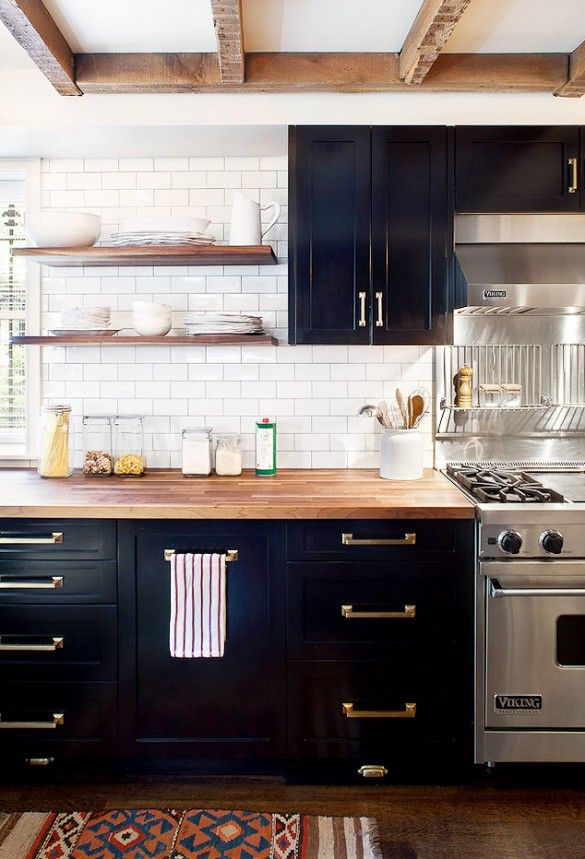 It is essential to look at contrasting hardware or accents to add a vintage appeal to your kitchen cabinets. Metallic finishes not only add sophistication but also create a luxurious vibe.

Accented cabinets, when paired with aged or brushed metallic detailing, enhance the look of an all-black kitchen. The mix of brass and gold hardware creates a vintage look. Whether it is fixtures or hardware, you can use the attachments to create a sense of luxury and harmony for a lasting impression.
5. Use of Textured Woods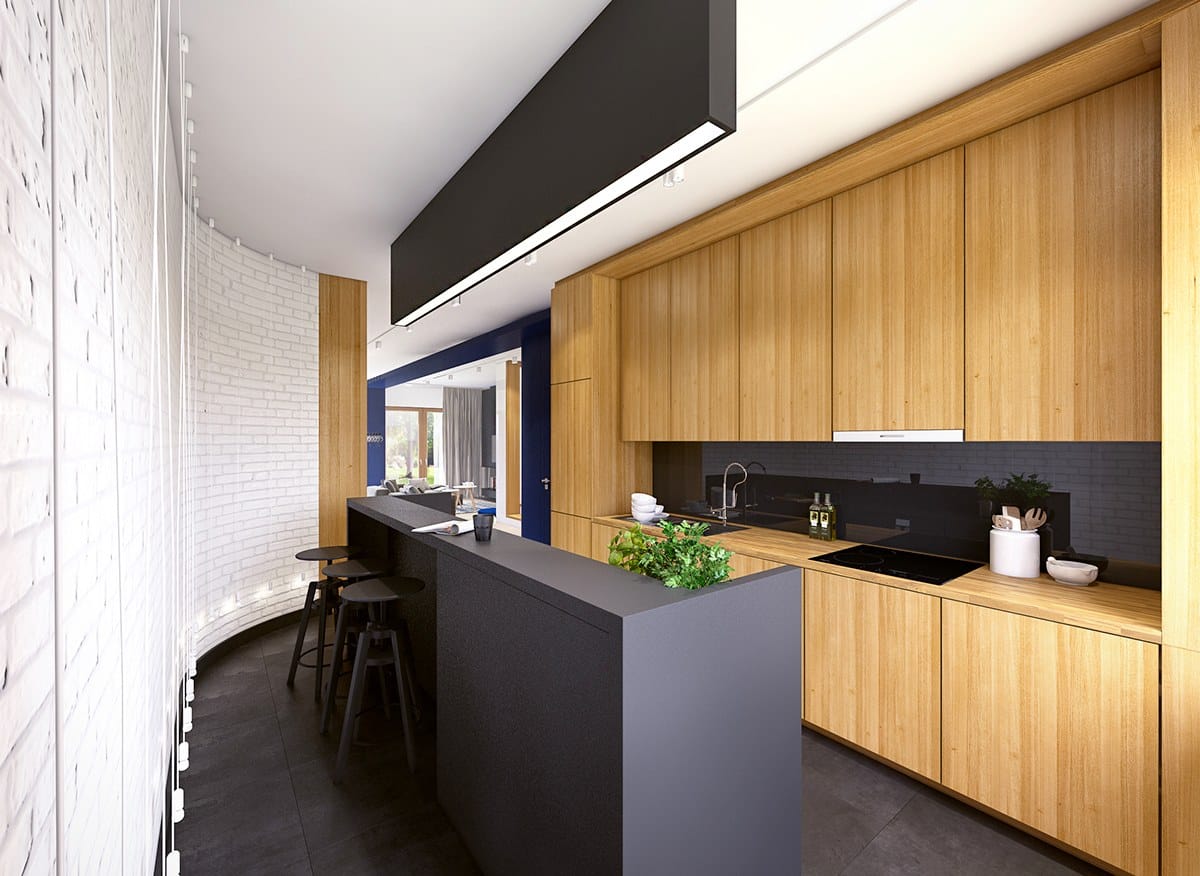 There are multiple textures that are available when you're choosing black wood. It creates a natural environment and looks much better than painted hardware in your kitchen. Solid ash or any available black wood creates a traditional environment and makes the kitchen look vintage.

Integrating textured wood in your kitchen enhances its overall look, adds a sense of warmth, and makes your kitchen look inviting. Balance the dark vibes of your kitchen by using various contrasting textures.
6. Monochrome Black and White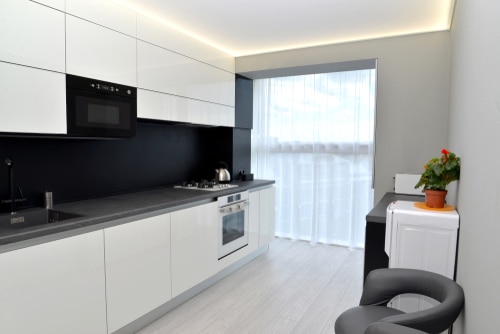 The color that best goes with black is white; one of the ideas that you can choose for your kitchen is going dual-tone with black and white while using different shades of the colors in itself. Either use black cabinets with white countertops or white cabinets with black tiles. The dual-tone design offers an open look even to small kitchens.

From choosing the right materials to choosing the right finishes, you have various options to mix and match the monochrome design of your kitchen. The contrasting design that is created through a monochrome kitchen looks timeless and elevates the aesthetics of your place while making the area functional.
7. Wooden Combinations for a Natural-Looking Kitchen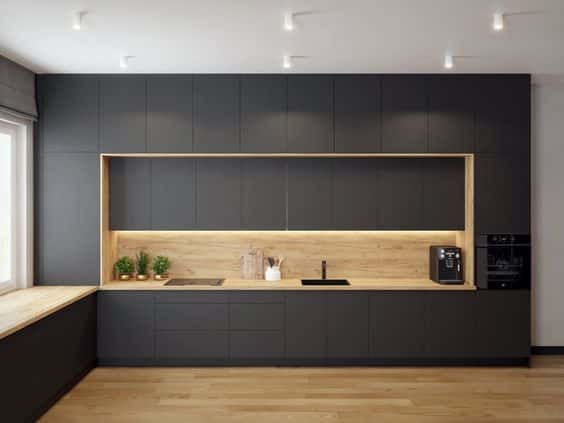 If you're not okay with metallic accents in the kitchen or can't find a naturally contrasting finish to the kitchen, you can consider pairing the blacks with a wooden base. Using wooden cabinets when paired with black countertops or backgrounds creates a sophisticated aura while adding warmth to the area.

You have endless choices to add wood to the kitchen, whether it is wooden cabinets, countertops, or even flooring. Finding the right balance of warmth and charm is the aim of your kitchen.
8. Using Vintage-Inspired Hardware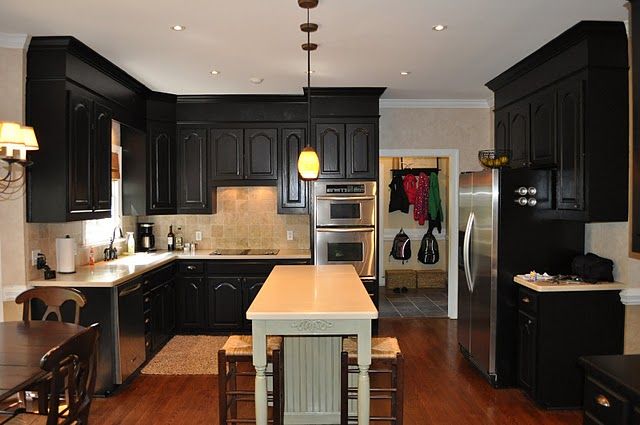 You can add a vintage clock as the main focal point for your kitchen. Rustic-looking white face clocks can add a more traditional look to the kitchen. Additionally, you can add hanging lamps inspired by the 50s to create a sophisticated vibe. Using vintage-inspired hardware adds a nostalgic charm to the kitchen.

The chosen hardware gives an authentic vintage and rustic vibe to the kitchen. Whether it is ornate or a simple design, you can choose the one that you like which also matches well with the backdrop of your kitchen.
9. Combining Black with Other Dark Colors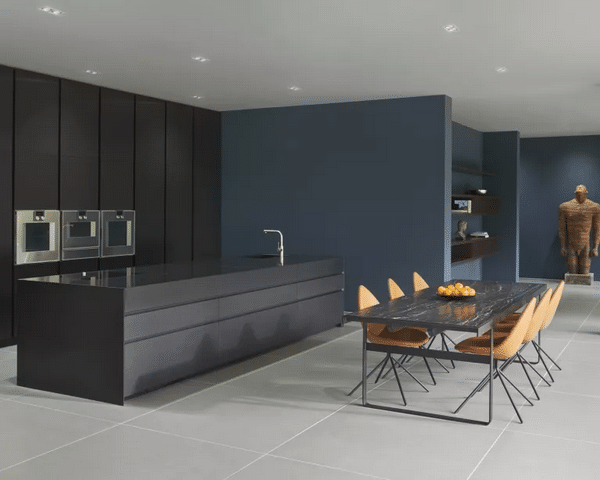 It is not that important or necessary to pair black with lighter colors. Pairing black with other darker colors makes them pop and creates a sophisticated atmosphere. Black acts as a neutral color when paired with dark accents. Combining black with other dark colors creates a sense of richness and depth while adding drama to your kitchen.

By managing the colors of your kitchen, you can make it look more appealing and fine. The combination lets you showcase your design and adapts to your desired atmosphere.
10. Black Appliances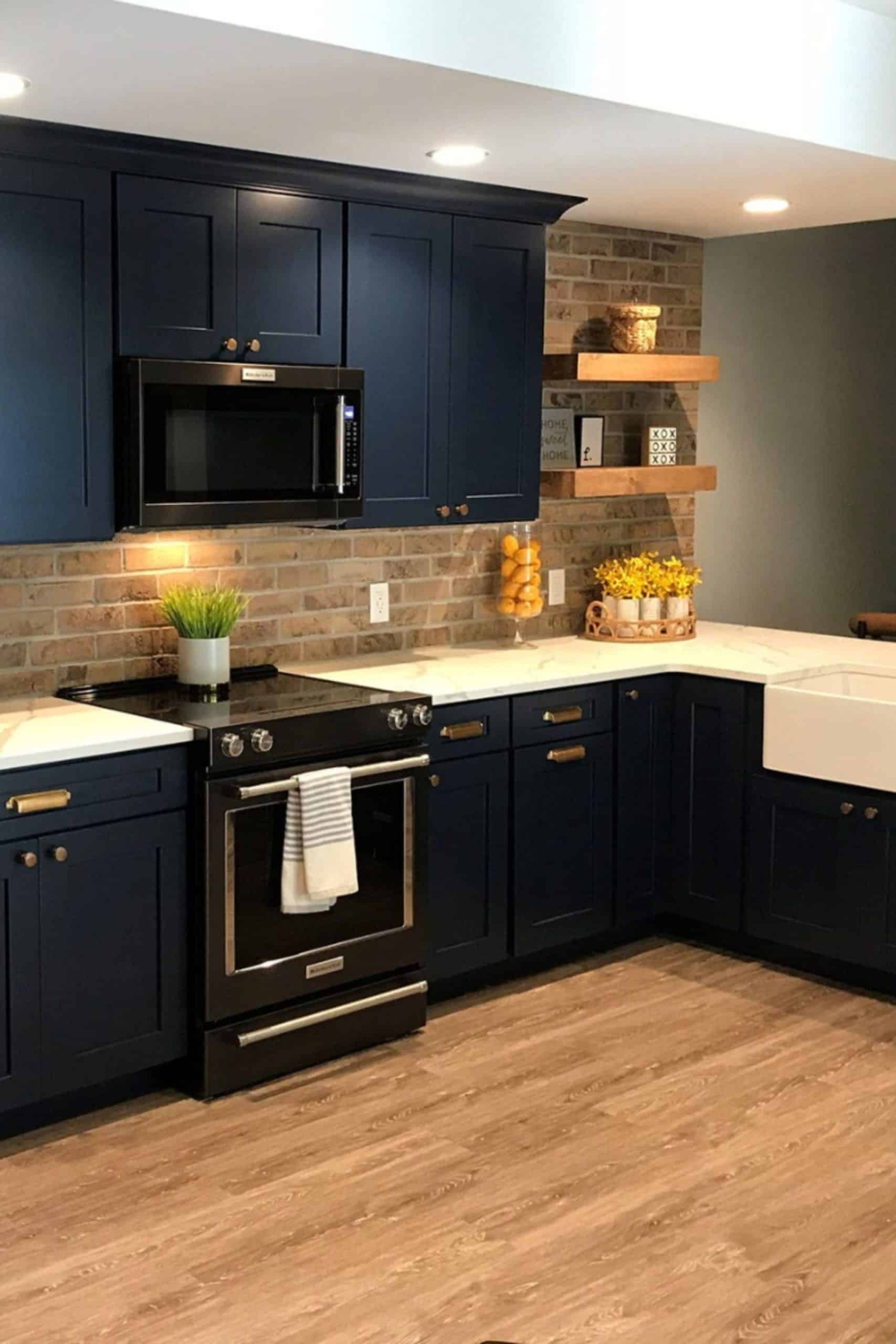 In addition to the cabinets, paints, and worktops, the appliances add a striking look to the kitchen. Color coordination between the surroundings and appliances gives a pleasant texture to the already simple kitchen.

Seamless integration of the black appliances creates a focal point that blends harmoniously with other elements of your kitchen. These can also be paired with contrasting or lighter color cabinets and surrounding items. To enhance the sophistication of your kitchen, It is important to consider the color scheme and balance while using such appliances.
11. Add Drama with Metallic Detailing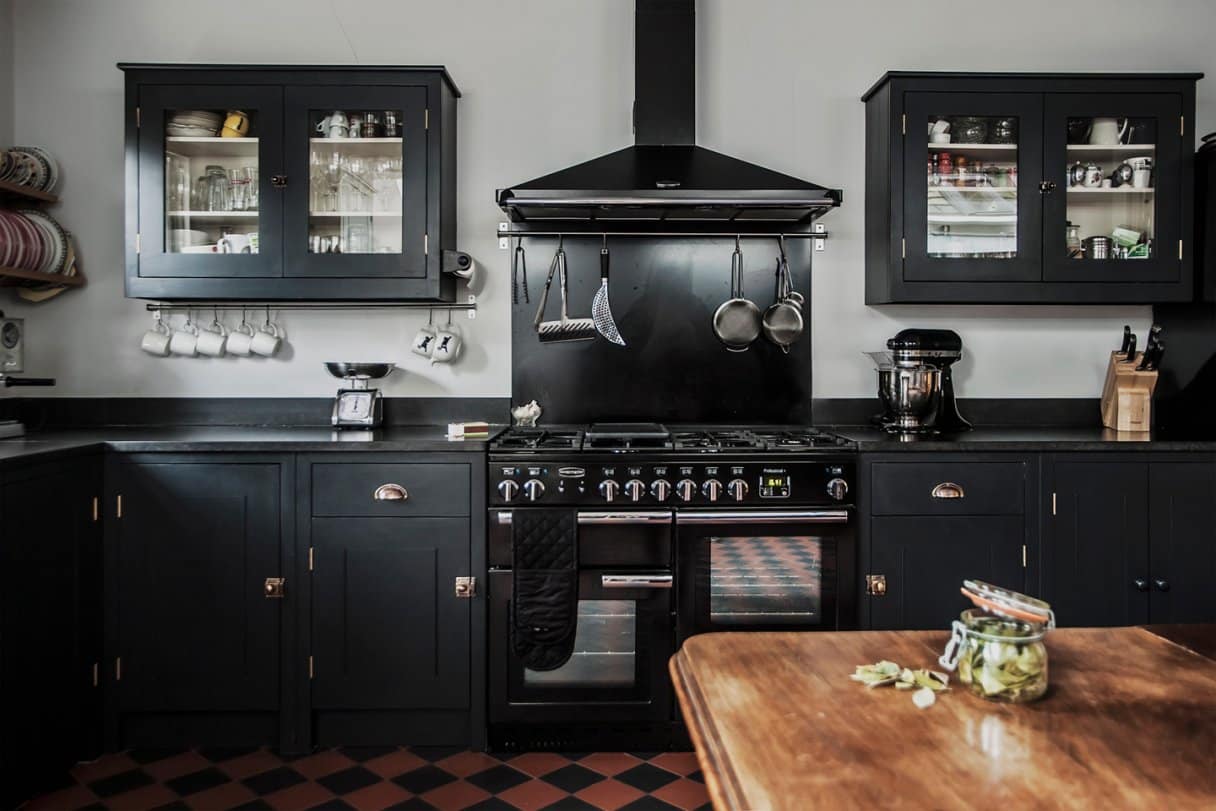 Metallic details add drama and appeal to your kitchen. When paired with black and other dark colors, metallic accents pop, making even a small kitchen look bigger.

While it does add drama to the kitchen, it is also important to balance out the details so that the ambiance is not overpowered by just the detailing. Contrasting bold and vibrant colors enhance the overall look of the kitchen. Metallic detailing enhances usability while adding points of interest in the kitchen.
12. Seamless Furniture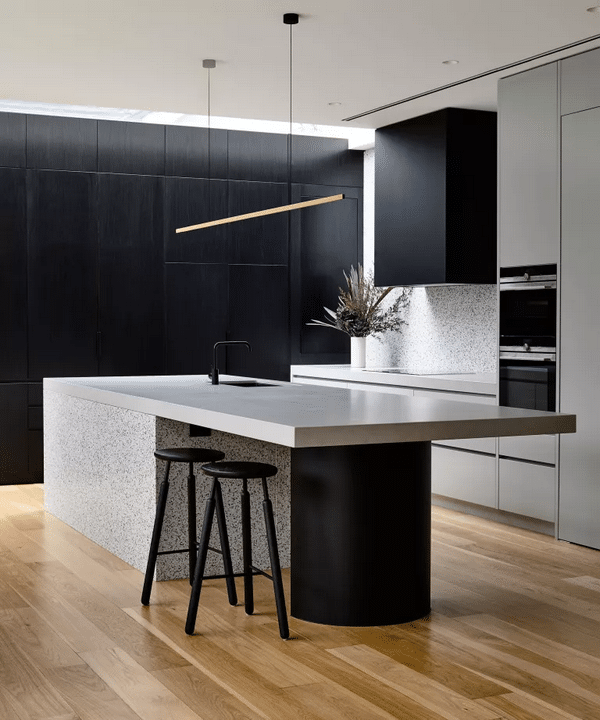 Adding seamless countertops in addition to cabinets makes the kitchen look bigger than it actually is. Creating a seamless centerpiece paired with a skylight creates a stunning impact.

Pairing the contrasting furniture creates a dramatic effect, but in addition, we should also include cabinets that complement the seamless design of your kitchen. These create a contemporary aesthetic while being functional. Harmony and impact can be achieved by playing with the lighting.
13. Airy and Open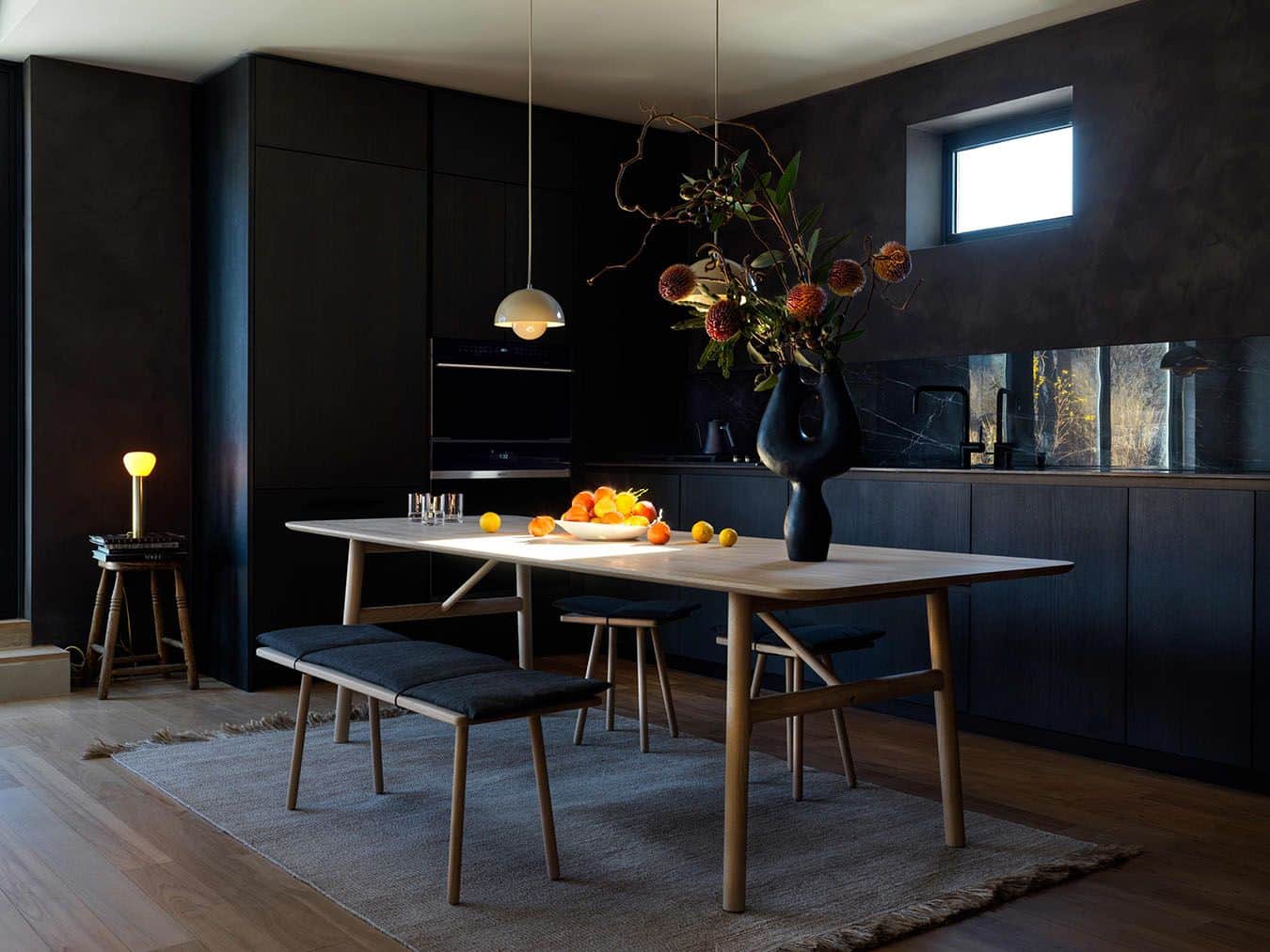 With an open floor plan where there's plenty of natural light for your kitchen in addition to the existing lighting that makes the kitchen look bigger. Black elements, such as countertops and cabinets with white walls, add to its sophistication. It is crucial to find the balance between the dark and light elements that creates a harmonious composition.

Lighting is an important aspect that allows you to play with the shadows making it visually appealing. Glass cabinet doors add depth and dimension to the room.
14. Artistic Finish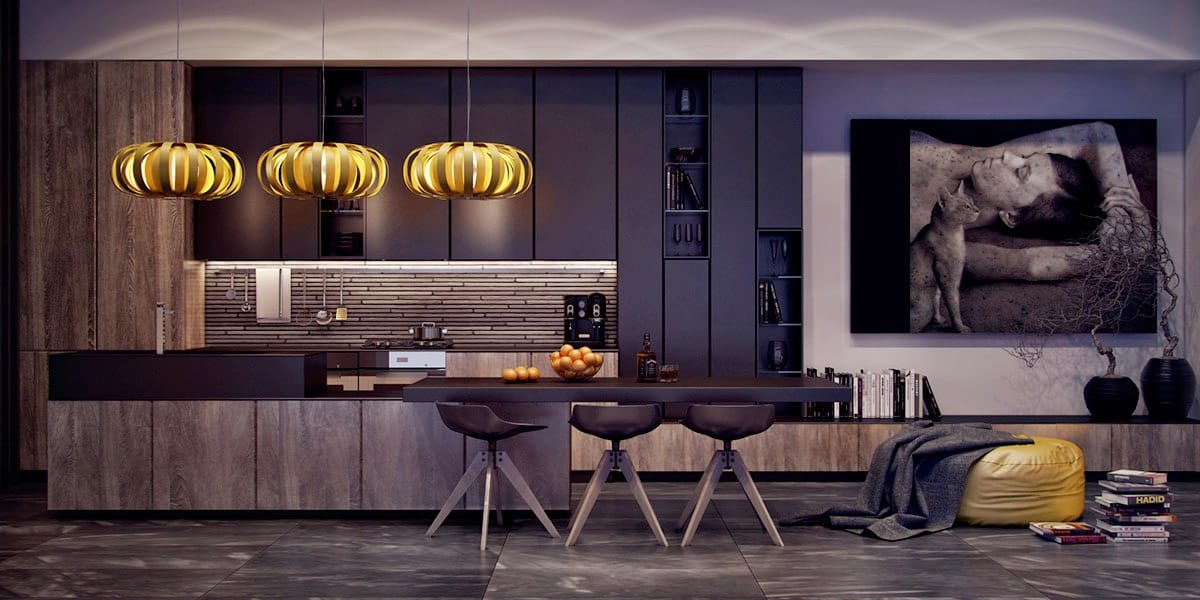 Vibrant tiles and open shelves paired with colorful pottery give a creative appeal to the kitchen. When everything is put together, it provides a look to your kitchen that matches your artistic vibe.

A textured wall or a painted mural allows you to showcase the kitchen like you want it. It displays a piece of you while seamlessly integrating itself with the black kitchen. Create a playful atmosphere and express your creativity by using abstract designs that reflect your personal style.
The Power of Black in Kitchen Designs
Incorporating black into your kitchen can offer an aesthetic vibe to the area, as it is associated with luxury and refinement.Black adds depth and drama to any space, providing a unique visual statement. It can blend seamlessly into multiple design styles, from traditional to modern. Black can be used as the primary color or as an effect on the kitchen design.
1. Impact of Black Cabinets: Blend of Style and Boldness
Black offers a modern and sophisticated look to your kitchen. Paired with the same or contrasting colored countertop material like marble or quartz, the cabinets provide a stunning visual appeal to the area. Combined with metallic accents and hardware, the cabinetry offers a stunning look to your kitchen. For a small kitchen, black kitchen cabinets create all the difference.

Black cabinets serve as the anchor of these designs, where it provides a sleek and striking backdrop. Whether it is in a gloss or metallic finish, black cabinets increase the aesthetics of the kitchen while creating a bold statement. The unmatched depth and contrast to the composition of the kitchen area where you can focus on the other elements present as well.
2. Countertops and Tiles: Contrasting Depth
You can choose black countertops, plain or textured, to add a striking twist to your kitchen area. Black granite or quartz creates a polished surface complementing the surrounding area. Reflective surfaces for various designs provide a sense of depth in the kitchen. Mosaic-style tiles add drama and offer a focal point within your kitchen. Pairing the same with contrasting or accented cabinetry creates a soothing appeal.

Black countertops enhance the impacts that a black kitchen creates. They offer the illusion of depth and dimension, which creates a sophisticated visual effect. Black countertops create a stylish surface that contrasts with the cabinets no matter what their colors are. You have a variety of materials to choose from granite, quartz, or marble.
3. Lighting for a Black Kitchen: Illuminating the Blacks
Lighting is one of the most important aspects of a black kitchen. The pendant or recessed lighting gives a sense of depth and can highlight a particular area. Gold and copper contrast well when paired with a black background creating a sense of warmth. Metallic accents from faucets or other hardware add to the aesthetic look of your kitchen.
4. Matching Black with Other Colors: Achieving Harmony
While we are focusing on black as our main color since we are discussing black kitchens, other colors help harmonize and balance the vibe. Natural lighter shades like gray, white, and beige can soften the powerful blacks in the kitchen for a more easygoing atmosphere. Create a twist of your own by using accessories of contrasting colors, red, yellow, or blue, to enhance the ambiance of the kitchen. The point to note is not to overdo it and maintain the balance.
5. Black Backsplashes and Accents: Hiding in Plain Sight
Add a modern twist and drama to your kitchen while creating a bold atmosphere with black backsplashes. These will be the complementary element that enhances the look of your kitchen. You can consider the backsplashes and black accents as a beauty enhancer for the appliances and countertops. In addition to being aesthetically pleasing, these are easy to maintain as well, hiding the dirt and grime better than the lighter colors. Using designs such as subway tiles or detailed designs makes all the difference while being a point of focus in your kitchen.
Conclusion
We hope that our ideas were able to inspire you to elevate the look of your kitchen. After all, black kitchen designs are a striking choice for people who want a sophisticated kitchen that creates an elegant atmosphere. The drama that gets added to the kitchen is unmatched. The allure of black lies in its charm and ability to create a brilliant and striking impact.

This also makes it the focal point that captures the attention and offers a long-lasting impression. From classic to modern designs, black kitchens have endless possibilities and inspiration. Get your thinking cap on and transform your kitchen into a masterpiece. Even if you have a small kitchen, black kitchen cabinets create a sense of depth that makes it look bigger.

Have any black-kitchen ideas to share? Please comment below and let us know!