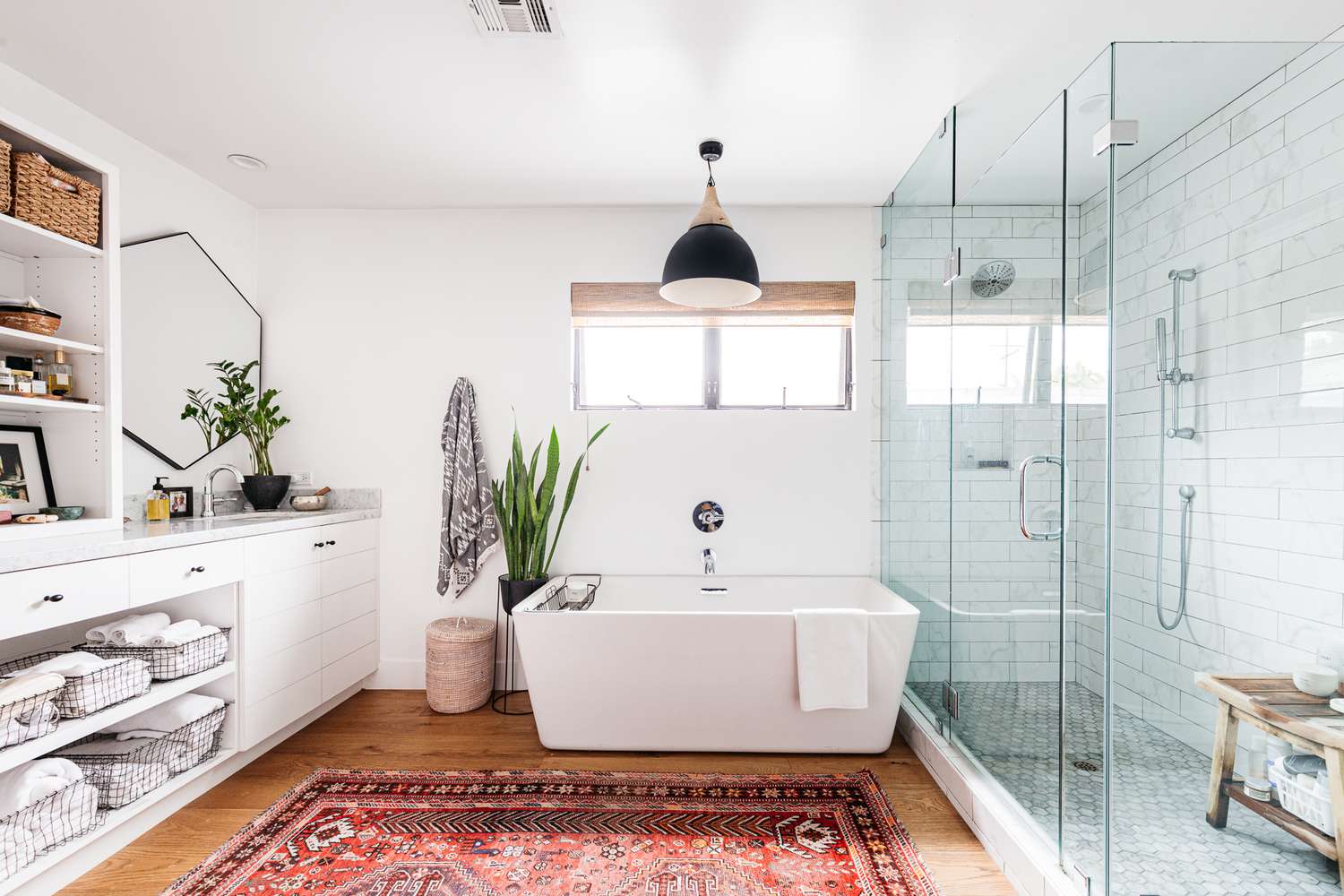 The Doorless Walk-in Showers trend has taken the landscape of home decor ideas by storm. Unlike the conventional classic shower, this has multipurpose utility, including aesthetics and practical aspects. It is designed in a manner that helps in keeping the space visually open, ultimately allowing plenty of light inside the shower area.
The best part about the walk-in showers is that they can fit in absolutely anywhere. You can transform your shabby bathroom into an uber-chic element with extremely minimal effort. Another significant element of the walk-in shower is that it can be framed into any design possible. If you are planning for a similar sort of design for your bathroom, then this is the time. Here we have collated a list of 20 different stylish doorless walk-in shower ideas that will add an element of luxury to your bathroom.
Super Sumptuous Doorless Walk-In Shower Ideas
1. Colorful Mosaic Tile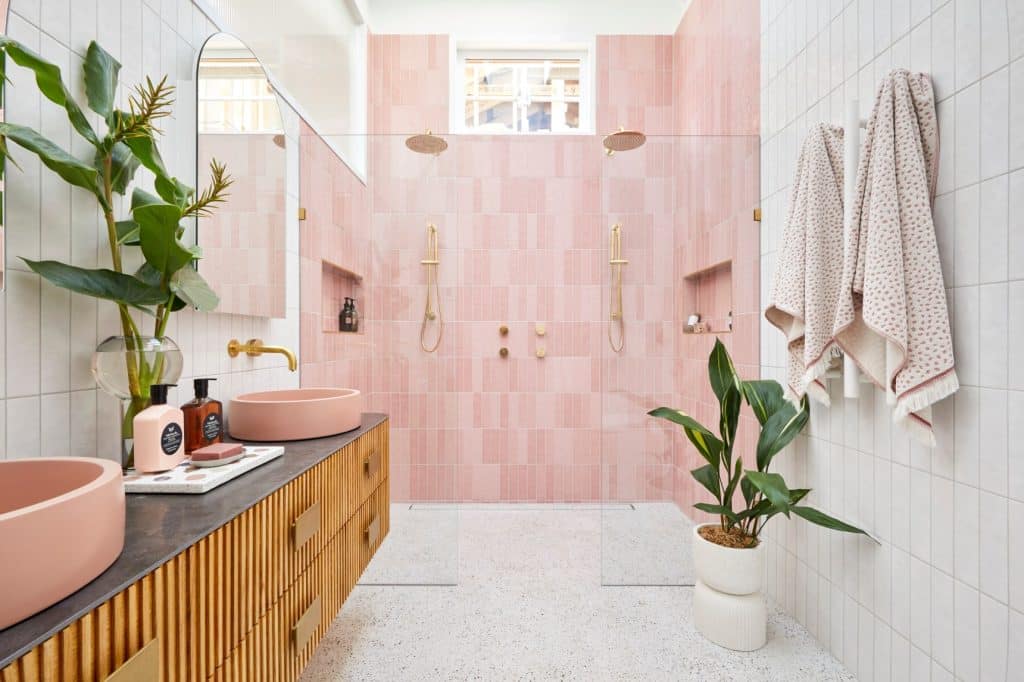 Colorful Mosaic Tile infuses life into your doorless walk-in shower idea. How well an idea can be executed associated with the theme is depicted in the image above. This kind of setup sets a perfect note of classic doorless shower ideas at an extremely fair price. It must be taken care of how you want your bathroom to appear behind the transparent screen. The mosaic tile can be fixed in any way possible, either vertically or horizontally, so the pieces appear in an up-and-down fashion, enhancing the visual pleasure of it.
2. Marble Shower with The Bench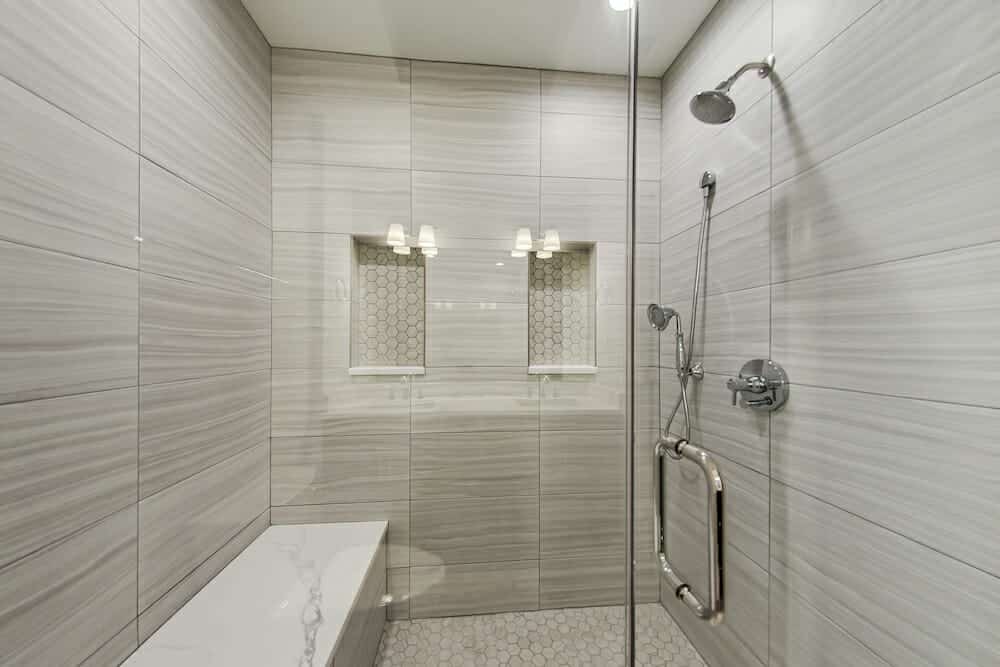 The marble tile inside your walk-in shower adds a graceful touch to your bathroom. The usage of a comparatively larger tile has got extremely fewer grout lines, which mitigates its exposure to dirt and ultimately minimizes the cleaning effort. The flooring, in this case, has been done carefully in a manner adding the underfoot texture that helps in the prevention of slipping.
3. Luminous Private Walk-In Shower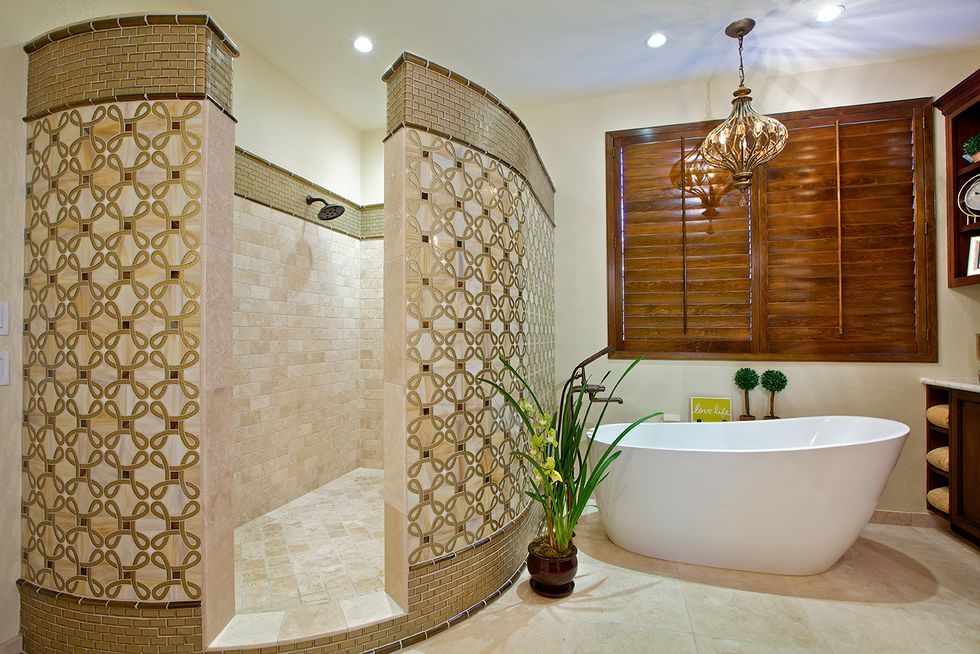 If you are looking for more privacy in your uber-chic walk-in shower, then this is the perfect idea for you. The theme solely lies in your description, whether you wish to have this arrangement on the lighter or a bit darker side. The private cabin inside your bathroom can be constructed with any material possible in any random style. However, it must be noted that the construction should be ideally done keeping the maximum utilization of space in mind.
4. Multiple Spray Head Walk-In Shower
A uniquely designed walk-in shower that ensures utmost relaxation, the classic dark-themed tile design makes the arrangement more timeless. The Golden fittings attached alongside is perfectly complementing each other, putting your design perfectly in order. Lighting tasks also need to be perfectly done in order to get the best out of the final design. Although the Multiple spray-head showers can take up a lot of water and require a complicated job of plumbing. So, it is essential to ensure that plumbing and fitting work is precisely done to provide your bathroom with the best possible outlook.
5. Vault Style Shower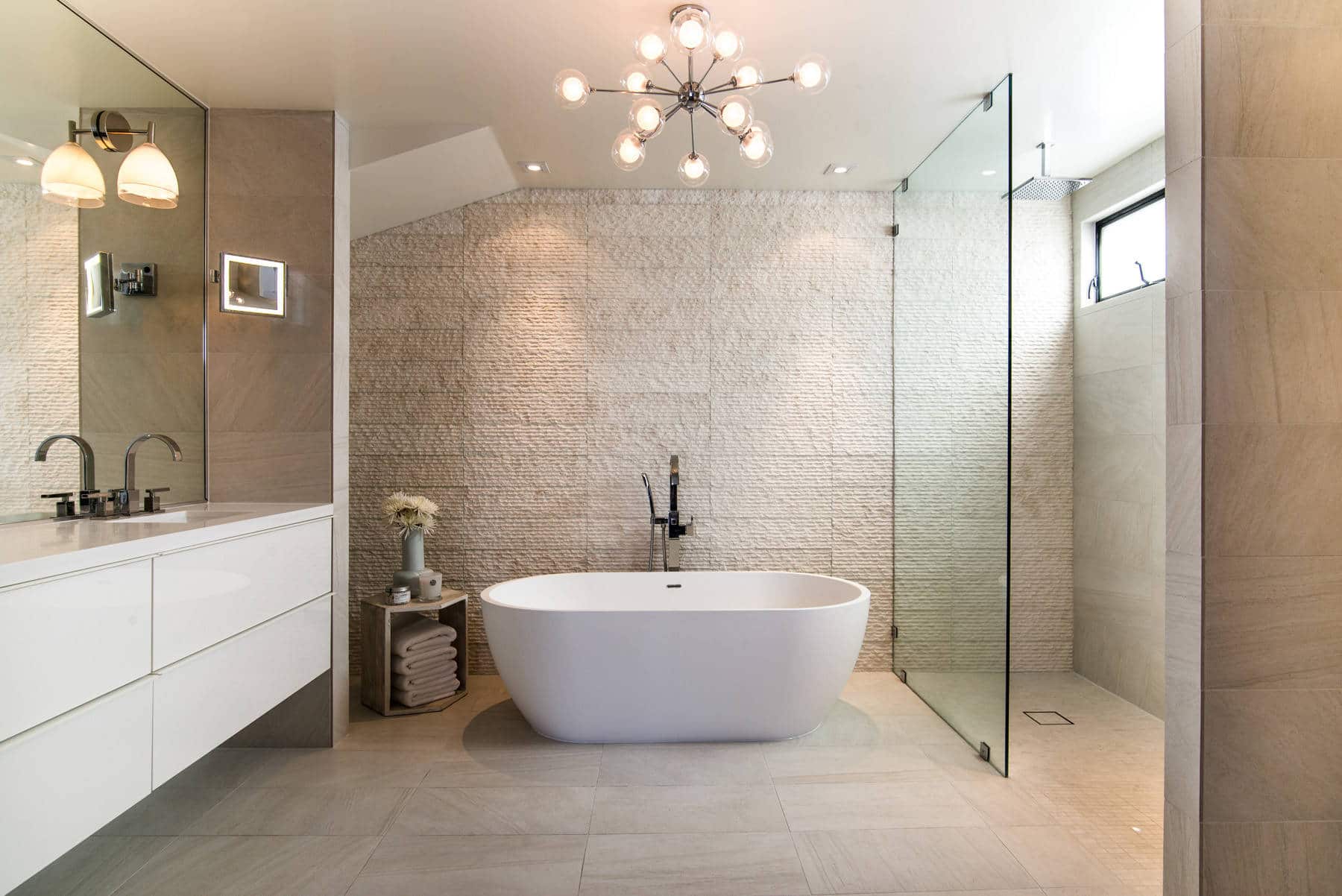 If space and budget are not a constraint for you, this luxury piece design is a perfect suit for your bathroom. The vault-styled arrangement comes with a drop-in tub, besides being rounded towards one end of the room. The tiling work is also perfectly in sync, which brings the best in this luxurious walk-in shower idea. You can customize the space in any manner possible, especially when you are enabled with the liberty of space.
6. Small Space Doorless Shower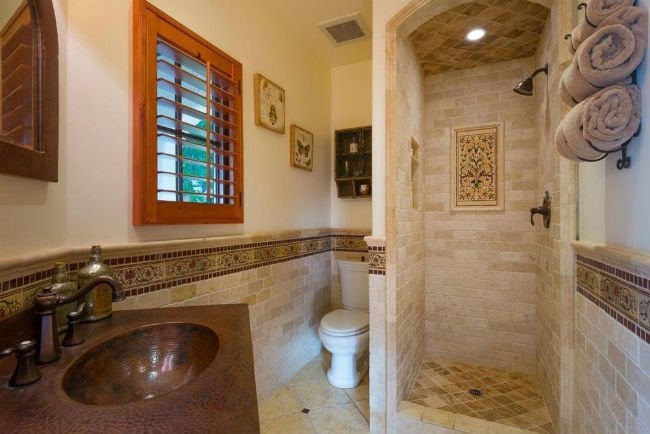 Space constraints are now the elements of the past that barred people from extending luxurious touches to their interiors. This walk-in shower gives the perfect example of such an arrangement. The key aspect of this design is centered around the key idea of making the proper utilization of the space<. In the walk-in shower above, the tiling and lighting are perfectly in order complementing the detailing of each other, giving the best look possible.
7. Glass Block Walls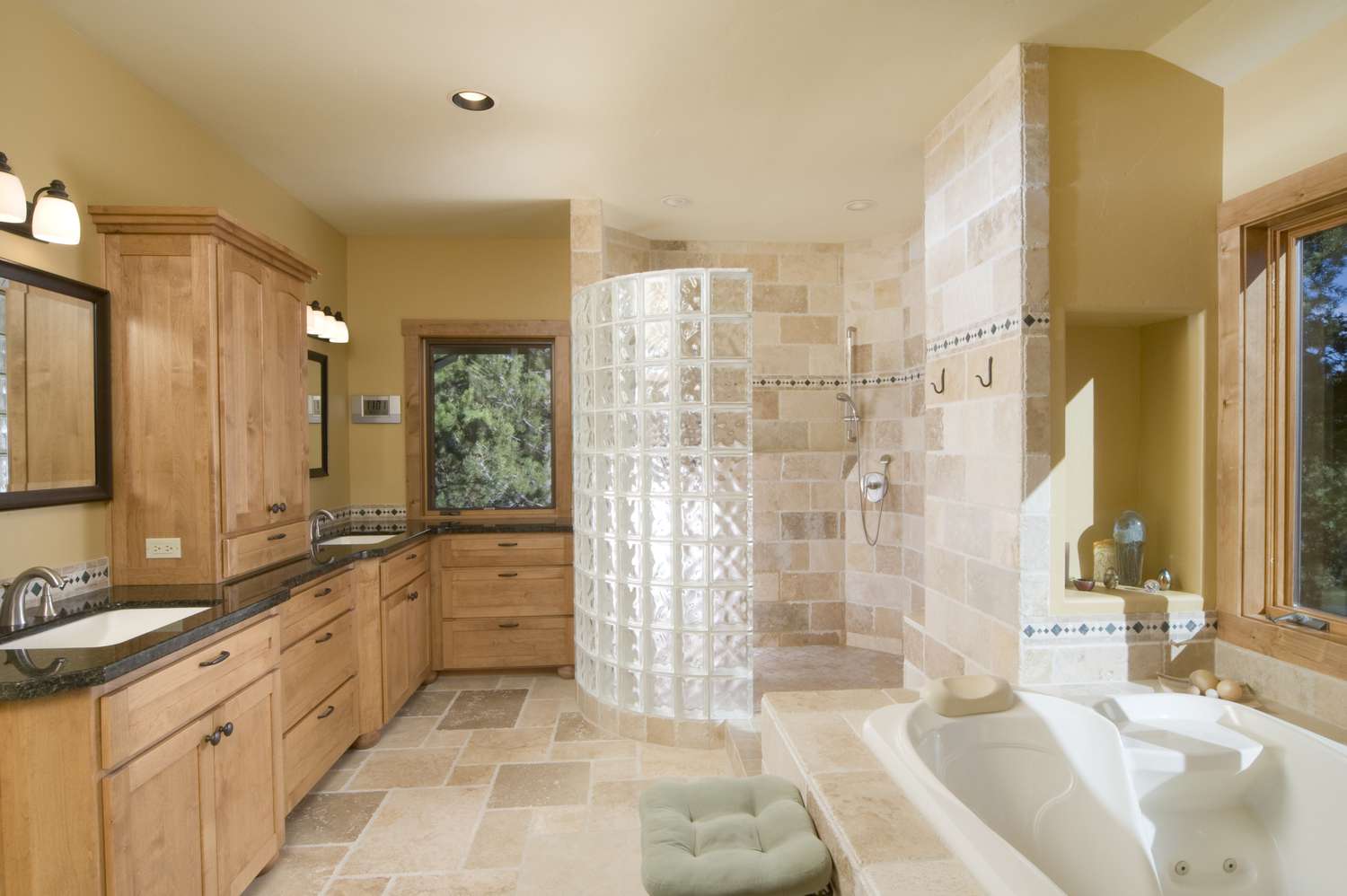 Glass Blocks are an element dating back to the late 70s and early 80s. However, this art is making a return with a much finer aesthetic touch. Glass blocks sync in perfectly in this walk-in arrangement and can be adjusted in possibly any design and manner possible. The foggy element gifts the perfect space of privacy as well. Depending upon the element and material of the glass, the cost does vary.
8. Glass Tile Walk-in Shower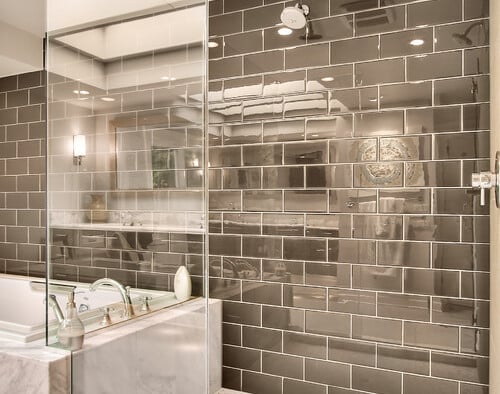 Another element of glass in the chart to provide a delightful touch to your bathrooms is by bringing the glossy touch of these glass tiles. This can even be well-equipped in a bathroom where space is much limited. This is a good option as it provides plenty of light. However, the glass tiles are a bit harder to maintain as they require continuous polishing to maintain their gleam and avoid water spots or unwanted mineral deposits.
9. Craftsman-Style Shower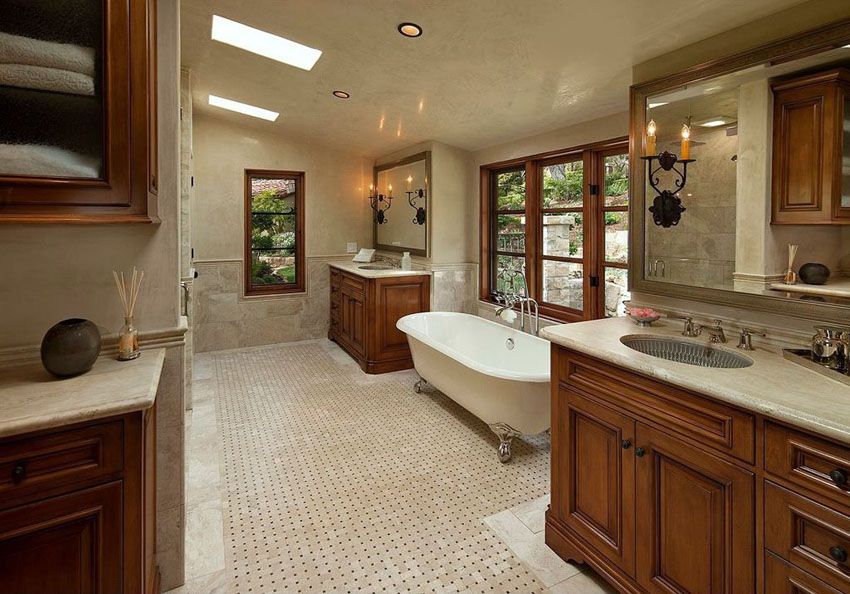 The perfect resemblance of the craftsman style of art with the contemporary touch. It is as classic as it is beautiful. The beauty gets amplified with a much bigger space. This craft's main aspect is the arrangement essential for upholding its beauty. A larger window pane with the usage of natural wood for the furniture sets the tone in perfect order. It is crucial to take care of the lighting part as well.
10. Doorless Walk-In Shower with a Natural View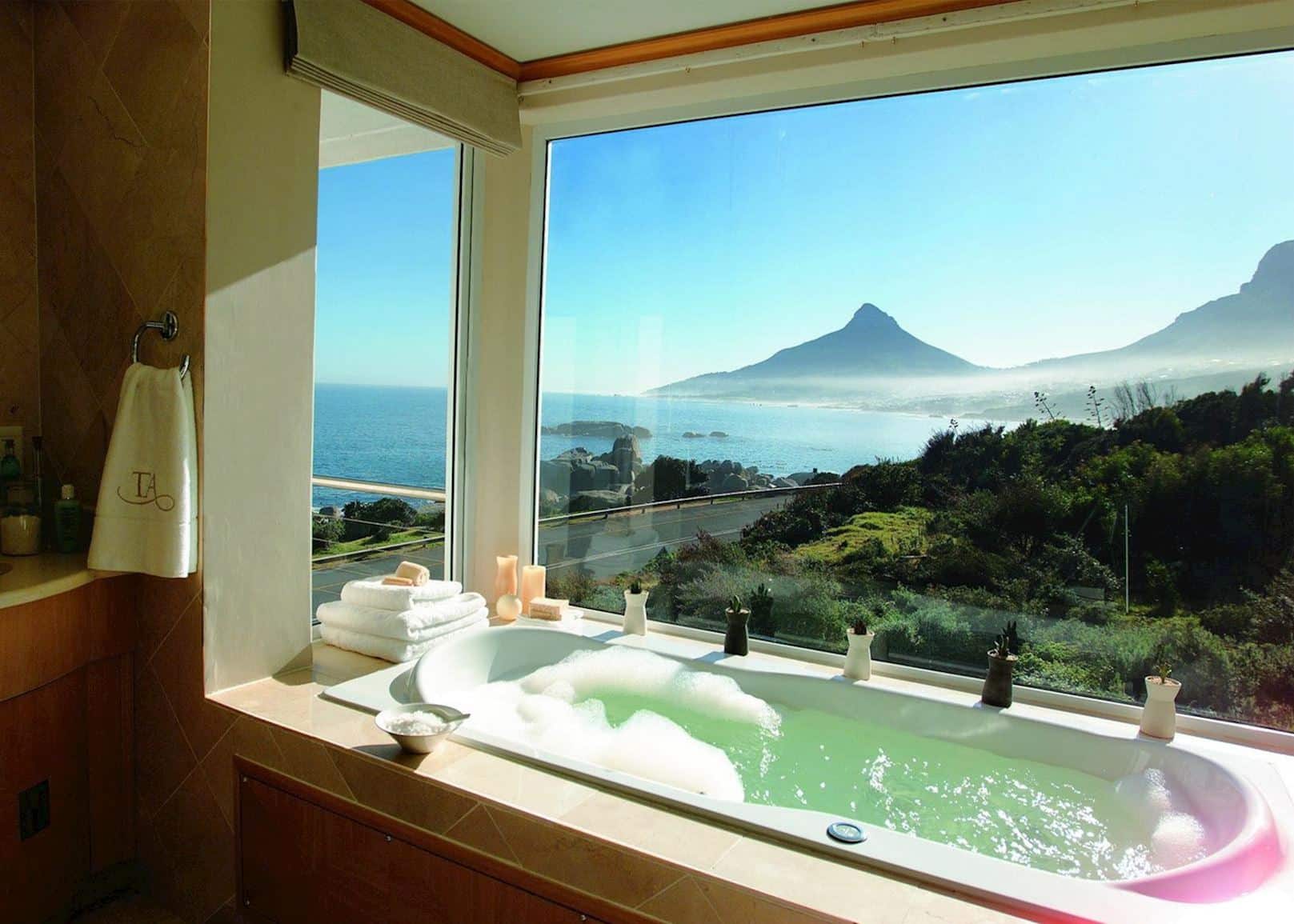 Although not possible for all kinds of arrangments or positioning if you are blessed to have a hilltop or hill-view from your home, this kind of arrangement for your walk-in shower has to be out there. Any form of interior based on the availability of space and the budget can go with it, given the main concern is on the natural view and not the material of flooring or the elements contained.
11. Faux Bamboo Tile Shower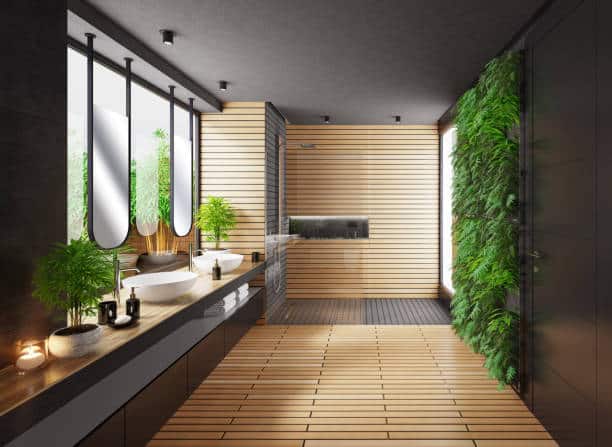 A lot of things can be promoted when trying anything special for your house. Apart from the conventional ceramic tiling and use of woods, a much more natural and creative faux bamboo tile can be used to provide a more pleasant touch for your walk-in shower. Featuring thick stems and joining nodes, the tile caters to a decent decorative settlement and provides the beauty of the perennial bamboo plant in a fine space.
12. Grid Wall Doorless Shower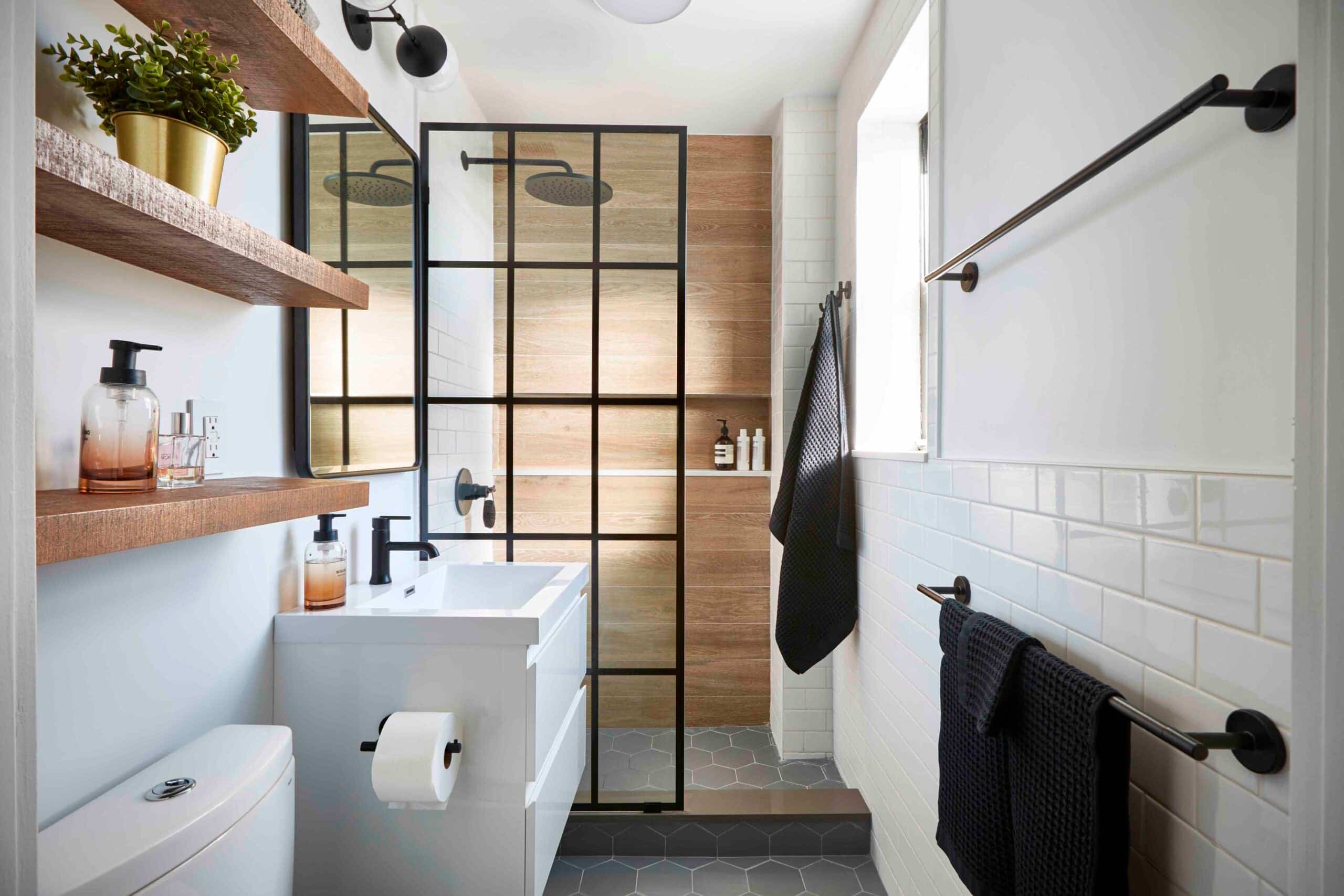 It is not necessary for the doorless shower to be completely enclosed. The incorporation of black grid design walls adds an aesthetic pleasure element of architectural beauty that completes the look besides complementing the interior. A clear glass door, besides adding a delightful touch to the bathroom, keeps the open feel of the shower perfectly intact. The best part is it can complement any form of tiling theme.However, classic Black and white tiling is always preferred for this arrangement on any given day.
13. Doorless Walk-In Shower for Couples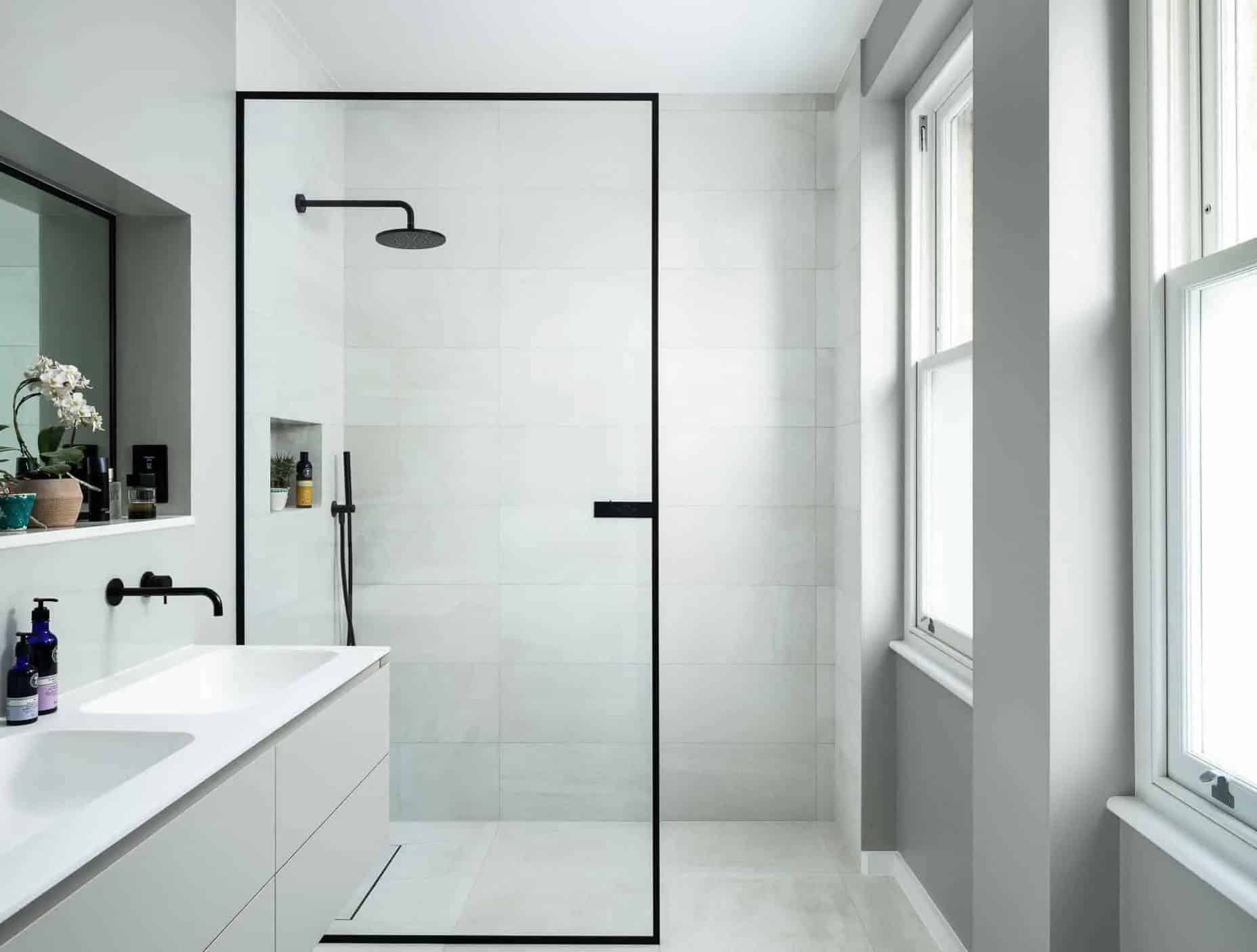 Construction of an intimate tile shower space with a contemporary design and all the modern aesthetics is completely viable with this option. The couple's shower space stretches out to the length of an entire room and provides enough space for the couple at a time.
A lot can be done with the available space inside; in place of keeping the areas unused, it can be used to construct a tub, wardrobe, or any element of utility in your bathroom space.
14. Lighting for Your Doorless Shower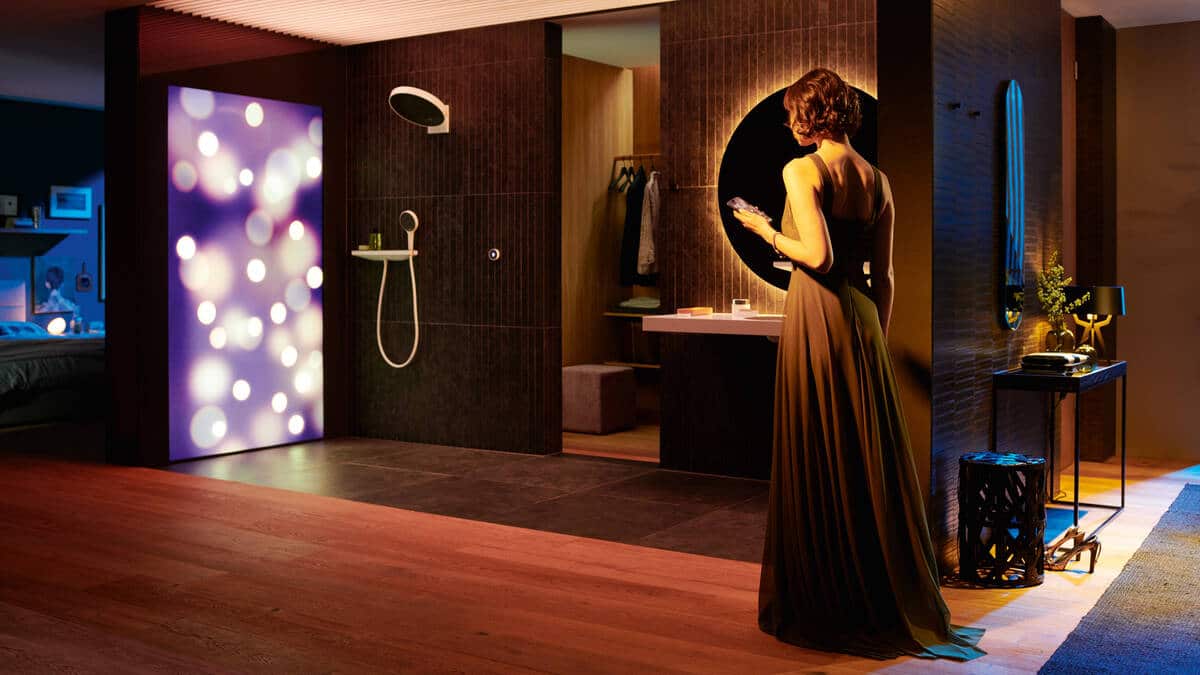 The unavailability of windows in your bathroom must not be an issue or a hindrance to amplifying the beauty of the place where you have invested. This can well be taken care of by the proper lighting, which requires the same amount of planning. It is required to brighten the doorless shower and ventilate the shower in its entirety.
15. Shoji Rain Doorless Shower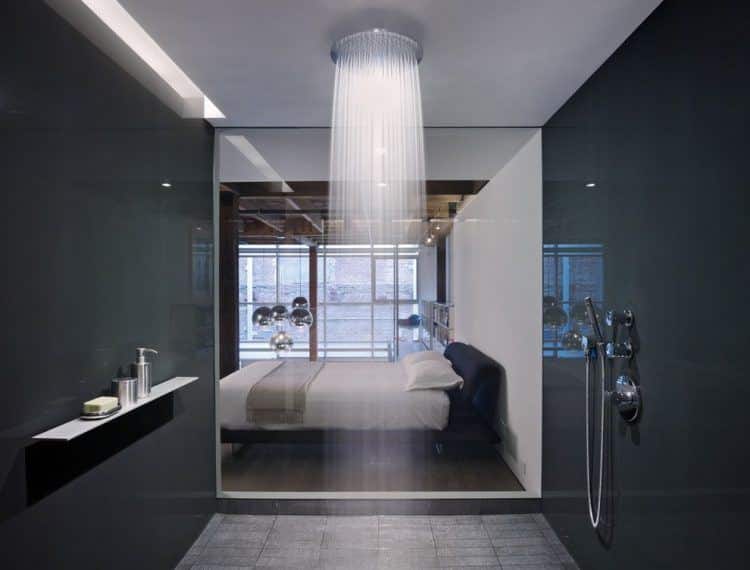 Inspired by the celebrity-styled bathroom, this serene bathroom design can help you transform the overall appearance of any bathing area. Irrespective of the space it is constructed in. This will give you the finest experience like no other option on the block. With the availability of space, you can customize it in any way possible. Complementing it with the sliding shoji doors and the bamboo base flooring will provide a wholesome pleasant touch to your arrangement. However, the only problem associated with this shower is that it consumes plenty of water.
16. Transitional Pebble Tile Doorless Shower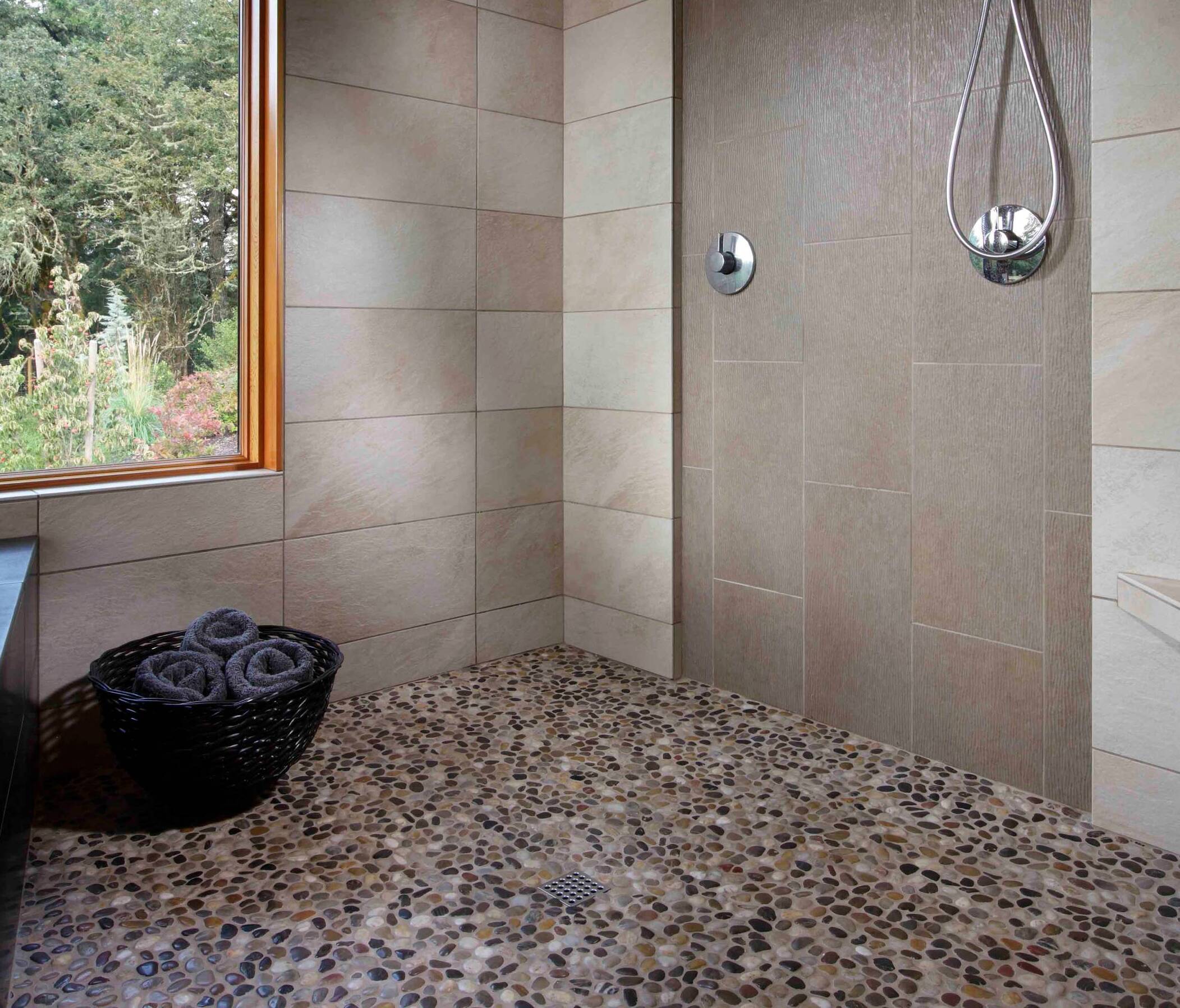 It is equally essential to cater to the flooring of your walk-in shower idea, especially when walking straight into a bathroom with enough space and where you have invested a hefty fortune. A special kind of flooring like that of Porcelain Pebbled will brilliantly go with the plan against the normal conventional bathroom tile. A shaded vertical tile along the wall of the shower will do its best to emphasize the room's height giving a complete 3D look.
17. Wet Room-Style Doorless Shower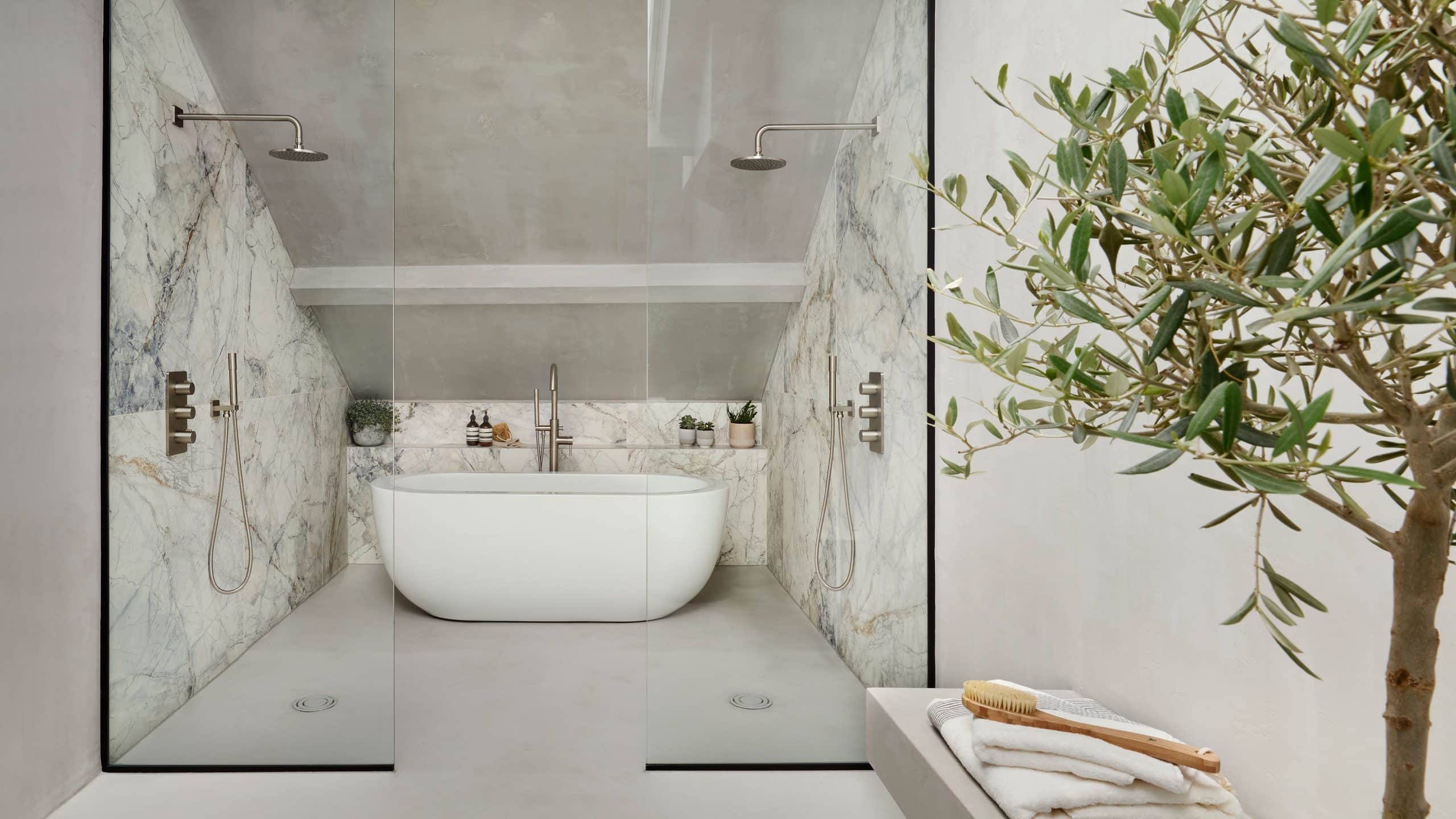 A combination of tub and shower areas, to limit both in a wet room-style bathroom, is one of the smartest options to have in your uber-chic bathroom with a walk-in shower. Complement the design with the much finer travertine instead of marble to get the finest out of this complete setup. You can also customize the walls and other interiors based on any random theme of your choice. This type of bathroom is also great for your children.
18. Sloped Ceiling Walk-In Shower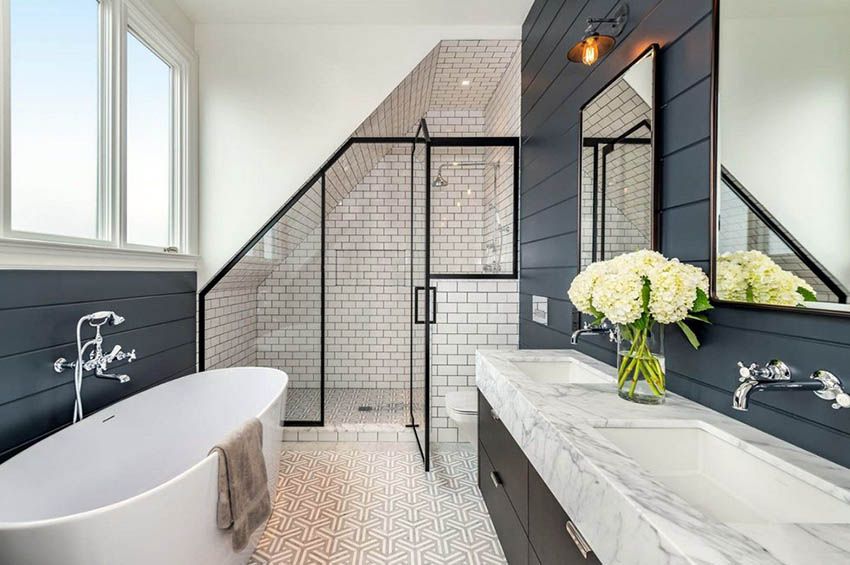 Whatever space you are left with, your bathroom's arrangement must bring the best look. One such arrangement is depicted in the image above, how the slope has perfectly complemented the glass door chamber here. While the craft of flooring has done the remaining to lend the arrangement a clean, bright, and complete atmosphere.
19. Beige Concept Walk-In Shower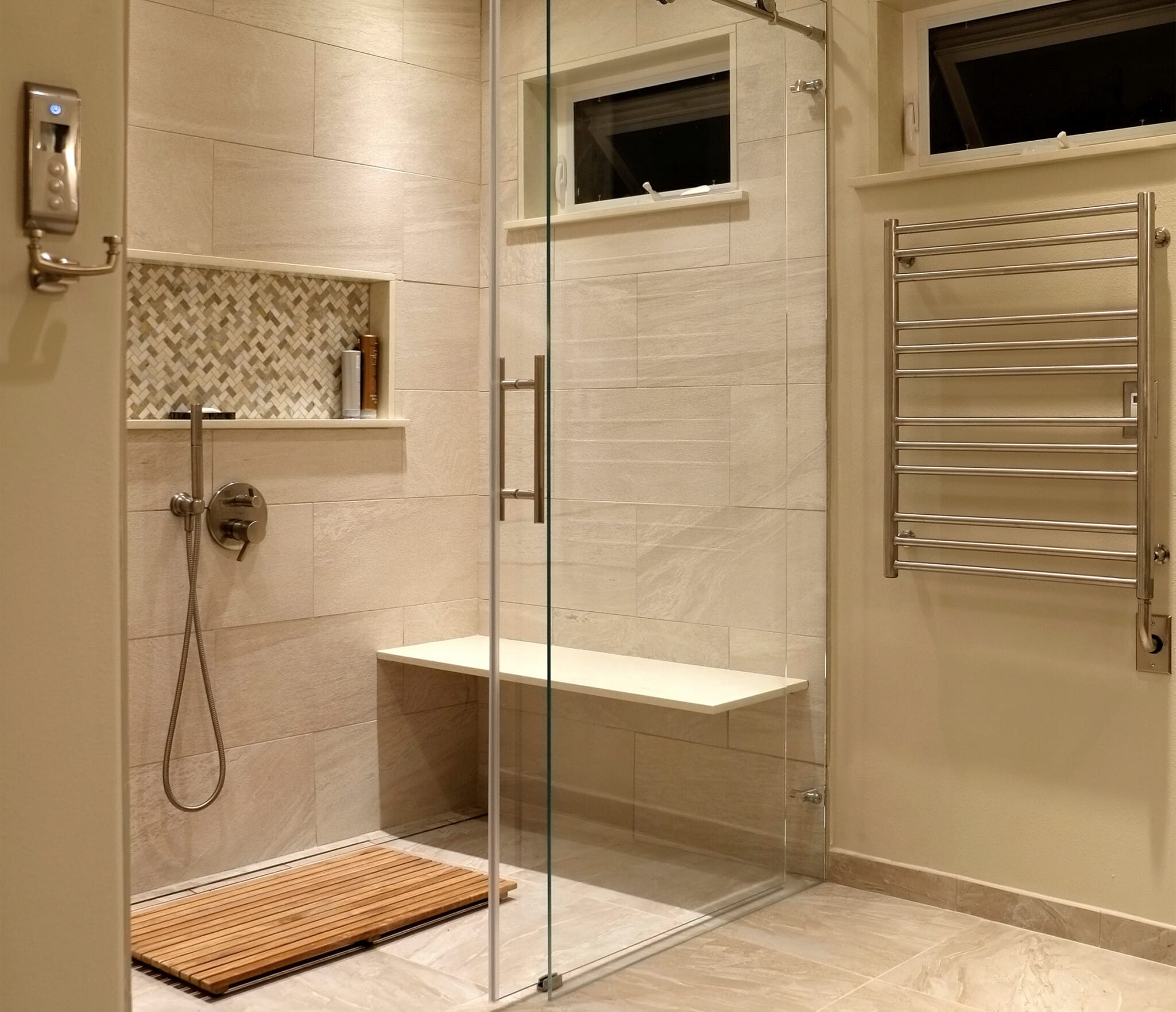 If you wish to give the touch of the hotel's element to your home, this is the perfect option to go with. A combination of Beige and White shades in fine proportion gives the perfect touch to this flawless contemporary design. This style will never go out of fashion; besides giving a delightful feel, the importance of this style upscales with the due passage of time.The shower and the bathtub both co-exist in the same space giving a fine touch to your luxurious experience.
20. Branched Doorless Shower Design Idea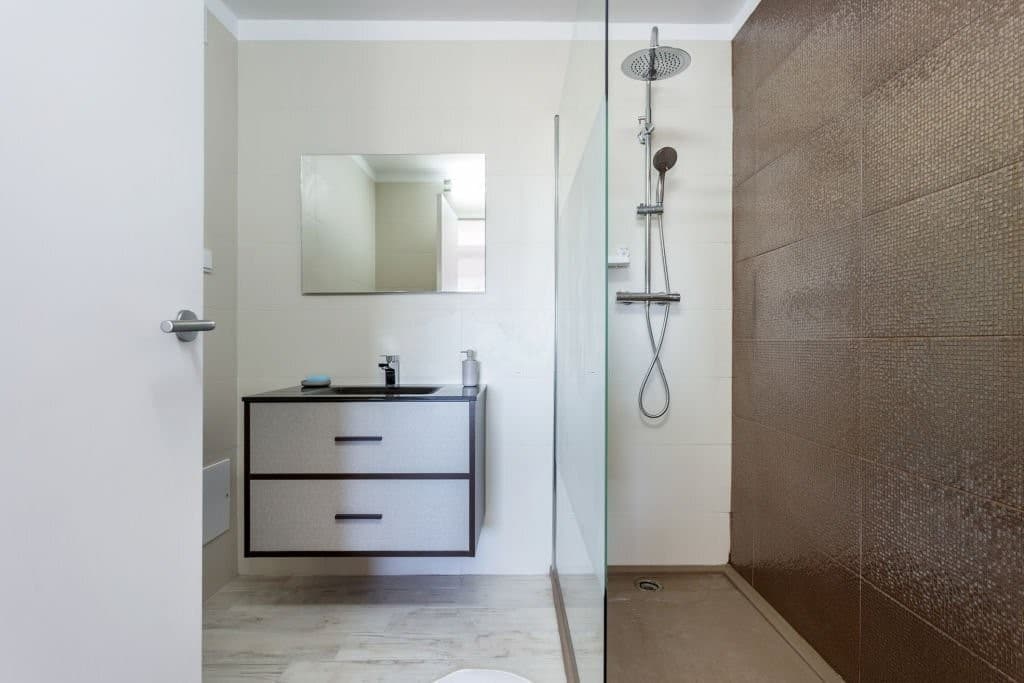 This modern-styled bathroom is in huge prevalence for its minimalistic approach that goes well with bathrooms of any shape and size. It is even a smart idea for the ones that don't want shower drops on their toilet seats. This can just be done by adding a partition between the two blocks. There is nothing much that can be done with the design, but all that is left with you is to add up the composure with artistic tiling and fancy pipe fittings.
How to Maintain Your Walk-In Shower?
One of the best parts about Walk-in Shower ideas of any sort is its maintainability. The charm of your walk-in shower can be preserved for a long by following just a few simple steps.
You must be very well cautious not to let the residues of shampoos and showers from getting stuck on the surfaces. Over the course of time, this will affect the tiling.
Installation of an Exhaust Fan is a must to keep the level of humidity indoors under check.
Mop and clean the floor, surfaces, and walls to remove the excess water, allowing them to dry faster than normal.
Check if you can place plants inside your bathroom, which helps in improving the AQI indoors.
Conclusion
The walk-in shower ideas are in trend and high demand over bathroom renovation, given that they are modern, stylish, and extremely easy to maintain. Over that, these ideas can suit the need for bathrooms of any size and shape.
The above chart of some ultra-luxurious walk-in shower ideas presents multiple options and caters to the need of people in every income bracket. However, a bathroom renovation can cost you a fortune, so it is essential to set your plan in accordance with making the right choice for your bathroom.
The installation comes through a wide range of processes and requires a lot of attention. So, be cautious at every single step with every single penny you spend. Take ideas from the professionals in getting the job done and avoid haste of any form. Hope this will help in proceeding with the task of renovating your bathroom or if you are planning to proceed with the same. Do us know in the comments below which idea you are planning to go with?
Frequently Answered Questions
How Much Does Walk-In Shower Installation Cost?
Whether it is about the upgradation, construction, or remodeling, the mistake for miscalculation of the budget, in the case of doorless showers, is no wonder. There is no limit to the amount of spending. So, its better to first properly laid your plan down to ensure that you don't get carried away by the emotion to burn a bigger hole in your pocket.
A walk-in shower with a minimalistic design can cost anywhere between $7500 to $20,000. However, the materials used, tiling, lighting, space, design, wardrobe, and theme collectively determines the final cost.
Prefabricated or Custome-Made, Which Walk-In Shower is Better?
For customers with a budget-conscious mindset, this question always persists. Prefabricated is much more affordable and easier to install than custom-made that has the feel of personal touch in it. There is a lot that can be done when you are customizing your walk-in shower; this also gives you a high return on investment. This amps up the market value of your house; it also hands you a wholesome experience of stepping into your self-made paradise.