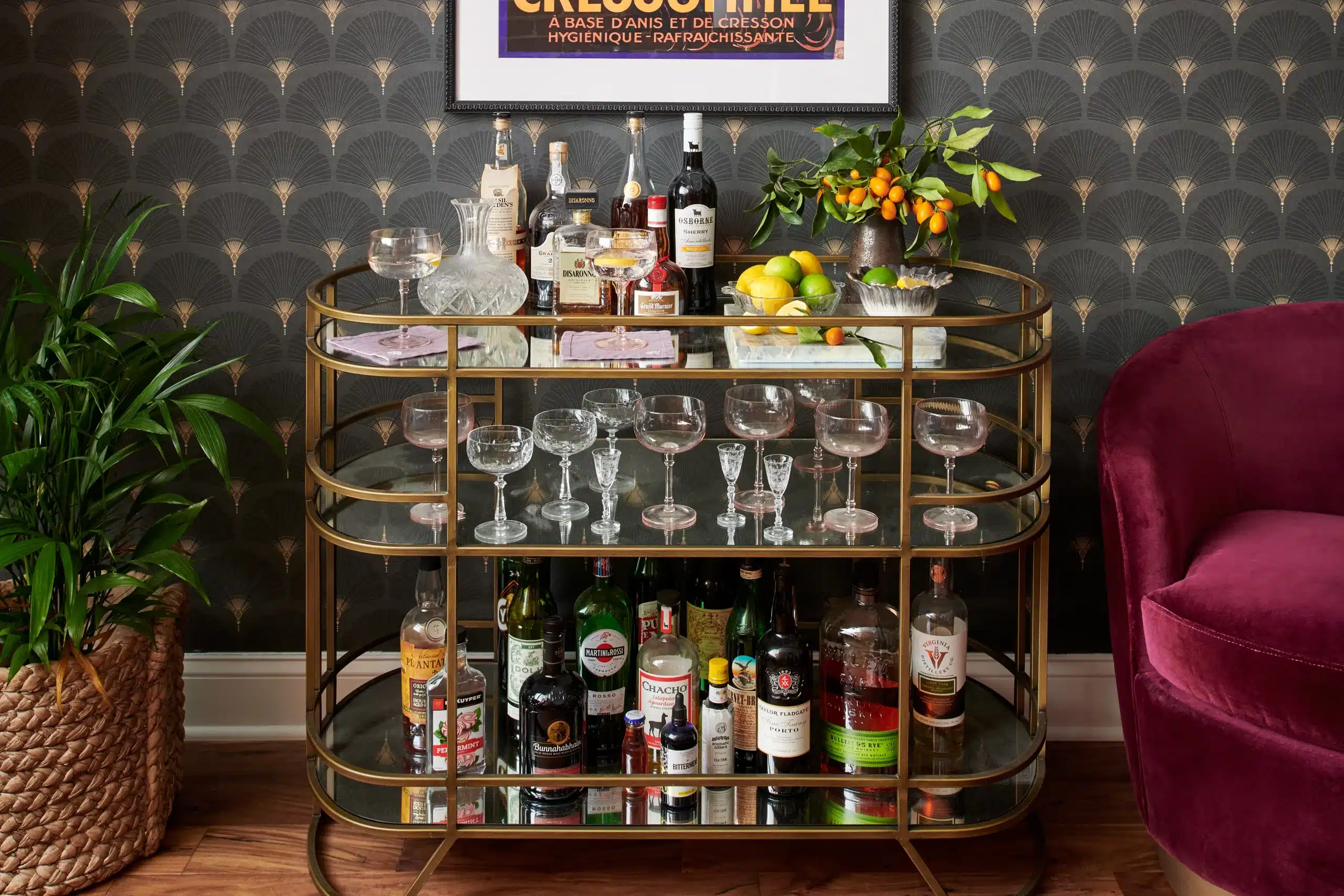 Are you sick of digging through disorganized cabinets and shelves to find your favorite bottle of wine or an exquisitely aged scotch? If so, it's time to know more about bar cabinet ideas, which can completely transform how you organize the drinks in your home. These chic and valuable furniture items are made with the intention of keeping your spirit, glasses, and bar accessories properly arranged and simple to reach. Many possibilities are available for bar cabinet designs to fit your taste and space needs.
Bar cabinets offer a variety of styles, from updated-modern to classic-aged. With one, you can easily build style and convenience into your inviting entertaining space. And because of that, you won't need to waste time searching for all the ingredients before having guests – instead, you'll discover the joy of your own stylish bar area.
List of Bar Cabinet Ideas That'll Keep Your Alcohol Organized
1. Modern Minimalist Bar Cabinet
A sleek and modern design that values simplicity and usability is the modern minimalist bar cabinet. This bar cabinet, which has simple lines and a minimalist design, provides lots of storage space for your alcohol collection. It has movable shelves, wine racks, and compartments for glasses and bar accessories to keep everything well-organized.
The contemporary style effortlessly combines with many different types of home decor, giving it a flexible option. This is one of the best bar cabinet ideas and is ideal for creating a sleek and fashionable bar area in your house because it is built using premium materials and a restrained color scheme.
2. Rustic Wine Barrel Bar Cabinet
The distinctive and endearing Rustic Wine Barrel Bar Cabinet would benefit any home bar. It is made using recycled wine barrels and has a vintage and rustic feel. A one-of-a-kind artwork is created with genuine wine barrel parts, an aged finish, and natural wood grain.
The cabinet has plenty of room for wine bottles, glasses, and bar supplies.nostalgic feeling. This wine barrel bar cabinet is ideal for organizing and showcasing your alcohol collection, whether you possess a farmhouse-style interior design or adore the rustic appeal.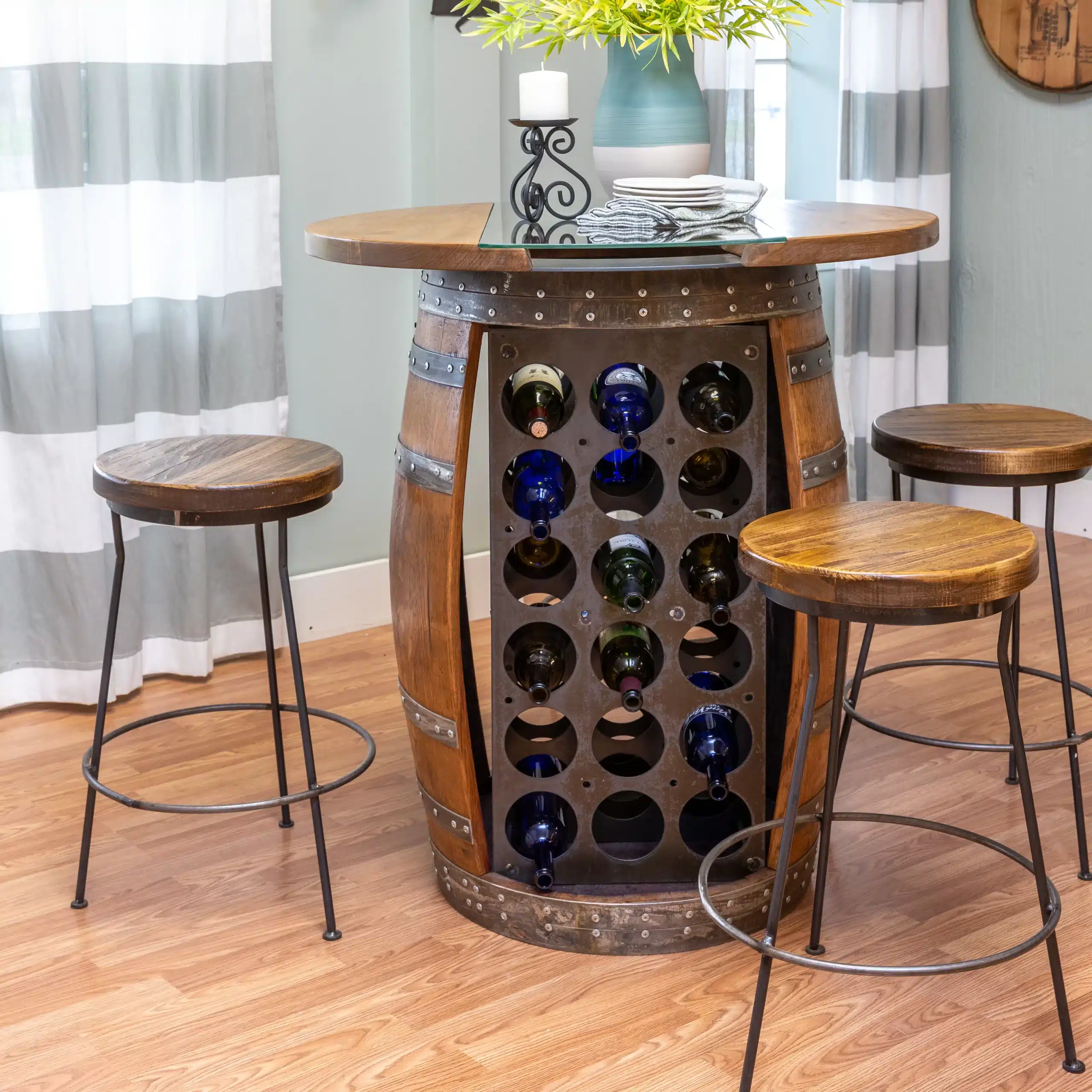 3. Wall-Mounted Bar Cabinet
A clever and compact alternative for arranging your alcohol supply is the Wall-mounted Bar Cabinet. This bar cabinet makes the most of vertical space while offering plenty of space for bottles, glasses, and bar accessories. It has extendable fold-out shelves that may be quickly put away when not in use.
The concealed compartments provide additional storage choices, keeping everything well-organized and handy. The sleek and tiny design of the wall-mounted bar cabinet makes it ideal for small areas or for adding a contemporary, minimalist touch to any place.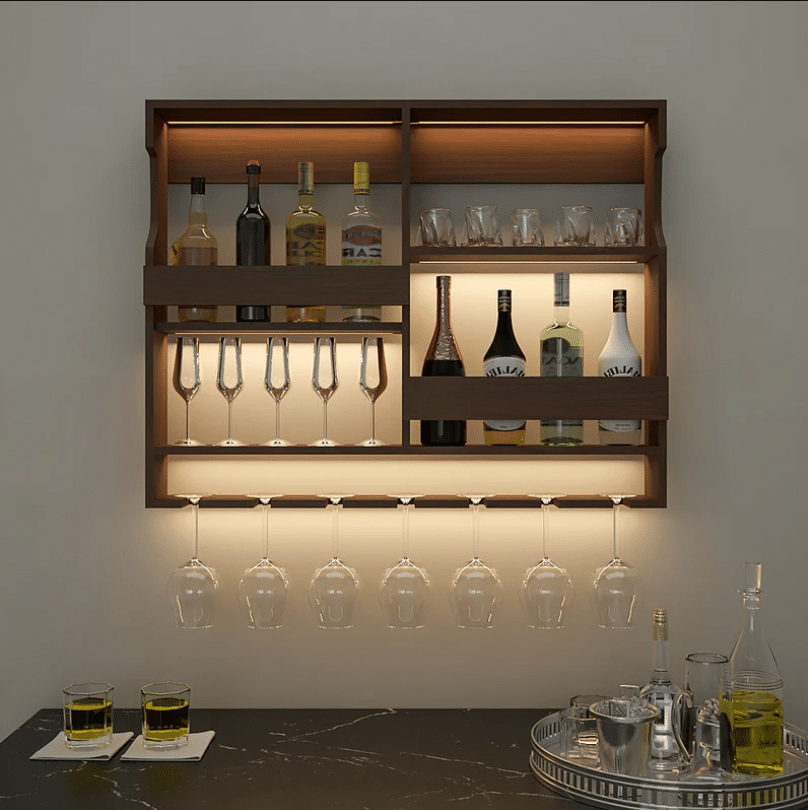 4. Convertible Bar Cabinet
A clever and adaptable piece of furniture, the Convertible Bar cabinet turns from a small cabinet into a fully functioning bar. This cabinet, made with storage in mind, has a secret feature. The interior of the top opens to reveal storage for bottles, glasses, and bar accessories. The top folds out to become a serving area.
The convertible design is one of the ideal bar cabinet ideas for people who desire a covert bar setup or have intimate rooms. It's perfect for hosting friends or relaxing with a drink because this style helps you switch between a bar structure and a stylish cabinet effortlessly.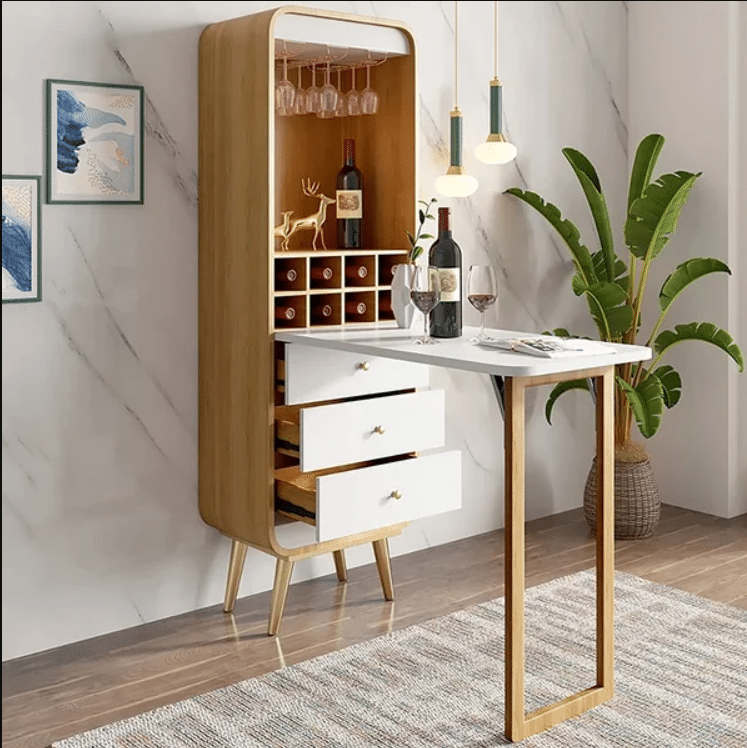 5. Globe Bar Cabinet
The intriguing and distinctive Globe Bar Cabinet would benefit any home bar or living area. It offers a sense of wonder and adventure because it is shaped like a globe. While the interior opens to reveal a hidden bar with space for bottles, glasses, and bar tools, the exterior has a global map.
Even better, the globe can revolve, giving you quick access to your preferred libations. The globe bar cabinet will surely amaze your visitors and inspire conversations about your international tastes, thanks to its vintage appeal and a design that immediately initiates a good, old conversation.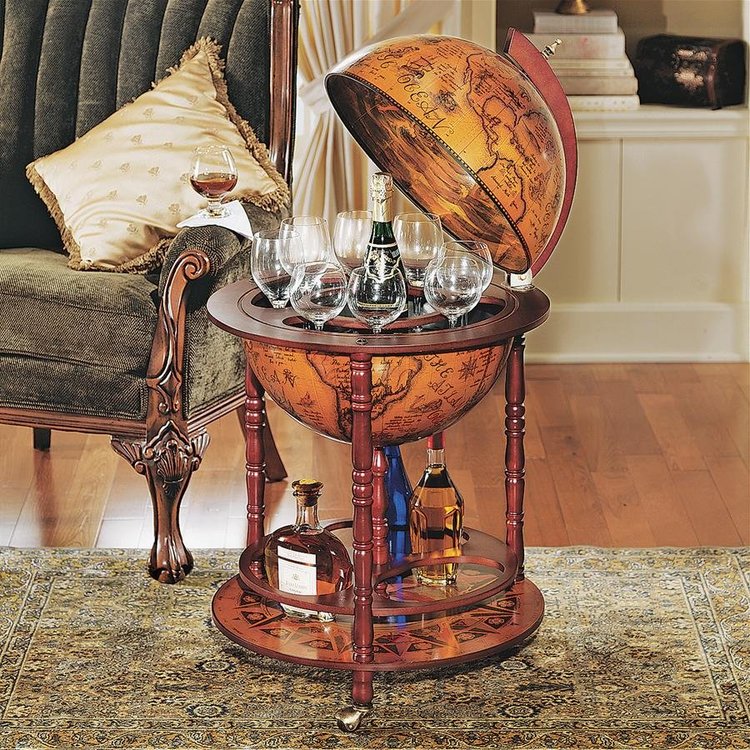 6. Farmhouse-Style Bar Cabinet
Your home bar area will have a cozy, rustic charm because of the Farmhouse-style Bar Cabinet. Its soft surface, doors reminiscent of bars, and rustic elements offer a cozy and welcoming ambiance. Your glassware, bar accessories, and liquor bottles can all be stored in this bar cabinet.
The Farmhouse style gives a sense of unrefined charm and goes well with many different types of interior design. The Farmhouse-style bar cabinet lends beauty and usefulness to your room, creating a pleasant atmosphere for all your entertainment requirements, whether hosting a gathering or just having a drink yourself.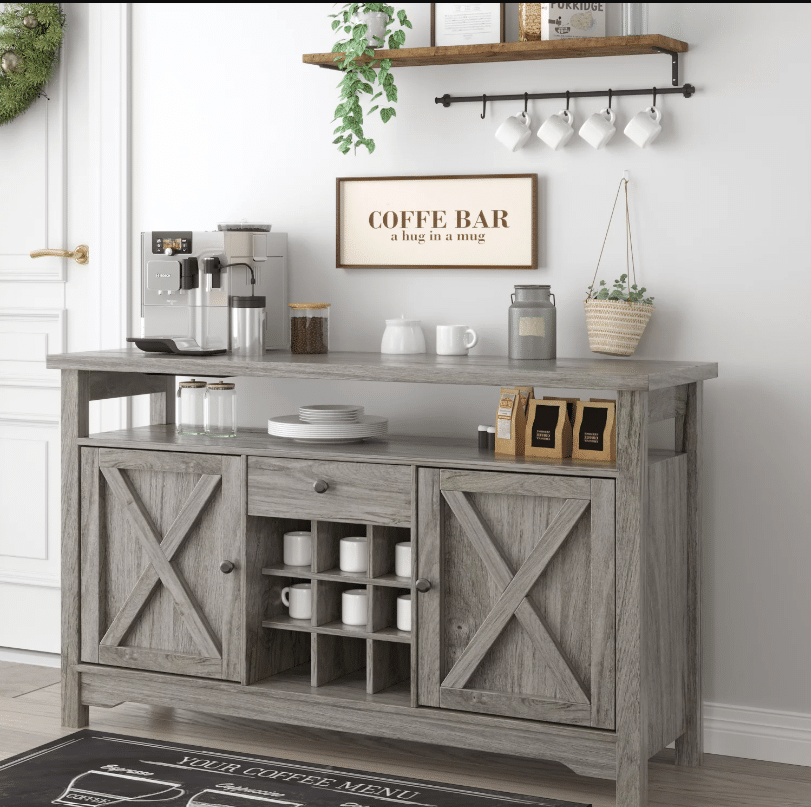 7. Glass-Fronted Bar Cabinet
A chic and classy option for showing your alcohol collection is the Glass-fronted Bar Cabinet. You can keep your favorite glasses and bottles organized and accessible while showcasing them due to the transparent doors. The glass-front bar cabinet ideas give your home bar a touch of refinement and create a visually appealing focal point.
With movable shelves and compartments, this bar cabinet gives plenty of storage space so you can customize the layout to suit your needs. This bar cabinet gives a touch of sophistication and displays your spirits in a lovely and organized way, regardless of whether your design is modern or classic.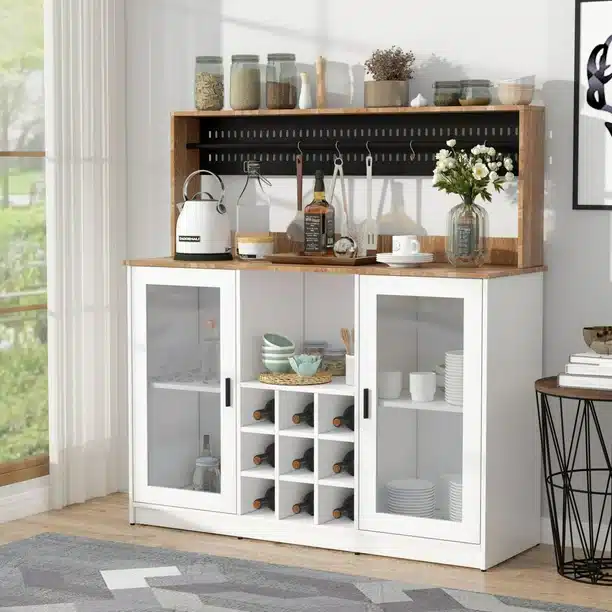 8. Mirrored Back Bar Cabinet
The mirrored back bar cabinet makes your home bar arrangements more glam and elegant. This idea changes the entire look of your home, thereby presenting a magnificent visual effect with its mirrored back panel. The mirrored surface reflects light, giving the impression of depth and beautifully highlighting your bottles and glassware. 
Your Alcohol collection will have plenty of room to store in this bar cabinet, which also features movable shelves and compartments to maintain everything neatly organized. This bar cabinet is ideal for individuals who want to accentuate their favorite libations while creating a chic and opulent atmosphere.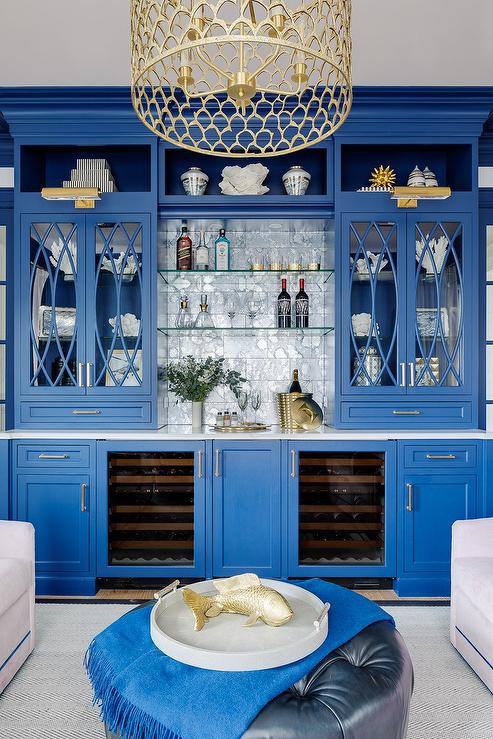 9. Multifunctional Bar Cabinet
The multi-function bar cabinet is a practical and adaptable way to store your spirits and bar necessities. Its ingenious design allows it to operate as a piece of furniture that combines storage, exhibition, and functioning. Built-in wine racks, movable shelves, and separate spaces for glasses, mixers, and tools are all included in this bar cabinet. You can maintain everything in a clean, accessible manner.
The multifunctional bar cabinet is a wise choice for maximizing your bar area while incorporating design and usefulness, regardless of whether you live in a small apartment or a large house.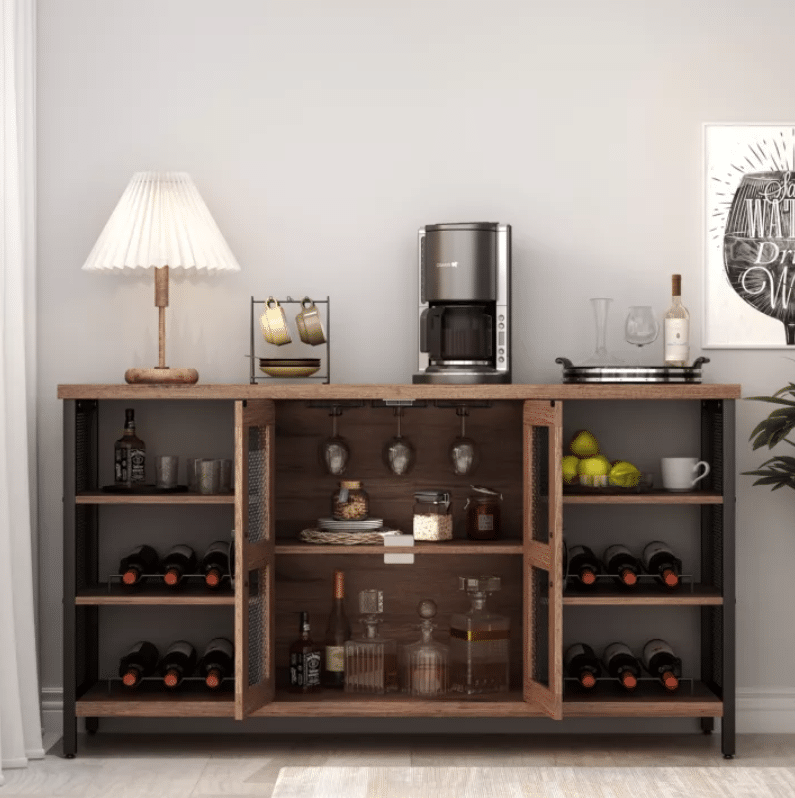 10. Art Deco Bar Cabinet
The magnificent and opulent art deco bar cabinet would benefit any home bar. This cabinet, decorated with geometric patterns, pricey materials, and a hint of glitter, is inspired by the richness of the art deco era. Its streamlined lines and careful attention to detail emanate sophistication and class.
These art deco bar cabinets have plenty of space for your glasses, bar supplies, and liquor collection. This bar cabinet transforms into a centerpiece, whether you're hosting a get-together or spending a quiet evening, seamlessly fusing magnificent beauty with usefulness and bringing you back to the height of luxury.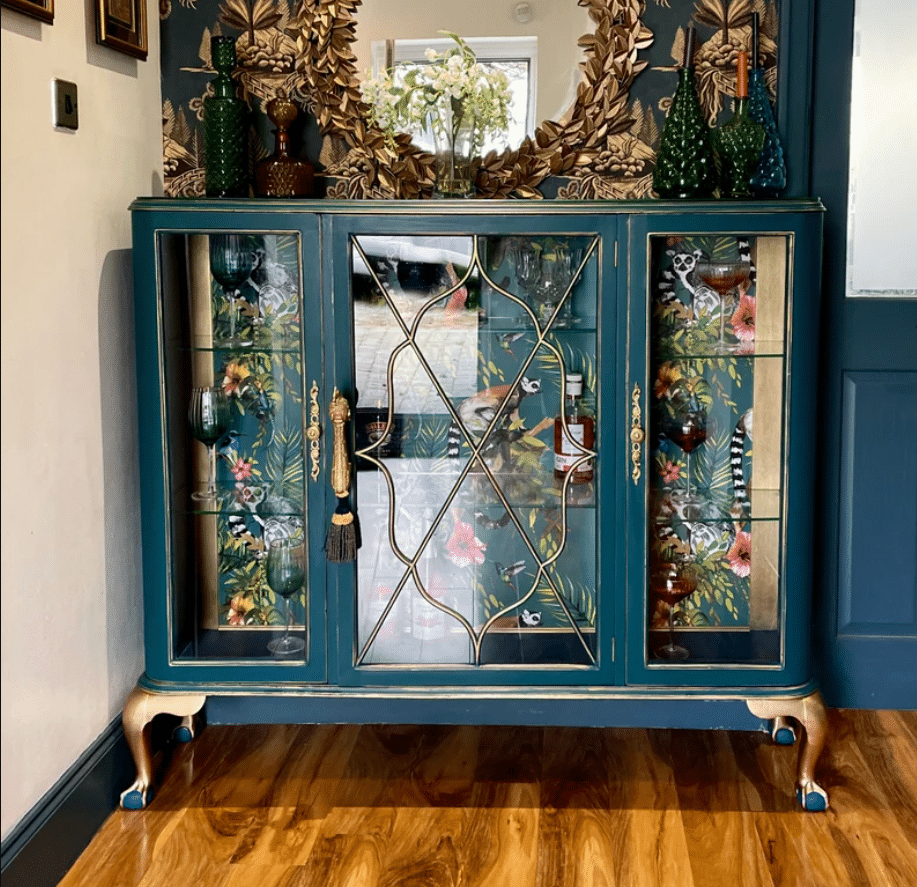 11. Repurposed Bookcase Bar Cabinet
A novel and imaginative approach to turning an old bookshelf into a valuable and fashionable bar cabinet is the repurposed bookshelf bar cabinet. This repurposed piece gives you the appearance of a vintage bookshelf meanwhile giving you the opportunity to use it as a bar cabinet. Due to its movable shelves, it provides flexible storage choices for your liquor bottles, glassware, and bar accessories.
The compartments can store anything from cocktail shakers to wine openers, and the shelves can be adjusted to house bottles of various sizes. Your home bar will become a unique and personalized piece with the Repurposed Bookcase Bar Cabinet's touch of character and nostalgia.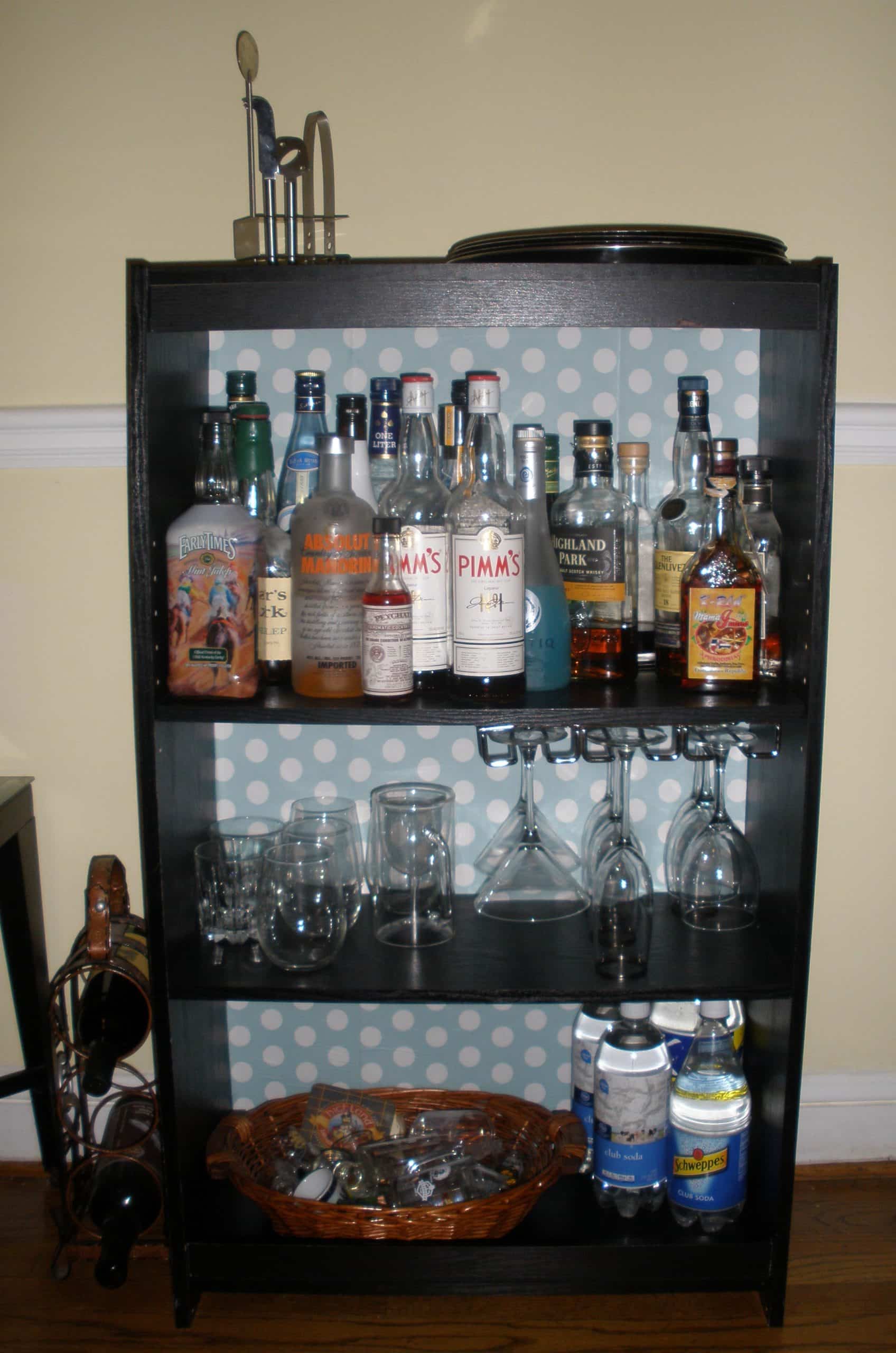 12. Wine Cellar Bar Cabinet
Wine collectors and enthusiasts will love the Wine Cellar Bar Cabinet. It provides an innovative option for organizing and exhibiting your wine collection by combining the features of a bar cabinet with a separate wine rack. The Cabinet's incorporated wine racks present the best storage requirements, allowing you to preserve the perfect humidity and temperature for your wines.
Besides, it includes storage places for your wine accessories, glasses, and additional spirit bottles. A refined and wine-focused ambiance is created by the wine cellar bar cabinet, which not only wonderfully displays your wine collection but also provides a refined appearance to your home bar.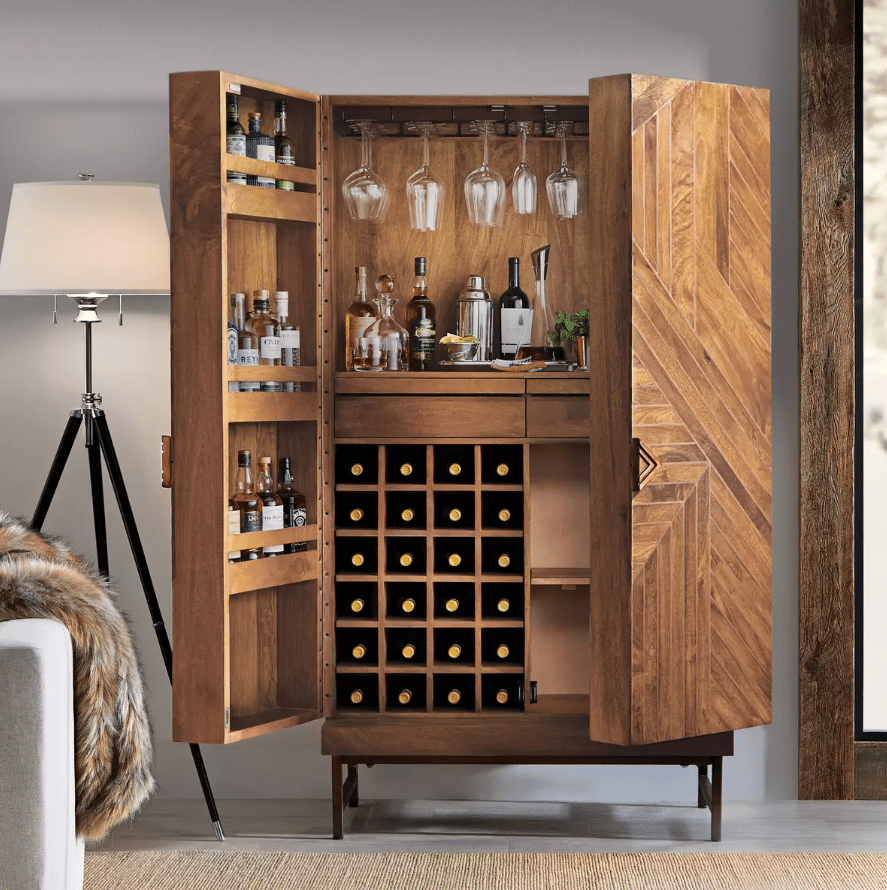 13. Retro Arcade Bar Cabinet
This retro arcade bar cabinet is a nostalgic and delightful complement to any home bar or game room. It delivers an uncommon and immersive feeling by uniting the thrill of an arcade machine and a bar cabinet's practicality. It gives your guests a wholesome and fascinating experience with integrated arcade games and storage for liquor bottles, glassware, and bar supplements.
These Retro Arcade bar cabinet ideas are the perfect option for people who desire to combine their fondness for gaming and partying. It creates a rich and dreamy setting for all your special events.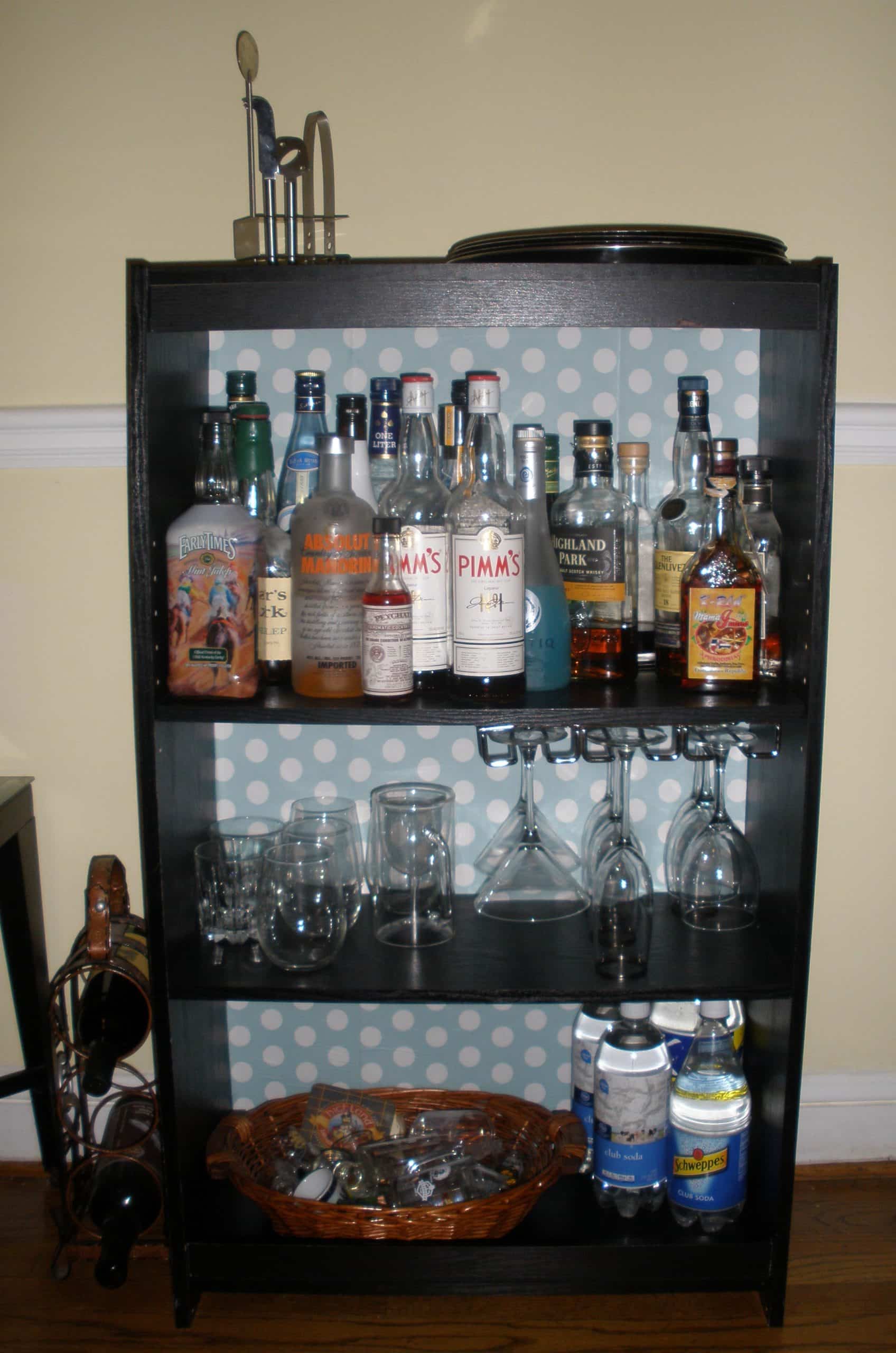 14. Colourful Bar Cabinet
Your home bar area is given a colorful and fun touch with the colorful bar cabinet. Its solid and vibrant tones infuse your room with a jolt of color and personality. This bar cabinet has several shelves and compartments for storing glassware, bar tools, and alcohol supplies.
A colorful bar cabinet allows you to showcase your style and make a dynamic and welcoming environment, whether you choose bold and vibrant colors or soft and pastel hues. It's an excellent option for individuals looking to add life and flair to their home bar.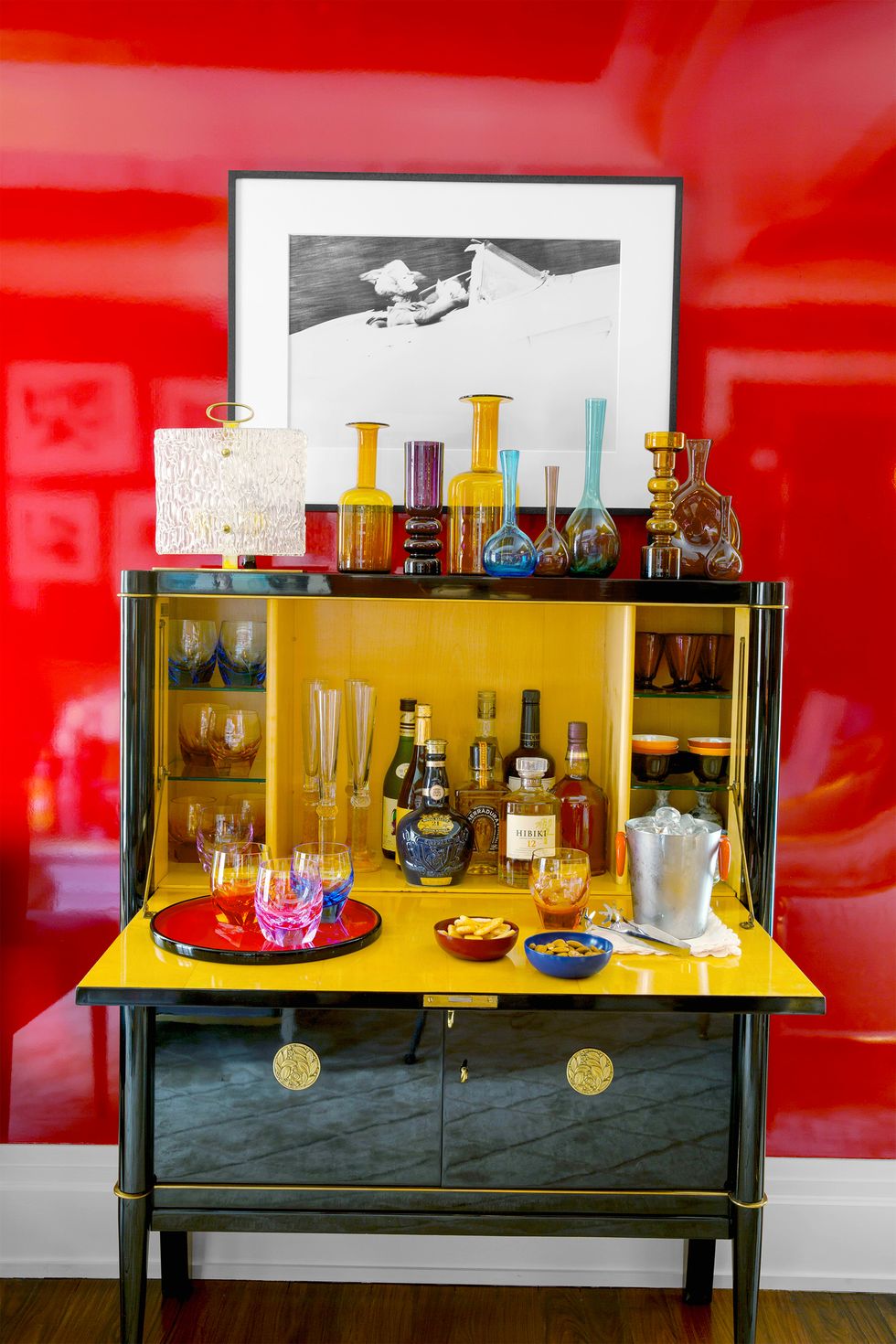 15. Open Shelving Bar Cabinet
Organizing your home bar is made simple and contemporary with the open shelving bar cabinet. Due to its open shelving design, it offers a sleek and modern showcase for your spirits bottles, glassware, and bar accessories. Since the open shelves are visible and straightforward to access, you may present your collection in an attractive and well-organized way.
This bar cabinet style is ideal for individuals who value a simple, uncluttered aesthetic because it gives your room a feeling of openness and airiness while maintaining your essentials close at hand for hassle-free entertaining.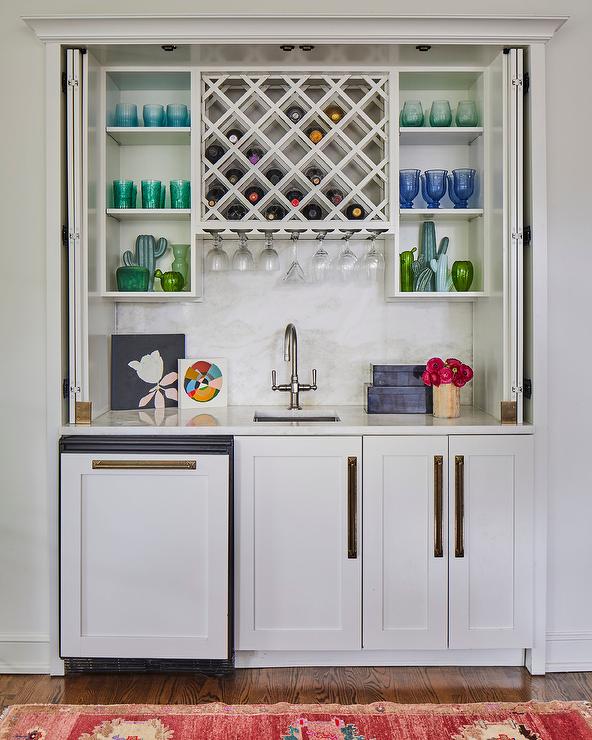 16. Black Matte Finish Bar Cabinet
A sleek and chic attractiveness permeates the black matte finish bar cabinet. Its smooth, velvety black matter surface gives your home bar a sense of elegance and modernism. This bar cabinet showcases a minimalist design and offers enough storage space for alcohol bottles, glassware, and bar equipment.
The black matter surface creates a statement item with an uncomplicated ability to match different decor styles. The black matte finish bar cabinet is a flexible option that adds a touch of polished style to your leisure space, whether you like a modern or traditional design.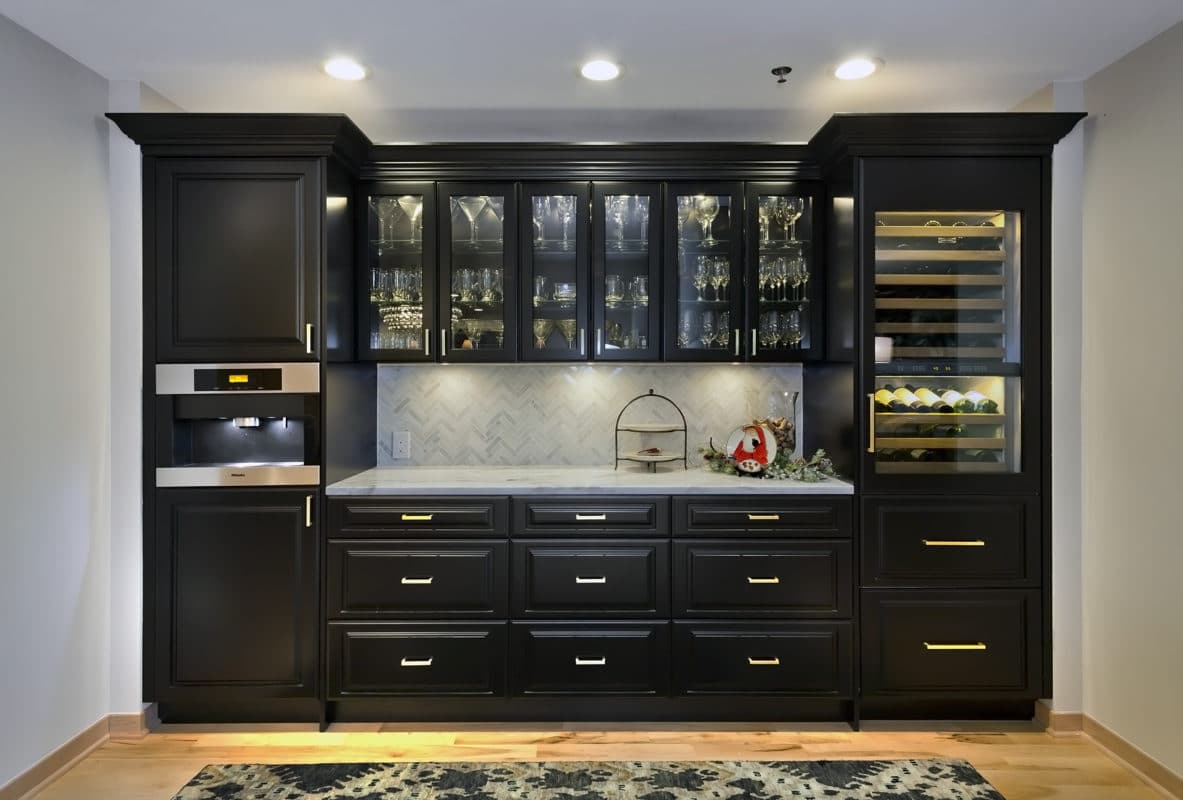 17. Vintage Trunk Bar Cabinet
The vintage trunk bar cabinet mixes nostalgia with usefulness in a distinctive, endearing style. Inspired by vintage travel trunks, this retro-inspired bar cabinet idea gives your home bar a hint of vintage elegance. With sections for bottles, glasses, and bar accessories that are carefully organized within the trunk construction, this bar cabinet has a roomy interior.
It has a vintage aesthetic enhanced by the weathered surface and antique hardware, making it a focal point in any space. For individuals who value classic style and a dash of wanderlust, the Vintage Trunk Bar Cabinet is the ideal option.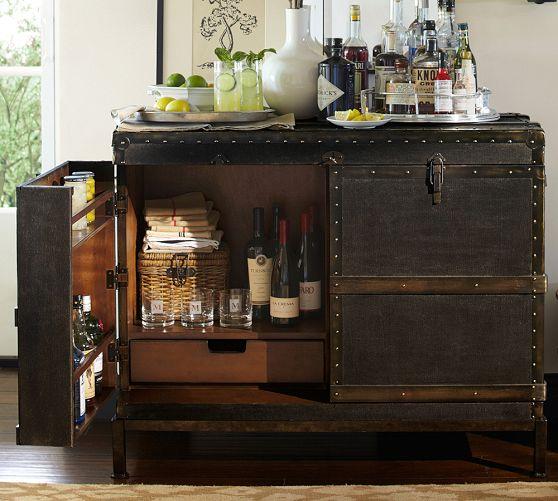 18. Acrylic Bar Cabinet
With the acrylic bar cabinet, your home bar gains a modern, chic feel. It has a contemporary and eye-catching appearance thanks to its transparent and streamlined acrylic construction. This bar cabinet has a simple appearance and offers enough space for storing your spirits bottles, glasses, and bar accessories.
The transparent material gives the impression of being light and airy, which is ideal for small areas or for adding a dash of contemporary elegance. The acrylic bar cabinet is an eye-catching piece that deftly integrates form and function to give your home bar a trendy and sophisticated ambiance.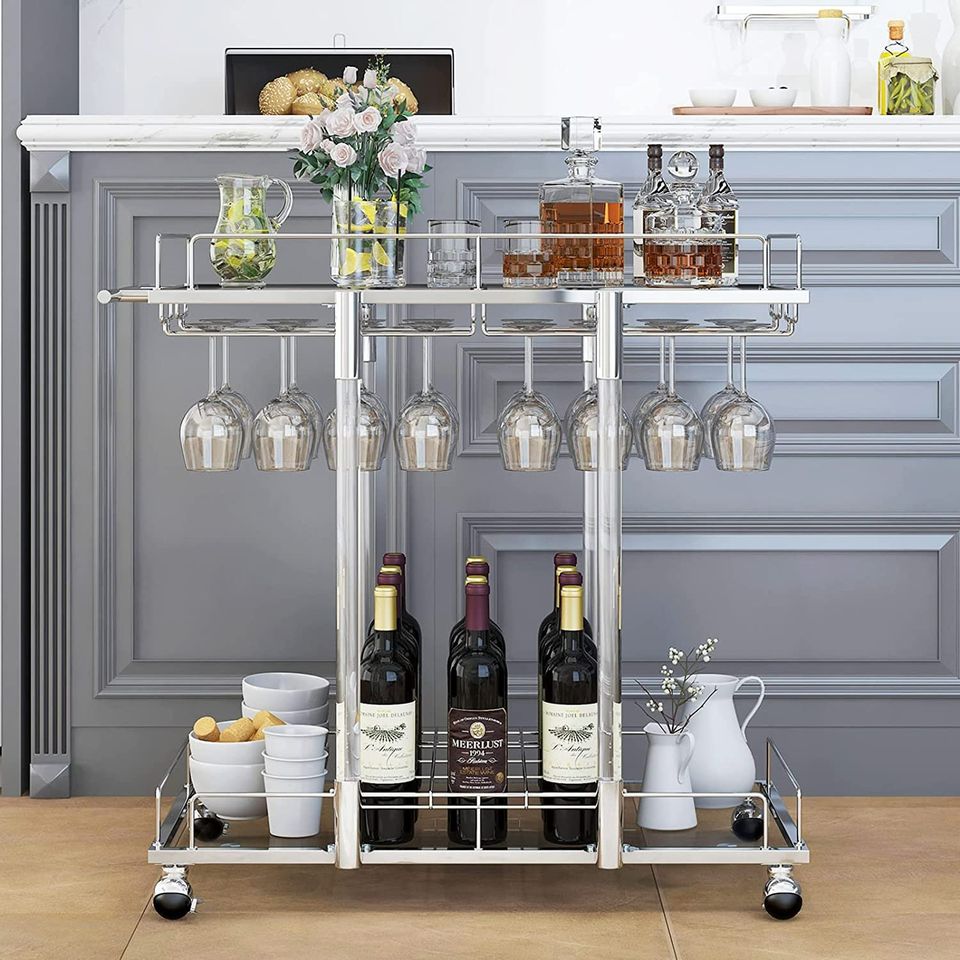 19. Trolly Bar Cabinet
The trolley bar cabinet is a flexible and portable answer to your needs for a home bar. Thanks to its handy wheels and handle, you can move it around your home and even transport it outside for outdoor parties. Such bar cabinet ideas feature many shelves and compartments for keeping your spirits, bottles, glasses, and bar accessories.
The trolley design's utilitarian industrial beauty lets you quickly move and show your bar supplies. The trolley bar cabinet offers versatility and eases all your entertaining endeavors, whether throwing a party or spending a cozy evening.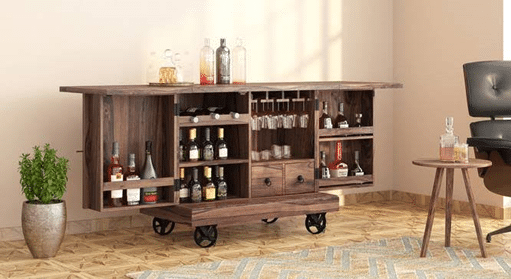 20. Artistic Mosaic Bar Cabinet
Beautiful and one-of-a-kind, the Artistic Mosaic Bar Cabinet brings a touch of creativity to your home bar. It is a focal point demonstrating skill and creativity thanks to its exquisite mosaic patterns and motifs. This bar cabinet features a visually appealing design and provides storage for spirits bottles, glassware, and bar accessories.
The mosaic components give your home a sense of texture and depth while bringing an aesthetic flair. You may merge functionality and creative expression with the creative Mosaic Bar Cabinet to create a unique and individualized home bar experience.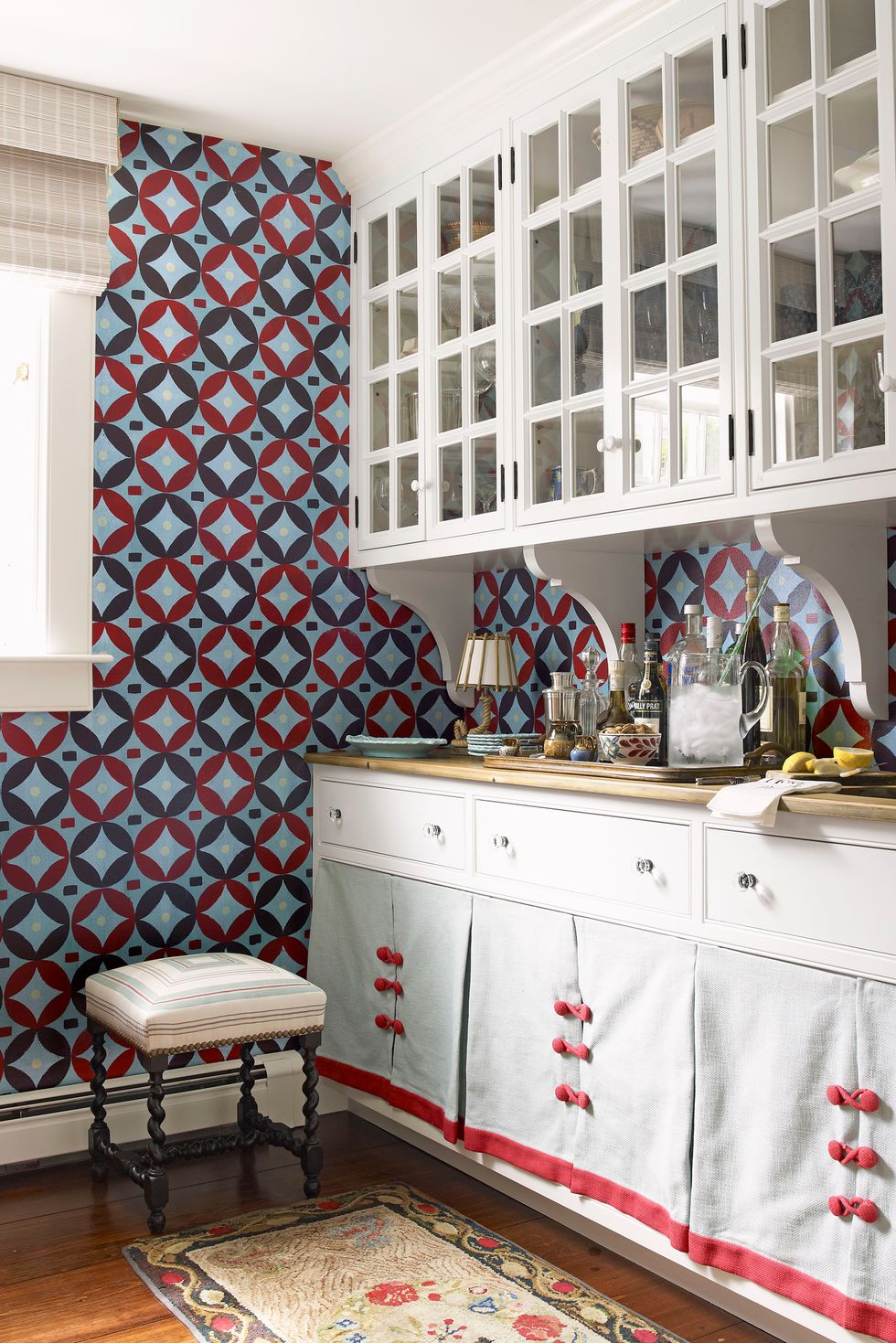 Factors to Consider Before Finalising the Best Bar Cabinet Ideas
There are several critical elements to take into account before choosing the ideal bar cabinet ideas for your area:
Size and space: When deciding where to position the bar cabinet, measure the available area. Ensure it fits perfectly in your space while avoiding overcrowding or restricting walkways by considering the dimensions.
Aesthetics and style: Select the ideal aesthetic and style that blends with your current décor. Consider whether you prefer contemporary retro, rustic, or any other design features that go with your choices and the atmosphere you desire to create.
Storage Capacity: To determine how much space is needed, evaluate your collection of alcoholic beverages and your bar's accessories. Think about how many bottles, glasses, mixers, and other items you'll need to fit. Look for bar cabinet ideas with movable shelves and compartments to provide versatile storage possibilities.
Material and Durability: Take into account the bar cabinet's construction materials' quality and resilience. Choose strong materials that can stand up to repeated use and provide long-lasting durability.
Budget: Set a financial limit for the bar cabinet and prioritize your alternatives. To receive the most return on your purchase, weigh the price in proportion to the product's quality, features, and appearance.
Stylish Solutions for Home Bars
Finding the perfect bar cabinet ideas is an exciting task that calls for careful thought. By considering the above factors, you may choose a bar cabinet that best meets your demands and improves your experience using your home bar. Your chosen bar cabinet will keep your drinks organized and become a stunning focal point in your room, whether you choose a modern minimalist design, a rustic wine barrel cabinet, or a retro arcade-inspired item.
Cheers to having a tidy, attractive home bar where you can easily host guests and sip your favorite libations!
Frequently Asked Questions
Can I Alter the Bar Cabinet's Shelves and Storage Spaces?
Depending on the particular type of bar cabinet. Some bar cabinet ideas have movable shelves and adjustable compartments, so you can customize the storage area to suit your needs.
Do I Need to Put the Bar Cabinet Together?
The type of bar cabinet will determine the assembly needs; others might need partial or complete assembly, while some might come already assembled. For assembly instructions, make sure to read the product specification or get in touch with the shop.