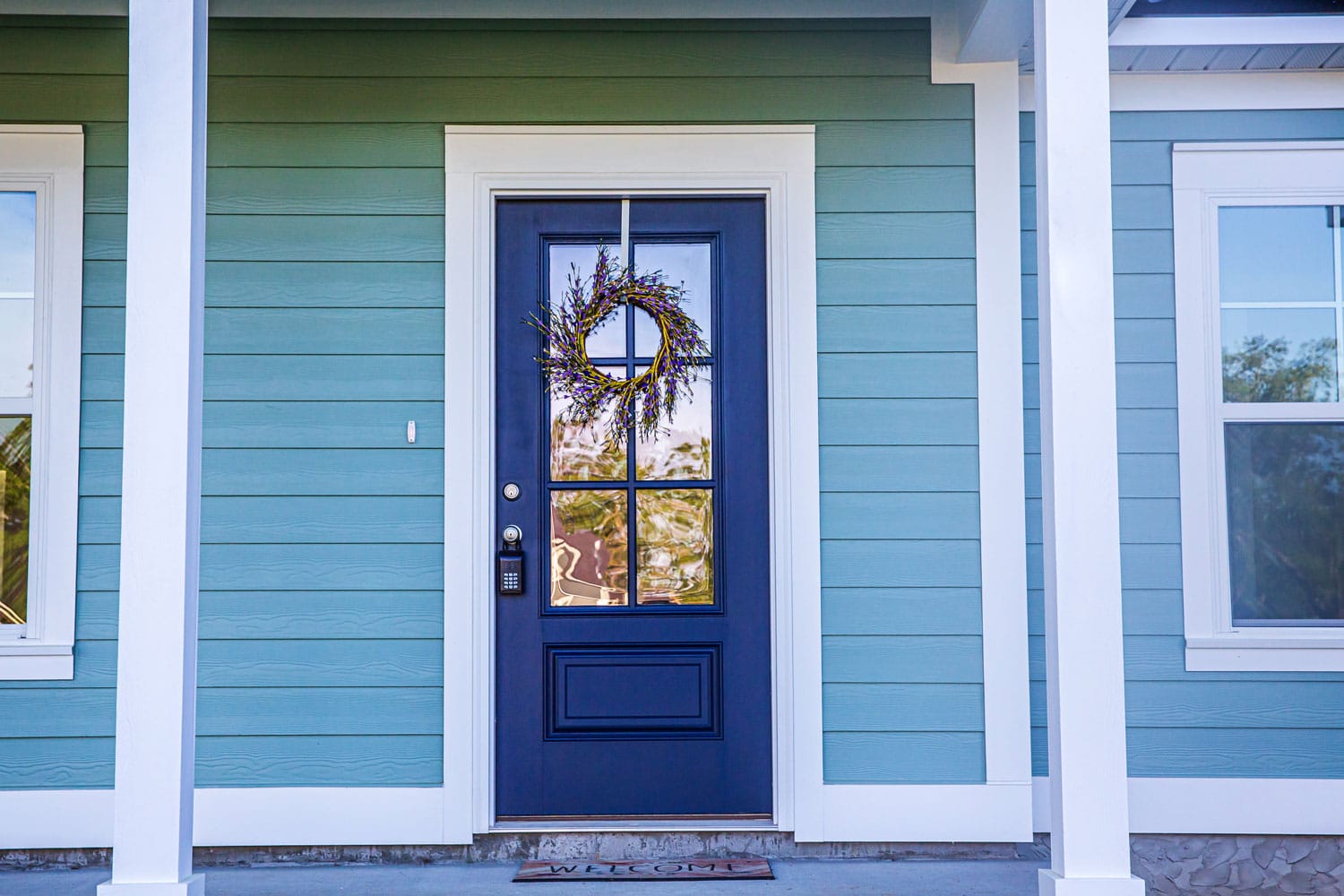 No matter how ravishing the exterior of a farmhouse is, one simple mistake can spoil the entire visual appearance of the farmhouse. It happens to many homeowners. They flip-flopped on the farmhouse front door.
They confront indecision in picking up a perfect front door that complements or enlivens the persona of their farmhouse exterior. They feel constrained by innovative ideas. Now not to worry anymore!
In this post, we've compiled 20 creative farmhouse front-door ideas. We will take you on the journey of sighting mind-blowing country home exteriors with mesmerizing front doors.
Some of them are traditional in approach and innovative, and some hold crazy shades or glass designs. Whether you are remodeling your farmhouse exterior or building a new one, read on for breathtaking front-door inspirations that will lend you a helping hand to achieve the desired front door for a dazzling outlook.
1. Rustic Front Door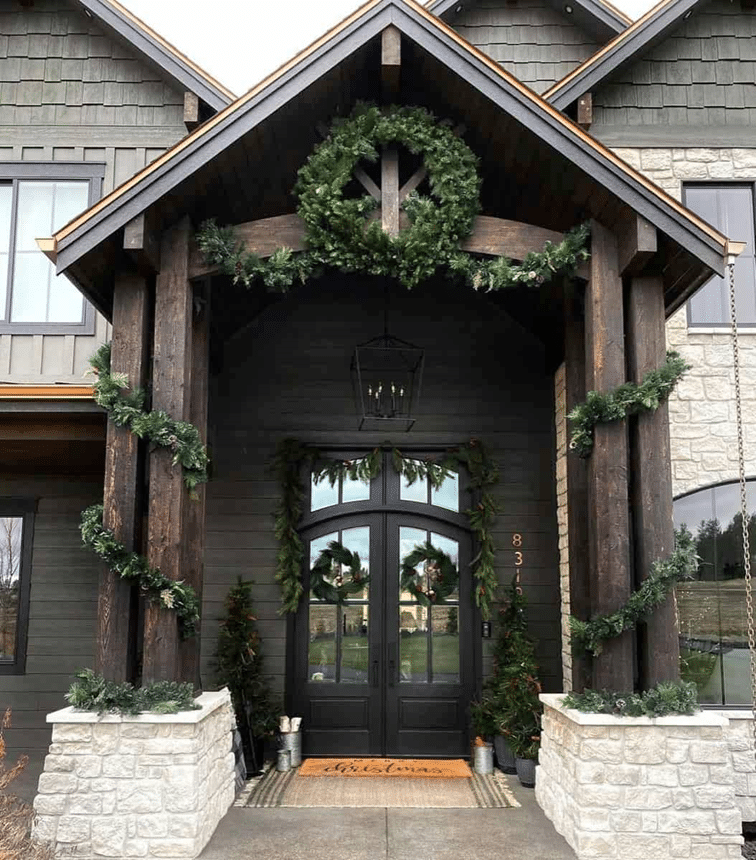 Do you have a childhood memory that connects you to the richness of country life? The rustic front door idea is just made for you.
This front door's rustic design complements the color of the farmhouse's external layout well. It significantly enhances the charm of the rustic exterior. Uniformity in the color of the door and its frame is pretty inspiring. On one side, dark frames offer repose to the ambiance, while on the other side, the wooden pillars on the white-painted brick platform are eye-catching. The glass panels brighten the interior.
Typically a rustic front door appears unpolished, aged, organic, and possibly even a little rough. Additionally, you can play around with color, especially if your house is white.
2. Fiberglass Front Door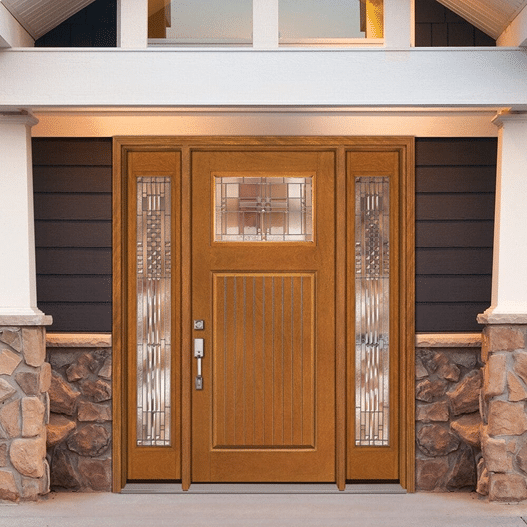 This rich mahogany woodgrain fiberglass front door gives the appearance of organic wood while offering the advantages of fiberglass. The plank panel at the bottom with a flush glaze coating is admirable.
A stylish touch is added by matching the glass leading, sill, and hinge finishes. The walnut-hued upper part of the siding and the stone-cut lower part enhance the air of the front door.
For durability in all weather conditions, fiberglass door construction withstands oxidizing, denting, and decaying. Highly durable composite material makes up the frame. This sturdy material is made compact to provide a door with sufficient durability without sacrificing required flexibility and aesthetic appeal.
3. Vintage White Front Door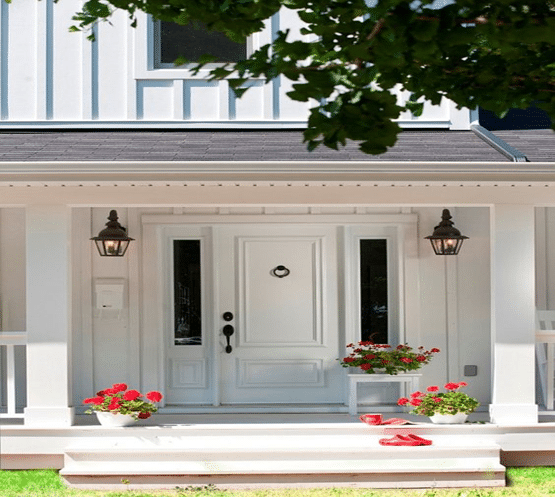 You may have enquired about the preferred color for your farmhouse front door from your friend, relative, and neighbors but still, feel at a loss.
For some inspiration, look at the image. This front door is stunning. With this gorgeous white door layout, you can jazz up your front door in an incredibly minimalistic manner. To make it stand out, it is slightly off-white compared to the other areas of the farmhouse. The dark glass is simple as well, adding to the minimalistic view. The potted plants with red flowers present a contrast and outstandingly pleasant sight.
A white wooden front door can give the opening a timeless view. You can use simple and tidy molded panels to add interest.
4. Cherry-Red Front Door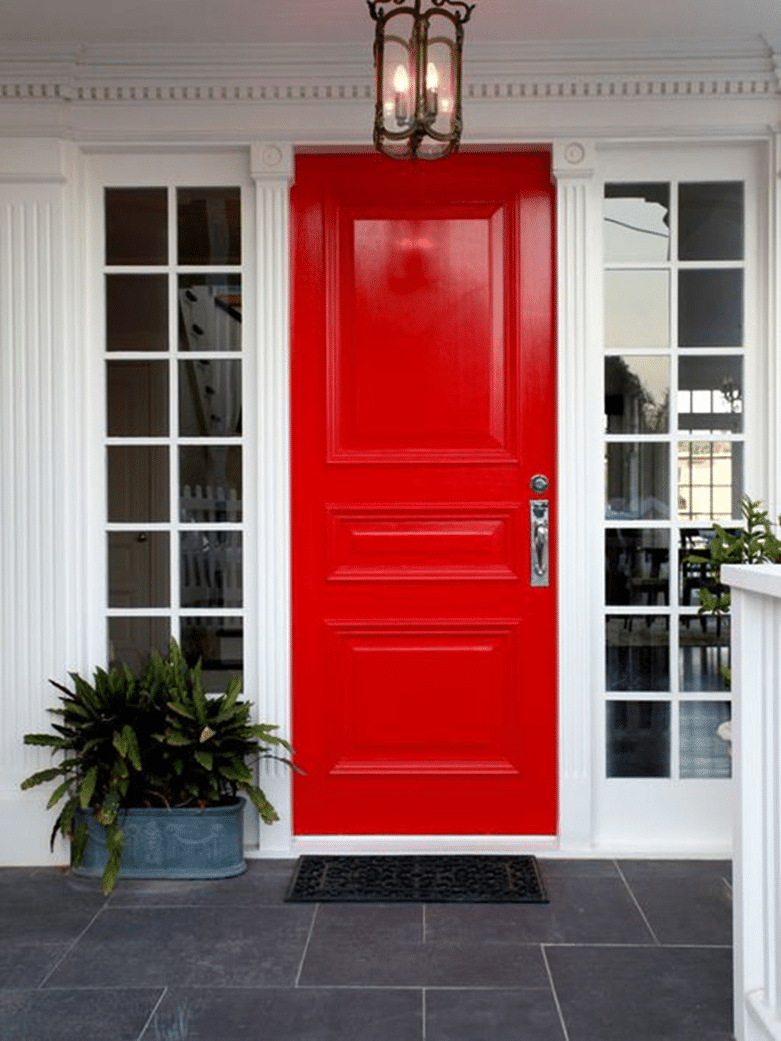 Do the bright colors cheer you up? If so, get ready, as we've got a brilliant cherry-red front door idea for you.
A front door painted cherry red can give your house's exterior a splash of color. Research reveals that many buyers pick cherry-red as their choice for a country home's principal opening claims, Bruce Fox, the founder of a Chicago-based design firm.
Cherry-red is an excellent option for a farmhouse made up of white and grey colors. Any shade of red is a common choice for a front door and can add value to a plain exterior. For a contemporary farmhouse look, colored doors make excellent highlights. Cherry red is one of the best door color options for farmhouses made of white and grey.
5. Sliding Barn-Style Front Door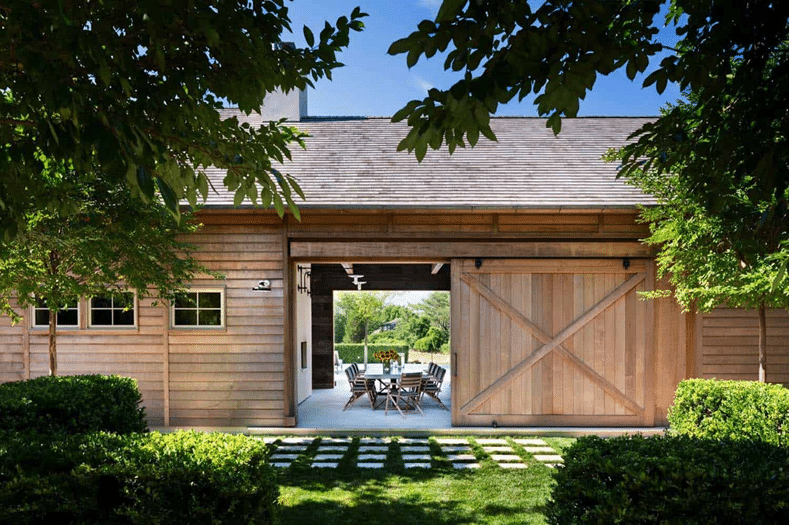 Have you ever considered a barn-styled front door for your farmhouse exterior? We suggest a sliding barn-style main door as an innovative resource for making your exterior awe-inspiring.
People primarily connect the barn-style entrance with homespun ones. This holds no truth. There are a lot of scopes to use your imagination to create a unique piece while depicting the essence of the pasture, hills, or bohemian attitude.
This sliding barn front door in this image is the property owner's pride and delight. It is not just huge but also practical as well as looks massive but gentle with its natural wooden hues and trendy layout. It complements the open dining area where the residents enjoy the environment and still feel protected by this incredible front door. A well-maintained lawn and lush landscape add value to the exterior.
6. Dutch-Styled Front Door
The key feature of a Dutch-style doorway is its split opening. Made from timber, it can be painted to the owner's preference. Hence, you can add your vision and creativity while painting the front door.
Due to the porch's straightforward design and decoration, the door is the focal point. This exquisite Dutch door is beautifully framed. We admire the fact that the homeowners of the property are unafraid to appear ostentatious by painting this Dutch-style door a pale shade of turquoise. It is easy to assume that the large openings let in abundant sunlight.
The ventilation from the upper part of the door enables a cool breeze to enter during warmer months. The light-hued crisscrossed trim on the glass panels is eye-catching. You can get ideas for creative decoration from this presentation. The wooden floor and sophistically decorated large white planters with ornamental blooms uplift the charm of the exterior.
7. Grey-Colored Front Door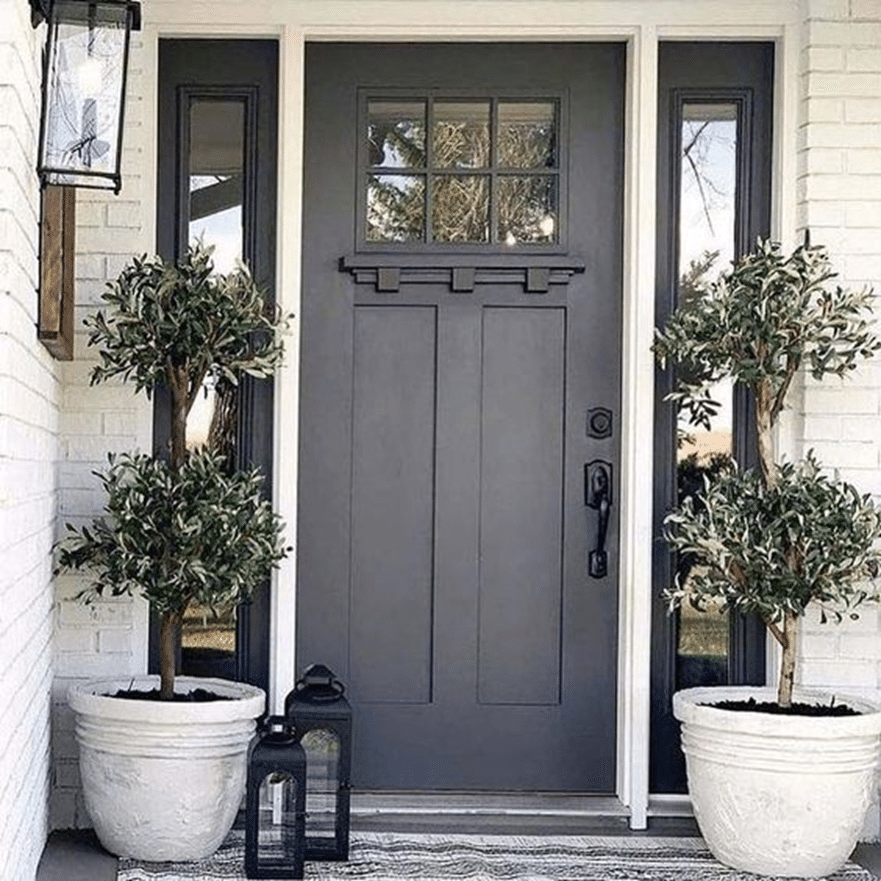 Grey is a trendy color for the front door due to its calming appeal. Once again, it becomes evident through this front door image. The grey front door with black undertones displays some simple design.
The black accessories complement the door color. The white planters with lovely green foliage and black lanterns on the grey-white mat take our hearts. The narrow rectangular glass panels adjacent to the door and a mounted fancy side light are the marks of sophistication indeed.
Additionally, to draw attention to your front door, paint the door trim a striking color like red or black. Your front door can gain character by adding decorative hardware like handles or knockers. Grey front doors can be easily decorated in different styles, including traditional, modern, and rustic.
Probrico Camelot Trim Lower Half Front Entry Handleset, Passage Lock Grip Handle with Wave Lever, Keyless Door Locks Brushed Nickel, Interior and Exterior Entrance Passage Lock
SIZE: Upper Grip Bar Panel Length: 3-3/5inch (90mm). Lower Grip Bar Length: 2-1/5 inch(55mm). Grip Bar Projection: 2-1/5inch (60mm). Total Lever Length: 4-3/4 inch(120mm), Lever Panel: 2-1/2 inch (65mm)
MATERIAL: this kinds of lockset is made of zinc alloy, with universal latch : 2-3/8" or 2-3/4"(60mm-70mm). Fits doors 1-1/4 inch to 1-3/4 inch (35~45mm).
Right open lever-EASY INTALL: Locks in Probrico is portable and durable, they are gorgeous and sleek, you do not need to lubricate. Installation is a breeze
PLEASE NOTE: Interior Wave Style Lever: Right Open--Fits Just Right handled doors;rectangular baffle is not removable,
SERVICE:All products has 3 year warranty, contact us anytime if you have question, we will reply all message within 24 hours. If any problem occurs in the product, please contact, we will send you a replacement absolutely free, no return required
8. Bronze Front Door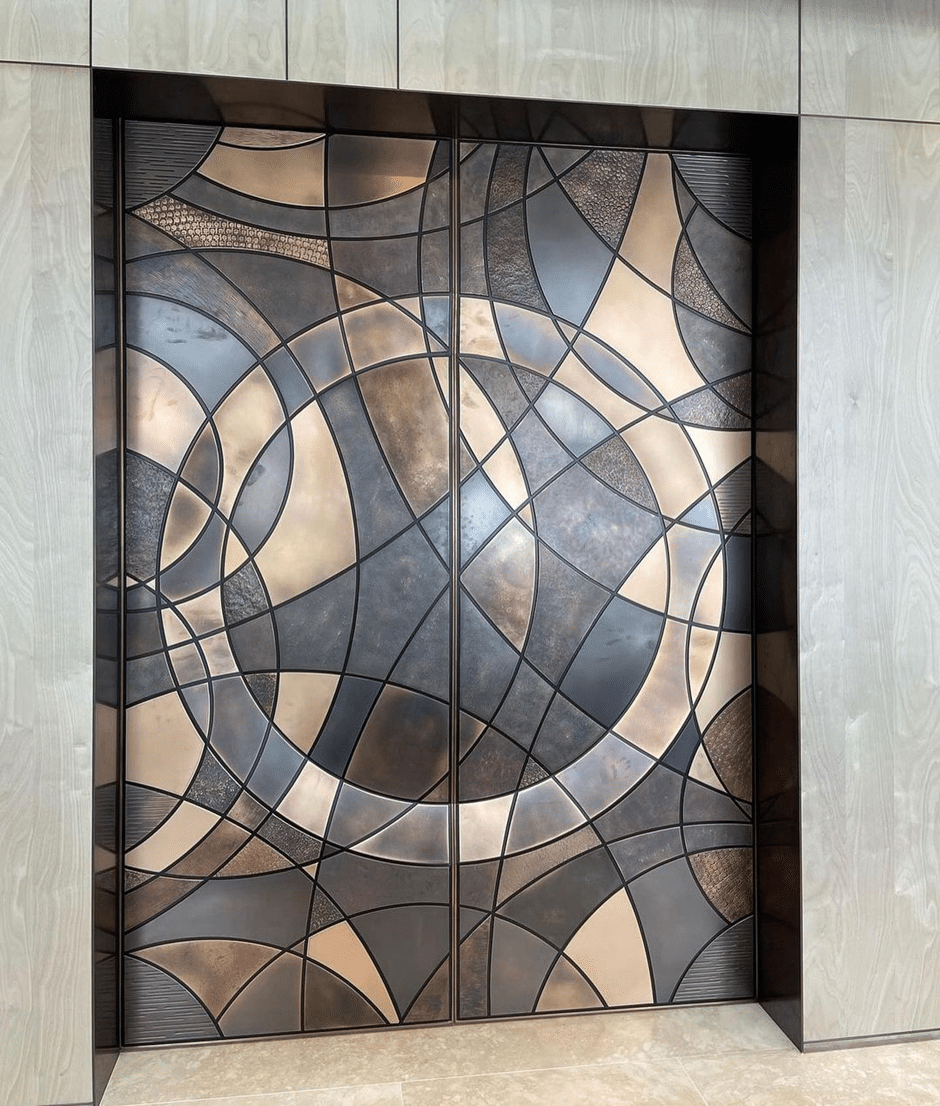 Your metal front door's appearance can be significantly improved by picking the appropriate hardware. If you want a traditional farm look, reflect on black or bronze hardware; Brushed nickel has a more contemporary vibe.
Applying a copper coating over your front door will make it simultaneously attractive and practical in approach. Think about a decorative motif that goes with the design of your farmhouse exterior.
This exquisite bronze front door is a fitting entrance for a modern farmhouse. It showcases the excellence of the metal oxidation technique and adds an almost organic look and feels to the spacious exterior. The medley of patina hues and distinct sculptural elements make it a winner! With its distinctive appearance and strength, bronze is a long-lasting material that requires little maintenance.
9. Pink Front Door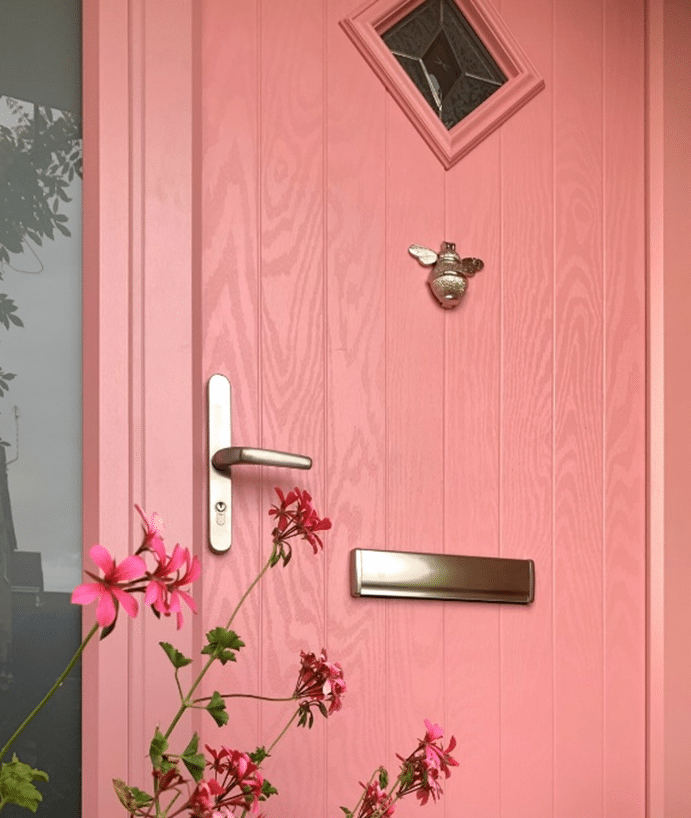 Your front door should reflect your personality and convey a message to your visitors. However, choosing any bizarre color without thought will not bring the desired effect. A pink composite front door can give your house's exterior a fun and inviting feel.
Synthetic material consolidated with fibers is employed to make composite front doors; it is designed to look like solid hardwood without the drawbacks of rot, splitting, or fractures.
The bold statement of this vibrant pink farmhouse front door becomes possible due to the sleek and contemporary style, which pairs well with minimalistic elements. Golden handles and diamond-shaped glass panels give the overall design a touch of class and sophistication. You can design a seating area or a fitting mat to create a cozy and welcoming atmosphere in the porch area.
10. Folding Front Door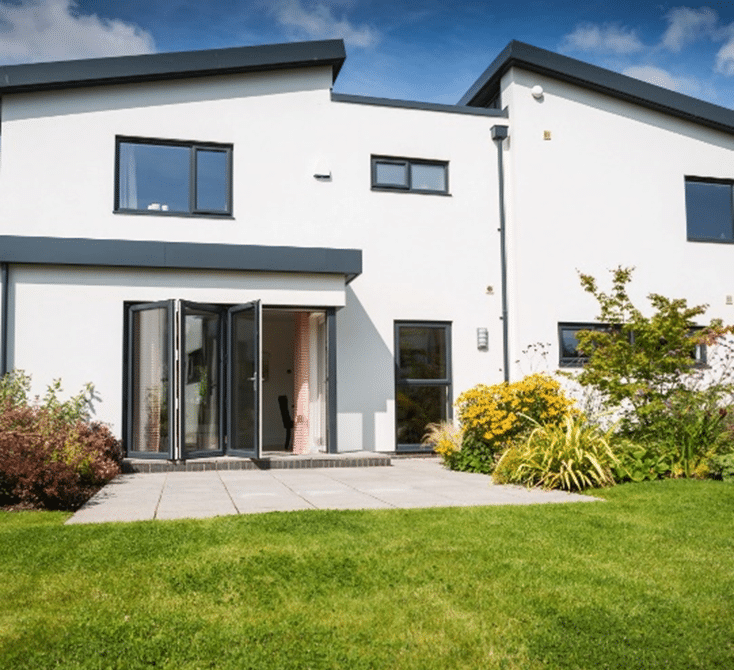 Modern folding doors can give your farmhouse exterior a facelift. The doors are available in the market in several styles and colors to match your lifestyle and complement the design of your country home.
In the picture, the large glass panels of the main door are adequate for letting daylight into the interior. You may fit clear or frosted glass in accordance with the privacy you need. It also saves space compared to a hinged door.
You can fold the door for a wider opening, which makes entering the house more convenient, especially if you have young super- energetic children. Hence, it can be your preferred choice if you seek a fashionable yet convenient option.
11. Aesthetically Patterned Front Door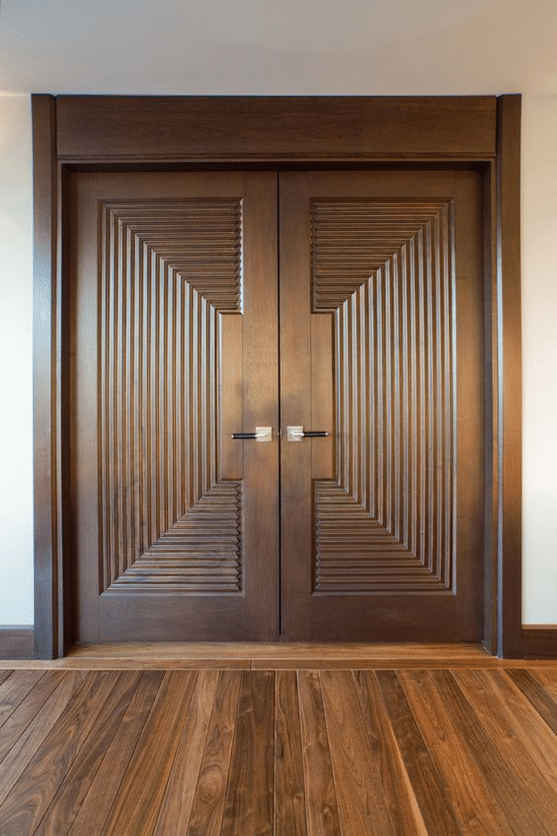 Do you like abstract or straight-line patterns? You can design your main entrance with a straightforward but prominent design. The layout creates a cozy and welcoming environment with solid wood openings.
It goes well with organic or wood-textured accents to highlight the exterior of a traditional countryside home. Again, if you do not like the appearance of your plain traditional front doors, they can be remodeled with a geometric pattern.
Look at this front door appearance. It is intriguing and an insightful testimony of its owner's and creators' perceptions. It seems that, made of deep brown-colored timber, the neat and straight lines speak in their own way. The horizontal black and white handgrip is another eye-catching feature that completes the stunning appearance.
Additionally, you will be inspired by the choice of flooring, which enriches the exterior's setup.
12. Victorian Front Door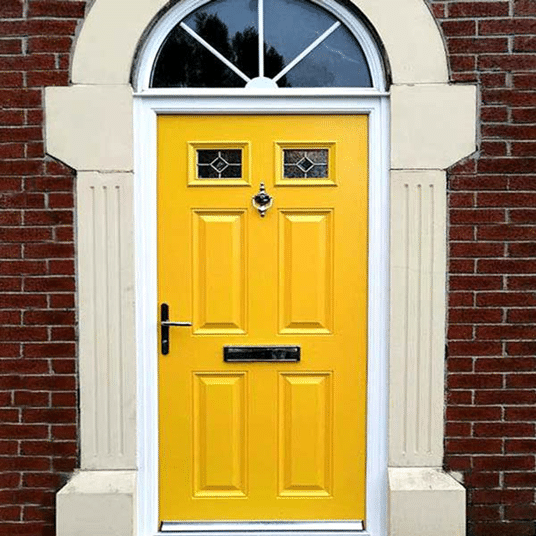 Here you see our favorite choice of a gorgeous, 19th-century, inspired exterior design. This is a Victorian-styled front door in sunflower yellow with exquisitely detailed stained glass in the upper panel. The vibrant hue contrasts beautifully with the red brick from the conservative era and the white plasterwork around the door. A top-notch locking mechanism and chrome door furniture have been used to complete the door look.
Victorian entryway designs have a variety of features. Intricate carvings, graceful shapes, and rich detailing are available in a variety of materials, including wood and wrought iron.
Stained glass windows, attractive hardware, and floral patterns are frequently used. Together, these elements create a magnificent front door that is compelling and comfortable. A Victorian-era front door layout can also significantly increase the exterior's value and the general visual appeal of the house when carefully chosen.
13. Ultra-Chic Front Door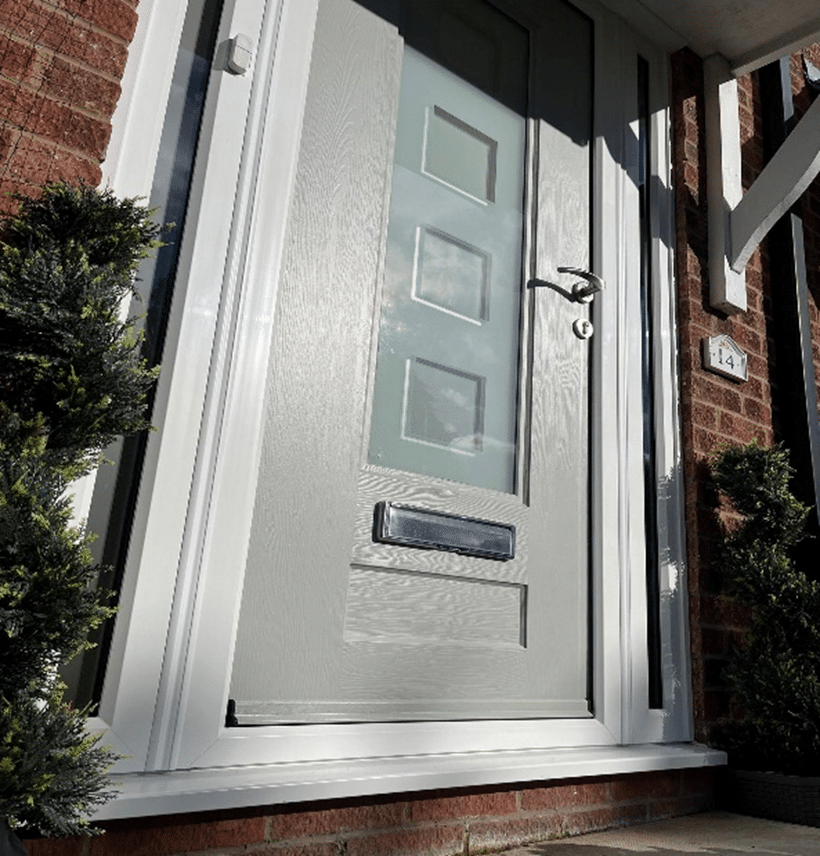 The visual appeal of your farmhouse depends on a variety of things. A well-designed exterior is more valuable since visitors, neighbors, or passersby frequently see the outer space of your country home rather than your interior space.
Why not go for an ultra-modern front door? What is not to adore about a three-paneled design in a crisp agate grey composite front door with a white framework, an arched and silvered rose grip, and a one-of-a-kind and exclusive approach?
The supporting white column on the rustic brick wall is stunning. The dark green ornamental foliage on both sides completes the stylish look. You may add stylish lighting and fashionable farmhouse number.
Elemake Front Door Handle - Front Door Lock Exterior/Interior Front Entry Handleset with Door Knob, Heavy Duty Keyless Entry Door Handle, Brushed Nickel Plating
🔒 EASY INSTALLATION: Installing is a breeze with just a screwdriver (no extra drill holes required). its fully reversible lever can be installed on both right-handed and left-handed doors and the bottom screw can be adjusted to accommodate different center-to-center distances, ensuring a personalized fit [Note: The screw post center-to-center dimension of the grip is 7-2/3" to 8-6/7" (195mm-225mm, #29 to #35) ]
🔒 BUILT TO LAST: Made with heavy-duty Zinc Alloy, this door handleset can withstand a vertical pulling force of up to 1000N and has been tested to open doors over 250,000 times. Its advanced electroplating spray paint also provides high-strength anti-corrosion ability, giving it a smooth surface that will last for years to come
🔒 SECURITY, COMPATIBILITY, AND UNIVERSALITY: This front entry handleset is not only secure but also compatible and universal. It can be combined with an electronic deadbolt for a complete front entry set and fits standard doors with 1-3/8'' to 1-7/8'' (35-45mm) thickness. Its 6-way adjustable backset can also fit any 2-3/8'' (60mm) or 2-3/4'' backset (70mm)
🔒 ALL-WEATHER PROTECTION: This handleset has been certified by AAA and BHMA and has an IP65 rating, the handleset's ability to withstand all weather conditions means that you don't have to worry about the effects of rain, sun, or snow on your front door
🔒 2-YEAR WARRANTY AND SATISFACTION SERVICE: We stand behind the quality of our product and offer a 2-year warranty and 100% satisfied service. If you are not satisfied with the product, simply contact us, and we will refund or replace it at your convenience
14. Wood-Carved Front Door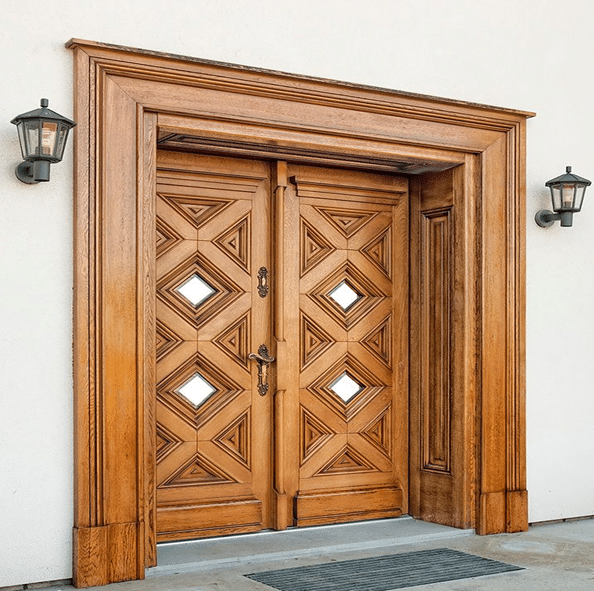 If you got an impressive out space, should you not pick up a magnificent designed front door? The elaborate wood carvings and neutral-colored knob give your exterior a grand repose. Visitors will adore the diamond-shaped glass inserts giving a touch of class to the main door design.
It can be exciting and creative to select a front door design with carvings that match the aesthetic of your house. It should also complement the overall design of your house. A wooden door with a carved design can look good in a traditional or rustic-designed country home. A wooden door with a paneled design can give your house a contemporary, sleek appearance.
A hardwood front door with frosted glass creates a contemporary and elegant feel. To make an inviting entrance, you can also include a black sofa table and an arrangement of plants.
15. French-Style Front Door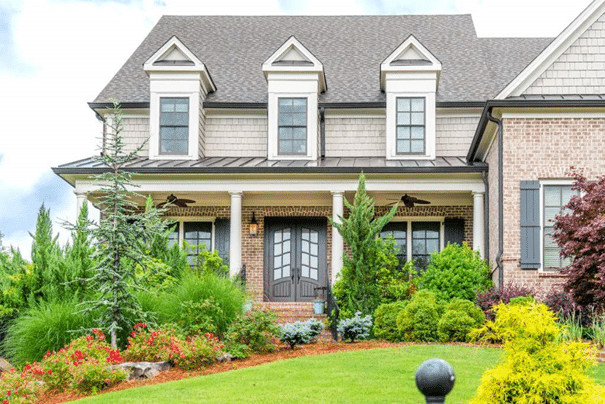 The blend of elegance and simplicity in French-styled openings comes with natural elements and muted colors. The influence of soft green or sky blue and the use of white-washed woods are the primary features of French decor.
In the image, the front door reflects a rustic yet graceful design. It skillfully and creatively strikes a balance between comfort and aesthetic appeal. The set of three windows above the porch adds uniqueness to the exterior.
You can choose knotty alder wood for an intense casual look or mahogany wood for a more formal appearance. French-style front doors can be designed with gorgeous inlaid patios that feature intricate patterns and vibrant colors. It's fiddly to imagine a French setup without outdoor spaces for plants and flowers. In this image, the natural tones in the garden light the path for the overall style.
16. Traditional Front Door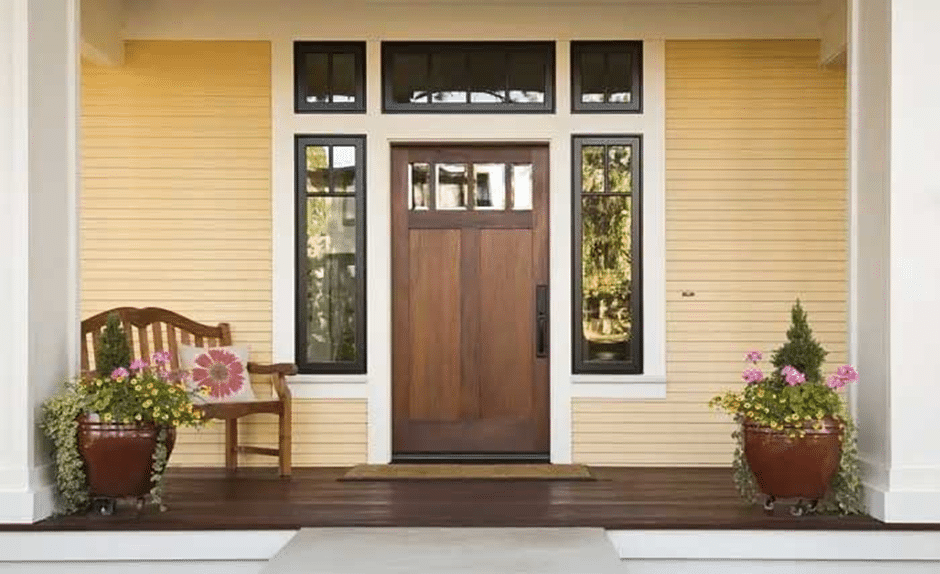 Whatever design you choose, it is crucial to select a perfect front door material for an appropriate outcome. Timber is the popular choice for a traditional front door and exterior look.
The farmhouse owner wants to keep an undecorated but arresting facade for their front door. While the front doorway is straightforward, the glass panels on the sides and at the top transform the entire layout. The idea of the cozy, wooden seating and opting for a cushion with a floral motif offers a personalized taste. The color of the urn-shaped planters enhances the look of the main entrance, with the choice of monochromatic color shade being inspirational.
You may fix on specific accents and elements to create a traditional prime entrance. Their hardware tends to be elementary. For example, hand-forged iron handles or pulls may fall into this category. Some doors may also have distressed finishes to enhance the door's organic appeal.
You can even design a farmhouse door with reclaimed barn wood if aimed to present something truly distinctive. Make sure to select a finish that will go well with the design of your home from the wide range of options available.
17. Unpolished Front Door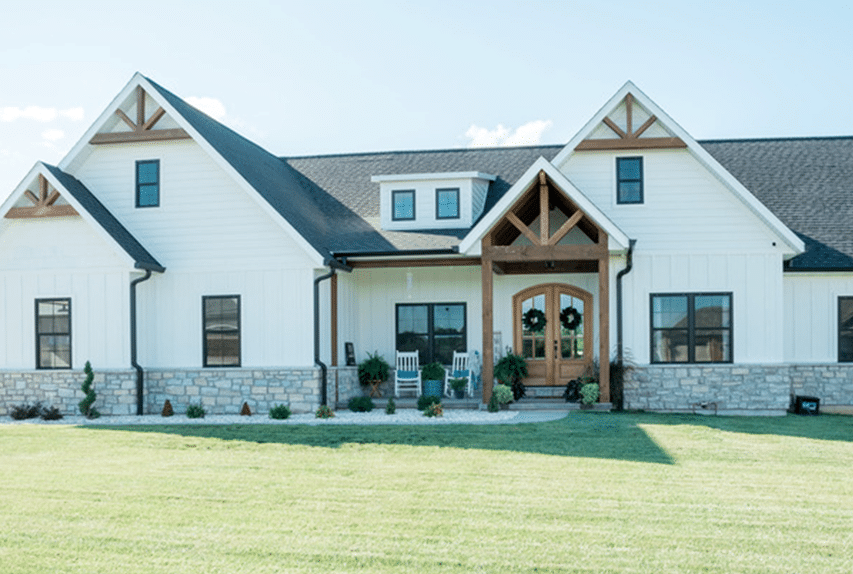 Have you noticed in the folklore that classic farmhouse entrances often display an unpolished front door with unvarnished beams?
In this image, the beams and the front door were purposefully left unfinished to give the house's exterior a more organic and cohesive appearance. The unpolished crown casing of the front door is clear and prominent. The dark roof, covered porch with columns, and angled rafter beams; the exterior paint is an off-white color presenting a pleasant view.
You may find several distinct elements adding value to the exterior. The white rocking chairs with bright blue cushions, slightly unorderly shrubs, and topiary plants are exciting.
For sure, you have got enough motivation to go for an unpolished front door ambiance creating a style of your choice.
Lvydec 2 Pack Artificial Boxwood Topiary Tree, 3ft Topiary Plants Potted Trees Decoration for Front Porch Home Living Room, Indoor/Outdoor Use
【Pack of 2】-- One order include 2 faux boxwood topiary trees, perfect for front door decor.
【Universal Size】-- This artificial boxwood tree measures 3ft tall (from bottom of the pot to the tree top)
【Versatile Greenery Decoration】-- Matching different style pot, these artificial topiary trees can be versatile decoration for any space of your home, especially perfect for front porch as your front entry decoration.
【Maintenance-free】-- No need to water, looks full and fresh all year round; Wipe clean with a soft dry cloth.
【Satisfaction Guarantee】 - Protected by 30 Day MONEY BACK guarantee, please contact us directly with any issue.
18. Black Front Door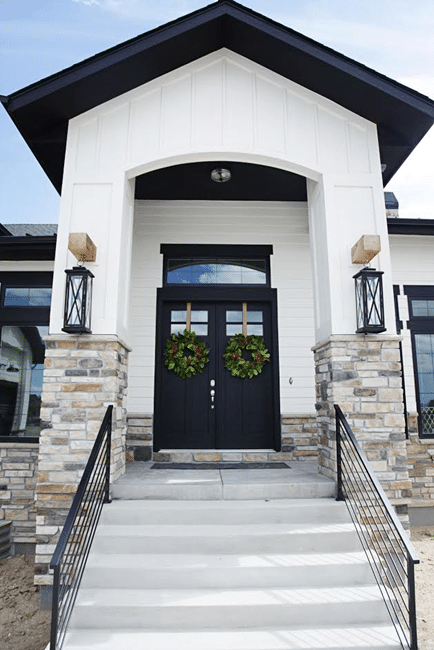 Do you prefer darker hues for your farmhouse front door? We present the classic choice, black. You can not feel bewildered by your selection of this eternal shade.
Look at this stunning mahogany door. The black door's transom window adds curb appeal. A black front door with a vibrant wreath, surrounded by sidelights and frosted glass panels in a modern farmhouse style. The arched doorway is surrounded by white brick contrasting the door.
It's an inventive concept to suspend the brass lanterns from sturdy wooden hangers above the stone beams. Black or brown will look great with white siding. Additionally, you have the option of having transparent or scratched glass panels.
When homeowners desire to create a visual impact, they frequently choose black front doors. The black doors not only improve the look of your property but also make a grand entrance to your house.
19. Glossy Front Door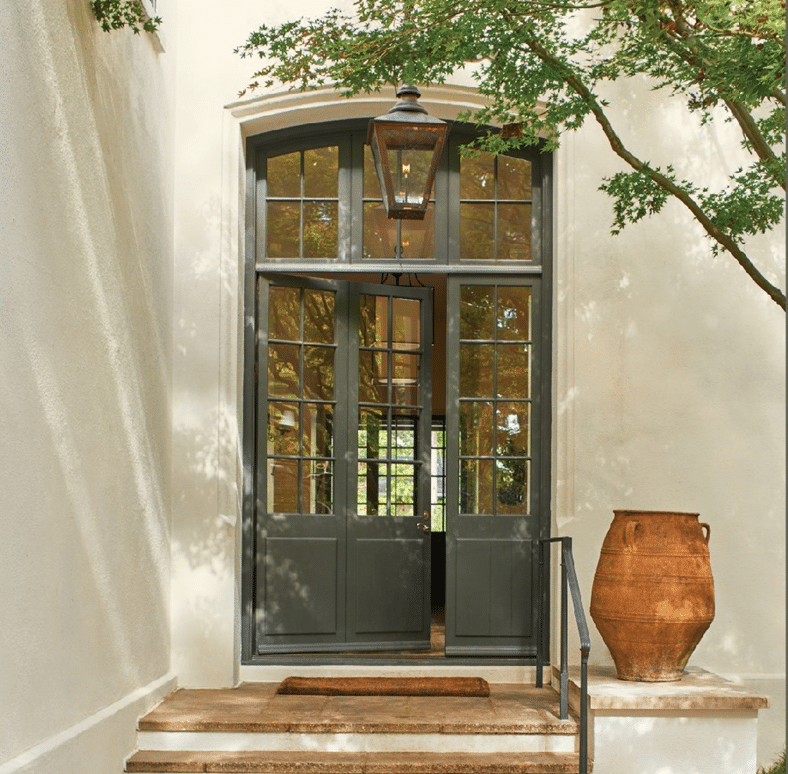 This lovely front door has a subtle design. Take full inspiration from this façade with a Mediterranean influence and modernize your exterior.
The décor was warm, with terracotta urns and lots of greenery. The exterior is updated with a classic choice of paint color. The Mohegan Sage front door, which is a blend of dark green with a golden undertone, is made more appealing by the white chocolate siding of the house, which contrasts with it. Use vibrant yet earthy colors to spruce up your front door.
We adore the stunning first impression that these front doors create. Which color of exterior front door paint do you prefer?
20. Double-Door Front Door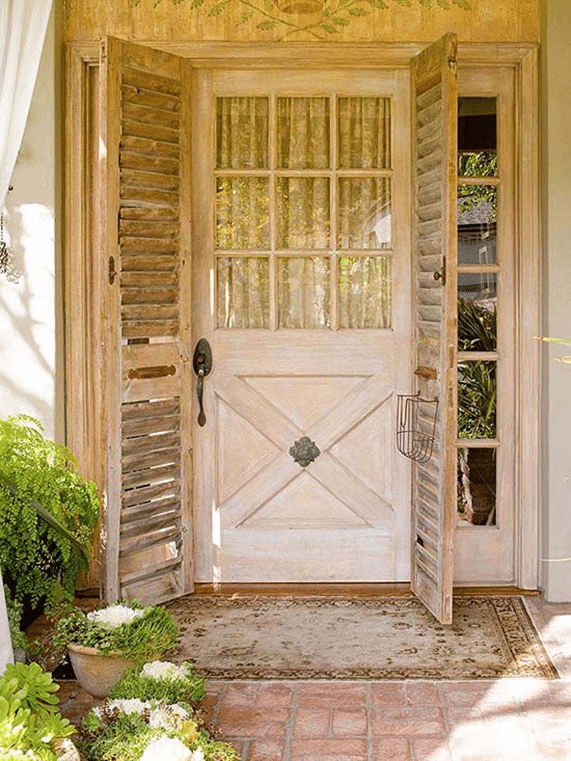 This classic farmhouse front door has the weathered style of a seasoned housemate, touched by an arrangement of antique louver shutters.
We adore the distinctive details, such as the hand-painted vine that is unfolding on the siding above, the lace curtains that cover the door, rusty wire mailbox that is patiently awaiting the daily delivery of mail.
Paint a light coat of white across the present color to give a new door the appearance of being worn down. Wipe off any extra paint with a cloth or piece of cheesecloth. This front door of the country home got an aged look due to the pattern that the fabric leaves behind.
Conclusion
We hope that you got some inspiration for your farmhouse front door after this blog post. As you see, the 20 creative ideas we listed above are distinct in their traits.
If you are a fan of bold shades, you may focus on black doorways. The splendid Victorian or French-styled front doors certainly will be a pride collection to showcase for any homeowners.
Moreover, you may enhance your front door look with customized and on-the-mark ideas. Choose the front door material to your need and preference. You may add a rhythmic texture with carved doorways or apply stunning yellow to catch the attention of youngsters to older ones.
The latest composite door or shining bronze doorways are also awe-inspiring.
You are welcome to share your thoughts and crazy experiments on the look of your farmhouse front door in the comment box.