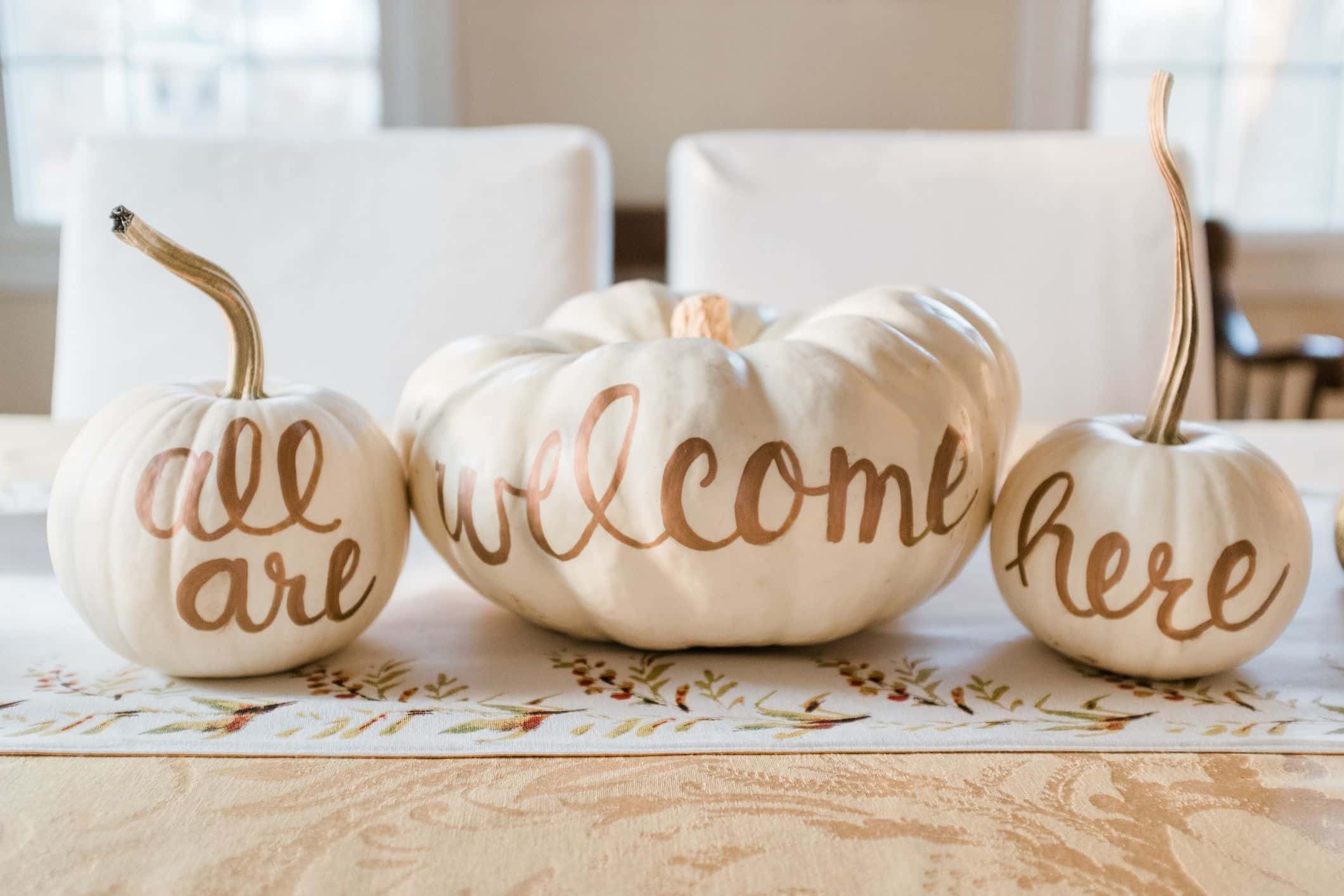 Fall decor adorns yours indoors and outdoors from rustic centerpieces to gracing your dining table, these fall decor ideas will help you welcome the autumn at your home without breaking the bank. It creates a warm and inviting atmosphere during the autumn season. We decorate fall to celebrate the autumn season and also provide a warm and inviting atmosphere during winter.
But nowadays people decorate it during holidays not to celebrate the season. They are decorated during the first two weeks of October, which is the start of autumn. But in this busy life getting new ideas for fall decor is a bit challenging task.
Keeping this in mind we bring you a guide for 24 cheap and easy fall decor ideas for 2023 that can be used both outdoors and indoors of the house. That is not only budget-friendly but also creates a beautiful and warm atmosphere in the entire place.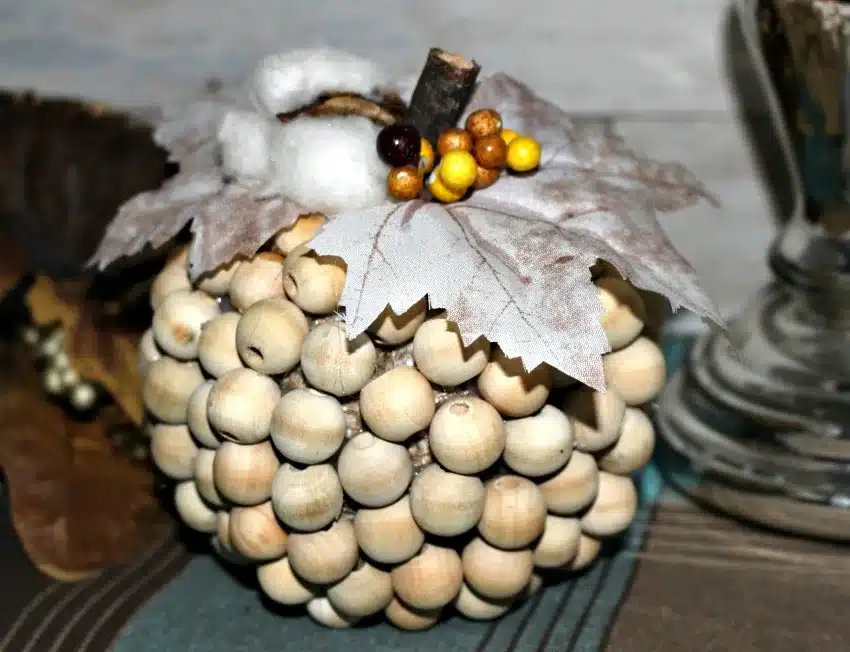 Making a bead-style pumpkin is a fantastic idea for DIY fall decor. Here you just have to arrange beads in the shape of a pumpkin. The process of making a bead-style pumpkin is very easy. Firstly arrange a pumpkin, then use wires and put them around the pumpkin; after making wires in the shape of the pumpkin then, put beads in it.
Your diy bead-style pumpkin is ready. You can select the size of the beads. To make them strong, you can use a glue gun. You can use ribbon to make the stem of the pumpkin. This will complete the whole look of a bead-style pumpkin.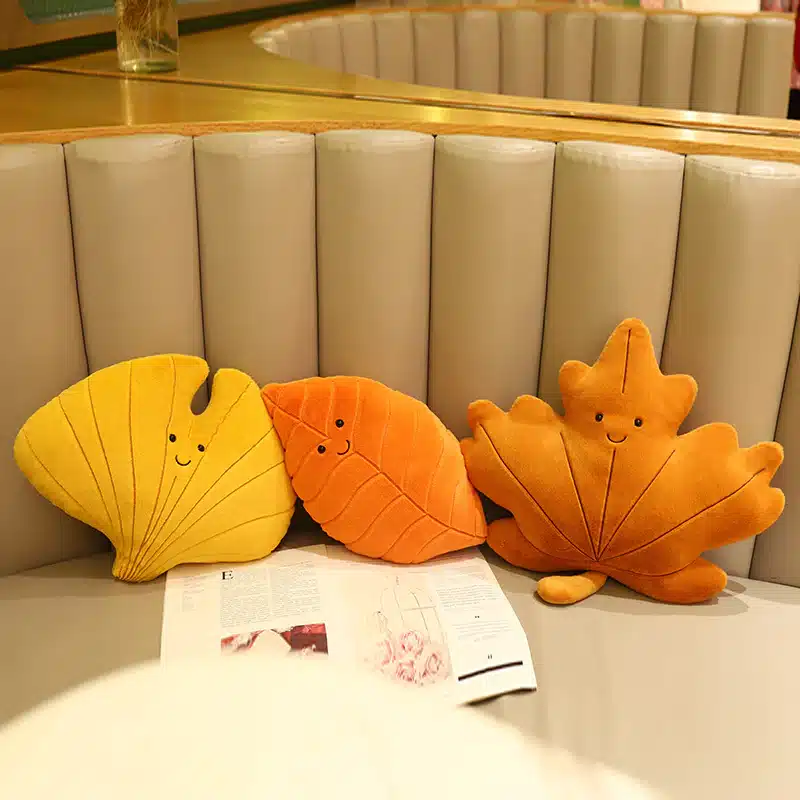 Using fall leaf throw pillows is also a great idea for fall decor. This is one of the easiest and most affordable ways to add a touch of fall to your house. Though you can use any color of your choice, using pillows that are yellow, orange, or brown is preferable cause they represent the color of fall.
You can even paint the throw pillows and make the design of your choice on them. This DIY process is not easy to make, but if you are a painter and love painting, then you can include this idea in your list.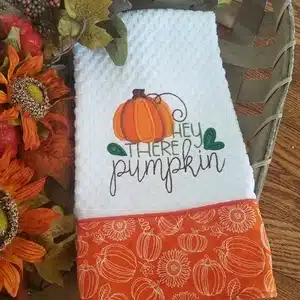 Just like fall throw pillows, a fall towel is also a great idea for fall decor. This towel cannot be used after the bath but is more likely to be used as a showpiece. Just like fall leaf pillows, a fallen towel also needs to be painted, and you can choose the color of your choice and then use it as a showpiece; you can keep it anywhere in your house. There are various ways to get this fall towel. The first one is to buy them online (which you can get easily), the second one is to paint on a white or light-colored towel, and the third one is to sew the design on a white or light-colored towel. If you are going with the second and third options, then choose the design that goes with the fall theme, like pumpkin, leaves, apples, acorns, or any kind of phrase like "happy fall" or "hey there, pumpkin here."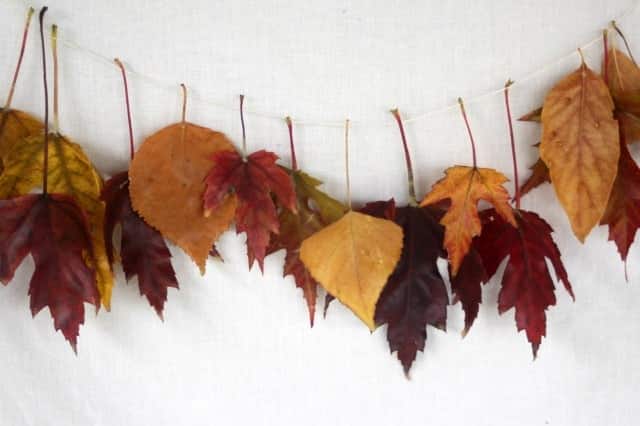 Till now, you have seen many people using fresh flowers for garlands, but here we bring you a unique concept of making a garland from dried leaves. The process is very simple. You just have to collect the dry leaves that can be found easily during this season.
Take a string and then start putting them in that string, just like when you make a regular garland. You can use this garland mainly outside your house, above your door, or at the railings of your balcony. Make sure to tie the string properly from both ends to prevent leaves from falling.
Copper is brown, which is one of the fall colors. If you are lazy to do any kind of DIY, then just simply use copper cookware you can either use them for a show or for cooking. The choice is up to you.
Using Cooper cookware also has many health benefits not only for the skin but also for the bones and digestive system. It can keep the digestive system active. Including copper in your diet also prevents many diseases like cardiovascular disease or osteoporosis.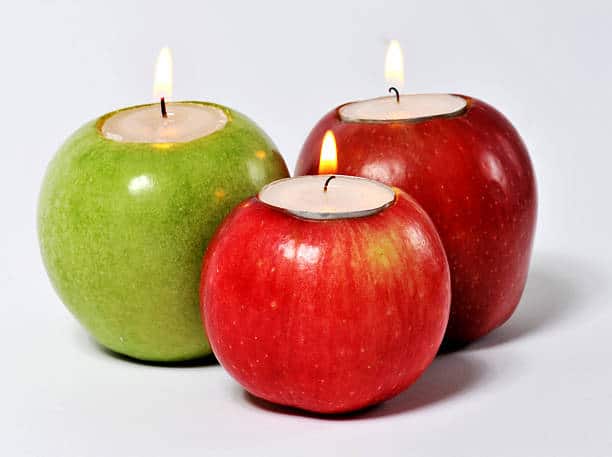 Apples are red, which fits the color theme of fall decor. This is one of the easiest DIY to perform. Just take an apple and a knife, cut the top part of the apple to leave a small space, and then place a small candle above it. That's it. Your apple-themed candle is ready. A dark room is the best place for these candles. While using apple theme candles, make sure to keep them away from flammable materials and kids for safety purposes.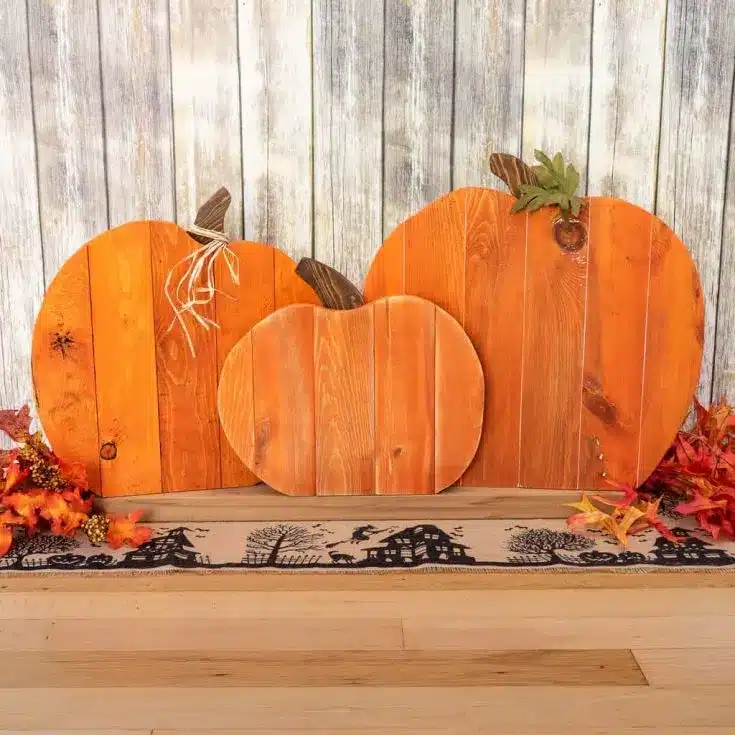 You can make pumpkins by using wood. For this DIY fall decor, first, you have to take a wood plank into the shape of a pumpkin with the stem on the top. After this, smoothen the rough edges and surfaces of the pumpkin by using sandpaper. Now, we have a pumpkin that is ready for painting. Acrylic paint or spray paint, you can use any paint. The choice is totally up to you. This diy may sound a little challenging, but the results are really beautiful. You can even add a face to your pumpkin.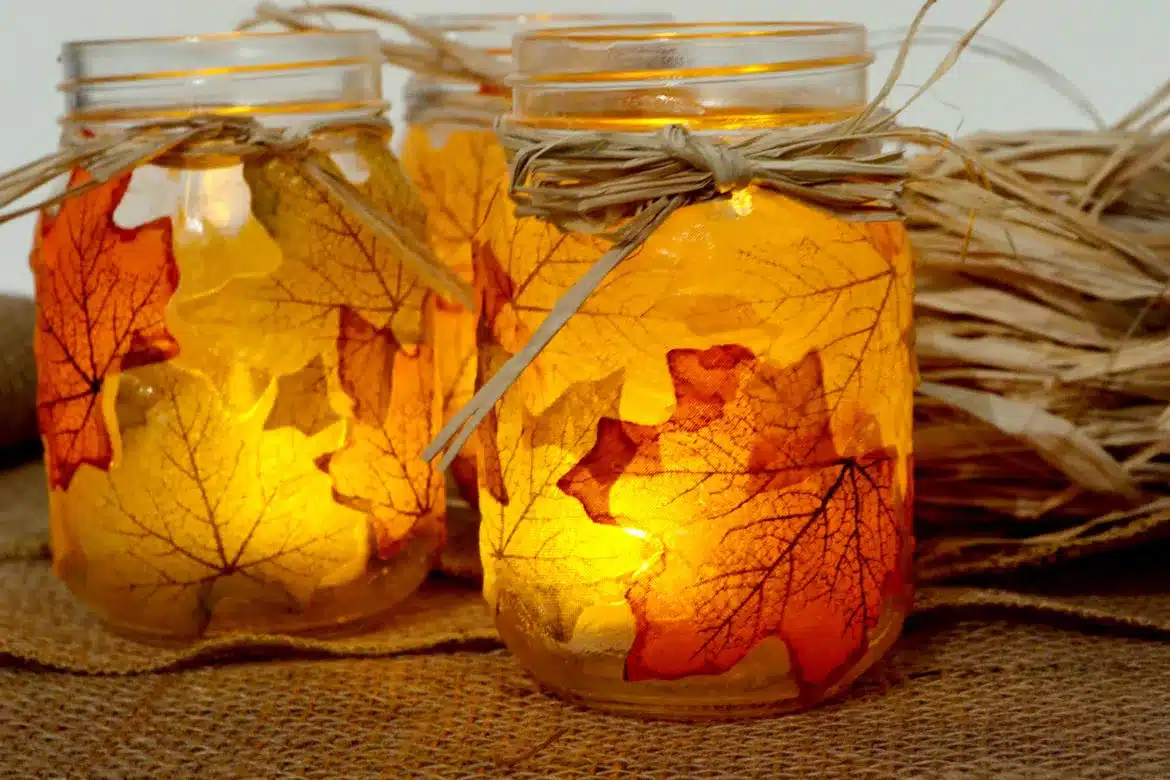 Take a glass jar and fall leaves. Wash the fall leaves thoroughly and then place them inside the jar. Now your fall-themed jar is ready. Next, place one candle inside the jar; now, light it up when it is dark. This is the quickest and easiest diy of this list that any person of any age can do. You can use them as a centerpiece for your dining or study table and also may use them for decorative purposes at any place in your house.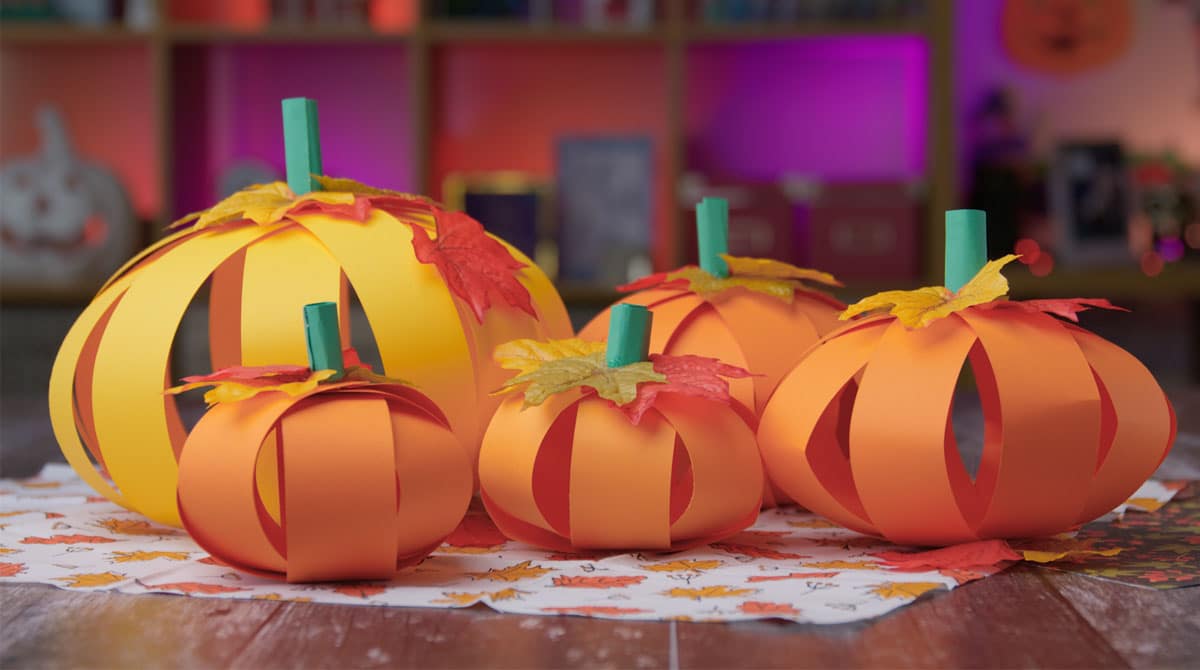 Moving on to the next DIY is making paper pumpkins. To make this, you just need a newspaper, craft paper (orange colored), or any kind of paper. Cut the paper into strips; the gap between strips may vary in size if your pumpkin is small; the 1-inch space between them is fine, but if your aim is a larger pumpkin, then keep it 2-3 inches wide.
Now take one strip of paper and then apply glue at the one end, then attach the end with glued end. Now go with the loop. Your paper pumpkin is ready.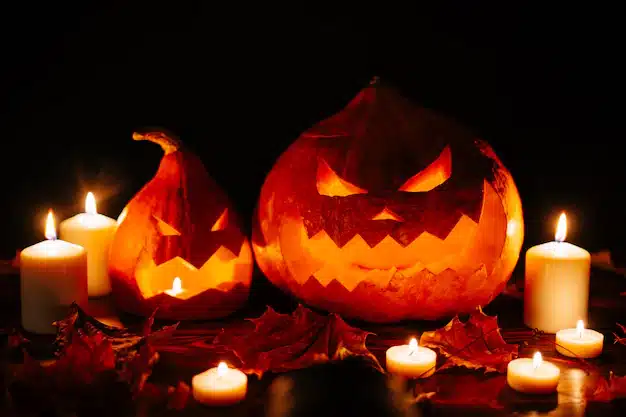 As the name suggests, the pumpkin light is made by using dried pumpkins. You can either get the pre-dried one, or you can dry it by yourself by scooping all the unnecessary pulp present in the pumpkin. Now take a sharp thing like a knife to carve the face of the pumpkin or any design you want. Now place a tea candle inside the shallow pumpkin, and now your fall decor is ready to shine. Avoid placing this decor near flammable materials. This fall decor is best to use as a centerpiece for special occasions. Make sure to handle it carefully to avoid any accidental damage, and also keep it away from the reach of children.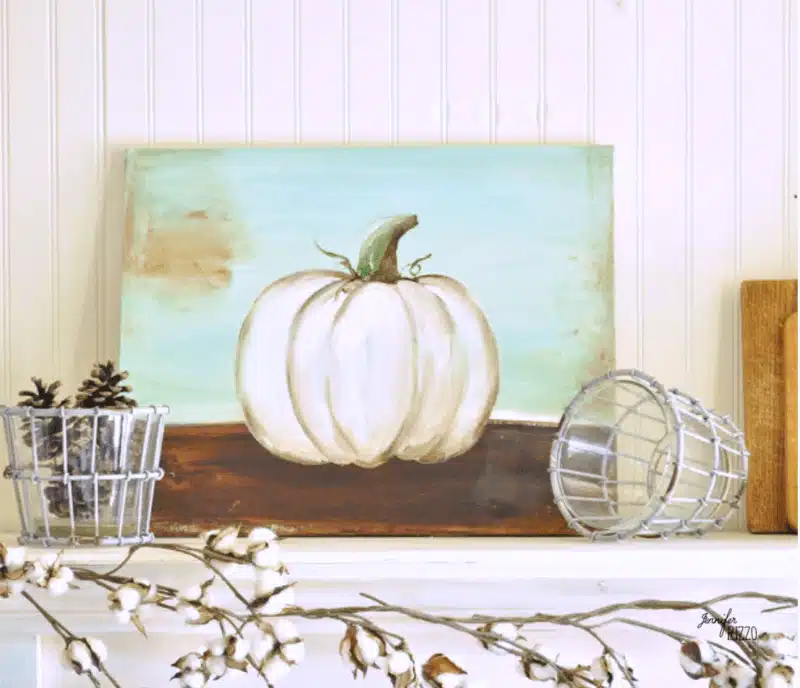 If you are fond of drawing, then this DIY fall decor idea is just for you. Just take a canvas board with the size of your choice. Now start drawing pumpkins or any fall items (like leaves, acorns, leaves, and many more) you want by using a pencil. Acrylic color is recommended if you are going for this idea. Make sure to add details when the painting is completed. Now let it dry and then keep it as a showpiece or frame them.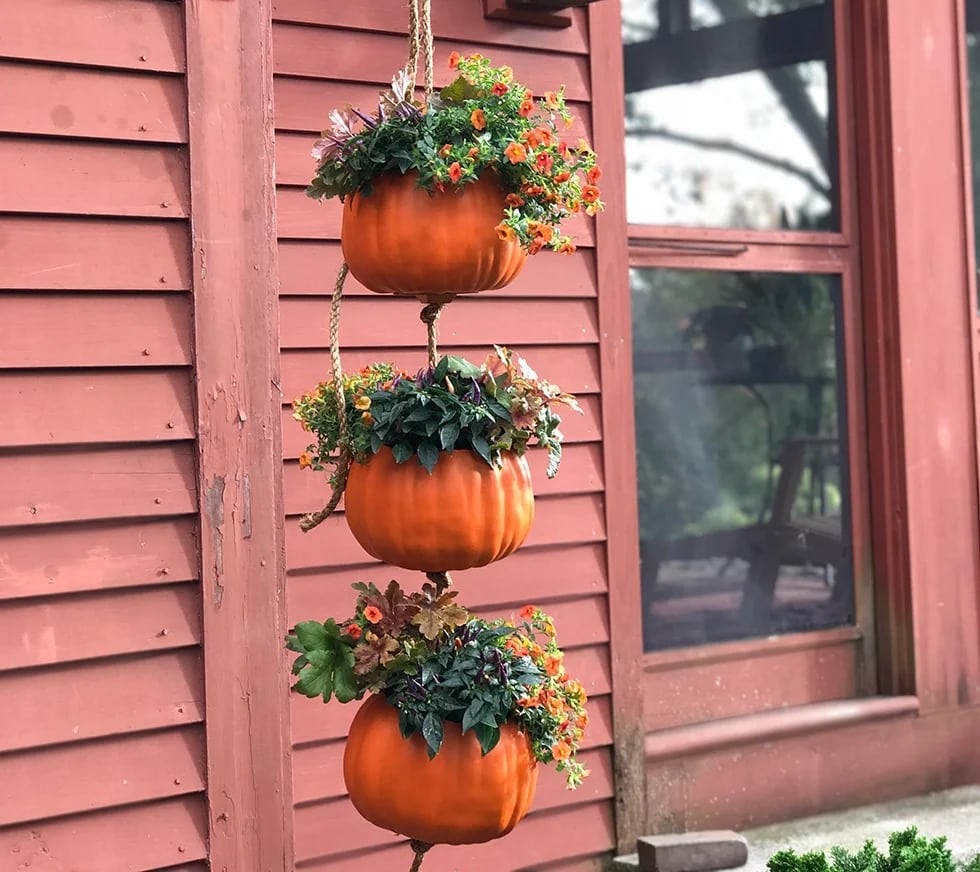 For this DIY fall decor idea, you just need a large pumpkin. Here we only need is pumpkin outer layer. For that, first, take the pulp out of the pumpkin, then dry it out. After that, put the plant of your choice in it. Your hanging pumpkin planter is ready. Now hang the pumpkin outside your house or on your balcony. After following these steps, you'll have a charming pumpkin hanging planter that will provide a feel of autumn and nature to your living space. 
Some tips that you must follow while planting pumpkin hanging planters is that use plants that have similar water and light requirements so that they can grow well inside the pumpkin.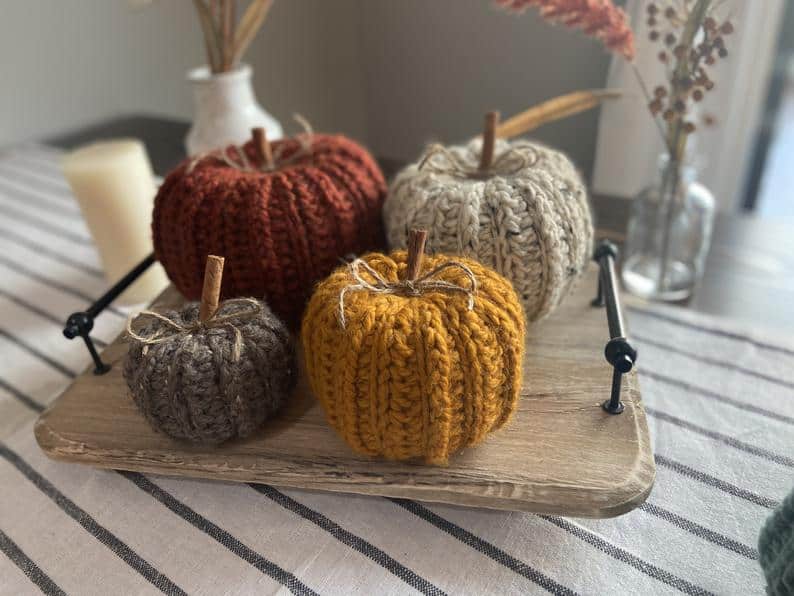 Take a fabric (of your choice) from fall colors (red, orange, brown, and yellow). First, cut the fabric into a square shape according to the shape you want. Now stitch the edges of the fabric, leaving a small opening, then turn them inside out.
Now stuff the pumpkin with cotton or synthetic cotton. Now close the opening and add a stem to it. Your pumpkin made from fabric is now fully ready to warm your house. If you are lazy or do not have time to make fabric pumpkins, then you can also buy them online.
Here you have the liberty to experiment with different colors, fabrics, and sizes; doing this will give you a diverse collection of fabric pumpkins at your house.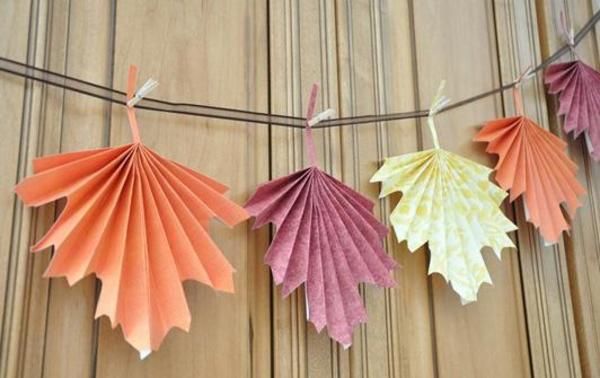 Just take a fall-themed colored paper and now choose your fall shape, for example, pumpkin, leaves, and many more. Now draw them on the sheet of paper and cut them out. After cutting them out, use markers, sketch pens, and crayons to decorate the cutout.
Now your pop fall shape is ready for display. You can use them for display at any place in your house. It can be indoors, outdoors, bedroom, dining room, and many more.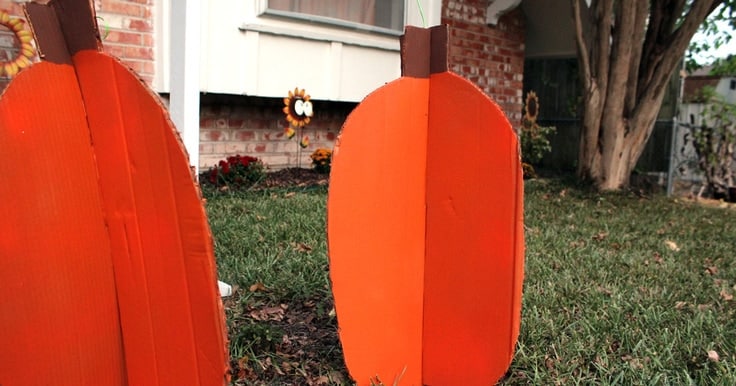 Take a cardboard and cut them in the shape of a pumpkin. Now on this outline of cardboard, draw the face of the pumpkin and paint it accordingly. Use acrylic colors for painting. After everything is done, find the best spot for your pumpkin cutout.
It can be placed on the mantel, table, or any flat surface of your home. For the protection of the paint from dust or other stuff used, add a glossy finish; you can apply a clear varnish or sealer over the entire surface. This step is optional.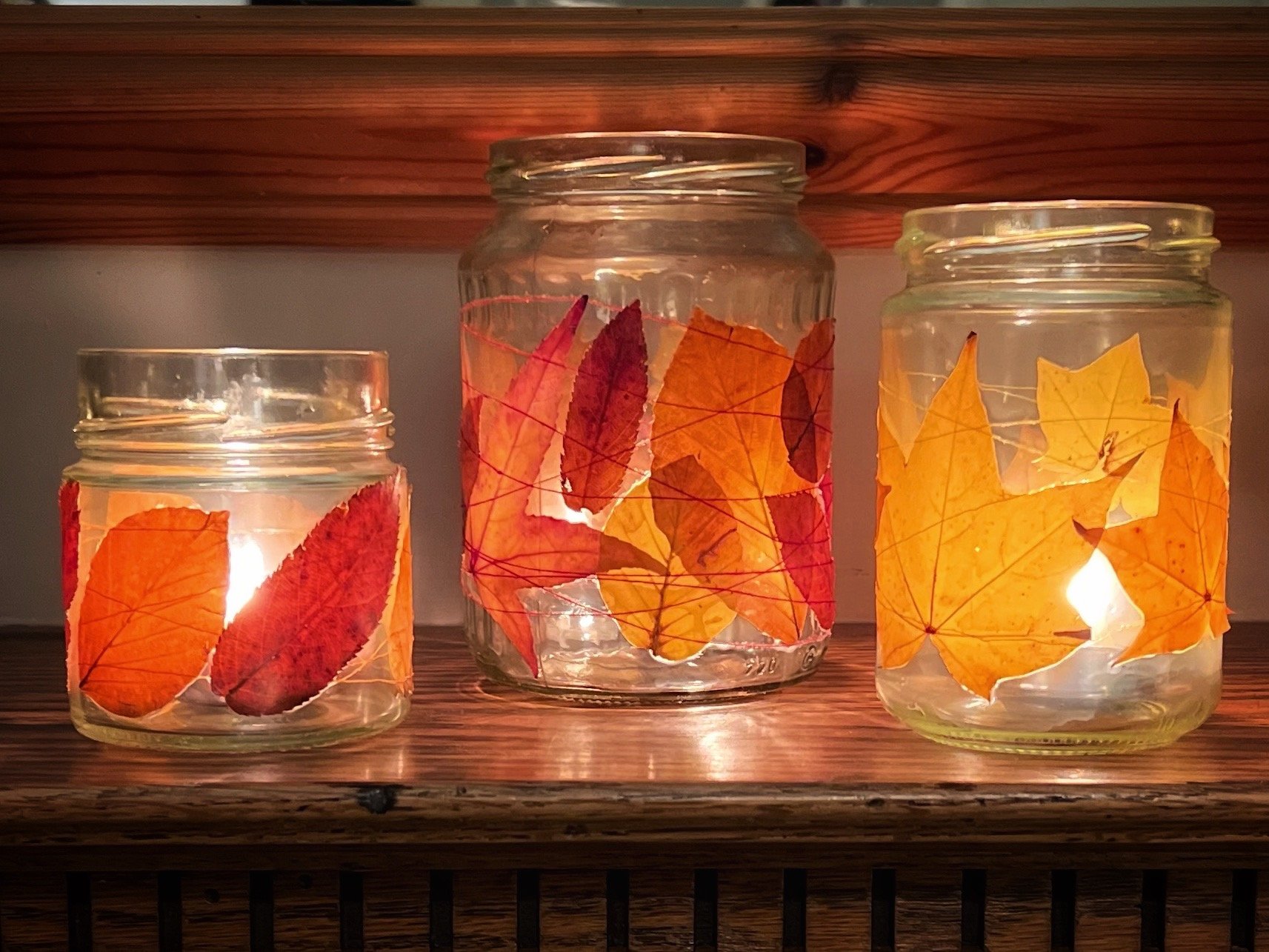 This fall theme glass jar is different from the above fall-themed jar. Here instead of placing leaves in them, you have to paint on their surface. You can paint anything that belongs to the fall, like leaves, pumpkins, acorns, and many more things.
You can use glass color for this purpose. After painting, let it dry; the main advantage of this diy fall decor is that it can be used for over many years. You can either use real candles or battery-operated tea light candles to light up your fall-themed jar.  Battery-operated tea light candles or fairy lights are a safer option to light up the jar.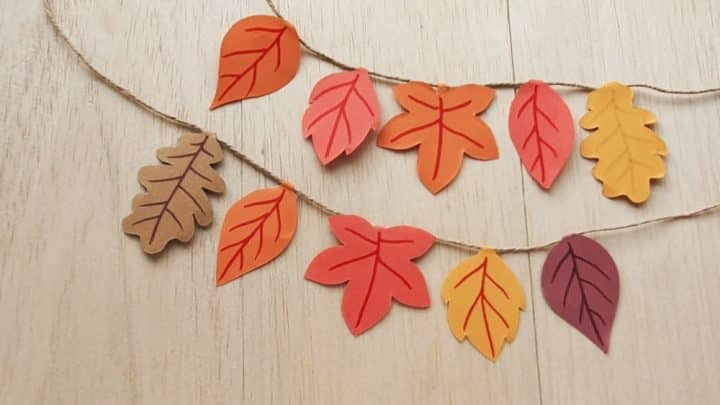 Just take a yellow and brown colored paper and then draw leaves on it. Then cut it off by using a punching machine, and make holes in them. Take a string and start putting garland in it. Now tie the ends properly to prevent damage, and your paper fall leaf garland is ready to shine.
After the completion of your garland, hang it to the suitable place in the house. You can use it to decorate your fireplace mantle, hang it across a window, or on a wall at your house to celebrate the fall season.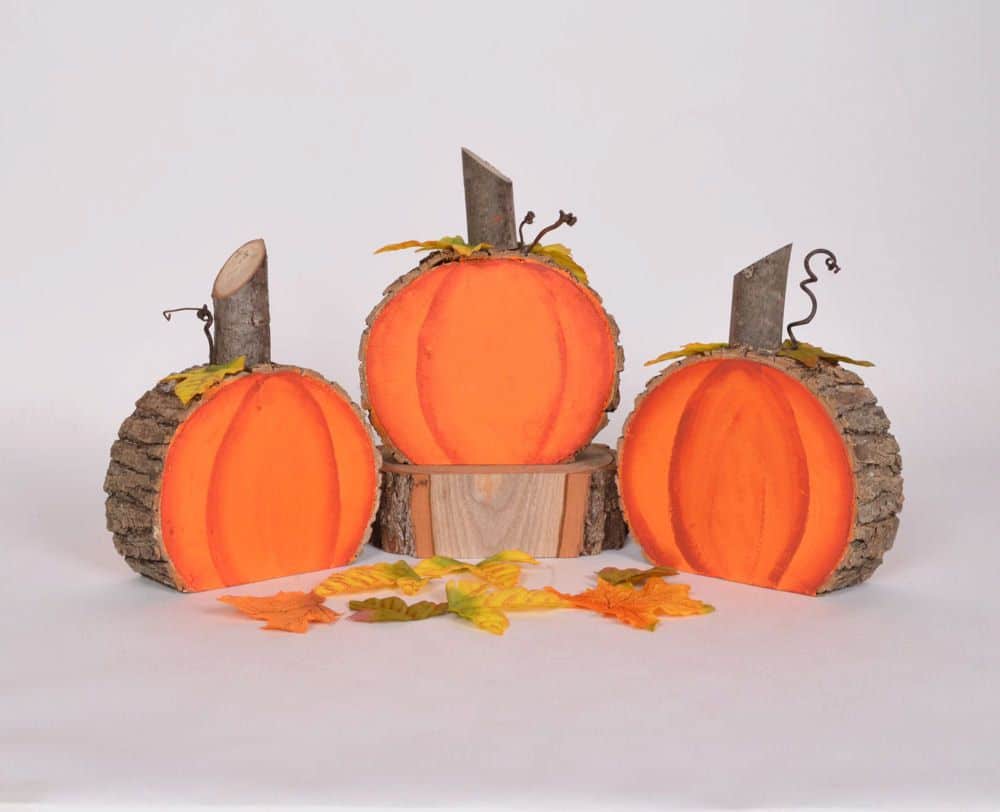 Take a tree stump and color it the color of a pumpkin, or even better, you can make a Halloween-style pumpkin on it. You can use it as a signboard by writing "Welcome," "This Way," and "Thank You." You can even write quotes on it and keep them on display outside your house.
While making a pumpkin-themed tree stump, you can get creative with colors, patterns, and designs to make your place unique and personalized. Now enjoy the festive and cozy atmosphere it brings to your home!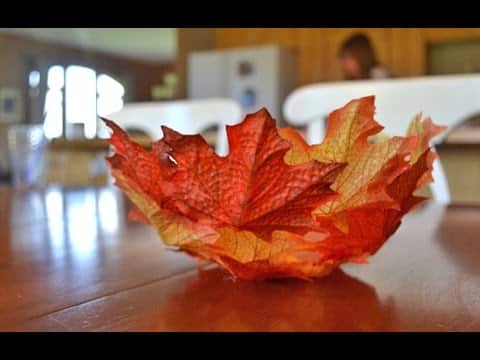 Making a fall leaf bowl in the fall season is a very unique diy fall decor idea that can add a touch of autumnal charm to your home decor. These bowls can be made by using real or artificial leaves, which makes them unique from other diy fall decor.  
Take assorted colorful fall leaves (make sure that they are clean and dry). Moving on to the second step is inflating the balloon to the size you want your bowl to be. Then stick the leaves at the bottom of your balloon using glue. When it gets dry, separate the leaves by popping the balloon. Your fall leaf bowl is ready to use as a beautiful seasoning decoration or as a unique holder for small items.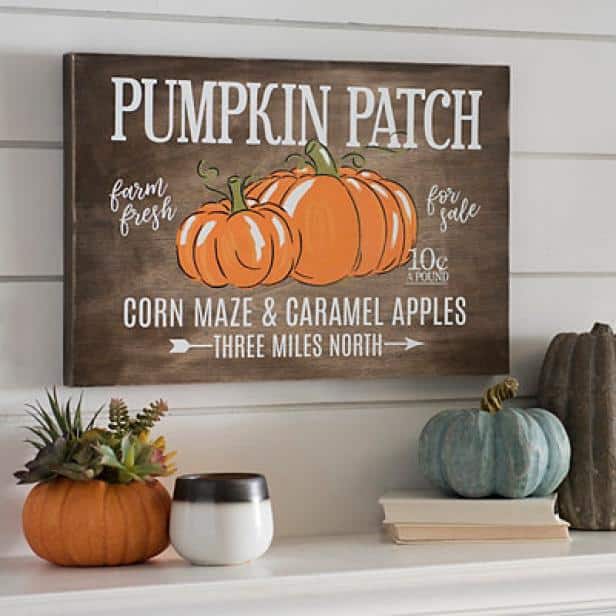 Take a wooden plank and remove all the dirt; now, use sandpaper to smoothen the surface and the edges of the wood plank. Paint the plant using fall design and fall-themed colors. Choose a fall-themed word or quote that you want to display on the plank. Your rustic wood plank with a fall sign is ready to display. 
Now enjoy the beauty of your diy fall decor wood plank sign and the cozy vibes it brings to your place.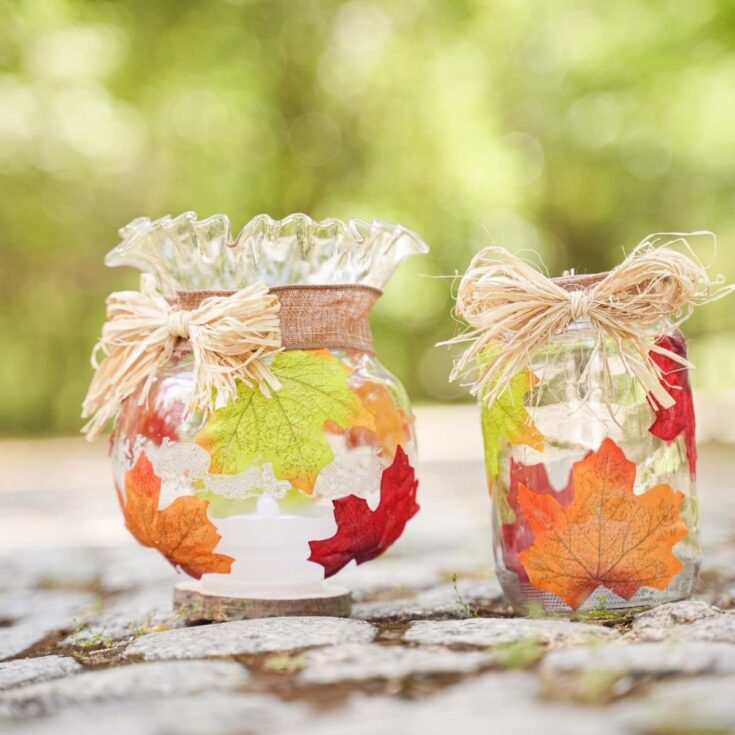 Gather colored fall leaves from outside, making sure that they are dry and flat. Now take a clean glass jar. Then paste the fall leaves on the surface of the jar using glue and let it dry. Now place a candle or LED light in it.
Now turn off the lights in your room and watch these leaves create a warm and enchanting atmosphere. This is the best way to relax. You just need to close your eyes.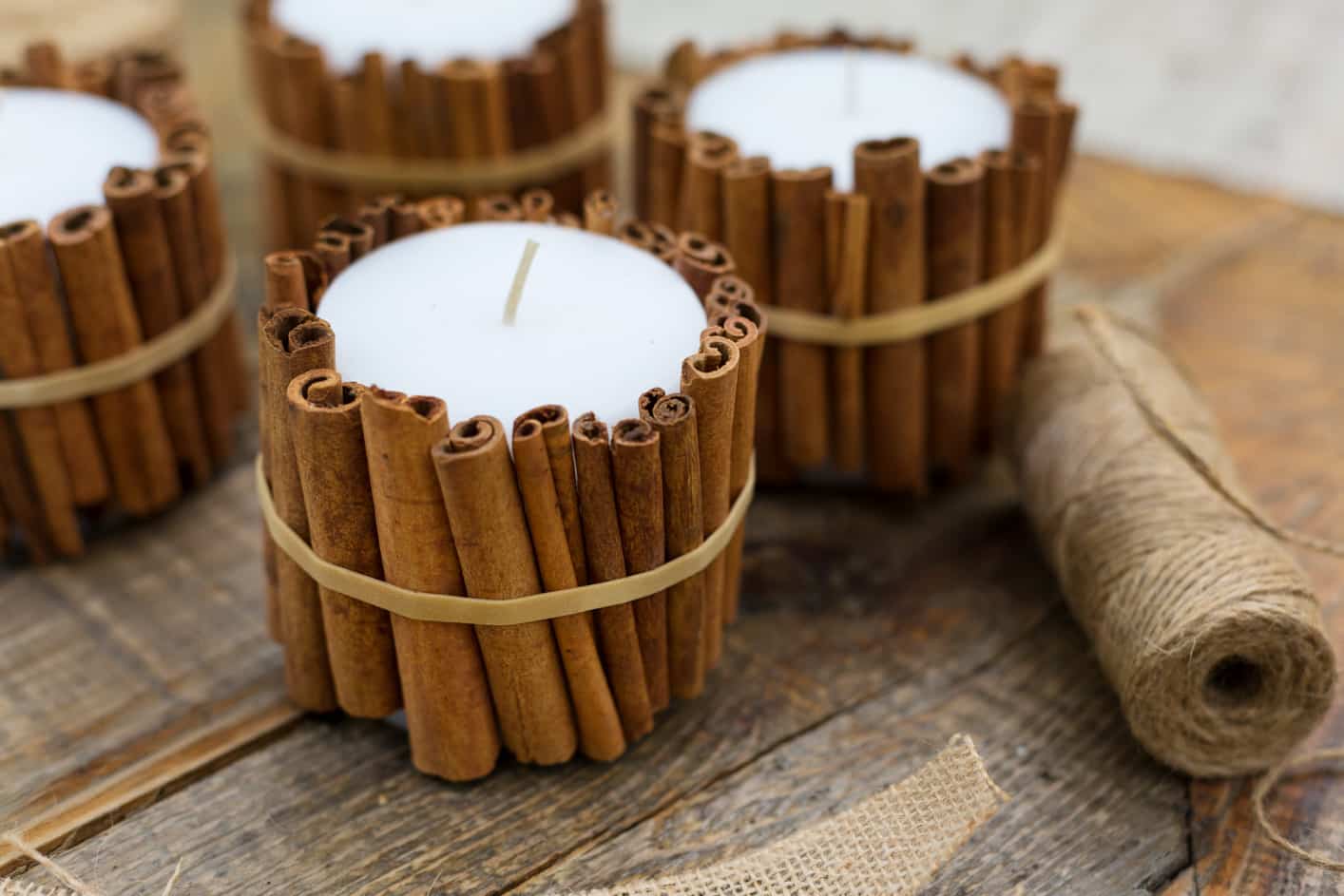 Another beautiful way DIY fall decor is to stick candles. Take a glass, and by using hot glue, stick the cinnamon sticks all around the glass. If you want, you can even cut or trim their edges using scissors to make them align with the edges of the glass.
Now light up the tea candle inside the glass and enjoy the beauty of cinnamon stick candles featuring cinnamon scent. The candle used here must be plain ones, but if you cannot get them, then scented ones can also be an option; just make sure that the scent of the candles goes well with the scent of cinnamon.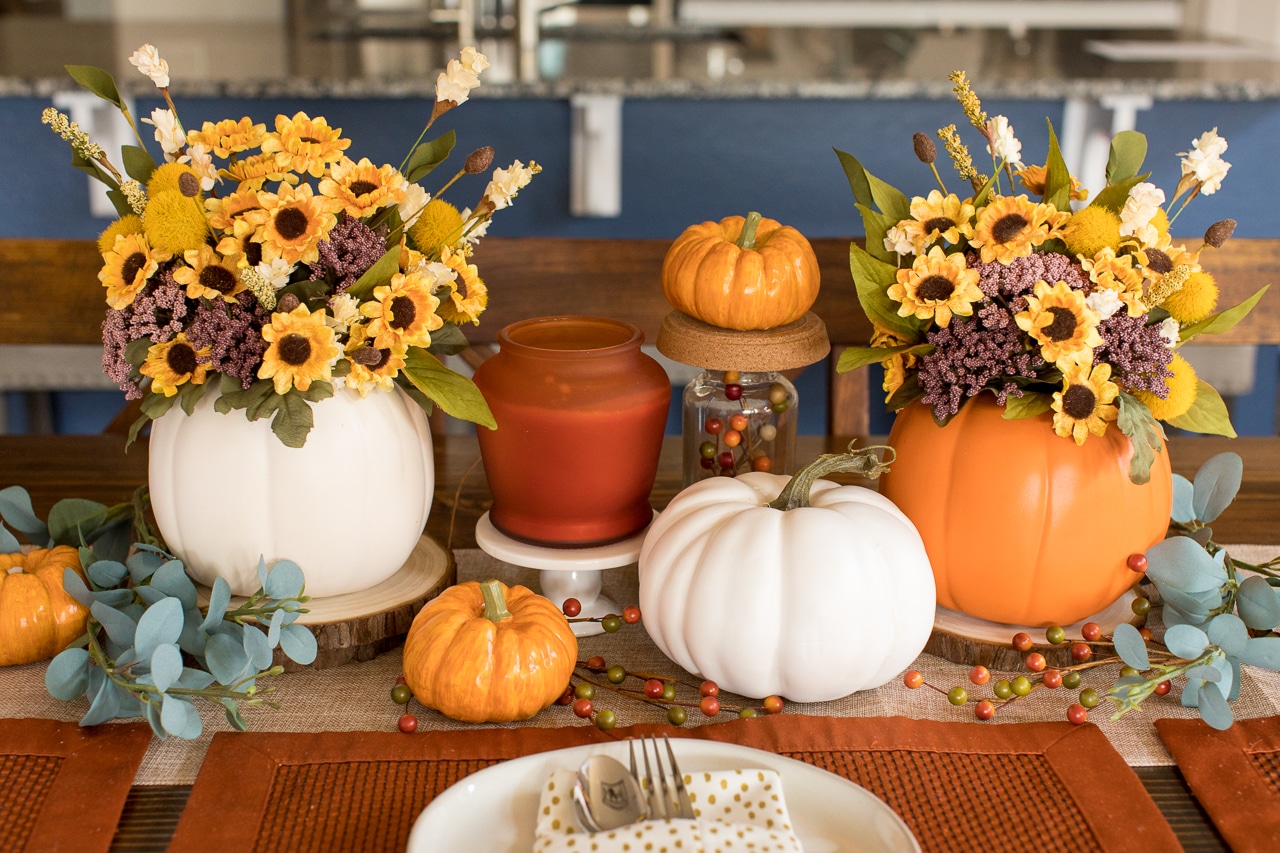 Another excellent diy fall decor idea is to use the outer layer of pumpkin. Dry the outer layer of the pumpkin, then cut them to make their face. Now add fall flowers or fall leaves on the top of the pumpkin and arrange them properly. You can keep it outside of your house for display, like on the windows, balcony, and many more. You can customize a pumpkin vase, so feel free to get creative with your choice of pumpkins, foliage, and flowers.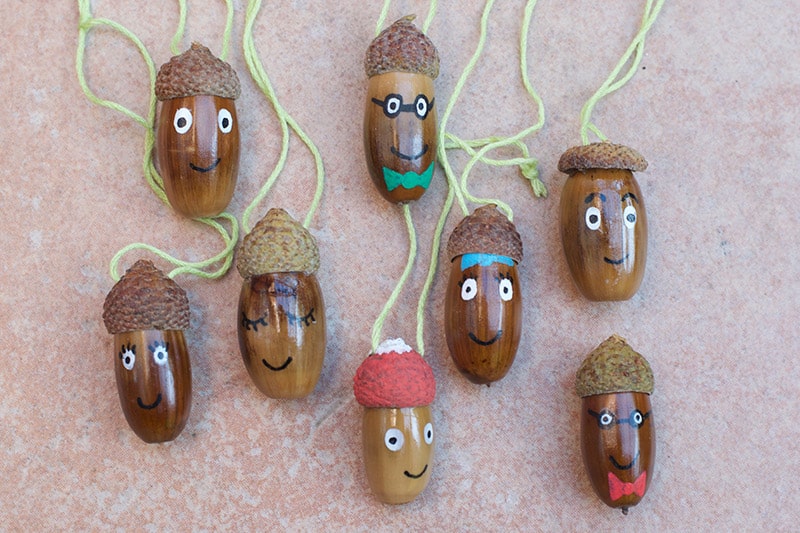 Another one of the easiest diy falls on this list. If you watch acorns closely, they are cute when it comes to shape, size, and looks. Taking advantage of this characteristic of acorns, you can make cute faces out of it. There are two ways to make a face on an acorn first one is using markers, and the second one is using paper. In a marker way, you can simply make a face on acorns. In the paper method, draw the face on the sheet of paper then, cut it out, then paste it on the acorns.
Now you can use them for decoration on various parts of your house.
Conclusion
These were the 24 cheap and easy diy fall decor ideas for 2023 that offer you an exciting and beautiful option to include in your home. This DIY fall decor idea is a do-it-yourself and budget-friendly decor.
Lastly, just make sure that the fall decor you are choosing suits your place. Cause sometimes, even the most beautiful fall decor does not suit the place because it does not go well with the vibes of that place. All the best for the task!
Which of the above DIY fall you will use at your house? Let us know in the comment section.
Frequently Asked Questions
When Should You Put Out Your Fall Decor?
Fall decor is put up during autumn, that is, in September or October. During this season, the weather starts changing to cold. To sync the decoration with the season, fall decor is being put in. Avoid putting fall decor before late August and after early November.
Why Do People Decorate for Fall?
People decorate for fall just to celebrate autumn. During autumn, people get holidays, and to celebrate those holidays fall decors are being made. Earlier fall decors were made for the autumn season, but nowadays, most of them decorate falls just to celebrate the holidays but not for the autumn.
Which Color is the Best for Fall in Home Decor?
Though you can use any color of your choice, if you are strict with the autumn theme, then colors like yellow, red, orange, and brown must be in the options. Cause these are the colors that are found mostly in nature.
What Makes Fall Beautiful?
Falls are beautiful because of colors like red, orange, and yellow. The view you get at this time is unimaginable, or you can say it is very beautiful. This is a great time to go out for a walk, ride, or long drive. This time the weather starts changing to a little cold.