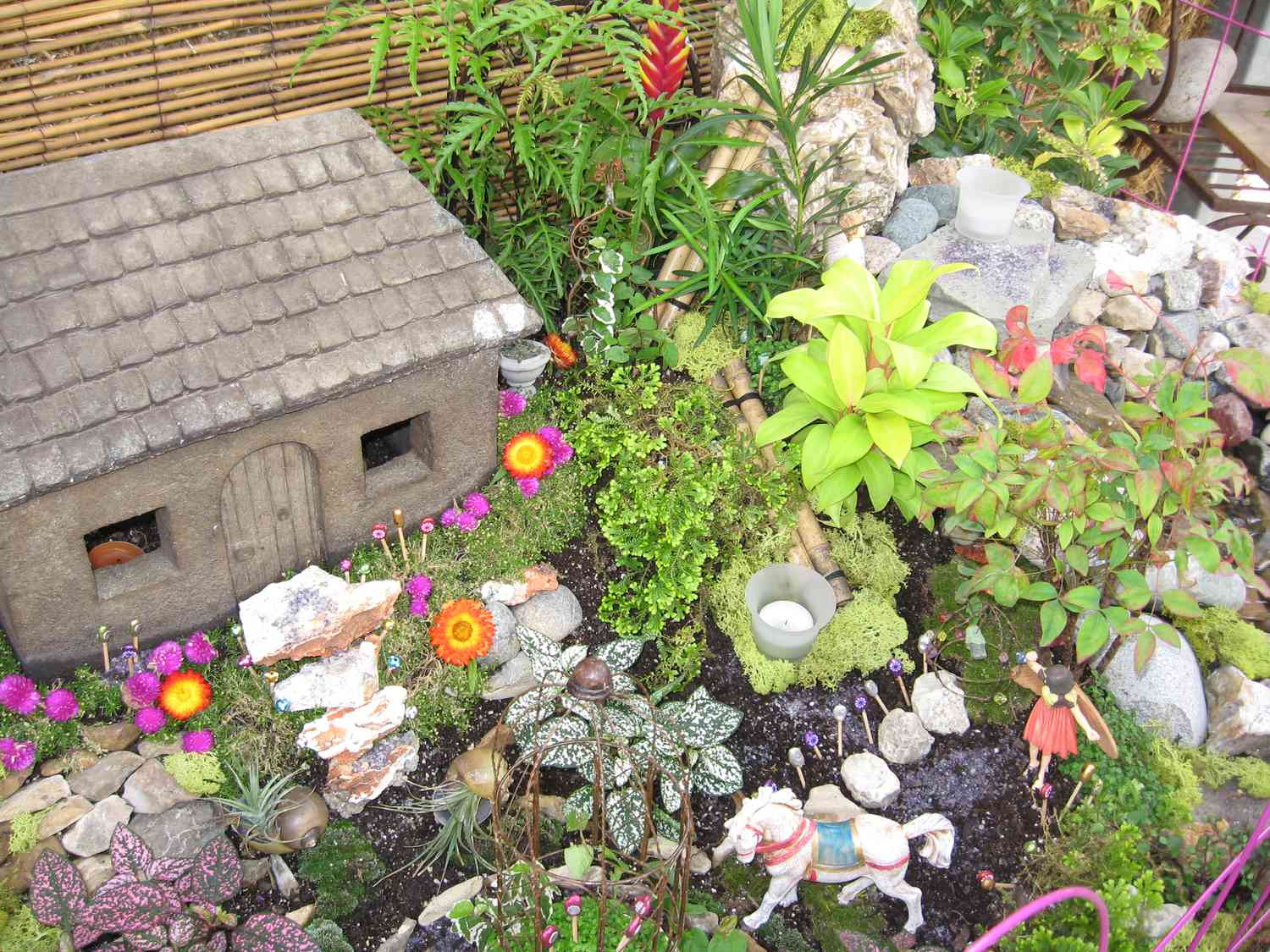 A fairy garden is a miniature garden that is very beautiful and enchanting in looks. It is made to invite good luck in the garden so that the plants can grow effectively and beautifully. It is very easy to make. It consists of living beings like plants, leaves, mushrooms, wings, etc. Fairy gardens are budget friendly and can be made anywhere, irrespective of place. It is made to add colors and fun to your garden or your inside house. You can even gift them as a gift to kids as it will also bring them close to nature.
Many types of fairy gardens can be easily made at home when some simple steps are followed with some basic things that are required. In this blog, we will look into 21 different types of fairy gardens that are beautiful and can be easily made at home.
1. Fairy Garden In Teacup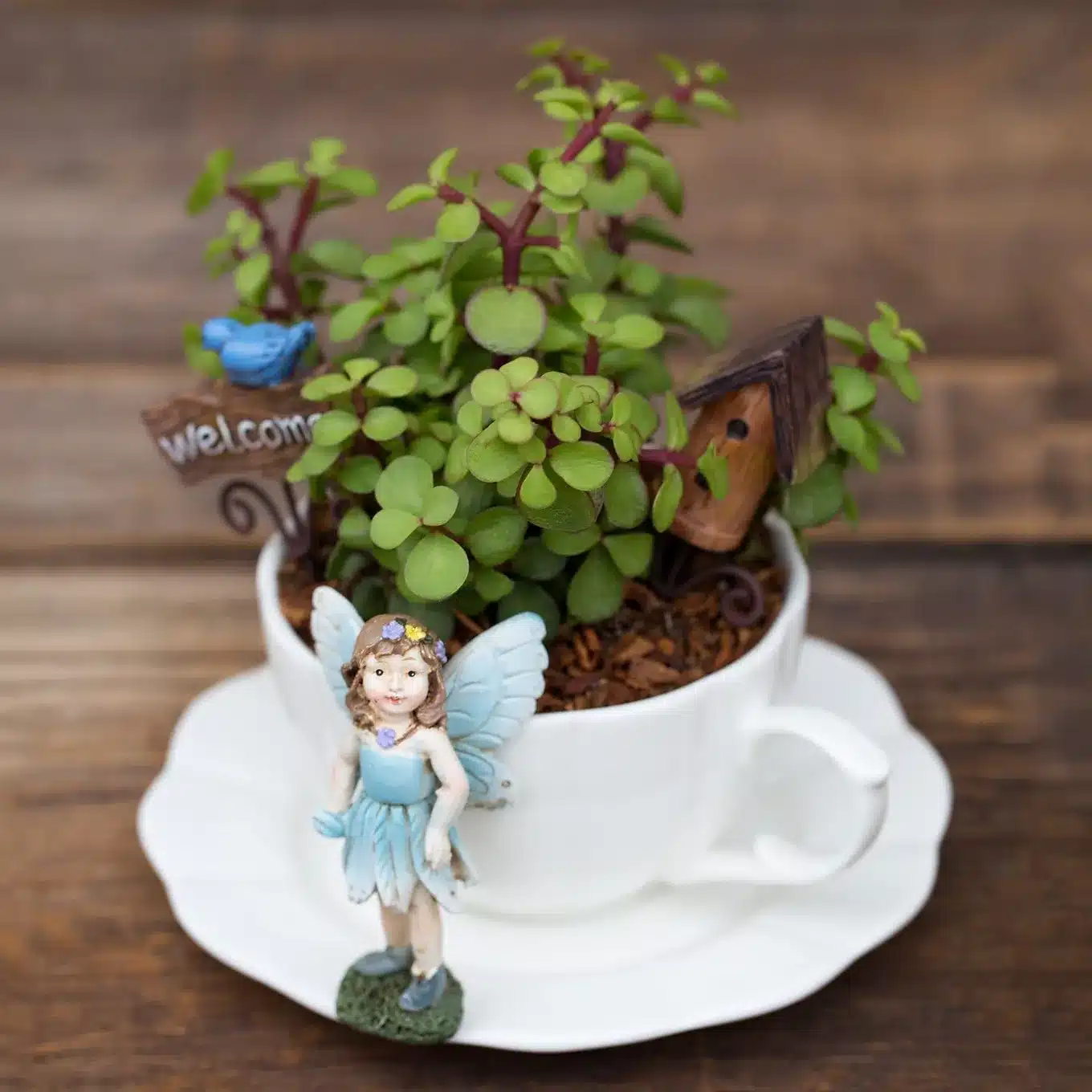 Tea Cup fairy gardens are small but very cute-looking fairy gardens. They are gentle when we hold them and soft looking by far. They can be used to plant small and delicate things like baby chicks, baby tears, a string of pearls, etc.
They can be crafted using 1 teacup, well-drained soil, bark chips, pebbles, and a fairy garden miniature; you can add more of your choice. While making, make sure to keep the pebbles at the bottom of the teacup. Now fill the teacup with soil and plant the pant of your choice.
2. Mossy Wonderland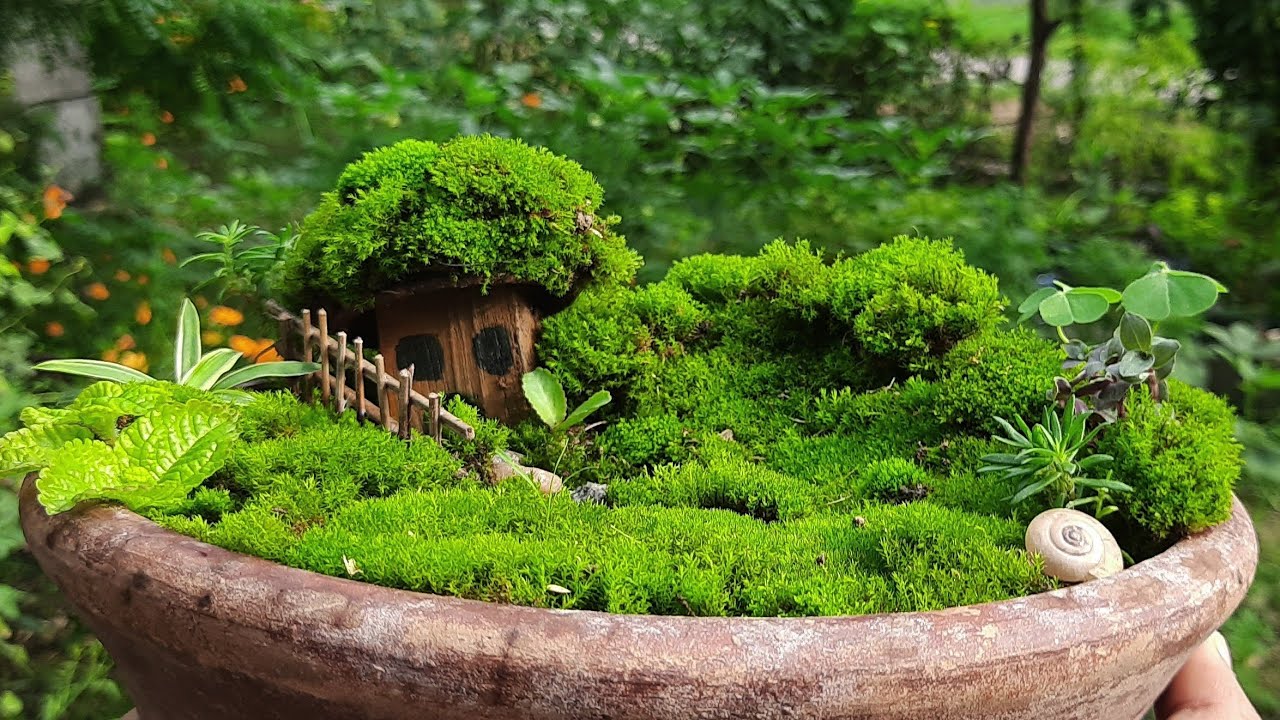 Here we are with another beautiful fairy garden called mossy wonderland; the creation of this fairy garden is very easy. To make this, you just need a wide, shallow container. After that, add potting soil, sand, and peat moss to the container. Then collect and add different types of moss and press it on the soil to form a moss bed. After that, you can show your creativity by decorating them by your choice. You must water it regularly to enjoy its beauty.
3. Fairy Garden In a Terra Cotta Pot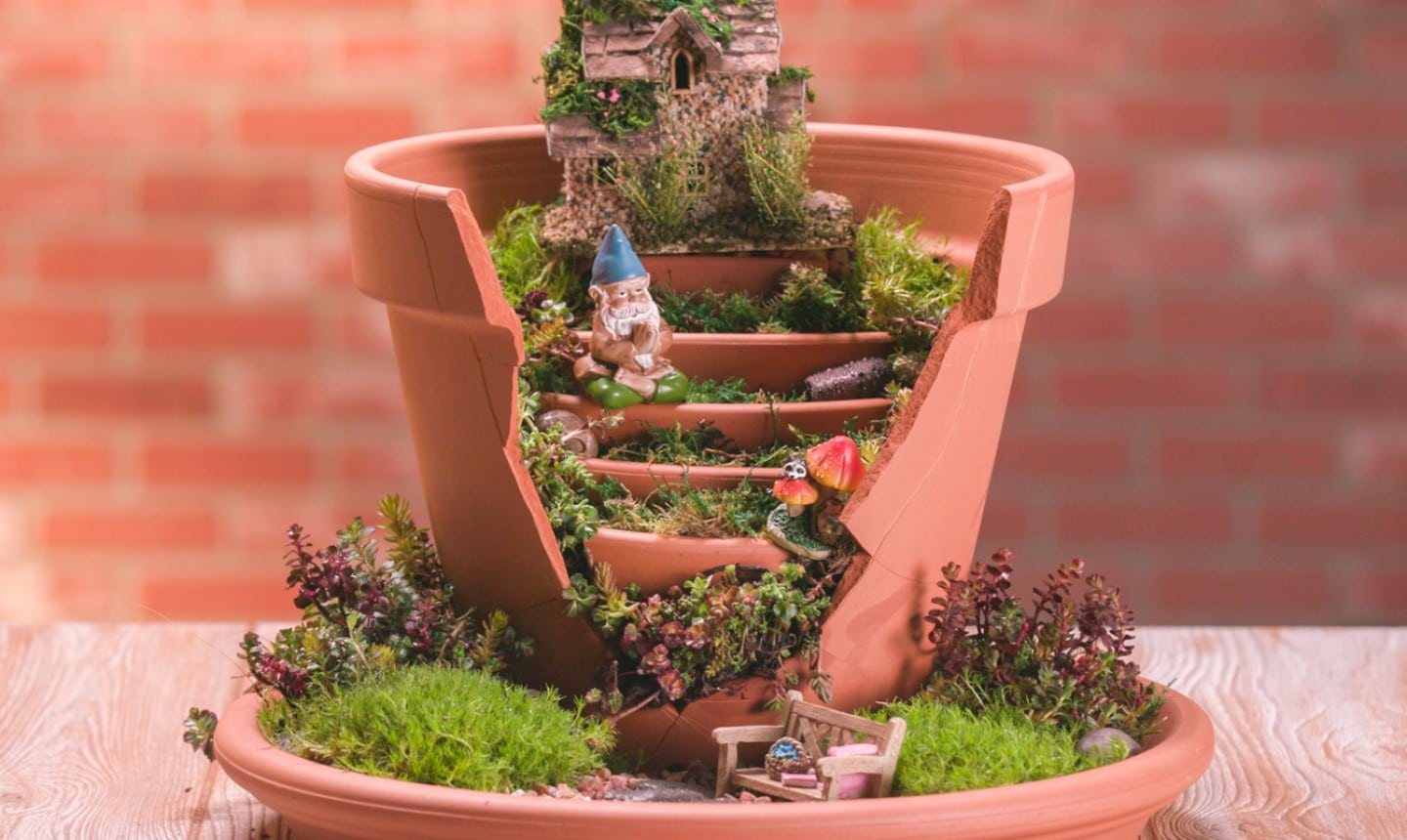 Making a fairy garden in terra cotta can be an enchanting idea. To make a terra cotta fairy garden, the first and foremost thing we need is a suitable-sized pot with good drainage. Now leaving some space at the top, we must fill the pot with potting soil. Arrange the pot by using accessories like a mini house, fairy miniature, or benches; you can also make pathways on the pot using pebbles or twigs. To increase the fairy garden ambiance, you can use natural elements for decoration, like miniature flowers, rocks, moss, etc.
Now keep it in a place with good sunlight and water it daily, and enjoy the beauty of your art!
4. Miniature Rock Garden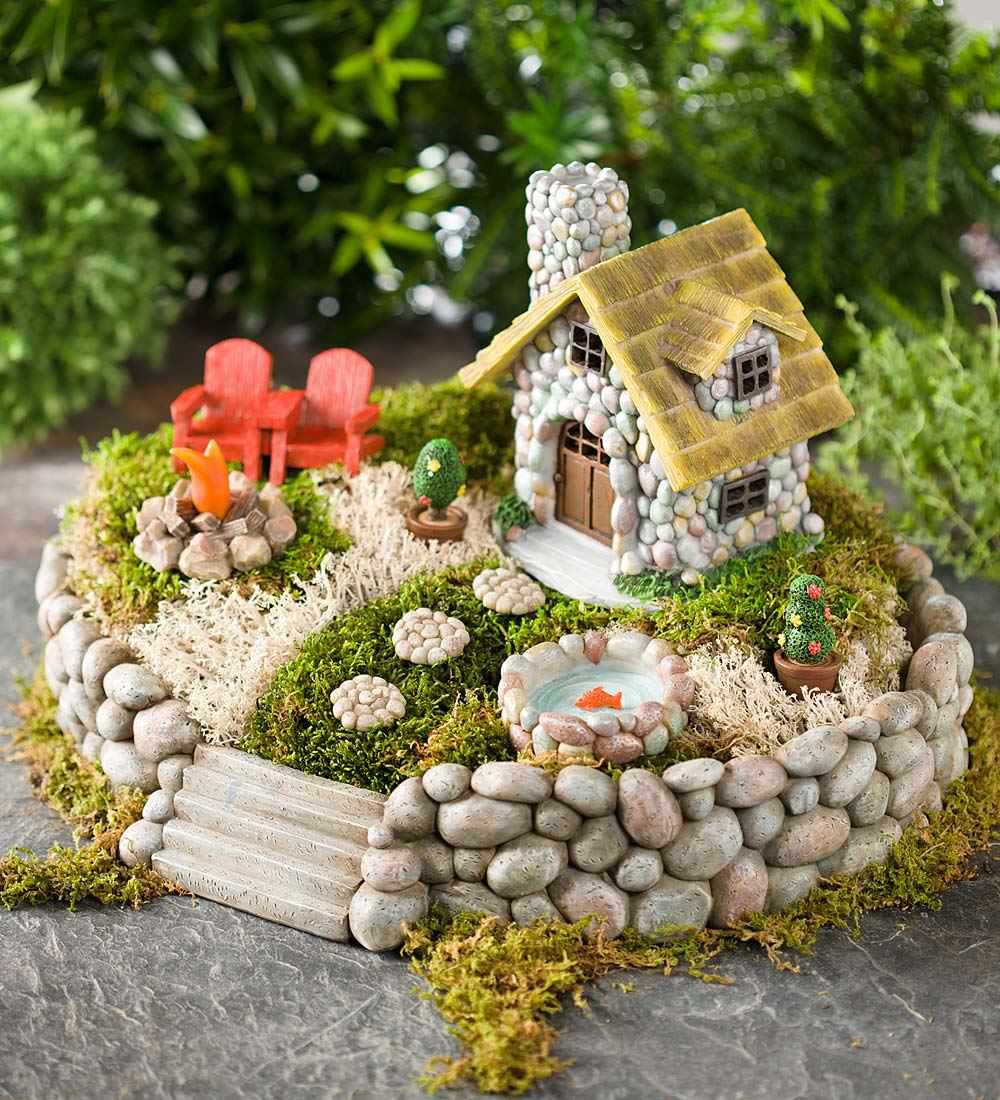 Miniature Rock is another beautiful and low-maintenance fairy garden that can bring life to your place. Select a shallow pot with well-drained soil. You can create different elevations and textures with different rocks while arranging them on the container. You can also add small succulents or alpine between the rocks so that they can have enough space to grow.
The addition of miniature accessories like benches, a house, a fairy, and a miniature water pump will enhance the beauty of the fairy garden more. Make sure to keep them in sunlight and water it regularly.
5. Fairy Garden In Tree Stump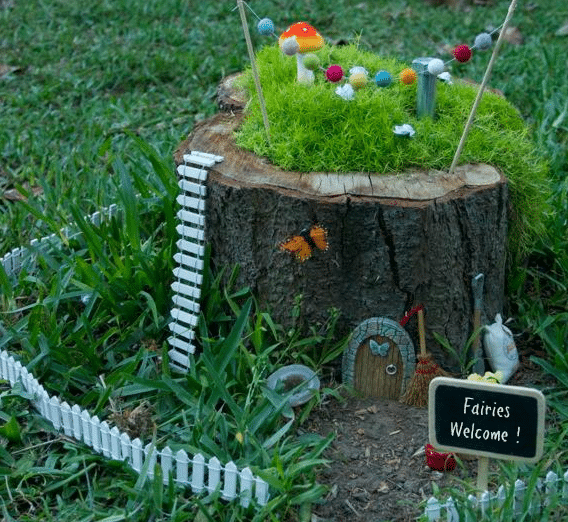 In the tree stump fairy garden, we always took a shallow pot, but we just needed a tree stump to make this fairy garden. Cause it is the base of this fairy garden. After picking up the tree stump, you must clean it well to prepare for the garden. Test of the process is the same as the above garden; here, you have to put stumps on well-drained soil and then decorate it with miniature accessories like plants, moss, and stones. To make it more lively and beautiful.
Always remember to provide water, sunlight, and fertilization to the garden for maintenance. You can even trim the plants if they grow big.
6. Miniature Fairy Cottage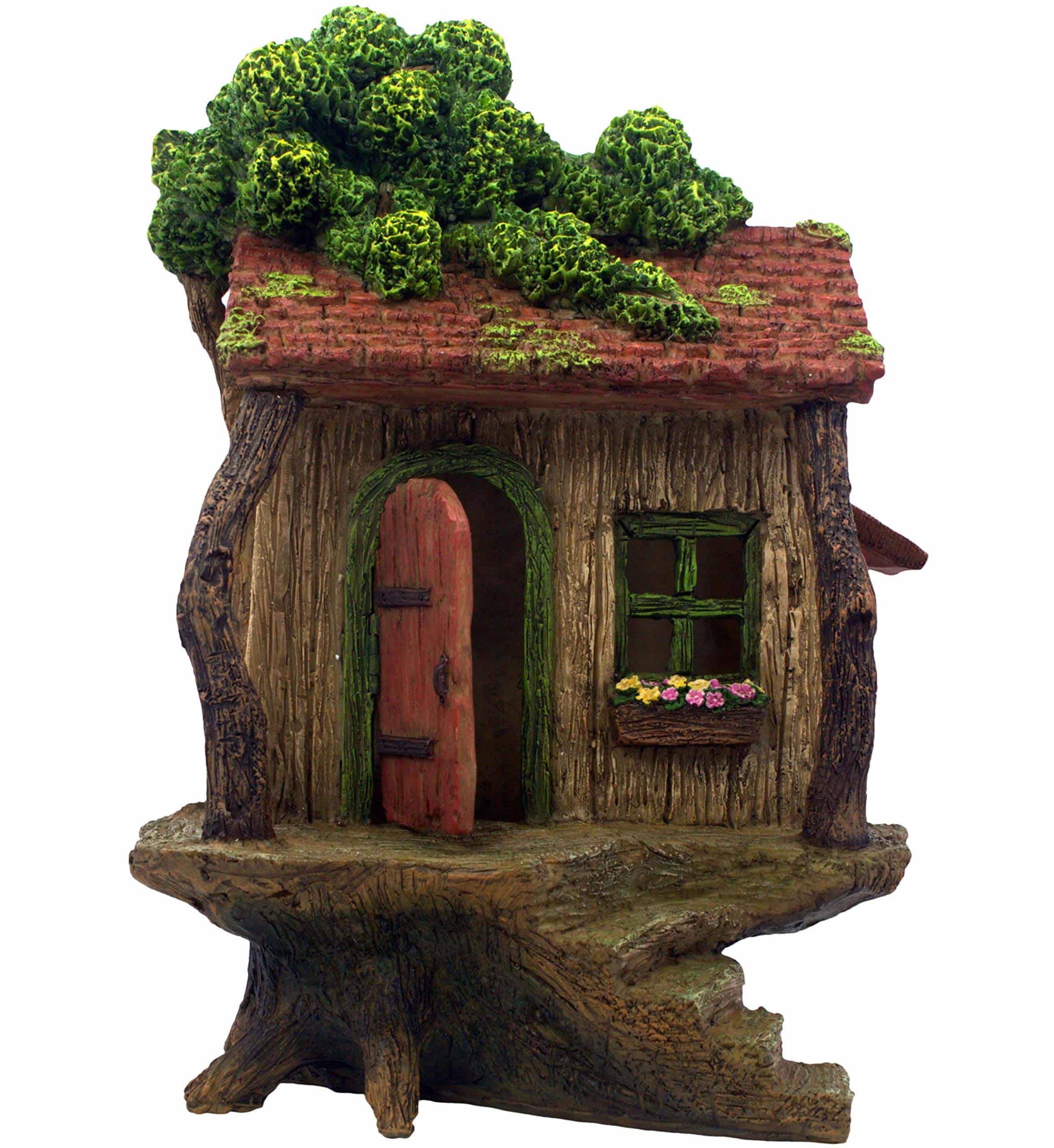 Miniature Fairy Cottage is not a fairy garden but is mainly used as a part of the fairy garden. A miniature fairy cottage is a specially designed replica of a traditional house or dwelling for fairy gardens or fairy-themed displays. They are made from durable materials like resin, ceramic, and wood. However, they are small but contain all the details like windows, doors, chimneys, and all the necessary decorations that can be seen in a real cottage. You can even color them with different colors, different designs of your choice. A miniature fairy garden is used as a focal point of the fairy garden, which enhances the beauty of the garden.
7. Miniature Fairy Door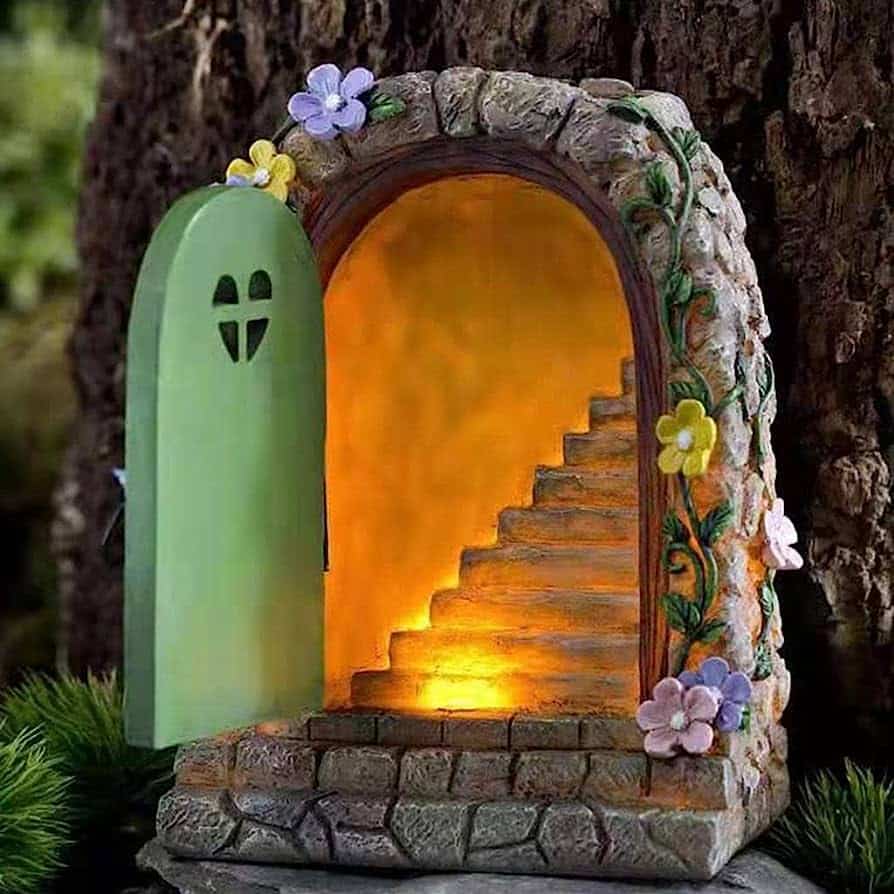 A miniature fairy door is a miniature accessory that is mostly placed at the bottom or base of the tree against a wall or in indoors; we can put it on a bookshelf or wall where people or kids leave notes, wishes, and gifts for the garden fairy. They are small-sized cute-looking doors. They enhance the beauty of the fairy door by adding miniature accessories like miniature flower pots, lanterns, or stepping stones. To make the door look more charming and charismatic, use moss, small plants, or pebbles that will enhance the beauty of the door. We can make this by using wood, polymer clay, resin, or even repurposed material, for instance, popsicle sticks or water caps.
8. Whimsical Fairy Bridge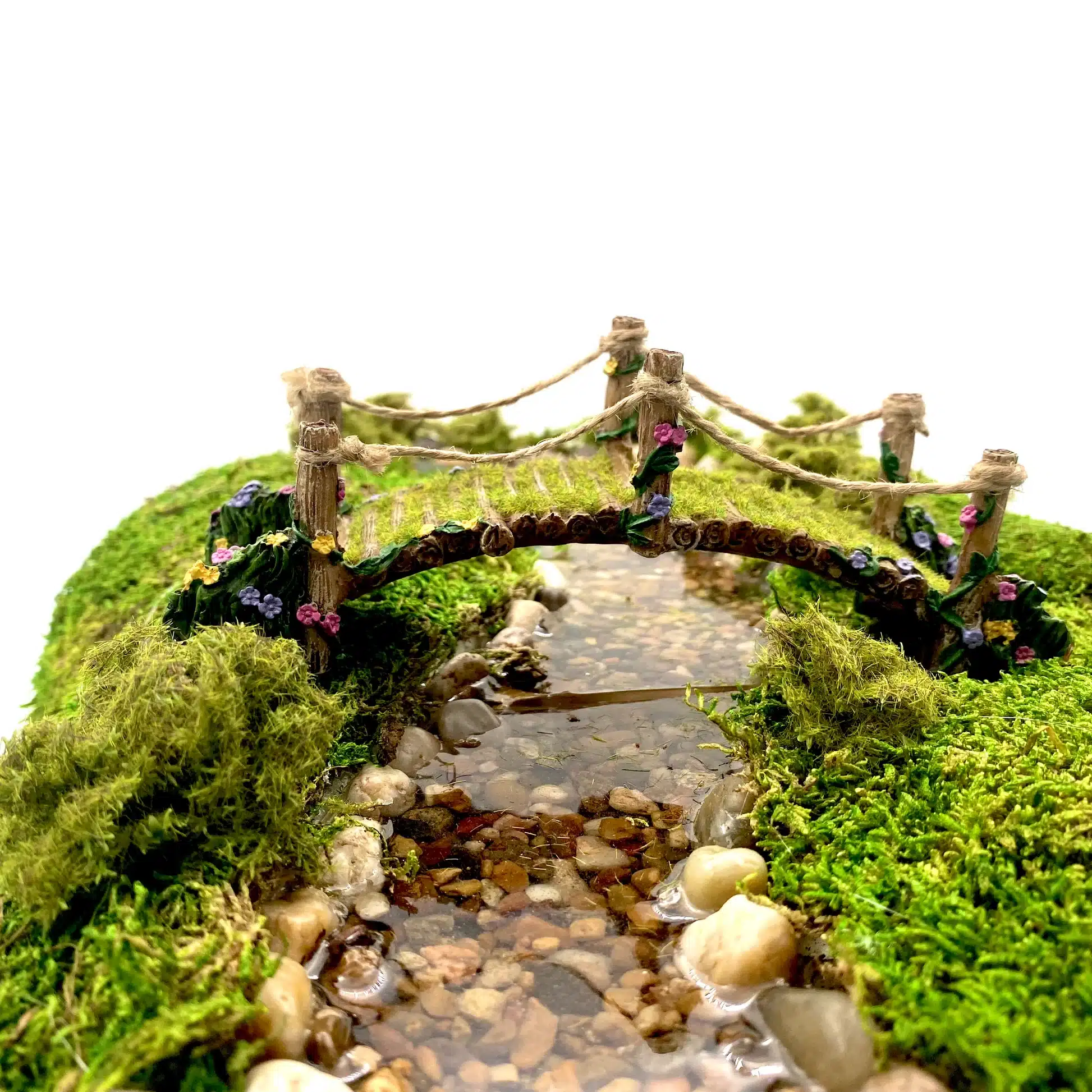 Another miniature accessory is used to encourage the beauty of the fairy garden. It can be of various designs like it can be a simple bridge. Or a bridgewith a lot of designs. There is no compulsion to show water resources in the fairy garden.Either you can add real water under the bridge, or you can create an illusion of it by adding blue color glitter or pebbles. You can decorate the bridge by using moss and small plants, or you can use miniature accessories of people or animals to make it look more lively.
9. Enchanted Fairy Gazebo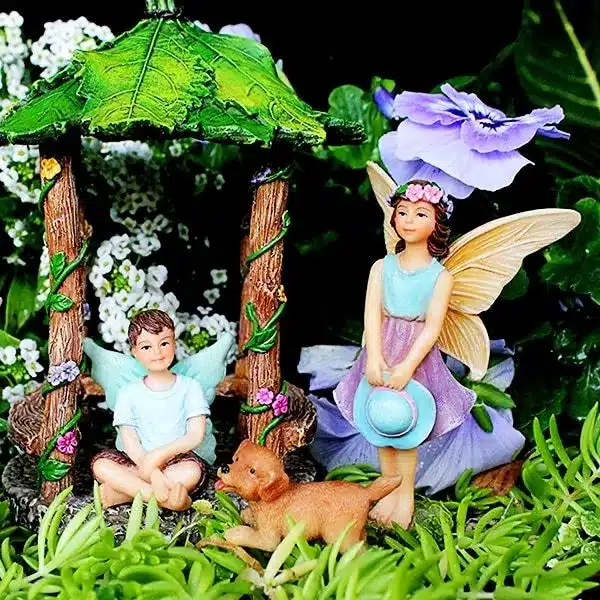 Gazebo always adds beauty to the fairy garden. As it is mostly designed for the fairies in the garden. It is the focal point or gathering point of all the fairies. It is mostly made up of durable materials like resin or metal. Gazebo provides detailed features of pillars, arched openings, and roofs resembling leaves or flowers. It is mostly adorned with delicate vines, fairy lights, and other embellishments to enhance its magical appearance. It also provides an enchanting place for the fairies who hold gatherings and do celebrations in the miniature world of a fairy garden.
10. Fairy Garden In a Wheelbarrow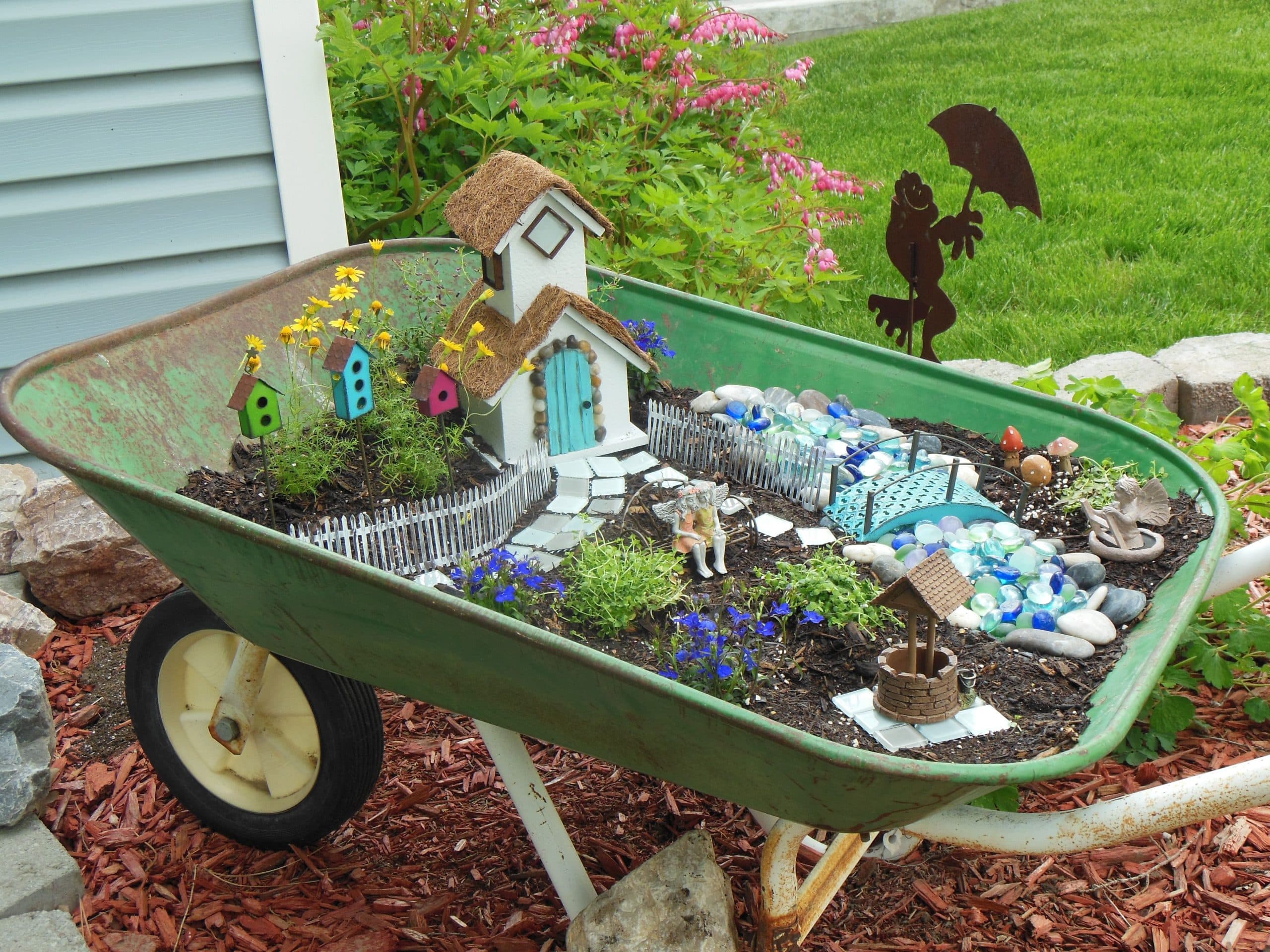 A wheelbarrow fairy garden is a fairy garden that is made up of a wheelbarrow. This is a hardcore fairy garden. You can use this idea of a fairy garden to showcase a small world on a wheelbarrow. The process of creating this is very easy. Choose the wheelbarrow which is most suitable for your fairy garden. Fill it with a wheelbarrow with well-drained soil. And then add miniature accessories like cottages and people. Bench, mini-h, house, etc. Then use natural miniatures like small plants, moss, and pebbles to make pathways, etc. Water by monitoring it daily and maintaining the fairy garden. Don't forget to enjoy the beauty of the garden
11. Cascading Fairy Waterfall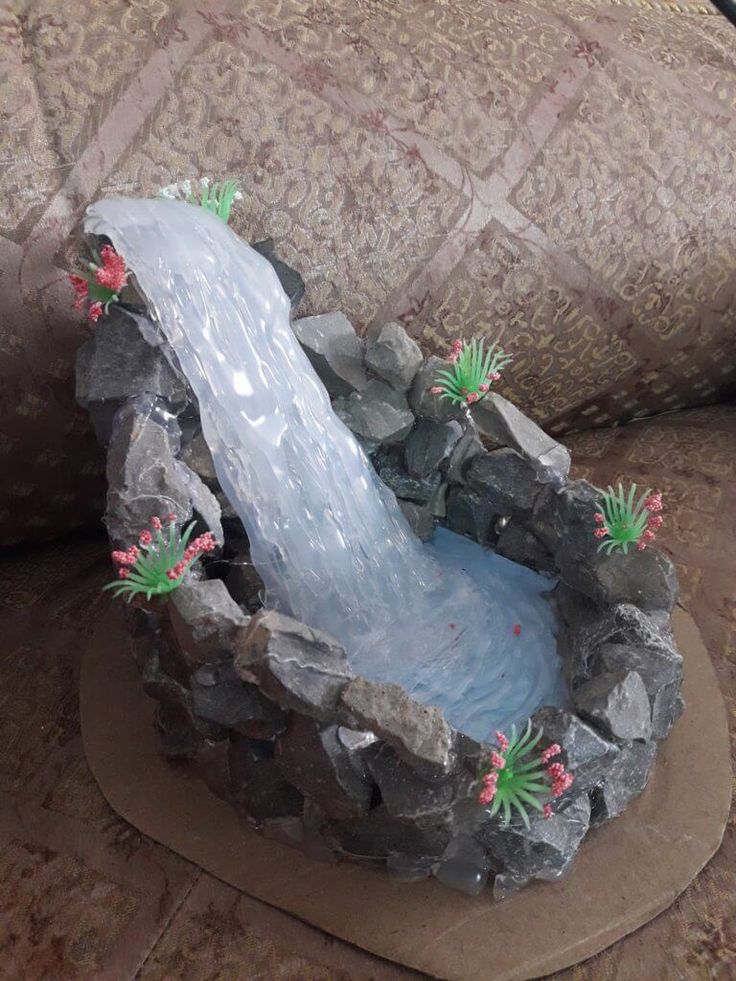 The waterfall fairy gardens have their feelings. They have the power to change the most boring place in your house or garden into the most interesting and beautiful one. To make Cascading Fairy Waterfall, we first need a container with a deep base; after that, we will create a waterfall structure by using stones; make sure to use a waterproof container.
Now, add the water pump and tube. You can also decorate the waterfall according to yourself. Don't forget to use miniature plants and miniature things.
Your cascading fairy waterfall is ready. Always remember that the waterfall fairy garden requires a lot of care, so make sure to maintain and clean the waterfall regularly.
12. Tranquil Fairy Pond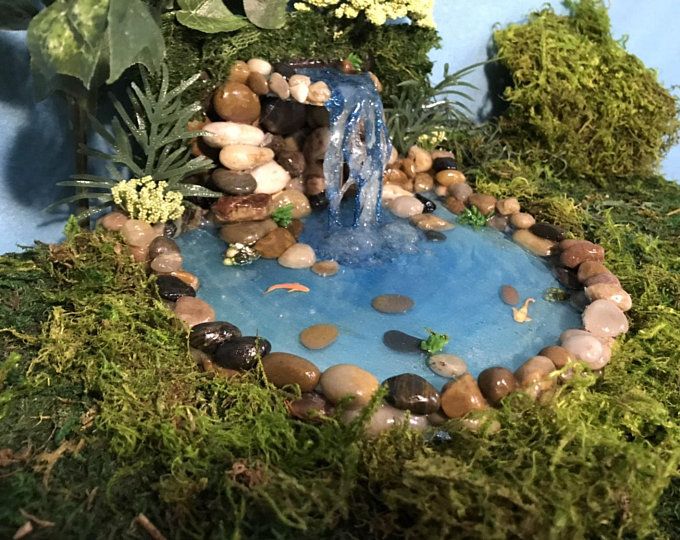 Coming up to the tranquil pond, it is a fairy garden with peaceful and serene water features. It consists of a small water body-like pond, which is calm and can be made by using any shallow container. It consists mainly of rocks, pebbles, aquatic plants some theatre accessories like bridges, tiny boats, etc.
You can also add natural miniatures like small plants, moss, etc. After it's fully made, enjoy its beauty and ambiance but do not forget to take care of its maintenance.
13. Beach-Themed Fairy Garden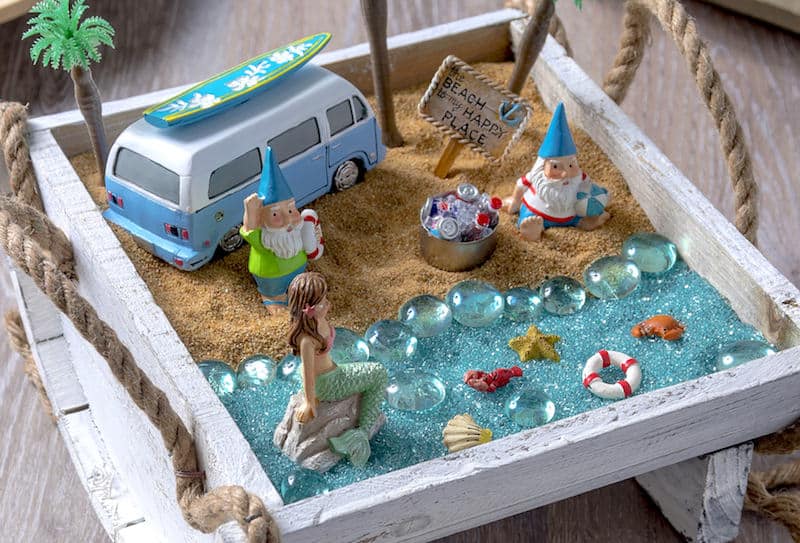 As the name suggests, a beach-themed fairy garden is a miniature garden inspired by a coastal area. It captures the element of the beach, like sand, water, shells, and miniature accessories of beach-inspired animals. To make a beach-themed fairy garden, you need a container that matches the theme of the beach or coastal areas. Then divide it into two parts; the first part fills it with sand, shells, and all the miniature accessories that can be found on beaches. In The second part, you have two options either fill it with water, or you can just use blue-colored glitters or pebbles to create the illusion of water. Don't forget to add miniature accessories, like fish, members, and maids, on the waterside.
14. Fairy Garden In a Glass Jar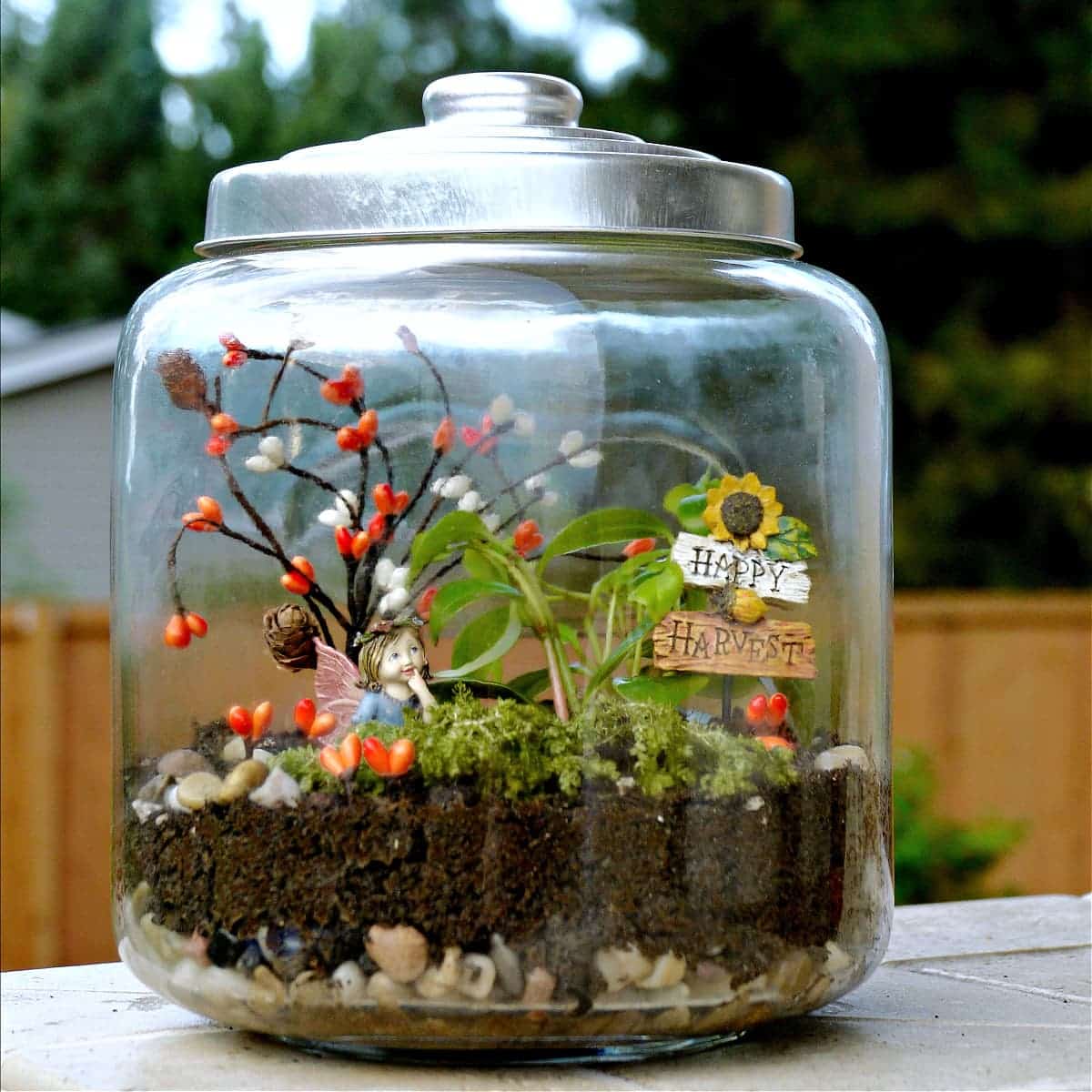 Looking for many outdoor fairy gardens? Now let's see some of the indoor fairy gardens. The very first of them is "Fairy Garden in Glass," suggested by the name. This is one of the fairy gardens made in the Flagless. We need very basic materials like glass jars, pebbles, potted soil with proper drainage systems, miniature accessories, plant miniatures, and natural elements for decoration.
The process of making this garden is the same as above, but here, instead of a pot, we are using closed glass jars. Also, while maintaining these fairy gardens, you must take care of them a little more, monitor them regularly, and give giving proper sunlight and water. Don't forget to open the lid of the jar once in a while just to allow some fresh air in the jar.
15. Miniature Fairy Garden on a Bookshelf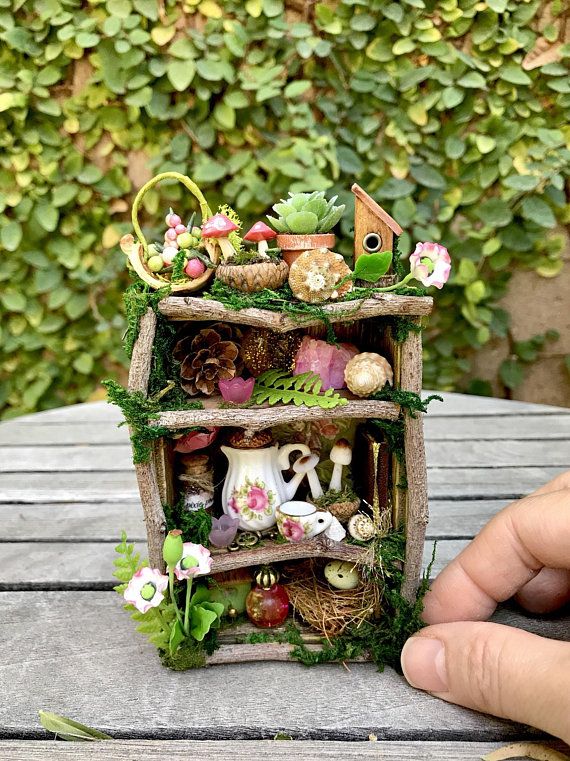 Creating a miniature fairy garden is a creative and unique way of bringing a touch of magic to your indoor place. By looking at the image given below, we can get an idea of how a bookshelf fairy garden is made.
So, here we give some small wood the shape of the bookshelf and decorate it the way you want, like with miniatures, by using plant miniatures, or anything you want or you think might enhance the beauty of the bookshelf.
16. Indoor Fairy Terrarium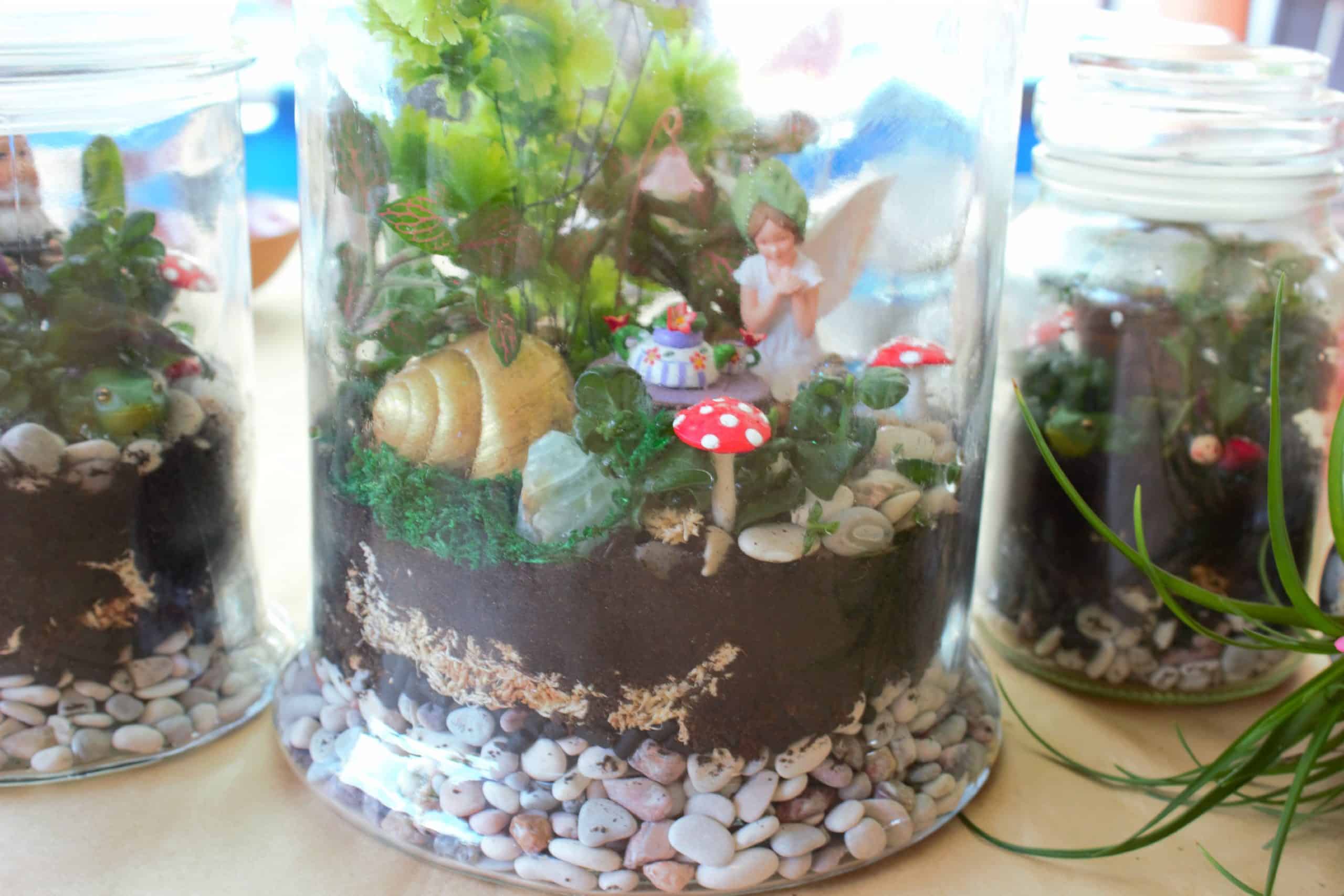 Indoor Fairy Terrarium is a fairy garden in a jar or indoor, having all the qualities of a fairy garden, but the only difference is that this garden consists of three layers. The first layer will be pebbles or stones, which will be at the bottom of the pot or jar. The second layer, or the middle layer of the jar, will be of well-drained soil. And the last layer will be of small plants, miniature, and fairy accessories.
17. Fairy Garden In a Suitcase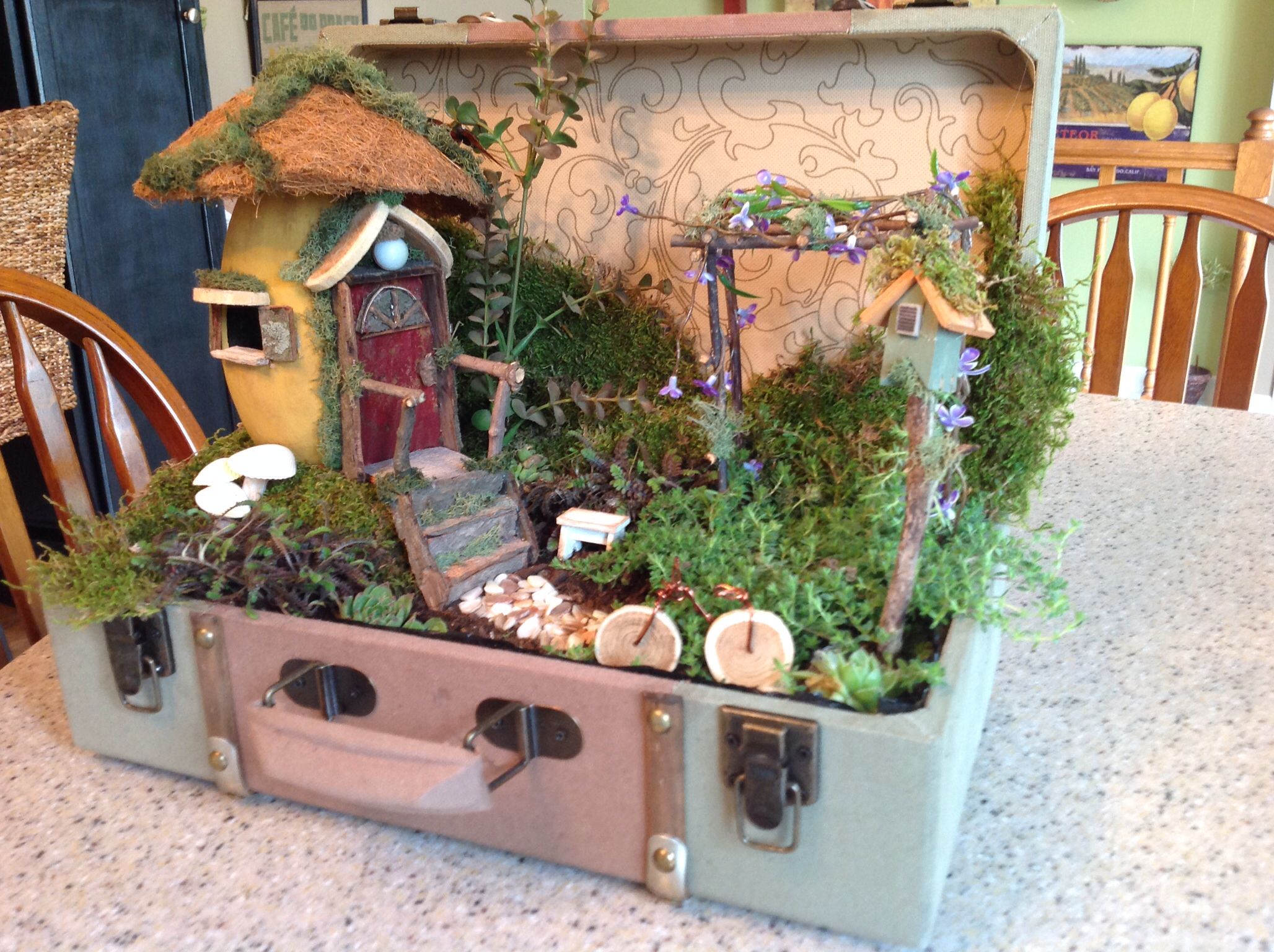 It may be a little surprising to you, but let me tell you that this type of fairy garden exists. It is the transformation of a beautiful vintage suitcase into a fairy garden. The usage of a beautiful and aesthetic suitcase is important. The making of a suitcase fairy garden requires well-drained pot soil, miniature accessories, and the addition of miniature plants. etc., Using miniature accessories like houses, fences, bridges, and figurines.
18. Fairy Garden In a Bird Bath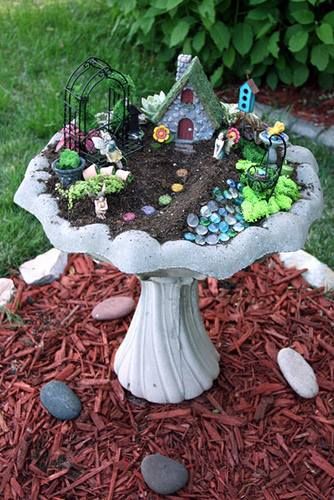 It is another unique and eye-catching concept of creating a fairy garden. Here, the birth bath has taken the place of a container. It will only attract fairies but also the birds, which will make your garden more lively. You can not only make a classic fairy garden but can also make a fairy garden with a water feature. It is not unique but also visually appealing.
19. Miniature Fairy Greenhouse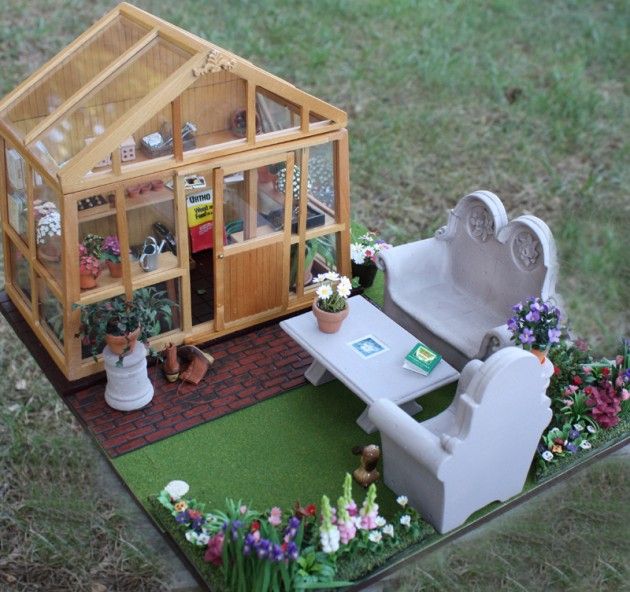 A miniature fairy greenhouse is a mini form of greenhouse made of fairy gardens. They resemble the greenhouse but in mini form. They are made from materials such as resin, wood, and plastic. The main purpose of these gardens is to provide sheltered space for small plants, flowers, and fairy figurines to create charming and enchanting displays.
20. Magical Fairy Wishing Well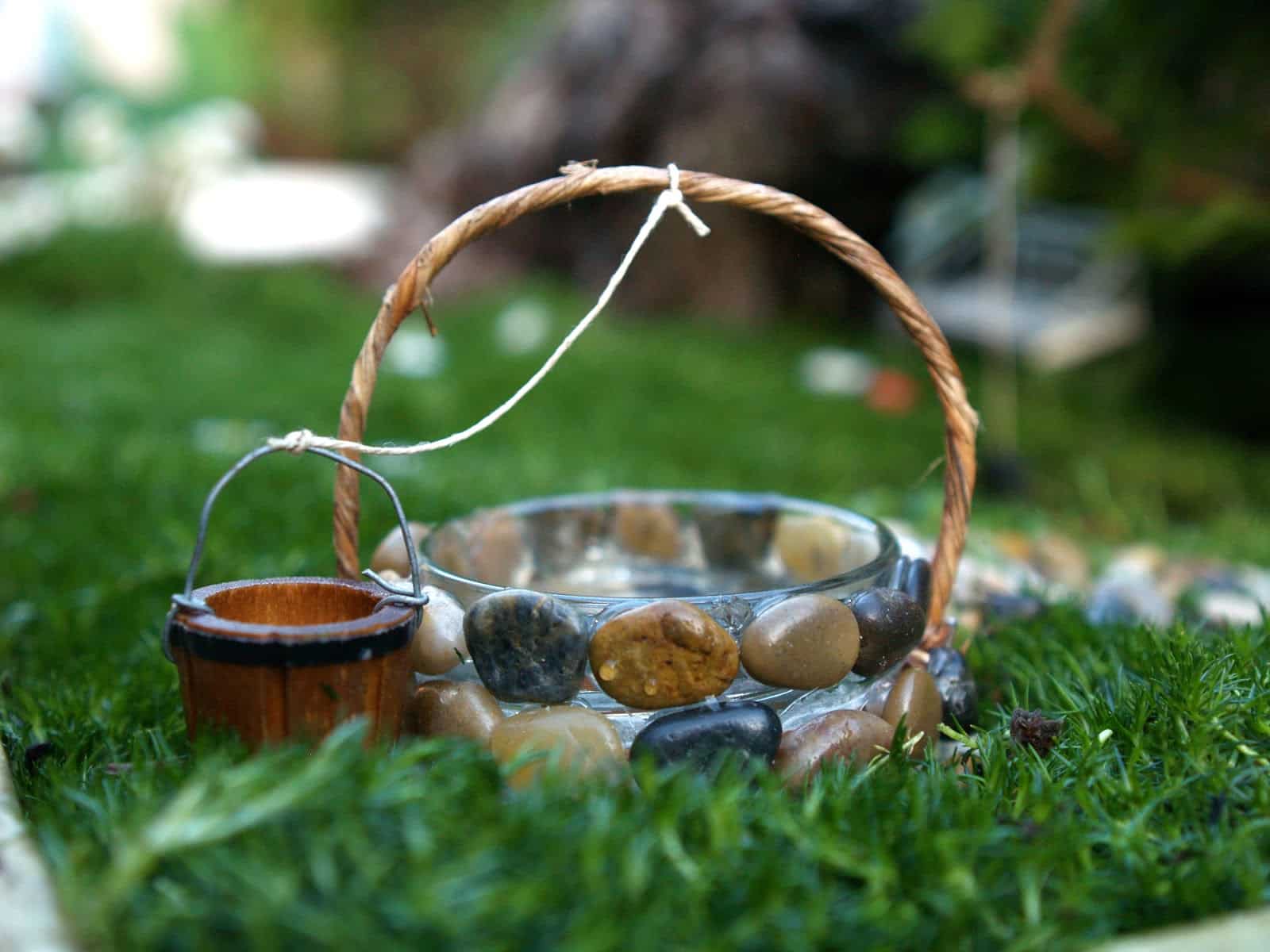 This is said to be the place where all the fairies come to make wishes and fulfill their dreams. A magical fairy wishing well is a representation of hope, magic, and the power of wishes coming true. Many people include this as a focal point in the fairy gardens.
21. Fairy Garden In Lantern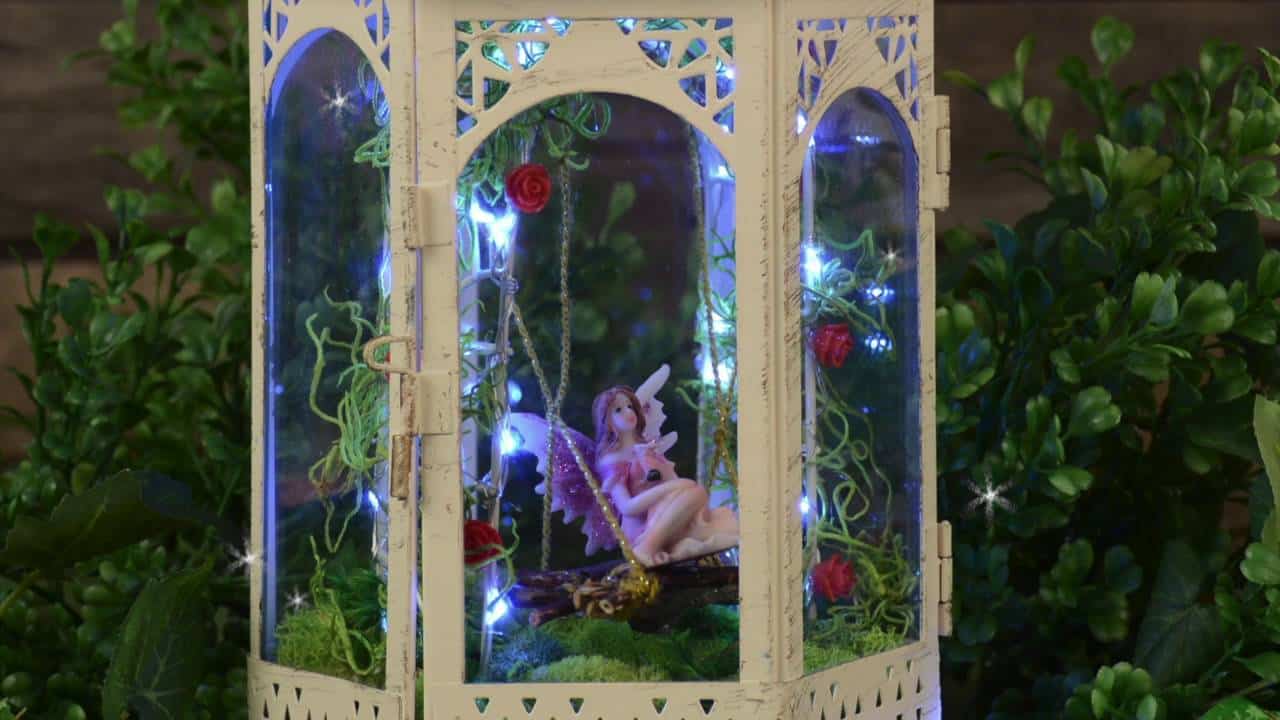 Fairy Garden In Lantern will boost your garden's beauty not only during the day but also at night. It is the best example of giving a creative twist to the traditional way of making a fairy garden. It is a combination of the charm of a fairy garden with the beauty of the ambiance of the lantern. The concept is to design a tiny landscape within the confines of a glass or metal lantern.
Conclusion
If you want to unbox your creativity, then try making the above-mentioned fairy garden ideas-prudent penny pincher. Which will not only unleash your creativity but also make your surroundings indoors and outdoors beautiful. We have discussed a wide range of varieties and options for a fairy garden.
All the above-mentioned ideas will help you in crafting fairy gardens in their unique way. The best thing about these fairy gardens is that they require very minimalistic materials, or tater materials can be found easily. Now, you all know how to make a fairy garden, so get ready with your supplies and start making them. Good luck!
Which one of the above miniature gardens do you like the most and will try to make it the in future and why? Let us know in the comment section below.
Frequently Asked Questions
How to Make a Cheap Fairy Tale Garden?
If you are looking forward to making a cheap fairy garden, then you can use old pots or trays for planting. Buy an inexpensive miniature of a fairy from the shop. You can collect home accessories for decoration and also collect natural things like pebbles, soil, etc. Now you can make an inexpensive yet beautiful fairy garden.
What Is the Purpose of a Fairy Garden?
Fairy gardens are mainly used as a piece of good luck to call garden fairies. Or you can say that it is a habitat so that garden fairies can make a visit when no one is there.
Why Do We Call It a Fairy Garden?
It is called a fairy garden because the inspiration was taken from folklore or mythological stories of fairies. Where they come and bless all the plants for growth. This is just a concept that attracts fairies; the main advantage is that these things and stories also excite kids, making them interested in gardening.
How Was the Fairy Garden invented?
According to sources, the fairy garden was invented in the mid-1900s by a British nursery owner Anne Ashberry. She created the idea of fairy plants by making small plants.