The right kind of staircase in the house can make all the difference when it comes to adding to the charm of a place. Stairs in a house can be likened to the arteries in the human body since they connect one corner of the house with another.
Although it sounds like a functional part of the interiors that one cannot do without, it does not mean that it cannot look visually appealing. Similarly, stairs that lead to the basement can transform your drab-looking underground space into the most happening, enticing, and interesting corner of the house.
Therefore, here are 20 amazing basement stairwell ideas for your house that can add some charm to your place and make it look idyllic.
1. Metallic Railings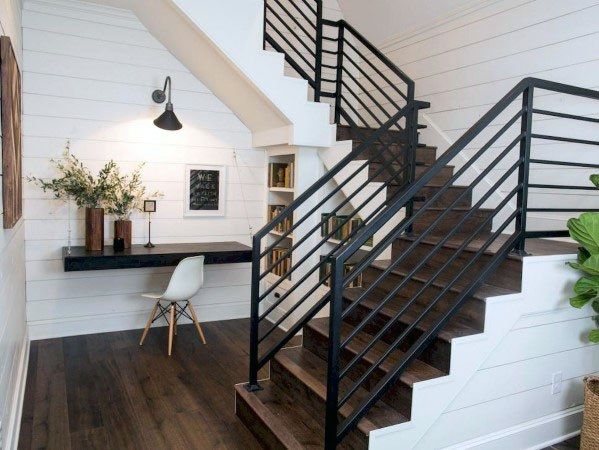 One of the best basement stairwell ideas is to introduce metallic accents. Since metallic accents are quite versatile, you can pair metallic railings with stairs that have a wooden finish, ones with tiles, black minimal ones, and so on. Simple metallic railings work best if the walls in your house have intricate trim works and wall treatments done to them. That way, the simplicity of the railing will shine through, make it more potent, and allow the viewer to appreciate the simplicity of the stairs as well as the effort spent on the walls.
2. Painted Risers
Painting risers in different colors can add some playfulness to a basement. It is a simple way to add some drama to your basement. If you use your basement for kids' entertainment, paint the risers with bright colors. However, if your basement is used to entertain guests or as a home office, then you can paint the risers with formal colors like creams, blacks, and grays. Such basement stairwell ideas, which include painting the risers appropriately, could allow you to convert your staircase into a focal point in a room and set the tone for the interiors.
3. Rustic Wooden Wonder
Wooden staircases are soft to look at and have a timeless aesthetic appeal. Oak, cherry, and mahogany wood staircases are one of the sturdiest woods to make a staircase. They lend a warm touch to the room, are classic, and have an old-world charm. They lend a warm touch to the room, are classic, and have an old-world charm. Owing to its versatile characteristic, wooden staircases support spiral staircase design as well as floating ones. Basement stairwell ideas that include wooden stairs also support the traditional maximalist interiors as well as the latest contemporary modern interiors, as it has a timeless appeal and a classic outlook.
4. Spread a Runner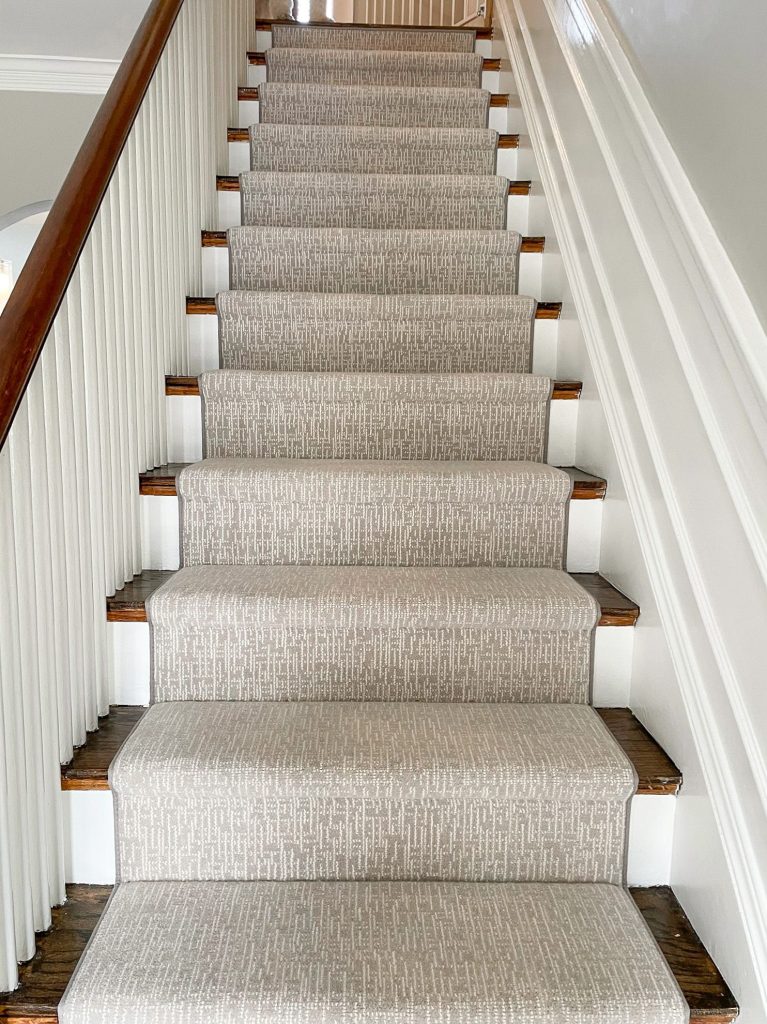 Spreading a simple runner on the staircase can make the staircase look more appealing. For a more cohesive appearance, this basement stairwell idea includes matching the color of the runner with the paint on the knee wall. However, a contrasting color, like a charcoal gray wall with a red carpet, would also look interesting and give your basement a pop of color. Stair runners offer more traction and stability to adults as well as children. Non-slip runners can cushion a fall which can be very beneficial for you in case you are living with old parents or toddlers. They help in absorbing sound and even protect the stairs from wear and tear.
5. Steps as Drawers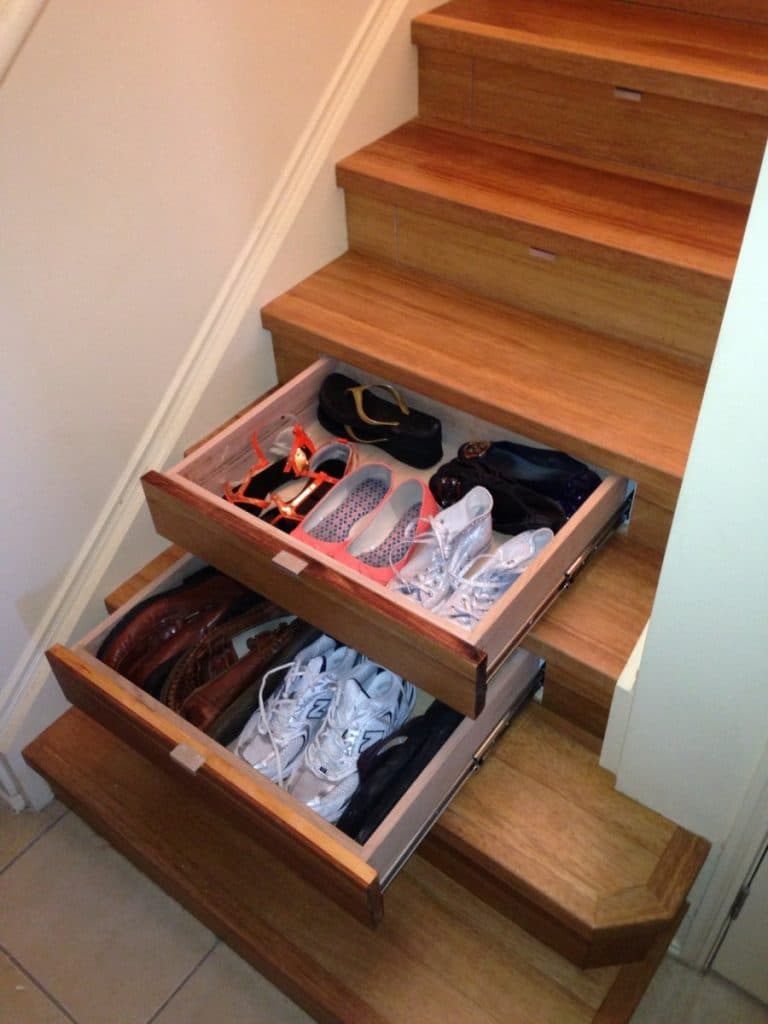 If you are falling short of space and wish for some convenient and easily approachable storage options, use steps in your staircase as drawers. If you are a DIY enthusiast, you can add to your storage space in an innovative manner, and it is one of the easiest ways to gain access to your belongings. These drawers can be pulled out conveniently and are not very heavy, therefore, making them extremely usable and highly functional.
6. Stairs and Cabinetry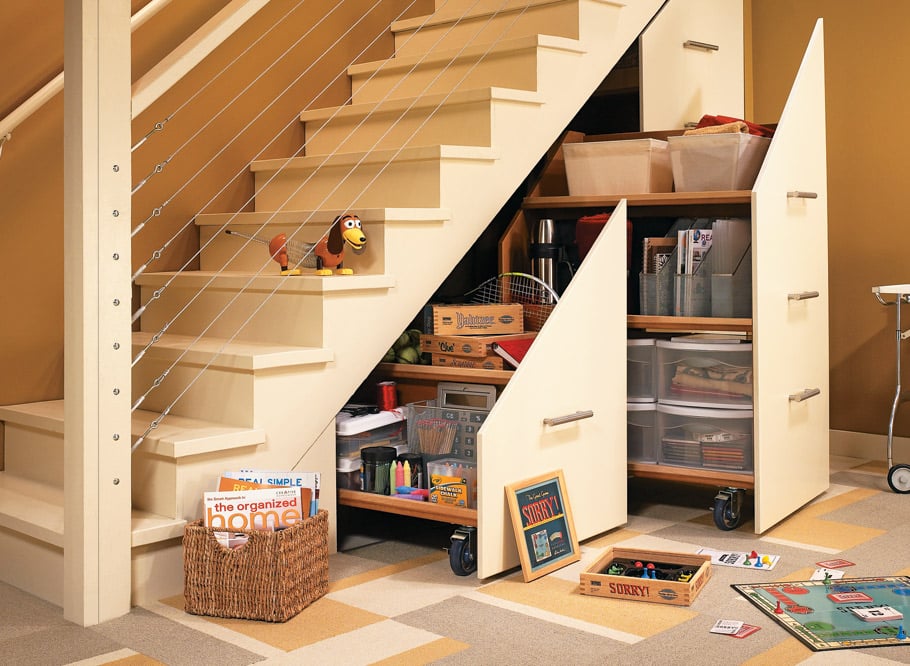 Cabinets installed under the staircase can make for an interesting addition to your room. You can paint your cabinets and install interesting hand knobs to create visual interest. You can even install cabinets with glass windows and place ornamental objects in them for the beautification of the room. You can even place your washing machine and dryer under the stairs and install a countertop on top of the machines to fold your laundry and place your laundry supplies.
7. Drawer Wall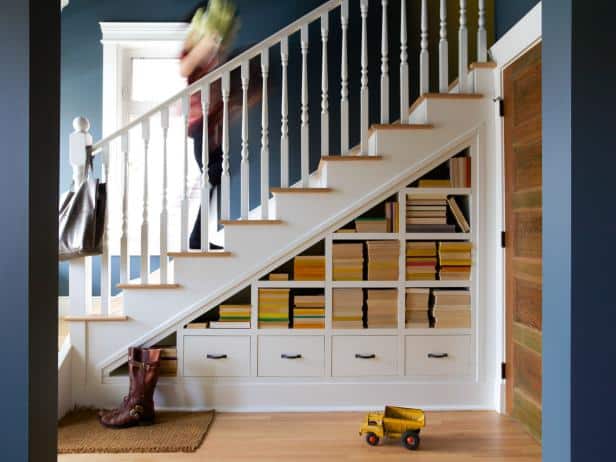 A drawer wall is another way to enhance storage and one of the smartest basement stairwell ideas. You can place linen, throws, and rugs in these drawers neatly by folding them or rolling them. This way, you can store your belongings in one place and in a consolidated manner. These drawers can even be used to store extra crockery, electronics like mixers or beaters that are not used on a daily basis, and even be used as a pantry so that your main kitchen is not cluttered with unnecessary items. The often-neglected space under the stairs offers a discreet way to store shoes, garden equipment, shoe-cleaning equipment, and so on.
8. Wine Rack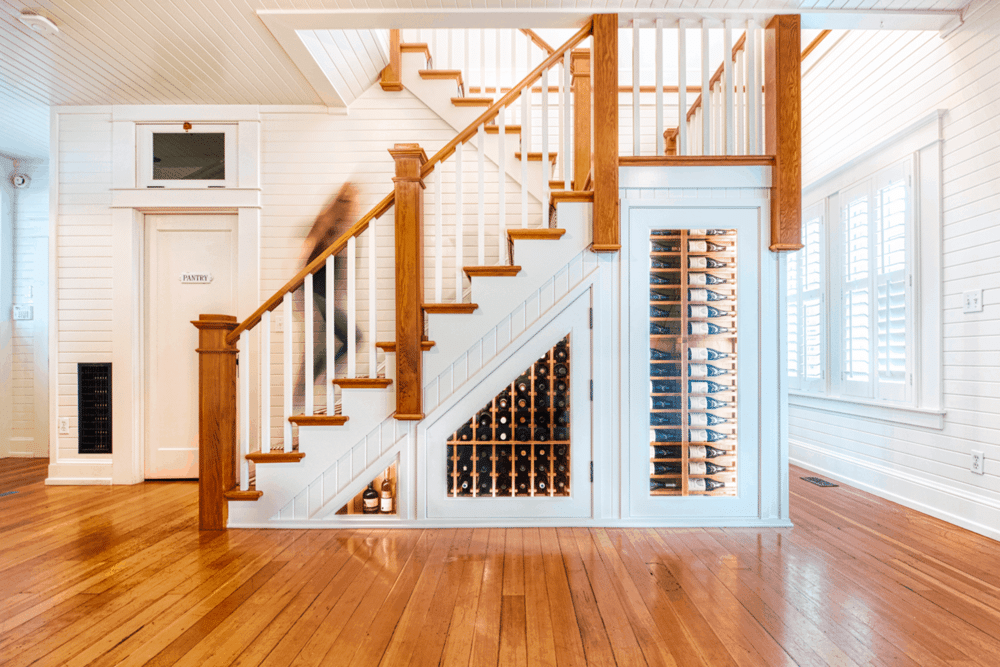 An unconventional yet one of the most interesting spaces to store your wine under the staircase. You can place a wine rack on the floor and cover it with a with double-glazed glass screen, wall-mounted wine racks under the stairs, or one with wood and metal detail for a contemporary look. If you are fond of serving cocktails, mocktails, or any other kind of beverage, you can even make a bar under the stairs in your basement. Bar stools with matching wooden-metallic accents will complement the bar and make for a cozy corner for you to unwind with your friends.
9. Textured Knee Wall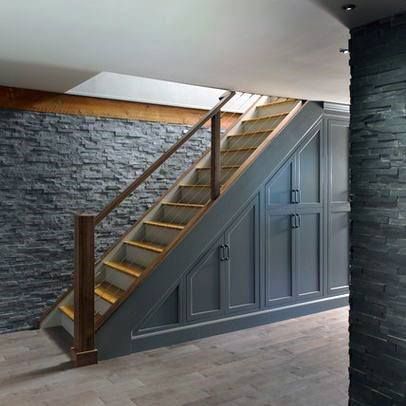 If you are fond of collecting works of art, a knee wall is the perfect place to show off your art collection. A wall painted with greige color can visually support a staircase with a wooden finish and portraits with wooden frames. You can experiment with such basementstairwell ideas by hanging small-sized posters with abstract art or floral design or even one big-sized statement piece of art to grab attention and add to the beauty of the place.
10. Stylish Slats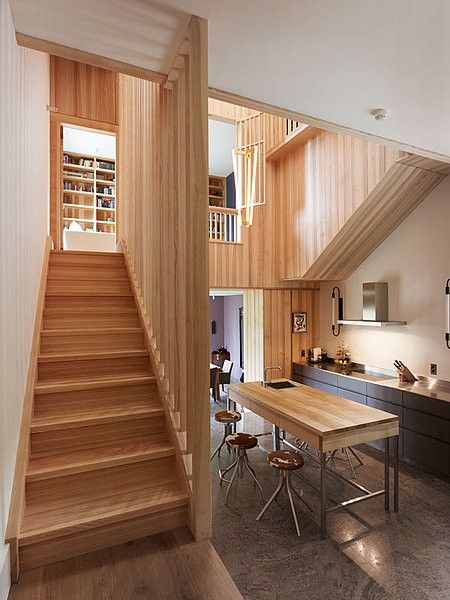 Slats are back as a design trend, and interior designers are going ga-ga. Wooden slats give the house owner an opportunity to experiment with style. Wooden slats next to a staircase make a space look more open and unconventional as compared to railings. Slats make for an excellent stair screen which can also add to the privacy of a place. If you want a design that is more minimal, modern, and chic, a monochrome theme can look fantastic. Black or white slats with black or white staircases could make this space a minimalist's favorite corner in the house.
11. Spiral Staircase
Such basement stairwell ideas are for those who have a small basement and want to revamp their basement drastically; installing a spiral staircase is the best idea. A spiral staircase can give you more floor space while making small spaces appear larger. It will add more space to the room, add a modern twist and also change the layout of a room so that you can experiment with your ideas. It is also pretty convenient to install a spiral staircase as it does not require a whole lot of floor space owing to its small footprint.
12. Cover with Accent Colors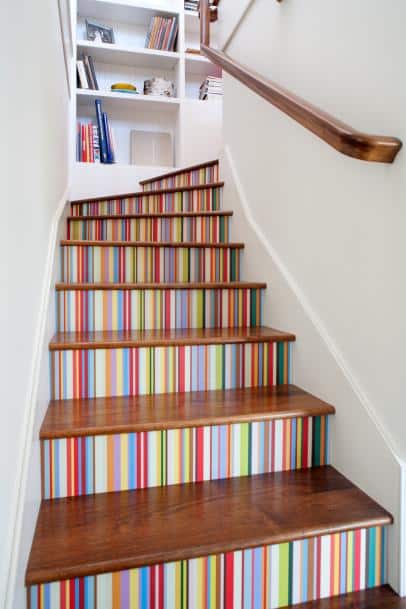 A staircase painted with accent colors can truly enhance the color scheme of a room. It is one of the easiest basement stairwell ideas to implement as it will be more economical than adding metallic accents to your staircase or a wooden finish. Accent colors work best in such a case if the entire basement is painted with a single shade. For instance, if the basement walls are painted with cream or beige colors, then an olive-green staircase will work effectively. Even a navy-blue staircase can make the entry to a basement pop so that it looks more inviting and warmer.
13. Reading Space
The space under the stairs can be converted into a library. You can have a wall with racks and place a sofa behind it to turn it into a cute intimate corner where you can enjoy reading your favorite book on a rainy day. Dark brown wooden bookshelves, a cream-colored fluffy sofa with bright cushions, and a soft, warm throw can make it visually appealing and add more sitting to your basement.
14. Light It Up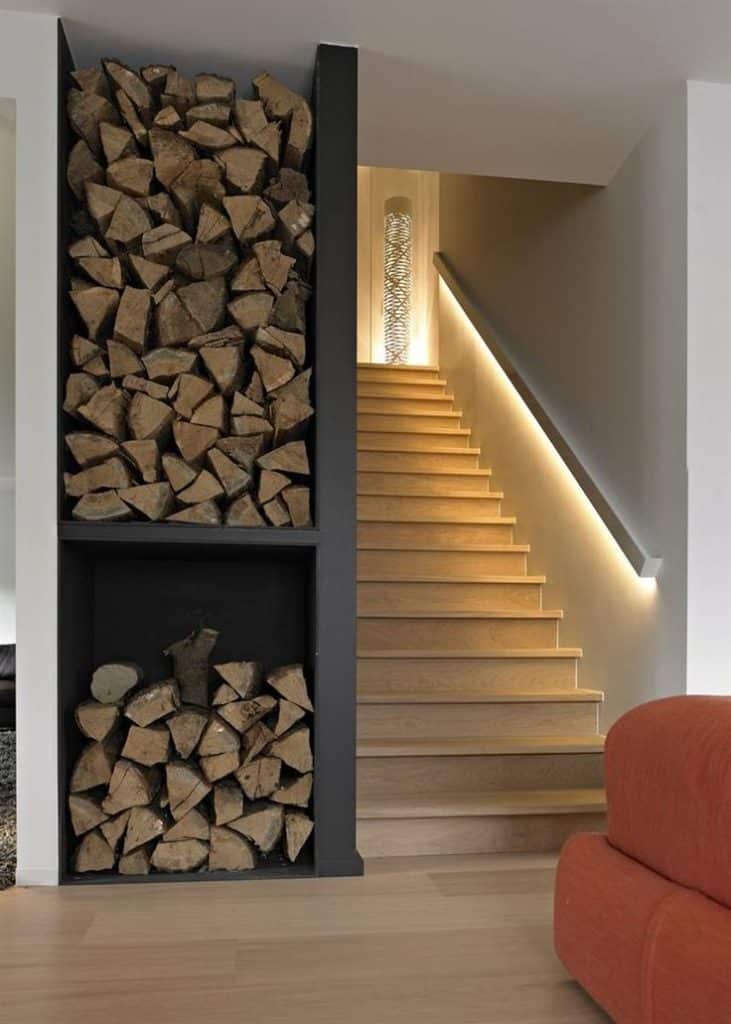 Among many other basement stairwell ideas, installing lights in stairwells is another one that can change the vibe of the roomto accentuate a space is to install lights and lamps. You can highlight your basement staircase by installing a light above the basement door, install wall sconces on a knee wall made of exposed bricks to add to the rusticity of your space, or use recessed stair lights to highlight the steps for safety or in the ceiling of the basement. Lighting can make all the difference in the world, and if done smartly, it can majorly contribute to the overall aesthetic appeal of the place.
15. Kitchenette Under the Stairs
Experimenting with basement stairwells can be a lot of fun. Having a small kitchen under the basement can be super fun because you can try all your recipes in this small space while keeping the main kitchen clean and organized. This can really make your cooking space pop as you can paint it green so that it complements your stainless-steel oven and stove top or with any other dark primary color to attract your attention. This feature can prove to be very useful in case you wish to rent out your basement to someone in the future.
16. Open Stair Treads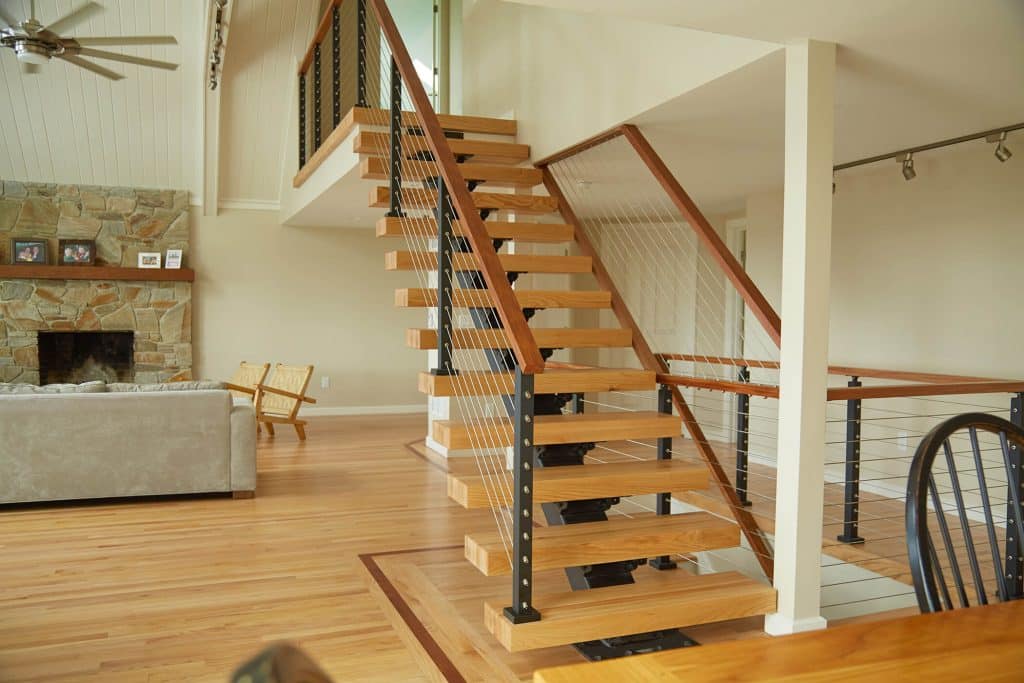 Open stair treads are ideal for those who want their space to look spacious, clean, and well-ventilated. Although this is one of the most unconventional basement stairwell ideas, it is extremely practical because the open stair treads offer an unobtrusive appearance that is lighter and airier. On the other hand, traditional ones can appear clunky and occupy too much space as well. A stairwell with light but glossy wooden planks and steps with suspended metal cables will look super modern. On the other hand, a polished white concrete stairwell or even a stainless-steel staircase with glass railing will make your basement appear contemporary and clean.
17. Wainscoting on Spandrel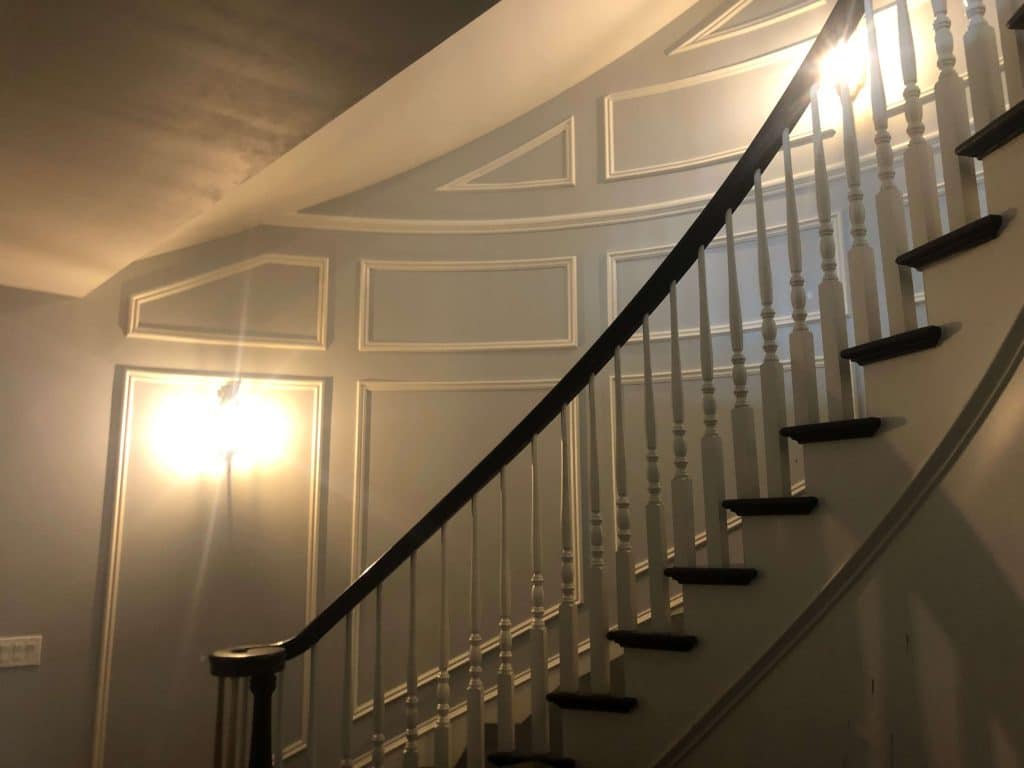 Wainscoting is one of the best classic styles and the easiest way to accessorize a room. Wainscoting serves the purpose of protecting walls from scuff marks or scratches from furniture and footwear, respectively. Neatly executed wainscoting along the stairs that go to the basement can add to the architectural interest and look impressive.
18. Wrought Iron Charm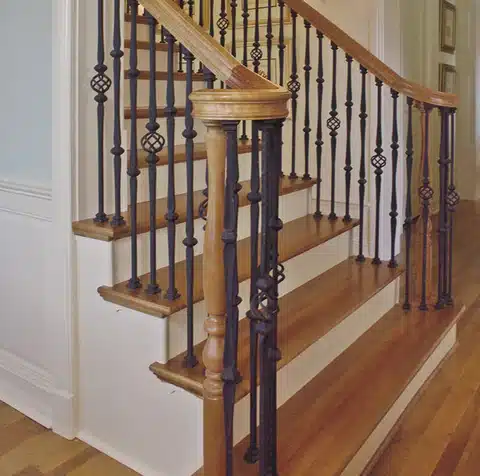 One of the classic basement stairwell ideas is using wrought iron railings, which have always been a favorite of interior designers and decorators. Where on the one hand, a wrought iron railing can look majestic and grand with a dark wooden Mahogany staircase; it can give an urban industrial minimalist appeal to a house. Therefore, if you are someone who would like to maintain the old-world charm but want to go with something contemporary at the same time, wrought iron is the perfect option for you.
19. Staircase with Tiles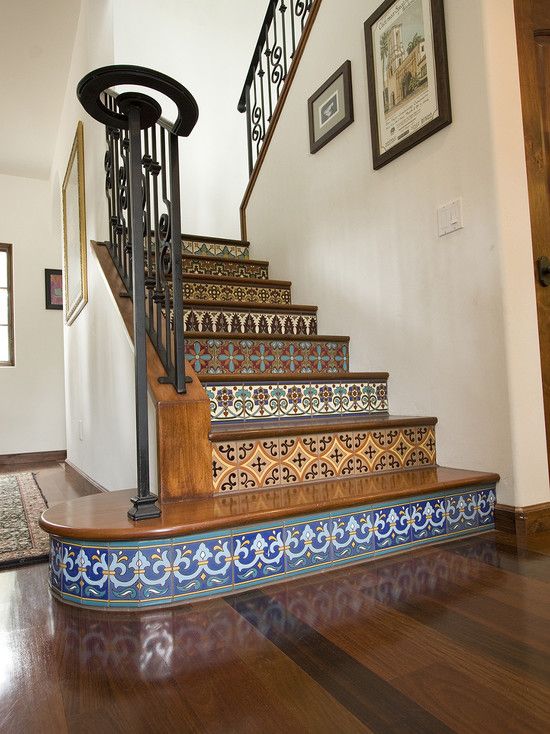 From black granite to creative, colorful fresco, tiles can completely transform the appearance of your basement. While stairs with mosaic tiles can look eye-catching and offer a Mediterranean vibe, white marble tiles have a powerful visual impact. Decorate your stair risers and tread tiles with a mixture of cool blue hues for some funk. You can use primary-colored tiles like bright yellow, cover stairs with straight ceramic tiles, or decorate steps with intricate In-lays to add to the beauty.
20. Floating Staircases
Floating staircases, with or without railings, are one of the best basement stairwell ideas as they are highly economical, easy to install and practical when it comes to maintenance. Owing to its design, the light will flood through your basement if you plan to install floating staircases. You can go for an all-glass floating staircase or a mistral LED design which will look exceptionally beautiful at night. However, for a more raw and more organic outlook, you can use butcher block style treads that are 3 ½ inches thick but very strong and sturdy.
Conclusion
You can upscale your dreary-looking basement by modernizing your staircase by taking inspiration from the basement stairwell ideas mentioned above. A wooden staircase with wrought iron railings or a tiled staircase with glass railings will match well modern interiors.
However, cream staircases with a soft rug spread on them will go well with the aesthetics of a rustic barn house. To maintain cohesiveness, make sure that the basement matches well with the interiors of the house. If you are thinking of upgrading your house, start with your basement and leave your queries in the comments section.
Frequently Asked Questions
What Is the Best Way to Cover Basement Stairs?
Spreading a fitted carpet or rug is the best way to cover the stairs. These accessories absorb noise, make the basement look warmer, and make the climb easier. They can be changed easily and are convenient to install.
How Can Basement Stairs Look Chic and Formal?
For a staircase to have a more formal appearance, wrought iron railings and glass railings are the best. However, to retain the old-world charm, you can use shiny wooden stains and dark brown wooden railings with indirect lighting.
Can Basement Stairs Be Used for Storage Purposes?
Yes. To increase the storage capacity in your house, you can insert drawers, open racks, closed shelves, and even cabinets under the stairs. You can either use the space to store your belongings or place ornamental items.
How Can One Finish Basement Stairs?
To finish the basement stairs in the house, stain or paint your wooden stairs for the best results. To completely transform the stairs, stain them with existing stains for a fresher appearance. Clean your wooden stairs every day to maintain the glossy effect.