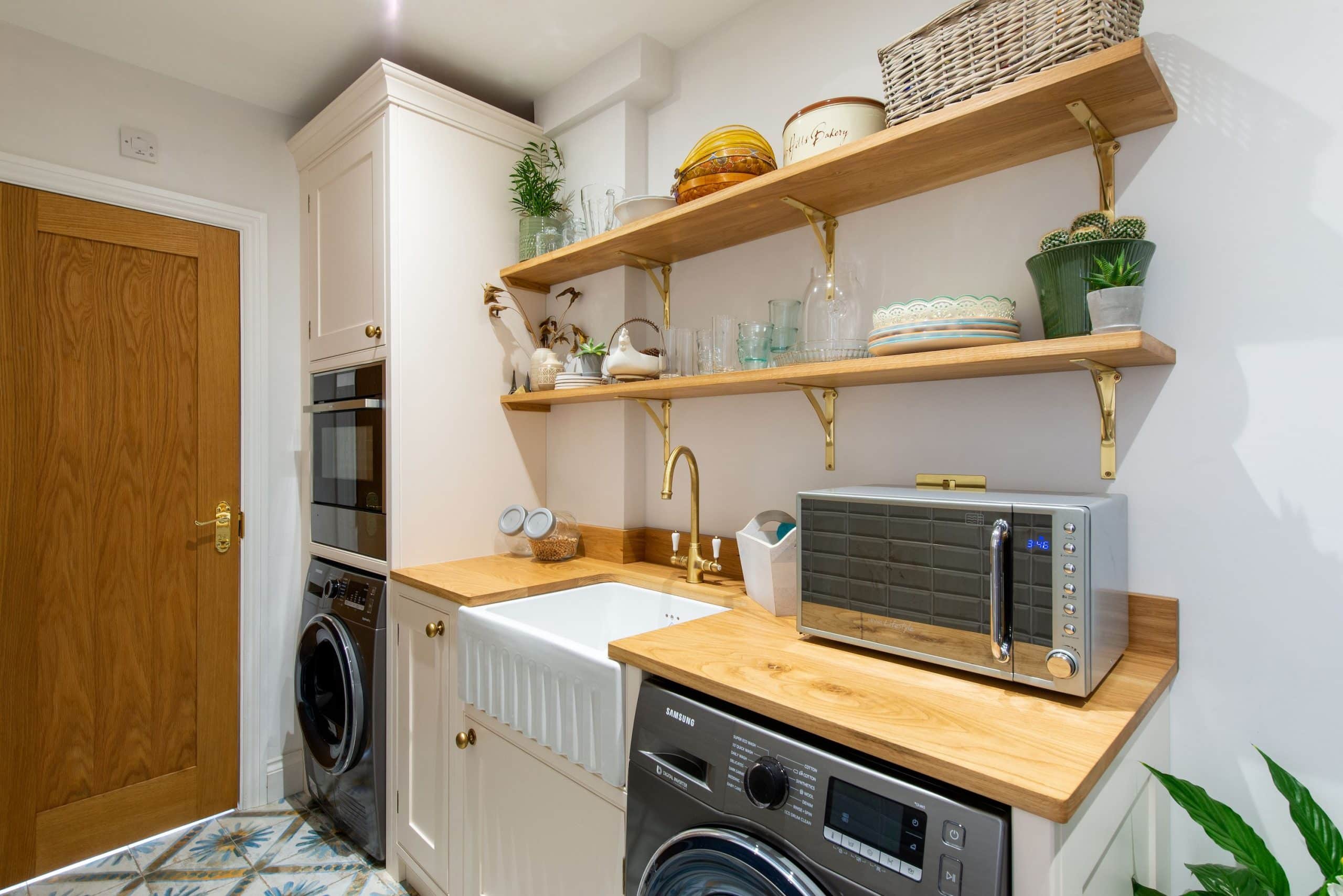 In the wake of the ever-evolving trend of modernization, we have been doing all we can to enhance the elegance of our home's overall aesthetics. Beginning from the exteriors to our main room, we want all of our nooks and corners to be perfectly spik and spank, which helps derive the best of our home's characters.
And as a matter of fact, going by it, we do serve justice to a greater extent. However, there is one such corner in our room that we ignore looking up to and leaves it in a complete state of mess. It is that essential section of our house that meets most of our needs but remains immensely neglected. And if, with all due deliberation, you have finally come to a consensus to update it, then we have got your back.
In this article, we have curated a list of 25 such ideas that will help you in keeping your utility room sorted and organized. So, with all the overview provided, let's get into the details and provide you with the best utility room ideas.
1. Begin with the Flooring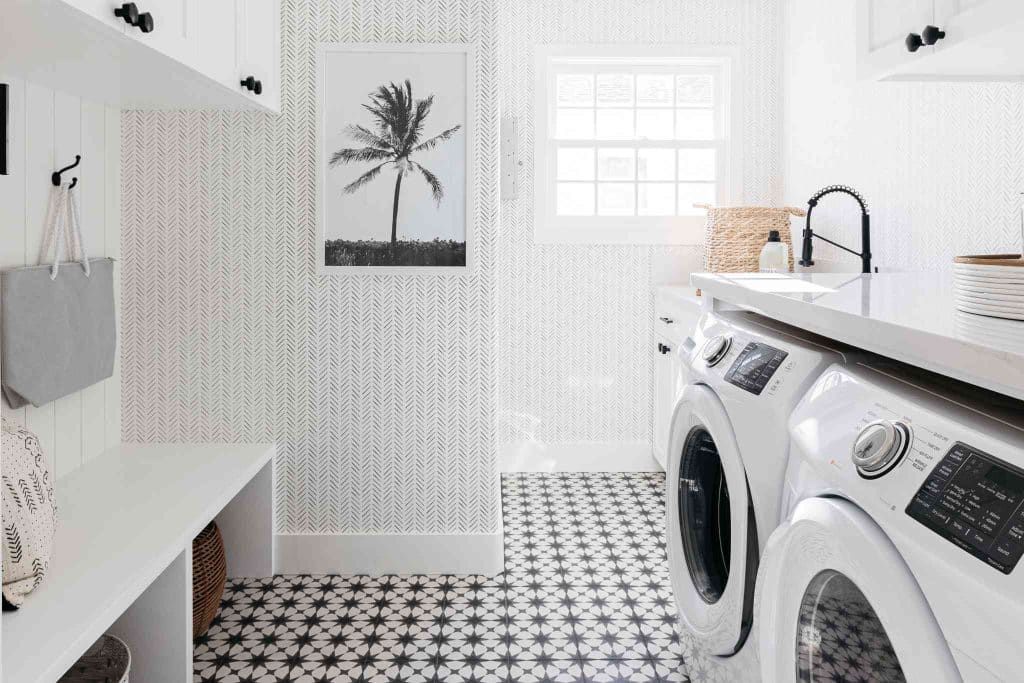 The utmost purpose of the utility rooms is associated with their space. But, when you have planned to give it a detailed touch-up, you must not think of much while planning a design for it. A floor is an essential aspect that adds the much-needed personality to any room. Especially when it comes to decorating utility room ideas, you must think of a decent flooring option that takes care of the cluttered space. It is also a cost-effective style to amplify its overall look as you get less surface area to work with it. It's your call whether you wish to proceed with the monochromatic look or if you would wish to proceed with vibrance by adding the color.
2. Work with the Heights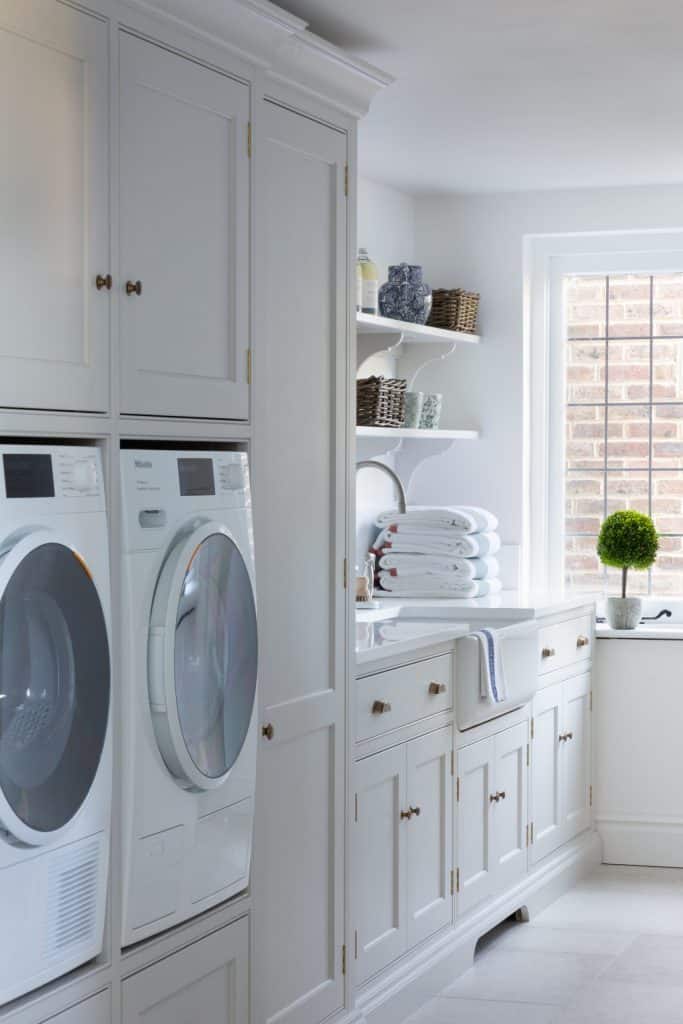 One of the essential parts that we often ignore and mistake while renovating our utility rooms is to keep a focus on the heights. The height is a crucial factor that you must incorporate in your utility room ideas project; it helps you in maximizing the space that gets overwhelmed with a little flooring space. This will help in fitting all of your required but unused elements. Apart from that, it also caters to the option of stacking your appliances to free up the space on the floor if you are thinking of including both a washing machine and a tumble dryer in your utility room.
3. Space Saving Pick Pocket Doors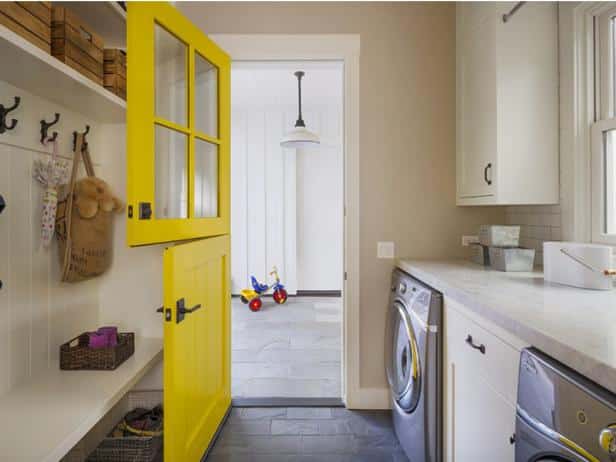 Now it's a clearly understood fact that the utility rooms can rapidly overrun with laundry, gardening products, or other such elements that you don't emphasize much on. In that case, having a pocket-sized door is the option you must look up to. That is a great space-saving technique as it gets folded off itself and helps adjust several elements simultaneously. If you have an option for a wall with a broader width, you can tweak your door's thickness to insert the cabinets in the door itself, which will help in adjusting more things in it.
4. Consider Having Baskets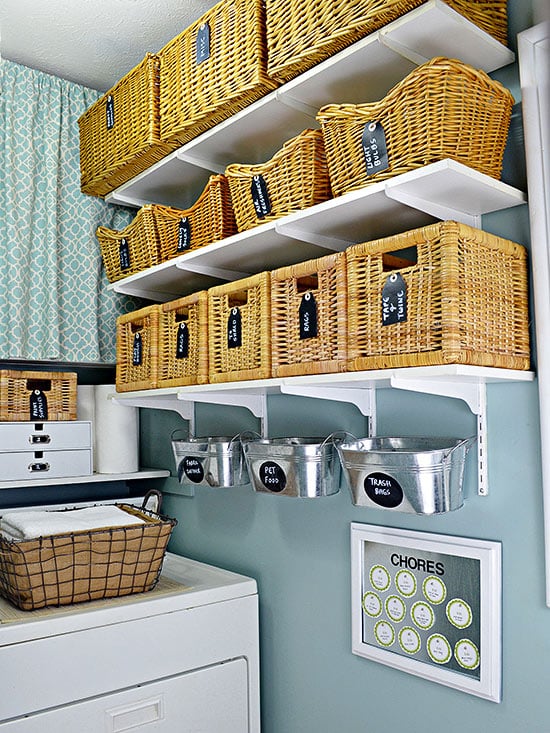 Having an option of open shelves is a decent and best way to add character to a utility room constraint with space. However, at the same time, you must ensure that you don't compromise with the organization that creates a cluttered look. And it is when the baskets come in for the rescue that offers a great degree of convenience in terms of storage that helps add interest to the shelf and helps keep the tiny items tidy and hidden. This is one such utility room idea that is essential for each one of us to incorporate to add a touch of organization.
5. Add Greenery to Your Space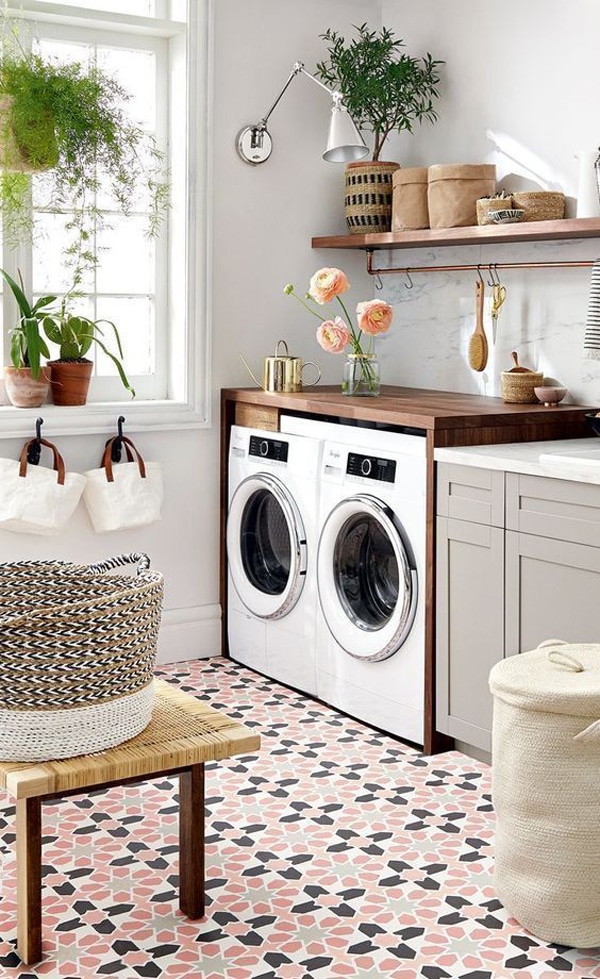 Among the areas in your home that provide peace, the utility room certainly wouldn't have a place on the list. This clearly doesn't mean you won't consider elevating its overall standards and looks. The decoration is a part that we must also think of while considering the utility room ideas. For the ideas like such, you must think of having green plants or adding a touch of elegance by adding greenery in the area that enhances the solace in the most ignored area of your house.
6. Creating an Accessible Utility Room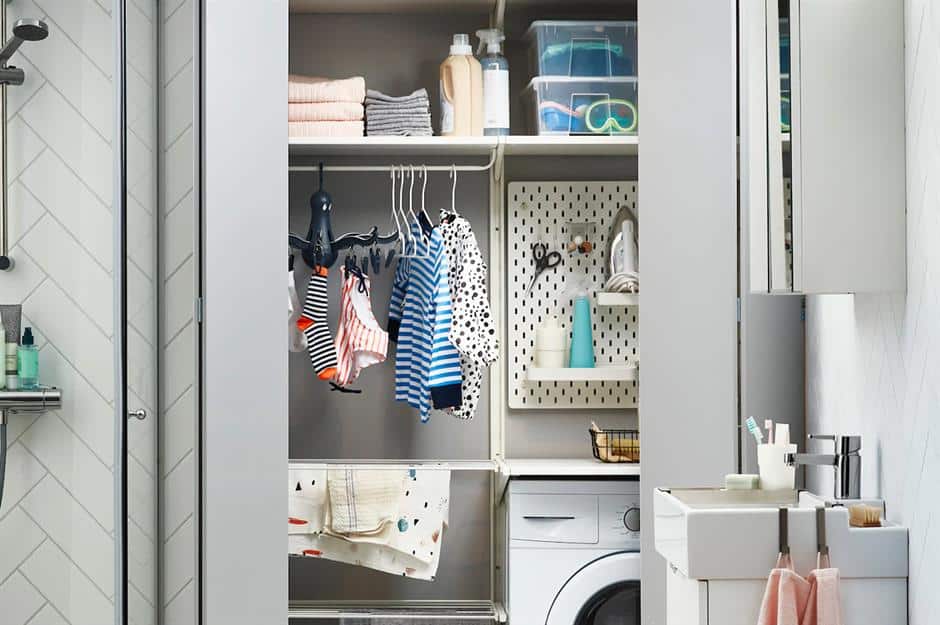 It is always good to have more when it makes the most for your essentials instead of having just one.You can create a utility room by yourself as well if you have a space in your hallway, end of the kitchen area, or even the space beside the bathroom can be transformed into a small utility room. You can arrange the space by making an area for the cabinet to small all the tiny belongings you don't access regularly. Make a folding or sliding door to access the utility room instantly.
7. Add Rail to Save Space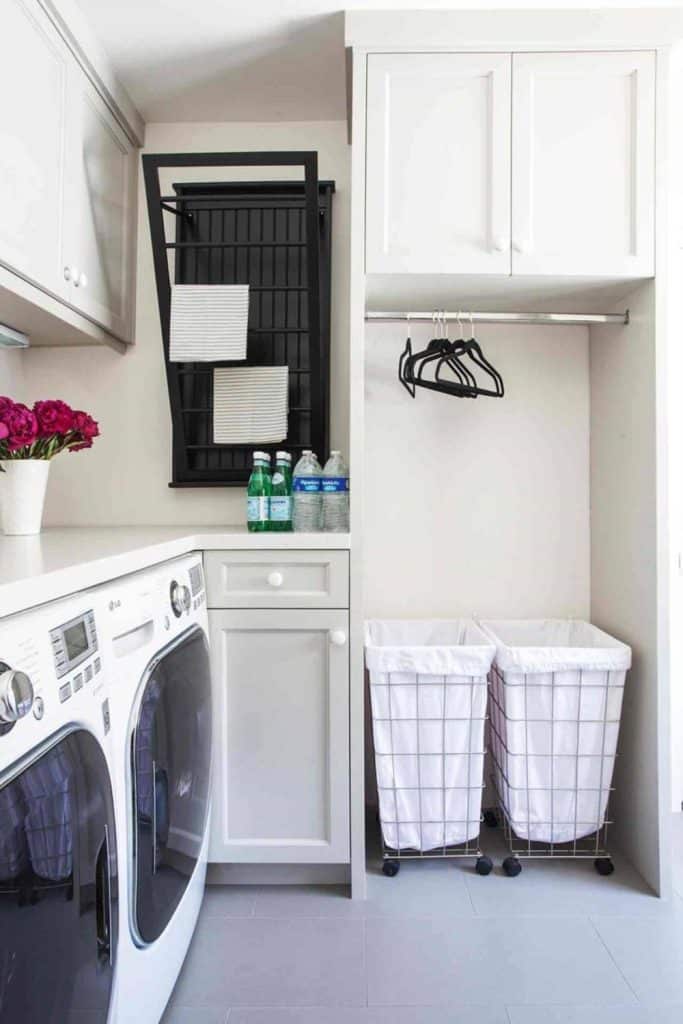 Floorspace is always a constraint when taking the idea of a utility room into consideration. So, think of incorporating a hanging rail in your utility room to have a dedicated spot for clothes or other elements. This helps in making most of the area between the work surface and the ceiling. By having this right above your washing machine, you can transition your laundry straight to the rack, which will help you save a lot of time in the entire process. Having wooden hanging rails is highly advisable to help you achieve a farm-inspired look.
8. Maintaining a Clutter-Free Space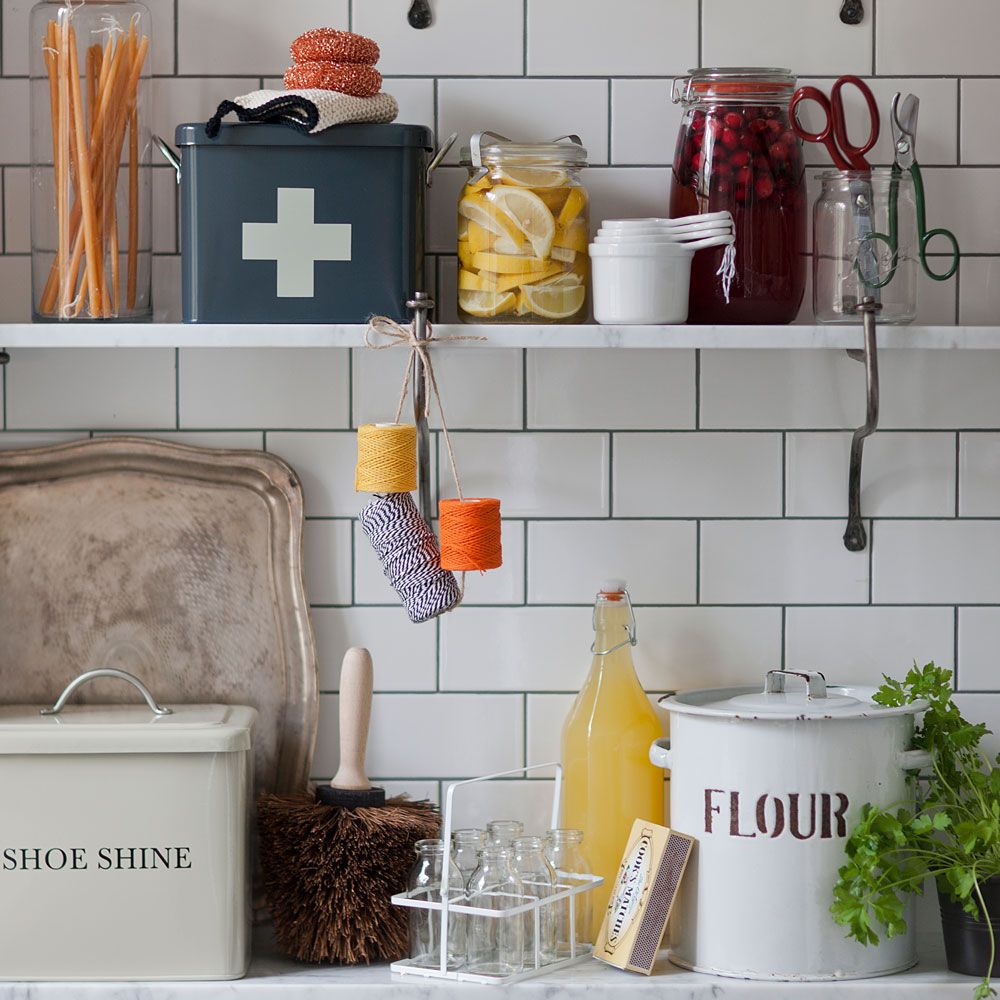 The crucial key to attaining a smart utility room is by banishing all the product packaging from view. To get this, you must assemble a collection of all the practical enamelware tins with lids, jam jars, and other containers you fancy the most. You can use them to store all the soap powder, liquids, or other elements of your use. Besides, pack away your show polish, dusters, and dishcloths to observe the sheer difference you attain in your room all by yourself by achieving this setup.
9. Utilizing the Awkward Space with Designs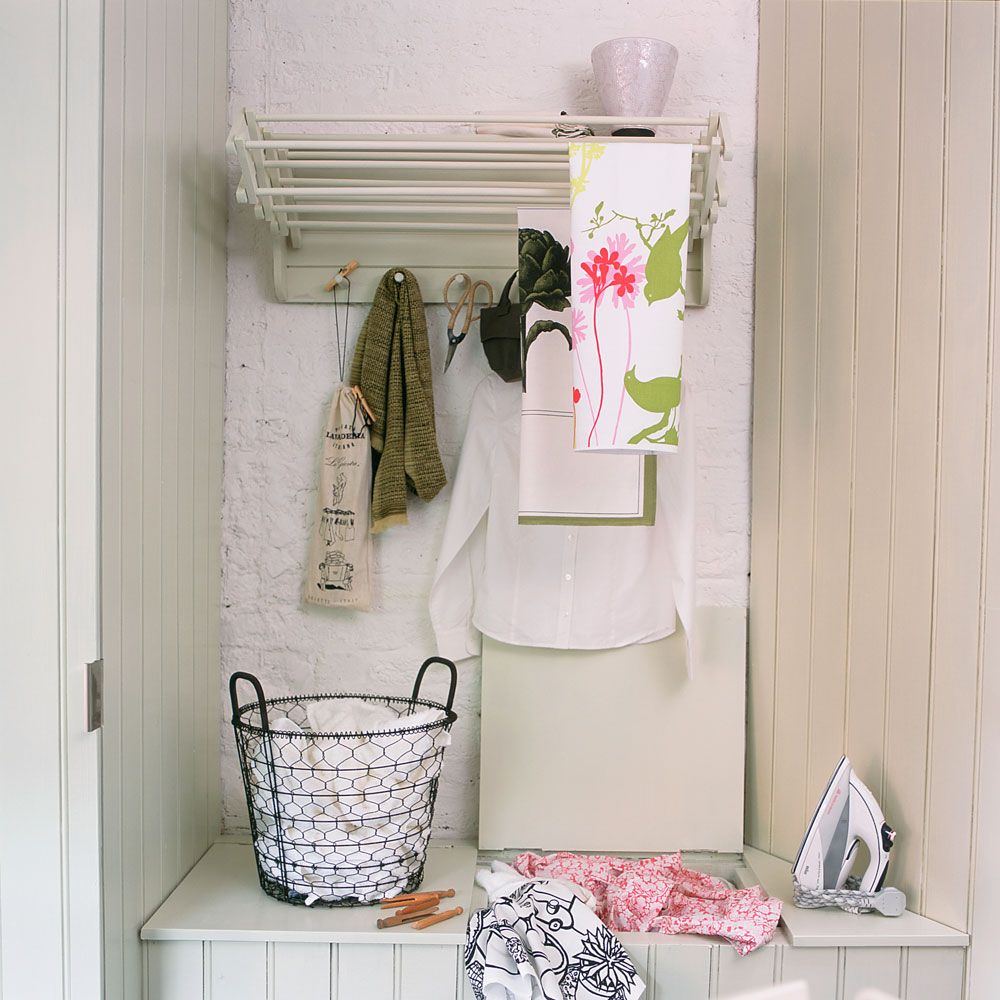 Having an awkward space in the entire setup when you are using it to store your essentials is inevitable. While proceeding with the idea to renovate this space, you can adopt the idea to incorporate designs of various sorts to cover things up. Take, for instance, the image depicted above; here, the designers have sensibly incorporated an otherwise unused slice of a small wall into a plentiful room for drying clothes and storing other amenities. This utility room idea can be of great use in mounting an extendable drying rack above an appliance to maximize the space.
10. Adding a Peg Rail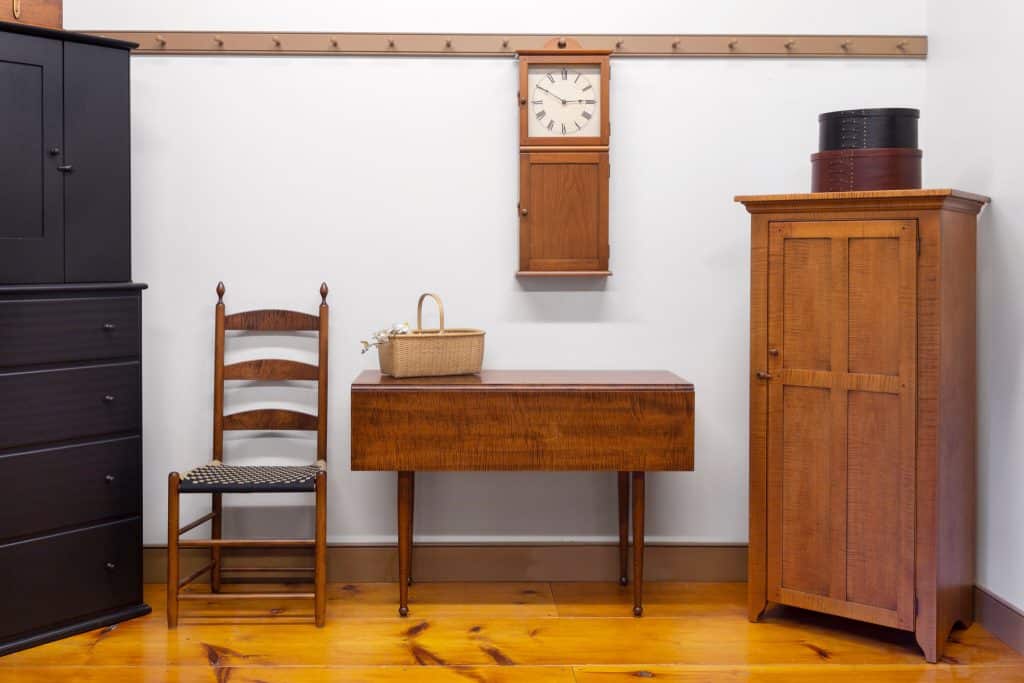 A peg rail can be of enormous use in a utility room of any size. This is a great element to save space in the utility room idea of any form. Even if you have incorporated overhead shelves or not, this can be adjusted there as well to enhance the amount of space. You can run it in the form of a rail all around your room to hang a wide range of utilities. An open storage unit like the one shown in this utility room idea can help take up any overspill of the kitchen. The peg rails are of immense use. This is just a case where you can bring them into use. Its usage can be taken up anywhere in your home.
11. Incorporating Curtains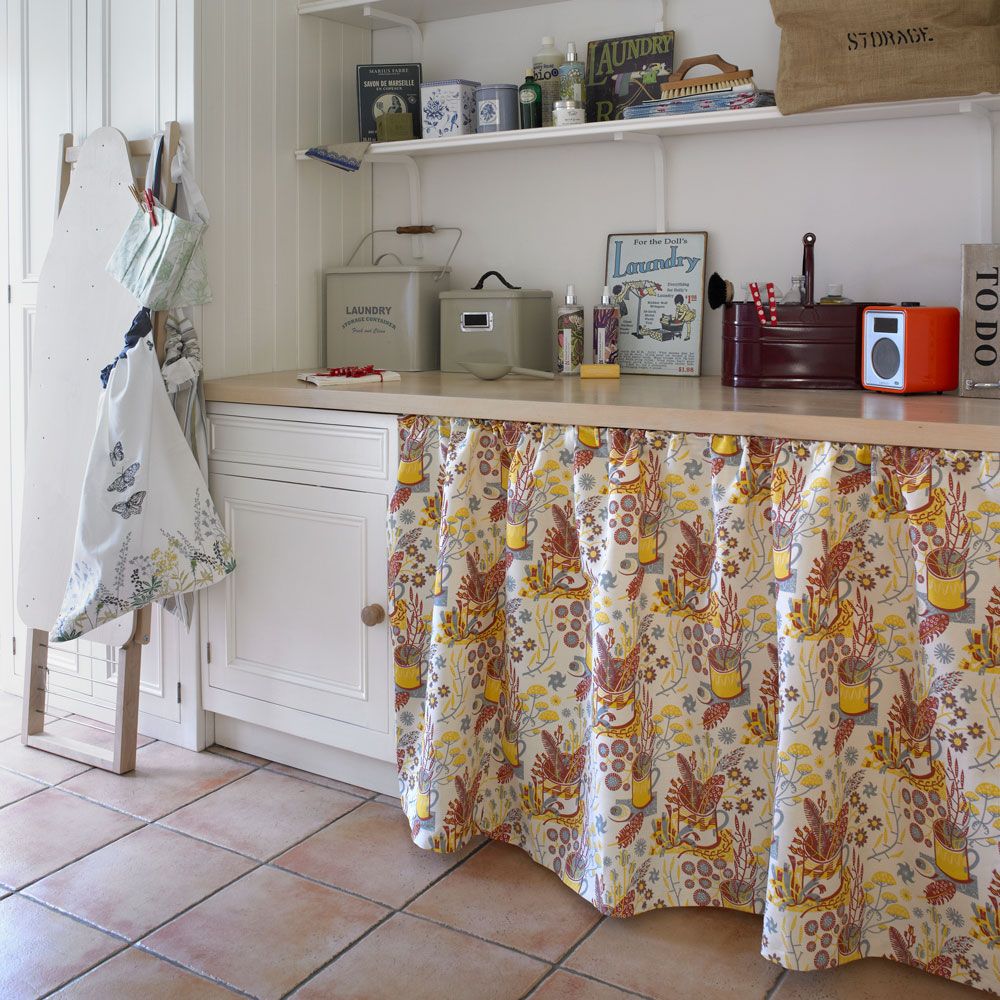 The addition of a vintage touch to your utility room in an old-fashioned cafe style is another delightful idea you can incorporate into your utility room. Curtains are one such element that can be brought to use in making this happen. Choose jolly and inviting fabric that has a pattern to detail and color in the neutral space. Open-up shelving and a tiled floor are simple and easy to clean, which also helps add nostalgic vibes. It can be of immense use in covering up the underneath shelves spaces and having your items of utility in a random fashion.
12. Bespoke Storage Unit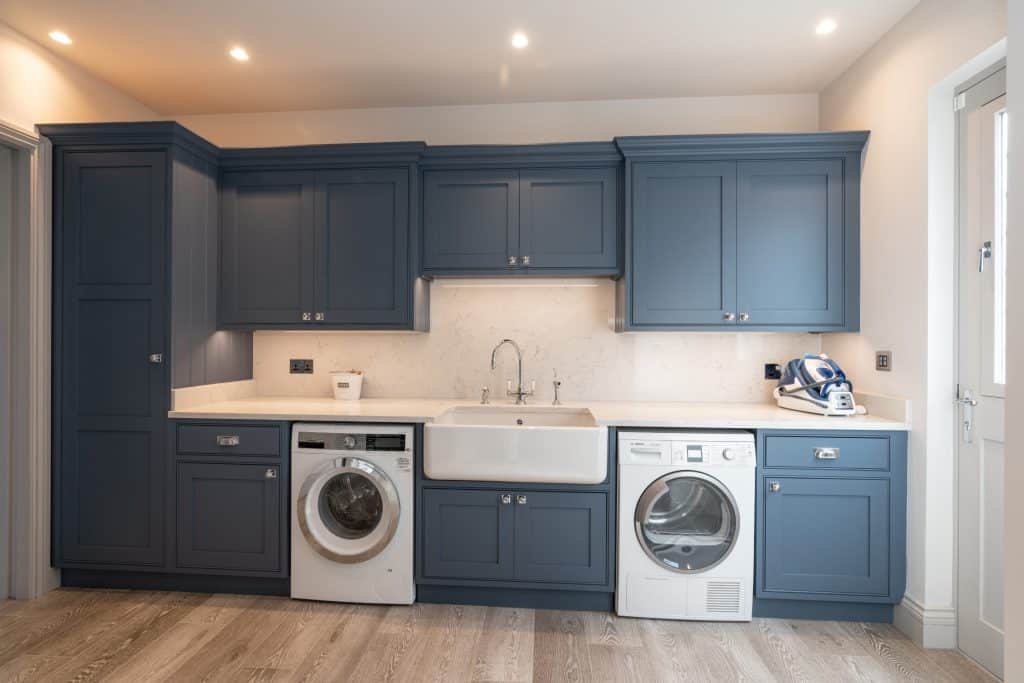 Give your utility room a much smarter storage option through this idea. A Floor-to-ceiling, wall-to-wall utility room storage will hide every element of utility behind the closed doors. These bespoke units offer great utility in storing things that are of your use. Ranging from accessories and products for cleaning, laundry, and gardening, every element can be incorporated here without you being required to be concerned much about the organization part in the small space.
13. Making a Multipurpose Room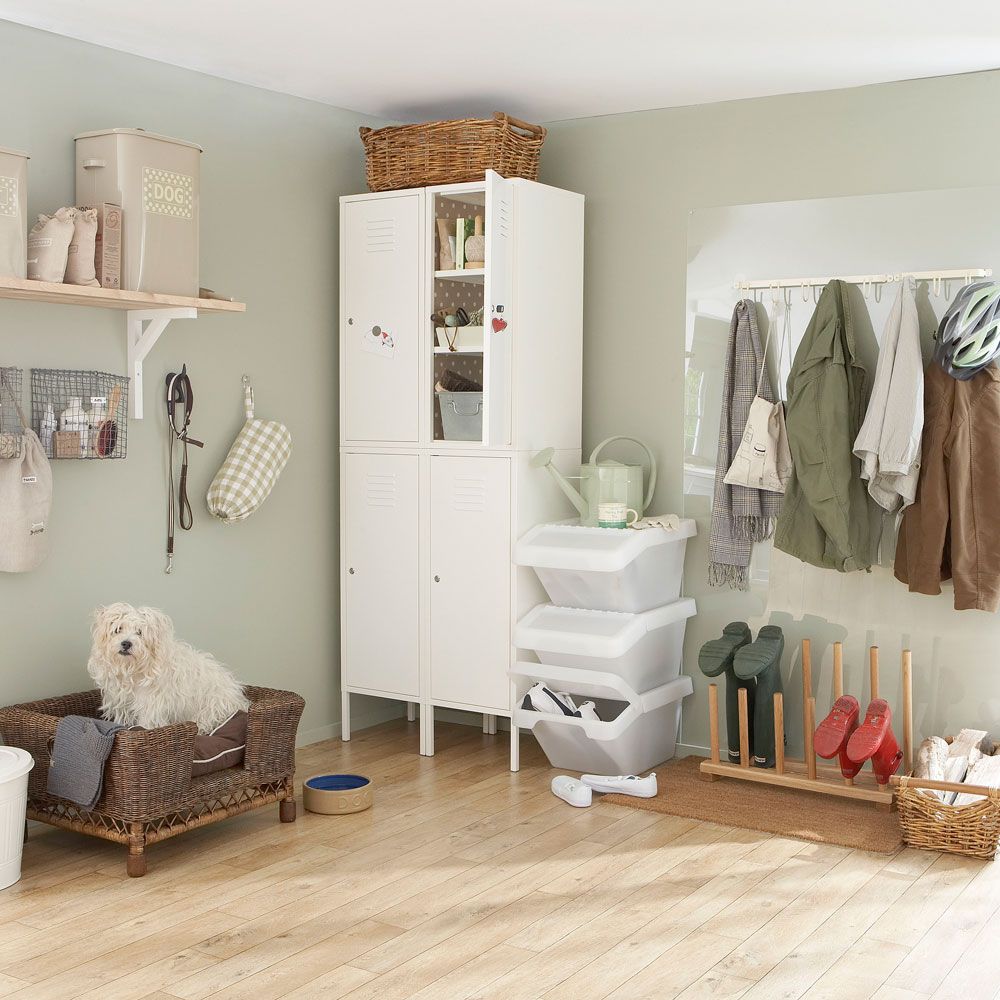 The key to having a perfect utility room is that it can become the home for all sorts of bits and pieces that finds no place in other rooms and will perfectly find a space here. In place of overcrowding your home's hallway with your daily items, you can even consider giving it a place here. A handy locker takes center stage, creating a dissection in the utility room. This idea will greatly help incorporate items that serve multiple purposes in your home. Ranging from your coats to boots or be it washing or gardening elements.
14. Adopt Practical Furniture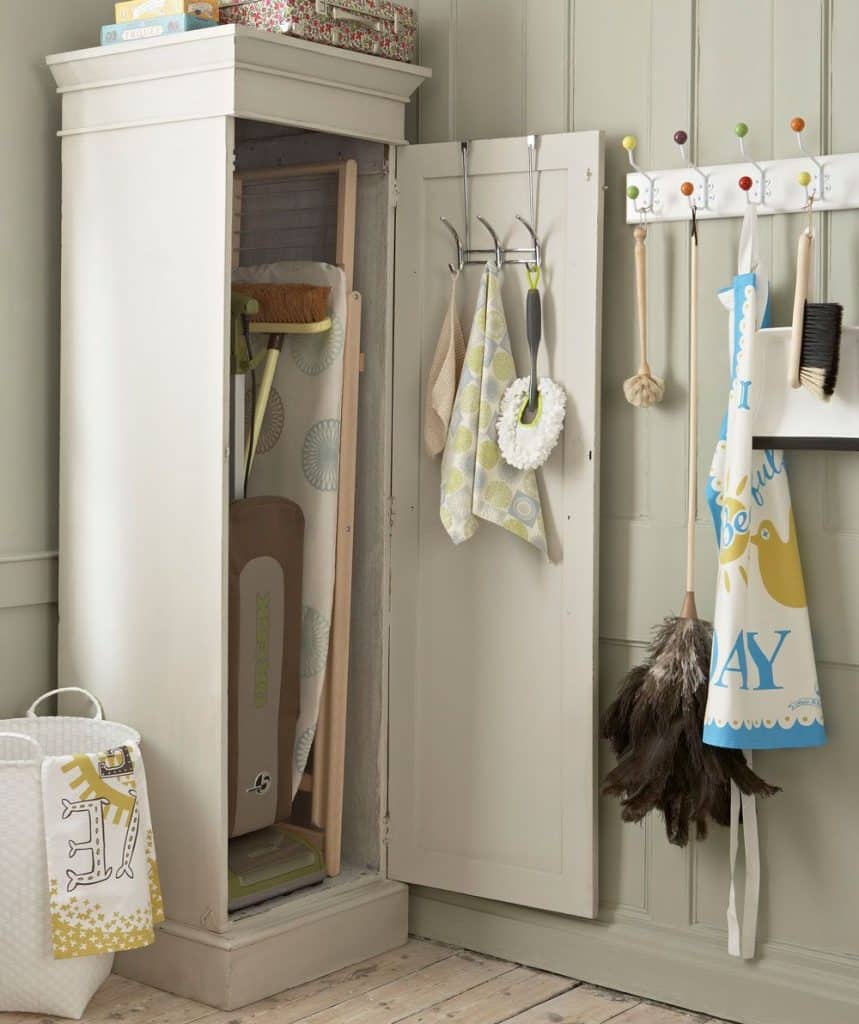 Keeping furniture choices to a minimum is ideal in a small utility room, ensuring the space isn't overwhelmed. In place of storing your belongings in multiple storage cabinets. You can have a slim cabinet like the one in the image above to store all your basic necessities. This can be cornered to place in your utility room, which even doesn't take a much of the floorspace
15. Multifunctional Shelving Unit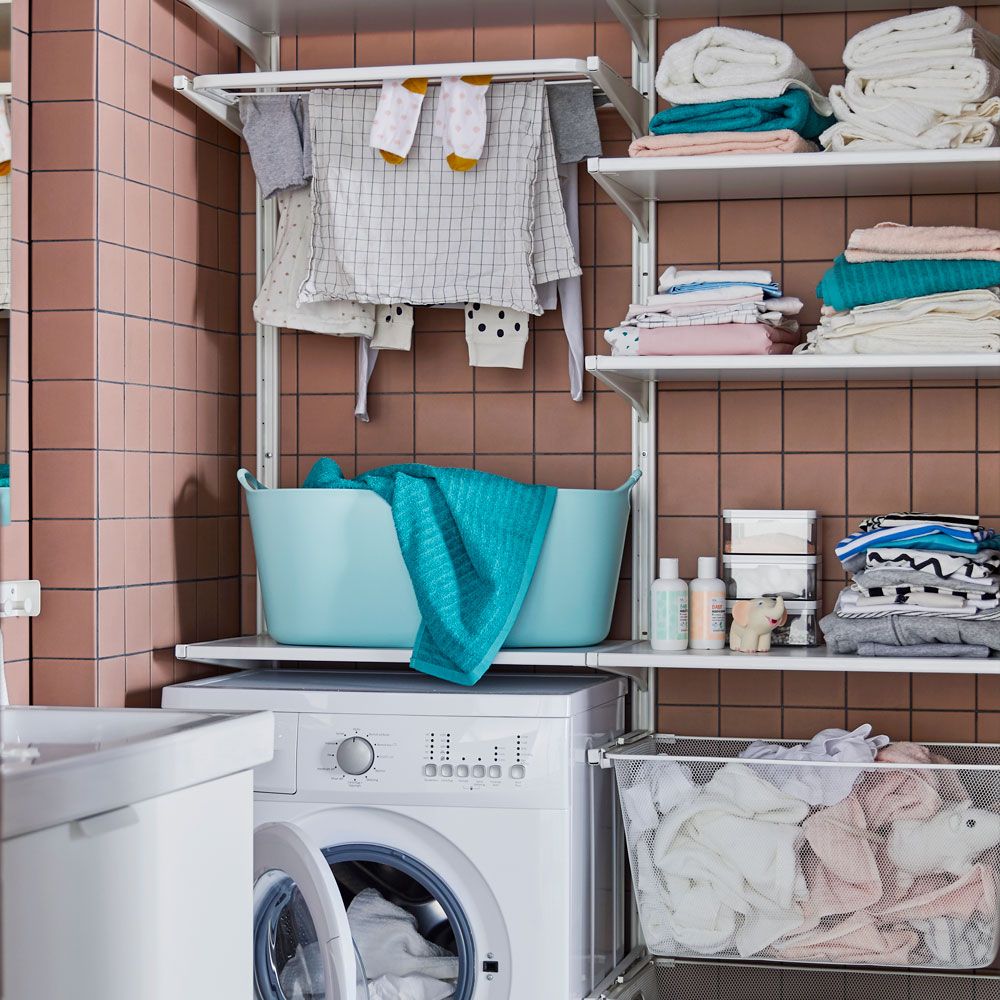 Multifunctional elements and spaces are of immense importance. IKEA furnishing is one such option that can cater to your needs. A multifunctional shelving unit can easily serve a wide range of purposes. This utility room idea features wall-mounted storage rails that cater to all your laundry needs or hang your daily usage items. You can even use the space to store decorative items to suit and enhance the overall ambiance of your room. Such storage options give you a smarter option to organize your things.
16. Utility Room Under Stairs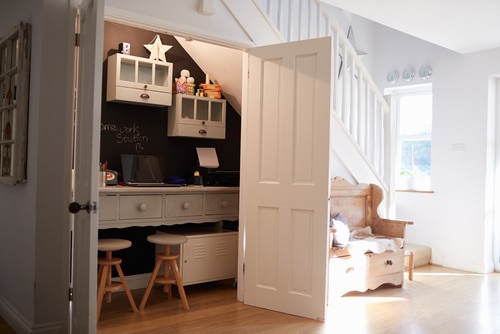 Another tremendous idea that is high on trend is to use spaces perfectly. One such utility room can be constructed in the space under the stairways of your home. This utility room idea offers a great deal of purpose but needs proper planning to be executed. This area is enough to store the house's cleaning essentials and storage baskets. You will have to ensure that these are securely fixed in place that offers a compact utility and a lot of things can be accommodated in the space.
17. Add Shelves Behind Sink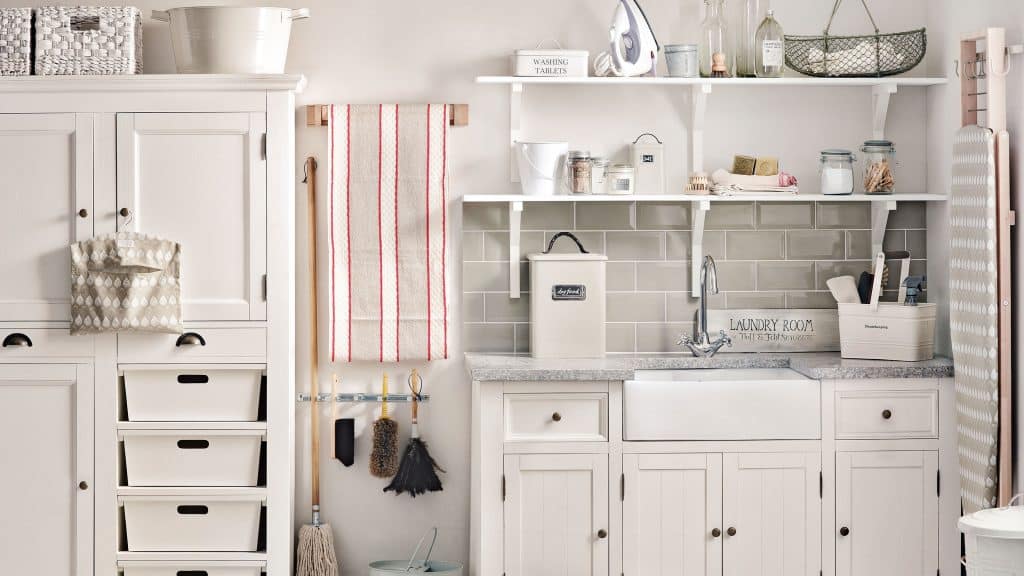 If you are running short of space in the wall area. You must think of using every surface in your utility room, even though it's tiny. This idea is one such option that can be of immense help, consider adopting a shallow shelving option behind the available sink as an example incorporated in the above image. Not only will this idea make the most of the space to support the overwhelming cabinets in the utility room, but it can also help in accessing the materials while using the sink.
18. Cater for the Visual Pleasure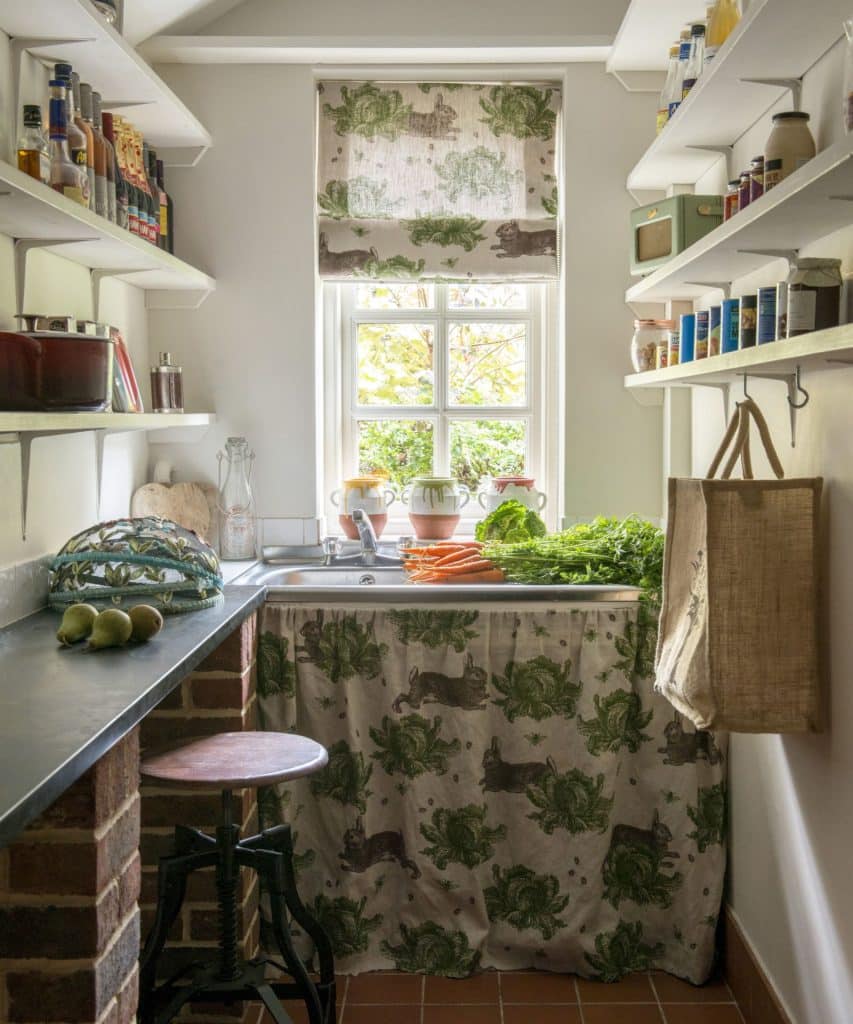 Every place in your room deserves to be uplifted with a decent look; just because it is small does not mean it can be left idle with just elements of importance. You will most likely have a space to hang artwork or other paintings; instead, you can use it for another purpose. But with the fabrics of covers and curtains, you can surely tweak the visual importance of your place. Consider the option depicted in the image above. You can also proceed with the option of having a customized fabric to match the ambiance of your home in its entirety.
19. Consider the Lighting for the Utility Room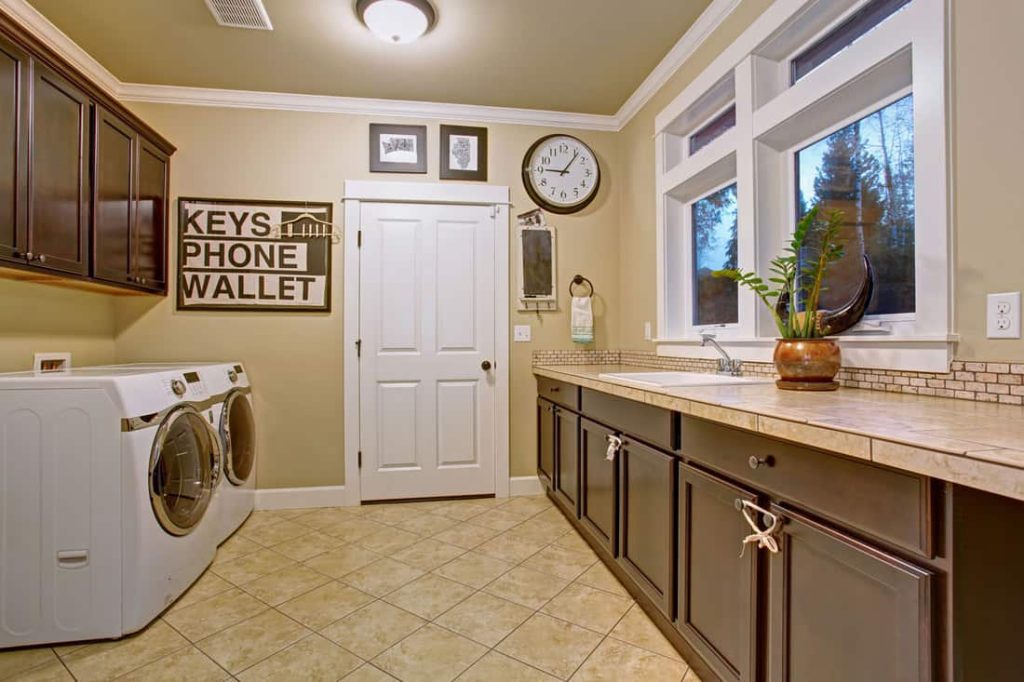 Don't forget about the lighting part in your utility room. It can help attain the overall character with ease and enhance the utility of the space in its totality. As a hard-working space, lighting is essential, especially when the utility room is windowless. Why settle for the ordinary lighting option when the utility is in the name itself? You can add a touch of contrasting fervor or can match the pre-existing setting. It must be ensured that you don't interfere with the spacing by installing lights sideways.
20. Choose Bold Colors for the Wall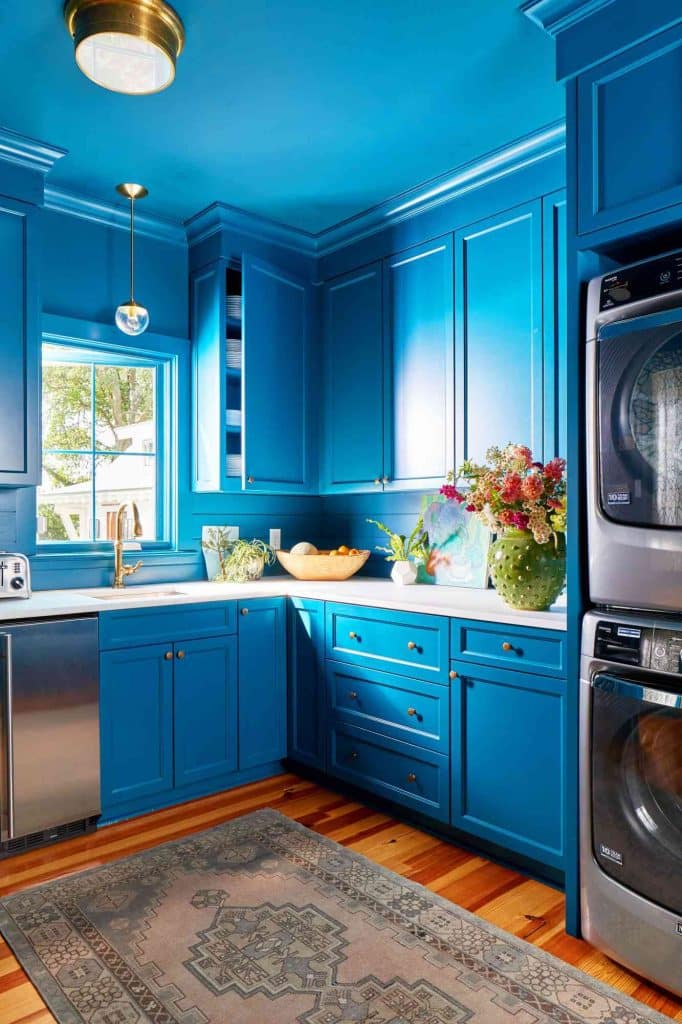 Color also sets an important tone in the ambiance of the room. While using pale colors can make the space feel a bit bigger, incorporating more vibrant hues should be the top choice in designing the space. A rich shade will attract the attention of whoever enters your utility room and will derive the focus to its best. The bold colors are chosen to help in supporting the overall ambiance and are also significant in covering other flaws in the settlement to a greater extent.
21. Consider Working Under Counter Areas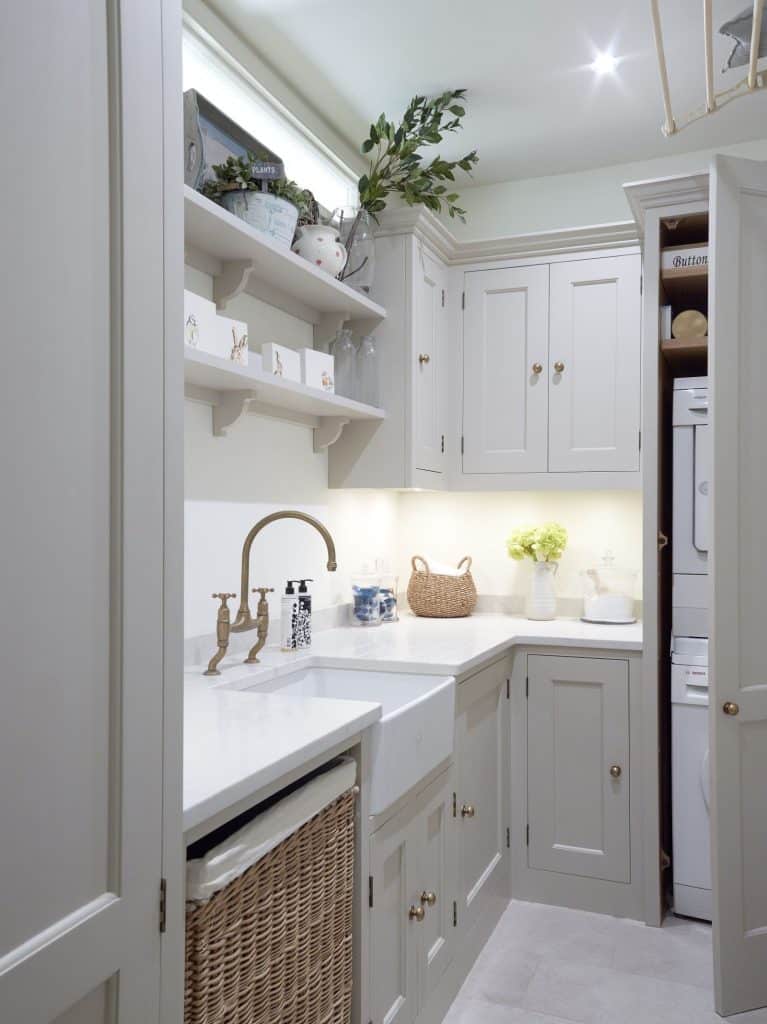 Creating a nice look in the utility room with a washing machine and dryer in place is tricky. Positioning the washing machine near the sink might make the plumbing task easy. However, this is not a space-efficient solution for small utility rooms. An alternative to such can be considered in the form of creating space underneath the counter areas with cabinets that can help in stacking items to a greater degree. This is a sort of double-decker arrangement that is a smarter solution to problems associated with space.
22. For Low Ceilings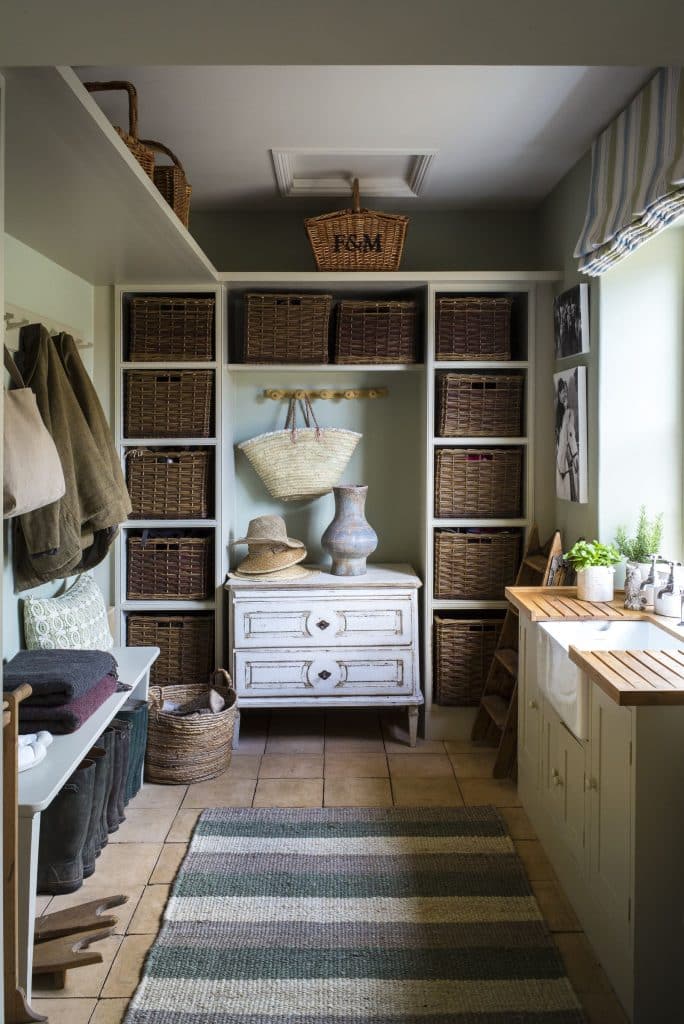 This utility room idea is perfect for spaces with low ceilings. It is essential to maintain storage in such cases, and this idea sets the perfect arrangement for it that serves the purpose of a more relaxed look with open shelving and baskets. Such a setup is also great for bringing texture and character to a room. This idea is crucial in attaining a decent look alongside the storage option you get. You will be required to have plenty of baskets for this idea. Moreover, you can also take up the option to install peg rails to increase the area to store the belongings.
23. Creating a Bootility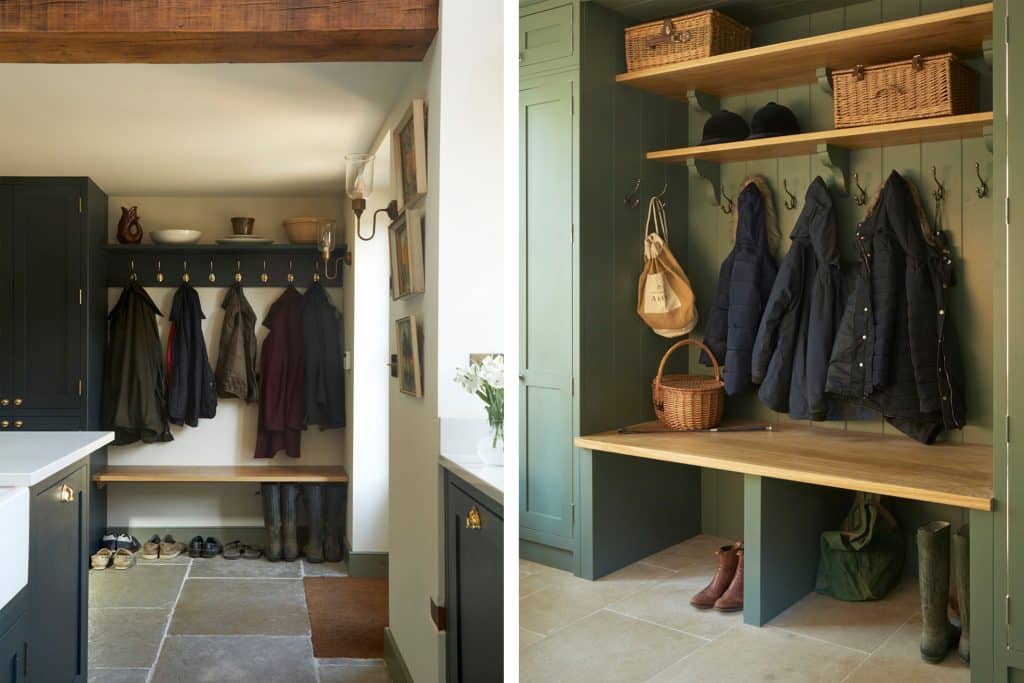 One of the most trendy options of the year to adopt for your utility room is to have a 'bootility'. The bootility is a hybrid utility boot room consisting full of modern and uber-chic cabinetry that is perfect for hanging coats, umbrellas, and your dog leads and usually consists of a bench for comfort. One of the best advantages of having a bootility is that you can carve it out on a door as well, which is a great option in saving plenty of space besides adding a sense of decency to your utility room.
24. Floor to Ceiling Storage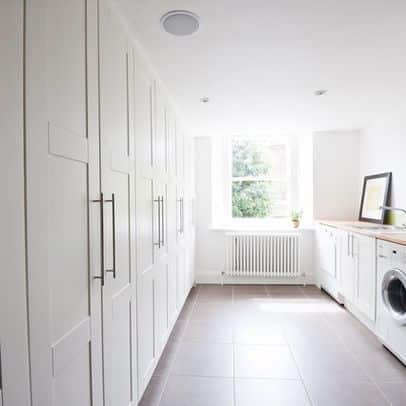 This is an idea that must be incorporated for utility rooms with a lot of height. Floor-to-ceiling storage is a go-to option that has immense application. It is also a great choice to go with if you want to have a simple setup. Opt for a solid-colored cabinet for white, as depicted in the image. Such a setup cuts short all the options for decorating your utility room, and your attention must get cornered to accommodating items in a smarter way. Complement it with yellowish lighting to get the best possible look.
25. Space for Your Pet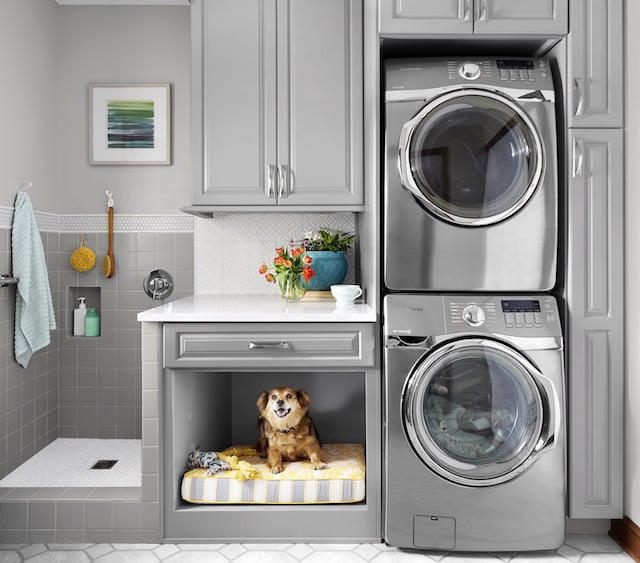 Certainly, last but not least. This idea is one of the perfect to have in your utility room if you own a pet. Often your pet's bed can look unsightly or can hinder the passage. If space allows, you must incorporate this idea without giving a second thought to avoid this issue. Carve out a space to make a perfect relaxing space for the special member of your family. However, ensure that it must not take up the space essential to store your essential belongings. Such ideas also require a proper arrangement so you don't mess up anything otherwise.
Conclusion
These 25 small utility room ideas explore the wide range of possibilities and options to encapsulate in your next home renovation project and get the best out of the overall setup alongside maintaining the overall ambiance of your home. Maintaining one of the most important areas of your home is essential. However, to have maximum storage in the utility room, you will have to proceed in a better manner with all kinds of planning. If you are starting all again, you will have to figure out the factor of cost associated with plumbing and electrical work to create the best design.
Apart from the ideas presented above, there are numerous other ways through which you can create a way out of your utility room. Take inspiration for your renovation project ahead, and let us know about the ideas and how you'd proceed.