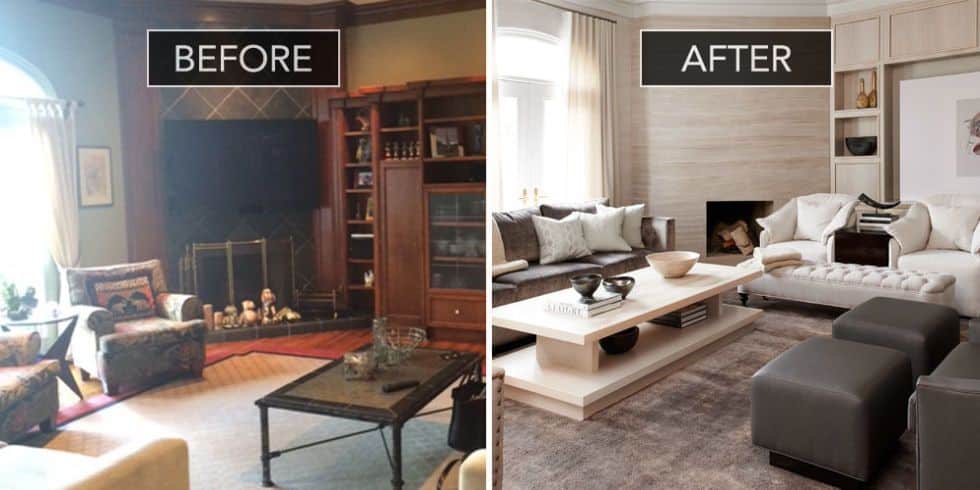 Are you looking to transform your home into a modern masterpiece? Contemporary house designs offer a refreshing and stylish approach to architecture, embracing sleek lines, open spaces, and a harmonious blend of form and function. Whether you seek a complete renovation or a few strategic updates, then the possibilities for revamping your living spaces are endless. Before and after transformations of the houses provide an inspiring glimpse into the power of contemporary design.
In these modern contemporary house transformations, you will witness the evolution from outdated and boring spaces to sophisticated ones. These makeovers will help you to know the incredible potential to create a home that reflects your vibe while adding the technological advancements and latest styles. In this article, we will explore some of the remarkable before and after ideas that will showcase the remarkable impact of contemporary house designs.
Let's dive into the world of architectural transformation.
Exterior Transformations: Redefining the Modern Contemporary House Designs
1. Modern Farmhouse Makeover
The farmhouse is being transformed by giving its exterior a contemporary makeover. White sliding is used instead of the old facade, which instantly brightens and updates the appearance of your house. You can also use black window frames and add a modern touch to add contrast. You can add a sleek metal roof that will offer durability, safety, and a stunning visual feature. The combination of white siding, black windows, and a metal roof will create a modern contemporary house with a classic charm and sleek style.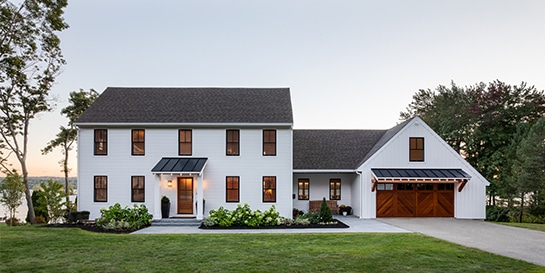 2. Create a Sleek and Minimalist House
This design concept aims to produce a modern minimalist home that is sleek and simple. In this design, the aspects of the house are a flat roof, floor-to-ceiling houses, and wood siding. The flat roof design produces clean lines and a streamlined profile by adding a modern touch. You can replace your boring windows with a floor-to-ceiling window which provides a seamless link to the outside and allows abundant natural light to permeate the internal areas.
By mixing up the natural and industrial aspects. Combining wood and concrete cladding will improve the aesthetic appeal of your house. These design components produce an aesthetically pleasing and fashionable modern contemporary house with simplicity and contemporary style.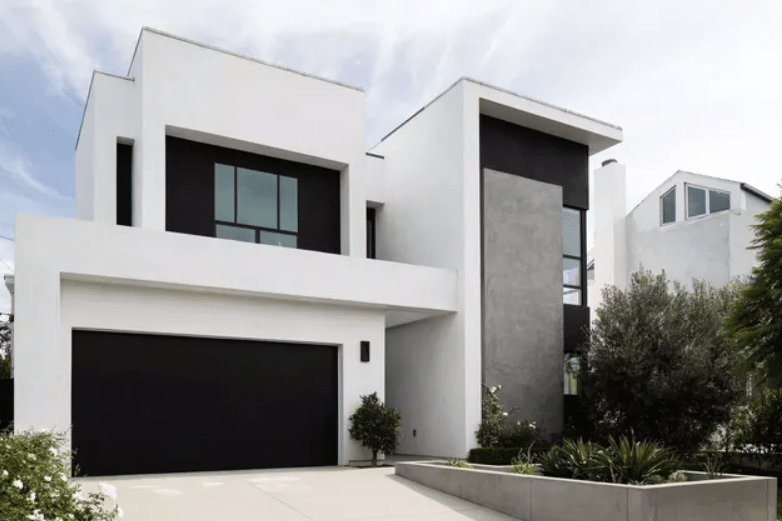 3. Eco-Friendly Makeover
This transformation aims to include the sustainable elements in a conventional building and change it into an eco-friendly refuge. Solar panels are placed to harness renewable energy and lessen the reliance on conventional power sources and carbon footprint. Plants on the green walls bring nature within by improving the air quality. It also acts as insulation. A living roof provides insulation, stormwater management, and support for biodiversity because it is covered in plants and vegetation.
These components work together to provide an environmentally friendly design that focuses on sustainability, energy efficiency, and a peaceful relationship with the environment. This restoration demonstrates a dedication to environmentally friendly modern contemporary houses and makes the building a showcase for sustainable construction.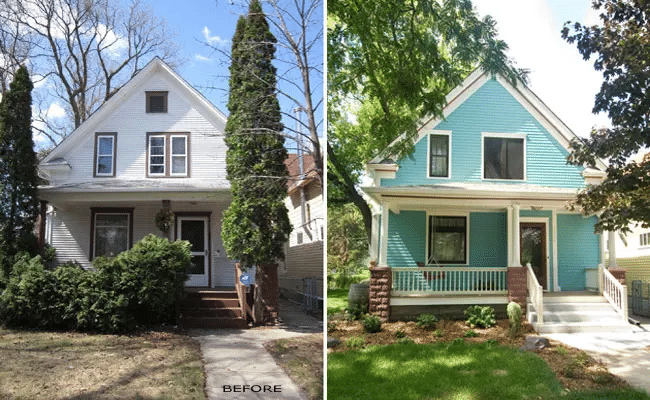 The beach house is being renovated with a modern update to improve its relationship with the coastal environment. Large glass walls are added to the existing building to give it a new life. These new walls provide stunning views of the beach and ocean and flood the inside with natural light, giving it a feeling of openness and tranquillity. A rooftop patio has been added, which offers a secluded and elevated location for the panoramic views and beach atmosphere.
Introduce outdoor living areas, such as a deck or patio, that offer spaces for hosting guests, relaxing, and embracing the coastal way of life. The beach house is successfully modernized by combining the beachside charm with a modern contemporary house design.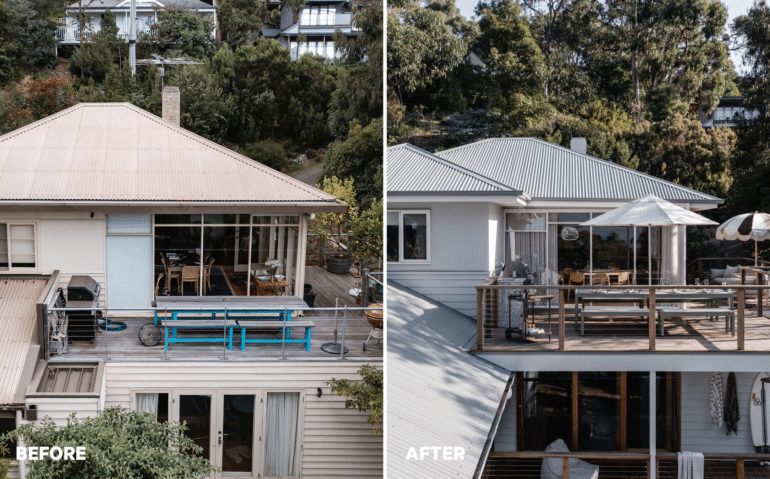 5. Achieving a Geometric-Inspired Transformation
Specific adjustments in the property's design are required to achieve a striking geometric metamorphosis. The essential components of this fantastic refurbishment include using angular designs, a combination of wood, glass, and steel materials, and creating a visually arresting gate. Give angular details, crisp lines, and dynamic angles to produce a distinctive look that reflects a geometric design.
You can combine wood, steel, and glass to obtain the seamless blending of materials that infuse warmth, transparency, and a contemporary charm. Redesign the entry date by using architectural elements such as an imposing door, a spacious lobby, or an alluring staircase. These significant adjustments can give your building a striking geometry makeover. The combination of modern design concepts and geometric makeovers will make a lasting impact.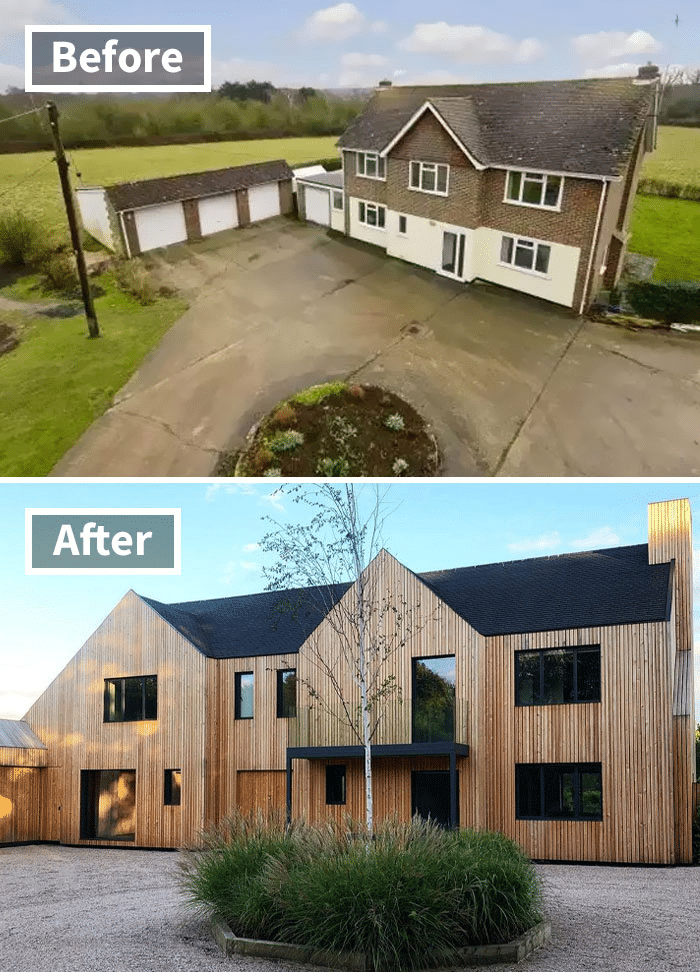 6. Unique Design with Cantilevered Upper Floor
This renovation incorporates a unique design idea by adding the cantilevered top level giving a fascinating architectural feature to the building. A remarkable visual effect is produced by the higher floor appearing to cross over into the lower one. In addition to visual appeal, this design feature also allows creative space utilization by providing opportunities for enclosed outdoor patios, balconies, or additional living spaces.
The property's cantilevered upper story emerges as a distinguished feature, setting it apart and enthralling observers with its unusual architectural appeal.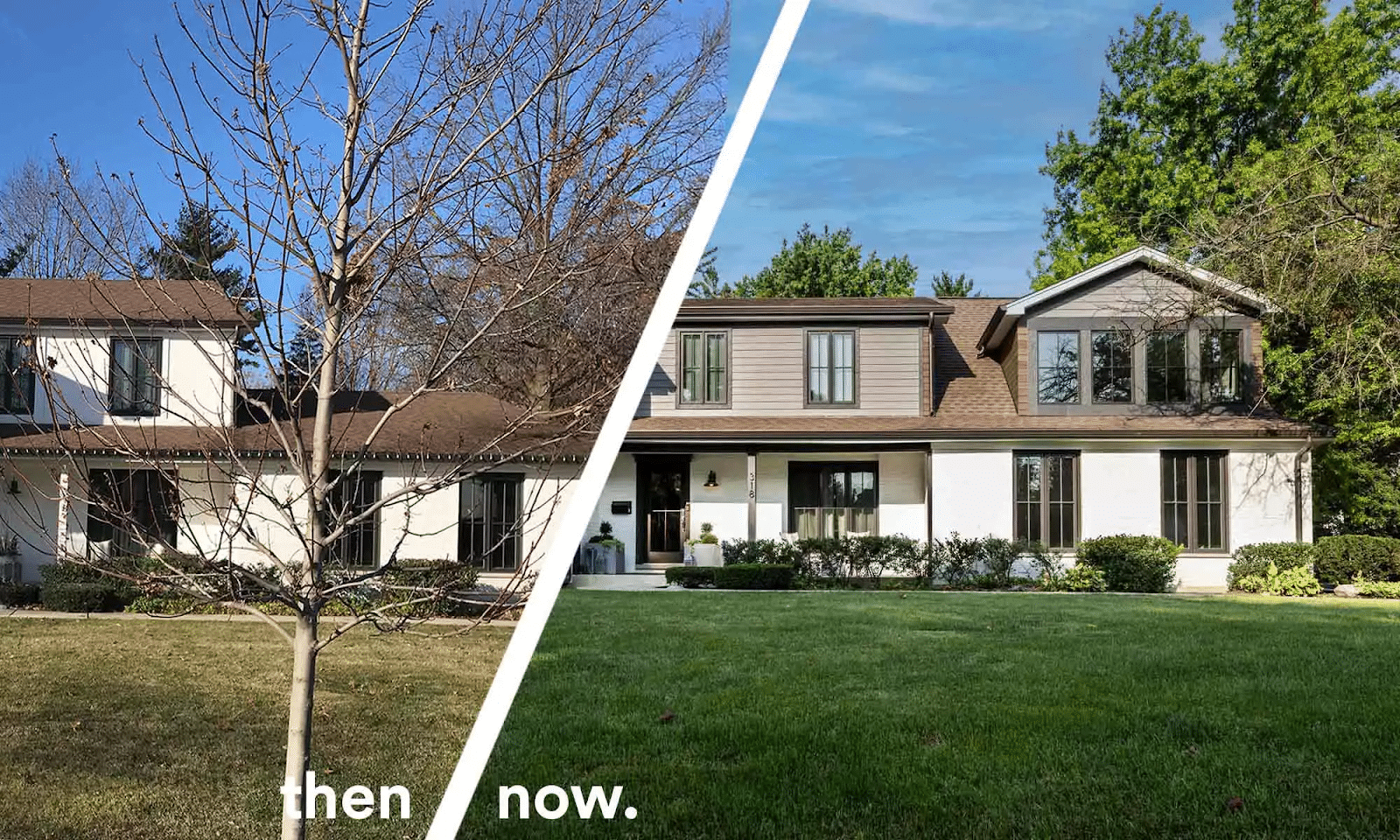 7. Modular Home Design with Interchangeable Panels
Embracing a modular Home design with interchangeable panels that offers adaptability and flexibility to changing needs is the main emphasis of this property renovation. The interior rooms may be easily customized and reconfigured because of the modular architecture, which allows smooth alterations and preference changes over time. You can use the removable panels to accommodate different layouts, functions, and extensions.
This design philosophy strongly emphasizes adaptability, which makes the home an ideal choice for individuals who are looking for a place that can develop and evolve along with their lifestyle while offering practicality and limitless options.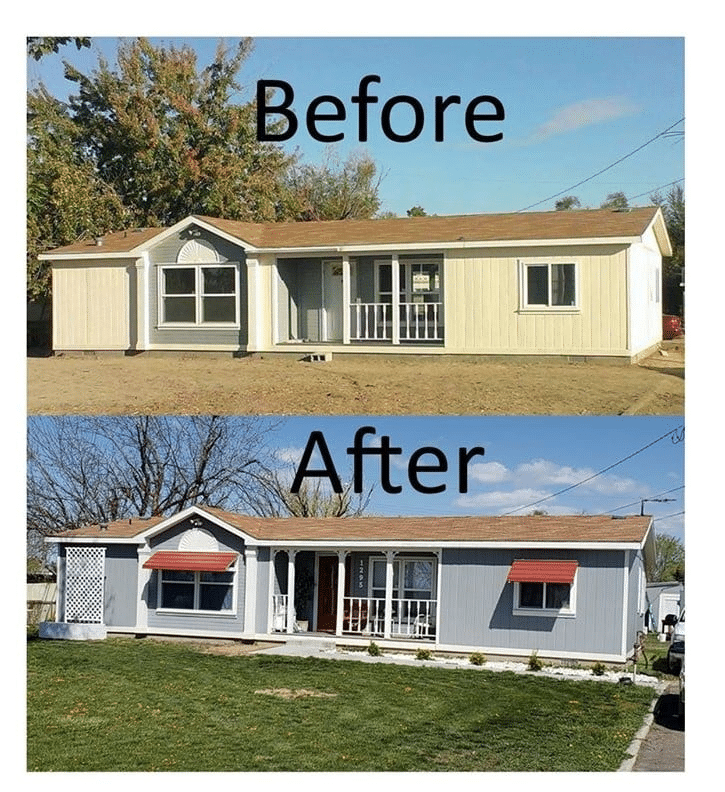 8. Emphasis on Outdoor Living Space
The property has been transformed into a haven of entertainment and leisure, heavily emphasizing outdoor living. A sizable patio is made, which acts as an addition to the living area where the inhabitants can relax and take in the scenery. The focal point is a pool that provides a fantastic retreat and recreational opportunities. The home is surrounded by landscaped grounds that enhance its natural beauty and tranquillity.
This modern contemporary house design strategy places a high value on the relationship between indoor and outdoor areas, fostering a way of living that celebrates the wonders of nature and fosters a greater sense of well-being.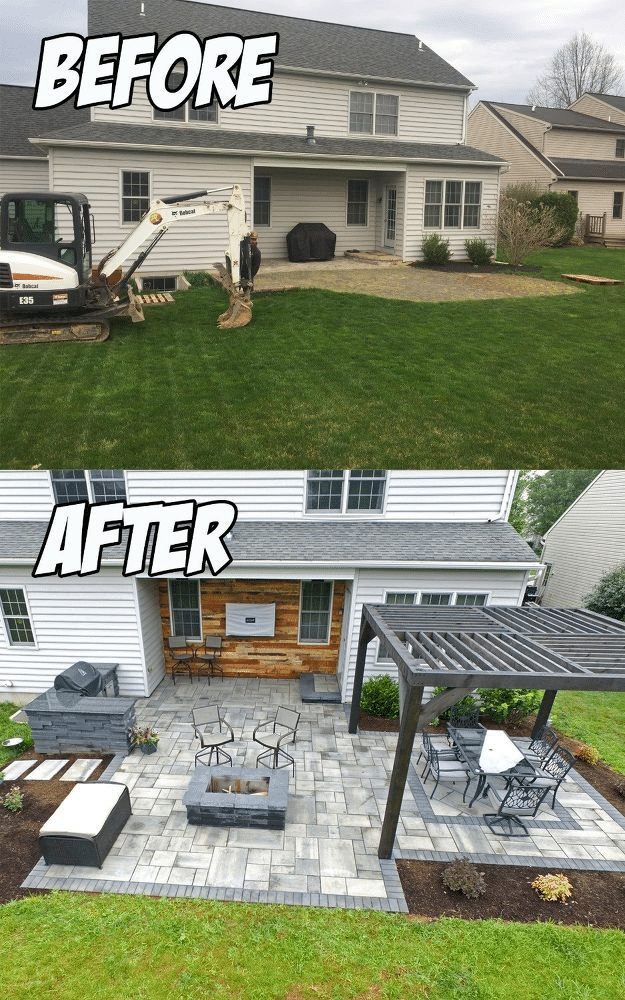 9. Blending Elegance and Nature In a Contemporary Desert Home
This transformation embraces the beauty of the desert landscape, creating a contemporary home that harmonizes with its surroundings. By embracing the beauty of the desert region, this makeover has produced a modern home that blends seamlessly with its surroundings. Exteriors in earth tones are designed to blend in with the surrounding desert landscape and display a quiet elegance.
Large windows are cleverly placed to capture breathtaking views and let natural light flood the interior. The landscaping is made more authentic and embraces the distinctive qualities of the desert by incorporating natural components like rocks and cacti. This architectural Idea honors the appeal of the desert by providing a modern oasis that expertly juggles convenience, fashion, and a strong sense of connection to the natural world.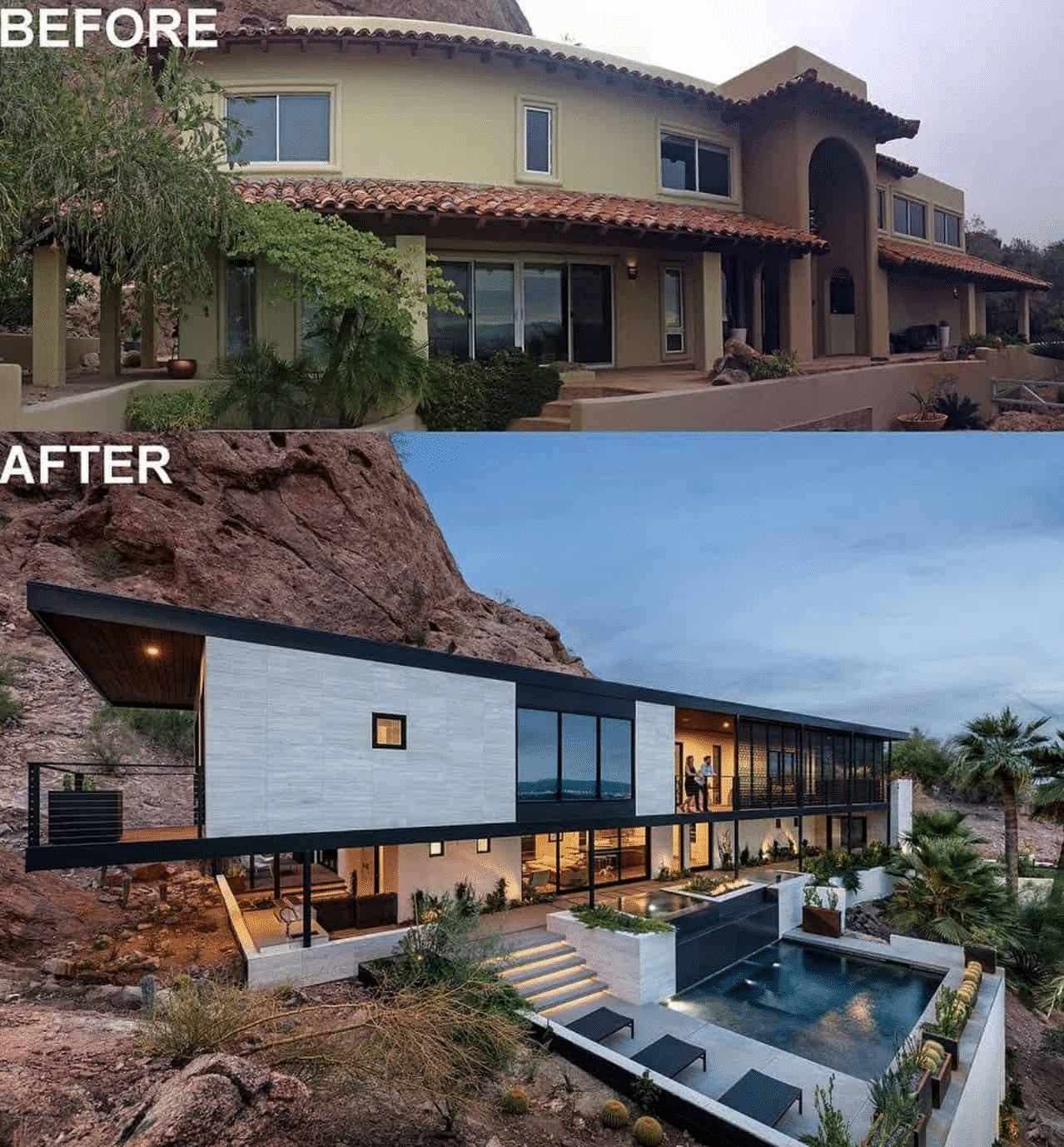 10. Embracing the Serenity and Harmony with a Floating House Design
This transformation embarks on a unique architectural journey by introducing a floating house design, whether on water or elevated on stilts. The building is built in with the landscape, providing unobstructed vistas and a calm atmosphere. The floating structure produced a powerful visual impact which gives the impression of rising above the ground or blending with the water.
With a peaceful lifestyle surrounded by nature's elements, this design concept celebrates the beauty of its setting. The floating house design becomes a representation of peace, equilibrium, and great respect for the natural world.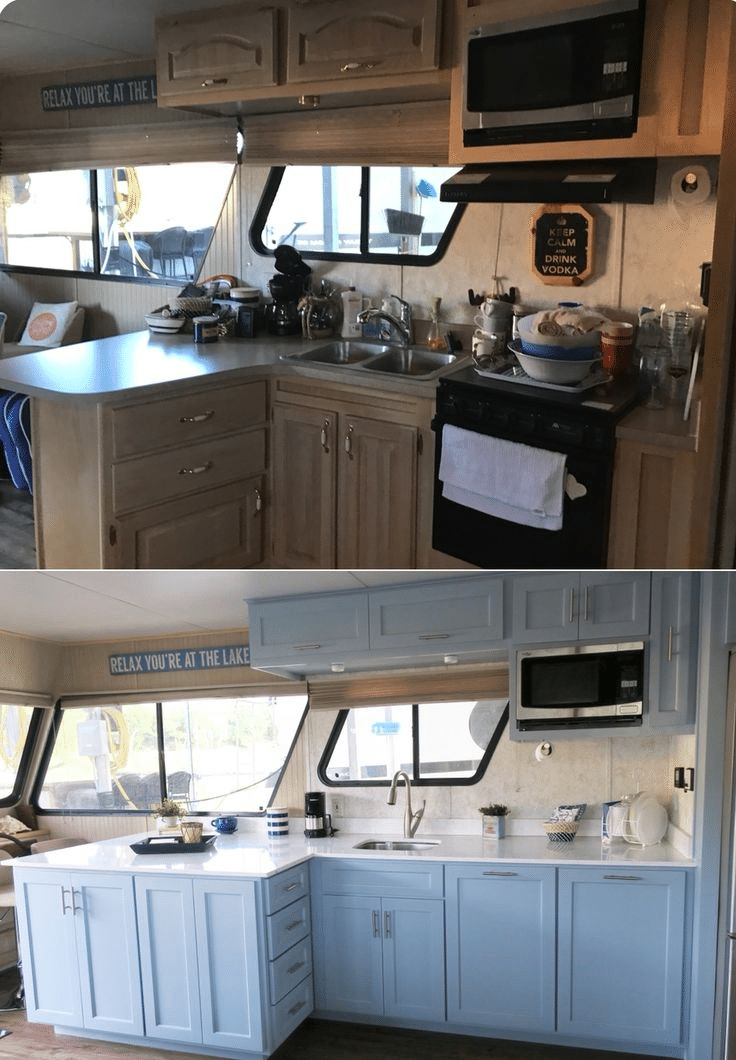 Transforming Interior Spaces with Style
11. Infusing Natural Light and Spaciousness in An Open-Concept Living Space
This renovation aims to produce an open-concept living area that feels spacious, light, and linked to nature. A central atrium or skylight is included to let the natural light spread in the entire home. This design feature gives us the interior feeling of openness and space and improves the aesthetic appeal.
The central atrium or skylight becomes the main focus that attracts attention and serves as a source of natural beauty that melds in with the overall modern contemporary house design concept to make the living area feel more spacious and welcoming.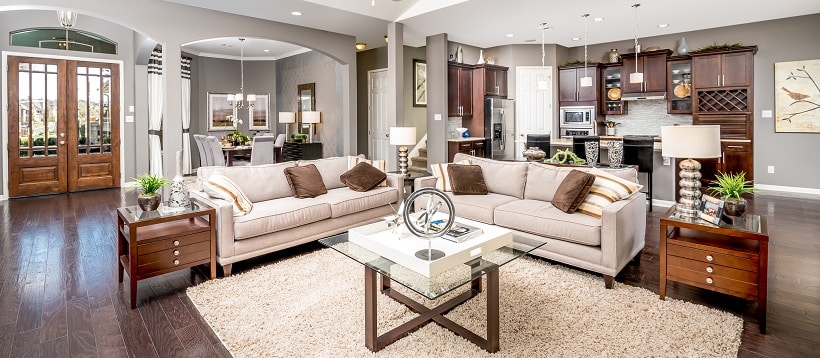 12. Simplicity and Elegance in Minimalist Interior Design
The renovation highlights a minimalist interior style in which clear lines, unassuming hues, and thoughtfully placed statement pieces that commands attention. The absence of clutter communicates simplicity and sophistication, which fosters an uncluttered and calm atmosphere. The carefully chosen statement pieces stand out and have an effect against the background of neutral tones.
These placed objects can be a unique piece of art, sculpture furniture, or a striking lighting fixture, creating focal points that enhance the aesthetic and add personality. The ageless and harmonious living space provided by minimalist Interior design balances practicality and elegance.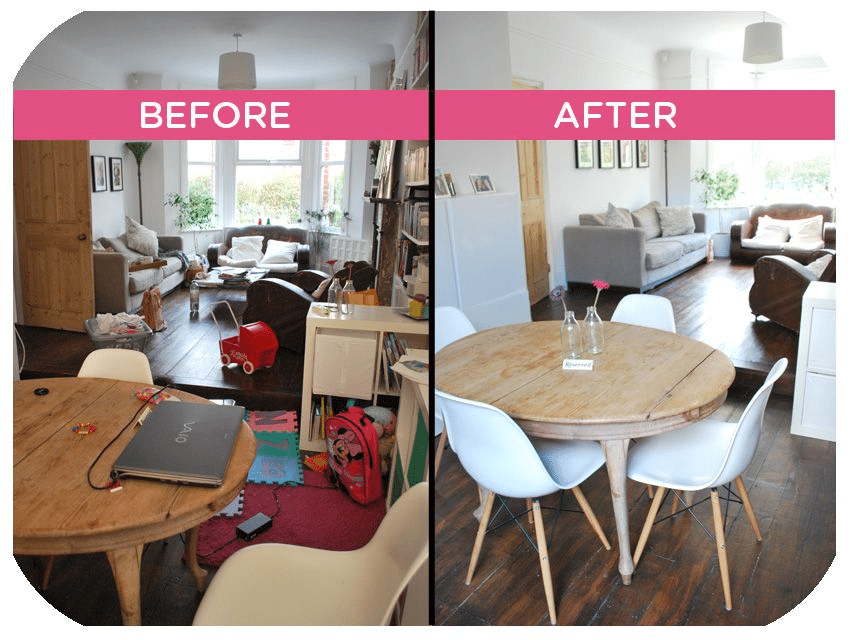 13. Warmth and Inviting Atmosphere in a Scandinavian-Inspired Interior
The renovation celebrates the quaint appeal of the Scandinavian modern contemporary house style resulting in a space that radiates warmth and an inviting ambiance. The light wood floors serve as the structure of the room, which brings an essence of warmth and natural beauty. The white walls provide a blank for light to reflect off and brighten the space.
You can use cozy fabrics like pillows, plush rugs, and throws to create a comfortable and hygge atmosphere. The Scandinavian-inspired design's harmonious integration of simplicity, comfort, and functionality creates a warm and welcoming room that celebrates the beauty of natural materials and embraces a laid-back lifestyle.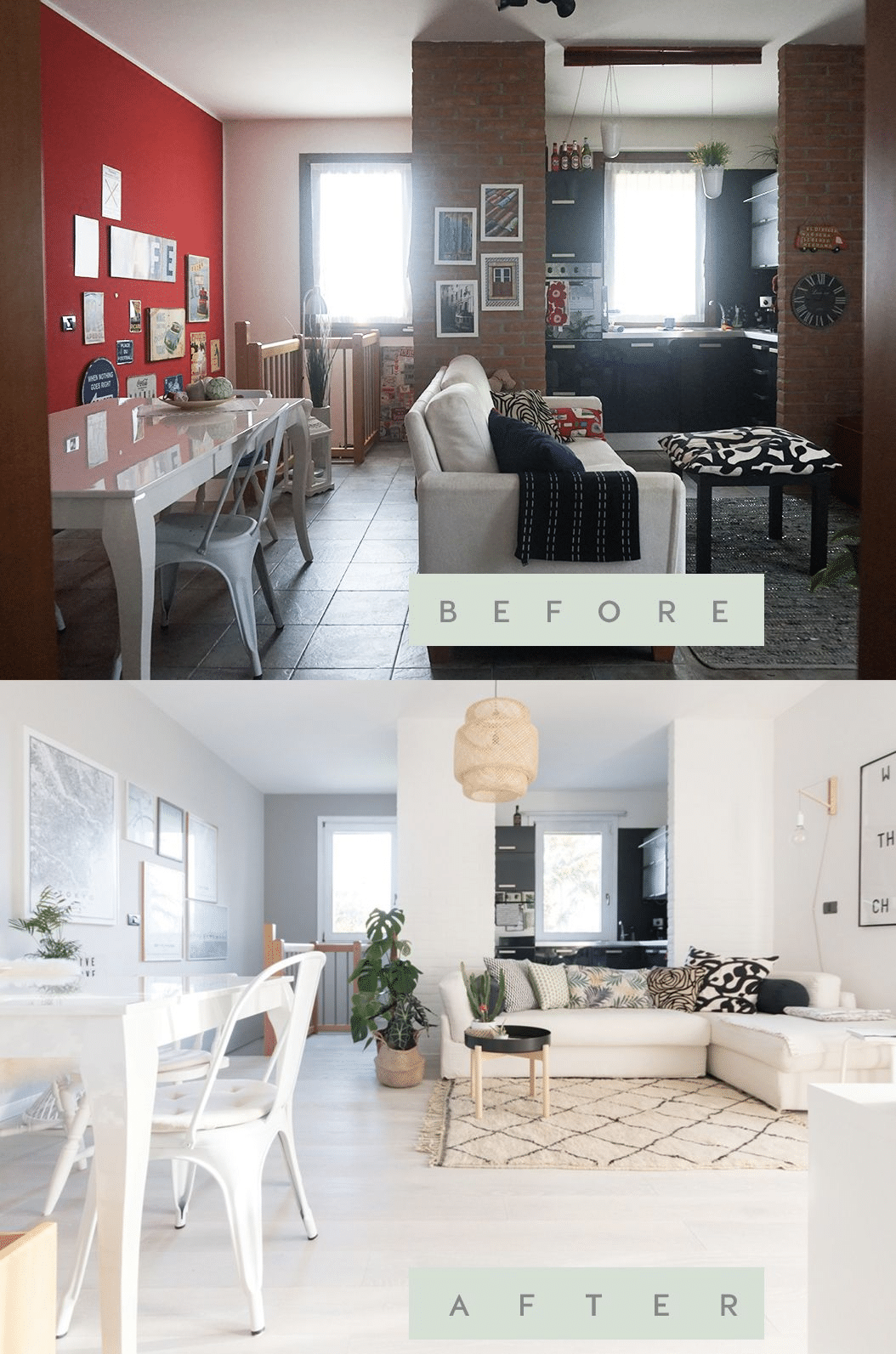 14. Embracing Raw and Edgy Aesthetic in An Industrial Loft-Style Interior
With an industrial-locked style interior, this renovation brings an edgy and raw wife to life. As the backdrop, exposed break walls give texture, character, and a sense of history. Concrete flooring provides a sleek and enduring base that enhances the industrial style. The design approach celebrates the genuineness of the place by embracing the beauty of unfinished materials.
The stylish urban retreat with the distinct charm and reflection of a modern, edgy lifestyle, the property is transformed into its industrial loft-style decor.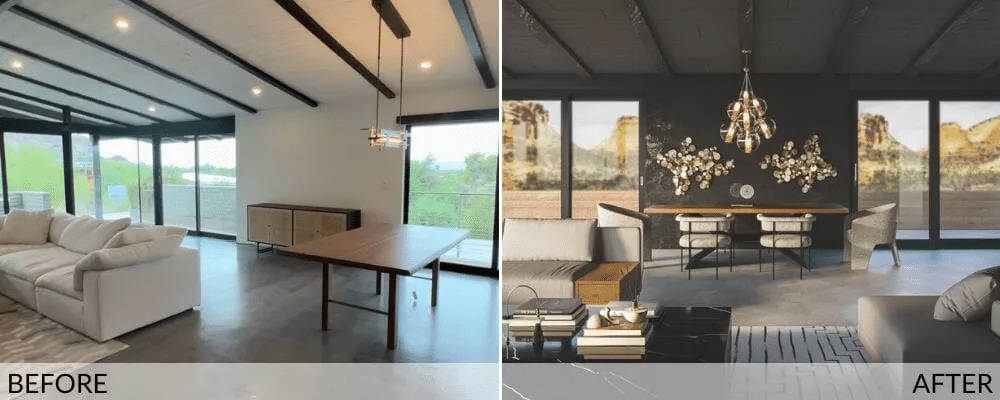 15. Productivity and Style Unite in a Contemporary Home Office
The renovation is concentrated on making a home office that combines efficiency and aesthetics. The focal point is a modern disc that creates a tidy and organized workspace. While working long hours, ergonomic furniture ensures comfort and encourages well-being. Smooth connectivity and effective workflow are made possible by intelligent technology integration. The area is kept clean and organized with the help of several storage options.
Inspiring productivity and reflecting a contemporary work-from-home lifestyle. The modern contemporary house design approach combines functionality with a dash of refinement to create a workspace.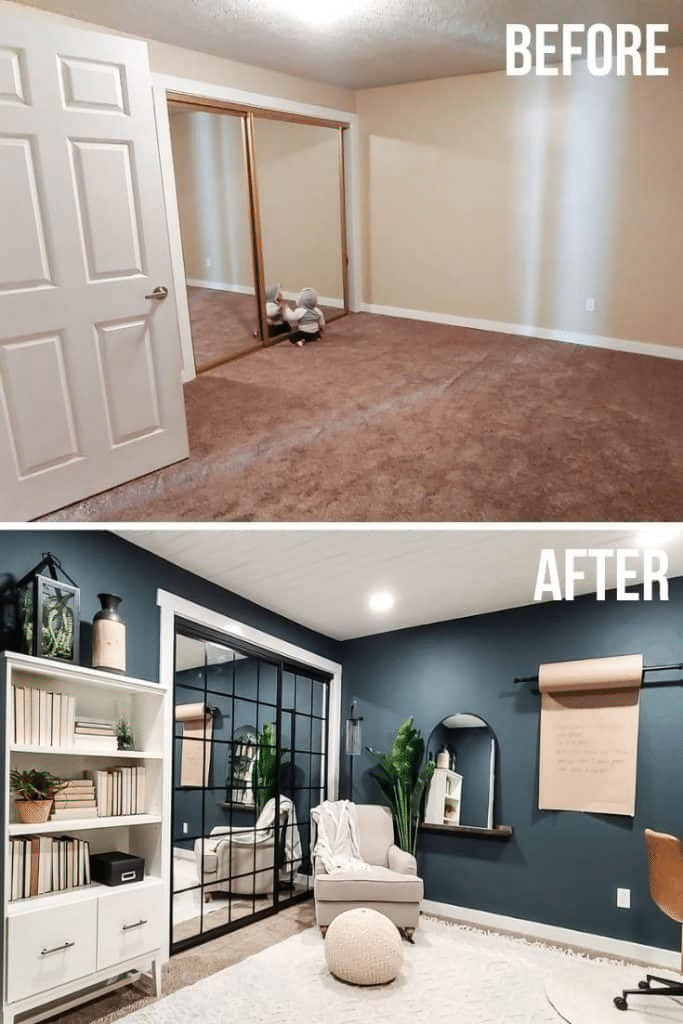 16. Tranquillity and Luxury In a Spa-Like Bathroom Retreat
This renovation creates a luxurious, spa-like bathroom where peace and tranquillity co-exist. The main point is the standard on top that provides a place to unwind and regenerate. Finishes made of Natural stone, like travel time or marble, raise the aesthetics and give off an air of grandeur. The experience of taking a rain shower is revitalizing.
The ambiance is enhanced by a lighting design that provides a quiet and calming atmosphere. The spa-like bathroom renovation turns the room into a private heaven that encourages occupants to escape their daily stress and engage in blissful moments of self-care.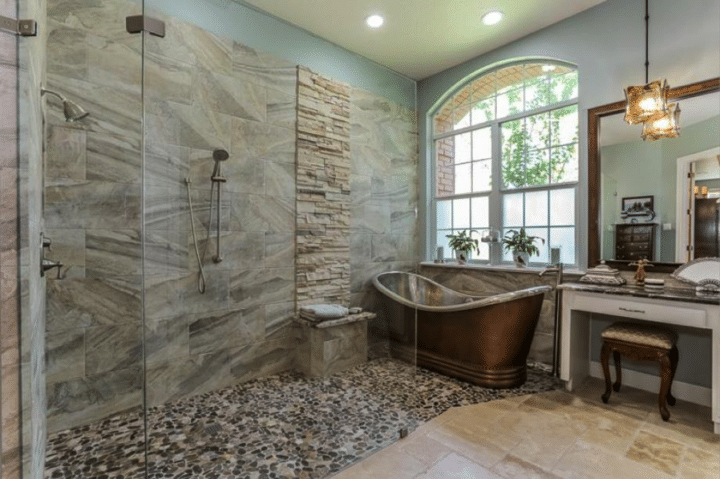 17. Excellence In a Chef's Kitchen Design
This renovation aims to create a chef's kitchen that combines luxury appliances with chic functionality. The kitchen's main attraction is a sizable island with seating that offers plenty of room for cooking and mingling. You can add high gadgets like professional-grade ovens or cooktops to ensure culinary expertise. The kitchen should be kept tidy and organized, with plenty of storage options.
Design components with thought added, like lightning fixtures or backsplash tiles, give a space a more upscale feel. The chef's kitchen develops into a place where culinary creativity thrives, fusing practicality, beauty, and a love of food.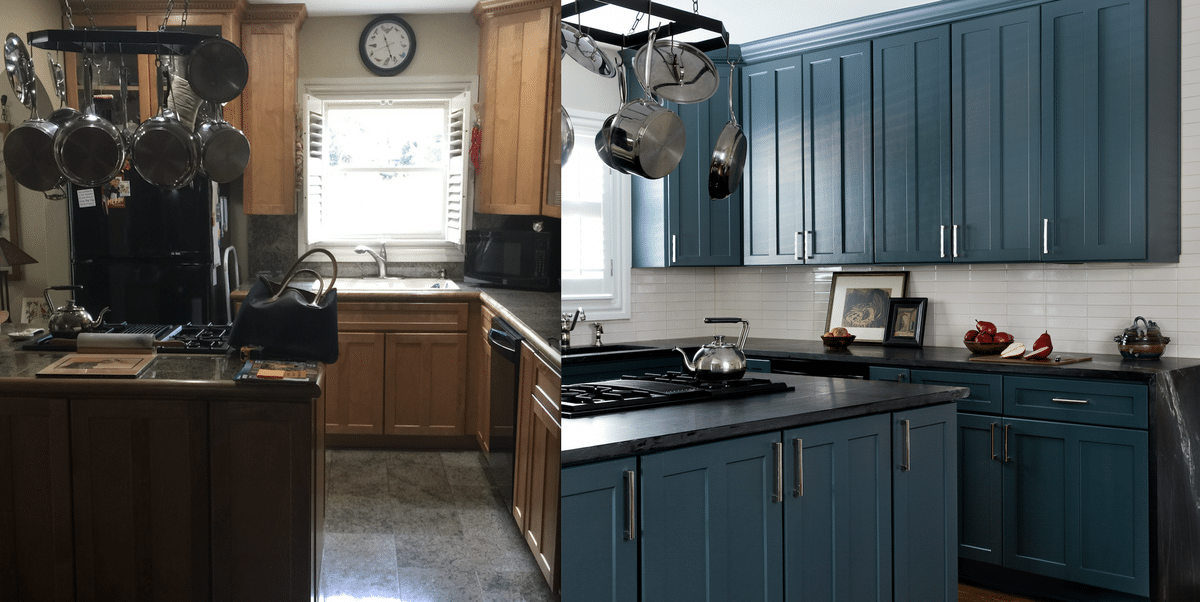 18. Fitness and Motivation Unleashed in a Home Gym
This makeover produces a home gym that inspires and workout fully. Stop modern apparatus takes center stage, which offers the resources that are required for a thorough fitness regime. Mirrored walls give the impression of spaciousness and enable self-reflection while exercising. You can use vivid colors to arouse the vigor in the room. The modern contemporary house gym transforms into an area devoted to physical wellness, encouraging an active way of life and guaranteeing that fitness objectives are within grasp.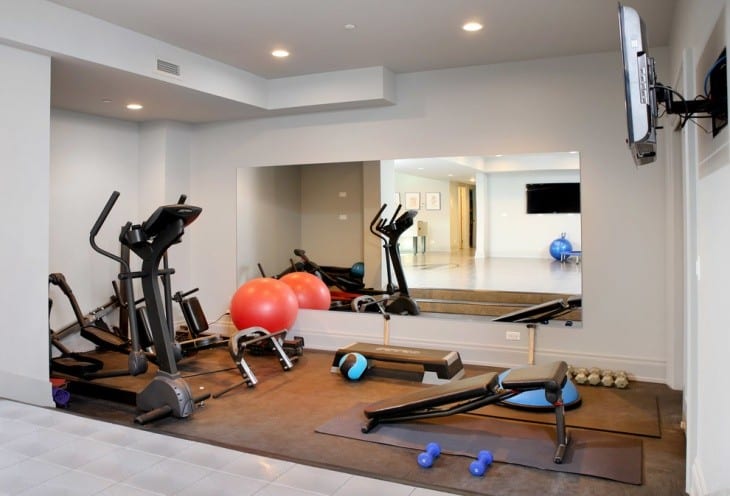 19. Cinematic Delight in a Media Room Retreat
The goal of this renovation is to create a media room that provides an immersive entertainment experience. The main attraction is a sizable screen that offers a cinematic presentation for shows, movies, or video games. Integration for a surround sound system guarantees an immersive audio experience. Luxurious sofas or recliners that are comfortable to sit in encourage relaxation and enjoyment.
A good lighting plan improves the viewing experience and enables ambiance control into a haven where the family members can retreat into their preferred types of entertainment and enjoy the height of home comfort cinema.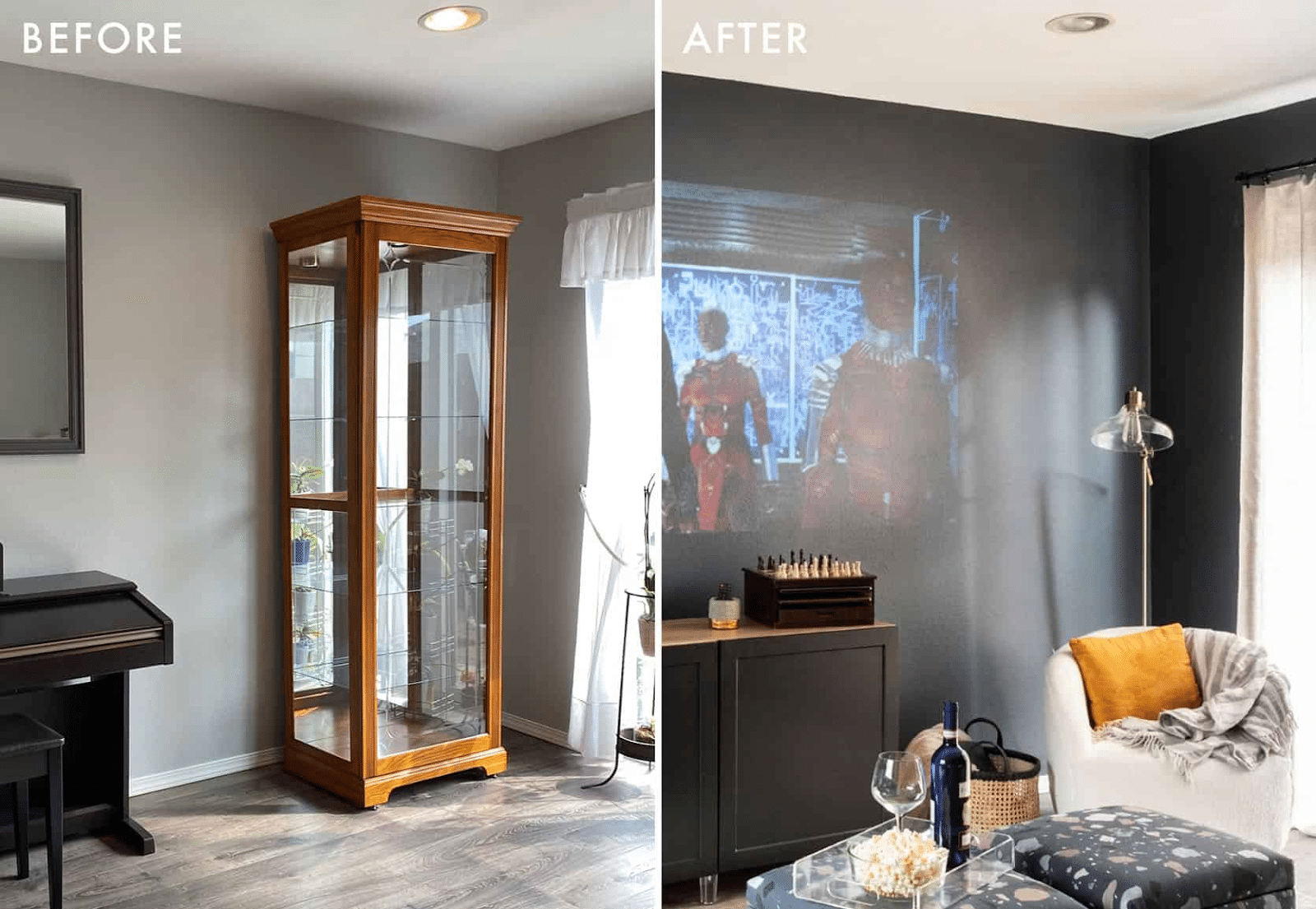 20. Serenity and Escape in a Cozy Reading Area or Library
The renovation focuses on constructing a comfortable reading place or library which offers a calm hideaway for book lovers. Built-in bookcases serve as the stage for displaying a sizable library and sentimental items. A cozy armchair is a relaxing area to unwind and read an excellent book. Soft lightings, such as reading lamps or warm sconces, produces an appealing ambiance. Residents can dig into their favorite books and go on literary journeys in their homes in their cozy corners.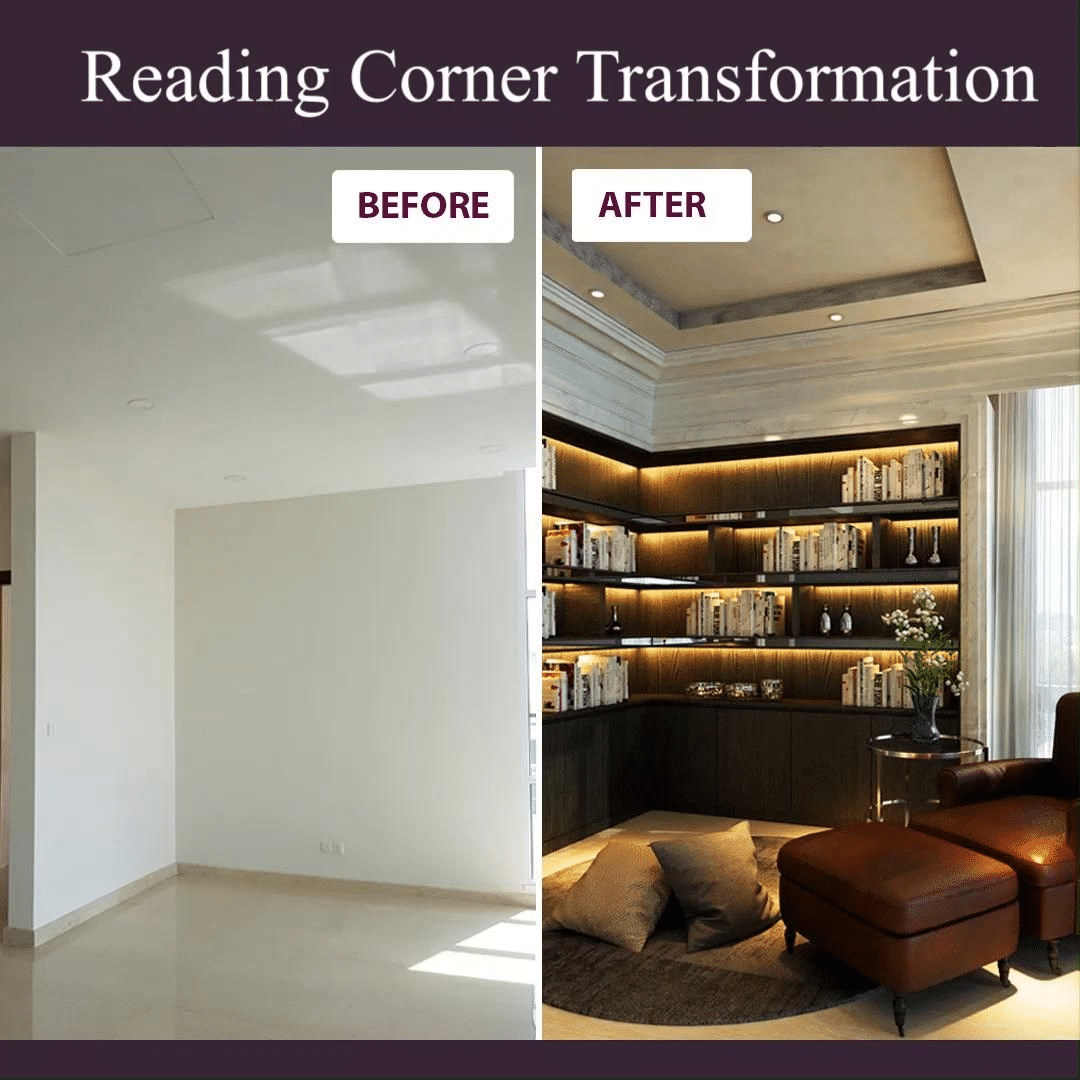 Things to Consider Before Finalizing a Modern Contemporary Design
Before finalizing the modern contemporary house design, there are some important factors that should be considered. Here are some of the factors:
1. Lifestyle and Needs
You have to evaluate your lifestyle and the specific needs of your home. You should consider factors like the number of members' ages and the special requirements for them.
2. Budget
Budget plays a vital role in the renovation of your house. You will have to determine the budget for the construction and ongoing maintenance of your house. You must ensure that the design comes within your budget.
3. Space and Layout
You must assess the available land space properly so that you can fit your design according to that. You will have to determine the overall layout and size to fulfill your requirements.
4. Energy Efficiency and Sustainability
You can add some energy-efficient features and sustainable materials to the design. It will help you to reduce the environmental impact and also minimize the utility costs in the long run.
Crafting Your Perfect Modern Contemporary Design
Transforming your boring and dull house into a modern contemporary house is a task that requires huge concentration and imagination. Designing the ideal modern contemporary area is a fun and fulfilling process that lets you express your distinct taste and personality in a room. You will have to consider several things before you finalize the design for your house. You can get in touch with a professional who carries expertise in this field.
Don't be scared to add your own unique style to the room. Your own touch will make the design feel truly authentic and welcoming, whether it's through carefully chosen artwork, unusual furniture choices, or sentimental artifacts. It will help you to achieve the best result.
Frequently Asked Questions
What Are the Key Characteristics of a Modern Contemporary House Design?
A modern contemporary house design is characterized by clean lines, open floors, and minimalism emphasizing elements like large windows, natural lights, and modern materials like concrete, glass, and steel.
How Can I Make My Modern Contemporary House Design More Energy-Efficient?
You can incorporate energy-efficient appliances like sustainable materials and insulation to enhance energy efficiency. You can consider the options like solar panels, passive design strategies, and innovative home technology for efficient energy use.
Can I Personalize a Modern, Contemporary House Design to Suit My Preference?
Modern contemporary house designs offer flexibility for personalization that allows you to customize interior finishes, color schemes, furniture choices, and decor to reflect your personal style and preferences while still maintaining the core elements and functionality of the design.