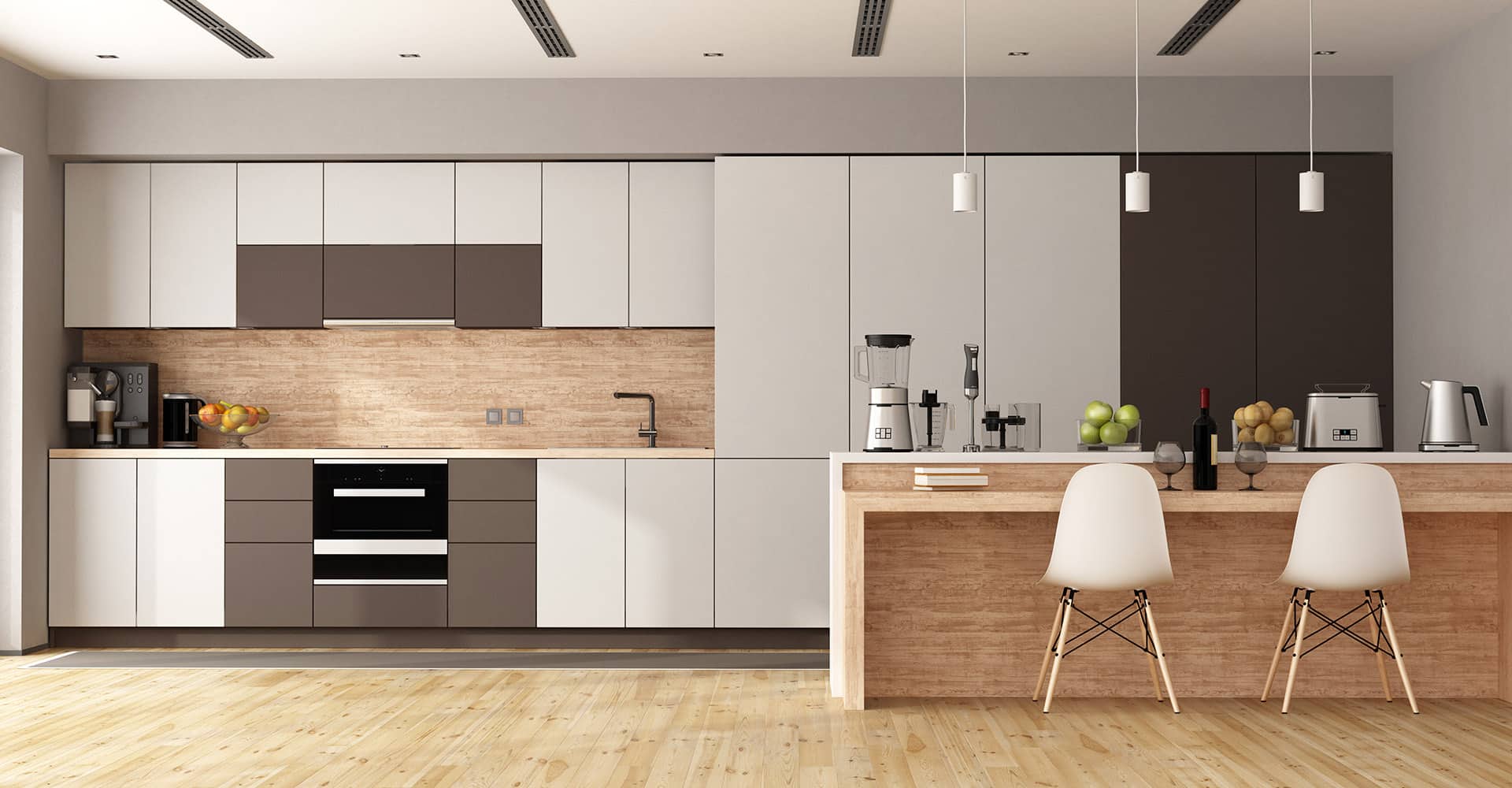 Welcome to the world of interior designing, where you may get inspiration for all things related to home decor. This article analyzes the top 15 kitchen ideas by famous interior design firm Studio McGee that has astounded homeowners.
Studio McGee has made a name for itself in the kitchen design industry because of their meticulous attention to detail and ability to combine numerous designs smoothly. In addition, they blend in interiors in an aesthetically attractive way, along with it being practical and functional. We put together this list of 15 Studio McGee's kitchens to highlight their excellent skill and the variety of their design philosophy.
Join us as we examine these kitchens that showcase Studio McGee's unparalleled design talent in further detail.
Popular Kitchen Designs By Studio McGee
Whether you are looking for ideas for a sleek and contemporary area with clean lines or a farmhouse-style kitchen with rustic charm – Studio McGee offers something for everyone. It is amazing how they add individuality and character to each design while keeping its classic appeal. This collection, which includes traditional and elegant interiors and coastal-inspired getaways, will leave you feeling motivated to create a masterpiece of a kitchen in your own home.
1. SM Ranch House – The Vibe Of Blue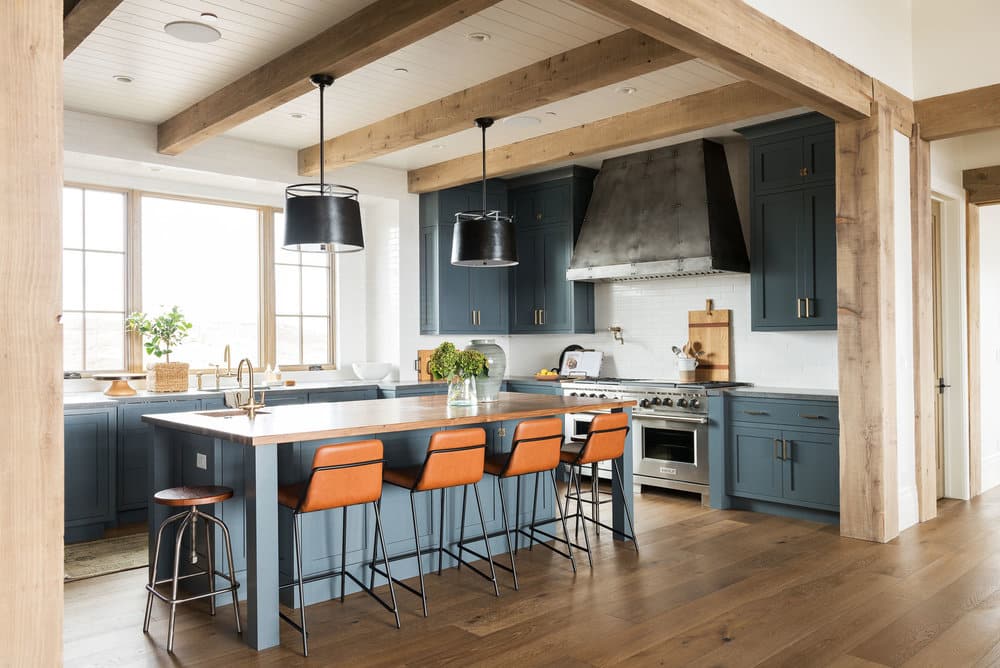 A lovely combination of light blue and grey wooden furnishings in the Ranch house's kitchen produces a calm and welcoming atmosphere. This color palette enhances the ranch home style's rustic charm and creates a serene feeling. In addition, the greyish-blue tone offers a bit of refinement, warmth, and freshness reminiscent of bright skies and vast fields.
The kitchen's hardwood furnishings convey a natural elegance that highlights the exquisiteness of smooth texture. Additionally, the kitchen's layout carefully considers utility, with lots of storage and well-constructed cabinets that blend in with the decor as a whole. Finally, the light blue-grey color scheme is followed by more significant kitchen elements to create a harmonious and aesthetically attractive composition.
This kitchen adds a dash of modern refinement and emits a timeless appeal. Comfort, aesthetics, and utility come together in this area quickly to create a refuge for culinary delights and treasured memories.
2. Calabasas Remodel – White, Blue, And Nature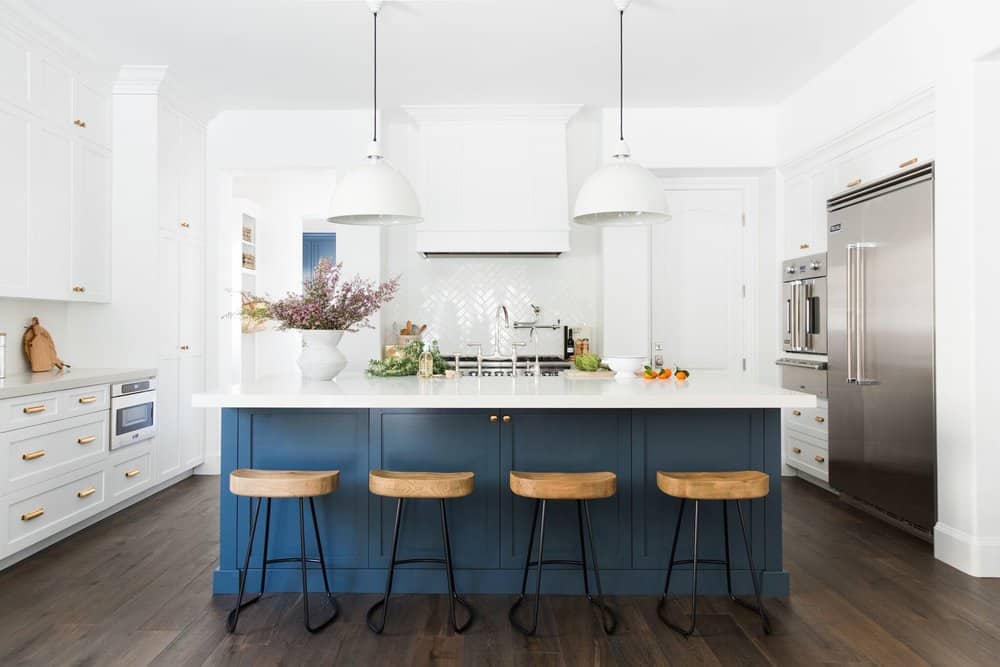 Studio McGee kitchen in a white and blue color palette, along with the addition of brilliant green plants, gives the space a relaxed and inviting feel. This soothing color scheme brings to mind calm and peace. While the blue island adds a splash of color and personality, the white hue serves as a paper, reflecting light to make the room feel light and spacious.
Adding green plants gives the kitchen a more organic and natural feel. They add to the aesthetics and breathe new energy and vitality into the area. In addition, the plants function as lovely decor and offer health advantages by removing toxins from the air and fostering a relaxing environment.
This layout encourages a sense of harmony and balance, with the white and blue creating a cohesive and visually beautiful composition.
3. Los Altos – All White Wood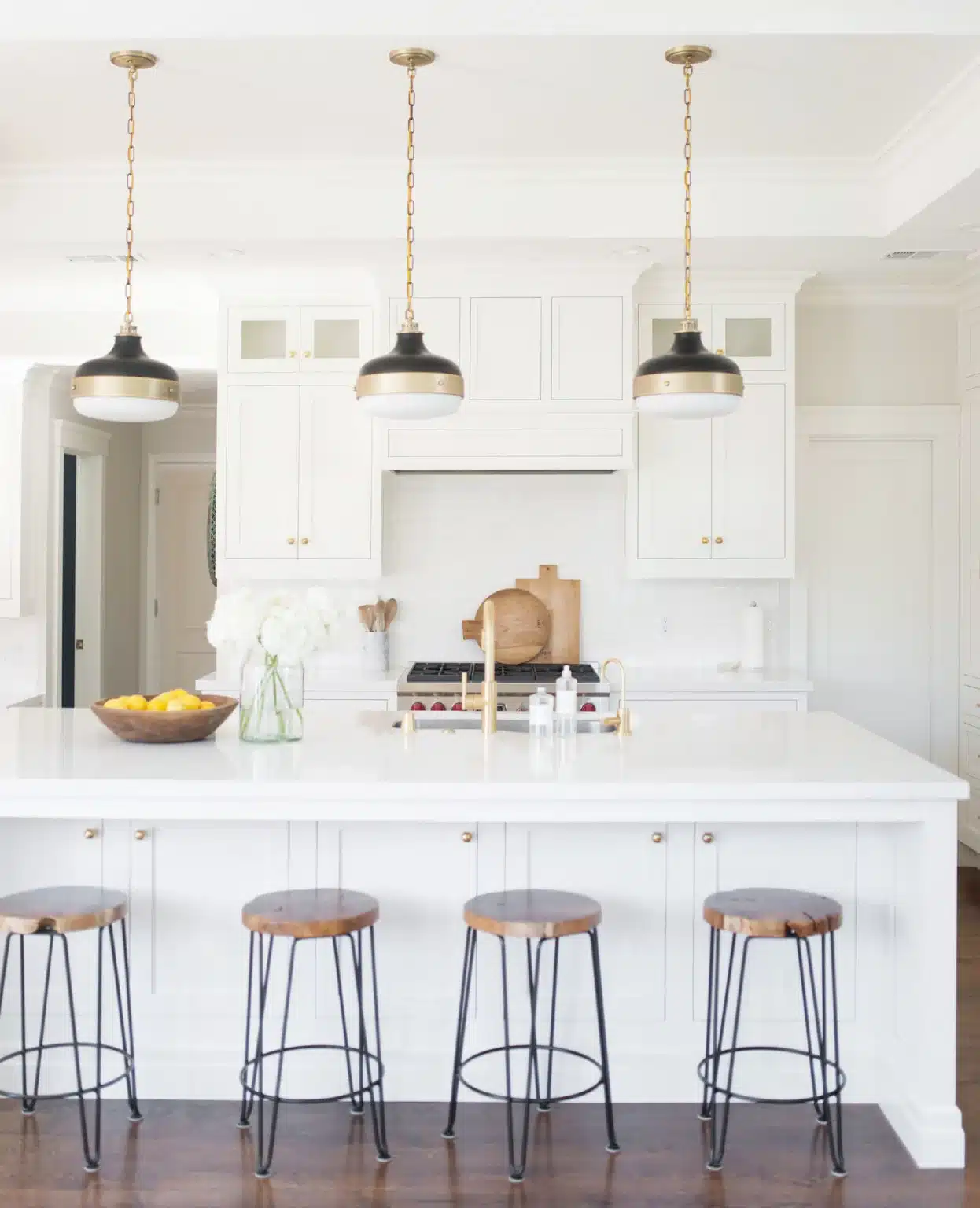 All White wooden furniture takes center stage in this kitchen design, providing an aura of purity, timeless beauty, and elegance. Whitewood emanated refinement and simplicity, serving as a blank canvas for other design aspects to emerge.
This furniture design creates a bright and open atmosphere in the kitchen, enhancing natural light and making the area look more prominent. The furniture's clean lines, smooth surfaces, and golden hardware contribute to a sleek and modern design, while the warmth of the wood gives a touch of natural charm.
The design of the kitchen offers versatility and adaptation. It provides a clean and fresh backdrop for other features, such as countertops, backsplashes, or appliances, to stand out. Furthermore, the all-white theme produces a unified and cohesive design by integrating the various aspects of the kitchen, such as shelves, cupboards, and island surfaces. This kitchen honors the beauty of simplicity while also serving as a timeless basis for creating a sleek and welcoming culinary haven.
4. Park City Canyons – Farmhouse Vibe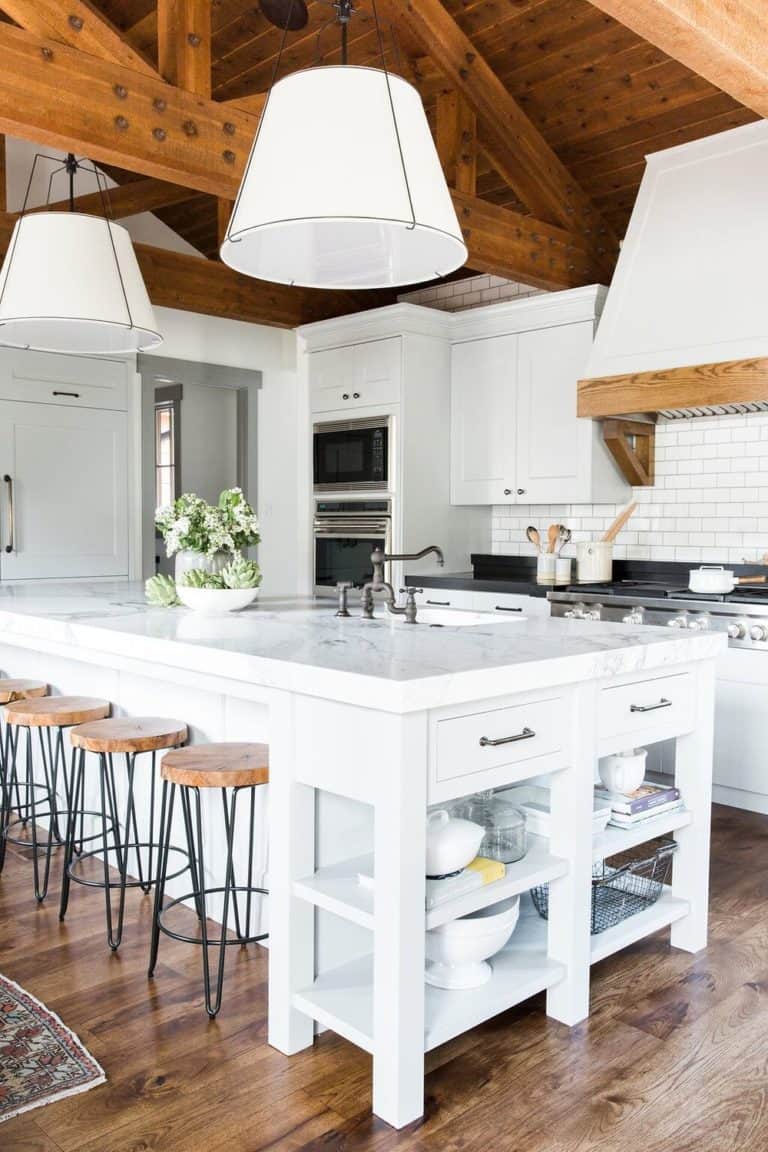 Furniture with a deep-grained wood texture is used in this kitchen design, which exudes a farmhouse aesthetic. This setting is cozy and rustic; the surface of the furniture adds personality and charm to the room while conjuring up feelings of authenticity. In addition, it displays the wood's inherent beauty, which is shown in a plunging white tone.
The interiors of the entire kitchen blend seamlessly into the farmhouse-inspired design, which encourages the use of natural resources. The island, chairs, and cabinets are perfectly designed and contrasted in beige and white.
Complementary components like vintage-inspired light fixtures, porcelain sinks, and minimal shelves showing rustic cookware further accentuate this design theme. These elements combine to produce a unified and endearing farmhouse aesthetic. The space radiates a classic appeal transforming the kitchen into a welcoming area where loved ones may assemble and celebrate special moments.
5. Cove Remodel – Open Shelf Style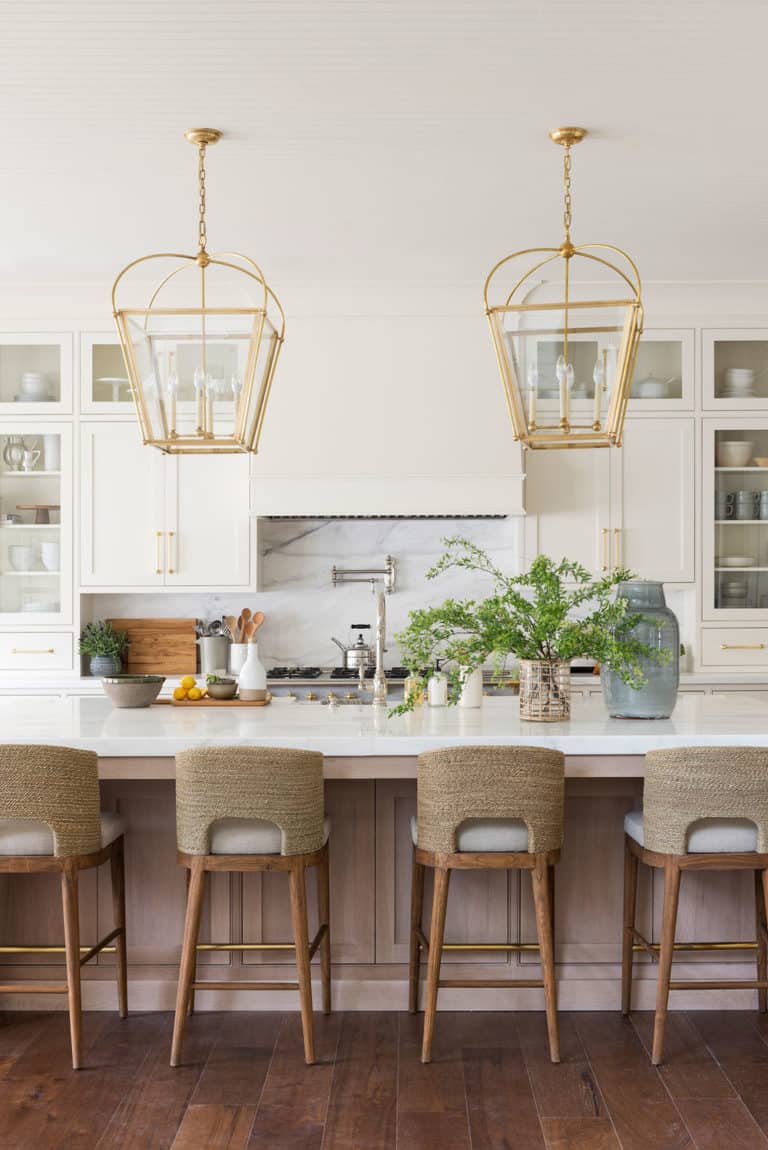 The white open-shelf kitchen design with brass hardware, a bassinet chair, and one-of-a-kind light fixtures mixes the appeal of open storage with the refinement of brass accents and the personality of unusual lighting. The white open shelves offer a feeling of openness and airiness to the area while exhibiting handpicked dishware and decor, which adds a touch of personal style.
The brass hardware lends a bit of sophistication and warmth to the space, creating a subtle contrast against the white backdrop.
Adding a bassinet chair to the kitchen adds an unexpected and quirky feature, providing a cozy space for rest or discussion. Its distinctive shape and comfy upholstery elevate it to the status of a statement item, adding personality and aesthetic intrigue.
The utilization of unique lighting fixtures enriches the overall design. Whether a cluster of pendant lights with elaborate designs or three massive chandeliers with artistic flare, these create eye-catching focal pieces that cause a warm and welcoming glow throughout the area.
This classic and perfectly balanced design of Studio McGee's kitchen creates harmony between design, comfort, and originality, transforming the kitchen into a genuinely one-of-a-kind room.
6. Modern Lake House – No Cabinet Fashion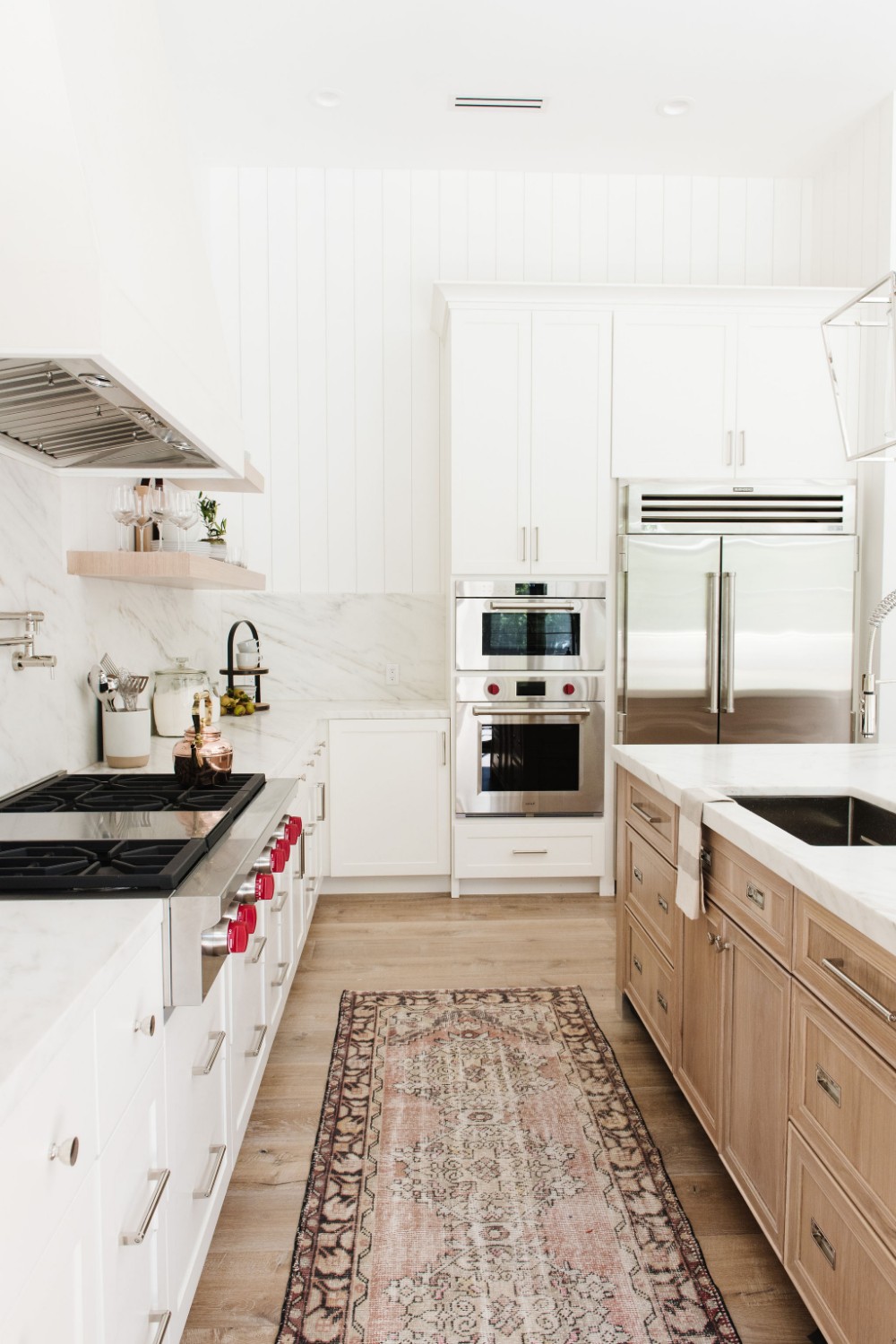 The no-cabinet kitchen style with just open shelves embraces a minimalistic and open-concept design, exhibiting a stunning contrast of white and light wood. This design is perfect for a Lake House as it emphasizes openness, simplicity, and the beauty of practical display by preceding typical top cabinets.
The white shelves are a blank canvas for displaying curated dishes, kitchenware, and decorative accessories. The light wood in the below area provides richness, creating a natural and inviting ambiance.
Because goods are publicly exhibited and easily accessible, this style gives a sense of spaciousness while encouraging organization and tidiness. It also enables customization in which the homeowner can put their preference first.
7. Midway Kitchen – Sleek White Finish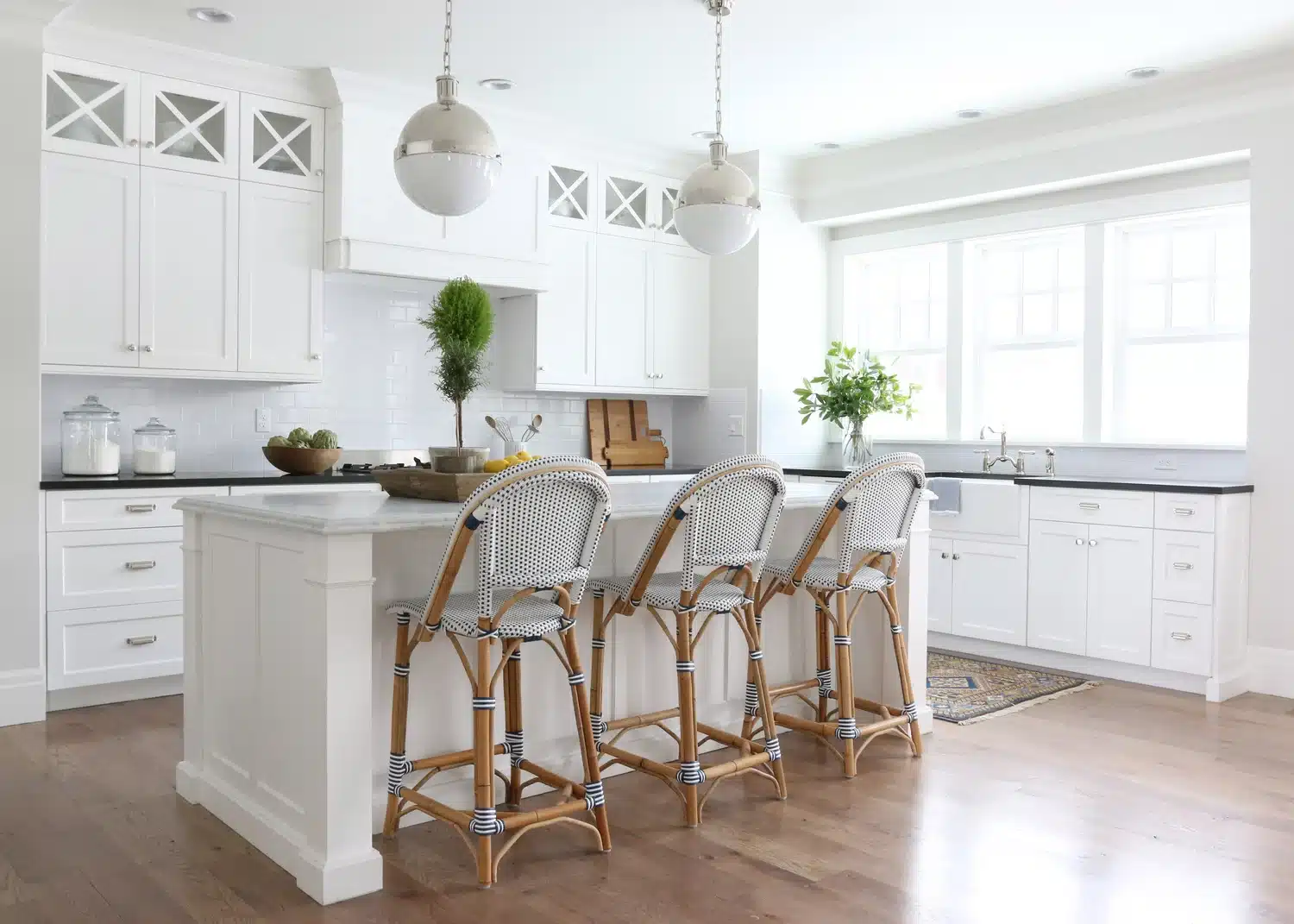 The Midway Kitchen by Studio McGee is a masterpiece of contemporary design with a dash of traditional luxury. This kitchen expertly blends design and utility to create an aesthetically gorgeous and handy room.
The kitchen has a modern vibe – all thanks to the slick hardware and simple line cabinets. In addition, the neutral color scheme featuring tones of white and grey heightens the impression of refinement and agelessness overall.
A touch of grandeur is added using opulent materials like marble for the worktops. These components work harmoniously to produce a warm and welcoming ambiance, as do the carefully chosen lighting fixtures and accents. The Midway Kitchen's layout is planned to emphasize increasing storage and workstation. The island is a focal point and offers room for cooking and socializing.
This kitchen is a perfect example of Studio McGee's skill in designing places that are both practical and visually pleasing places with its fusion of modern and traditional features. Their ability to strike a balance between current design trends and classic beauty is truly on display here.
8. Modern Mountain Home – Solid Hue Charm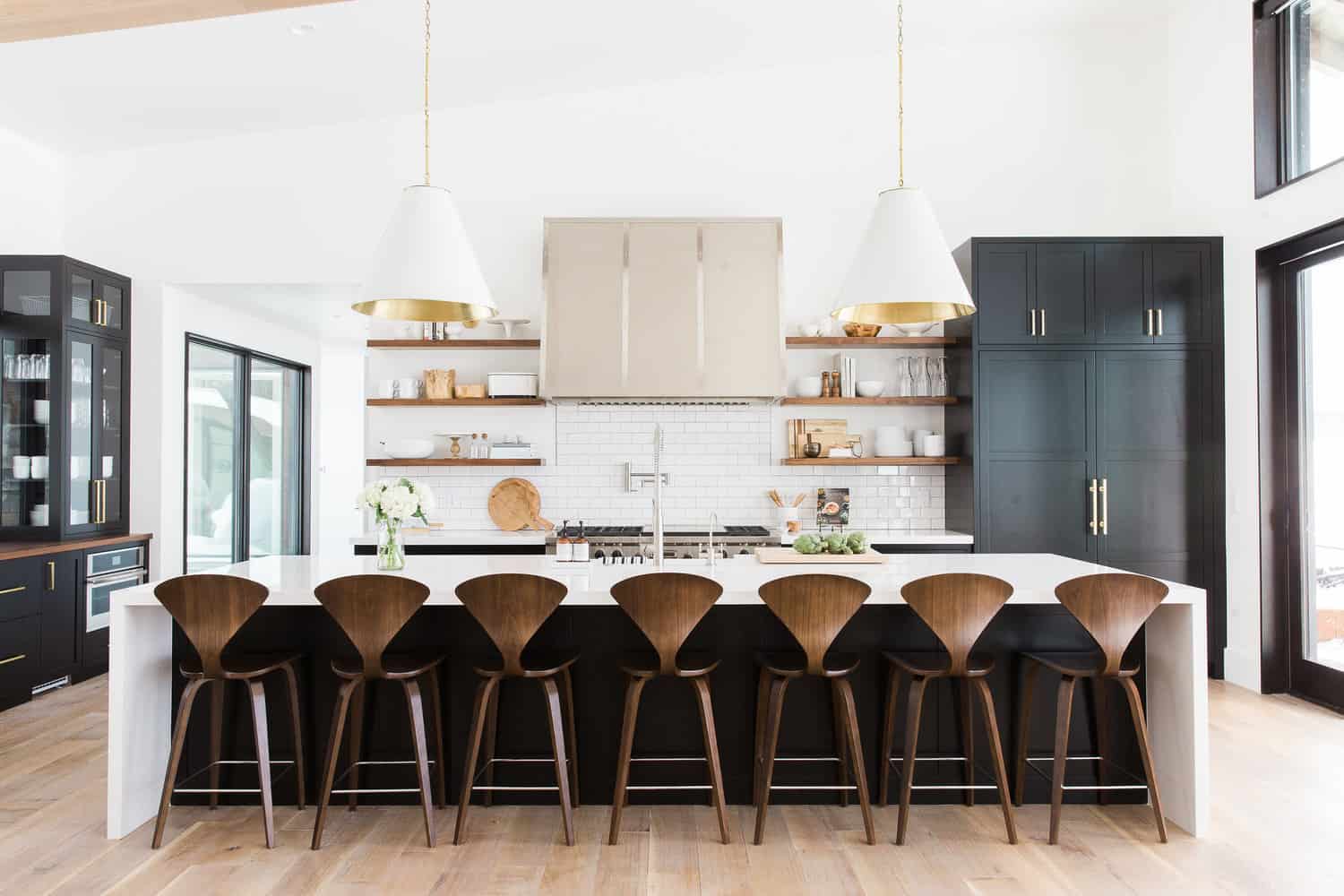 With open shelves, matte black cabinets, a sizeable white island, and unusual long chairs in brown, the kitchen in a modern mountain home welcomes space and modern design. These components work together to provide an eye-catching contrast and a fascinating area.
The open shelves add to the room's available and breezy feel by making it simple to access commonly used things and showing well-chosen dishware and decor. In contrast to the natural mountain vistas, the black cabinets offer a hint of modernism and refinement while establishing a sleek and dramatic appearance.
The large white island, which provides plenty of countertop space for meal preparation and socializing, acts as the room's center point. Its pure white hue brings brightness and harmonizes with the adjacent design components.
Adding unique long brown chairs gives the kitchen a cozy, organic feel. In addition, the brown color produces a warm and inviting lounging area while blending in with the surrounding natural environment. Together, these design elements create a kitchen that is beautiful, practical, and ideal for a contemporary house.
9. Stringham Kitchen – White And Gold Combo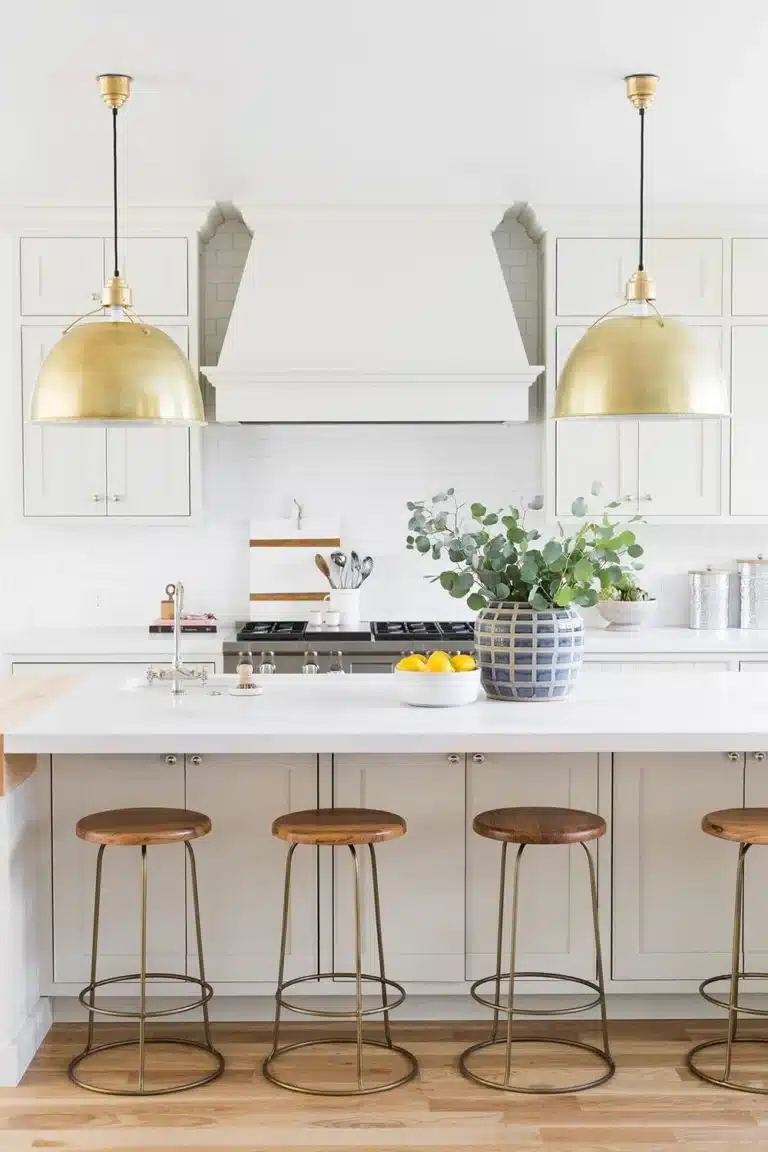 The Stringham Kitchen is an ideal combination of traditional aspects and modern style. As a result, the beauty and charm of this kitchen are ageless. The room's white cabinetry provides a fresh backdrop, while the brass hardware in gold brings a sense of class and coziness. The backsplash of marble improves the entire design, giving the room an opulent and classic feel.
The island in the Stringham Kitchen is roomy and ideal for both preparing meals and hosting small groups. Every kitchen element exhibits meticulous attention to detail, from precisely chosen lighting fixtures to tastefully positioned accessories. The room is flooded with natural light, adding to the brightness and spaciousness. The bold golden chandelier lights cannot be ignored!
10. Red Ledges Project – Grandeur Ceiling Effect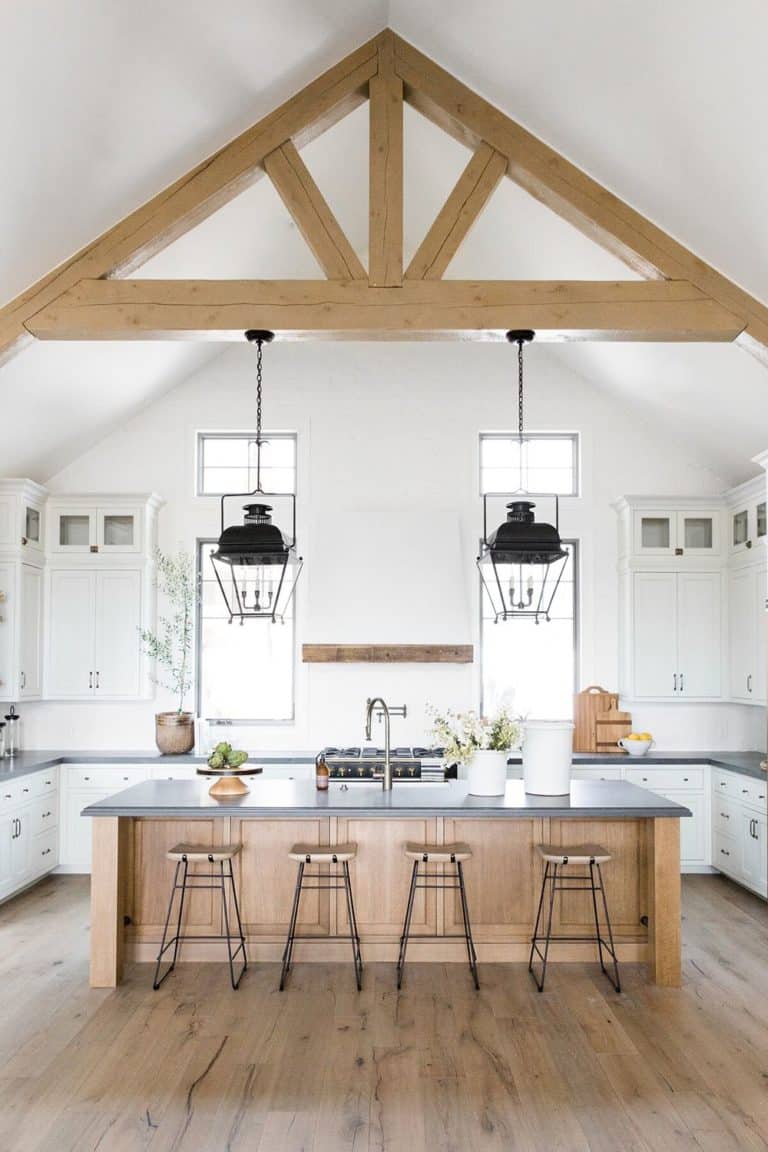 This kitchen design in the Red Ledges Project emanates grandeur, elegance, and modernism with several features. The high ceilings provide a vast and open environment, enabling enough natural light to permeate the area and create a bright and pleasant feel. The two-layered windows add to the visual appeal and give beautiful views of the outdoors. With this, there will not be any issue with ventilation as well!
The high cabinets in white maximize storage capacity while retaining a clean and seamless appearance by using vertical space. Moreover, their height contributes to the kitchen's overall splendor, emphasizing the space's verticality and generating a feeling of drama.
Hardware, lights, and window frames in black metal lend a striking and contemporary touch. In addition, the contrast between black metal and other components in the design, such as white cabinets or carbon countertops, makes a stunning visual effect and depth and aesthetic appeal.
These features work together to produce an aesthetically captivating and highly practical kitchen design. All this creates an expensive, elegant, and undoubtedly classy room!
11. Windsong Kitchen – Minimalism At Its Best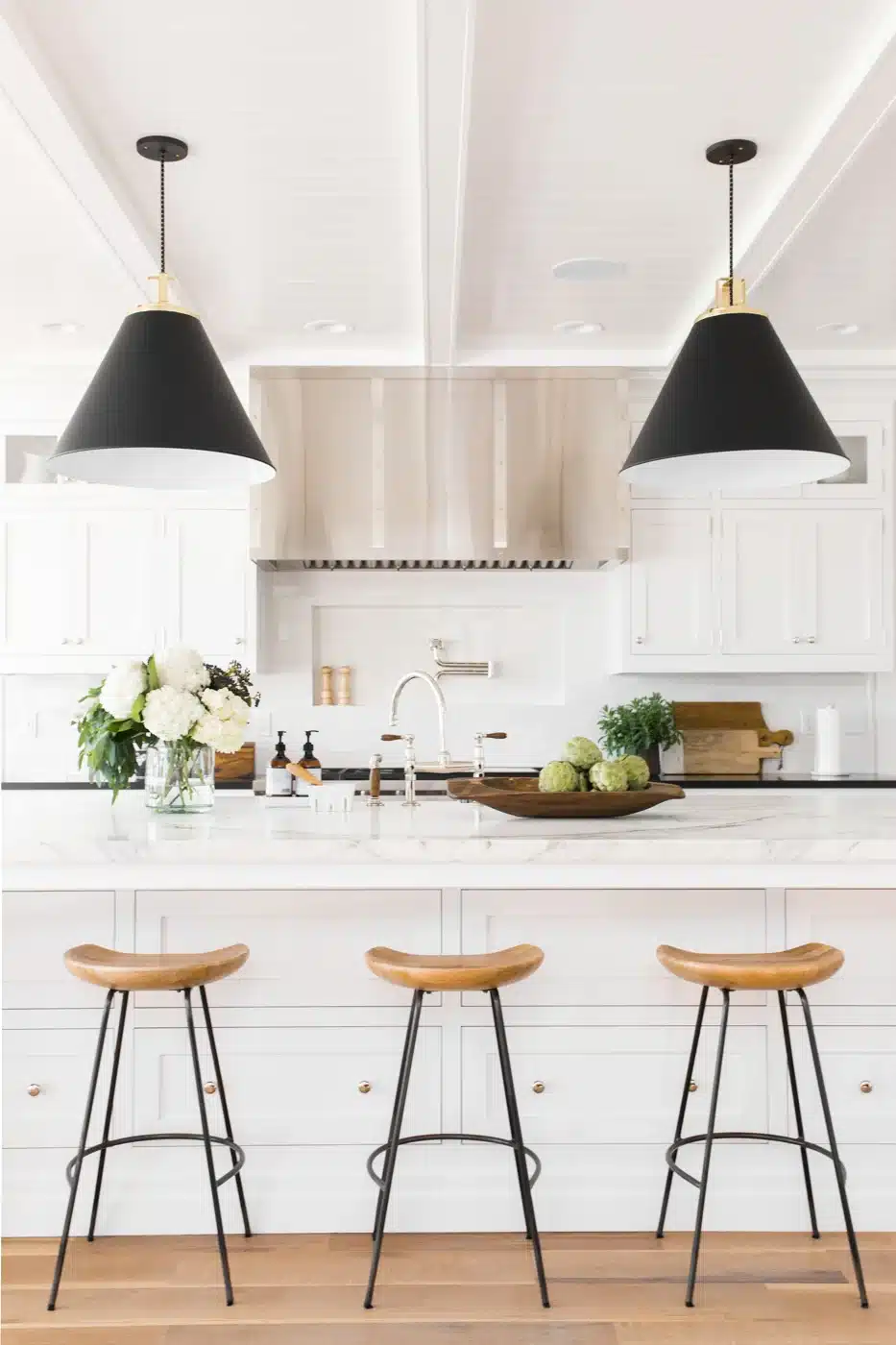 Studio McGee is famous for their skill in designing gorgeous, white, minimalist kitchens. This windsong kitchen is an example of it. An all-white kitchen creates an ageless and appealing environment by expertly fusing simplicity, utility, and elegance in its unique style.
In this kitchen, Studio McGee promotes clean lines, uncluttered surfaces, and a restricted color palette in their modern white kitchen backdrop. While countertops, backsplashes, and cabinets produce a light and airy ambiance that amplifies natural light and gives the room a feeling of openness and space.
The delicate textures and finishing touch provide depth and aesthetic appeal. Hardware and fittings are straightforward yet elegant and stylish.
This white minimalist kitchen is handy, with clever storage options and practical layouts. The goal is to create a peaceful, clutter-free space that simplifies cooking and entertaining.
12. Scandinavian Kitchen – Rustic Raw Look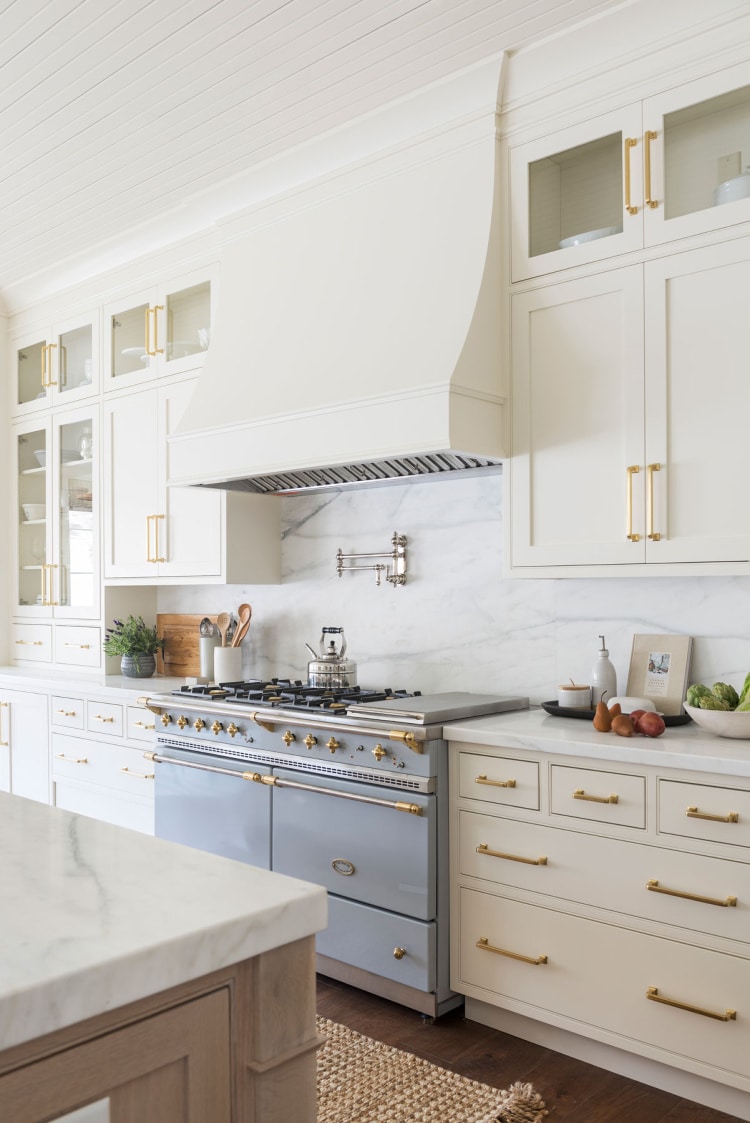 Studio McGee's Scandinavian kitchen design exemplifies its ability to create a place that blends simplicity, utility, and a touch of warmth. This kitchen combines clean lines, and a light color palette, drawing inspiration from the Scandinavian design ethos.
Light-colored cabinets, such as white or pale grey, produce a bright and airy ambiance. The emphasis is on creating a clutter-free atmosphere with innovative storage solutions and efficient layouts.
Natural elements, such as light wood floors or worktops, offer warmth and character to the area while retaining the overall clean and streamlined appearance. These features create a sense of nature within, linking the kitchen to its surroundings.
This Studio McGee kitchen design also includes soft linens or warm-toned accents. These embellishments bring a personal touch to the environment and make it seems friendly and hospitable.
13. deVOL Kitchens – Exclusive Craftmanship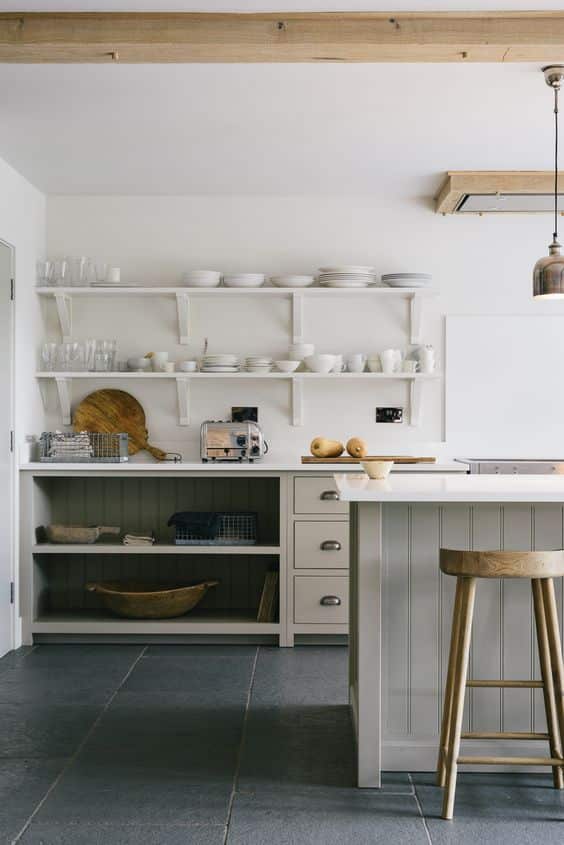 Studio McGee's cooperation with deVOL Kitchen results in a design that combines deVOL's timeless beauty and workmanship with Studio McGee's trademark flair. This collaboration features a kitchen that seamlessly mixes classic beauty with a contemporary sensibility.
Additionally, the kitchen has gorgeous cabinets with complex details and rich finishes. Rich hardwoods and magnificent marble, for example, lend depth and refinement to the area. The attention to detail is visible in every detail, from the meticulously chosen hardware to the smooth integration of appliances.
With intelligent layouts and sufficient storage choices, the design finds the right mix between practicality and beauty. Each feature, whether it is a farmhouse sink, open shelving, or a statement island, is skillfully designed to create a cohesive look.
The kitchen is a monument to the designer's ability to design places that last the test of time, emphasizing quality and respect for traditional craftsmanship. It blends both companies, resulting in an exquisite and utilitarian kitchen, showing deVOL's creativity and Studio McGee kitchen design skill.
14. Humphrey Mansion – Cloudy Grey Effect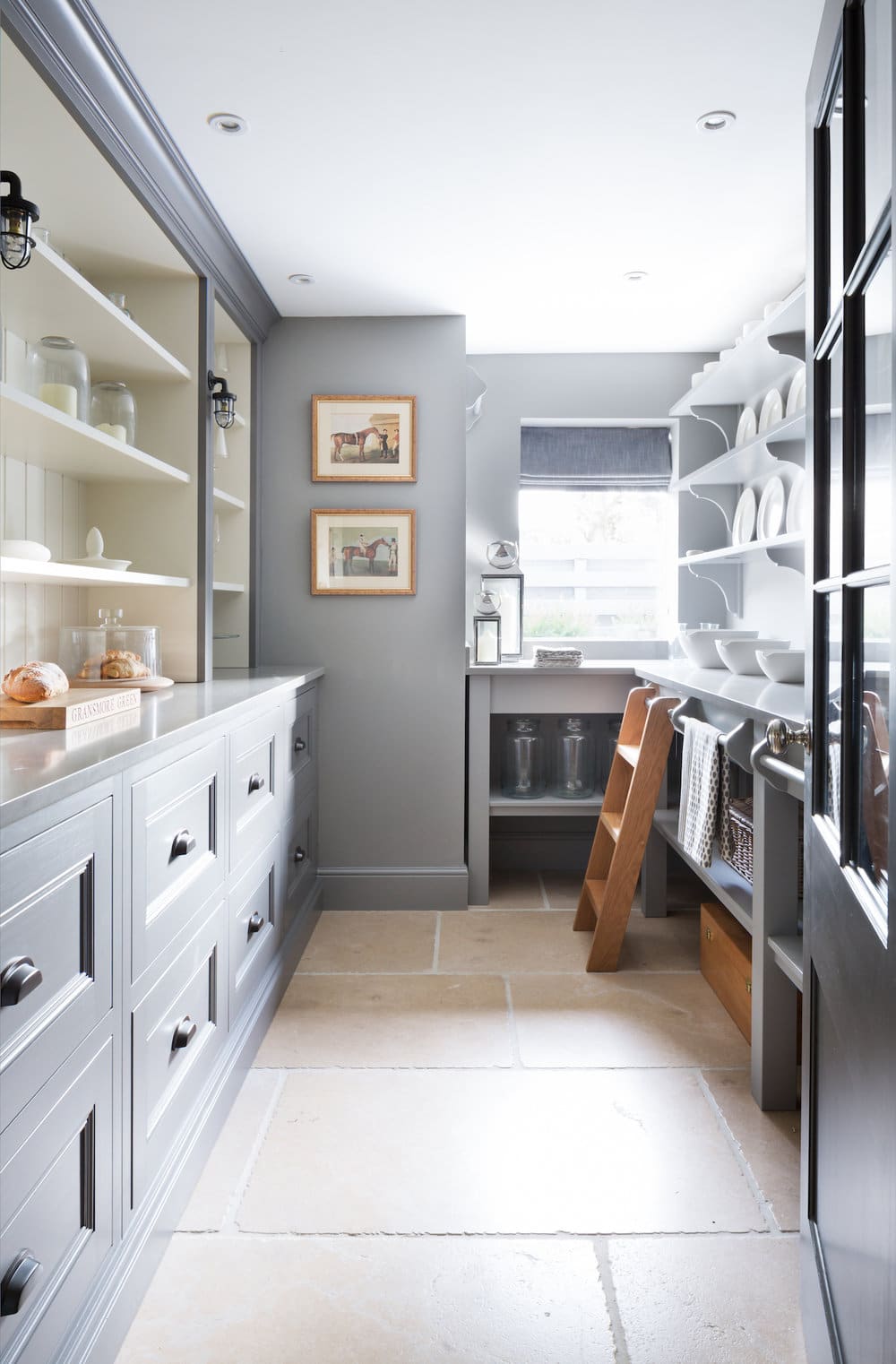 Humphrey Mansion's Studio McGee kitchen is a beautiful example of their ability to turn a room into a balanced combination of luxury and utility. This kitchen in the grand Humphrey Mansion combines historical grandeur with a contemporary look.
The design includes handcrafted cabinets with excellent workmanship, giving the area a sense of luxury. A feeling of splendor and elegance is created by the mix of light-colored cabinets, marble worktops, and exquisite brass fittings.
Large windows let in natural light, accentuating the exquisite architectural details. Also, the grey furniture cannot be ignored! The Humphrey Mansion kitchen is cleverly designed on both sides of the kitchen, giving enough space for food preparation and cooking.
The use of high-end appliances and innovative storage solutions guarantees that this kitchen is visually appealing and very useful.
15. British Standard Kitchen – The Art in Cupboards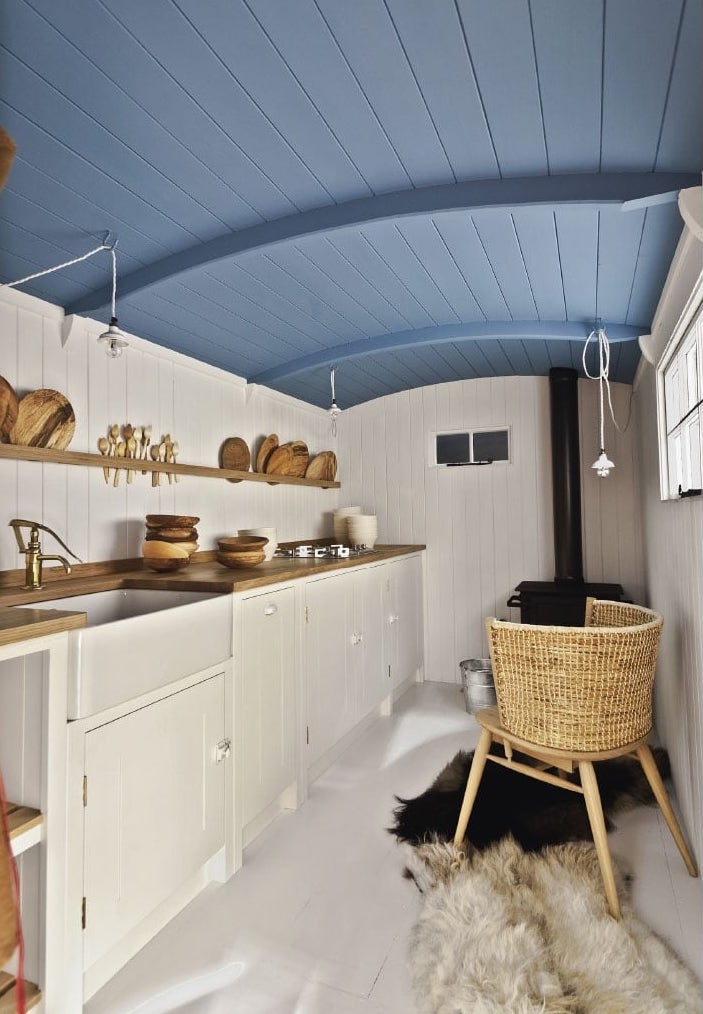 British-style kitchens are a trademark of Studio McGee. This British kitchen has a timeless charm that blends traditional and modern components flawlessly. This design and exquisite cabinets with sophisticated workmanship exemplify the excellence for which British-style kitchens are known. The use of wood in a small place and a low ceiling is magnificent!
The kitchen has been thoughtfully designed to enhance usefulness and efficiency. Every element, from the positioning of equipment to the incorporation of abundant storage, is carefully evaluated to improve the entire cooking experience.
This kitchen has a palette of gentle colors and natural tones such as brown, white, and blue, providing a calm and inviting environment. Brass tap adds an elegant touch, while vintage-inspired lighting fixtures give character and charm. Overall, the kitchen area oozes elegance, comfort, and subtle beauty.
Final Thoughts
Studio McGee kitchen designs demonstrate their incredible skill for designing beautiful and valuable environments. Their designs cover a spectrum of aesthetics, from contemporary minimalism to rustic charm, and each one is painstakingly created to perfection.
We looked at 15 of Studio McGee's kitchen designs throughout the piece, including the Cove renovation, SM Ranch House, and many more. These designs demonstrated their strong sense of color schemes, materials, and spatial arrangements, producing aesthetically pleasing and incredibly functional kitchens. Each kitchen is a distinctive and pleasant place because of Studio McGee's meticulous attention to detail, from hardware selection to lighting choices.
Those looking to construct their dream kitchen may get inspiration from these above-mentioned finest kitchen ideas by Studio McGee. Each design showcases the designer's competence, providing a look into their ability to convert ordinary spaces into extraordinary culinary havens.
Frequently Asked Questions
What Are the Distinguishing Qualities of Studio Mc Gee's Kitchen Designs?
The kitchen designs by Studio McGee frequently feature characteristics like clean lines, carefully chosen color schemes, and a blend of modern and traditional details. They put an emphasis on practicality, increasing storage and workplace while designing a lovely space.
What Are Some Popular Kitchen Designs that Studio Mc Gee Has Featured?
Studio McGee has a range of kitchen designs, including farmhouse charm, modern minimalism, and traditional elegance. Each style is carefully carried out, demonstrating their focus on detail and capacity to design distinctive environments.
How Do Studio Mc Gee's Kitchen Designs Utilize Natural Elements?
Studio McGee frequently incorporates natural elements such as wood furniture, open shelving, and the use of plants into their kitchen designs. These components improve the overall look by adding warmth, texture, and a link to nature.
Can Various Types of Residencies Use Studio Mc Gee's Kitchen Designs?
Yes, the kitchen designs by Studio McGee are adaptable and fit many types of homes; their designs may be modified to fit various places and lifestyles, whether it is a chic suburban home or a modern flat.