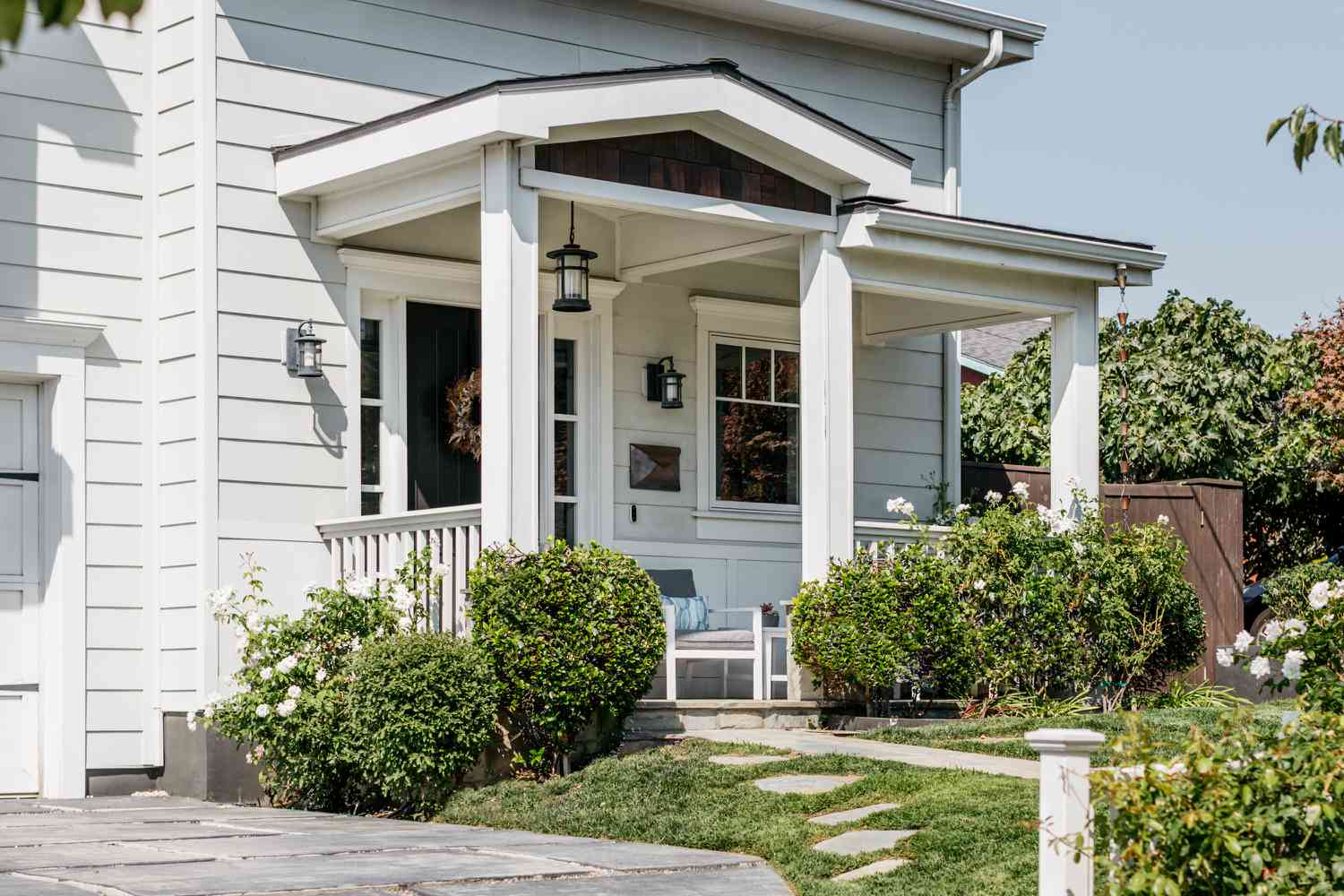 A front porch is a place that is both public and private. It should give a welcoming feel to the guests. It creates the first impression on guests as well as the passers-by. Being the face of a home, it defines the creativity and imagination of the person who has designed it and the attitude of the people living in the house.
Just keep these things in mind. You may greet not only guests but your loved ones after a long day's work or many days of travel. So this place should be welcoming, refreshing, and romantic. It can even be enlightening as you can read or write from there. However, never style your front porch to look like a decorated Christmas tree. Adding too many ideas is never a good idea. Now, let's take a look at these 18 modern front porch ideas. There are many more ideas.
18 Front Porch Ideas
1. Begin with The Front Door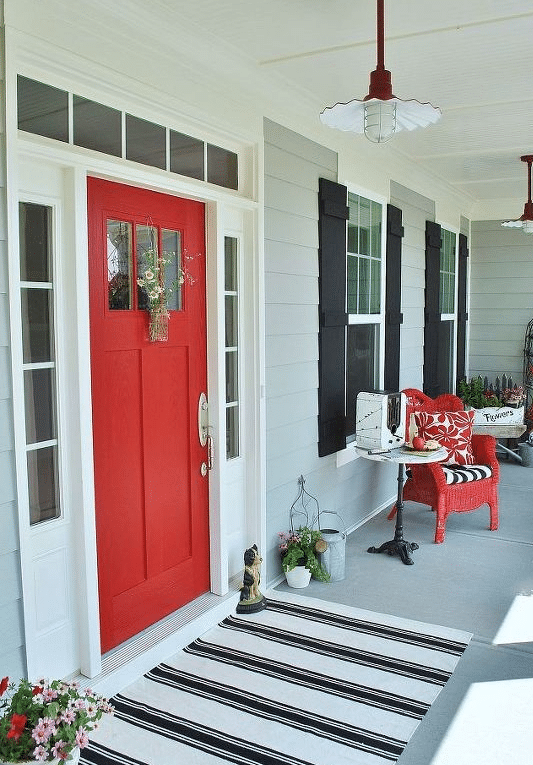 The front door is the first thing to be noticed on the porch. A unique front door really upgrades the look of a home's exterior. If you like it bold, it would be a great statement. Sometimes, choosing a bright color will be a bold move.
However, if you are not into bold colors, you can go for the usual yet astonishing golden mustard door. This color can also add beauty even though it is classic. A white door is even a great option. This also adds to the curb appeal of not only the front porch but also the whole exterior of your home.
2. The Beauty of Flower Beds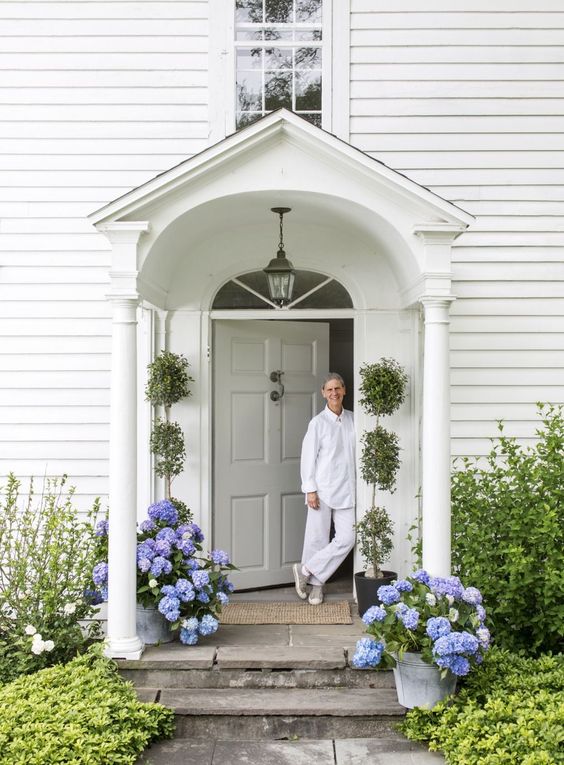 If your porch is too small, this would be a smart hack. In this case, you cannot crowd your front porch. There will be porches where even two chairs give a tightly packed look. If such is the situation, you can follow this idea. That is the beautification with the help of nature. Here you need not pave all of your front yards with stones.
Just before the porch begins, you can leave a thin muddy layer for small plants and flower beds. Then in the corners of the small porch, you can place tiny flower pots. This will beautify your porch. There is a wide range of flowering plant saplings and seeds available. You can even try out beautiful creepers. You can even update, rearrange, or change the plants occasionally or with the changing seasons.
3. The Most Essential Factor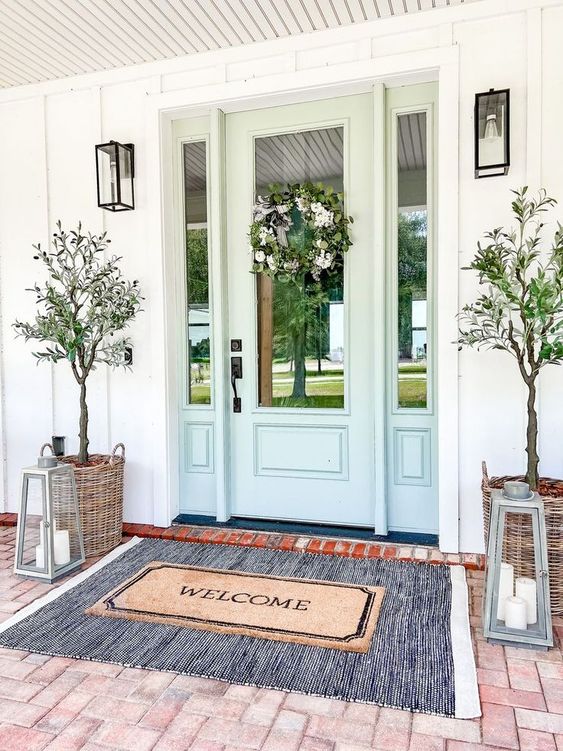 What can be an essential factor when it is about not only the front porch but the whole interior of a house? The answer is simple. In any house, the most inevitable element is placing the rugs in the correct places. The absence of a rug will be more than noticeable.
Likewise, rugs cannot be placed in unnecessary places. A front porch is a place where people (let it be guests or the members themselves) come after different activities. So, there should be a rug on the front porch. This is not just one of the many modern front porch ideas. But this is one of the basic home essentials. Placing a fancy and suitable rug will always be the cherry on top.
4. The 'Unnatural' Ways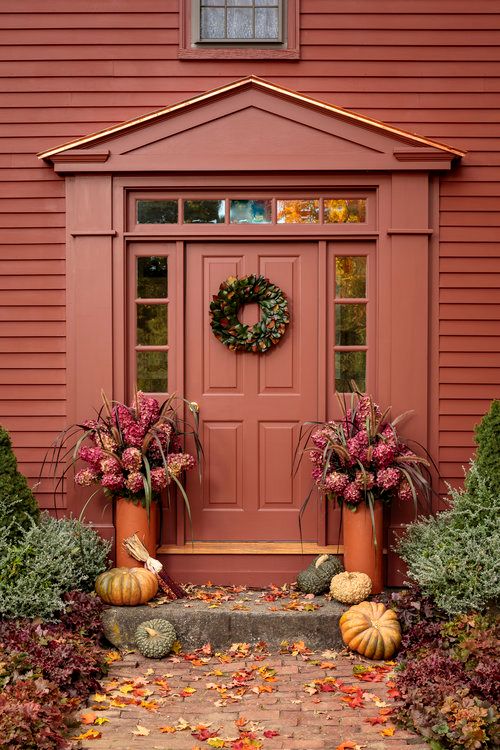 Some people might be allergic to plants or flowers, or some may be worried whether the mud in the flower pots will make the floor and walls of the front porch dirty. If that is the case, you can still beautify your front porch with the help of some dried or artificial flowers.
Here, the main thing you have to keep in mind is that because these flowers will not bloom all of a sudden, they will always be present on your front porch. So, you should especially see that the color of the flowers perfectly suits the front porch, the rugs, etc. Also, you should keep in mind that artificial or dried-up flowers can get covered in dust, especially on the front porch, within a short span of time.
5. Follow Your Interior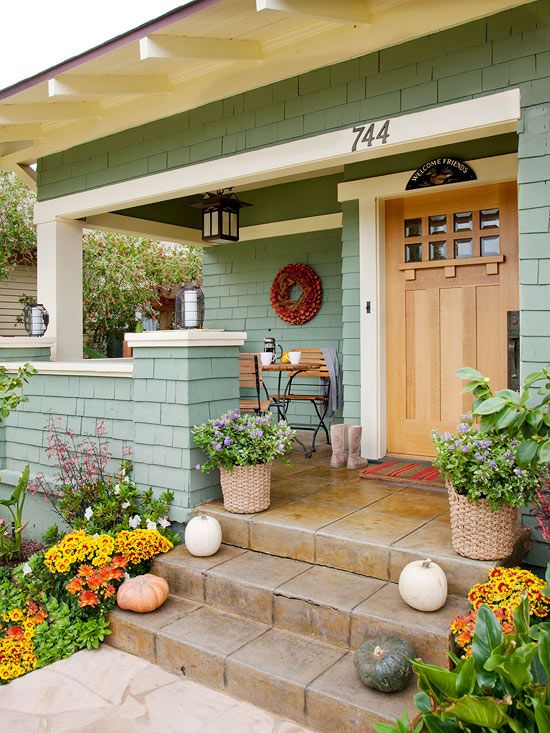 This is also a very important element to be remembered while designing the front porch. That is, never forget the interior looks of your house. Just imagine how your house will look if the front door is completely different from the whole interior of the house. This will always look like the newcomer of the class without a school uniform. It will not sink in with the whole look of your house.
So, in order to avoid the unnecessary usage of money and human labor, you should first confirm whether your front porch design conforms with the interior and exterior of the house.
6. Some Pot Ideas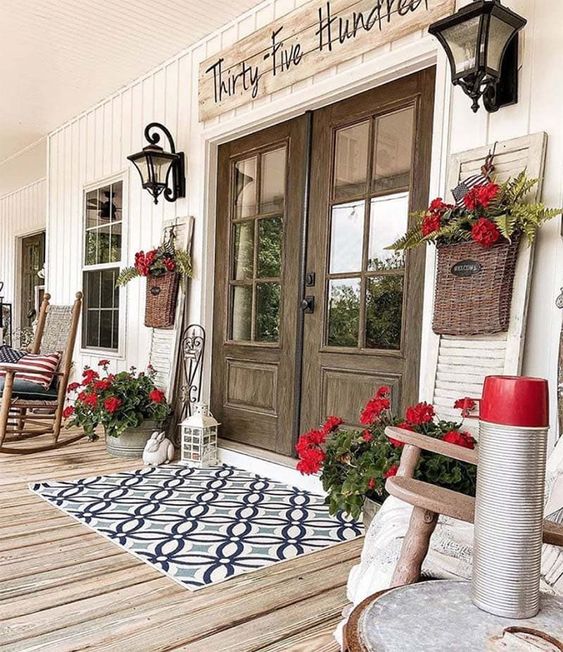 Many famous designers are of the opinion that pots and plants make magnificent additions to any front porch. The role that plants have in a front porch has been discussed. Nowadays, many kinds of pots which are more like showpieces, are available. You can even experiment with statues, as it adds to the richness. To spice things up, you can get a bonsai plant.
All these things can give your front porch a vibrant and luxurious look. However, if you don't want your front porch to be so majestic and dramatic, you might be thinking of simple yet modern front porch ideas. Or you want a darker theme. In both cases, plants and pots are to be avoided. But, if you are thinking of a gloomy and dark atmosphere, you can add statues.But remember! You should always go for two similar statues, and if not statues, Pillars are also a good option.
7. The Seating Arrangements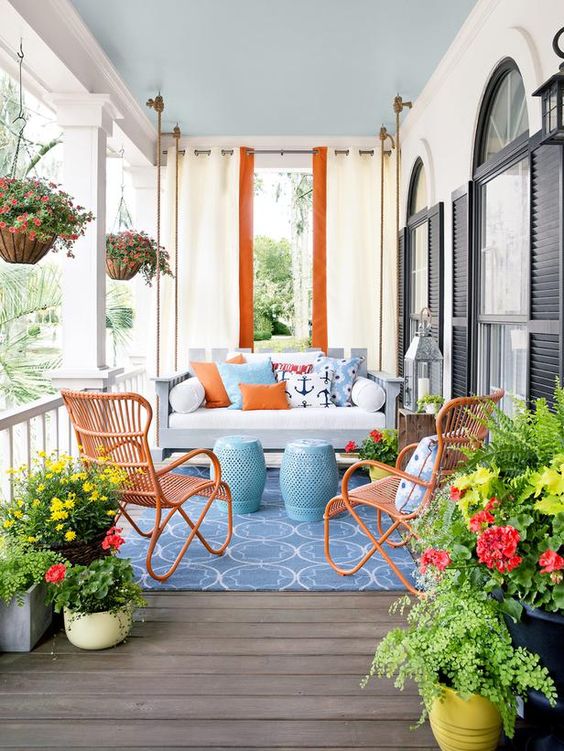 This has to be done according to the area of the front porch. If it is too small, it is not advisable to prepare seating comforts there. Now, you can choose this according to the area. If it is with a small area, you can choose small seating stools with or without back support. If you think that your front porch space can accommodate one or two fancy chairs and a coffee table, that would be a great plan. You can also try out wooden chairs and table sets.
If you don't want to lose space, folding chairs, and a table are never a bad idea. Then what plans can be made for a spacious balcony? Here, you have plenty of options. How about a velvet matte setting? A Velvet chair and table can be clumsy yet attractive pieces. A small sofa set is adorable and astonishing. But never choose a light shade as it is always exposed to dust. A three-piece sofa set is never a good option for a front porch, even if it has a good area. Anyway, choose your seating wisely. A Swing bed will give a rich and classy look.
8. The Door Decorations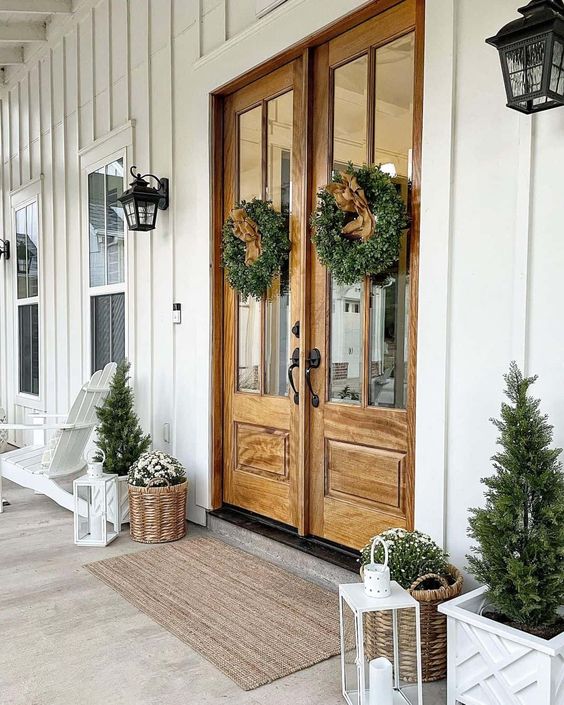 Not only the door color but the decoratives also have a good role. You have plenty of options as door decoratives. If you are a lover of plants, you can get a hanging flower pot for the door, or you can even try a beautiful dry flower wreath. A welcoming door hanging will be like a cordial reception to those people who are coming to the house.
There are plenty of such door hangings with welcoming phrases. A wooden sign hanging is also a good idea on the front door. You can even choose front door hangings that suit your attitude. If you are a religious person and want to add a sacred ambiance to your front porch, you can add your respective religious symbols on your front door. Couples can give a touch of romance to their homes by choosing such door hangings.
9. The Outdoor Living Room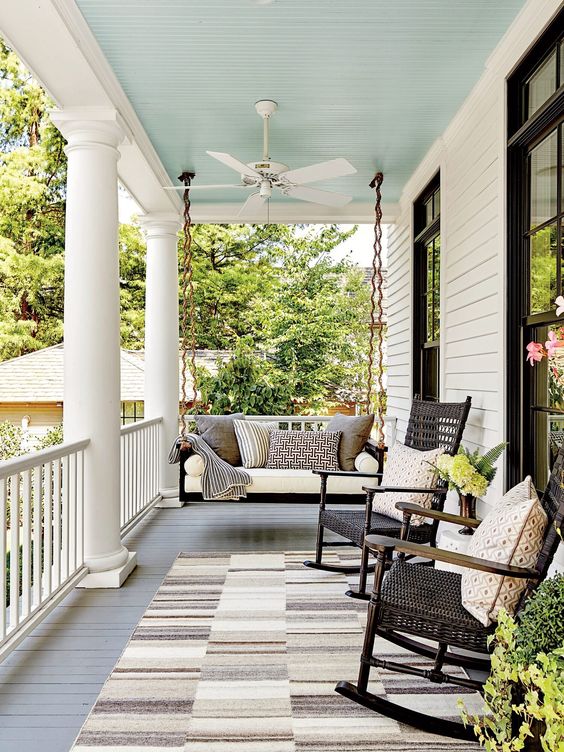 Earlier, it has been stated that as one of the modern front porch ideas, everything regarding the front porch should conform with the whole interiors and exteriors of the home. This idea in this set of modern front porch ideas is closely related to the idea mentioned just above. That is, the front porch should be more like a replica of your living room.
This can be an outdoor living room. This is a good option only if your front porch has ample space to transform into an outdoor living room with multiple seating arrangements like sofa sets, flower or plant beautifications, other decorations, etc. This draws people's attention with the mix of materials and cozy feel.
10. The Flawless Flooring
This part is very integral in these modern front porch ideas. Till now, it was about trying decoratives on the front porch or beautifying the existing elements on your front porch. This one is a basic necessity. That is the perfect tiling. For this purpose also, it is better to choose dark-colored tiles or wooden flooring, as light colors can highlight the presence of dirt and dust, especially because it is outdoors.
To conform with the indoor tiles, it is better to choose dark contrasting tiles or wooden tile blocks which will suit any indoor tile. Trying out the best available natural stone can also add to the nature of your place. So for the perfect view of your front porch, choose the best flooring.
11. The Whole Walls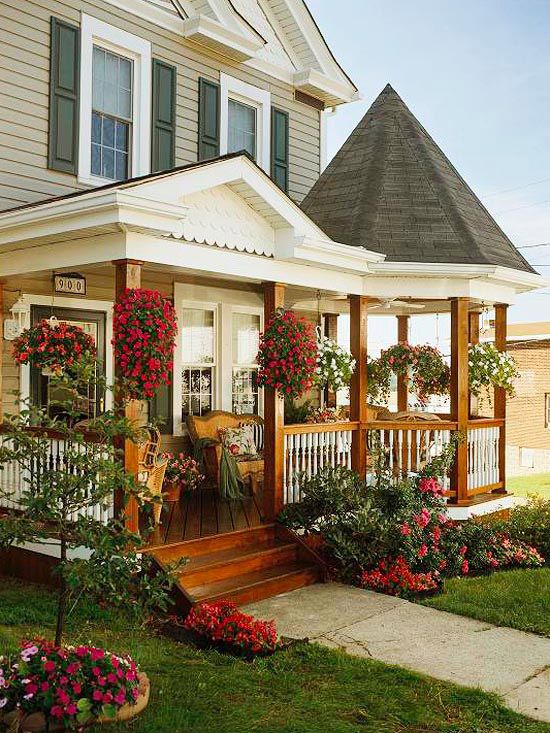 This might be the trickiest part of these modern front porch ideas. That is, deciding how the walls of your porch should be. For this also, you have to close your eyes at the lighter shades even if you think that your front porch can withstand all the foreign atmospheric elements like dust and dirt. Either you can choose the dark shades, or it can be bright.
In both cases, you are selecting a bold statement. If you don't want to go with this extremely bold idea, then you can choose suitable wall tiles. To give the look of a farmhouse, you can choose interlocking deck tiles or wooden wall tiles. Just see to it that the flooring and the walls are a perfect pair.
12. The Right Illumination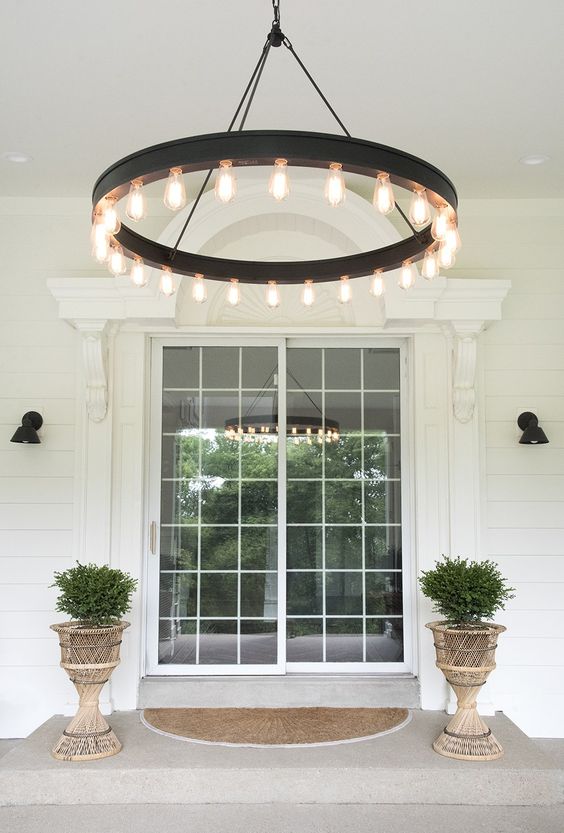 The presence of warm lighting is always a need. Your house needs proper illumination during nighttime. The sparkling and powerful porch lights should illuminate the facade after dark. You can include pendant lighting for your front porch. When you increase the artificial lighting on your front porch, you can utilize this area as your outdoor living space, even when it is dark.
For that rich and royal look, you can buy a chandelier for your porch. Lighting is always an inevitable necessity. The actual beauty of the light setting can be seen after dark. Wall lights are always pretty. Fixing a wall light just above the main door is always a beautiful statement. Even if your porch is small with minimal accessories, lighting is a must.
13. The Stair Railing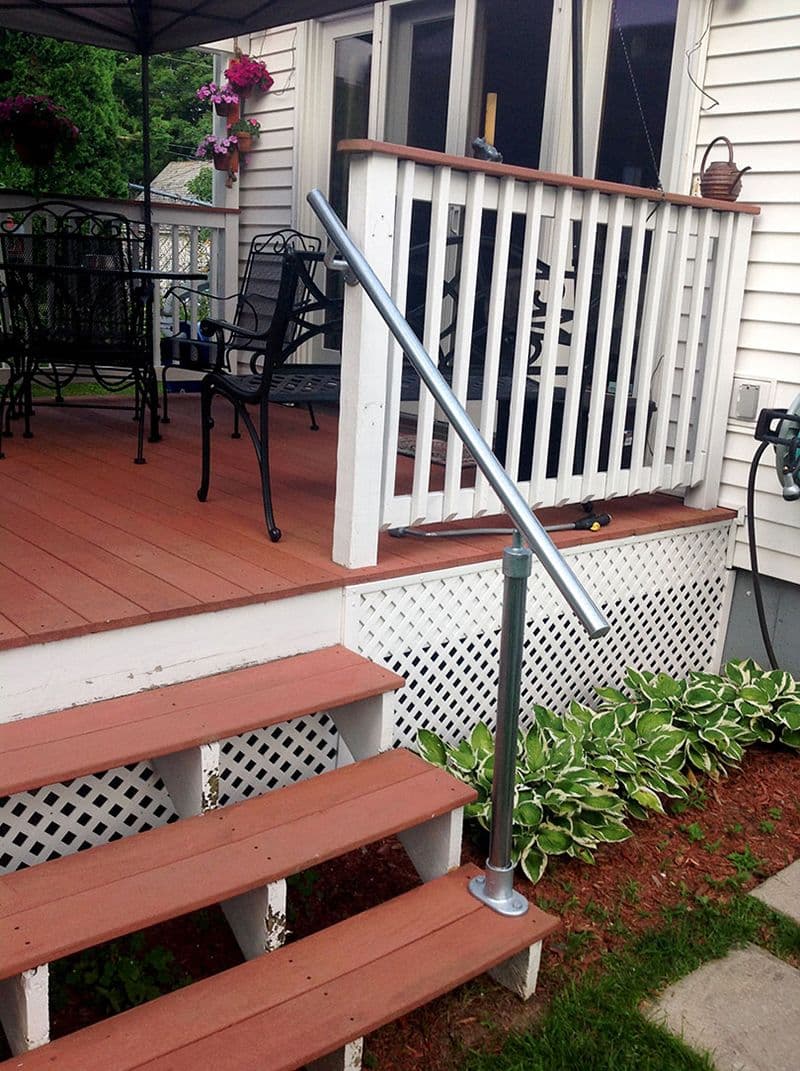 This is the part that is given the least importance. However, by giving it good prominence, you can create a bold statement and can add to the curb appeal. Sometimes, there will be a couple of stairs, and they will not be very wide and not very narrow too. If such is the case, there should be a railing on both sides to avoid accidents and also for architectural beauty. Many railings in different sizes and shapes are available.
You can even update the railings if your current one seems to be boring. You can give your porch a warm touch by painting your steps in matching or contrasting hues. This creates a sense of presence; if your stairs are very wide and without railing, you can like up flowers or plant pots.
14. Let's Make It Simple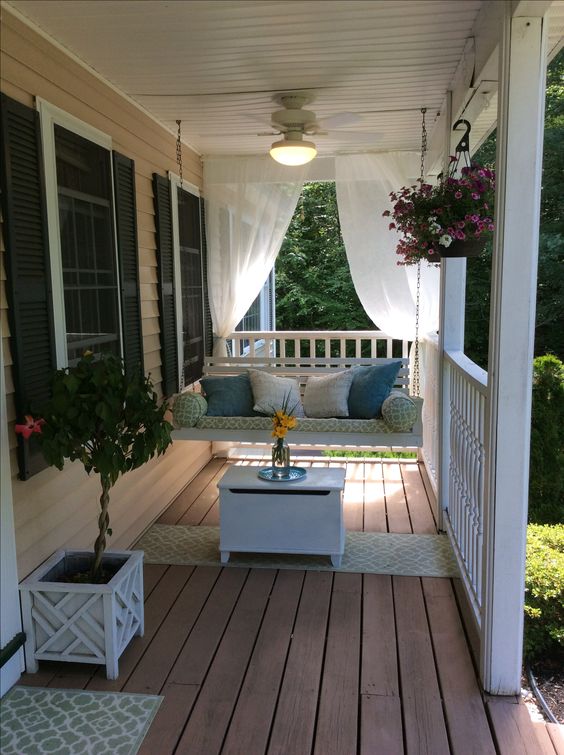 Ever heard of the famous quote, "Beauty lies in simplicity"? If you are a simple person by nature, you may not like many of the embellishments mentioned here. For you, here is the best idea. Make it simple without much adornment. Just a few little touches are enough to create a simple and adorable front porch.
Chairs are not compulsory here. Even in the absence of any other accessories, enough artificial lighting arrangements should not be left off. This front porch will be more like a peaceful escape into the place just after your front door. If you want privacy, you can buy matching curtains or screens. If you don't want it to be like an outdoor living room, you can feel free to leave it bare.
15. Go with Some Timeless Routines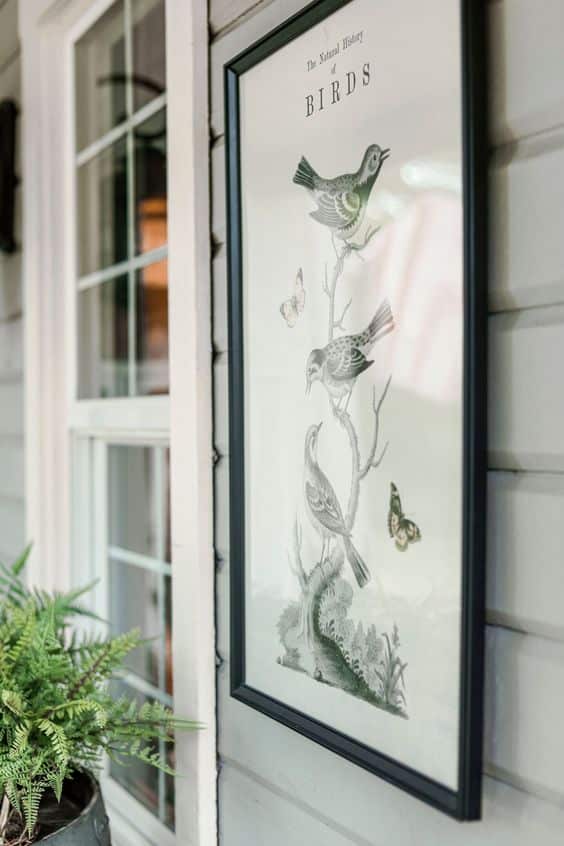 Hanging paintings and drawings are always timeless ornamentation. You can choose this idea even when you wish for minimal accessories. Just a pencil sketch will be a wonderful decoration in a minimal setting.
Hanging a modern painting or a classic or medieval painting is an idea among the 18 modern front porch ideas that brings a rich look to your porch. If you don't want just a painting, but you wish for three related modern artworks, those are very easily available in the stores. Just a painting or drawing can change the complete look of your front porch.
16. A Small Idea for a Small Area!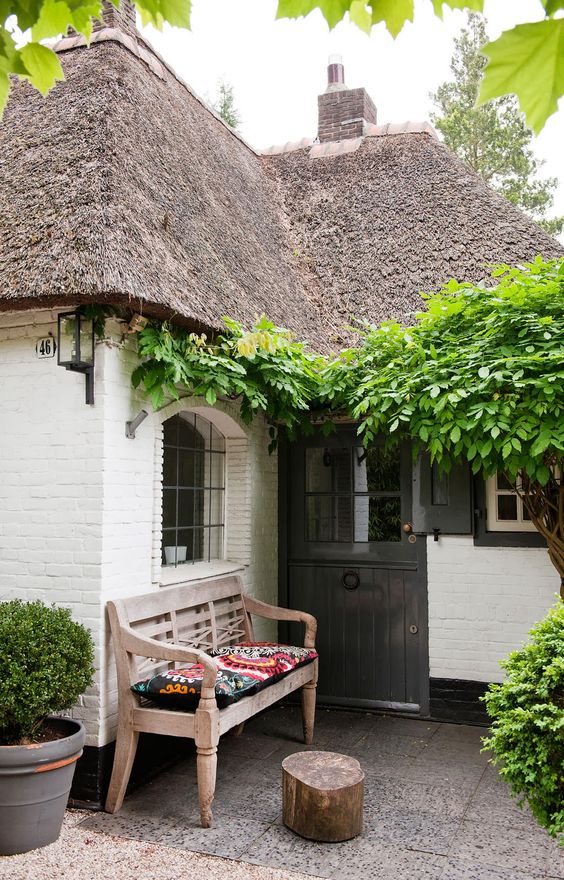 When there is no proper front porch, or you have very little space on your front porch, you can't place or think of many ideas for your front porch. Even then, you might want the seating to be arranged somehow. In such a case, this is the only possible and great idea. That is, to set up the seating just outside this porch.
You will get a park feel in this kind of premise. To add color, you can choose the kinds of benches you find at parks. For such an outdoor sitting, clumsy ones like those made of velvet or upholstery are not at all recommended. You can also choose sitting stools for this purpose.
17. Just Go Romantic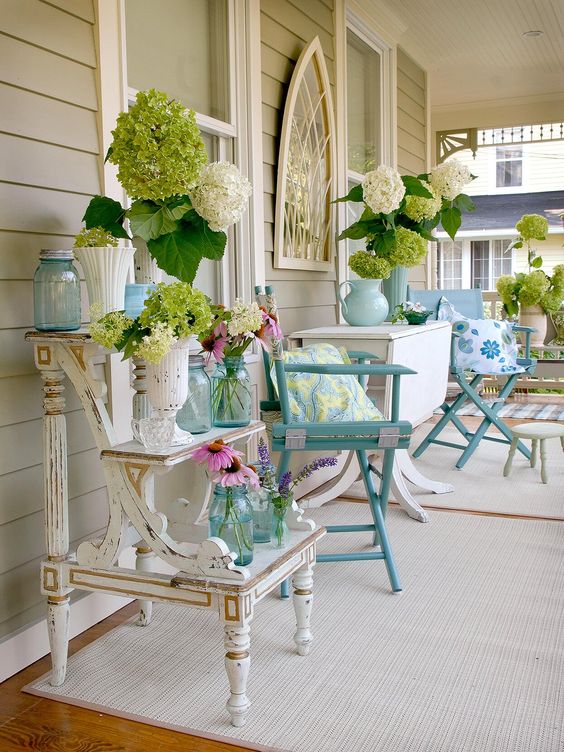 You can give a romantic touch with the help of just two chairs and a tea table. This idea is the most romantic one of these 18 modern front porch ideas. To make this idea work out, just skip all the bold statement ideas.
The front porch paint color can be light-matching shades like cream or gray. You can have a romantic tea party or a date. You can have a chit-chat with your friend. This is always the perfect serene spot for morning tea or coffee. If your porch is too small for this idea, you can arrange this seating just outside the porch or in your front yard.
18. The Essentials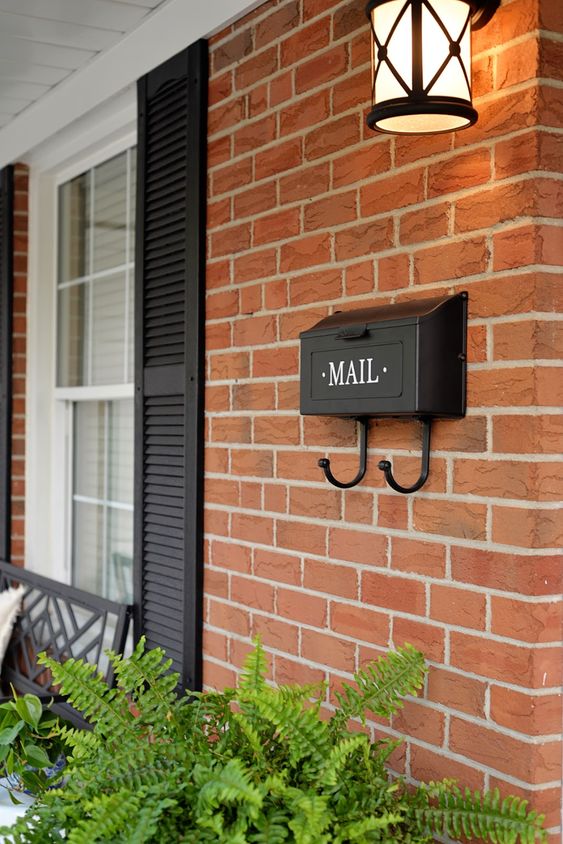 It is a digital era. Still, you can sometimes get postal attachments too. So a mailbox is a necessity in any house. Either you can attach a wall-mounted mailbox in a place that is easily visible. If you don't want it inside the porch, you can attach it to some exterior wall of your home or the front gate. A covered slipper stand is never a bad idea.
You can easily get a multipurpose shoe rack. That is, you can keep slippers in it, and after it is closed, you can use it as a perfect seat. You can choose the colors that match the exterior walls and the other accessories on the front porch. This shoe rack is easily available in many colors.
Conclusion
With these ideas, you can make your front porch stand out in your neighborhood. First, think of the area of your front porch. If it is too small, just make it simple.
Always keep in mind that this is the part of your home that any guests might see first. This place should be tidy, clean, well-maintained and inviting. Also, you have to make a little space for a coat, jacket, umbrella, etc. This is how you can neatly organize your front porch. You can even set up a 24- hour camera surveillance to protect your house. Designing and beautification should not only be the concern. Tidiness and space management also should be given importance.
So, which is your favorite idea from the above-mentioned list? Tell us in the comment box below.