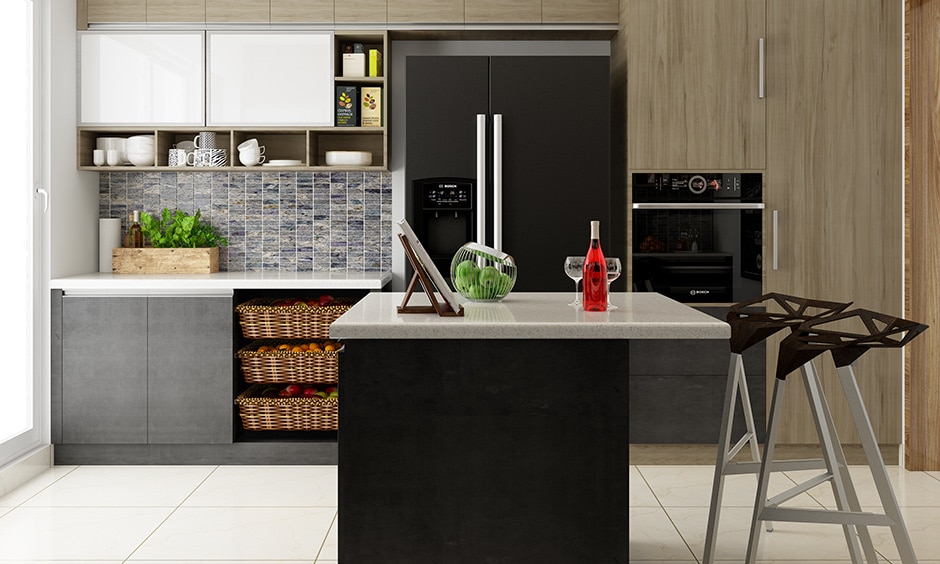 The kitchen is all about utility. A functional space like a kitchen in the house must be practical and convenient for you to work in. When it comes to small kitchen designs, an architect and a designer must work smartly to ensure maximum feasibility and work together to create a workspace that is least chaotic and cluttered.
Color schemes and combinations play a major role. In a kitchen, sufficient storage, proper ventilation, and sufficient ambient light are some of the most important prerequisites.
The following list of 20 small kitchen paint colors will help you select the right shades for your culinary space to look comforting and inviting.
1. Warm White with Olive Green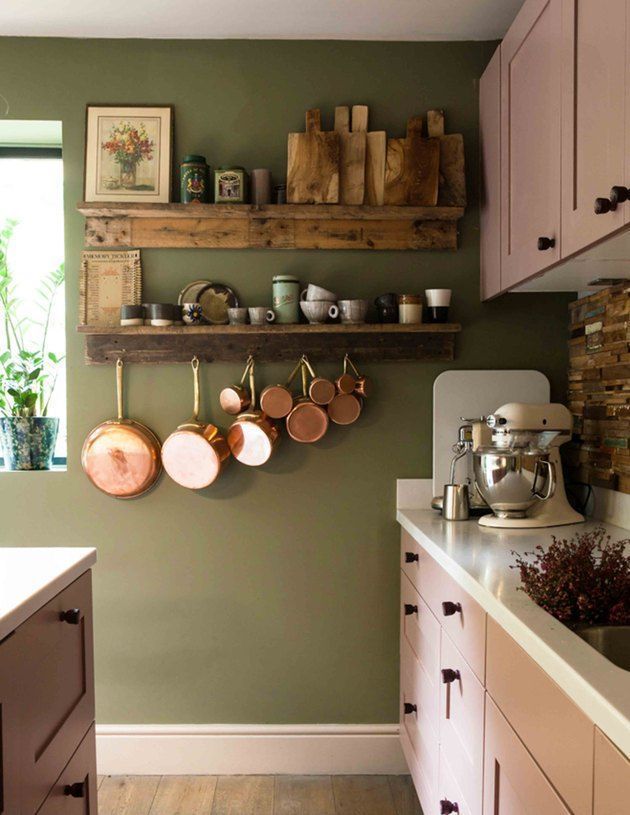 Warm colors are a safe option for a kitchen. A warm white shade with orange and yellow undertones will complement a color like olive green as this color also has yellow undertones. These colors look particularly comforting when sunlight falls on them. Warm white walls and olive-green cabinetry also match well with stainless steel appliances. Such small kitchen paint colors and combinations exude a soothing vibe and make the room interesting.
2. Bright White with Navy Blue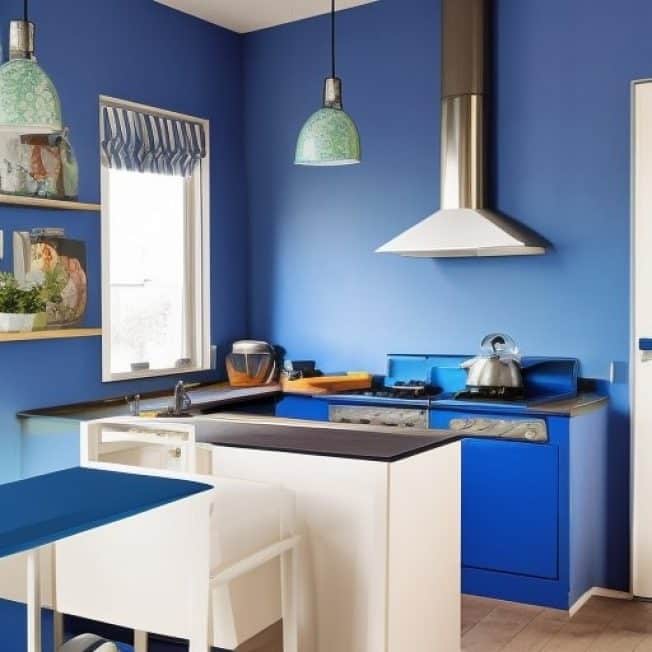 Any room with the right cool color combinations can look amazing. For a Mediterranean look for your kitchen, bright white walls and navy-blue tiles are the best options. You can also paint your cabinets with bright white paint and insert navy blue countertops that will go very well with steel appliances, stove tops, and silver hardware.
3. Off-White and Natural Wood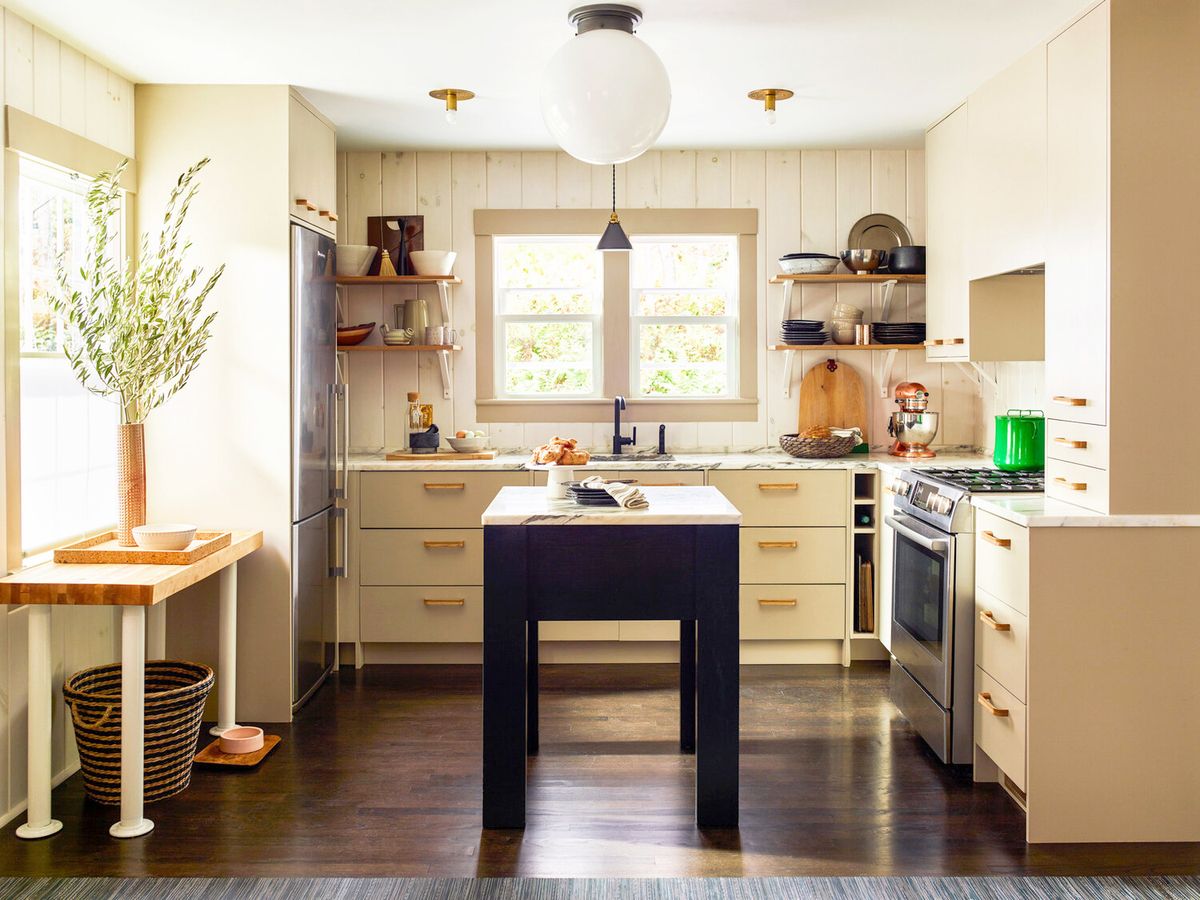 The color off-white is a combination of pale colors like gray and caramel white with dominant bronze undertones. To lend a Scandinavian vibe to your kitchen, natural light brown cabinets with yellow undertones will look very appealing if paired with off-white walls and flooring. For a shinier appearance, off-white tiles on walls and floors can make the kitchen look chic as they are easy to clean and maintain.
4. Scarlet with Stainless Steel
If you want your kitchen to abide by a retro theme of the 70s, paint it red. Red kitchen cabinets with a glossy finish and silver hardware would come together cohesively and modernize your space better than any other kitchen color. To complement such small kitchen paint colors, you can even have a small sitting for two with chairs that have minimal metallic accents.
5. Slate Blue with Copper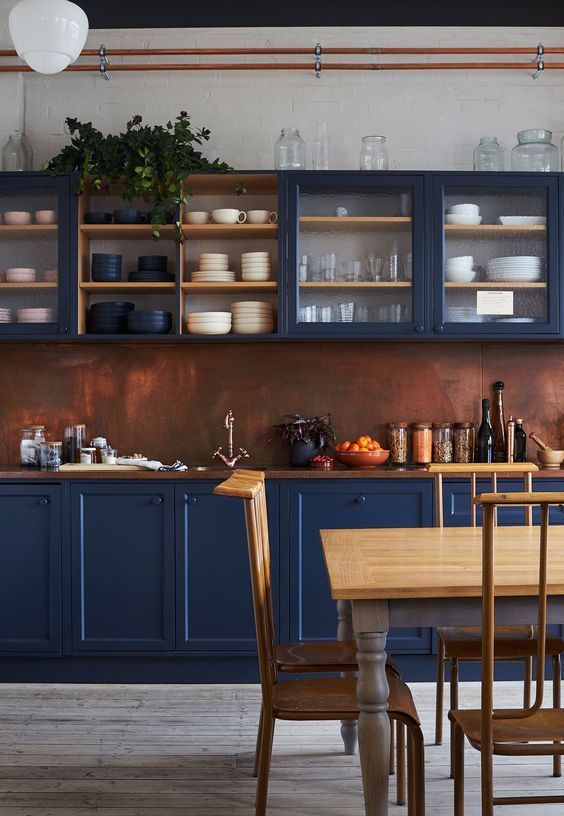 For some visual interest, slate blue kitchen cabinets with a copper backsplash are an appealing combination. Slate cabinets, dark brown countertops, and copper-colored tiles on the walls will complement wooden flooring. This will give your kitchen a rustic outlook and will also pair well with wooden and dark metallic furniture if you ever wish to install a small sitting in the kitchen itself.
6. Turquoise with Yellow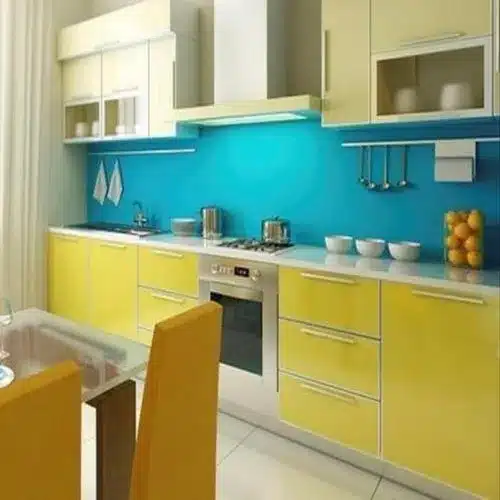 The turquoise and yellow combination will lend a very coastal vibe to your place. Turquoise-colored kitchen cabinets with yellow walls or turquoise walls with yellow PVC cabinets can look visually appealing. You can install silver hardware as it will not look out of place owing to the shiny texture of the cabinets.
7. Charcoal Gray with White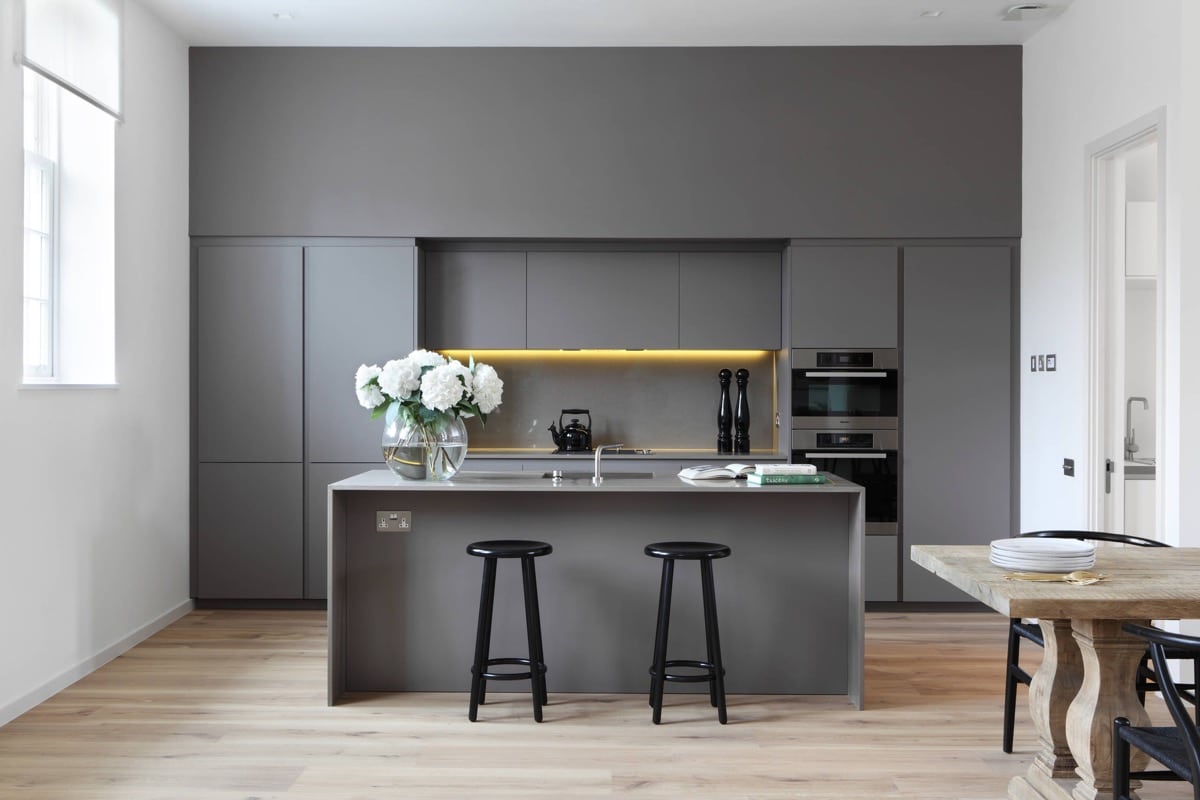 White goes excellently well with charcoal gray. For a contemporary kitchen, opt for wall-mounted white kitchen cabinets and gray-colored lower kitchen cabinets or drawers. By installing light and white colored kitchen cabinets on the walls above the shelves, your kitchen will look lighter and brighter.
However, charcoal gray also goes well with beige cabinets, chalk white cabinetry, as well as creamy coconut white and off-white. For an overall darker appearance, install dark gray colored tiles. A minimalist can place bar stools next to the island which can serve the purpose of a dining table.
8. Mint Green with White and Aqua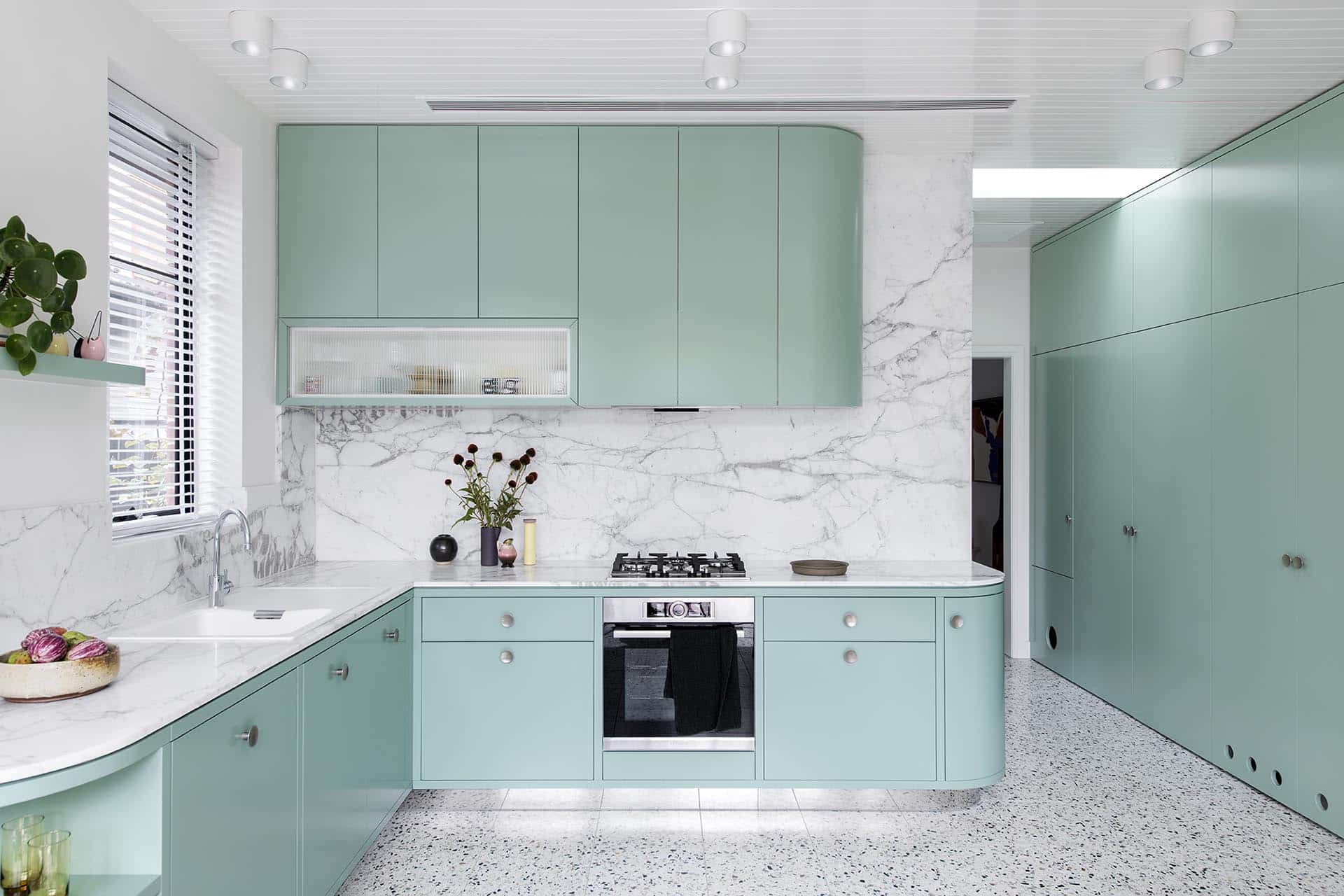 A mint green hue, when paired with a white hue, can enliven any space. For a classic and timeless look, pair mint green cabinets with white walls. You can use white wall tiles and even paint the walls white.
However, you can even use aqua with mint, as both colors have green undertones and will add some extra detail to the kitchen. Your kitchen will stand out from the norm owing to these classic color combinations, as it can be accessorized with brass-colored hardware.
9. Black and White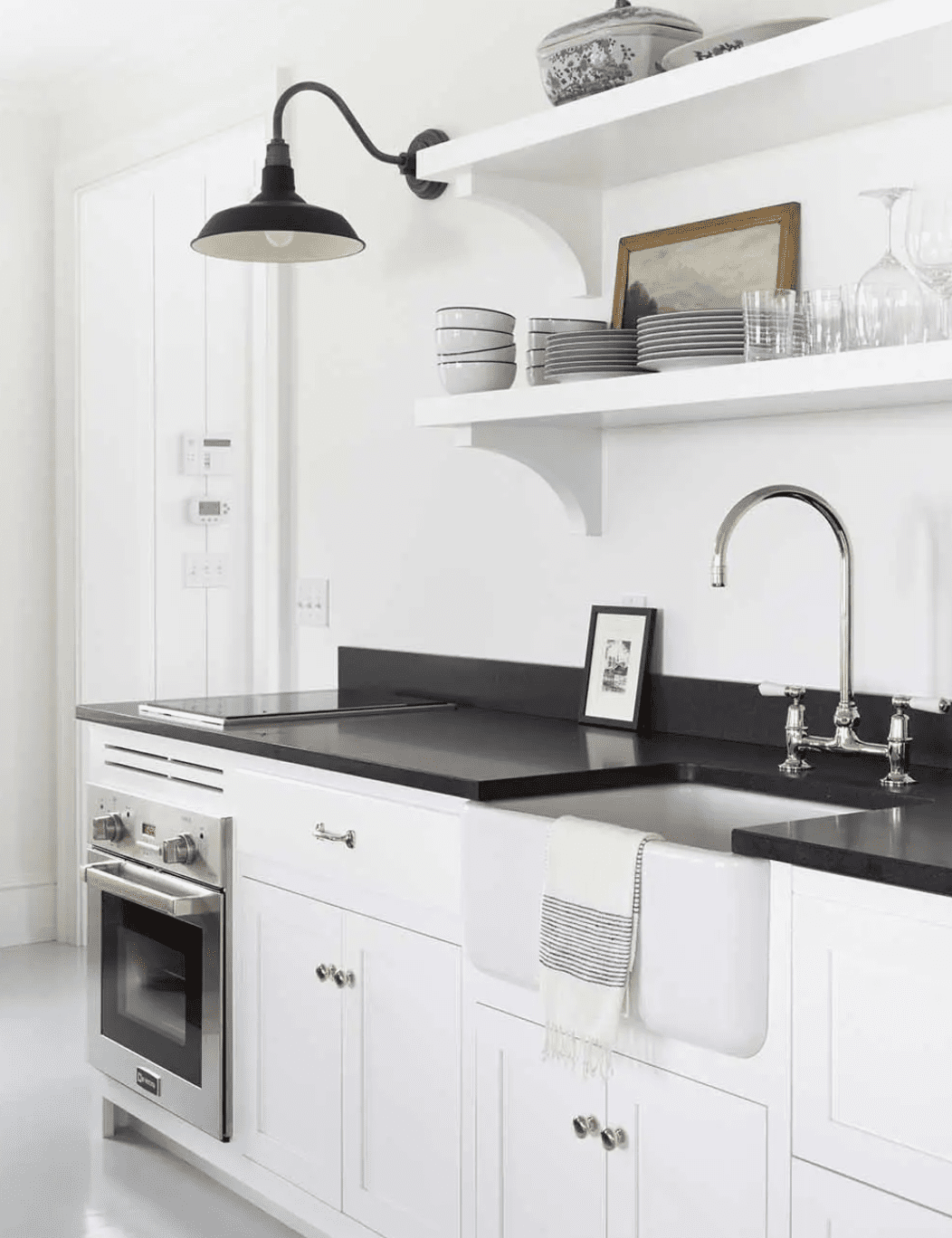 You can never go wrong in black and white. Black kitchen shelves and black cabinets with white walls are a perfect choice for minimalists. Geometric designs on walls can make your kitchen look visually appealing and add some art to your cooking space.
However, if you want your kitchen to look easy-breezy, let the white dominate and keep the black accessories minimal. Black kitchen countertops and black hanging pendant lights are the best accessories.
10. Pale Yellow and Dark Green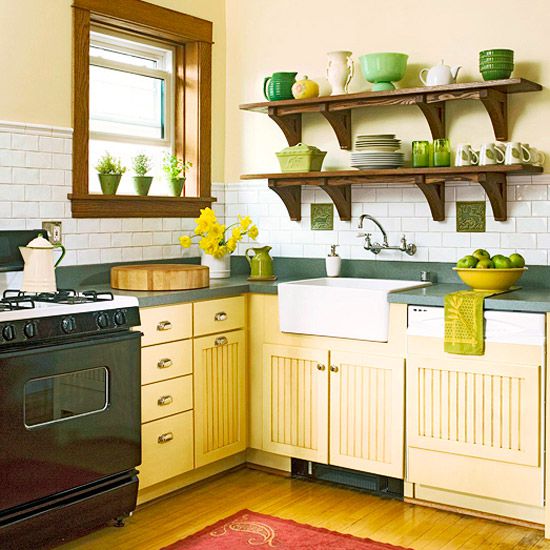 To infuse brightness and energy in your kitchen, introduce pale yellow, and to create some balance, pair it with dark green cabinets and a kitchen island. Pale yellow walls, shiny brown wooden polish on windowpanes, and dark green cabinets work best and will lend your kitchen an earthy look. These warm-toned colors complement each other instead of appearing overpowering.
11. Rose Pink and Gold Finish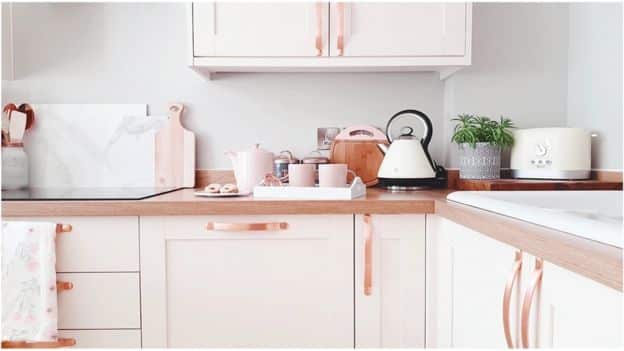 For a chic small cooking space, go for supple shades like rose pink cabinets, gadgets, and dull gold hardware. Since there are various versions of rose-pink colors available in the market, you can opt for a lighter shade so that your kitchen looks more spacious. Your kitchen will look plush, and these cool shades will make your kitchen appear simple and uncomplicated.
You can paint your walls white or stick white and dark bronze patterned wallpaper. Light brown laminated countertops will give the kitchen a shiny look and make it easier to clean.
12. Dark Accents with Natural Light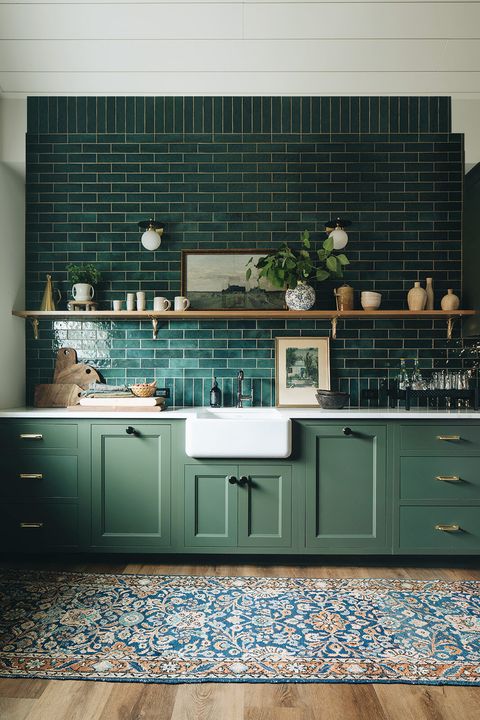 Dark accent shades like dark green, black, walnut brown, hickory brown, mocha brown, charcoal gray, navy blue, and so on can make your kitchen look sophisticated and dapper. Since your kitchen is a small place, painting in the dark entirely can make it look cluttered. Therefore, introduce dark accent colors smartly by painting your corners and small islands with these accent shades.
You can even paint small kitchen cabinets under the countertop with these shades for an elegant finish, as your silver or black colored dishwasher and oven will go well with these dark accents.
13. Modern Monochrome Kitchen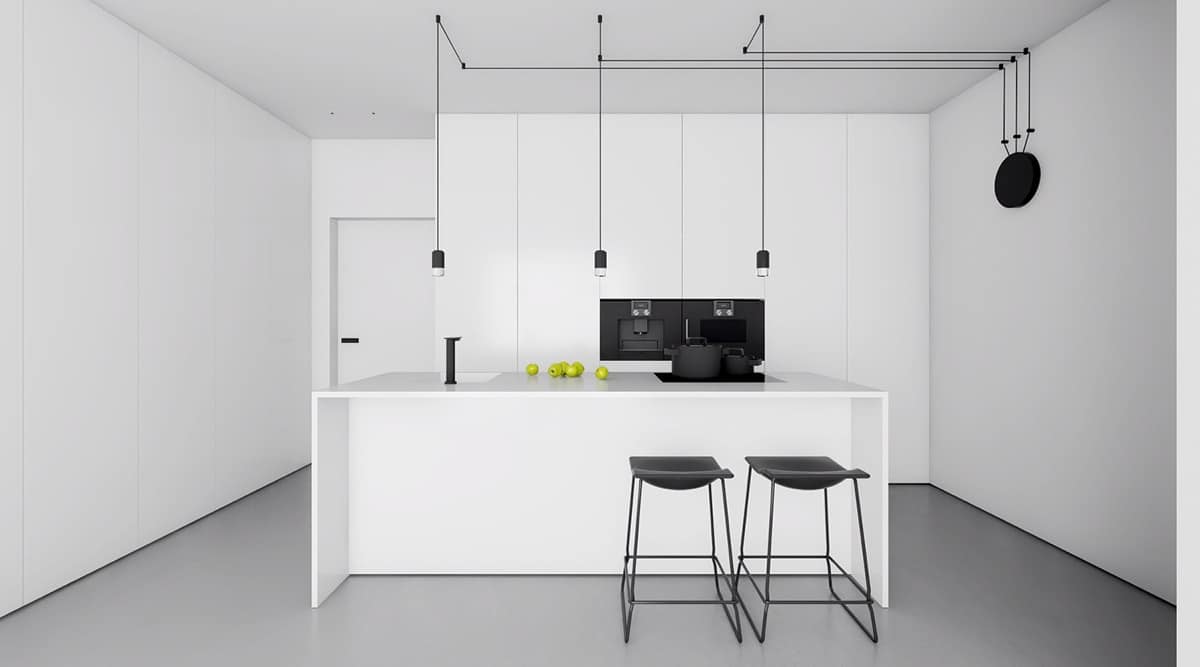 Monochrome kitchens are highly versatile, as small kitchen paint colors can be tricky. To make your job easier, you can go for a dark-colored monochrome kitchen by opting for grays, blacks, and even dark greens for a more dynamic and dramatic look.
However, if you wish your kitchen to have a more amicable and effortless look, opt for light neutral shades like off-white, creams, light beige, cloud gray, and so on. Monochrome kitchens are very modern and are perfect for minimalists.
14. Earthy Neutral Tones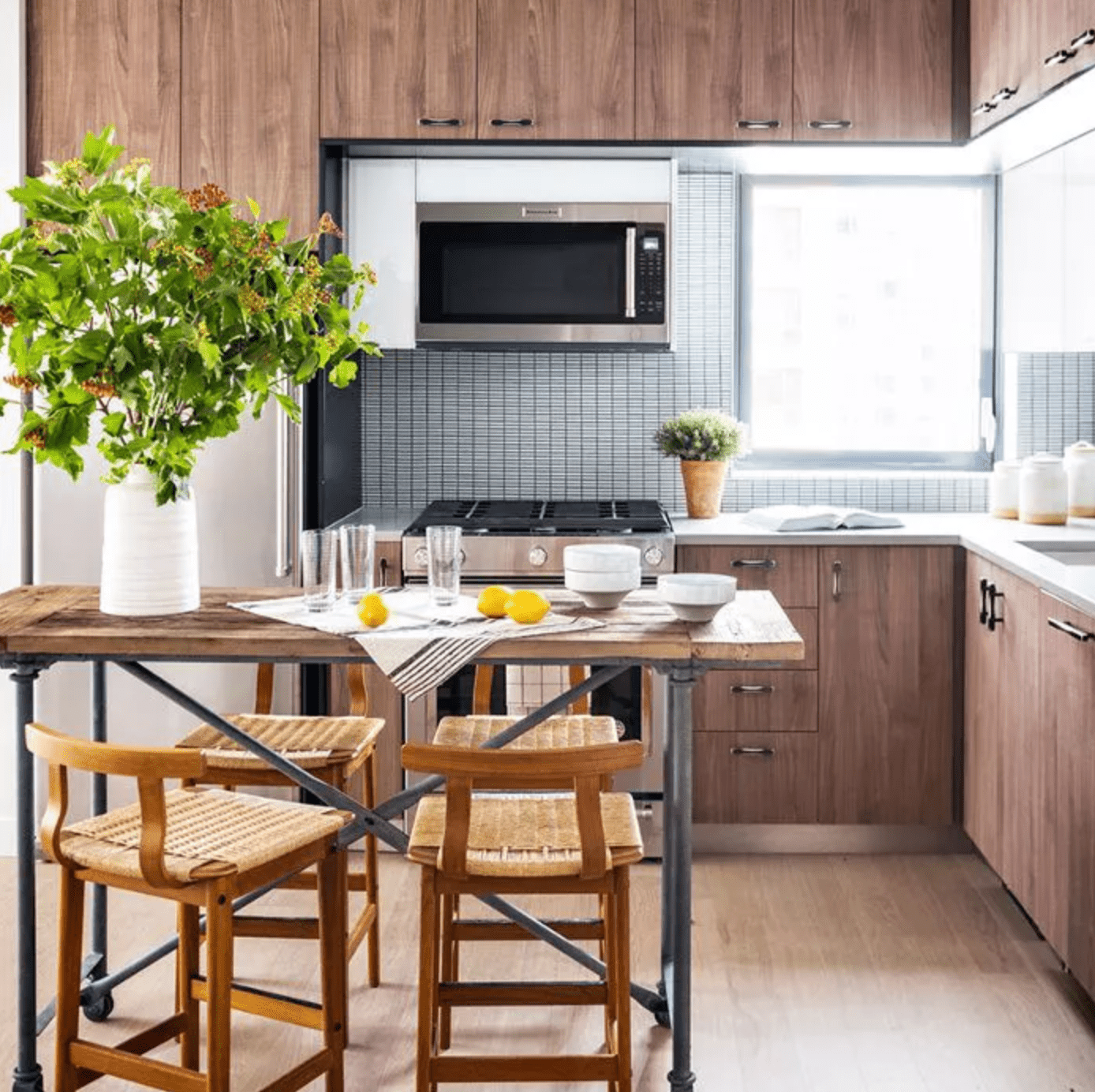 Neutral earthy tones for kitchens can prove to be very interesting. Neutral shades like off-white complement bamboo wood chairs or rustic wicker chairs, and so do other shades like ivory and porcelain.
You can install wooden textured countertops that belong to the brown family, like tan, hazelnut, beige, and pistachio. Walls painted with white neutral shades, cabinetry, doors and windows painted with these shades of brown, and hardware that has a copper and brown finish can make your kitchen come together cohesively.
15. Green Cabinets With Blue Walls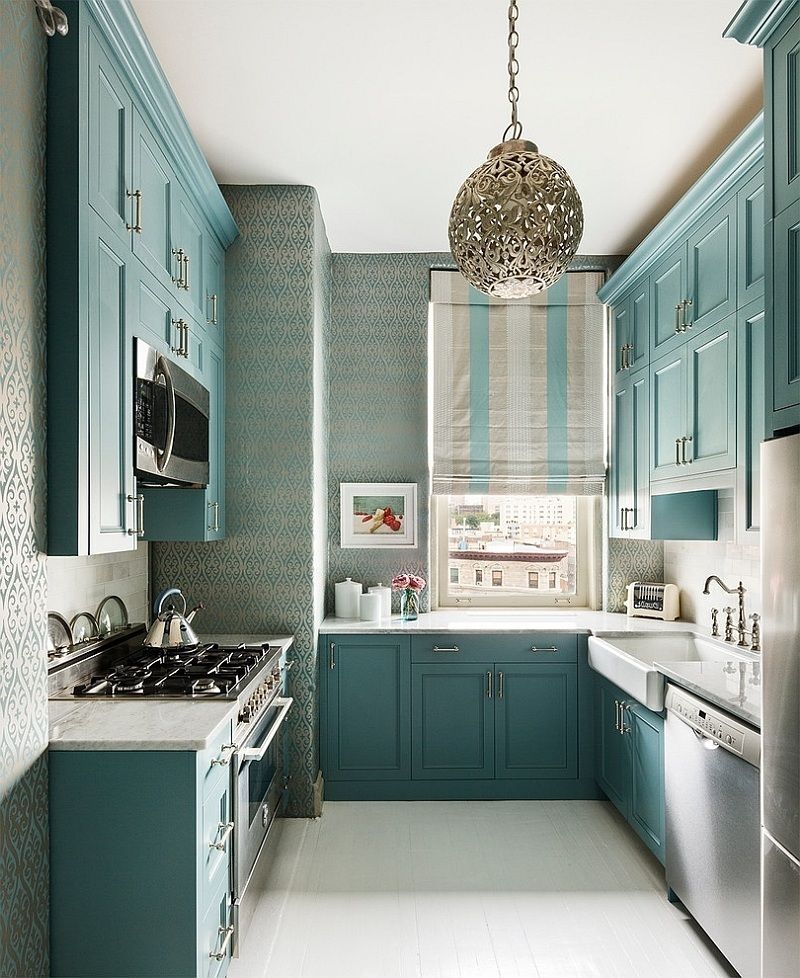 For a matte finish so that your kitchen looks subtle, sky-blue walls with olive-green cabinets should be your go-to choice. However, to give your kitchen a more formal look, glossy, teal-colored cabinets, and mint green walls will also look good.
Nevertheless, if you do not want to transform your entire kitchen, a smart way to introduce some change in your kitchen is to have an accent wall that is warm blue in color so that your brown and white cabinets and countertops do not look out of place.
16. Buttermilk Color Scheme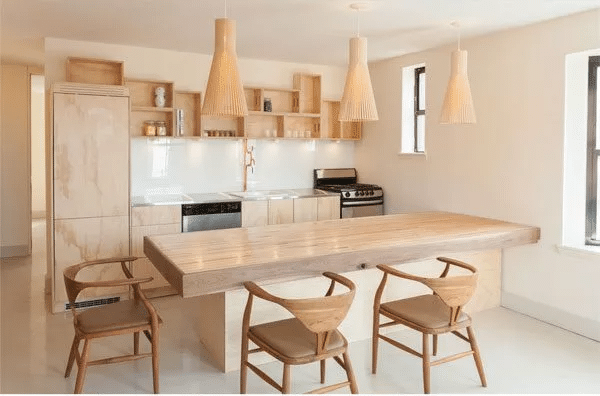 The buttermilk color palette includes a number of soothing colors that can make your small kitchen appear large and spacious. Buttermilk shades offer some warmth to your kitchen along with some tang. A kitchen with buttermilk accent walls will complement countertops that are chocolate brown in color or colors that are darker, like mocha, coffee, and even caramel hues where the dominant undertone color is orange. Such small kitchen paint colors make your space look rustic and will lend your kitchen a countryside vibe.
17. Cool Gray and Warm Metallics: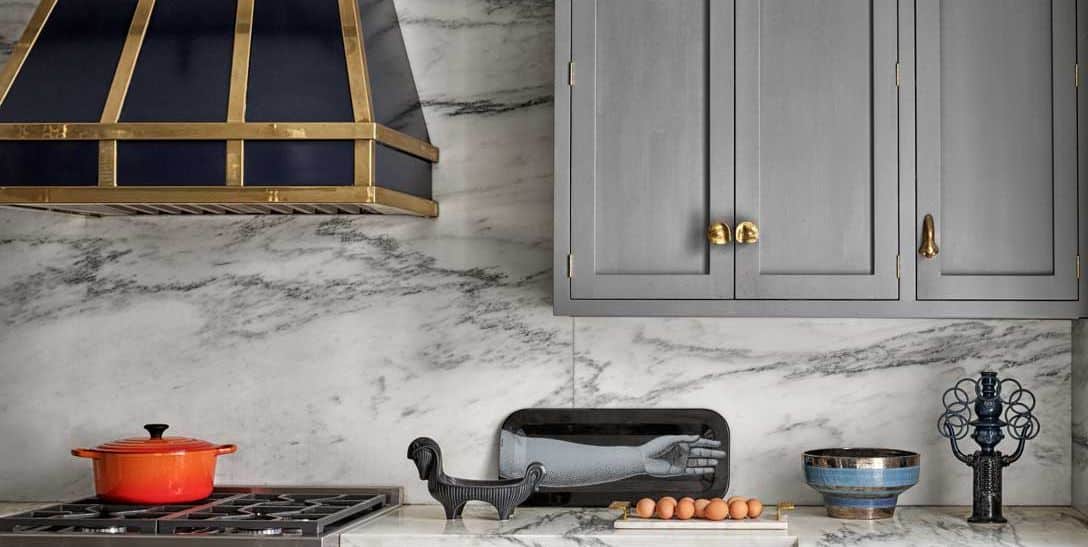 Although gray can make a space look dreary and dull, if used smartly on walls and cabinets, it can make any space look modern and even contemporary. Cool gray hues are an amalgamation of black and white with a hint of blue. These are timeless neutral shades and pair well with other cool colors like blue, green, and even light purple. When it comes to selecting small kitchen paint colors, cool gray cabinets will go very well with white walls and hardware that is bronze, silver, and even golden in color.
18. Calming Blue and Soft White: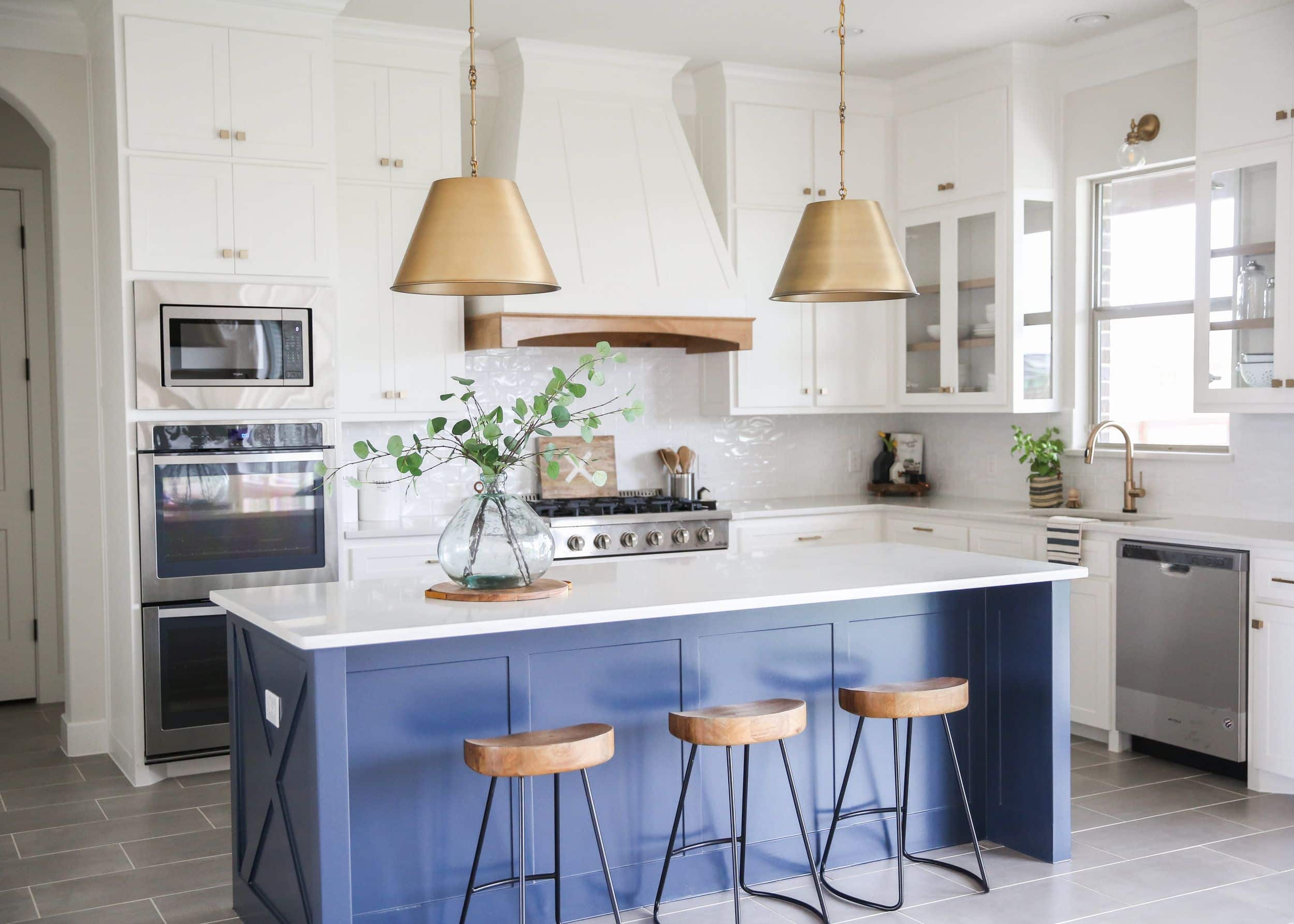 The kitchen can often get messy, hot, and chaotic at times. Cooking is a time-consuming process, and with utensils, it may look cluttered. However, to cook a hearty meal and to be in the right frame of mind, paint your kitchen with cool colors and pastel shades. For a galley kitchen, paint your walls with a sky-blue shade and pair them with soft white cabinets. This way, your space will look clean and crisp instead of looking crowded and stressful.
19. Bold Accents: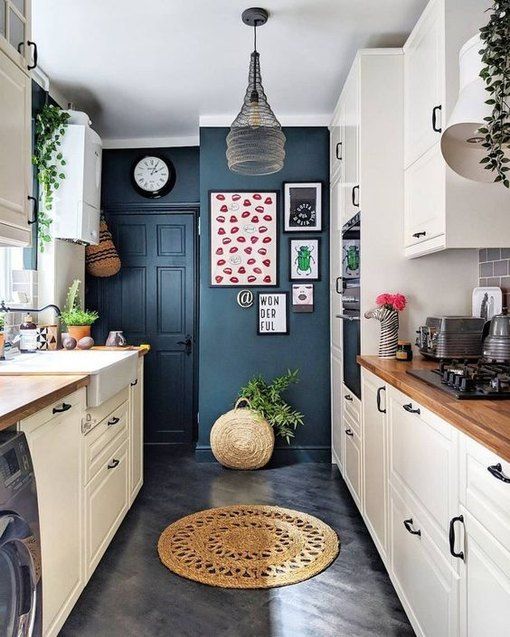 It is a given that to make a small space larger, opt for lighter shades. Nevertheless, you need some drama in your kitchen so that goes well with the aesthetics of the rest of the house. Therefore, if you have a small kitchen and wish to introduce bold accents, create an accent wall and paint it bright. You can have a pumpkin orange or a scarlet cabinet that can match with fresco floor tiles or paint a wall navy blue, black or charcoal gray to match the hardware. However, make this decision by considering the coloring palette of the rest of the house so that your kitchen does not look awkward and inorganically put together.
20. Keep it Rustic with Orange: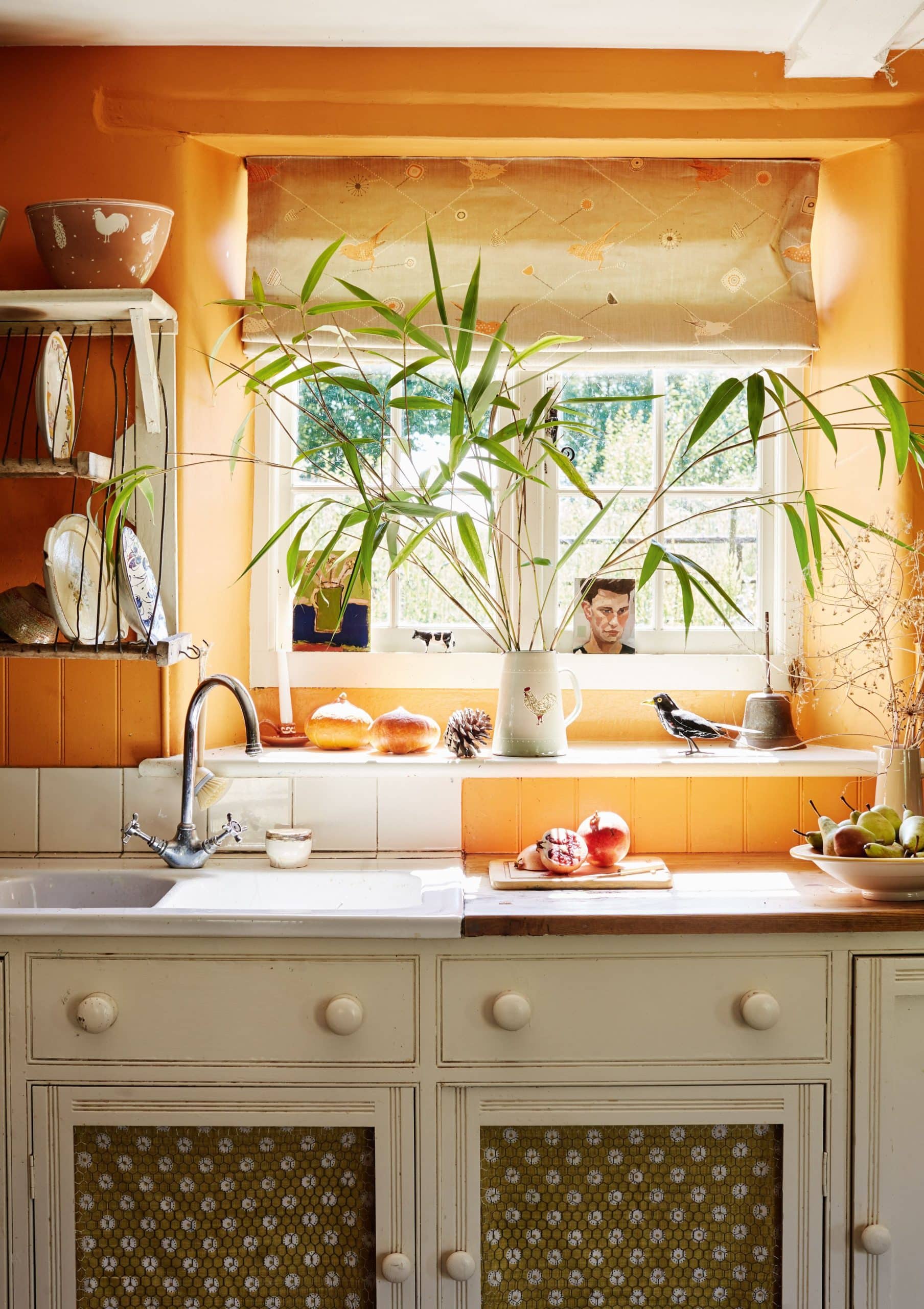 Warm colors are always a favorite. A small kitchen with exposed wooden beams and bamboo beadings on doors and windows can make any space look rustic and traditional. An orange kitchen backsplash is a great place to introduce some color and texture. Orange-colored ceramic and porcelain tiles on the backsplash can look attractive and are low maintenance. Soft white and cream cabinets with bronze or gold knobs or handles can add a vintage touch. Therefore, your space will look tidy and cute.
Conclusion:
While aesthetically designing a small kitchen space, one must consider practical factors like storage, ventilation, and proper reception of light to ensure hygiene as well as comfort.
Therefore, one has to smartly select small kitchen paint colors to ensure that your kitchen matches seamlessly with the interiors of the house while it looks visually appealing at the same time.
Make sure that you select bold colors like black, blue, and gray if there are corners in your house that have the same palette. However, if your house has a warmer countryside vibe, then selecting pastel shades like mint green, buttermilk yellow, and aqua would be the best. Share your thoughts in the comment section.
Frequently Asked Questions:
1. How Can a Small Kitchen Space Look Attractive?
Your small kitchen can look attractive by keeping it clean and tidy. From a design point of view, a kitchen with a solid roof is properly planned, has light wooden furnishings and a properly balanced color scheme will be nice and pretty.
2. What Colors Can Make a Small Kitchen Look Bigger?
Your small kitchen can look attractive by painting it with light greens, yellows, blues, and some shades of light gray. However, make sure that your doors, windows, and cabinets match well with these shades to prevent any visual barriers.
3. Which Are the Best Small Kitchen Paint Colors?
Neutral shades like light grays and off-whites are ideal for small cooking spaces. However, if you are fond of other shades, you can select light green, mild shades of buttermilk yellow, pastel blues, light shades of rose pinks, and cloud grays.
4. Which Is the Best Accent Color for Small Kitchens?
The best accent color for small kitchens is the one that pairs well with the undertones of your neutrals. Not all neutral shades go with anything. Therefore, once you have recognized the undertone of the neutral, select a shade that will match it.
5. Is It Fine to Have Dark Cabinets in Small Kitchens?
Yes. Having dark cabinets in your kitchen is absolutely fine, provided you have created a balance. Wall-mounted dark cabinets and dark base cabinets will complement each other. To make your space look bigger, you can paint your walls off-white. If you wish to make it look as it is, darker walls are best for a monochromatic appearance.
6. Can There Be Two-Tone Cabinets in Small Kitchens?
Yes. Darker colored base cabinets and light-colored wall-mounted cabinets create visual interest, provided they belong to the same color palette. For instance, white cabinets on the wall and brown coffee cabinets on the base will create balance and make your space look larger.