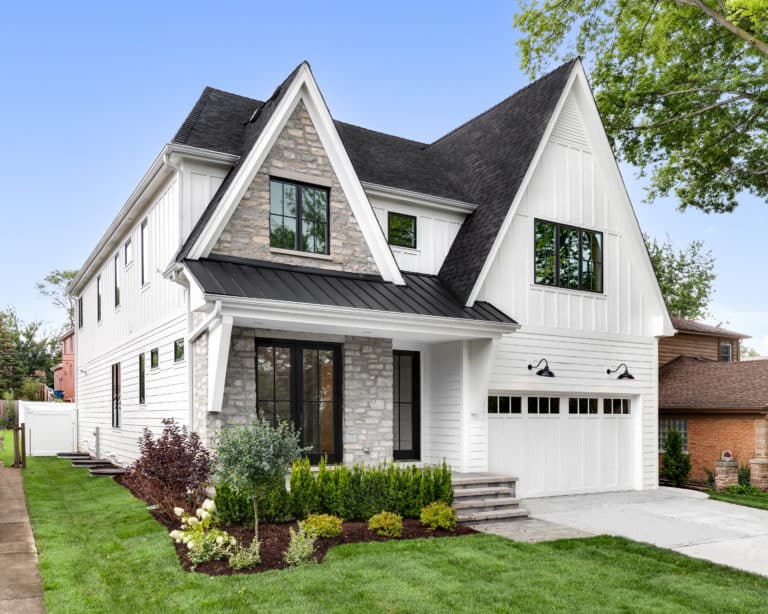 The combination of black and white color is iconic and is the first choice of many designers and homeowners. Whether it is Mediterranean style, beach style European, or any style, the combination of black and white will never disappoint. Being a popular choice among homeowners and designers, most of them want to do something different and unique in the house.
Installing or addition of beautiful and unique exteriors outside your house is one of them. Exteriors play a crucial role in every house. Windows, front doors, awnings, fences, tables, and chairs can be included in the exteriors.
In the below article, we are going to learn about 25 such exteriors that you can include in your white house with black trim exteriors making sure that will go well with your house.
1. Black Front Door
A black door with beautiful architectural features combined with a white house stands out as the center of attraction. The combination of white exterior walls and black gates will serve as a timeless and beautiful masterpiece. Remember that the design of the door goes well with your house.
This black front door promises a striking and elegant look. A beautifully designed raised panel on the gate gives it a beautiful texture. Also, if you want, you can add gleaming and polished black paint that will catch anyone's eye on the house. In short, black is a great exterior to install at your white house.
2. Addition Of Natural Elements
You can add natural elements like stone to your garden. For instance, when you are making a front yard or backyard in your house then you can use stones (as you can see in the above picture) as your boundary. But instead of simple stones, you can paint them black, then let them dry and use them. Instead of only black, you can also use white color; this will give a highlighted look to the garden.
You can place them the way you want, but the best way is to place them in the order of one time black stone and one time white stone. You can make a small pond with a small fish in it in your garden and make the same boundary (this time using big stones) with the same design.
3. White House With Black Trim Traditional Design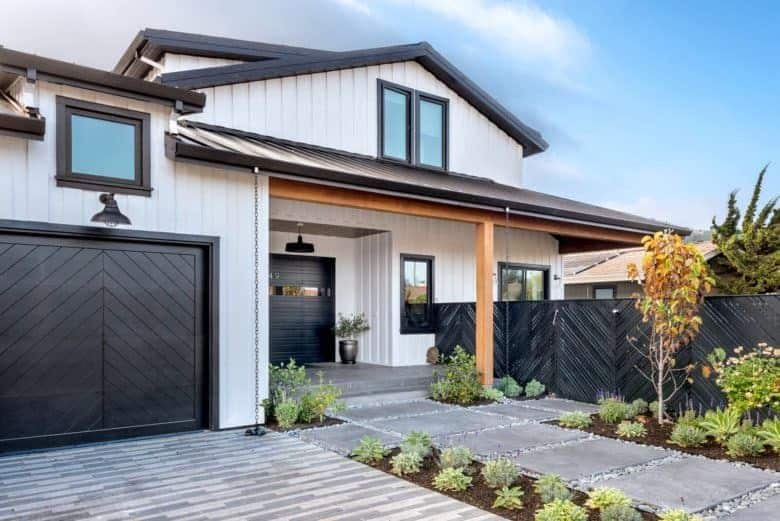 Moving on to the classic and traditional white house with a black trim design. It is a white house with a black outline highlighting the house's features. These black can be on doorways, gates, and many more.
The clean lines of black color combined with the white color give a visually appealing design. Overall this design provides a harmonious blend of contrasting colors and elegant architectural features. This is a timeless design, which means that it will be relevant in every era, which makes it one of the popular choices for homeowners or designers.
4. White Wood Black Trim
The outer design of this house is the same as a traditional white-black trim house. The difference is the material used for the exterior of the house. You can go with this option if you are living in cold places.
Wood is the best material that can be used in winter. It is said to be a natural insulator and can retain heat, unlike metals or cement. Also, it is easily available and affordable in places with cold weather. Also, the construction of a house made of wood can be done more easily compared to the construction of another house.
5. Window Casings
The usage of black trim in the white casing is also a great idea. This black trim will work as a highlighter for the windows. Here, the window frames are painted with a deep black color, which complements the house architecture's clean lines and angles.
The combination of black and white also gives us versatile options for decorations. If you see red brick paths and a big garden, then the black trim will enhance the beauty of the whole house.
6. Spanish Architecture
As can be seen in the above picture, Spanish architecture mainly consists of a red-colored terrace on the white house. Taking inspiration from this architecture, you can replace the red terrace with the black one. It is a perfect blend of a historic structure with a touch of modernity.
This architecture is great when it comes to protecting you from the heat, so if you are living in an area with a really hot climate, then you can think of Spanish architecture. Choosing this architecture won't disappoint you.
7. Black Chimneys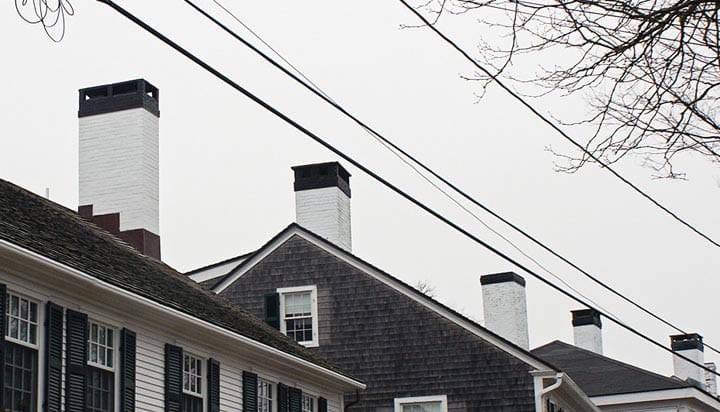 Do not color the whole chimney black but only part of it, like the top, bottom, or zebra design. When it comes to contrast, a black chimney stands out prominently against the white backdrop by drawing several eyes at the top of the house.
This combination of the black chimney will work as a focal point or center of attraction of the house and won't disappoint you.
8. White House With Black Trim Windows
White house with black trim windows is considered timeless and can be used in any era. This architectural masterpiece with good taste can be used in various house styles like Spanish, victorian, European, Mediterranean, and many more designs. The windows with black trim or outline will stand out prominently.
The light color of the house with the black outlined window will seek the attention of everyone coming to your house. The color contrast between the white color and black trimmed window will create a visually appealing look to the exterior of your house.
9. Black Fences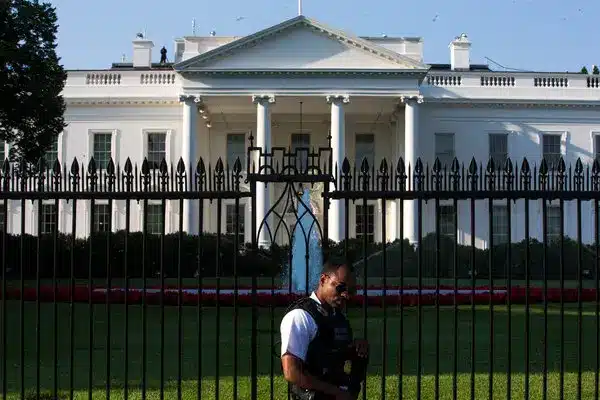 If you have a big front yard or backyard at your white house, then you may install black fences. A fence is a boundary that prevents attacks or intrusion into your house. A black colored fence can also be included as a part of the black trim exterior.
The fence is tall, sleek, and crafted from high-quality wrought iron, meticulously coated with a lustrous black finish that glistens under the sunlight. This will give you the real entrance to your house.
10. White House with Black Awnings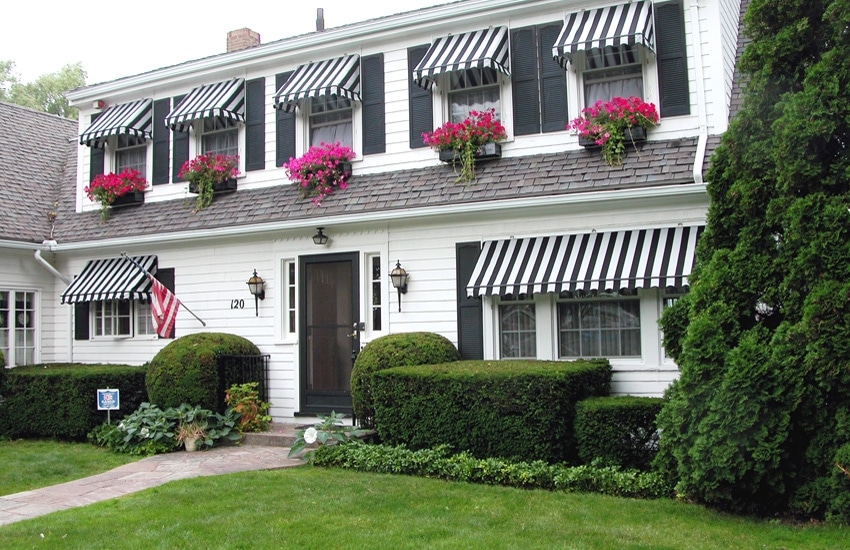 The awning is a sheet of cloth or any other material that stretches out from above the door to protect it from sunlight or rain. The awning can also be a part of a white house's black trim exterior. The black awnings above the door provide a dual advantage to your house; the first is to protect from sunlight and rain and a beautiful visual to your house.
A white-colored house with black awnings showcases a timeless beauty that never fails to captivate onlookers or the people passing by. You can imagine yourself sitting outside your house enjoying summer with a gentle breeze coming towards you.
11. Mediterranean Style Home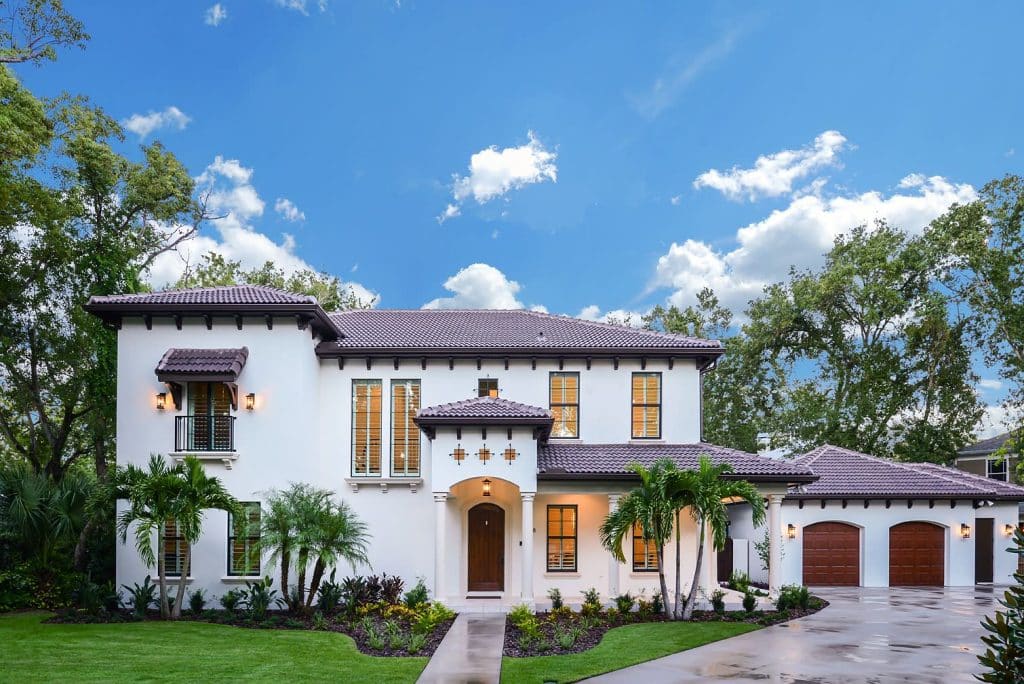 A Mediterranean house has historical significance, which is European architecture. This architecture mainly uses red roof tiles, and stucco walls, with enclosed outdoor spaces. But you can replace the color with black and white and the remaining things the same.
The red roof with black charcoal windows, white frames, and black trim will allow natural light to enhance the exterior.
12. Using Aluminium Black Trim
Instead of using a regular roof, you can try the aluminum one coated with black color. If you want to try something new in your home, you can go with his option or idea. While you are using aluminum trim, it is essential to consider the overall architectural style of the house and its surroundings.
So, for that, proper installation with quality material is required to ensure longevity and a beautiful appearance. Make sure to consider the local weather. If it is not friendly with the local climate, then no need to install it in your house.
13. White House with Black Garage Door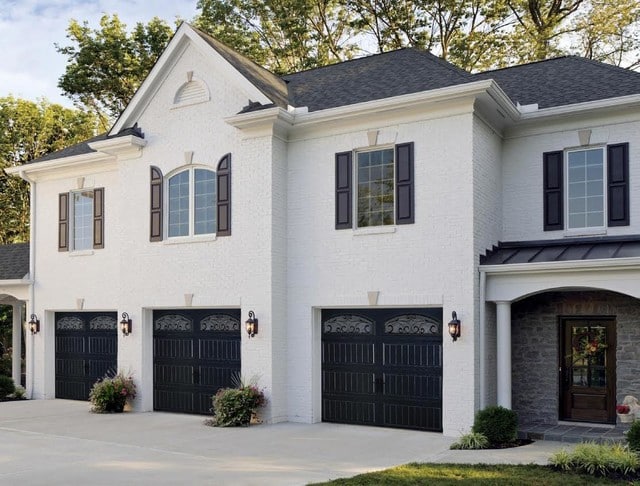 Many houses nowadays have garage doors. A garage door in a white house will be a highlight of your house. The garage door is mostly used to park the vehicles.
As you can see from the above picture, the black garage door in a white house will be the highlight and will make your house more beautiful.
14. White House With Black Trim Door
While installing a door with black trim that creates a stark contrast with the white house, showcasing a beautiful contrast between a simple white wall and the deep, dark black color surrounding the house entrance, you can choose various types of door colors like yellow, orange, or brown (any color that goes well with your house), which will highlight the features of your door more prominently.
You can also choose a beautiful design for your door. Added black iron wall lanterns a little far from the door to create a welcoming and beautiful ambiance at night.
15. Yellow Door with Black Trim
A yellow door with black creates a striking and eye-catching contrast that exudes elegance and charm. The yellow color of the door works as the highlight of the house as this color is bright and inviting in nature and provides a positive energy.
And the black trim of the house will work as the highlighter. Going with this option shows your great style and taste in architecture.
16. White House with Black Outline
If you are simple and like everything simple, go with a white house with a black outline. You can add black outlines not only in the house but also windows, doors, rooflines, and other exteriors of your house.
The white line creates a dramatic effect that makes them stand out against the white color.
17. Beach Style House
A beach-style house is useful when looking for a house beside a beach. This style executes a classic charm that retains the relaxing and peaceful atmosphere of coastal living. The exterior of the house, with white and black trimming, gives a striking and beautiful contrast.
18. Black Railings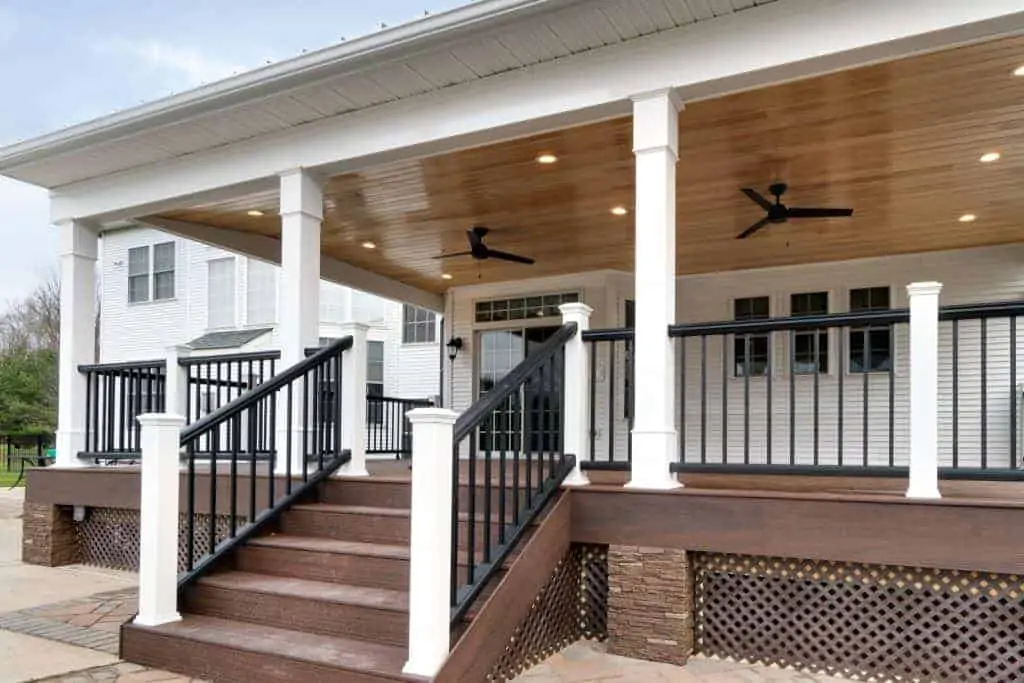 If you are making a house, then there's no way you are not making a balcony (that is required to cover the balcony). The rich and dark black color creates a stark contrast against the white color in the background.
The railing is one of the most important exteriors of the house as it forms a sturdy and protective boundary. The black paint's smooth finish enhances the railings' clean and contemporary look. With their striking presence, the railings create a bold visual impact. The black paint of the railings absorbs the light falling on them, making them stand out in the white surroundings even more.
19. European Style House
The architecture of European-style houses draws inspiration from various regions of Europe. These regions include France, Italy, and England.
This European-style house with a white house and a black trim theme is no less than an architectural masterpiece. The European style offers luxury with sweeping staircases and elegant formal rooms (like libraries), so if you are high on a budget, then the European style is for you!
20. White House with Black Patios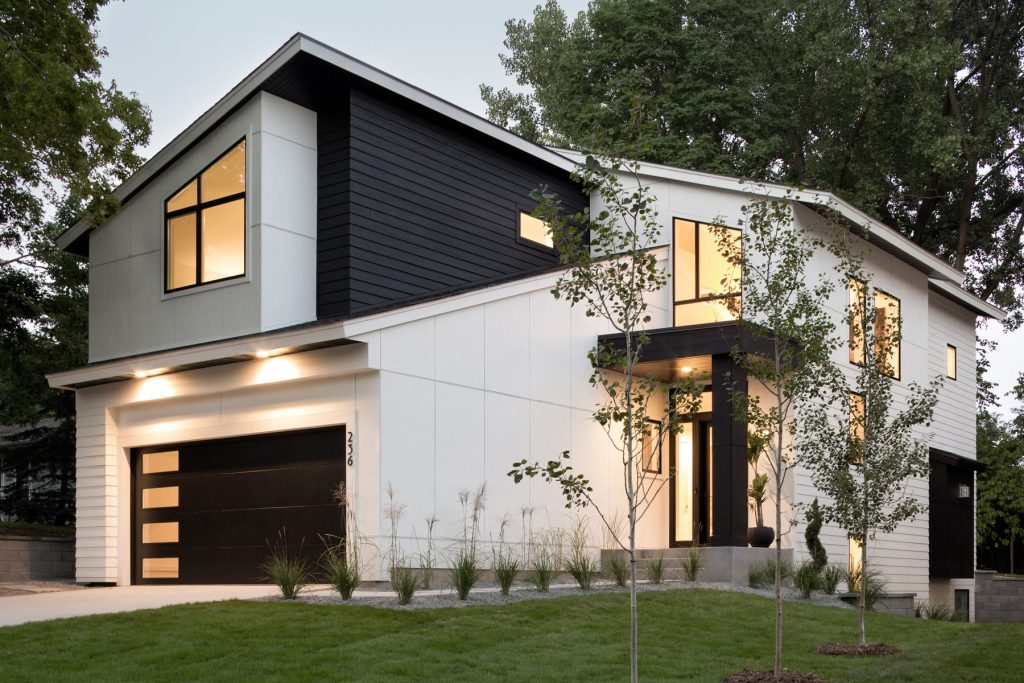 A patio is an outdoor space for spending quality time, mainly constructed in your garden's backyard. A modern white house with black patios is an architectural design that blends well with the white design of the house.
You can go with this idea if you are having a backyard big enough to construct a patio. You can also choose the patio's furniture (plush seating arrangements and dining table) according to the white and black theme. Now your patio is ready to make your backyard beautiful in terms of aesthetics.
21. Transitional Style House
A transitional style house is a combination of modern and traditional. It sets a perfect balance between a modern and contemporary style. So, if you are a fan of such designs, a transitional-style house is not a bad idea.
Recently this kind of style has seen a sudden rise in their demand. A transitional style house with white color and black trim is an eye-pleasing combination. Try this style with an aesthetic of a minimal approach but full results.
22. Black Trim Furniture and Chair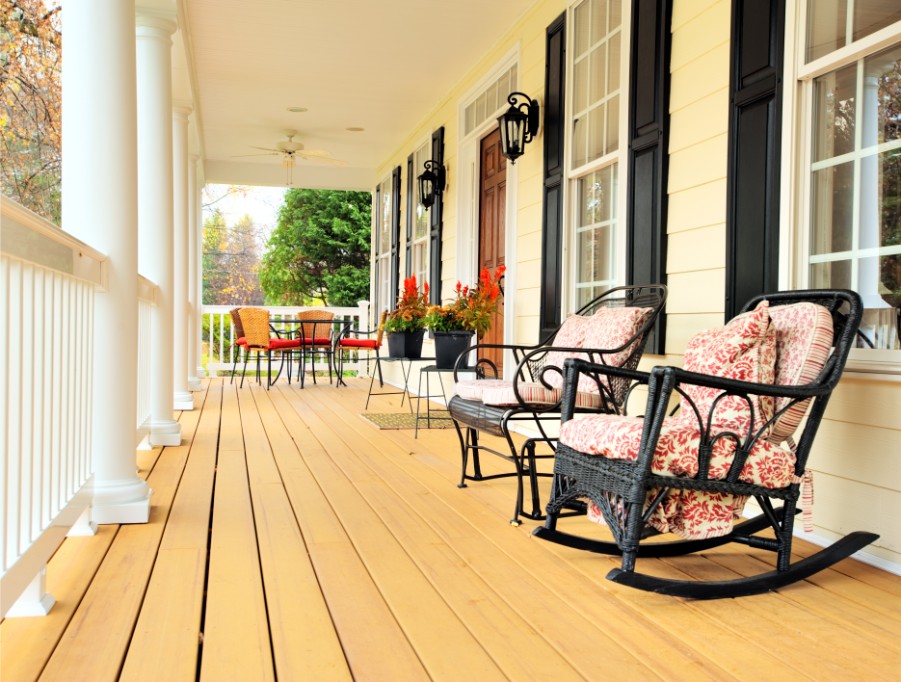 If you plan to include a big garden at the front or back of your house, you can go with this idea. A simple table and chair are installed to sit and have tea/coffee and enjoy the beauty of your garden and nature.
Painting or buying them in the white house and black trim theme can also be part of the white house with black trim exteriors. It can be a stylish and contemporary addition to any space. The black trim of the furniture or the chair adds sophistication and elegance, creating a striking contrast with the white color of the house.
23. Swimming Pool Outline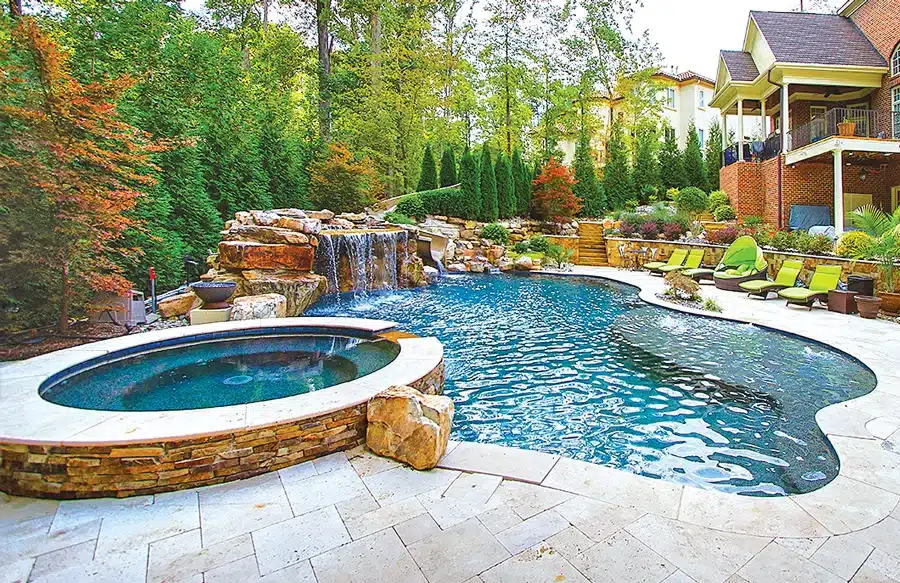 If you want to do something unique and experimental with this theme, then trying the above option is not bad. Some big, expensive houses make a swimming pool a part of their house.
The outline or border (also called a coping) of the swimming pool is blue. Instead of blue, try the dark black color. This idea may be risky, but it will look beautiful if it comes out perfectly. Also, inside the swimming pool, you can use white and black colors.
24. Black Swing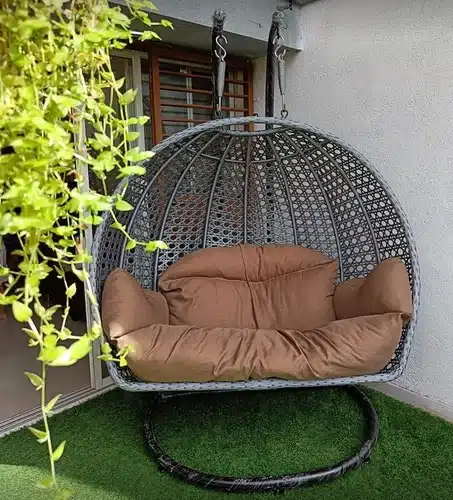 A swing is a part of the exterior that can be installed in your house's garden (front yard or backyard). Having a swing is great if you have kids with you in your house as they play with them. A swing is a suspense seat or platform that allows people (mostly kids but sometimes adults) where you can sit, relax and swing back and forth.
The swing is attached to a frame or support at the top. You can use black in many parts of the swing, like the seat, chains, and supporting structure. The design of the swing can be chosen by keeping various factors in mind, like matching the design with the house or gate.
25. Flowerpot
Coming to the last option of this article is the flower pot. There are a variety of colors in flower pots that you can see in the market. As the show's main characters are black and white, buy the flower pot that comes in the same color. You can place these colors in order like one white; one black (recommended), two white; two black, or any order you like.
After placing them in the order, you can put any kind of plant in the flower pot; this will add a touch of greenery and highlight the overall design. This is one of the simple yet beautiful ideas. At last, make sure to provide regular care to the plants.
Summing Up
White house with black trim comes out to be one of the most loved elegant designs of all time. This design complements various architectural designs, from traditional to modern, that offers versatility and adaptability to different taste and preferences.
The white color of the house keeps the interior cool during hot summer, whereas the black trim highlights the features and beauty of the house. We hope that the above information was helpful to you.
Which of the exterior you like the most, and which of the exterior you want to install in your house? Let us know in the comments section below.
Frequently Asked Questions
Are White Houses with Black Trim in Style?
White house with black trim is always a timeless style and will always stay in fashion irrespective of the year or era. The report says that a white house with black trim has been one of the most trendy styles and preferred choices for homeowners and house designers for the past few years.
What Color Trim Is Good for a White House?
You can choose a color that suits your taste, but black goes well with the white house the most. The reason is that it creates a bold, striking, and beautiful contrast, including the exterior of the house; this gives a beautiful and gives modern and royal look. Another color that can be used with white color is gray.
Should the Exterior Be Dark than The House Color?
The above question is your choice; if you want a darker or lighter theme, then you can go for any of them. But the best option is to use the same color as the house, but still, if you want something different, then you can keep the color theme one or two shades lighter or darker.
Are Black and White House Styles Popular?
Yes, they are timeless designs that are popular choices in all eras. There are many reasons for their popularity, like they are versatile and suit or go well with almost every design. It stands out among all the other designs.