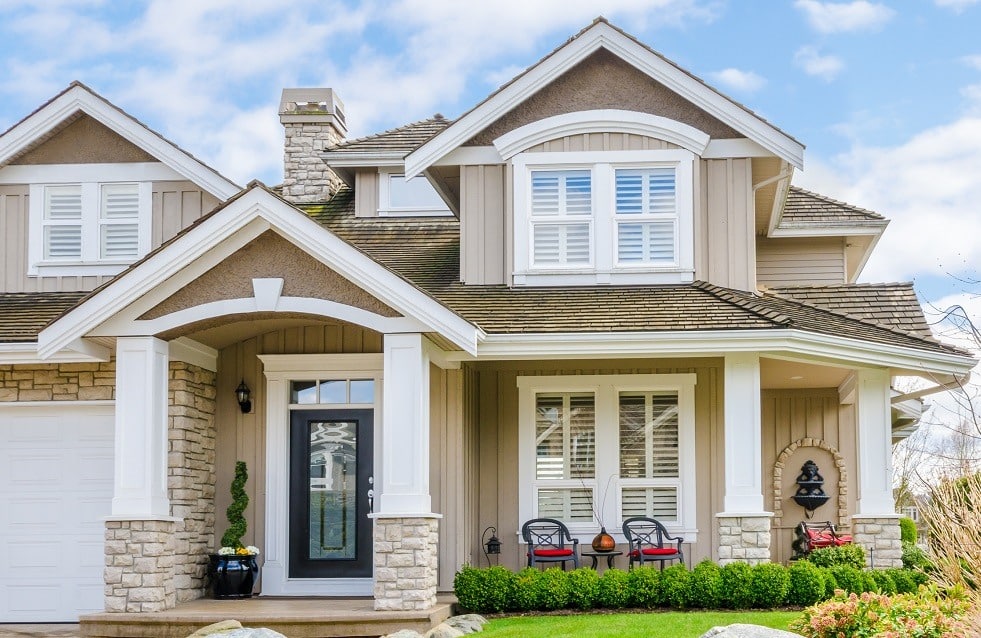 Are you planning to redesign the exterior of your house? Are you looking to reinvent the true beauty of your peaceful livelihood? In 2023, tan or brown colors are finding their way toward the trend list. However, do you know that there are some tan house color schemes that are never going to get out of place? Hence, you can paint beautiful shades of tan color to your exterior wall to elevate the beauty of your home. Brown is the paint shade that most people associate with natural color, making you feel closer to nature.
Therefore, picking up the right color is necessary, which will suit your aesthetic preference and area needs. In this comprehensive guide, you can explore about 20 gorgeous different brown shades that you can use on your exterior wall to elevate its beauty.
Tan House Color Schemes that Make Your House Look Wonderful
Tan or brown might not be the flashiest color to paint your home with, but you can not ignore the charm and stability this color provides. Most of the time, people consider brown a boring and dull color that can add nothing better to make their house look gorgeous. However, there are many tan house color schemes that you can use to amaze your neighbors. Here are some color schemes that will stay on trend for a long time.
1. Brown-Gray Shade with a Blue Accent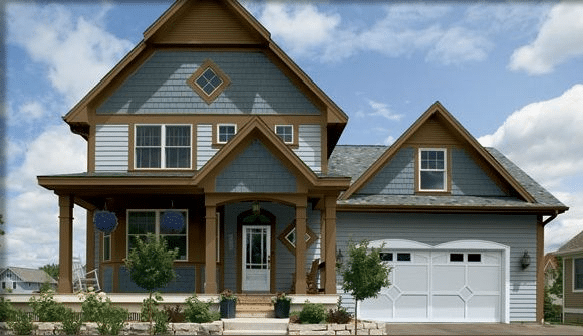 The development of this color palette by Pratt and Lambert is something that can enhance the looks of your house significantly. Therefore, you can expect a lot with the color scheme as it gives the neutral tone a beautiful boost of gray with a blue accent on the edges.
Therefore, this tone is the literal combination for the people who like it traditional with a modern touch. Hence, to exaggerate the features of your house, use a lighter blue color to make it stand out precisely. Moreover, this house color looks better on homes with balconies, and if you have them, it's a plus point.
2. Beige Exterior and Redwood Stain Combinations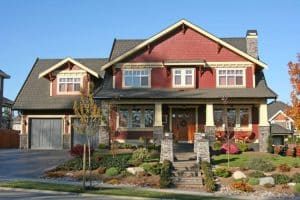 Painting your house with a combination of redwood stain and beige is a great option that goes beautifully well with contemporary housing styles. Hence, if you are one of those who like to keep it minimal, this house color is definitely for you. Not to mention, these tan house color schemes are sleek without being overwhelming to the eyes.
Moreover, the redwood stain and beige is a combination idea that looks great on your exterior wall as the colors look contrasting while making each other stand out gorgeous. Hence, if you want to paint the exterior, you can go with this option because of its minimal appearance and ability to stand out without being overwhelming.
3. Monochromatic Southwestern Sand Palette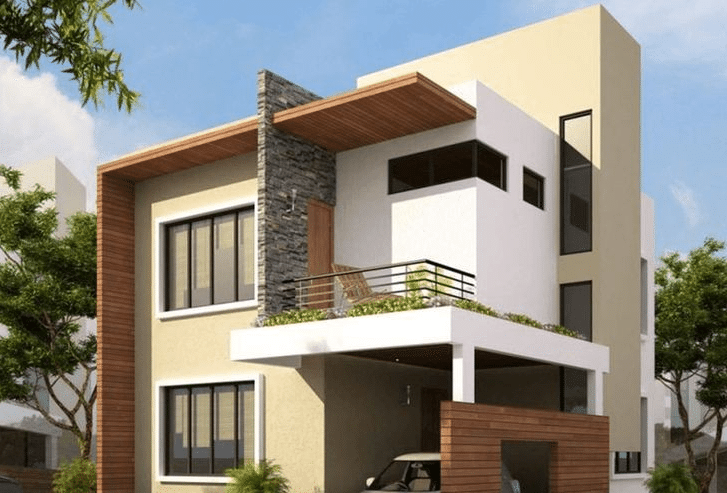 Behr introduced the beautiful tan house color scheme named SouthWestern Sand. The gorgeous palette is a two-tone color scheme that looks wonderful on houses with two hues of bonsai plants and adorable molasses because both have brown undertones.
Therefore, you can get a picture in your mind about having bonsai plants used in the sandy undertone to lighten the area, Whereas the molasses is used on the accent to enhance the rich brown color of the house. Hence, this will make your household look charming and sober, with both shades complementing each other beautifully.
4. Ice Coffee Latte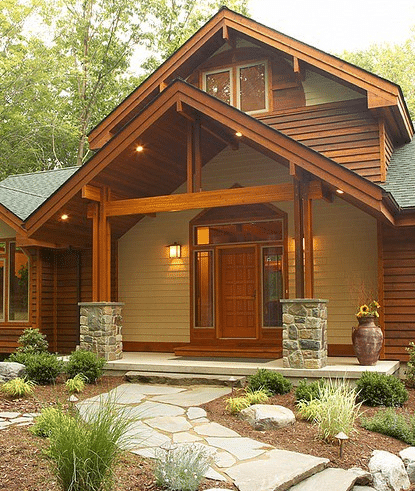 If you are one of those folks who like the mixture of sweet traditional and modern mist<, then these kinds of tan house color schemes are right for you. Ice coffee latte is a color introduced by Behr and is a must-try for house exteriors to elevate the beauty of your house.
Therefore, it's a three-tone color combination of pure white, black, and artisan tea to make the palette stand out beautifully. The color scheme is easy on the eyes because of its deep undertone that looks neutral. For instance, you can combine brick red as a backdrop and add it with neutral tones like your white and artisan tea.
5. Brown Hue with a Touch of Electric Blue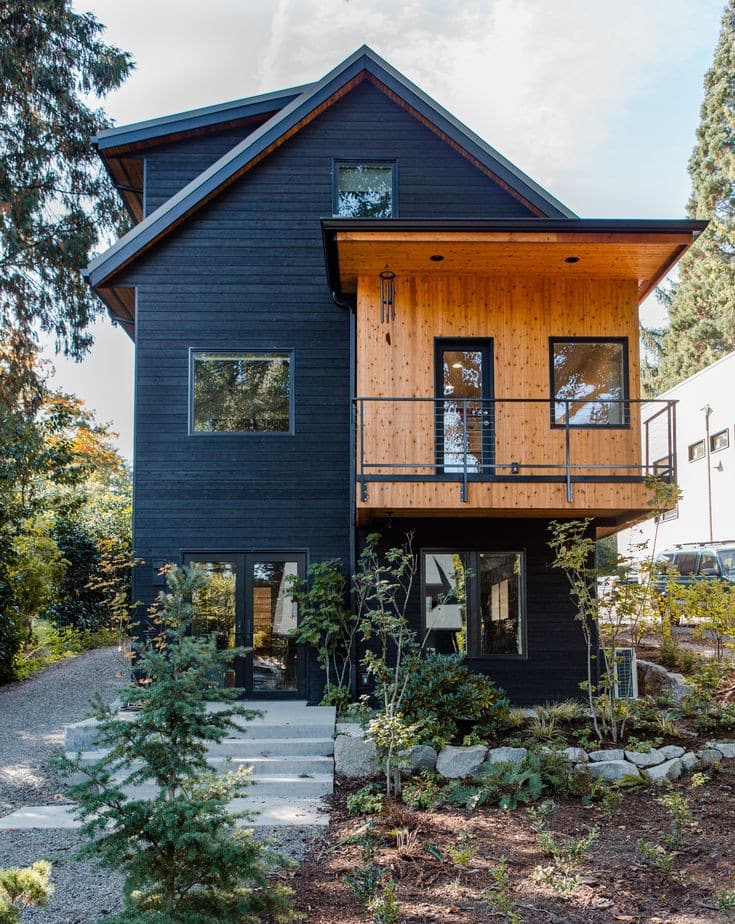 Blue is a tone that creates a striking contrast with brown hue as both colors are polar different. Additionally, the calmness of the brown in the background will counterbalance the energetic, vibrant blue color. Moreover, the blue color provides a list of different hues that will complement your tan house color schemes and elevate the beauty of your household.
Therefore, you can combine midnight blue with deep shades of tan because both colors sit nicely with each other. Since the shades are warm and rich ones in their shade family, which makes the colors complement each other graciously.
6. Tan Exterior With Orange Hue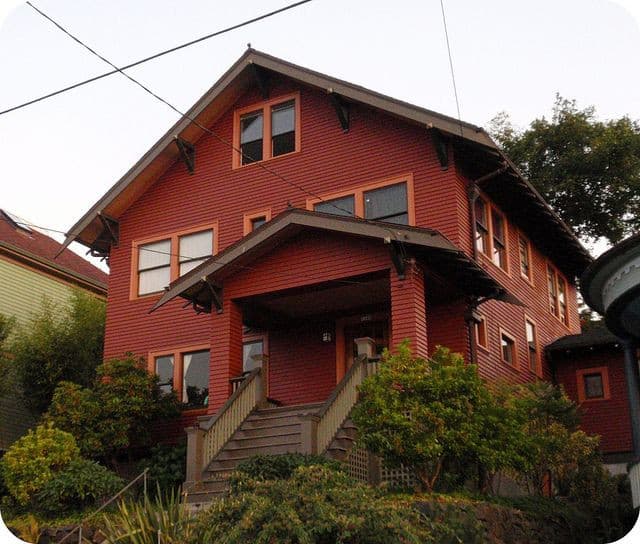 If you are one of a kind that loves to deal with naturalistic color mixes, then this color combination is the best one for you to choose. Therefore, these tan house color schemes remind us of autumn because of their vivid orange hue. The color goes beautifully with two orange shades such as copper and vivid orange. The red undertone of the orange is quite visible with the warm brown color.
Moreover, in the color scheme, you can add orange or red overtones correspondingly to enhance the significance of the theme and make the furniture stand out. However, keep in mind that all these shades are warm in nature, and that makes it look visually serene to the eyes of the passers-by.
7. Dark Brown with Black and White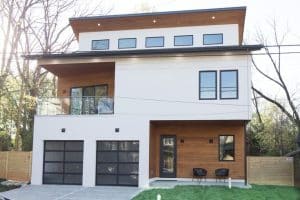 As you already know, how well black and white go together as a neutral color combination. However, this neutral combination can do significantly well with various tones of tan for your house exterior.
Collaborating dark brown shade with these neutral colors would be a good combination as dark brown colors do not have a distinguished cool or warm undertone. Hence, this makes the colors look fantastic and genuine because of their true neutral hue. Moreover, these particular tan house color schemescomplement each other gorgeously while making them stand out.
8. Brown and Purple Hues Combination for Beautiful Exterior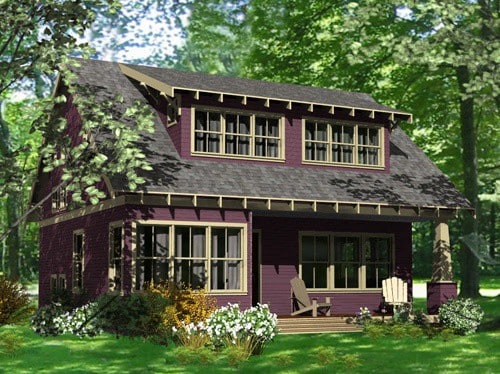 Purple is a shade that seems sombre against the shade, and that's why it goes strikingly well with brown Hence, combining these two brilliant colors will make your exterior look charming and gorgeous. Adding brown and beautiful, rich purple with reddish or crimson undertones goes gorgeously well with each other. Moreover, these are the most elegant and charming tan house color schemes for your exterior wall.
Therefore, to create the color scheme and associate it with your room, you must paint the wall creamy soft purple and add wooden furniture in the background. Hence, this will make the house exterior look charming while grabbing the attention of passers-by.
9. Brown and Pink Color Scheme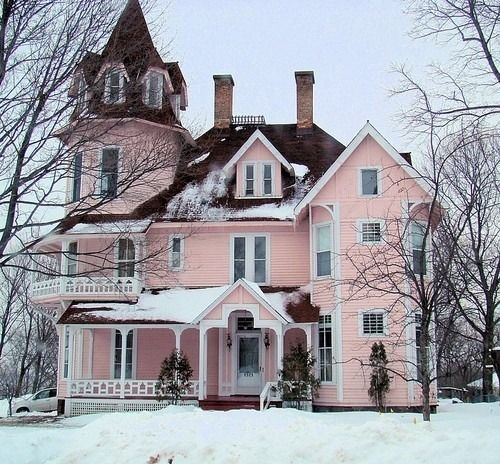 If you are one of those folks who likes to have a feminine touch in their homes, then for you, these tan house color schemes are one of the best options. Therefore, you can indulge the walls with feminine pink accents and pattern designs to accentuate with the deep hues of tan.
The shades are warm and neat while blending harmoniously with each other against painted white walls. You can use different shades of pink to create frame artwork and designs over your painted brown walls. Hence, this will make the wall look charming and gracious.
10. Dark Tan with Green Hues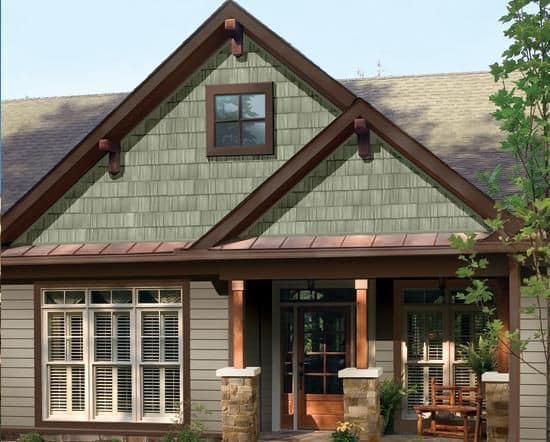 When it comes to deciding which green hue to accentuate with the warm brown, then you get plenty of options to choose from. Kelly, sage, or moss green are some fresh and calm color options that go nicely with the warm tone of brown.
Therefore, this color theme will sit quietly with each other while electrifying the family room. You can choose different kinds of patterns and designs to elevate the beauty of your house. Moreover, you can collaborate few different wooden showpieces that look glamorous against the background with accent chairs and window panels.
11. Chocolate Brown with The Touch of Lemon Yellow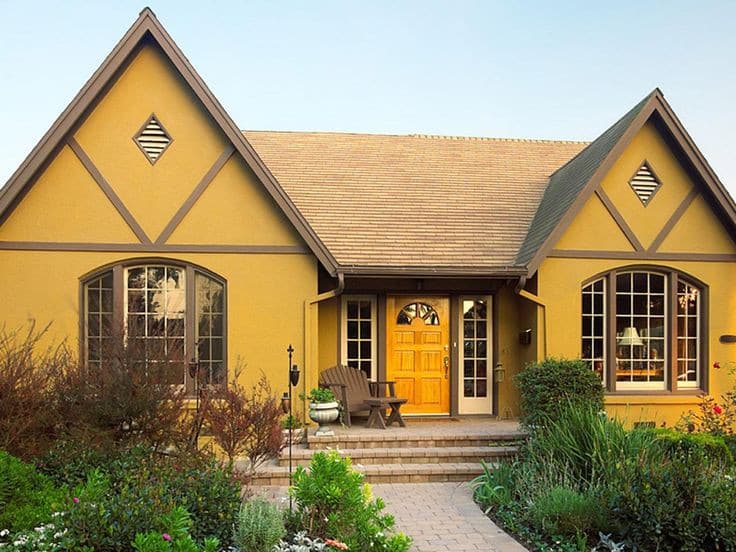 In this long list of tan house color schemes, the following color combination is chocolate brown with lemon yellow. This color combination is vibrant, which makes your mood feel uplifted because of its bright energy. Therefore, if you want to add calming gestures to your household, this combination makes it all worth it. You can combine shades of yellow according to your aesthetic needs, such as sunny yellow, turmeric yellow, light yellow, and many more.
Hence, if you want to create a striking look for your household, you can use contrasting pieces of furniture against it. Moreover, you can add different types of patterns and designs which will elevate the looks of your house.
12. Drastic White with Light Brown Shades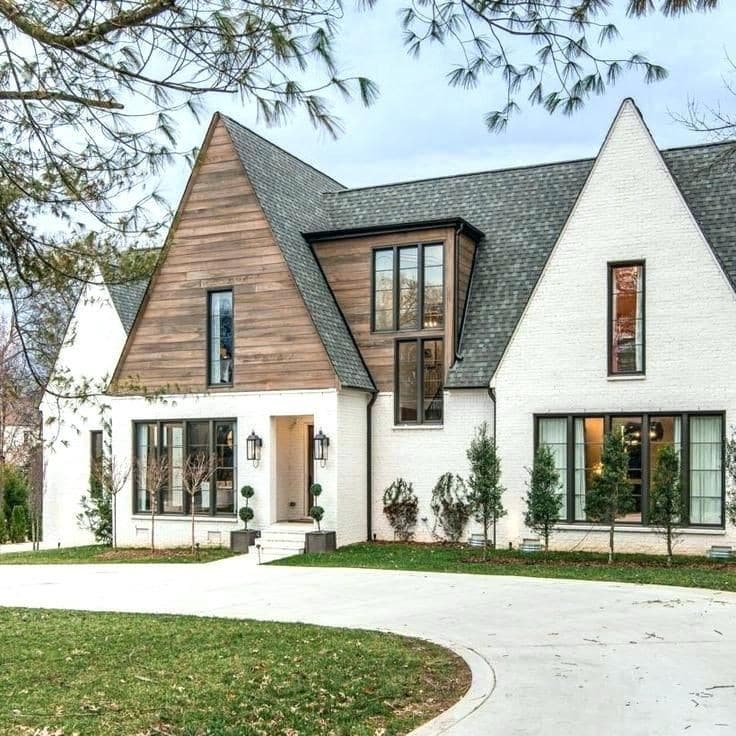 The beautiful hue of brown has an earthy tone, which can give your house an instant touch of beauty to your exterior and interior. Moreover, you can combine the white splash-off shades with the chocolate browns to make the long end of the bathroom corridor look bright and majestic. Hence, this is a winning combination that you can use to paint and beautify your home to create a charming look.
Therefore, this tan house color scheme combination is best for bathrooms and closed spaces because of its bright demeanor that can lighten up that closed space area. The white in the fusion will create a focal point for the tiles and walls of the bathroom.
13. Chocolate Brown and Cream
Creating a formal look for your living room can be a matter that makes the homeowner feel lots of confusion about which color combination to choose. However, with this tan house color scheme, you can create a crisp and clean balance of contrast colors that provides both stability and funky nature.
Moreover, you can also add warm colors to your room in the form of the area rug, upholstery, and draperies. Hence, this will make the whitish counterpart of the color feel less overwhelming to the eyes. Furthermore, you can add a few pops of different vibrant colors into the cream of the fusion to make it look more classy and energetic.
14. Rustic Brown with Contrasting Red Shades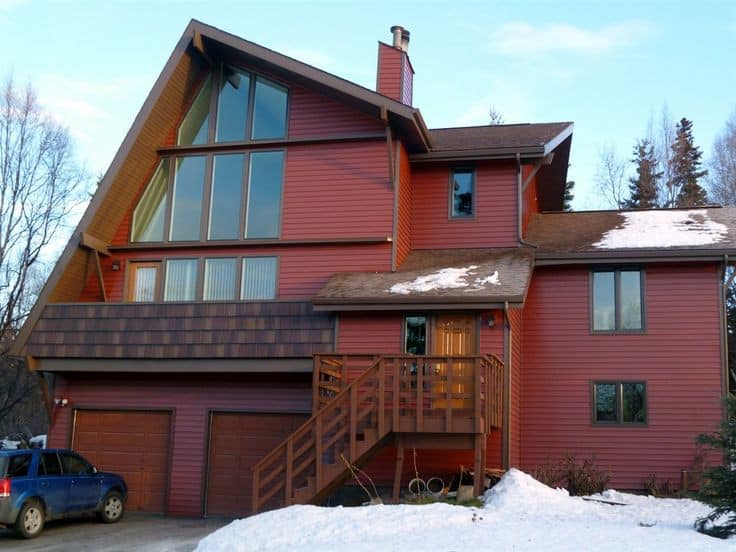 Undoubtedly, the undertone of both the colors in the fusion is warm and rich. Therefore, to create a rhythm and stunning look for your house, you can customize dark chocolate brown accents with different hues of red. Moreover, associating different types of red can create various tan house color schemes for your home.
For instance, you can use a dusty shade of brown and maroon to create a formal aristocratic look for your house. You can also add cherry red to your light brown to fabricate a charming and bright hue. Therefore, these combinations can elevate the looks of your house and make it appear elegant.
15. Chocolate and Pastels for Beauty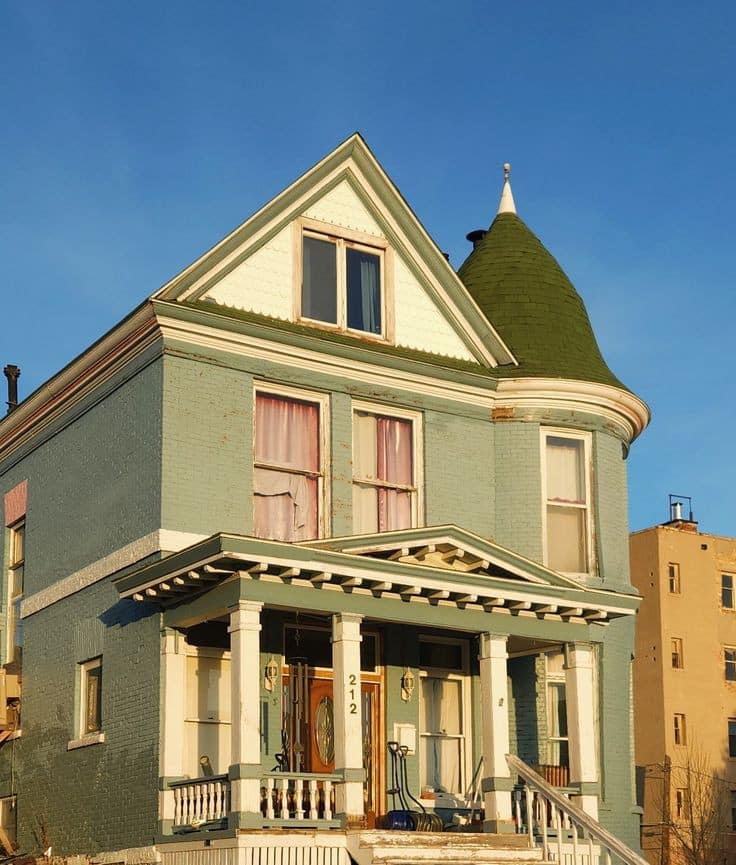 Pastel colors can add a beautiful charm to your exterior with their hues. Therefore, adding pastel colors with gorgeous earthy tan shades can elevate the appearance of your home. Hence, you can add a punch of different pastel colors like mint green, pale pink, yellow, mauve, and many more to create a sophisticated look.
For instance, you can add mint green and tangerine in contrast with the brown hue to create tan house color schemes to design the walls. Moreover, you can also add contrasting furniture pieces and show-off items in your room to enhance the beauty of the house. The charm of pastel colors won't come off as too overwhelming or fuzzy to your eyes or passersby.
16. Brown with Peach Hues that Remind Spring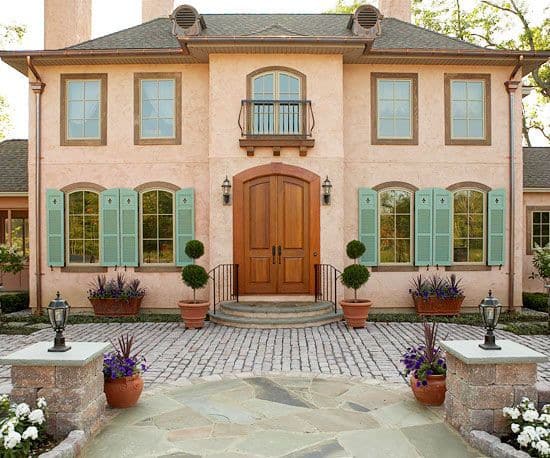 One can consider peach as the epitome of a classy color shade that can instantly lift the mood of your house. Hence, it lets you design your walls beautifully while creating a warm, soft ambiance for your home and interior. However, the color brown represents elegance and calmness in it, which makes it a perfect combo for people who want to associate class and calm in their homes.
Moreover, you can try out different tan house color schemes with various brown shades to pick suitable color combinations as per your aesthetic. Therefore, this will give you the perfect texture that makes your neighbors feel in awe.
17. Monochromatic Hue for a Romantic Mood
Combining two various shades of brown creates a monochromatic hue for your home to make it look pleasing and standard. Hence, you can use two distinct shades of brown to create various tan house color schemes for your interior or exterior walls.
Therefore, you can associate lighter-colored trims and fences with a darker tan shade to make a monochromatic hue for your interior or exterior. Hence, this will exaggerate the looks of your house while highlighting its best features. Moreover, you can also use two tones of brown with different colors of roofs as it will grab the attention of the passersby.
18. Tan and Lavender to Create a Garden Theme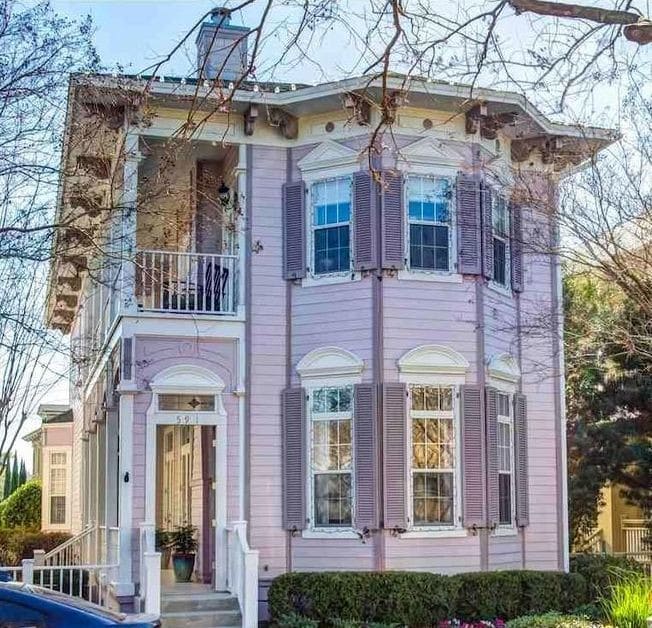 The association of these colors is something that creates a matter of intimacy. Hence, this color looks best when you apply it in private places like bedrooms or study rooms. Therefore, this color scheme can give you the vibes of a lavender garden.
Moreover, the color combination brings adventure to your mood with its association, and the suggestion is timeless as it always stays on the trend. Furthermore, you can add calmer blue shades to that combination in the form of furniture pieces or paintings. Hence, this will create a class and sophistication for your household that amazes your relatives and visitors.
19. Brown with Wooden Hues for Holistic Look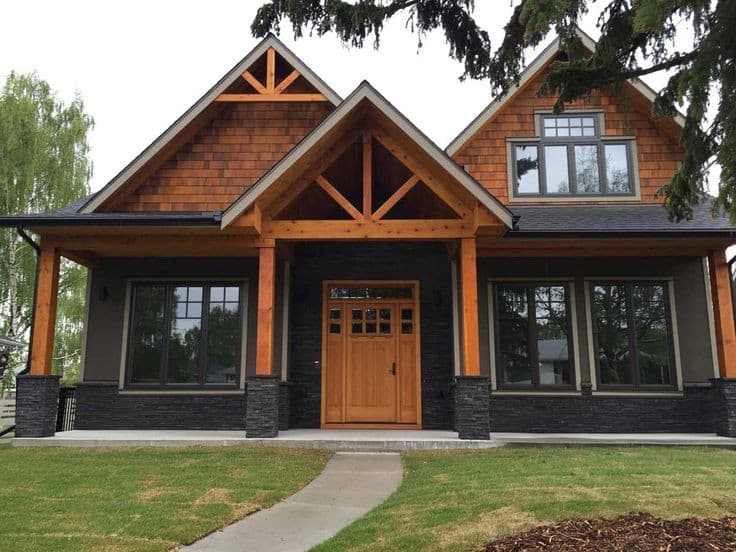 Anything woodsy instantly adds elegance and a rich aristocratic feel to your household with its charm. Hence, creating a wooden stain design for your house makes your home look gorgeous and brilliant.
Moreover, with this hue, you can create a holistic vintage look by associating the wooden stain on your roof and front curb. You can also accentuate wooden furniture and fixture to create an aesthetic. Furthermore, you can use the wood stain design in your home to create different dimensions and variations by adding it to formal parts of the house like
20. Brown with Jet Black Combination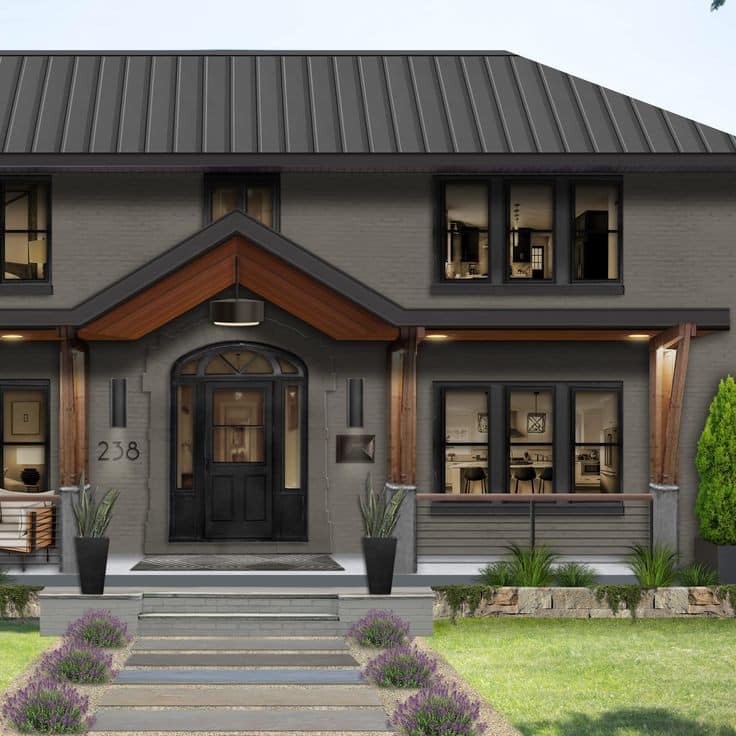 If you are someone who has a taste in classics, then this combination is definitely something that will charm your eyes with elegance and beauty. Therefore, you can incorporate this gorgeous combination into your exterior or interior. Hence, adding black colors to your tan house color schemes can cast up a touch of dramatic hue to your walls to make them look fabulous.
To create a vintage look, you can incorporate black-colored roofs, windows, and doors to exaggerate the beauty of the corporation. The color has a solid background that makes everything look bold and futuristic. Therefore, this color combination is a popular classic that many people choose to style their houses because of its beauty and boldness.
Conclusion
We have curated a list of 20 different tan house color schemes for you to get an idea. Therefore, here you will understand how to incorporate your favorite color combinations as per your aesthetic appeal.
Moreover, in this blog, you can get an idea about what you can do to beautify the appearance of your interior or exterior walls.
Furthermore, you can also incorporate different combinations at the same time according to room types. Hence, you can choose intimate colors in your bedrooms or drawing rooms, or you can choose to incorporate formal colors in your living rooms and study rooms to create an official setting.
Therefore, we have much more information to share with you. Hence, don't forget to check out our website for more ideas about different color combinations.