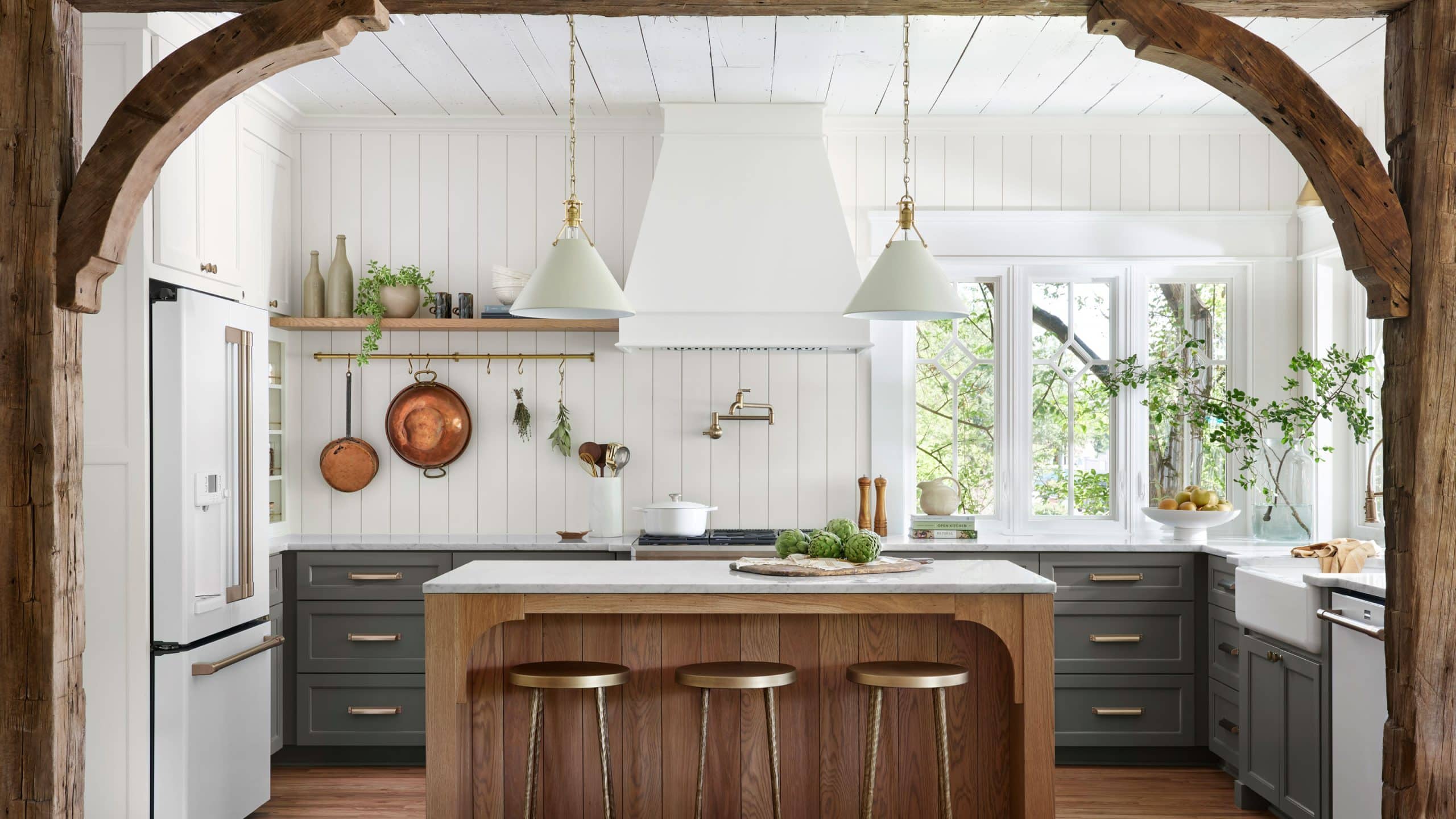 Joanna Gaines is a highly influential and popular figure in the field of Interior Design and renovation. As an interior designer, she has given some remarkable kitchen outlooks with a wide range of versatility, which has remained one of the most significant talking points of her career.
She is one of the few designers who has been incredibly successful in giving life to her ideas precisely in the form of her art and design.
This blog embarks on a journey to explore 16 amazing designs by Joanna Gaines and the unique features, materials used, and styles incorporated in her designs that show her creativity and attention to detail. Her philosophy for the same is "bringing the outside in," where she mixes the concept of modern and vintage elements.
From modern farmhouse kitchens to rustic kitchens, her sense of warmth and comfort is reflected in her authentic designs. She also incorporates wood, stones, and even reclaimed materials that create a timeless vibe and connects to nature.
Top Kitchen Designs by Joanna Gaines
1. Modern Farmhouse Kitchen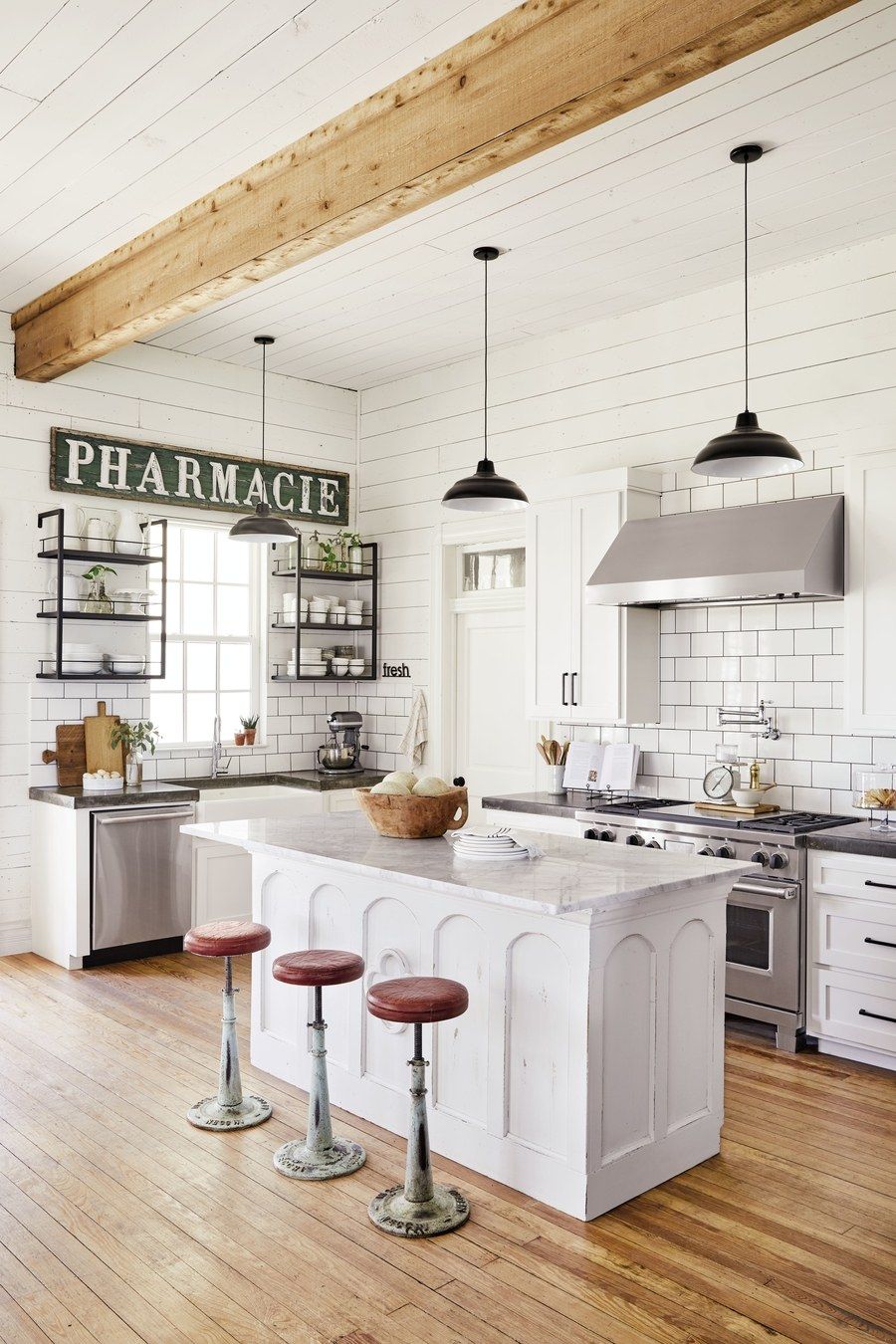 A blend of modern sophistication and a rustic finish allows Joanna Gaines to showcase her signature style. Simplicity plays a strong base with clean lines and rustic details to create a warm and comforting atmosphere. The neutral color palette for the cabinetry and foundation accentuates the look of the kitchen while allowing the other elements to shine.
The cabinets are made with flat-paneled doors giving the place a modern touch. Contrasting elements with stainless-steel appliances and vintage fixtures like sinks and pendant lighting creates a soothing atmosphere. Open shelves can be arranged in a way that allows ample space while giving it a more retro appeal. Cozy and comfortable seating areas are often paired with the vintage look to create a sense of calm. Flowers and herbs also add a comforting atmosphere to the kitchen.
2. Rustic Farmhouse Kitchen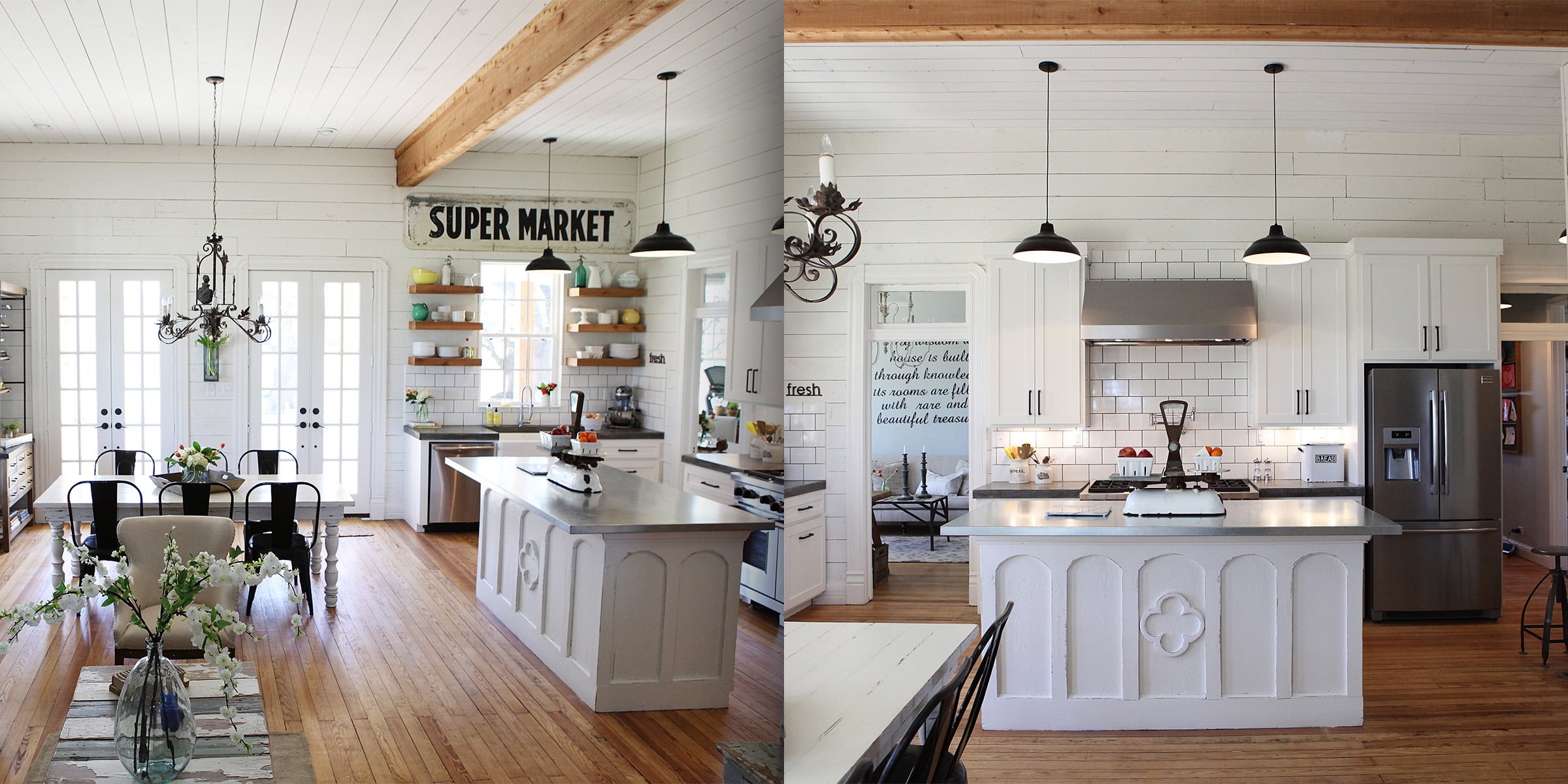 Step into the world of rustic farmhouse retreat, where Joanna Gaines shows her magic and creates a kitchen space that gives out warmth, charm, and comfort. The center elements incorporate rustic and vintage-inspired materials. Reclaimed wood, stones, and exposed beams give an authentic and vintage charm to the kitchen. The walls are decorated with shiplap giving the kitchen a different backdrop and nostalgia for the design elements.
Vintage-inspired fixtures enhance the rustic ambiance. With pendant lights and detailing classic faucets, the hardware gives a strong sense of nostalgia. The shelves and display spaces not only allow you to store items but allow you to appreciate the unique story that each piece has. The sinks and kitchen islands are easily the focal point of the farmhouse kitchen. The island centerpiece offers a great family meeting point.
The color palette is harmonious and soothes the soul. Neutral tones and earthy shades create a soft ambiance that allows the natural materials to come through. Every detail in this kitchen is thought through to create spaces that feel like home. The warmth of the natural elements and the welcoming ambiance of a farmhouse design has merged to give a strong character to the kitchen.
3. Modern Industrial Charm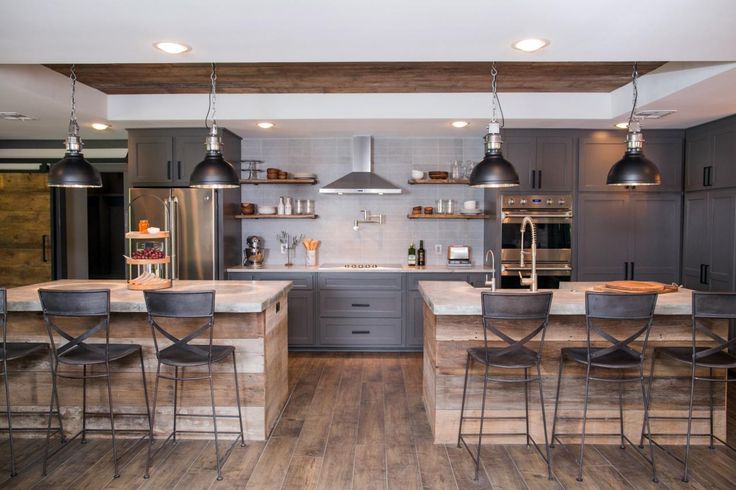 Blended sleek lines and urban elements create a contemporary aesthetic for the modern kitchen as Joanna Gaines showcases her mastery. Her knack for balancing raw and refined elements gives an edgy appeal that exudes a sophisticated charm that is both striking and inviting.
Exposed brick walls give a point of focus and give an urban finish to the kitchen. Textured backdrops merged with sleek cabinets and modern-inspired fixtures give it a harmonious and refined aesthetic. Metal fixtures are an important part of the industrial charm. Pendant lights with an industrial finish and stainless steel appliances give it a contemporary appeal while adding functionality. The minimalistic design and sleek lines are key elements in the theme, and cabinets with flat-panel doors give a smart and uncluttered feel.
The color palette includes neutral tones with bold detailing. Functionality meets style in a harmonious way where sleek lines, contemporary aesthetics, and modern textures create a chic atmosphere.
4. Classic Elegance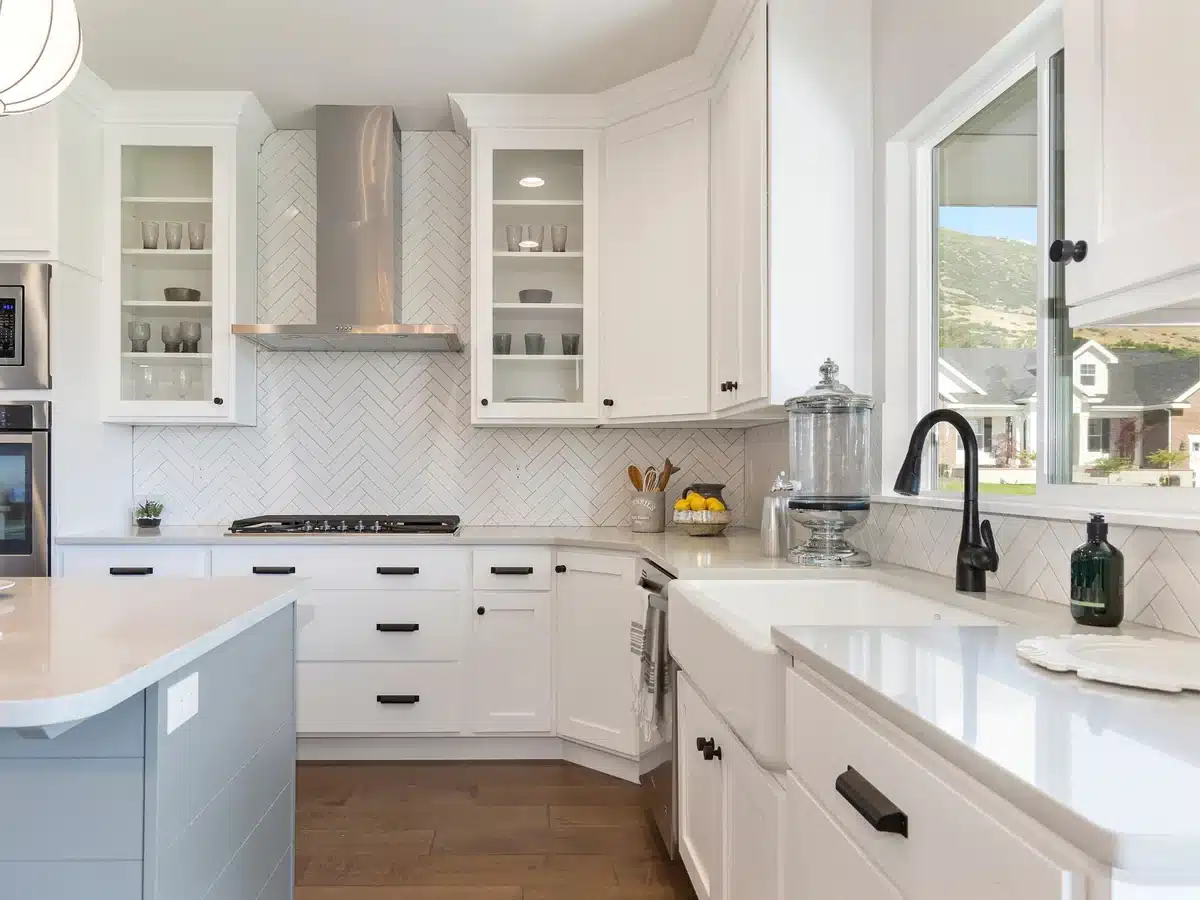 A combination of classic elements and refined touches with a sophisticated finish for a crafty kitchen gives it a timeless elegance. Joanna's designs incorporating crown molding, coffered ceilings, and detailed millwork, give the kitchen a touch of nobility. These elements together create depth and offer character, increasing the overall aesthetic of the kitchen.
Hardwood flooring gives a warm tone to the kitchen atmosphere. The primary materials used are all high-quality that give a noble and classic finish. Marble or granite countertops while using fine materials for custom-made cabinets that show detailed craftsmanship and elegant hardware. The lighting used is carefully chosen to glamorize the ambiance; chandeliers with crystal detailing or delicately designed pendant lights become a second focal point that increases the overall ambiance. The color palette is soft and neutral with glass-front cabinets while using farmhouse-inspired furniture to create a striking appearance.
5. Coastal Getaway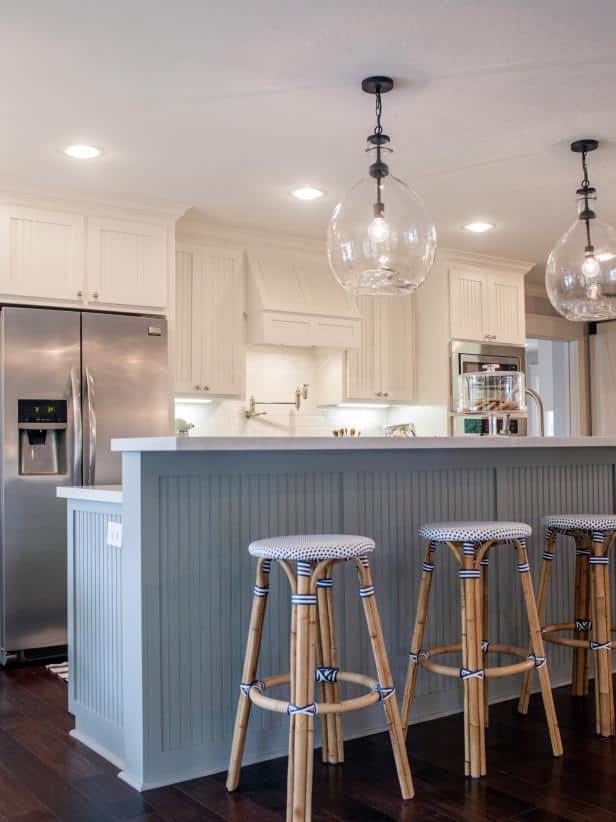 With a tranquil shore and the soothing breeze of a coastal getaway as Joanna Gaines combines the serenity and beauty of a coastal area. Ocean-inspired hues and natural textures while adding breezy elements to relax and rejuvenate you and give your kitchen a coastal charm. Soft hues with soothing undertones create a sense of calm and copy the colors of the ocean. Natural textures are preferred to capture the feel of a coastal getaway. Weathered woods in exposed beams and reclaimed detailing give an authentic feel to the kitchen.
Lighting is designed in a way to maximize natural light with French doors and big windows with skylights. Sheer curtains or frosted-finish windows create an inviting atmosphere and give the kitchen an elegant finish. Accessories and decor reflect the seaside area, using nautical-themed hardware with quartz or marble countertops with seashell detailing, giving it a natural beach-like look.
6. Scandinavian Simplicity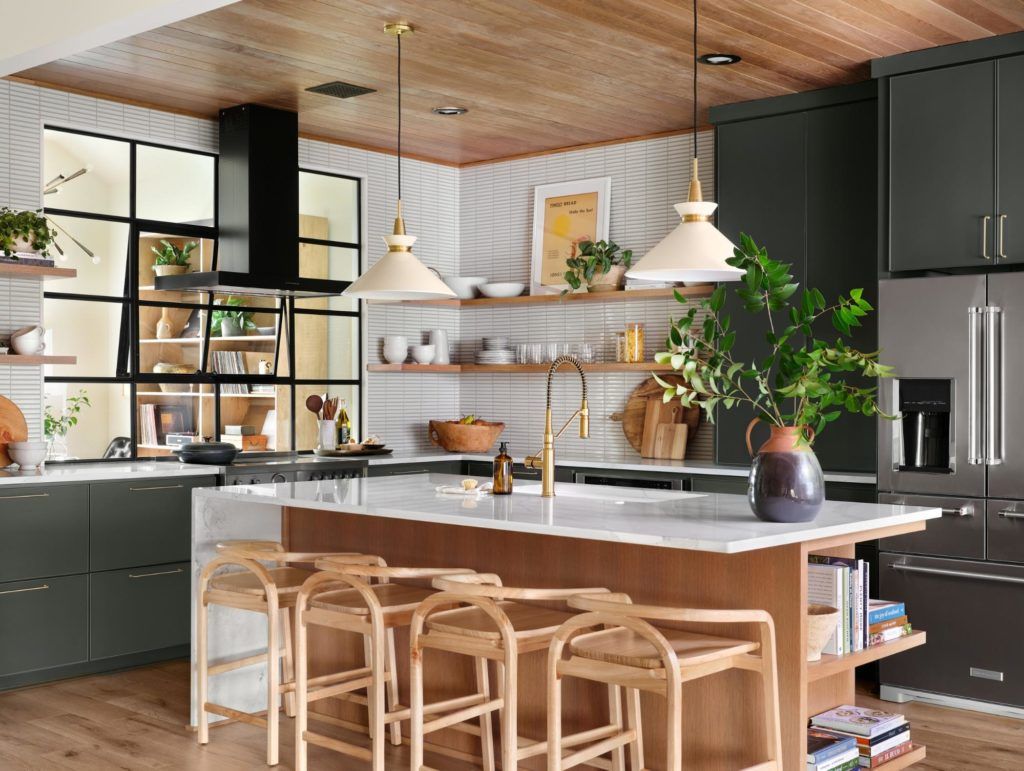 A combination of soft whites and a neutral color palette lets Joanna unveil her talent by blending minimalist design with Scandinavian aesthetics. Using flat-panel cabinet doors with little to no hardware creates an uncluttered look. Natural materials like oak or birch woods are used for flooring and furniture, bringing warmth and texture while making the kitchen look chic.
Lighting in Scandinavian-inspired kitchens is known for its functionality while using a minimalist design like recessed lights creates an ambient glow while being appealing to the eyes. Textured textiles like rugs can be added to enhance the look of your kitchen. Natural lighting is maximized as well by using big windows and skylights, making even the smallest of kitchens look big.
7. The Beauty of a French Country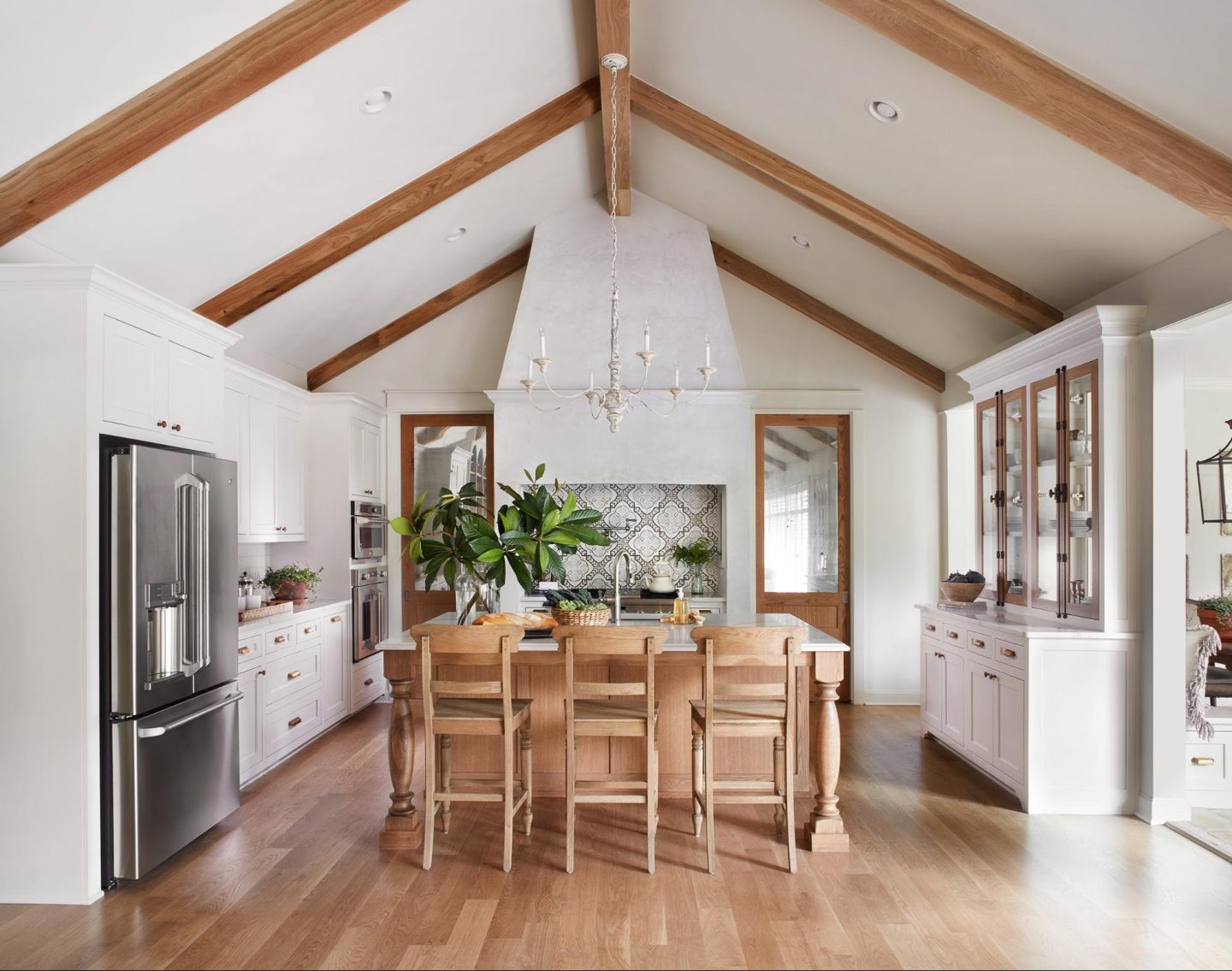 The French-inspired beauty of this kitchen brings charm and sophistication to the French countryside while being functionally active. Classic elements blended with rustic details offer a sense of romance and create an inviting atmosphere. The warm and muted tones of cream and gray create a soothing and warm environment. The focal point of these kitchens is the architecture, with intricate detailing and exposed wooden beams to showcase French craftsmanship. Cabinets are given an antiqued finish with a glass front and detailing that takes your breath away. 
Lighting is chosen to give a sense of nostalgia while using chandeliers that are intricately detailed to create a romantic atmosphere. Warm lighting enhances the coziness during a family gathering. Decorative detailing adds charm to the elegant kitchen while using flowers, pitchers, and vintage-inspired wares to add authenticity.
8. Industry X Farmhouse Fusion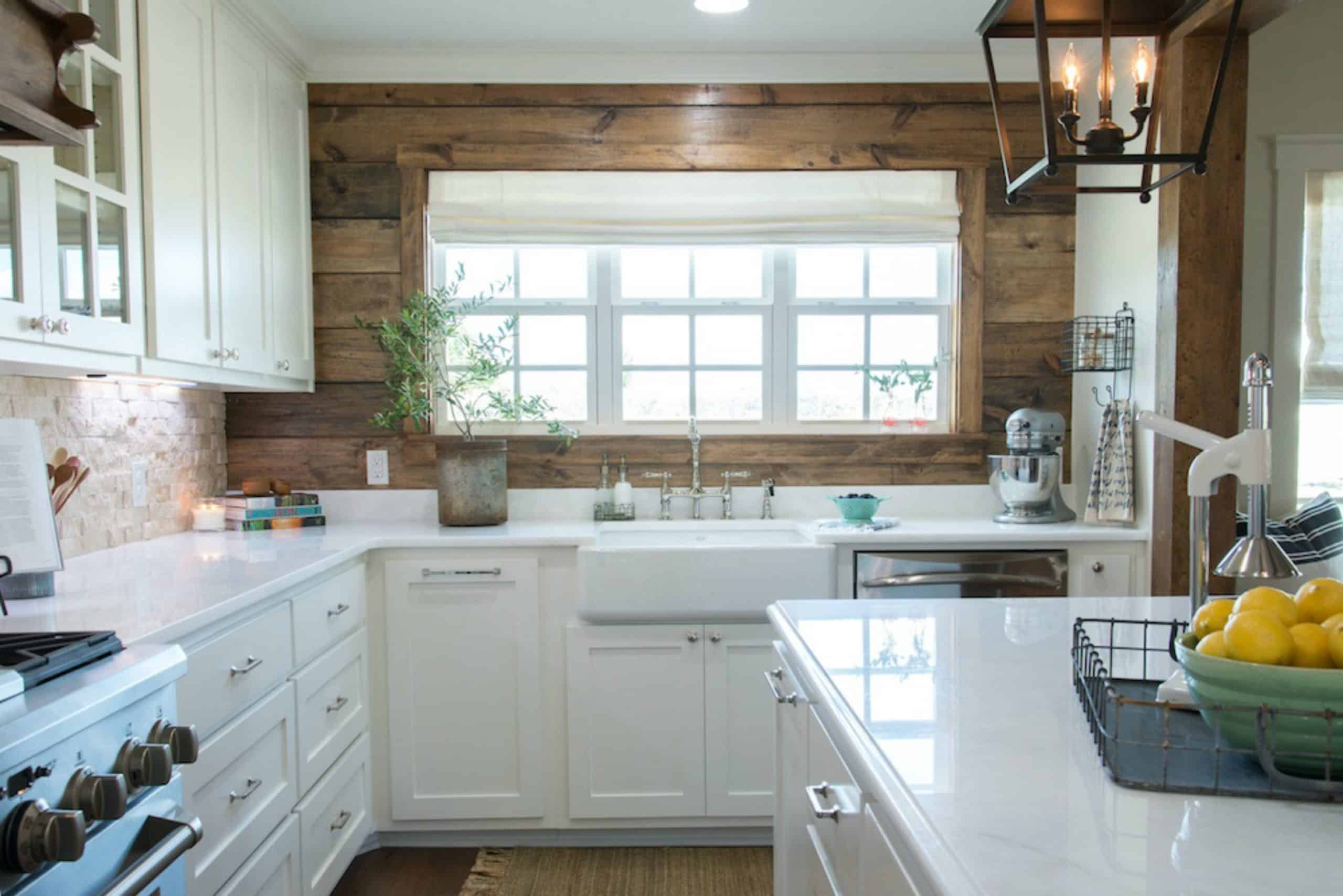 A fusion of raw and edgy elements of an industrial design merged with the rustic and inviting charm of a farmhouse kitchen blended to create a unique atmosphere. Exposed brick walls with metallic detailing and concrete flooring give the kitchen an industrial look, while wooden accents and vintage hardware gives it a touch of a farmhouse. Lighting plays an important role when vintage-inspired pendant lights are incorporated with exposed bulbs, and ambient lighting is added for a touch of sophistication. 
Finishing touches include metal hardware and salvaged items from any industrial machinery being used as decorative or functional pieces. Wire baskets and mason jars add a classic touch to the kitchen. When blended, industrial and farmhouse accents blend to provide an edgy and cozy feel.
9. Classic Modern Delight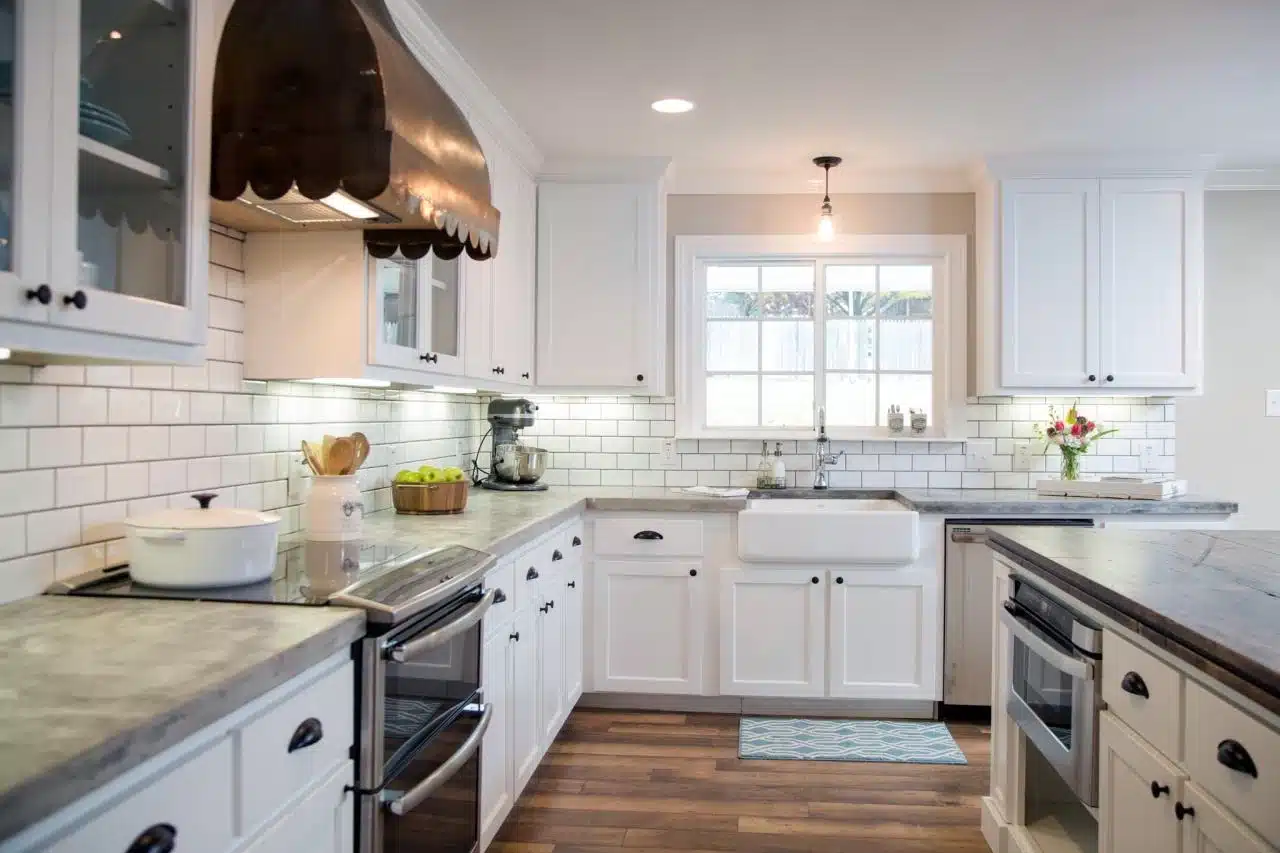 A bold and distinctive palette becomes the point of focus in this mid-century modern fusion of a kitchen. Popping colors with a background of neutral tones set the stage on fire. Using minimal ornamentation while having sleek and simple hardware paired with polished metallic surfaces creates a harmonious aesthetic.
Lighting is kept authentic to the time period with fixtures like cone-shaped lights and floor lamps. Accessories that are chosen to complete the look are colorful, while the furniture is inspired by mid-century as well. A combination of clean lines and vibrant colors gives a sense of playfulness and brings energy to the surroundings.
10. Southern Allure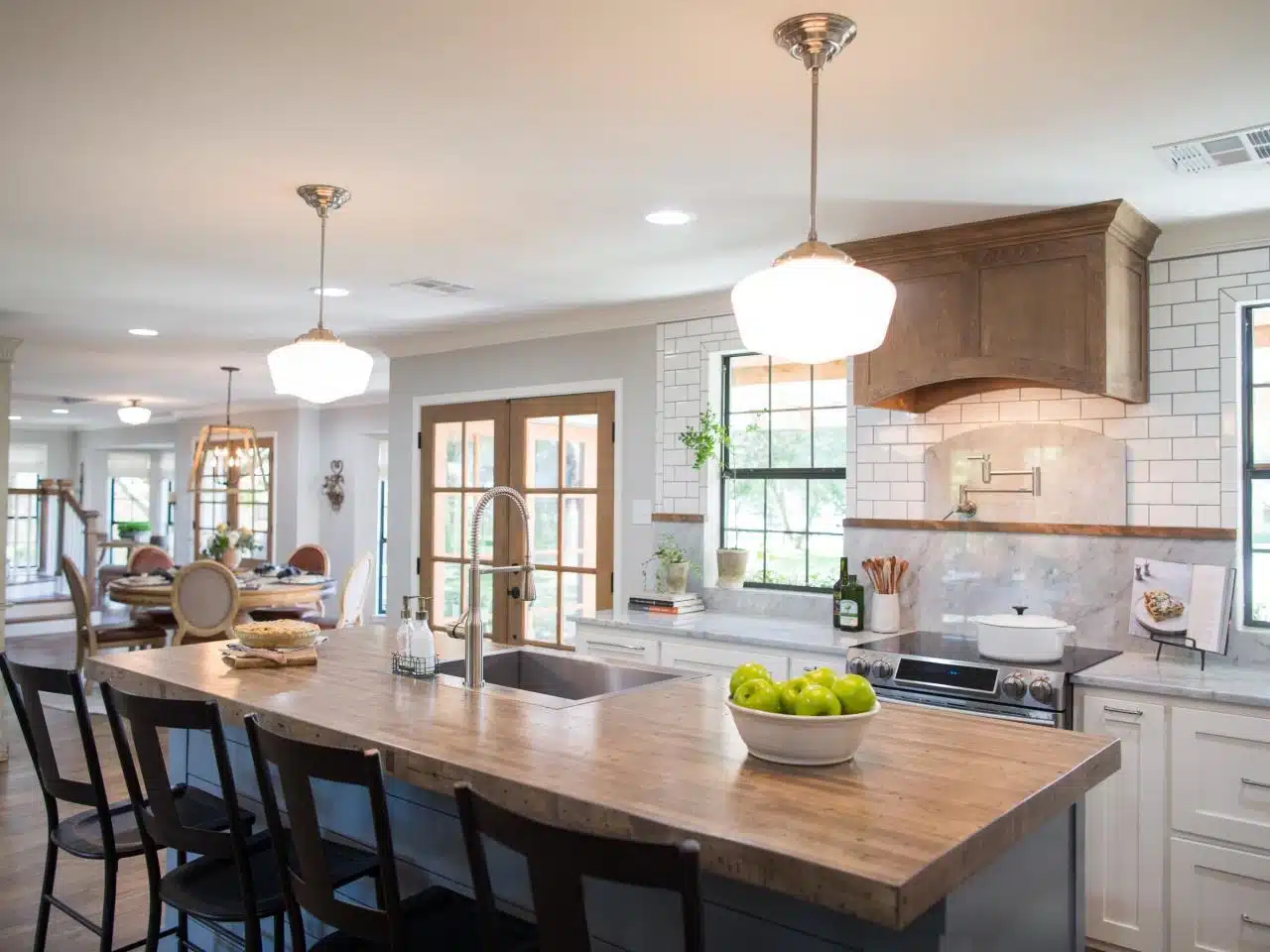 Inspired by the rich and timeless beauty of the South, classic elements and warm textures are combined to create the perfect kitchen. The heart lies in the functional layout, where ample countertop space and storage solutions make sure that the kitchen becomes a welcoming environment for the family.
Cabinets are made with natural materials while contrasting with a wooden floor giving it a rustic appeal. Diffused pendant lights above the island and chandeliers create a focal point in the lighting. Ceramic pots and woven basket enhances the overall appeal of the small kitchen.
11. Urbanic Oasis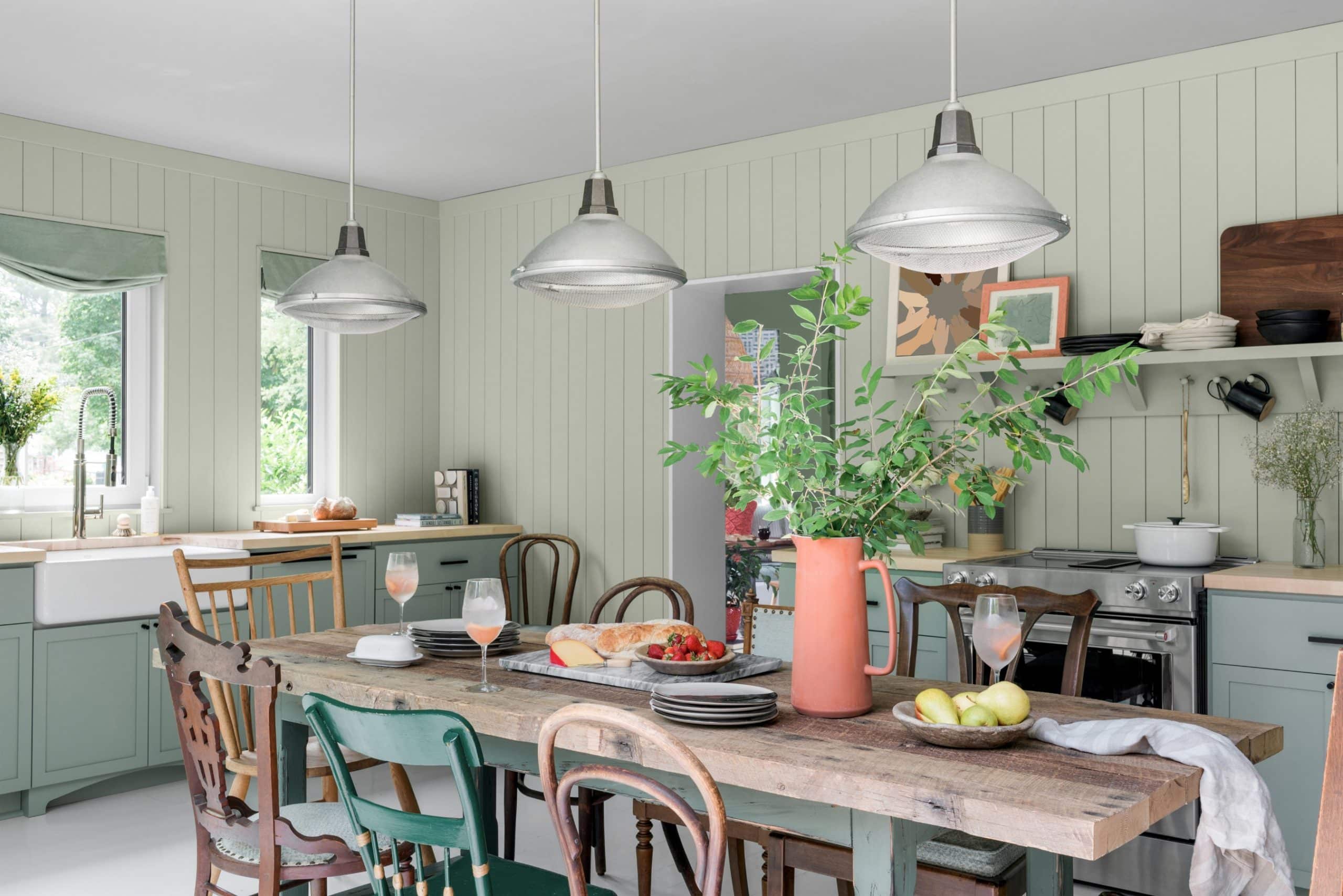 The layout comprises thoughtfully designed smart storage solutions and organized systems to ensure that each and every corner of the kitchen is used. The cabinets are flat-paneled doors with hidden handles and clean lines, giving them an aesthetic look. Lacquered finish and rich wood veneers give a touch of luxury to the kitchen.
Lighting plays an important role both in terms of functionality and in creating an urban ambiance. Natural textures on the countertops and exposed brick walls give it an authentic look. High-end appliances and select accessories contribute to the aesthetic design of the kitchen.
12. Glamorous Getaway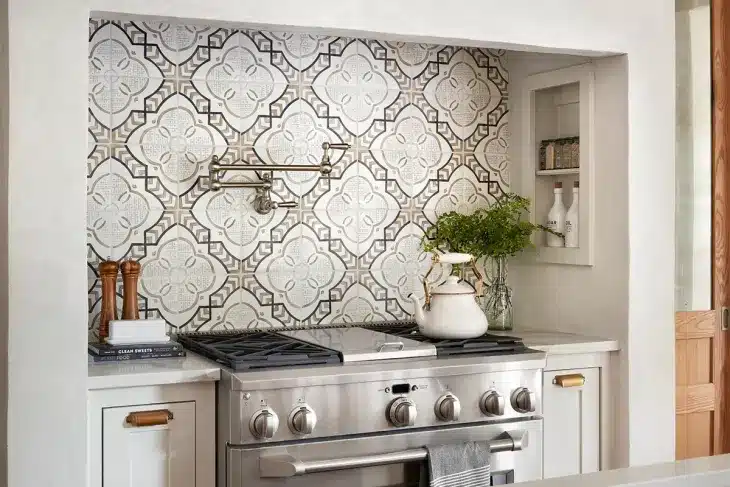 A sophisticated color scheme lays the foundation for the kitchen. Jewel tones give a dramatic effect to the kitchen while creating a striking atmosphere. The focal point is the luxurious materials that are used in terms of metallic detailing and mosaic tiles. The cabinets are a blend of exquisite craftsmanship and detailing. This makes the kitchen a work of art.
Lighting and finishing touches enhance the glamor of the kitchen. Crystal-detailed chandeliers, sleek lights, and sconces create a striking focal point and enhance the overall design. High-end appliances mixed with decorative accessories create a haven of elegance.
13. Modern Farmhouse Haven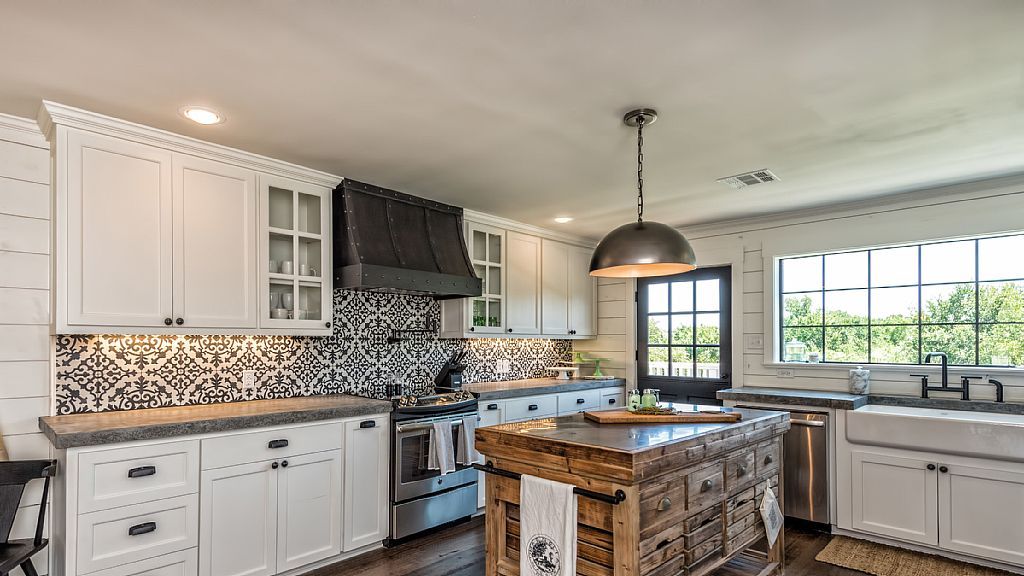 A harmonious blend of modern design with vintage details seamlessly fuses and creates a cozy environment while making it both functional and aesthetically appealing. Open floor plans with spacious islands and storage options make it a practical space for cooking and meeting with friends and family. The focal point of the same is creating a sense of warmth and comfort for you and your family.
Cabinets are contemporary-themed with metal details. The glass-front design creates a striking appearance. Natural materials and recessed lighting create a pleasant atmosphere while providing ample lighting through large windows. Adding finishing touches to a modern farmhouse haven kitchen with ceramics and flowers add charm and creates a comfortable aura.
14. Eclectic Beauty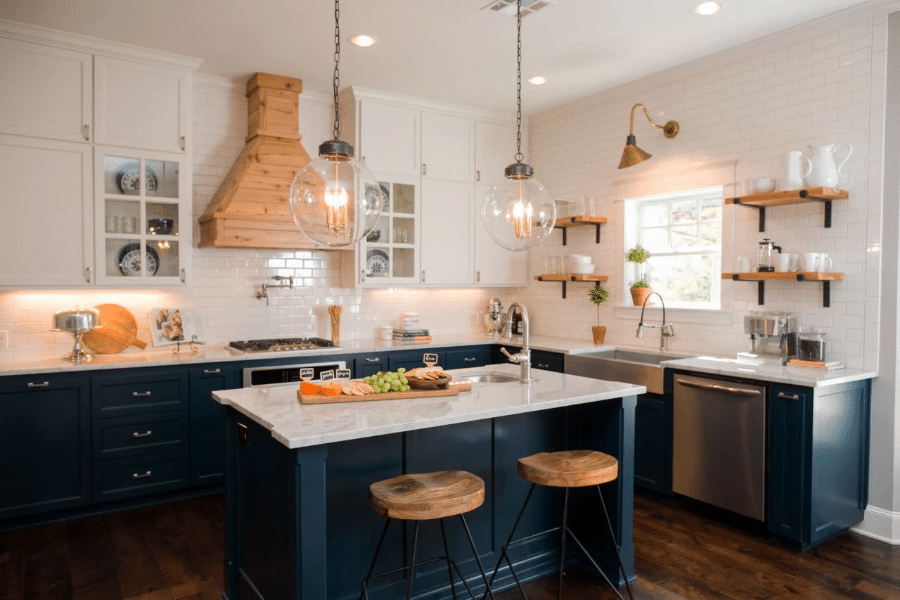 The basic layout encourages playfulness and personal expression. Open shelves, mixed materials, and stylish furniture pieces contribute to a free atmosphere. This kind of kitchen mainly contributes to viewing the owner's personality. Cabinets are of mixed styles, hardware, and finishes. Sleek, vintage, and even modern, the combination shows the free spirit and unique taste of the owner. Lighting consists of vintage fixtures, hidden lights, and modern chandeliers.
The finishing touches can be introduced with decorative artwork, accessories, and textiles that add to the charm of the kitchen. The main objective and focal point in these types of kitchens is to tell the story of your style.
15. Cozy Cottage Getaway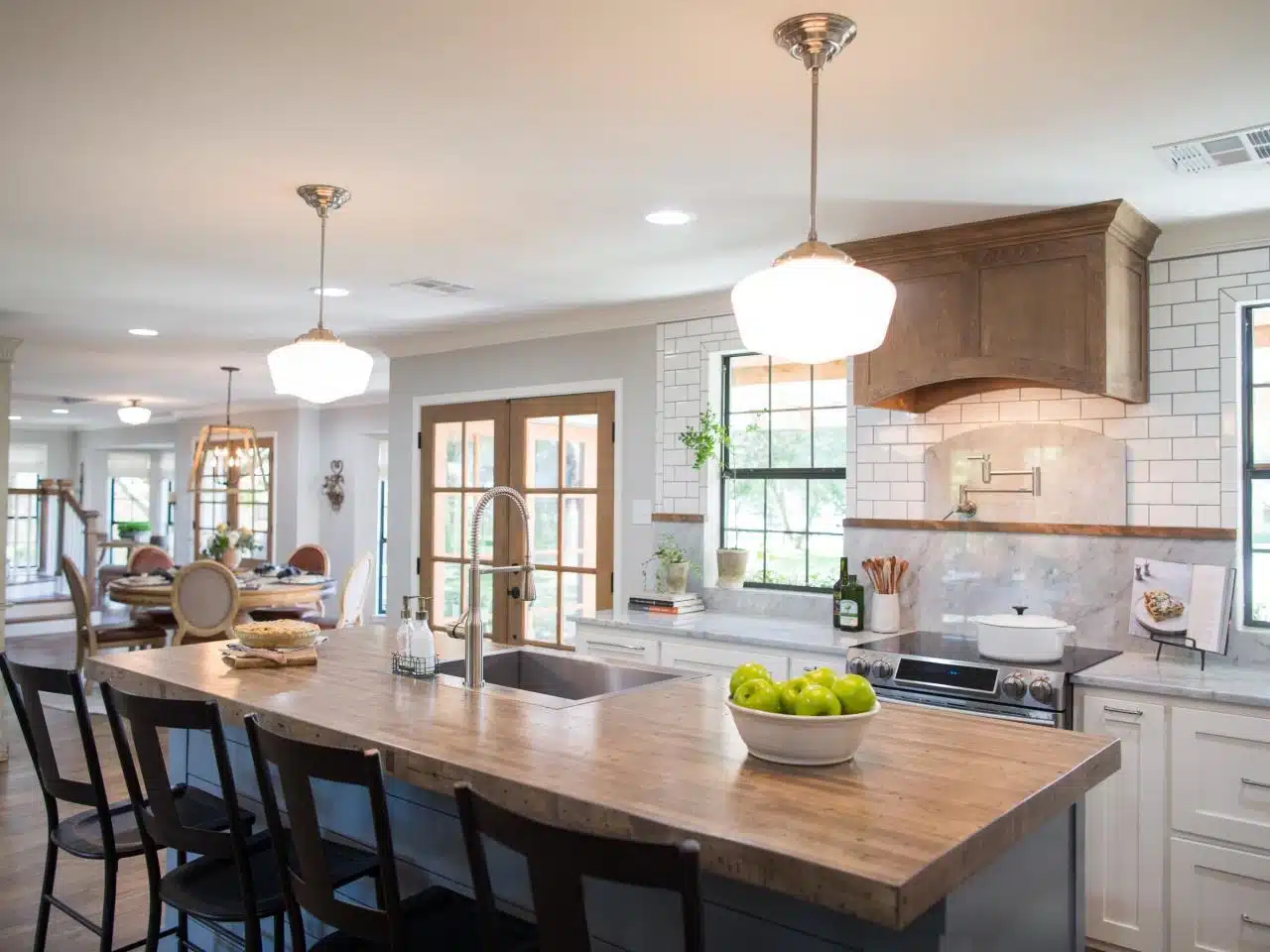 These kitchens are designed to maximize functionality while creating an intimate atmosphere. Mixing farmhouse-inspired elements and ample storage contribute to the practicality of the space. The focus is keeping natural materials, whether cabinets or appliances, to create a sense of nostalgia. Vintage-inspired detailing gives a classic appeal to the kitchen.
Lighting plays a critical role in creating a warm and intimate atmosphere with soft lighting and creating a romantic ambiance. Vintage accessories give a charming finish to the look and offer you a place to relax and enjoy.
16. Traditional Elegance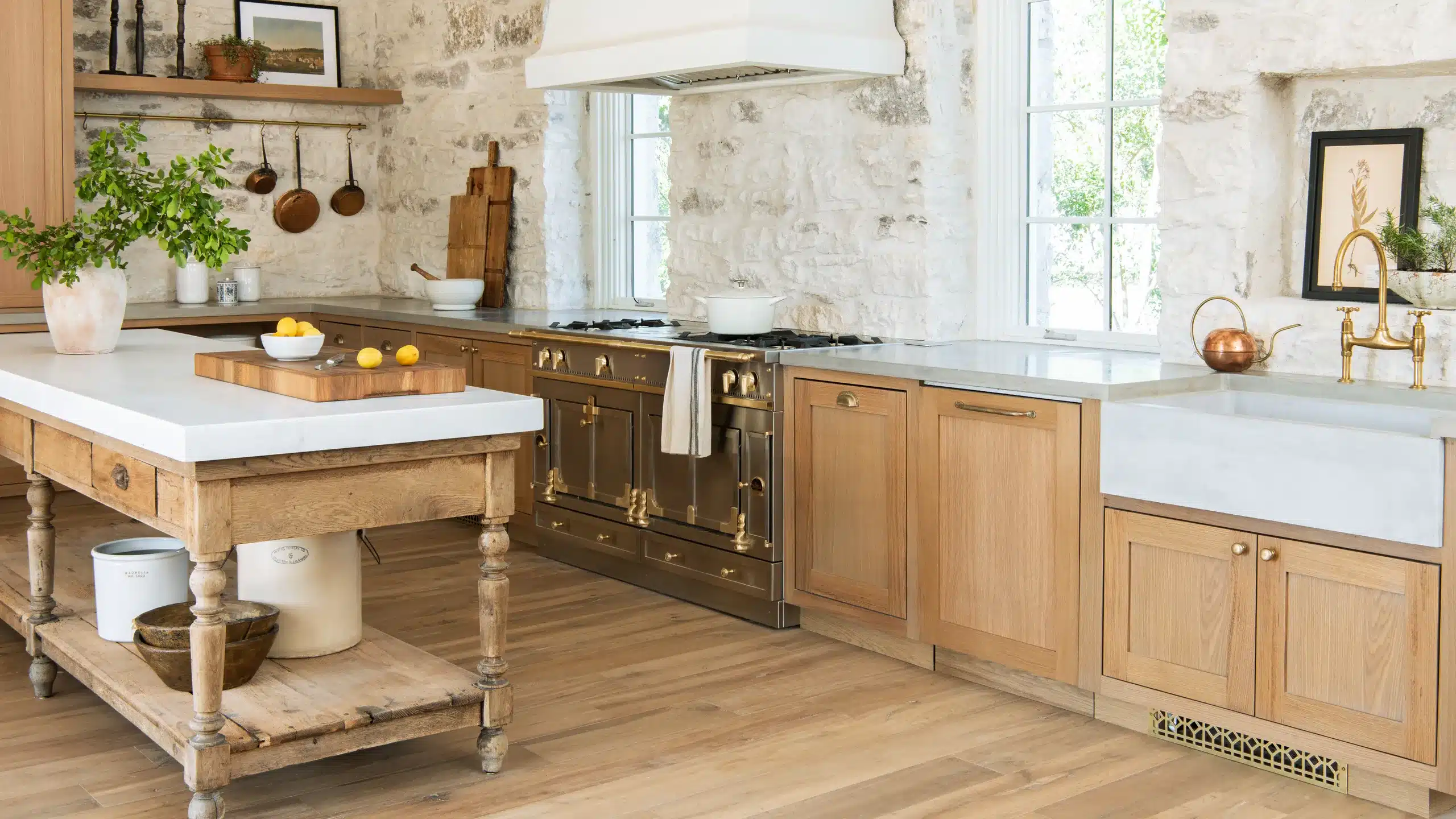 Using a refined color palette from neutral to muted tones creates a timeless backdrop for traditional designs to take center stage. The layout is designed with function and balance. The goal kept in mind is to create a balanced flow that is soothing to the eye. Cabinets are made with traditional designs with ornate detailing and a wooden finish. Pendant lighting adorns the area, illuminating the surroundings while keeping the center island in focus.
With the finishing touches being curated with refined and quality craftsmanship, architectural elements and decorative accessories create a sophisticated ambiance while making the kitchen luxurious.
Conclusion
Joanna Gaines has left an unmatched mark in the world of interior design. Each of the 16 kitchens mentioned in the blog showcases her talent and ability to create spaces that are not just visually appealing but functional and cozy.
Whether it is a rustic retreat or an industrial-inspired design, the timeless appeal of the kitchens is exceptional and leaves a lasting impression. By exploring her best designs, we get insights into the impact of blending, matching, and contrasting kitchens. Her legacy continues to inspire and influence the world of interior design for years to come.
We hope this blog helps you in gaining valuable insights and inspires you to renovate your kitchen in the best way possible. Unleash your creativity by exploring new possibilities and creating magnificent kitchens that reflect your personality.