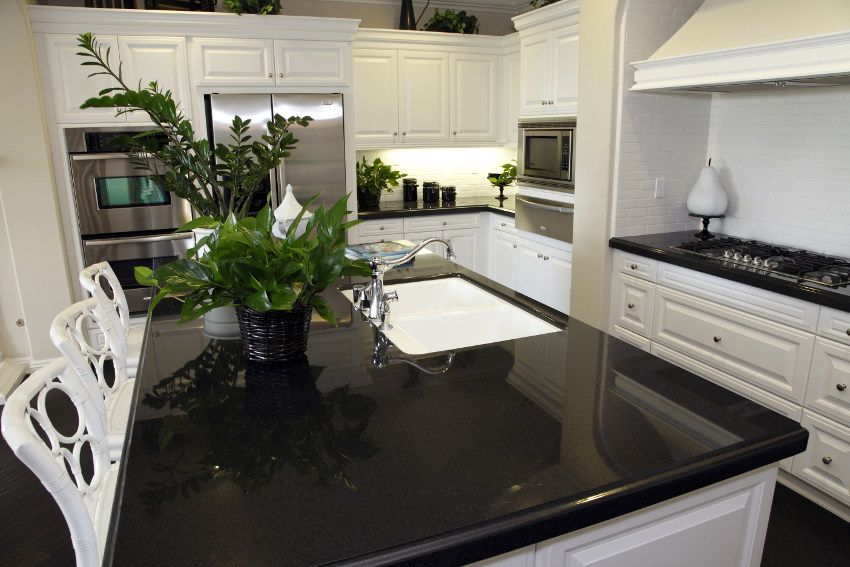 Black quartz countertops have a favorite option among many homeowners and designers because of their remarkable beauty and adaptability. With their sleek and sophisticated appearance, these countertops can convert any area into a fashionable retreat. Whether you are creating a modern kitchen, a lavish bathroom, or a stylish entertainment space, black quartz offers endless possibilities.
In this article, we will discuss 14 gorgeous black quartz countertop design ideas that will inspire you to create a functional and visually captivating kitchen. From traditional elegance to modern simplicity, each design concept highlights the extraordinary possibilities of black quartz countertops.
So, let's explore the art of contrasting black quartz with various elements to create engaging focal points. Additionally, we delve into the allure of incorporating marble veining, matte finishes, and distinctive patterns into your worktops to provide character and depth.
Elegant Black Quartz Countertop Ideas
Whether you want a classic and chic aesthetic or a solid and dramatic statement, these 14 black quartz countertop design ideas will spark your creativity and help you achieve a space that exudes elegance and charm. Prepare to have your home transformed by the stunning appeal of black quartz countertops.
1. Classic Elegance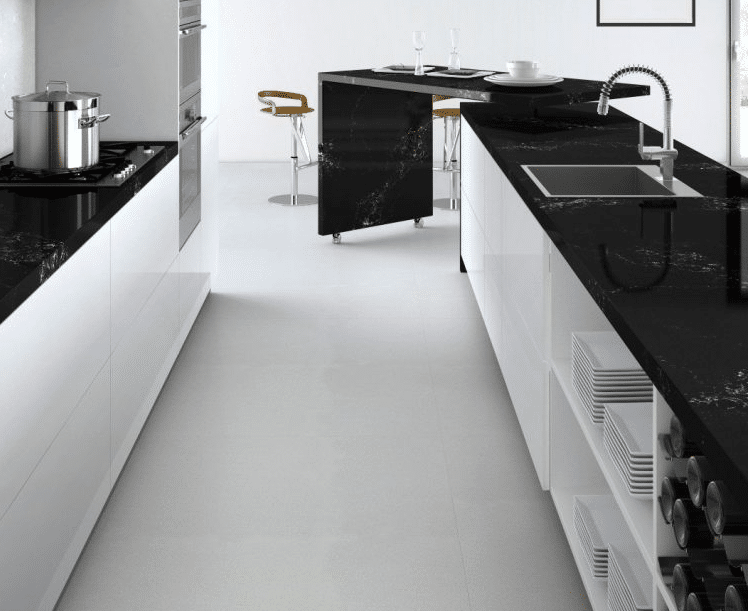 The mix of black quartz worktops with white cabinets and stainless steel equipment exudes timeless elegance. This design concept emanates sophistication and refinement by striking a balance between bright and dark components. The sleek and gleaming black quartz serves as a fascinating focal point, while the white cabinetry provides a clean and bright backdrop.
The stainless steel appliances provide a sense of modernism and integrate well with the overall look. This classic elegant design is perfect for those who appreciate a traditional yet stylish ambiance. It offers a diverse canvas for ornamental embellishments and is easily customizable with fixtures and accessories. Indeed, the classic elegant design will never go out of style! Its enduring charm makes it a popular choice for homeowners who seek a timeless and refined aesthetic that will last.
2. Bold Contrast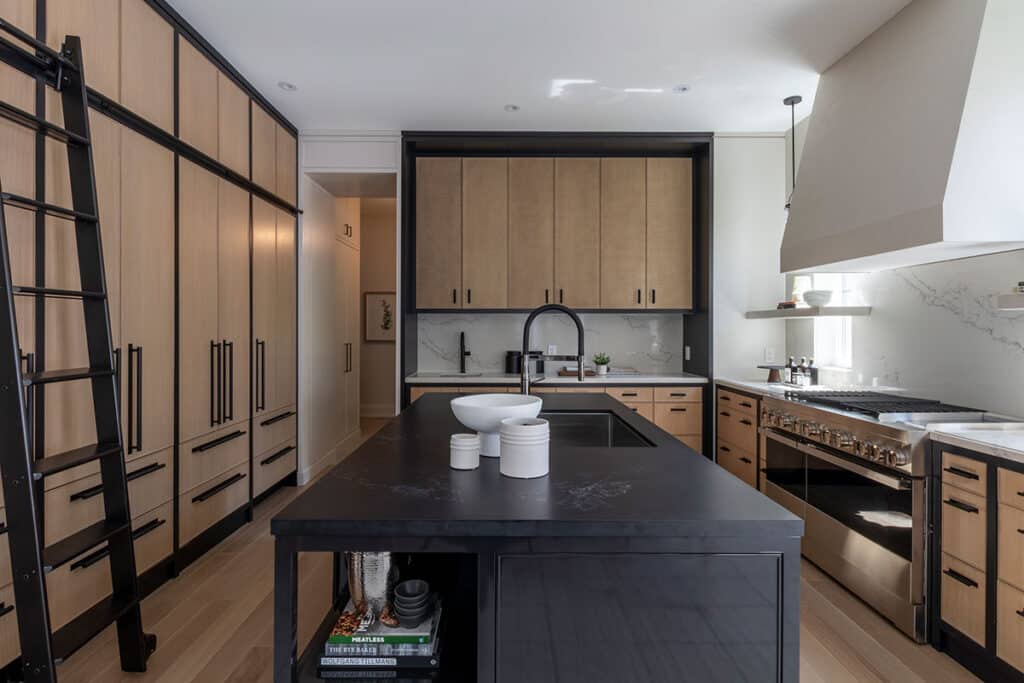 The stark contrast design with black quartz countertops is ideal for individuals looking for a distinctive and adventurous style. The intriguing juxtaposition between black quartz and light-colored or natural wood cabinets drives this design concept. The dramatic contrast generates a visually exciting and attention-grabbing impact that instantly transforms any area.
The black quartz sticks out forcefully against the light-colored cabinets, providing a striking and contemporary environment. This design technique is excellent for people who want to make a statement and instill a feeling of edgy flair in their homes. The striking contrast design with black quartz countertops will create a lasting impact in any space. It is a potent combination that adds drama and depth, making it a popular choice among many looking for a one-of-a-kind look.
3. Sleek And Minimalism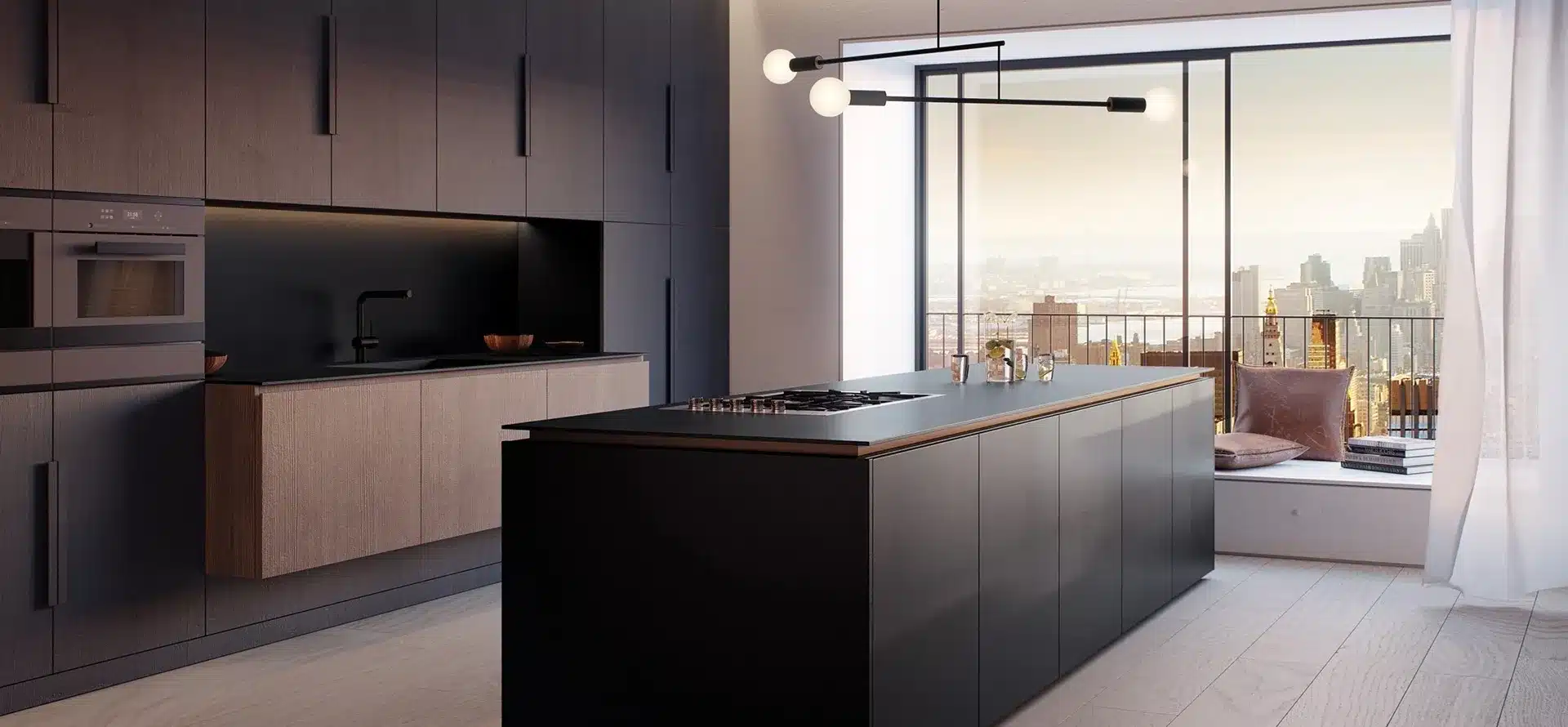 If you want clean lines and a clutter-free look, the sleek, minimalist design with black quartz countertops embodies modern elegance. The design concept embraces simplicity, allowing the beauty of the black quartz to take center stage. The seamless edges and smooth surface offer a sleek and polished design that oozes refinement. 
This style provides a feeling of casual chicness when paired with minimalist cabinetry with clean and unadorned surfaces. The absence of ornate details and excessive clutter contributes to an open and airy feel, making the space appear more spacious and uncluttered. 
The sleek and minimalist design is perfect for contemporary kitchens where functionality and style blend seamlessly.
4. Industrial Chic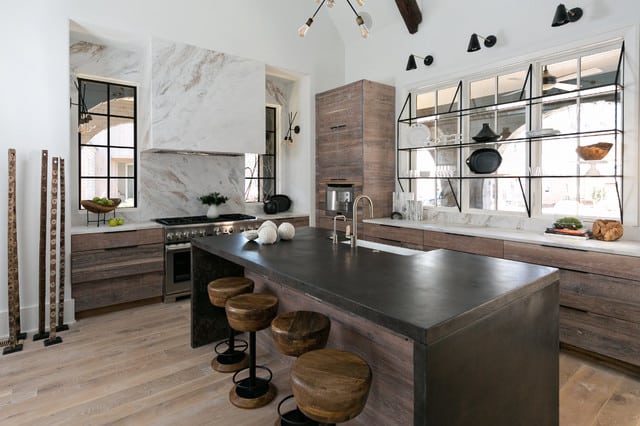 Incorporate black quartz worktops into your area to embrace the industrial chic style's raw and edgy beauty. This design concept mixes the rugged beauty of black quartz with components such as exposed brick walls, metal accents, and open shelves to create a fascinating industrial-inspired appearance.
The contrast between the sleek and polished black quartz countertops and the raw textures of the brick walls gives depth and visual appeal. Metal accessories, such as stainless steel or industrial-style lighting fixtures, add to the atmosphere. Open shelving replaces typical top cabinets, allowing for the presentation of ornamental goods and the display of unique pieces. 
The chic industrial design with black quartz counters is ideal for people who love bold and unconventional looks. It infuses a space with a sense of urban sophistication and creates a stimulating environment. The design idea gives character and uniqueness to any area.
5. Glass Backsplash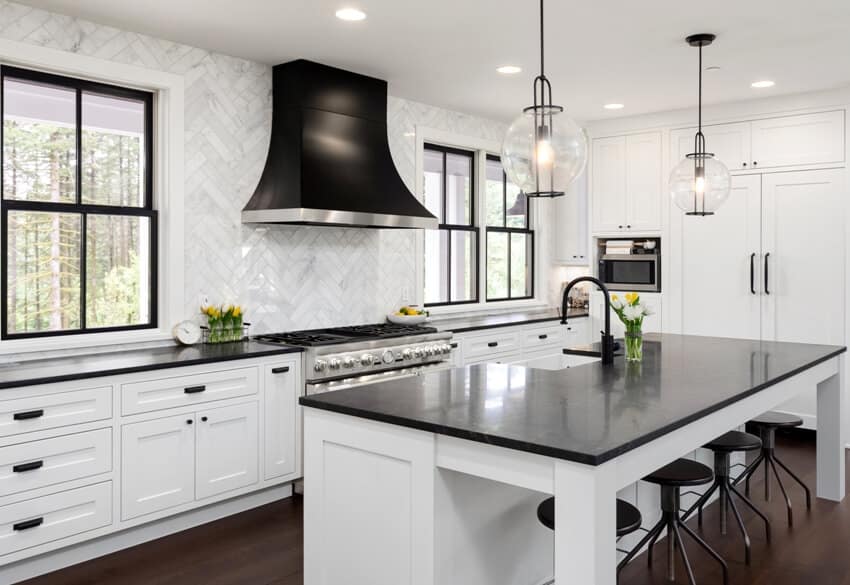 Pairing black quartz counters with a glass backsplash creates a sleek and futuristic effect. This design idea adds a touch of modern elegance to your room while also improving its aesthetic attractiveness. The glass's translucent nature allows it to reflect light and provide a sense of openness, making the space look larger. 
The glass backsplash provides a stunning focal point against the backdrop of black quartz counters, creating depth and visual appeal. Whether you choose clear glass or colored or textured glass, the end effect is a seamless and elegant design. The reflected features of the glass enhance the attractiveness of the black quartz countertops, resulting in a beautiful mix that oozes modernity and flair.
6. Marble Veining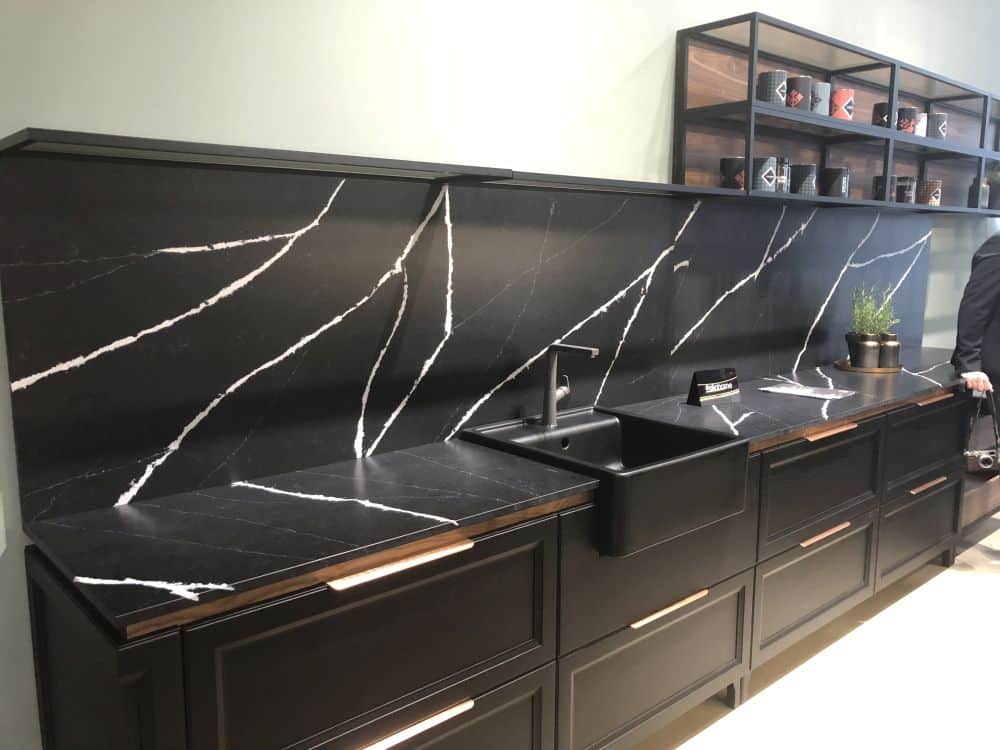 The stunning elegance of marble veining complements the attraction of black quartz counters. This concept combines the timeless beauty of black quartz with organic patterns and subtle veining of natural marble. The veins, frequently in white, grey, or gold, provide an enticing visual contrast against the black background. Overall, it adds dimension and personality to the worktops.
The mix of black quartz and marble veining oozes luxury, providing a high-end look without the upkeep issues associated with actual marble. The marble veining style with black quartz counters creates a sense of grandeur and splendor in any kitchen. It looks well with white or light-colored cabinets, producing a stunning contrast that highlights the beauty of both materials. 
The design concept suits those looking for a chic and beautiful kitchen with everlasting appeal. The combination of black quartz and marble veining epitomizes contemporary and traditional beauty.
7. Matte Finish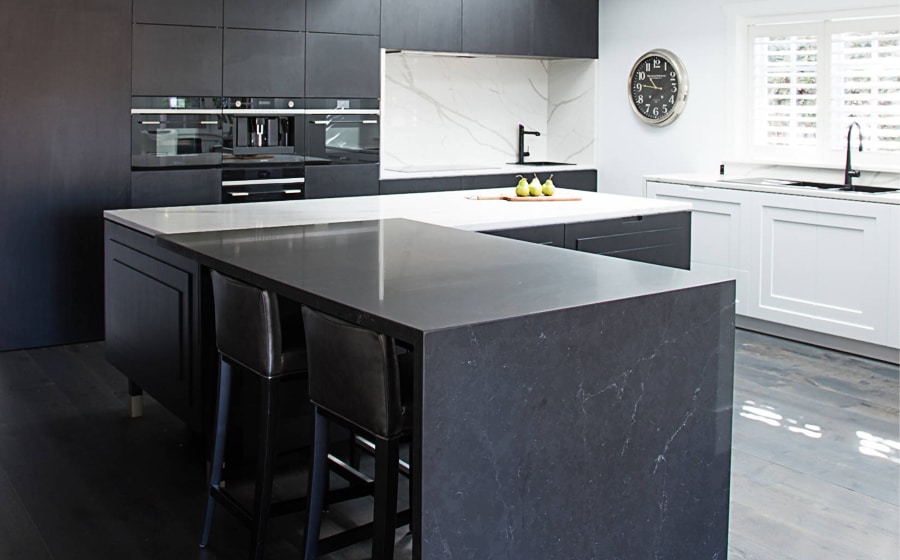 You can achieve a modern and discreet style with black quartz countertops with matte surfaces. This concept provides a sleek and contemporary style that is fashionable and easy to maintain. Black quartz counters with a matte surface have a smooth and velvety texture that adds a sense of luxury to any environment. In addition, it removes the reflected shine of polished surfaces, resulting in a more understated and discreet appearance. The matte surface works well with various design styles, from minimalist to industrial to Scandinavian. 
The surface conceals fingerprints and smudges, making it an excellent solution for high-traffic kitchen areas. In addition, a striking contrast is created when matte black quartz counters are combined with natural wood furniture. The matte finish design with black quartz countertops provides a sense of modernity and simplicity to the kitchen with its polished and elegant appeal. 
8. Sparkling Accents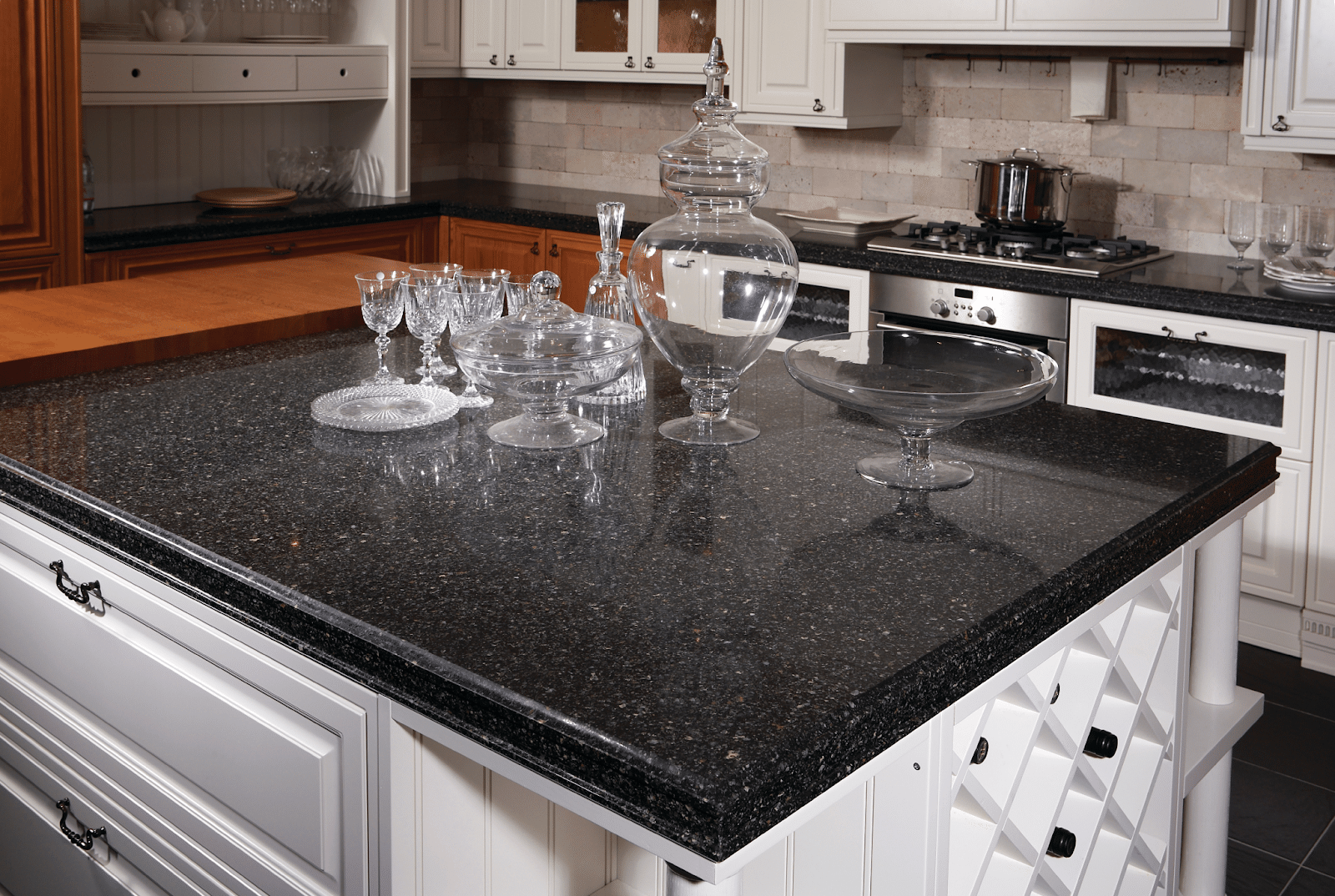 Black quartz countertops with inlaid sparkled or metallic embellishments will add a touch of glitz and elegance to your kitchen. This design infuses a sense of luxury and sophistication into any space. The modest or prominent sparkles grab the light and produce a captivating impact, elevating the beauty of black quartz. The gleaming accents give the counters depth and character, making them intriguing focal areas. 
Combining black quartz worktops with metallic fittings and accessories adds to the spectacular look. To create a consistent and sumptuous design concept, consider using gold or brass hardware, faucets, or pendant lighting. The dazzling highlights design combined with black quartz worktops produces a magnificent, luxurious environment that will leave anyone who enters the area speechless. It is an attractive option that adds a bit of shimmer and style to any kitchen area.
9. Waterfall Edge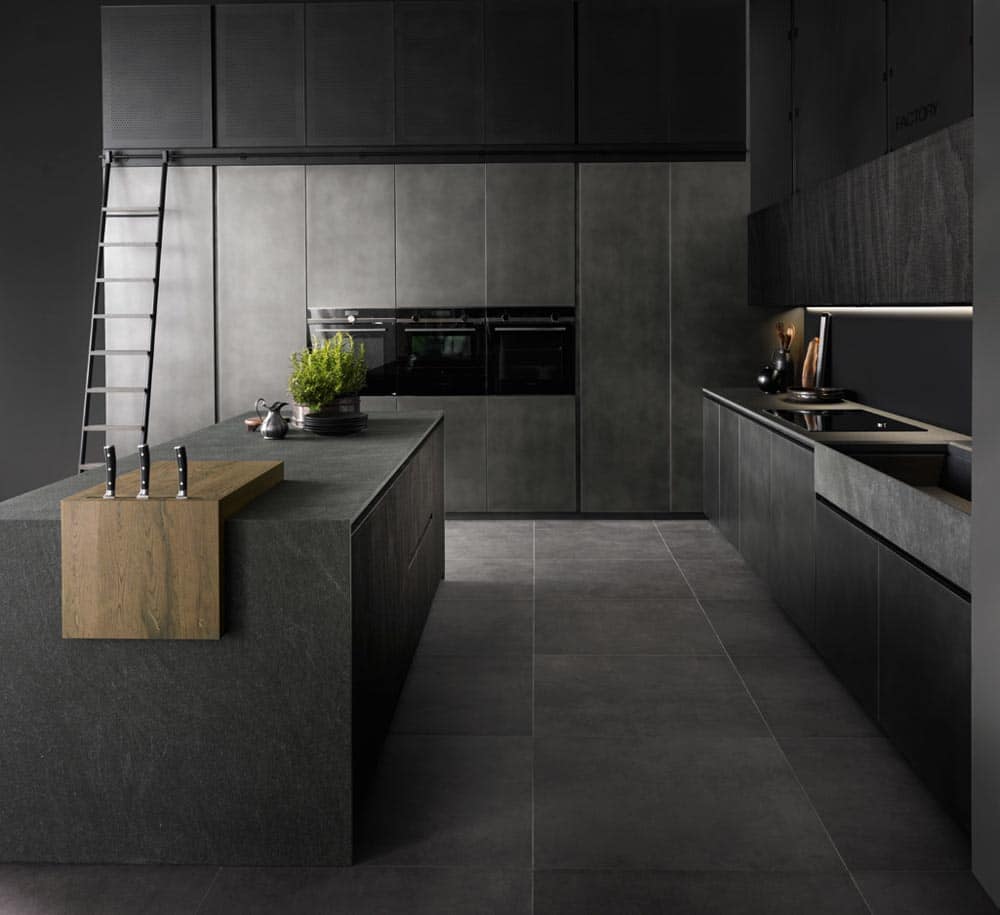 Black quartz countertops with a waterfall edge pattern provide a stunning aesthetic impression. The beauty of black quartz is enhanced in this design idea by extending the countertop material down the edges of the island or breakfast bar, producing a striking waterfall effect. The smooth transition from horizontal to vertical sides gives any space a touch of elegance and refinement.
This design adds a feeling of continuity and flow to the room's overall appearance. It emphasizes black quartz's sleek and polished aspect, making it a standout design feature. The concept works particularly well in modern kitchens. The waterfall edge design with black quartz countertops is a statement-making choice that adds architectural elegance and visual interest to your space. It is a design element that will impress and elevate your home's overall ambiance.
10. Black And Gold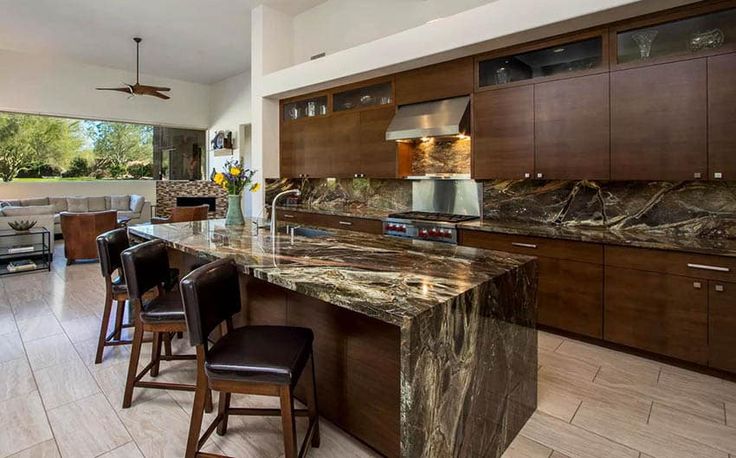 Infuse a black and gold motif with black quartz countertops to add splendor and refinement to your kitchen. This concept mixes black's everlasting beauty with the richness and warmth of gold accents to create a sumptuous and extravagant ambiance. The glided elements, whether in the shape of gold hardware, fittings, or ornamental items, stand out against the sleek black quartz tops. 
The contrast between the black and gold elements produces an eye-catching aesthetic effect, providing a bit of shimmer and glamour to the kitchen area. This design idea works well in modern and classic settings, providing a versatile and appealing look.
Whether in an opulent kitchen or a luxurious bathroom, the black and gold design with black quartz worktops emits a sense of high-end elegance and creates a welcoming ambiance. It is an excellent option for people who love the beauty of opposing aspects and want a rich and aesthetically attractive home.
11. Contrasting Vibrant Colors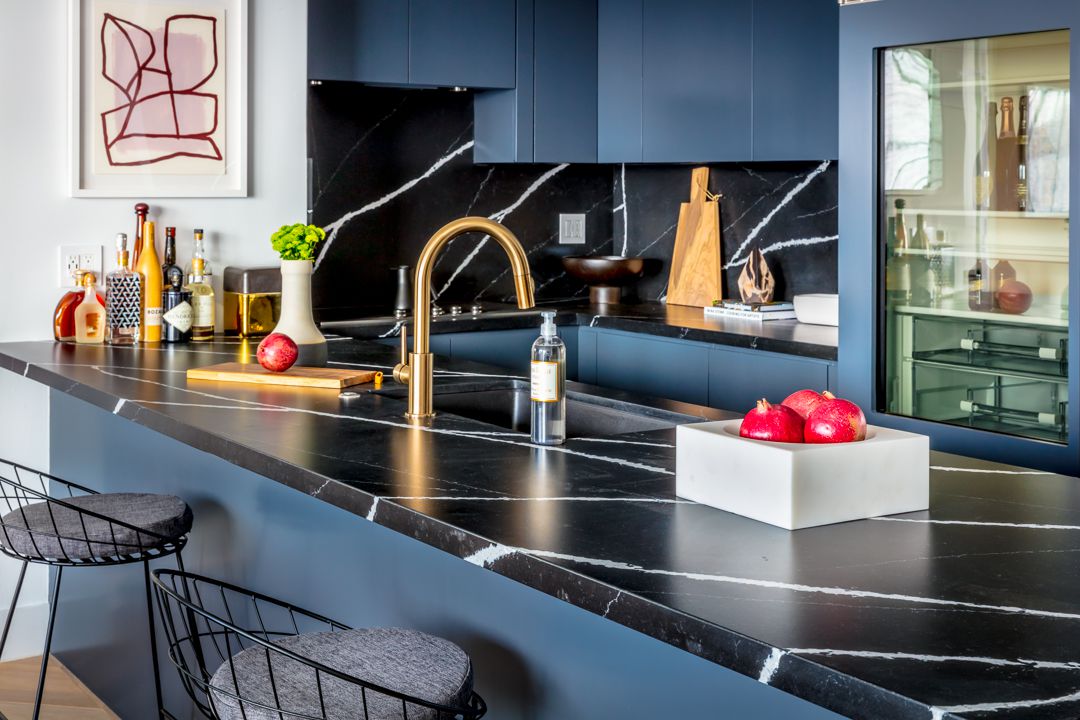 Inject energy and personality into your space by combining black quartz counters with vibrant colors for a bold and captivating design. This design idea allows you to create a solid visual statement using a startling contrast. Vibrant colors explode with intensity against the sleek black backdrop of quartz counters, creating a lively and energetic ambiance.
Consider combining the black quartz with a brilliant red, electrifying blue, sunny yellow, or any other bold color that speaks to your style. The contrast with bold colors adds energy and flair to your area, whether it is colorful cabinets, a brilliant backsplash, or eye-catching decorations.
This design idea works effectively in contemporary and eclectic settings and in locations where a focal point or specific features are desired. The mix of black quartz worktops and brilliant colors results in a totally distinctive, memorable, and energetic design.
12. Farmhouse Charm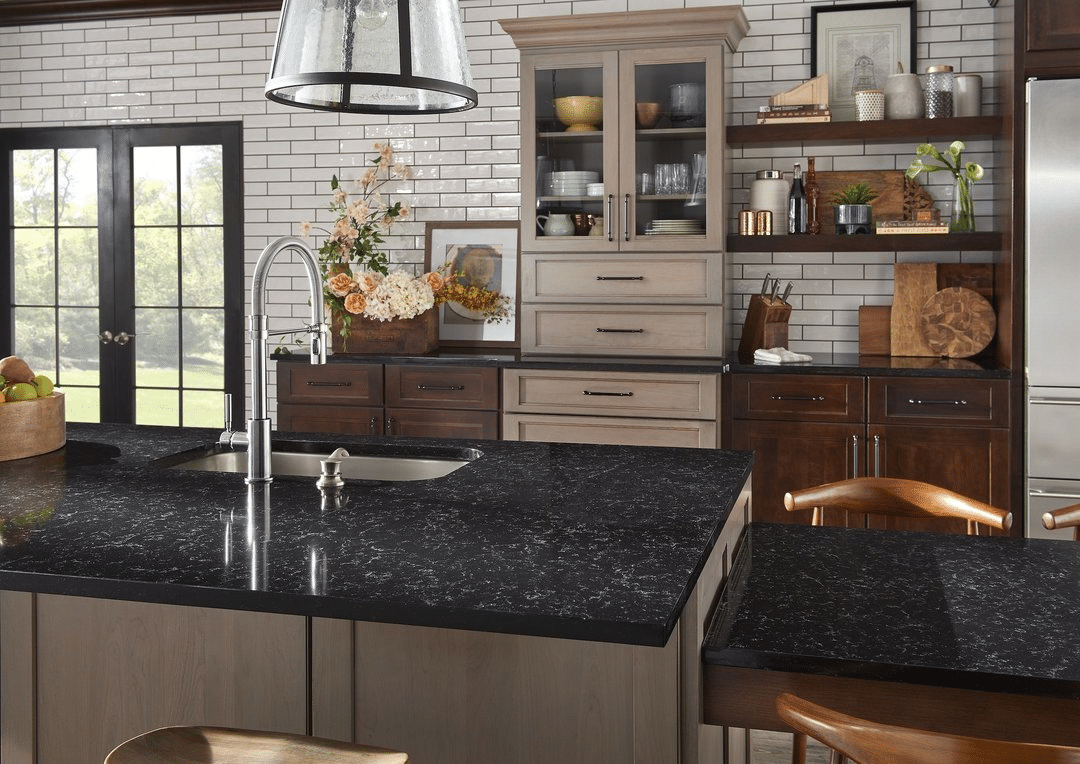 The farmhouse charm style with black quartz worktops will add a touch of rustic elegance to your home. However, this combination is still being determined! To create a cozy and inviting ambiance, this design idea mixes the warmth of farmhouse-inspired components with the sleekness of black quartz. 
Pair the black quartz counters with white shaker cabinets, farmhouse-style sinks, and vintage-inspired furnishings to get the desired farmhouse appeal. The black quartz and white cabinetry contrast produces a traditional and timeless design, while the farmhouse features add drama and individuality. 
Add open shelves, beadboard accents, and wrought iron fixtures to complete the farmhouse look. The rustic accents combined with the sleek black quartz countertops create an attractive and stylish harmonic balance. In short, this design idea will fill your kitchen area with a cozy, nostalgic feel evocative of simple times. 
13. Geometric Patterns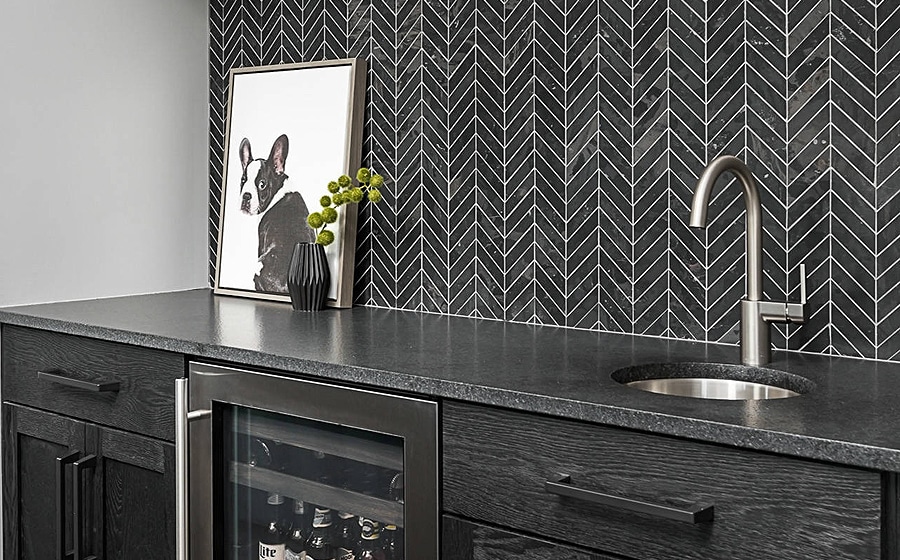 Black quartz worktops with elaborate geometric designs make a dramatic statement. This design idea adds a modern and artistic touch to your kitchen, giving visual appeal and a one-of-a-kind focal point. Depending on your taste and preferences, geometric patterns can range from simple lines and angles to more intricate and complex designs. The juxtaposition of sleek black quartz and geometric patterns produces a compelling dynamic design that instantly boosts the aesthetics of any environment. It also allows you to express your creativity and personality while adding architectural flare to your home.
Geometric patterns are versatile in that they may suit a wide range of design styles, from modern to minimalist to eclectic. Combining geometric designs with black quartz countertops offers an eye-catching effect that is guaranteed to wow the audience and provoke conversation.
14. Entertaining Outdoors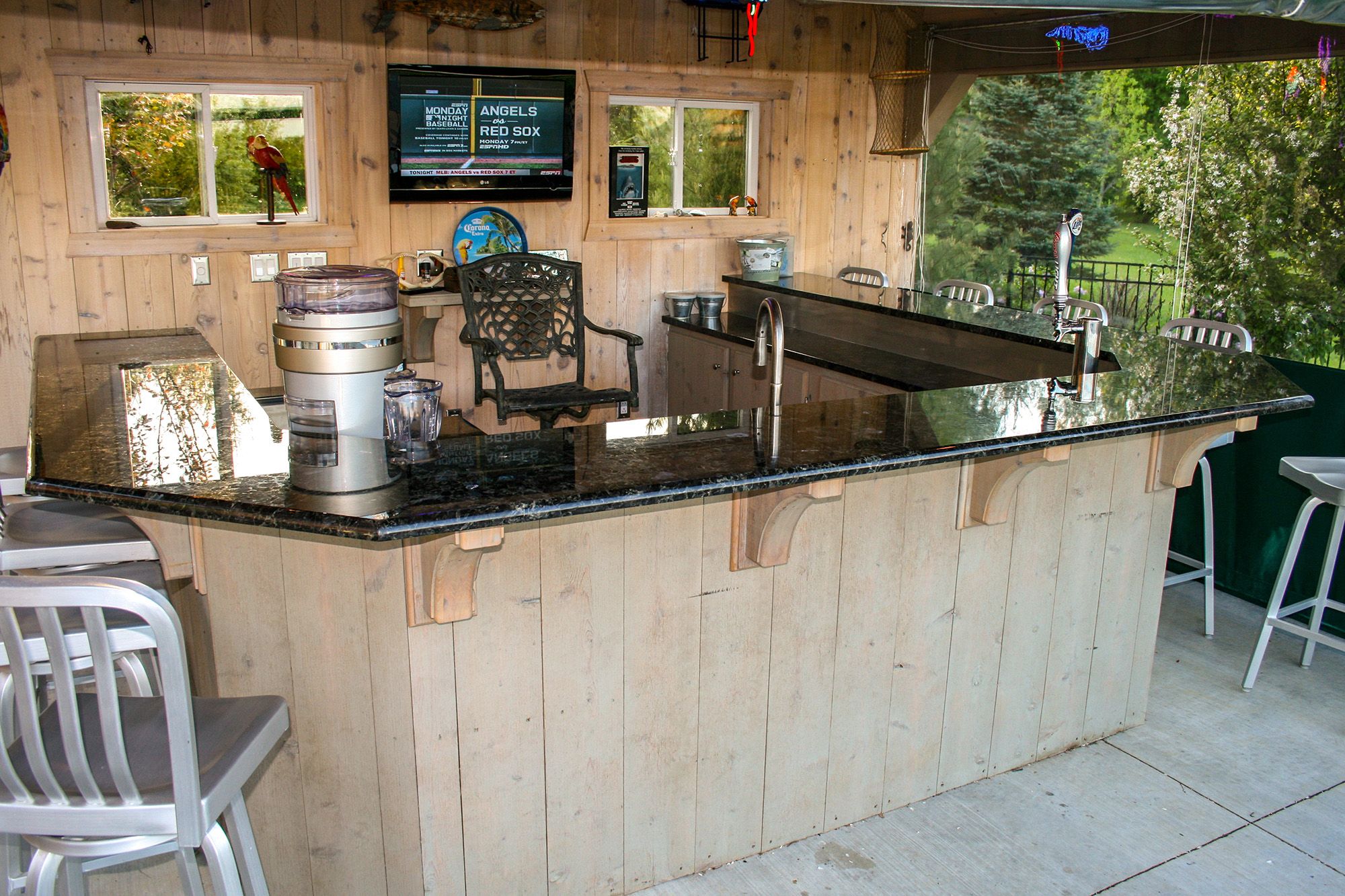 The outdoor entertaining concept featuring magnificent black quartz countertops allows you to extend your living room into the great outdoors. This design concept enables you to construct a valuable and elegant outdoor kitchen or entertainment area ideal for entertaining guests and enjoying the fresh air.
Black quartz is an excellent choice for outdoor countertops due to its durability and weather resistance. Combine it with stainless steel appliances, a built-in barbecue, and plenty of seating to make the transition from inside to outdoor life a breeze. The black quartz countertops offer a sense of elegance and refinement to your outdoor environment, whether having a casual barbeque or an exquisite alfresco dinner. This design will create an attractive and compelling ambiance. Imagine you and your guests spending unforgettable moments in this kitchen under the open sky. Isn't it beautiful?
Conclusion
The versatility and beauty of black quartz countertops shine through in these above-mentioned 14 ideas. No matter which style you pick, black quartz countertops provide a stunning foundation for any design aesthetic. From timeless sophistication to contemporary allure, black quartz offers a wide range of possibilities for creating visually captivating spaces.
Its durability, easy maintenance, and ability to complement various design styles make it a popular choice for homeowners and designers alike. Whether revamping your kitchen or constructing a new one altogether – black quartz counters will add a touch of opulence and style. So, explore these designs and let the black beauty transform your space into a breathtaking haven of beauty and functionality.
Frequently Asked Questions
Which Design Style Complements Black Quartz Countertops?
Black quartz countertops are adaptable and complement various design styles, including modern, contemporary, industrial modern, contemporary, farmhouse, and minimalist. They have a sleek and elegant appearance that can be combined with various cabinet finishes, backsplash materials, and accessories to achieve the desired aesthetic.
What Are Some Popular Combinations with Black Quartz Countertops?
Popular combinations with black quartz countertops include white, grey, silver, gold and vibrant hues such as red or blue. These combinations create striking visual contrasts and add depth to the overall design.
Are There Any Design Ideas that Incorporate Black Quartz and Natural Materials?
You can achieve a beautiful design by combining black quartz counters with natural materials such as wood. For example, pairing black quartz with natural wood cabinets or incorporating wood accents creates a warm and inviting ambiance that blends modernity with the rustic charm of natural elements.