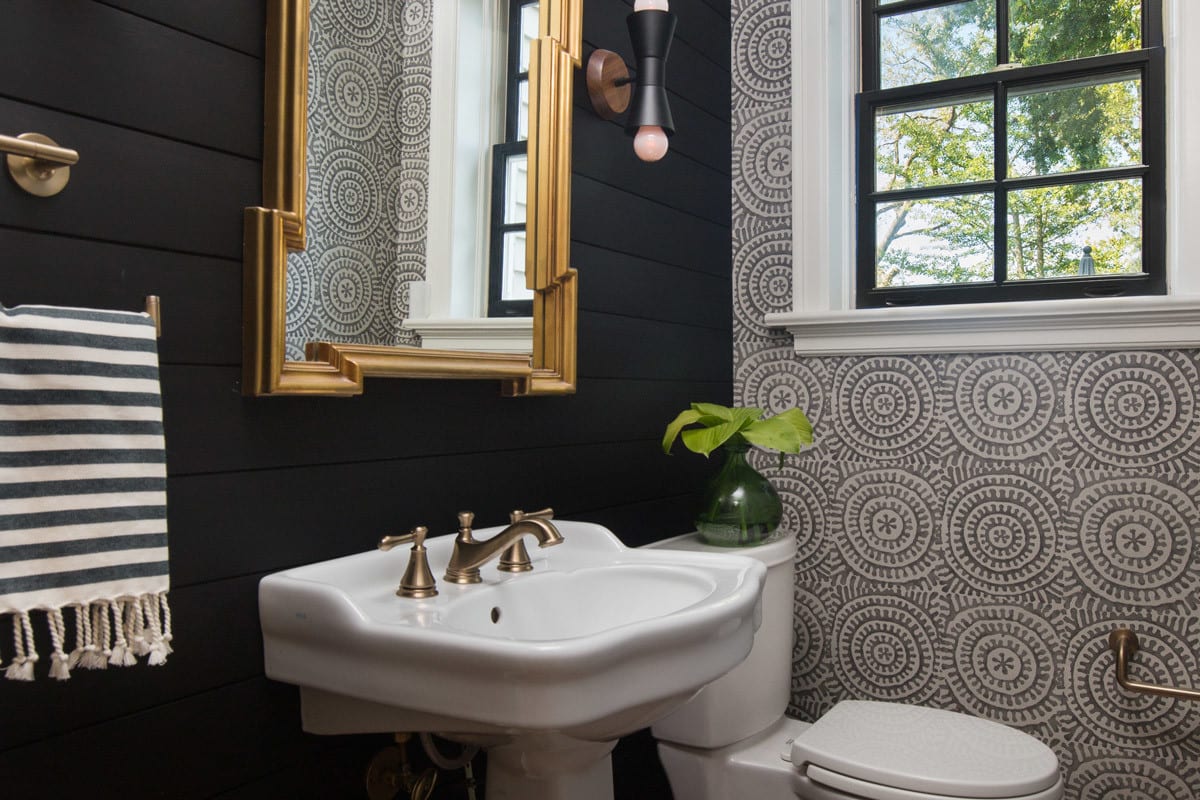 If you are thinking of giving your bathroom a makeover without breaking the bank, going with Shiplap is a great idea. It is a relatively hassle-free and low-budget option that can truly bring out the ambiance of your bathroom.
Shiplap is widely popular and has been the center of architecture for many years now, so much so that it has been a part of traditional homes for many years now.
Shiplap is a wooden board that has grooves to fit another board. For working with shiplap, you just need to make sure that the grooves fit within each other to create a neat appearance and Voila! You have got your bathroom or powder room ready for yourself.
Here are some incredibly useful wall ideas for a shiplap bathroom that you would love to incorporate into your home.
1. Invite the Tranquil Charm of Natural Wooden Shiplap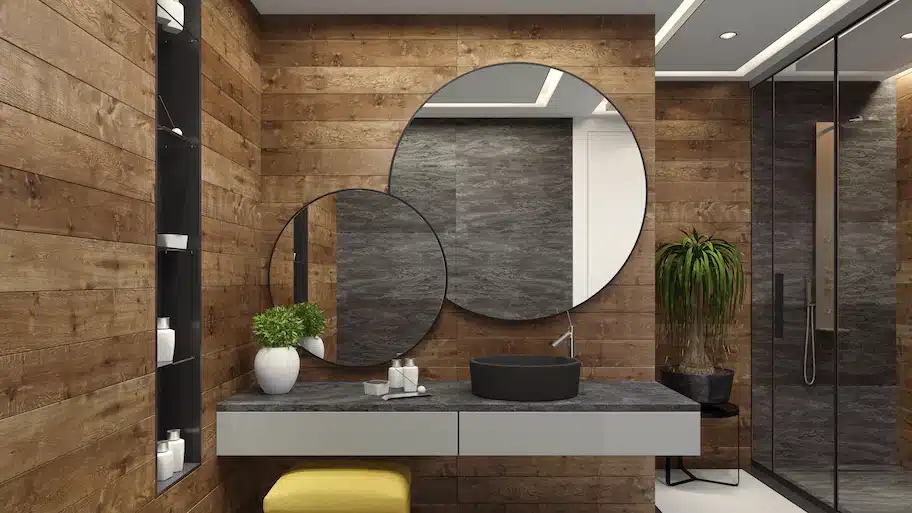 If you prefer keeping the ambiance of your bathroom cool and sophisticated, choose the natural color of the Shiplap. The wooden appearance of the Shiplapgives your bathroom a luxurious feel. It gives out a cottage vibe to your bathroom and obviously costs a lot less; you just need to polish the Shiplap and work with it.
You can bring out the beauty of the bathroom interior by keeping bathroom furnishing traditional. It's a blend of both classic and modern. Add modern-style bathtubs, mirrors, and lighting in the bathroom to create a natural yet classic vibe.
2. Floor-To-Ceiling Shiplap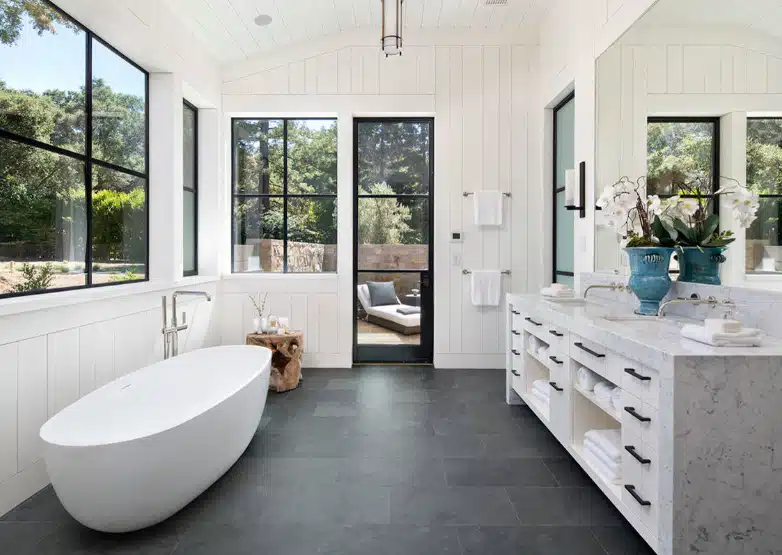 Another widely preferred shiplap design is the floor-to-ceiling Shiplap; in this design, Shiplap is used starting from the floor all the way up to the ceiling in a vertical alignment. A significant key aspect of this design is that it gives out an illusion of greater height.
If you have a low ceiling in your bathroom, you can use this shiplap bathroom design to give it a spacious look.
3. Wall-To-Wall Shiplap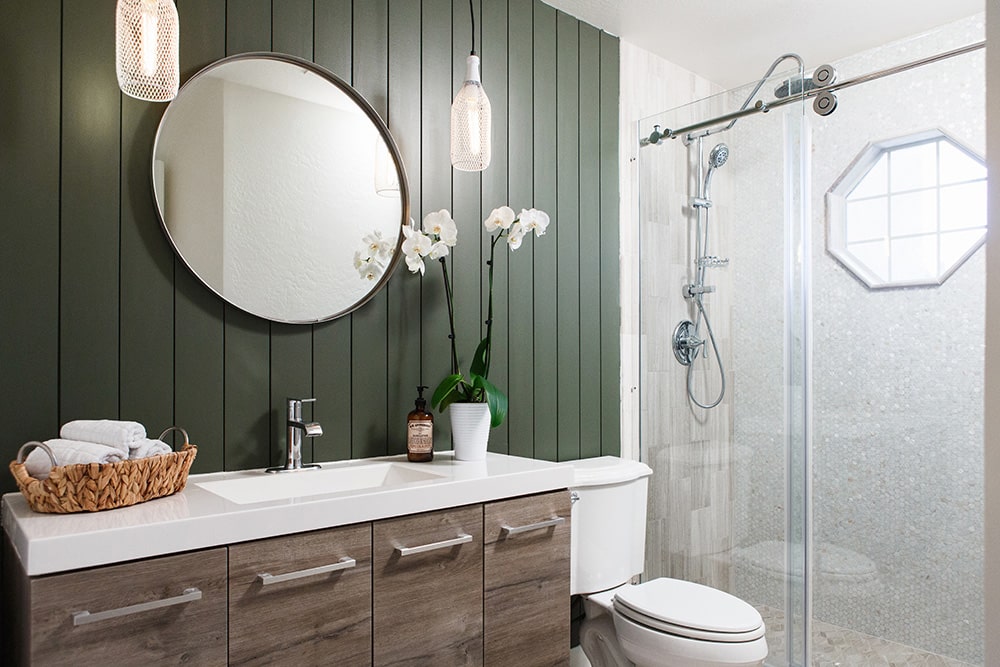 As the name suggests wall to wall shiplap design refers to a design in which Shiplap are arranged all over the wall of the room. It may be only on one side of the room or on all sides of the room. It gives a great visual appeal and rustic feel to the bathroom.
You can use a lighter tone, such as sky blue, white, or baby pink Shiplap, to create a neat and relaxing appearance. Light colors bring out the sea vibe and fit perfectly with the bathroom's fresh and calming ambiance. However, bold colors are also perfectly fine and can be chosen for the shiplap bathroom.
4. Vertical Shiplap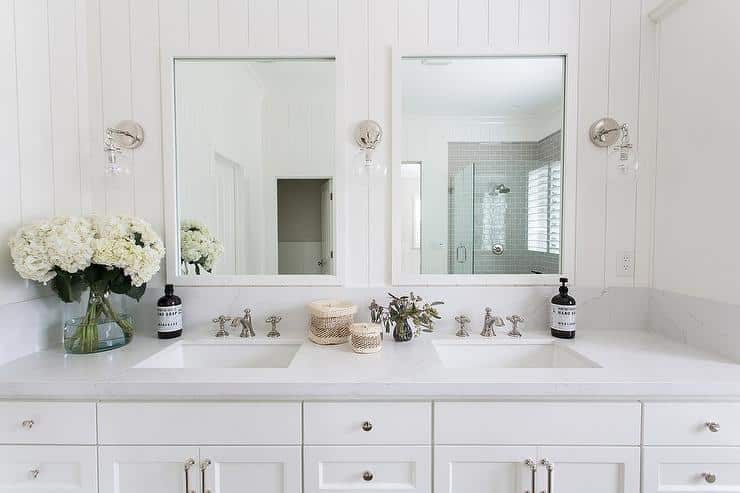 The easiest and most common design option for working with Shiplap is using vertical Shiplap. There are a plethora of possibilities that can be worked with vertical Shiplap. Using two different colored boards, using one dark and one light, using wide Shiplap, and many others.
Using two tones of different colors in your bathroom gives out a vibrant and bold look. It is fancy, modern, and has a cheerful vibe. Using the two tones of colors for your shiplap bathroom is definitely a treat to the eyes. You can choose to go with one wall, preferably behind the mirror, shelf area, or the seating bathtub area.
Vertical Shiplap is a trend that is here to stay for a long time, so if you want to give your walls a retouch, you should certainly go for it.
5. Shiplap Towel Area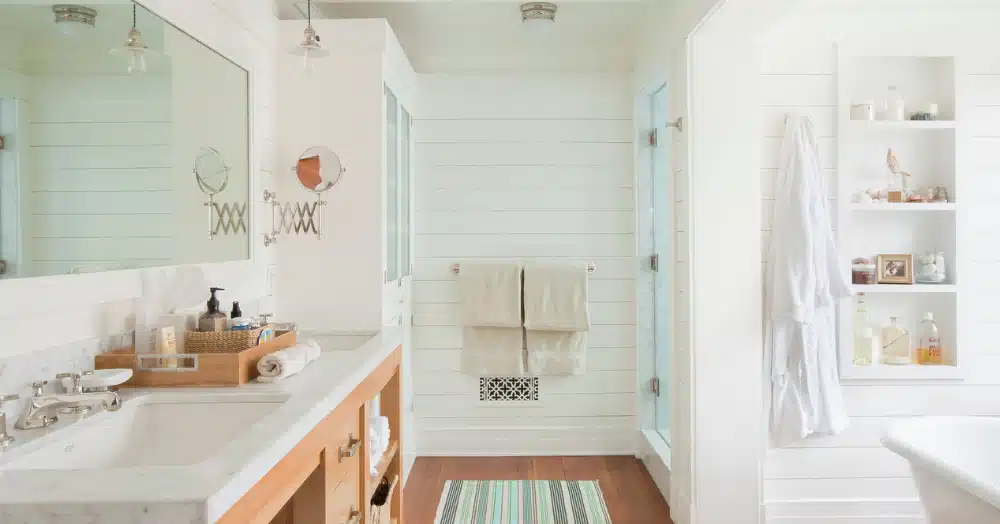 If you want one of your bath areas to be the focal point of the bathroom, you can choose to go with using just a part of your wall, such as the towel area. It not only creates a distinctive look but totally changes the look of your bathroom.
Give it a bold color and use contemporary-style hooks to hang and dry towels. Make sure the color does not blend with the walls. The whole idea of using Shiplap in a particular space is to bring out that space, so blending colors is not an option here.
6. Antiquey Shiplap Look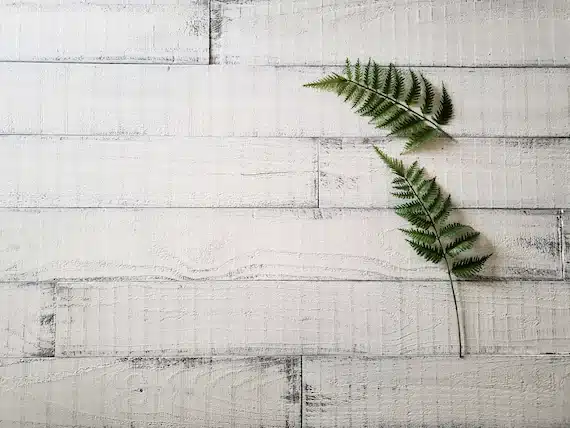 If you are one of those traditional people who look to maintain the architectural beauty of their homes by having different figurines and artifacts, giving your shiplap bathroom an antique look is a great idea.
You can use pre-made distressed Shiplap and arrange them horizontally or vertically from bottom to top. Add some character to this antique Shiplap look by using matching antique-looking mirrors, taps, and towel hooks.
This design is, however, a little difficult to maintain, so get ready to give it some time and effort to maintain.
7. Contrast Colors and Patterns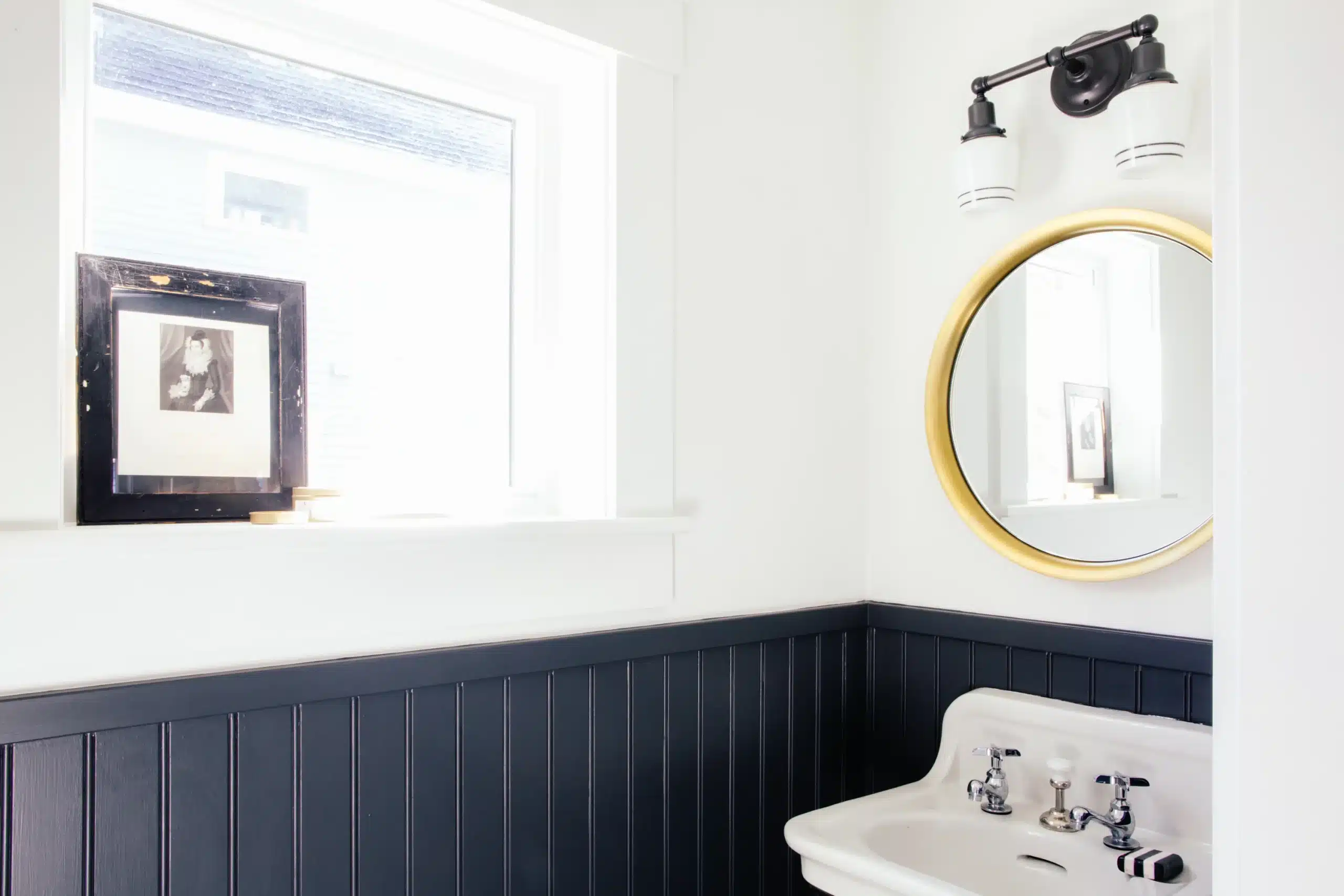 Using Shiplap is all about playing with contrasts. There is no doubt that using Shiplap has become a bit of a cliche. Without using any experimentation, your shiplap bathroom will not look its best. Using contrasting colors and patterns is your chance to change the game of Shiplap totally.
Using only one kind of design may make your bathroom look boring and without any element. It is repetitive and bland, which is not a good example of architecture. If you need to create an interesting look, you should go with different shapes and colors.
For example, if you are using a horizontal shiplap, you can top it up with arectangular wash basin.
8. Beach Look with Light Blue Shiplap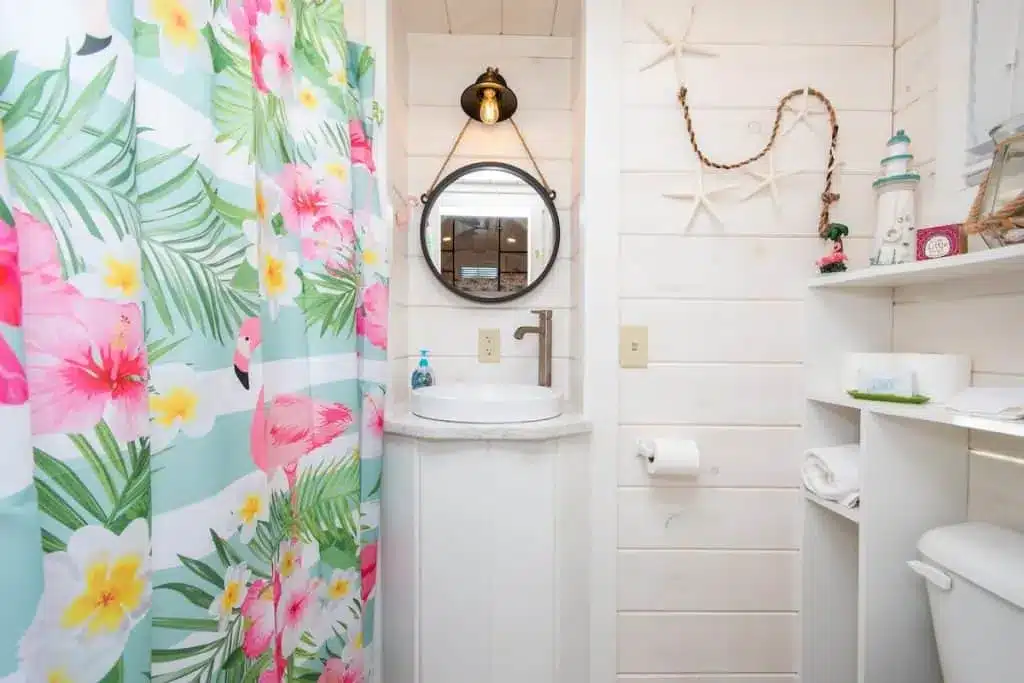 Looking for a refreshing look for your bathroom? How about using an all-light blue shiplap to create a fresh beach look? Colors such as light blue, lime, and light pink are quite an in trend these days for Shiplap.
They create a soothing ambiance and are perfect as bathroom shiplap. Most people like to paint their Shiplap with bright and contrasting colors, but going with a clean and fresh light color is never a bad idea for a bathroom. The light blue color also reflects better light as opposed to using dark vinyl colors. So, if you want a refreshing feel for your bathroom, choose to go with a light blue colored shiplap.
9. Mix and Match with Painted Borders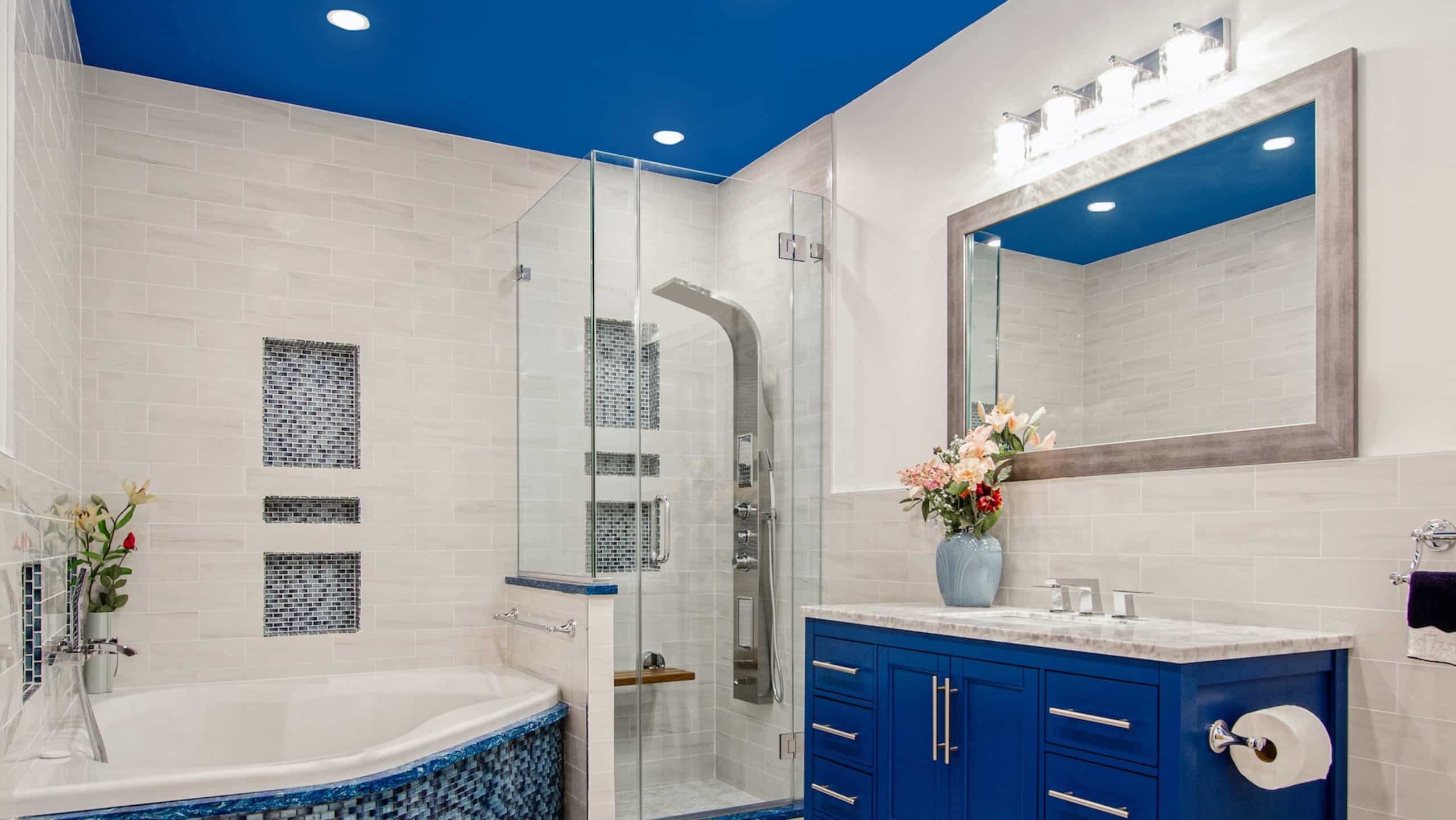 If you want to give a little personal touch to your shiplap bathroom, you can add painted borders to the design. You can pair Shiplap with contrasting borders and ceilings. It creates a beautiful and unique look for your bathroom. Choose complementary colors and accessories to bring out the mix-and-match design truly.
Take creative liberty to have your own design with paints to create a fun and engaging look.
10. Mix and Match with Tiles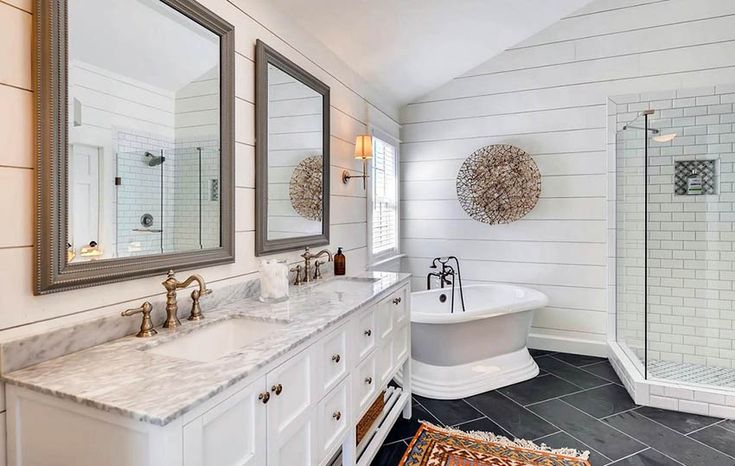 Tiles and Shiplap go quite well with each other. Tiles accentuate the beauty of your shiplap bathroom without coming off as too much. You can choose various patterns of tiles to go with your Shiplap.
You can choose either vertical or horizontal Shiplap according to your preference to pair with tiles. While vertical Shiplap is known to give a spacious look to the bathroom, horizontal tiles will add width and depth to it.
A major chunk of your shiplap bathroom design also has a lot to do with your flooring. Always make sure that the tiles and Shiplap go with your flooring too. The safest option is to go with monochromes like black, white, or grey if you have typical wooden flooring.
11. Deep Tone Colors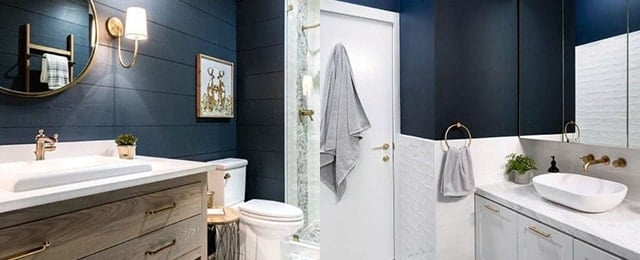 Deep-tone colors provide a rich and vibrant look to the place. The most used deep-tone colors are navy blue, deep green, chocolate brown, and plum colors. It is better to use light color fixtures if you are working with deep-tone colored Shiplap.
You need to be careful with lighting if you are using deep-tone colors. Bright white light is required with deep-tone colors. Always remember to balance out deep-tone colors with lighter elements; otherwise, it becomes too bulky and loses its charm.
Deep tone colors, if not used carefully, may give out an impression of confined space. So, you need to be quite careful while working with them.
12. An All-White Bathroom with Grand Fixtures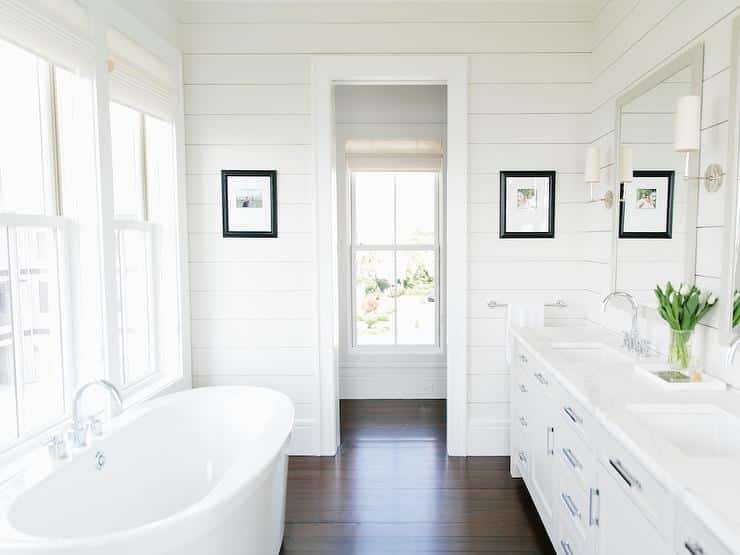 An all-white bathroom creates quite a dreamy, straight-out-of-the-fairytale kind of look. Use a white wooden shiplap and throw in a few feathered plush furnishings, such as bath mats and carpets, to create a refreshing and timeless look.
Horizontal Shiplap with chrome polished fixtures is the perfect way to bring out the luxurious feel. You can add a decorative element to the bathroom by using an intricate designer mirror with an all-white washing area. Incorporate some chandeliers to add a touch of glamour to the overall ambience of the bathroom.
As far as flooring is concerned, it could be white with black, grey, or any dark accent to match the overall look. This all-white bathroom is a great visual for your luxurious escape from the mundane life.
13. Distressed Shiplap Boards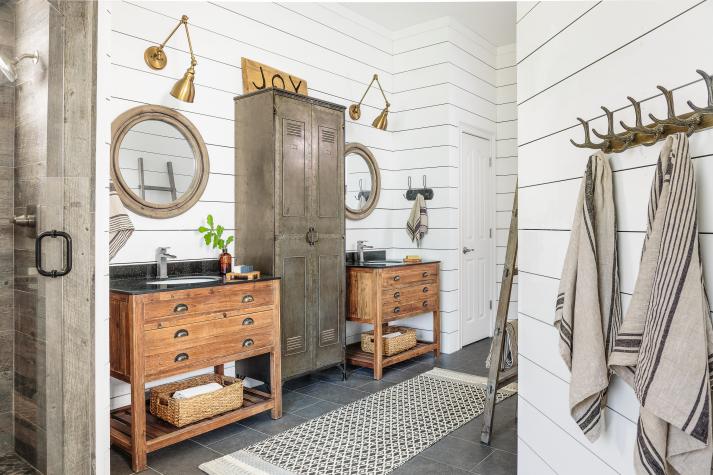 Distressed shiplap boards are an increasingly popular choice preferred by architects all over the world these days. They add a fun element to your bathroom decor. It creates a funky torn-out and weathered appearance to the shiplap design. It is widely popular for coastal or farmhouse kinds of structures.
You can create a distressed shiplap look in many ways. Some of the most preferred techniques are scraping, glazing, sanding, and using hammers and nails to create particular designs.
Distressed shiplap boards can create a rustic charm, give your bathroom an edge and make it stand out.
14. Shiplap Doors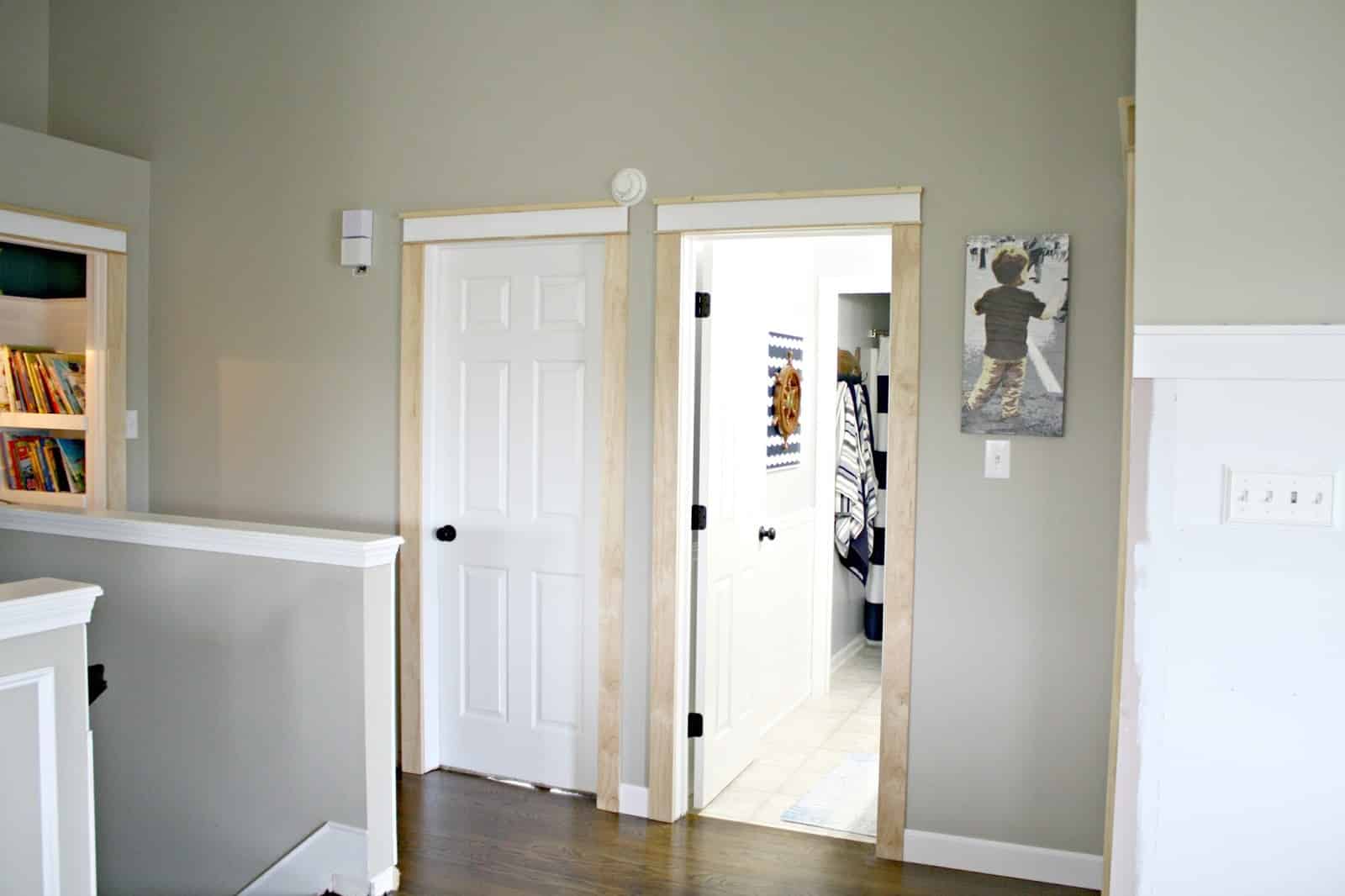 If you don't want to remodel your entire bathroom but still want to go with a shiplap bathroom, using shiplap doors is a great idea. They have become widely popular owing to their aesthetic aspect. Mostly horizontal lines are used for shiplap doors. However, you can also work your way through vertical Shiplap. They create an antique barn look and bring out an elegant style. It can be used as a focal point of the bathroom architecture or paired with other design elements to bring out the beauty of your home.
15. A Combination of Shiplap and Stone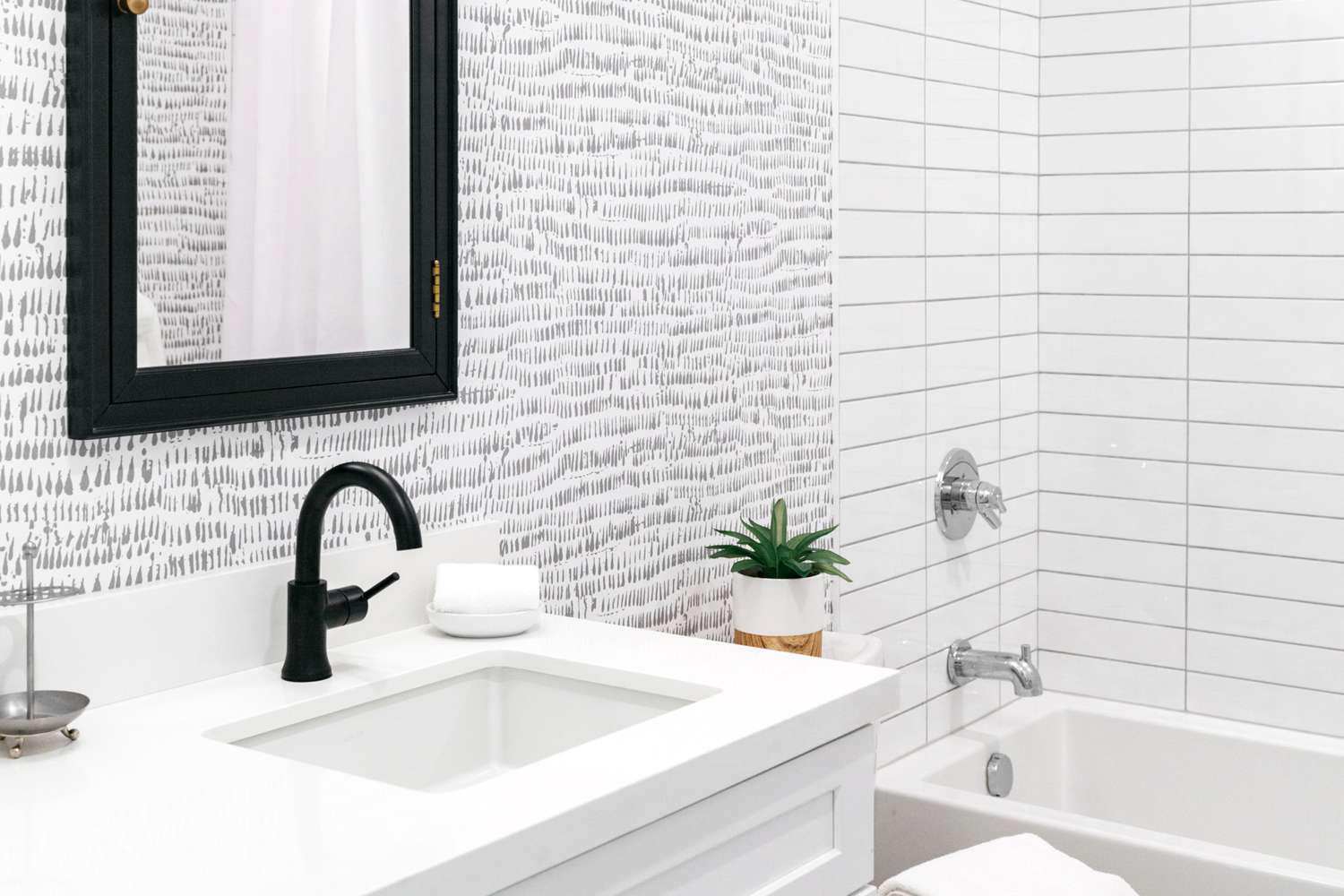 Incorporating Shiplap and stone is a great idea, as both elements give a contrasting appearance to the walls. While stones give out a cool and natural look, Shiplap provides a warm rustic touch to it.
You can use Shiplap starting from the floor and halfway through, and then for the above part; you can use stones. Combining the durability and elegance of stone and the charm of Shiplap is something that can truly brighten your space.
You can mix and match stone and Shiplap in various ways, such as using Shiplap for the ceiling and stones for the walls, or you can just use the Shiplap behind mirrors, basins, or bathtubs. Always test for a small area of the bathroom before incorporating this idea, as it may not work in all cases.
Do not forget to take into account the overall style and theme of your bathroom while choosing the stone and the Shiplap. They should be in such a way that they complement each other.
Conclusion
Shiplap bathroom is a great idea to create a refreshing look for your bathroom. It can truly enhance your space and add a personal touch to your bathroom. A thorough study of the design elements, such as lighting, fixtures, and colors, is needed before starting to remodel.
Always make sure to consider the size, layout, and structure of your bathroom before starting the work. Choose your bathroom accessories wisely in such a way that they go with the style that you have chosen for your bathroom. Well-chosen accessories can truly elevate your entire experience.
What are you waiting for? It's time to give your bathroom a makeover with these amazing ideas for a shiplap bathroom. Tell us your pick in the comment box.