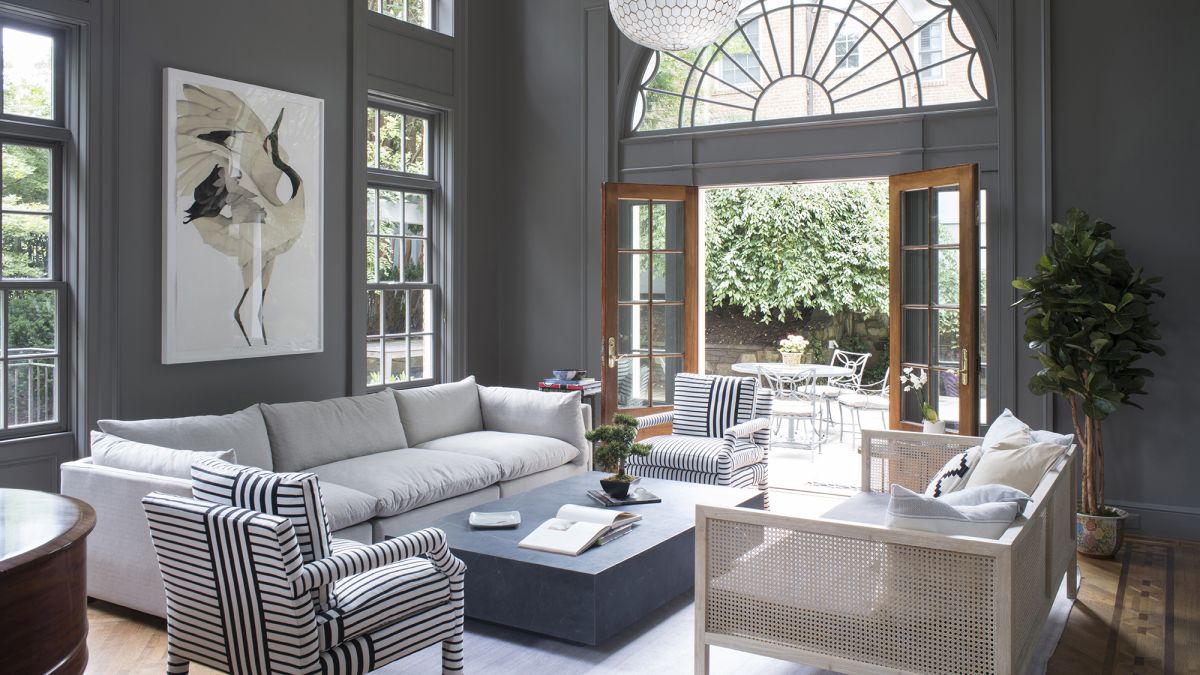 The color combinations in a room have the most major impact on its appearance. A living room is the main room of the house that speaks tons about your personality and your family. Gray is an extremely malleable shade that can make your space appear cozy, spacious, lively, and inviting at the same time.
Interior designers are no longer just combining black and white to create a gray color scheme. However, they are considering the layout of the room, the amount of light a space or a wall will receive, and the way in which the space will be accessorized before selecting the right shade of gray.
Here are 20 gray living room ideas for those who have an unconventional choice and want to do something different.
1. Excellent Accent Walls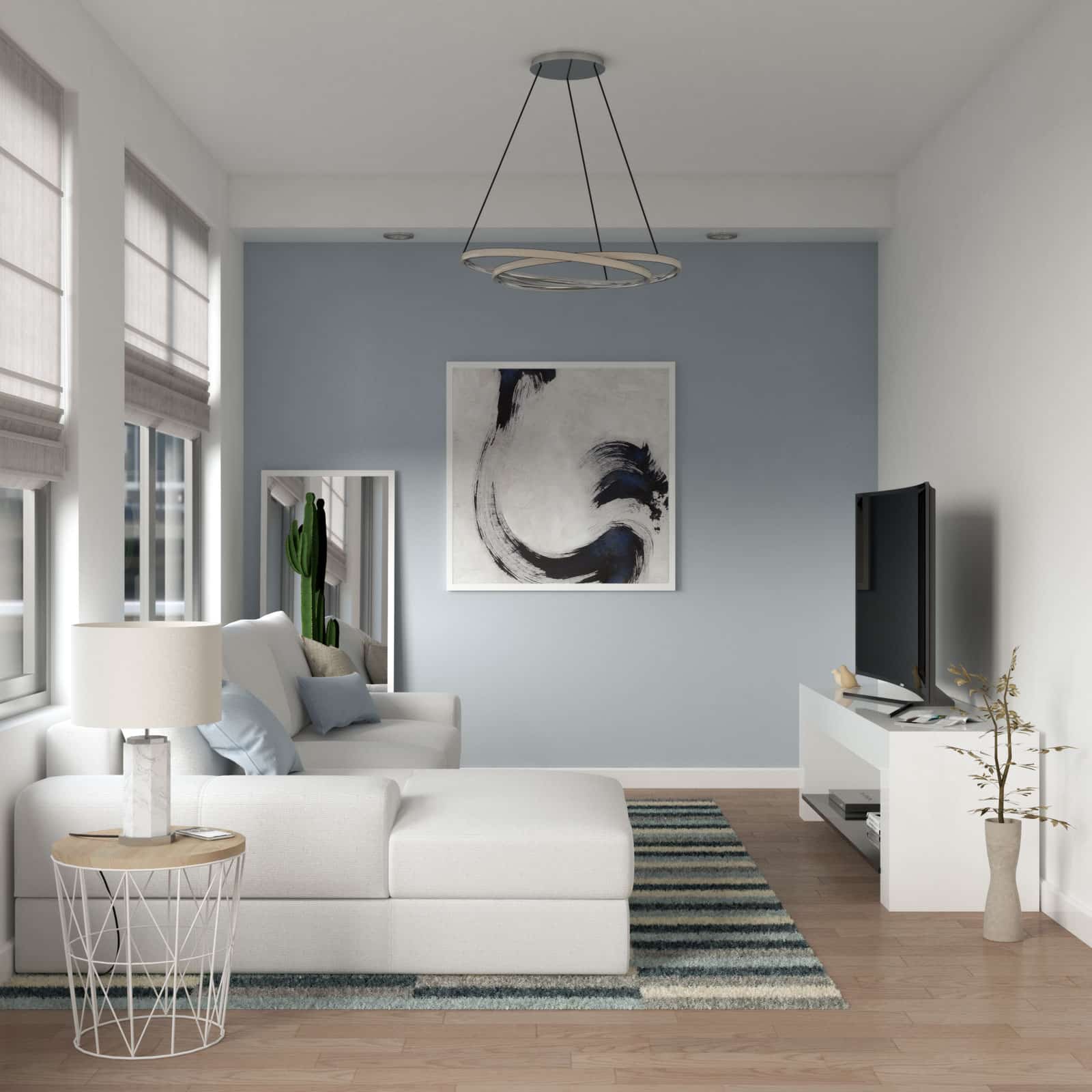 A gray feature wall can be the highlight of your house. By selecting the right wall in the house, i.e., one that receives ample light and the one which is big enough to stand out, a lead-gray feature wall can truly make your house look stunning. If you want a single wall in the living room to dominate, go for a darker tone, like pebble gray or iron gray.
However, if you want your room to have an effortless appearance, a lighter shade of the accent wall, like flint gray, for instance, will make the room seem lighter and easy on the eyes.
2. Timeless Two-Toned Style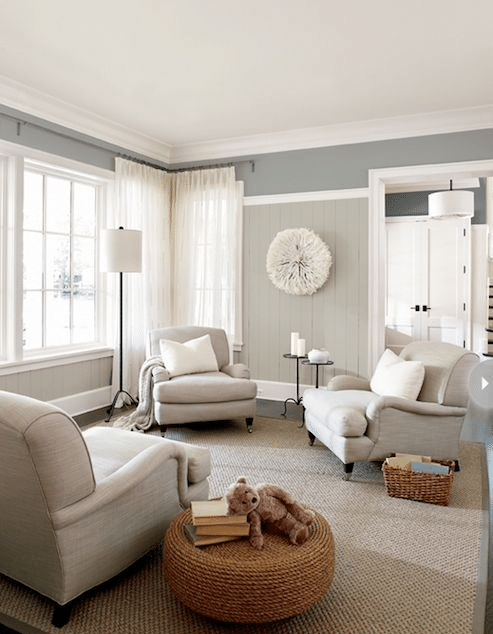 Two-toned walls in the living room are pretty cool. Go for a lighter shade on the upper half and a darker shade of gray on the lower half. By painting the living room with two shades of gray, you will add more drama to your space and some versatility at the same time.
Nevertheless, if you wish to go for something timeless, such gray living room ideasare the best. Dark gray walls with a light gray ceiling and white trimmings can make your living room look cute and cozy. Classic gray combinations like cloud gray and fossil gray or coin gray paired with cloud gray can look equally appealing.
3. Multi-Colored Books and Objects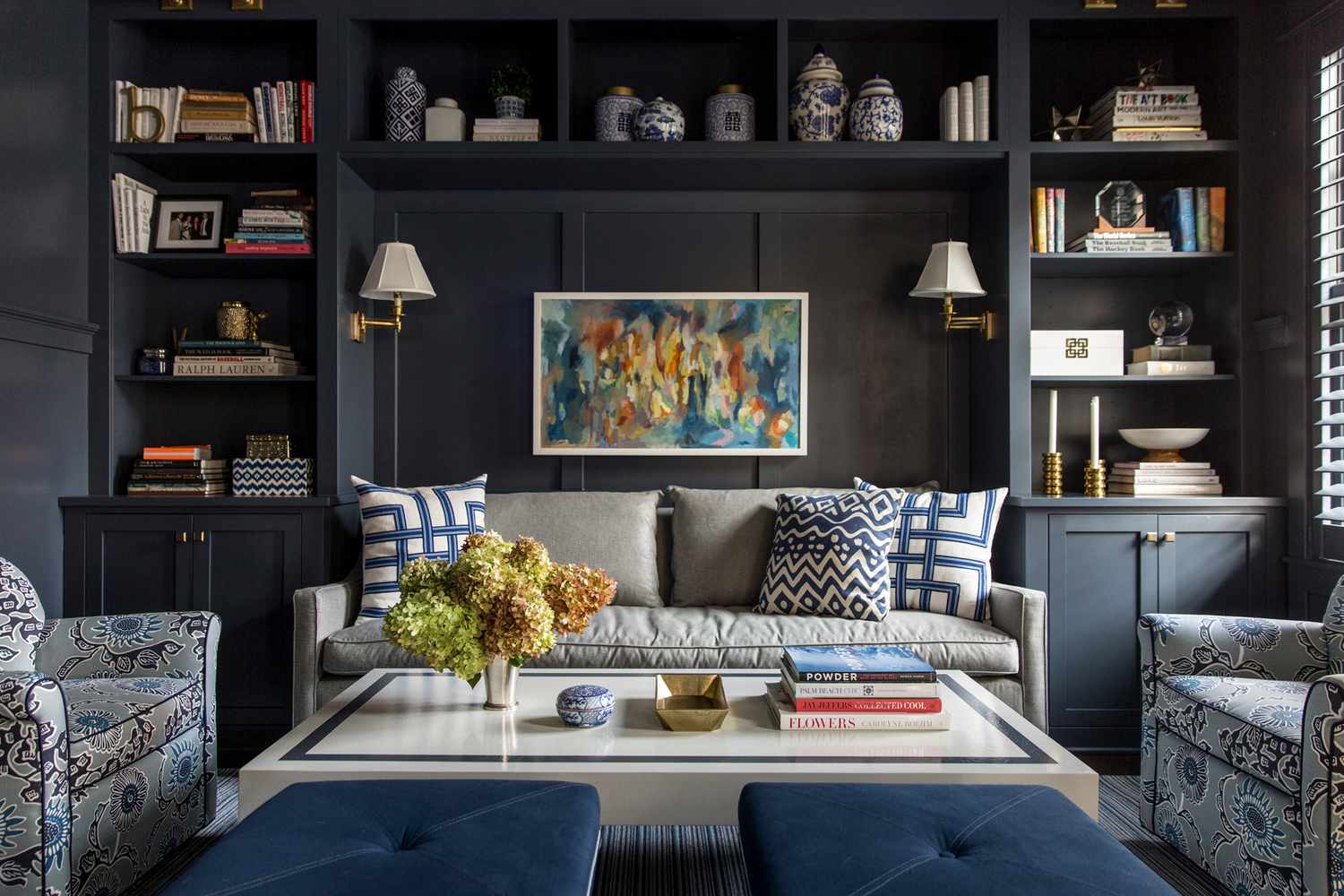 Since Porpoise gray is a neutral shade, multi-colored books, and objects can attract the attention of your guests easily. A pink-colored sofa with gray cushions and a black throw draped on a chair can look extremely chic.
Since gray is a combination of black and white, a black sofa set with white cushions and a white rug can elevate the appearance of the room. This muted shade is impartial and subtle; it can be paired with all kinds of accessories with a matte as well as shiny-metallic finish.
4. Silvers, Golds, and Grays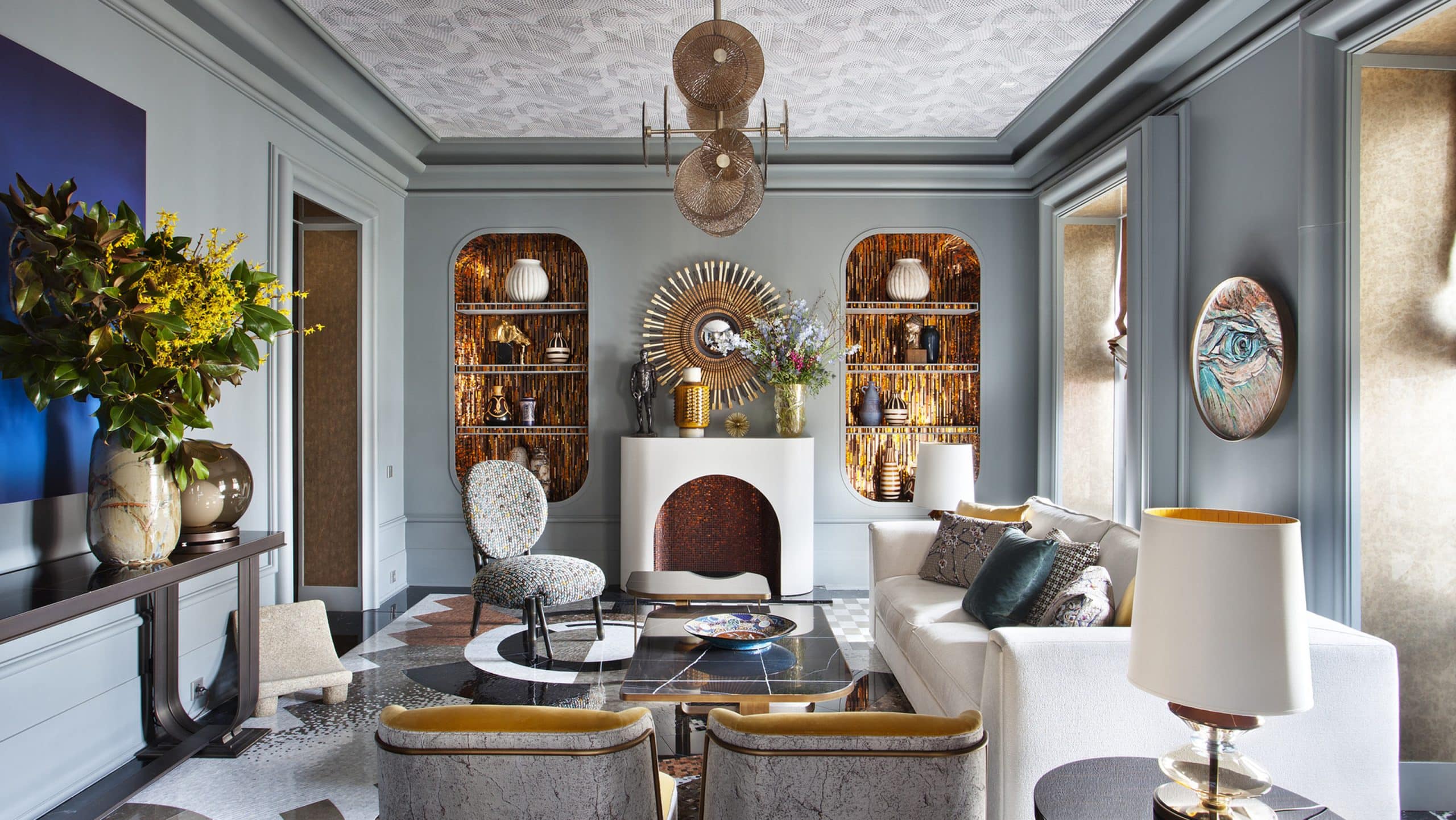 Silver and gold accessories like wall clocks or table clocks can add some drama to your room. You can place objects that have a gold and bronze finish to make the room seem cuter and a tad formal. By painting your corners and crevices with golden paint, a room can look sophisticated, dapper, and warm instantly.
On the other hand, since silver is basically a shinier version of gray, any silver-colored accessory can make your living room appear cohesive, well-maintained, and even modern.
5. Pop Architectural Features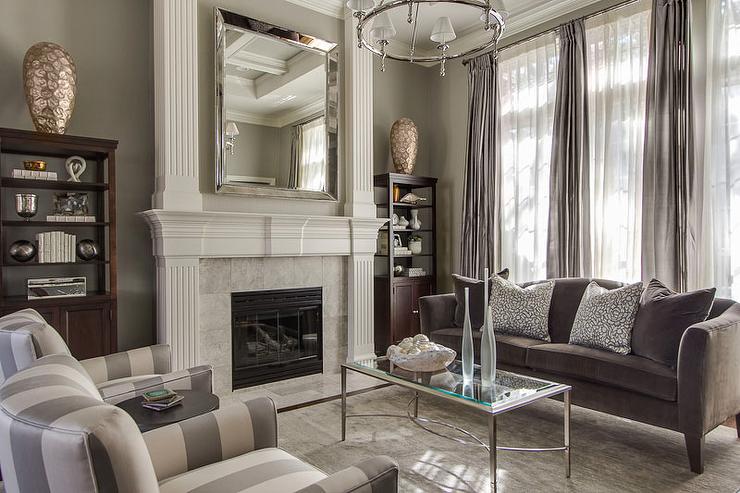 Certain architectural features can remain hidden in plain sight if not highlighted appropriately. For instance, a living room with French windows, intricate niches and moldings, wall frames, a small section of exposed bricks, and so on is of no consequence if they are not able to grab the attention of people.
Gray being a versatile shade, can improve the outlook of a space dramatically if it is used to paint these details smartly. Gray-colored brick walls, dark gray wall frames, fireplaces with a gray mantel as well as hearth and window frames, can make a room look more orthodox yet cosmopolitan.
6. Slats Walls And Wooden Accents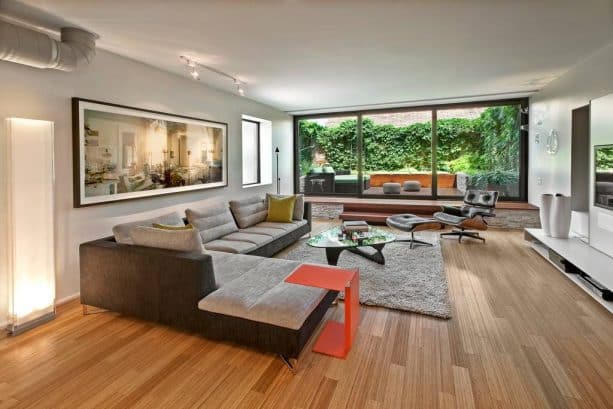 Another great gray living room idea for a unique living space. A floor with smoke-gray tiles, gray walls, and wooden ceilings can make a living room seem modern yet rustic.
These color combinations are comforting and complement each other at the same time. You can even opt for whitewashed ceiling beams, as they go very well with gray floors and walls. Cloud gray walls also make a room look larger if they are combined with brown slat walls and black leather sofas, as colors like brown, black, and gray flatter each other.
7. Warm Grays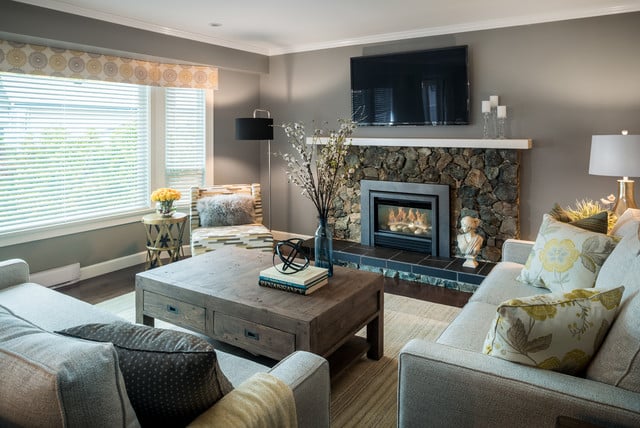 One of the best gray living room ideas is to pair warm gray colors with pink, green, and brown tones. Since warm grays have an undertone of brown, red, and yellow, the right kind of accessories can truly bring out these shades in a space.
Therefore, this is an easy-to-use neutral shade that is somber and goes well with a variety of textures. A living room with a white wooden door, cream sofas, and bright or ombre-colored cushions can make any room enjoyable and cheerful.
8. Bright Colors of Foliage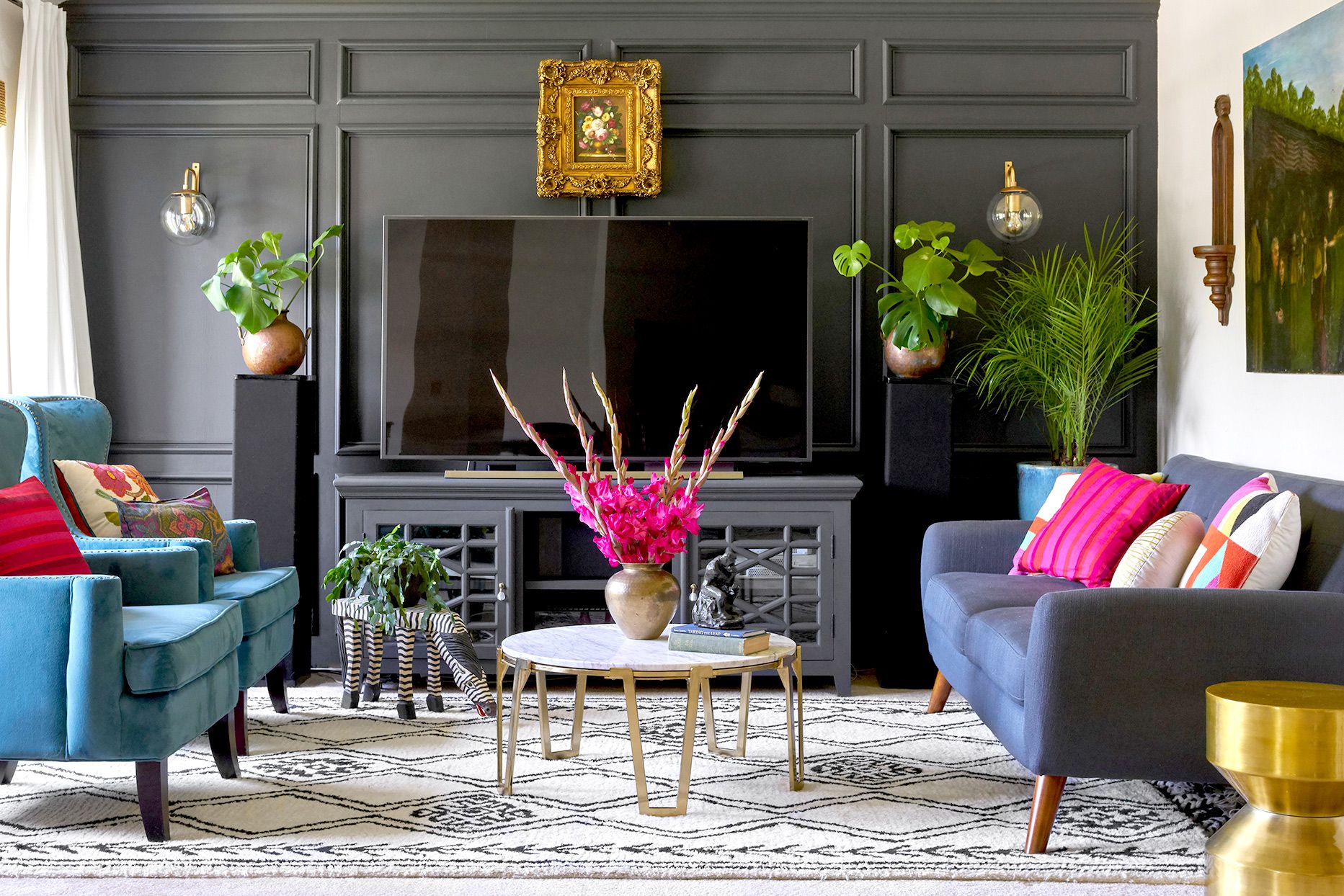 Gray being an achromatic shade, will balance out bright shades. Therefore, painting a wall gray and decorating your room with bright-colored floral accessories will make the room pop.
You can even install a floral wallpaper with a gray background, as the contrast between bright flowers and the gray background will further add more character to your space. Since cloud gray has a dominating tone of white in it as well as other shades like silver gray and coin gray, bright accessories will look visually appealing against such backgrounds.
9. Drench Your Room, Gray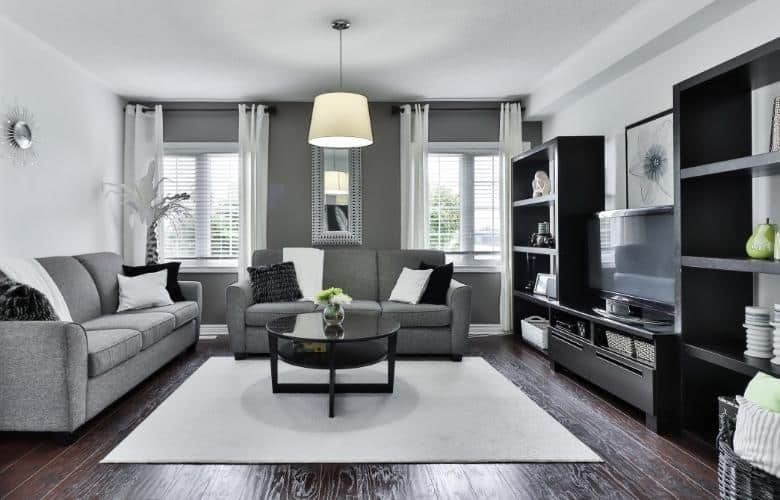 For gray living room ideas, a cheerful monochrome look can be achieved effortlessly by painting a room gray. If you do not want to complicate things unnecessarily, light gray walls and dark gray ceilings in your living room can be paired with a simple wooden floor to achieve a minimalist look.
Simple metallic chairs or white sofas for sitting and light-colored wooden tables are the ultimate guide to achieving the best minimalist living room. For a more domineering monochromatic look, paint your room with a slate gray shade or a lead shade gray. However, if you wish the walls not to come to the front and merge with the background, a cloud gray or coin gray shade will look better.
10. Grey Geometric Designs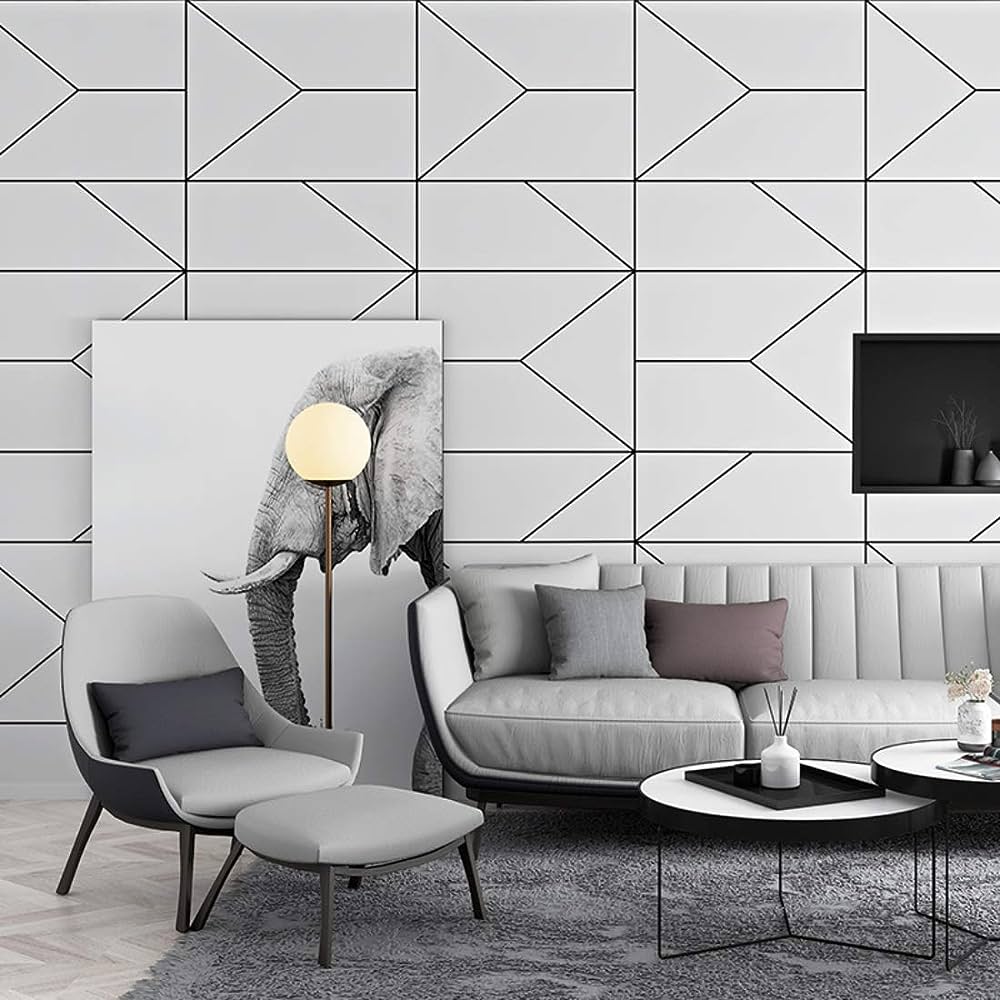 One of the most unconventional wall designs is geometric wall design. A gray wall in your living room can have geometric designs that are white, blue, and black in color. You can pair gray triangles with teal, a modern Scandinavian black and white geometric print, gray and sage geometric murals on a big wall, and so on.
However, the geometric design that you can select must be in accordance with the size of the room so that it does not seem too overwhelming.
11. Paisley Wallpaper on Gray Walls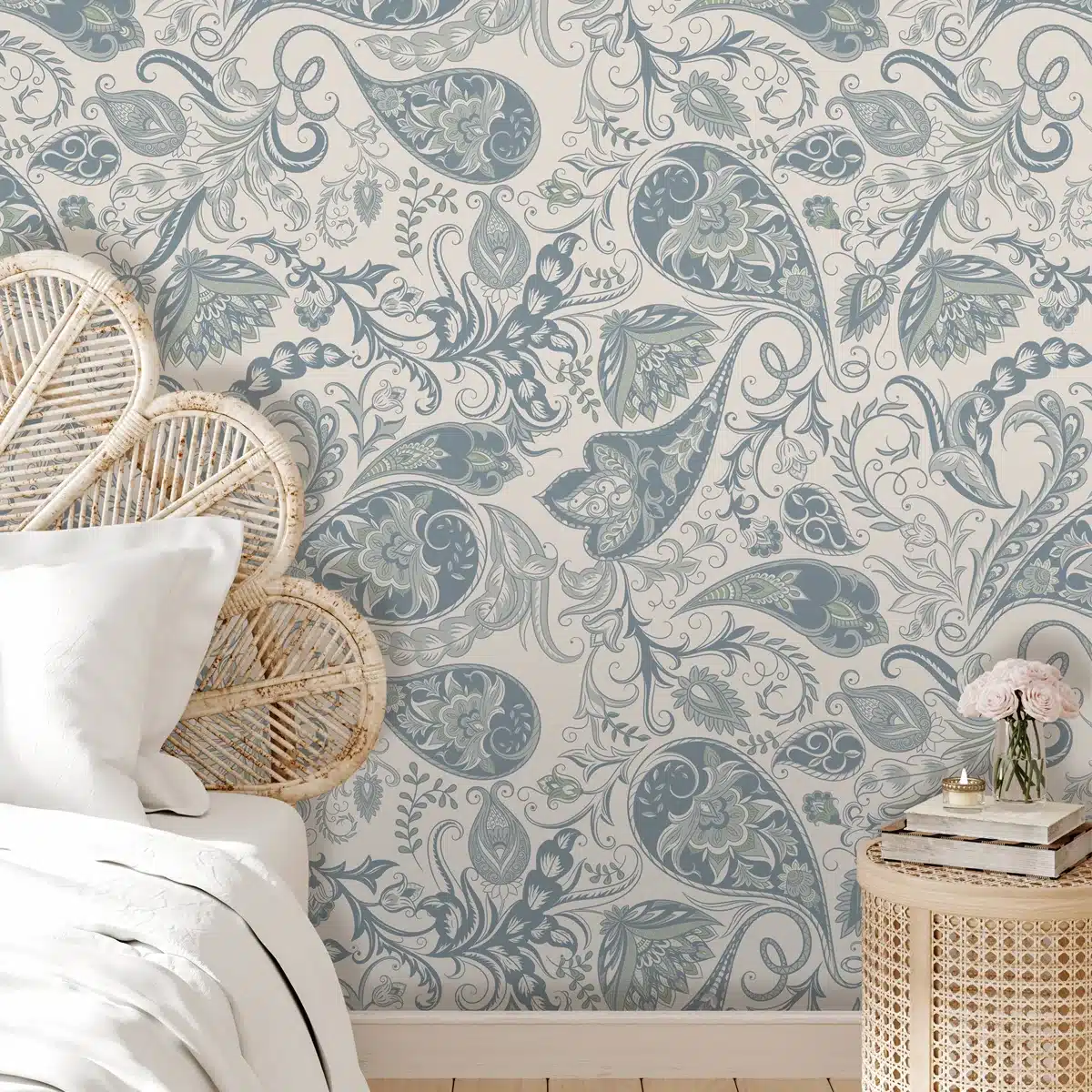 Gray paisley walls in a living room can be one of the most unique features. White walls with gray paisley designs can make a room seem spacious and give you an opportunity to accessorize a room in multiple ways.
However, an intricate white paisley design on a dark gray wall, on the other hand, can make a room seem cozier and warmer. The room will exude a more Asian vibe and have a theme of its own.
12. Yellow Accessories in Grey Spaces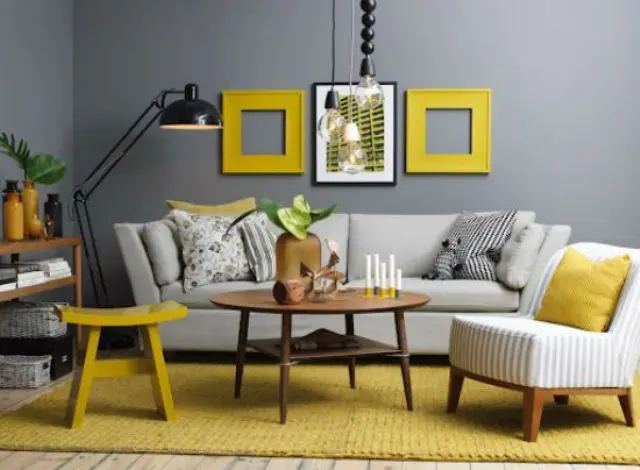 One of the most unconventional gray living room ideas is to go for a yellow-gray combo. The color yellow is often associated with emotions like joy and mirth. This particular shade adds energy to the neutral shade of gray. Specifically pewter gray and porpoise gray, but does not overpower it.
However, warm golden-honey hues can make the space look calmer and soothing. Placing brass table lamps with yellow accent cushions and white sofas in a living room can work wonders and attract people to your living room more than ever.
13. Gray-Turquoise Coastal Scheme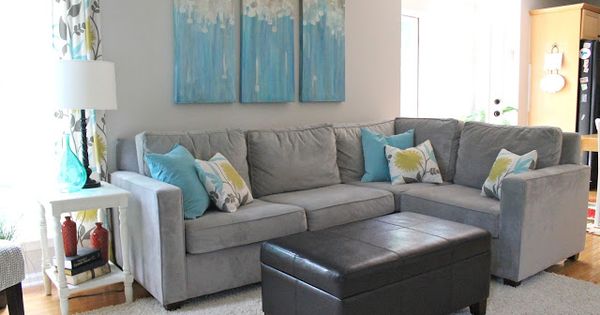 Turquoise and gray are one of the most ideal color combinations. Nothing could be warmer yet equally dramatic as a room with well-balanced shades of turquoise and gray walls. For the room to have a more coastal vibe, go for light gray walls, white ceilings, and turquoise cushions.
For a more rustic appearance and cozier appearance, exposed ceiling beams with a pitched roof that is gray and white in color can be beautifully accessorized with turquoise upholstery.
14. Contemporary Gray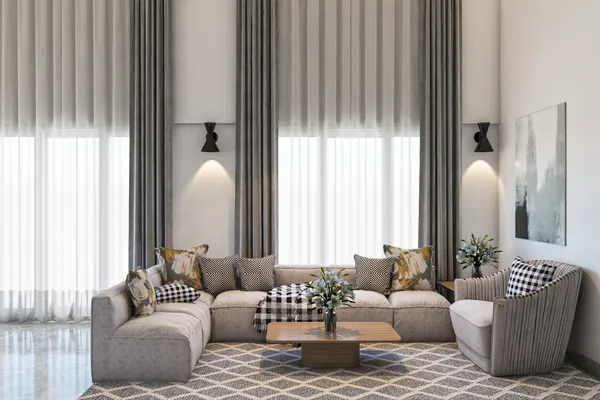 For a more contemporary and modern living room, pair your gray wall with warm colors like brown and navy. While gray walls and white roofs seem underrated and extremely neutral, you can make the two colors pop by placing brown and navy sofa sets and other pieces of furniture like ottomans and chests.
However, if you wish to go easy with furniture, you can even opt for warm, fully upholstered sofas and blue cushions. This will draw the attention of people towards the walls as everything will come together cohesively.
15. Dramatic Grays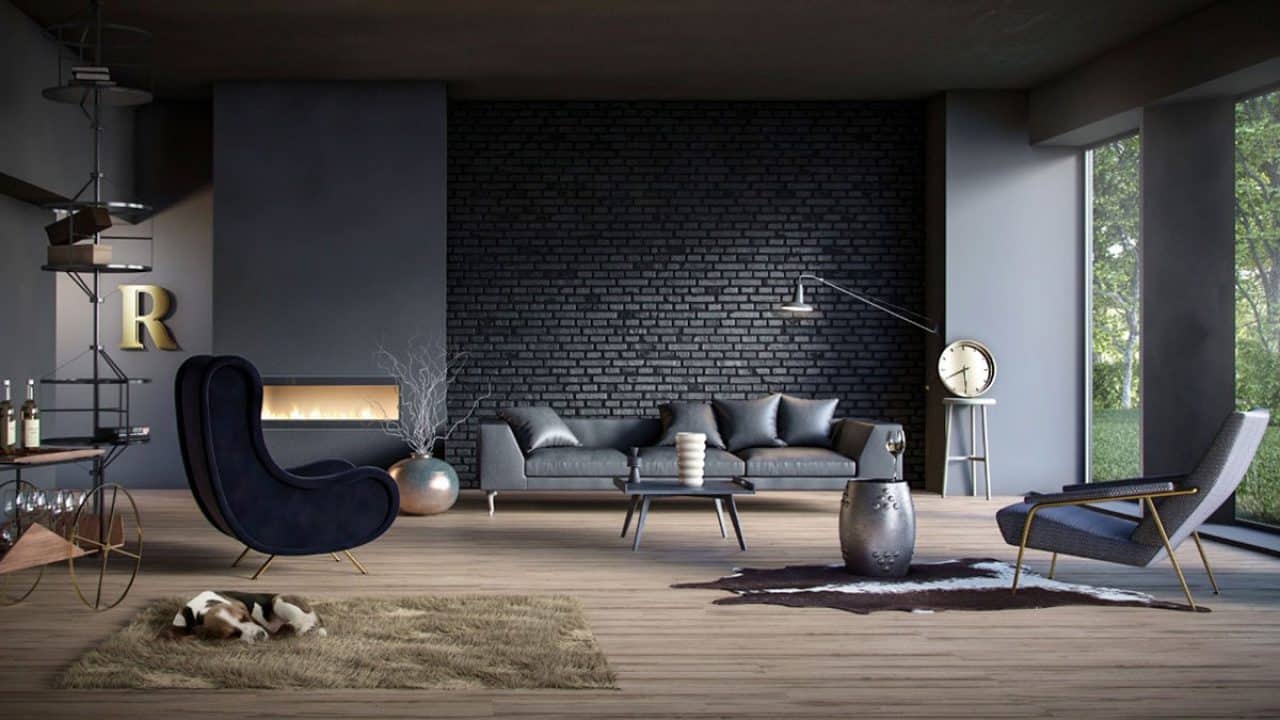 An exposed brick wall, when painted charcoal gray or lead gray, can add drama to your place. Since gray has a lot of rawness associated with it, an ashy gray wall in the living room of your bachelor pad can elevate the whole visual outlook of your place.
Accessorize the room with leather sofas, bright-colored statement pieces like a dramatic wall painting, and sophisticated gadgets to make the space appear stylish and complete.
16. Industrial Vibe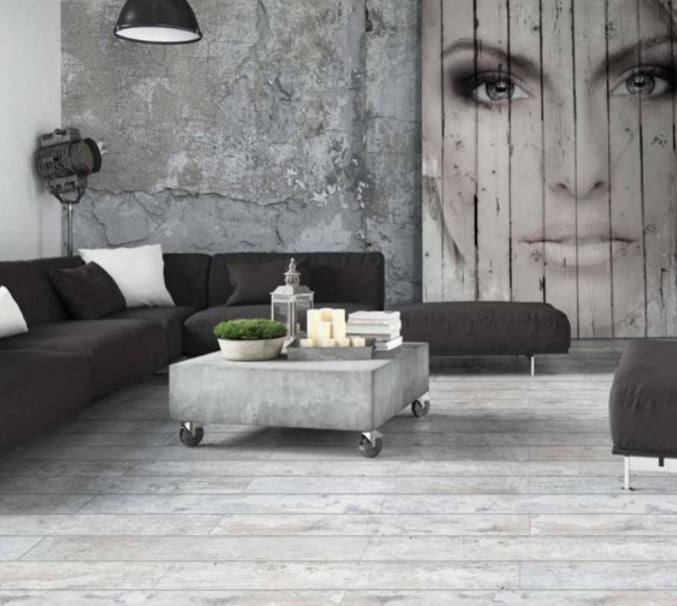 For your living room to have an industrial vibe coupled with a raw look, you can create an urban collage by painting your living room gray. Concrete, steel, reflective glass, cement columns, etc., give a living room an industrial feel, and so will roughly textured walls.
A living room with a white roof, trim set against walls, and floors painted with charcoal gray can take you back to the black and white era. Place a cream-colored sofa and a white rug in the room to accentuate the visual appeal.
17. Infuse Peace with Gray Scandinavian Designs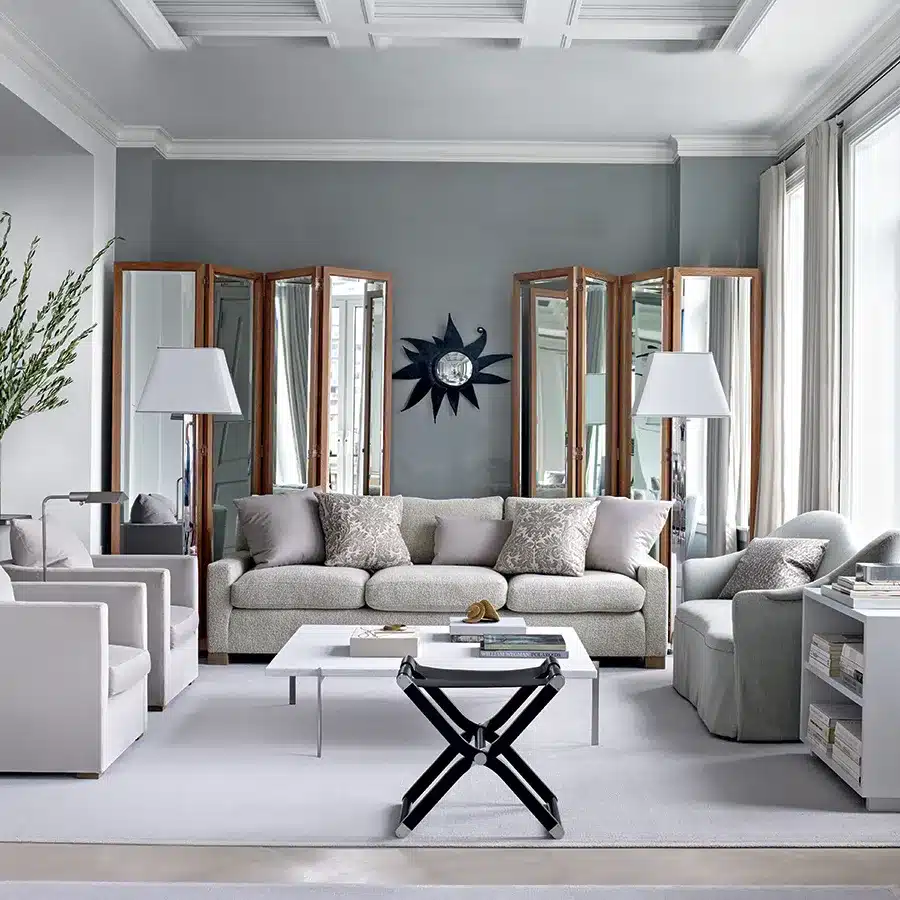 Gray is a color of sophistication. If you want to infuse peace and solace in a room, feel free to paint it with an uncomplicated color like coin gray. You can opt for a dark as well as a light Scandinavian theme for your living room. For a bold appearance, large-scale black and white human portraits on graphite gray walls can be super interesting.
However, for a less daunting and mysterious living room, hang simple minimalist portraits on light gray walls with simple pieces of furniture with a metallic finish.
18. Earthy Tones with Gray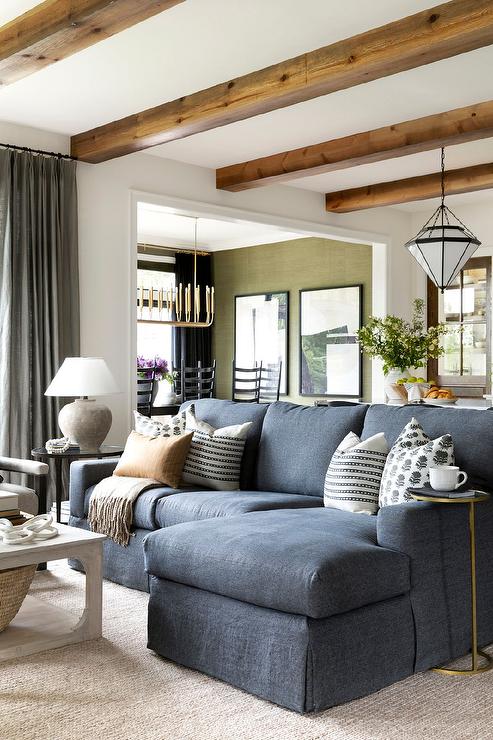 Any color that bears a resemblance to natural materials and landscapes can be categorized under earthy shades. When it comes to gray, sage green is one of the best earthy shades.
Since gray is a combination of brown, green, gray, and beige, a room accessorized with such muted shades will add to the aesthetics of the entire room. Another shade that will complement the color gray in your living room to make it look cozier is pewter green, for it will bring out the underlying hue to the front.
19. Timeless Grey and Blue Pairing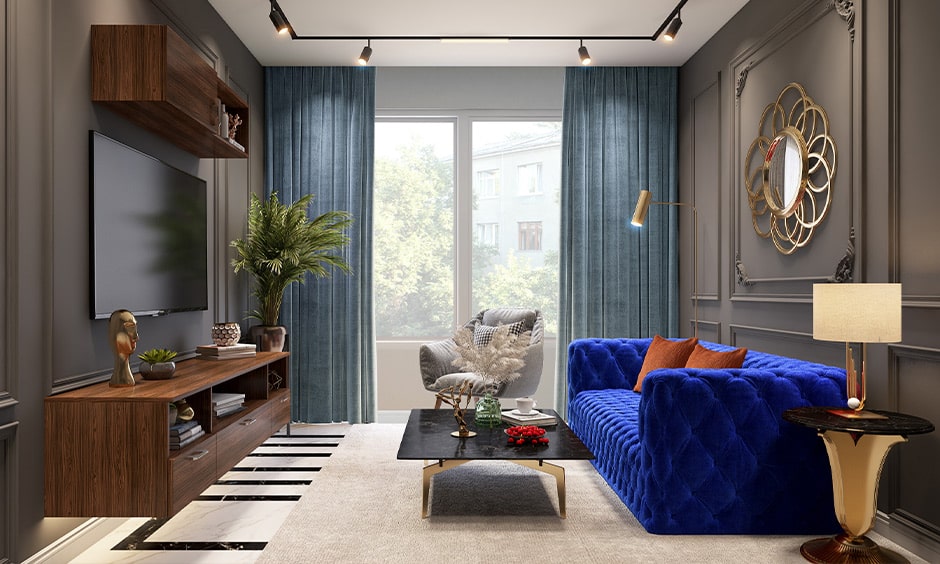 Gray is most often paired with blue. Navy blue accents or soft powder blue shades with cloud-gray walls can add a soothing touch to your living space.
On the other hand, for a more daunting statement, charcoal gray walls pop in a living room exceptionally well when paired with blue velvet sectionals. Even blue-colored pieces of furniture like cabinets and chests match well with gray walls.
20. Countryside Gray Cottage and Interiors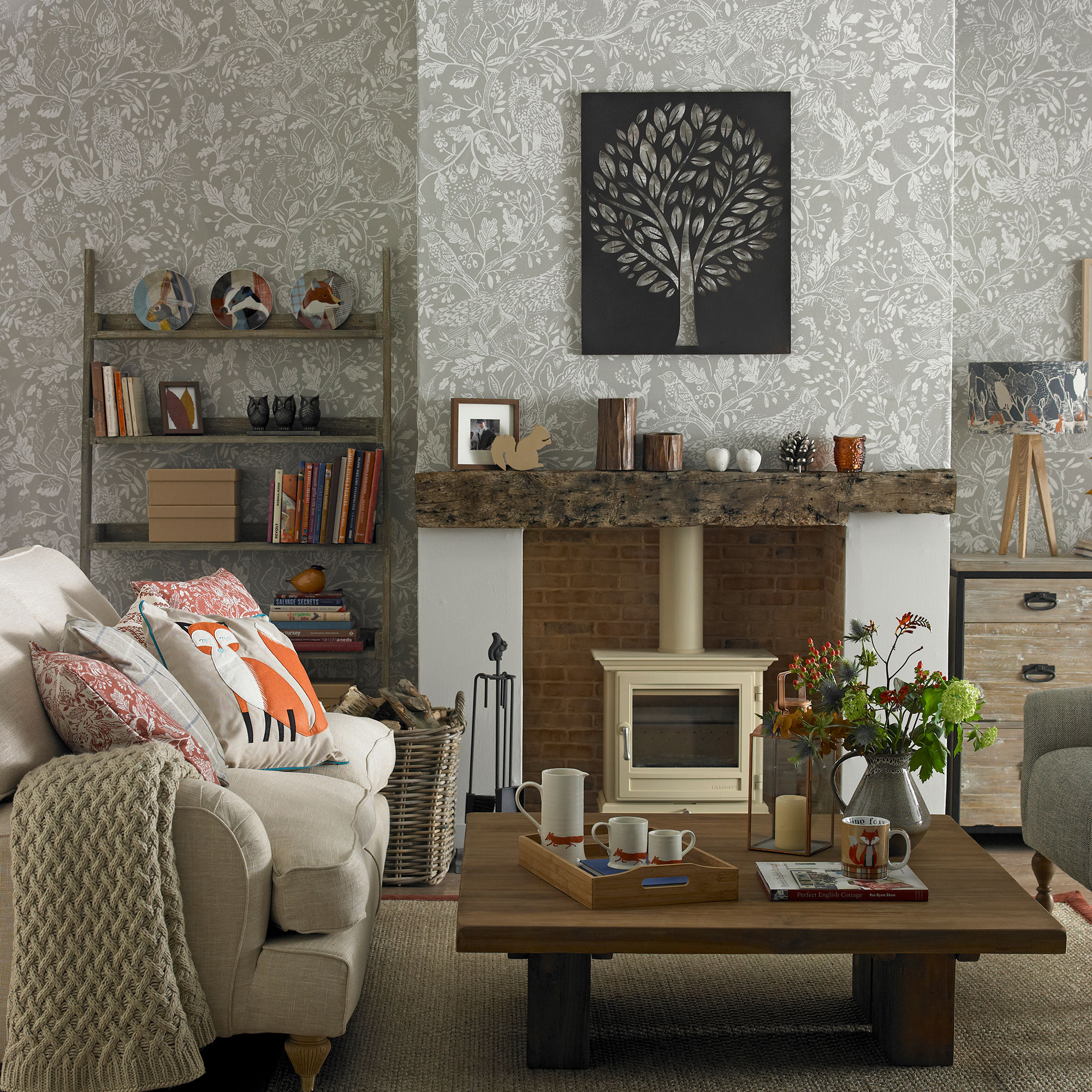 The defining feature of a French countryside cottage is refined relaxation. Bright rugs, dark wooden furniture, and cream seating can make a room seem lighter and brighter. Faux bamboo chairs, antique
French stools, multiple French landscape paintings hung on the wall, and other such features can lend an air of formality to your room. Gray wallpapers can add another dimension to your room, so much so that you can accessorize it according to your wish. Owing to its diverse quality, you can even alter the interiors after a point, as the wallpaper will remain relevant even then.
Conclusion
Gray is one of the most widely prevalent shades in the world of architecture, specifically in an urban environment. Although gray can feel oppressive, drab, and melancholic most of the time, it must be noted that if paired with the right colors, gray can add more life to a room than any other conventional color.
Your space may look more cosmopolitan and modern, introducing a metallic touch to your gray room, blue accents, and complementing monochrome gray shades. However, for a more rustic appearance, gray can be paired with cream, beige and wooden accents as well as bright rustic features and accessories.
If you are renovating your house and are considering using the color gray, let us know about your experience in the comments section below.
Frequently Asked Questions
What Colors Go with a Gray Living Room?
Simple and soothing colors go best with shades of gray. Shades of white like Classic white, cream, pearl white, and porcelain white look best. In the blue category, pair powder blues and navy blues for your room with a shade of gray according to the space and size of the room.
What is the Best Way to Add Color to a Gray Living Room?
Layering is the best way to accentuate this shade. To prevent your room from looking dreary, use different tones of gray. To further accentuate the shade, support the room with green plants, modern furniture, rugs, and accessories space with jewel-toned accessories like violet, emerald, sapphire, and gold.
3. What is the Best Way to Add Warmth to a Gray Living Room?
For warmth, introduce colors like cream and brown. Rich cream colors, light coffee colors with a dominating yellow undertone, and shades of beige can also work. Introduce bright warm shades like burnt orange and butter yellow in your space in small quantities.
4. How To Compliment a Gray Room with Cool Colors?
Compliment a grey room with cool shades like blue, green, and mauves or purples. Create a balance using sage green paint with gray paint or place green potted plants against gray walls for visual interest. You can even place blue and purple sofa sets against gray walls or in a room with gray slate floors.
5. What Color Furniture Matches Best with The Gray Living Room?
A room with darker accents of gray, black leather sofa sets and dark metallic furniture will complement gray interiors. Walls with a soft shade of gray can support ginger-brown furniture for an interesting visual appeal. Light gray shades support tan leather chairs, fully upholstered dark brown beige sofas, and white furniture pieces.