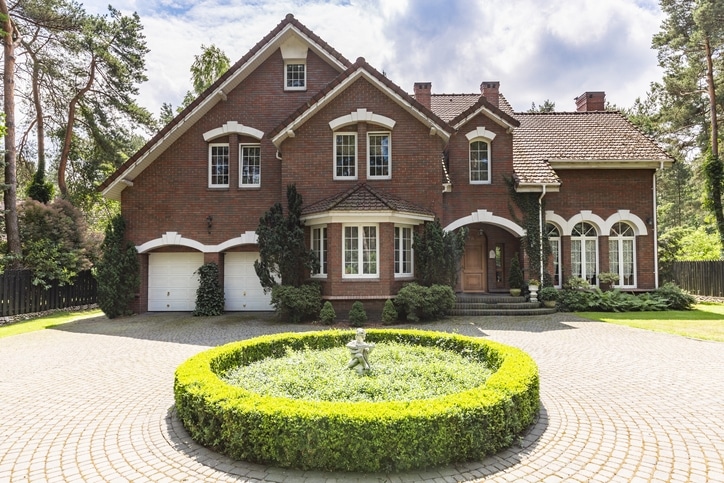 Driveways play a crucial role in enhancing the overall aesthetics of your home. They are more than utility nowadays; they are a symbol of beauty and a way to showcase your luxurious lifestyle.
Undoubtedly, a circle driveway can be a fantastic way to show your luxurious lifestyle. There are a plethora of options available to build a driveway; you have to choose one for your need based on your requirement, budget, space, and style.
Additionally, there are several factors to keep in mind while designing the driveway for your home. The two most significant of them are choosing the right contractor and deciding on the layout for the design.
In this article, we have compiled a list of amazing ideas and procedures for the driveways that are sure to enhance your home entrance.
1. Circle Driveway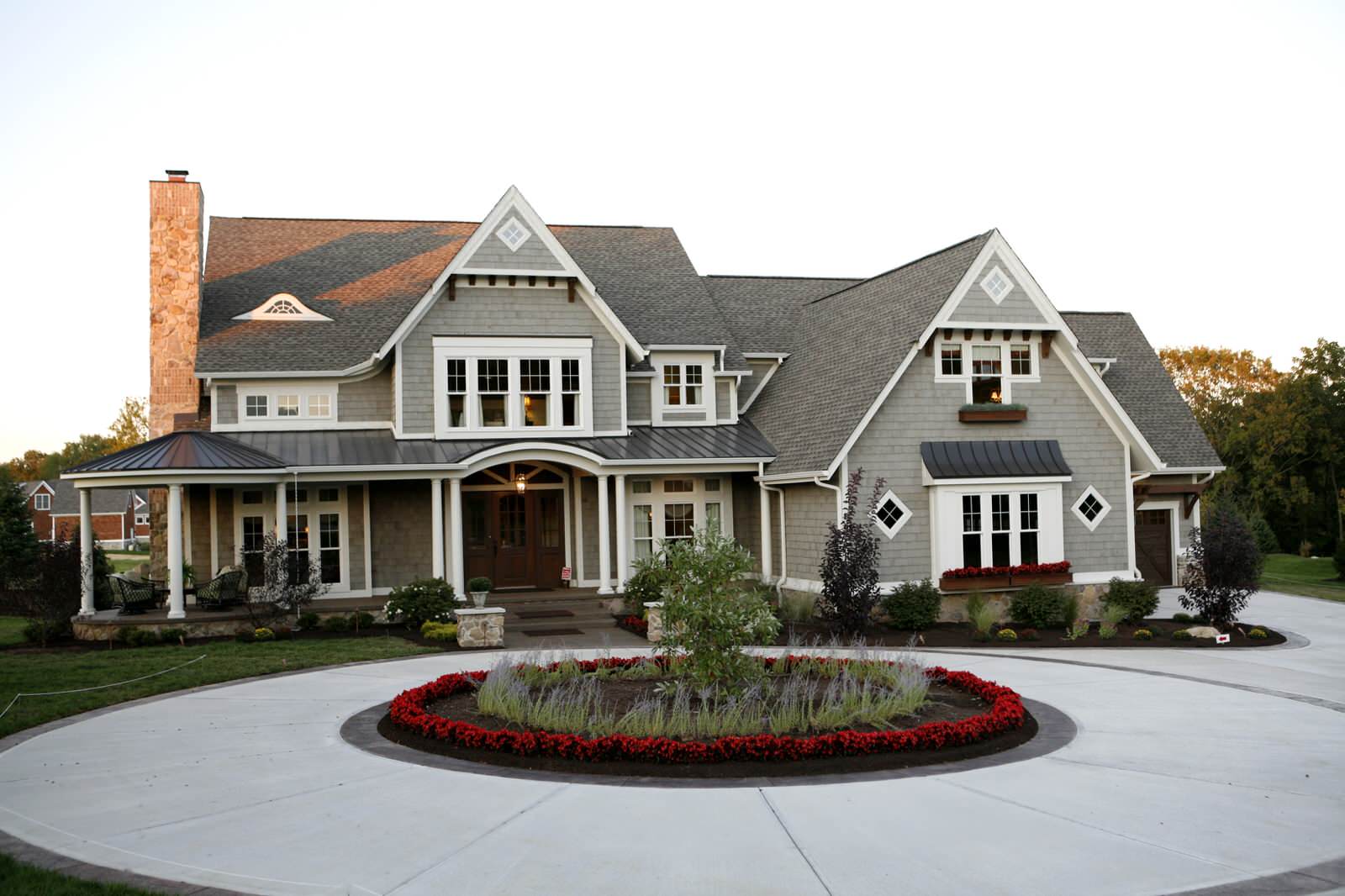 One of the most commonly used layouts for driveways is the circle. It extends from the front door of your garage to all the way to your yard entrance in full circle. The first and foremost thing before starting to work on any kind of driveway is to obtain a permit from your local municipality.
Each area has specific requirements and regulations, so taking a permit is always a better idea before moving forward. Consider the size of your car and choose if you want a driveway for a single car or more than one car. For an average car, your driveway needs to be at least 6 or 7 feet wide.
2. Semicircular Driveway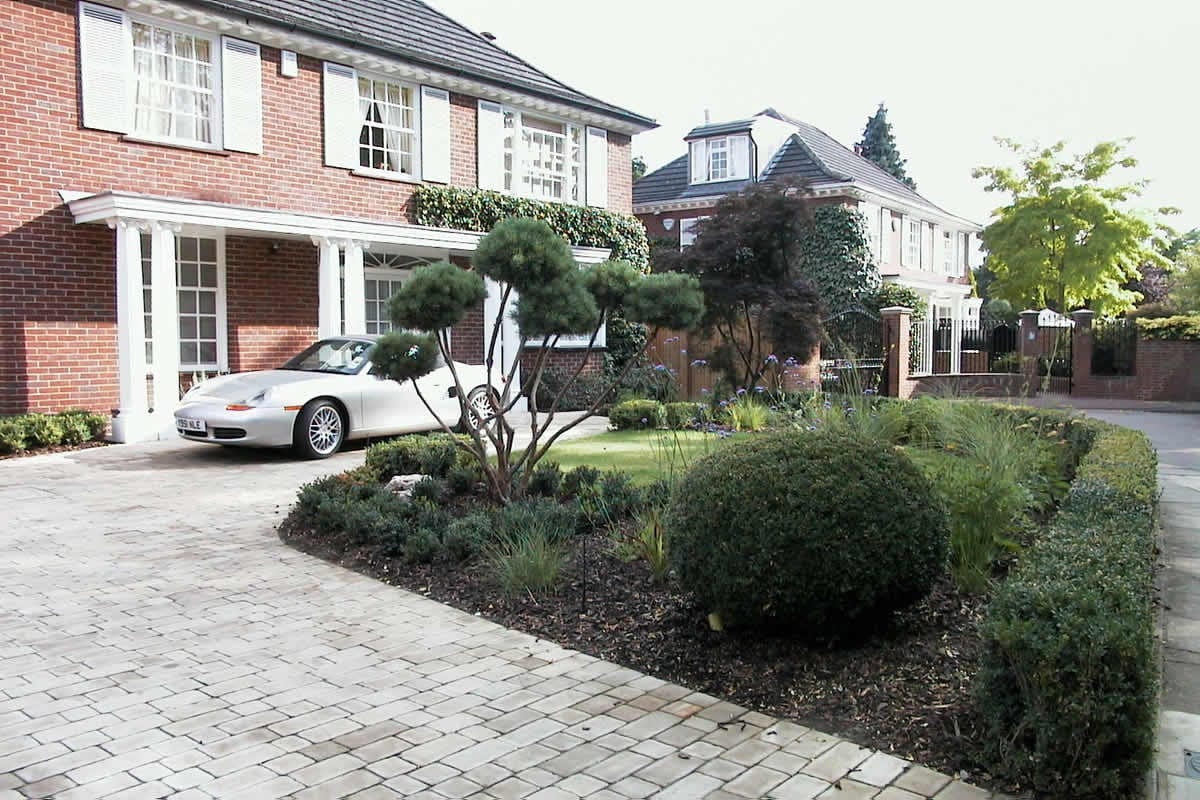 If you have limited space at the front of your home, this is the perfect driveway idea for you. A semicircular driveway is a driveway design that is in the form of a semi-circle in front of your doorway and allows you to park your vehicles in such a way that you don't have to make any sharp turns.
The most important thing to keep in mind while choosing this kind of driveway is to ensure that it has ample space to drive through as well as for parking other vehicles.
3. Teardrop Driveway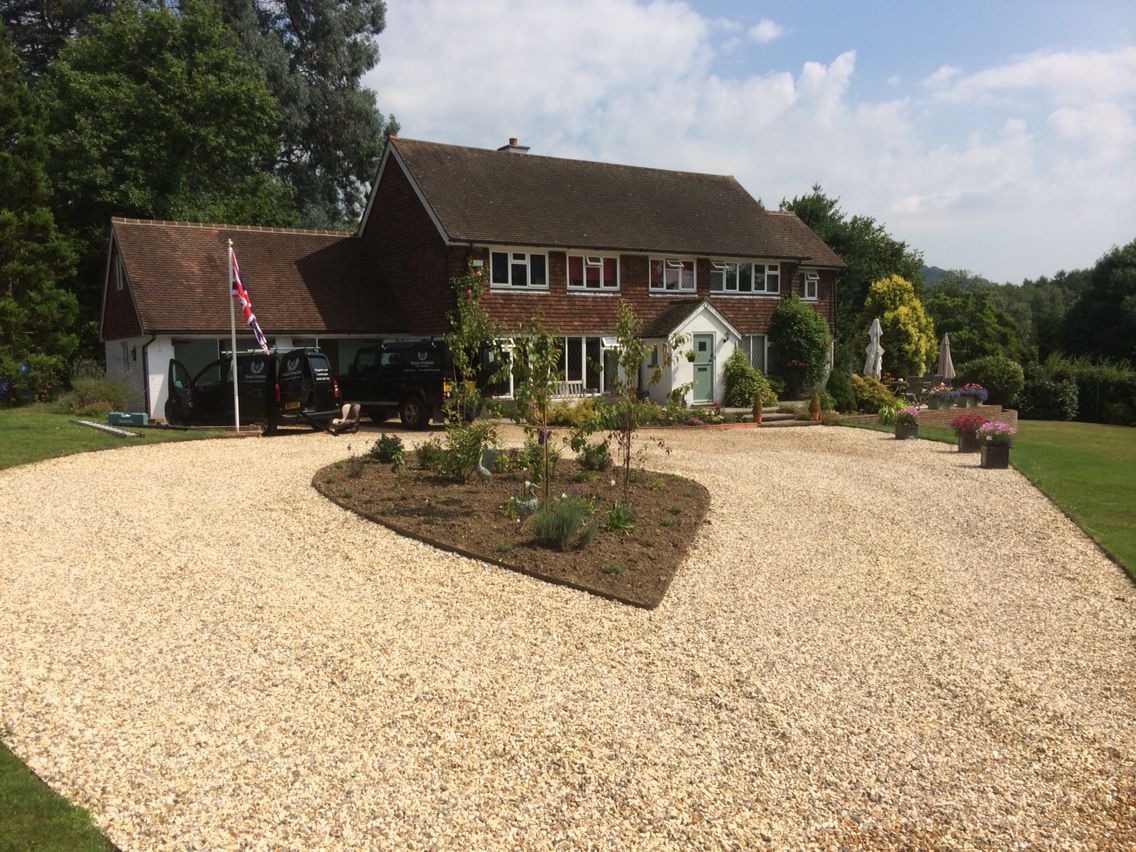 Another popular driveway design is the teardrop design. As the name suggests, this driveway is built in the form of a drop in such a way that its top represents the entry of the driveway. It has the same entry and exit curve. It allows you to enter the home in one direction and exit in the opposite direction without having to use reverse gears.
Needless to say, a teardrop driveway has more space than a circular driveway. It also has a unique aesthetic appeal to it. This driveway also provides ample space for parking while allowing vehicles to pass through.
4. Horseshoe Driveway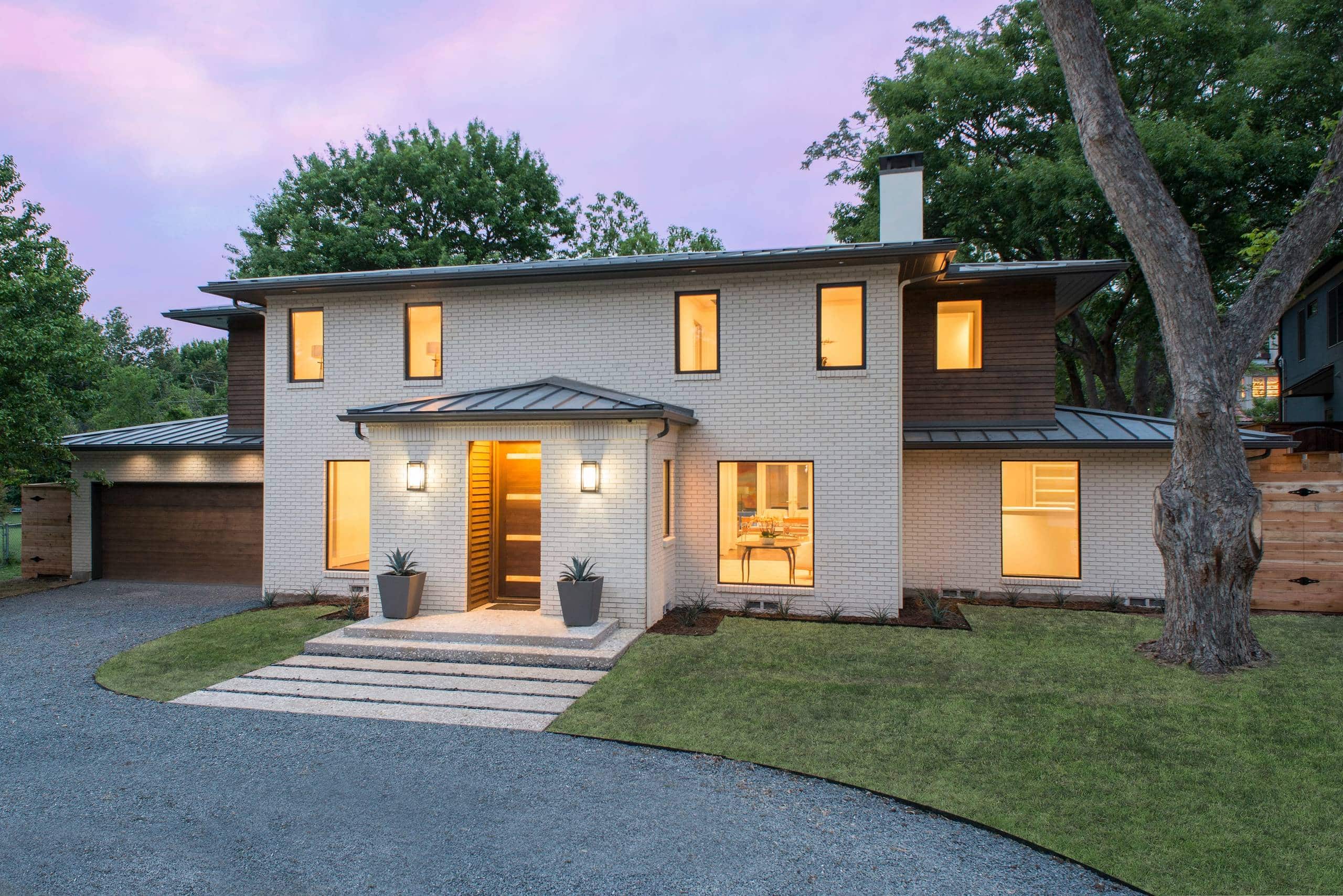 Between the circular and semicircular designs of the driveway, another significant design that is widely used owing to its beautiful look and utility is the horseshoe driveway. It is a U-shaped driveway that curves around in the center.
The characteristic feature of a horseshoe driveway is that its sides are straight, and in the middle, it has a less gradual turning radius. It has a distinctive elongated shape, due to which it requires more construction materials than circular and semicircular driveways.
5. Herringbone Driveway Design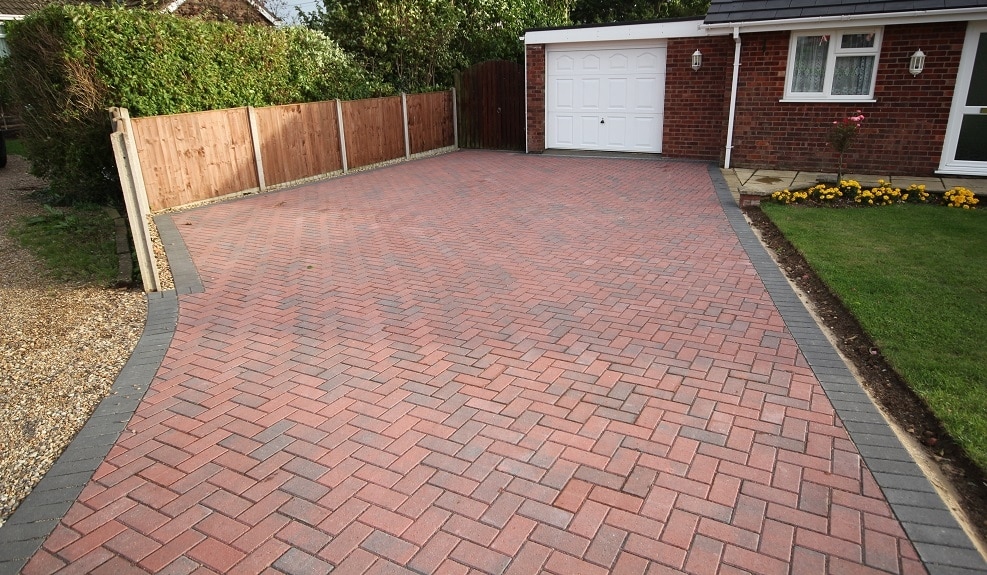 If you are looking for a neat-looking driveway, the Herringbone driveway design is something you should definitely consider. It is a popular pattern that is used in the construction of roads. In this kind of driveway design, the tiles or bricks are arranged in such a way that they fit into each other. The most common kind is the zigzag pattern.
Herringbone design got its name from the Herring fish, as the laid pattern resembles its bone. This design of the driveway is quite strong and stable and is ideal for heavy vehicles. So if you own a heavy truck, this is probably the best driveway design for you.
6. Gravel and Slate Driveway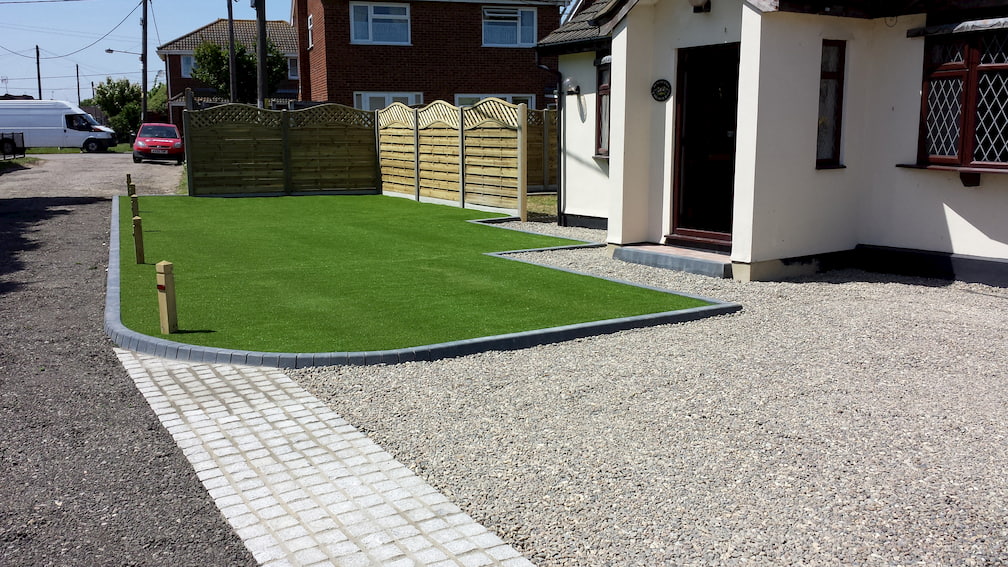 If you have a country-style home, this kind of driveway is most suitable for your house. As the name suggests, it requires gravel and slate for its construction. It looks quite refreshing and appealing. This might not be the strongest of the driveway, but it is quite reliable and sturdy for normal traffic.
One of the most important things to keep in mind while choosing this driveway is the regular maintenance of the driveway to ensure that gravel and slate stay in its place.
7. Block Paving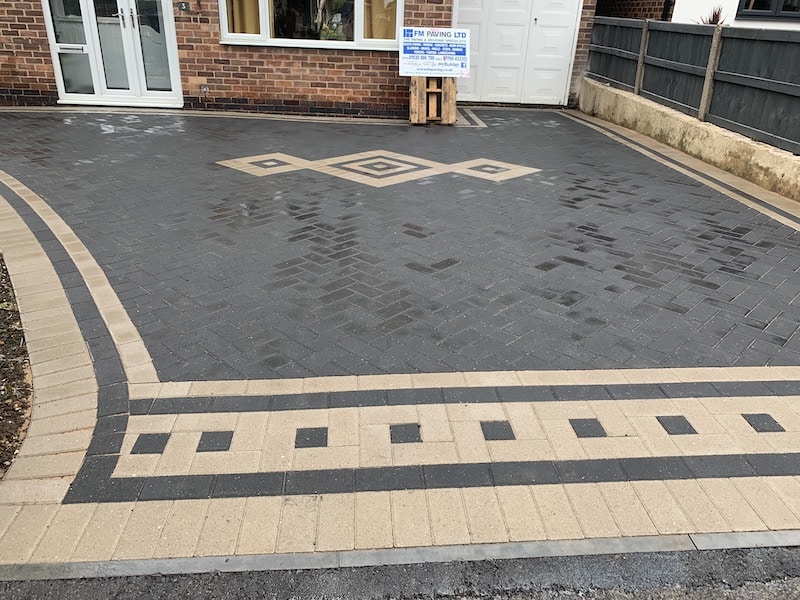 It is one of the most preferred driveways in cities. It has block-shaped paving stones made up of concrete and is quite versatile, i.e., it can be used in various patterns. It provides a neat appearance to your driveway and can withstand heavy loads.
You can choose various kinds of blocks to pave your driveway. A concrete block is the most popular choice owing to its sturdy nature. You can also go with granite or sandstone to give your driveway a unique and luxurious appeal.
7. Way Roundabout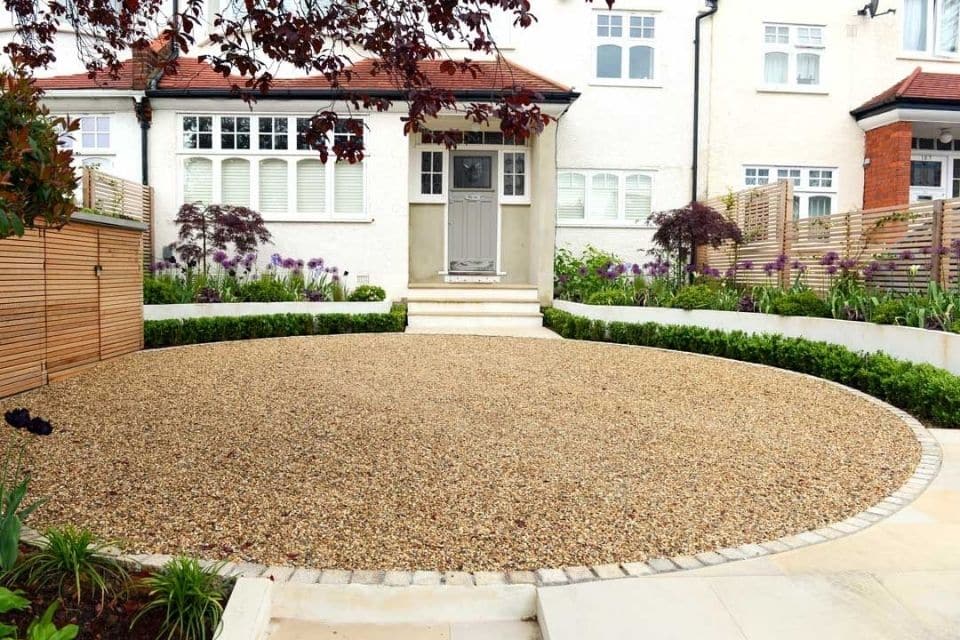 A one-way roundabout is a driveway that allows a person to enter and exit in different directions, unlike a circular driveway. This provides enough space for vehicles to pass through without causing traffic congestion.
It is one of the most visually appealing driveway patterns; you can make a green lawn in the middle of it and decorate it in your own way to create a wonderful entrance for your home.
8. Floral Border Driveway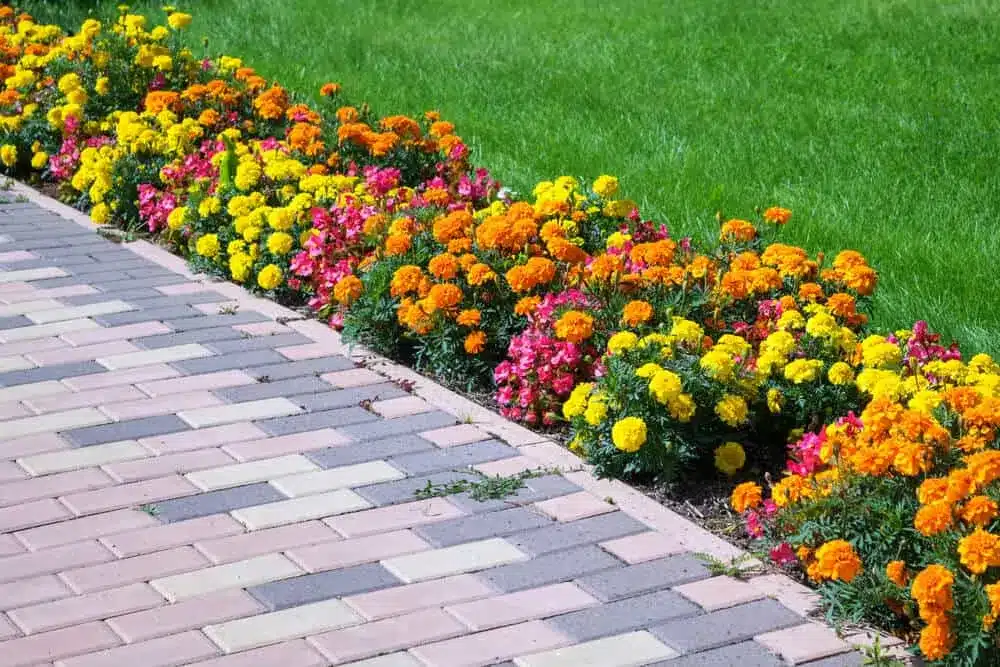 Create a welcoming environment in your home by creating a garden around your driveway. Not only it gives a beautiful ambiance to your home, but it also provides a low-maintenance option for a driveway.
You can choose the kind of flowers and garden design that matches the aesthetics of your home as well as your personality. It works well with gravel driveways and provides a more country-like feel to your driveway.
9. Long and Winding Tarmac Driveway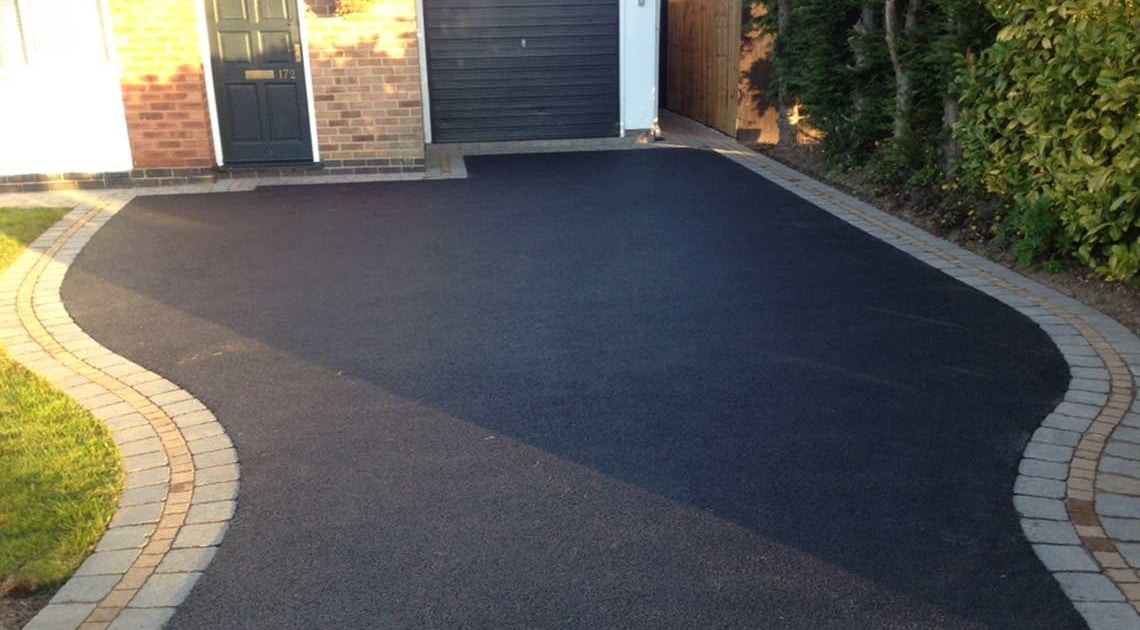 If you haveample space in front of your home, a long and winding tarmac driveway is the best one to choose from. It is often found in the front of luxurious mansions and properties and is usually made from asphalt or tarmac material. It usually features a bend in between to provide for the vehicles to pass through easily.
It is one of the most impressive driveways, as the black color of the driveway, the curves, and the green lawn alongside give it an elegant touch.
10. Metro Style Paving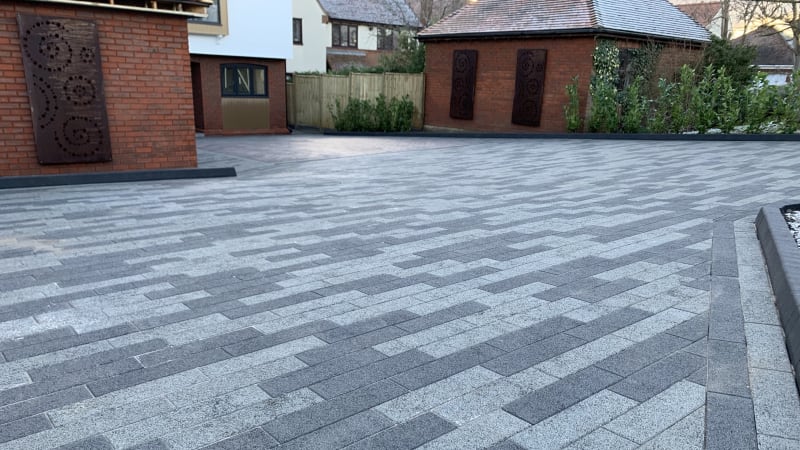 You can create metro-style Paving for your driveway with different natural shades of blocks to create a smooth and contrasting surface. It is ideal for modern properties. It is a typical urban design that boasts clean lines and a minimalistic look.
Metro-style Paving generally shows some geometric patterns that create an artistic appeal. You can choose various colors according to your interests. However, light shades of red, brown, and grey depict a more classier look.
11. Decorative Driveway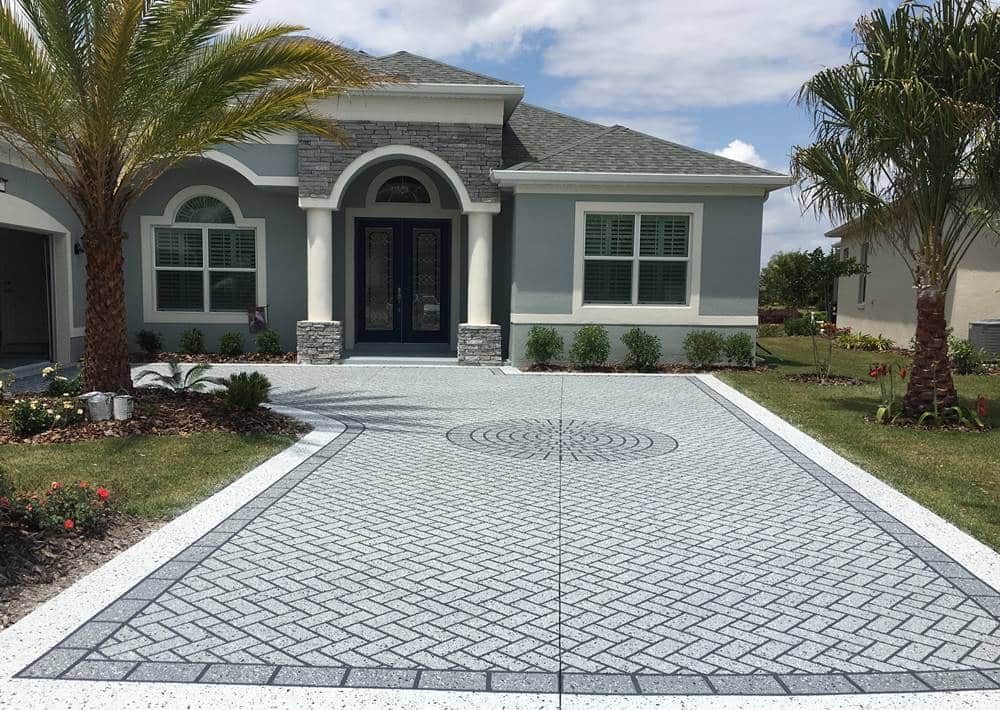 A decorative driveway, as the name suggests, is a kind of drive driveway that enhances the beauty of your outdoors while also providing functionality to it. Various patterns, elements, and materials can be used to create a customized decorative driveway.
The most significant thing about a decorative driveway is that it reflects your personality, it adds your personal touch to it, and people can truly see your creative instinct through it. So, it's a great way to reflect your personality through your space.
12. Resin Surface Driveway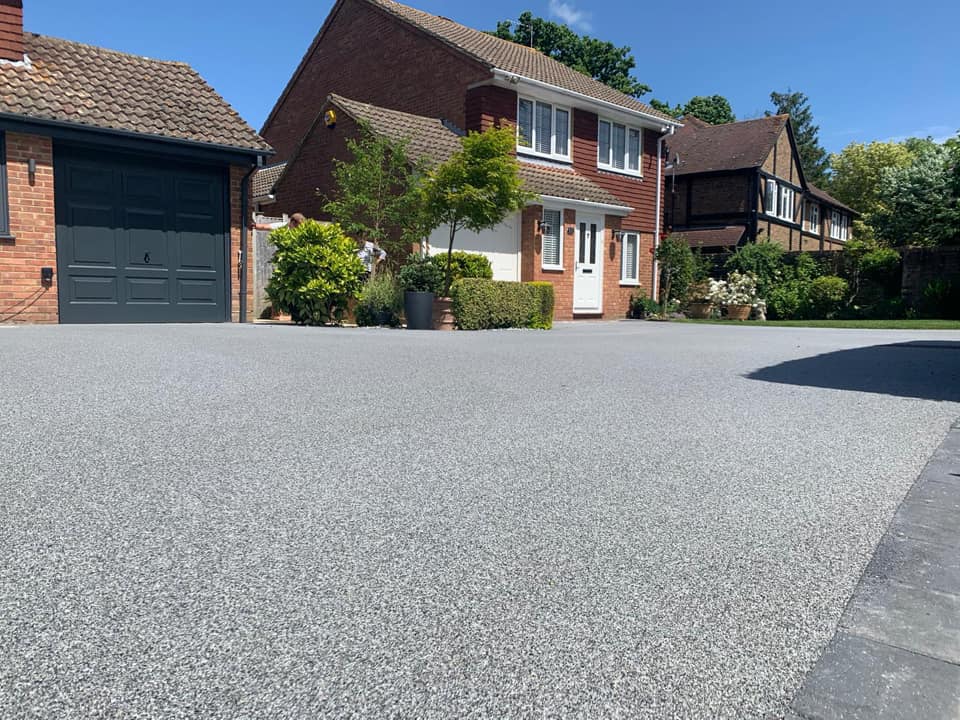 A resin surface driveway is built with resin and other materials to create the base of the driveway. The resin acts as a binder and helps in creating a durable, solid, and strong surface. A resin surface driveway is environment-friendly, besides being a practical option.
The most significant quality of this kind of driveway is that it looks like a gravel driveway and has all the functionality for it, but it provides great accessibility and is typically a low-maintenance option. Resin surface driveway is also quite durable and is resistant to weathering in normal conditions.
13. Stone Driveway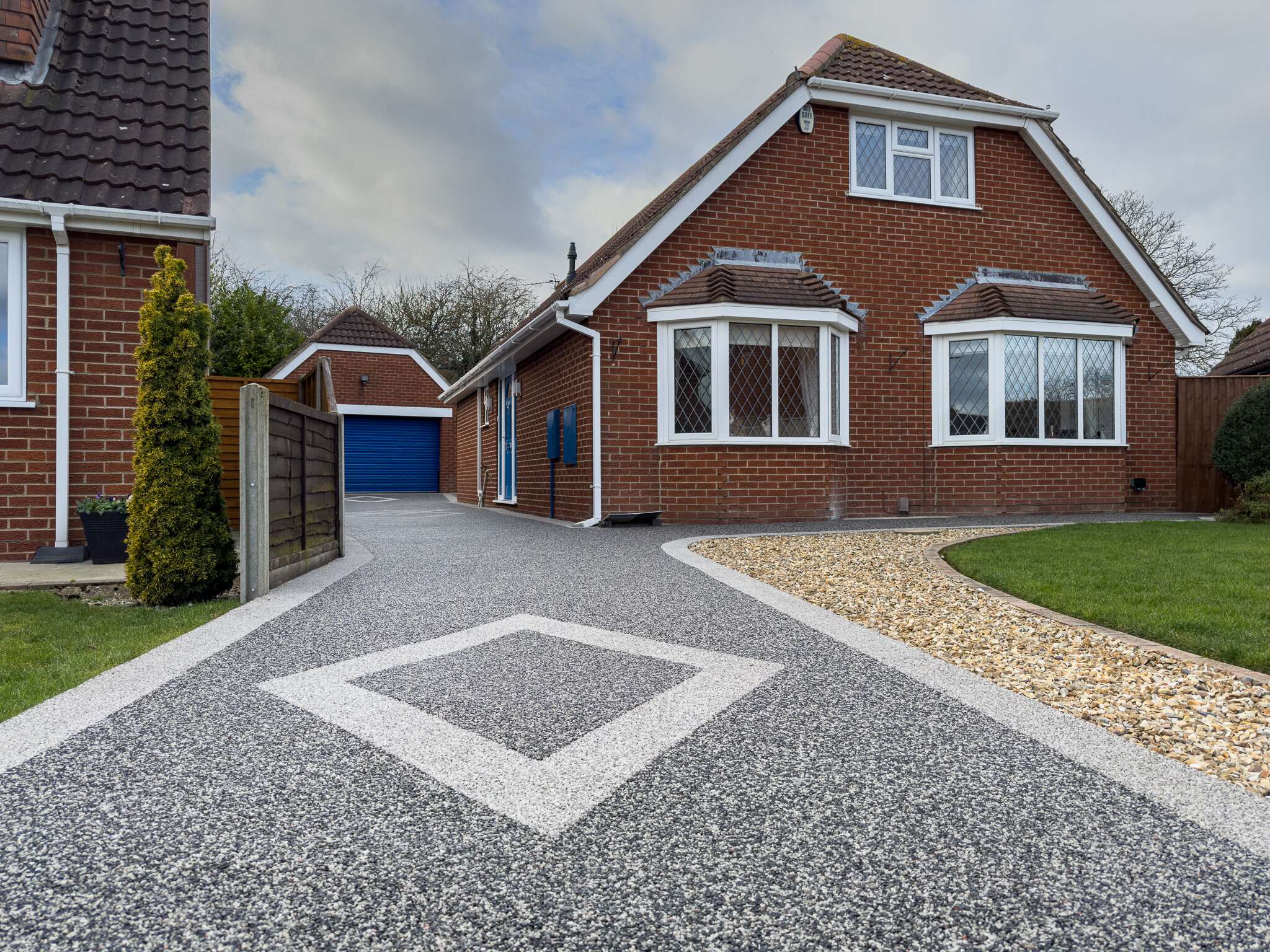 If you want to create a rustic appeal for your home, you can choose to go with a stone driveway. The primary material in this kind of driveway is various kinds of stones, such as gravel, crushed stone, or cobblestones.
All the stones provide their individual appeal, and you can select the stone on the basis of your preferences and needs. Since the stone driveway is prone to grow leaves, small plants, or debris under its surface, it needs to be maintained regularly.
Conclusion
Circle driveways provide aesthetic appeal and practicality to any property. There are several options when it comes to choosing the driveway for your needs. Ranging from classic and elegant to practical and innovative designs, the possibilities are endless.
There are innumerable benefits of circular driveways, such as improved traffic flow, ample parking space, and increased property value. However, there are also various factors involved in the construction of a driveway, such as the availability of space, choice of materials, labor cost, regulations from the local government, etc.
A properly designed driveway not only enhances the functionality and convenience of your home but also adds a touch of beauty to it. We hope you loved our suggestions; let us know what you think about these.