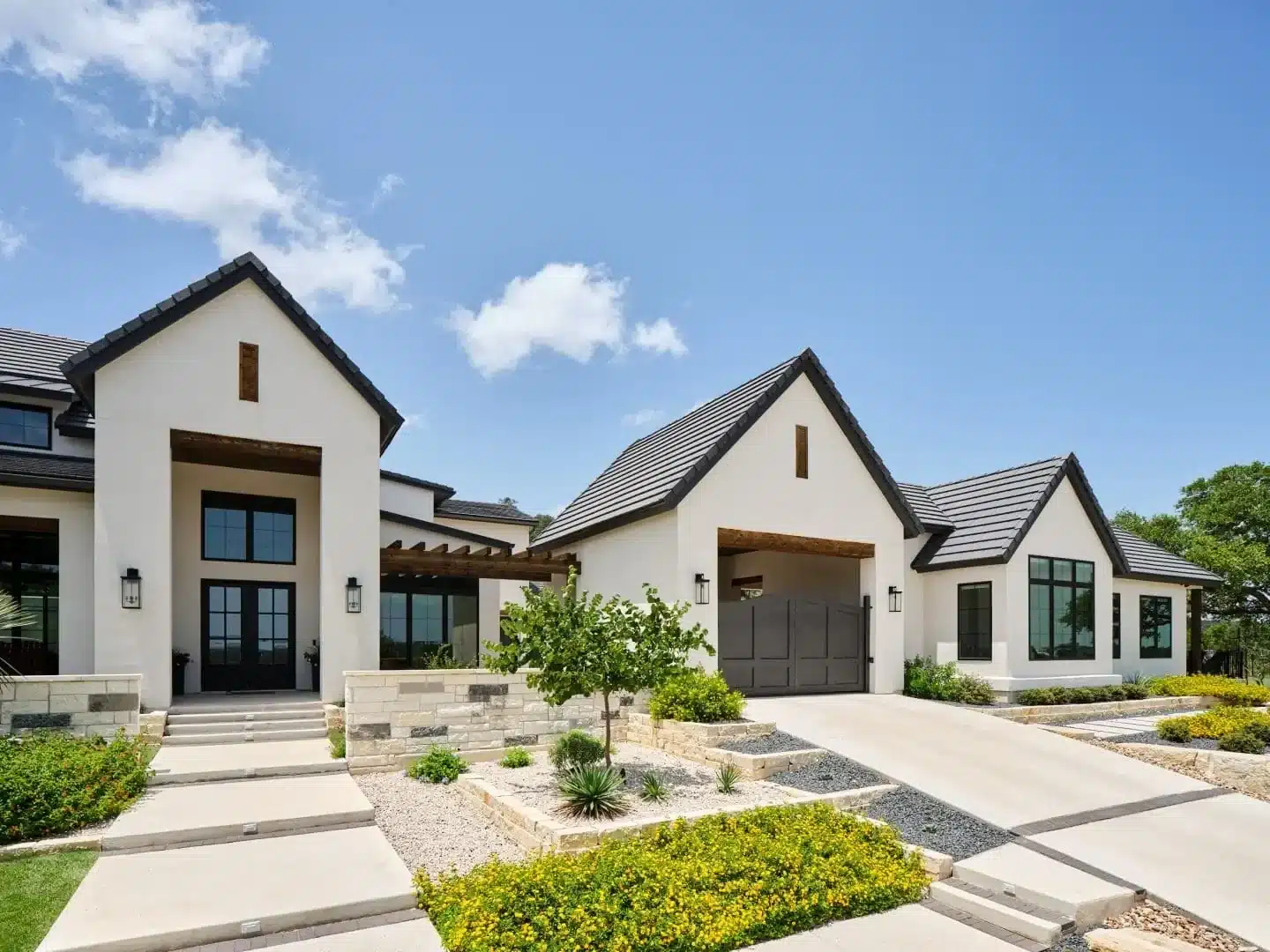 The simple yet iconic color combination of white and black colors can make anything look stunning and visually appealing. The two colors have high contrast differences, which makes the design more catchy and vibrant. Home designs appear to be classy, elegant, and beautiful when it comes to black-and-white color combinations.
Single-story white house black trim theme has certain benefits too. The white exterior reflects the majority of the light incident, which keeps the interior slightly cooler. Black edges give a stunning look to the house in daylight as well as in moonlight.
In this blog, we are going to present 12 design ideas for white houses with black trims or single-story white houses with black trim. We have designs that suites single and multi-story houses.
1. Modern Summer House with Black Trim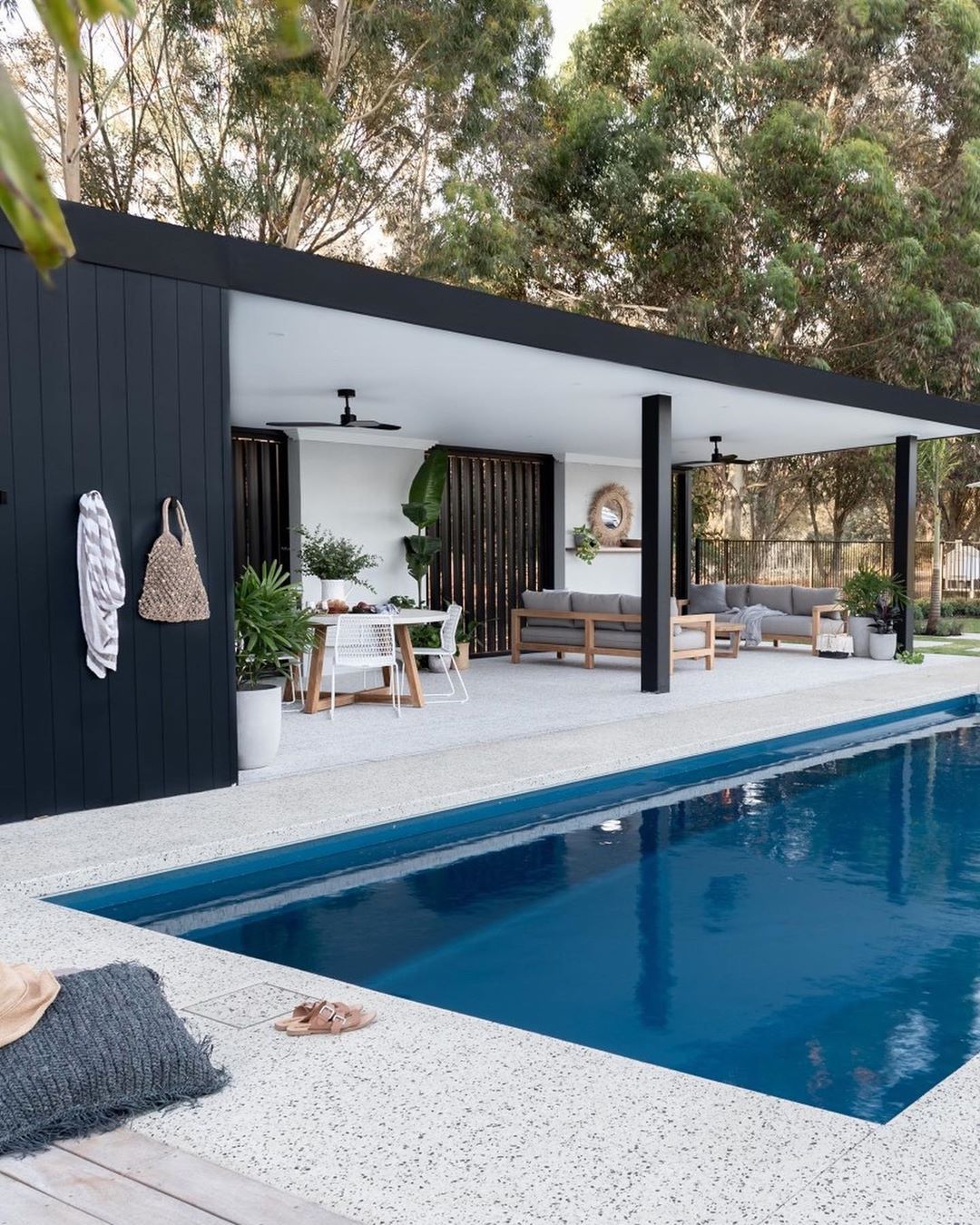 Experience the epitome of natural elegance with this single-story white house with black trim, be prepared to get enchanted by the abundant windows that will be available in this house. Modern Summer house with white-black trim is best for those who crave a lot of natural light; not only that, but this house also has a captivating black and white color scheme, enchanted by its sleek architectural lines, which results in a chic and pristine aesthetic.
And how can we forget the swimming pool in the backyard of this house, which can be used for relaxation in the summer? This beauty is one of the best designs of white house black trim ideas.
2. Residential Lodge Architecture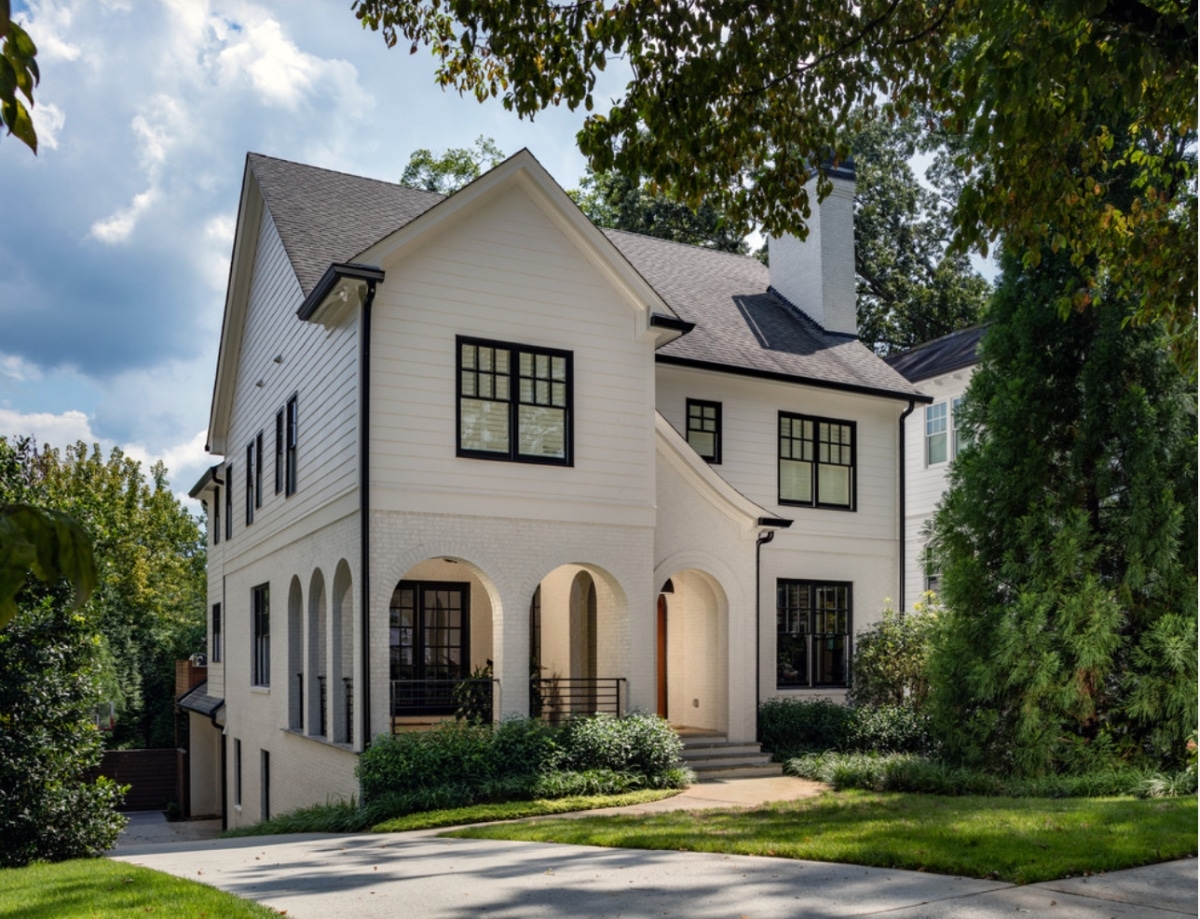 These homes are gaining popularity among many design influencers; the best example of this architecture is suburban/lodge fusion which seamlessly combines the elements of traditional residential architecture with bold lodge-inspired accents. The grace of this house is the wood pillars. Including all the features of this house, the final result is truly captivating and aesthetic that can be liked by anyone on this earth. You can take the image above for reference.
3. Black Trim on a Modern White Farmhouse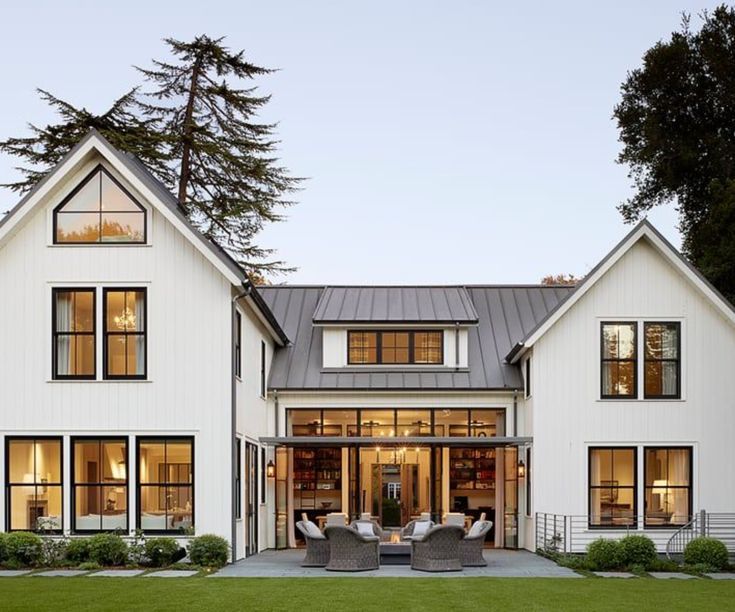 This idea for the single-story white house with black trim is unique, as it combines the farmhouse idea with a modern touch. This house has a porch held up by white columns. Also, its white sliding is complemented by black shutters and a black metal roof. If you are looking to add modernity to your farmhouse, then this is the best option for you. If you follow this idea, then trust me, your farmhouse will be the most different, unique, and special in the neighborhood.
If you are looking for the perfect combination of classic and contemporary style, then this house design is for you.
4. Modern Summer House with Black Trim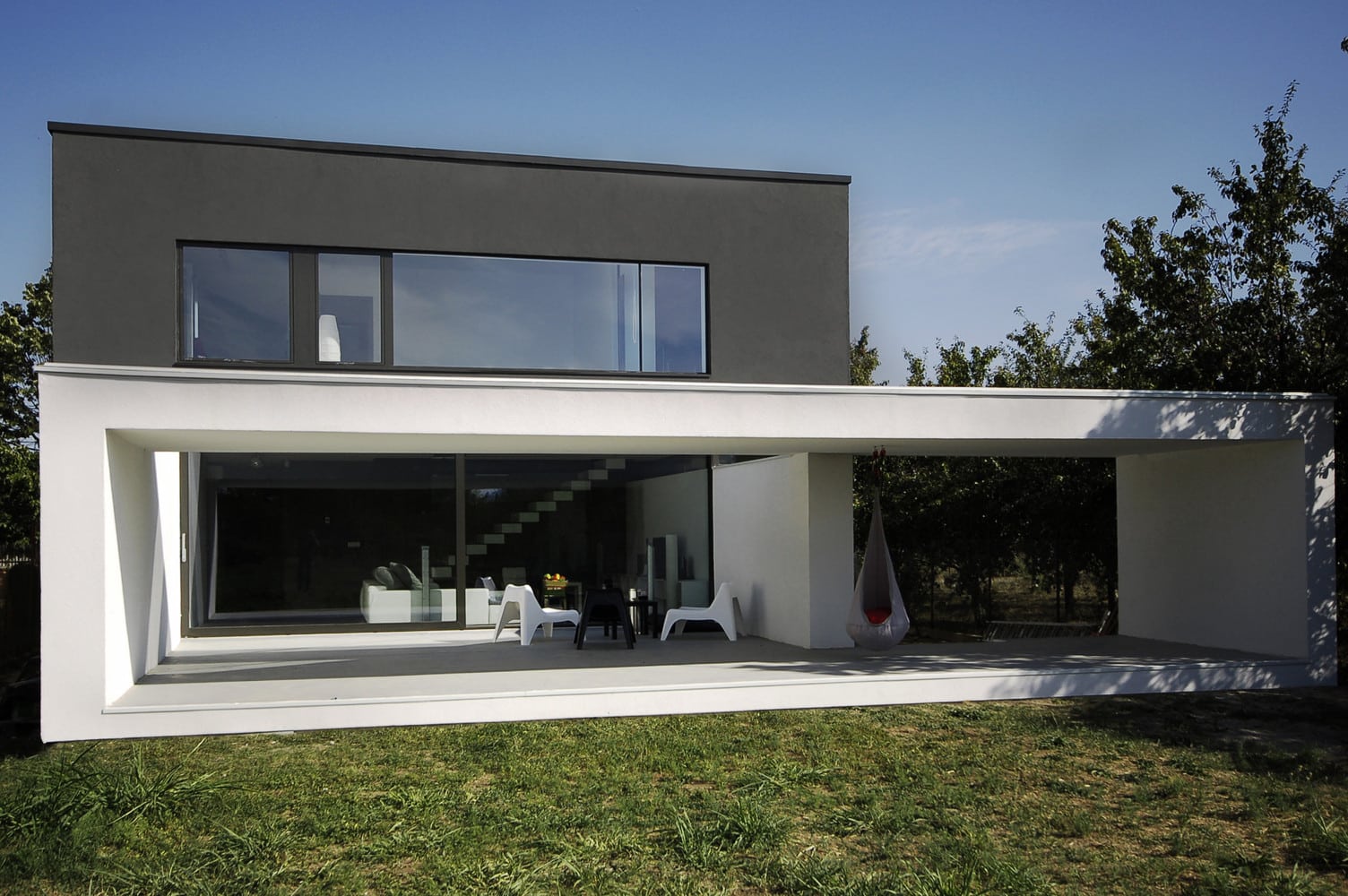 This single-story white house with black trim house is the height of contemporary elegance. The sleek design and black trim give it a sophisticated and stylish appearance. This house provides a bright and airy atmosphere as it has large windows that allow a lot of sunlight or natural light at the insides of the house.
The visual appeal is added by the black trim; during summers, when the heat is at its peak, you can have summer gatherings at night, also during the daytime in winter, you can have a sunbath enjoying the sunlight. If you are looking for a year-round house, then a single-story white house with black trim is for you, as it offers style and comfort throughout the year and is a truly enjoyable experience.
5. White House with Black Roof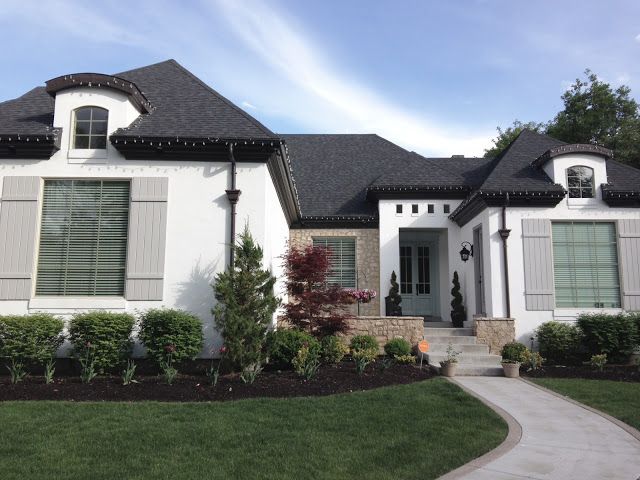 This single-story white house with black trim has a black roof on the house. It has a bold and sophisticated aesthetic. This house design is simple yet looks visually appealing to many because of the black and white combination. This design is popular among contemporary and minimalistic architectural styles as it creates a sleek.
Getting this design is a captivating choice as it suits both the modern and traditional look of a modern house. White House with a Black roof also creates uniqueness and style to the place the house has been located.
6. Spanish Revival Architecture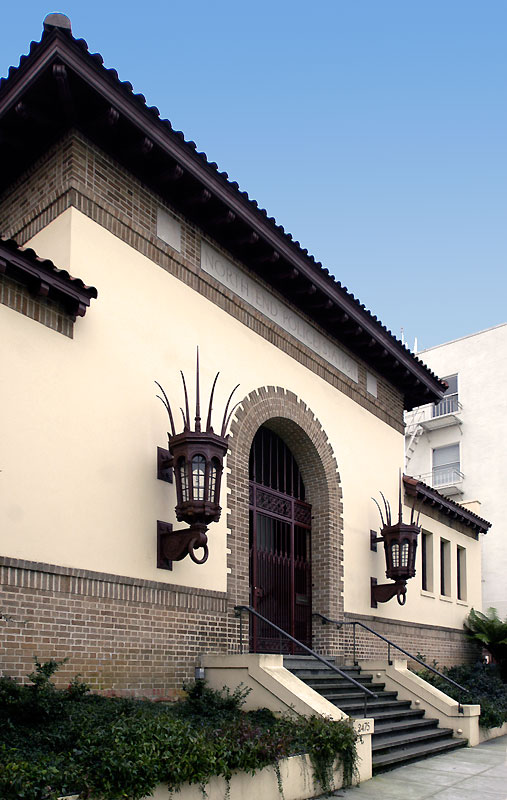 Spanish Revival Architecture draws inspiration from the Spanish colonial architecture in the 16th and 17th centuries. This architecture gained popularity in the United States, especially in California and Florida, during the early 20th century. Though typically, the color of the Spanish house is red and brown, it can look more exquisite with a black and white theme. This option is also very beautiful when it comes to architecture and features.
7. Modern White Concrete with Black Trim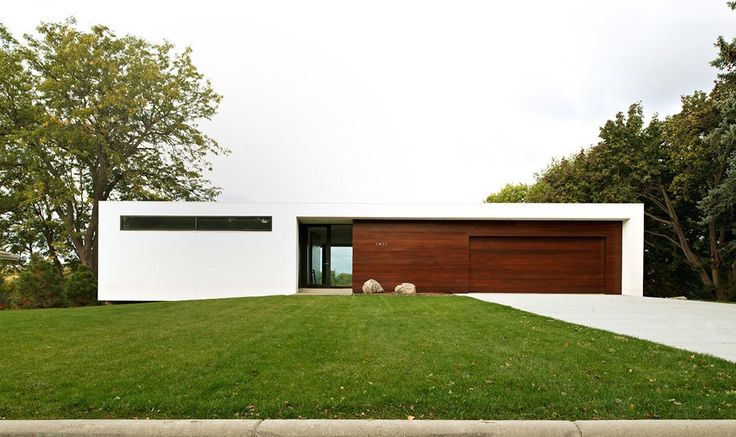 The modern white concrete with black trim is an architectural masterpiece that exudes elegance and sophistication. The design is very simple if we compare it to the designs we have seen above. But the thing that makes it stand out in the crowd is its cleanliness and its minimalistic design.
This architecture consists of a sleek white exterior crafted from durable concrete that provides a striking contrast against the black trim. The black trim accents the edges, windows, and doors, adding a touch of boldness and definition to be overall aesthetic. Also, the combination of black and white makes it more visually appealing.
8. White Thorpness White House with Black Trim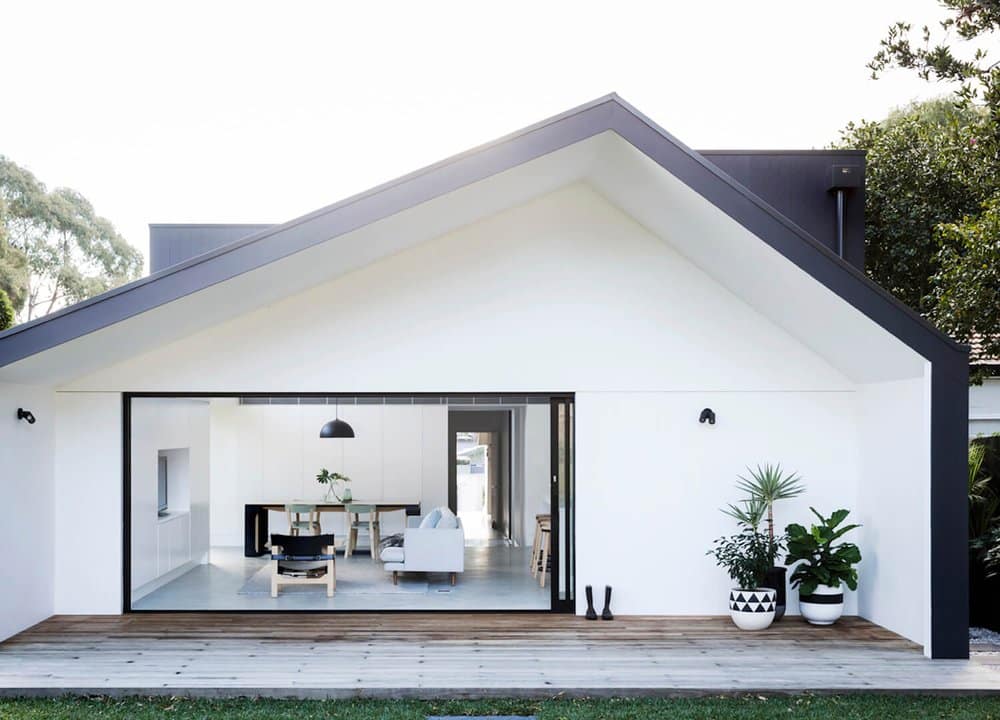 This single story white house black trim is perfect for those who are looking for a beach house. This beach house provides you with the perfect aesthetic that is needed in a beach house. Imagine you are chilling on your balcony or your front yard, dozing off and enjoying the sunrise and sunset with a glass of cocktail in your hand. The feeling will increase with this house on the beach.
The architecture of this house is on another level as it catches the eye of millions of people on the beach, and almost everyone will adore the beauty of your house. As you can see in the image, it is a white-colored house with black frames on white walls and black balcony railings.
9. White House With Black Trim in Dynamic Texture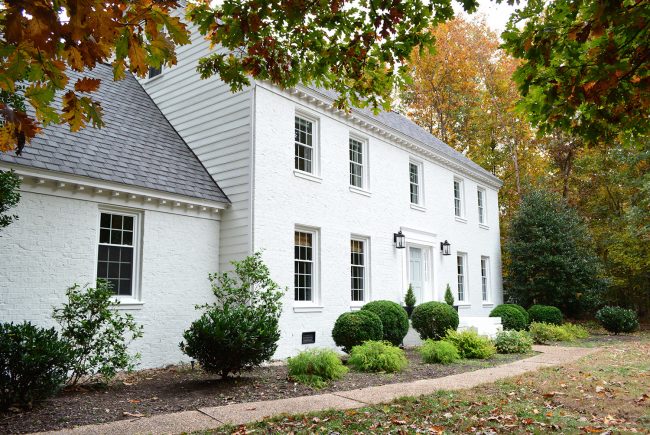 This single-story white house with black trim is not a type but a texture. Yes, you can make your house different with a white house black trim color. You can use a single white color for a horizontal lap, vertical board and batten, and smooth fiber cement paneling. If you want to enhance the overall charm, incorporate black awnings, roofing, trim, and light features.
This texture also includes outdoor spaces such as fire pits, lounge areas, and pools which bring a lively atmosphere to the home. This single-story white house with black trim always adds beauty and elegance to the place.
10. White Brick Exterior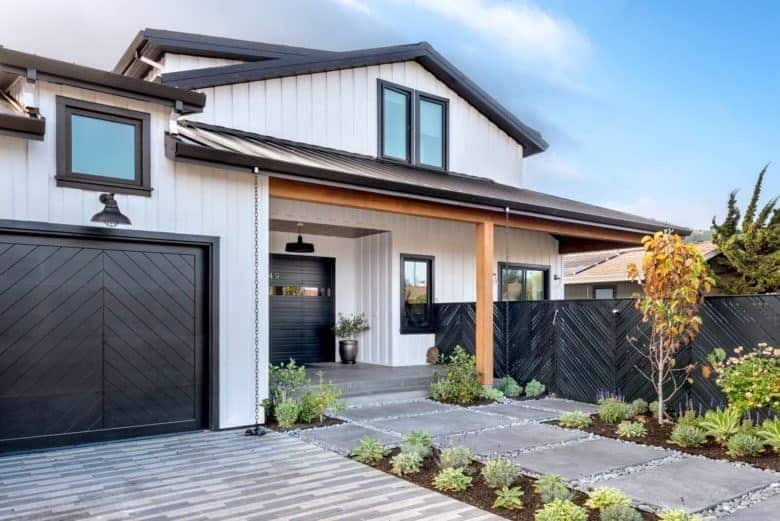 This single-story white house with a black trim design will give a very elegant look to your house with its black and white design. The design of white bricks adds uniqueness to the house, even if it is painted crisp white. If solid black roofing and trimming are used, the texture of black brick can be balanced, which results in a cohesive and timeless appearance as the color combination is black and white, so the stylish and classy look is permanent.
11. Staggered Edge Shake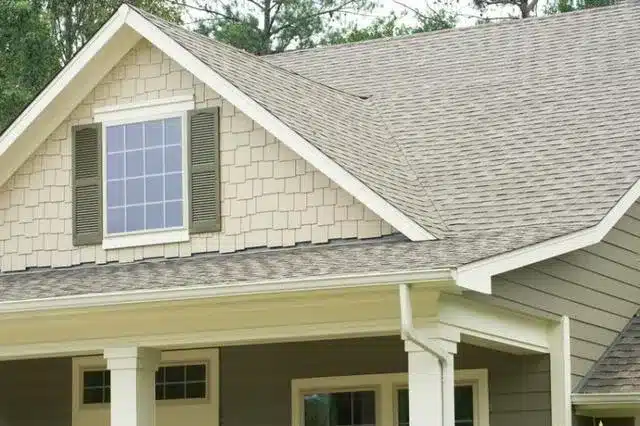 Staggered Edge Shake is a form of texture that encourages uneven cuts, random wood-grain textures, and offset spacing. This design can also be used if you don't want white color. This means that this single-story white house black trim design can be used in all colors. This single-story white house with black trim is unique in its way.
12. Modern Paneling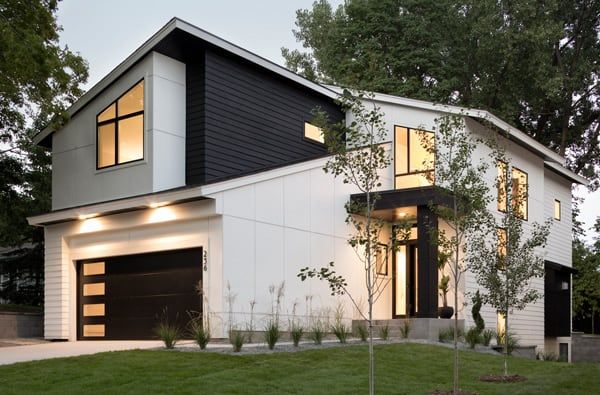 The look of staggered edge shake is modern, especially when additional lines and geometric-inspired architecture are used. Fiber cement siding can be purchased as large exterior panels with a smooth wood grain or stucco surface. This single-story white house with black trim is popular not only in the city but also in small towns.
Also, it is a decent idea if you are going with modern paneling, as it will add uniqueness to your residential area.
Conclusion
I hope that you find these ideas helpful and beautiful. The black and white combination was, and will always be iconic; it doesn't matter whether the design has a minimalistic, aesthetic, timeless, or traditional look; the color combination suits every one of these.
If you are looking to elevate the exterior of your home, consider these single-story white house black trim ideas to give a visually stunning and timeless look to your house. Cause this color combination is timeless.
Which one of the above ideas do you like the most let us know in the comment section.
Frequently Asked Questions
Are White Houses with Black Trim in Style?
The white and black color combination is timeless, and whenever it is used for exterior design, it always creates a mesmerizing and attractive effect. It always gives a sophisticated look to your house. This color combination appears to be more classy compared to other combinations.
What Trim Goes Well with The White House?
Many colors like red, yellow, and blue appear good with white, but the color which stands out the most with white color is black. The black and white color combination always goes well with each other. Whether it is a dress, a car, or a house, they both always go well with each other.
How Do You Use Black Trim?
Black trim can be used with white or cream color. Black trim is always a winning combination with white or any light color. Because of the strong contrast, black color always looks great with white color or light color.
What Is Considered Trim on The House for Painting?
You can use any type of color you want for painting. But the most liked paint for trimming is black color. You can trim your door, shutters, and boards.