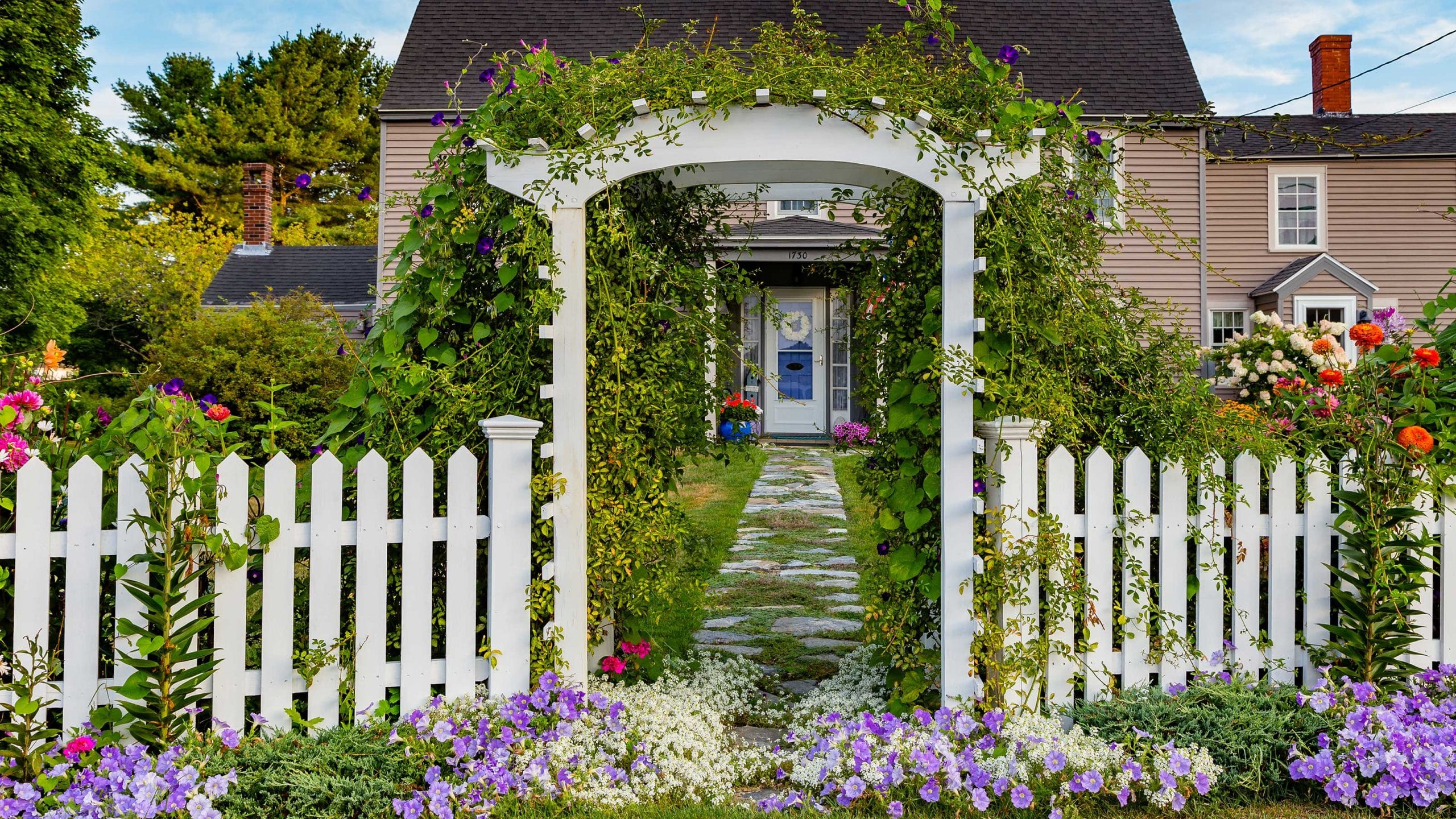 Designing your house is an art that requires consciousness of the highest order. Executing this task requires bringing several elements all together in order to restructure your house in the best possible manner. This begins right from the very glance of your home, which is made by the fence of your front yard. People are now using fences to define the curb appeal of a house, alongside enhancing the privacy of the house. Today, the meaning of fences has evolved to a greater degree.
It adds a special effect to your garden and is an essential element of your house's overall look that, if ignored, can spoil the whole appearance of the house. A professionally constructed fence may turn your front yard into a mesmerizing retreat, giving your home more character and appeal. Finding the perfect front yard fence for your needs and preferences is an exciting endeavor with a wide range of possibilities available.
In this article, we have gathered 14 front yard fence ideas that will guarantee to inspire you; whether you are looking for a low-maintenance vinyl fence, rustic wooden confinement, or a creative combination of materials, this list will cater to all of your needs and requirements.
1. Wooden Fences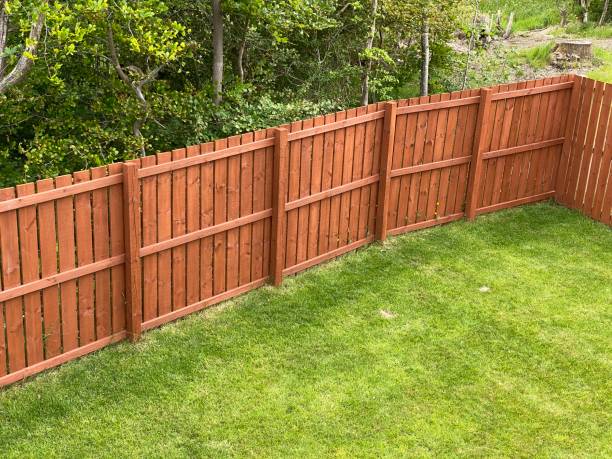 Wooden fences can be designed in any shape or style. You can even get them painted or polished so that it adds to the ambiance of your front yard. The traditional vertical batten fences and horizontal batten fences are the best bet for maximum privacy and safety for your kids.
Fences with wooden panels that have varying heights or are wavy from the top are aesthetically appealing and are perfect for maintaining privacy. Even horizontal slat fences are equally effective in ensuring maximum privacy and security.
To elongate the life of these fences and to prevent degradation of quality due to bad weather, apply water sealant or wax polish.
2. Traditional Wooden Fence with Lattice Top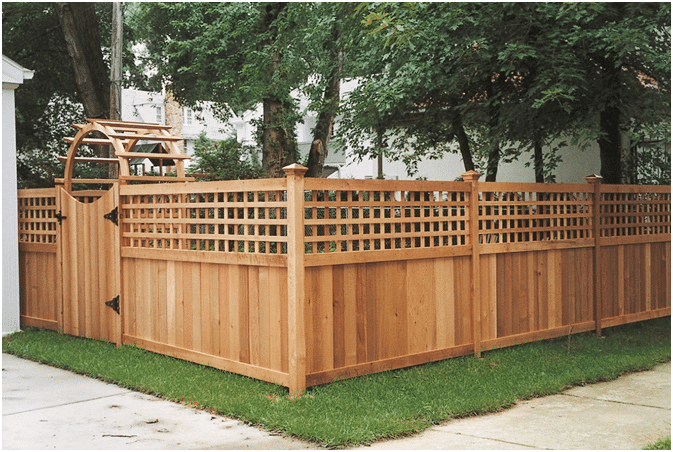 A conventional wooden fence with a lattice top will bring classic charm and a bit of sophistication to your front yard. This fence design creates a magnificent visual masterpiece by fusing delicate lattice decoration with the coziness of natural wood.
The lattice top adds a delicate and beautiful feature, which preserves privacy while providing glimpses of the outside world. The fence is transformed into a living work of art when climbing vines and hanging flowers are used as a canvas. This vintage wooden fence featuring a lattice top has a timeless appeal that oozes nostalgia and a sense of calmness.
3. Wood and Metal Fencing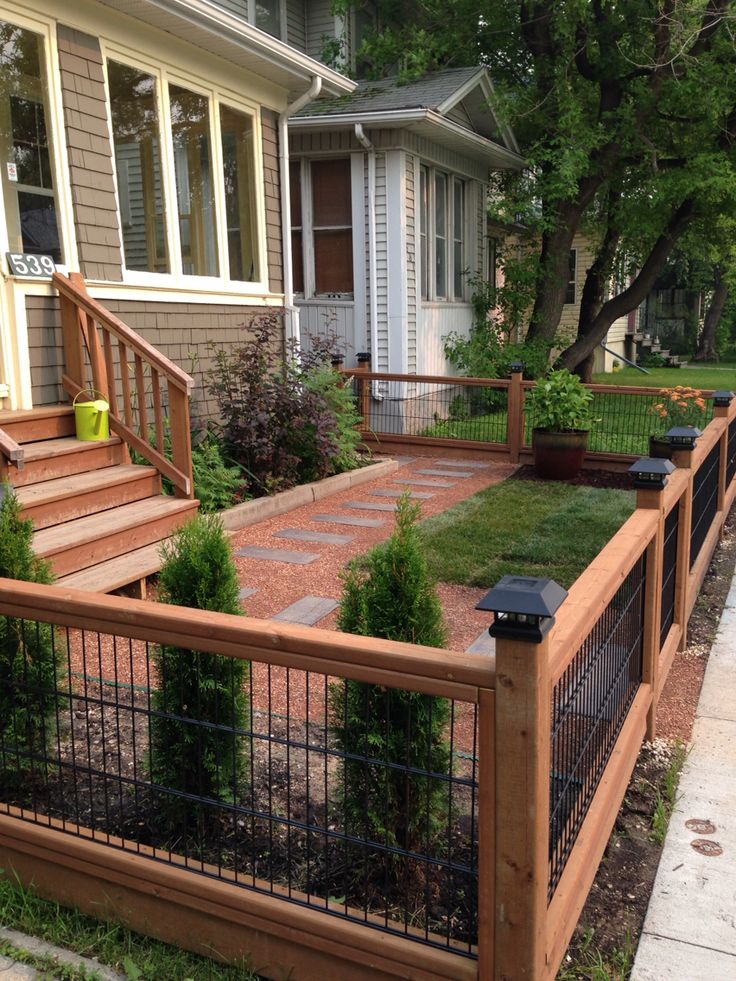 Certain people opt for a combination of wood and metal, and it is one of the most commonly talked about front yard fence ideas. By using a wooden frame, the fence gets extra structural support and can maintain the traditional look of your house while adding an element of modernity.
Your front yard will look extra posh if it has wood and metal fencing, for it is quite expensive.
4. Classic Picket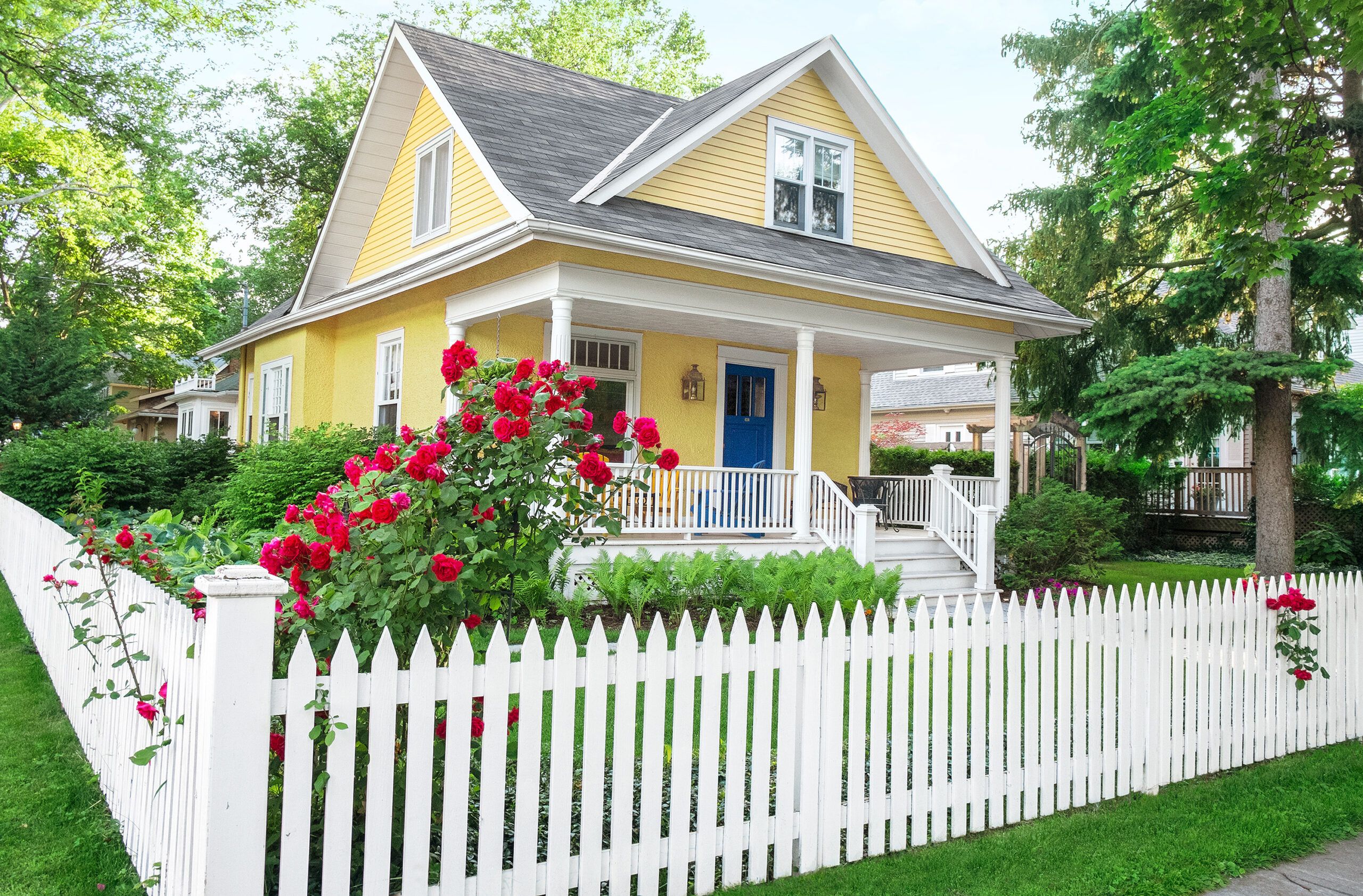 A classic picket fence is what we have seen in storybooks. If you have a cottage and wish to add an accessory that complements the foliage, then a traditional picket fence is the best option.
They are easy to install and mark the boundary of a house while allowing accessibility as it is low and even has gaps. Picket fences can be customized as they can be made of PVC, metal, wood, etc., and are easily available. To give your house a more gothic look, paint the fence black and accessorize it accordingly so that uniformity is maintained.
5. Hedges as Fences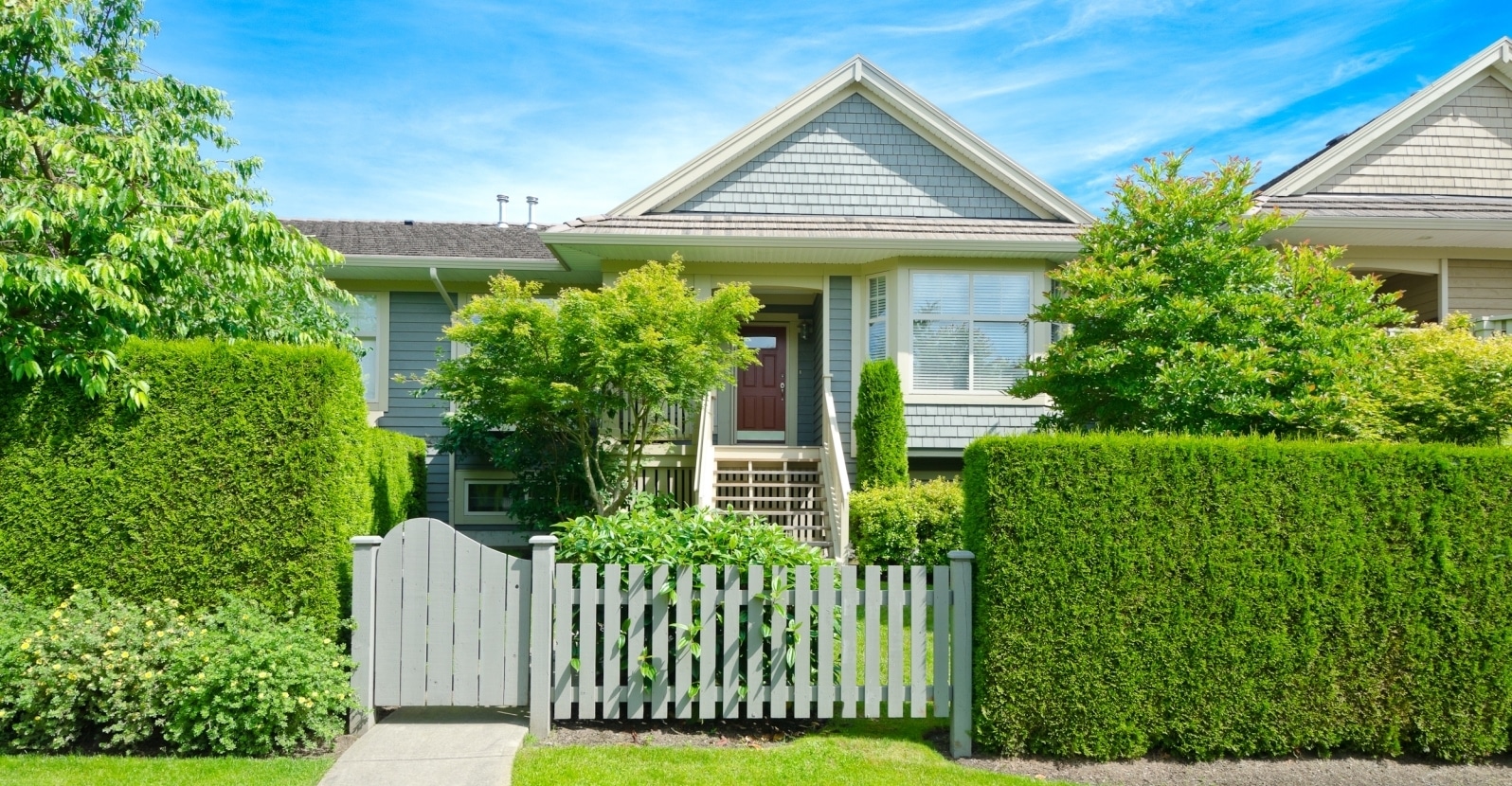 Hedges make good fences because they increase the value of your property. There is no possibility for somebody to peep into your property if your front yard is enclosed by a hedge. Evergreen hedges like hornbeam hedges need regular persistent irrigation, are good for the environment as they prevent soil erosion, and make your house look more approachable.
The leaves change color in spring as well as in autumn which looks absolutely spectacular. Unlike metal and wooden fences, hedges do not need to be painted or polished for higher maintenance. A hedge as a fence aids openness and makes you feel comfortable when you are sitting on your verandah sipping lemonade.
6. Modern Metal Fence with Clean Lines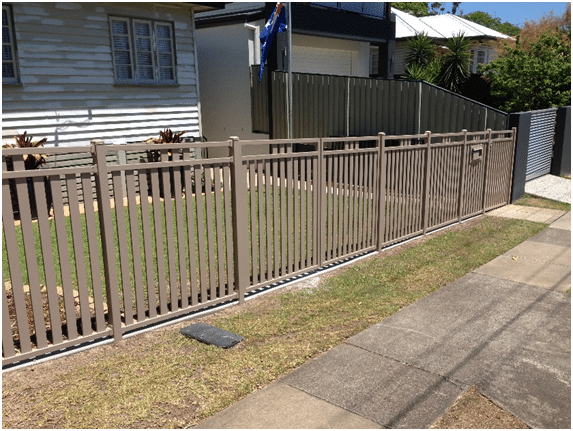 Experience the appeal of modern style with a trendy metal fence that features sleek elegance and clean lines. The simplistic elegance of this fence's design perfectly balances form and purpose. The metal's polished, smooth surface emanates a contemporary flair, catching the light and creating eye-catching shadows. Its simple design adds a touch of architectural artistry while giving your front yard a sense of correctness and order.
The basic formation of this fence makes it a breathtaking focal point that coordinates with trendy architectural and terrain ideas. You may welcome the charisma of plainness and create a remarkable view by adding a contemporary metal barrier that upgrades your outdoor area.
7. Trellis Fences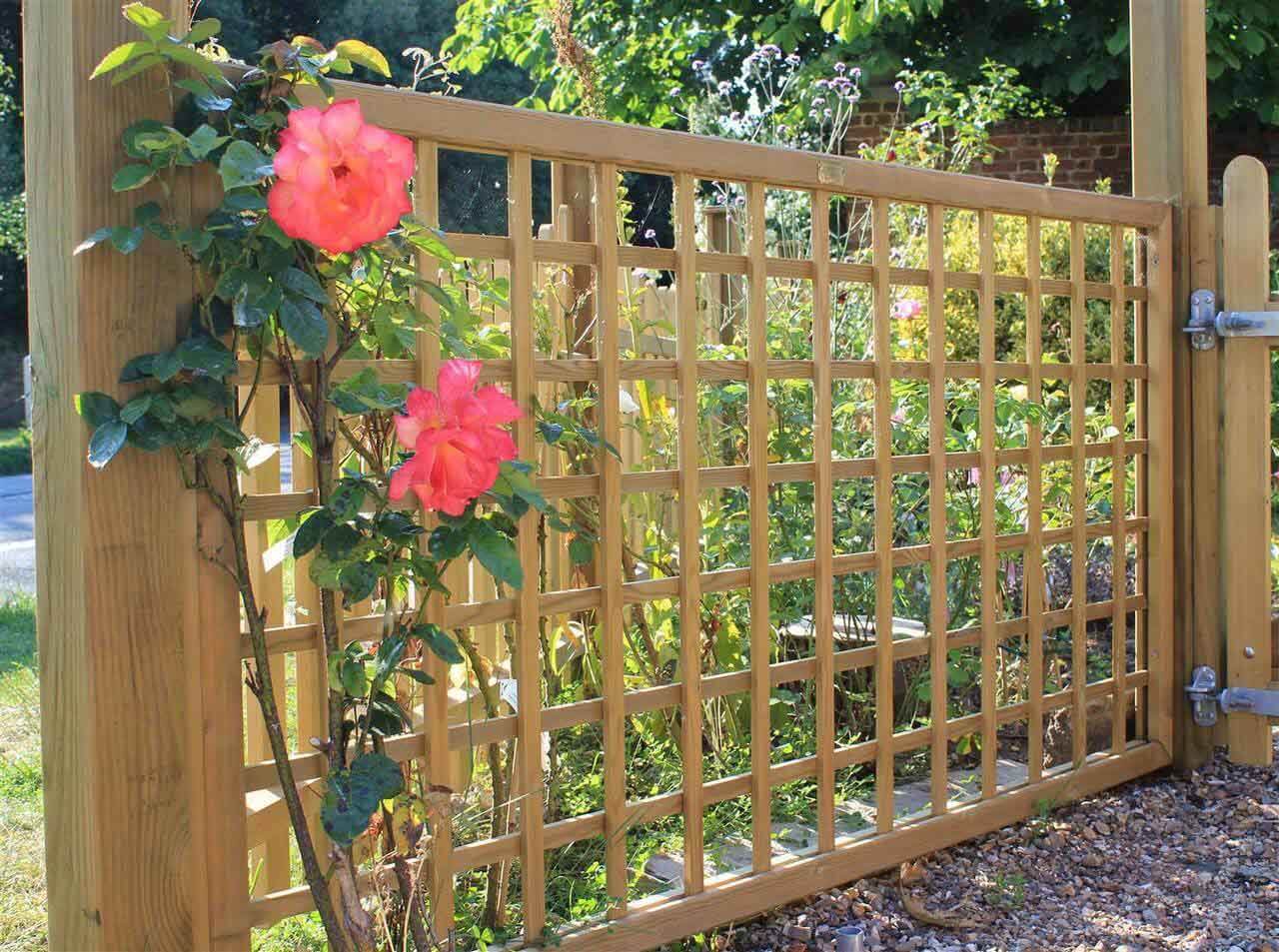 Trellis fences are multi-purpose fences. While these fences will efficiently demarcate the boundary of your house, they can also be used as support for plants. A trellis fence can be customized as it can be made out of wood, metal, iron, or even PVC. It is not an ideal option if you are looking for something that will enhance your privacy or safety, but it will definitely add character to your garden as climbing plants like roses look beautiful when grown on a trellis.
A white trellis fence with climbers will make your home appear welcoming and warm. However, trellis fences can be painted in many colors, which can make your home stand out in the neighborhood.
8. Bamboo Fence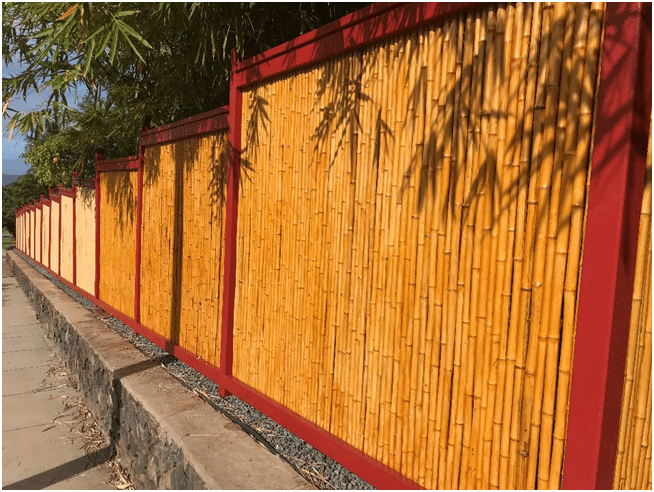 A bamboo fence that gives your front yard a natural and tropical feel will take you to a tranquil haven. These front yard fence ideas expertly catch the atmosphere of serene settings, conjuring up pictures of far-off coasts and swinging palm trees. Bamboo's natural colors and textures combine seamlessly with the surroundings, blending with luxuriant foliage and brilliant flowers.
A calming song permeates the air as soft breezes rustle through its thin stalks, providing a reprieve from the busy world outside. Allow the bamboo fence to turn your front yard into a haven of tropical splendor, enclosing your space in a cocoon of peace.
9. Black Chain Link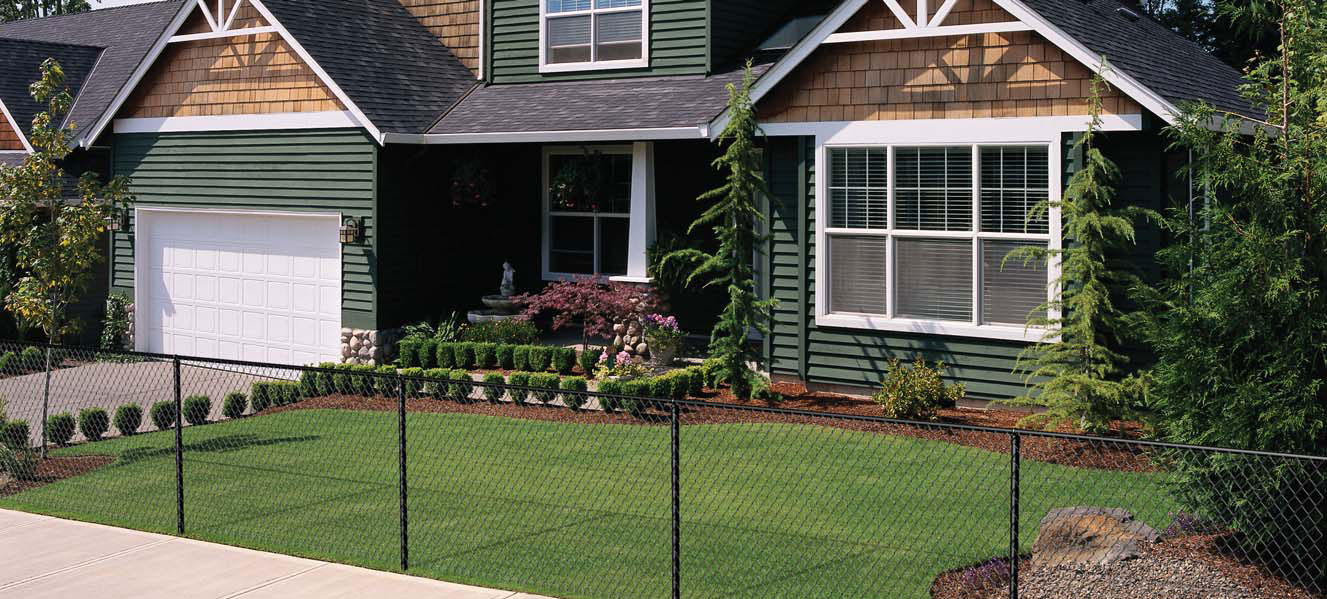 The black chain link fence is made out of galvanized mesh aluminum or steel wire. A durable vinyl-coated steel wire forms a diamond pattern mesh which is secured to posts and frames. The black-colored chain link can withstand high winds, is affordable, and is resistant to corrosion. Besides, you can also go for the modification based on your needs.
It is easy to maintain, is very low maintenance, and can also be cleaned very easily. To hide the mesh, you can plant flowering vines like morning glory or passion flowers or evergreen vines like English Ivy or Creeping Fig that have thick green foliage.
10. Brick Fence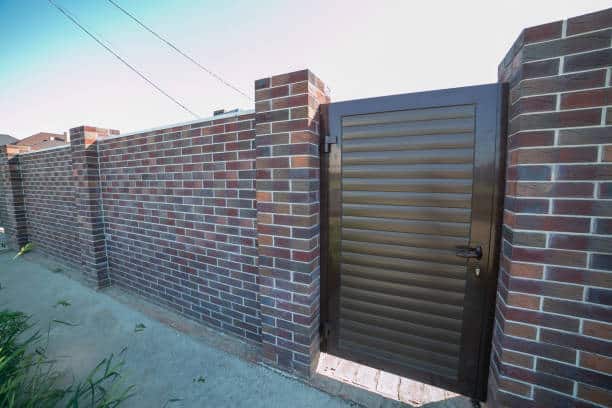 A brick fence, also called a masonry fence, is an excellent fence for those who want maximum security and privacy. There are two types of brick fences, i.e., closed brick fences and open brick fences.
A closed brick fence, as the name suggests, is simply a brick wall with no gaps in it. An open brick fence, on the other hand, is lower than a closed brick fence. These are made of brick pillars that are connected with wrought iron panels or wooden fence panels.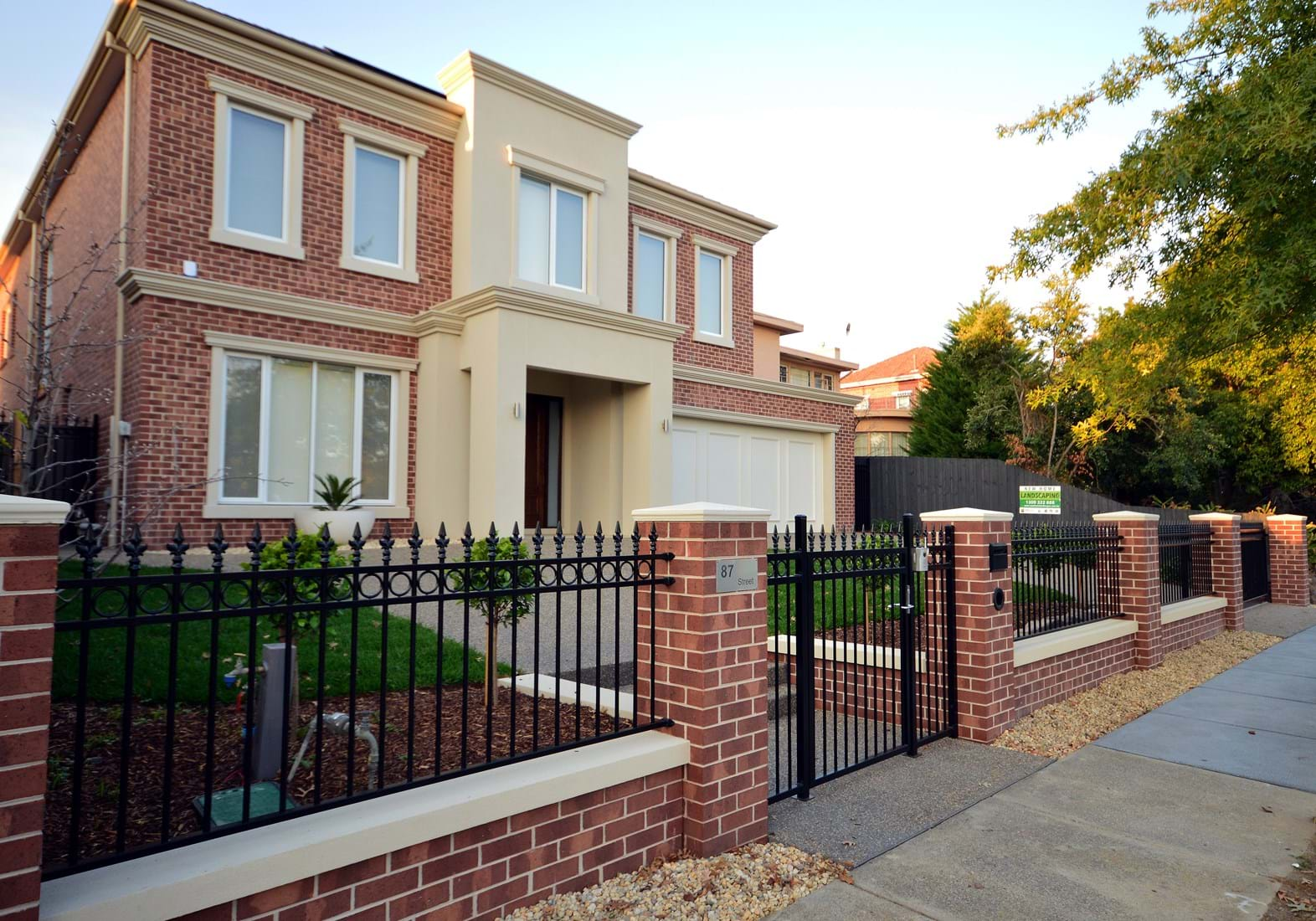 While selecting a brick fence, make sure that the color of the brick fence matches the house so that a sense of uniformity is maintained. There are many colors of bricks available in the market, like white, grey, brown, and red. For a better aesthetic appeal, you can even select a combination of colors instead of sticking to just one brick color.
These fences are sturdy, so it makes it very hard for a person to break in, and they are easy to maintain. If you live in a cold area, then select brick made of concrete over porous clay, as the latter can absorb water and can be damaged in freezing temperatures or even because of weathering.
11. Stone Fence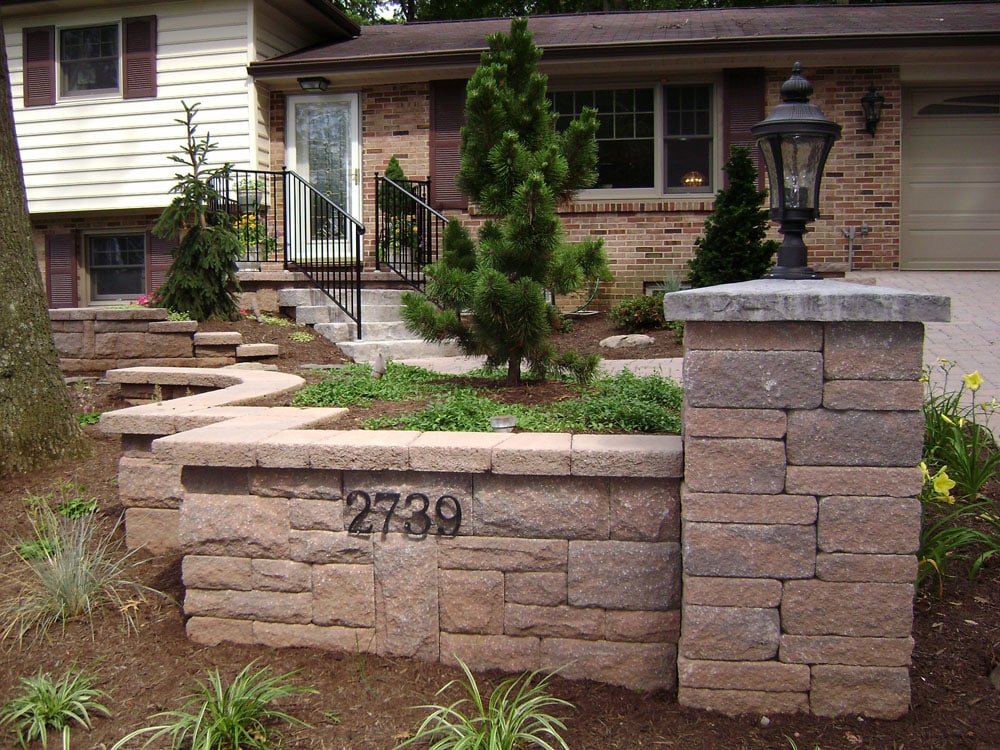 Fences that are made by putting together an assortment of stones of varying shapes, sizes, and colors are called stone fences. They are durable and stable fences that do not cost a lot. Such aesthetically pleasing fences can give your garden a rustic look, and to make your front yard look even better, complement the grey-brown stones in the fence with bright-colored flowers.
This will add some drama to the lawn and even give it some character. The fence, however, cannot be repaired easily and can take a lot of time to build. Nevertheless, it is a one-time investment as the fence is resistant to extreme climates.
12. Iron and Stone Columns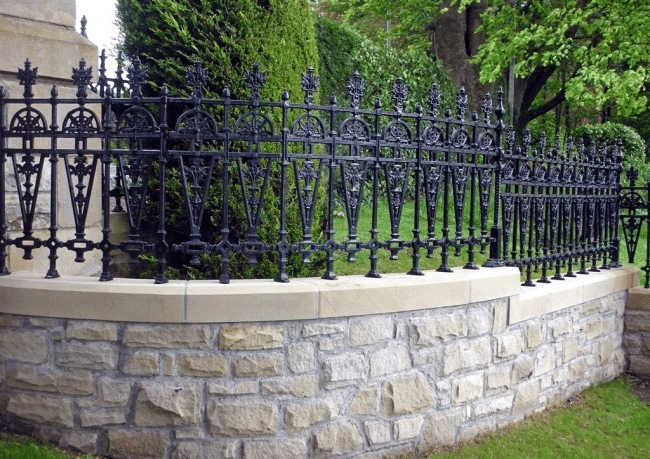 If you are not that particular about your privacy, you can even opt for a fence that is made of a combination of iron and stone. These fences have columns made out of stone which are connected with iron railings.
The columns provide structural support to the fence and also give an open feeling.The boundary of a house can be clearly demarcated with the help of such fences and can help in averting unwanted intrusions. However, it is not an option for those who wish to have privacy through the fences.
13. Stucco Concrete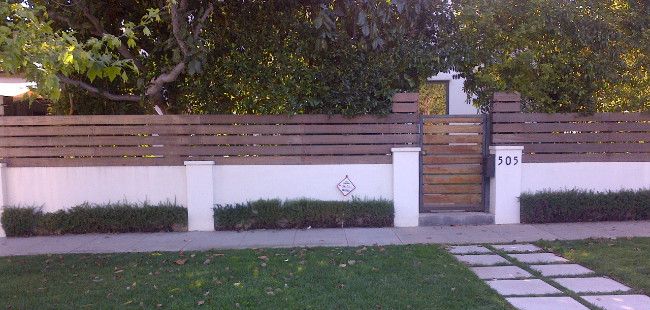 Traditional stucco is made of cement, water, and lime. As compared to concrete, stucco is more porous, which allows the circulation of air and minimal water absorption, which prevents rot.
Therefore, if you want to grow plants along the fence in your front yard, a fence made out of stucco concrete can be a great option. It will give your house a Mediterranean outlook, and the white color will cater to the essentials of a cooling effect in your home.
14. Modern Concrete Fence Featuring Geometric Patterns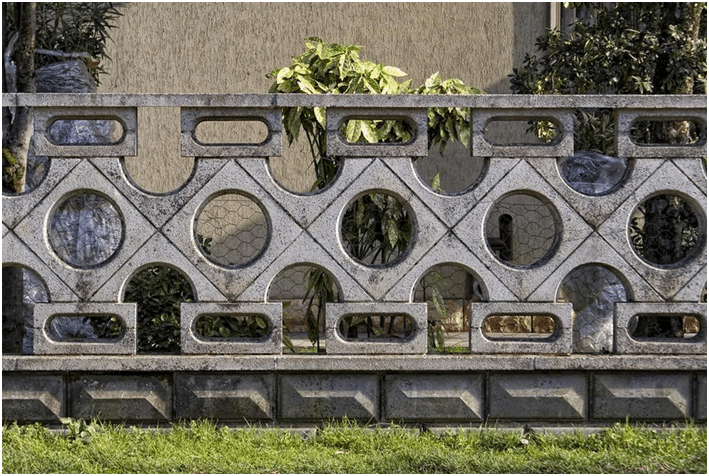 Experience the pinnacle of modern architecture with a concrete fence embellished with eye-catching geometric patterns. The strength of concrete is combined with the appeal of precise lines and curves in this architectural wonder.
This is one of the best front yard fence ideas as it offers depth and mystery through the geometric designs engraved into the surface. The geometric patterns, which range from delicate triangles and hexagons, help to provide a dramatic statement that helps in infusing liveliness to the entire structure.
15. Privacy Fence with Vertical Wooden Slats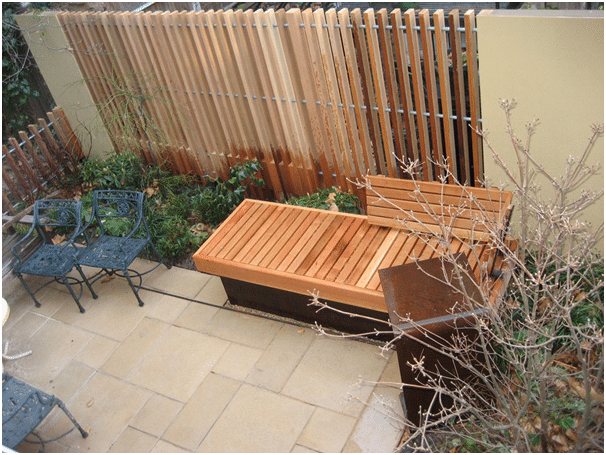 Build a privacy fence with vertical wooden slats to reveal a haven protected from prying eyes. This structure helps your room in embracing the wood's natural warmth, which exudes tranquil, rustic beauty, which gives your front yard a bit of architectural grandeur and helps you with the need for privacy.
This idea helps you with peace and relaxation in your home while creating a private oasis that perfectly combines form and function.
16. Horizontal Slats Fence Featuring a Modern Build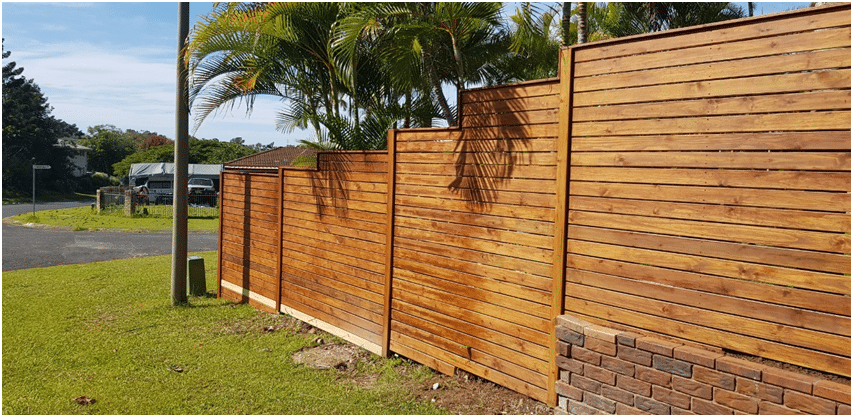 You will appreciate modernism and indulgence with a horizontal slat fence that effortlessly stems a modern aesthetic in your front yard. This fence's simple, flat lines provide an aura of beautiful magnificence.
The slats are thoughtfully placed to bring a modern geometric pattern that offers your garden a delightful look. The design offers versatility in terms of constructing fences that you may build using metal, wood, and other composite materials.
17. Ornamental Aluminium Fence with Ornate Details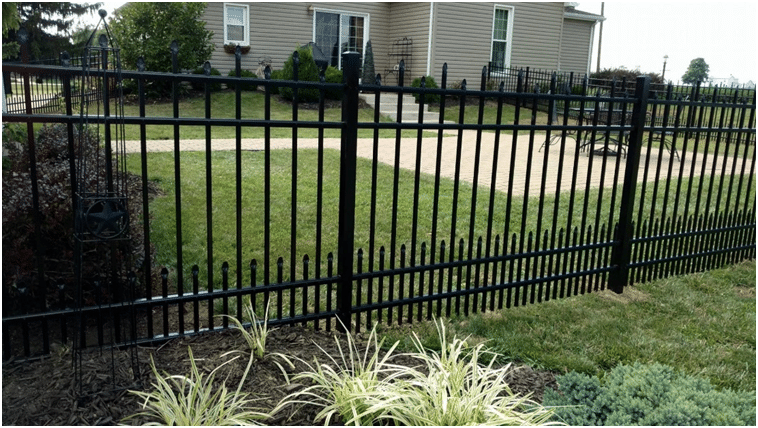 You can transform your front lawn into a mesmerizing work of art with a decorative aluminum fence that is complemented with magnificent intricate elements. With its elaborate designs, this fence design combines artistry and functionality to enhance its aesthetic appeal.
Such front yard fence ideas are transformed into a work of art by their definitive features, whether they are drawn from nature or complex geometrical patterns. The beautiful aluminum fence gives a sense of grandeur and class to your front yard with its royal presence, leaving an everlasting impression on the beholders.
18. Farmhouse-Style Wooden Fence with X-Shaped Panels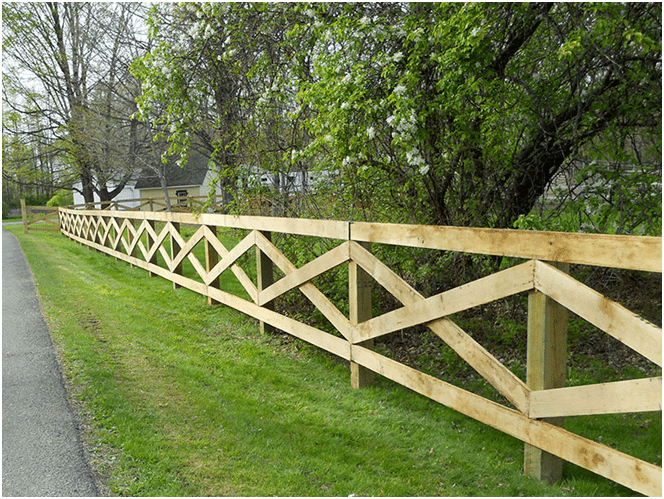 An X-shaped wooden fence in the farmhouse design will give your front yard character and warmth while capturing the aura of rustic charm. The X-shaped panels in this fence design, which honors traditional artistry, add an appealing, distinctive visual aspect. The solid wooden structure emanates an air of authenticity and blends perfectly with the surrounding landscape.
Each X-shaped panel contributes altogether to provide the yard with a nostalgic farmhouse vibe, conjuring up visions of quint farmsteads and earlier times. This fence's timeless appeal helps you establish a warm outdoor setting that showcases your appreciation for farmhouse style while providing privacy and fun.
19. Vinyl Fence in a Variety of Styles and Colors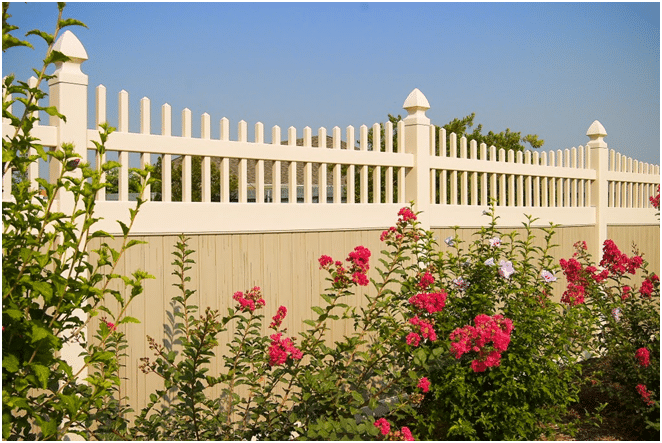 Discover the many options of a vinyl fence and how its vast selection of colors and styles goes beyond expectations. Vinyl presents a rainbow of options, whether you want a crisp white fence radiating timeless beauty or a vivid shade to make a statement.
There is a color scheme nature to trendy colors that represent contemporary aesthetics. This is amongst the best front yard fence ideas that enable you to tailor your front yard perfectly, improve the curb appeal of your property, and help endure the test of time.
20. Gabion Wall with Integrated Seating or Planters
Using a gabion wall with built-in seating or planters to enhance your front yard design is also a great option for your front yard. This creative idea combines practicality and beauty to produce a spectacular focal point with plenty of uses.
The robust wire mesh cages packed with stones serve as seating areas for socializing and leisure and create an eye-catching structure. A green oasis can also be created by integrating planters into the gabion wall, enabling cascading blooms and lush vegetation to spill over and offer a touch of natural beauty.
Conclusion
Having a fence around your home of dreams is not just crucial to ensure safety and privacy but also plays a role in enhancing the overall aesthetic pleasure of your home. However, it is essential to ensure that the fence of your home perfectly complements the overall get-up of your home.
If you are currently living in a cottage, a trellis fence will look way more appealing than a black chain link fence or a metal fence. You can make your fence look attractive by lighting it up, hanging baskets, growing hedges along with the fence, or even trying various customizable designs of your choice.
Try the above-mentioned ideas to present your fence with a definitive appealing look, and let us know in the comments how you liked the idea of restructuring your fence.
Frequently Asked Questions
Which Fence is Best for Front Yard Privacy?
To ensure maximum privacy, vinyl fences are the best option. Since they are made of PVC, they require no major upkeep, are durable, and are an easy-to-maintain alternative to traditional wooden fences. This fence can last for up to 25 years. They are waterproof and will not crack due to sun exposure as it is made with UV-resistant vinyl blends that can withstand temperature fluctuations.
What is the Recommended Height for The Front Yard Fence?
For the front yard, the ideal height of a fence is 3 feet. It will successfully block the line of sight and give you the privacy you need without making your front garden look like an enclosed case.
How Can You Make Your Fences Eco-Friendly?
Growing hedges and planting bamboo as fences is an excellent way of making living sustainable and eco-friendly. However, installing composite fences using recycled timber and plastic and steel fences made out of sustainably scrapped or repurposed materials can also serve the purpose.
Can I Change the Style of The Fence in My Front Yard?
Yes, you may tailor front yard fences as per your will and the architectural layout of your house. You can select from various materials, colors, heights, and decorative components to construct a unique fence design.