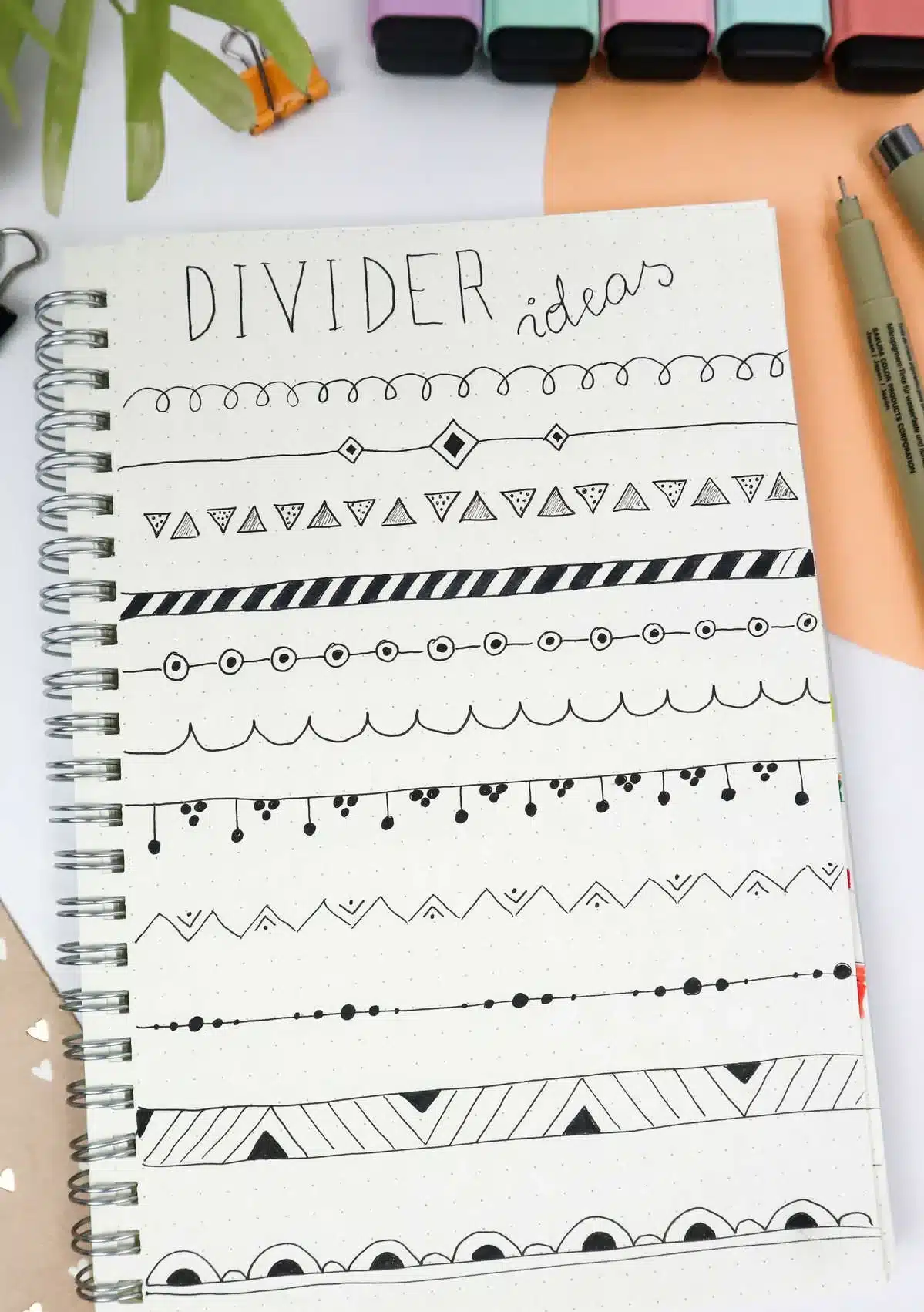 A bullet journal divider is like a text divider which is sometimes known as BuJo. It is also synonymous with personal organizing. A bullet journal divider is not just an ordinary text divider; it adds decoration and beauty to your notebook, which only makes the task more interesting. Most of the time, they are handwritten and maintained in a notebook, which means the cost is not much; you just need a pen and a notebook.
Bullet journal dividers are commonly used by people with ADHD (Attention-deficit/hyperactivity disorder) as it helps in paying attention to a task. Ryder Carroll, the creator of a bullet journal, himself was a person with ADHD, so he wanted to bring out something innovative to help with his learning disabilities; and that's how bullet journals came into existence. It's also amazing to learn that bullet journal dividers also have the ability to help people with mental disorders partially.
Here are 16 bullet journal divider ideas that will help you in focusing on your work.
1. Floral Bullet Journal Dividers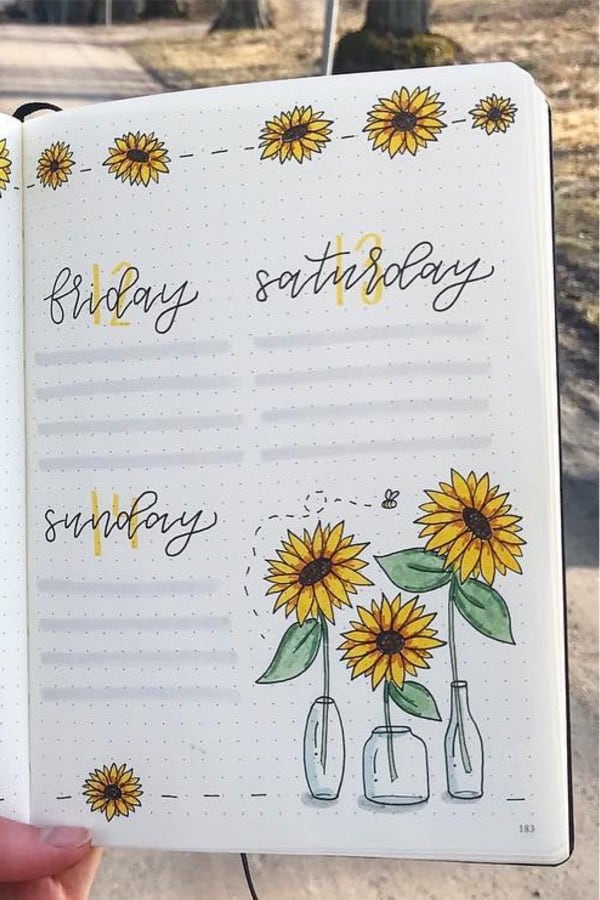 Floral-themed dividers are common and, at the same time, easy to make. If you are a person who loves flowers and is pretty much good at art, you can draw your favorite flower or the flower you think looks lovely in your journal.To add vibrancy, color them with the color of your choice. A color palette has to be always in hand if you are frequently drawing floral dividers.
2. Cupcake Bullet Journal Dividers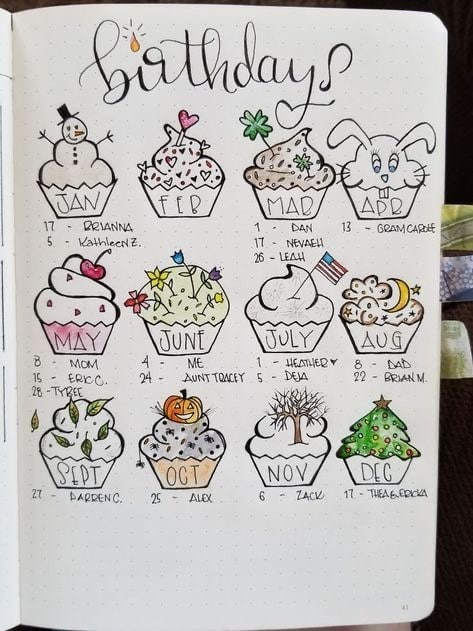 Cupcake dividers are so loveable and pretty to look at if perfectly drawn and colored. Pastel colors work so much better in the case of cupcake journal dividers. They look so attractive and, sometimes, yummy, as though they are real. Dear cake lovers, try something different this time by baking without an oven but with coloring equipment.
3. Cute Illustrations Bullet Journal Divider Ideas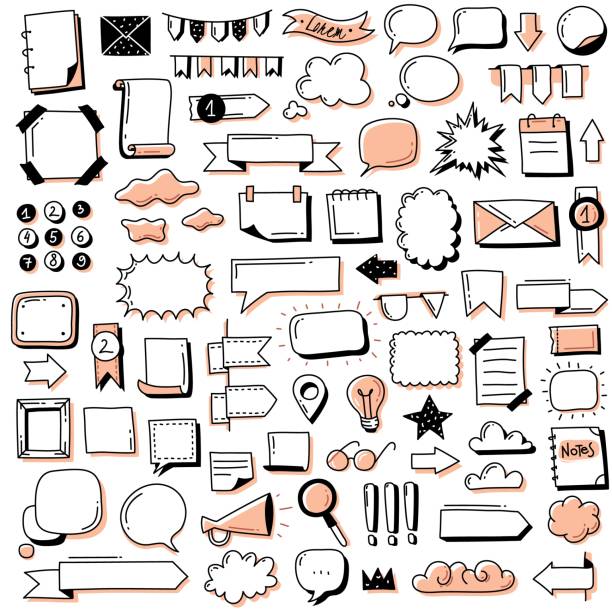 You can draw anything here, anything you like or find cute. Most people draw random things but in an attractive manner. If you are a romantic person, heart shapes and roses will look cute. Or, if you are a candy lover, adding candy illustrations with pretty wrappers is totally exhilarating and fun. Any tiny thing that is perfectly illustrated is a lovely treat to the eyes.
4. Ornament-Shaped Bullet Journal Dividers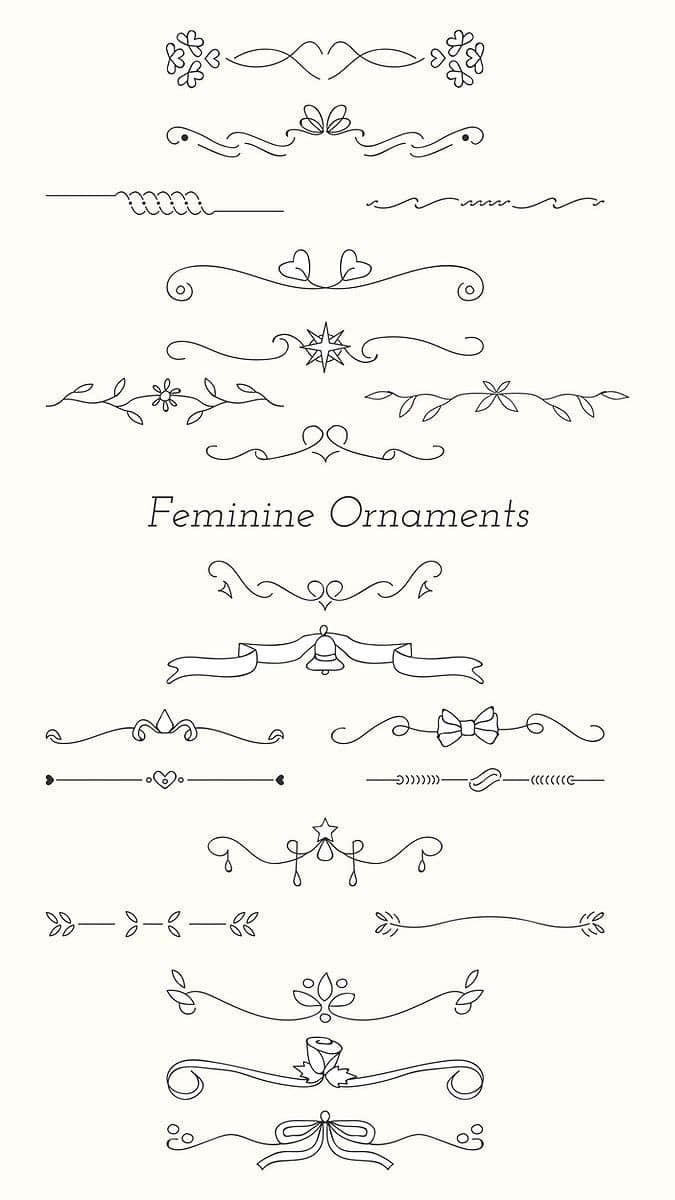 These types of dividers may sound expensive and unique and difficult, but if you are a little bit of a good artist, IT IS NOT AT ALL EXPENSIVE! Ornament dividers are drawn in the shapes of necklaces, tiaras, and other jewelry items. They look royal and classy. For a good reference, you can check jewelry designs online and take notes from there.
5. Season-Themed Bullet Journal Dividers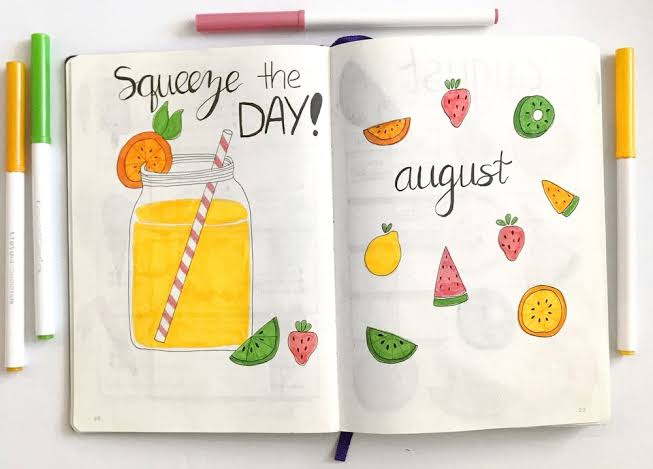 Season-themed dividers are super interesting to work on. When we want to illustrate something that makes us think of the winter season, Mistletoe and Christmas lights are the coolest and warmest ideas. And for the summer season dividers, anybody can make what is relevant during that season – beach items like soda bottles, sunglasses, beach umbrellas, sliced fruits, etc.
To make fall season dividers, you start illustrating the gorgeous dried leaves and the famous Jack-o'-lanterns since fall aesthetics are extremely popular and loved by many.
6. Doodle Bullet Journal Dividers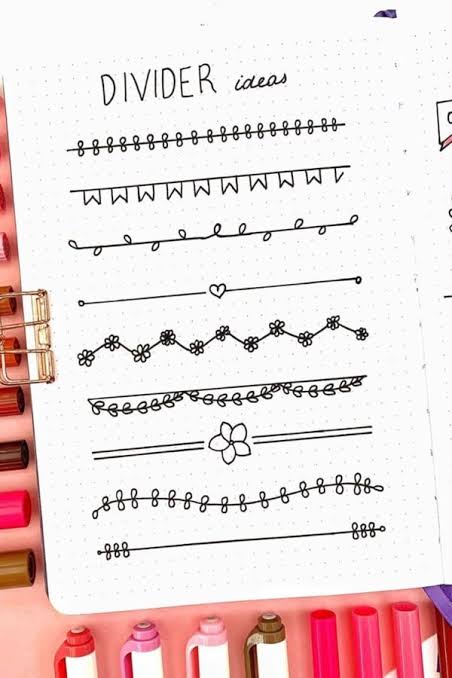 Doodle dividers are mostly spontaneous; there is no particular shape in mind. You just have to start 'doodling' by creating random, wavy lines. You can also decorate the lines with flowers or anything you think adds beauty. In order to make perfect-looking doodle dividers, you need drawing skills and passion. Sometimes through doodling dividers, you get to let out your original ideas. This is actually a good way of exercising your drawing skills.
7. Tiny Bullet Journal Dividers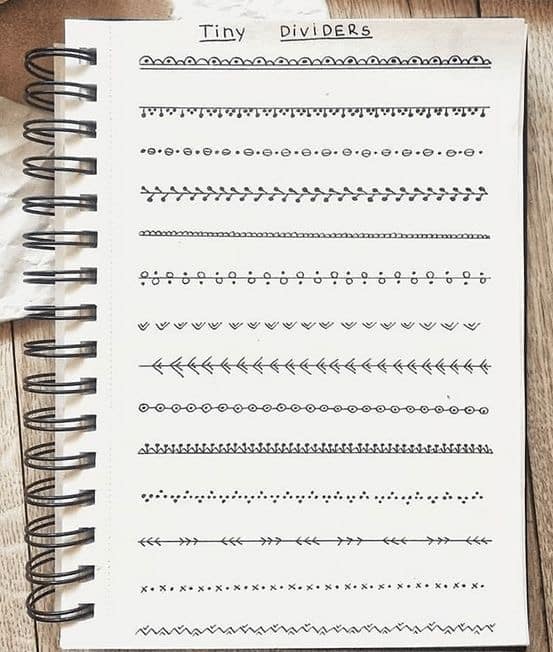 A tiny bullet journal divider comes in very tiny sizes. It can be of any shape or design, but it should be tiny. The notebook looks clean and so much more organized this way. You can draw arrows in tiny shapes because they look very cute when drawn with full passion. If you are an extremely tidy person and you also want your journals/diaries all tidied up, then this type of bullet journal divider is specially made for people like you.
8. Sky-Inspired Bullet Journal Dividers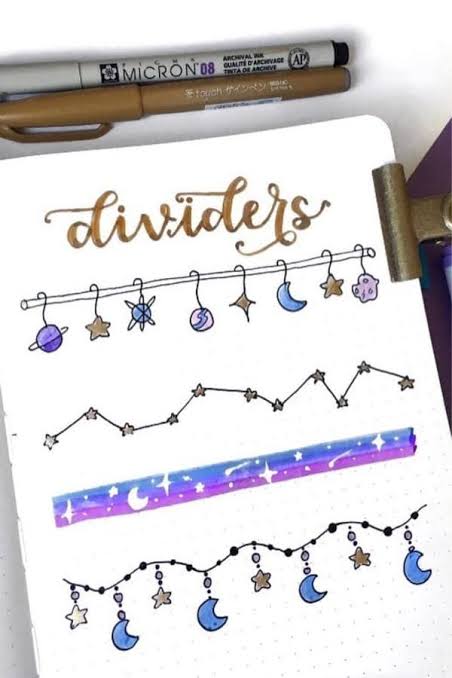 It can be anything that belongs to the skies. The clouds, the stars, the moon, the sun, etc. People who are creative and have venturous minds are usually up for something atypical like this. Imagine a line with dangling stars of different colors. Exactly! Such an astounding sight!
9. Insect Bullet Journal Dividers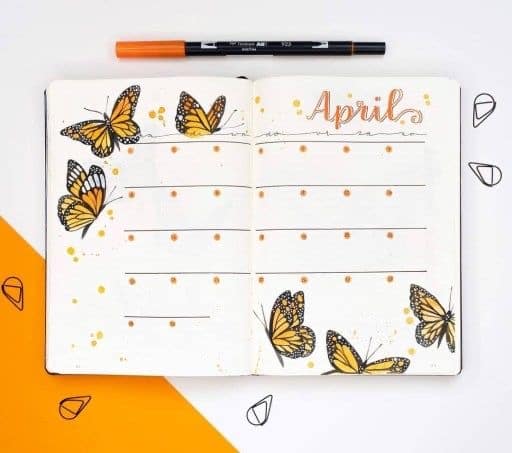 For anyone who is a lover of insects or anything that crawls, here is a good chance to show your love to the insect community. There are numerous insects you can start drawing. Some very colorful butterfly dividers look dashingly beautiful. Honey bees, on the other hand, add an extreme amount of beauty, making us awed. You never run out of insects because there are lots of options – dragonflies, ladybirds, fireflies, and many others. Drawing them in line with colors that exactly define them is a cheerful and happy sight.
10. Fruit Bullet Journal Dividers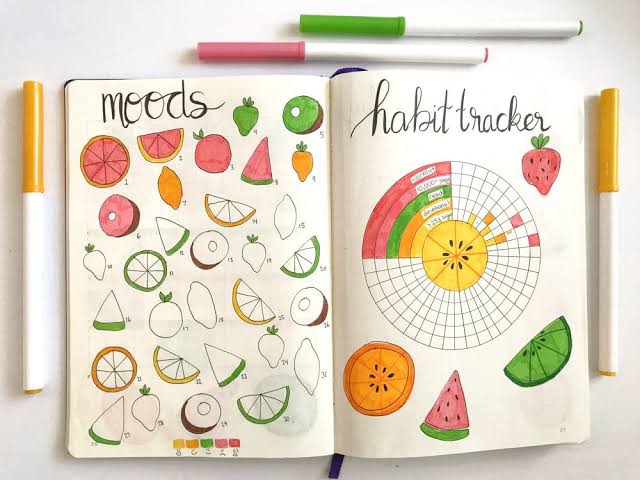 Fruits come in so many bright colors and lovely shapes, and the presence of fruit images immensely beautifies a journal. Either in the shape of sliced fruits or whole fruits, fruit dividers look ravishingly tasty. You can pick any of them – grapes, mangoes, apples, watermelons, oranges…the list goes on. Get your color palette and start giving them life by adding colors to them. This is the type of bullet journal divider that can be mouth-watering at times, but only if drawn perfectly.
11. Halloween Bullet Journal Dividers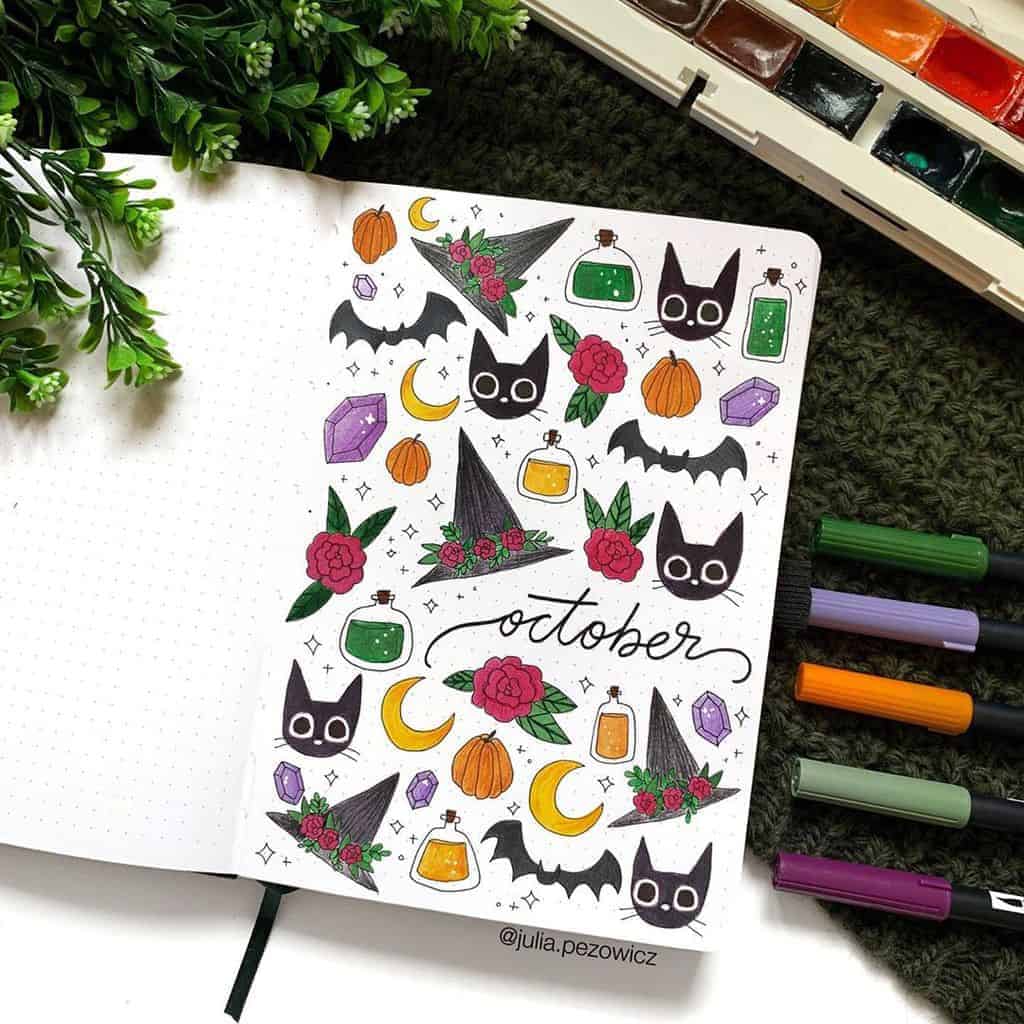 For those who are not terrified of ghost-themed items and love anything dark, Halloween dividers are made for them. So many ideas can pop up from this theme – bats, graves, Jack-o'-lanterns, scary ghost masks, and many other terrifying things (but in a safe way). This spooky season is celebrated widely all over the world, and it is very popular among youngsters. So get the best available Halloween-themed stickers that include the visuals of pumpkins, witches, brooms, and many more. And do not forget to focus on these colors – black, orange, and purple.
12. Arrow-Shaped Bullet Journal Dividers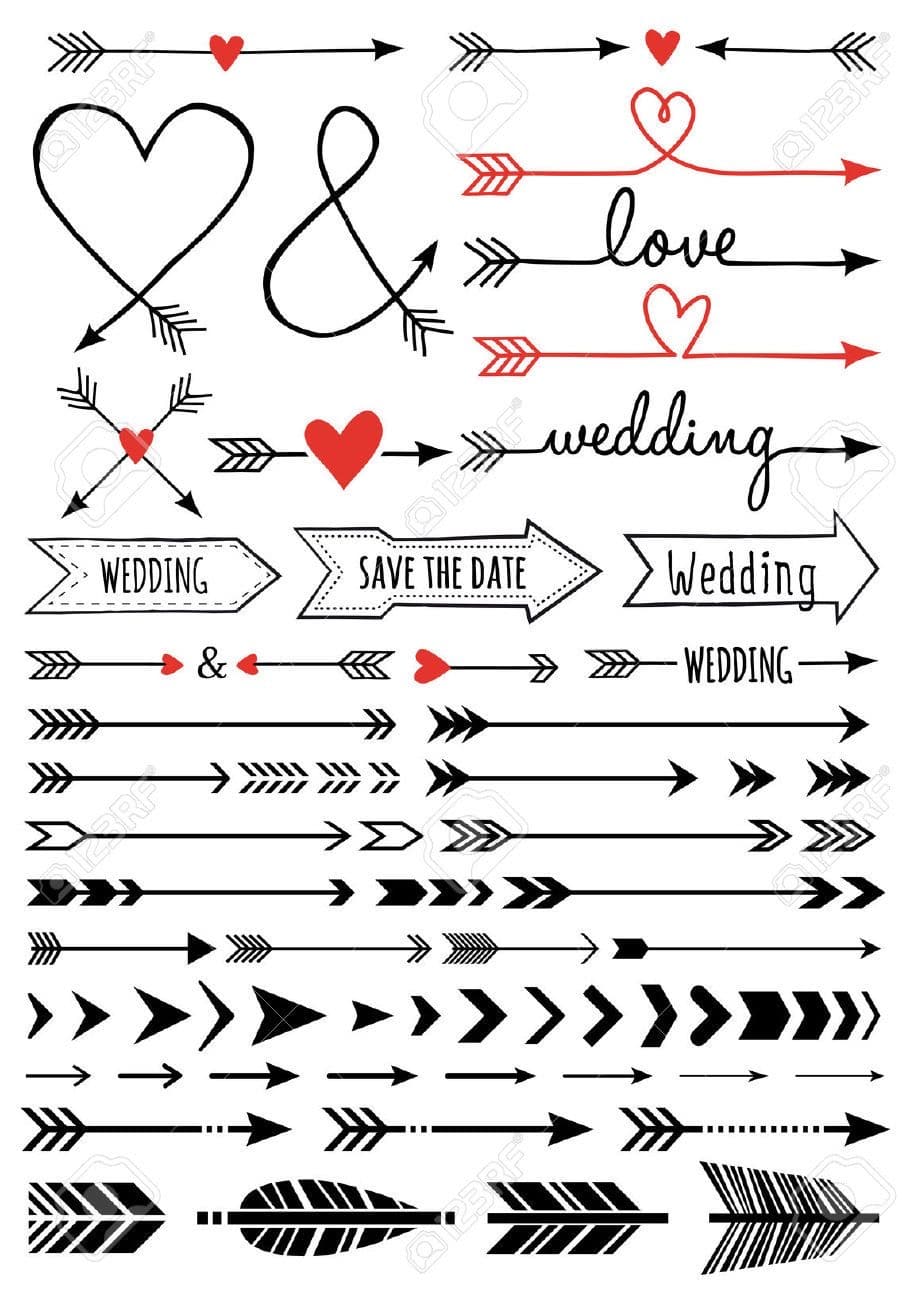 Arrow dividers are also equally popular as the other ones. Arrows come in different shapes; some are thick, some thin, and some have many details. Drawing all the varieties on the same page would be a better idea because the fancier the arrows, the better it looks. These arrows are useful for pointing to different sections of your journal, making it easier for you to maintain the weekly and monthly spreads.
13. Love Bullet Journal Dividers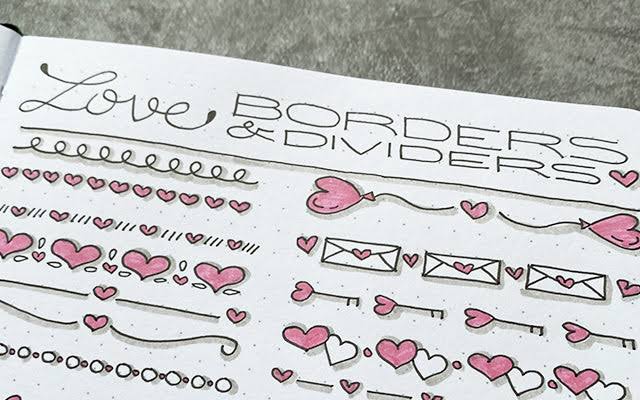 This type of bullet journal divider brings the spirit of romance to your journals. Heart-shaped stickers and drawings can be added here to make it look appealing and romantic. If you are in love and want to express it in your art, here is your chance for confession! You can also draw some very small envelopes with small hearts, including roses, Cupid's arrows, or your crush's name. Give your creative side to exercise and think of all the symbols that you think of when it comes to love.
14. Bird Bullet Journal Dividers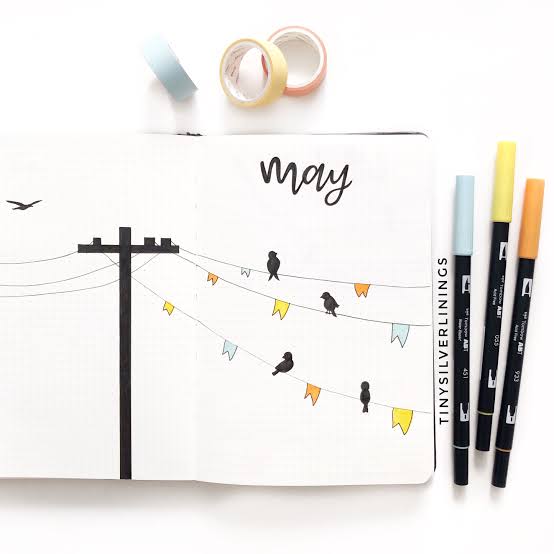 Ornithologists or anyone who is a bird lover, the only job you are passionate about is right here. Birds are known to be one of the most beautiful creatures on planet Earth. Their beauty is so mesmerizing at times, and there are thousands of bird photography that can easily woo you. Unleash the artist in you and make cute, amazing bird dividers. Some small and colorful birds you can draw are – hummingbirds, finches, downy woodpeckers, nuthatches, etc.
15. Leaf-Shaped Bullet Journal Dividers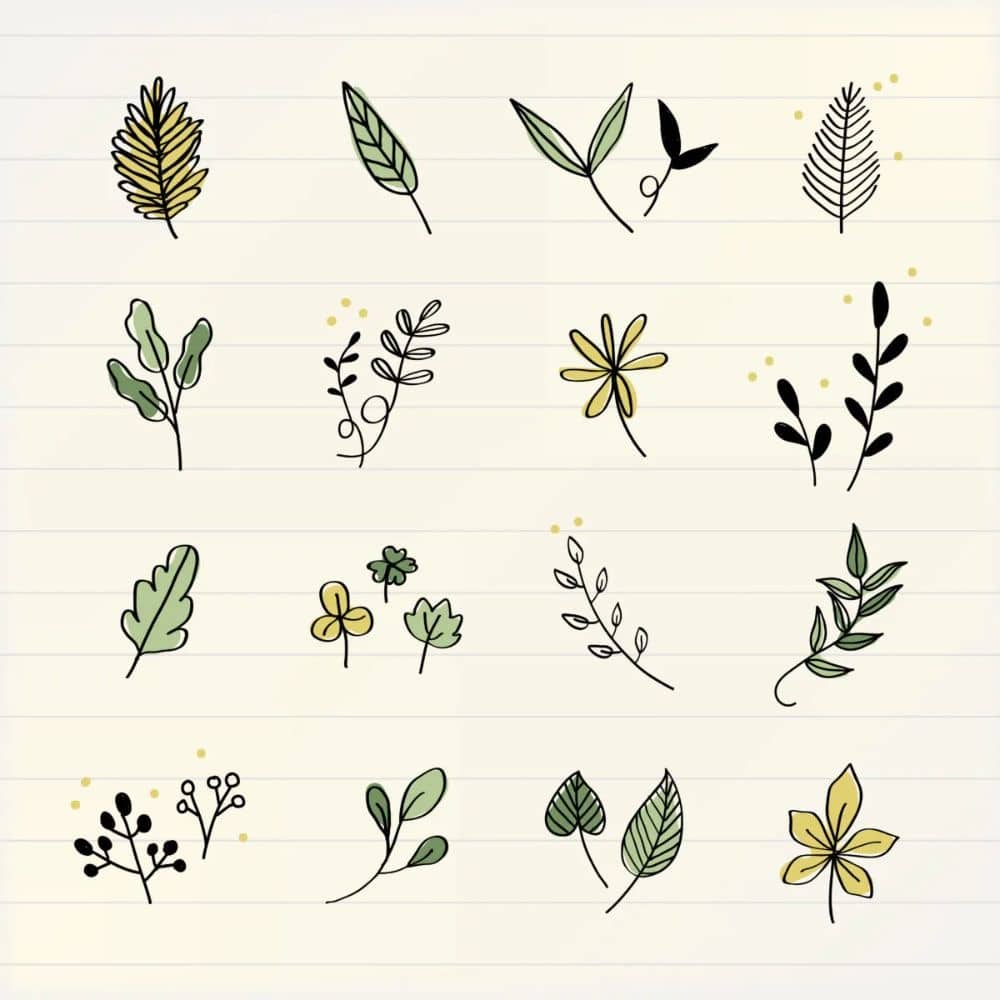 Leaf dividers look gorgeous and beautiful, and they are no less than the actual flowers that are in bloom. Just like flowers, leaves also come in diverse shapes and sizes. Some really good-looking leaves which you can consider are maple leaves, oak leaves, and rose leaves. With a leaf bullet journal divider, you bring a sense of nature to your journal while keeping your notes organized.
16. Black & White Bullet Journal Dividers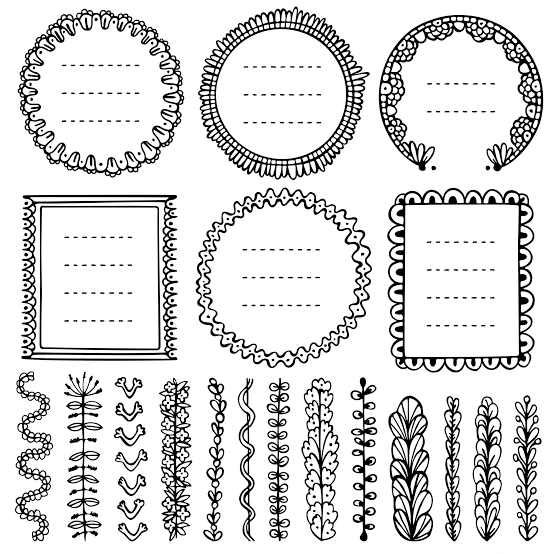 Perhaps, they are the most classic and timeless type of bullet journal dividers. They look simple, basic, and minimal, but also the most elegant to look at. If you prefer simplicity to anything fanciful, go for black-and-white bullet journal dividers. Musical notes illustrated in cute sizes will turn out to be a good kind of black-and-white bullet journal dividers.
Conclusion
Bullet journal dividers can be inspired by anything you love and admire. So much importance has been given to it because of its special ability to multitask, like keeping track of tasks and scheduling appointments and meetings. A bullet journal divider may sound like a small thing that does so little, but the changes it brings by its small contribution are surprisingly good.
People of all ages use this amazing technique of bullet journal divider to make their daily journals easier and more fun. If you are yet to start using one, this will help you make your life easier and so much more organized.
And lastly, If you are someone who wants everything perfect and organized but has no idea what a bullet journal divider is, the perfect time to learn about it is right now.