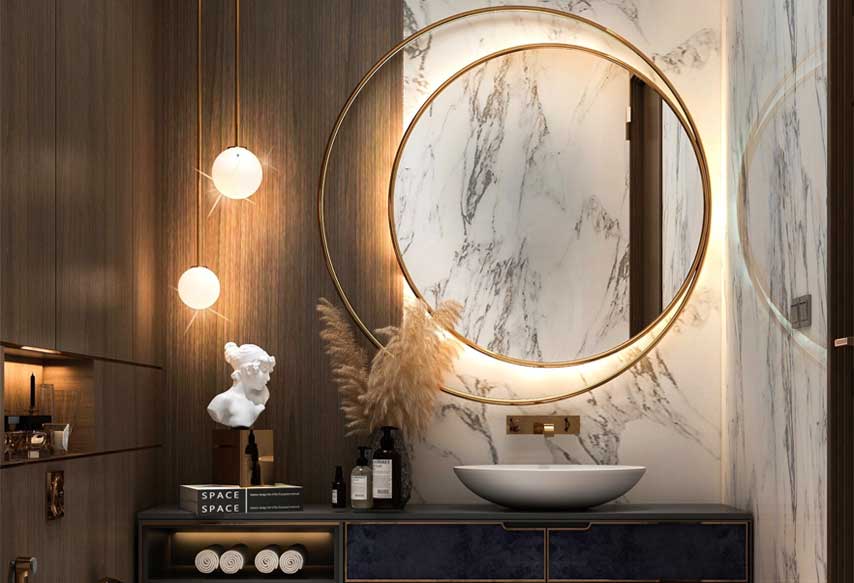 Who says that there is no beauty in a limited space? A small space can also be beautiful if used properly. When it comes to designing a small bathroom finding a vanity that is good in functionality, style, and space efficiency can be a bit of a challenging task.
Limited square footage calls for innovative solutions to make the most of every inch, and choosing the right vanity can be a crucial step in achieving its goal.
In this blog, we will talk about vanities that are under 24 inches that can fit and change the look of your bathroom.
These vanities prove that size does not have to compromise style, and functionality, showcasing designs that maximize storage, optimize space, and execute charm. Irrespective of your room.
1. Wall-Mounted Vanity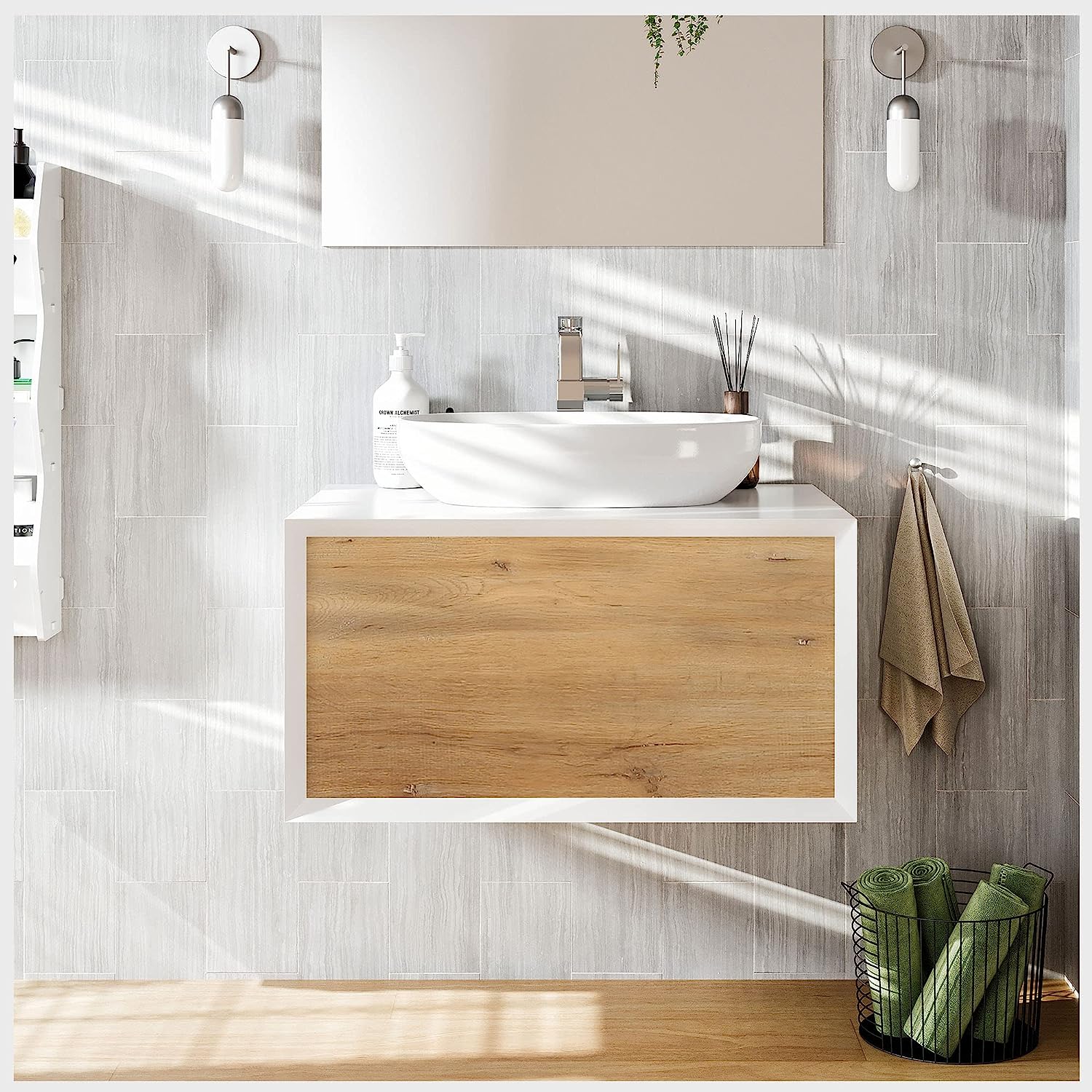 A wall-mounted vanity is a practical and space-saving solution for small bathrooms. This small bathroom vanity is attached directly to the wall, eliminating the need for a floor or base. They kind of float in the air, creating a sense of space and making the room appear larger. This is the biggest advantage of wall-mounted vanity.
It comes in various shapes and sizes. While installing this vanity, you must see if the vanity is attached properly to the wall or not. Carelessness in this matter can cause serious injury.
2. Corner Vanity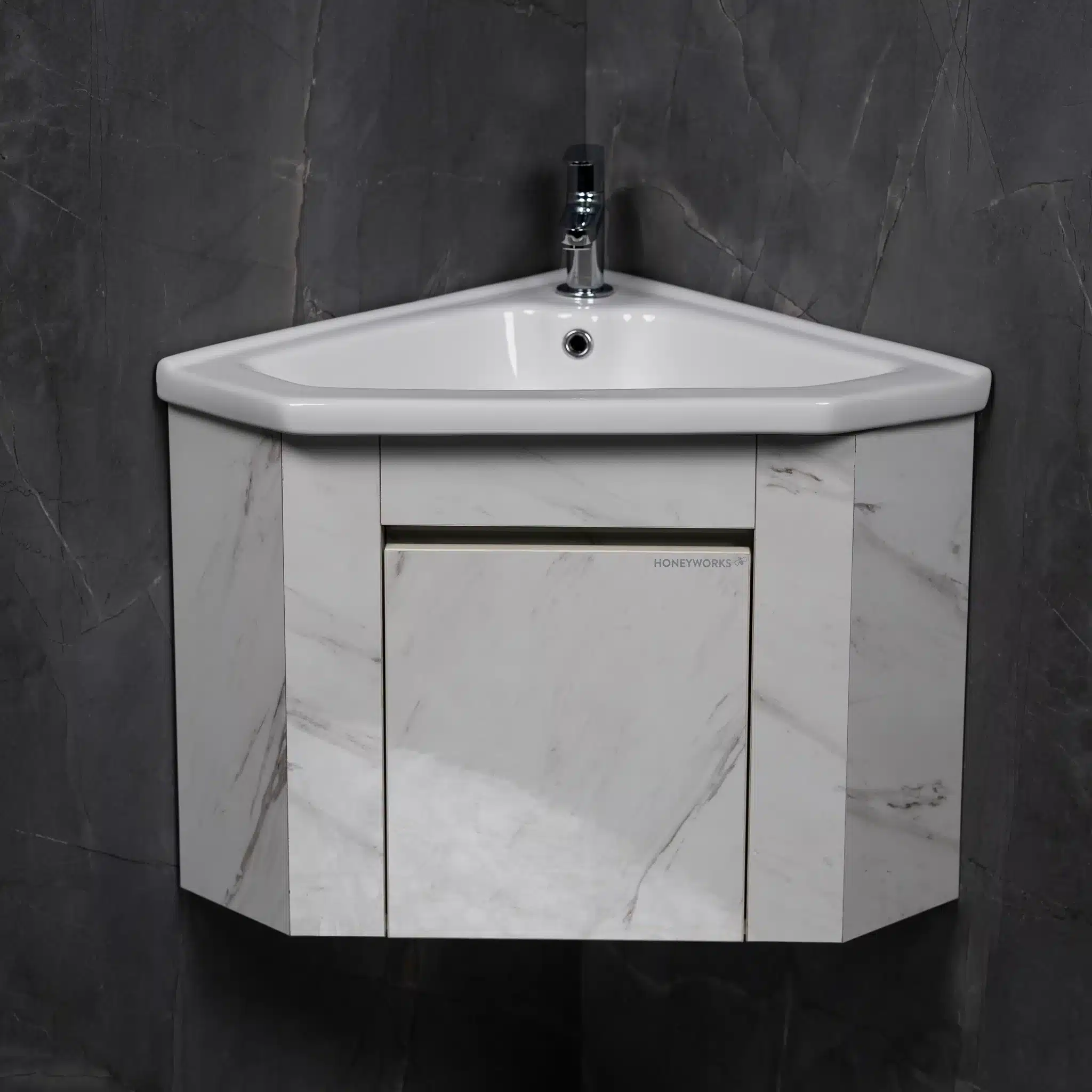 A corner vanity is a smart and stylish choice for small bathrooms. This type of small bathroom vanity is typically installed at the corner of the bathroom, leaving sufficient space for other use. They typically feature a triangular or curved shape and provide a unique and beautiful focal point in the room.
The most significant advantage a corner vanity have is that they optimize the storage options. Most corner vanities come with built-in cabinets or drawers to store toiletries, towels, and other bathroom essentials.
Sale
Myrtle Corner Wall Mount Vanity Sink 16.5" W Compact White Heavy Duty Grade A Vitreous China Sink With Black Vanity Cabinet, Chrome Faucet And Drain with Overflow Renovators Supply Manufacturing
WALL MOUNTED VANITY SINK - Our white compact space-saving corner vanity sink with Black cabinet is perfect for small bathrooms and powder rooms as it adds a touch of modernity to your space. The wall mount vanity sink includes Sink, Chrome Faucet and a Pop Up Drain. The P-Trap is sold separately.
INSTALLATION - Medium Difficulty DIY, Assembly Required, Instructions Included. The Wall Hung Sink is Lag Bolted to Studs with Vanity Support and Comes with Storage and Soft Closing Hinges. Measures 22-3/4" H x 16-1/2" W x 12" Along Wall.
SCRATCH AND STAIN RESISTANT - The Industry standard Grade A Vitreous China structure is coated using scratch and stain resistant finish making our Myrtle Corner Sink highly durable and sleek for long-term use.
BLACK VANITY - The corner wall-mounted sink comes with a built-in Black MDF vanity which allows you to store your bathroom products hidden inside, safe and protected from water and children.
FIT YOUR STYLE - The Renovators wall mount sink is built using white Grade A Vitreous China and is comes with Scratch and Stain resistant finish to give a sleek glazed look to your modern home, making it glide right in with your style. With Black and White, add a trendy mood to your bathroom.
3. Petite Single Vanity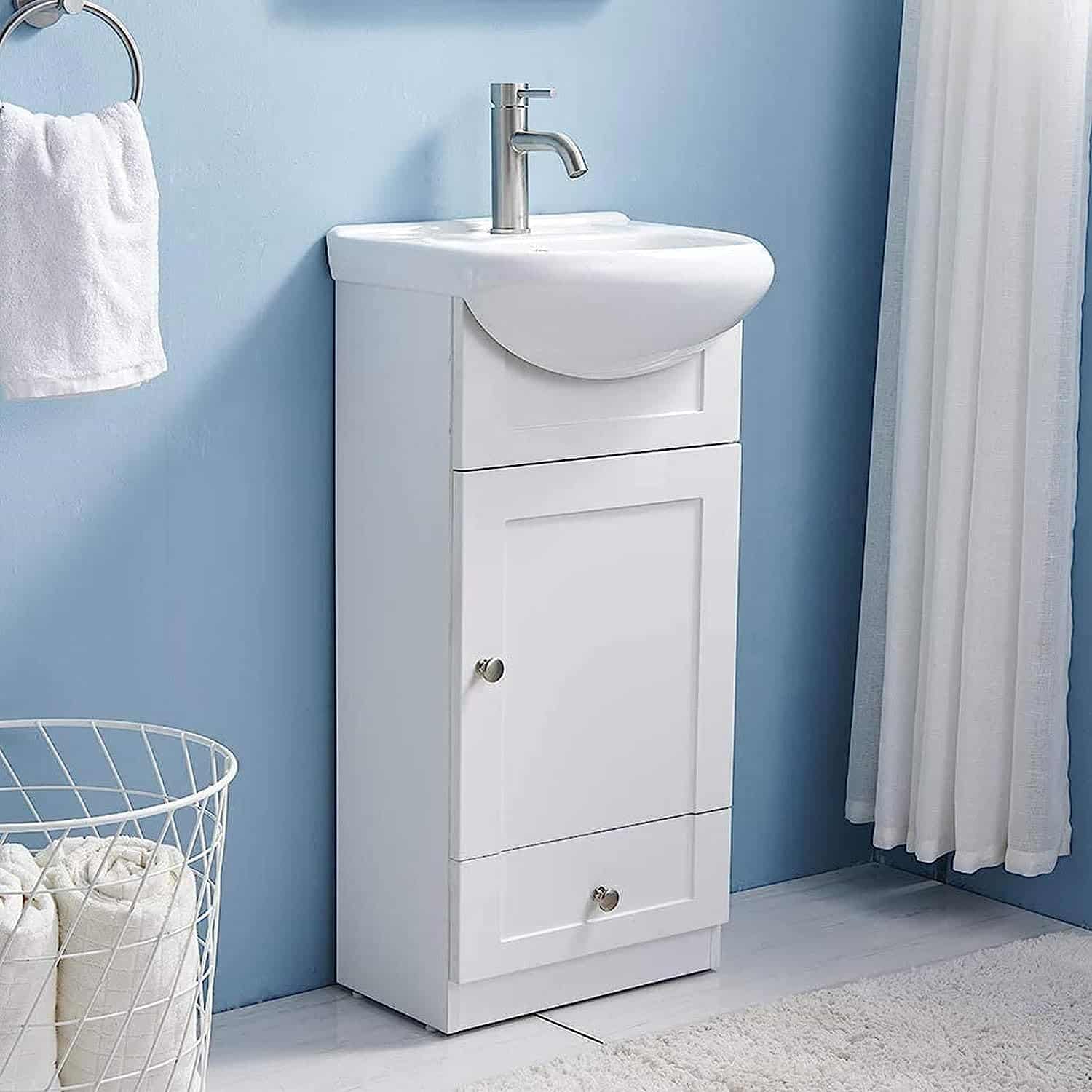 Measuring 24 inches or less, these small bathroom vanities are designed to provide functionality without taking up most floor space. Despite being small, single appetite vanity is a compact and space-saving option. They include a sink and a small countertop and provides enough space for daily grooming task.
Some petite models even have a small backsplash and a single faucet hole for added convenience. Storage capacity may be limited compared to larger vanities as other vanities have space for storing basic bathroom materials like toiletries, towels, etc.
No products found.
4. Open Shelving Vanity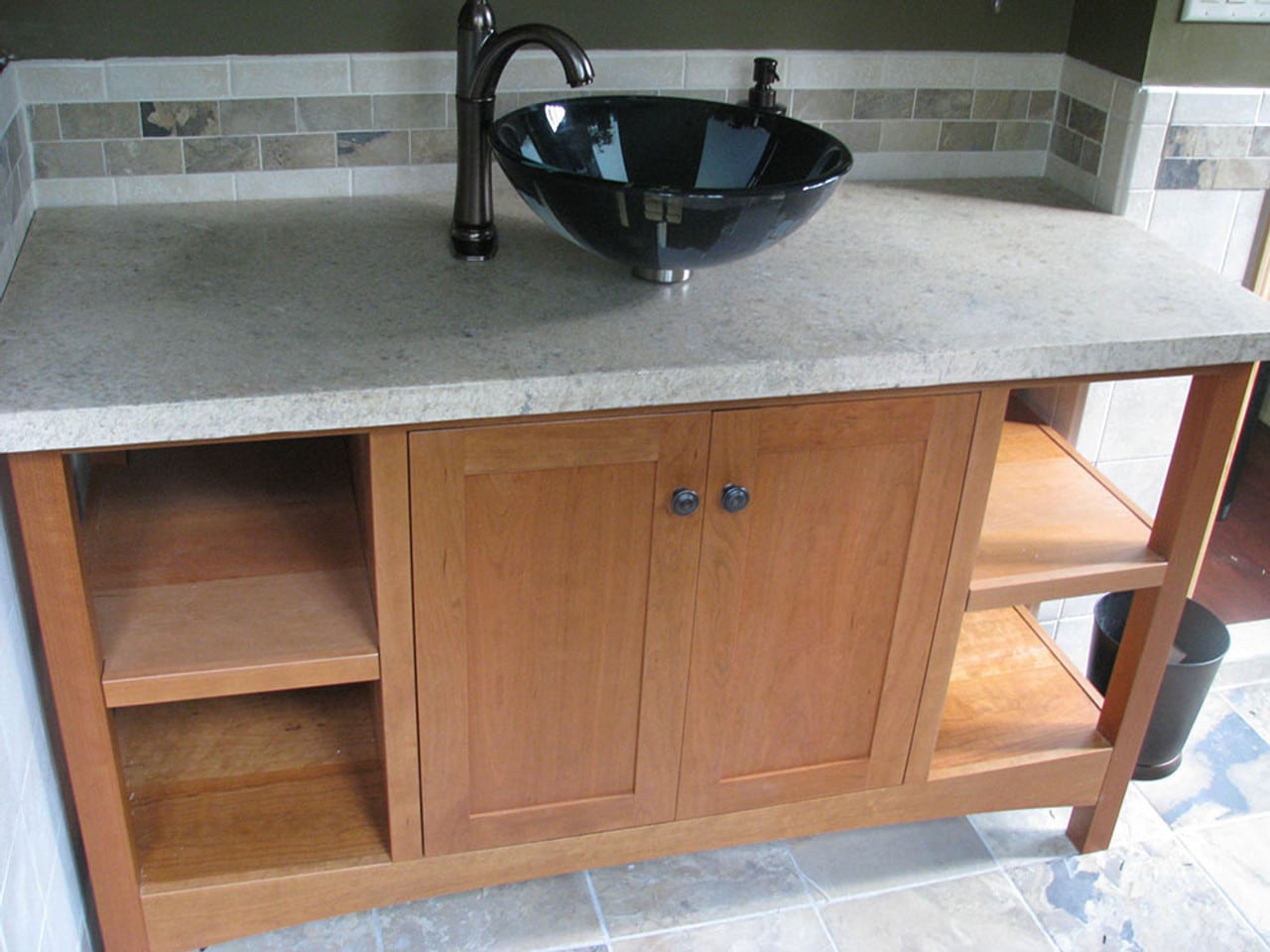 This small bathroom vanity provides a feature of opening the shelves, where you can put your basic needs for the bathroom, which makes it easy for you to access everyday items, eliminating the need to rummage through deep cabinets. It provides a stunning way to organize and display your toiletries, towels, or decorative accents that add a touch of personality to your bathroom decor.
Just keep in mind that this kind of vanity requires a certain level of organization and tidiness, as the items on display are exposed to dust and moisture.
5. Vessel Sink Vanity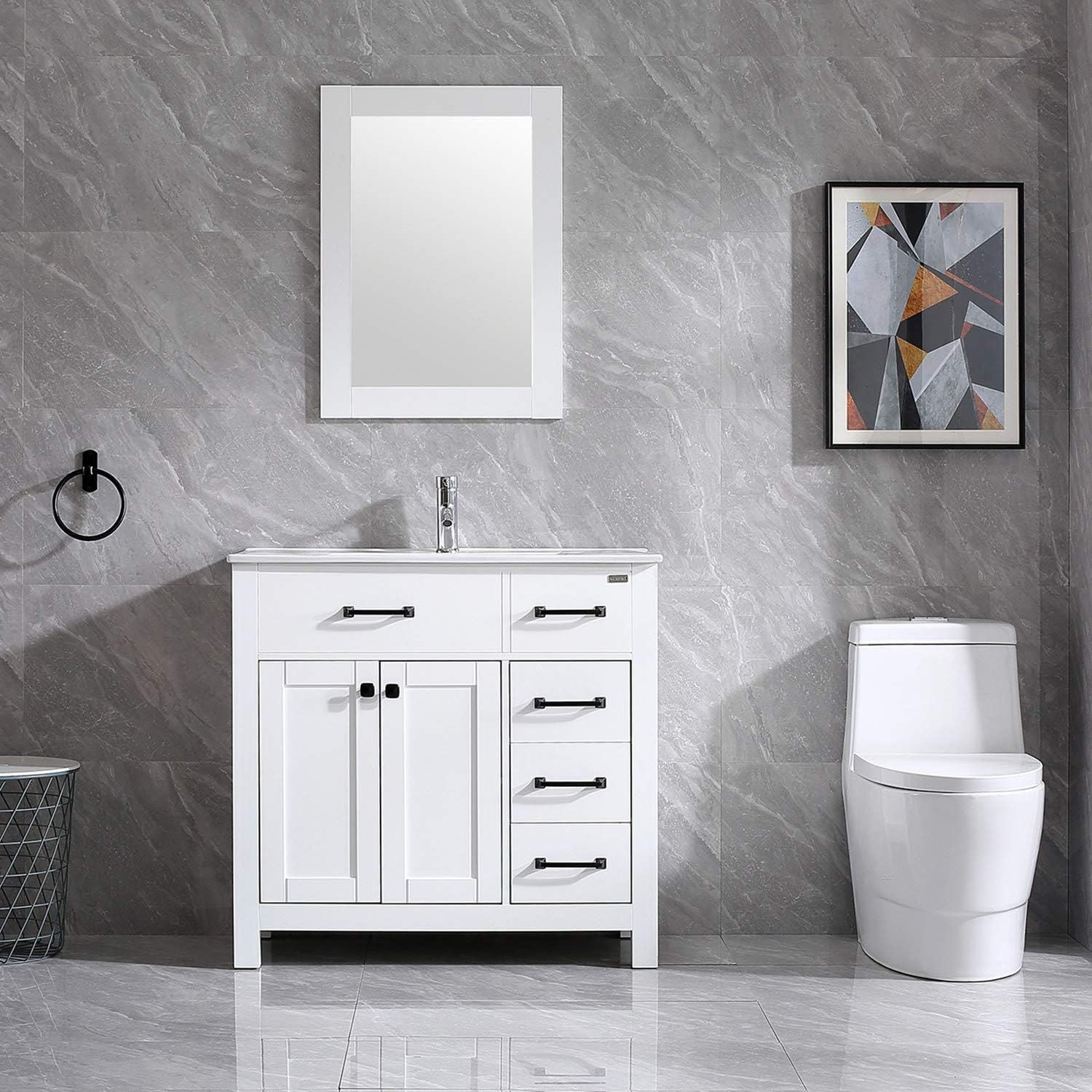 A vessel sink is a stylish and contemporary option for small bathrooms. It features a bowl face sink that sits on top of the vanity countertop, creating a striking visual focal point. These sinks come in various materials, such as ceramic, glass, stone, or metal, allowing you to choose what suits your bathroom aesthetics.
The major advantage of this bathroom vanity is its versatility in terms of design. You can choose the vessel sink vanity that suits most to your bathroom most. They are very stylish when it comes to looks, and with that, it gives the place a beautiful and stylish.
6. Console Sink Vanity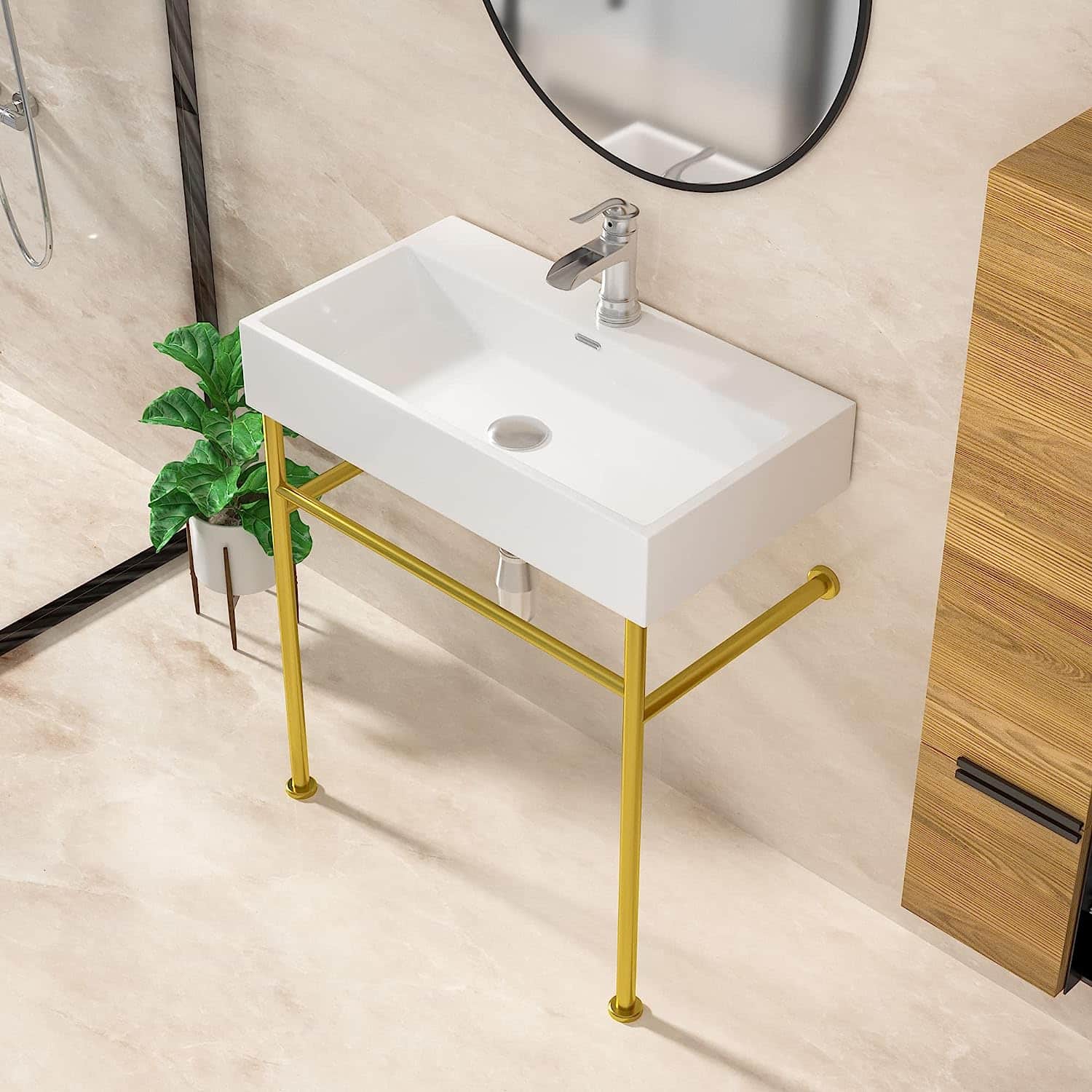 This small bathroom vanity is the best choice for those who are looking for a minimalistic or vintage-inspired look in their bathroom. This vanity features a slender base with a sink and limited storage options, making it an ideal space-saving solution. What sets console sink vanities apart is their elegant and timeless design.
They are perfect for small bathroom that needs elegance and simplicity. They effortlessly blend functionality with aesthetics, creating a charming and visually appealing focal point in your bathroom. You will not regret using this cute little vanity at your place.
7. Pedestal Sink Vanity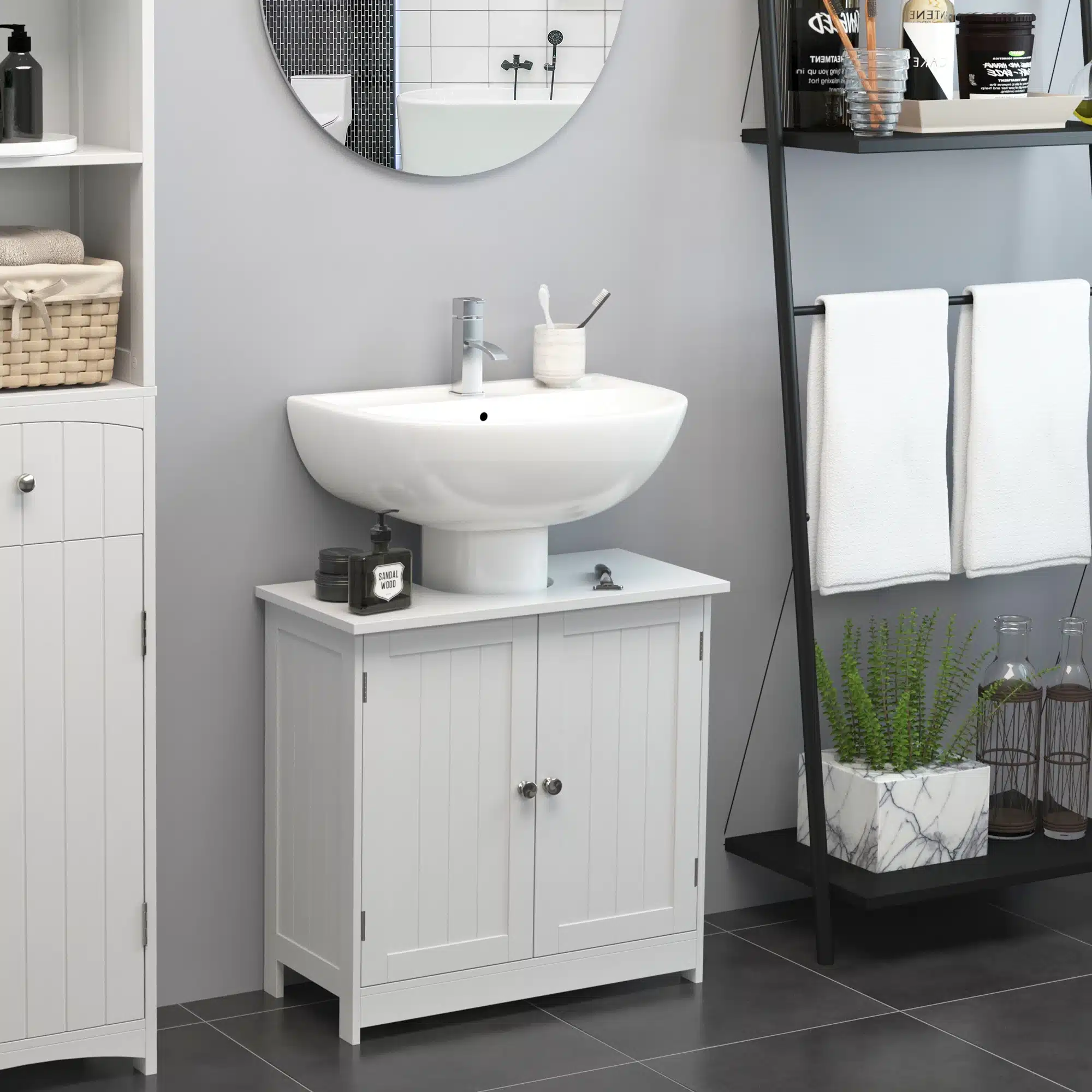 Unlike traditional vanities, a pedestal sink vanity consists of a sink placed on a pedestal base, eliminating the need for a bulky vanity cabinet. With its slender design, it takes minimal floor space, which makes it an ideal choice for small bathrooms. The small size of the vanity gives a cute look to the environment. The small size of this vanity leaves more space in the bathroom resulting in creating a temporary illusion of a larger bathroom.
While pedestal sink vanities may lack the storage capacity like traditional vanity but get full marks in timeless and classic aesthetics and beauty.
8. Floating Vanity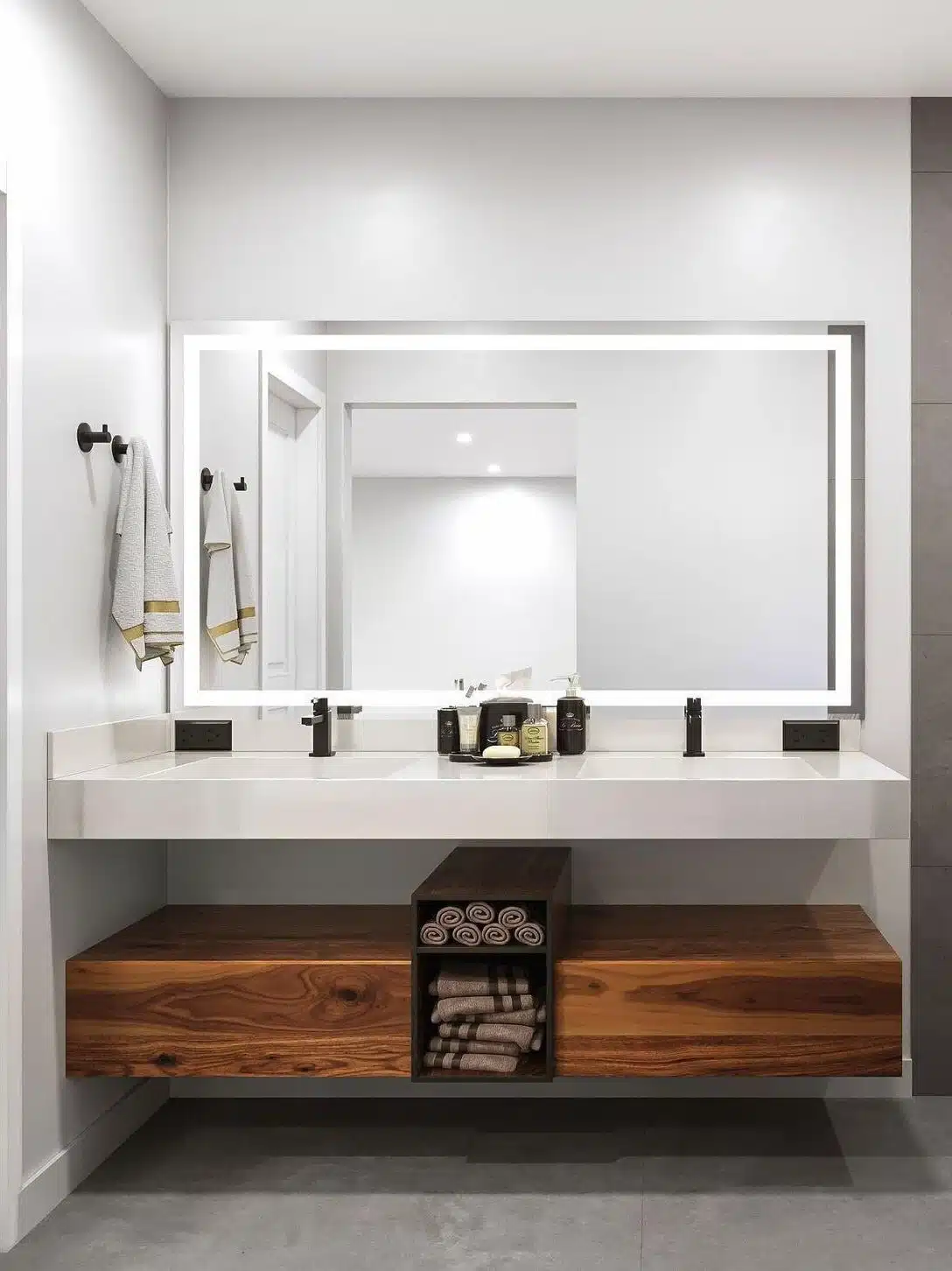 Presenting you with another stylish vanity; unlike other vanities floating vanity is different cause it is mounted on a wall, creating a sleek and mounted look. Adding not touch of elegance in the bathroom also gives a feel of having a large bathroom. Floating vanities are available in various sizes and shapes, making them available for all kinds of bathrooms.
It offers a combination of style and functionality, making it an excellent choice for small bathrooms. You can choose a floating vanity of your choice or one that matches the vibe or design of your bathroom.
9. Slimline Vanity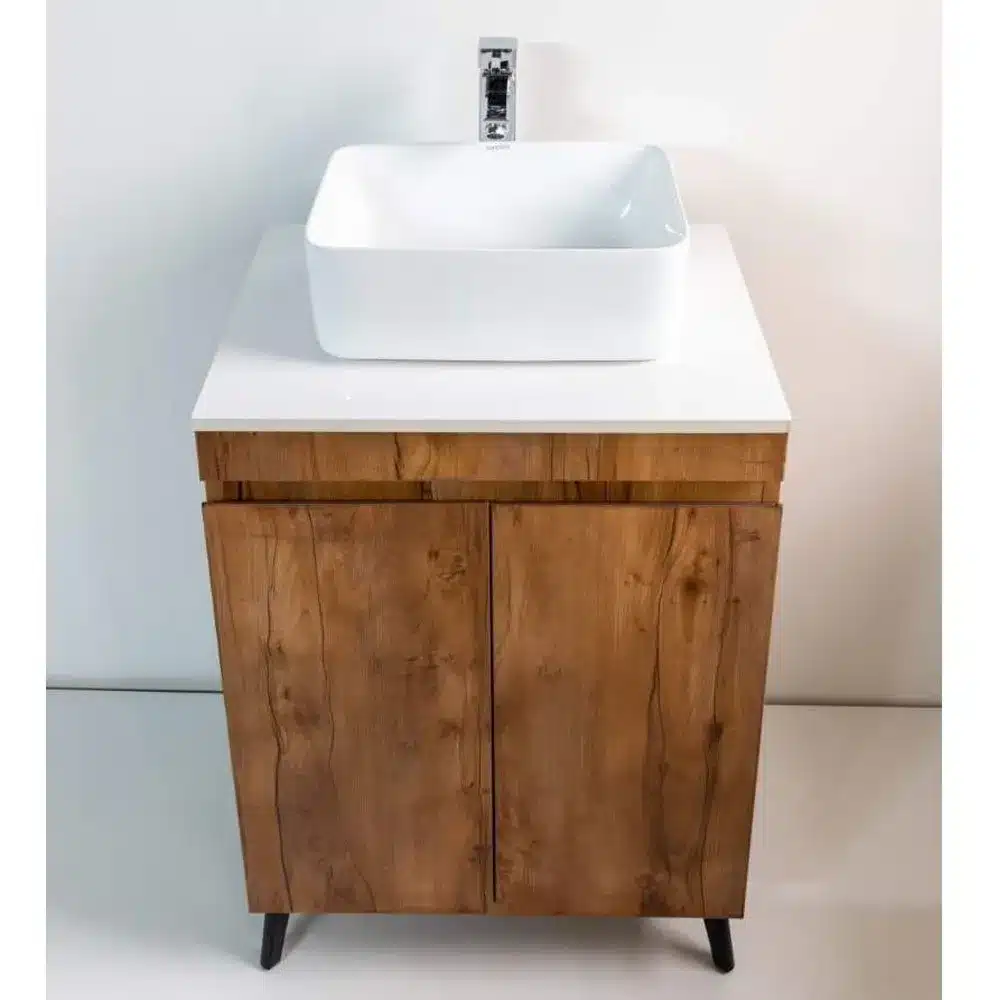 These compact vanities are designed with a slim profile, taking up minimal floor space while still offering essential needs. This small bathroom vanity typically has a narrow countertop and a small sink, providing a practical area for daily tasks without compromising on luxury and style. They are also available in different varieties.
It allows easy movement in the bathroom and prevents the area from feeling cramped. This vanity can be an excellent choice for almost all kinds of bathroom aesthetics.
10. Medicine Cabinet Vanity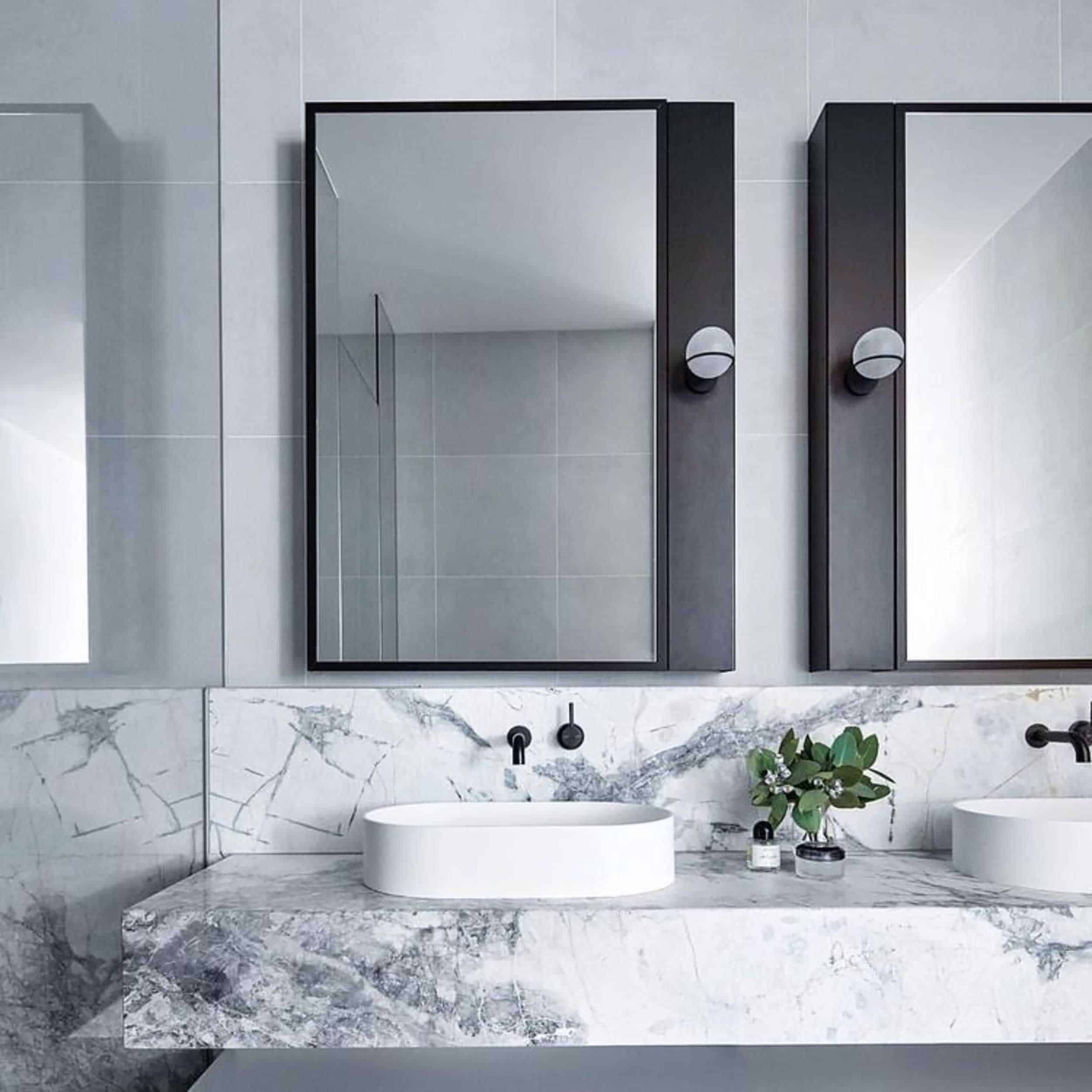 It serves a dual purpose of storing medicine or other basic or daily need material and functions as a vanity too. They are also available in modern designs and styles. This design has a mirror in the front that acts like a shelf means you can open it and store items behind it.
We can say that this vanity is versatile that not only provide you space for a sink or basic vanity facilities but also provide an extra space or shelf to keep your belongings. Making your space more organized and beautiful.
11. Undermount Sink Vanity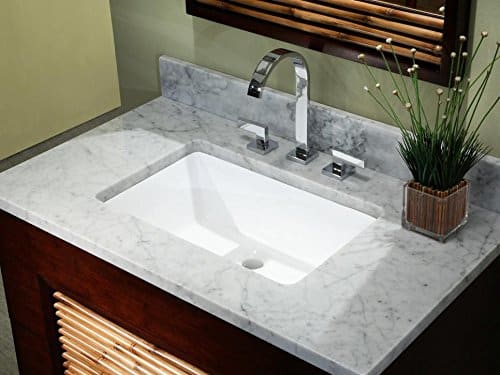 This vanity is a little different from the traditional one as it has a sink that is mounted underneath the countertop, which creates a seamless and clean look. It maximizes the usable countertop space, providing a larger area for daily bathroom tasks.
The absence of a visible rim also makes cleaning and maintenance easier. Because of it, the design is space-saving and will decrease your workload for cleaning it every day.
12. Ladder Shelf Vanity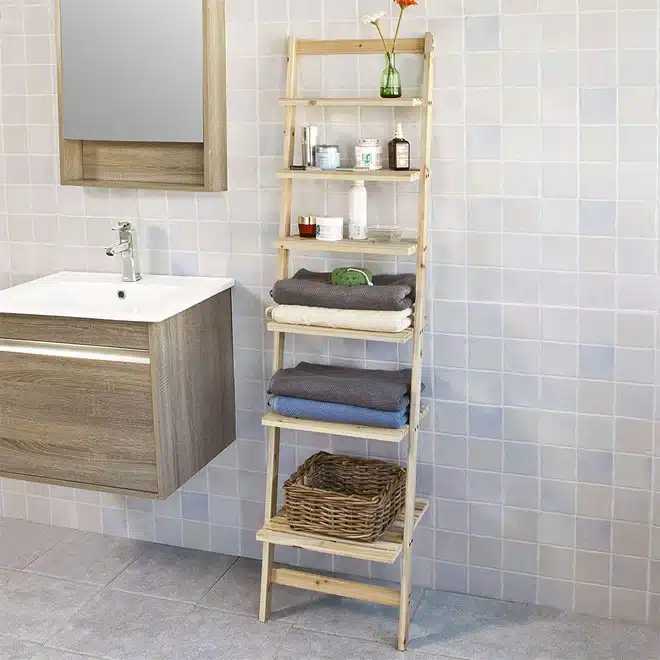 The design of the ladder shelf vanity allows you to make most vertical space, perfect for bathrooms with the limited floor area. Here you can use shelves to store your items like towels, toiletries, and decorative items, or even small basket or bins to keep things organized. The varying height of the shelves makes it easy for you to access items.
If you are looking for a unique option for your small bathroom, then you can go with this option. Because besides being aesthetic, this vanity is highly functional, providing you a place for your belongings stylishly and beautifully. The main advantage of this design is that it keeps everything organized.
13. Freestanding Vanity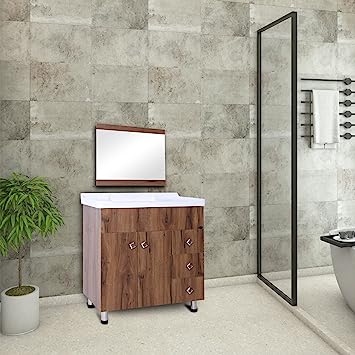 Freestanding vanity is quite similar to wall-mounted vanity but unlike is not attached to a wall or floor but is connected to the cabinet or a solid base that supports the sink providing storage space. The advantage of freestanding vanity is that it is very easy to install them in the small bathrooms. It can be placed anywhere without the need for extensive plumbing modifications.
This is an ideal choice for those who want to update their bathroom without major renovations. It will make your bathroom beautiful irrespective of the size of your bathroom.
14. Custom Build Vanity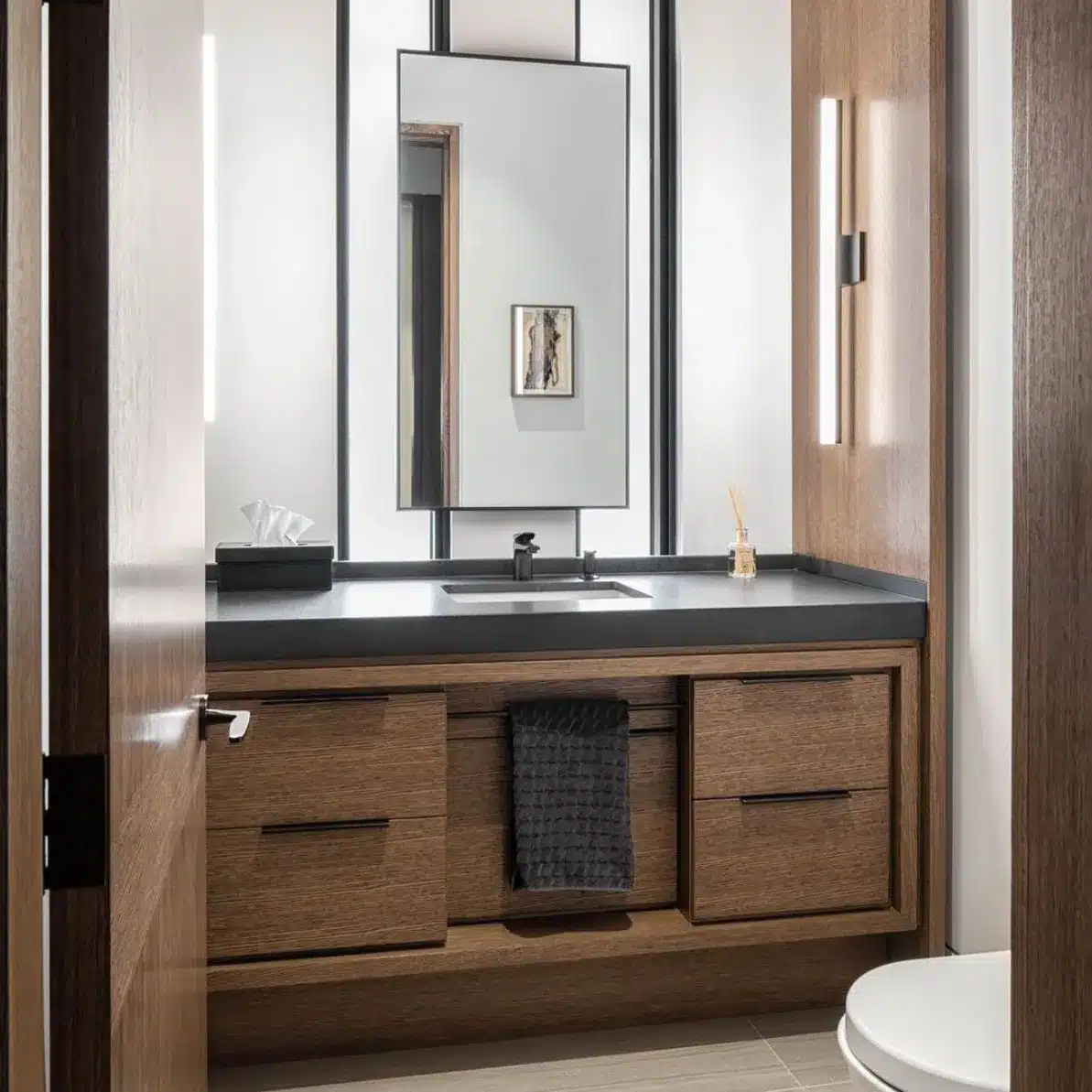 A custom-built vanity is the ultimate solution for those who are seeking a perfectly tailored and personalized option for their small bathroom. With a custom build, you have complete control over the design, size, and features of your vanity, ensuring that every inch of your space is getting utilized.
The main advantage of this bathroom is its versatility, which
means it can fit in every kind of bathroom. It also provides ample storage options to fulfill your specific need.
15. Mini Double Vanity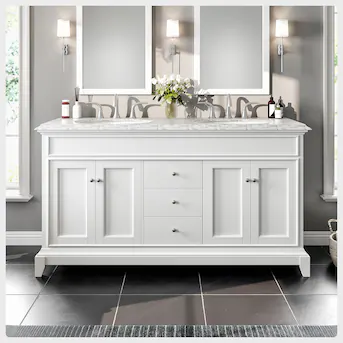 This small bathroom vanity provides the facility of two sinks in a limited space. They typically feature a countertop and two sinks that are attached. They may include storage options such as drawers and shelves and allow each person to keep their belongings in a personalized and organized way.
Making this sink your choice can efficiently utilize the available space in your small bathroom. Also, it will save some time and provide convenience to both parties for which vanity is made.
16. Metal Frame Vanity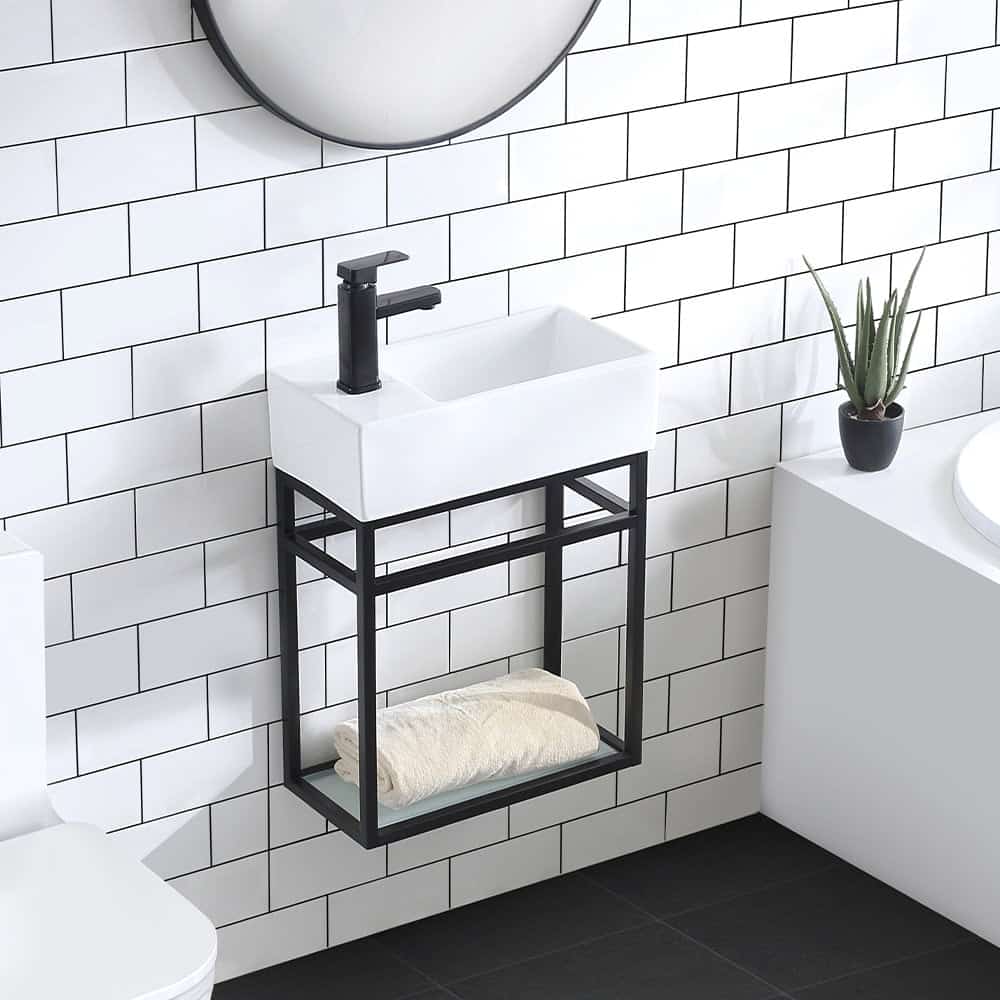 As you can see from the above picture, this vanity is designed in such a way that a sturdy metal frame supports the sink. Creating a minimalistic and open design. The metal frame adds beauty and provides excellent durability and stability cause of its metallic nature. The sleek line and metallic finish of the frame contributes to a modern aesthetic.
The main advantage of the small bathroom vanity is its space-saving design. The open structure makes it the best option for small bathrooms.
Conclusion
A small vanity can transfer your simple-looking bathroom into a functional and stylish retreat. There is a perfect choice for every space, with options from wall-mounted to floating vanities and corner solutions. If you are looking for some small vanities, then you can consider the above ideas.
Keep your storage requirements, style preferences, and the overall layer of the bathroom in mind while selecting an ideal vanity. With careful planning, a bathroom that feels spacious, organized, stylish, and visually appealing can be created.
Which of the above small bathrooms you liked the most? Let us know in the comments below.
Frequently Asked Questions
Where Should the Vanity Be Placed in The Small Bathroom?
When you place a vanity in a corner, every inch of the floor and wall space is utilized; also, it allows storage options on both walls. A recessed cabinet that is installed into a sidewall is a smart way that is mostly ignored by many.
What is the Width of The Small Bathroom Vanity?
The average size for a single vanity lies between 36 to 48 inches, making them a great option for bathrooms and power rooms. If you have a small bathroom design, then wall-mounted vanity is a wise option as it clears the floor space.
How Do You Measure Bathroom Vanity?
Measuring a bathroom vanity is not a big challenge; you can easily measure a bathroom by considering three dimensions. those three dimensions are length(right to left) , width(front to back), and depth(top to bottom) inches. If you want to buy a vanity, make sure that it fits the space you have.