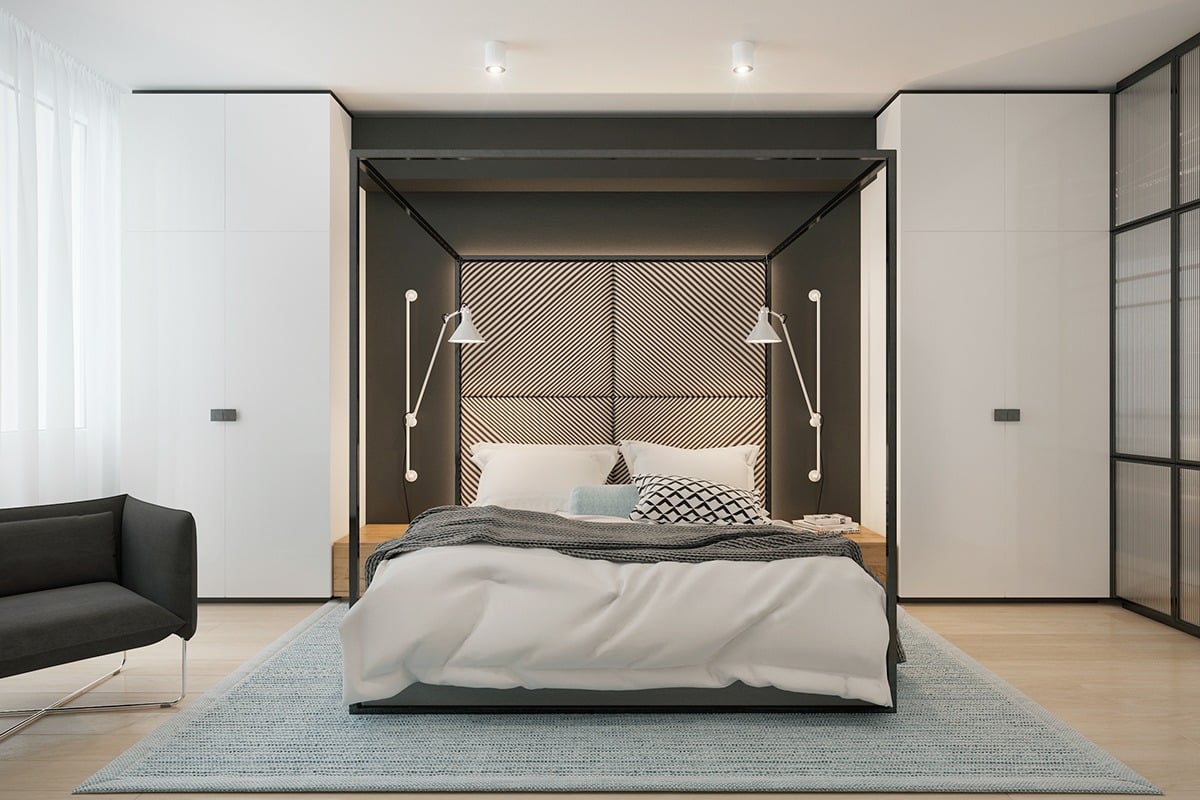 A four Poster bed, also known as a canopy bed, has a rich history dating back centuries. During the medieval era and extending into the 18th century, beds served as significant pieces of furniture where esteemed individuals, including royalty, would make public appearances and hold court.
Consequently, these beds were meticulously designed to create a lasting impression and convey a sense of grandeur. These opulent pieces of furniture have evolved over time, and today, they continue to add a touch of elegance and luxury to any bedroom. With their distinctive four posts and often draped canopies, poster beds create a regal and inviting yet very warm atmosphere.
A bed should be such that when you lay on it after a long working day, it should allow your mind to zone out and your back to relax so that you can fall into a deep slumber instantly.
Here are 16 types of poster beds that can have the same effect on your body and add a regal touch to your bedroom
1. Classic Wooden Wonder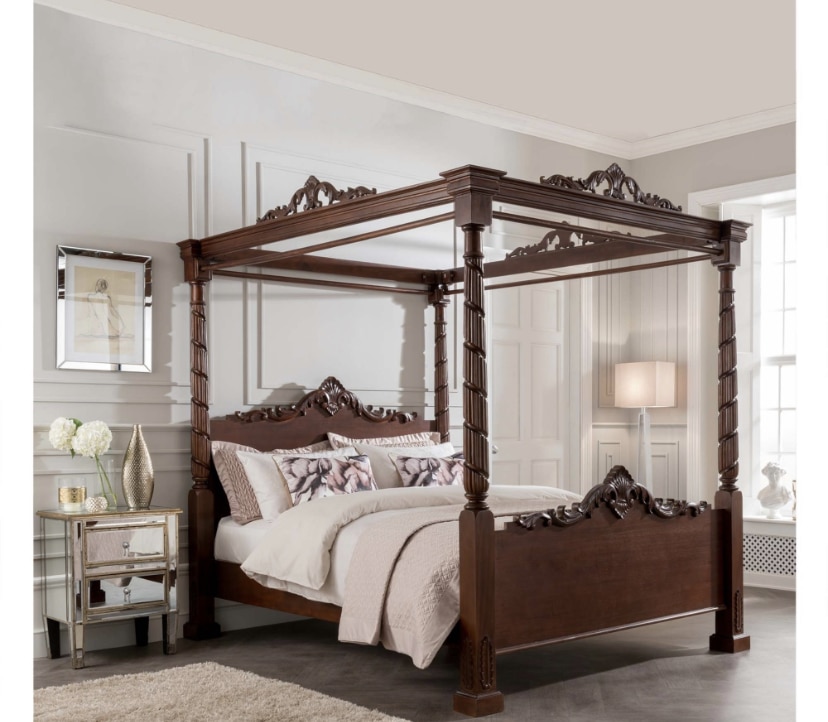 A wooden frame made of cedar wood can amp up the room. Complement the color of the frame by sticking a richly colored wallpaper or boldly upholstered chairs and even an ottoman. The traditional four-poster bed epitomizes the classic allure of poster beds, bringing a touch of timeless charm to any bedroom.
With its robust frame and tall posts, this bed exudes a sense of history and enduring beauty. Its sturdy construction and imposing presence add an element of strength and grace. The adaptability of traditional four-poster beds allows them to harmonize seamlessly with diverse aesthetics, ranging from vintage to contemporary designs. Offering both a sense of security and a cozy retreat for a restful night's sleep, they create a welcoming sanctuary in any home.
2. Canopy Poster Bed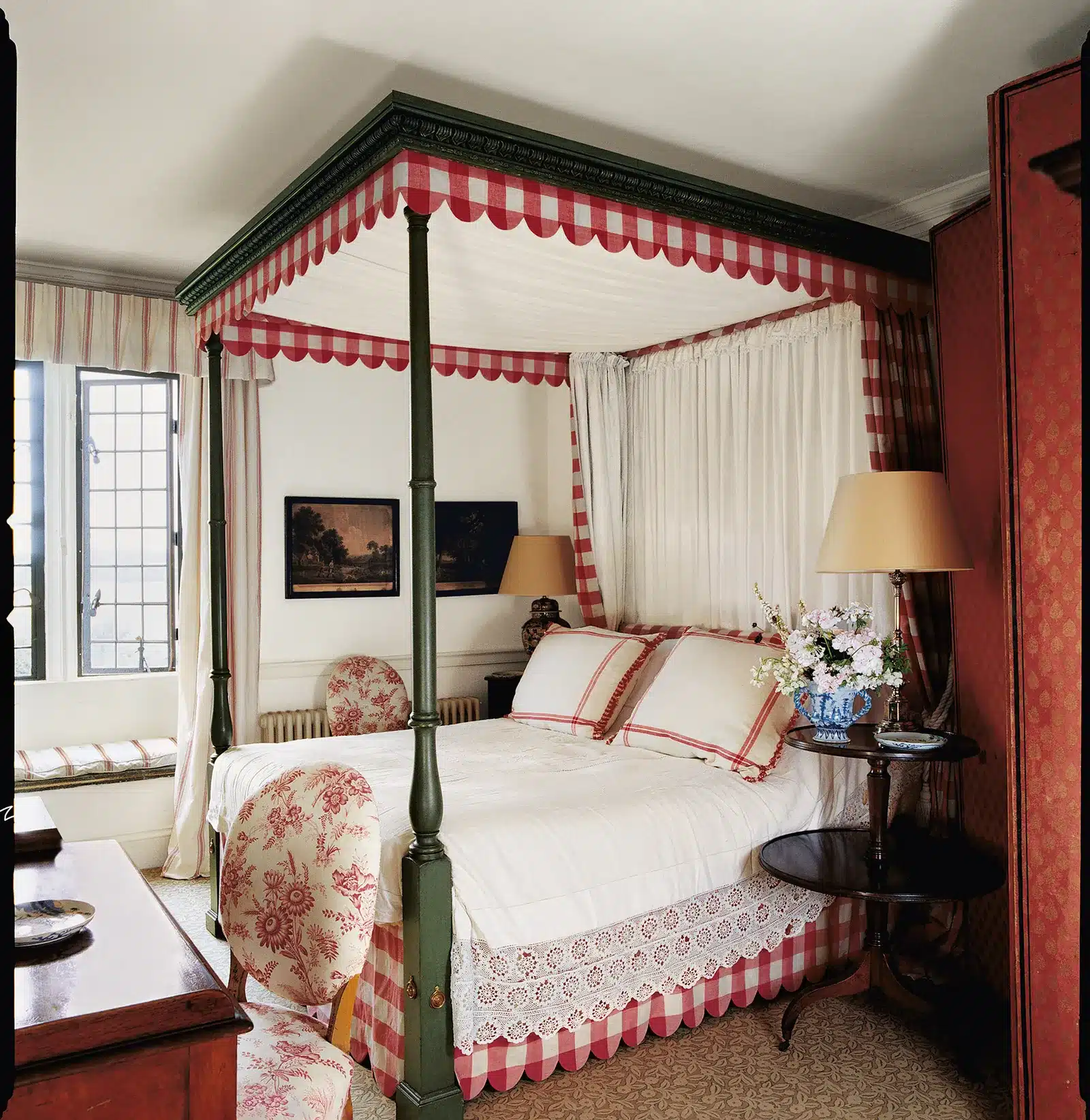 The canopy poster bed boasts a distinctive feature—an elegant canopy frame extending from the top of each post, creating an enchanting, enclosed space above the bed. Canopy being the unique design element, enhances the visual appeal of the bed and serves as an eye-catching focal point in the bedroom. With its graceful presence, the canopy bed sets the stage for a dramatic and romantic ambiance. The intricate wooden frame has an ethereal quality which adds a touch of enchantment. It makes it an ideal choice for those who are seeking to create a captivating and romantic bedroom setting.
3. Low Four Poster Bed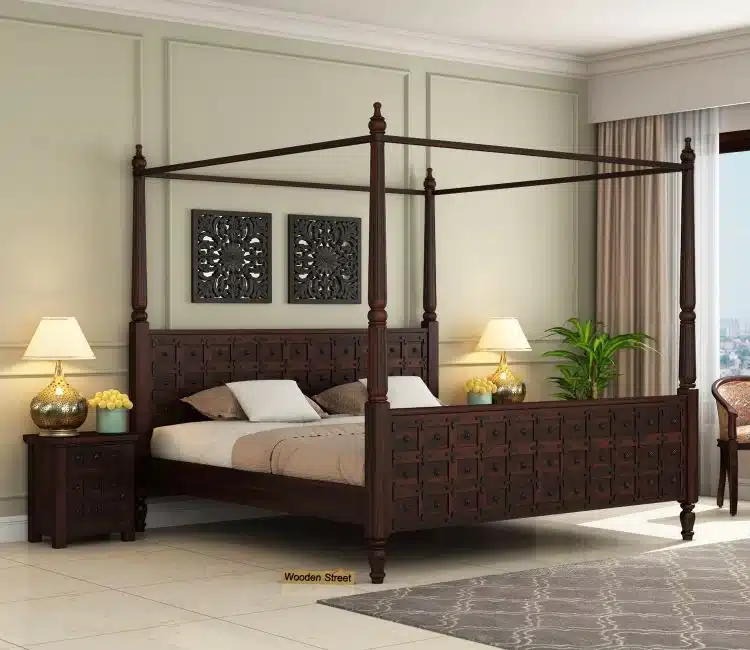 In contrast to the majestic stature of traditional poster beds, low poster beds feature shorter posts that rest closer to the ground. This design variation makes them an excellent choice for smaller spaces or rooms with low ceilings. While retaining the inherent elegance of a poster bed, low poster beds exude a more understated and contemporary aesthetic.
They strike a balance between sophistication and simplicity while offering a subtle yet captivating presence in the bedroom. With their lower profile, these beds create a visually harmonious and proportionate look and consequently blend seamlessly into a variety of interior styles while still preserving the charm of a poster bed.
4. Platform Poster Bed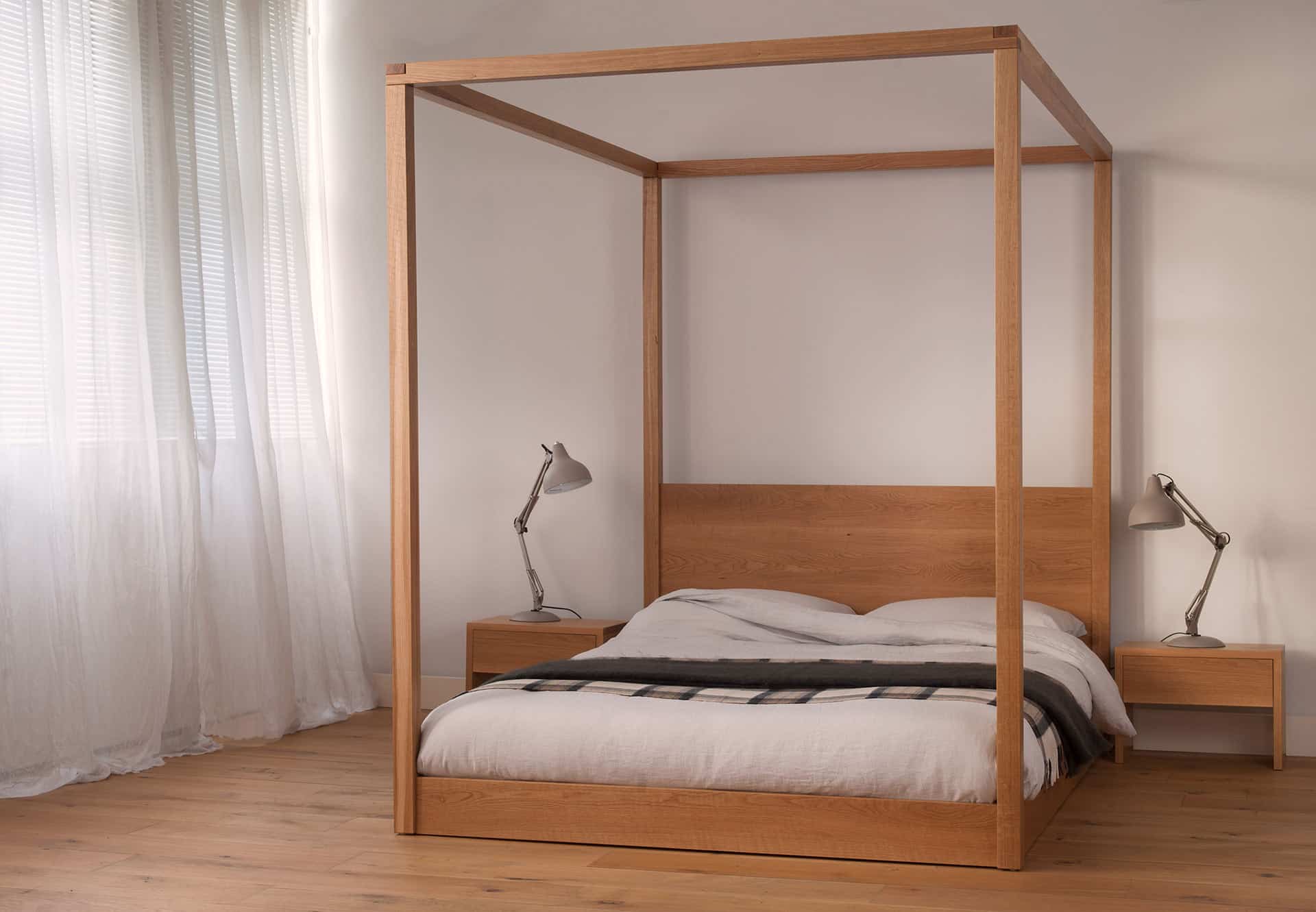 Platform four-poster beds seamlessly merge the commanding presence of a four-poster bed with the sleek and streamlined design of a platform bed. This unique combination results in a modern interpretation of the traditional poster bed. Platform poster beds feature clean lines, minimal ornamentation, and a minimalist aesthetic that complements contemporary and transitional interiors with effortless style.
The absence of excessive detailing allows the focus to remain on the bed's structural elegance and the inherent beauty of the materials used. These beds provide a sophisticated and refined look, offering a perfect blend of timeless charm and contemporary allure. Their versatile nature makes them a popular choice for those seeking a modern twist on a classic design.
5. The Colonial Charm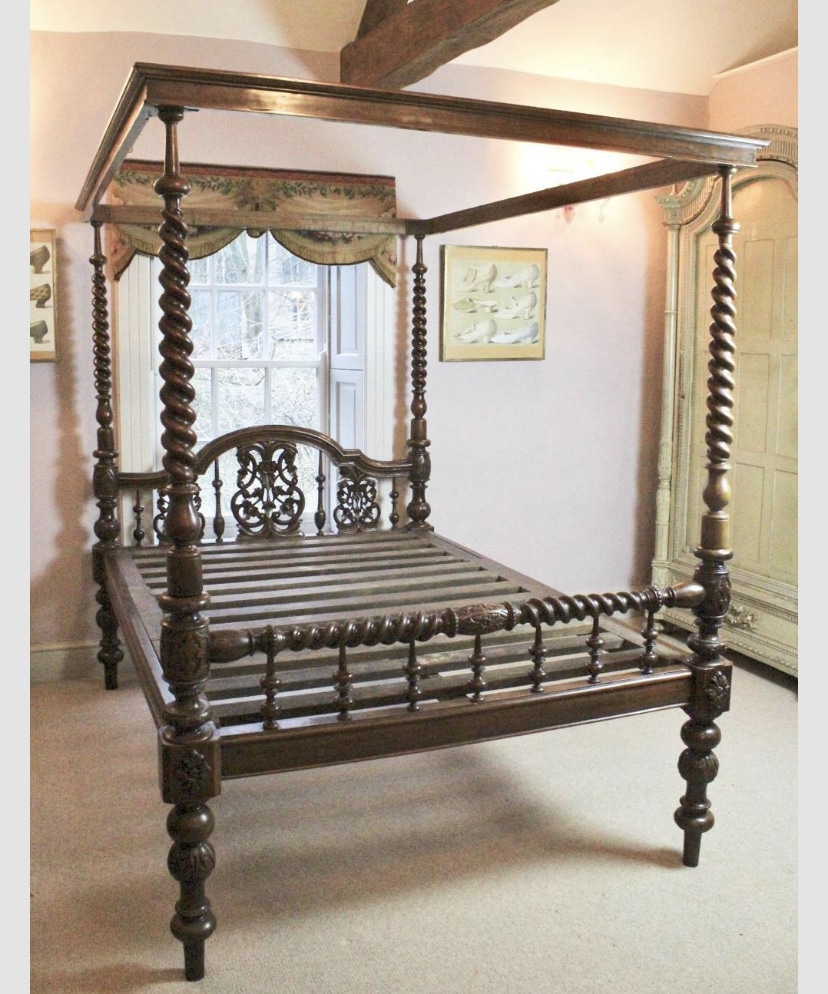 Inspired by the colonial era, colonial poster beds pay homage to the bygone days of exquisite craftsmanship and intricate detailing. These beds boast ornately carved posts and meticulous embellishments, showcasing the artistry of the period. Rooted in history, colonial poster beds exude a sense of regal charm and opulence, adding a touch of grandeur to traditional and eclectic interiors.
The intricate carvings on the posts reflect the skilled craftsmanship prevalent during the said period. The combination of the carved posts, ornate details, and the rich patina of wood creates an ambiance of timeless beauty and sophistication. Colonial poster beds harmonize beautifully with vintage-inspired décor, complementing antique furniture and traditional design elements.
6. The Gothic Four-Poster Bed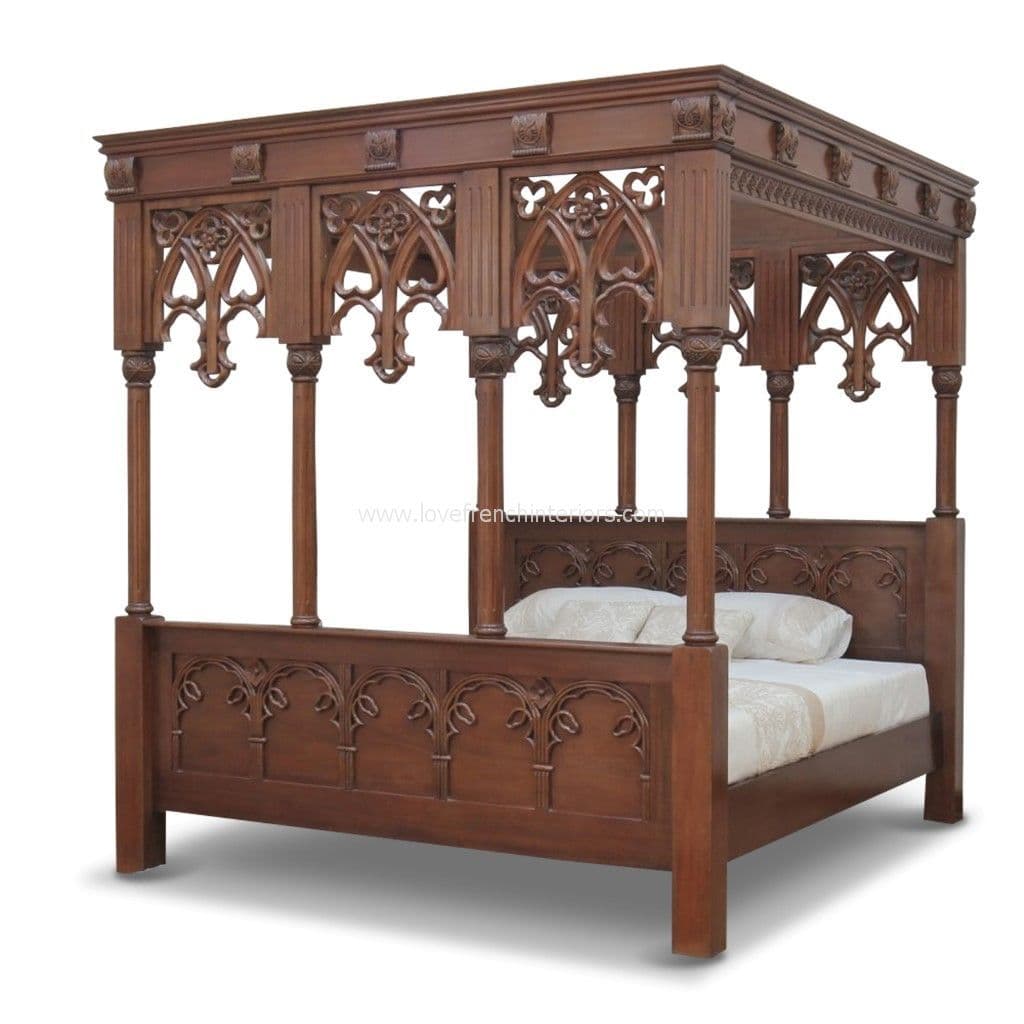 Gothic poster beds, renowned for their dark wood frames, intricate carvings, and pointed arches, exude an air of mystery and drama. Reflecting the architectural style of the Gothic period, these beds take back us to an era of intricate artistry, expert workmanship, and evoke emotions such as romance. With their distinct design elements, the beds work as an effective focal point that goes beyond the purpose of mere functionality.
Traditionally made in rich mahogany or oak, these beds possess a commanding presence that effortlessly transforms a bedroom into a sanctuary of dramatic elegance. When styling a Gothic poster bed, complement its dark wood frame and intricate carvings with luxurious textiles and ornate accessories. Rich fabrics such as velvet or brocade in deep jewel tones enhance the bed's dramatic aesthetic. To further accentuate the bed's allure, select elements that are inspired belonging to the Victorian era, such as antique candlesticks or gothic-inspired wall art.
7. Contemporary Chic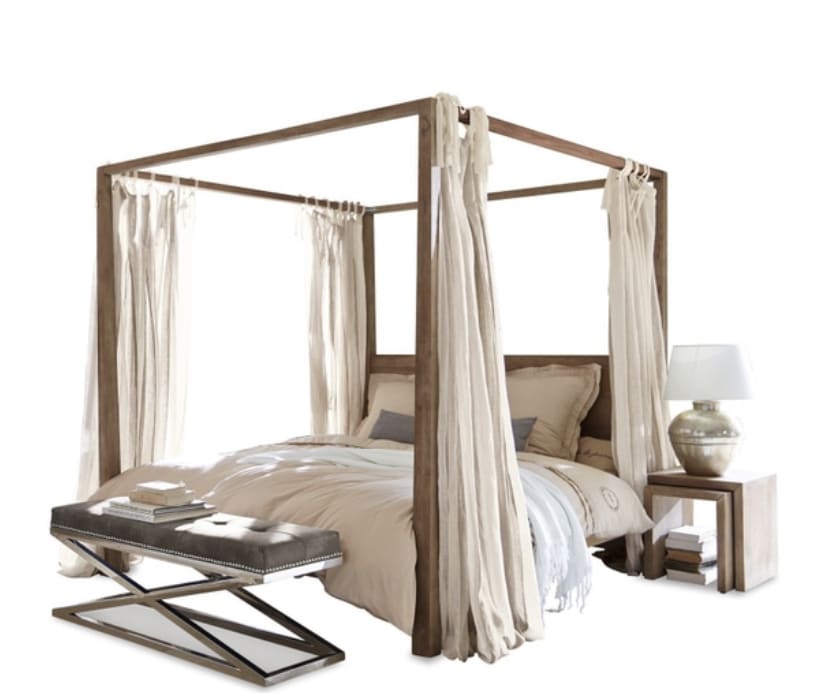 Contemporary poster beds seamlessly blend modern design elements with the timeless elegance of a poster bed. These beds present a fusion of sleek lines, minimalist aesthetics, and neutral color palettes, resulting in a sophisticated and refined look that complements a variety of bedroom styles. A defining feature of contemporary poster beds is their sleek frames with clean lines and a minimalist appeal.
The frames are generally made of metal or polished wood. The emphasis is on simplicity, with smooth surfaces and geometric shapes. This contributes to a sleek and modern look while bringing a sense of calm and serenity to the bedroom.
8. Bamboo Bed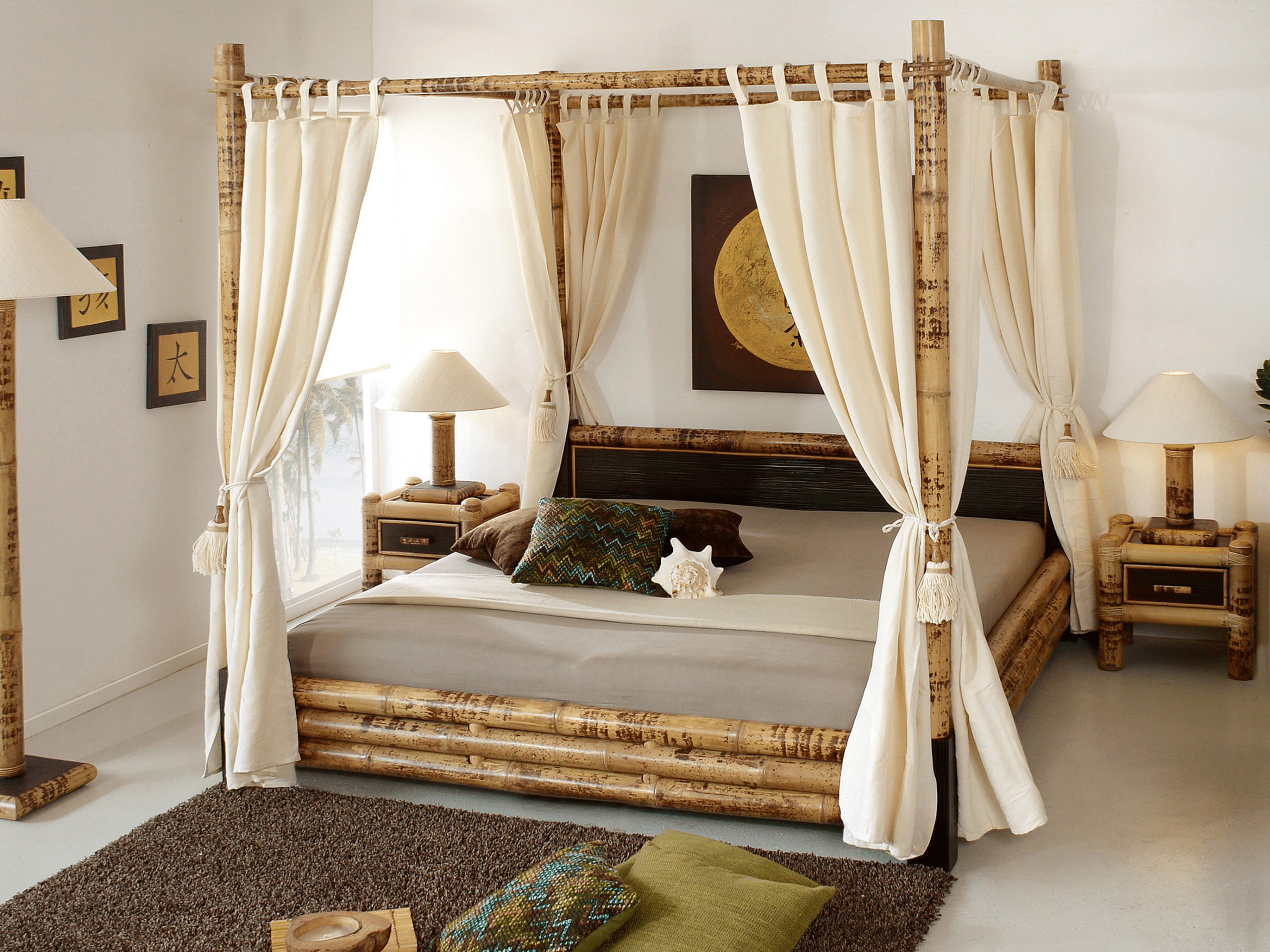 Bamboo poster beds are crafted from bamboo or rattan and bring a touch of tropical allure and exotic charm to the bedroom. Bamboo is a fast-growing and renewable resource, making it an environmentally conscious choice for those seeking to incorporate sustainable materials into their home decor.
These poster beds are an excellent choice for creating a relaxing and serene atmosphere. They are particularly popular in coastal and bohemian-inspired interiors. To enhance the tropical and exotic feel of your bed, consider incorporating elements such as lightweight linen or cotton bedding in soothing, pastel shades.
9. Wrought Iron Poster Bed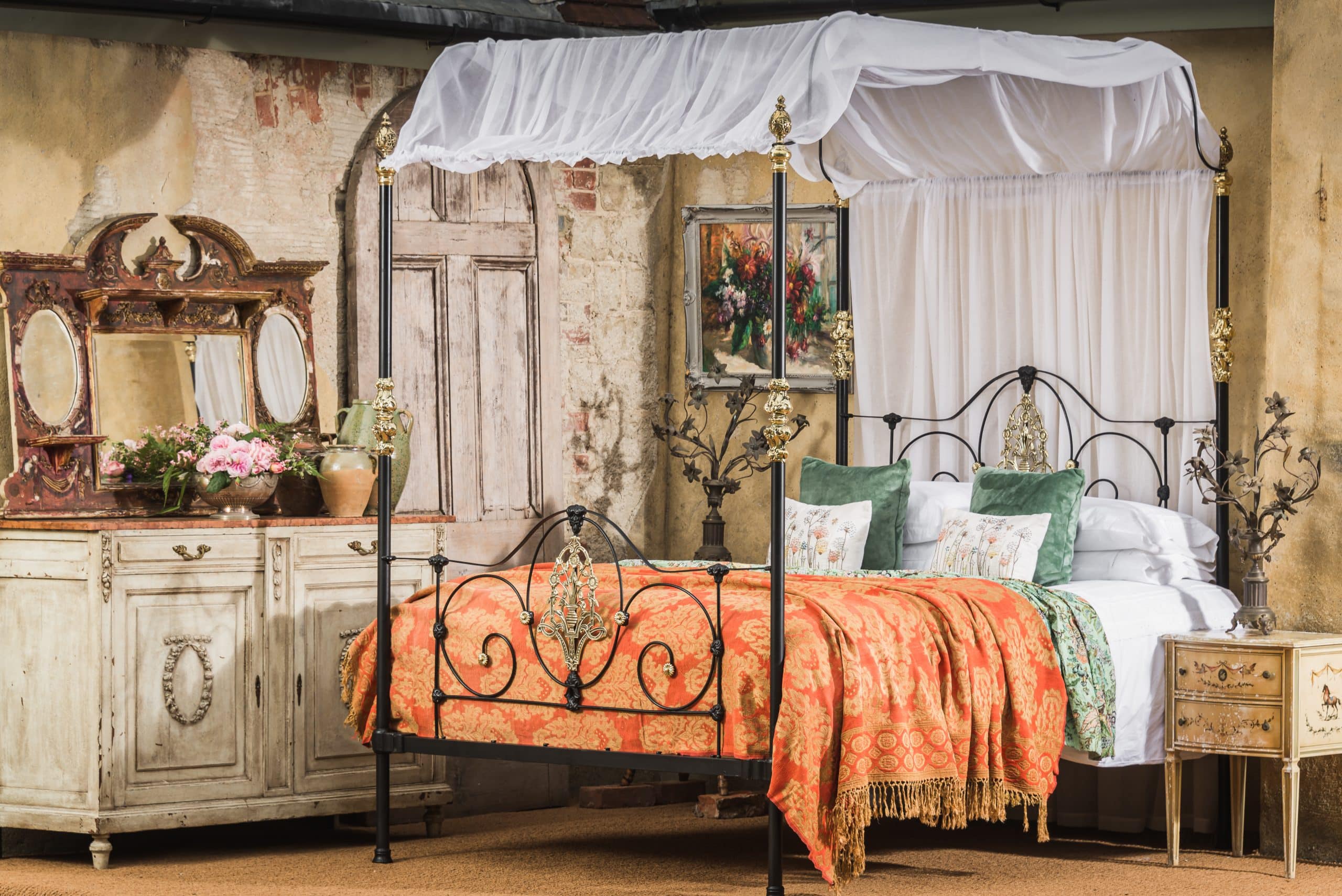 Iron poster beds effortlessly marry strength and elegance, showcasing their metal frames and intricate details. With their robust construction and ornate design elements, these beds bring a touch of industrial chic or vintage charm to any bedroom. The metal frames of iron poster beds are often crafted from sturdy iron, providing a solid and long-lasting foundation.
The strength and durability of iron make these beds a practical choice for those seeking furniture that will stand the test of time. The juxtaposition of the iron frame with exposed brick or concrete walls creates a visually striking combination. In vintage-inspired or traditional settings, these beds add a touch of old-world charm and nostalgia. Pair with vintage furniture pieces or soft, floral textiles for a romantic and timeless ambiance.
10. Rustic Simplicity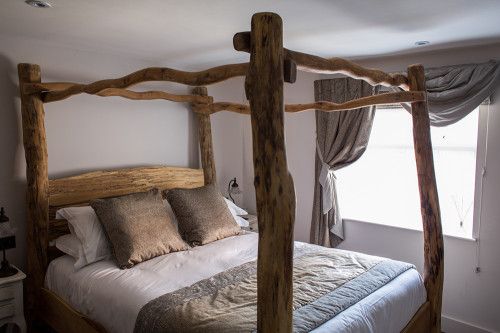 A rustic four-poster bed that features natural wood finishes, often with visible grains and imperfections, enhancing its rustic charm. Rustic poster beds create a warm and cozy atmosphere. They are an excellent choice for cabins, lodges, or farmhouse-inspired interiors but can complement your modern rooms effortlessly.
A room with a rustic bed can look chic if it is accessorized with rugs and matching rustic chairs. Opt for neutral colors like beige, grey, or other pastel shades to keep it clean.
11. Classic French Country Charm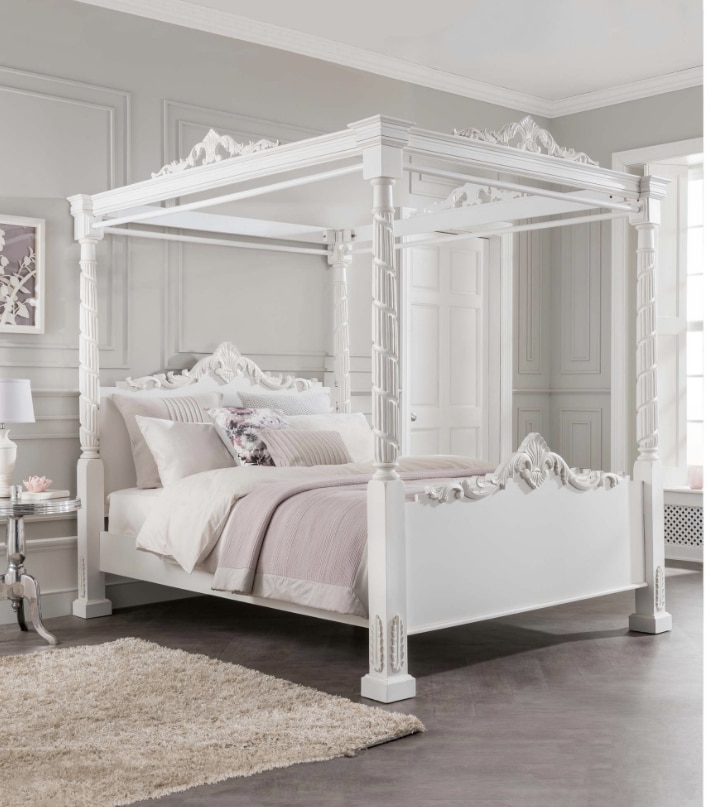 French Country poster beds exude a sense of romance and sophistication with their curved lines and intricate carvings. French Country poster beds can transform a bedroom into a charming retreat. They pair beautifully with soft pastel hues and floral patterns.
French country beds tend to be heavily upholstered; therefore, keep the furniture and other accessories lighter for a more balanced appearance of the room. While a heavily carved wooden frame can add a regal charm to your room, a simple plain wooden frame can also make your room look elegant and chic.
12. Sleigh Poster Bed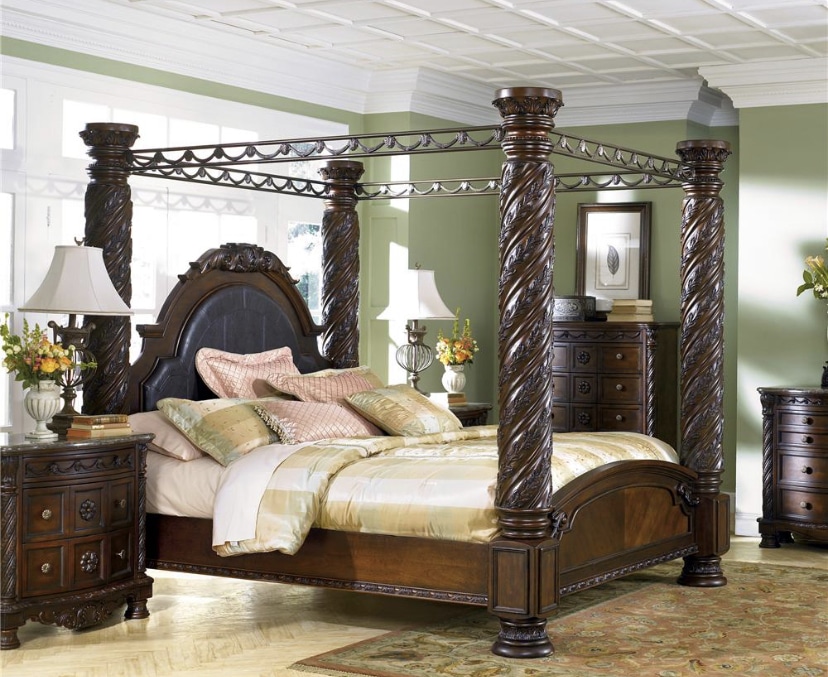 Sleigh poster beds combine the elegance of poster beds with the distinctive curved headboard and footboard of sleigh beds. Sleigh poster beds create a sense of grandeur and luxury. They are a fantastic choice for traditional and formal bedroom settings.
To make the bed stand out, use heavy silk or satin bedding and accessories in your room with rich and brightly colored carpets. You can do away with heavily upholstered chairs and sofas if you have such a bed in your room so as to prevent it from looking over the top. This will allow the bed to be the focal point and enable you to maintain the symmetry of the room as there won't be too many elements cluttering the space.
13. Fully Upholstered Poster Bed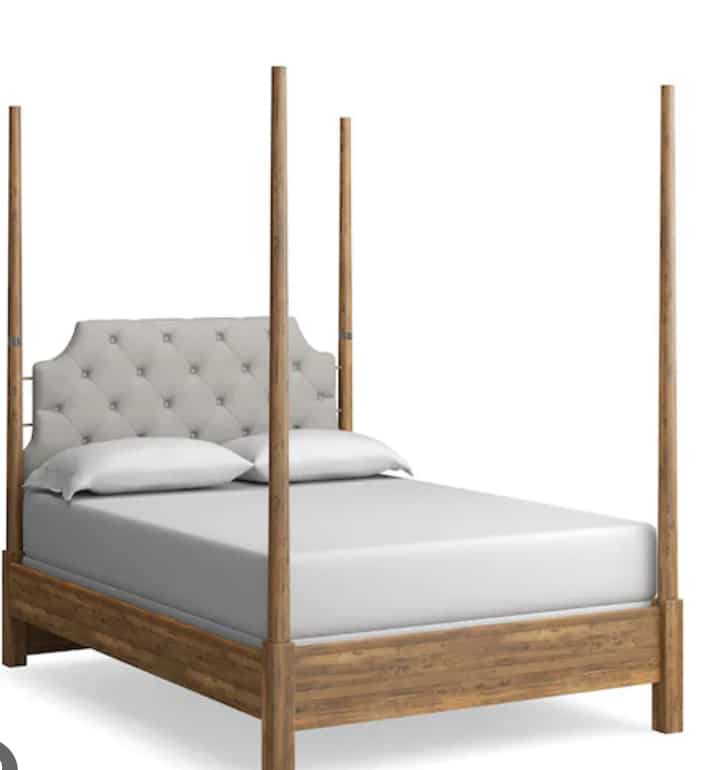 Upholstered poster beds feature fabric or leather upholstery on the headboard, footboard, and sometimes even the canopy. Upholstered poster beds add a layer of comfort and luxury. To make a room seem more luxurious, you can introduce accessories which have multiple patterns, textures, and colors. These fully upholstered beds were in fashion in the eighteenth century. Such vintage poster beds showcase the charm of bygone eras, often featuring intricate carvings, turned posts, and weathered finishes.
Vintage poster beds add character and a sense of history to a room. They are perfect for eclectic and shabby-chic interiors.
14. Industrial Poster Bed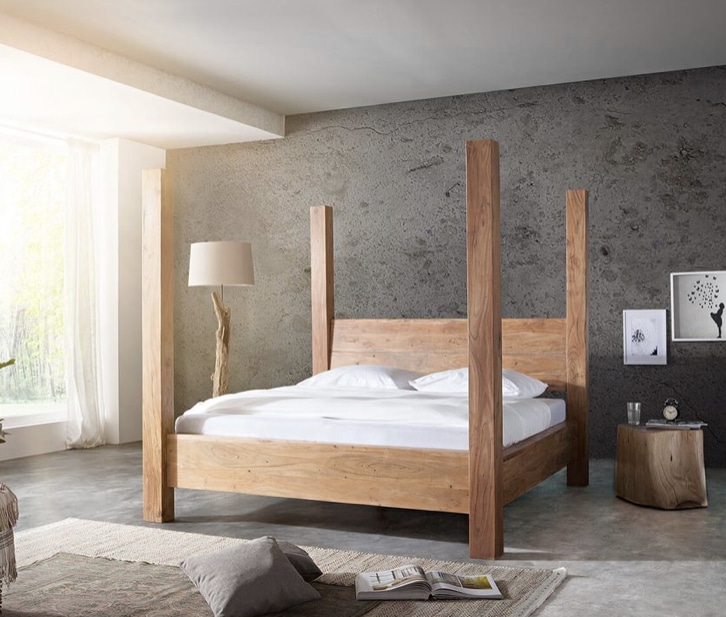 Industrial poster beds combine the rawness of industrial design with the elegance of a poster bed. Industrial poster beds often feature metal frames, exposed hardware, and minimalist aesthetics.
They are ideal for loft-style apartments and modern industrial interiors. These contemporary-style beds are aesthetically appealing, especially for those who want an uncomplicated, simple look. To take that look forward, hang light cotton curtains, windows with lighter metal frames, and chairs that are also made with light materials and covered with light fabrics.
15. Minimalist Aesthetics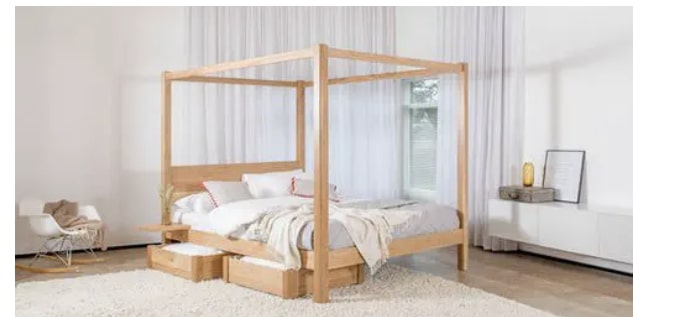 Industrial beds are inherently Minimalist in design. These Minimalist poster beds embrace simplicity and clean lines with minimal ornamentation. Minimalist poster beds provide a contemporary and uncluttered look to a bedroom.
They are perfect for those who appreciate a sleek and understated design. These beds are easy to assemble, clean, and maintain and have the ability to make your space look effortlessly clean.
Wrapping It Up
Poster beds offer a wide range of styles, allowing homeowners to find the perfect match for their desired ambiance and interior design preferences. From traditional four-poster beds to contemporary and minimalist designs, each type has its unique appeal.
As interior designer Emma Johnson explained, poster beds can elevate a bedroom's aesthetics, providing a focal point of elegance, luxury, and charm. Whether it's a grand canopy bed, a sleek platform poster bed, or a rustic wooden frame, a four-poster bed can add a touch of opulence and create an inviting space for relaxation.
When selecting a poster bed, consider the overall style of the room and your personal taste. With the right choice, you can transform your bedroom into a sanctuary that exudes sophistication and timeless beauty.