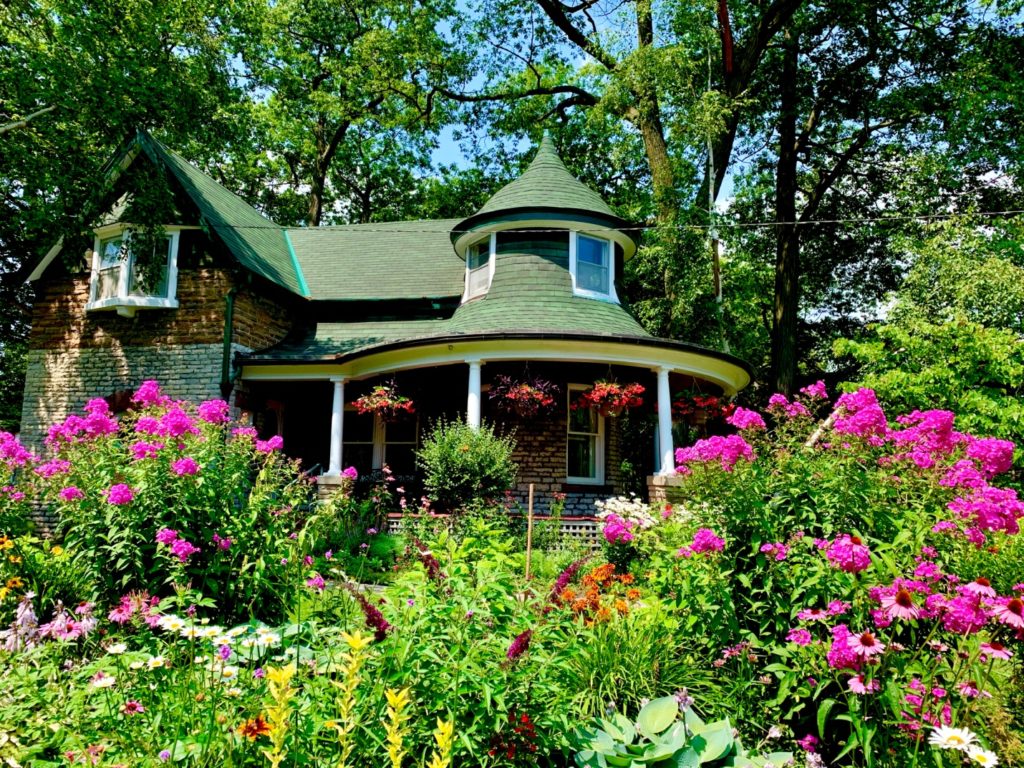 Do you love plants?
Are you looking for easy DIY landscaping design tips?
Landscaping the yard or garden is the most beautiful part of setting up a home. Decorating and arranging it with blooming colorful flowers. It may look to be a tedious task, but it is after the completion that we get to understand how satisfying gardening is.
Today, we will dive deep into the various elements that are easy to implement and use in the garden, all of which help you in designing an elegant front-of-house landscaping design.
The front portion of the yard or garden is usually designed in such a way that looks appealing from the outside. The landscaping design helps in making the home stand out and earn a lot of compliments.
Here is the list of 15 front-yard landscaping ideas to style your houses.
So, let's begin.
1. Simple is Chic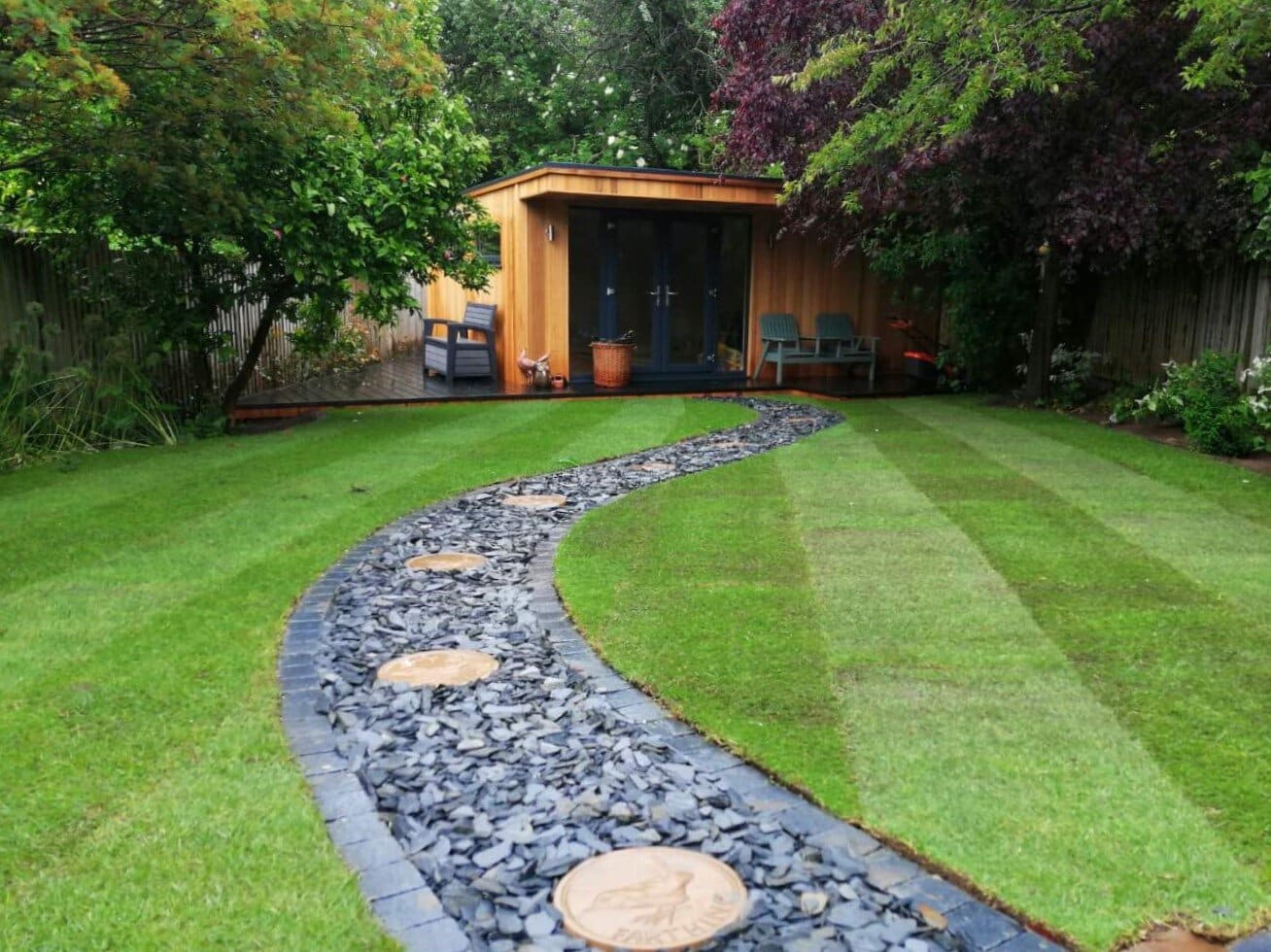 Starting from the basics, it is very important to keep in mind that simple and thoughtful front-of-house landscaping ideas will help you create an inspiring and competitive design. Usually, we see a beautiful garden constructed and maintained in front or around the house. But here, we have to focus on accessibility and comfort more than designing structures.
Willingness to go for everything might seem possible in the beginning, but it is later that we understand how difficult it is to maintain them. This is why we must always select the basic front-of-house landscaping design for a convenient yet beautiful future.
2. Opt for Natural Grass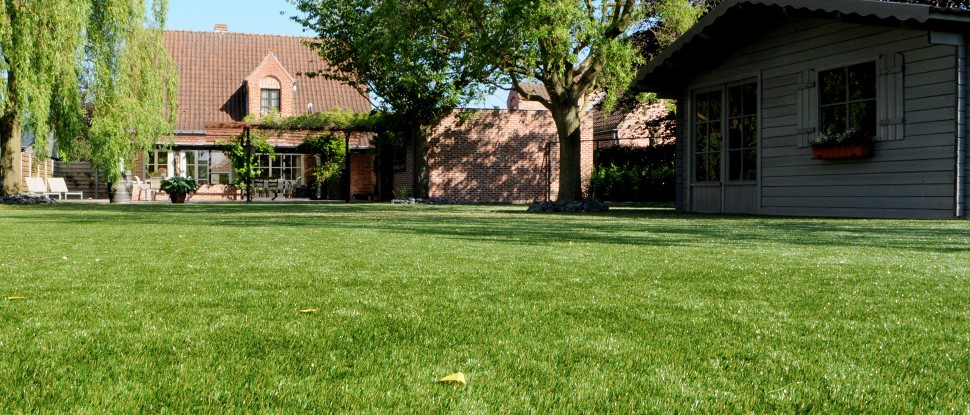 Investing in good garden grass gives out a beautiful look to the yard. As the saying goes, no yard is complete without a bed of grass blades. Nowadays, we often find people using grass mats to cover some sections of their balconies or gardens.
But why opt for a fake ensemble when we can grow our own? The only reason it becomes a tedious task is because of the constant maintenance it requires. Nevertheless, a good grass bed is always appealing and beneficial. It can become an occasional picnic spot under the winter breeze or a bonfire night with barbeque and the gang!
A morning walk barefoot on the dew-laden fresh grass is the best way to start the day. It helps in improving eyesight and energizes the body and mind. The morning sun acts as a rich source of Vitamin D.
3. Spend Time with Big Trees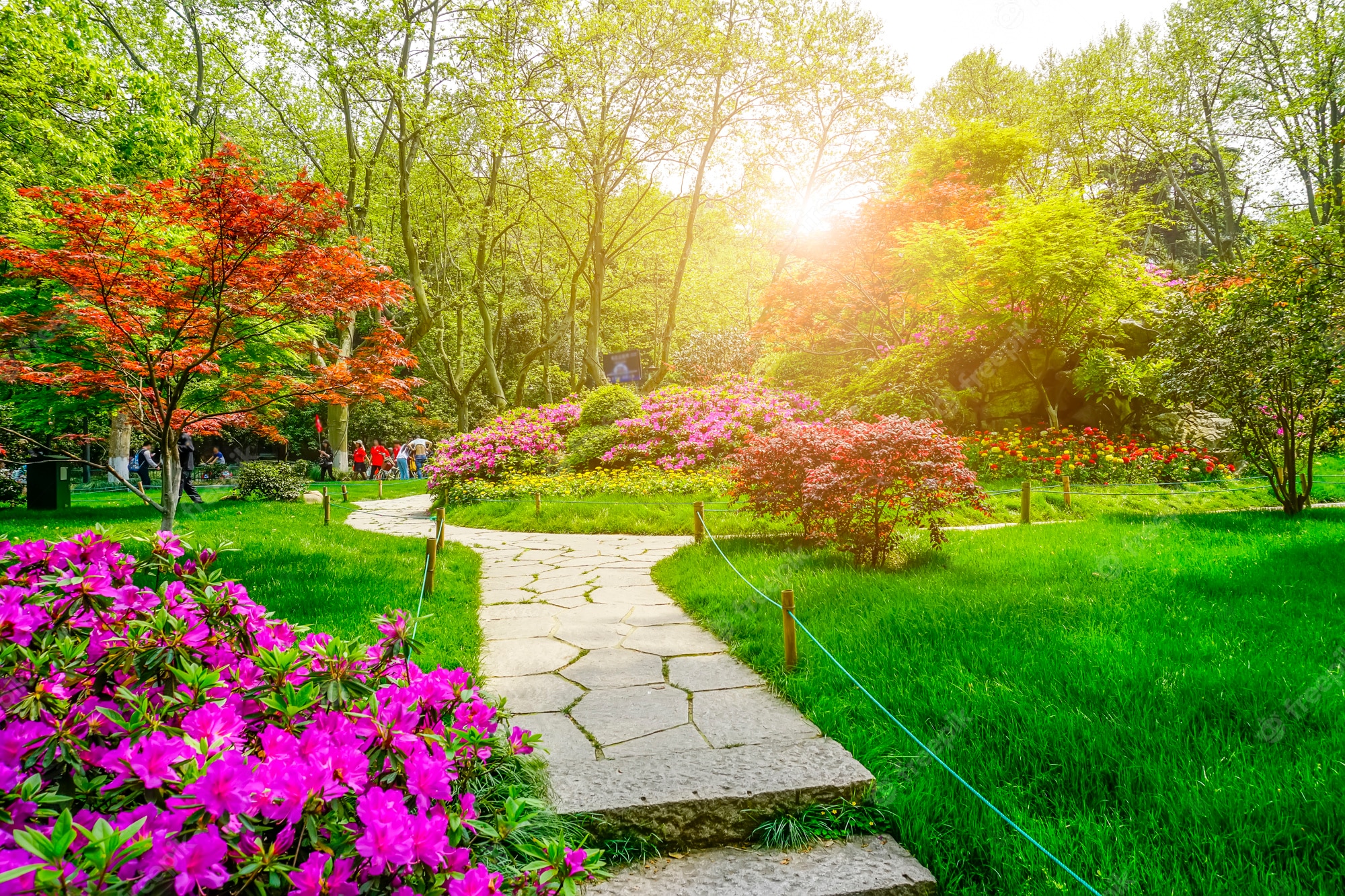 Trees like oak, bald cypress, sugar maple, and banyan emit huge amounts of oxygen and create a strong foundation across the yard. These trees also entail medicinal properties and are worshipped in India as well.
Though they take time to grow, in the long run, big trees act as a fence for the yard and shade for the small plants, protecting them from the scorching sun and heavy rainfall. Fruit trees are a delight after they grow up. This way, you can have a small fruit orchard and enjoy organic and delicious fruits that were grown by you. They also protect the house in times of flood and thunderstorms.
4. Leave Space for Seasonal Flower Decoration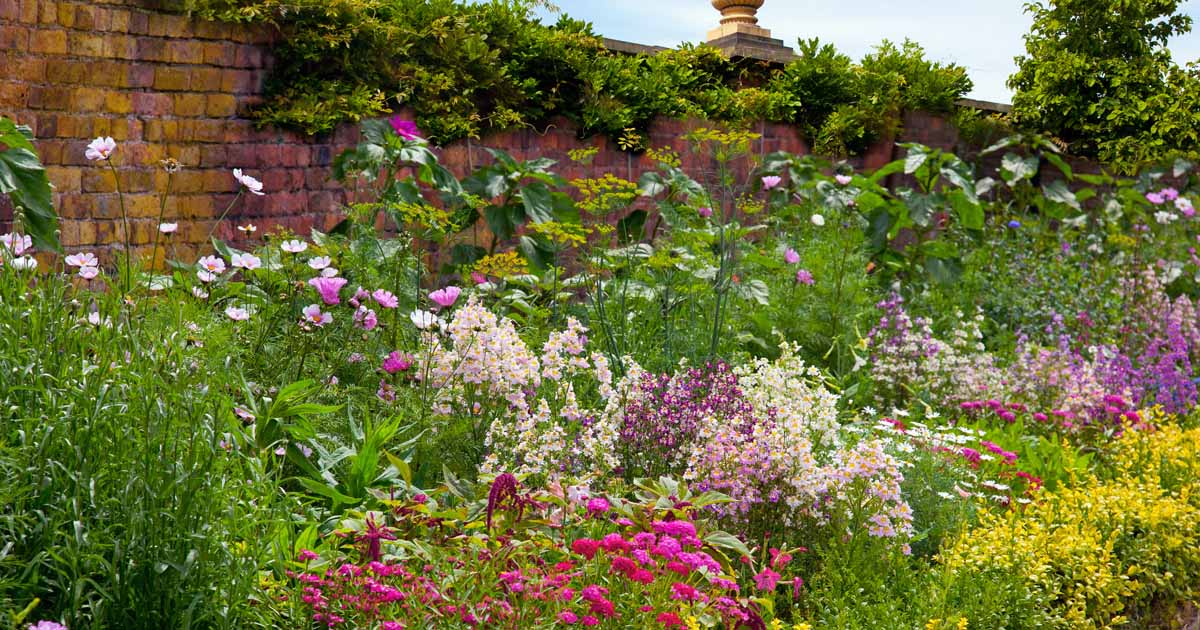 Flowers are usually the most attractive and important section of a yard. Colorful butterflies and bees get attracted by the scent of the flowers for nectar. It not only enhances beauty but also helps in timely pollination, helping us to get fruits on time!
Flower planning is a tedious yet vital task. The flowers are not usually restricted to a corner but scattered around the entire house. They can act as an important driver of the front-of-house landscaping design.
The most common flower often used at the entrance is the bougainvillea. It is a beautiful flowering plant that comes in various shades and takes the shape of a climber tree. It is an all-season plant, which makes it easy to maintain. The trees help in protecting flowers, so decorating them around the trees is helpful as well as creative.
5. Try to Add a Good Sitting Area Amid the Greenery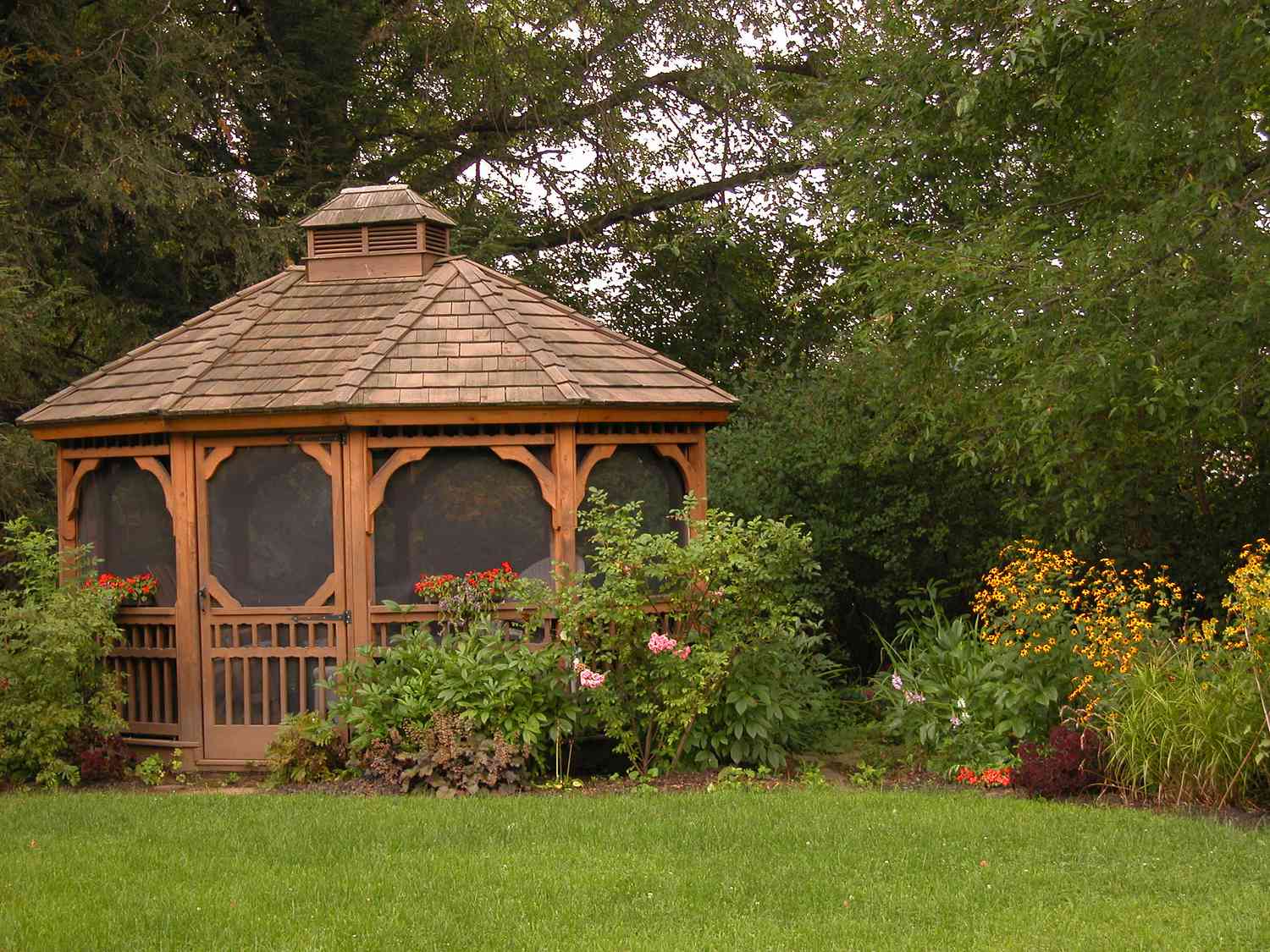 A gazebo is built in a circular shape in the middle of the garden. It is the most sought-after and eloquent sitting area. It can become a good breakfast spot or a relaxing area amidst nature. Maintain natural color tones and breathable fabrics for the sitting area. This place acts as a medieval element enhancing the front-of-house landscaping look, similar to the gazebo.
The interiors of the gazebo or any sitting area must be modest and soothing. The soft colors work well with the natural hues present all across. We might add a small fireplace in the center for the winter season. A beautiful and simple sitting area amidst nature is ready for you.Benches placed at adequate distances work too. It gives out the complete garden look and can also be a spot for great conversations.
Sale
Sunnydaze 66-Inch Black Heavy-Duty Steel Wood-Burning Chiminea with Rain Cap - High-Temperature Paint Finish
360-degree fire view: 31 inches wide x 28 inches deep x 66 inches tall; 20.8 pounds; Bowl: 24-inch diameter x 7 inches deep; Sits 7.5 inches off the ground; 3 Steel Legs: 17 inches long (curved) x 3 inches wide x 2.75 inches front-back; Door Opening: 20 inches wide x 10 inches tall; Flue: 6-inch diameter x 36 inches tall; Cap: 10.5-inch diameter Wood Grate: 11.5-inch diameter x 1.5 inches off bowl bottom
Heavy duty firepit: This outside chiminea firepit is made from heavy-duty steel for added quality with a black high-temperature paint finish for a sleek modern look; Metal fire pit is designed to withstand the elements outdoors
Easy to put together: Includes everything needed for assembly, including hardware, a cover, and tools; Chimnea fire pit comes with 16.5-inch poker and can be placed in any yard for instant warmth and conversation
Perfect on the patio: Chiminea fireplace provides the perfect central gathering place for your outdoor living space; Modern fire pit adds a backyard fire stylish touch to any backyard
Worry-free purchasing: Sunnydaze Decor backs its products with a 1-year manufacturer's warranty
6. Be Vigilant with The Shade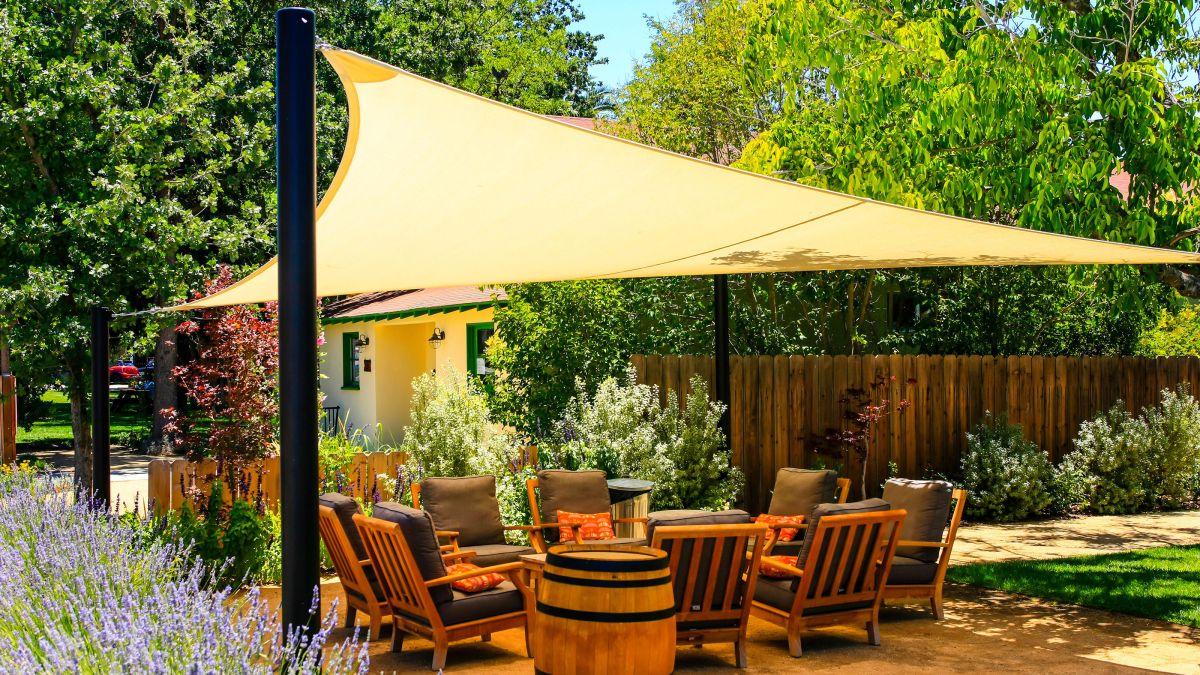 Appropriate shade placements along the perimeters of the yard are important not only for the pants but also for you as well. Proper shades allow you to enjoy your yard to the fullest.
Plastic or steel sheds are the most common of the options available. They act as a sturdy shelter and can withstand storms and strong winds. However, the survival rate is not always 100%. Moreover, the utility of the shade for a particular area is important to understand before selecting the material. For instance, a cemented shade is a good option in the sitting area built in the center of the yard. Apart from being strong, there is room for artistic designs. It is also versatile, making it easier to change the look.
Alion Home HDPE 50% Sun Block Garden Netting Mesh (6'x3'4'', Green)
UV STABILIZED HIGH QUALITY MATERIAL – Using only high-quality HDPE ensures the Garden Netting to last long. Fabric is UV stabilized to withstand fading and retain material strength. Thick metal grommets about every 24'' on all four sides.
50% SUN BLOCKAGE – 50% sun blockage rating is the perfect amount for plants, reducing the overall sun rays, heat, and wind to help reduce water usage. Also use for greenhouses, flowers, fruits cover, chicken coop, poultry, barns, kennel, and pond.
EASY INSTALLATION – Taped edges and metal grommets allows for easy installation with included ropes. Easily clean with a garden hose.
DURABLE MATERIAL WITHSTANDS TEARING & FRAYING – Knitted with High-density polyethylene (HDPE) material in a mesh design helps with tearing and fraying. Permeable, allows water and air to pass through, so water does not pool, and hot air does not stay stagnant underneath.
HASSLE-FREE SERVICE & RETURNS + CUSTOM SIZES AVAILABLE - Hassle-free returns, top notch customer service and a 2-year limited replacement warranty under normal use and conditions. We offer custom sizes made to order in California, please contact us for more information.
7. Select a Spot or Kitchen Garden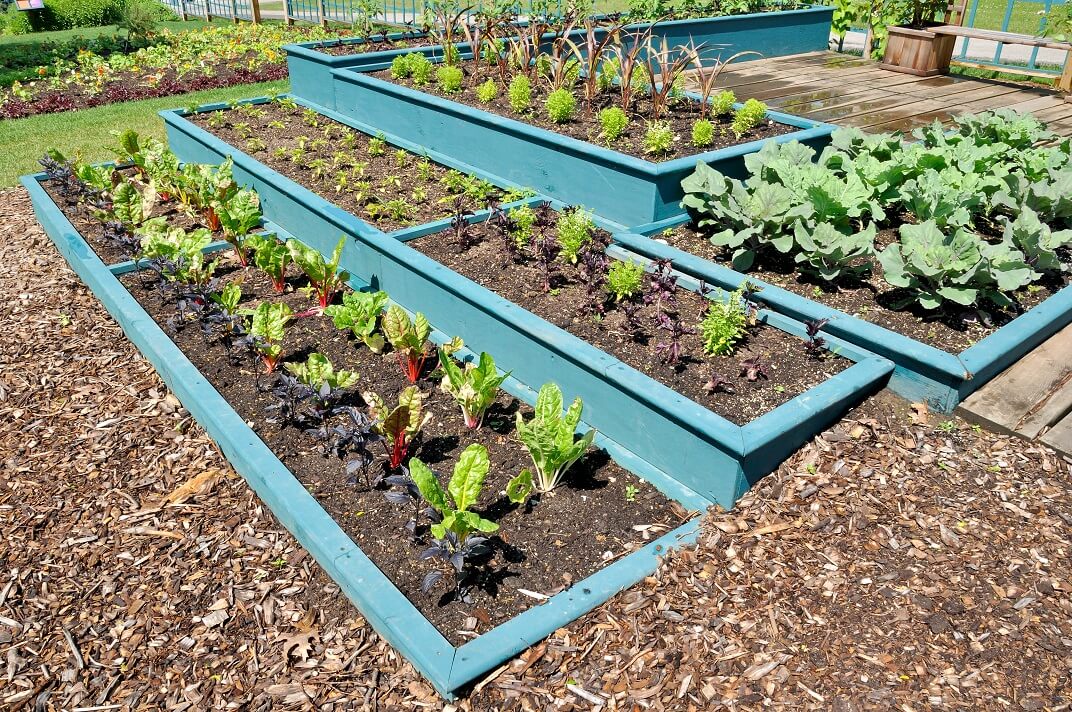 The best utility of a front-of-house landscaping investment is to prepare a good kitchen garden to get organic produce. It might not be possible to grow sufficient produce for daily consumption, but seasonal crops and universal herbs are the best options.
Plants like lemon grass, curry leaves, carrom seeds, Aloe Vera, and basil are some of the many plants we use regularly for cooking or skin care. Seasonal fruits and vegetables are also included. Make sure the kitchen garden is placed close to the house, preferably in the backyard. Create wooden pillars across the garden to help with the climbers when they grow.
8. Go Sustainable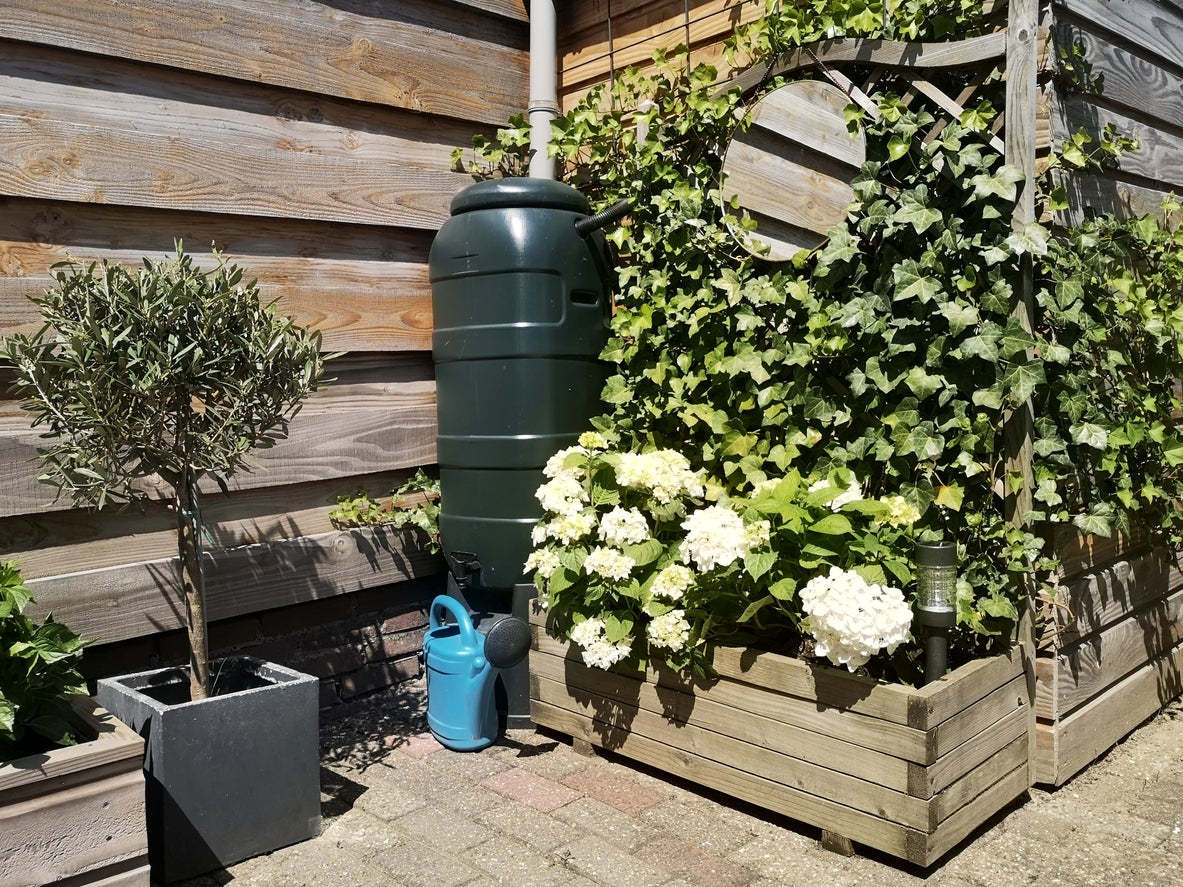 The increasing effects of global warming are forcing everyone to look after nature in some way or another. There are multiple ways to conserve nature that can add up to the promotion of a sustainable turn toward life. Some prominent options of which include Rainwater harvesting, constructing Vermicompost pits, Using solar energy, and establishing Natural AC.
9. Light up The Yard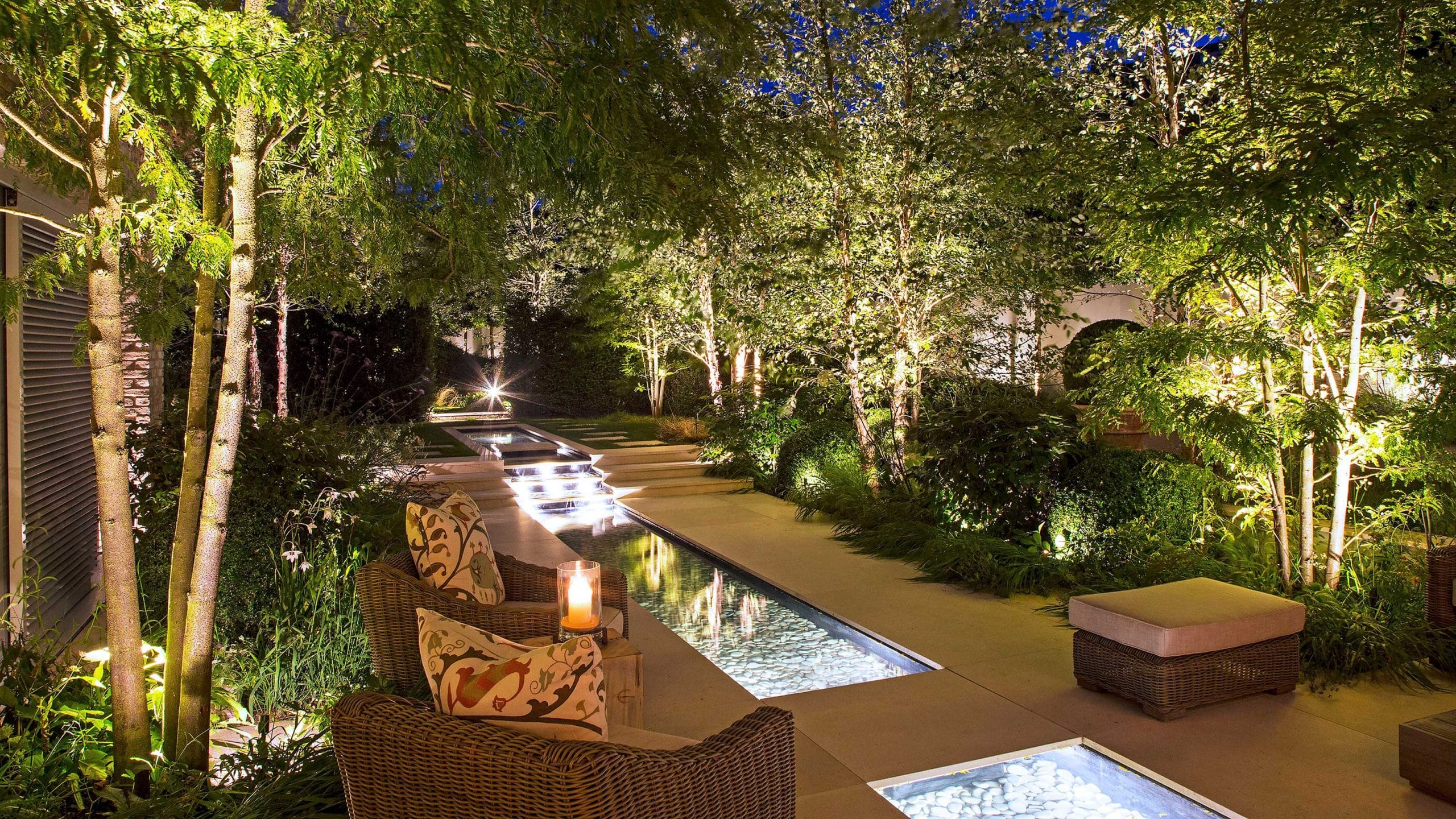 Good lighting helps in enhancing the beauty of the garden, making it look magnificent. Though string lights and spotlights are the most common types of light used, we can always try and create something unique.
Passage lights can be installed for the walk-through. The chandelier can be used for the sitting area. Big lights can also be used for areas where gardens will be in use at night. Simultaneously small bulbs or string lights can be placed on the shrubs and trees, as usual, to lighten the area.
Sale
Hidixon 100ft Outdoor String Lights Waterproof Patio Lights,Shatterproof Led Outside Globes UL Listed Exterior, Indoor Lighting Backyard Bistro Party
【Shatterproof Plastic Led Bulbs】The weatherproof LED bulbs are 2700K Warm White,select and durable LED wick is more durable and enviroment friendly than tungsten filament,the QC department will strictly check every led light bulb to avoid dead bulbs,and the improved packing also protect the bulbs from breaking and being fragile,we are professional lighting manufacturer and keep improving in quality/package/support service.
【UL&Durable Cord/Adapter】Both of the adapter and cord are UL certificated,and the bulb shell is plastic,safe and light,the rope comes with the outdoor cafe lights is thicker than the traditional one,so the weatherproof strand can take more pressure and won't break due to the heavy wind/rain/snow,it can be widely used outdoor / indoor to decorate your patio,cafe bar,bistro,yard,porch,balcony without any worry.
【Lower Energy Consumed 】Our 100FT outdoor string lights are equipped with Led light bulbs,which are more environmental friendly,50W in total per string lights and they never get hot even after being on for hours.The LED pergola lights have a longer lifespan than incandescent string lights,dramatically reduce your 80% electricity bills compared with incandescent bulb ones,a good choice to save energy/save money/protect environment.
【Waterproof&Shatterproof】 IP45 waterproof string lights outside,PVC shatterproof outdoor string lights bulbs, available year round. The HEAVY-DUTY patio string lights can withstand HEAVY RAIN,WIND,SNOW and SUN EXPLOURE. Don't worry about hanging it outside all the time.
【Satisfaction Guaranteed】Any questions about the round string lights outdoor or advice to our products will be appreciated,the customer service is always here to help.We are devoted to outdoor and indoor lighting (string lights,ceilling lights,floor lamps,decorative ambience lighting),a large-scale factory with high productivity want to keep improving and satisfy more customers,come and join us!
10. Leave Some Space For Fountain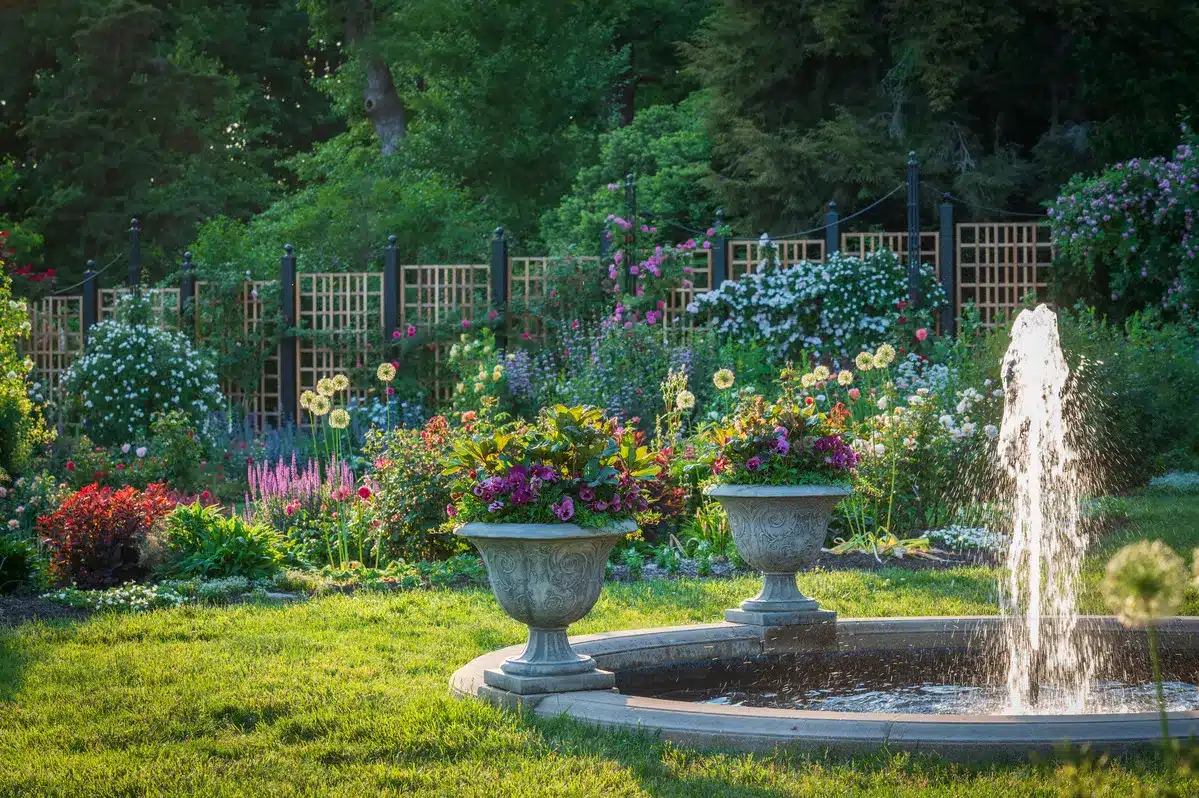 A fountain is a common element used in gardens but helps in achieving a wholesome look overall. It just amplifies its beauty ten folds. But do not opt for the typical fountain placed in the middle of the garden. Select a good spot in a corner or close to the house. We can also put in fish.
A waterfall fountain, falling in a pond, is a rather magnificent option but can be expensive too. However, it can allow you to grow water lilies and lotus too. So, select the fountain that suits your yard and beautifies it in ways more than one.
11. Incorporate Shrubs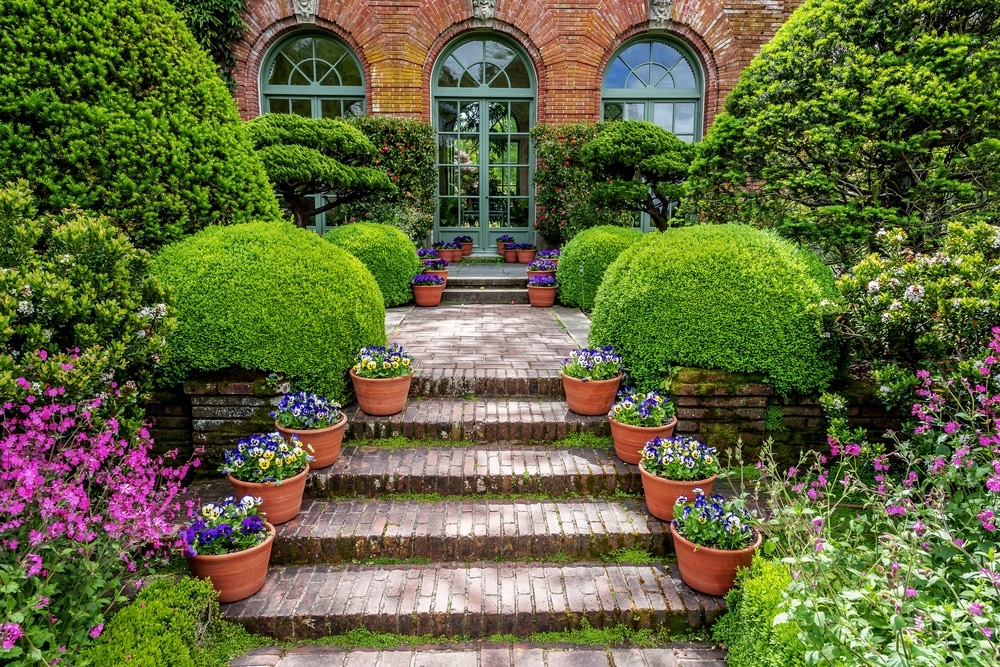 Shrubs are easy-to-maintain plants that give completeness to the front-of-house landscaping design. The shrubs do not require frequent tending and spread their beauty throughout the year. Once fully grown, we can give different shapes to the shrubs with the help of gardening scissors.
Apart from beauty, many medicinal shrubs help in keeping away insects. Some of the shrubs that will be with you year around are False Cyprus, Inkberry holly, Gardenia Hemlock
12. Create Pathways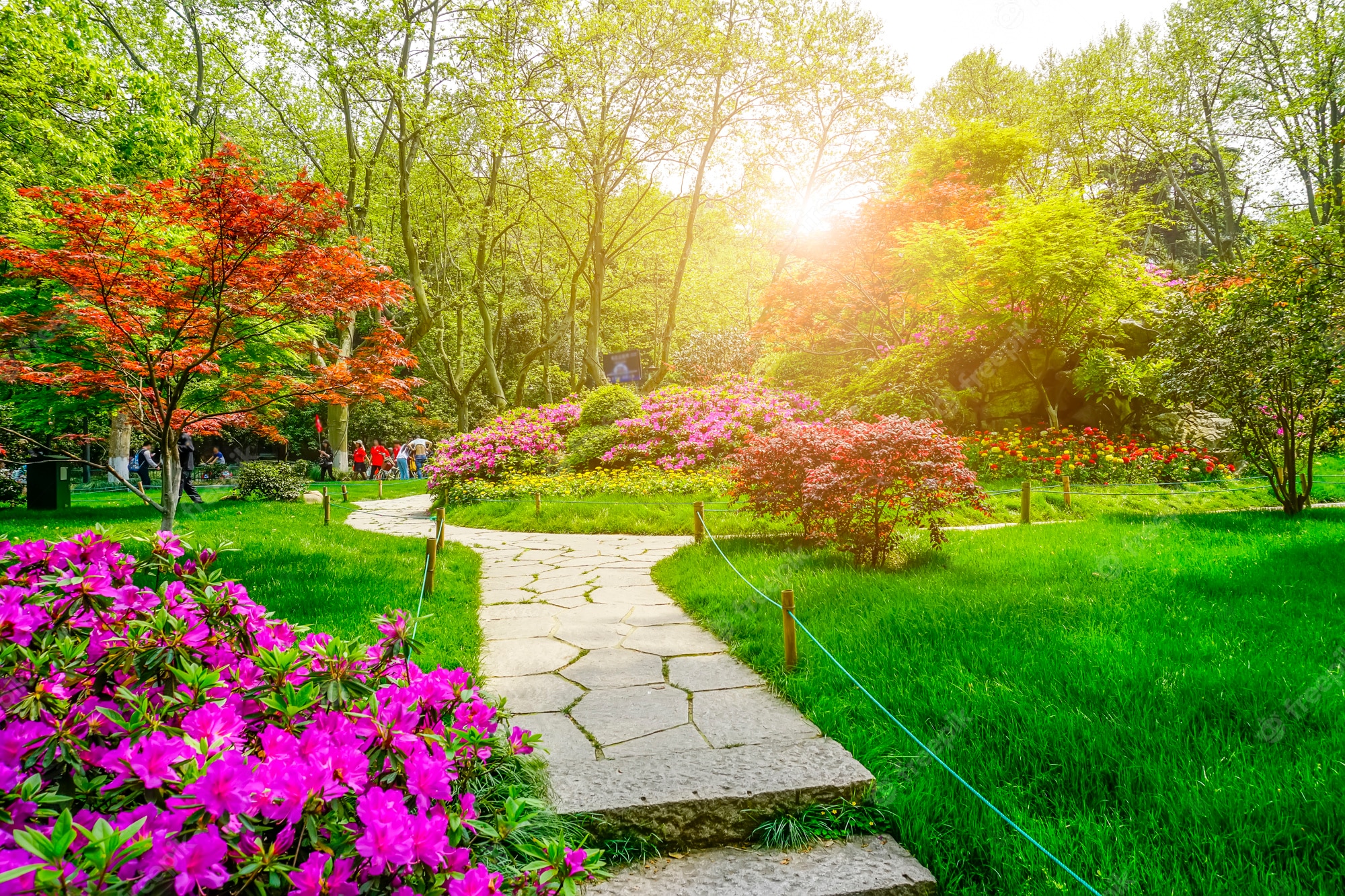 If the front-of-house landscaping area is adequately big, make sure to create pathways adjoining your gardens. Materials like stone or wood are excellent options for walkways. It gives out a natural and rustic vibe, which helps in enhancing the overall ambiance of your garden. The pathways also help in better connectivity, which plays a very crucial role in lowering the chance of stampeding on the plants while walking, which is important in maintaining the look.
13. Create a Separate Area if You Own Pets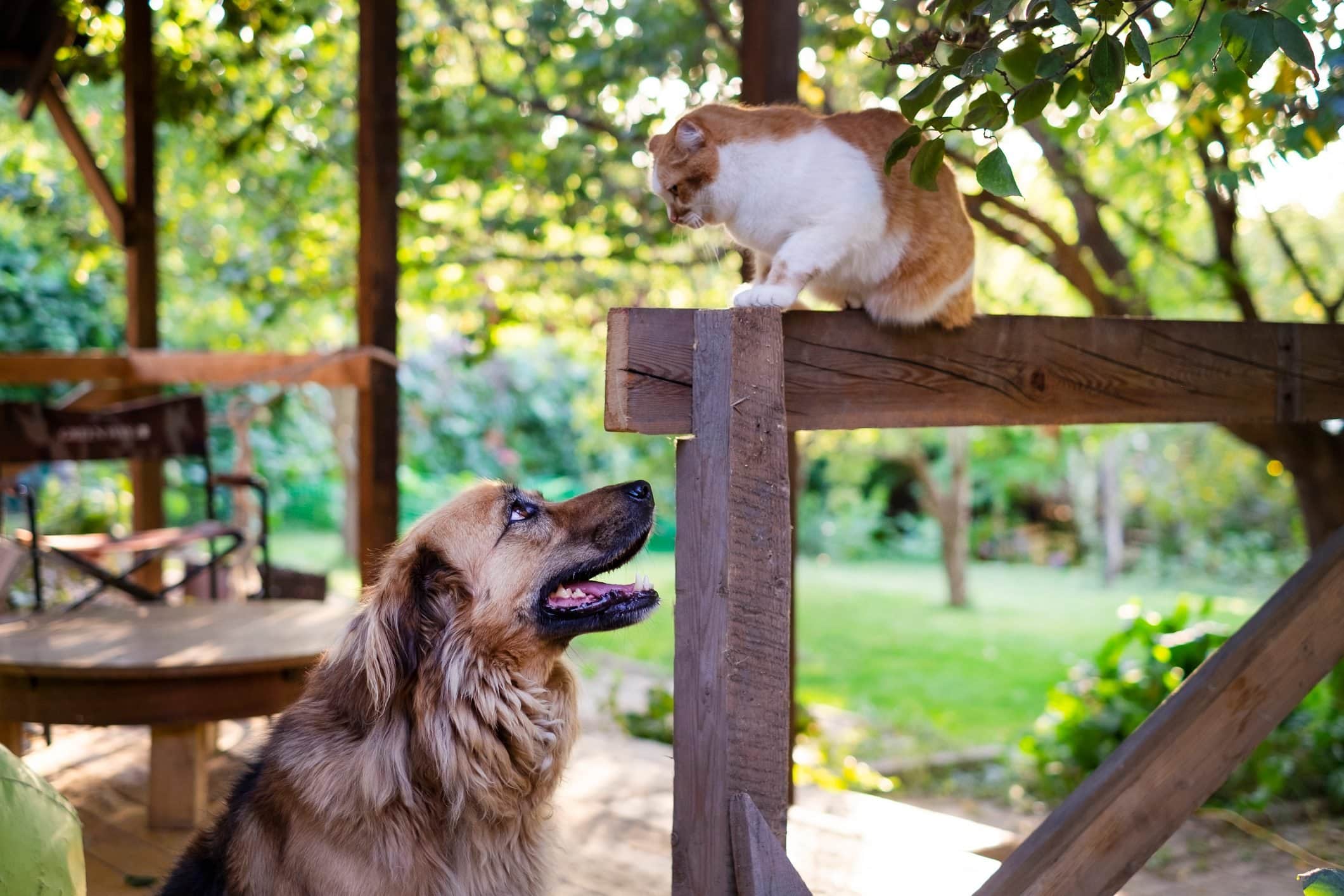 Pets are adorable and fun to have, but they are troublemakers too. Owning a pet and handling them is a full-time job. But when you own a garden, it cannot be easy to handle.
The best way to secure both plants and animals is to divide their areas of access. It is best to sow grass near the house and in the maximum garden area so that no pretty flower gets trampled by your pet. Build a home for your pet out in the yard. It's clean, homely and creates a good space for them too.
14. Good Water Connectivity is Vital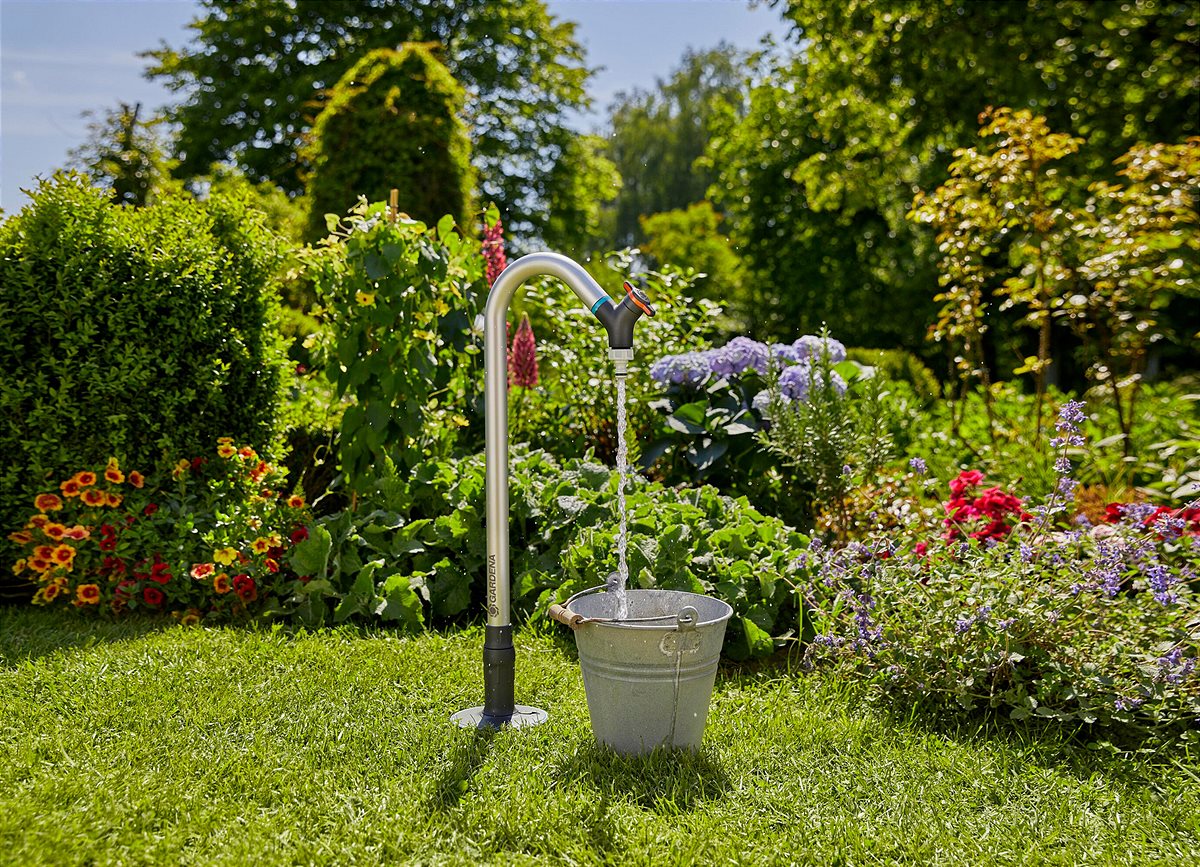 Water is the life source of every being. When it comes to front-of-house landscaping, good water connectivity is vital for the survival of the plants and the upkeep of the garden. Make sure to install taps across all four sides of the house. Investing in long water pipesis a necessity when owning a large space of land used for gardening.
Nowadays, it is very difficult to predict the weather. The summers are becoming increasingly hot, and winters are becoming cold simultaneously. So it is common to experience uneven availability of resources. The water collected from the rainwater can be further used to water plants.
15. Allow the Birds to Rest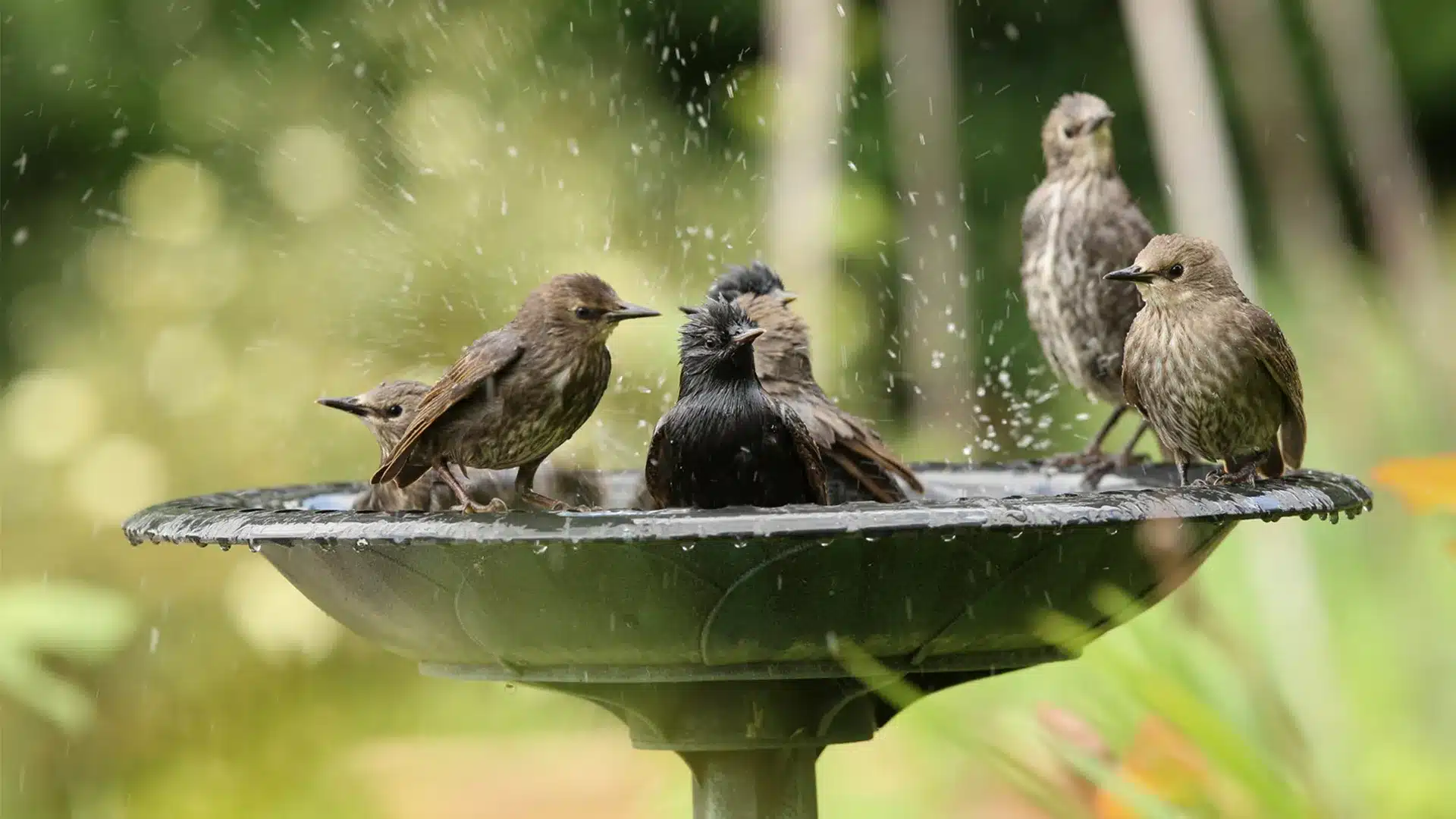 Greenery welcomes insects and birds, giving them shelter to build a home.The scent of flowers and flowing water make the birds to stop by and rest. We plead you be kinder towards harmless creatures like birds and appreciate their presence.
This doesn't require extra investment, just don't shoo them away if they come to sit down. Put water and food outside for them. And when the trees grow big, don't crumble the nest they tirelessly make.
Conclusion
Every idea stems from a strategic and ecological point of view. Here, our point of view is to help you build a sustainable and effective yard that is worth being called a landscape.
Every idea or gardening tips shared above are very easy to implement and carry forward. One of the vital elements when gardening is dedication. We don't speak about it much, but with every fruit that ripens or every flower that blossoms, it is the dedication of the caretaker.
Plants need our time, and we need to connect ourselves with nature. There is no better way to do it than gardening. Start with a small section of land. The experience will help in creating a long-term impact and health benefits.
We hope that Incorporating the above-mentioned ideas will help you transform your front yard into a stunning landscape.