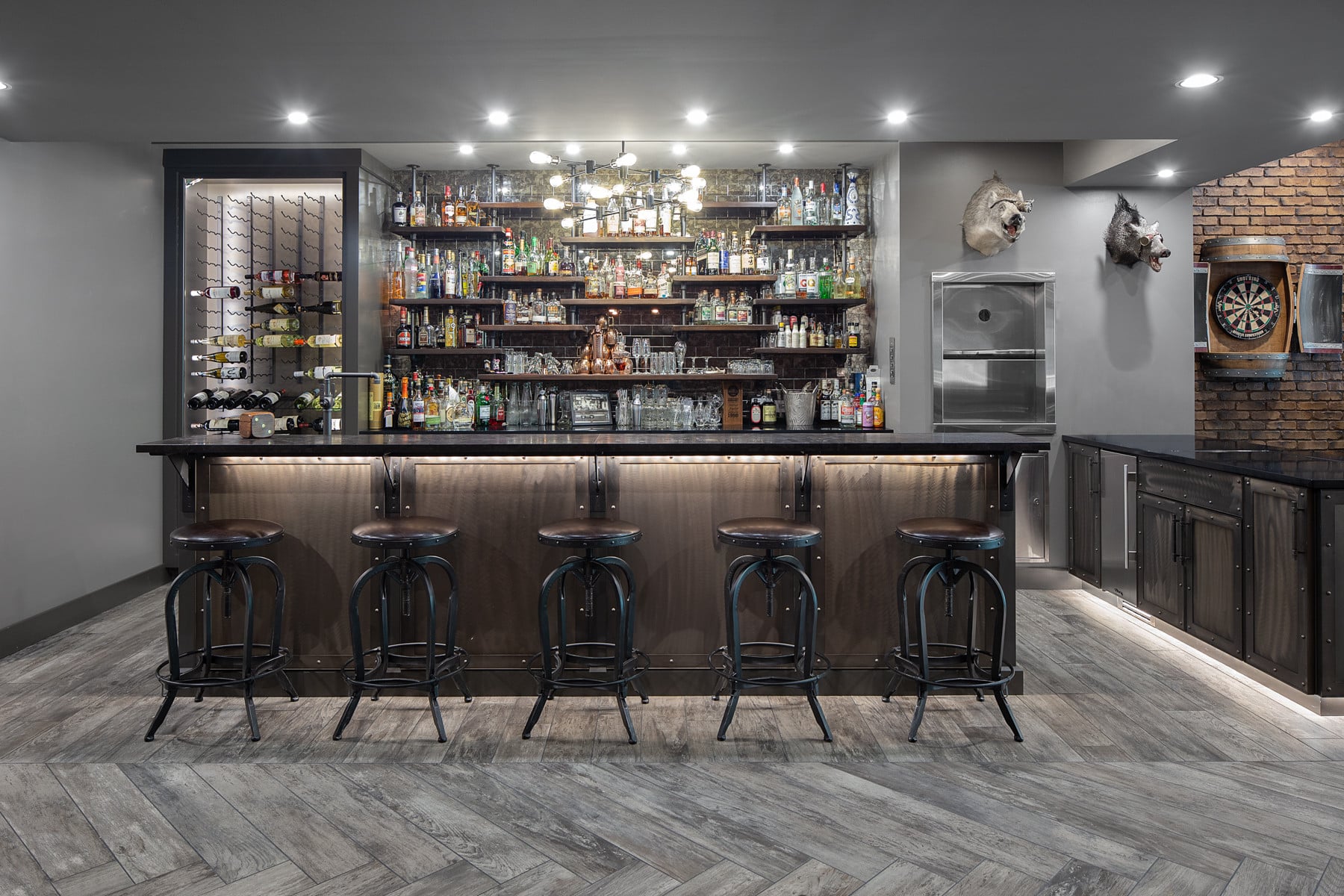 What's your idea of happy hour? Going out and having a couple of drinks with near and dear ones? While most of us like to get away from the boredom of day-to-day lives and spend an hour or two in the nearest bar to kickstart the next day on a happy note, having a home bar is definitely an idea worth considering.
A home bar not only creates a great addition to your home decor, but it is also one of the places where you can entertain your friends in all exclusivity and have a good time with just the people you want to be with.
Get ready to be the hottest party host in town with our suggestion of the coolest bar ideas for your home bar. Let's get started:
1. Space Saver Wall Home Bar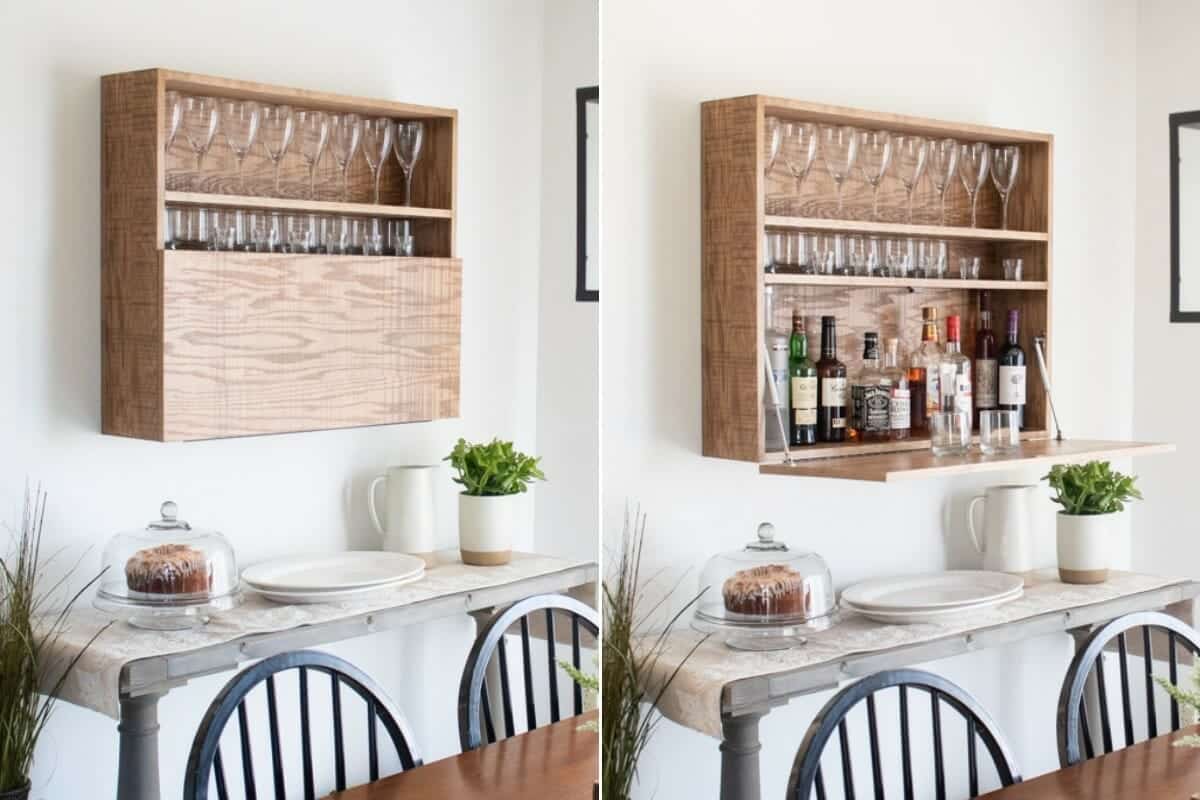 A wonderful idea to use blank walls and create a compact and space-saving bar area is this wall home bar. It is perfect for a small home where there is limited space. A wall home bar is just a wall-mounted cabinet that can be used as a display bar area.
It can be used to display your bar accessories, such as wine glasses, bottles, and other barware. There are plenty of creative options to build and decorate a wall home bar. Give it your personal touch by adding a few lights and family photographs.
2. Backyard Bar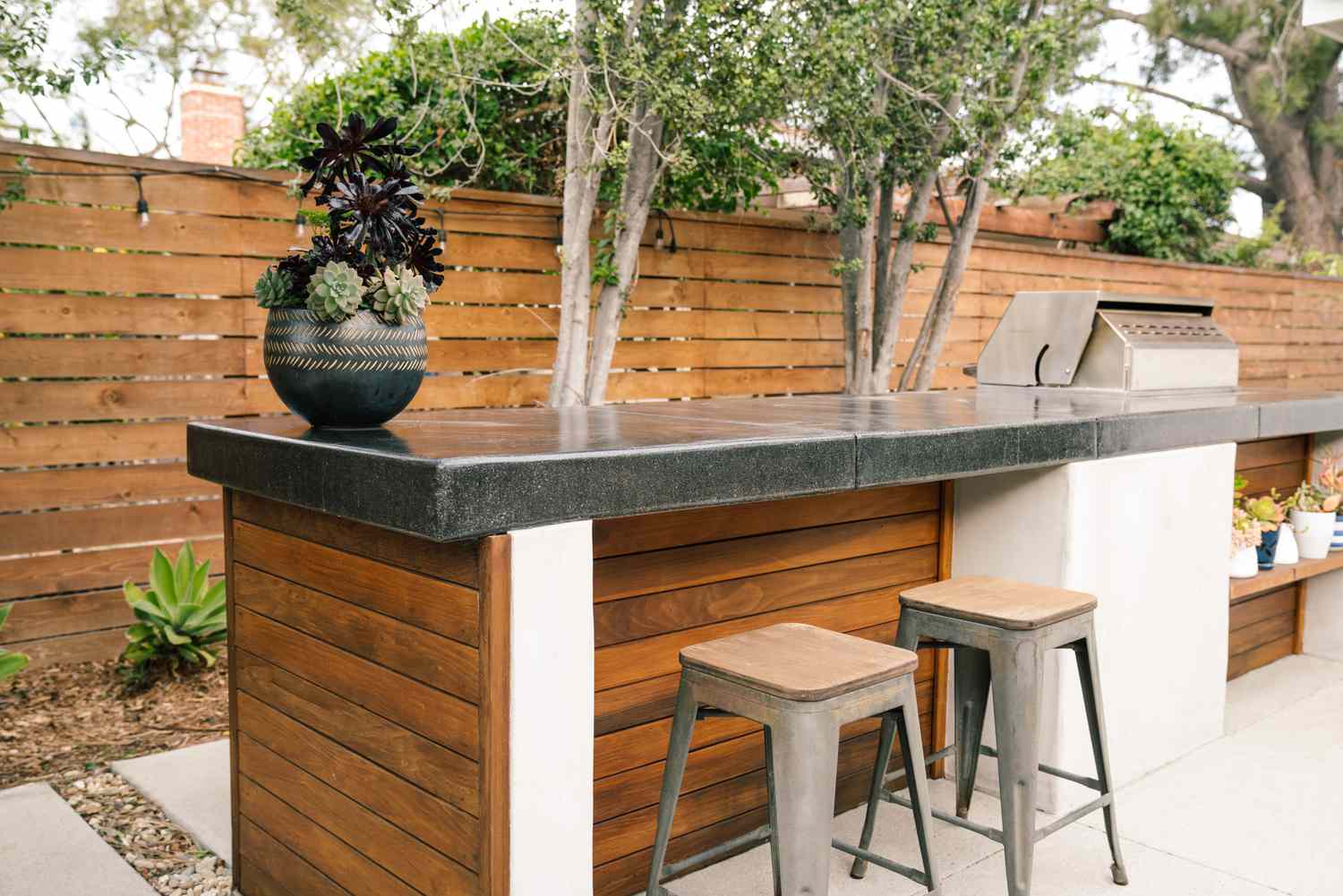 If you have an outdoor space, either small or large, it can always double as a place for entertaining friends and family for drinks and get together. Choose a location that has enough space for seating, dancing and can accommodate a group of people. You can use a table or also have a metallic or stone counter for serving drinks.
Incorporate some lighting and sound systems to make your bar area more lively and cheerful.
3. Colorful Home Bar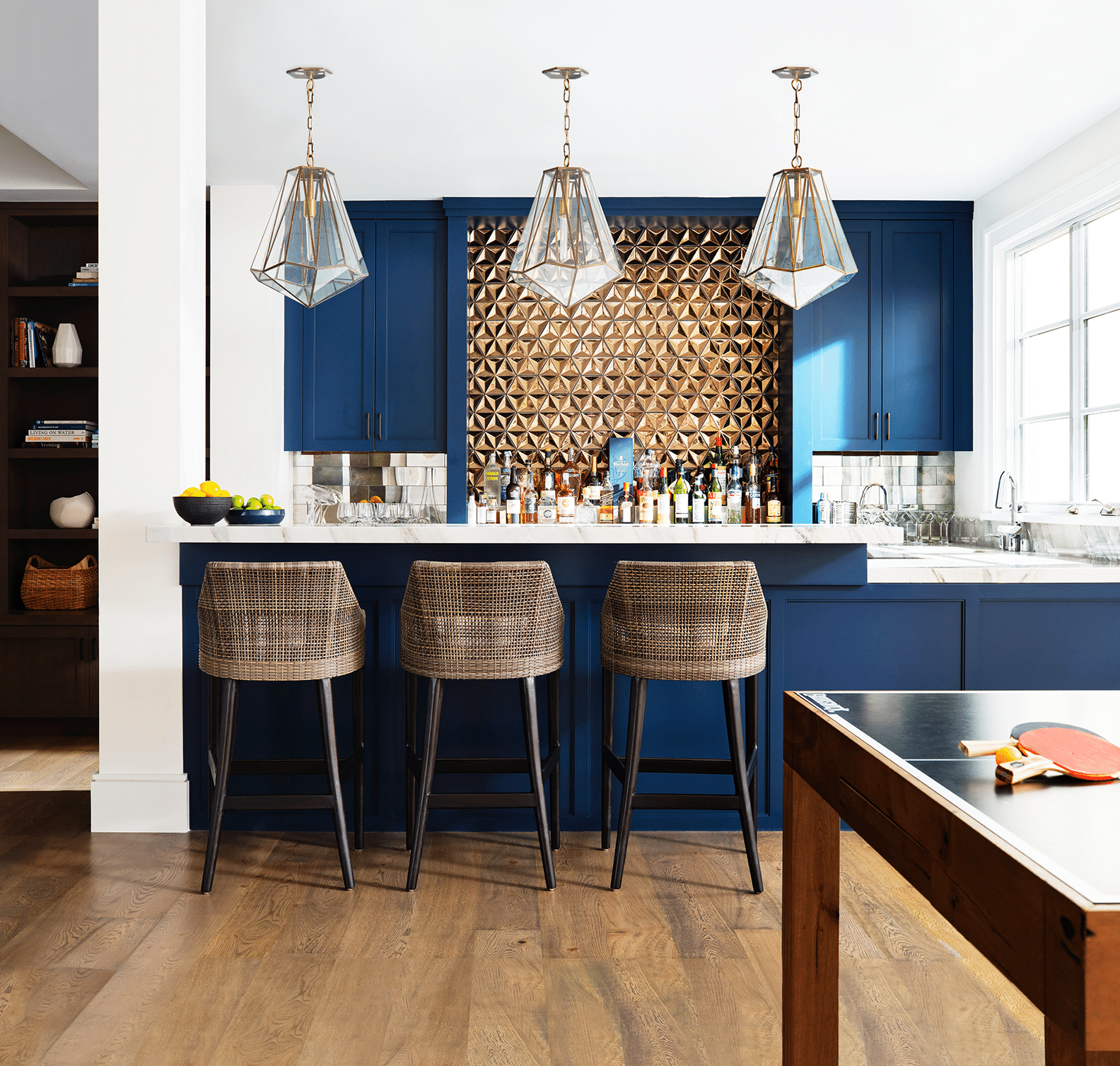 One of the most beautiful ways to create a home bar at home is to choose an area and add a lot of colors to it. Make it a vibrant space by adding themed colors according to your preferences. Inspired by Tatyana Miron's Manhattan Apartment,a colorful bar area can truly become the heart of your home decor.
Consider including bright and bold lights to bring out the beautiful ambiance of the bar.
4. Basement Bar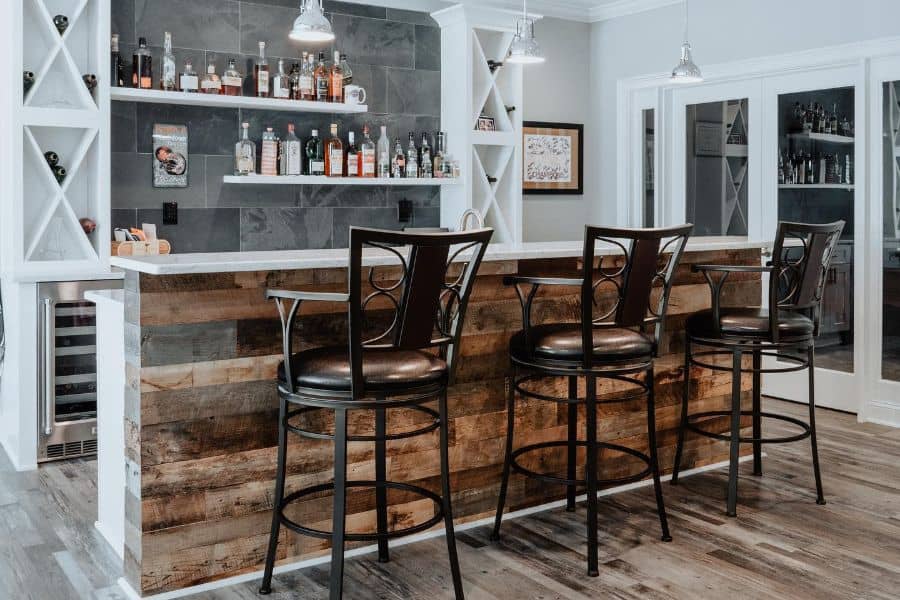 Having a basement bar is just like having a secret closet space. It is both exciting and functional. A basement bar can provide a unique and exciting touch to your home architecture. If you have enough space in your basement, all you need to have is a bar table, stools, and shelves to create your very own basement bar.
You can add various elements as per your budget and preferences. Go with fancy light fixtures with adjustable brightness. Also, consider having a couch, pool table, music system, and TV for entertaining your guests.
5. Island-Themed Bar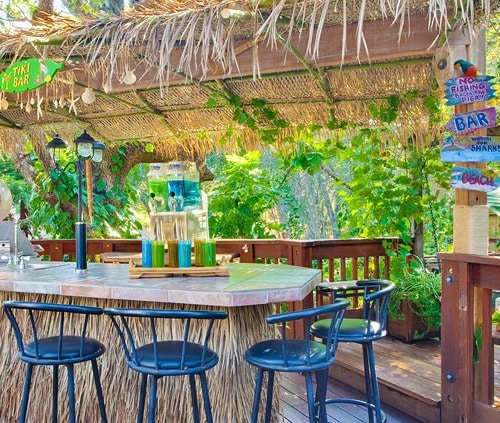 Island themed bar seems like a nice escape idea from mundane life and enjoying the ambiance of a tropical island. It will give you the feeling of a holiday. Choose a blue-green color theme to bring out the true tropical vibe.
Throw in some ornaments such as seashells, bamboo, and palm tree pictures, and make a bar counter with bamboo or a tiki hut to match your island theme.
6. Mini Wine Storage Using the Stairwell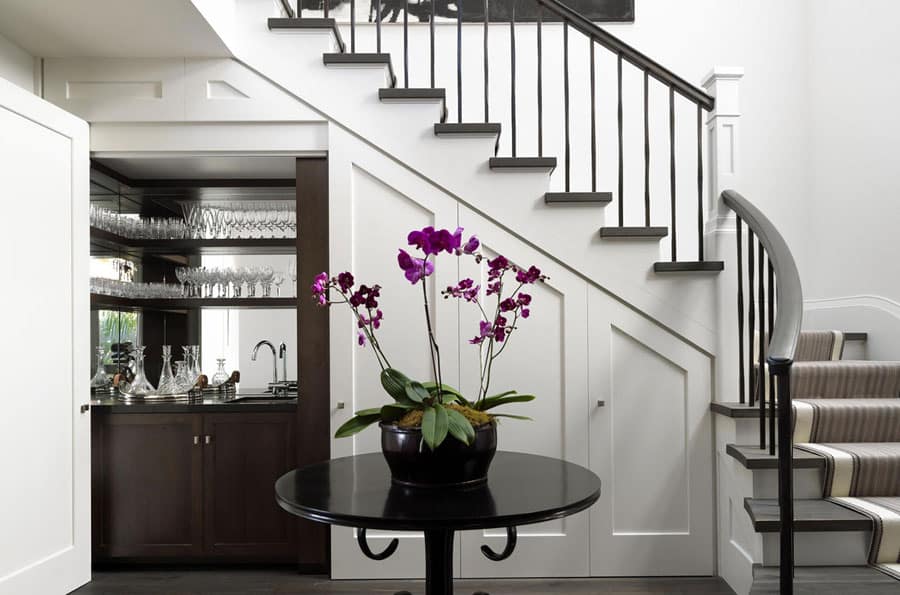 Your stairwell has a little free space that can be utilized to create an awesome home bar. Install appropriate bar fixtures, such as a wooden table and a few cabinets, and hang in some cool and quirky signs.
You can go with foldable chairs and tables for seating arrangement. Make an inviting ambiance by using beautiful lights and chandeliers.
7. Open Space Bar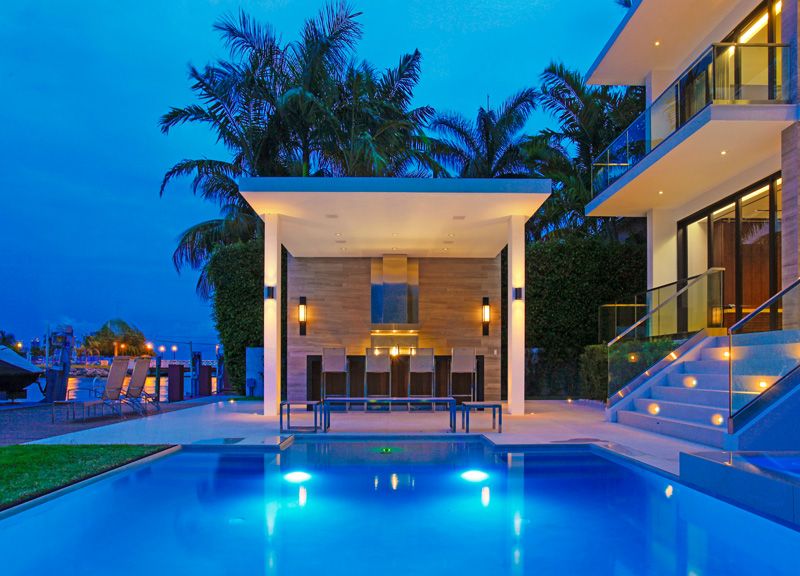 If you often have a large gathering and have tonnes of friends, an open space bar is a great idea. An open space bar, preferably by the side of the pool, is chic as well as playful. A lot can be done when it comes to the decor in the open space. Install a big bar counter with attractive signs and cabinets to display your barware.
Add some plants to create a fresh and life-like ambiance. Add in all the elements such as lights, music, water station, and coat check area to give a complete package to your guests.
8. Beach Bar Idea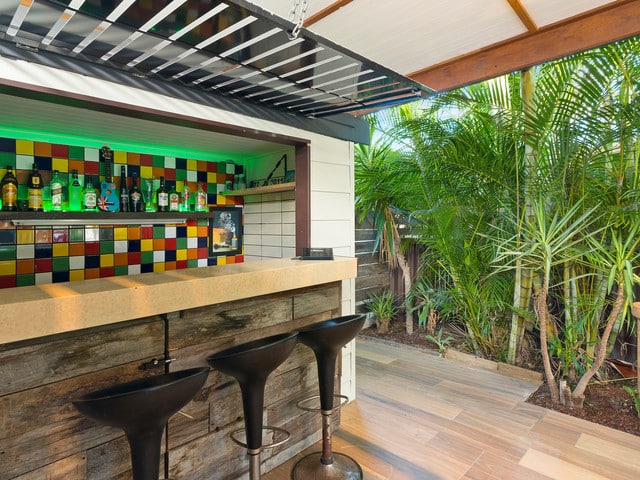 If you can't go to the beach to celebrate the little joys of life, no problem; you can definitely bring the beach back to your home with our beach home bar ideas. Create a vibrant and oasis atmosphere by displaying bamboo accents, tropical plants, umbrellas, and ropes.
Use mostly blue and white colors in your accessories. Use colorful fabrics such as tropical or Caribbean-inspired artworks to display. Play the music that is in sync with the overall beach vibe. You can also create a dinner menu for your outdoor beach bar party with all beach-friendly food options.
9. On-Display Drinks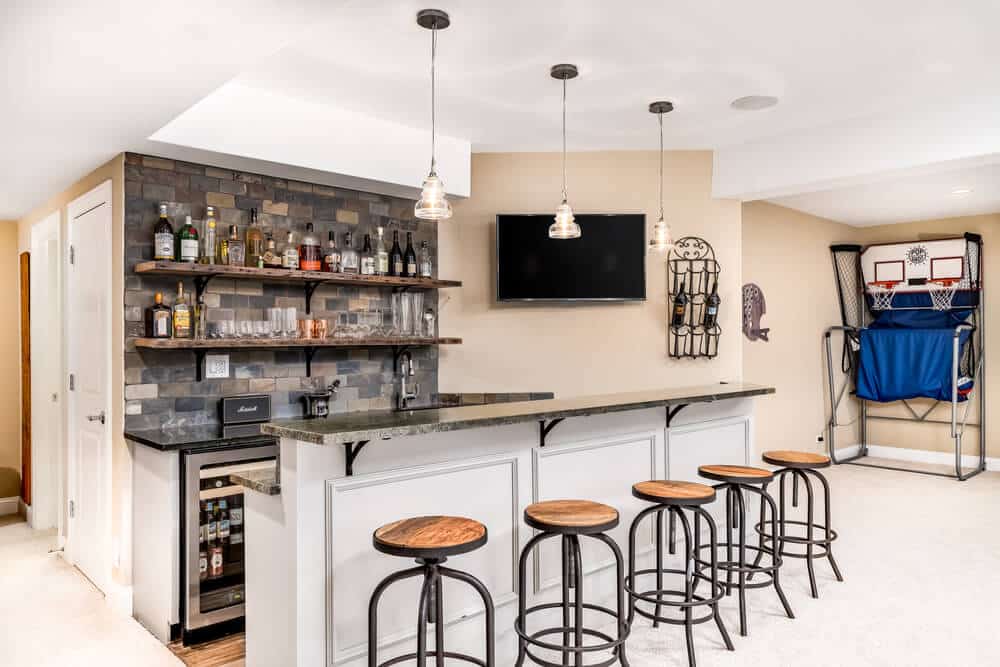 A bar is all about displaying your drinks in the most beautiful and explicit way. If you have a wine collection that is worth all the attention, you should definitely choose to display them. A home bar that has on display drinks is all about racks, shelves, and cabinets.
You can mix and match various types of patterns and colors for your racks. Offer space and avenues for public engagement and entertainment.
10. Environment-Friendly Green Home Bar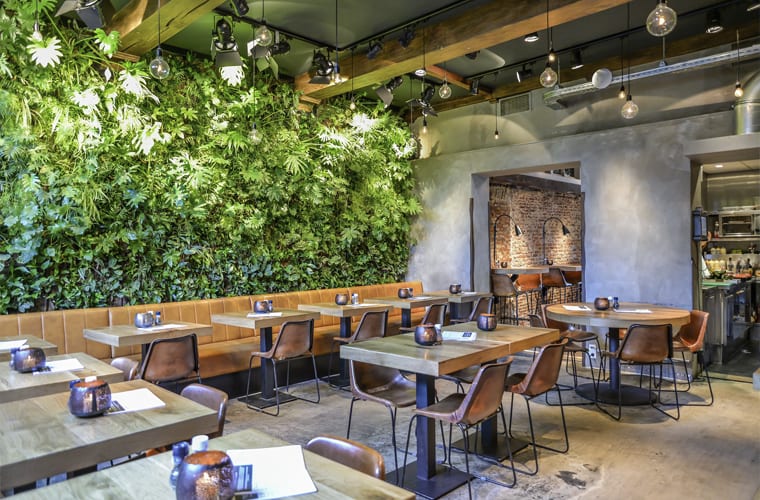 There's a lot of buzz these days for a green home bar. It's about using eco-friendly and sustainable products and producing zero waste. You can recycle your old tires and glasses to make your furniture and decorations. Add a few plants and make provisions for using eco-friendly alternatives such as bamboo or recycled paper.
An environment-friendly green home bar will not only create a serene atmosphere but also make up for your bit by doing your part for the environment.
11. Rustic Home Bar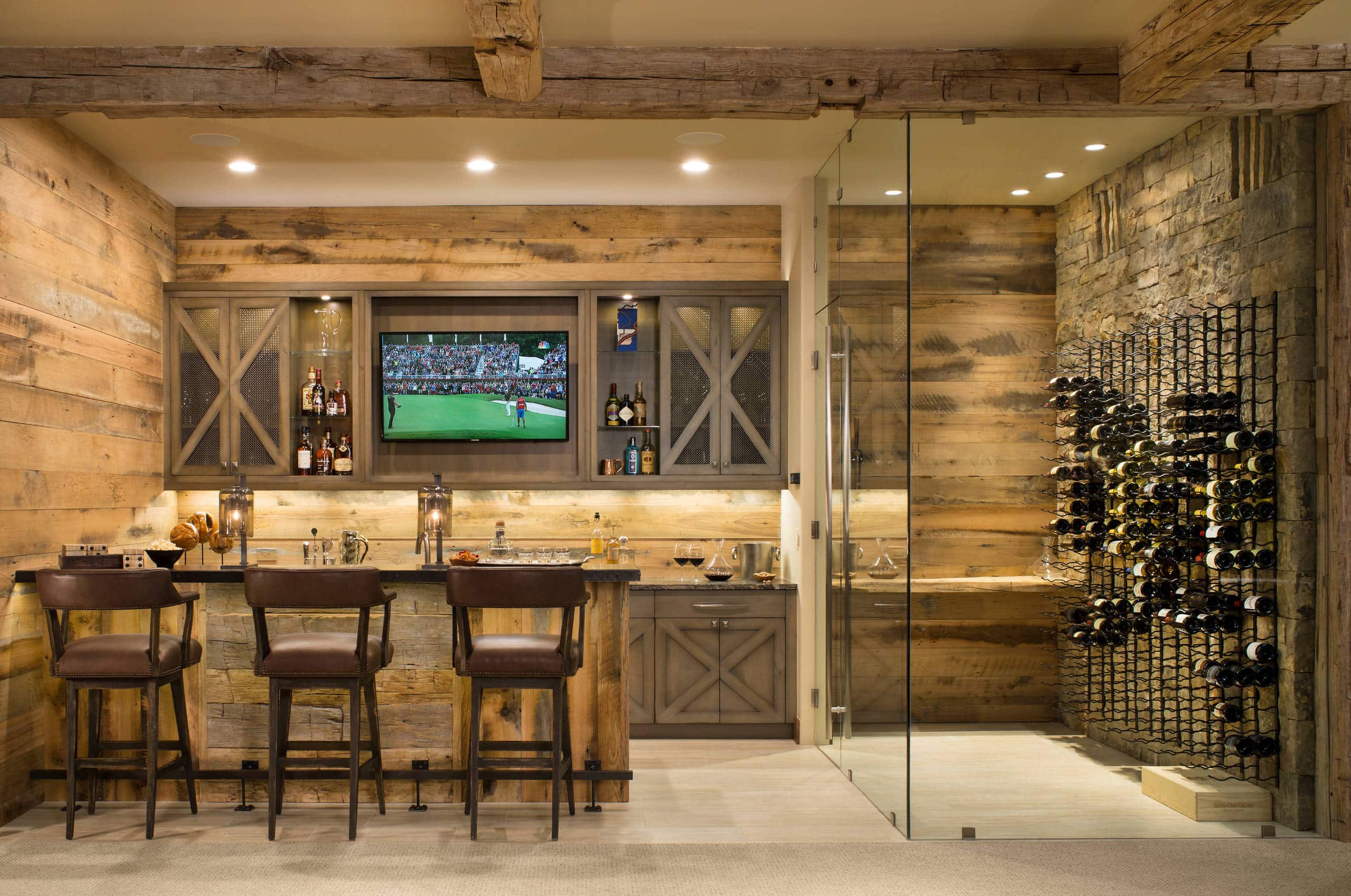 Host your next party in a rustic home bar made from refurbished wood and other materials. Give your bar a countryside feel by adding simple furniture and equipment.
A nice display of your wines and liquors and a provision for sitting with ample lighting are just a few elements to throw in to create a majestic home bar without any fuss. A simple yet effective way to host parties in your home backyard that is currently the hottest piece of cake in town.
12. Concealed Bar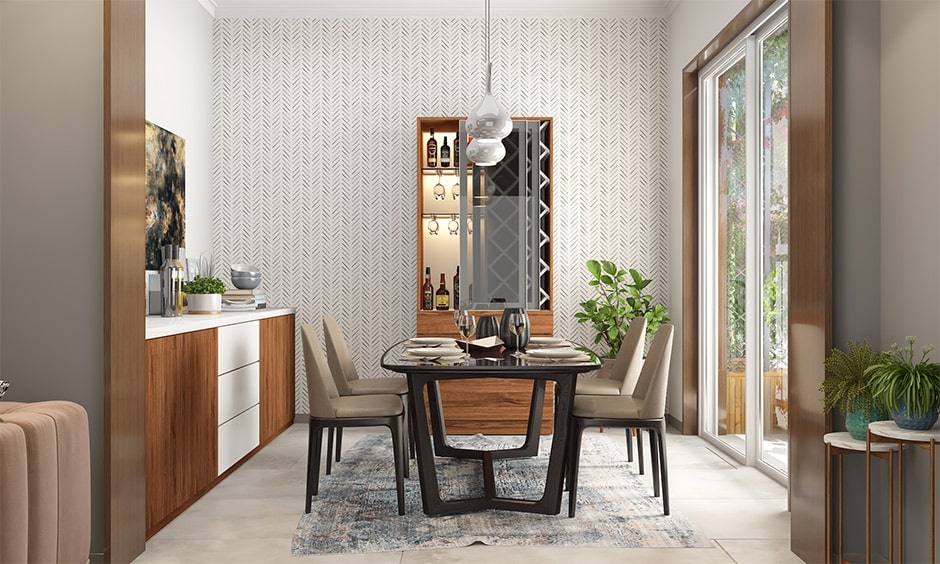 How about having a place that doubles as a home bar as well as your living space? A concealed home bar is the best option if you don't invite many people over and have a small space. You can choose a custom-built cabinet that totally blends with your space once it is closed.
It's best for surprising your friends and family. Just invite them over, and voila! Open the gates to adventure; it is a fun-filled surprise that will definitely make it the star of the party.
13. DIY Stage Bar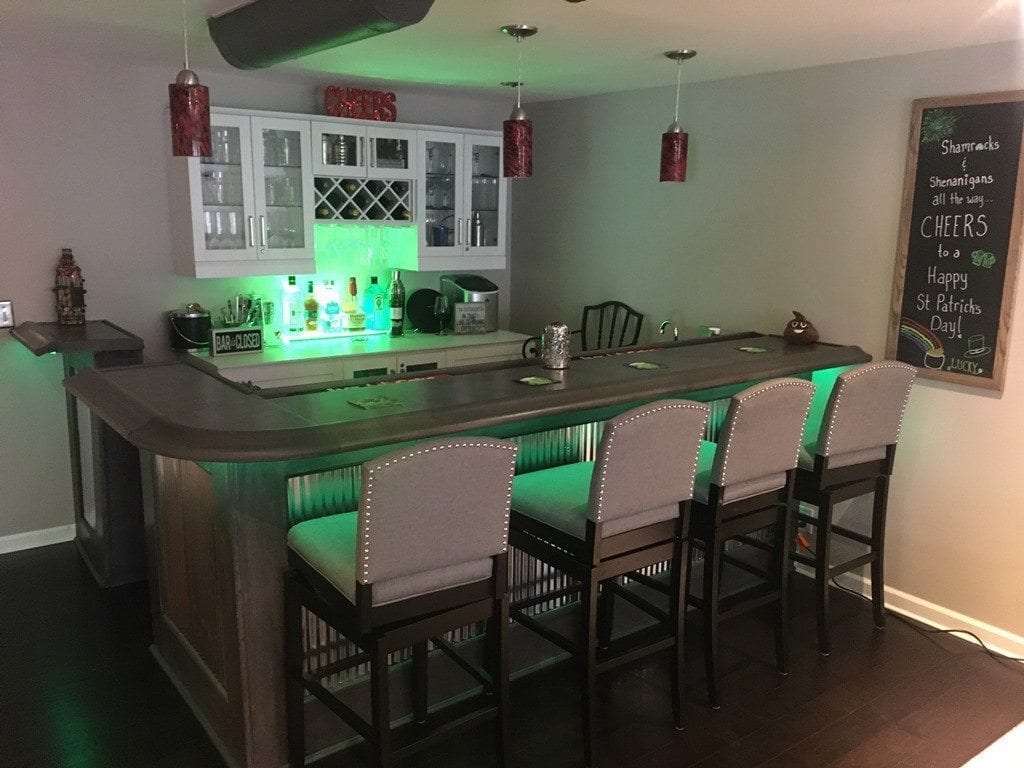 Are you the kind of person who looks for a personal touch in his home decor? Creating your own home bar is a wonderful idea to give a personalized bar experience to your guests. You can choose your own style and paint, carve and make everything all by yourself.
Display the best of your artwork, and this whole area could be something that you would be proud of.
14. Floating Bar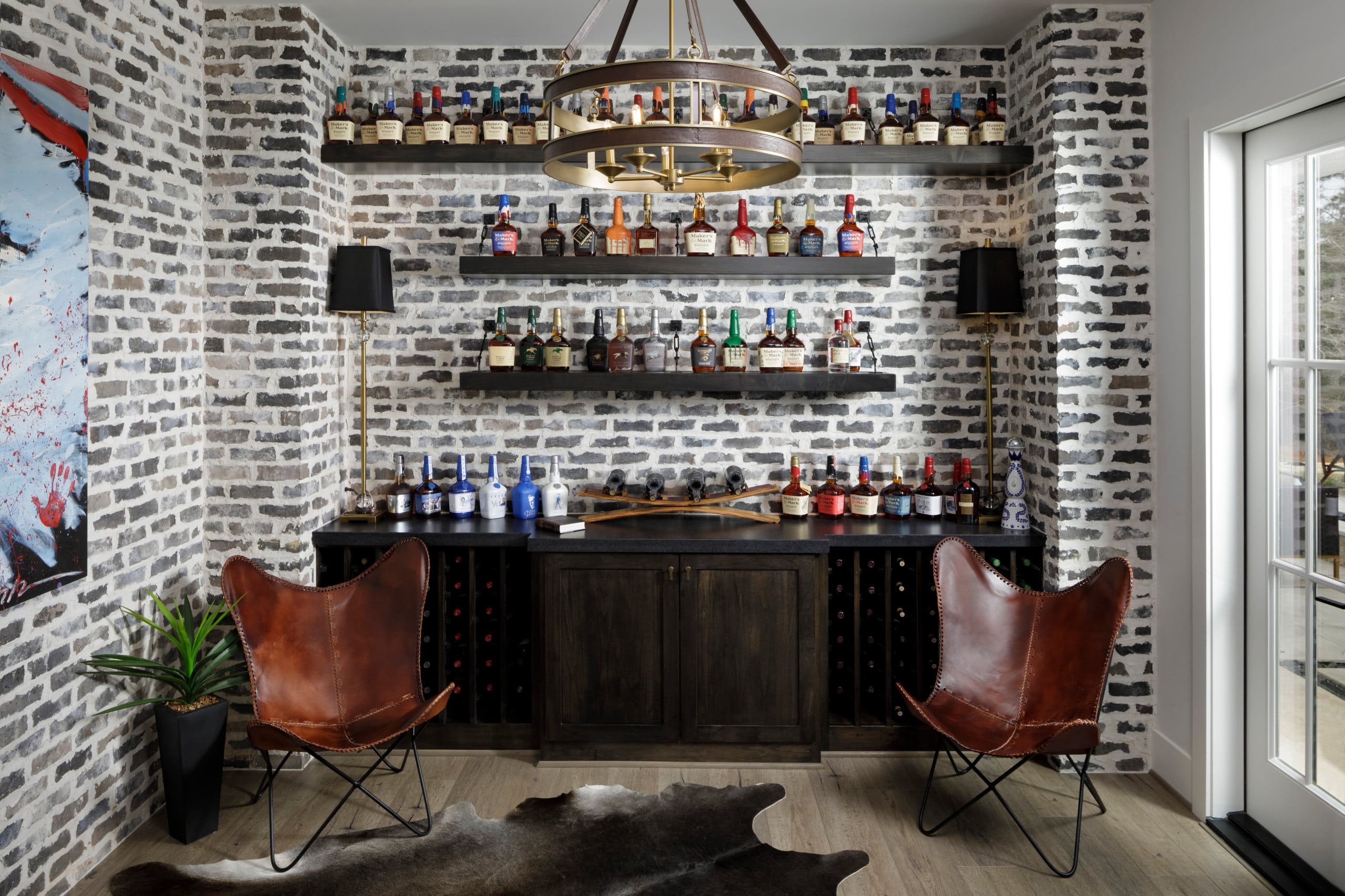 One of the most widely used small space solutions for a home bar is a floating bar. It consists of a table and a chalkboard to display recipes and small crates for the pantry. The crates are attached to the walls and can be used to display your wine collection. Paint it in a vibrant color to make the space look lively and cheerful.
Floating shelves provide a neat appearance as they are free from brackets. They are made up of wood and can easily become the center of attention at your home bar.
15. Creating a Permanent Home Bar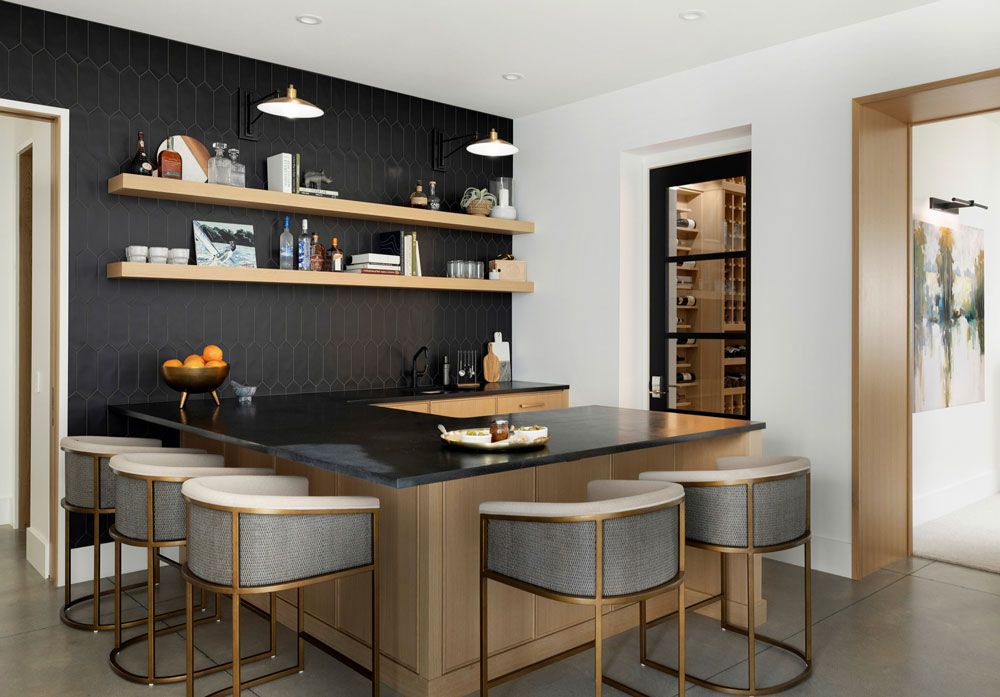 If you want to create a permanent home bar to relax and unwind, there are a lot of things you should keep in mind. First of all, you should choose a space that is big and preferably open.
It should have a lot of elements such as your personal preference, space available, budget, decorations and seating area, and legal regulations. Keeping all these things in mind, you can create your beautiful home bar to welcome your guests.
16. Standalone Shelf Bar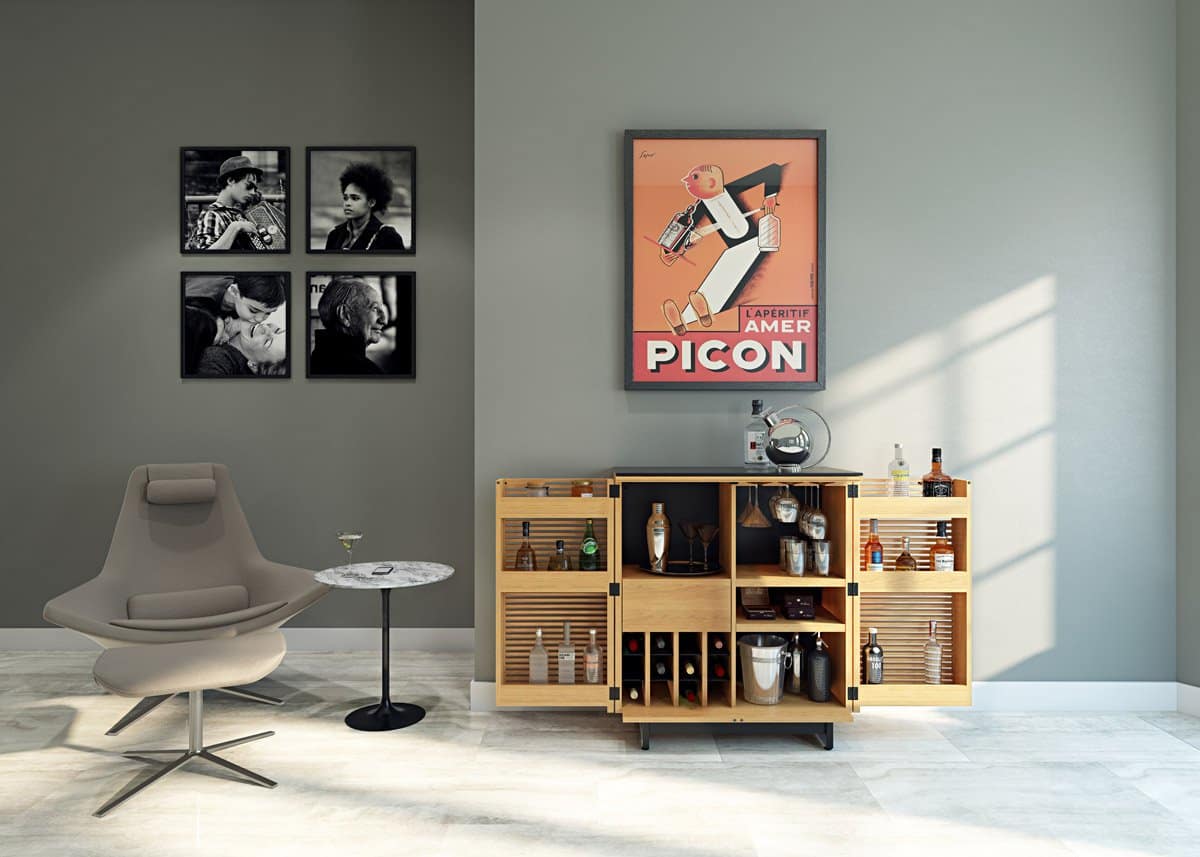 A single shelf can be your whole home bar. Yes! You heard it right; there is no need to have a large space and all fancy equipment to create a bar. A simple shelf can become a bar if used properly.
Make your own standalone shelf bar by taking a shelf and displaying all your drinks and glasses separately in two compartments. The top part of the shelf can become a place to mix and present drinks. It is a nice cutesy place to serve your drinks to guests.
17. All-Black Bar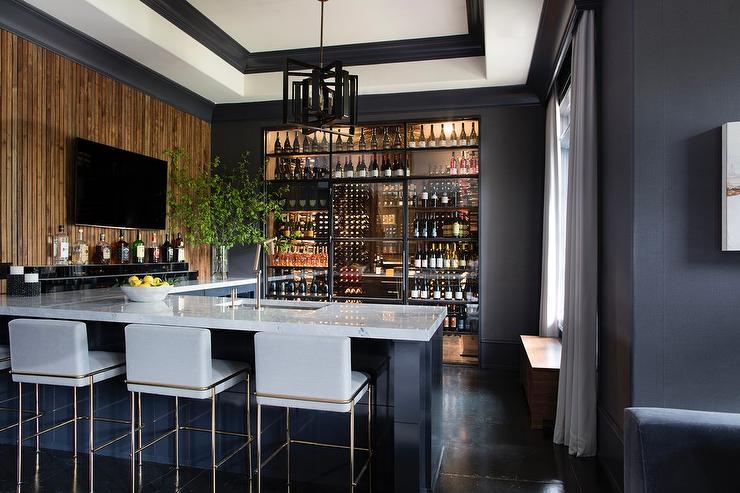 Black is love! Isn't it? If you also love black color, don't hesitate to incorporate it into your home bar. Create a black-themed bar with black-painted walls and cabinets.
An all-black bar is a cutting-edge stylish bar that will surely become the center of attraction among your acquaintances. It stands out from the rest of your home and brings out your cool and sophisticated side.
Pair it with a golden/ white chandelier or ceiling lights and embrace the magic of this all-black home bar.
18. Vertical Space Home Bar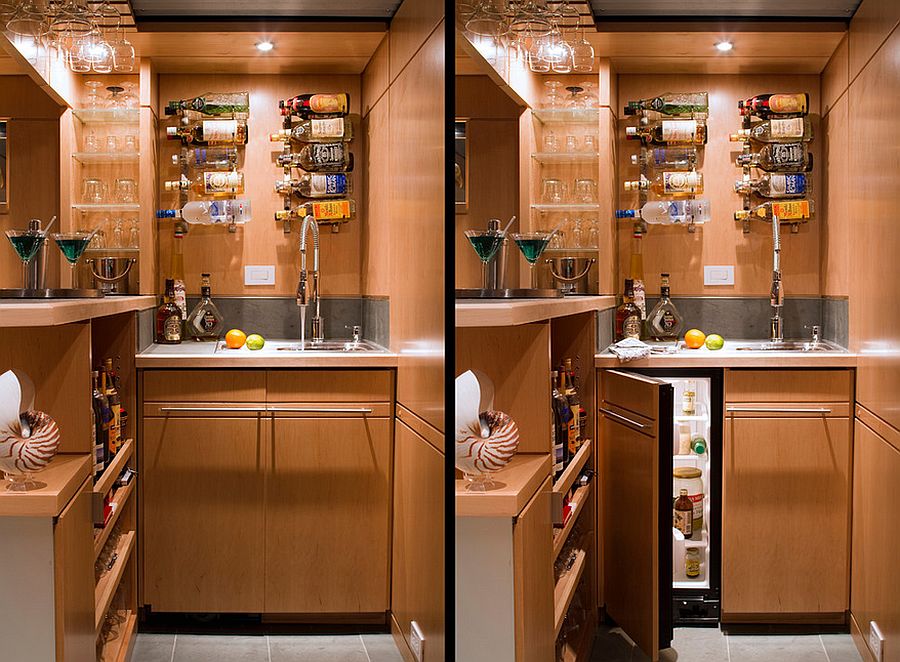 If you have a lot of vertical space but confined horizontal space, don't worry! A home bar can be built truly based on vertical space. Utilize your walls and incorporate cabinets for storage and display of your barware.
You can buy those immensely popular bar units or attach one to your walls. These kinds of bars are both stylish as well functional. If you want to take it a level up, you can choose to have a built-in wash area too in this space.
Conclusion
Having a home bar is a fantastic idea to entertain your family and friends for a happy hour. The above-mentioned ideas provide a range of options to suit various preferences and spaces. There are endless possibilities for creating your home bar; you can choose from a space-saving wall bar, a backyard bar, a vertical space bar, or an island-themed bar, to name a few.
Each home bar idea is unique in itself, and with our list of ideas, the possibilities are endless. Apart from the design of the home bar, several other factors, such as lighting, seating arrangement, and decor, are to be kept in mind while creating a home bar space.
So, what are you waiting for? Become the ultimate party host in town with our exclusive ideas, and let your family and friends compliment you for your creativity.