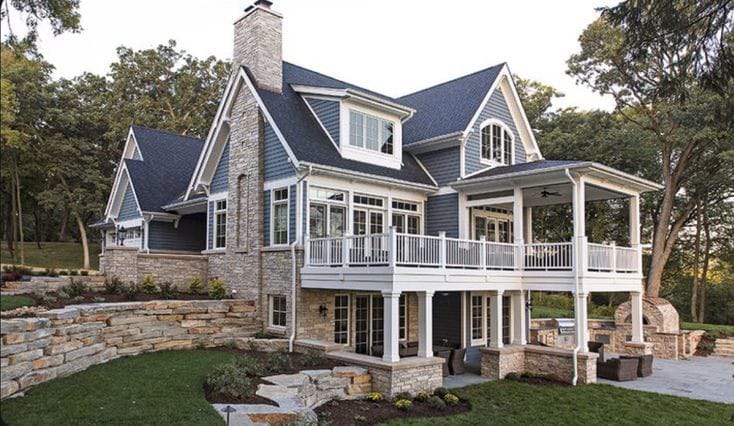 Midnight blue is the color of solitude that creates an aura of serene bliss and calmness. Hence, it may be the reason why you are comprehending the decision to pick the color combination of navy blue to design your home. Blue is many people's favorite color for some reason. Although it may not be your favorite, you still can't deny the beauty the color provides to your household.
Moreover, dark blue can make you feel that you are at your calmest sense of peace. It's one of those pigments that are minimal and, at the same time, can show off a demeanour of sophistication and midnight beauty. In this comprehensive guide, you can explore 14 different bits and designs to get an idea about the mixes and combinations for your favorite color, Midnight Blue, to create a serene night look for your house. Not to mention, you can find designs that will make your home look sober with minimal effort in deciding on color.
However, for a modern look try adding a funky and vibrant which elevates the sense of easiness for your home.
Dark Blue House Color Ideas to Choose to Elevate Your Home's Look
When it comes to choosing the right house color, you may have some designs about the aesthetic you like in your mind. Hence, you may want a dramatic presence for your household or may like something that looks cozy and classic. Here are a few designs to choose from:
1. Blue and Hot pink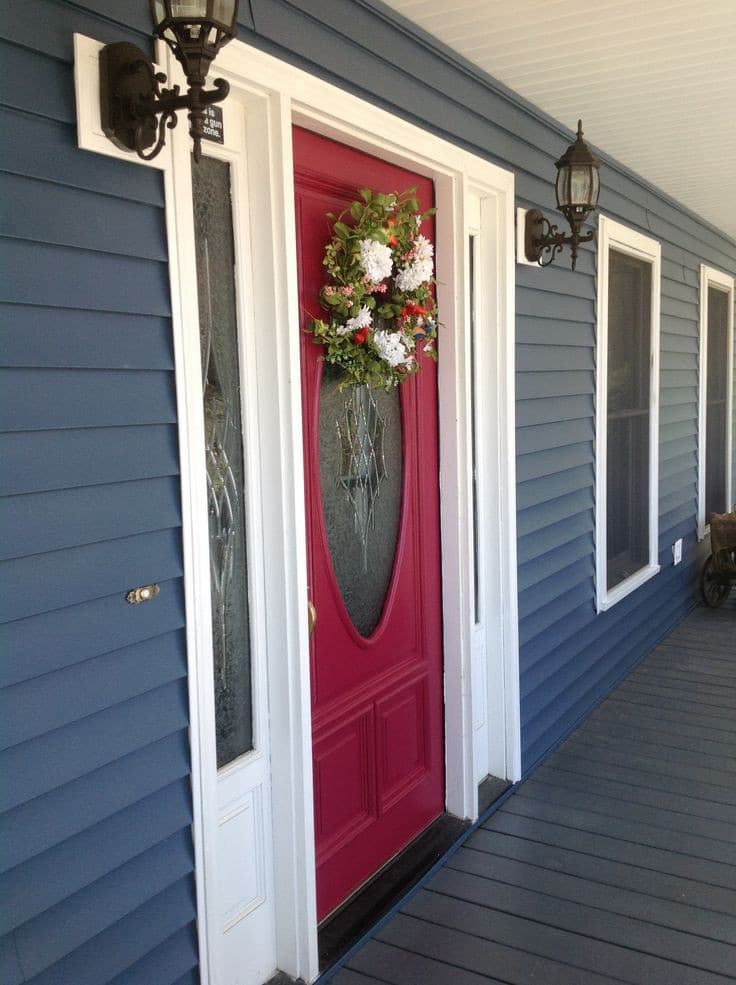 Blue is a versatile color, which makes it effortless to mix with almost every color in contrast. The combination of the dark blue house and the borders of hot pink is a match made in heaven. Although the colors seem opposite in nature, they complement each other beautifully which proves that the opposite attracts. The mixture of this bright neon color and midnight blue can elevate the magnificent presence of your house.
Therefore, the intensity of these two colors clashes with each other and creates a contrasting effect for the visitors to your house. The shade of hot pink elongated with blue walls will amaze your relatives and neighbors.
2. Midnight Blue Walls with White Slidings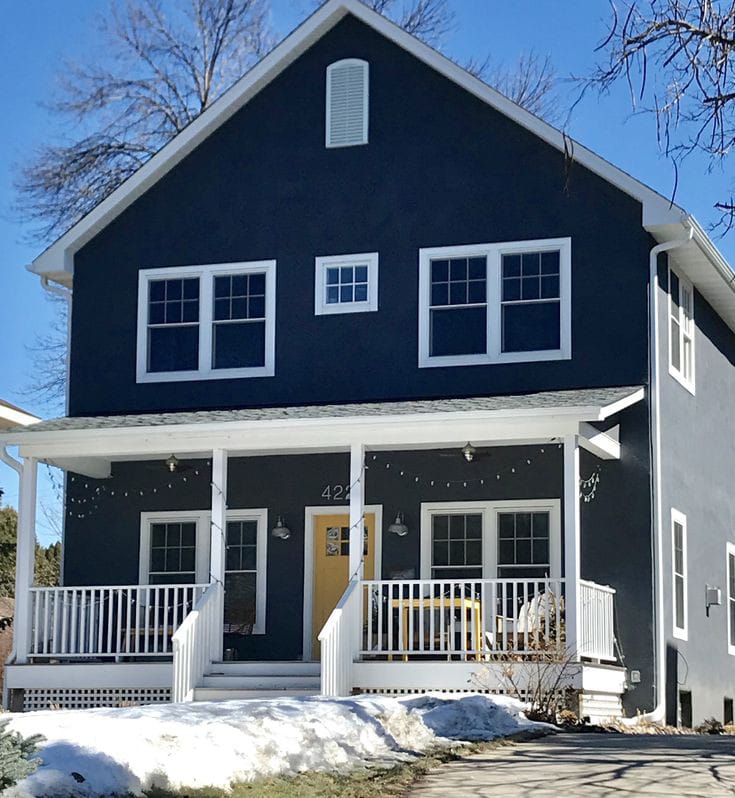 The effects of calming midnight dark blue can make your household look bold while containing some depth in the designs. Therefore, the navy blue design with white trims and slidings on edge will make the shades look more saturated, straightforward, and sophisticated.
As you already know, midnight blue is such a dark color. Hence, combining it with white slidings and trims while decorating it with gray stones will create a contrasting dimension for your household. Moreover, it does not have any complicated undertone; the true nature of dark blue enhances the house with its charm. 
3. Dark Blue and Orange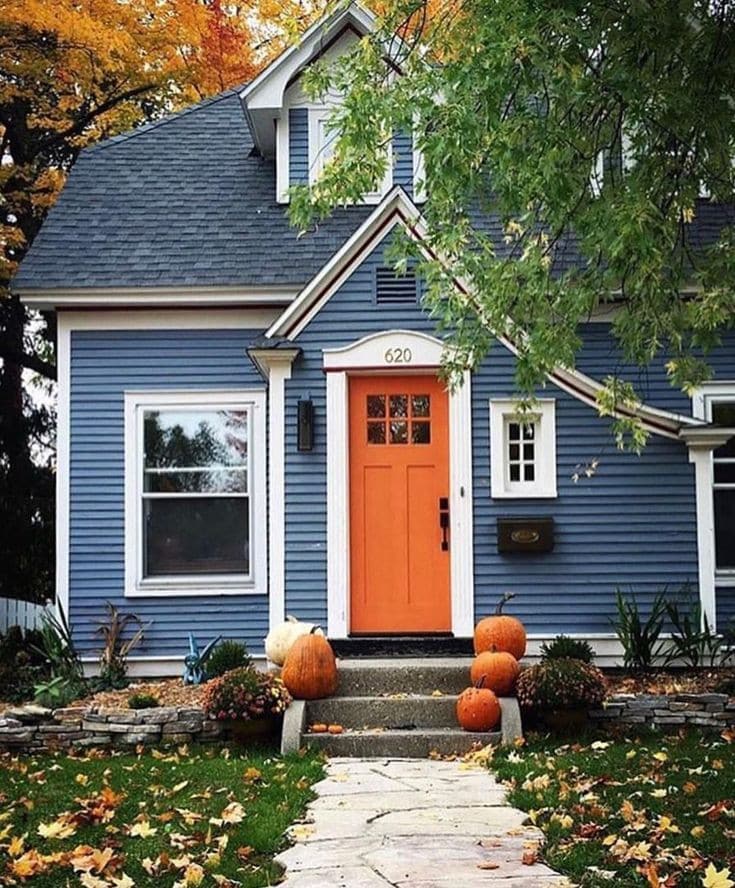 The Color wheel is a unique and helpful tool that you can use to determine what colors to pick to go with a dark blue house. If you like a complementary color scheme, you can go for orange, which stays on the opposite of the color wheel. Midnight blue and orange is a truly contrasting match that will enhance the features of your house drastically.
Moreover, establishing a bold, bright, and cheerful look with a medium shade of orange, such as papaya or tangerine, will help the dark blue color to stand out. Hence, this will make the neighbors, visitors and passersby feel amazed by the beauty and radiance of this combination. 
4. Red and Midnight Blue House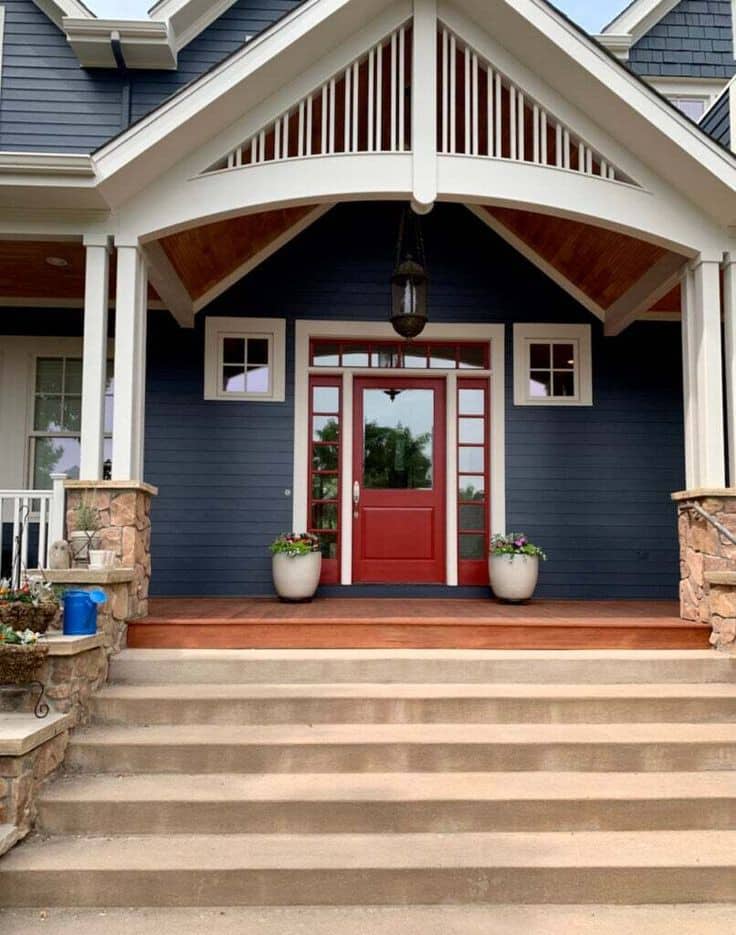 The fascination behind this pair of colors is brilliant for both interiors and exteriors as it makes your decoration playful and chaotic. The styles are vibrant with the red scarlet accent's striking contrast over navy blue in electric or modern designs. The looks go exceptionally well with modern-styled houses rather than vintage ones. Moreover, you will be able to accentuate rich shades of red into your interior to make your home look sophisticated. For instance, you can add brick red, salmon, or burgundy to create an ideal tone of formal contrast for gatherings.
5. Cream with Midnight Blue House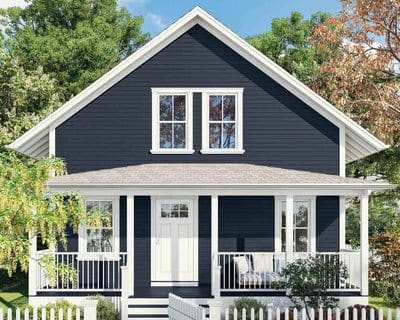 Combining these two elegant colors will bring a sense of peace to your home. The contrasting mixture of these two colors can show off the elegance you want your house to look like. Therefore, you can design an exterior of the house with cream-colored windows, roofs, and tiles. You can also plan out types of furniture with the same color theme to create a rhythm between them.
Moreover, this difference between these two colors creates a look of solemn beauty and calmness, which features and enhances the color by making the dark blue house stand out against cream-colored walls.
6. Outer space and Midnight Blue color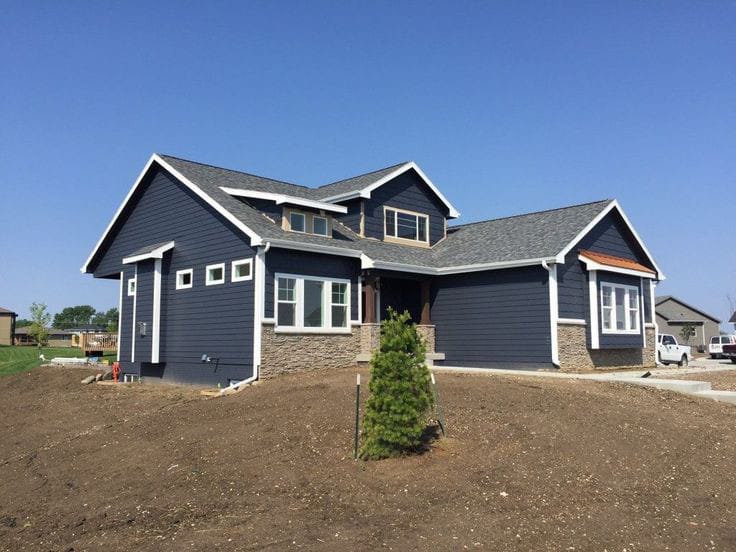 Outer space is one of the most gorgeous colors that you may find on the list. Hence if you take a look at the color, you can notice that the colors on the outside of the house look sober, while the interiors may look dashing with the presence of its cream in it. Moreover, you can mix and combine different colors of contrasting shades concerning the outer space color to make it look elegant and charming. The color looks amazing with the hues of the dark blue house, making the neighbors feel amazed by the excellent color combination.
7. Navy Blue with Yellow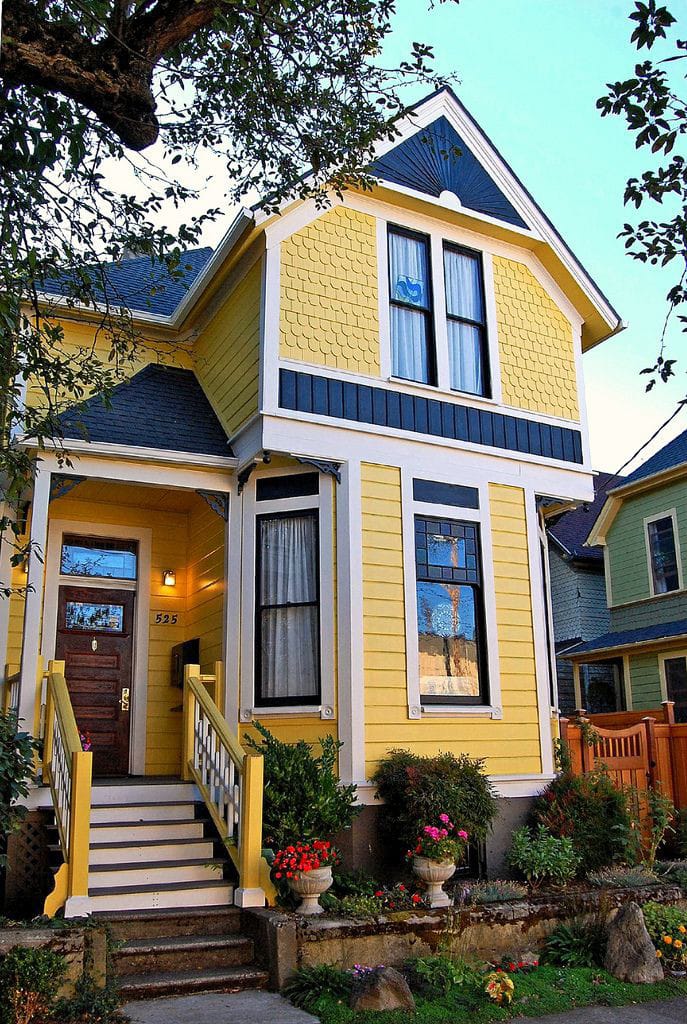 The color is so flexible that it holds no boundaries when it comes to interior design.You can combine midnight blue with almost every other color you can think of on the list without putting much thought into it. Therefore, to make your house look rich, you combine a dark blue with yellow borders. Moreover, paint the roof with neutral colors to maintain its beauty. You can paint many other areas of your house with this combination to enhance the beauty of the house.
Moreover, the classical view of yellow will make your modern house look completely dashing in front of all your neighbors. And you can also design your furniture and cabinets in contrast to the hue. Hence, this enhances the dark blue in contrast with yellow to make it look rich and amazing.
8. Midnight Blue with Neutral Colors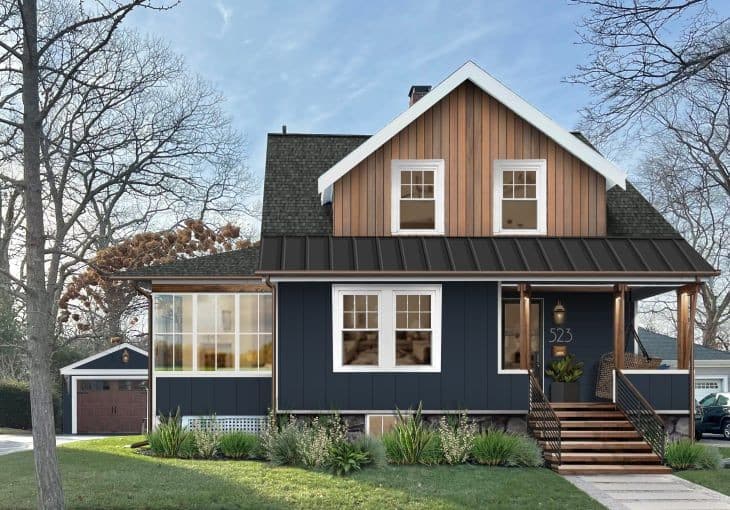 The introduction of midnight blue color with the neutrals mains taste your design preferences with a vibrant, energetic color to make sure that your house must give off a welcoming aura. Therefore, pairing the dark blue house with rich wood furniture will create peaceful spaces for your grayish hue. Moreover, you can pick neutral accessories in blend with the decision to create a safe space.
You can pick furniture and cabinets in a much darker shade than the overall neutrals on your wall. Hence, picking up these tiny differences triggers the establishment of a new muddled element for the color pallet.
9. Navy Blue with Peaches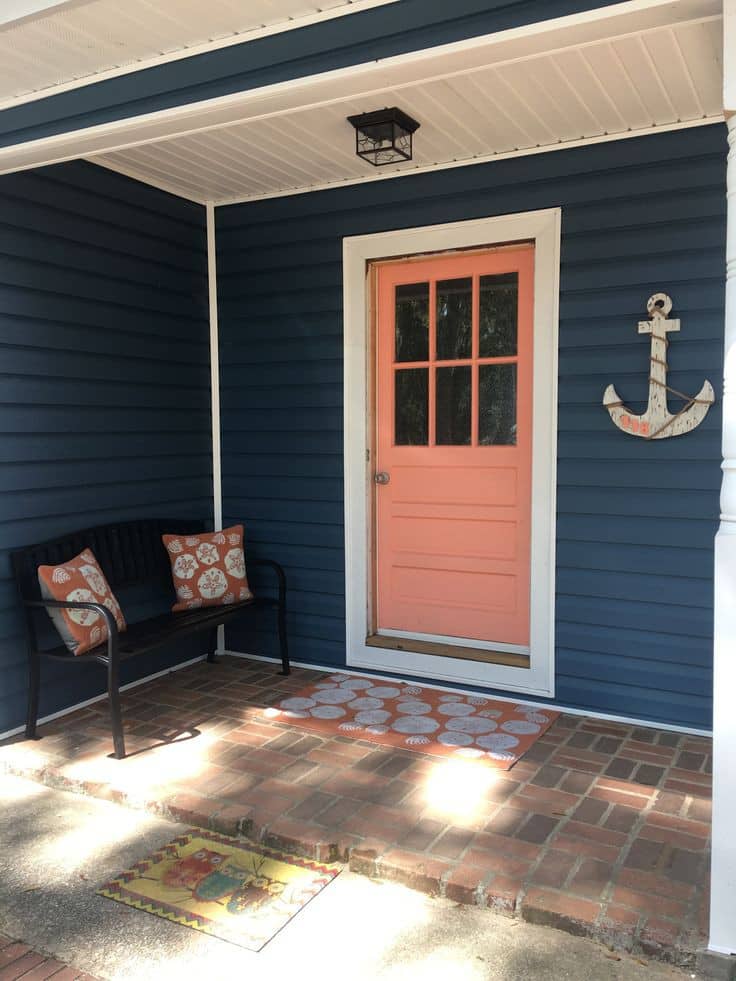 The combination of these two colors, known as Navy blue and peach, is a divine match that you can paint your house with. Therefore these colors are the perfect contrast to each other which accentuates the quality of the other paint. Hence, you can pick on pieces of wooden furniture to create a vintage aura and charm like the royals.
Moreover, to spice up the palette, you can introduce dynamic contrasts with door and window frame colors. You can also add an exciting element, like show pieces or statues, to create a rhythm between the color distinctions.
10. Dark Blue and Purple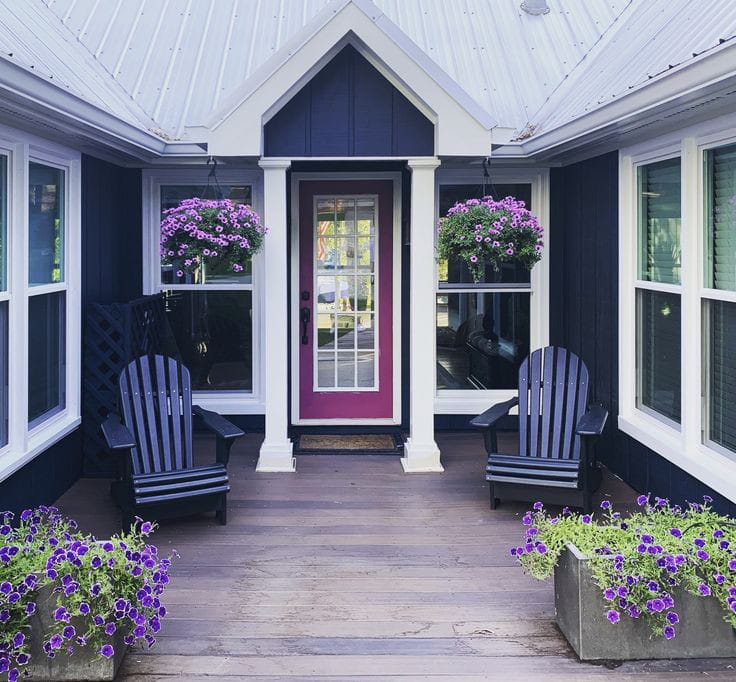 Dark blue and purple are bold choices to make when it comes to choosing the perfect house color for you. The combination of deep purple and midnight blue looks elegant and romantic if put along with some earth-toned metallic or neutral fixtures. You can decorate your wall with paintings or abstract art to make it look vibrant and rich.
Moreover, you can design a house with a similar theme as your exterior paint. For instance, you can choose to bring chairs with similar colored upholstery to maintain aesthetic appeal. Hence, it will attract many visitors with its beauty and calm demeanor
11. Midnight Blue and Black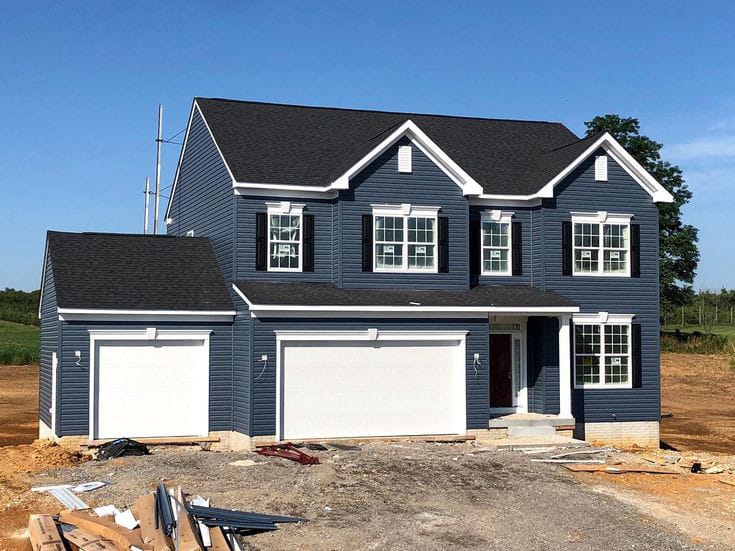 When it comes to choosing wall painting designs and themes, nothing is better than a dark blue house with a black combination. Hence, the exterior color looks light blue because of the light, while the black looks silky and rich outsideas its mixes. Whereas the dark blue color looks darker on the inside, you can combine it with your favorites, like red brick or ultramarine splashes, to enhance the appearance of the house for the neighbors.
Moreover, you can also transform your house with bright gray colors on the front door and green on the windows trim. Hence this will create a serene effect that looks peaceful and elegant at the same time.
12. Modern Rustic with Dark Blue House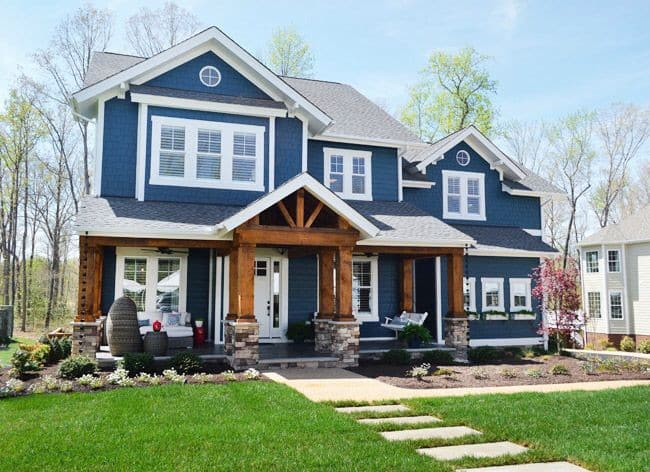 When it comes to choosing house colors, we can't go wrong with the modern rustic theme. Most of us like darker paint colors, Hence, you can opt for them on the sidings of the house. Hence, columns and the accent throughout the designs with black trim will provide a texture and contrast to the walls of your home.
Moreover, this design will make your house look more elegant and sophisticated. The rustic element in your house will make it look retro and unique in your neighborhood. Furthermore, you can design your household with color themes, like adding showpieces in the corner of the room. Hence, it's not rocket science to understand that you will face awe of your relatives.
13. Dark Blue House with Hints of Sky Blue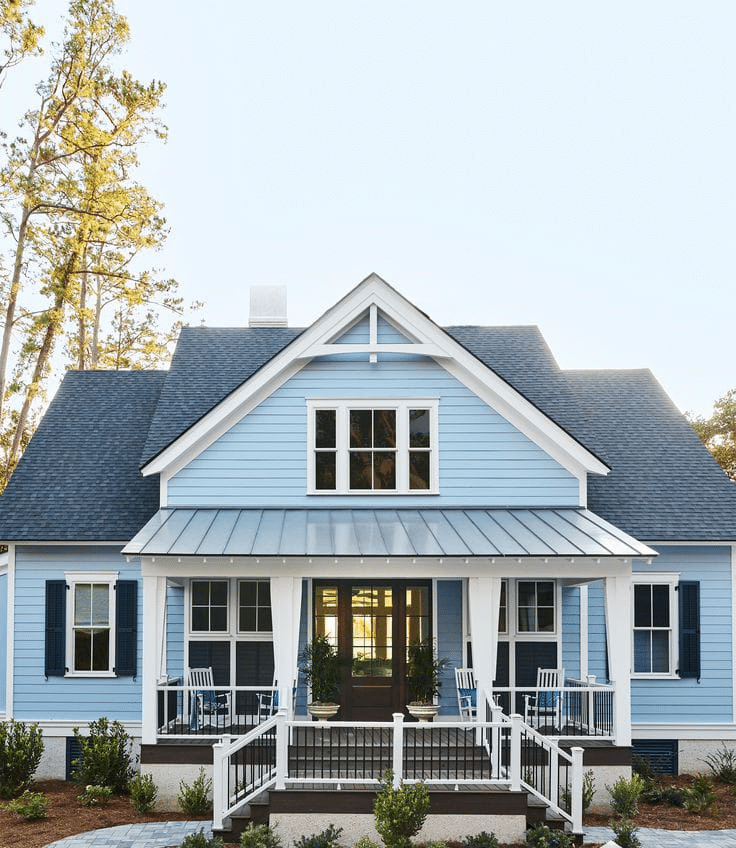 If you want to create a monochromatic theme, choosing the shades of blue coming together is the best option. Hence, to design a successful monochromatic color combination, you can take swatches of the darkest shade of your desired dark blue color. After selecting the first swatch, you can take a swatch of lighter colors near it to pick the best match for your dark blue house. And when you are done with the process, you can create the most attractive composition for your household.
Moreover, if you are into dusty, muted shades, you can go for colors with darker undertones, and if you are more into tropical paints, go for green-tinted colors such as aqua, turquoise, and sea green to pair up with your midnight blue house.
14. The Shade of Midnight Blue and Brown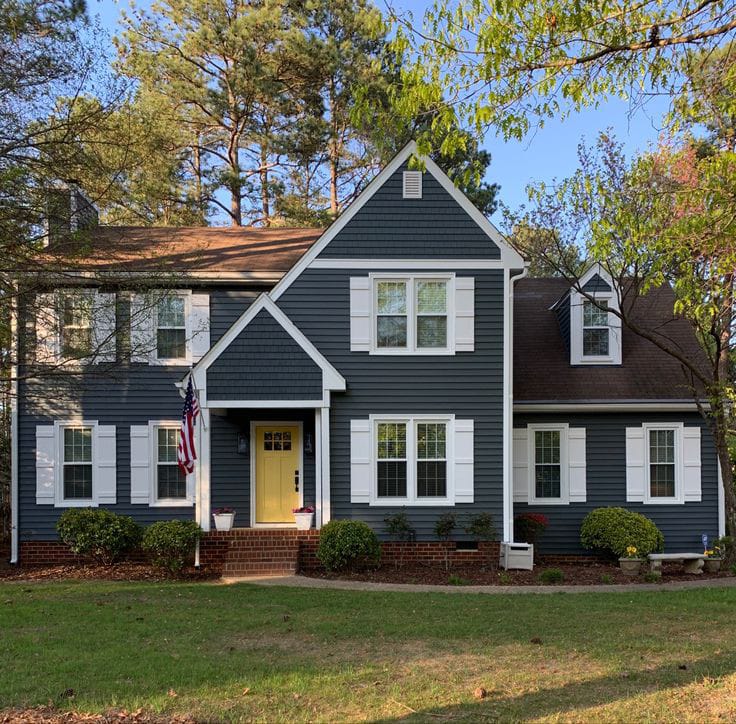 It is needless to say that the medium-shaded brown will exaggerate the texture of navy blue with its earthy tone. Hence,to bring more attention to your home, you may want to style your home with some neutral colors. Therefore. to design and style the house, you can go with off-brown colors on the roof and the doors to create a nude look for your house.
Therefore you can ask your designer to create a more earthy and natural look for your house. The bungalows and mansions in the countryside look cultured and traditional because of the earthy hue, which makes the designs unique and stylish. Hence, if you want to create a similar appearance, you can go for deep swatches of chocolate brown along with light tints of midnight blue to create a serene look that amazes your relatives and neighbors.
Conclusion
Picking a color for the exterior of the house is a matter that deals with your honor b
ecause many people want to choose a color that they can show off and will amaze visitors or the passerby.
Hence, when it comes to picking a color, it becomes a vital topic for any homeowner to settle down with a shade that will create excitement. However, many people get stuck with the decision, as they can face confusion while settling down with any color combination.
Hence, in this comprehensive guide, you can explore 14 dazzling color combinations with midnight blue that outshine the eyes of your relative. Moreover, you can also get an idea of how to combine two colors to get the best outcome for your home.