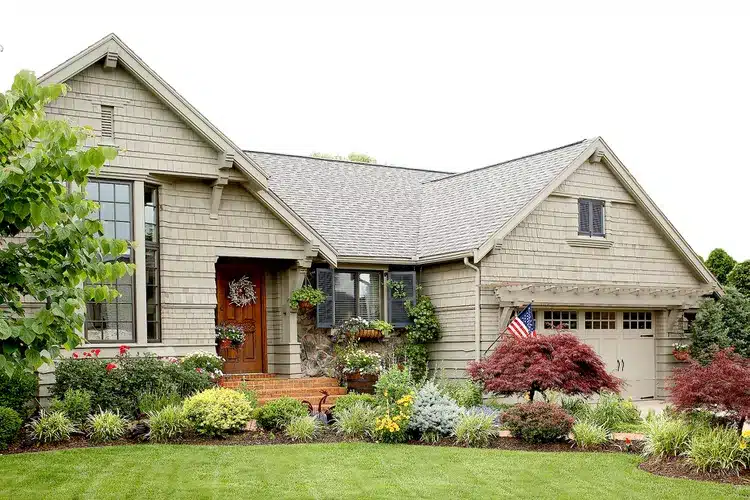 'First impression is the last impression' is a generic statement that applies to majorly everything, including residence. While Landscape elevates the frontal view of your home, it can also greatly impact the mood of the residents and visitors. Creating a landscape that compliments your house needs a good knowledge of the various ways in which the front yard can be spruced up. Here, we have brought you some of the best landscaping ideas which can be ideal for your new home or renovated home, or home of any kind.
Unlike outdated contemporary ideas, this article will shed light on your needs to create a modern landscape, one that is admired by all and also complements your house.
Keep reading through the article below to get your hands on the best landscaping ideas which are not only easy to install but also affordable chic. 
1. Flowered Wheelbarrow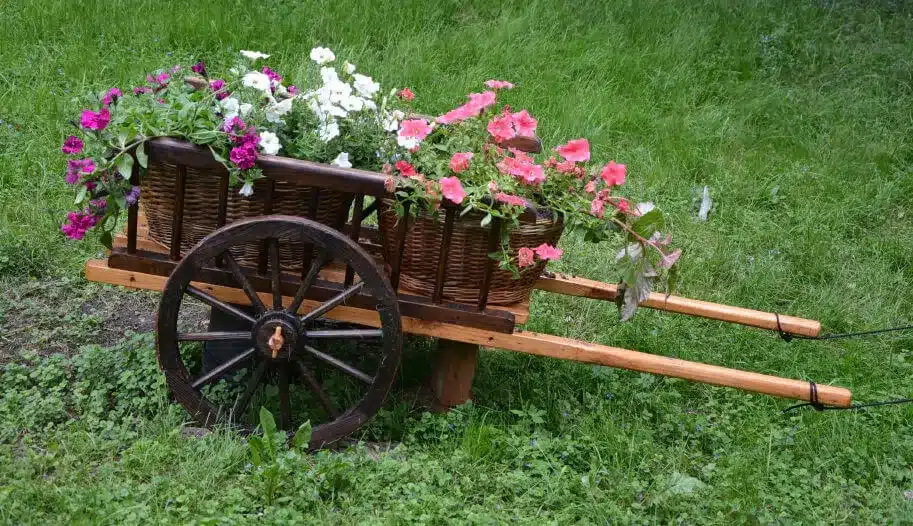 One of the most convenient landscaping techniques is blooming up a vintage wheelbarrow. A flowered wheelbarrow goes along with any kind of property or terrain. You can select any vintage wheelbarrow and add up gravel for drainage.
While you can choose from a variety of succulents, herbs, or miniature flowers, Petunia, Dahlia, Poppies, and marigolds compliments the overall picture of the barrow. But do not forget to soil the underneath layers to keep the flowers alive. You can also use fairy figurines and tiny furniture to layer up the flowered wheelbarrow.
2. Whimsy Upcycling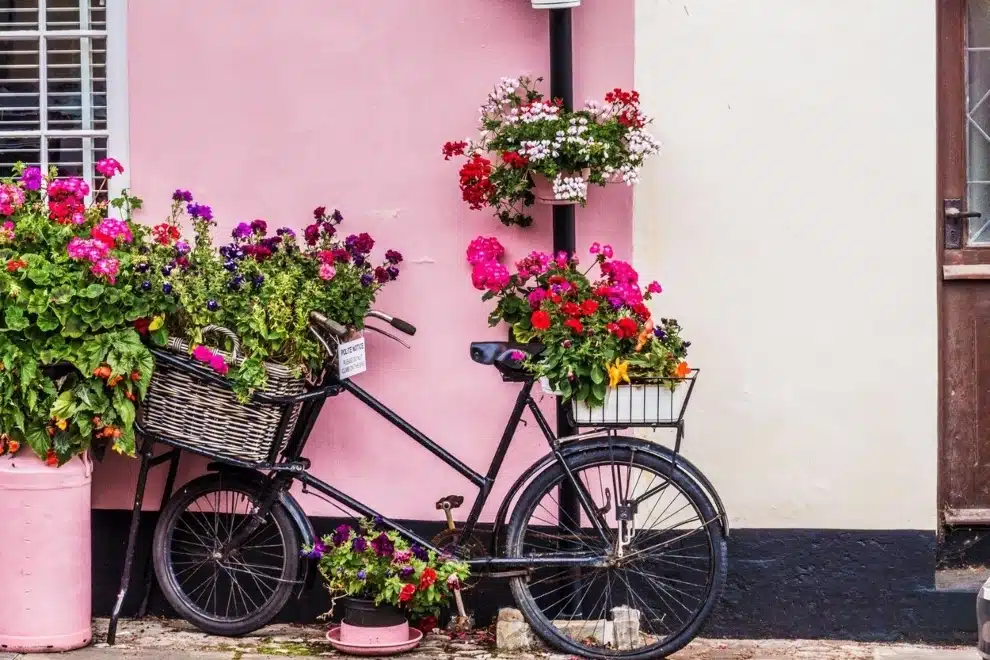 Upcycling your waste to bring out the best for your landscape, doesn't that sound great? Add your whims to it and create a quirky front yard. You can use an old bicycle by changing its front carrier and back seat into swinging baskets.
Colorful and rustic palette combinations can develop an elegant touch to the deco. You can use your old furniture, no longer in use, to stagger the typical box plants into innovative ways to plant the succulents for neat upcycling. It is advisable to pot plants that are suited well to the environment rather than fancy foreign plants.
3. Cottage Style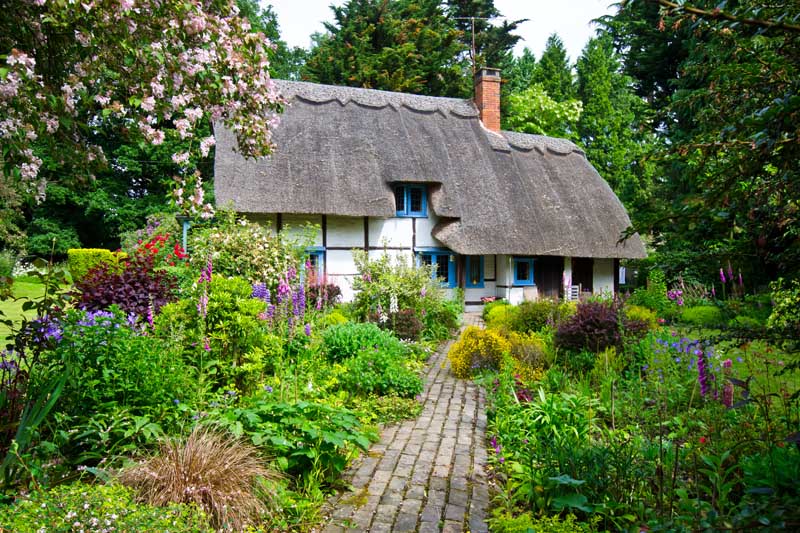 The cottage landscaping style lets you bring out the artistic and architectural side in you. The best way to curate your dream cottage landscape is to include architectural elements like trellises, walls, and walkways.
This helps you to bloom your front yard and also makes it functional by planting vegetables among the fragrant annuals and perennials. It is better to invest in good soil and long-lasting plants to bloom and maintain your cottage landscape. As Trout says: " A cottage garden has perhaps less regard for rules for doing what you love."
4. Organic Shapes and Balance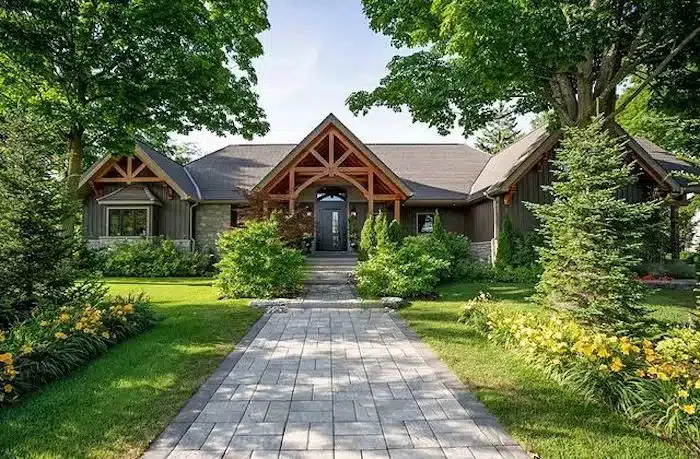 The angular lines and matured trees aligned well with a house are a perfect representation of organic shapes and balances to create an architectural landscape. You can use a featured-sized pot or a wooden fence with proper dimensions to create an organically balanced landscape. And the best part is it is not even necessary to have straight upfront fences.
You can incorporate curves and texture to elevate your landscape. Well-trimmed leaves and branches aligning with the roof of the house let you create a balanced organic landscape.
5. Japanese Inspiration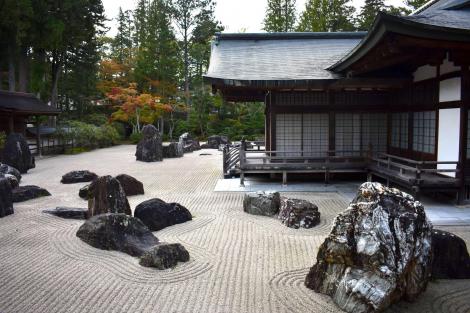 'Karesansui' is the correct expression of Japanese Zen. The Japanese-inspired gardens or landscapes are usually dry and recommended for people that enjoy regulated pebbles and raked sand settings. In today's fast-paced world, the 'extinction of experience' is a common phenomenon, and you can use Japanese inspiration to stay out of that zone.
You can use natural elements like sand, wood, rock, and gravel with few to no plants to create a minimalist experience in front of your house. You must adhere to the seven design rules while creating a Japanese-inspired landscape. Austerity, naturalness, subtlety, stillness, simplicity, asymmetry, and unconventional are the design features you must keep in your mind.
6. Rock Features
Rocks of various shapes, sizes, and textures can be used to treat yourself with a picturesque landscape. Rocky landscape can enhance the overall curb appeal while also functioning as a water reservoir by placing small pebbles in the desired location.
You can also use the rock landscaping technique to create a mini fireplace to have bonfires and parties with friends and families in the front yard or courtyard. Rocks can be used to outline the walkway or encircle the plant beds to add to the aesthetic of the place. It can also be used to create a spillway for rain gutters. 
7. Perennial Shrubs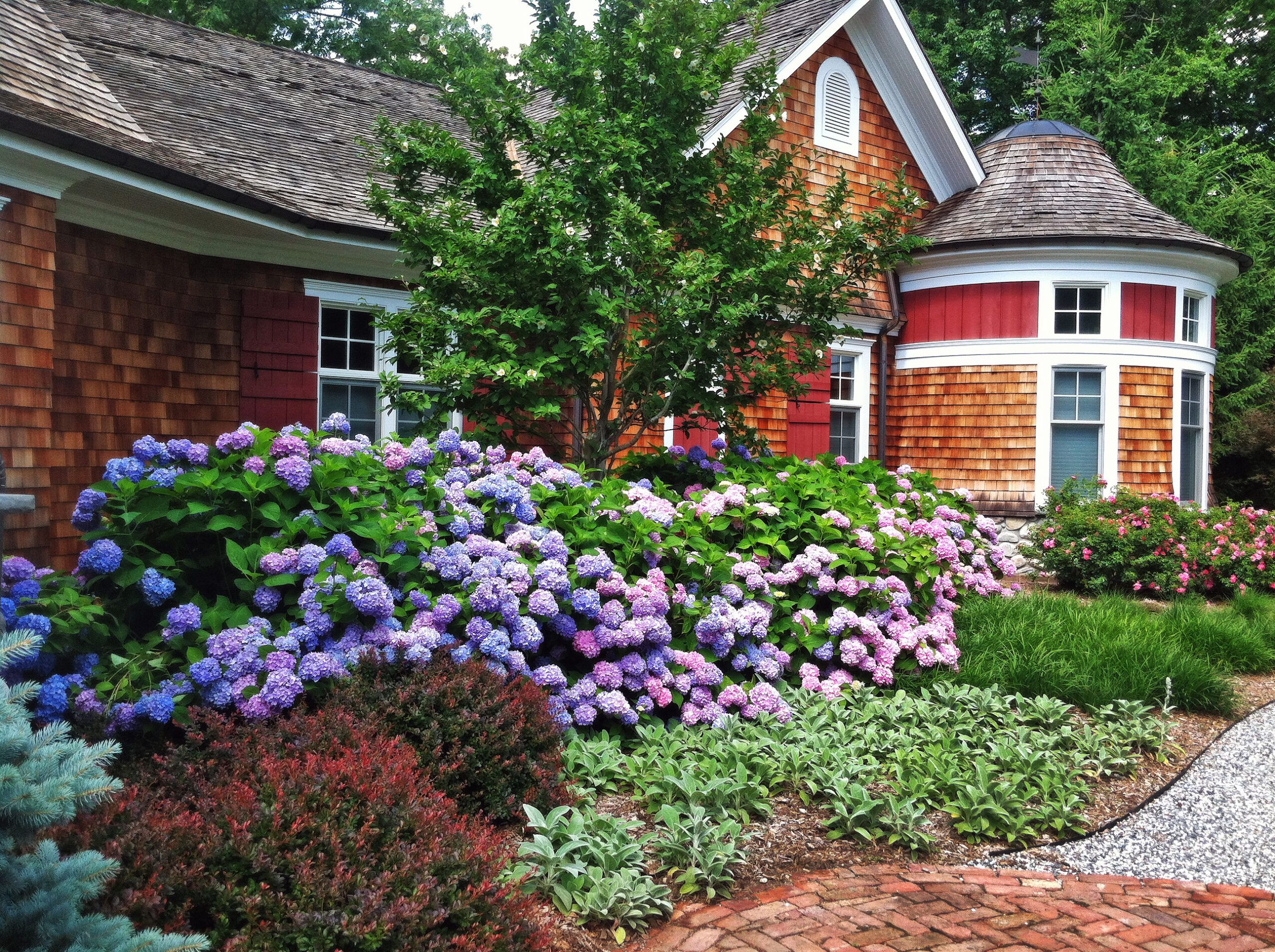 While having a perennial landscape sounds very appealing, it needs a lot of analysis and research as a prerequisite to curate a well-blooming perennial landscape. As the years of your garden pass by adding to your experience, the perennial shrubs multiply themselves with the added years and add volume to your space.
While selecting the shrubs for your landscape, make sure you select a combination of shrubs that bloom during different parts of the year because the bloom season of perennials usually lasts for 2 to 4 weeks. Also, make sure you partner up the plants in a way that the leaves of shrubs look visually appealing when placed side by side.
8. Birdbath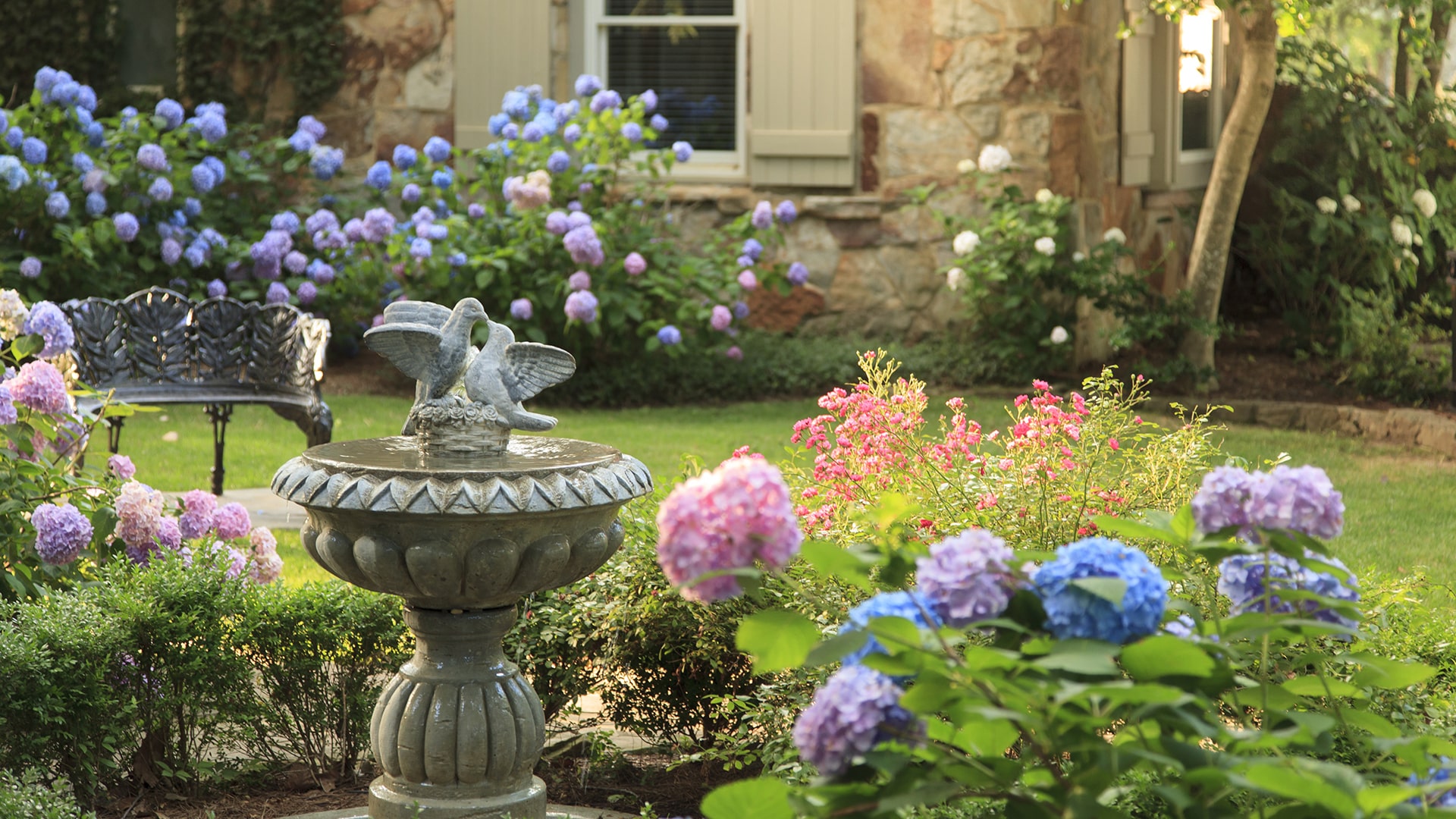 A birdbath is one of the best ways to landscape the front of your house. It not only stores water for the native birds and other wildlife, but it also elevates the frontal portion of your home by being a focal point. Birds are animals moving in and out of your landscape, making the whole experience more surreal.
You can choose to have a birdbath that is permanent and made up of stone to add a royal look. There are also other options like hanging bird baths, birdbaths with fountains, statue-integrated birdbaths, or minimalistic birdbaths. Make sure to consider the density of your birdbath.
9. Statement Tree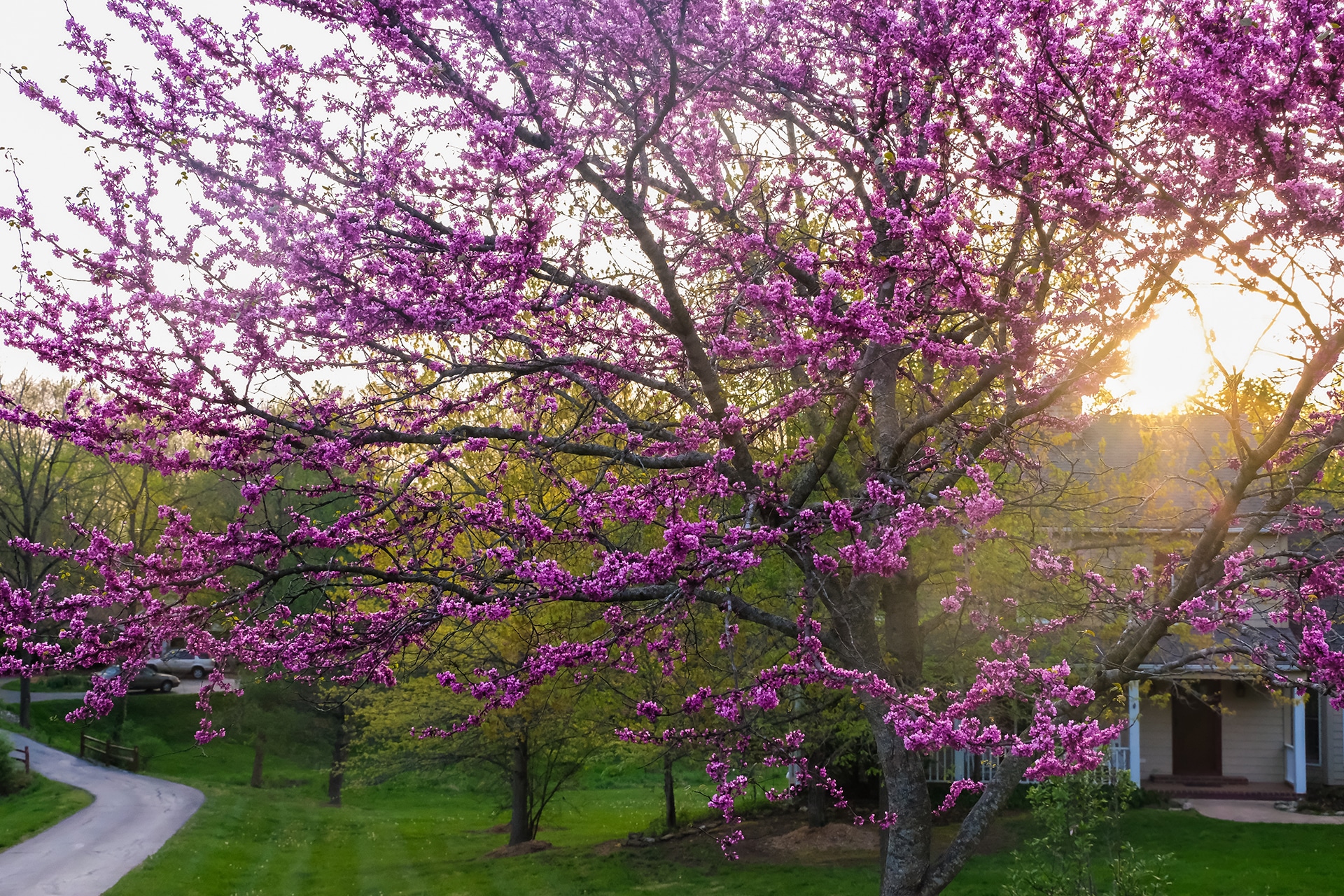 Well, we all need that one special element that makes us stand out of the lot and grab the attention of the mass. Same with the landscape. Out of all the shrubs and plants present in the landscape, all you need is one statement plant that is unique and has a one-of-its-kind appearance. Make sure to plant the tree in a location that is eye-catching.
It will add up to the charm of your house. The variety of statement trees to choose from are- Sun Valley Maple, Red Buckeye, Minnesota Strain Redbud, Crape Myrtle, Tulip tree, and many others.
10. Hanging Gardens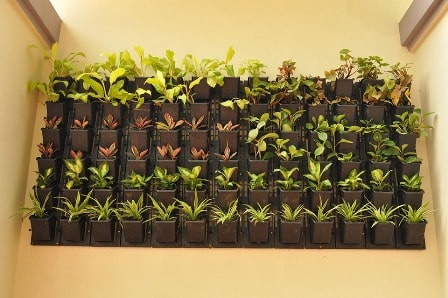 There has been widespread growth in the concept of hanging gardens after the 'Hanging Garden of Babylon' came into the picture. These are sustainable and artistic landscape that is built where there is a scarcity of land to build a garden. These are usually attached to or built on a wall. You can also use the bamboo trellis to vine up your front yard.
You can also create your DIY hanging planter by upcycling the waste of your house. Not just the frontal portion, hanging pots can also be used inside the premise of residence in the form of ladders and towers.
11. Autumn Hues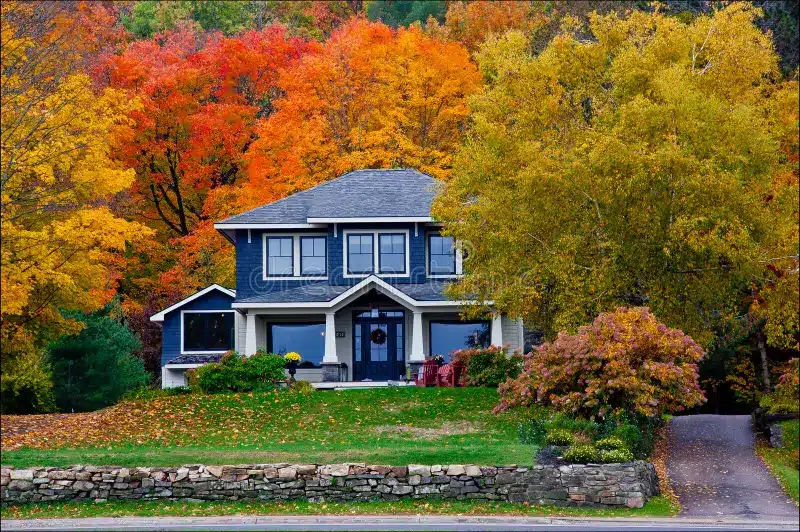 After the summer splendors are over, it's time for the autumn hues to come in and replenish the landscape in front of your house. You can add mum, hay bales, pumpkins, and other vegetables along with fall flowers to prepare the front of your house for the autumn landscape.
New plants like perennials, shrubs, and trees can be planted to make the autumn days more welcoming and lively. The gorgeous golden colors of autumn add to the aesthetic landscape. It is hard not to notice such a welcoming landscape in October.
12. Hollyhocks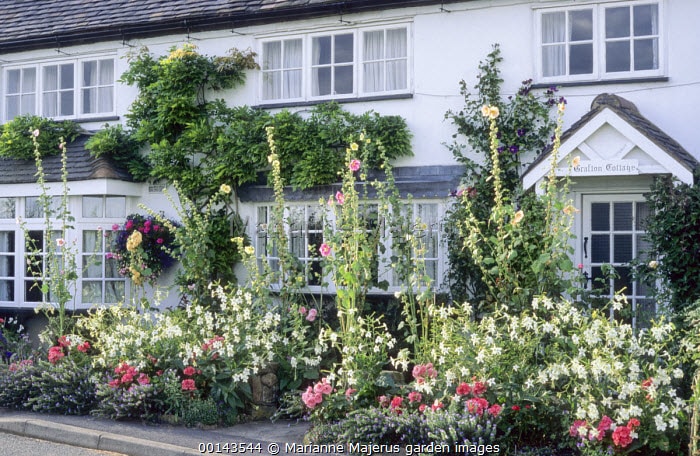 Hollyhocks are biennial plants that are generally planted against a fence or wall. While they need support in the early stages of their life, they can stand tall and sturdy on their own as they grow up. The shades of red and pink of this blooming flower offer a dramatic color effect and draw the viewer's attention to the trim of the house.
The blossom of hollyhocks will attract birds like hummingbirds and butterflies to your landscape and enrich the surrounding. They are a strong accent plant for gardens and cottage-like borders, which usually reseed themselves year after year.
13. Petunias Porch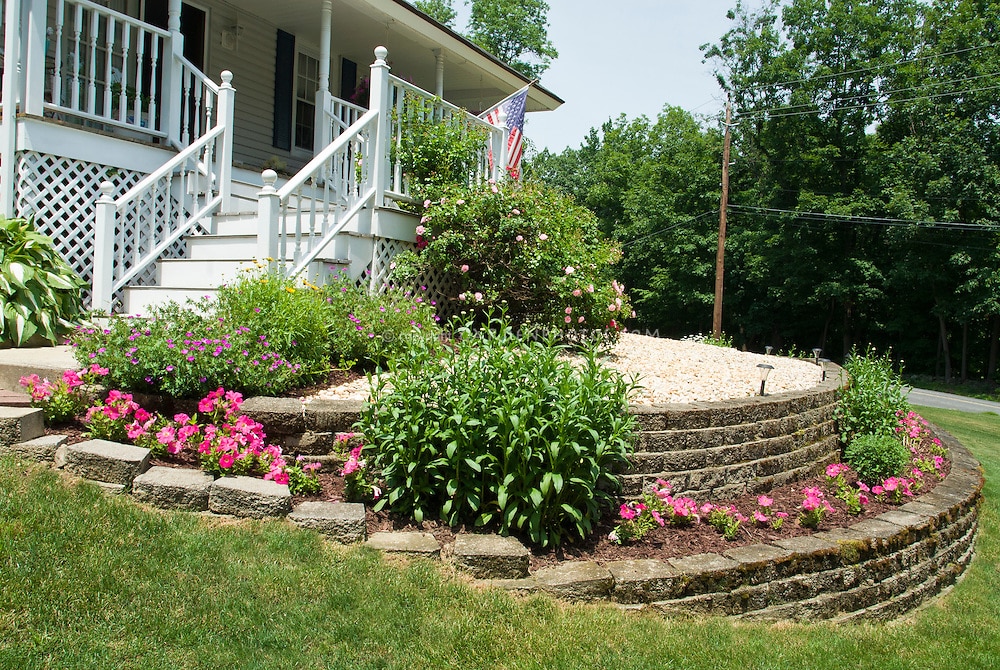 Petunias are the best for the folk that is running low on budget but high on innovation and art. Planting petunias on the porch of your front yard is an inexpensive way to elevate the landscape of your house. It can add long-standing color to an overly green pasture. With just a few plants, petunias can fill a large space as they spread out and act as ground cover.
These flowers are a delightful blend of hot pink and chartreuse that attracts the majority of attention. It is highly utilitarian and binds the property and lawn together.
14. Light up!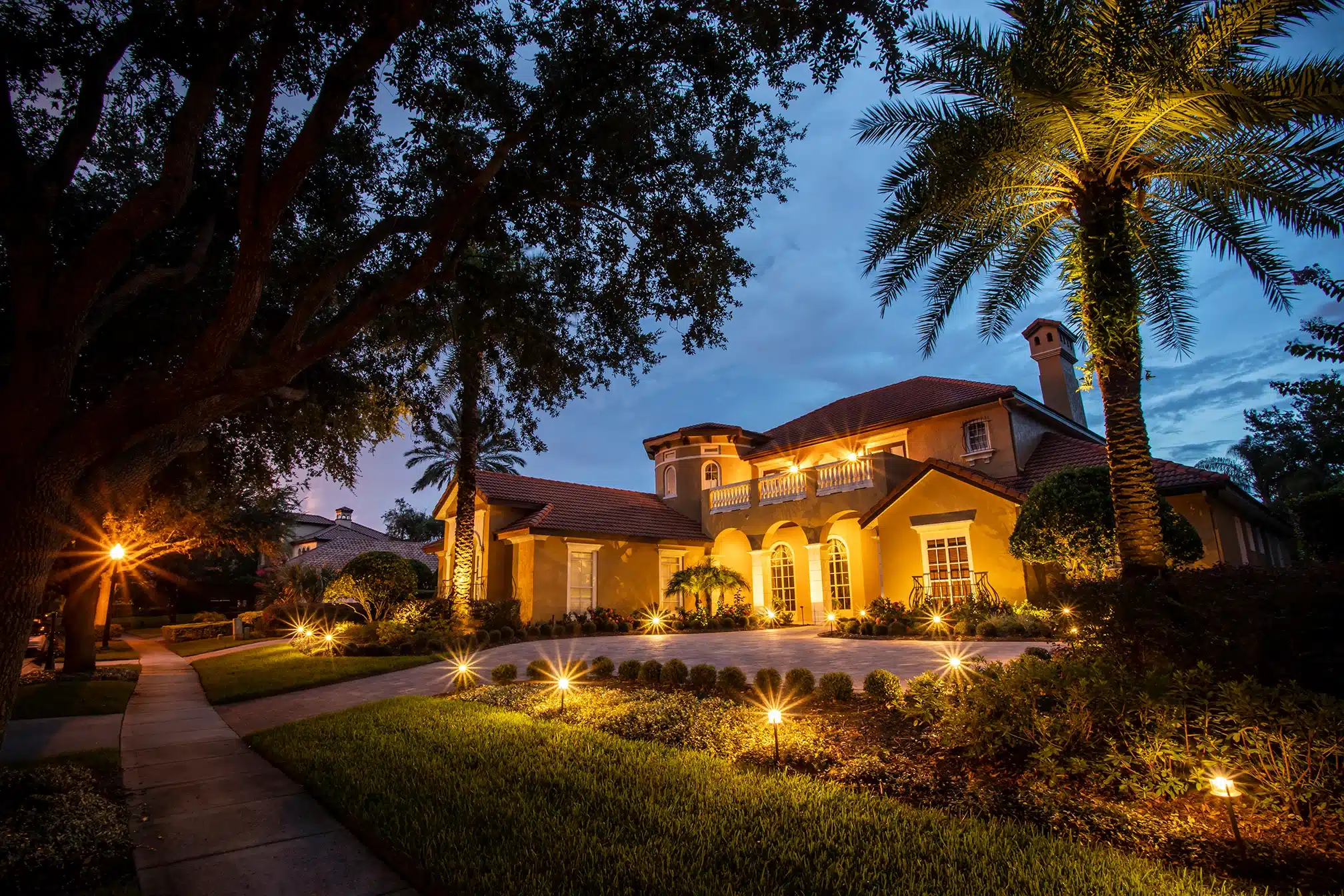 Add lighting to make your landscape grand. Yes, lighting can have a great effect on rearing anything to everything. And the best part is that it is inexpensive in the way that solar-powered lighting can be used, which can save wiring expenses and hassle.
To illuminate the front of your house, you can place the lighting along the walkway and/or flower beds and sculptures. One can also use the lanterns for a more old-fashioned atmosphere or can use the modern recessed lighting in faux rocks.
15. Match the Front Door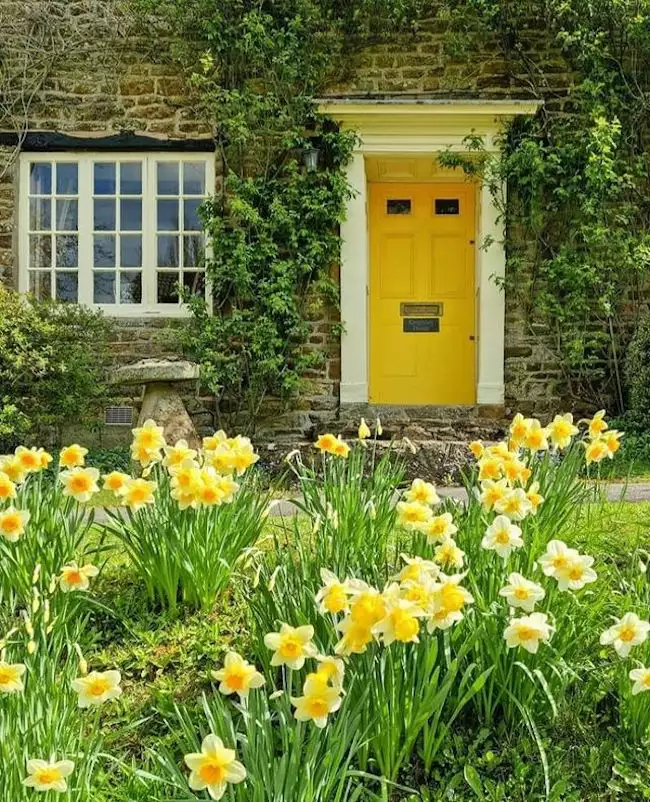 Bright colors brighten up the mood. It is a great way to coordinate or even match the colors of your house with your lawn to attract spectators. Bright colors like yellow signify happiness, and such colors should be used instead of pale dull colors.
Matching the colors makes a child as well as a man happy, so why not utilize the opportunity to create a beautiful exterior of your home by matching the colors?    t lets them stay organized and cheerful. After a bad, gloomy day, one can come back to the gleeful sight of happy color right in front of their 'happy place.'
16. Custom House Numbers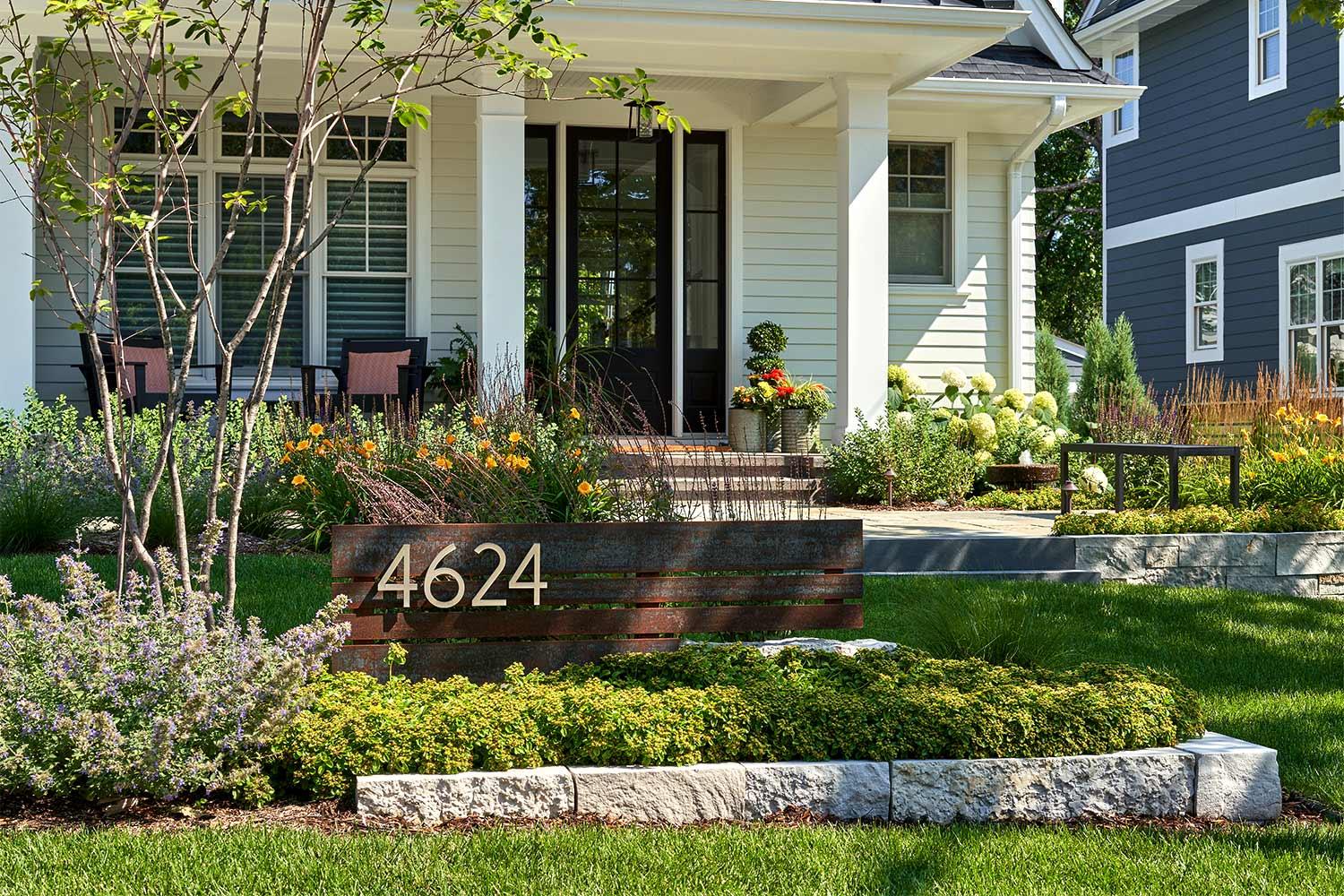 Let alone just the lawn; you can experiment and innovate with house numbers and house tags in front of the house. A quirky house number or nameplate is sure to attract the attention of passers-by.
The curb appeal of a house increases with a custom-made or DIY number plaque in front of the house alongside the other flowers or trees or statues, or maybe just a bin box.
Conclusion
Landscaping builds value to your property, and you can use any of the given techniques here to add value to your property. Light up the landscape of your house at the end of the day to enhance the experience and have a lively feeling with the birds that come around the birdbath. 
 We hope that this article will save you the hassle of selecting the best frontal landscape for your home.  Let us know your thoughts below, and feel free to add to the ideas if you come across something enthralling around yourself.