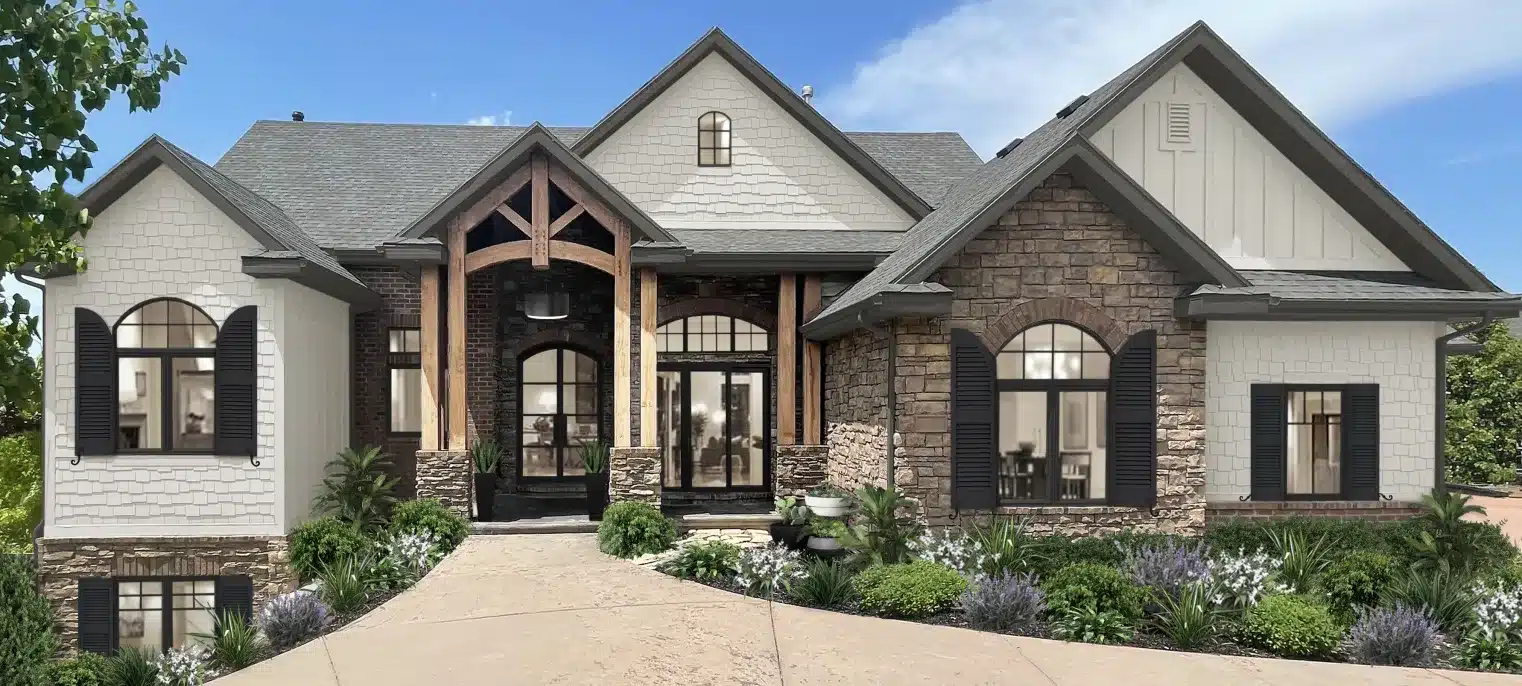 The modern affair of rustic appearance and homes are highly sought after by modern home designers. The rustic touch to your modern house will provide a grounded aesthetic vibe along with contrast, and similarly, a modern touch to a rustic house will make your house updated and at par with the modern generation.
The aim is to build a house such that the space looks singular even when multiple hands are involved in designing. Modern rustic homes create an envelope for everyone to reside joyfully.
We have curated a list of ideas for a modern rustic home that will have all the feel of an old soul with a modern touch to it. So, keep reading!
1. Mid-Century Design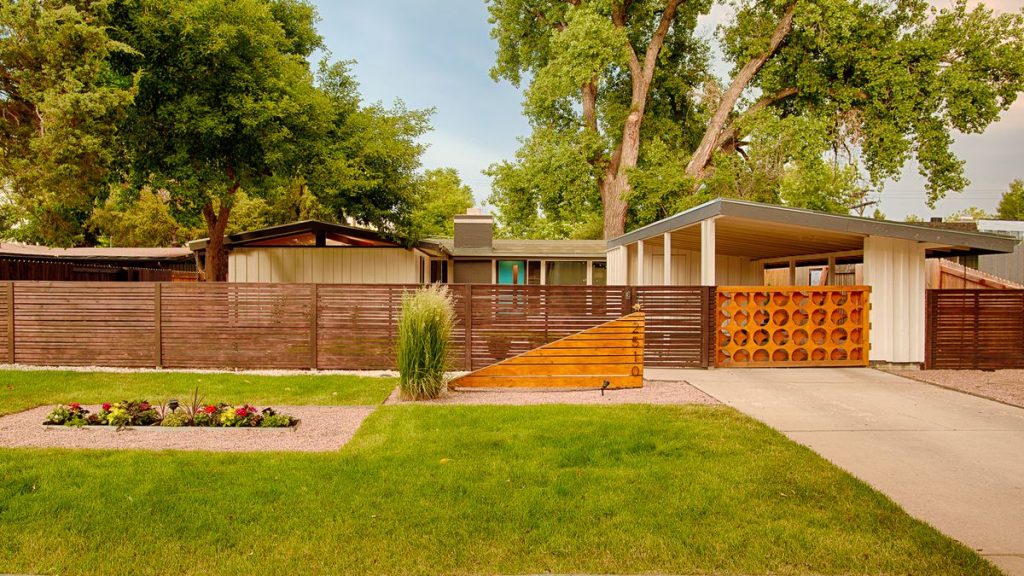 "Less is More" is the concept abhorred in designing mid-century houses. Try to pick neutral colors like grey, beige, or brown. You can add features like wood finish, clean lines, and floor-to-ceiling windows to uphold the rustic modern house appearance. Curved landscaping adds to the modern organic touch of the house exterior.
You might also want to use glass walls to bring in the tranquillity of the outside world inside your house. Vertical paneling gives a quintessential mid-century look. Warm wood accents and horizontal lines add flair to mid-century exteriors. You can also experiment with various stones to elevate the look.
2. Cape Cod House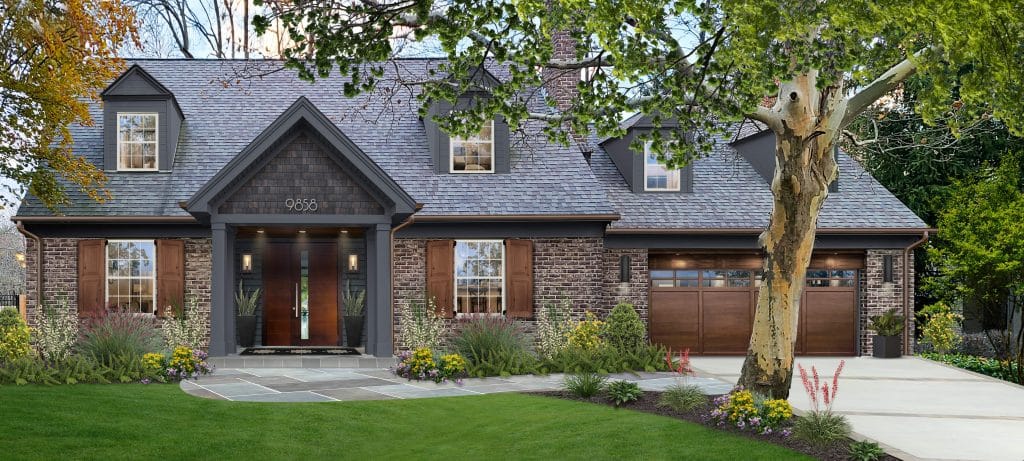 Cape Cod housing dates back to the 17th and 18th centuries, which is the historical version, and then there's the modern version of Cape Cod dating to the 20th century, which includes the enhanced archaeological interpretation.
One can opt for a half cape with a front door on one side of the facade with two windows on the other, or they can choose the full grandeur cape, which has a door in the center with two windows flanking each side. The most important element of a Cape- cod style house is the shutters on the windows which give it a classy modern rustic house appearance.
3. Prairie Style House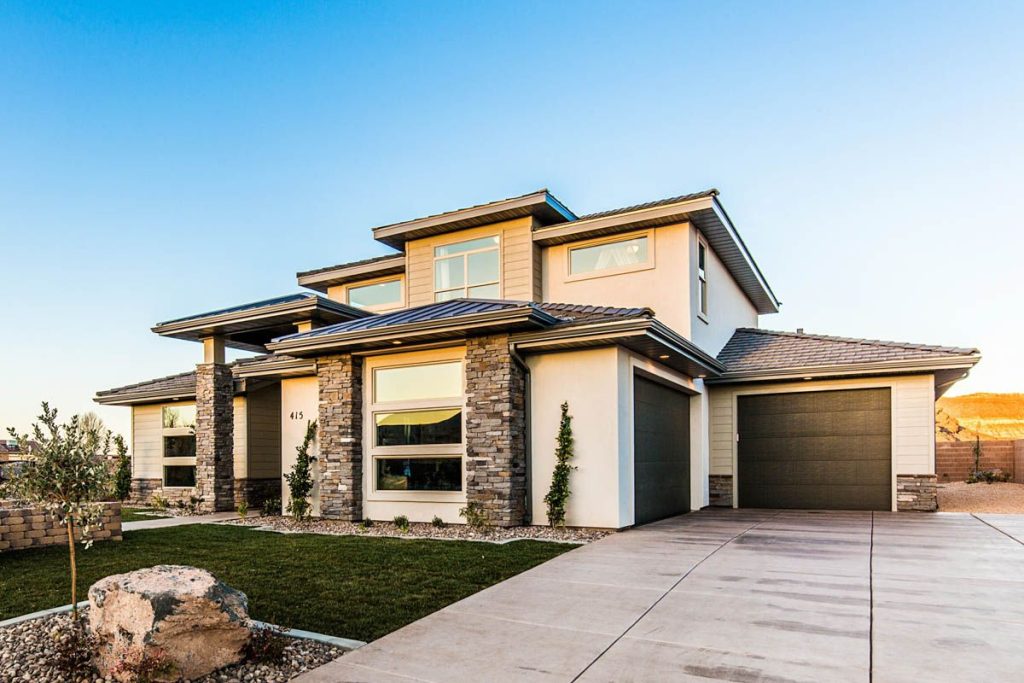 Folks nowadays go for houses that are 'form-to-function.' The prairie-style architecture is a high-styled modern house with the right proportion of rustic touch to it. It generally stretches to two stories in height, emphasizing one-story wings through horizontal flanking. The design elements include low-profile rooflines, natural materials, and open floor plans.
The key focus of the prairie style is it is designed to flow naturally from indoors to outdoors seamlessly. The horizontal characteristic spreads over their lots with wood or bricks across their surface. Inspired by the flat landscape, it emphasizes flat rooflines.
4. Hilltop House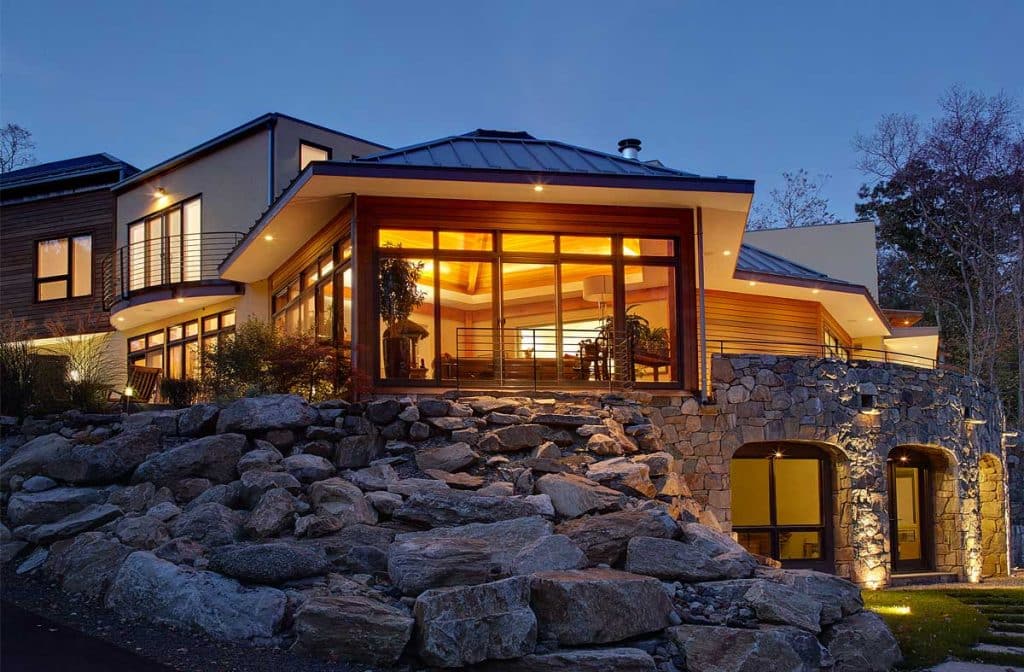 Building a house on a hilltop is extremely challenging, but having a rustic ambiance amidst the hilltop is a retreat to look forward to. It is important to create an urban space along with rustic elements, which need to have elements like an open floor plan with irregular and interlocking volumes.
Elements like live edge wood can be used to incorporate simple designs to create a modern rustic house. A vibrant roofline, multiple trusses, and an outdoor stone fireplace can have a long-lasting effect on visitors and residents.
5. Tropical Home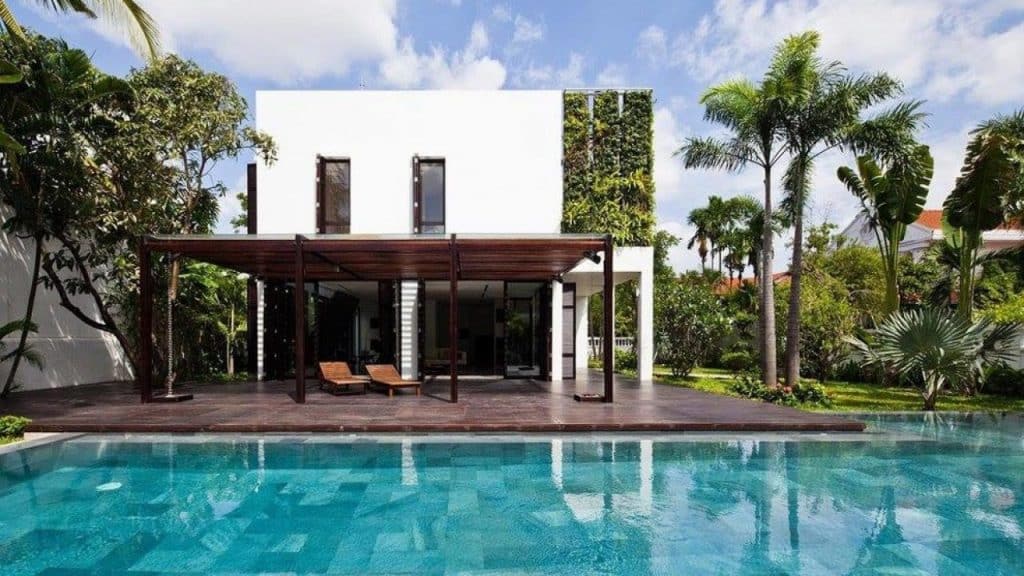 As soon as we hear the word tropical, ease and comfort ring a bell. To achieve this thermal comfort, you must use elements like sunshades, overhangs, roof and wall insulation, cavity walls, light sleeves, and even shading from trees.
Wicker furniture and warm lighting with deep green and the pink flamingo shade should be at the top of your mind while designing your tropical-style home. And, of course, do not forget to use the wooden texture for the rustic atmosphere. Make sure to mix and match the elements that complement the climatic and environmental conditions of your area.
6. Art Deco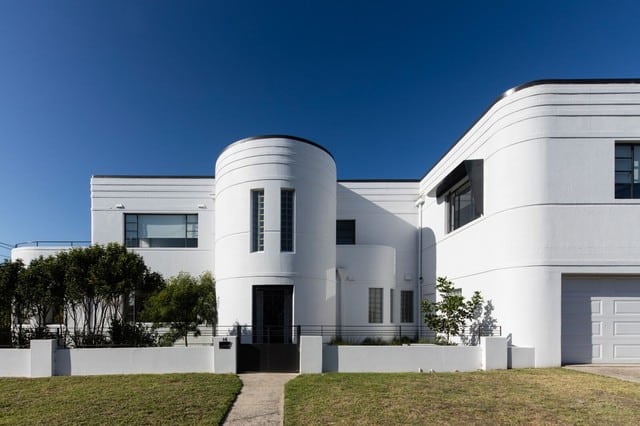 The visual art of ornate geometric detailing is the essence of the Art Deco style revamp of houses. Earlier known as "Jazz Moderne," it expresses the vigor and optimism of the roaring twenties with the theme of Sunbursts and fountains which represents the dawn of the new modern age.
The art deco architecture generally showcases the sleek, linear appearance of the building with low relief decorative panels at the entrance and around windows and roof edges. Remember to use rectilinear geometry with metallic colors like gold and accents of silver. You can also use contrasting colors like warm tan and pale shades of blue or green for the appeal of a modern rustic home.
7. Open Porch Gable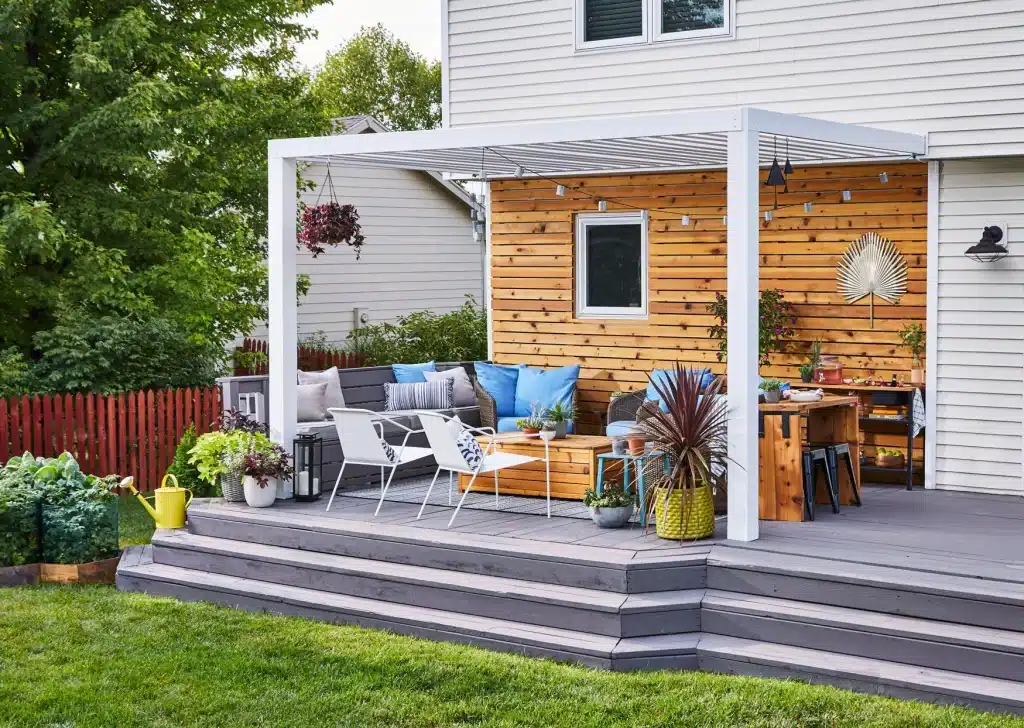 Aren't we all fascinated by the idea of leisurely Sunday brunch on a comfortable porch? Then why don't you build one for your home? You can go creative with the porch by building alternate patterns on the step risers.
Or, you can opt for a partially covered walkway between the green trees instead of an elevated porch. An open porch with drapes makes it a perfect romantic getaway after hectic days. For a modern house, you can create a built-in garden either at the sides or at the center of your porch, or you can use a hook water fountain to create Zen energy around your porch and revamp a modern rustic house.
8. Wood Panelling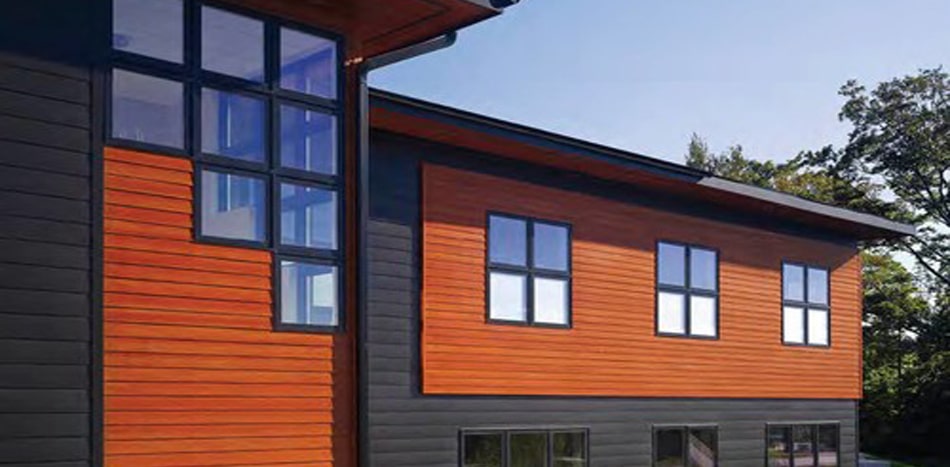 Wood paneling is an elite way of modernizing your house, along with upholding the rustic appearance. Wood paneling and cladding add emphasis to modern homes. It softens the edges to give it a more natural feel. You can also add a paint of your choice and add texture to elevate your modern homes.
To give the house a more rustic look, add color with more historic hues or vintage charm. Wood paneling creates a fashionable boutique country retreat vibe. You can use trendy colors like whites, earth tones, and warm neutral colors.
9. Modern Craftsman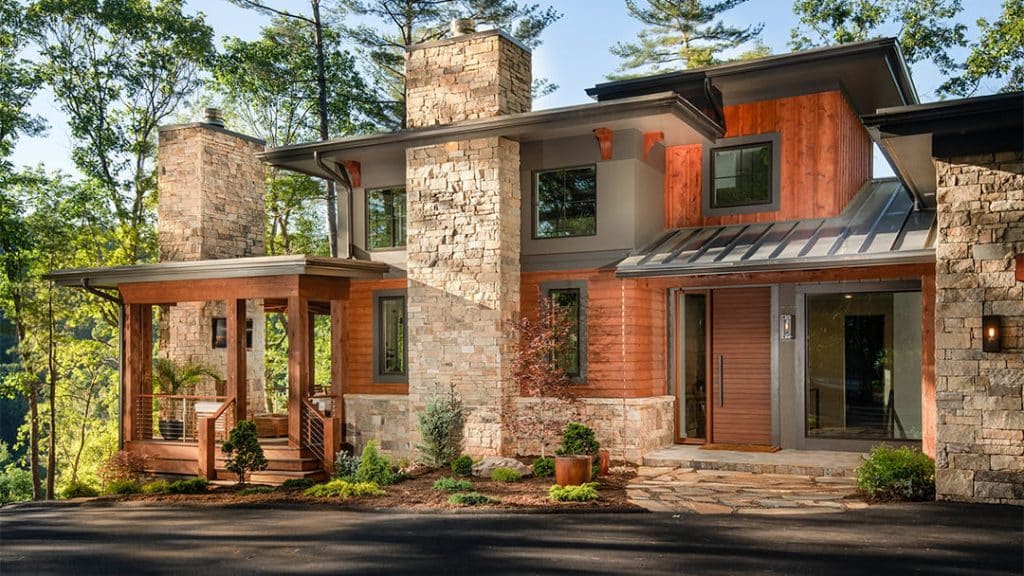 Craftsman-style homes emphasize handwork over mass or industrial production. Craftsman-style homes are a result of skilled labor with wealthy clientele. Each craftsman adds their own unique touch to create a wonderfully rustic, lively home to live in. The key elements include low-pitched gable, tapered columns, and overhanging eaves with exposed rafters and beams.
The common term for craftsman-style architecture is 'Bungalow.' It describes the overall structure rather than the design elements. It was inspired by the Arts and Crafts movement of the mid-19th century. Organic material and natural colors are used for the upholstery.
10. Sharp Roofline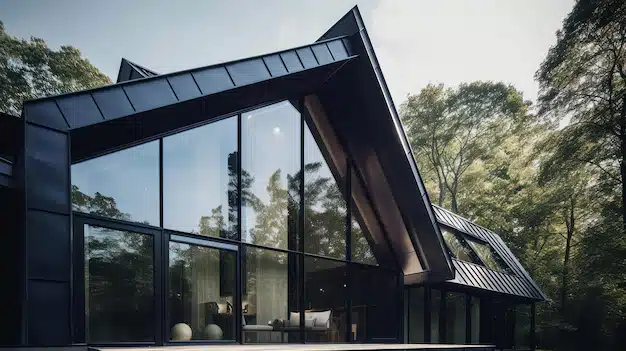 After the World War II era, a sharp A-frame roofline has once again become the hip of the town. Retro has made a comeback in full swing. With a touch of modern dramatic ceilings and furniture, you can makeover your house into a warm cozy living.
You can pair the distressed wooden planks with terracotta tiles, cedar shakes, and metal panels in natural tones. As the years pass by, the rustic effect becomes more pronounced, which makes your modern rustic house look even more aesthetic.
11. Windows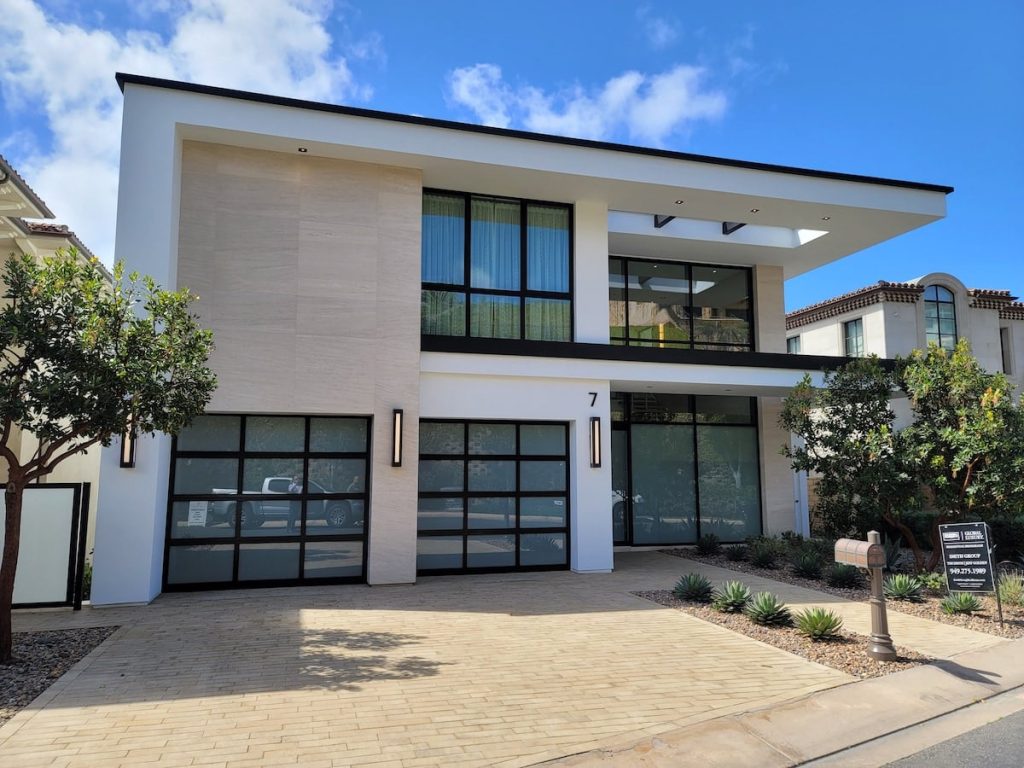 Remember the historic homes where people had huge windows? Just install one of those kinds while you are giving your house a makeover but do not forget to add modern colors or textures to it to satisfy your urge to create a modern rustic home.
Long floor-to-ceiling windows not only bring a rustic look but connects your house inside out. The fancy frames might get worn out sooner or later, but the wooden frame is there for your lifetime and adds an essence to your happy living.
12. Hanging Barn Doors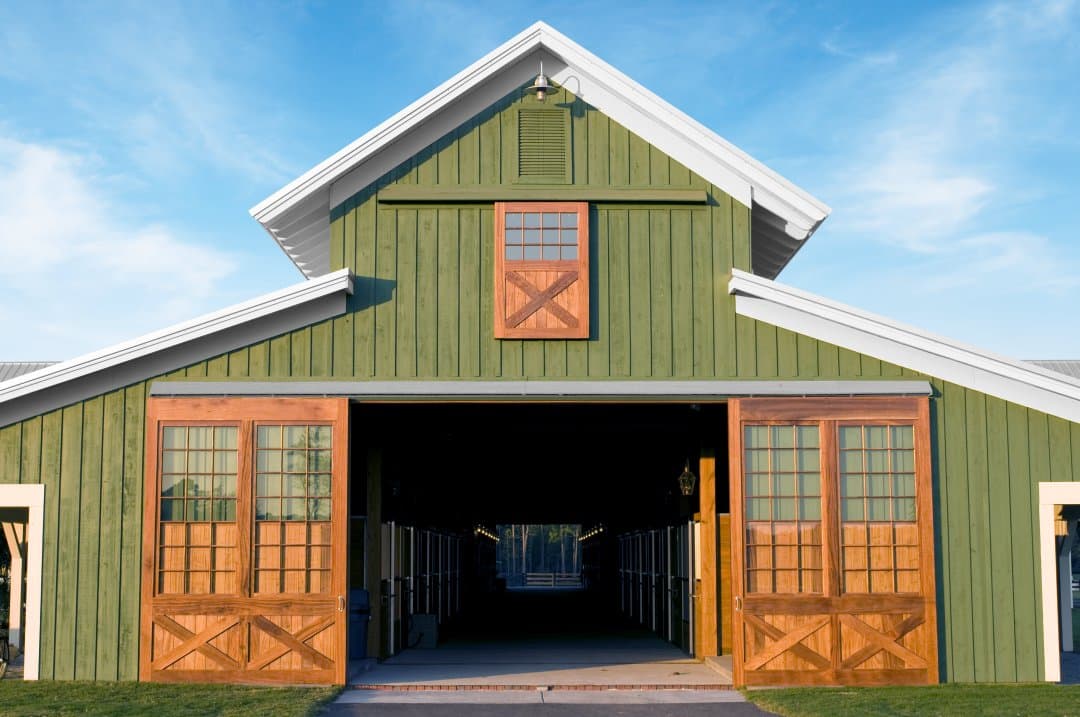 Creative minds but little space to work on? If yes, then Barn doors are your go-to thing! One might think that barn doors are old-fashioned, but one needs to know that barns are an evergreen object since the population is not expected to come down any soon, and there will always be a shortage of space to fit them all.
The sliding barn doors help you bring out your creative side by converting your regular door into a DIY barn door and curating it any way you like. Doors for narrow hallways, closets in cramped houses, master bedrooms, and flexible-use spaces have a need for hanging barn doors.
13. Agricultural Building Cue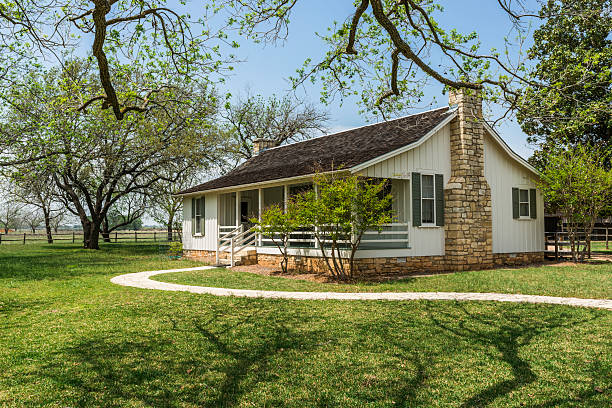 Cottage-inspired homes from the agricultural sector of society are one of the best modern rustic homes to live in, and you can add as much creativity as you can to makeover it into a modern cottage. You can use hay and grass with firm support to design the outer layer of your home and give the rooftop a proper cottage-style structure.
You can plant native garden flowers and vegetables to emphasize the look of your agricultural architecture. The most authentic agricultural element is cow dung- which can be used as an outer layering of the house to keep the interiors cool with an agricultural touch, or you can simply create a texture similar to cow dung for the agricultural cue.
14. Modern Farmhouse Style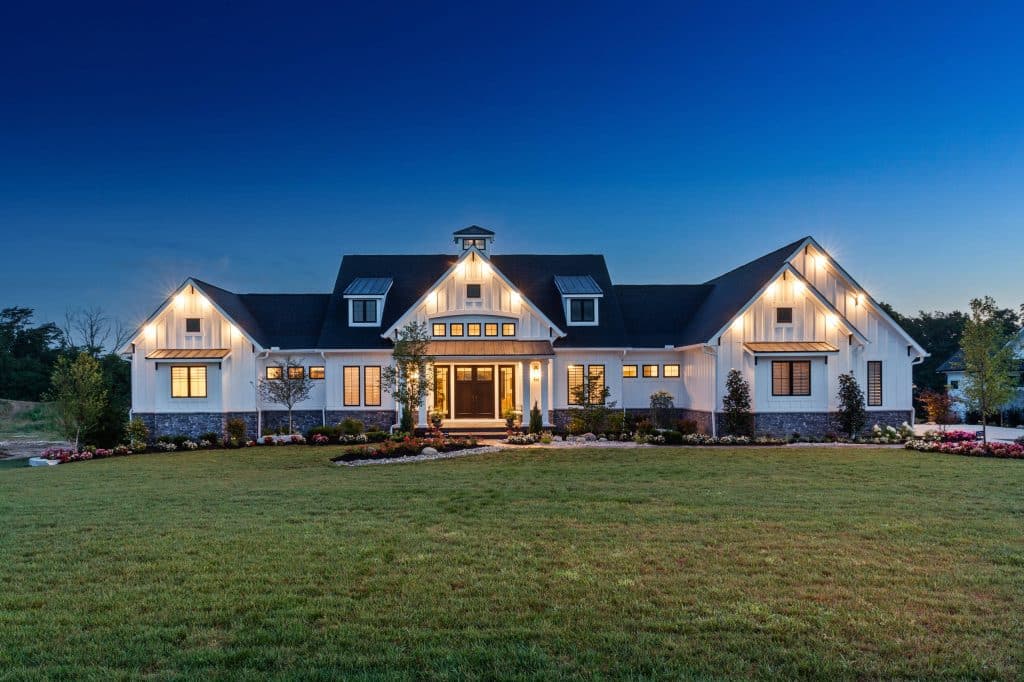 Bright, light, and airy is the main theme of a farmhouse-style house. Adding earthy elements like nature-inspired textures, wood, and stone, and fabrics like burlap and canvas brings a rustic feel to the modern farmhouse architecture.
You can always mix and match the modern and rustic elements to create a balance. Use granite gabled countertops and smooth lines and glossy accents on the exterior of your building to make it stand out. A balanced amount of 'greenery' should be maintained for the perfect blend of modern rustic farmhouse.
15. Swathes of Glasses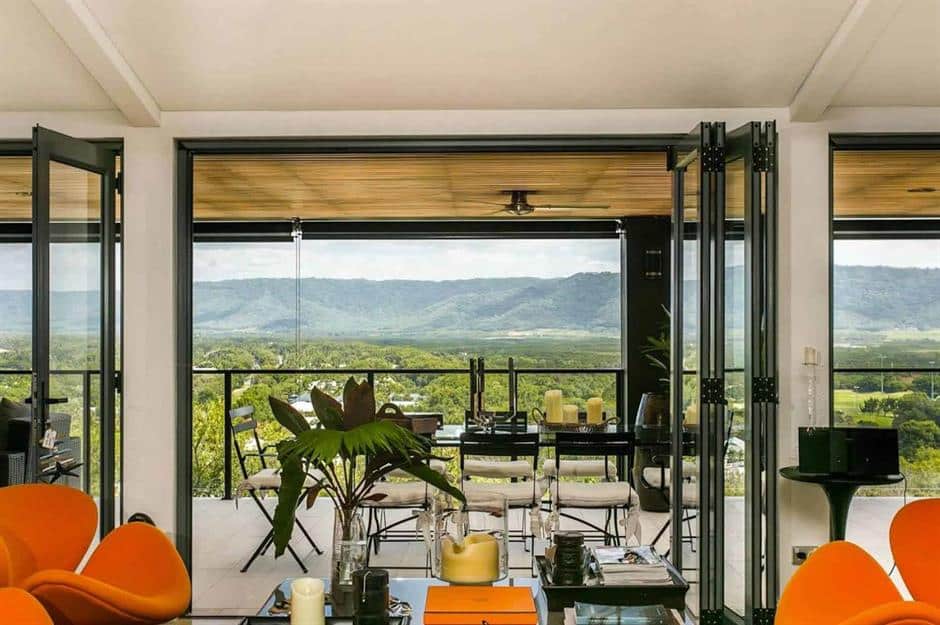 Apart from making your building look stunning and modern, glass can absorb, refract and transmit light and thus save you on electricity bills. It holds a tint of rustic feel along with modernity with open floor plans and added textures. When used in transparent and translucent visibility, it diversifies the beauty of your living in your revamped home.
But make sure to check its strength and insulation before installing one into your home. It is a beautiful experience for your kids to play in a sunny home rather than tanked, materialistic, closed ones.
Conclusion
We understand that a complete house makeover can be tedious and difficult, but we have listed the most affordable and convenient makeover options for your modern rustic house exterior.
As mentioned in the points above, use neutral colors and floor-to-ceiling glasses, and lots of windows to achieve a luxurious look for your new house.
Use wood and plants in moderate harmony because the co-existence of the two will make your home look natural and easygoing.
But the list doesn't end without you implementing and giving us a review of what else could be added or modified with your experience and knowledge.
So, start remodeling your house with the help of these ideas, and let us know your thoughts on these ideas in the comment box below.