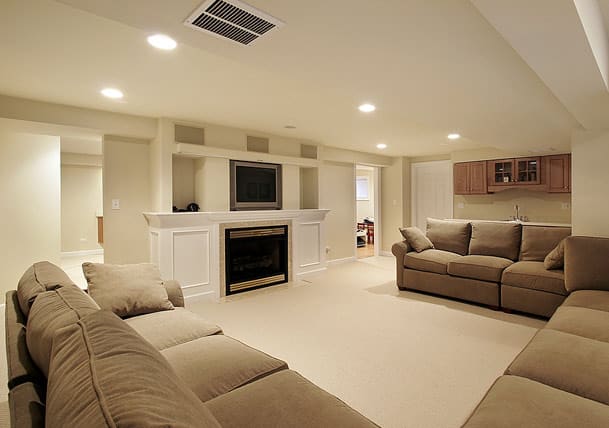 Often overlooked and underappreciated, the basement can be more than a dark place in your home. Basements with low ceilings can be tougher to brighten up, but with careful planning, the brightened-up basements become so mesmerizing. If you are not illuminating the treasure of basements, you are missing your basement's accentuated textures and structural details.
Spaces with dropped ceilings offer a challenge to installing the right light type. Limited headroom and restricted design options make it tough to introduce light fixtures. Should it stop you from bringing out the potential of your basement? Absolutely not!
Here are the top 15 ideas you can not miss to kindle your home space with basement lighting!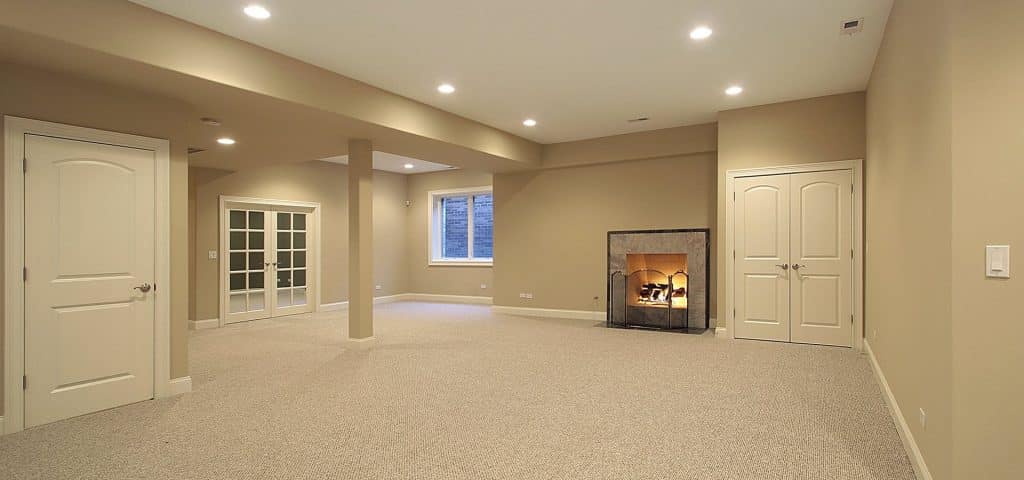 Recessed lighting, also known as pot light, can light, or downlight, is a light fixture installed in the ceilings or walls. Recessed lighting will have two parts, a housing fixture (for electrical connections of the light) and a trim(for holding the bulbs). The directional illumination of recessed lights has its use in featuring a specific area of the interior.
To use the space minimally and efficiently for fixing lights in low-ceiling basements, you can go for a recessed light. It requires minimal maintenance because the bulb is protected by the hanger and cover of the light fixture. For installing recessed lights, tampering in the ceiling might be required, which is a limitation of recessed lights. Choose light bulbs that consume power efficiently.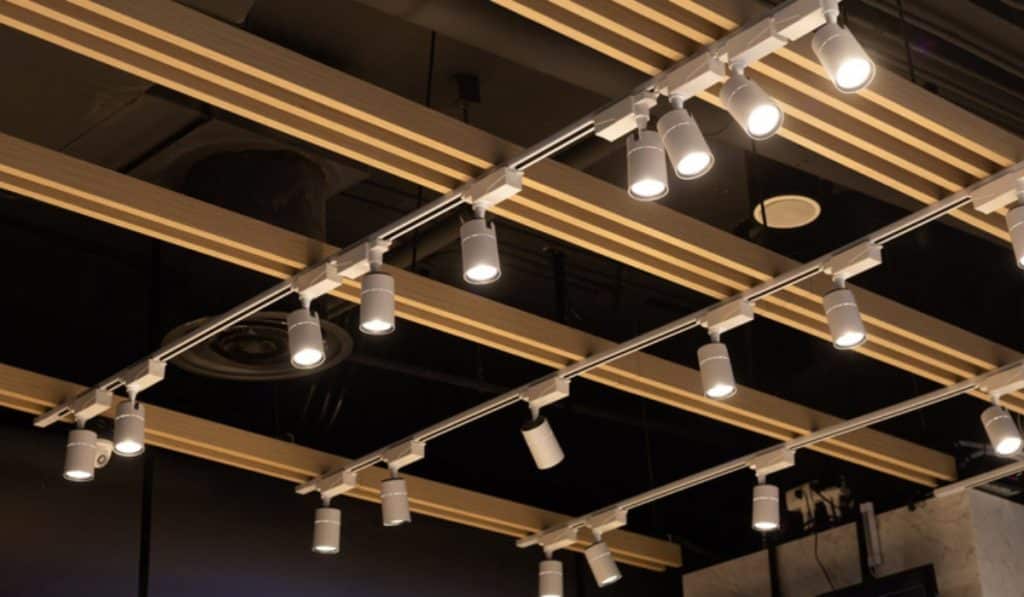 Track lighting uses the support of a track or rail mounted on a ceiling to provide electrical connection to individual light fixtures. Recessed lighting can be expensive and demands a tempered ceiling. An alternative to recessed lighting is track lighting, which provides flexibility for placing the lights along with saving space.
With flexibility, you can be creative with the light you are installing to add an intriguing pattern of lights to your ceiling. A benefit of this basement lighting is that it can save a lot of electricity. This is because multiple heads of the track lights can be tapped into one single circuit. Additionally, you can control the circuit lighting system for different sets of lights you are installing.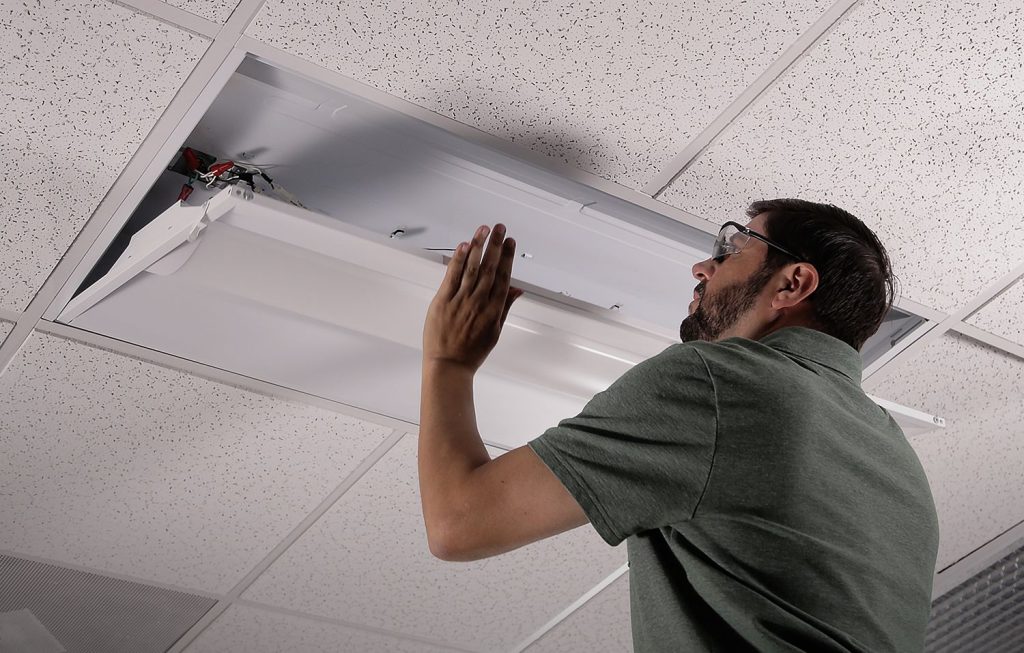 Troffer lighting, a type of recessed light, is fixed on the grid of a ceiling. The grid accommodates a light source (for example, LED light or fluorescent tube light) with no presence of hanging light fixtures. This saves space and optimally uses space in rooms with low ceilings. If the LED light is fixed into the troffer, it saves a lot of energy for your home.
The troffer lights illuminate spaces in a downward direction. How an individual design of troffer light will distribute light varies greatly. The energy-efficient system of troffer lighting has made a home for a lot of commercial spaces. But using it in your home is not a bad choice.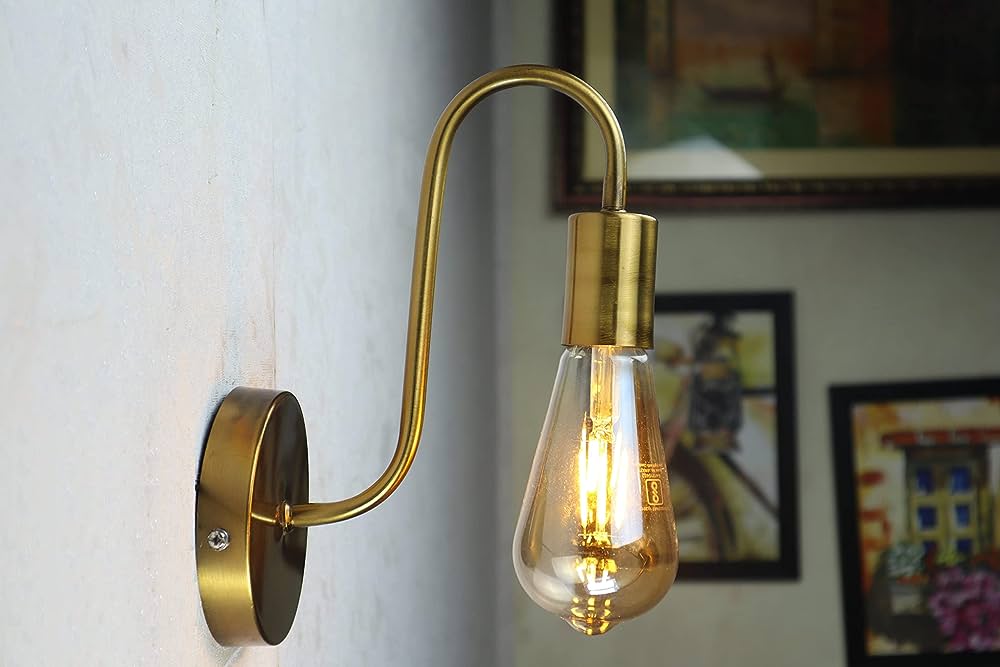 Impart a sophisticated vibe to your basement with wall-mounted lighting. Utilizing walls for basement lighting with low ceilings will add a classy look to your basement. Sconces or wall lamps provide illumination and act as a decorative element in your base, so it is a dependable lighting solution for the basement.
The soft glow of sconces adds ambiance to your basement. You can opt for sconces that are either connected to the electrical wiring of the house or building or with an external electrical outlet. The space-saving solution of installing wall-mounted lighting makes it ideal for a basement with a dropped ceiling.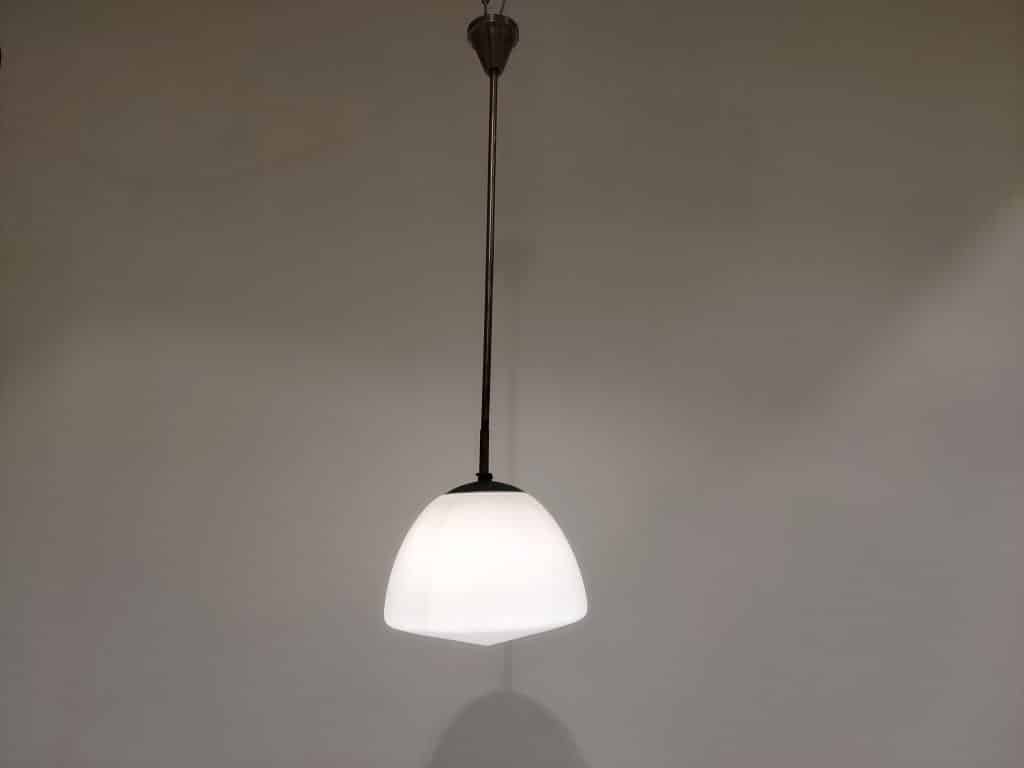 Hanging lights are a definite no for the basement with a low ceiling. But is it possible that some way basement lighting can be achieved by hanging lights? With planning, you can hang lights as well in your basement. If you want to place hanging lights, start by analyzing the space available in the basement.
Choose hanging lights in patterns and designs that are relative to the space available in the basement. Opt for sleek and short hangings of the lights to maximize the restricted space. Hanging lights with adjustable fittings can be an asset when installing hanging lights in the basement. If your basement has a seating area or table, install the lights there. Avoid placing lights in the walking or standing area.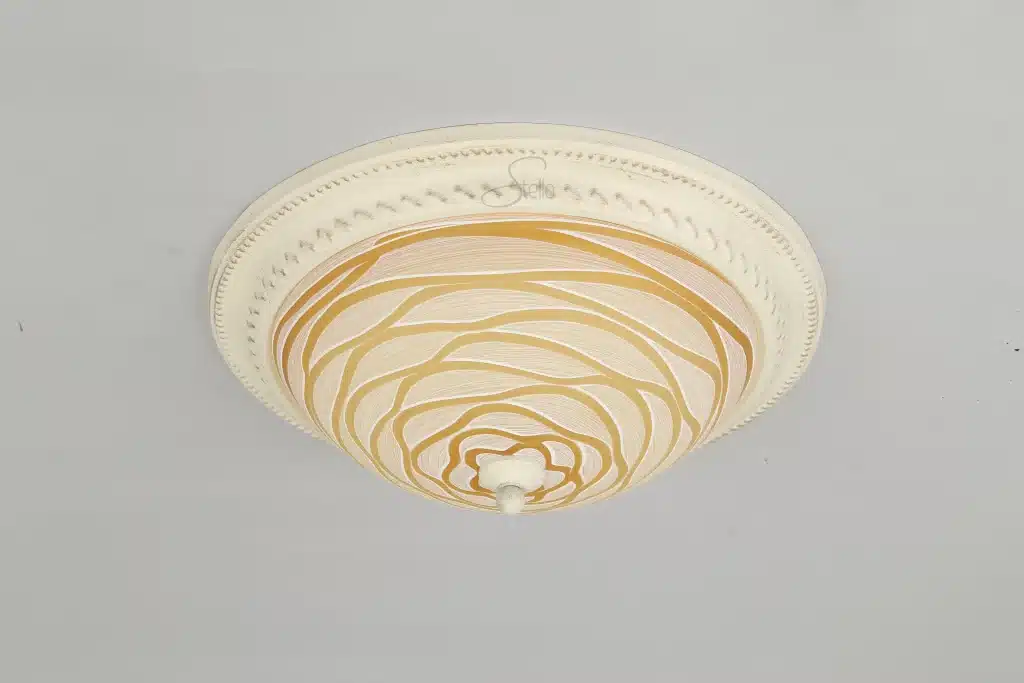 Hanging or clinging of light fixtures takes up additional space, which is not suitable for a basement with low ceilings. An efficient basement lighting is flush mounts that eliminate the hanging of light fixtures and are attached directly to the ceilings.
The excellent illumination of flush mounts is a perfect lighting idea for low ceilings. Flush mounts come in a variety of shapes, sizes, and colors, providing a chance to upgrade your basement, not just brighten it. Flush mounts with LEDs eliminate the risk of overheating.
The maintenance is minimal with flush mounts because the enclosed structure prevents entry of insects or dust, rendering longevity to the lights. Flush mounts are excellent, but they can be a little expensive for a single room as compared to other lights. Another drawback is that the fixtures of flush mount lights can make the replacement of lights challenging.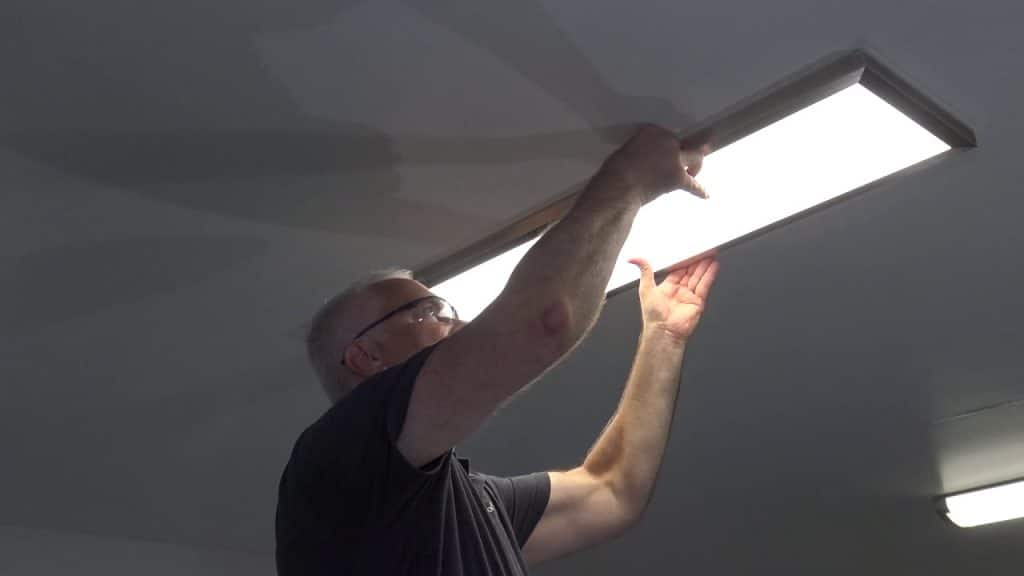 For low ceilings in the basement, the slim and flat design of flat panel lights is the best fit. The light is emitted from the panels, reducing the space requirements for light fixtures. Panel lights come in two variations, i.e., edge-lit or direct-lit. In edge-lit panel lights, the illumination is from the side of the light fixtures. But light is directly emitted from the back of the panels in the direct-lit panel lights.
The illumination by panel lights is uniform and flicker-free, reducing eye strain. Integration of LEDs in flat panel lights makes it an efficient lighting option with respect to energy consumption.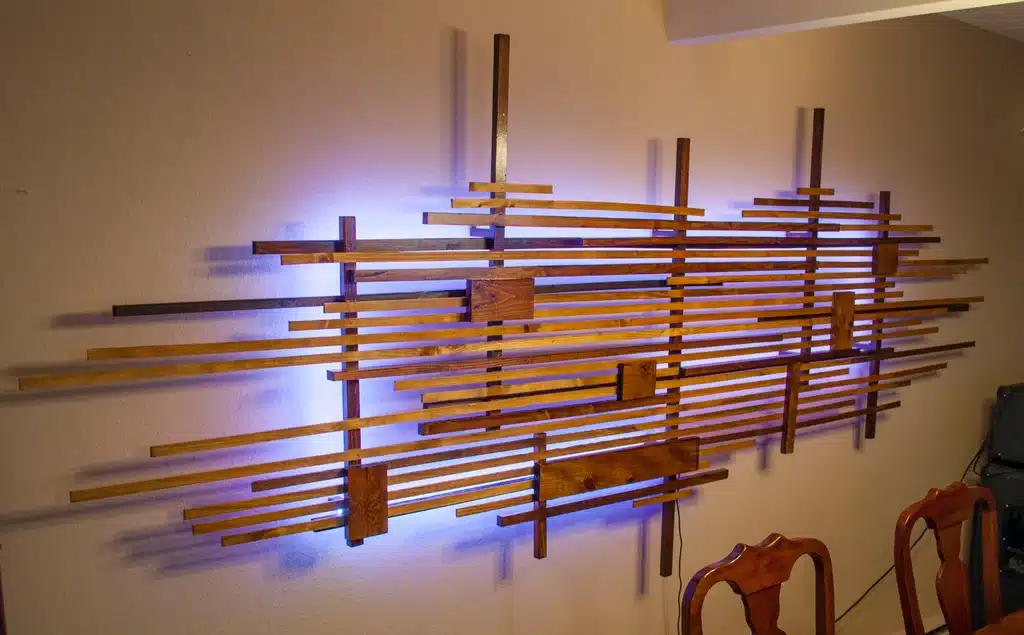 Decorative items or wall art with built-in lighting are best for basement lighting with low ceilings. In this type of lighting, a light source is placed behind the wall art. Without taking up much space, this alternative will allow adequate lighting in the basement. By providing sufficient light to the basement, you also add decorative details with this basement lighting idea.
Art walls come in a great variety, making it a versatile option for the basement. Using an art piece that resembles your style, you can add your unique style to the basement. Art with built-in lighting can be paired with other lights to highlight both lights together.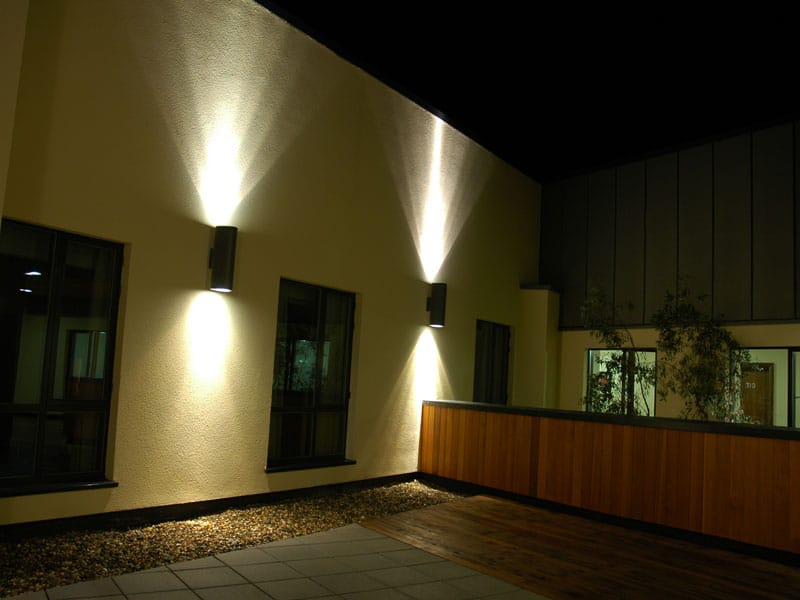 Uplights are lighting fixtures that direct the light in an upward direction. Used mainly for illuminating walls and ceilings, this lighting fixture is the best for lighting a basement with a low ceiling. Taking no space from the ceiling, uplighting fixtures come in different types including wall-mounted uplights, recessed uplights, LED strip lights, and uplighting floor lamps.
Flush-mounted uplights are attached to the ceiling with no gaps, maximizing the space utilization and making it ideal for low ceilings. Uplights with adjustable light heads are ideal if you want lights that can be adjusted to direct the light.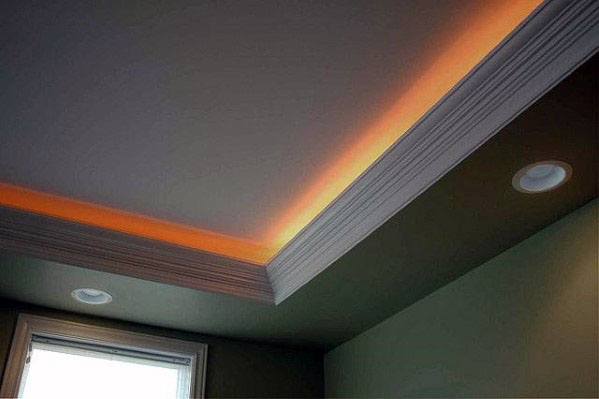 Lighted crown molding integrates crown molding with a lighting fixture. The light source is fixed in the crown molding, not visible directly. In most of the lighted crown molding, light bounces off to walls or ceilings, creating a subtle and indirect glow. The decorative details of the crown molding enhance the aesthetics of the basement, making it visually appealing.
The design of these lights is made in a way it does not extend too far from the attached surfaces, making it an ideal solution for lighting low-ceiling basements. The installation of such lights requires professional help because it has integrated LEDs with electrical wiring. Lighted crown molding is an efficient way for a brightly lit and sophisticated basement with a low ceiling.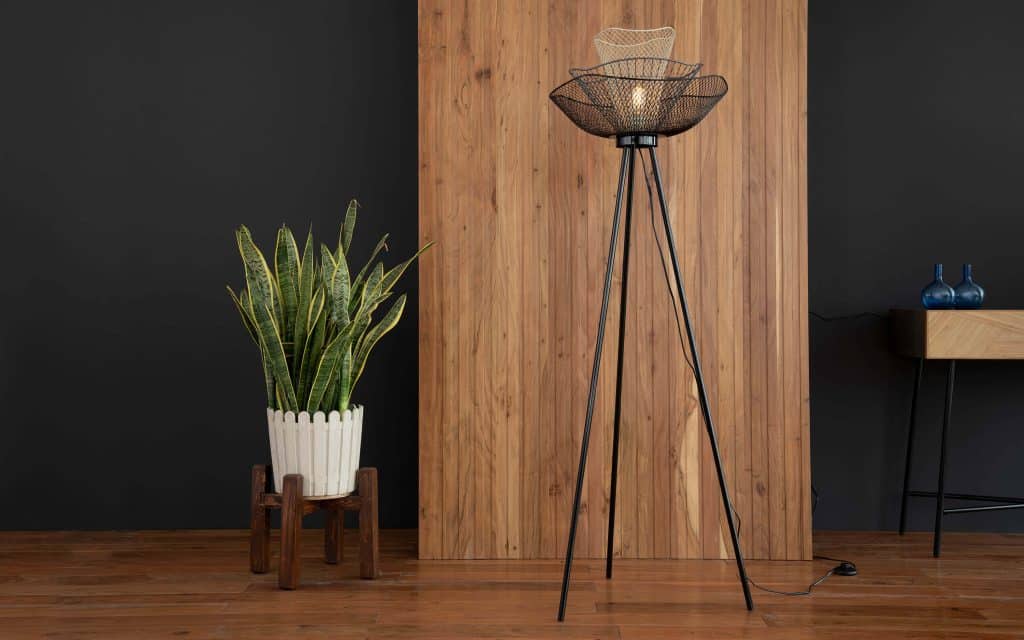 Floor lamps for basement lighting with a dropped ceiling are a definite asset. Floor lamps are ideal for brightening the dark corners of a basement. The freestanding light fixtures are placed on the floors of the basement to brighten it. Floor lamps are ideal for task lighting because they can be moved to different locations in the basement.
Because floor lamps stand alone on the floor, their installation and mounting are easy. A lot of floor lamps are adjustable. Lamps with adjustable heads render convenience. A few popular types of floor lamps that you can add to your basement lighting are Torchiere floor lamps, Task floor lamps, Arc floor lamps, or Tripod floor lamps.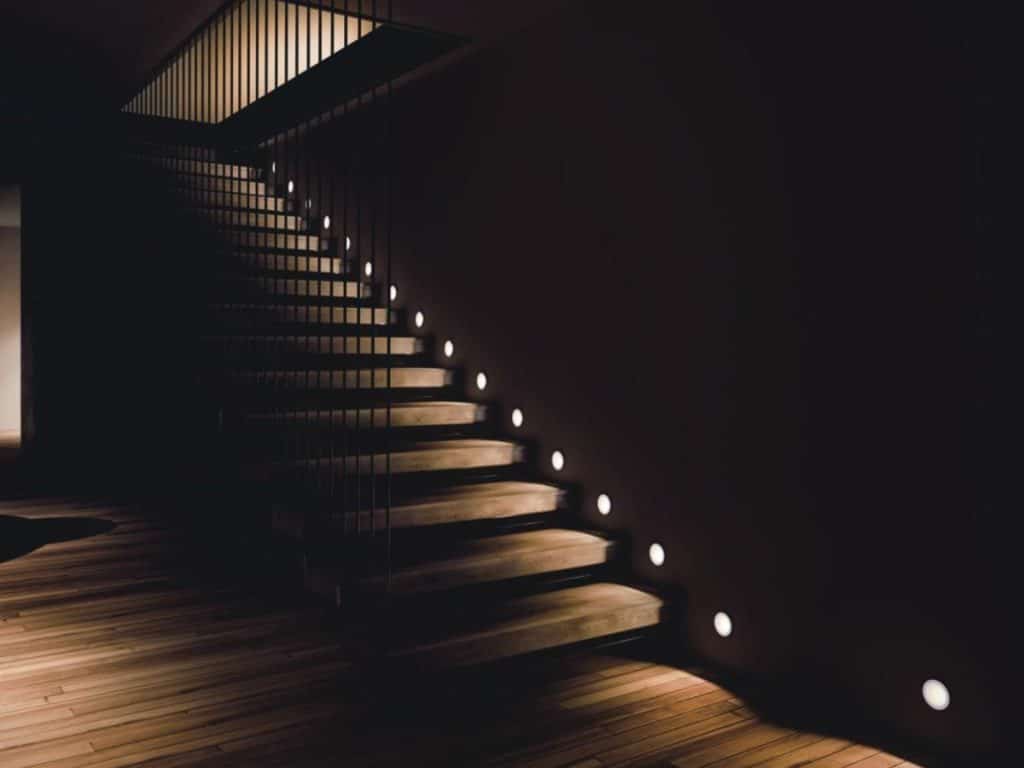 If the basement has stairs, it is leverage for you to accentuate the basement lighting with it. With stair lighting, it is convenient to navigate the space of the basement. A few lighting used for staircases are LED light strips, recessed lighting, wall sconces, motion-activated lights, and zoned lighting. Zoned lighting is best if the staircase for the basement has different sections or divisions.
Depending upon the space of your basement and its stairs, choose step lighting that coordinates with it. The basement stairs are used frequently, so ensure that the lights are installed properly. Step lighting should be protected from foot traffic to prevent damage to the lights.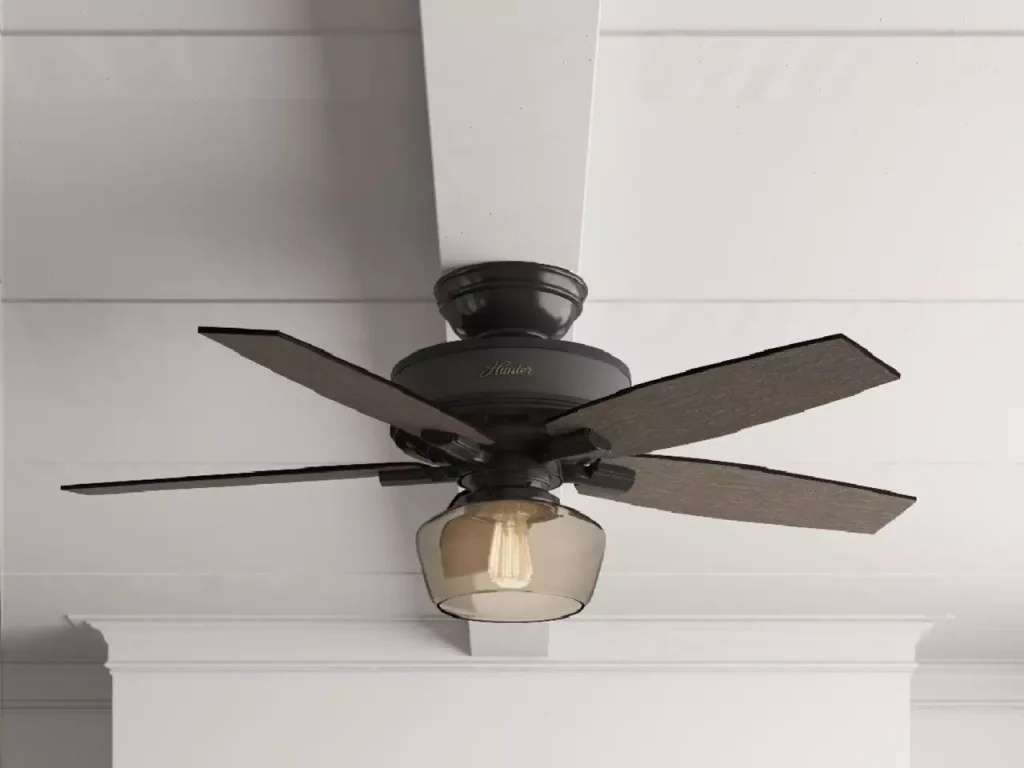 For a basement that requires both ventilation and light, an under-light ceiling fan is a must-try alternative for basement lighting. Fans come with integrated lights in different designs, providing a choice for you to make the best out of your basement. With an attractive light fixture attached to a fan, add elegance to your basement.
When choosing the fan, make sure you choose a fan that can be accommodated in your basement with a low ceiling. If you carefully plan and analyze the space, an under-light fan can do wonders for brightening your basement.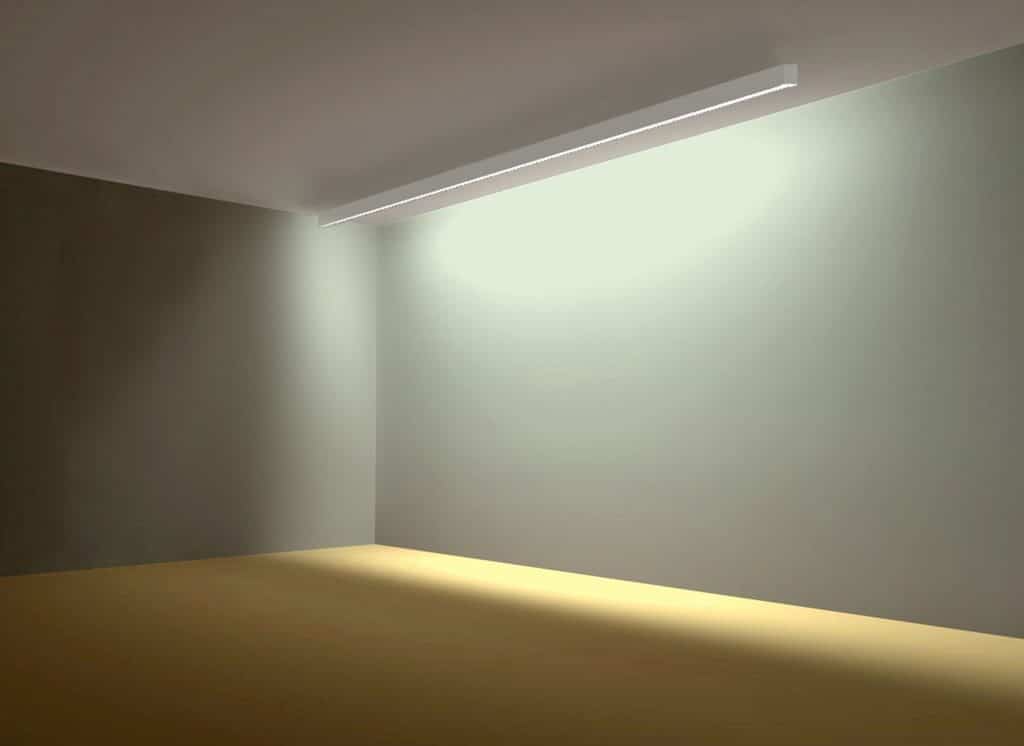 Wall washing is a unique lighting technique in which the lights are placed at a distance from the wall. This results in a washed effect on the ceilings or floors, rendering an indirect illumination. Wall washers are a great solution for basement lighting because lights fall down uniformly.
If you opt for wall washers, ensure that the lights are placed in equal spaces in the ceiling. The distance you keep while installing the wall washers will determine how bright the space is. Because the illumination provided by wall washers is indirect, and reflected by the walls, make sure you paint the walls with light matte colors for maximal reflection of light.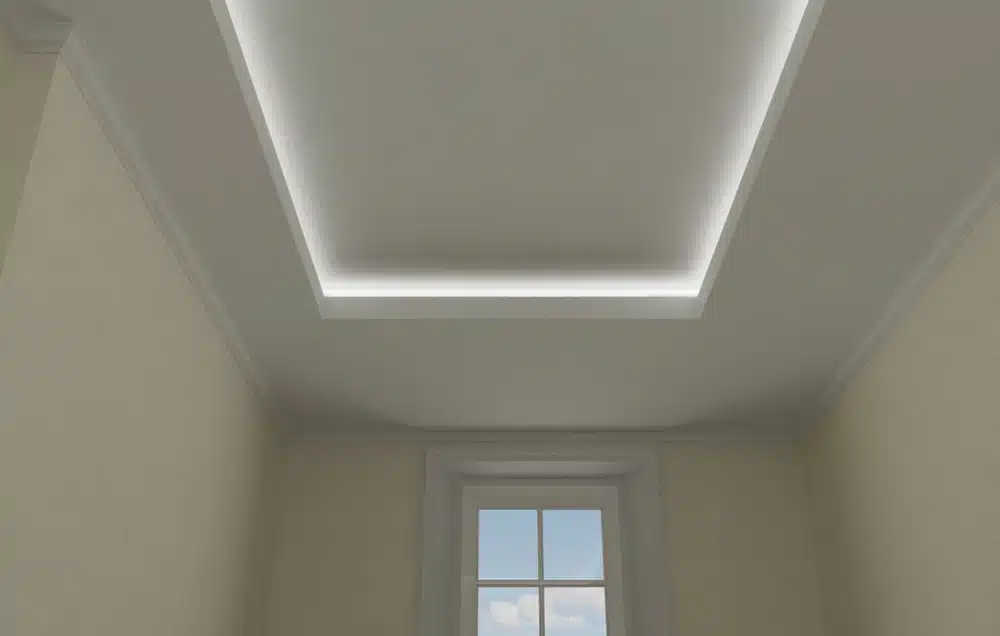 The soft and even illumination of cove lighting for basement lighting will brighten up the space. In cove lighting, the light is reflected to a wall which is again reflected downwards. This way, not only does the basement achieve an aesthetically pleasing feel, but the space of the basement feels larger.
Cove lighting uses architectural details like crown molding, tray ceilings, or architectural alcoves, adding visual interest to the space. With cove lighting, you get an uncluttered and clear appearance because the light fixtures are generally concealed.
Tips to Accentuate Basement Lighting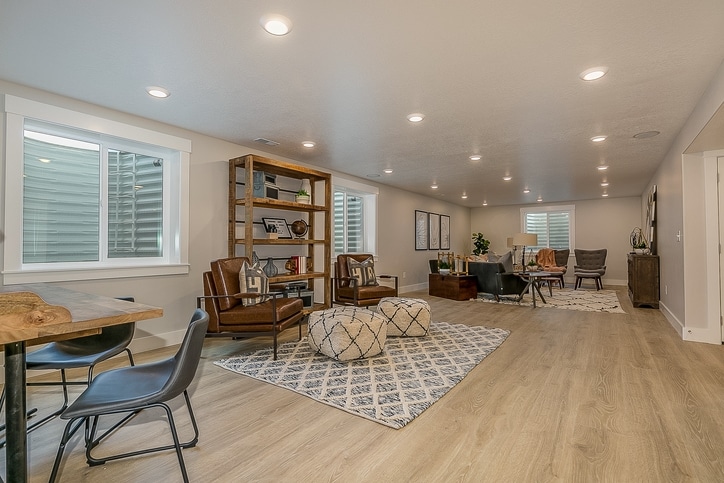 Mirrors are best for maximizing the light in darker spaces of the home. This is because the mirrors reflect light back to the basement space, making the basement appear more spacious. Adding a decoration with mirrors in the basement will add visual interest.
Use light paint colors that reflect the light back. Darker colors absorb light, while brighter & light colors have a tendency to reflect more light. A color with a satin finish or matte finish will enhance the reflection of light.
Don't overcrowd the basement with a low ceiling. Keep the accessories and decorative items minimal for the basement's clean and crisp look.
If the basement has a window, allow the natural light to add brightness to the basement lighting. If not, building a window can be an option if there is a path for natural light in the basement.
Use multiple sources of light to make sure the illumination in the basement is even.
Tubular skylights are an innovative solution to brighten up the dark spaces of homes. They capture natural sunlight and channel it to the required spaces by use of reflective channels.
Conclusion
Every home space has to be inviting, even if it is a basement, and proper lighting can do the magic. What lighting fixture you choose will depend on your preference and space availability in the basement.
For basements with low ceilings, recessed lights and their variations make a great solution for limited headspace. Troffer lighting, track lighting, flush mounts, and flat panel lights are a few other options to make your basement bright. Tape lights and string lights are a few options great for pairing with lights in the basement to elevate the illuminance.
Comment down if a single question about basement lighting strikes your mind!
Frequently Asked Questions
Can Pendant Lights Be Used for Basements with Low Ceilings?
While pendant lights are not the best option for basements with low ceilings, after carefully planning them, you can install them in your basement. For installing pendant lights in the basement, choose mini pendants or fixtures meant for low ceilings, like bowl-shaped fixtures.
Should I Install the Lights in My Basement or Hire a Professional?
Depending on the electrical knowledge and experience you have, you must install the lights by yourself or hire a professional to do so. The need for an expert will depend on the complexity of the wiring and installation of the lights.
What Are Some Options for Wireless Basement Lighting?
For basement lighting, wireless lights render benefits like easy installation and convenient wiring fixtures. Battery-operated lights, remote-controlled lights, solar power lights, and rope lights are a few wireless basement lighting.