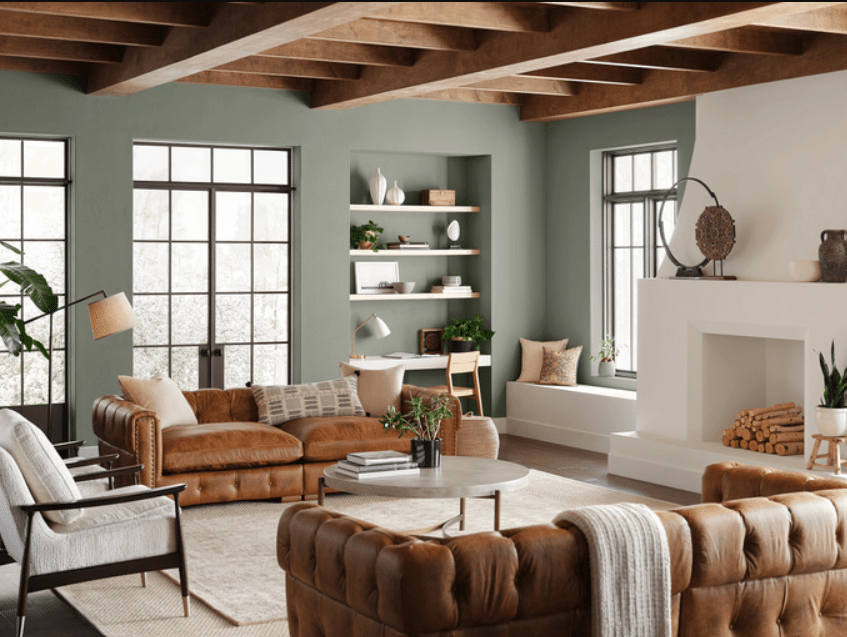 Are you seeking a versatile, classic paint color that elevates and sophisticates your room? Don't look past Sherwin Williams Gray Colors. Gray has grown in popularity as a color for interior and outdoor design because it can be peaceful and striking based on shade and lighting. Sherwin-Williams is a reputable brand in the paint industry when it comes to gray paint colors, and they have a large selection of shades of Gray that may accommodate any taste or style.
Sherwin-Williams has a Gray paint color for you, whether you choose a warm or cool tone, a light or dark tint, or a subtle or strong finish. We've compiled a list of Sherwin-Williams' top Gray paint colors to help you reduce your choices. These tones, which range from the traditional Repose Gray to the brooding Gauntlet Gray, are sure to give your residence or workplace depth and elegance.
Let's go through the list of the top 11 Sherwin-Williams Gray Colors Range.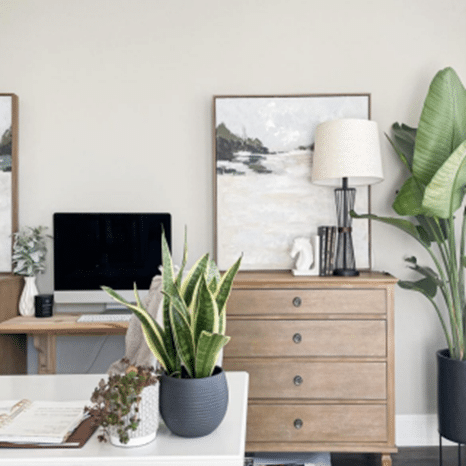 One of Sherwin-Williams' most well-liked Gray paint hues is Repose Gray. This classic color has a faint undertone of beige, making it a flexible option for any room. If you're searching for a neutral Gray that isn't too chilly or overly cozy, Repose Gray is a terrific alternative and an excellent backdrop for any decorating style.
Repose Gray can take on a slightly distinct appearance depending on the lighting, ranging from a chilly, silvery tone to a warm, beige color. Its chameleon-like characteristics are what appeal to both designers and homeowners.
Repose Gray blends beautifully with both warm and cold colors, as well as with various finishes and textures. Repose Gray is a fantastic option for any area in your house, from your living area to the bedroom; plus, it can be used with bright color schemes or raw wood finishes.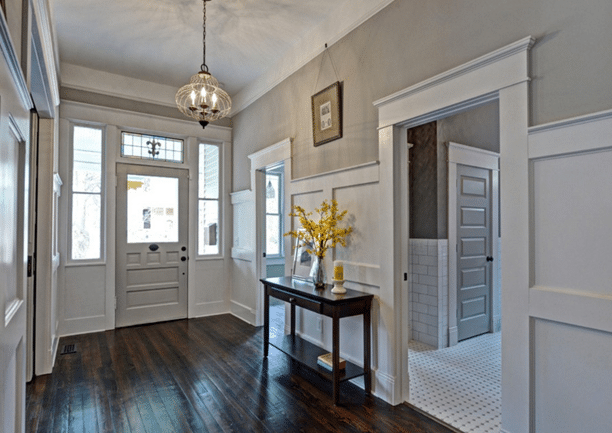 Warm and inviting Gray, Mindful Gray is an attractive home design choice. The slight green undertones in this medium-toned gray give it a distinctive and warm appearance. The color Mindful Gray is adaptable and goes well with both classic and modern decorating styles.
One advantage of Mindful Gray is that it appears consistently and pleasantly throughout the day because it fits well in artificial and natural light situations. This color is an outstanding option for bedrooms, living rooms, and different gathering areas because of its warm undertones, which can create a warm and welcoming ambiance.
The warm undertones of Mindful Gray can be enhanced by pairing it with natural wood finishes. This adaptable color accentuates a wall to provide depth and texture as the primary color for an entire space making it one of the best Sherwin Williams Gray Colors.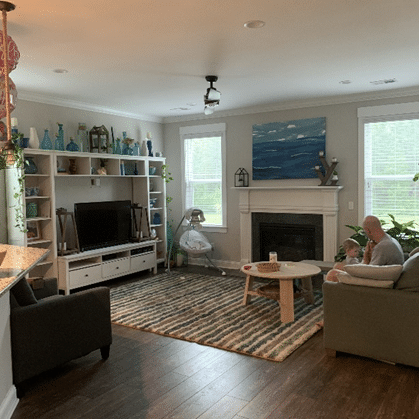 Warm and adaptable Gray, or Agreeable Gray, has gained popularity among designers and homeowners alike. This beige-undertoned medium-toned gray is the perfect neutral paint color for any space in your house.
Agreeable Gray has the advantage of having chameleon-like characteristics that can change how it looks significantly depending on the lighting. It may appear cozy and welcoming in natural light and relaxed and refined in artificial light.
Because of its adaptability, it's a fantastic option for any room in your house. Additionally, it complements natural wood treatments beautifully, resulting in a cozy and welcoming environment. Agreeable Gray is an excellent option if you're looking for a timeless and adaptable Gray that may contribute to making a sophisticated and welcoming décor.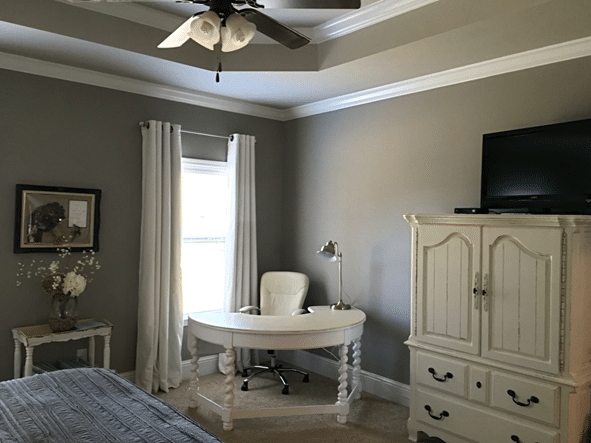 Rich, deep gray called "Dorian Gray" has become renowned for creating lavish, dramatic interiors. This deep-toned gray has an unusual and intricate appearance due to its slight blue and green overtones.
One advantage of Dorian Gray is its opulent impression, which can heighten your room's image of richness and depth. This makes it a superb option for developing a bold, captivating interior design.
Dorian Gray is an adaptable color that looks exemplary in various settings, such as dining and living rooms. Because of the blue and green undertones, which can also enable calmness and tranquility, this color is excellent for a nice and inviting living area.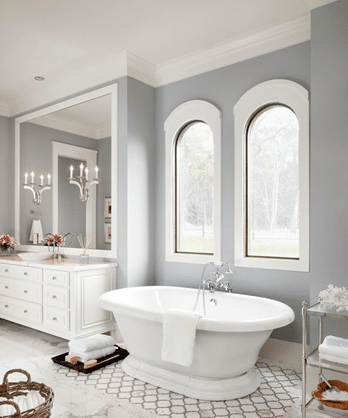 The Sherwin Williams Gray Colors collection includes Passive, a calm, tranquil gray that is becoming increasingly popular for interior design. This gray color has subtle blue undertones that give it a delicate, pleasant appearance.
One benefit of passive is its calming effect, making a space peaceful. As a result, it's an excellent alternative for spaces where you want to unwind, such as a bedroom or a location for meditation.
Due to its blue undertones, which may further create the impression of space and openness, this color is a fantastic choice for smaller spaces. The color Passive stands versatile and alluring in a variety of locations, like bathrooms and bedrooms.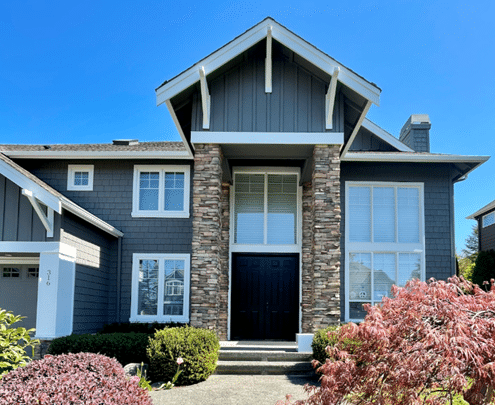 Dark and ominous Gray called Gauntlet Gray has become famous for designing dramatic and contemporary homes. Violet undertones in this dark-hued gray give it a distinctive, earthy vibe.
One advantage of Gauntlet Gray is that it has a powerful presence that can support the creation of an interior design that is impactful and striking. This makes it a fantastic option for establishing a contemporary and chic atmosphere.
This color is a great choice for a cozy and welcoming living room because of its brown undertones, which can also provide warmth and comfort. Gauntlet Gray is an excellent pick if you're searching for a dark, assertive Gray that can contribute to creating a contemporary, chic environment.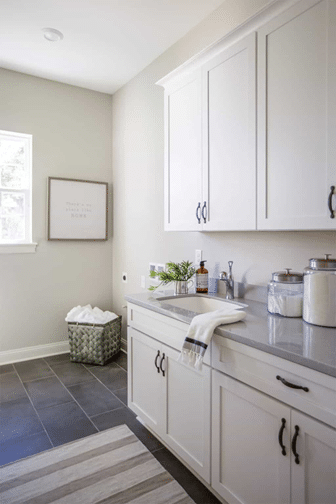 A cozy and inviting Gray called Worldly Gray (SW 7043) has gained popularity for designing warm and friendly environments. The gentle beige undertones in this medium-toned gray give it a calming and cozy appearance.
One advantage of Worldly Gray is its ageless quality, which can aid in producing a timeless and exquisite interior design. This makes it an excellent option in Sherwin Williams Gray colors range for establishing a welcoming atmosphere.
The color "Worldly Gray" is adaptable and looks well in various settings, including living rooms and bedrooms. This color is a beautiful choice for a warm and welcoming living area because of its beige undertones, which can also provide comfort and warmth.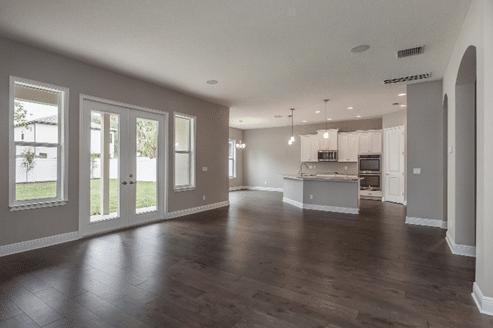 Colonnade Gray is popular neutral gray that interior designers regularly utilize. This light-toned gray has subtle greige and brown undertones that give it a cozy, welcoming appearance.
The benefit of Colonnade Gray is its mellow, calming quality that can help create a calm, serene environment. Therefore, it's an excellent option for spaces you want to unwind, such as your bedroom or a reading nook.
This color is a terrific choice for a warm and friendly living space because of its gray and brown undertones, which may additionally add to a feeling of coziness and warmth. Furthermore, it has a unique, contemporary vibe and looks incredible with a whiff of natural wood.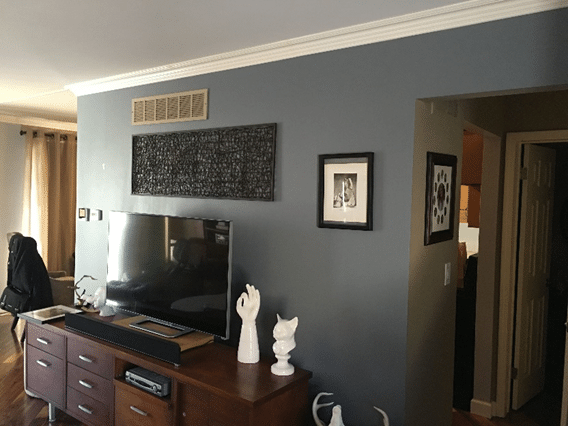 Serious Gray is a rich, deep Gray that screams class and sophistication. From formal dining rooms to comfortable home offices, this color has a powerful presence and complements several diverse interior design styles.
Serious Gray has the advantage of producing a dramatic and impactful appearance, which makes it an excellent option for designing an imposing wall or accent piece. Additionally, this color gives the room depth and dimension, enhancing its dynamic and intriguing quality.
This shade's blue undertones have a relaxing impact that helps to counteract the color's intensity. Serious Gray looks great with white trim and accessories, giving off a timeless and traditional vibe. It also complements natural wood treatments effectively, giving room warmth and character.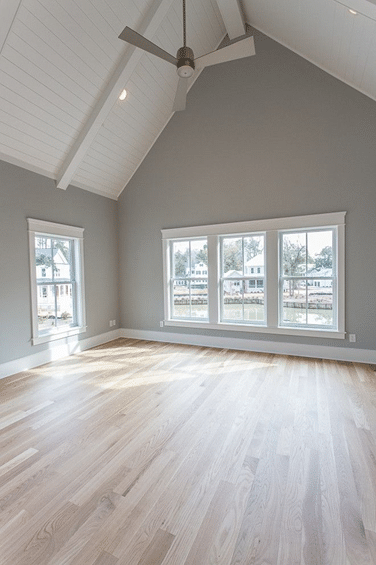 Interior designers have long favored the versatile and timeless Gray color Light French Gray (SW 0055). The little blue undertones in this light gray give it a fresh, modern appearance.
The timeless quality of Light French Gray can contribute to producing stunning and classic interior decor. This, in turn, makes it an outstanding option for setting a sophisticated and elegant atmosphere.
This versatile Light French Gray color looks beautiful in various settings, specifically in kitchens and bedrooms. Because of its blue undertones, which can also foster tranquility and serenity, this color is an excellent choice for a relaxing and pleasant living space.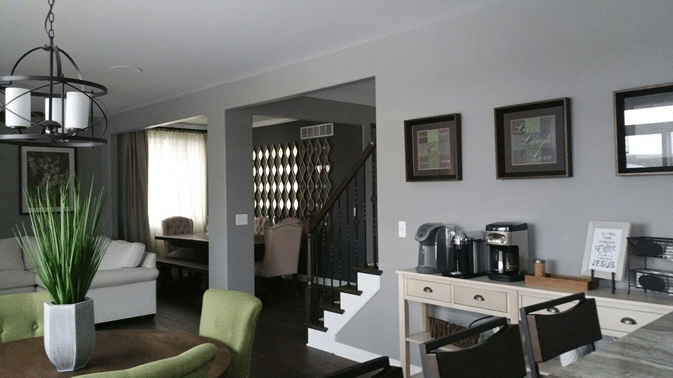 Ellie Gray, a cool-toned Gray, is becoming increasingly well-liked for its power to stimulate calmness and peace. This soft shade of gray with undertones of mild blue and green gives your room a serene, relaxing vibe.
Ellie Gray is an excellent option for rooms where you want to relax since it promotes a calm and tranquil mood. This color is an excellent choice for a soothing and energizing living space because of its blue and greenish undertones, which can promote peace and serenity.
Ellie Gray is one of the top Sherwin Williams Gray Colors that work well with tranquil hues like gentle greens and blues or when paired with warm tones for a pleasant and inviting atmosphere.
Tips for Maintaining Sherwin Williams Gray Colors
Sherwin Williams Gray colors demand considerable maintenance and work to keep their lovely appearance. Following are some pointers to help you maintain the finest possible appearance of your Sherwin Williams Gray paints:
Use premium paint: Start using premium paint intended to withstand fading and yellowing over time. Sherwin Williams provides a selection of long-lasting paints that can assist you in preserving the brilliance of your Gray color.
Keep your walls clean: Regularly wiping down your walls with a sponge or soft cloth may help avoid dirt and dust accumulation, eventually making your Gray color look faded and dreary.
Avoid harsh chemicals: Resist using aggressive cleaners or severe chemicals on your walls because they might damage the paint and result in discoloration.
Check humidity: Keep an eye on the humidity levels because they can cause moisture to accumulate on walls, which can cause paint to flake or get discolored. To maintain a suitable humidity level in your house, monitor the situation and utilize a dehumidifier or air conditioner. If you do this, your Sherwin Williams Gray colors will be less likely to suffer moisture-related deterioration.
Use the proper lighting: How your Gray color seems can be significantly influenced by lighting. Ensure you have the appropriate lighting to pull out the full richness and depth of your Sherwin Williams Gray color.
Touch up as necessary: Walls can get scraped or damaged over time. A tiny fraction of touch-up paint should always be kept on hand to swiftly correct any flaws and keep your Gray color appearing vibrant and fresh.
The Versatility of Sherwin Williams Gray Colors
Sherwin Williams Gray colors provide a timeless, upscale appearance that can improve interior design. These colors are adaptable and may be utilized in every part of your house, ranging from cool-toned hues like Repose Gray and Passive to warm and welcoming hues like Agreeable Gray and Ellie Gray.
Sherwin Williams Gray colors must be maintained correctly to retain their vibrancy and beauty. These suggestions will enable you to achieve a faultless finish whether you paint yourself or employ a professional. You may create a magnificent and classic home design that you'll love for years by using these tips and researching the wide choice of available Sherwin-Williams Gray colors.
Frequently Asked Questions
What Shade of Sherwin-Williams Gray Is Best for My Room?
You may select the perfect Sherwin Williams Gray color for your area by taking into account the lighting in your room, the style and atmosphere you intend to establish, and your current décor. Achieve a natural balance between your room's other components and the grey color.
Are Sherwin Williams' Gray Paint Colors Simple to Keep Clean?
Sherwin Williams Gray colors can be durable and simple to maintain with the proper upkeep. Sherwin William's grey paint colors can look new and vibrant with regular cleaning using a soft cloth or sponge while avoiding harsh chemicals.
Can I Use Gray Paint from Sherwin Williams in Any Room of My Home?
Yes, Sherwin Williams' Gray paint colors are adaptable and may be utilized in every part of your home, including your kitchen, bathroom, and living room. The grey paints from Sherwin Williams give any room or décor a unified and fashionable appearance.
Can I Mix and Match Several Shades of Gray from Sherwin Williams in My House?
Yes, you may combine shades of Gray from Sherwin Williams to give your home a layered, dynamic effect. Make sure to pick hues that go well together and produce a unified design.