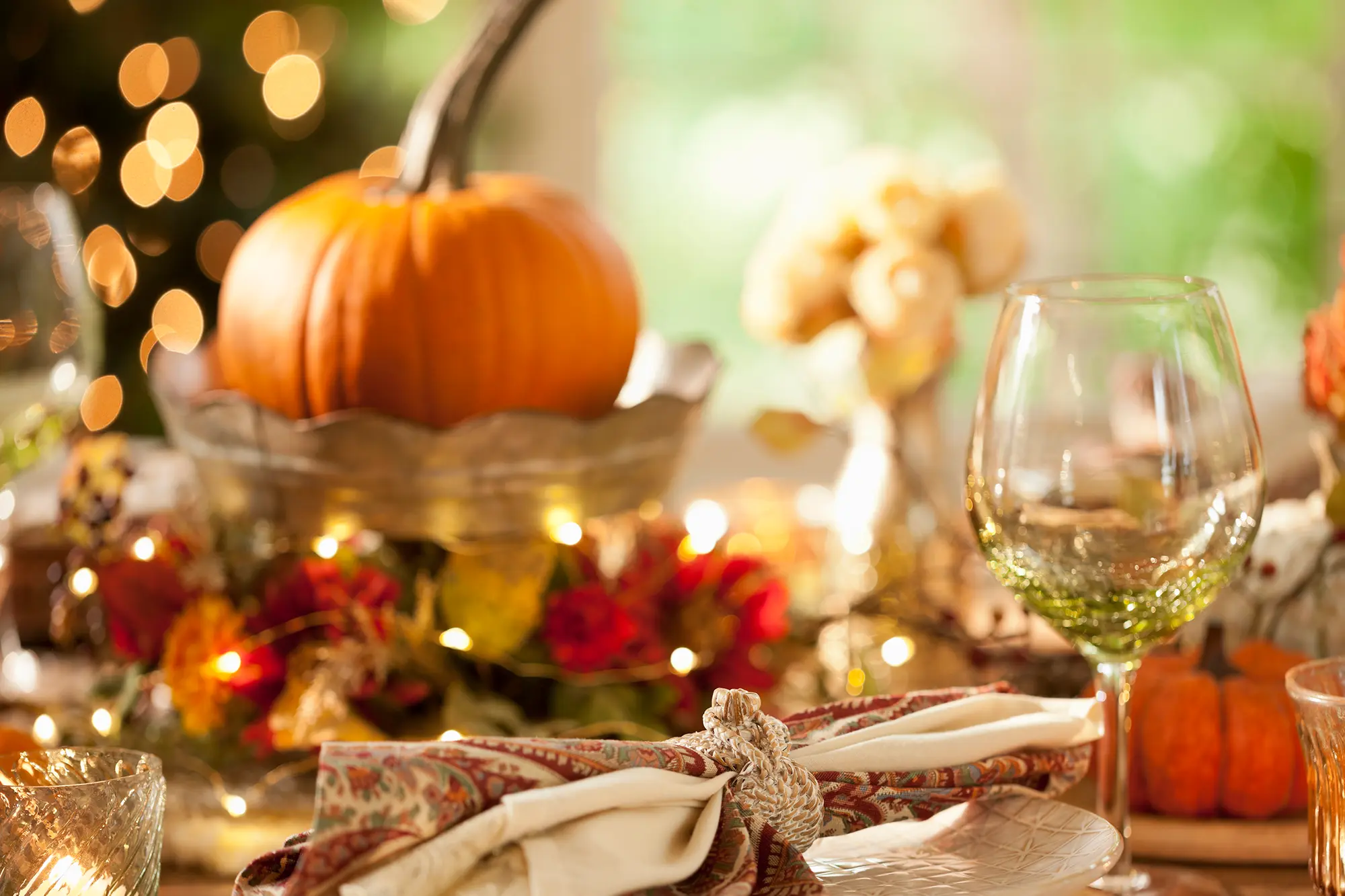 Are you prepared to use gorgeous table decorations to make this Thanksgiving a special occasion? Look nowhere else! This post examines some of the best yet cheap Thanksgiving table décor to make your dining room festive and welcoming. There are various ways to dress up your Thanksgiving table, from conventional to contemporary.
Choose a theme that fits both your flair and the environment you want to establish in the beginning. Then, to bring warmth and beauty to the environment, use your creativity to incorporate seasonal motifs, colors, textures, and natural accents. To add that extra bit of charm, think of utilizing rustic centerpieces, classy candle setups, themed table runners, and unique place cards.
Prepare to dazzle your visitors and create a genuinely unforgettable Thanksgiving with these elegant table décor ideas that will embody the spirit of Thanksgiving, community, and celebration.
1. Harvest-Inspired Centerpiece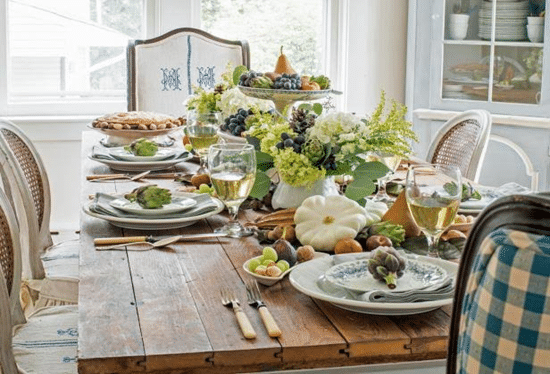 A centerpiece with a harvest theme is the ideal way to decorate your Thanksgiving table with the splendor of the season. You can create a lovely focal point by arranging a mix of pumpkins, gourds, and autumn foliage in a colorful display. Select pumpkins of various sizes, shapes, and colors to add visual fascination.
For more texture, sprinkle them with colorful leaves, dried corn husks, or branches. Consider setting the centerpiece on an unfinished wooden tray or a burlap table runner to further the harvest motif. This centerpiece highlights the abundance of the time and makes your Thanksgiving celebration feel cozy and welcoming.
2. Rustic Chic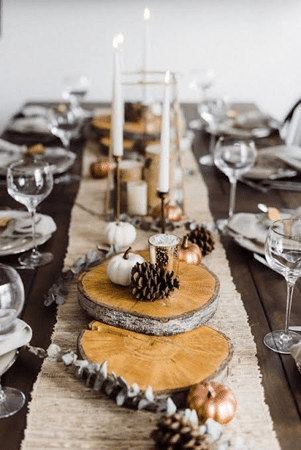 Adopt a rustic-chic motif for a pleasant and inviting Thanksgiving meal. To create a welcoming ambiance, add natural materials and vintage-inspired accents. Pair them with linen or burlap napkins wrapped with twine or lace for a rustic touch. Fill mason jars with wildflowers or dried herbs to use as candle holders or vases. Use textural materials like woven baskets or galvanized metal containers to hold bread rolls or kitchenware.
Finish the theme with mismatched antique cutlery or vintage glassware for a nostalgic feel. This rustic-chic style will bring personality and warmth to your cheap Thanksgiving table decor, ensuring everyone has a relaxing and enjoyable day.
3. Metallic Accents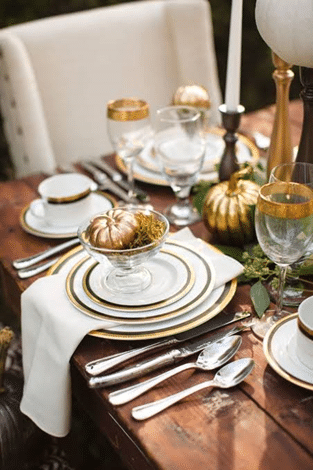 Metallic touches can give your Thanksgiving table a dash of glitz and refinement. Add silver, gold, or rose gold accents to create an opulent atmosphere. As a foundation for your place settings, use metallic chargers or placemats. Choose glasses with gold trim or sparkling silverware to add more luxury to the meal. Add votives for candle holders made of metallic materials to produce a cozy and inviting glow.
For festive glitter, scatter sequins or metallic confetti down the table runner. Use metallic serviette rings or ribbon to create a sophisticated finishing touch. Your Thanksgiving celebration will be made more glitzy and lavish with the addition of these metallic touches, making it a moment to remember.
4. Nature's Bounty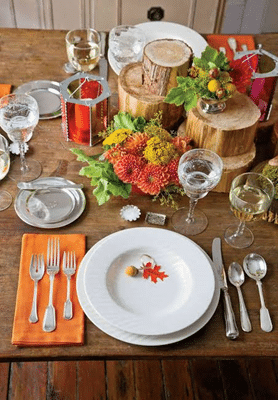 Decorate your Thanksgiving table with 'nature's bounty' to celebrate the beauty of the natural world. Collect various natural items such as branches, acorns, and pinecones for a rustic, organic, and cheap Thanksgiving table decor. Arrange them in glass vases or sprinkle them across the table runner for a dash of seasonal charm.
For more texture, weave stems of dried berries or autumnal leaves throughout the centerpiece. Consider storing seasonal fruits or nuts in woven baskets or wooden bowls as ornamental accents. Bring natural ingredients to your table to inject warmth and earthiness while capturing the spirit of the season.
5. Seasonal Floral Arrangements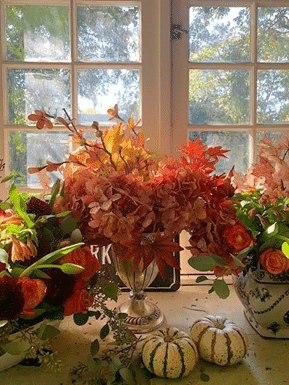 Beautiful seasonal floral displays can elevate your Thanksgiving dinner. Select blooms like sunflowers, dahlias, or fall roses that capture the deep hues of the season. You may put them in tiny vases as a centerpiece or individual scatter blooms across the table. Add foliage, such as eucalyptus or berry sprigs, for depth and texture.
Consider integrating materials like wheat or dried grasses for a rustic feel. These colorful and fragrant floral arrangements will add natural charm to your table, making your Thanksgiving celebration visually appealing and warm.
6. Cornucopia Display
Make a Cornucopia display for your table to embody the traditional Thanksgiving atmosphere. The "horn of plenty," or cornucopia, represents abundance and a bountiful harvest. Put various seasonal fruits, veggies, and nuts in a woven cornucopia basket.
Imagine brightly colored pumpkins, pears, apples, pomegranates, and walnuts. Place them in an overflowing pattern so that they spill out of the basket and onto the table. Scatter some wheat or autumnal leaf to add even more natural charm. This cornucopia centerpiece will not only be beautiful, but it will also make people feel grateful for the abundance of the season's blessings.
7. Candlelit Ambiance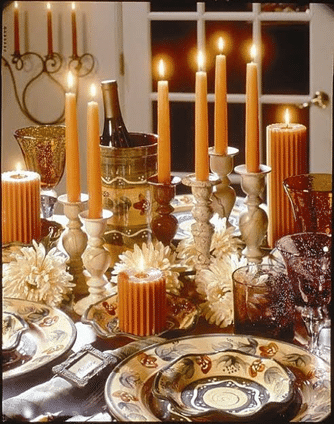 Use candles to establish a cozy and magical mood at your Thanksgiving dinner. Set the ambiance by lining the center of the table with a variety of pillar candles in various heights and hues. To keep the candles secure, use elegant candlesticks or clear glass votives.
Consider introducing scented candles to your cheap Thanksgiving table decor with flavors like cinnamon, apple, or pumpkin spice to provide a lovely perfume. Wrap the candles with seasonal greenery, like sprigs of berries or autumn leaves, to add a touch of elegance. Your Thanksgiving celebration will have a warm, inviting ambiance thanks to the mellow, flickering glow of candles.
8. Leaf-Shaped Placemats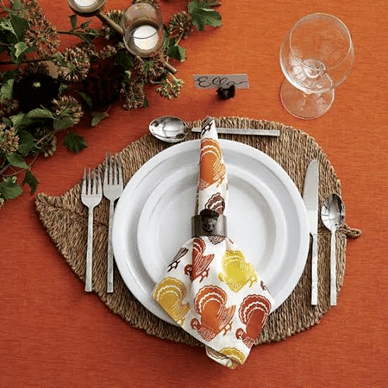 Leaf-shaped placemats will give your Thanksgiving table a quirky and natural feel. Search for placemats shaped like fall leaves, such as maple or oak, made of felt or cloth. These placemats in the form of leaves may be found in various hues, including red, orange, and brown tones that echo the brilliant hues of the season.
They can be used as attractive table accents or placed under each plate. These placemats in the shape of leaves will add a whimsical and festive touch to your table and completely immerse your visitors in the splendor of autumn foliage.
9. Thanksgiving-Themed Tablecloth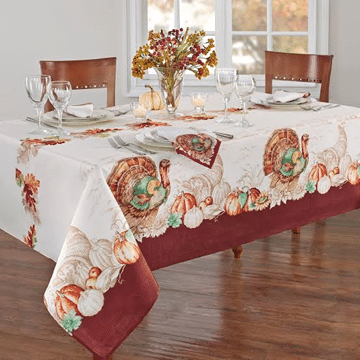 Use a festive tablecloth with a Thanksgiving theme to set the mood for your meal. Your goal should be a tablecloth featuring typical Thanksgiving symbols like turkeys, leaves, pumpkins, or cornucopias. To convey the spirit of the season, choose warm, rich hues like deep red, bright yellow, or earthy brown.
The tablecloth with a Thanksgiving design will immediately make your dining room seem festive. It provides a lovely backdrop for your table decorations and boosts the beauty of the atmosphere overall. Make your guests feel at home and welcome by letting your tablecloth represent the mood of Thanksgiving and the harvest.
10. Personalized Place Cards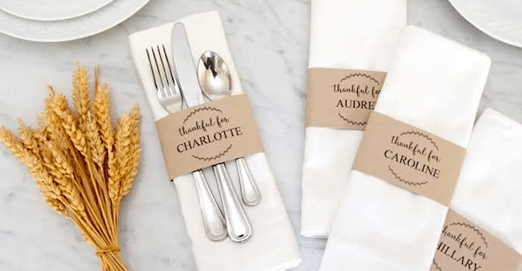 Use personalized place cards to give your Thanksgiving meal a thoughtful and unique touch. Create unique place cards with each guest's name on them that are printed or written on fancy cardstock. Consider incorporating a meaningful message or a gratitude phrase to add a special touch. Use your imagination while creating the cheap Thanksgiving table decor.
Consider choosing hues reminiscent of autumn, fall-themed leaves, or even adding minor details like twine or dried leaves. Place the customized place cards at each visitor's assigned seat to foster a feeling of warmth and welcome. Each guest will feel treasured and appreciated by these custom place cards, which also give the table an exquisite and organized look.
11. Miniature Pumpkins as Place Card Holders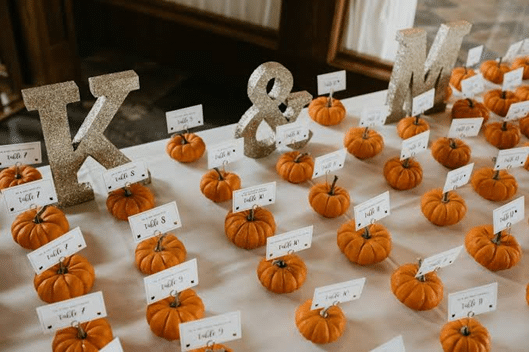 Use miniature pumpkins as place card holders to add beauty to your Thanksgiving dinner. Select small pumpkins in various colors, including orange, white, or striped. Each pumpkin should have a unique name card attached to it using colorful ribbons, twine, or tiny clips. The pumpkins will add a lovely and festive accent to each guest's assigned place.
This imaginative and fun concept provides a playful touch to the table setting in addition to being a unique method to direct your guests to their seats. It's an easy yet practical approach to make your Thanksgiving gathering feel more festive.
12. Pumpkin Lanterns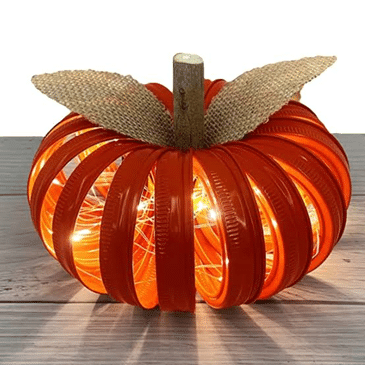 Pumpkin lanterns will give your Thanksgiving table a warm and magical glow. Cut out little pumpkins, then fill them with tealight candles to make lovely, rustic lanterns. To add visual appeal, select pumpkins in various sizes and shapes. Put them in a row along the middle of the table or use them as decorative accents.
The softly flickering pumpkin lanterns will produce a cozy and welcoming ambiance. It's a fun and festive way to add a magical touch to your Thanksgiving celebration by incorporating the traditional symbolism of pumpkins into your cheap Thanksgiving table decor.
13. Monochromatic Palette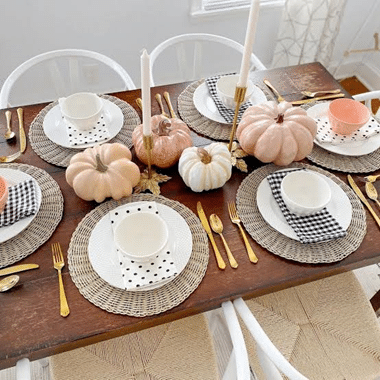 Use a monochromatic color scheme to set an elegant and stylish Thanksgiving dinner. Choose one color consistently throughout your table design, such as pure white, various orange tones, or earthy browns. For a coordinated and eye-catching appearance, use your selected shade on everything from the tablecloth and plates to the napkins, flowers, and even the candles and glassware.
The monochromatic color scheme gives the table a feeling of cohesion and refinement while fostering a sleek and contemporary design. It's an easy yet practical approach to creating a fashion statement and improving your Thanksgiving meal.
14. Autumnal Napkin Rings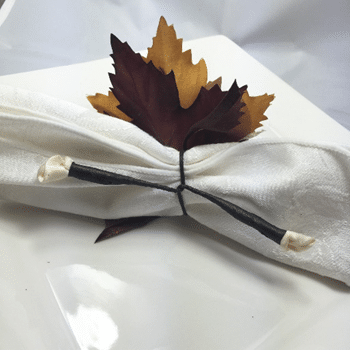 Thanksgiving table settings can be improved with warm and inviting autumnal serviette rings. Use organic metals like twigs, leaves, or pinecones to embrace the hues and textures of the season. You may make your napkin rings by encircling the napkins with twine or raffia and fastening them with small ornamental items like acorns or miniature pumpkins.
Alternatively, look into pre-made choices with autumnal themes, like rings shaped like leaves or elaborate metalwork. By tying together the seasonal theme and providing a minor nature to your Thanksgiving table, these autumnal serviette rings will be a lovely finishing touch for each place setting.
15. Vintage Tableware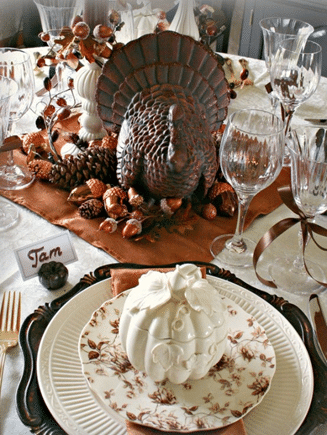 Use vintage tableware to take your Thanksgiving celebration back in time. Visit flea markets or antique shops for attractive vintage dishes, glasses, and cutlery. Look for ornate features, delicate accents, and intricate patterns that evoke nostalgia. Mix and match various items to make a diverse and distinctive cheap Thanksgiving table decor.
Thanks to the vintage tableware, your Thanksgiving feast will have a touch of sophistication and timeless beauty, which also adds a feeling of history and tradition. It's a lovely way to give your table personality and guests an exceptional eating experience.
16. Wheat Bundle Centrepiece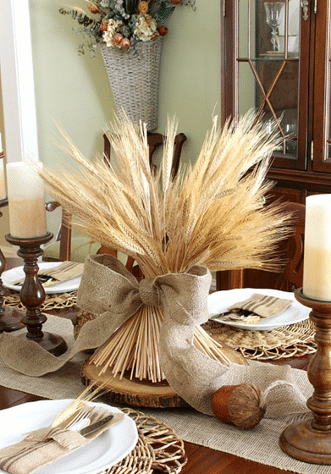 Feature a wheat bundle centerpiece on your Thanksgiving table to honor the abundant harvest. Wheat stalks should be bundled and firmly fastened with string or a beautiful ribbon. Put the wheat bundle in a vase or a rustic pitcher as a striking focal point.
The gold tones of wheat, which stand for abundance and prosperity, will lend warmth and texture to the meal. Surround the centerpiece's base with tiny pumpkins or autumnal foliage for more aesthetic appeal. This centerpiece of a wheat bundle reflects the spirit of Thanksgiving and the splendor of the harvest, making for an eye-catching and significant presentation.
17. Festive Wine Charms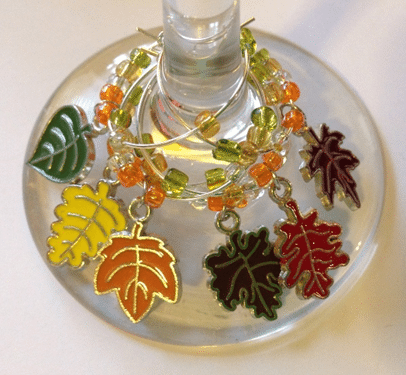 Festive wine charms can give your Thanksgiving meal a whimsical and helpful touch. Wine glasses can be adorned with these little decorative elements to assist visitors in keeping track of their beverages throughout the party. Look for charms with harvest or Thanksgiving-related designs, like tiny birds or leaves.
Alternately, you can make your wine charms using beads or charms inspired by fall for a cheap Thanksgiving table decor. These wine charms function as valuable and entertaining decorations for your guests in addition to adding decoration to your table.
18. Embroidered or Printed Thanksgiving-Themed Napkins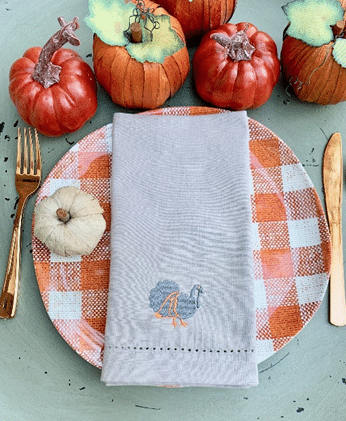 Thanksgiving-themed napkins with embroidery or printing will enhance your Thanksgiving feast. Look for holiday-themed napkins with motifs like pumpkins, foliage, or turkeys. Choose rich autumnal hues like earthy brown, golden yellow, or deep crimson.
Your table setting will be given a lovely touch by the beautiful embroidery or vivid patterns that perfectly capture the spirit of the occasion. The conversation starters and festive atmosphere these Thanksgiving-themed napkins add to your meal will help your guests feel even more at home and in the spirit of the occasion.
19. Family Gratitude Jar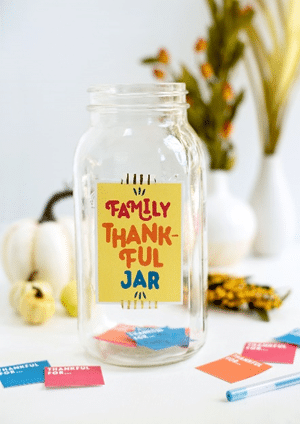 A family appreciation jar will add a warm and engaging touch to your Thanksgiving meal. Put some little pieces of paper and pens in the middle of your table in a jar or other container. Encourage your family and friends to write down their blessings throughout the meal and put their notes in the jar.
Participating in this exercise allows everyone to share their blessings and foster a spirit of thankfulness. Take turns reading out loud the notes of thanks at the conclusion of the meal to help your family and friends feel more connected, appreciative, and loving.
20. Chalkboard Menu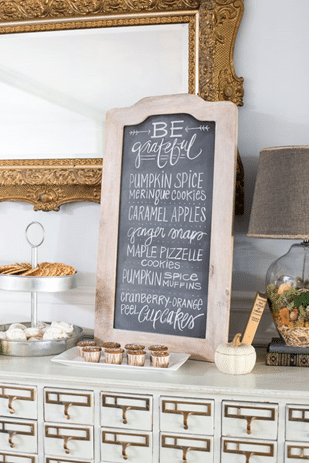 A blackboard menu will add some originality and customization to your Thanksgiving meal. To display the delectable items you'll be serving in your cheap Thanksgiving table decor, use a large chalkboard or a little one at each place setting. Use artistic flourishes or decorative lettering to write out the menu items.
You might also include cute drawings or doodles that depict the Thanksgiving meal. The chalkboard menu is a visual focal point and gives your tablescape a pleasant and rustic touch. It's a fun and original approach to letting your guests know what culinary treats are in store.
21. Elegant Glassware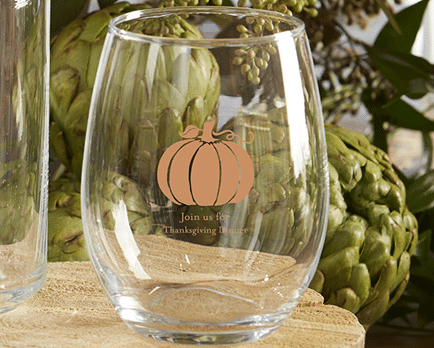 Use classy glassware to bring a sense of elegance and sophistication to your Thanksgiving dinner. Choose crystal or stemware with elaborate etchings or patterns for a more abundant appearance. Pick wine glasses or goblets that blend in with the overall design of your tablescape.
The colors of the beverages can be seen via clear glasses, while tinted or colored glassware can add a distinctive and eye-catching accent. The classy glassware will raise the meal experience and boost your table's aesthetic appeal, making your Thanksgiving feast feel unique.
22. Natural Linen Table Runner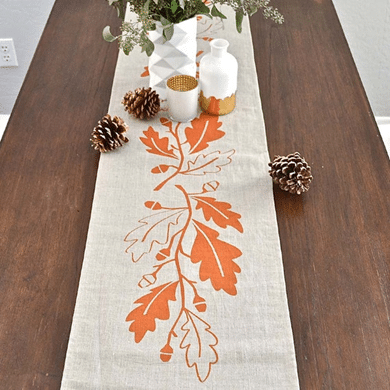 A natural linen table runner will give your Thanksgiving table a timeless, rustic appeal. The linen's gentle, earthy texture makes the table more elegant and inviting. For a versatile and timeless aesthetic, go with a muted or neutral color like beige or light grey.
The linen runner's natural fibers and delicate creases give the table setting a feeling of organic charm and refinement. It is a versatile and fashionable option for your cheap Thanksgiving table decor because it provides a gorgeous backdrop for your centerpiece and matches many tableware designs.
23. Cheese and Charcuterie Board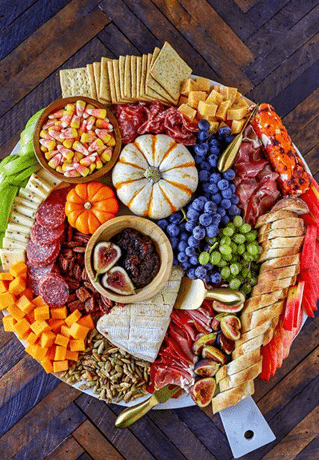 A delicious cheese and charcuterie board will be a welcome addition to your Thanksgiving dinner and delight your visitors. Pick a selection of cured meats, including prosciutto, salami, and smoked ham, then serve them with a variety of artisanal cheeses like aged cheddar, creamy brie, or pungent blue cheese.
Include supplemental side dishes such as crusty bread, almonds, olives, and dried fruits. Put everything in a lovely arrangement on a marble or wooden board to make a delicious show. The cheese and charcuterie board will serve as a delicious appetizer for your guests to savor before Thanksgiving.
24. Faux Fur or Plaid Blankets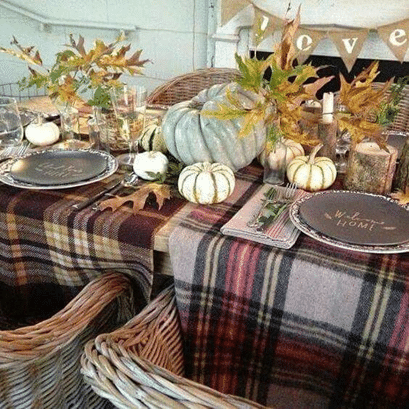 Utilize faux fur or plaid blankets to give your Thanksgiving table a warm and inviting atmosphere. For added warmth and comfort, wrap them over the chairs or plan them across the laps of your visitors. While plaid blankets provide a rustic and traditional appeal to your cheap Thanksgiving table decor, faux fur blankets add an aura of luxury and elegance.
In addition to offering essential comfort, these quaint additions also improve the overall look of your Thanksgiving party, ensuring that everyone has a relaxing and enjoyable day.
25. Tiered Dessert Stand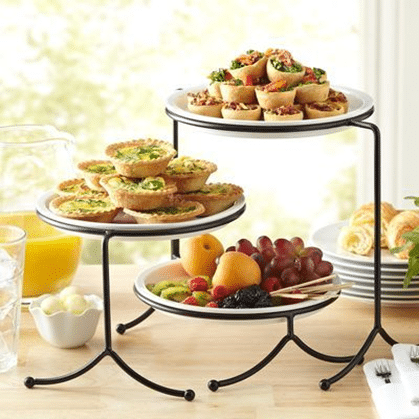 Use a tiered dessert stand on your Thanksgiving table to present your mouth-watering sweets in style. Select a display with numerous tiers so you may display a variety of sweets like pies, cookies, cakes, or pastries. Create an enticing centerpiece by arranging the sweets to be attractive and visually pleasing.
The multi-tiered dessert stand makes it simple for visitors to choose their favorite sweets while adding sophistication and elegance to your table. It's a valuable item that adds style, which will impress your visitors while making dessert much more enjoyable.
How to Choose the Best and Cheap Thanksgiving Table Décor?
There are a few things to remember while selecting cheap Thanksgiving table decor to make your party lovely and welcoming.
1. Think About the Theme
Choose a theme or general look that embodies your ideas for the table setting. It could have a particular color palette or be rustic, beautiful, or futuristic. Having a theme in mind will help you make decisions and provide a unified appearance.
2. Add Seasonal Elements
Include seasonal accents that represent the harvest and autumn seasons. Use cornucopias, gourds, leaves, acorns, or pumpkins as accents or table centerpieces. Use warm hues like orange, yellow, brown, and deep red to convey the season's spirit.
3. Personalize Using Place Settings
Include personalized place settings to add a special touch for each guest. Use colorful name cards or tiny trinkets like miniature pumpkins or leaves to signify their seat. This gives the conversation a meaningful and personal touch.
4. Layer and Vary Heights
Stacking various table items gives the impression of depth and dimension to your cheap Thanksgiving table decor. Use centerpieces, candlesticks, or ornamental items of various heights to enhance visual interest. This will enhance the table's aesthetic and visual appeal.
5. Don't Forget to Light
Lighting is essential in mood-setting. Use string lights or soft candlelight to create a warm, inviting ambiance. Consider using candlesticks, lanterns, or votive holders to add elegance and improve the mood.
Cherish the Joy of Gathering
These original and imaginative ideas for table décor can assist you in creating the ideal ambiance as you get ready to host a Thanksgiving meal. Each cheap Thanksgiving table decor, from place cards with names to centerpieces with a harvest theme, brings a unique charm and coziness to the atmosphere.
Whether you choose a vintage aesthetic, a monochrome color scheme, or a rustic theme, the most important thing is to include your sense of style and originality in the table design. By paying close heed to the small things and adopting these thoughtful suggestions, you can create a warm, eye-catching environment that perfectly expresses the Thanksgiving spirit of plenty, appreciation, and community.
Frequently Asked Questions 
Can I Mix and Match Several Types of Tableware?
Yes, mixing and matching tableware styles may bring personality and aesthetic intrigue. Combine various textures, colors, and pattern combinations. Experiment with old items, modern designs, or diverse trends for a one-of-a-kind and customized table arrangement.
How Can I Set My Thanksgiving Table so That Kids May Eat There?
Use disposable dinnerware and entertaining accents like coloring placemats or activity papers to set an appropriate and cheap Thanksgiving table decor for kids. Choose plates and mugs that won't spill. Place a few treats or small surprises at each place setting.