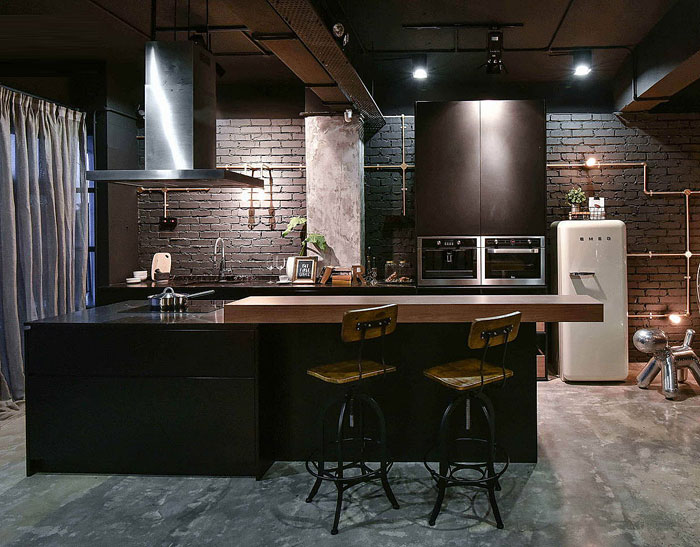 Are you ready to embrace the allure of the dark side? If you are seeking kitchen inspiration that exudes sophistication, elegance, and a touch of drama, it's time to consider black kitchens. In this article, we present 18 stunning examples that will not only captivate your senses and make you reconsider traditional design norms.
Black kitchen cabinets have emerged as bold and stylish choices, offering a timeless appeal that can transform any kitchen into a beautiful masterpiece, whether you prefer a matte charcoal finish or glossy jet-black sheen, or deep hues that create a striking background to culinary aesthetics and social gatherings.
It's time to step into the world of black kitchens, where urban chic meets sophistication. From sleek modern designs to classic and traditional aesthetics, each kitchen in this selection displays the versatility and magnetic charm of black cabinetry. Get ready to be inspired by the seamless integration of black kitchen cabinets with various materials, textures, and color accents that will create an enchanting look for your kitchen!
1. The Minimalist Marvel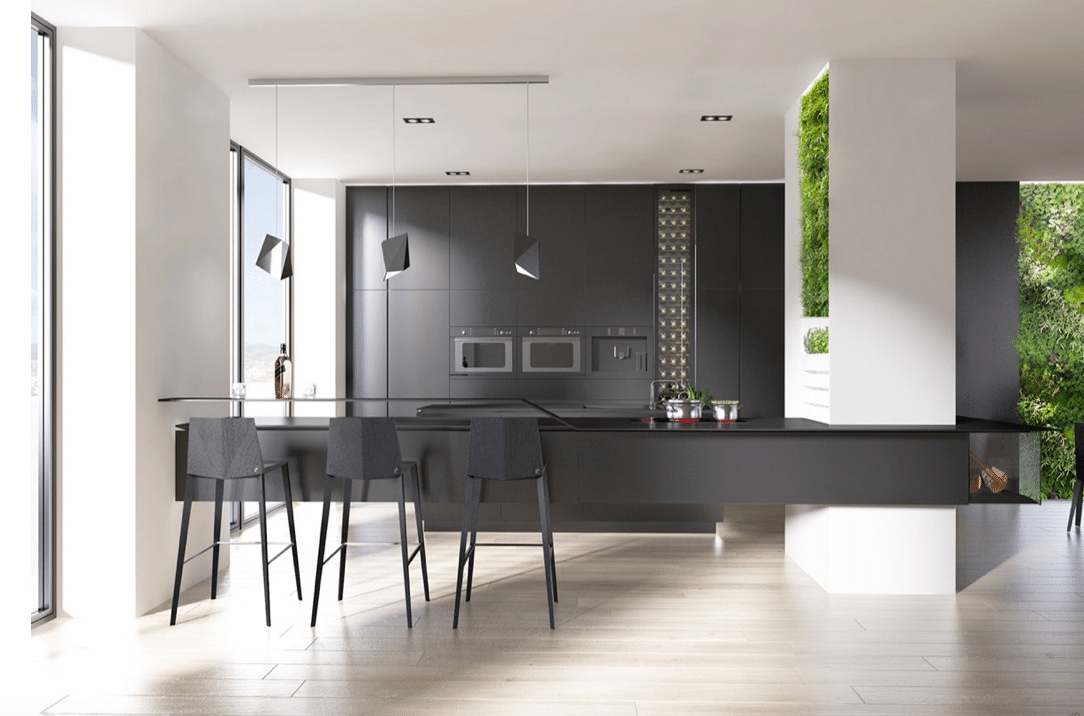 A black kitchen is a testament to the power of simplicity and minimalism. The sleek black kitchen cabinets are paired with clean lines and a minimalist approach to design. The monochromatic color scheme enhances a sense of sophistication, while strategic lighting highlights the beauty of black minimal surfaces. This kitchen proves that black can be bold and striking without overwhelming the space.
2. Industrial Elegance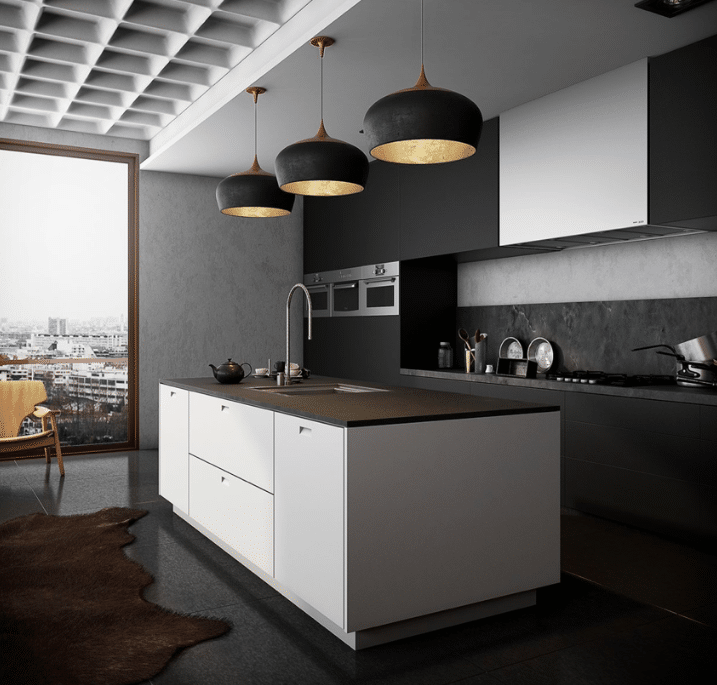 For those who prefer industrial aesthetics, this kind of black kitchen offers a perfect blend of elegance and rawness. Exposed brick walls, metal accents, and matte black kitchen cabinets create a captivating atmosphere reminiscent of a trendy loft in the heart of a bustling city. The combination of black with industrial elements adds depth and character, resulting in a truly unique and unforgettable kitchen experience.
3. Classic Sophistication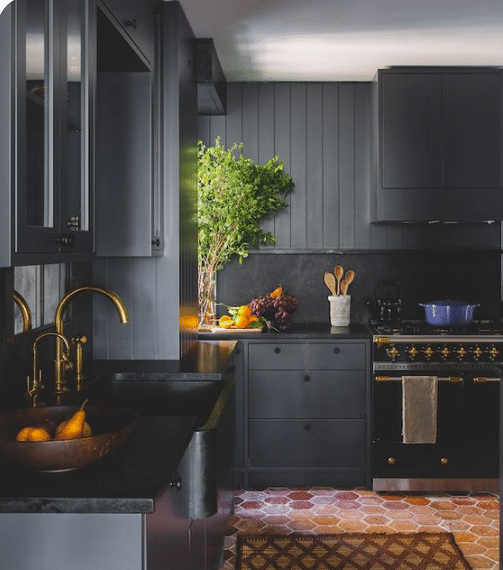 If timeless elegance is what you seek, look no further than the classic black kitchen. This design embraces the rich history of traditional kitchens while infusing them with a contemporary twist. Intricate detailing, ornate hardware, and black cabinetry come together to create a space that exudes luxury and refinement. Whether you opt for a glossy finish or a more muted matte surface, this style is a true showstopper.
4. The Bold Contrast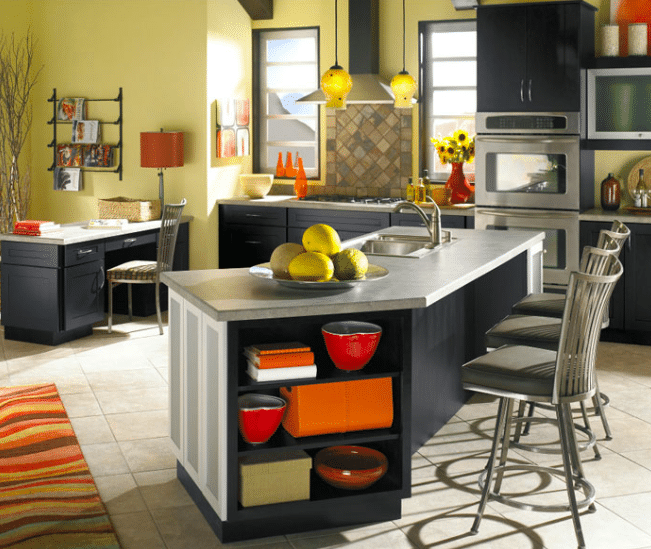 Black kitchens provide the perfect canvas for striking colors. Picture sleek black kitchen cabinets paired with vibrant, colorful backsplashes or countertops. The bold approach infuses energy and excitement into the kitchen space, creating a visual feast for the eyes. The contrast between black and vivid hues adds a playful cement to the design, transforming the kitchen into a lively hub of pop color.
5. Nature's Embrace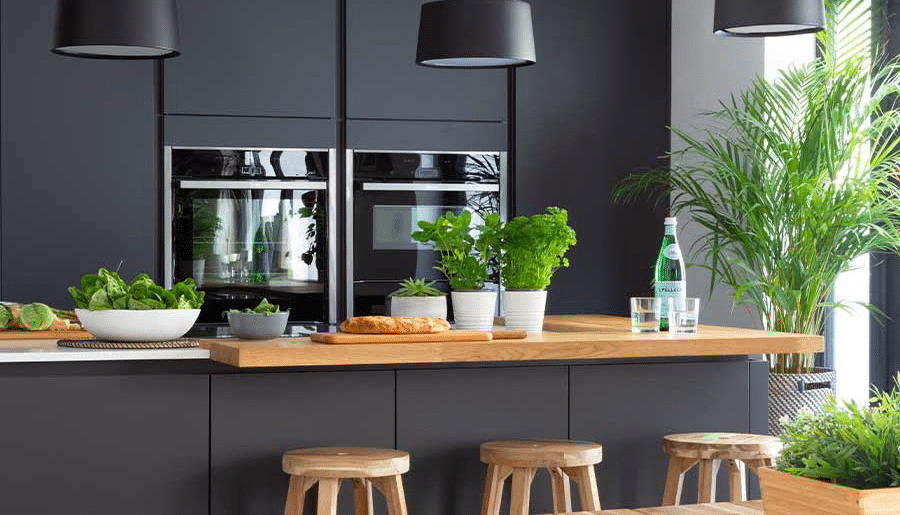 The best thing about black kitchens is how effortlessly they incorporate natural elements, bringing a sense of warmth and serenity to the place. Imagine black kitchen cabinets juxtaposed with rich modern sophistication and natural beauty. The organic materials soften the overall aesthetic, resulting in a kitchen that feels alive and tranquil.
6. Contemporary Glamour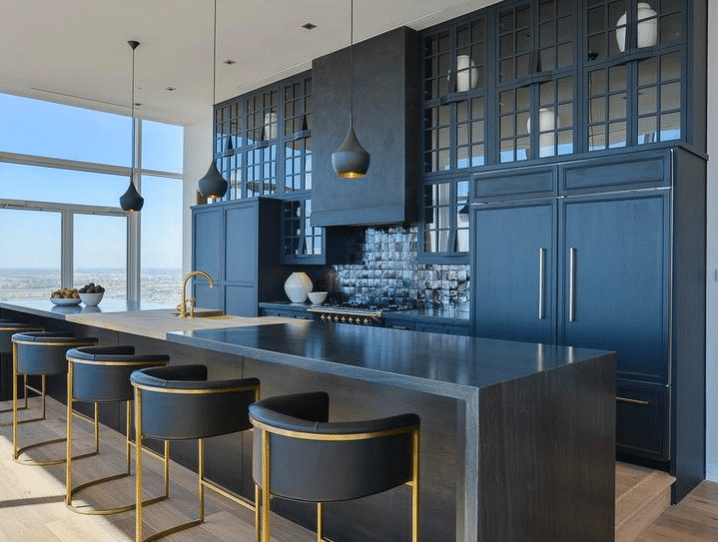 For those who desire a touch of glamor in their kitchen, the contemporary black designs are a dream come true. Mirrored surfaces, sparkling countertops, and sleep-black kitchen cabinets create a captivating interplay of light and shadow. This design effortlessly balances elegance and modernity, offering a space that is both opulent and cutting-edge.
7. Scandinavian Simplicity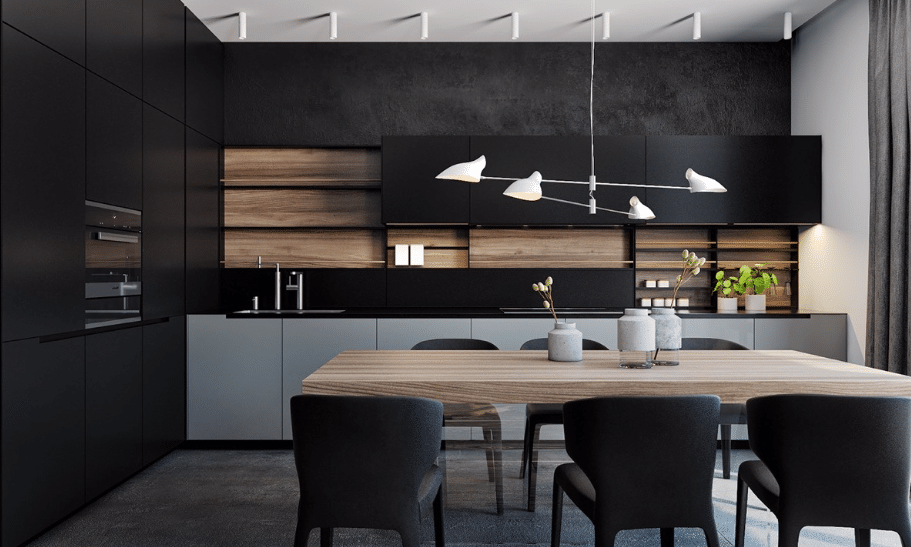 Scandinavian designs are renowned for their minimal aesthetics and functionality, which can also be infused into black kitchens. This style embraces clean lines, ample natural light, and a restrained color palette, allowing the black kitchen cabinets to take center stage. The result is a kitchen that feels effortlessly cool and serene with a touch of Nordic charm.
8. Light and Dark Harmony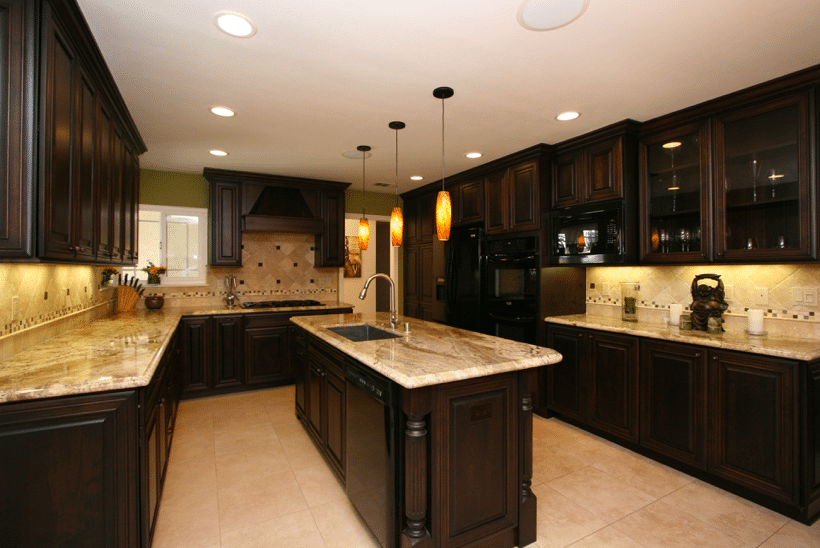 Black kitchens don't necessarily mean sacrificing light and openness. By combining black kitchen cabinets with lighter elements, such as white countertops or backsplashes, you can achieve perfect harmony between the two shades. The contrast creates a captivating visual dynamic enhancing a sense of depth and balance in the kitchen.
9. Eclectic Fusion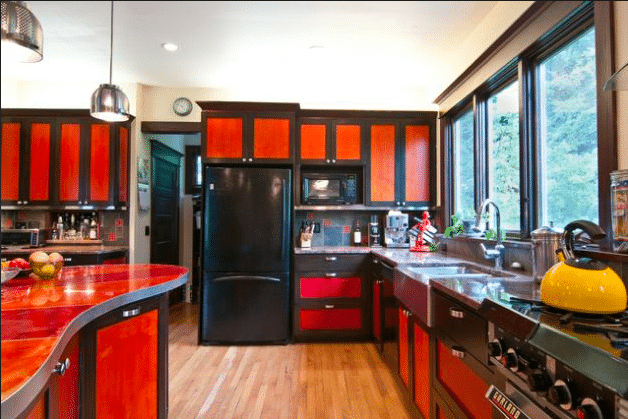 Black kitchens also lend them beautifully to an eclectic design aesthetic. By combining a variety of styles, textures, and colors, you can create a truly unique and personalized space. Mix vintage elements with modern accents, add pops of bold colors, and experiment with unconventional materials. The possibilities are endless, allowing you to unleash your creativity and design a kitchen that is a genuine reflection of your personality.
10. Open Concept Wonder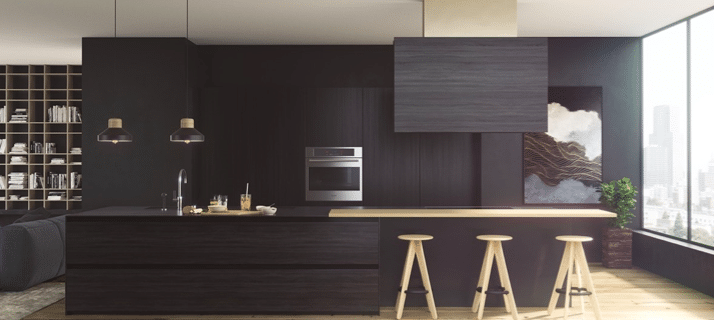 For open-concept homes, black kitchens offer a seamless transition between living and dining areas. By extending the black cabinetry into the adjacent spaces, you create a cohesive and visually impactful design. The dark color acts as an anchor grounding the open layout and providing a sense of unity throughout the entire living space. This approach is ideal for those desiring modern and cohesive aesthetics.
11. Dramatic Backdrops
Black kitchens can work as dramatic backdrops for showcasing artwork or statement pieces. Imagine a gallery wall, a sculptural lighting fixture, or a vibrant piece of artwork stealing the spotlight against the dark backdrop of black kitchen cabinets. The design choice creates a visually captivating focal point and adds an element of surprise to the kitchen.
12. Geometric Patterns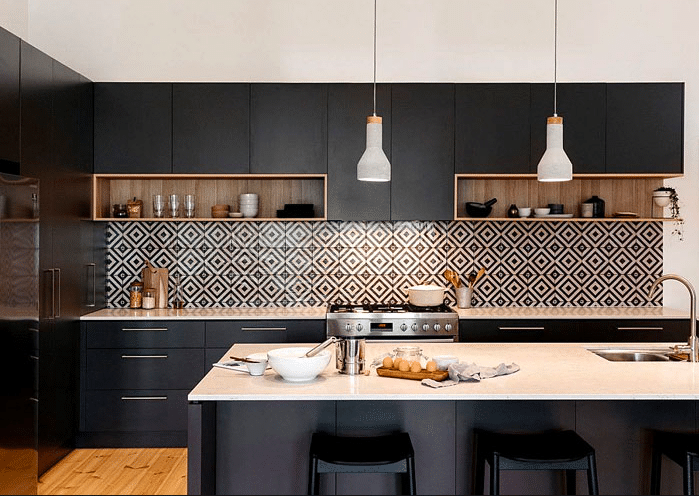 Black kitchen cabinets provide an excellent canvas for adding geometric canvas to your kitchen space. Whether its a herringbone tile backsplash, geometrically patterned floor, or wallpaper, the combination of black and intricate patterns adds visual interest and complexity. This design choice elevates from a functional space to a work of art.
13. Moody Elegance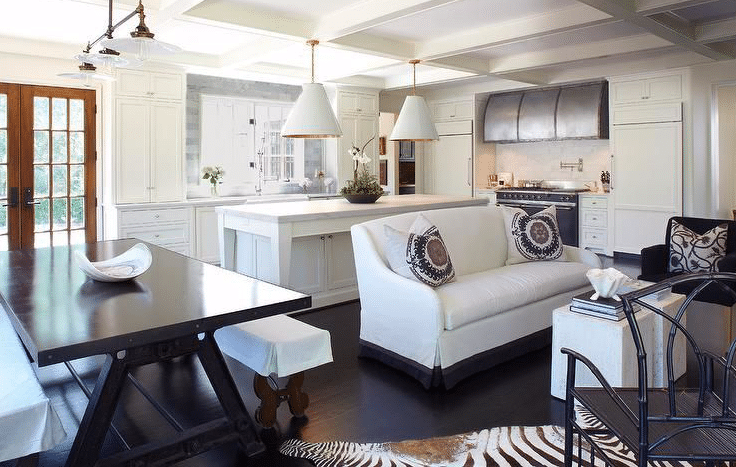 Black kitchens are known for their moody and atmospheric ambiance. Incorporating soft lighting, textured materials, plus seating will help you create a sense of coziness and intimacy. This decor will set the perfect ambiance where you want to have date nights or get together with loved ones!
14. Retro Revival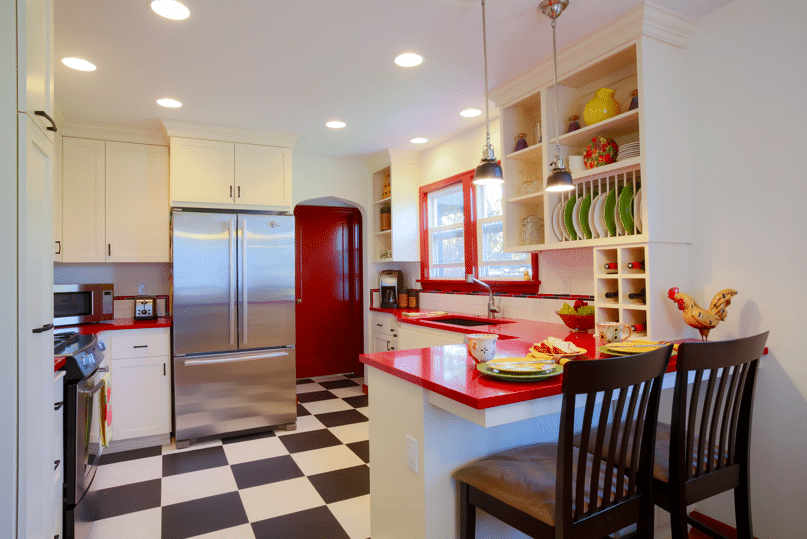 Black kitchens can channel the spirit of retro design, offering a nod to the past with a modern twist. Think of black kitchen cabinets paired with vintage-inspired appliances, retro patterns, and colorful accents. This playful design choice infuses the kitchen with nostalgia and charm while creating a space that is stylish and inviting.
15. High Gloss Allure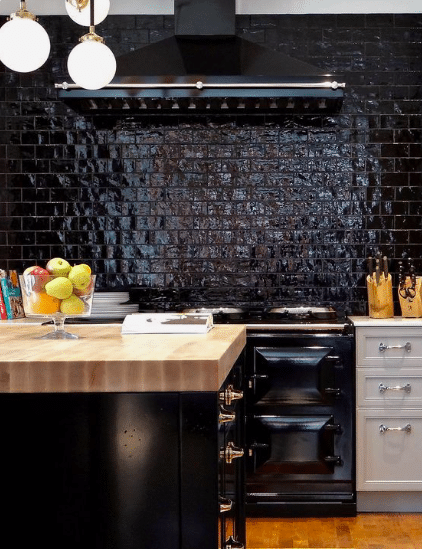 The glossy finish of the black kitchen cabinets does add an extra layer of allure and sophistication. Reflective surfaces create a sense of depth and luminosity, making the kitchen feel more spacious and bright. The design choice is perfect for those who want to make a bold statement and create a kitchen that exudes modern elegance.
16. The Asian Zen
Create a serene and Zen-like atmosphere in your black kitchen inspired by Asian design principles. Combine black kitchen cabinets with clean lines, minimalistic decor, natural materials, and bamboo or stones. This design choice is perfect for those seeking a harmonious and minimalistic place for relaxation.
17. Coastal Chic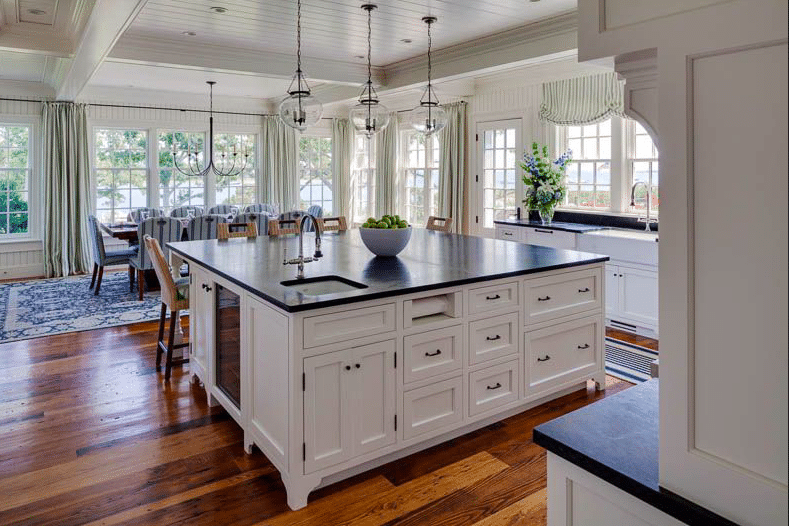 The black kitchen can also embrace coastal vibes. Combine black kitchen cabinetswith light blue or aqua accents, natural textures like rattan or June, and beach-inspired accessories. The contrast between the black kitchen cabinets and the light, airy colors creates a coastal chic aesthetic that is both refreshing and sophisticated. This design choice allows you to bring a touch of beach into your kitchen while maintaining a sense of elegance.
18. Futuristic Elegance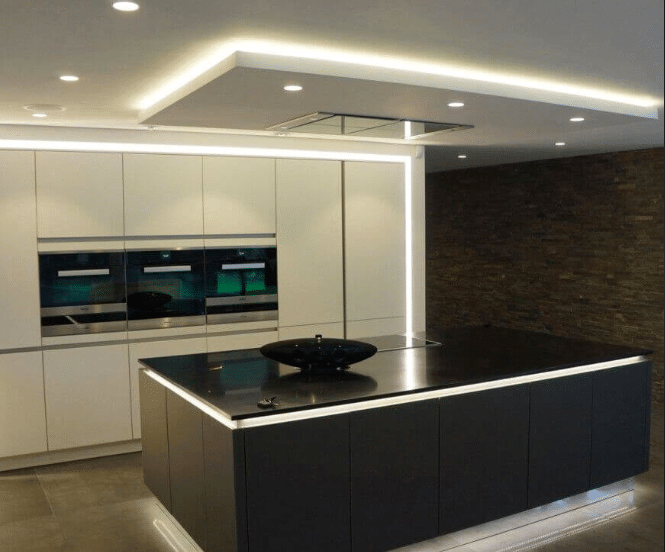 Embrace a futuristic design aesthetic in your black kitchen. Combine sleek black kitchen cabinets with innovative technology, minimalistic forms, and metallic accents. Incorporate smart appliances and cutting-edge lighting solutions to create a space that feels both modern and luxurious. This design choice allows you to create a kitchen that is ahead of its time in elegance and sophistication.
Conclusion
These design ideas banish the myth that black is overwhelming as a design interior. In fact, from minimalist marvels to luxurious contrasts and eclectic fusions, each design offers a unique perspective on incorporating black kitchen cabinetsinto kitchen aesthetics.
The captivating interplay of lights and shadow, bold contrasts, and the seamless integration of materials and textures all contribute to the timeless elegance and sophistication that black kitchens exude.
By embracing the beauty of black kitchen cabinets, you will be transforming your kitchen into a magical sanctuary that is inviting and delightful. It's time to think out of the box and get experimenting with the dark hues in your kitchen.
Frequently Asked Questions
Is Black Kitchen a Good Idea?
Black is a trending theme in the current interior decor world and is sure to make an elegant choice for your kitchen.
How Can I Decorate a Black Kitchen?
Black is the perfect neutral background that can incorporate any color scheme, pattern or design. You can play safe by teaming black with white aesthetics or try pop colors like red, pink, yellow, and green to add vibrancy to your kitchen space.