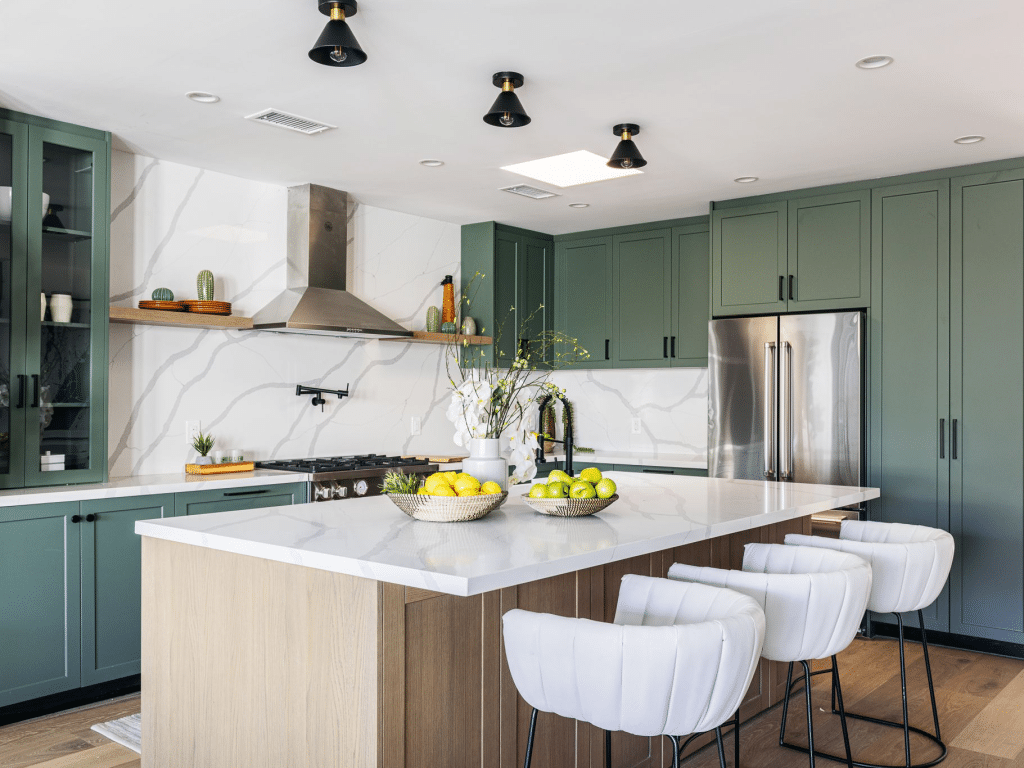 Home decor can always throw a new homeowner in a doozy. Every space needs to be thought out and designed with a purpose, especially the rooms all family members use. The kitchen is an essential space in a modern home for reasons beyond the obvious. Today, a kitchen is a space for socializing around an island, cooking together as a recreational activity, sneaking a quick midnight snack, and hosting a group for a homemade brunch.
Be it spacious or cramped; kitchens can be adored and accessorized in many ways. It is worth considering how to accessorize a kitchen counter as it is the first perceivable space in your kitchen! Choosing the right mix of practical and aesthetic elements is important to add value to your precious counter space. The following tips will guide you on how to accessorize a kitchen counter in 16 easy and fun ways:
1. Assign Fixed Spots for Appliances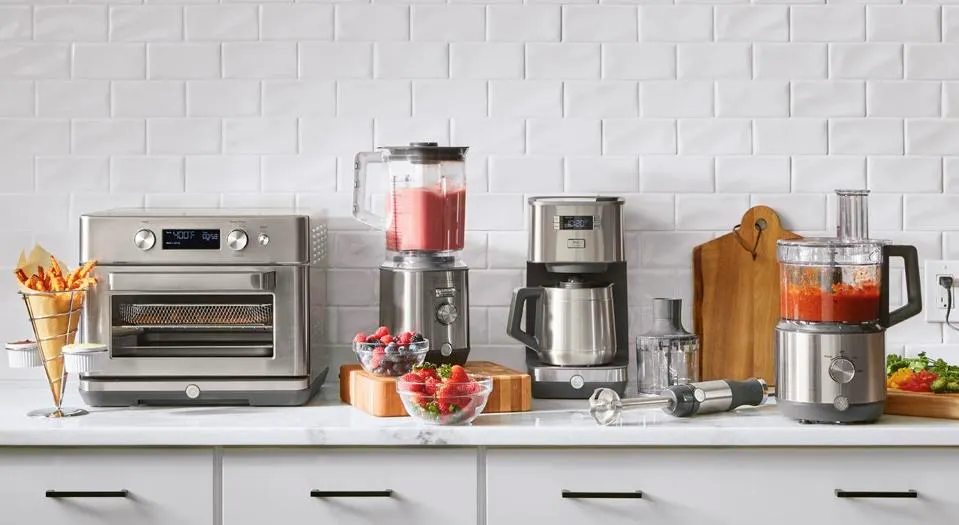 You can't ignore the eyesores, so make them a part of your decor! Invest in kitchen appliances you can flaunt on your kitchen countertops. Display your coffee machines, mixers, and fancy toasters – for easy access for the family on hectic weekday mornings. Locate allied equipment in the near vicinity of these appliances so the functions are performed in one place. For example, arrange glasses in a cupboard within arm's reach of the juicer on the countertop. This way, you won't have to walk around your pristine kitchen searching for a utensil to store your beetroot juice.
No products found.
2. Display Oils and Spice Mixes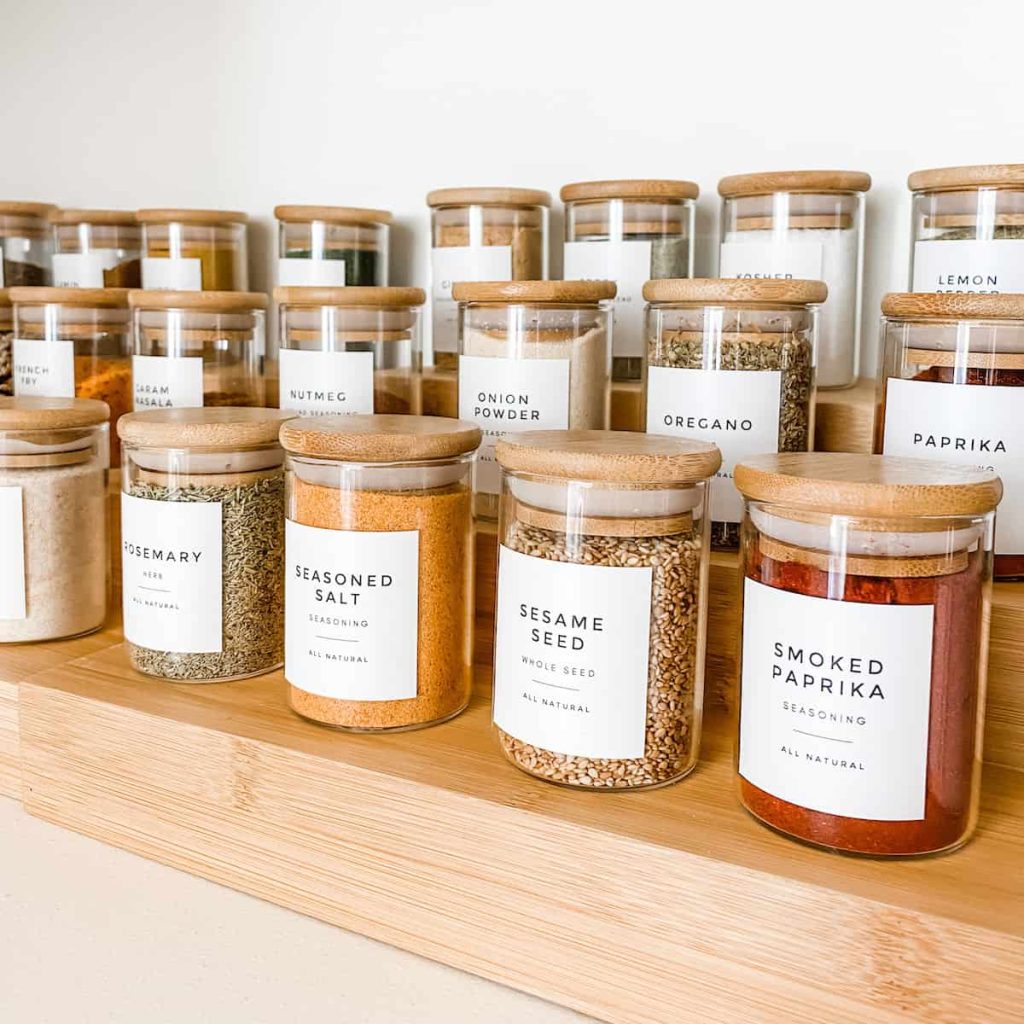 Arranging cooking essentials such as spices and oils in a tray near the hob has several benefits. Not only will they be easily visible when you're searching for them while cooking, but they look great in similar glass bottles displaying their contents. After all, species deserve to be displayed, so organize these products in cohesive-looking containers and arrange them in a beautiful tray that matches the decor of your kitchen. This way, you can carry the tray of essentials with you should you move between the dry and wet kitchens.
Plantex Stainless Steel 2-Tier Kitchen Rack/Spice Shelf/Kitchen/Pantry Storage Organizer(Silver-Chrome)
The Size Of This Spice Rack Is 40 x 19.5 x 36 cm, So It Is Easy To Hold Various Bottles, Cans, Jars, Etc. The 2-Tier Design Of This Spice Rack Shelf Is Aimed At Saving Your Space But Holding More Items.
This Shelf Holder Is Made Of Full Metal Frame With Chrome Plating, Ensuring Its Sturdiness And Durability. Therefore, This Cabinet Spice Rack Won't Tip Over Easily When You Use It.
This Countertop Rack Can Be Used To Organize Spice Jars, Cups, Dishes, Small Spots, Fruits And Vegetables, Books, Skincare Products And Cosmetics, Towel And Bath Ball, Or Shampoo And Shower Gel, Etc., Giving You A Better Display And Easier Access To Your Items
Through Line Design, This Counter-top Storage Organizer Can Be Given More Breathability And Ventilation, So It Can Keep Clean And Dry, And Then Extend Its Life
There Are 4 Little Rubber Caps That Go On This Seasoning Organizer's Legs. They Can Keep Your Shelf Rack From Sliding And Meet Your Daily Stable Use
3. Make Room for Cooking Staples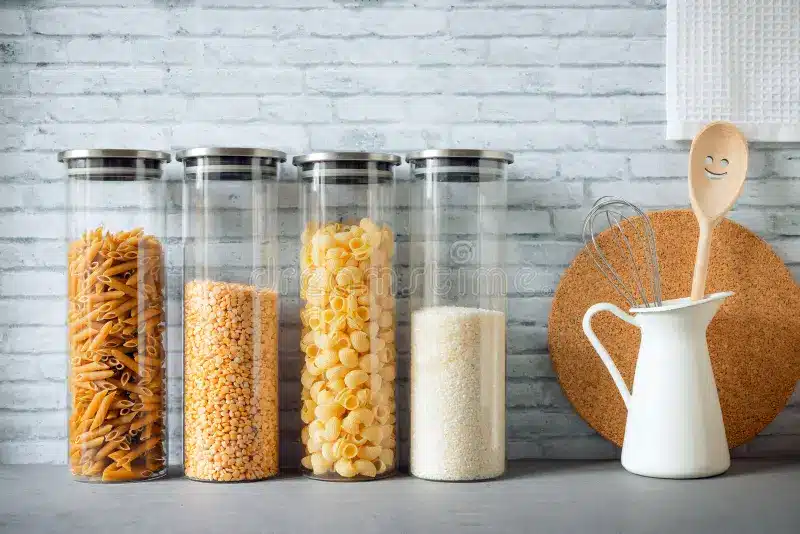 A great way to keep the kitchen organized is by assigning separate see-through bins for cooking essentials such as sugar, flour, and pasta. Similar-looking jars or containers labelled with their constituents can be displayed on the kitchen counter – ideally near other cooking equipment. The advantage of having small amounts of staples on the counter, as opposed to under, is knowing in advance when you're running low on supplies. This way, you can be on the top of your pantry stocking game and never run out of food.
4. Display Cutlery and Cutting Boards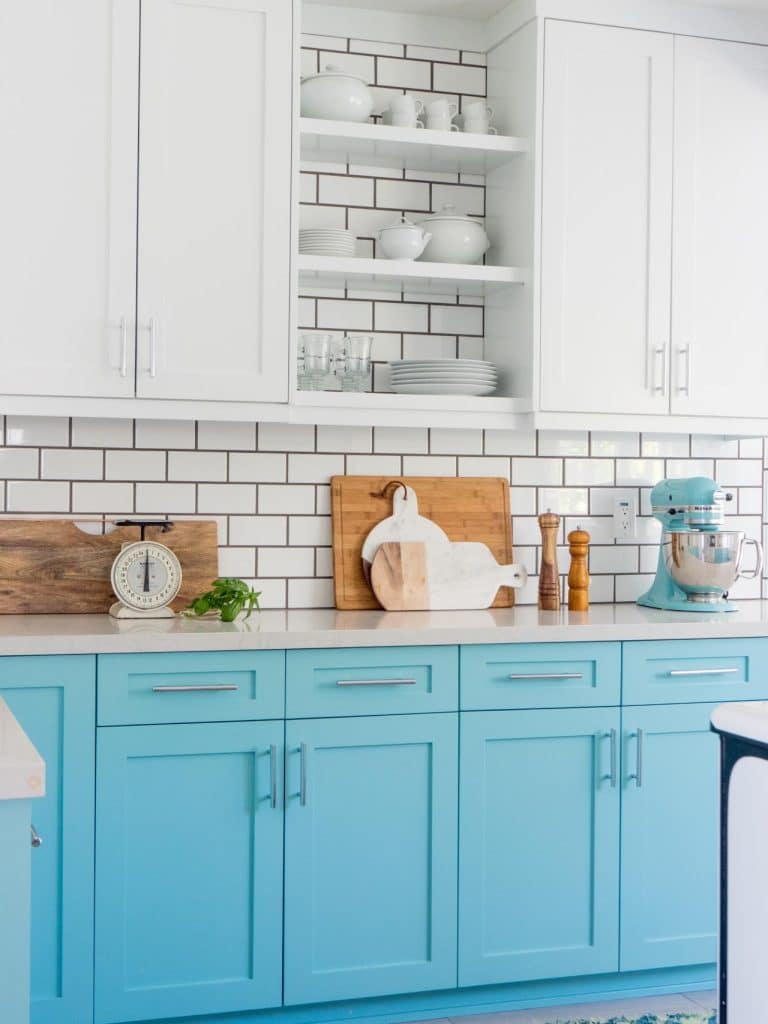 Nowadays, product brands have realized the value of good-looking chopping boards as part of interior kitchen decor. Designer serving trays, platters, and chopping boards make the kitchen look welcoming when propped up against an attractive backsplash near the sink on the counter. Additionally, an exciting way to accessorize a kitchen counter is placing these products in a wicker basket or wire rack, almost like displaying magazines on a shelf!
NAOE Kitchen Dish Rack Organizer - Wire Metal Cabinet Organizers and Storage Rack For Plates, Dishes, Pots, Pot Lids, Pan Lids, Container Lids - Shelf, Counter & Pantry Organization (Chrome)
STAY ORGANIZED - Find what you need while adding a trendy touch with this beautiful metal large dish drying rack. It's the ideal accessory for your dishes, plates, cutting board, serving tray, and as an under sink organizer and countertop organizer.
USE AS A DISPLAY RACK - Measuring 25.5in" x 23in" x 15in" you can use this dish stand to display your fine china, platters, and even as an art drying rack. The plastic feet covers will protect your cabinets from scratches and scrapes while moving the rack around
EASY TO GRAB - When you're baking and cooking, this rack allows for easy access to all your cookware and bakeware, see it and grab it right out of your cabinet. Hand wash recommended.
PAN AND POT LID HOLDER: This pan and lid storage has met its match. The organizer accommodates any size pot lid or pan that your kitchen can throw at it. It will keep your drawers and cabinets neat and tidy while having cooking items at easy reach.
5. Incorporating Stackable Storage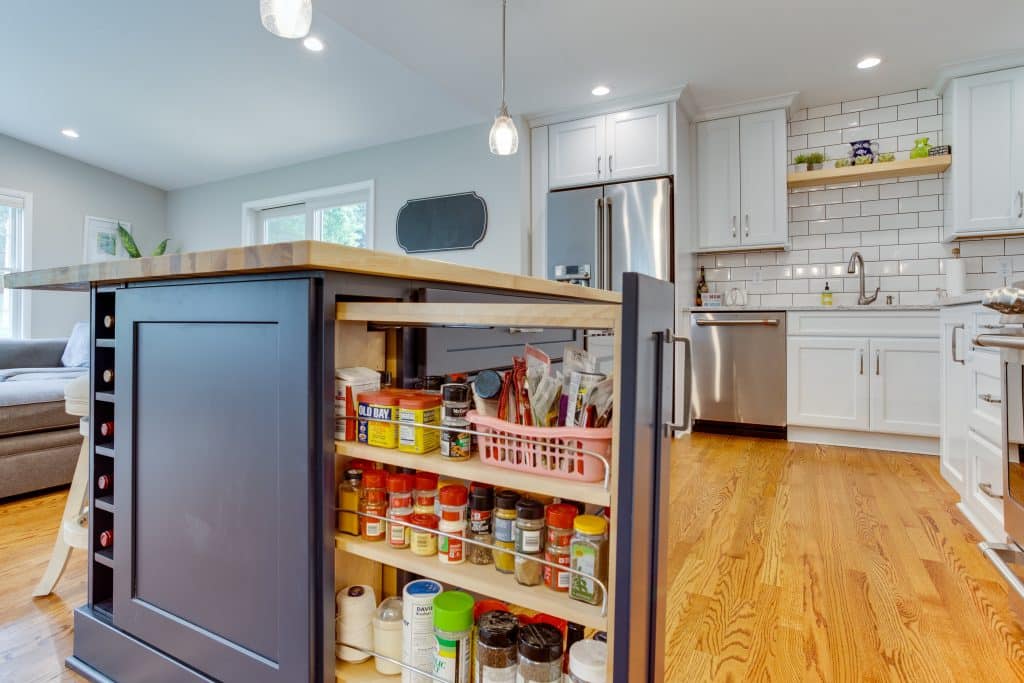 A pet peeve of most homeowners is running out of valuable counter space but not wanting to compromise on putting away something on display. Stackable storage boxes come to the rescue with the option of capitalizing on vertical space. Multivitamins, blackboard chalk, supplements, and storage rubber bands are pesky items notorious for getting lost. Store them in stackable boxes that you can conveniently place at the corner of the counter. These boxes with similar widths prevent the ones on top from toppling over and paint an overall cohesive vision in the kitchen.
TechSrmaji Cabinet Storage Shelf Rack, Steel Rustproof Kitchen Counter Space Saver Cabinet Shelf, Storage Rack Organizer for Kitchen, Fridge, Bathroom Pantry Shelves Countertops (Black, 2)
✅【Extend Your Kitchen Storage】 --- These set of 2 kitchen cabinet helper shelf will help your solve the messy counter, cabinet, and pantry. The cabinet wire shelf rack suitable for different scenarios usage, like living room, bathroom, kitchen and pantry. Great for organizing plates, pots, pans, cups & coffee mugs. Creates double storage space virtually anywhere. It also can be a drying rack for dishes, bottles, plates.
✅ BYE BYE CLUTTER: See contents at-a-glance, find just the right item without digging through a jumbled cabinet, grab and go! Great for organizing plates, cups, bottles, and cans in your cabinet, counter top or even refregiator.
✅【Easy To Use】 --- The kitchen cabinet shelf organizer rack set no needs installation. Simply place this wire cabinet shelf where you needed. When it's time for a new arrangement, the shelf organizer rack can be moved or removed with no damage to original cabinets or cupboards. Provides extra freezer space for flat items, The added storage space helps organization and tidiness.
✅【High Quality Material & Sturdy Construction】 --- Made of firm and durable robust metal with a white PR coating that cleans easily and not easy to rust, not easy to deform, these shelves will be around for the long haul.
✅ Each measures approximately 15.7 inches length x 9.4 inches width x 5.9 inches height.
6. Assign an Area to Fresh Fruits
The typical farmhouse kitchen of our dreams has a neat fruit basket on the counter. Beyond a beautiful and colorful display, displaying fruits will ensure you eat them throughout the day. Note that you need to club fruits that stay healthy together in one area. Bananas, apples, and pears cause other fruits to ripen faster, so keep them in fruit baskets separately. The best way to accessorize a kitchen counter is by displaying seasonal fruits that contribute to the whole space's thematic interior design!
Jayci Mart 3-Tier Bowls Fruits Basket Dining Table & Kitchen Counter Organizer Modern Fruit Basket Stand Unique Yumi Arched Server
Pen Design Encourages Even Ripening: Wire storage fruit basket steel limits overripening, expanding the window in which you can enjoy your fruits and vegetables. Air circulation prevents build-up of ethylene gas, so your fruits will stay fresh for longer in fruit baskets.
Big basket Dimensions & Care: 13" L X 12.75" W X 19" H; to clean, wipe down with a damp cloth and towel dry. Wipe down as necessary to prevent dirt build-up. Gripped feet prevent sliding and protect delicate surfaces.
Store A Variety Of Fruit: 3-tiered fruit basket is your produce: apples, pears, lemons, limes, grapefruit, kiwis, bananas and other fruits in convenient countertop food storage in fruit stand. Alternatively, use your fruit baskets for vegetables or bread. Very suitable for bowl stand for kitchen .
Chic, Elegant Storage: The minimalist design blends seamlessly into an elegant, modern vegetable basket for kitchen . The sleek, smooth lines and modern finish add sophistication and The gently curved sides add a touch of grace to this functional countertop organizer fruit basket for dining table .
7. Assign an Area to Dry Fruits, Refreshments, and Chocolates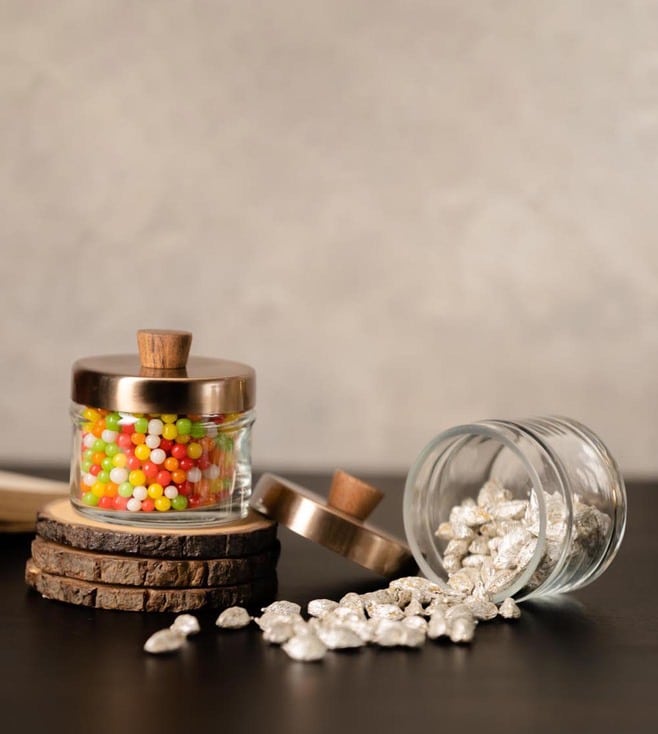 Indian families love consuming soaked dry fruits as part of their morning routines. To prevent forgetting to soak the dry fruits a night prior, display them beautifully in teakwood or glass jars near where you fill and store water bottles. Almonds, cashews, and pistachios are traditionally offered to guests, so having them on hand is always a good idea. Place an assortment of chocolates with them so family members and guests can indulge in refreshments after a meal.
Ash & Roh - 200 ml Clear Glass Jar and Container with Air Tight Blue Checks Lid Storage of Spices and Dry Fruit (12)
Suitable To Use Multipurpose Storage With Airtight Cap, This Jar Can Also Use In Microwave Oven. Food Grade Jar and Cap Both, Very Useful To Replace Your Plastic Masala Jars
200 ml This jar mouth is wide so, it's easy to operate at the time you clean, store or taking out the goods from this jar.
Our metal lids provide unique benefits, The Golden Airtight lid is easy to remove but has a snug seal that ensures the jar's contents stay fresh. These metal lids are rust proof. The Food Grade glass jars is lightweight, microwave safe as well as dishwasher safe.
Special coating given in the cap inside to avoid any type of problem in the item you store in
Ideal for storing food items such as honey, jams, pickles, chocolates etc. Great for gift packaging and look very attractive when filled with colorful food items!
8. Display Art, Books, and Trinkets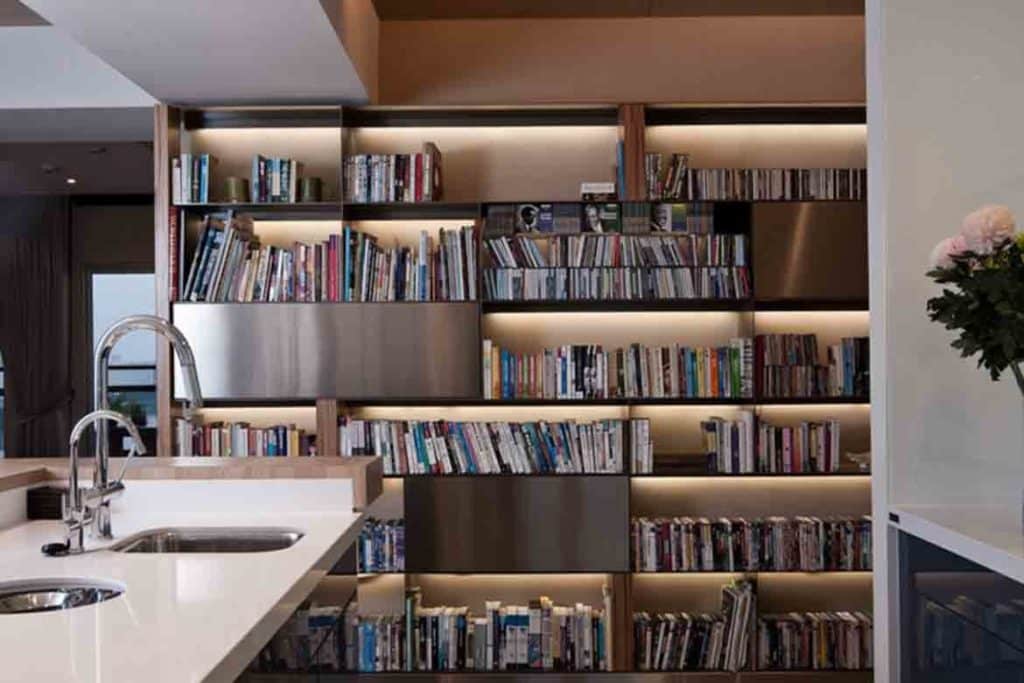 Display framed art pieces, collectable coasters, and souvenirs on your kitchen counter. Add personality to a convenient space by infusing it with some life. For example, Handbound cookbooks with fancy covers and colorful paintings can be propped up against the backsplash or assigned a specific space on the neater end of the kitchen counter. Remember to display art, books, and trinkets that can be easily wiped down should catch some kitchen splatter.
Adjustable Desktop Bookshelf Desk Organizer Rack Counter Top Bookcase Free Style Display Shelf Rack Office Supplies Storage Shelf Book Rack Multipurpose Bookshelf for Office Kitchen
QUALITY MATERIAL: Made of high quality natural bamboo material, this bookshelf is stable, non-toxic and environmentally. This storage shelf is provided with smooth surface, beautiful appearance, durable performance and environmental protection features.
INNOVATIVE DESIGN: Design with sleek irregular shelves; The desktop bookshelf has 2 main parts, the position and the distance between two parts can be adjusted to meet your different storage needs; Maximize use your space.
MULTIFUNCTIONAL RACK: Flat surface and sturdy construct, excellent craftsmanship process, With different height open shelving unit gives you ample area for storing literatures/books/magazines, organizing office supplies, showing off cherished keepsakes, display miniature potted plants, etc.
EASY TO ASSEMBLE: Wood desktop bookshelf is easy and simple for you to install on your own. Screws and double head(Slotted/Phillips) screwdriver are included. Dimensions (inches): L12.3(can extends to 24.01) X W6.7 X 13.8H.
MULTIFUNCTION: It's so much more than just an office organizer! It's also a magnificent desk set, a cosmetic shelf, a place for plants, and a spice rack. Gives you ample area for placing toiletries, towels, sundries, shoes, books, plants, spice, or organizing books, office supplies, photo frames and other objects.
9. Display a Spoon Vase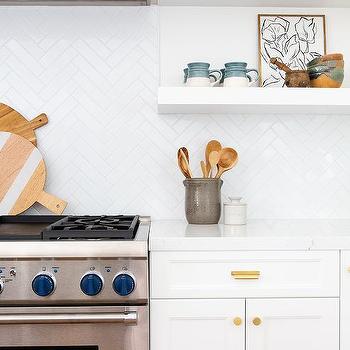 Modern art can mean anything, so why not make it functional? Locate a jar, vase, mug, or tall container to put your cooking spoons in and make it a part of your counter decor. For example, find an earthen jar, hand paint it using the kitchen's color scheme, and store your wooden spoons. Wooden spoons of varying heights, widths, lengths, and purposes will look like a flower vase if curated well. Here is where you may etch the container vase with something unique and have it be a topic of conversation when someone visits your space!
No products found.
10. Cultivate a Green Thumb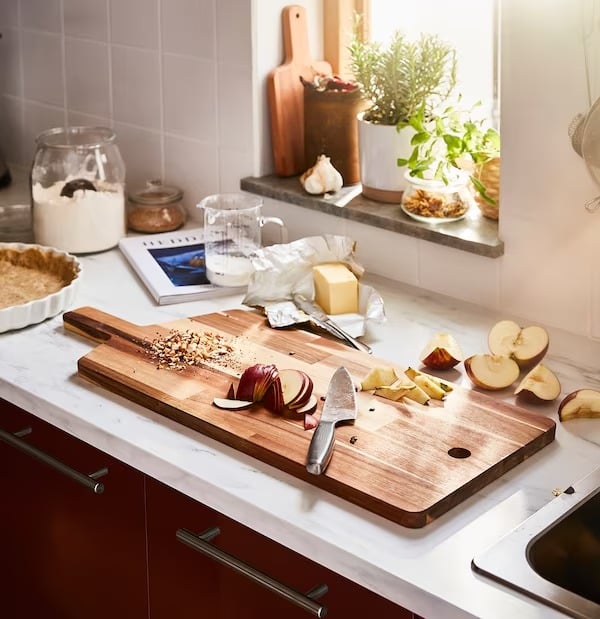 Consider adding a touch of greenery to your kitchen to add some whimsy and calmness in a space that deals with chaos and fire. Choose a glass jar, vase, or tumbler of your liking, and propagate an easy-to-maintain plant inside it. For example, the humble pothos plant is straightforward to propagate and requires zero to no maintenance. Even better, display fresh flowers on the countertop. For example, place a short trailing plant on top of some less-used counter space to add a natural touch to your decor. You may even opt for fake flowers if maintaining natural greenery is a hassle.
TrustBasket Indigo Planter Stand for Plants - Set of 4
FLOWERS/PLANTS AND POTS ARE NOT INCLUDED
PRODUCT DIMENSION: Product Height - 9.5 cm, Product breadth - 22.5 cm and Product Length - 61 cm
This stand is made of top quality heavy gauge galvanized metal. Powder coated paint is used to avoid rusting.
It is a rectangular shaped stand with six strong legs which can hold the pots easily.
As it is made of heavy gauge metal, no need to worry about the load. It can withstand the weight upto 20 - 25 kgs.
11. Treat the Counter as a Design Element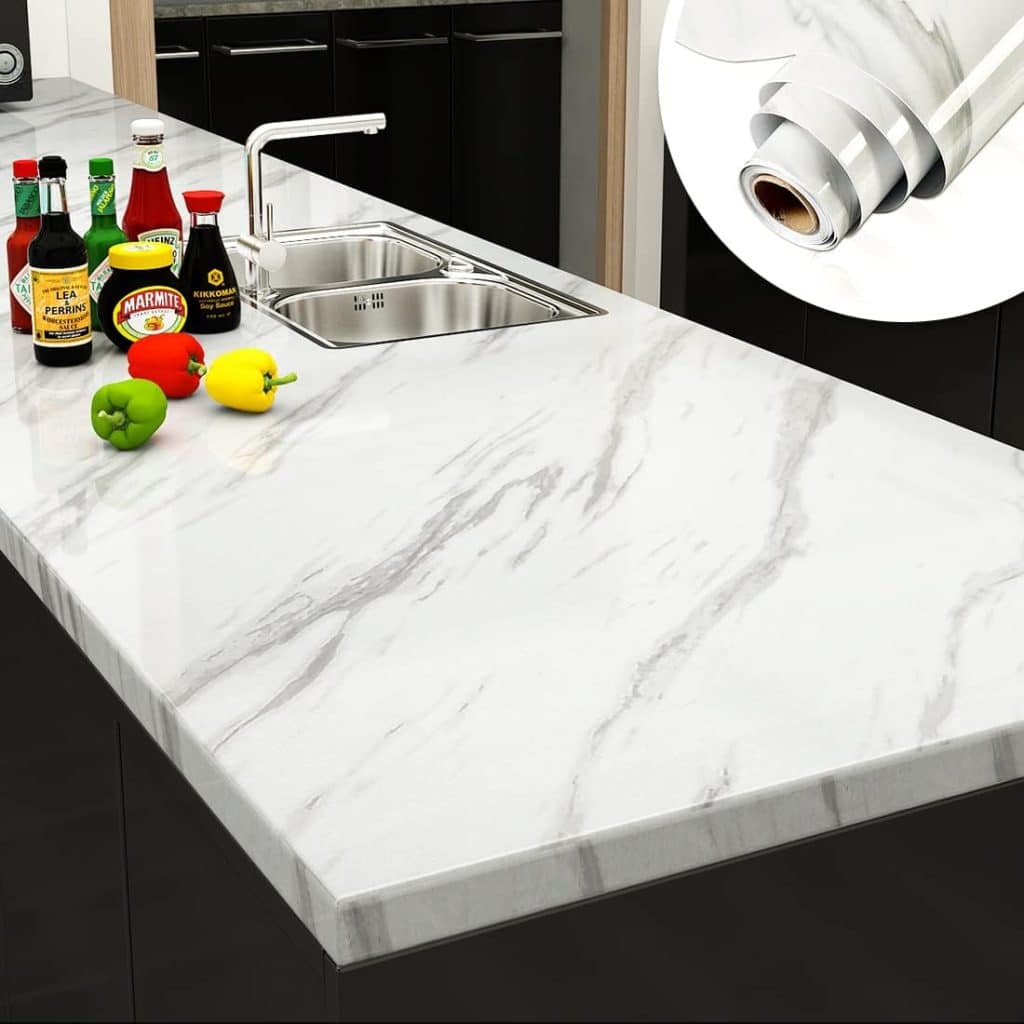 The "less is more" concept may cater to the liking of some homeowners. For them, the ideal way to accessorize a kitchen counter would be to treat the counter itself as an accessory. For example, honey-colored quartz stone or traditional black granite countertops are eye-catching and resistant to spills. You may even opt for a dupe of expensive stone counters with realistic vinyl counter stickers!
No products found.
12. Accessorize with Minimal Elements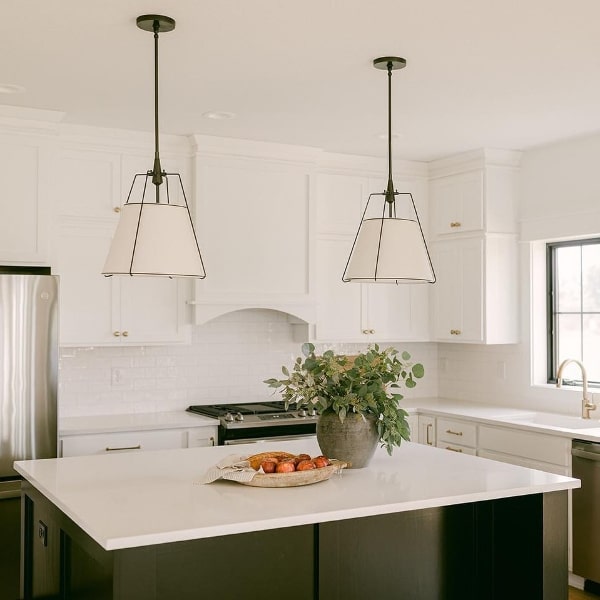 If having a plethora of objects on the kitchen counter is not up your alley, find one statement piece to set the tone of the decor. Opt for a bold sculpture or accent lighting to create drama in the kitchen without using too many movable elements. In open-concept homes, the kitchen flows as part of the living room, and having that design style reflected in the kitchen is a route you could adopt. Few hand-picked items can add charm to your space.
No products found.
13. Add Engaging Signage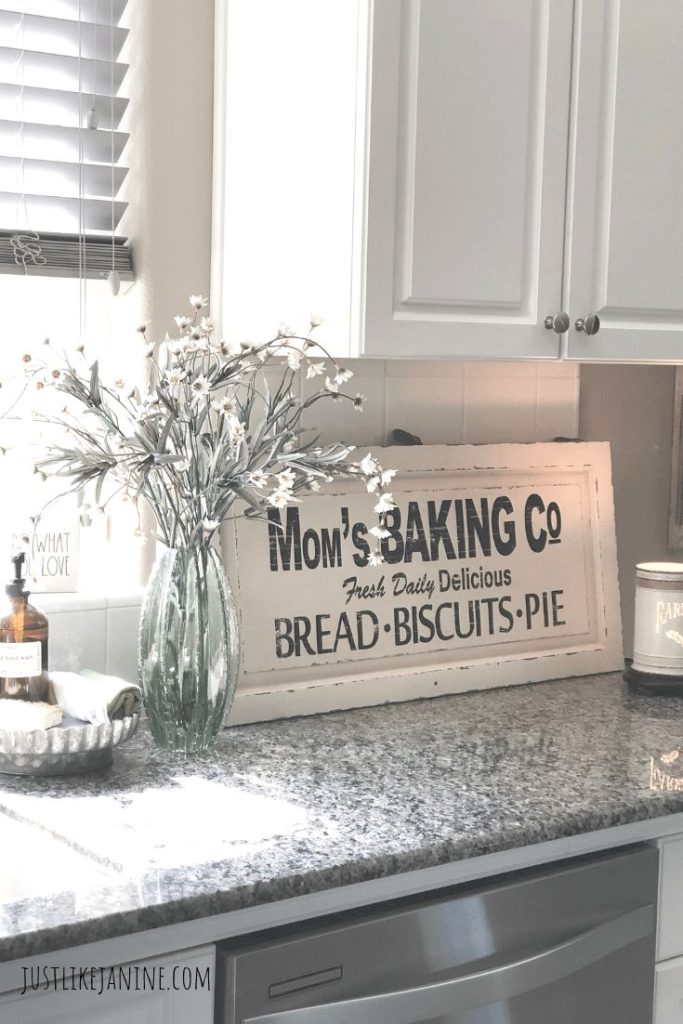 You may want to go a contrasting route to a classical design by opting for quirky decor items in your kitchen. For example, custom block-letter signs or neon murals hung on one of the kitchen wall's backsplash or leaning on the counter look great and add character to the space.
14. Support Fixed Appliances With Functionality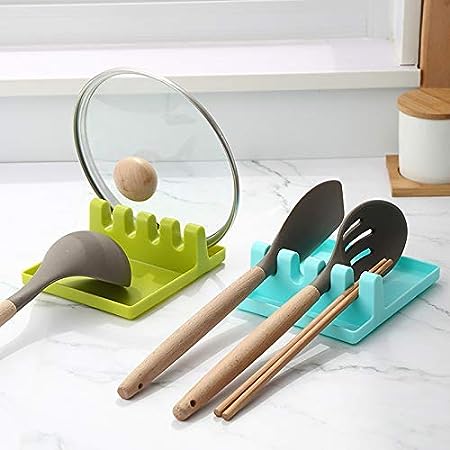 Let's not forget that built-in appliances such as stove tops and sinks significantly impact the beauty of one's countertop. Accessorize your practical and aesthetic countertop with functional elements for cooking, such as a stand to keep hot vessels and cutlery while cooking.
No products found.
15. Illuminate Important Architectural Features with Lighting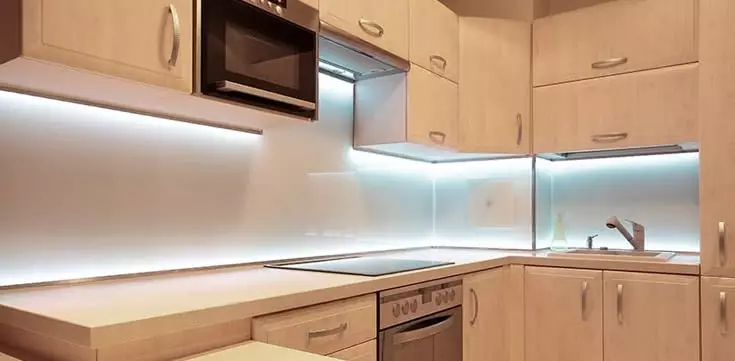 Adequate light is a vital aspect most homeowners overlook when considering how to accessorize a kitchen counter. It is essential to illuminate the counter using task lighting that doesn't cast unsightly shadows of the person at work right on their workstation. Accent lighting in the form of cover lights in the nooks of the counter's perimeter can cast a gentle wash of light over the shutters and floor, bringing out their natural textures.
Sale
LED Candles, Tea Lights Candles Battery Operated Bulk, 24-Pack Long-Lasting 150 Hours Flameless Tealight Candles, Realistic Tea Lights for Halloween Christmas Wedding Table Decor, 1.5'' D X 1.25'' H
😃[Brand New Mobius Ring Design] Our designers designed the flameless tea light in the shape of a Mobius Ring, which is not available on the market. The little cute LED tea light replicates the ivory look of a real candle with a comfortable and smooth touch. And the bottom ON/OFF upgrade, smooth switch, without worrying about being stuck.
😃[Alternative to Real Candlelight] Using the latest LED beads, purer and more transparent, it can emit uniform light; Bright white glow & Softly flickering flame effect, with no blue or green glow, a perfect substitute for real candle candlelight. A lifelike flicker, as if the person is breathing smoothly, without that annoying flash.
😃[Easy Using, Save Cost] Flickering fake candles with CR2032 battery pre-installed, the use of up to 150+ hours. Make sure the tea candles work throughout your important events or your daily use. If you need a large area and dense layout, the compressed version is a more economical choice, You can choose from 50 or 100 Pack in our store!!
😃[Kids & Pets Friendly] With these flameless battery candle sets, you can have nice ambient evenings with peace of mind, no worries about fire hazards, smoke, messy dripping wax, and no need to worry about fire hazards after people walk away. These mini tea lights are a great choice for any family with elderly, children, and pets.
😃[Ideal Decoration & Gifts] Each electric tealight measures 1.5'' D x 1.25'' H. You can tuck these led tea candles into all kinds of places: luminary bags, wishing bottles, votive holders, gift bags under the Christmas tree, etc. It is also wonderful for dressing up the ambiance of Valentines, Birthday, Halloween, Wedding, and Anniversary.
16. Introduce Sustenance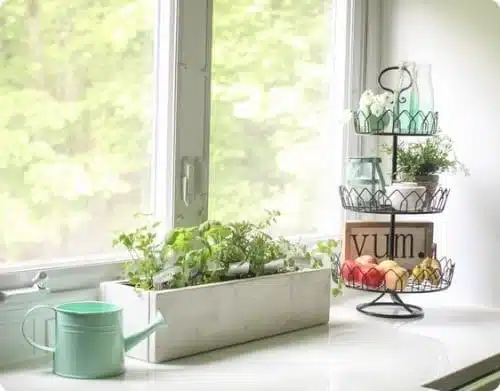 Add a jug of water or earthen matka on the counter space closest to the main living or dining area. Especially in the summer months, a thoughtful touch is to include a water source just as you enter the kitchen. It is also nice to develop a bespoke herb garden which may add some zing to your cooking with freshly picked herbs.
No products found.
Conclusion
Accessorizing a kitchen counter is no rocket science. Kitchen counter decor depends on the preference of its user, as there is no fixed formula for nailing the right counter design.
A thumb rule that will enable switching out the plan is employing a neutral color palette that is easy on the eyes. Pops of color can be introduced with exhaustible elements that you can change over the years.
I hope the above-mentioned listicle will help you accessorize your kitchen top. Tell us which idea you like the most in the comment box.